If you run a small- to medium-sized team, both Asana and Zoho Projects are viable options. They both provide a good mix of basic and advanced tools to keep your projects organized. However, after putting these platforms to the test, I found that
Zoho Projects has more adaptable features
. Zoho Projects has a fun, colorful interface that you can easily customize to fit your needs. Also,
Zoho Projects includes excellent built-in features such as time tracking and workload management, and it's overall cheaper than Asana
. On the other hand, Asana offers essential communication tools that encourage collaboration and a wide set of integrations for additional functionality.
Although Asana's free plan works great for personal needs, if you want access to proper project management tools, you'll have to upgrade
. Unfortunately, Asana's paid plans fall on the pricier side. Compared to Asana, Zoho Projects is more affordable, while still providing plenty of functionality. You can try Zoho Projects' 10-day free trial or read on to find out why it came out on top in my comparison.
Features
Zoho Projects Has Better Built-In Features Than Asana
Both Asana and Zoho Projects have robust sets of tools to help you manage a project from start to finish. You can easily assign tasks, change project statuses, add subtasks, and set deadlines. That said, Zoho Projects provides greater built-in project and task management functionality.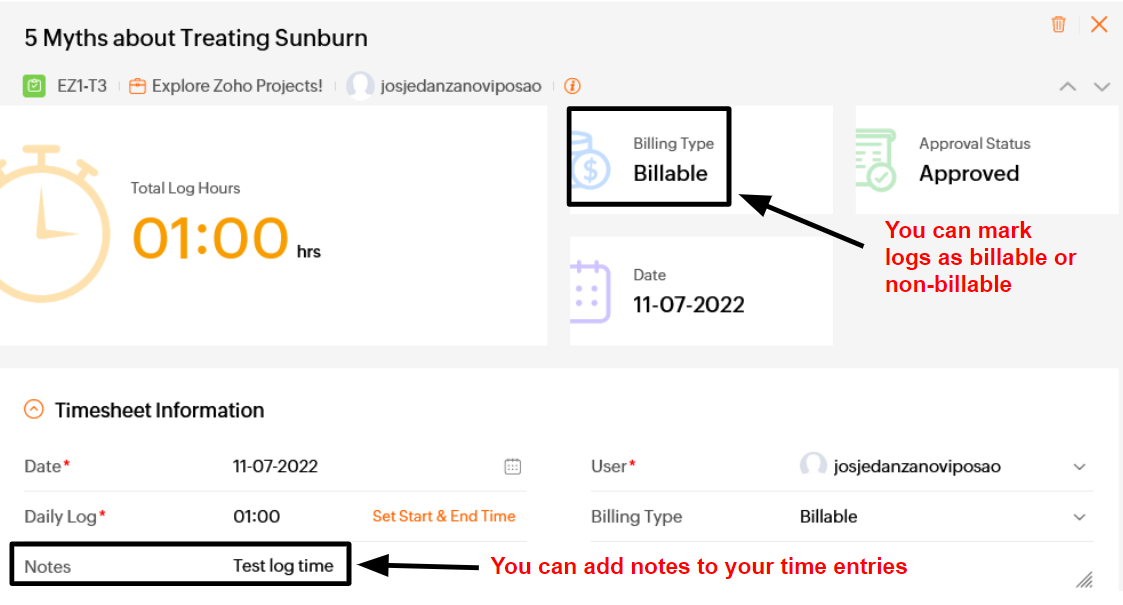 For example, unlike Asana,
Zoho has a built-in time-tracking tool
 available on all paid plans
. You can set up timers to track work or set up time entries manually, and you can even track multiple tasks simultaneously. Zoho Projects also has a strong set of automation tools to help you save time on repetitive tasks. For instance,
Zoho Projects offers the Blueprint feature, which lets you define every step of a particular work process
. You only need to create a blueprint once, and you can reuse it as needed.
Zoho Projects's main focus is to improve team efficiency
. Thanks to the resource utilization tool, you can ensure all team members have fair workloads. Also, Zoho's issue tracking feature lets you solve any recurring problems faster. You can associate issues with any task, assign users, set up deadlines, and even add reminders.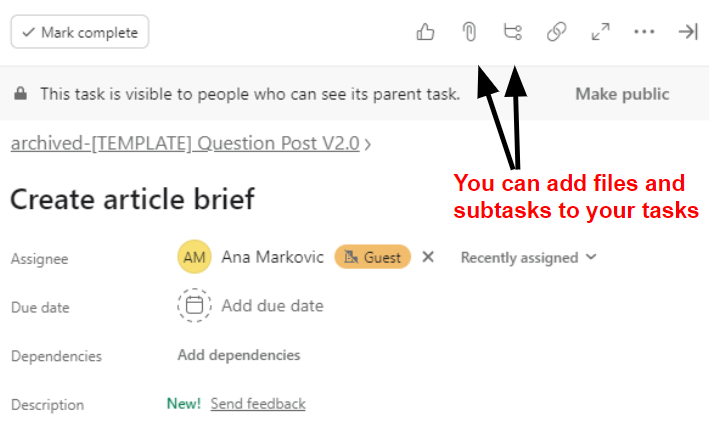 That isn't to say that Asana doesn't have its strengths.
Asana has 100+ project templates, divided across categories like IT, sales, and HR
. They are well-designed, which means you'll be able to set up a project fairly quickly. While Zoho also has high-quality templates, you only get up to 30 project designs, depending on your subscription. Also,
Asana lets you view your tasks in four different ways to help you easily digest data: list view, calendar view, timeline view, and board (kanban) view
. Zoho Projects only provides two task views: kanban and Gantt Chart (timeline). That said, Zoho's Gantt charts are more elaborate than Asana's, as you get a wider choice of task dependencies. Asana takes the lead when it comes to third-party integrations.
Asana has a bigger app marketplace (200+ integrations) than Zoho Projects
, with apps for everything from communication and productivity to IT and security. Still, Zoho Projects has a solid suite of native products to help you streamline all your processes, such as analytics and invoicing tools. Overall, both Asana and Zoho Projects offer a similar system for project management, letting you break down projects into smaller chunks to track progress easily. However,
Zoho Projects has more built-in tools that work together really well and can help boost your team's productivity
.
Ease of Use
Asana Is Easier to Use, but Zoho Projects Is More Customizable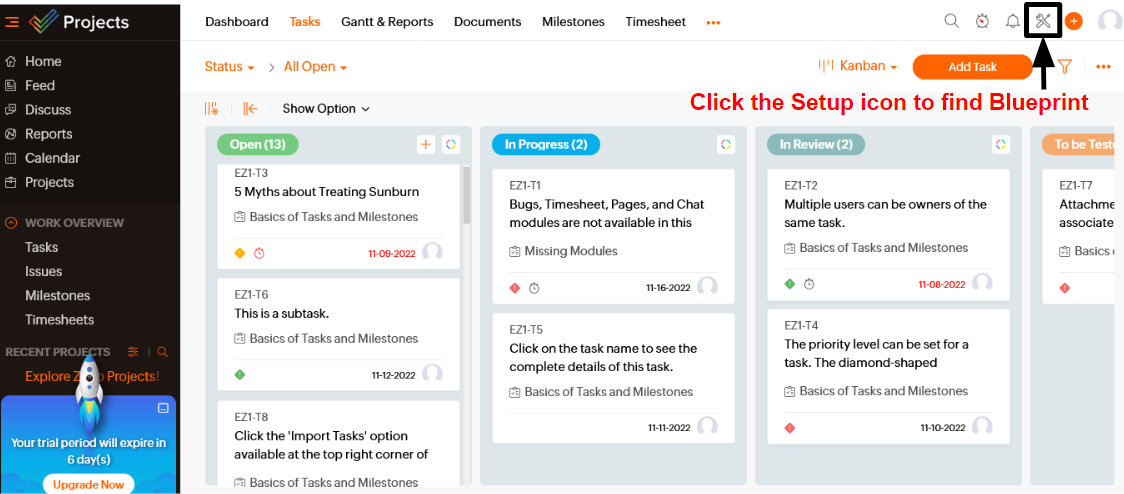 Zoho's interface is brightly colored and inviting, and it's relatively easy to navigate
. Basic functions like creating tasks and switching to Gantt view are easy to do, but more advanced tools like Blueprint can take some time to find because they don't always have their own section. Still, if you get stuck, there are plenty of helpful tutorials available in Zoho's knowledge base. Once you create your Asana account, you can use one of its pre-made templates or build a project from scratch.
Asana's attractive interface makes it easy to get around, even if you're a beginner
. You can access all the main features, such as your inbox and tasks, on the left-hand panel. What I particularly like is
the Advanced Search tool
– it helps you find specific information by defining parameters such as collaborators and files included
. What also makes working in Asana pleasant is a cute unicorn animation that flashes across the screen when you complete a task. However,
when it comes to customizing projects and personalizing your workspace, Zoho Projects has the edge
. It lets you
create custom dashboards
 to get an overview of each project. To display important information on your dashboards, you can add a variety of widgets such as budget status and timesheet summary. Also, Zoho Projects lets you choose a background theme and fonts, switch to dark mode, and even display your most used page every time you log in. Setting up a project with Zoho Projects may take a bit longer at first, but once you get used to it, you'll be able to manage every detail. Asana may be better suited for newbies, but Zoho provides more ways to customize your projects, which pays off in the long run.
Collaboration Tools
Asana Brings the Fun to Team Communication, but Zoho Projects's Collaboration Tools Are More Accessible
Zoho Projects offers various ways for your team to collaborate. For instance,
Zoho Projects has a built-in chat app for real-time communication.
You can send 1-on-1 messages as well as create channels for entire groups within your team. You can also create forums where your colleagues can post topics and interact via discussion threads.
For video meetings, you can integrate the Zoho Meeting app, available in Zoho Projects's Marketplace
. Asana also has great collaboration tools that make it easy (and fun) to stay in touch with your team. When it comes to communication,
Asana lets you contact individual users or teams via @mentions or direct messaging
. There are also tiny details that make conversations more enjoyable, such as the ability to "like" comments and send stickers called Appreciations.
Asana's approval process (available on the Business plan or higher) is another way to encourage team collaboration.
For example, if a non-management team member feels a particular task is missing, they can submit new tasks for approval. Managers then have the option to accept, reject, or request changes to the task. This lets everyone on the team communicate ideas and feel like their contributions are valued.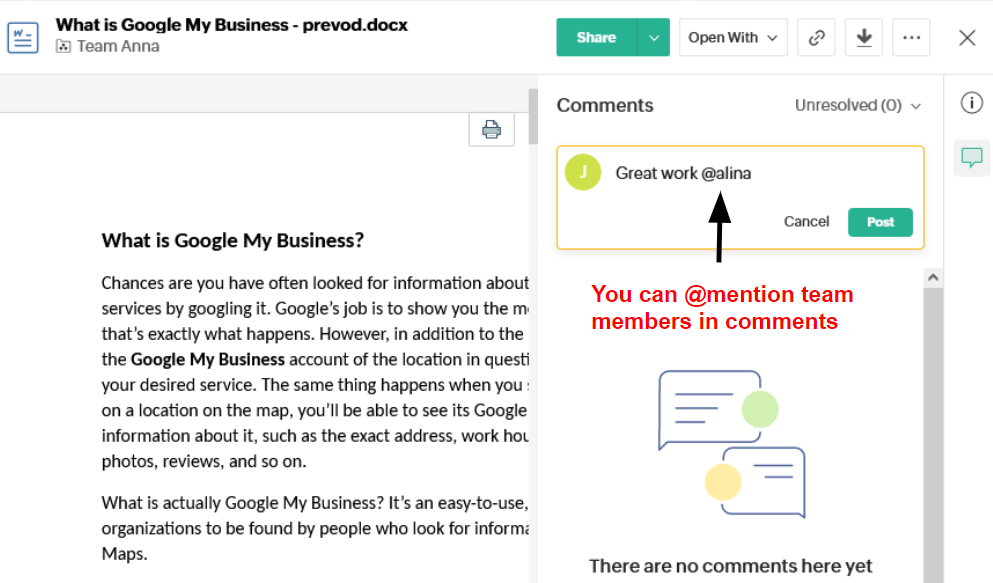 Both Asana and Zoho allow you to upload files to share with team members and clients, either from your desktop or from cloud-based storage like Google Drive and Dropbox. That said,
Zoho Projects has a built-in Documents feature
 that works great for sharing information within the team
, as well as for getting feedback on text, which is particularly useful for content teams. Zoho's Documents allow you to either upload files or create them from scratch using Zoho Writer (for text docs), Zoho Sheet (for spreadsheets), or Zoho Show (for slide presentations). On the other hand, Asana lets you add feedback to image files, which is ideal if you often work with visuals. Just bear in mind that you'll have to subscribe to Asana's Business or Enterprise plan to get access to this feature. When it comes to managing projects on the go, Asana offers more advanced functionality. While both allow you to create and assign tasks and check notifications in your inbox,
Asana's mobile app also lets you proof images and manage your work offline
. Even without internet connection, you can set due dates, add collaborators, comment on tasks, and more. In the end, both platforms have efficient and versatile communication tools. That said,
Zoho Projects makes all its collaboration tools accessible – even on the free plan
, giving you plenty of ways to interact with your team without having to upgrade.
Pricing
Zoho Projects Is Cheaper Overall, While Still Offering Great Value
Zoho Projects is one of the most affordable project management software out there, especially considering the quality of service and the number of features you get. In addition to the free plan, it has two pricing tiers: Premium and Enterprise.
You also get a 10-day free trial on Zoho Projects's Enterprise plan
. Asana is more expensive than Zoho Projects and provides some more advanced tools, but whether they're a worthwhile investment depends on your needs. It has an amazing free plan and two paid plans: Premium and Business.
There's also a 30-day free trial on both paid Asana plans.
Here's What You Get for Free
Out of all project management platforms I tested,
Asana has the best free plan
. You can add unlimited teams of up to 15 members, get three types of task views, and access all Asana integrations. The free plan is more than enough if you plan to use Asana for personal or basic projects.
Zoho Projects's free plan is designed for teams of up to 3 people, although it's a good option for freelancers as well.
Certainly, there are limitations: you can't create more than 2 projects, access project templates, and edit your project in the Gantt Chart. However, you do get all the basic tools, such as task management, document sharing, and a chat app.
Here's What You Get When You Pay
Asana's paid plans unlock access to more task views and features like advanced reporting and approvals.
Asana's Premium plan offers some extra features compared to Zoho Projects's Premium plan, such as unlimited storage and unlimited free guests
. However, depending on your team's size, you may not even need Asana's additional functionality, and the price is considerably higher.
If you manage a smaller team, Zoho's Premium plan will likely be more than enough
. You get unlimited projects, features like Blueprint and project budget, and access to integrations such as Zoho Analytics and Zoho Invoices. Also,
Zoho Projects offers workload management
 (within a project) on the Premium plan, which requires upgrading to a more expensive plan with Asana. Here's a closer look at Asana's and Zoho Projects's Premium plans to help you make an informed decision.
Asana
Zoho Projects
Starting Price

$

11.00

$

4.00

File storage
Unlimited
100 GB
Issue tracking

✘

✔

Automations
 

✔

 

✔

Time tracking
 

✔

 (+ free integrations)
 

✔

Custom forms
 

✔

 

✘

Workload management
 

✘

 

✔
Support
Zoho Projects Has More Live Support Channels
Both platforms offer extensive support documentation, including articles and tutorials on all sorts of topics. Asana also has the Ambassador program, which gives you access to additional members-only resources.
But when it comes to live support channels, Asana only offers email support, and my experience wasn't satisfactory.
I asked a question about the best way to generate a progress report for an ongoing project and only received a link to the support article about reporting tools. Also, I ran into an issue while trying to set up a free trial, but the support agent didn't do much to intervene other than to say that it shouldn't have happened.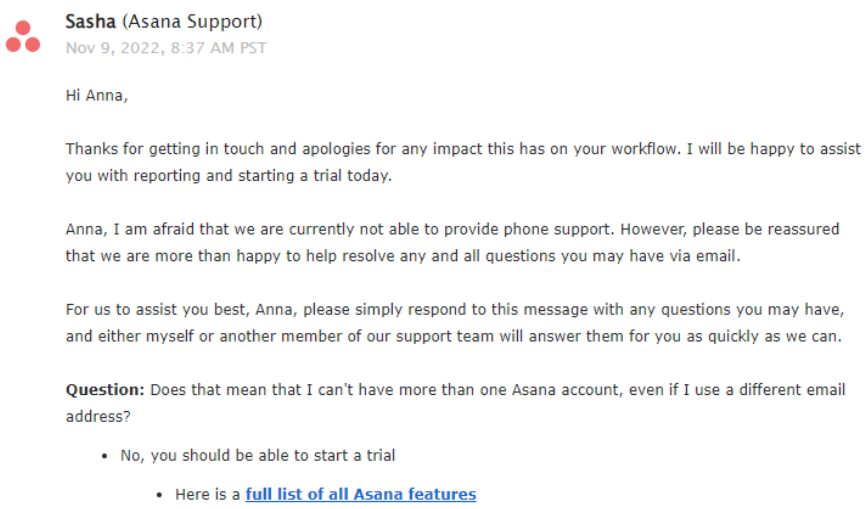 On the other hand, Zoho Projects has live chat, toll-free phone support, and email support.
I contacted Zoho's support team via email with a question about importing data from other platforms. I didn't get the most elaborate answer, but it was still helpful.

Overall, I wasn't impressed with either platform, but I give Zoho the win because it offers more direct support channels than Asana.
Asana Tried, but Zoho Projects Takes The Crown
Asana is a beginner-friendly platform with a generous free plan that works well for personal organization. It also offers great project management features, but its advanced tools don't come cheap. In contrast, Zoho Projects is an affordable software with a solid set of tools for small- to medium-sized teams.
It provides efficient built-in features and multiple ways to interact with your team.
Features
Simplified task management, 100+ project templates, 200+ integrations
Built-in time tracking, automation, and resource utilization tools
Ease of Use
Clean and easy-to-use interface
Colorful and customizable interface
Collaboration Tools
Direct messaging, comments, approval process
Built-in chat app, forums, document sharing
Pricing
A great free plan and two pricier paid plans, 30-day free trial on all paid plans
A limited free plan and two affordable paid plans, 10-day free trial on all paid plans
Support
• Support documentation
• Community support
• Email support
• Support documentation
• Community support
• Live chat support
• Email support
• Phone support
FAQ
Can Zoho be used for project management?
The Zoho ecosystem encompasses several platforms, including project management platform Zoho Projects. It provides effective project management features, such as the ability to store files and automate workflows. Zoho Projects is a versatile solution for individuals and teams alike.
Is Zoho Projects a collaboration tool?
Zoho Projects really shines when it comes to team communication features. It provides multiple ways for teams to coordinate and connect through document sharing, forums, and a chat app. Its built-in Documents feature also allows colleagues to provide direct feedback on documents.
Is Zoho Projects good for beginners?
Zoho Projects's interface may feel a little clunky at first because of the sheer number of features, but once you get familiar with the software, you'll be able to set up projects easily. Also, Zoho Projects offers plenty of customization options to help you organize every detail of your project.
What is the best platform for project management?
It depends on your needs. If you need software for managing personal or basic projects, Asana is worth considering. However, if you have a low budget but still want proper project management tools, Zoho Projects is an affordable and feature-rich solution. If you need to review more options before you make a decision, check out our list of the best project management software in 2023.