While the right Kanban software will help your team work smarter, not all Kanban tools are up to the task.
Some are little more than colorful digital whiteboards – they lack the essentials for effective project management. That's where I come in. I've tested popular Kanban project management software and narrowed the options to those that offer an all-in-one package that helps teams optimize workflow, identify bottlenecks, and deliver projects on time. That said,
I found that monday.com ticks all the right boxes
. Its interface is intuitive and easy to grasp, offering tons of customizable Kanban boards for different use cases and all the team collaboration features you could ask for. Moreover, plans are affordable and suitable for teams of all sizes –
and there's even a free plan.
Short on Time? These Are the Best Project Management Software for Kanban in 2023
Monday.com – Versatile and robust Kanban tool for visual project management.
ClickUp – Affordable and highly customizable software with excellent collaboration features.
Smartsheet – Powerful Kanban system for large organizations and complex projects.
What We Look For in the Best Kanban Project Management Software
While my initial priority was limiting my list to PM software that offered many customizable Kanban boards, I also focused on the features below.
Fair pricing. All project management platforms on this list offer good value and fair deals. Most even have free forever plans that include quality Kanban boards and core tools.
User-friendly. Whatever your team's technical skill, the software you choose should be easy to use. Each platform scores high on usability with intuitive interfaces, drag-and-drop features, "Getting Started" tutorials, and other built-in learning resources.
Collaboration tools. Good communication is essential for the increased workplace productivity and efficiency Kanban is famous for, so I've chosen software with plenty of collaborative tools – @mentions, chat, notifications, simultaneous team editing, and more.
Work management features. These software platforms give you tools to manage work, including assigning tasks, setting milestones and due dates, tracking tasks, and more. Some even have built-in time tracking and invoicing.
Integrations. The best Kanban software should integrate with tools that your team is already familiar with while supporting native and third-party apps that add functionality.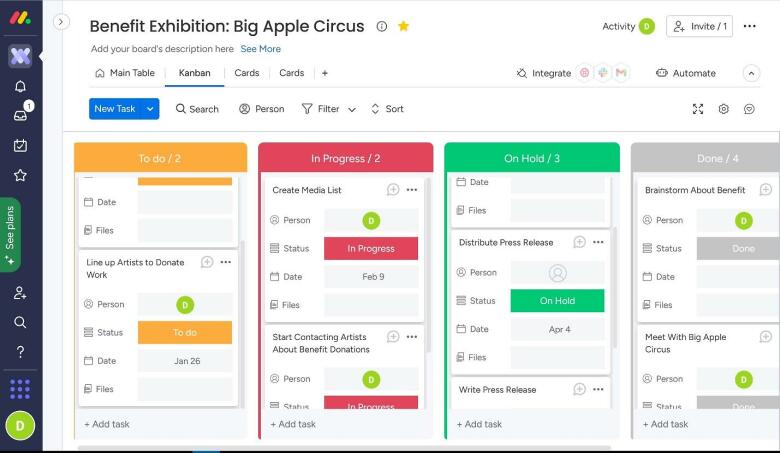 Monday.com took first place on my list because of its
outstanding features, user-friendly interface, and overall good value.
Monday.com's feature-rich Kanban software and pre-purposed, colorful boards help teams visualize work and workflow, implement work-in-progress (WIP) limits, and improve the flow of projects, products, and services. Whether you're managing marketing, software, consulting, or HR projects,
monday.com's multi-board view helps you improve workflow by giving you an overview of tasks and subtasks across projects.
While Kanban may be your default project view, you can switch to Chart, Map, Calendar, Files, and Timeline. You can access these alternative views individually or collectively via your dashboard, allowing you to gain fresh perspectives and make tweaks.
Despite ample features, monday.com is affordable
and offers a 14-day trial that gives you enough time to test its premium features to decide if the software is right for your team. There's also a free plan, though it might be too limited for most teams.
Features
Task dependencies. Dependencies allow you to track complicated task relationships, making it easy to set up automations that sync across all projects.
Whiteboard collaboration. A virtual whiteboard allows remote teams to collaborate and innovate in real time, regardless of physical distance.
Mobile app. Wherever you're working, apps for IOS and Android let you share files, updates, and feedback so everyone can stay on track.
App marketplace. Hundreds of proprietary and third-party apps can add functionality and customize the software to meet your business's unique needs.
Read our full Monday.com review for more details
.
Free Kanban Board Templates

✔

Collaboration Tools
@mentions, comments, discussion threads
Integrations
40+ integrations, including Zapier, Slack, Outlook, Excel, Google Drive, Dropbox, and Mailchimp
Starting Price

$

8.00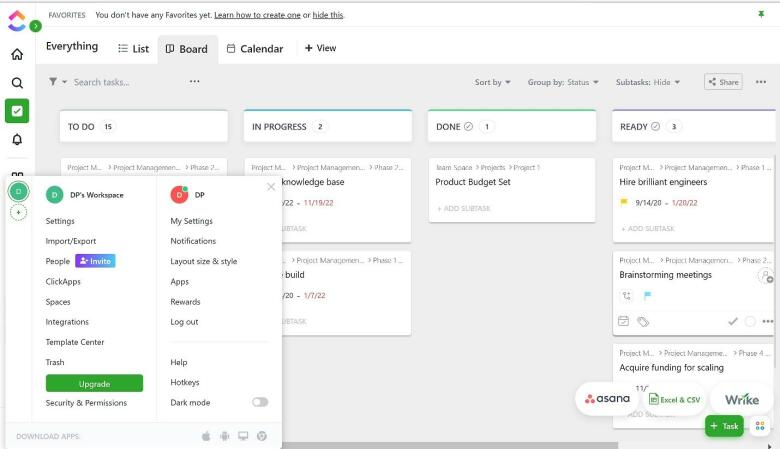 ClickUp's Kanban software is easy to use, even if its ample customization options might seem overwhelming at first.
With hundreds of pre-built templates, you can quickly find one that fits your business or project.
You can search project templates by ease of use (beginner, intermediate, advanced), business type, department, and use case. Once you've picked a template and set up your Kanban board, you can view task columns based on their stage (To Do, In Progress, Done, etc.), by task assignee, due date, tag, or a custom status you've created. If managing multiple projects or overseeing an entire team,
you can also use swimlanes (horizontal lines that split a board into sections) for quick visualization
. ClickUp lets you import files and data from popular apps into your Kanban boards and add a Chat widget to host team discussions.
ClickUp's generous free plan
includes all its core features
: Kanban boards, unlimited users, unlimited projects, and even access to 24/7 customer support.
Features
Everything view. This feature gives you an overview of all your Kanban boards at once and offers insight into workflows as you identify silos and bottlenecks.
Collaborative, real-time editing. When you add ClickApp to your workspace, team members can edit a project's tasks, sub-tasks, and documents at the same time.
Bulk action toolbar. This feature saves time by enabling bulk changes to multiple boards. You can add or delete tasks, update task statuses, and add (or remove) assignees, all within the same view.
Native time tracking. You can track time, set estimates for specific tasks, add notes, and view reports to see where there's room for improvement.
Learn more about ClickUp in our in-depth review
.
Free Kanban Board Templates

✔

Collaboration Tools
@mentions, chat widget for real-time discussion
Integrations
Slack, Microsoft Outlook, HubSpot, Salesforce, Asana, Timely, Google Drive, and more
Starting Price

$

7.00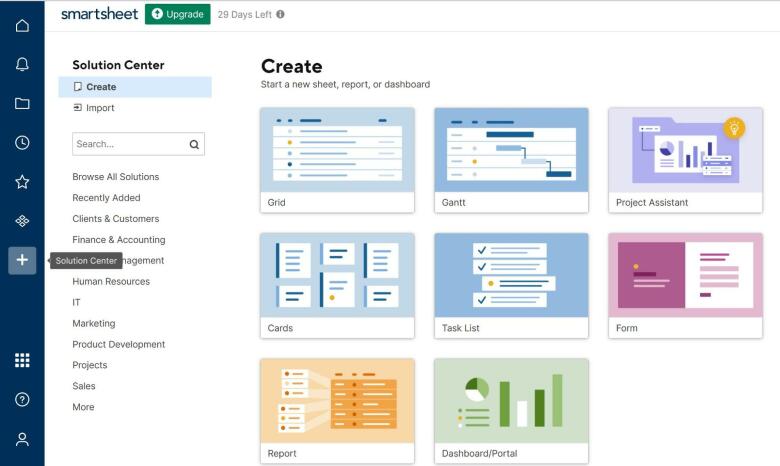 Smartsheet's robust Kanban software empowers large organizations to plan, visualize, and execute projects while efficiently managing workflows to optimize productivity. With
real-time collaboration, automations, task management, and goal-tracking features
, businesses have all the tools they need to stay on top of important projects. You can start with a pre-built Card (or board) template or save time by choosing one of Smartsheet's all-in-one template sets, which include pre-built sheets, reports, and dashboards. Another plus is that Smartsheet will suggest add-ons for specific use cases, such as product development, marketing, HR, or IT.
Smartsheet reports are a standout feature for analyzing work and improving productivity.
They allow you to gather metrics from multiple Kanban boards to create an overview of workflow across your entire organization. Personalizing and filtering reports can help you zero in on specific workflow issues, such as at-risk tasks. While Smartsheet doesn't have a free plan, its 30-day trial (no credit card required) should give you ample time to test the software.
Features
Productivity tools. Your team can improve collaboration and drive engagement with automated notifications, workflow updates, requests, and more. As a bonus, setting up automations with pre-purposed templates is really simple.
Flexible views. You can switch from Kanban Card view to Gantt, Calendar, or Grid view, bringing a fresh perspective to your projects.
No-code custom apps. Your team can build no-code mobile /and web-based apps to suit your organization's unique needs and support growth.
Impressive security. Smartsheet's enterprise-grade security ensures company and client data is safe from prying eyes. These include a built-in audit trail, 24/7 monitoring, and data encryption. It's also HIPPA and GDPR-compliant.
Get more details in our expert Smartsheet review
.
Free Kanban Board Templates

✔

Collaboration Tools
@mentions, comments, notifications, in-sheet emailing
Integrations
150+ integrations, including Zapier, Slack, Microsoft, Google, Box, Adobe Creative Cloud, Salesforce, and more
Starting Price

$

7.00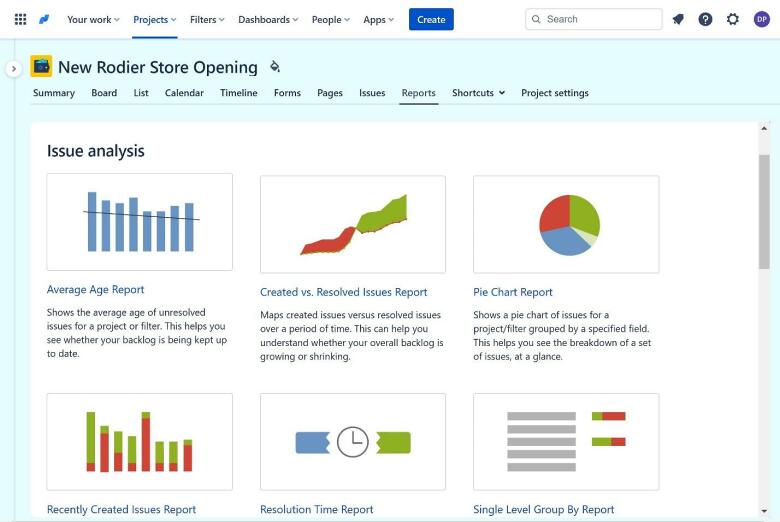 Jira Work Management is
a Kanban project management tool
built for agile and lean project management.
Its user-friendly interface and helpful quickstart guides make it easy to set up your projects and get working. You can choose from 23 templates for the most common project types. You then customize the board view by breaking work into milestones, tasks, objectives, a timeline, stakeholders, etc. You can also set WIP limits, add swimlanes, and create a backlog for strategic planning.
One of Jira's best features is
the
project summary dashboard,
which offers an overview of a project's progress, priorities, recent activity, and your team's workload.
This allows you to rebalance work to keep your team on track. While I found Jira had many great features and was easy to use, it would be nice if it were available in more than two languages (English and Japanese).
Features
Feature-rich free plan. Jira's free plan includes all its core features and up to 10 users and 2GB of storage, making it ideal for freelancers and small teams.
Integrated workspaces. You can create a network of connected boards to get a workflow overview for multiple projects and teams.
Customized reports. Jira gives you 10 different ways to view project data and lets you include or exclude subtasks, priority level, assignees, and other statistics.
Jira-branded products. Seamless integration with other Atlassian products provides even more PM and Kanban tools. For example, you can integrate Jira Confluence to expand collaboration tools, create a team "Wiki," and access dozens of additional project templates.
Check out our Jira review for more info
.
Free Kanban Board Templates

✔

Collaboration Tools
@mentions, notifications, file sharing, messaging
Integration
Over 3,000, including Zoom, Google, HubSpot, GitHub, Slack, and more
Starting Price

$

7.75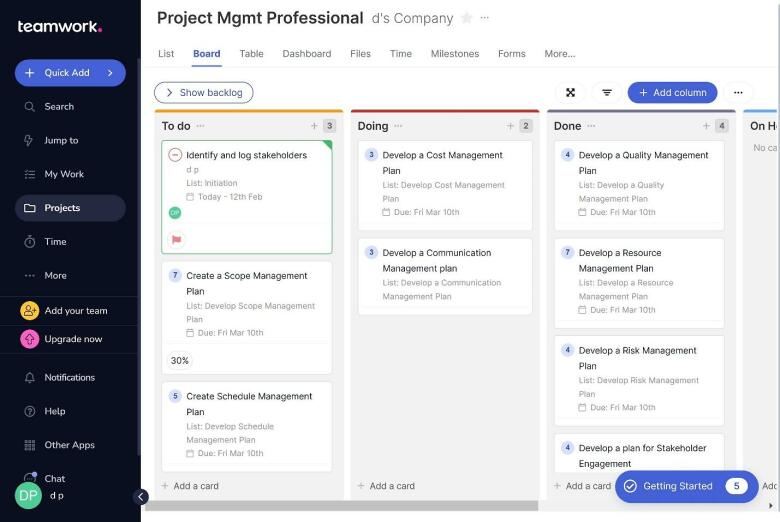 Teamwork's Kanban boards are ideal for agencies and other businesses that want to make collaborating with freelancers and external stakeholders as easy as possible. Its Board view lets you quickly map out workflows, see the status of tasks, and automate processes.
Plans also include
unlimited free access for your clients
– a real plus.
I like how
board templates come pre-filled with relevant task cards for different use cases,
making them ideal for beginners getting used to Kanban methodology and Teamwork's software. Boards can also be fully customized: add columns, edit default headings, delete or add task cards, and drag-and-drop default cards from one column to another. Teamwork's
free forever plan is ideal for individuals and small teams new to project management.
While it may lack some advanced features, it includes essential project, task management, and communication tools, including built-in time tracking.
Features
Teamwork spaces. This native integration allows you to design a centralized workspace for a project where your team can create, edit, collaborate, and share content with teams and clients.
Handy tutorials. A series of "Getting Started" tutorials cover all the essentials. You can view them without leaving your Kanban board.
Task overview. A click on a particular task card brings up a virtual "folder" with a detailed task description, list of subtasks, files, time logged, and work progress.
Productivity reports. Four types of reports track work productivity, including project health, time utilization, planned versus actual task status, and tracked time.
Learn more in our in-depth Teamwork review
.
Free Kanban Board Templates

✔

Collaboration Tools
@mentions, chat channel, notifications, messaging, real-time collaborative editing
Integrations and Apps
Zapier, Slack, HubSpot, Dropbox, Google Drive, and QuickBooks
Starting Price

$

5.99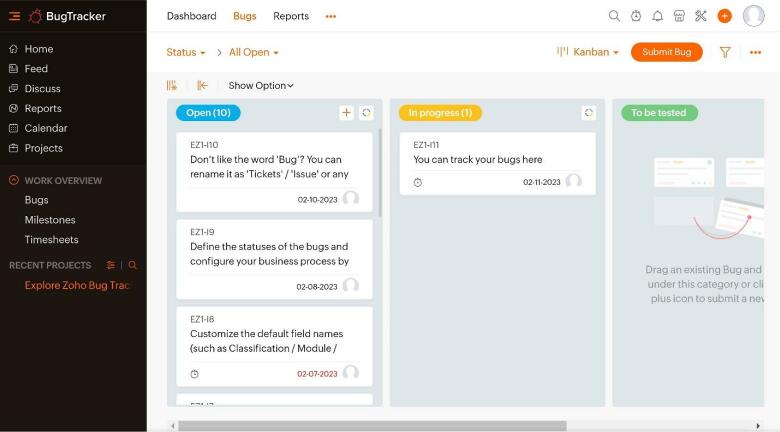 Zoho's BugTracker Kanban board offers the tools managers need to track workflow "bugs" and tweak projects as required.
It's another
visual tool that can help teams ensure scheduled work is completed efficiently.
It joins the existing Zoho Kanban view and is available on a free plan. You can easily customize the simple board by adding columns or swapping out default columns, creating subtasks, and setting due dates and milestones. You can also attach files to projects, tasks, and comments
.
Zoho's automation capabilities allow you to streamline repetitive tasks
, like updates to assignees and task priorities, freeing your time to address more critical work.
Zoho also offers some of the best financial tools, time-tracked work logs, invoicing, and expense tracking.
While there's a lot to like here, navigating the platform and finding the right tools can be challenging unless you know where to look.
Features
Built-in chat tool. Remote teams can use the Discuss module to set up chat groups and virtual meetings for real-time collaboration and increased productivity.
Project feed. Zoho's interactive project feed is where team members get the latest updates on a project and can add comments, start discussions, and upload attachments.
Multi-task time tracker. For more accurate record keeping of billable hours and invoicing, assignees have the ability to track time on multiple tasks simultaneously.
Native software integrations. Zoho offers a variety of proprietary software tools, including CRM, business analytics, and marketing integrations.
Our expert Zoho Projects review has more details
.
Free Kanban Board Templates

✔

Collaboration Tools
@mentions, chat rooms, feeds, activity streams, forums, discussion boards, comments
Integrations
Drop, Dropbox, DocuSign, Zendesk, and HubSpot
Starting Price

$

4.00
The Best Kanban Project Management Software for Efficient Teams
Any of
these Kanban tools will give you powerful features for enhancing work productivity
. They'll allow you to create a visual representation of a project and its tasks, subtasks, and priorities, helping to optimize workflow and increase your team's efficiency. If you're looking
for fantastic Kanban features paired with powerful work organization tools, monday.com is my top recommendation
. It gives you fantastic features at an affordable price. Budget-focused smaller teams may want to consider ClickUp. It offers
excellent collaboration tools and a feature-rich free plan.
I recommend
Smartsheet for enterprise-scale companies
 and their complex, data-driven project needs.
It also offers the top-notch security that these organizations prize. Here's a quick overview of everything we've discussed so far:
Free Plan
Best Feature
Best For
Starting Price
monday.com

✔

Powerful and versatile Kanban project management software
Businesses that want Kanban and work organization capabilities

$

8.00

ClickUp

✔

Great free plan with essential Kanban PM tools
Small- to mid-sized teams

$

7.00

Smartsheet

✘

Enterprise-scale functionality and security
Large organizations and complex projects

$

7.00

Jira

✔

Beginner-friendly Kanban tool with a great free plan
Agile and lean project management

$

7.75

Teamwork

✔

User-friendly Kanban software designed for client collaboration
Businesses that need to share project details with clients

$

5.99

Zoho Projects

✔

Affordable Kanban tool with good collaboration features
Project managers overseeing remote teams

$

4.00
FAQ
What is the best free Kanban project management software?
ClickUp has a generous feature-rich free plan and a good selection of high-quality Kanban boards. You might also want to consider Jira Workspace's free forever plan, which would also be suitable for individuals and smaller teams.
What type of project management is Kanban best for?
Kanban, known for its flexibility, is well-suited for various industries such as manufacturing, marketing, sales, HR, software development, and more. It is used to enhance the productivity of all organizations, from small businesses to Fortune 500 companies. Its collaboration tools make it an ideal choice for remote teams or those operating across multiple global locations.
What should Kanban software include?
The ideal Kanban software includes customizable boards, robust collaboration features, task management tools (task creation, assignment, prioritization, milestones, due dates, and WIP limits), automations, and customizable reports.
Which is the best Kanban project management software?
The best Kanban software for your team will depend on factors like your industry, project type, and the size of your business. You'll also want to consider the software's UI and how quickly your team can get up to speed. That said, monday.com has fantastic Kanban and work management features and is one of the most user-friendly PM tools on the market.