Poorly translated content can lead to confusion, misunderstandings, and potentially hurt your credibility
. Whether it's translating your website to engage new audiences, proofreading a document for a foreign business transaction, or developing ads for an international marketing campaign, you need access to reliable, high-quality translators who not only do a great job, but complete your project on time and on budget. And that's where we come in.
We checked all the major freelance platforms to find out where the best translators hang out
. We looked at a variety of factors to bring you only the best of the best. These are the top five websites for hiring translators.
Short on Time? These Are the Best Freelancer Websites to Hire Translators in 2023:
Fiverr – Tons of translator gigs to choose from, some going for as little as $5
Translatorsbase – The largest number of languages available for translation, free to try
Upwork – Great review system to help you find the best freelancers, plus excellent client protections
What We Look For in the Best Freelance Websites for Hiring Translators
We explored both general freelance platforms and platforms that focus purely on translation work. We chose the five on this list based on these factors:
Ease of use: We know you want a site that's user-friendly, so we chose platforms with great filters, quick and easy sign-up processes, and intuitive search engines so you can find exactly what you're looking for.
Plenty of languages: Regardless of your source language and target language, you want to be covered. For this reason, we made sure that within this list you'll find a translator that will fit your translation needs.
Excellent customer protections: No matter what country your translator resides in, you want to be certain that should something go wrong, you'll be covered.
Native speakers: When hiring a freelancer for a translation, you want someone who really knows what they're doing. And nothing beats native speakers for getting a translation job done right.
Easy-to-follow feedback: You should know that your translator can handle your project before you invest in them. The best way to see if a freelancer is qualified is by checking the feedback they've received from previous clients. So, we looked at sites that incorporated a feedback system, so you know who you're hiring.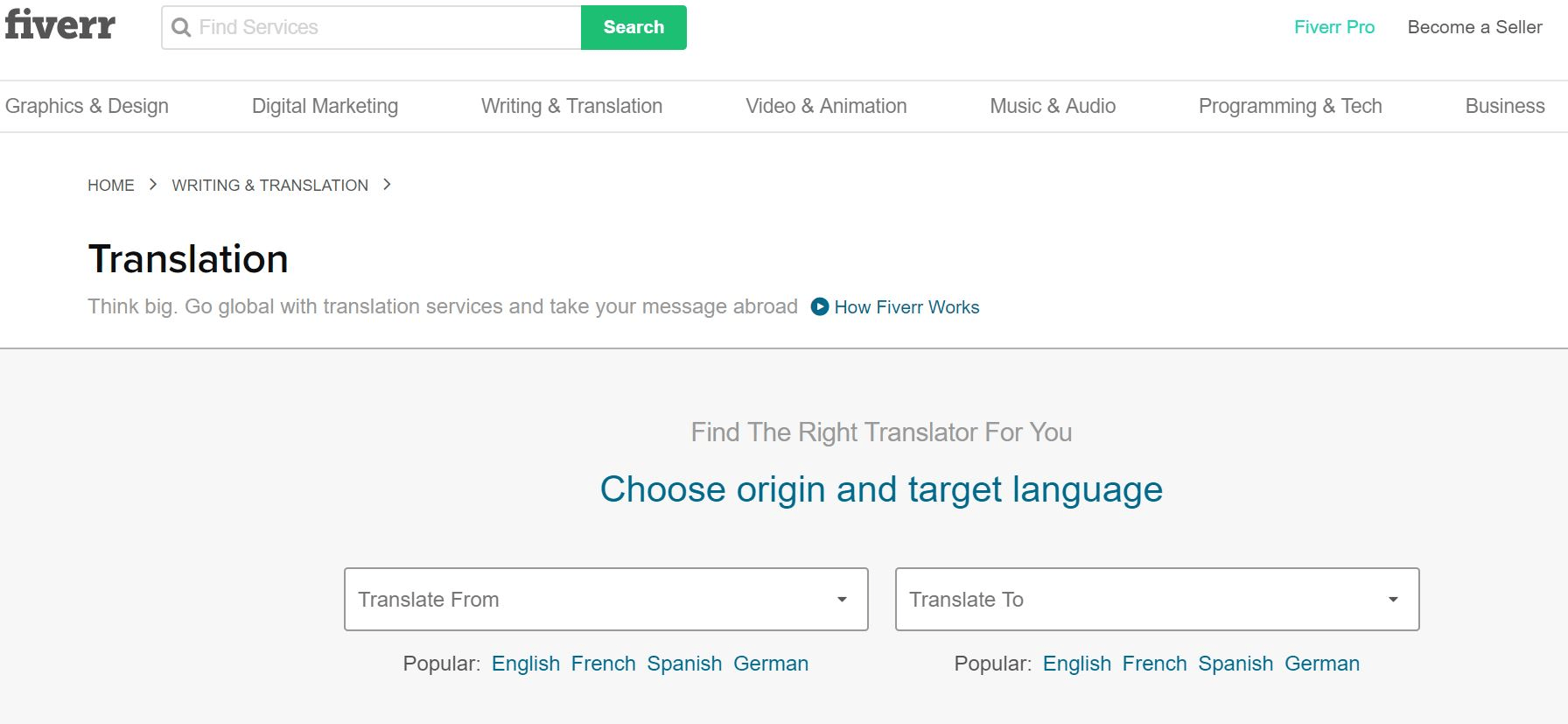 On
Fiverr
, you can find freelancers to do just about any job imaginable. However, translating is one of the more popular services available on the site.
With nearly 17,000 translators who cover nearly any language you can imagine
, there's no lack of options on this diverse platform.
Features
There's plenty to love about Fiverr, especially when it comes to finding translators. The platform's
filtering capabilities
are ideal for finding that perfect someone to translate your content. Fiverr also offers a
24/7 customer support team
who's ready and willing to deal with any problems you may have. All payments made on Fiverr are safe as well, and handled securely through the website's payment portal.
Pros:
The search engine has filters that allow you to narrow down your search results by your source and target language, the type of document you're translating, the native language of the translator, their industry of expertise, and even their seller level (the length of time/jobs completed on the platform).
There are 41 different languages available for you to translate to or from.
Fiverr, as the name suggests, has thousands of translators who are willing to sell their services for as low as five dollars.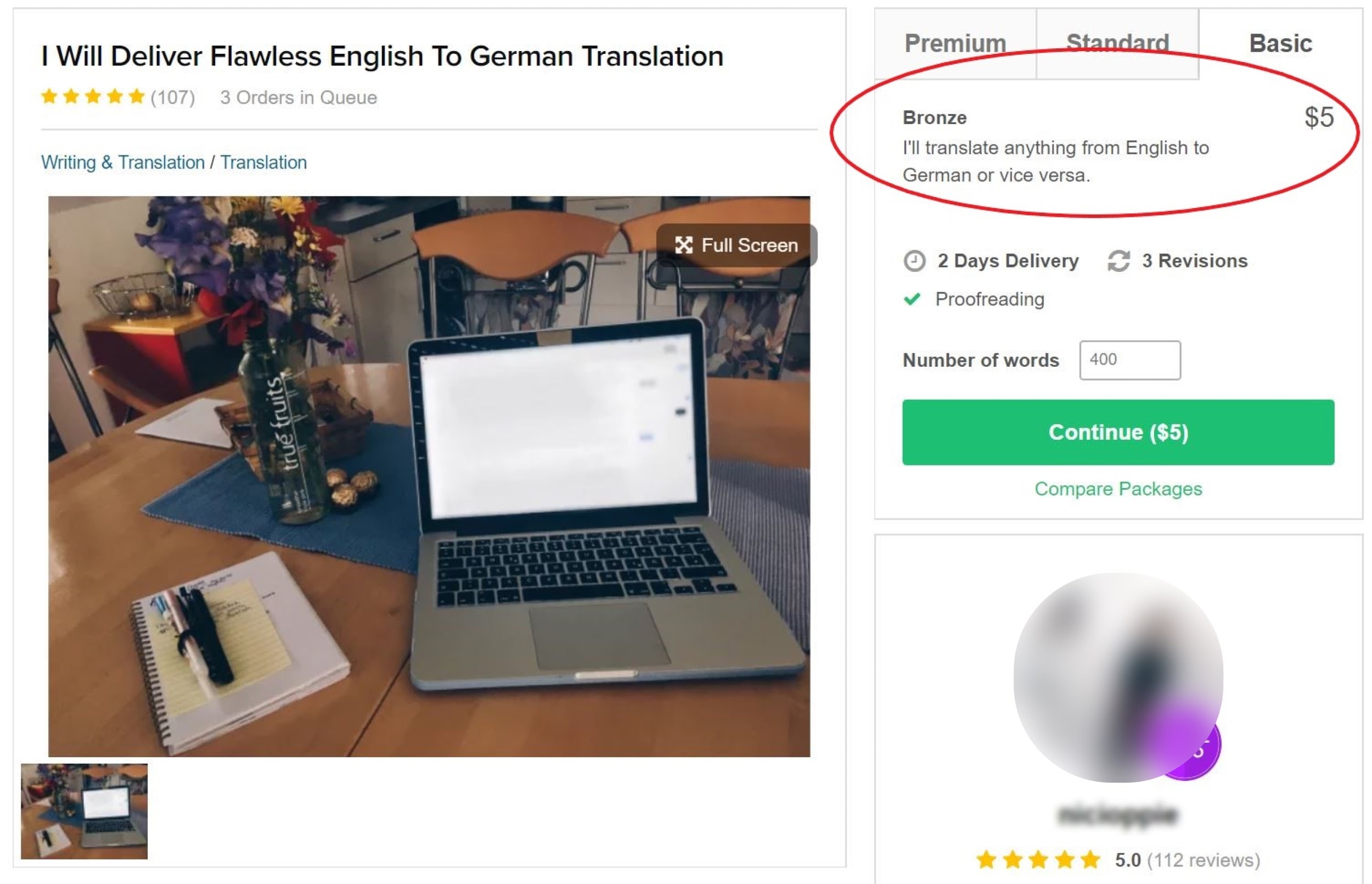 Many translators on Fiverr can translate your text in 24 hours or less.
Fiverr's secure messaging system will ensure that any sensitive documents or information that you share with your translator will be made available to their eyes only.
Cons:
While many jobs start at $5, this usually only includes very basic translation features with a fairly low word count and few revisions. Therefore, more complicated translations can get pricey.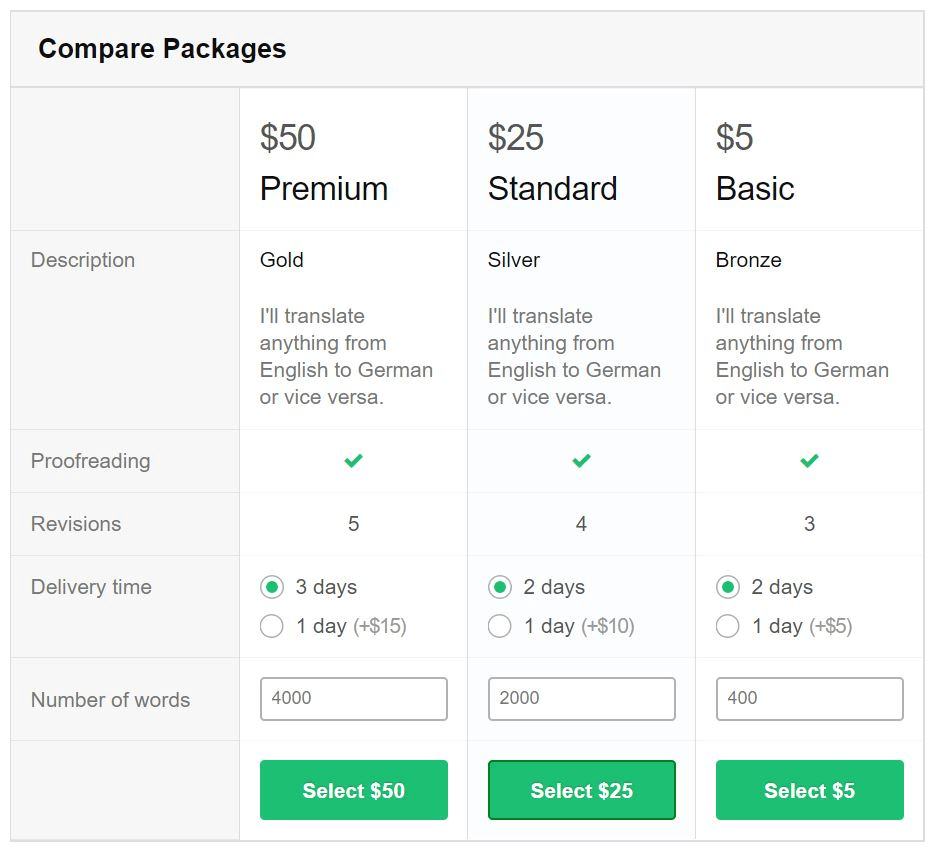 There is an overwhelmingly large number of translators on this platform, and while the filters do help to narrow down the options, finding the perfect translator can be time-consuming.
Fiverr does feature thousands of translators, but the majority of them are still new sellers with very few being categorized as top-rated. This means that many of the available translators have completed few gigs, and may not have the level of feedback you're looking for.
Choose Fiverr If…
You're on a budget and willing to shop around for a great price
You're on a tight deadline and need something translated in under 24 hours
Translatorsbase – Wide Selection of Languages

Translatorsbase specializes solely in translations. This user-friendly website makes it easy to find a translator for just about any type of project.
Features
You can use Translatorsbase to quickly locate translators through two different methods. First, you can
post a job and receive quotes from translators
that are interested in your project. Then, you can speak with each potential freelancer to find a candidate that matches your language and budget requirements. Alternatively, you can
search through Translatorsbase's thousands of available freelancers
, and contact the one that will best suit your project's needs.
Pros:
It's free to post a project and receive quotes from any of the many translators on the site.
Translatorsbase can handle nearly any type of project, including translating a website, sales catalog, email, audio recording, training manual, or company profile. The complete list of available services is quite extensive:

When searching for a translator, you can easily input the source language, the target language, and even the country that you prefer the translator to be from.
Translatorsbase has well over 100 languages listed that you can translate into, far more than the other sites on this list.
Posting a project or searching for a translator is rather straightforward, making it easy to navigate through the site's extensive number of translators.
Cons:
According to some reports, the customer service could be more responsive.
When looking for translators, the site offers only a few search engine filters
The review system could use a little work. Looking through the reviews of a translator's prior work isn't as user-friendly as it could be (e.g. you can only see one review at a time, and you have to click an arrow to scroll through them, making it difficult to search through reviews). Also, according to some reports, negative reviews that were left failed to show up on many translators' profiles.

Choose Translator Base If…
You're looking to have something translated into a more obscure language like Zulu, Khmer, or Quechua
You need something very specific translated, such as a textbook or visa application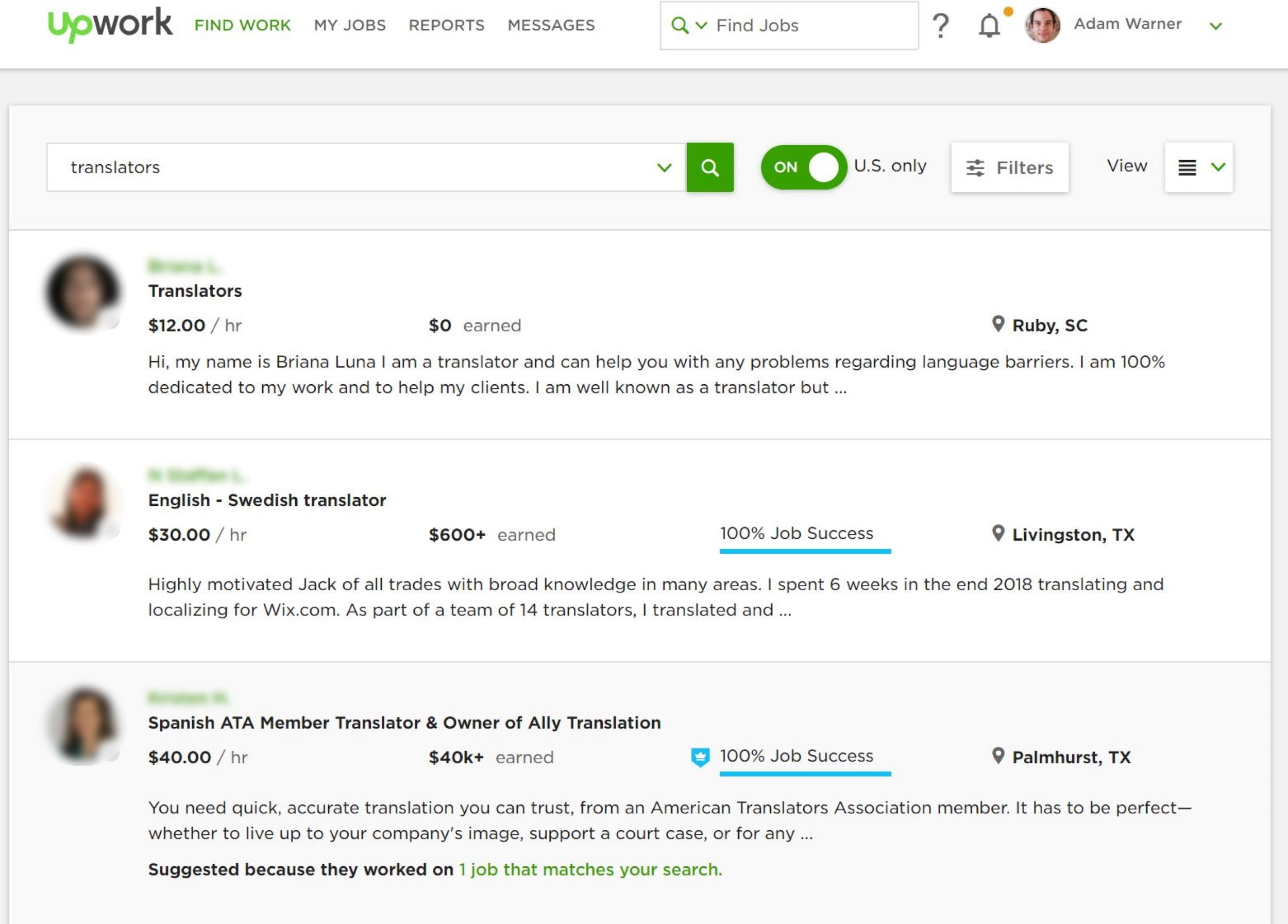 As the leading name in the world of freelancing,
Upwork
is another excellent place to locate a translator. This platform is home to thousands of qualified translators who can handle just about any job you may have.
Features
Upwork has a
great review system
, allowing you to quickly weed out translators that have performed poorly on past jobs. On top of this, the site offers
great client protections
, including a responsive customer service team and payment protections. Therefore, you can rest assured that if your freelancer tries to scam you, you'll be taken care of. This platform's interface is
easy to navigate, with excellent filters
to help you narrow down the search results when looking through more than 25,000 available translators. If you would rather post a job and have translators come to you, Upwork gives you this option as well.
Pros:
With so many translators available, broken down into different categories (e.g. general, legal, medical, and technical translation) it's easy to find the right person for the job.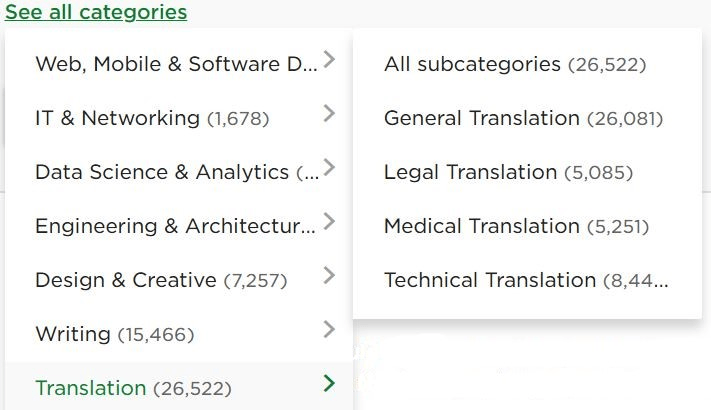 Upwork's payment protections ensure that you'll be satisfied with the project, and payment won't be released until you've approved your freelancer's work.
The in-depth review system allows you to see what past clients thought of a translator's performance. On top of this, this website also shows an overall job success score so you can quickly see which freelancers have consistently under-performed.
You can find solutions for just about any budget, from long-term professionals who  charge over $50 an hour to newbies just starting out with rates under $10 an hour.
The filters allow you to search for translators based upon several factors, including their hourly rate, location, native language, English fluency, job success score, and more.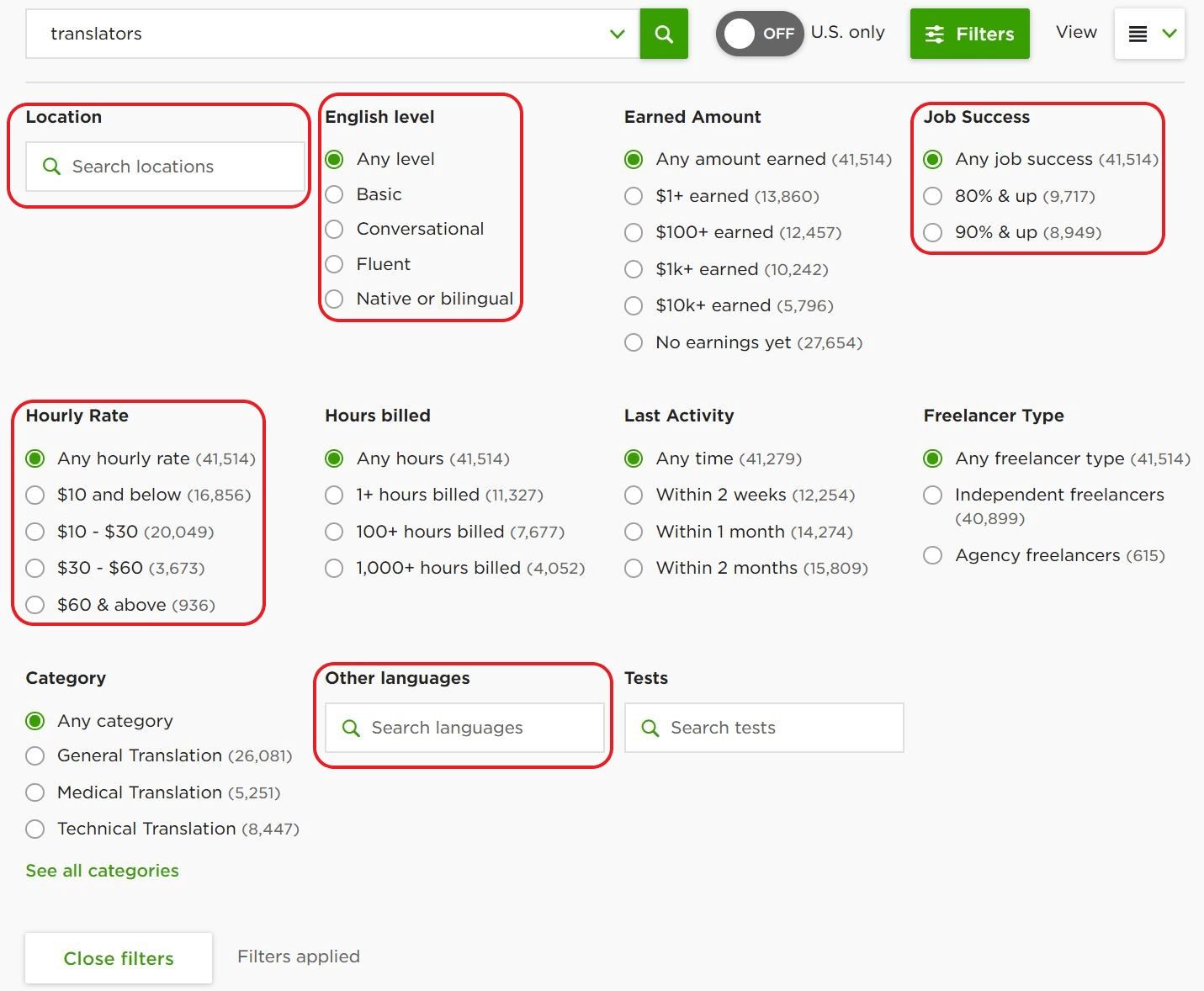 Cons:
With so many available translators at varying skill levels, it can take a while to find the right match for your project.
Upwork doesn't have as many language options as some others on this list, so you may need to look elsewhere if you're trying to translate into a language that's not widely spoken.
There is a 3% payment processing fee that you'll be charged when paying your freelancer.
Choose Upwork If…
You want to use a large name in the world of freelancing with an excellent reputation when it comes to protecting its clients
You need a translator that specializes in legal, medical, or technical translations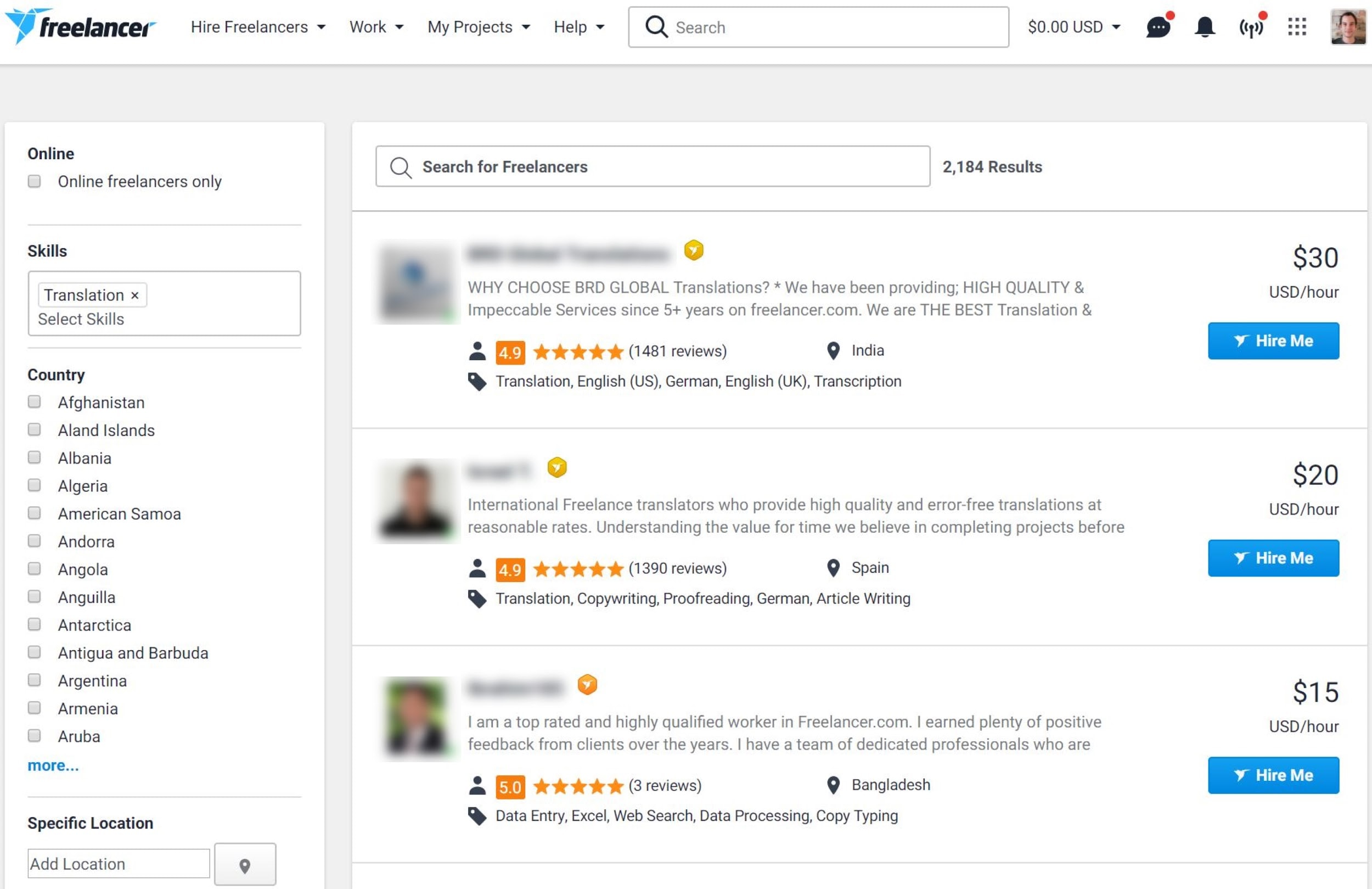 Like
Fiverr
and
Upwork
,
Freelancer.com
is another giant freelancing platform that covers many fields. While it may not be home to as many translators as the other websites on this list, it still offers a lot of great options.
Features
One of the great features of Freelancer.com is its interface. Finding translators is easy, and you can
use the search filters to search for freelancers based upon their location and skills
, making it simple to locate native speakers. Another strong feature is the
great freelancer profile layout
. Here, you can judge a freelancer's capabilities through a number of factors, including past work examples and overall job statistics.
The platform also offers fairly good client protections
. Should something go wrong, Freelancer.com offers an affordable arbitration option to make sure you're not taken advantage of.
Pros:
Freelancers' profiles are informative and easy to read, including a portfolio, the percentage of jobs completed, how often they were on budget and on time, as well as their repeat hire rate.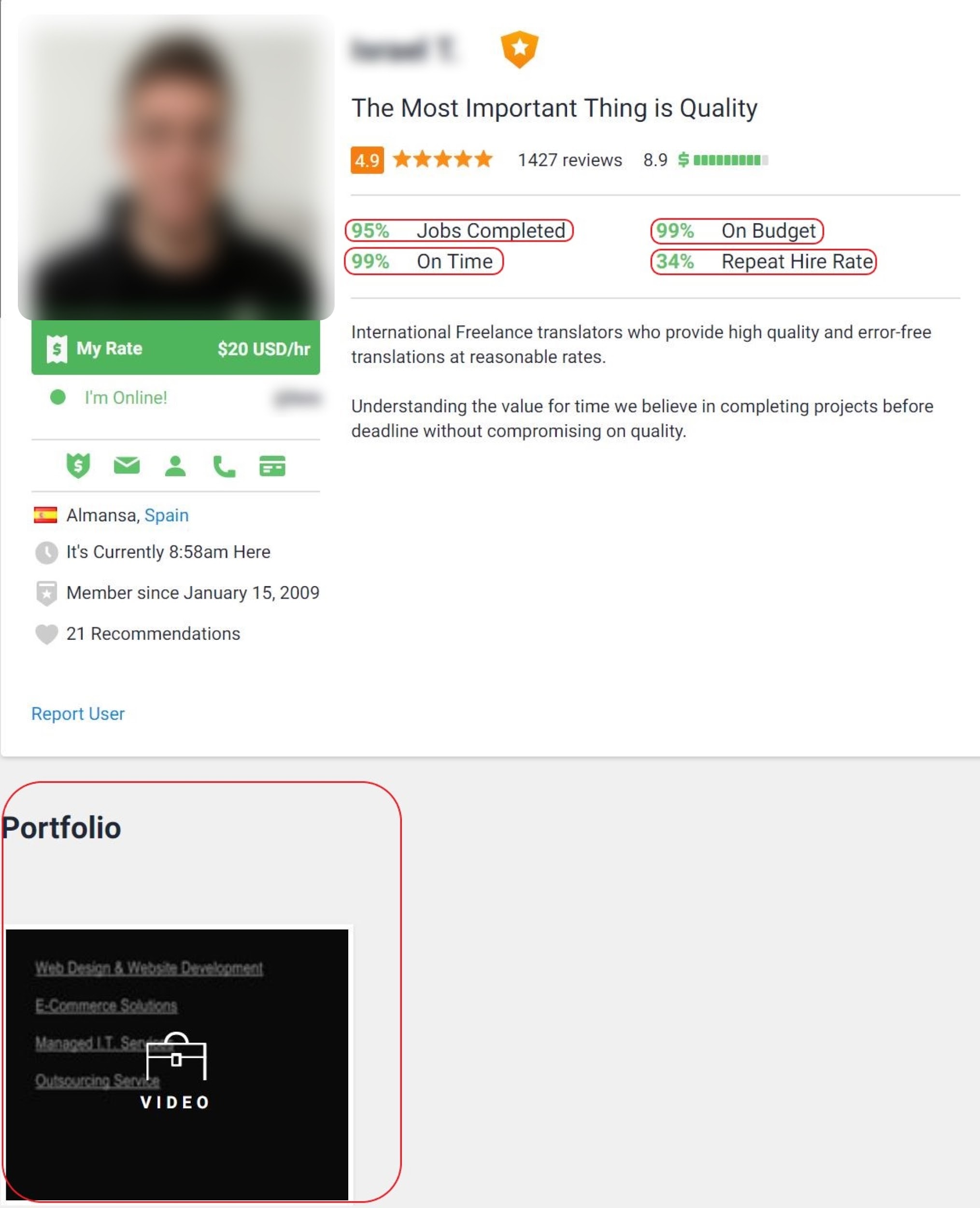 It's free to post your translation project, look through bids, and scroll through translators portfolios.
The interface is incredibly easy to navigate, and allows you to both post a job or search for freelancers by skill.
Should anything go wrong with your project, Freelancer.com offers arbitration services at a very reasonable rate of $5 or 5% of the disputed amount (whichever is greater).
This platform has some of the cheapest freelancers available, with translators who are selling their services with rates as low as $2/hour.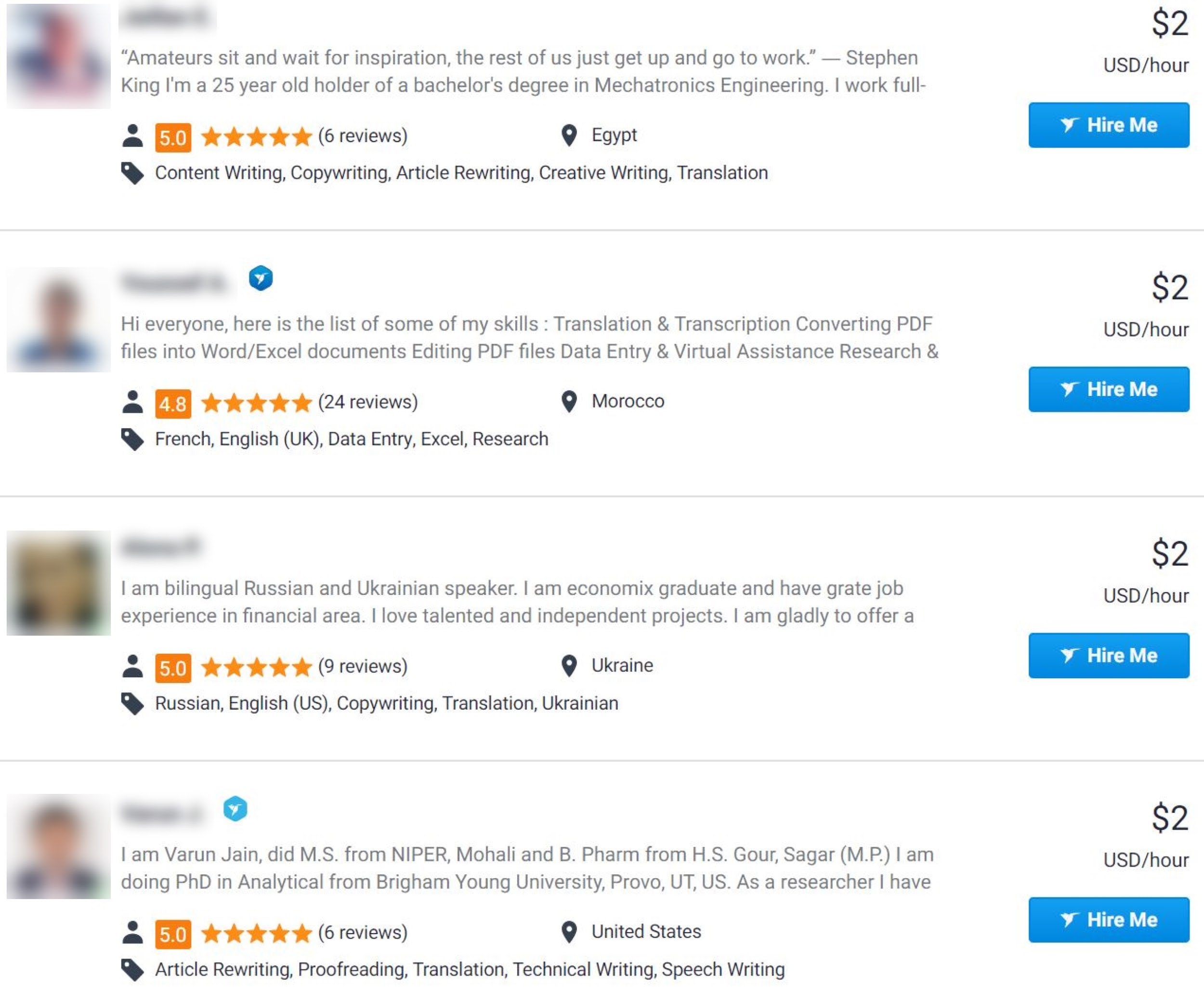 Cons:
There aren't nearly as many translators available on Freelancer.com as there are on other platforms. When I searched, there were only around 2,000 freelancers who had translation listed as a skill.

The site charges you a small fee once you've accepted a freelancer's services. The fee varies based upon the project type, with a 3% fee on hourly projects, and either a 3% or $3 fee on fixed price projects (whichever is greater).
There is no screening process whatsoever, meaning some translators may be underqualified.
Choose Freelancer.com If…
You're on a budget and would like to find some incredibly low-priced translators
You want cheap arbitration options should something go wrong, as many of the other choices on this list don't offer this, and, if they do, it's usually rather pricey
Unbabel – The Best for Multilingual Customer Service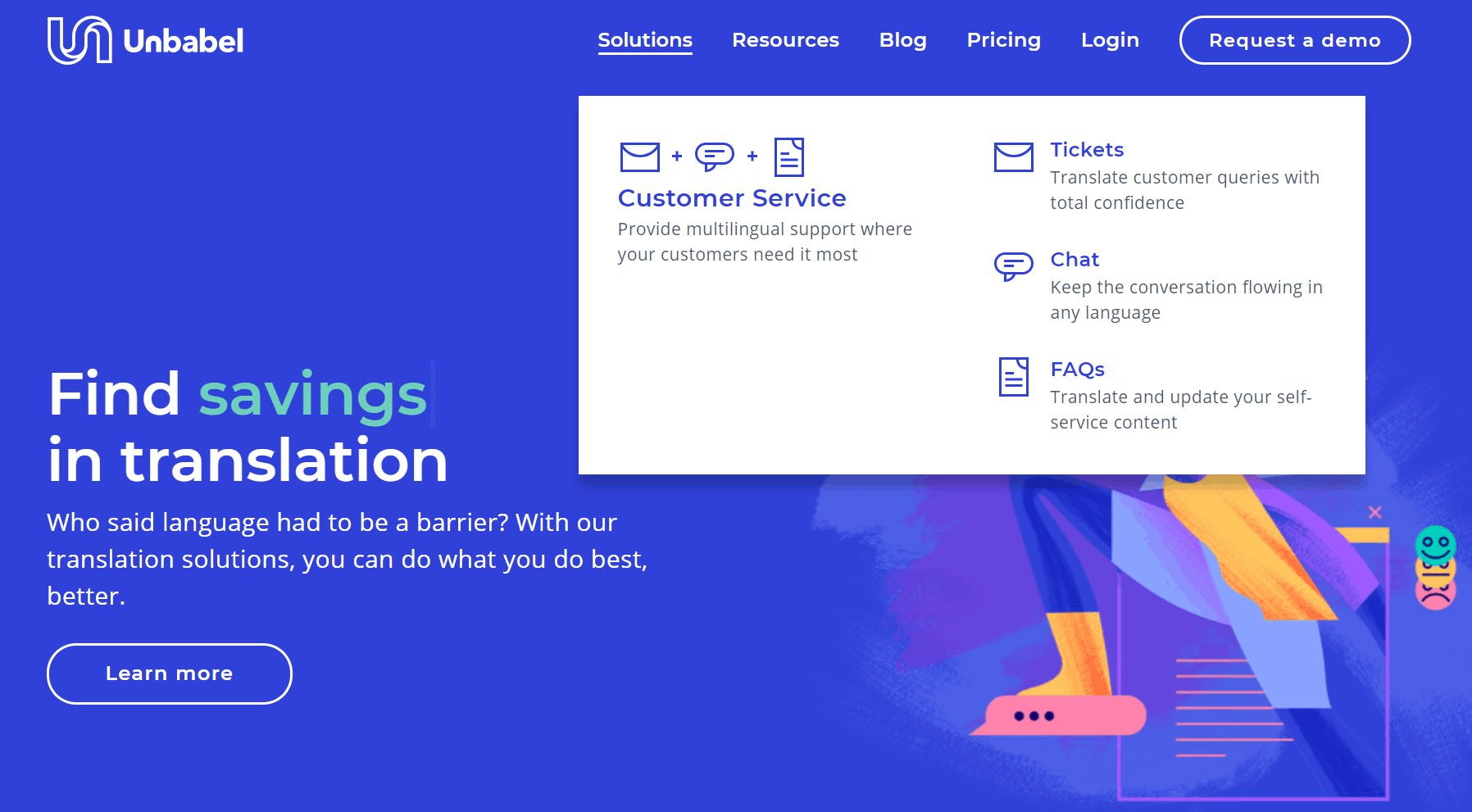 Using a combination of machine learning, Neural Machine Translation (NMT), and a team of crowdsourced freelancers,
Unbabel is one of the more advanced translation options out there
. This AI-powered human translation platform focuses primarily on customer service based projects. Unbabel is used by many major corporations, such as Booking.com, Facebook, and Under Armour.
Features
Unbabel can help you serve customers in multiple languages using its AI-powered and human refined products.
There are three main services that you can choose from; Tickets, Chat, and FAQs
.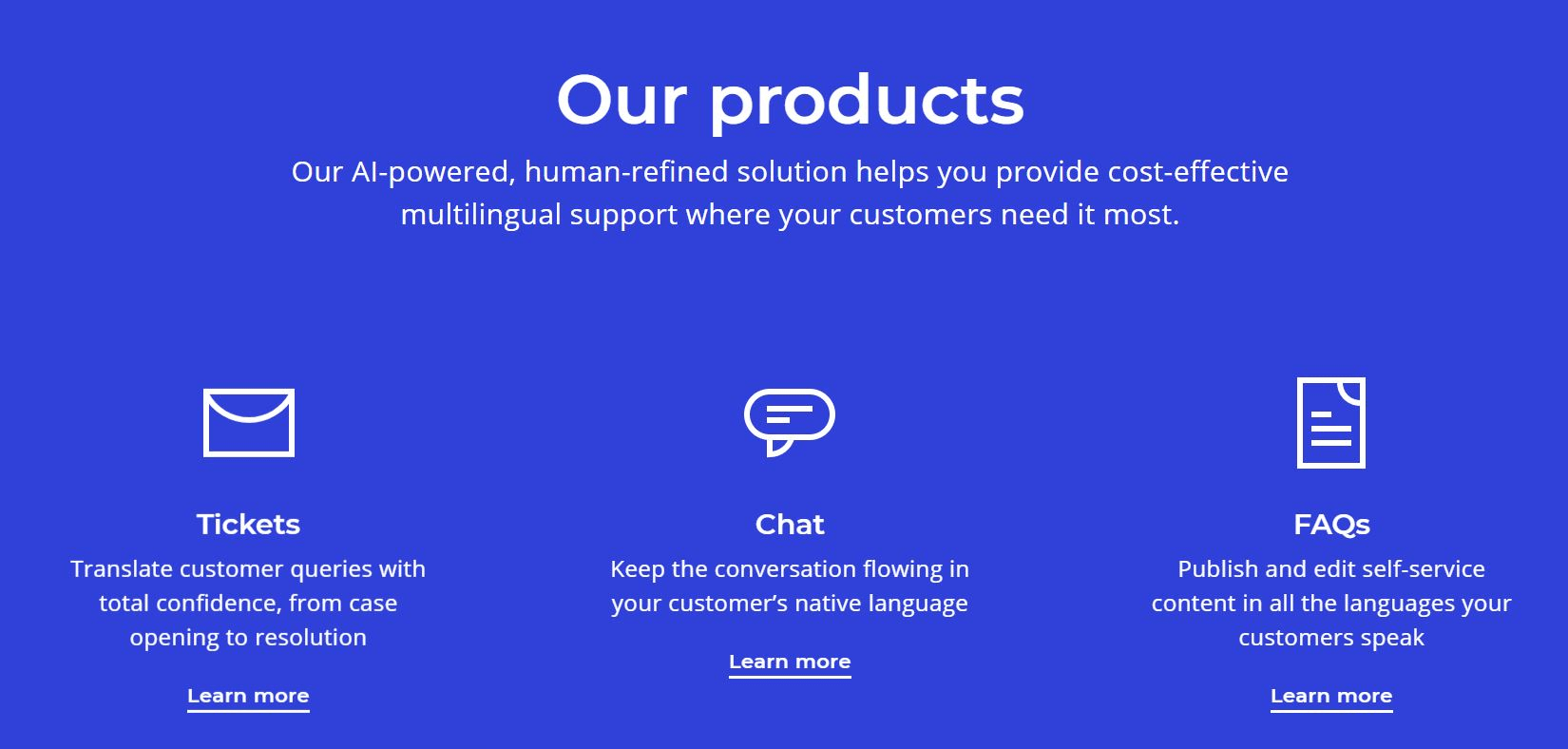 The ticket service will help you translate your customers' questions from the initial request to the final resolution. The chat service allows you to chat with customers in their native tongue. Finally, Unbabel's FAQ service helps you translate, update, and publish content within your website's help center.
Pros:
The ticket service will quickly translate your customers' questions so that you can receive them within minutes. Your reply will then go through Unbabel's translation process, which should allow you to answer most messages with native-quality responses within 40 minutes.
The chat service will produce high-quality translations for live-chatting with your customers in near real-time. These messages are human-edited so that you sound natural in the language to which you're translating.
The FAQ service will perfectly translate your website's help center content into whichever language you choose. This can be handled in as little as 12 hours, depending on the size of your job.
Unbabel's services first use NMT to translate your content. Next, it's sent to native speakers who will edit it to make certain that everything makes sense in the language you're translating into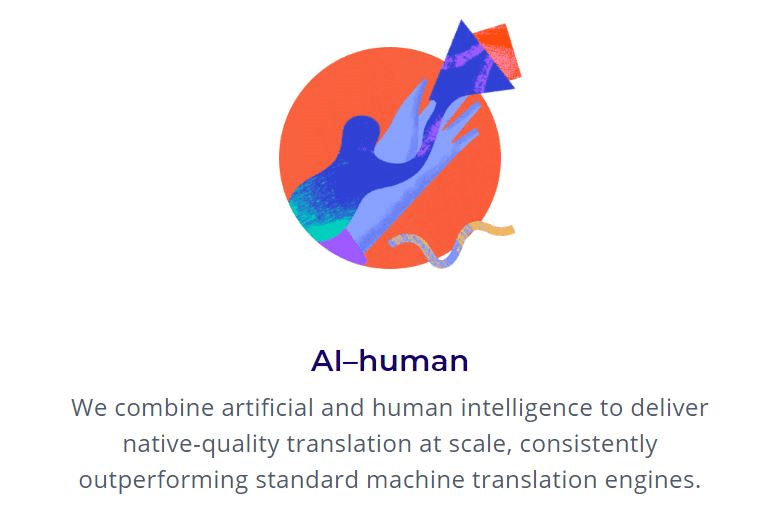 All translations make the best of a massive community of 50,000 translators from across the globe.
Cons:
Unbabel's services are currently only available in 29 different languages, and may not fit your needs if you're looking to translate into a more obscure language.
The prices will be scaled according to the size of the job rather than by word count, language being translated, or your number of users. While this means the price will match the needs of your company, you won't know the exact cost until after submitting a price request.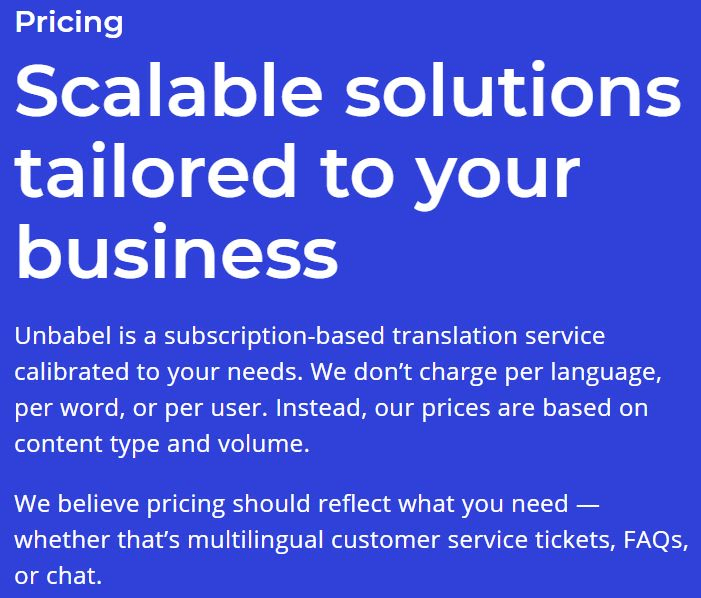 Unbabel's primary focus is on customer-service-related material, and it may not be the ideal solution for other types of translations.
Choose Unbabel If…
You want to quickly communicate with your customers in a variety of different languages
You're a business that would like a translation website that can handle a variety of customer service based translations on a regular basis
You need to have your website's FAQs expertly translated and don't feel like shopping around for a qualified freelancer
Conclusion
Since getting your translations is incredibly important, you want to make certain you make the correct choice.
All of the above options are perfectly suitable, but some are better than others, depending on what you're trying to get done
. For example,
if you want to be assured that your job is done very well from a professional service, nothing beats Unbabel
. The only issue is that the types of projects that Unbabel handles are limited to customer-service-related translations. If you're looking for other types of translation work, go with
Fiverr
,
Upwork
, or
Freelancer.com
. And for more obscure translation jobs, especially if translating a language that isn't widely spoken, Translatorsbase is probably your best bet.
Look to the following table for a quick comparison between all of the above services:
| | | | |
| --- | --- | --- | --- |
| Vendor | Feature | Pro | Con |
| Fiverr | Great filters and 24/7 customer service | Quick turnaround times for cheap | Not many top rated translators available |
| Unbabel | Native-quality translations of tickets, chats, and FAQs | Uses AI to translate that's then edited by native speakers | Limited to customer service related translations |
| Translatorsbase | Many obscure languages not offered by other platforms | Can handle just about any translation project imaginable | The review system could definitely use some work |
| Upwork | Great client protections and tens of thousands of translators | Excellent review system to help narrow down the options | Can take time to find the right translator |
| Freelancer.com | Low-priced translators and cheap arbitration | Lots of good information in translators' profiles | Fewer translators available than on other platforms |
---
SOURCES:
https ://www.fiverr.com/
https ://unbabel.com/
https ://www.translatorsbase.com/
https ://support.upwork.com/
https ://www.freelancer.com/feesandcharges/