There are plenty of freelance platforms out there, but not all of them are reliable. If you don't want to waste time and money, you should only use freelance sites that protect you, the employer, with secure payment and job management features.
You don't want to end up with a design that turns out to be plagiarized, or with a designer who runs off with revisions undone and the work half-finished.
You certainly don't want to pay for a design you can't even use.
I've scoured the web to find the best freelance graphic design platforms out there, and examined and compared their features and benefits to create this list of the top six. My personal favorite is Fiverr, where you can find countless professional designers
.
But every option is different, so read on to determine the best freelancer site for you.
In a hurry? Here's where to find the best freelance graphic designers in 2023:
Fiverr – The best option for businesses on a budget, with professional designs starting at only $5 per project.
Upwork – A large freelance website with versatile hiring options; great for establishing long-term relationships with designers.
DesignCrowd – Access to a global pool of graphic designers who work for reasonable prices.
What We Look For in the Best Freelance Websites for Graphic Designers
My colleagues at Website Planet and I have spent a lot of time testing the
best freelance websites
around. When it comes to the top choices for freelance graphic designers specifically, I looked for:
A wide range of graphic design services. The freelancers on the websites listed below can tackle many different projects, from designing logos and brand identities to creating social media graphics.
Detailed design portfolios. I looked for detailed profiles to ensure you can quickly browse and assess a freelancer's previous work before getting in touch.
Reviews and client feedback. My top choices feature detailed rating systems, so you can quickly get insight into a particular designer's work process and reliability.
A range of price points. Whether you're on a tight budget or willing to spend extra for top-tier services, my top recommendations can help you get the job done.
Secure payment processes. All payments made through the platforms listed below are 100% safe. My top choices (Fiverr and Upwork) also feature straightforward refund procedures.
1. Fiverr

– Best for Businesses on a Budget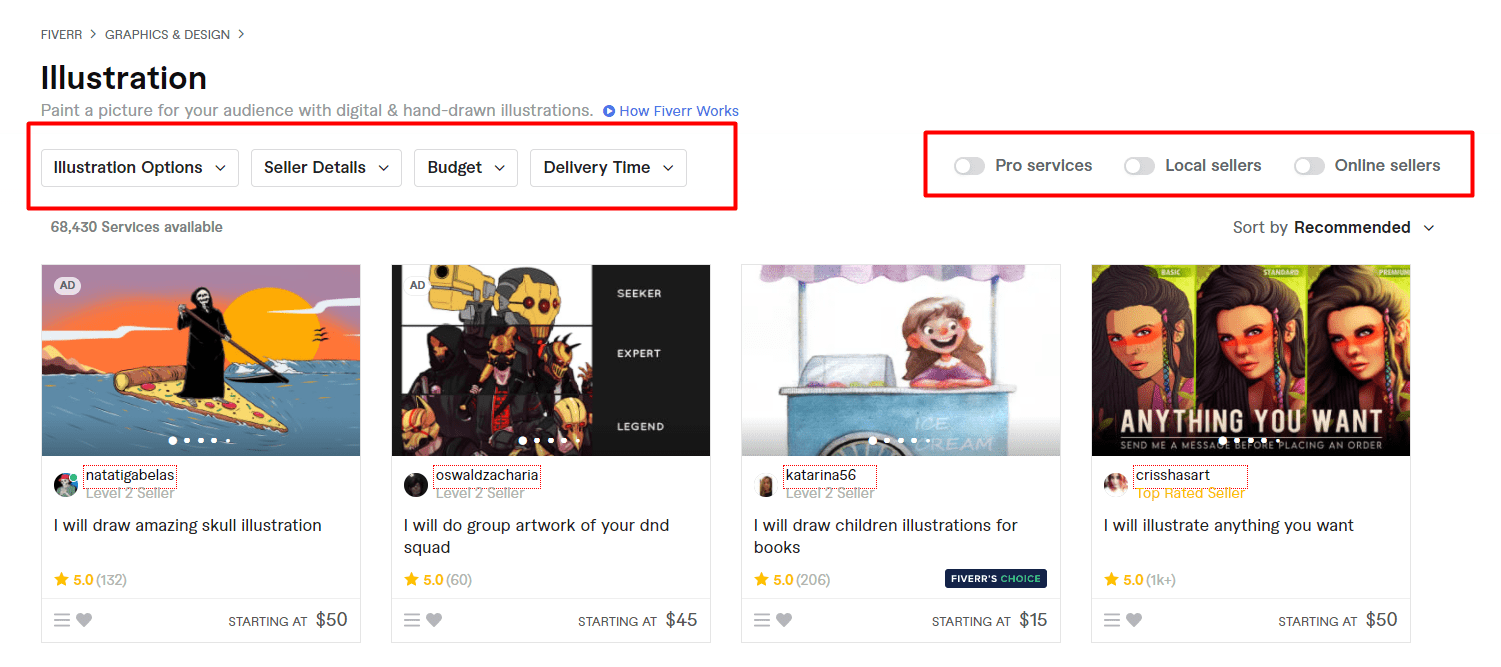 Fiverr is one of the best-known freelance marketplaces around, owing to its large user base and variety of service niches. After just two minutes of browsing, I was able to find graphic design services for business cards, brochures, flyers, logos, brands, and more. There are hundreds of thousands of freelance design gigs on the platform, so you'll have a lot to choose from.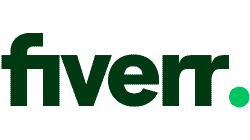 Get an additional 10 % OFF any Fiverr plan!
Don't miss out on this great deal!
50 users used this coupon!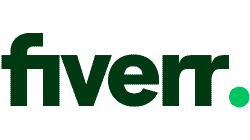 Fiverr 10% off
Copy and paste this code at Fiverr
One of the great things about Fiverr is its versatile price options. If you're on a budget, you can
find affordable designers starting at $5 a gig.
Or you can browse designers on Fiverr Pro. Pro-verified designers have all been carefully vetted, so
going pro gives you a strong guarantee of receiving high-quality designs
.
Features:
Experienced designers: Fiverr's top-rated sellers can deliver all kinds of high-quality designs. If you're unsure of someone's skill level, you can always check out their full profile to see details of work completed and customer reviews.
Budget-friendly options: Fiverr made its name on affordable freelance services, so there are lots of designers offering packages at a low cost. If money is no object, you can also check out Fiverr Pro, for even more experienced designers who've been personally vetted by the platform.
Time-saving filters:

Fiverr's robust search engine makes it easy to find the right graphic designer for you.

After clicking on the service you want or searching for a keyword, you can filter options by type of design job, seller level, budget, and delivery time.
Security: Your payment is held in escrow till you're happy with the work.

So, if a seller fails to deliver, your money is safe.
Check out our 
in-depth Fiverr Logo Design review
for more details.
Wide range of design services

✔

Designer ratings and reviews

✔

Budget designs available

✔

Secure payments

✔

Starting price

$

5.00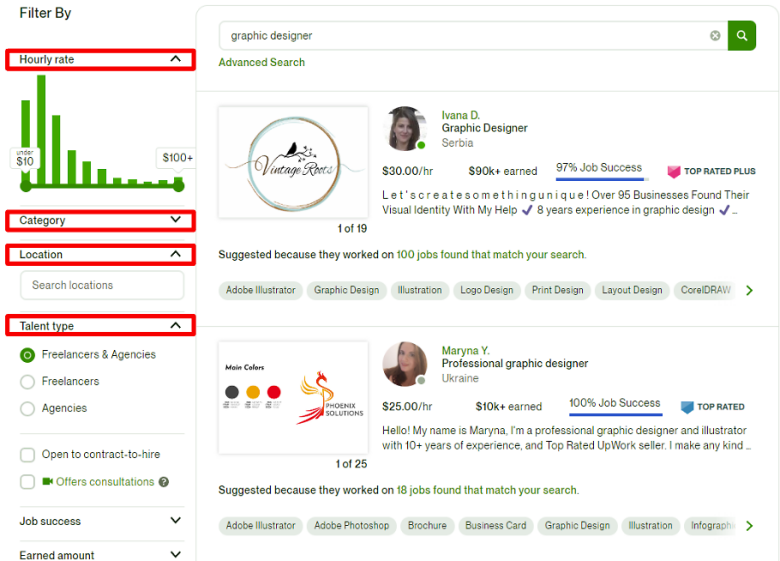 Upwork is one of the most versatile and well-organized freelance marketplaces I've used.
You can post jobs, review profiles, and hire designers the traditional way, or browse Upwork's "Project Catalog" for thousands of design gigs. Where other platforms zero in on quick one-off jobs, Upwork offers a slew of management tools that encourage long-term collaborations.
Upwork's absolutely gigantic talent pool is nothing short of impressive.
The search engine comes with some very advanced filters, and there are dozens of graphic design categories (e.g., 2D or 3D animation, AR/VR design), deliverables (e.g., social media, infographic), and styles (e.g., minimal, contemporary, art deco) to choose from.
Features:
Super-detailed designer profiles:

Every Upwork profile is like a complete resume, listing everything you need to know about a designer to help you make an informed decision. This level of detail isn't something you often see on online hiring platforms.

Different ways to hire: Upwork is flexible when it comes to hiring freelancers. You can submit a job and have candidates come to you or browse the marketplace for gig-like projects.
Work-related tools:

Upwork offers its very own time-tracking app that comes equipped with chat functionality, file exchange capabilities, a zoom integration, and more. Work diaries and advanced reports help you stay on track.

Low fees and secure payments:

Upwork charges a low 3% fee on every payment you make and doesn't release your funds until you approve the submitted work. 
Read our expert
Upwork review
to learn more about the platform.
Wide range of design services

✔

Designer ratings and reviews

✔

Budget designs available

✔

Secure payments

✔

Starting price

$

0
3. DesignCrowd – Good Value Design from around the Globe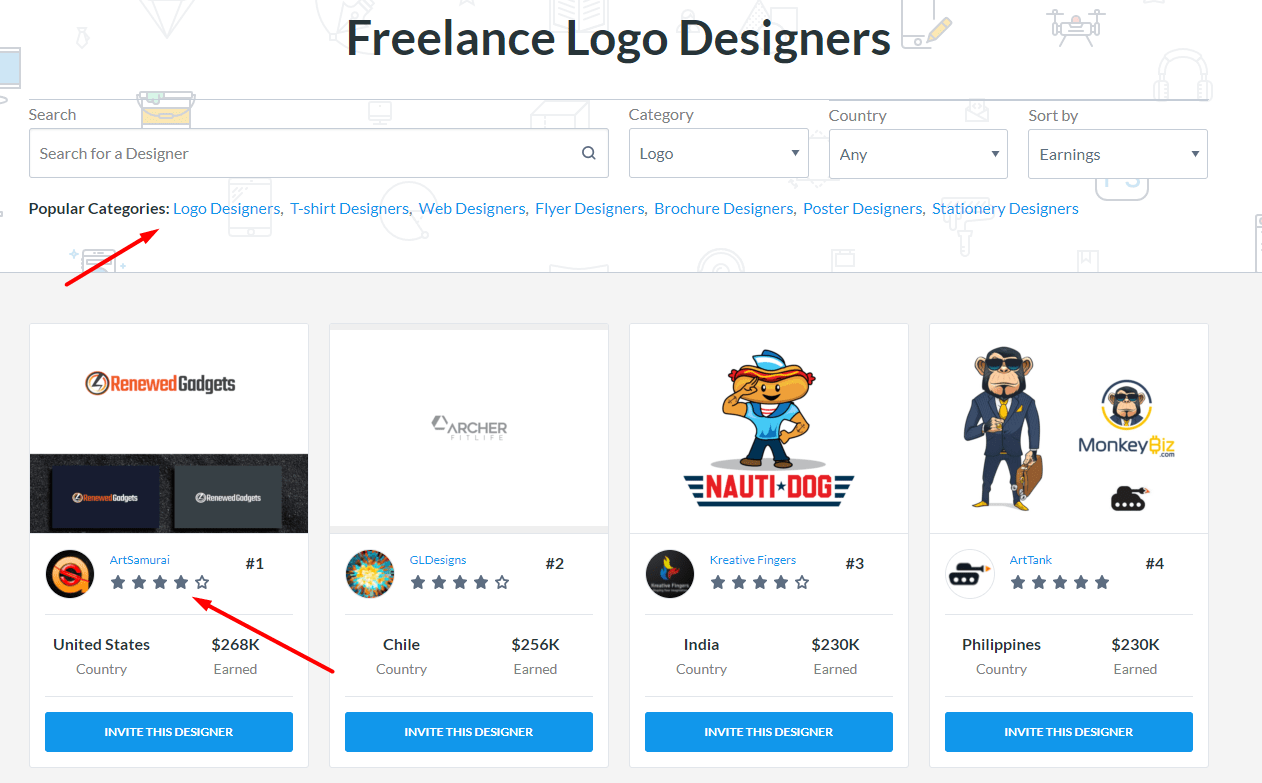 DesignCrowd is a good middle ground between budget graphic design on Fiverr and more expensive options on 99designs. You can hold designer contests similar to 99designs, but for a lower price (and less features). There are about 
640,000 designers
in its worldwide community, so you won't fall short of options! You can also get designs for a wide variety of categories – anything from ads to apps, to brands, to CD covers. It's possible to get designs very quickly after posting, sometimes within 24 hours. Designer profiles on DesignCrowd aren't as full-featured as they are on sites like Fiverr, although you can still get an idea of their ability and style.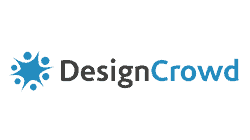 Save up to 50 % on your DesignCrowd plan!
Limited-time offer - Don't miss it!
179 users used this coupon!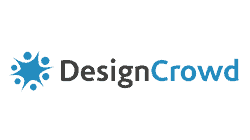 Get 50% OFF DesignCrowd
Copy and paste this code at DesignCrowd
Features:
Fast design contests: Prepare a brief and get design concepts from designers worldwide in less than 24 hours. Then pick your favorite submission, and download your files.
Wide range of categories: DesignCrowd has dozens of graphic design categories, which you can browse using the on-site filtering tools. You can also filter designers by rating, earnings, projects won, and country.
Favorite designer wishlist: When you're browsing the platform, it's easy to create a designer wishlist and start your design contest in just a few clicks. If you're willing to pay extra, you can directly invite your top designers to your project.
Private projects: Designcrowd can keep your project secret and away from the prying eyes of search engines, competitors, and other clients – provided you're ready to pay a little extra.
DesignCrowd recently won our logo design contest! To see our new logo in all its glory and read about the process, hop over to our
DesignCrowd review
.
Wide range of design services

✔

Designer ratings and reviews

✔

Budget designs available

✔

Secure payments

✔

Starting price

$

109.00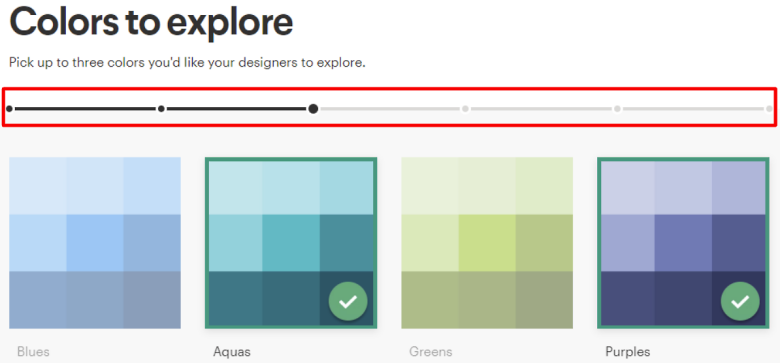 99designs helps you find the designer best suited to your tastes by finding and presenting the style you're looking for to potential applicants.
You run a design contest based on your visual presentation and choose from freelancers who
apply
. I love this, as it lets expert designers come to you! You can run contests in over 90 design categories, including the big ones like logos, web design, and illustrations. Since 99designs is such a big platform, you could get a hundred or more bids on a contest. This can quickly become overwhelming – but to help you make an informed decision, designer portfolios include useful information on how many contests the designer has won, as well as their number of repeat customers.
Features:
Design contests: Create a brief for the design you want, and designers around the world will compete to fulfill it. Then you pick the design that best matches your needs.
Quality guarantee: When designers apply to join the 99designs platform, they're manually vetted by a "Curation Team". Once they're in, you know they've met the requirements for technical skills, design principles, conceptual thought, and client communication.
Quick turnaround: Most contests on 99designs run for about a week or so. By paying a bit extra, you can expedite the process and receive a large number of submissions in 24 hours or less.
Great filtering tools: You can use seller levels (entry, mid, and top-level) to help you find the right designer. You can also filter by category, sub-category, and industry to fine-tune your results. And there's a language filter, too.
See how well 99designs performed in our logo contest by checking out the
full 99designs review
.
Wide range of design services

✔

Designer ratings and reviews

✔

Budget designs available

✘

Secure payments

✔

Starting price

$

299.00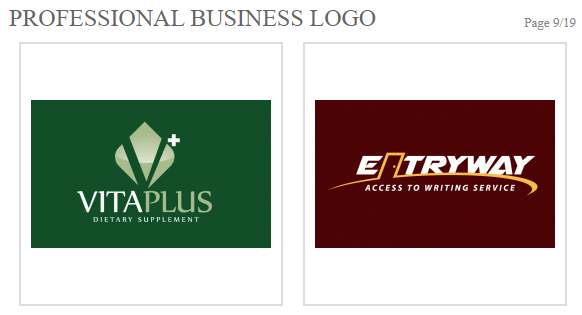 Services like Fiverr, 99designs, and DesignCrowd are a good choice if you have varied graphic design needs, but
if you just want a logo, then LogoNerds is worth a look
, despite the dated design of its website. You can also get designs for character mascots and small business websites. You'll get a good design for a reasonable price (along with free revisions), but you need to download your design quickly. Just 10 days after your logo is delivered, the file will be wiped clean from the LogoNerds database. Frankly, this makes me nervous! I can picture either forgetting to grab my files in time or having an unfortunate coffee-related accident and losing my design for good.
Features:
Logo design specialists: LogoNerds specializes in logo design, so you won't have to wade through other types of designers to find the perfect one.
Affordable design packages: LogoNerds has three design packages available, with the cheapest starting at less than $30. Set your brief and you get several concepts to choose from before making your final choice.
Quick delivery: Designs are delivered within 3–5 business days, which is quite fast, considering you get 3 or 6 different concepts (depending on the package) with your order.
Risk-free design process: The company will redraw your logo from scratch free of charge if you're not completely happy with your design.
To see some logo samples and learn more about the process, read our
full LogoNerds review
.
Wide range of design services

✘

Designer ratings and reviews

✘

Budget designs available

✔

Secure payments

✔

Starting price

$

27.00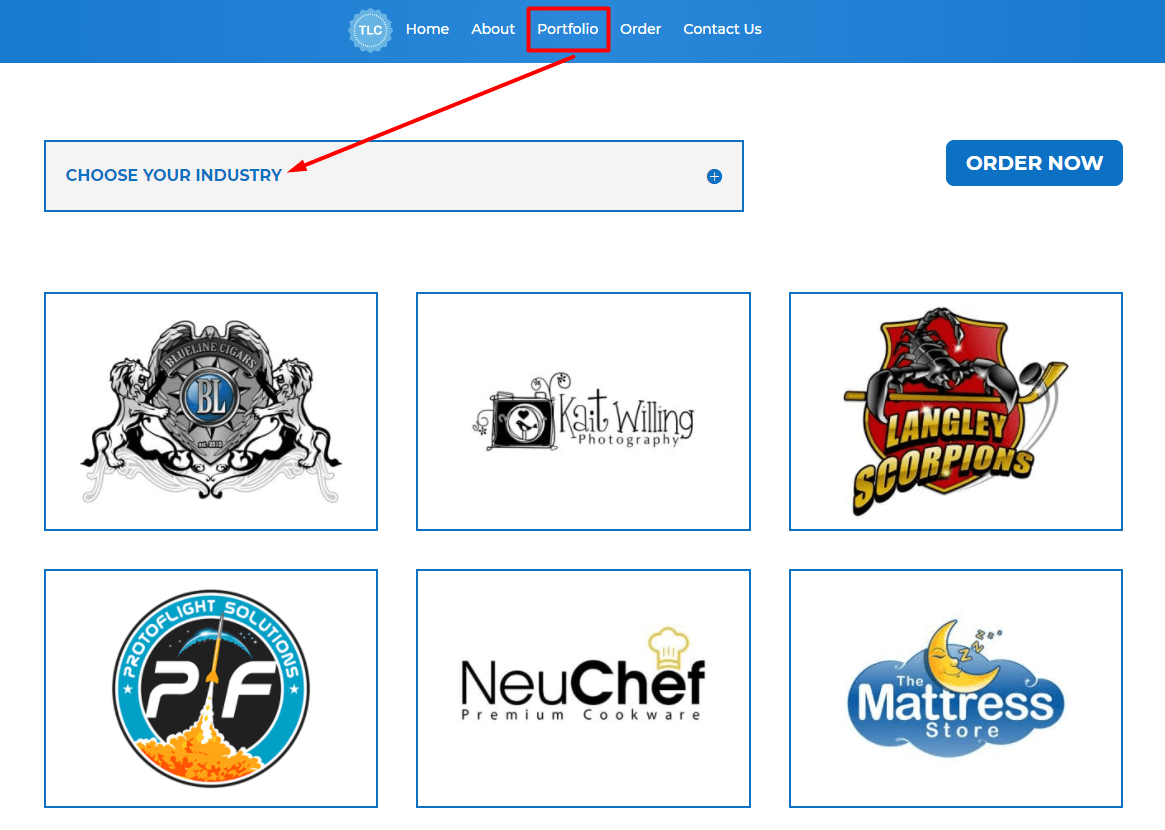 After placing your order, the Logo Company has five different designers develop unique concept designs for your project. Overall, the cost for a logo is higher than other budget options like Fiverr, and you don't get to pick who you work with. That said, the high-quality design you get is well worth the price, in my opinion.
Features:
Save time on choosing designers: The company selects five designers to work on your project when you input your brief, instead of you browsing through thousands of graphic designer profiles. Within a few days, you will receive five concepts to review before selecting a winner.
Unlimited revisions: This is a biggie, as many platforms charge extra for multiple revisions. The Logo Company guarantees to revise and redraw till you get a logo you're happy with, which brings peace of mind that whatever happens, you'll get a logo you love.
Multiple design packages: You can go for the logo only, or packages that include business cards and stationery. You can also add extras like Microsoft Word templates and social media designs to get your new brand off to a good start.
Permanent file storage: Once delivered, some design platforms will only keep your files alive for a couple of days/weeks. The Logo Company keeps backups of your designs for you on its servers – forever.
You can see examples of the company's work on the homepage, or read our
full review of The Logo Company
to see some designs they created for us
Wide range of design services

✘

Designer ratings and reviews

✘

Budget designs available

✘

Secure payments

✔

Starting price

$

199.00
How to Become a Freelance Graphic Designer
Ready to dive into a rewarding freelance graphic design career? Here's how to get started.
Create Portfolio Pieces. It's okay if you don't have any previous clients, you can create mock-up projects for your freelance design portfolio. This lets potential clients see if your skills are a good match for their projects. Cover a range of designs and styles, including print collateral, social media graphics, and website graphics.
Set Up Freelance Website Account(s). Bring your portfolio pieces over to freelance websites – I highly recommend Fiverr. You can include add-ons and tiered design packages to suit each clients' budget and project scope. Over time, you can adjust your prices to earn even more as you build a solid reputation as a talented and reliable freelancer.
Apply for Freelancing Opportunities. Don't just sit and wait for the work to come – you want to seize every opportunity to build your experience, too. Search around and apply for design jobs posted by companies on Fiverr and other freelance sites. Some sites offer paid contests for logos, banners, and more. 99designs is one of the most popular contest platforms – with guaranteed money for the winners. Even if you don't win, you can showcase contest entries and mock-ups on your portfolio page; this can help you bring in new (and repeat) clients.
Promote Your Work on Social Media. You can keep repeating steps 2 and 3, but another way to build clout as a freelance designer is to promote your work on social media. It's also a great way to build a network of clients and fellow design professionals who can help you land long-term freelance contracts and extra work.
Hungry for more? Here's our ultimate guide on
how to start freelancing
.
Are You a Graphic Designer Looking to Sell Your Services?
Whether you're straight out of college or you have years of graphic design experience under your belt, Fiverr can help you kick off your online freelance career.
In less than an hour, you can create and verify your account, edit your profile, and post your first gig.
As the biggest freelance platform on the web, Fiverr can help you showcase your talent to a broad audience. And despite popular belief, Fiverr isn't just about quick one-off jobs that pay very little.
If you have the experience, you can apply to the Fiverr Pro program, allowing you to increase your rates and attract bigger clients.
Hundreds of graphic designers who use Fiverr gets jobs every day, and there's a good reason why:
It's easy to use. You don't need previous freelance experience to use Fiverr's tools. The system will guide you through the sign-up process, and helpful tips will help you set up your profile and post your first gig.
It's great for niche markets. What do you do best? Is it logos, web design, UI design, packaging design, illustration, or something else? No matter your niche or skill level, there's a place for you in Fiverr's community of freelancers.
It helps you optimize your performance. Fiverr provided users with helpful SEO tips to help with their visibility on the site. There's also a complete analytics suite that tracks your impressions, clicks, and other useful performance-related stats.
Learn more about Fiverr's features in our expert guide
. Follow the steps below to start selling on Fiverr:
Step 1:
Head to Fiverr's homepage and
click on the "Join" button
in the top right-hand corner
to get started. You can use your email to sign up the old-fashioned way or connect via your Facebook, Google, or Apple account.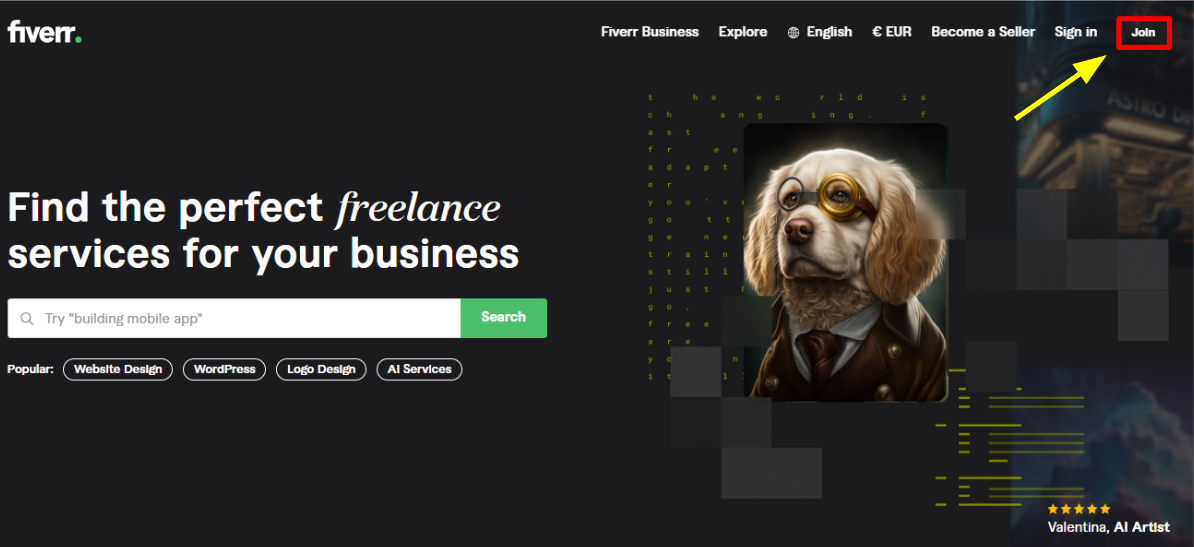 Step 2:
Pick a username and a password. Note that your username will actually become your Fiverr profile name, so try to avoid awkward nicknames like "Joedaddybear" or "Helenmelon" – this last one doesn't sound that bad, actually.
Step 3:
Check your email inbox for Fiverr's account activation code. The link should take you to the homepage.
Step 4:
From here, click on your profile icon in the top-right corner and select "Become a Seller."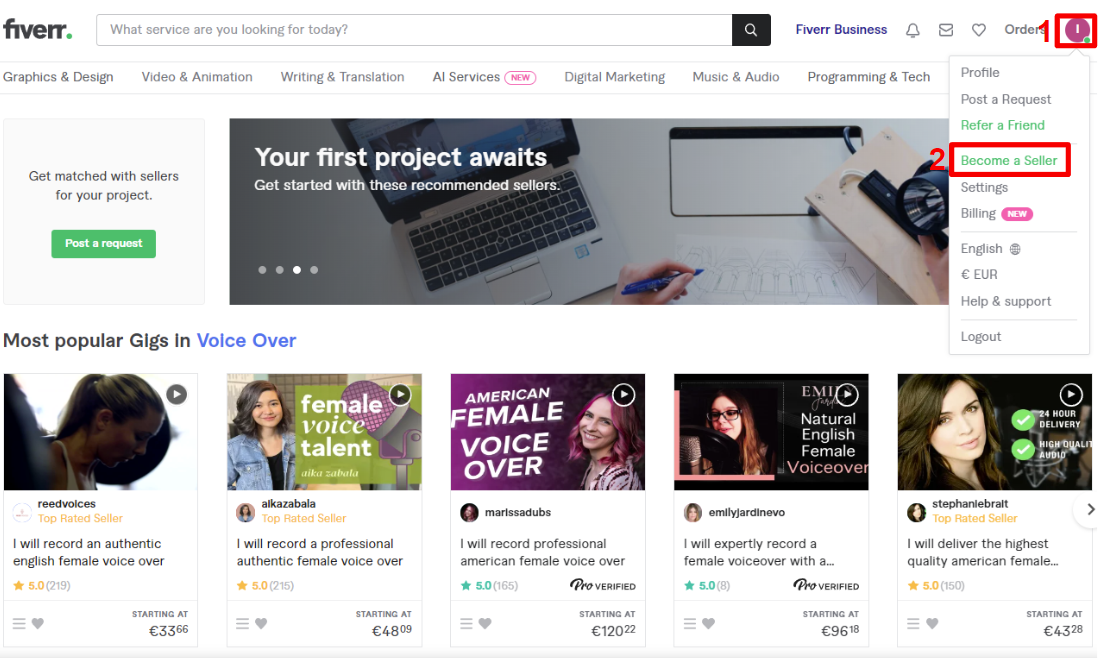 Step 5:
Fiverr will ask for more information about your services and professional experience. Fill in as much as possible and aim for a profile completion rate of 100% to maximize your gig's visibility on the platform. Fiverr will let you know how much you have completed as you go.
Step 6:
To begin setting up your first gig, head back to your profile page and click on the "Create a new gig" button. Make sure your gig will be a roaring success by consulting our comprehensive
Fiverr for Freelancers guide
.
Find the Perfect Graphic Designer
So, which freelance graphic design website is right for you? Each of the sites on our list has particular strengths, depending on what your business needs. If you need a variety of graphic design services within a set budget,
Fiverr
gives you the widest choice and budget range
. Plus, it's easy to see who the best graphic designers are.
If you want to establish long-term relationships with your designers, Upwork is the best choice for managing hourly contracts
. It also features many advanced tools that simplify management and improve communication, helping you – and your hires – stay focused while work gets done.
If you're not sure what you want and would like to test a range of design options, then the design contests on
99designs
 or
DesignCrowd
might suit you. You'll have the chance to see and compare multiple concepts before making a final decision. Of course, since Fiverr has plenty of affordable freelancers, you could also hire several designers there and run a little contest of your own. Here's a quick comparison table so you can see the differences between the platforms at a glance.
| | | | | |
| --- | --- | --- | --- | --- |
| Website | Range of services | Design contests | Budget-friendly | Price |
| Fiverr | ✔ | ✘ | ✔ | |
| Upwork | ✔ | ✘ | ✔ | |
| DesignCrowd | ✔ | ✔ | ✘ | |
| 99designs | ✔ | ✔ | ✘ | |
| LogoNerds | ✘ | ✘ | ✔ | |
| The Logo Company | ✘ | ✔ | ✘ | |
FAQ
What is the best freelance website for graphic designers?
It all depends on your budget and the job at hand.

You can't ever go wrong with

Fiverr
, which can reliably connect you with thousands of graphic designers without breaking the bank. If you'd rather hire designers for more complex and time-consuming projects, you might prefer Upwork's flexible hourly contracts
.
How much do freelance graphic designers charge?
There's a wide variety in freelance graphic design pricing. If you use Fiverr, you can get a professional design for as little as $5, which is great for businesses on a tight budget. But many other graphic design prices range from hundreds to thousands of dollars, depending on your requirements.
Can I get a freelance graphic designer for my logo?
Yes, it's easy to find a freelance graphic designer for your logo. The sites in this roundup give you a good starting point, and Fiverr's always a good bet for a range of design services.
Why should I go with a freelance graphic designer versus an agency?
Hiring a freelance graphic designer is a great way to find a specialist expert, so you get the perfect design. You can also keep your costs manageable by only hiring the freelance services you need and cutting out the middleman. In contrast, if you go with an agency, you'll likely be locked into a contract, and team members' skill sets may not be precisely what you want.
What information do I need to give to a graphic designer?
The graphic design brief is a key tool in helping you achieve the design you want. You'll need to let your graphic designer know if you have a particular design style in mind, what the design will be used for, and where it will be used. And you'll need to be clear about size, file format, and so on.