Design is a crucial aspect to any brand, regardless of industry or size. Whether your business is a well-oiled machine that could use a little help with surplus work, or you are just starting out and are looking to develop your company's visual materials, a freelance graphic designer could be just what you need.
Finding a freelancer that understands your business and artistic vision can seem like an overwhelming task. There are thousands upon thousands of freelance graphic designers for hire online, and almost as many ways to go about finding them. To give you a jumpstart, we've evaluated five of the best hiring platforms for graphic designers; each has a different user interface and areas of specialty, so you'll need to decide which will work best for you.
What to Know Before Your Search
Before you start your search, there are a few things that you should consider to ensure that you get a designer that will best match your professional needs. By asking yourself these questions you—and the freelancer—will have an excellent chance at a positive hiring and work experience.
Do you need an ongoing designer, or help with a specific project?
Does it make sense to have an hourly budget (if the project is open-ended or evolving) or a project fee (if the project is well-defined and finite)?
Are you looking for an all-purpose designer, or someone who specializes in logos, infographics, etc.?
What are the file types you will ultimately need, and are there any programs (e.g., InDesign, Photoshop, After Effects) that the designer should be familiar with?
What is your anticipated start date and how much time should a freelancer expect to dedicate (i.e. number of weeks, as well as hours per week)?
Are there brand guidelines or existing materials that would be helpful to share with the candidates?
Once you have the basics decided, it's time to find the best platform to search!
#1: Upwork
There are over 12 million registered freelancers on Upwork, with more joining every day. If you need a project manager or copywriter in addition to a graphic designer, this is a great place to find short or long-term talent with a wide range of expertise.
Once you've signed up and have indicated that you are looking to find freelancers, you can either post a job and have individuals submit proposals, or you can search for talent directly.
A search for "graphic design" yielded over 200,000 results, so you'll likely want to use Upwork's in-depth filtering system to help you narrow down the candidate pool to find those that are best suited to your needs. You can narrow results by:
Location (e.g., "U.S. only")
English level (basic to fluent) or other languages
Amount artist has earned on the platform
Job success score, based on past completed jobs
Hourly rate (from $10 and below to $60 and over)
Hours billed on the platform (only applies to hourly projects, not fixed rate)
Last activity (e.g., within two weeks, or two months)
Category (e.g., web and mobile design)
Freelancer type (independent vs. agency freelancers)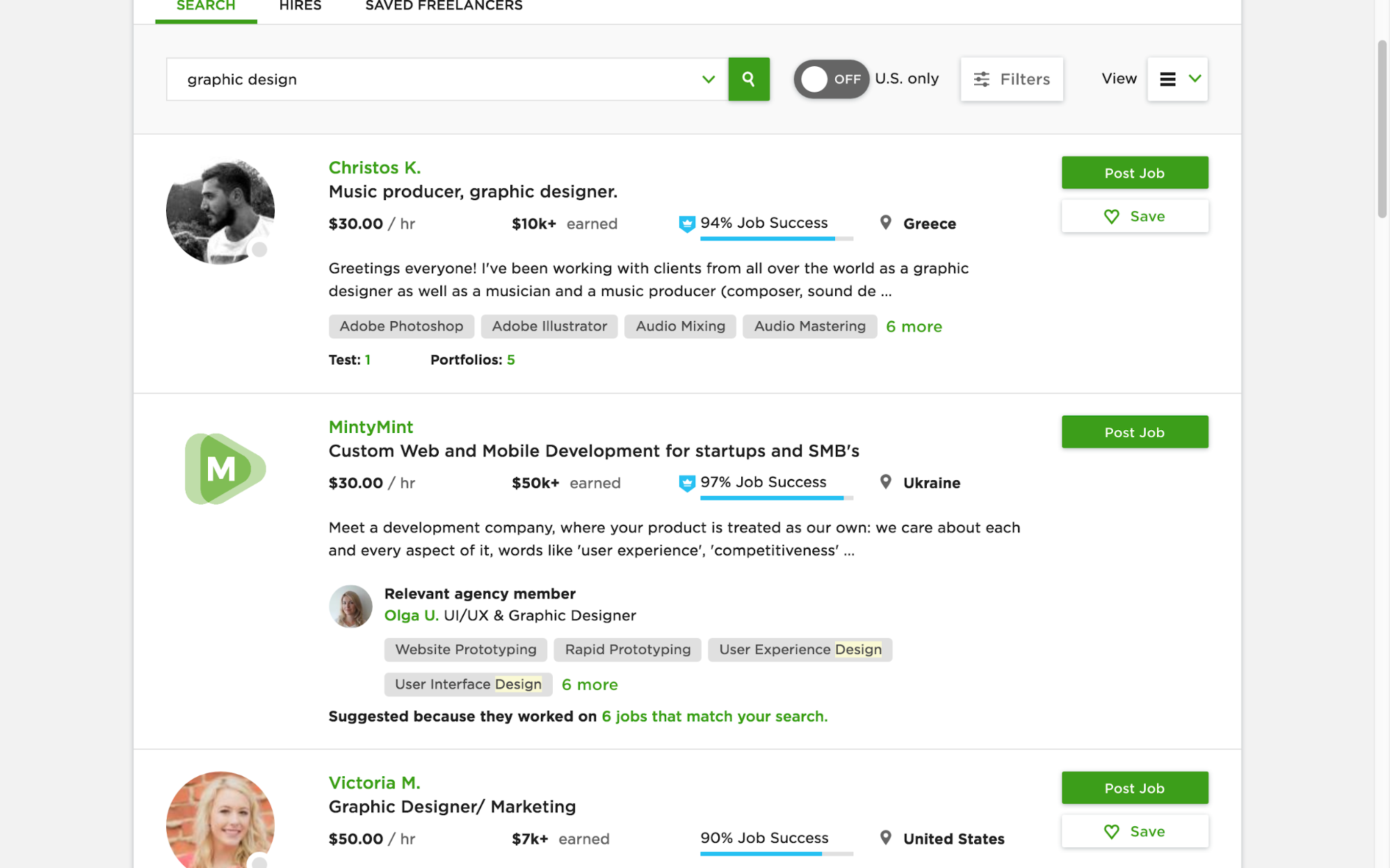 When you find a designer that you're interested in, click on their profile to find out more about them. Profiles include information such as:
A short bio / introduction
Portfolio examples
Relevant work history and feedback
Upwork statistics and on-site test results
Education and employment history
If you'd rather post the job and let applicants come to you, it is possible to set a number of parameters for applicants (e.g., a minimum Job Success Score, or a certain number of hours logged on the platform). You are also able to include additional questions to be included in the application (e.g., Why do you think you're right for this position? Do you have any questions about the job post?)
Upwork's payment structure is pretty flexible; freelancers can be hired at either a project rate or on an hourly basis. You also have the ability to create milestones for a fixed rate project if you'd like to break it up into sections, or if you have ongoing work for the freelancer.
Upwork is a great place to find talent if your budget or needs fluctuate, or if your business has a wide range of positions that you'd like to hire out for.
#2: Freelancer.com
On Freelancer.com, you can post a job in just minutes depending on the extent of the project and how detailed your instructions are. Simply click "I Want to Hire" on the main page to get started.
To post a job, you'll need to name your project, include any details, and choose the skills required. Adding more skills to this section helps to ensure that you find candidates that can meet all of your design needs. There are two options when it comes to posting job:
Post a project: Receive quotes from applicants and either pay a project fee or an hourly rate; this is best for projects that have very clear and specific parameters
Start a contest: A great way to crowdsource ideas from talent who can win a prize if their idea is selected; contests can run anywhere from one to 30 days; best for projects where you are looking for creative inspiration
Similar to Upwork, a basic search for "graphic design" yielded more than 200,000 results. You can easily narrow this number down through a number of filters:
Skills (e.g., Adobe Flash, Business Cards, etc.)
Exam scores (e.g., HTML5 Basics 1, JavaScript Level 1, etc.)
Hourly rate (less than $10/hour to more than $40/hour)
Countries or specific location
Rating (one to five)
Whether the freelancer is "online now" (good when looking for an immediate hire)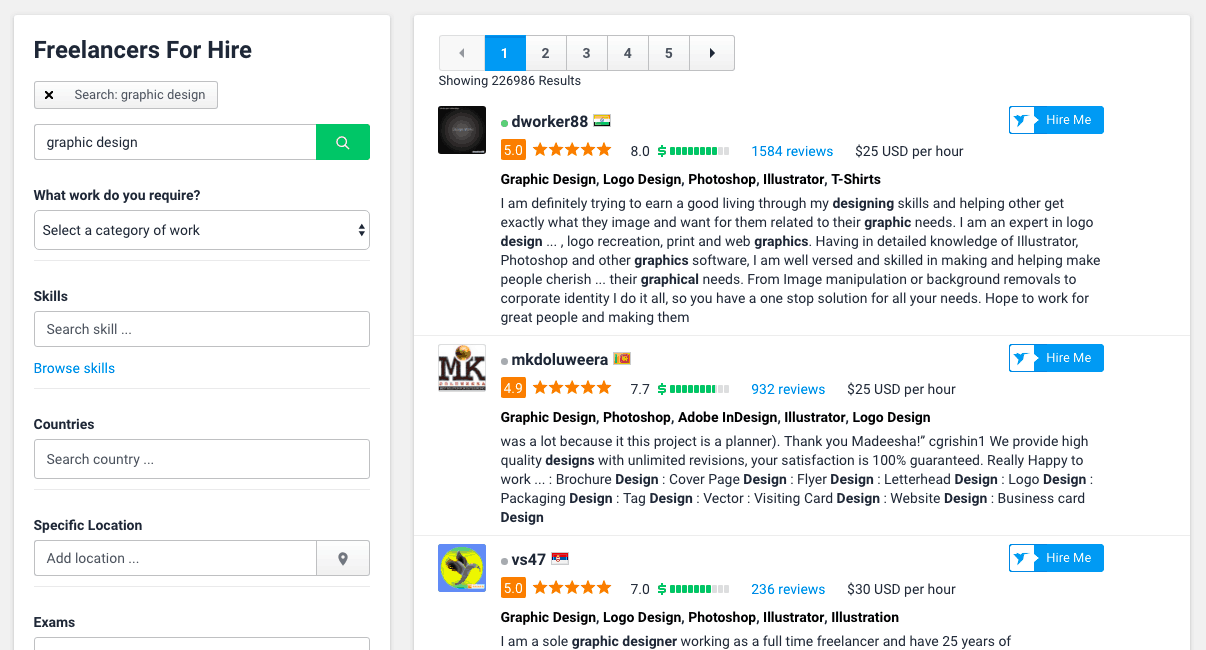 A freelancer's profile is similar to what you would see on Upwork, including:
An overview / bio
A portfolio
Recent reviews
Past experience and education
Certifications and verifications
Stats including:

Percentage of projects completed
Percentage completed on time
Percentage completed on budget
Repeat hire rate

Similar freelancers with comparable skills
Freelancer.com is similar to Upwork in that it best serves businesses with a wide variety of creative needs and different budgets. However, given the platform's ability to post contests, this may be a preferred venue when looking for design inspiration.
#3: Fiverr
This is another freelance platform where you can find a range of specialties, although all of the freelancers tend to be in business and design-related fields. Fiverr has a smaller freelancer pool than Freelancer.com and Upwork, and a search for "graphic design" only yielded about 5,000 results.
However, what really sets this platform apart is the ability to narrow down your search for specific talent. For example, do you want to create "flyers and brochures," "social media design," etc.? In terms of aesthetic, are you looking for "vintage/retro," "watercolor/feminine," etc.? For file format, will you need JPG, SVG, etc.? There are a number of specific filtering options that are much more design-oriented than either of the aforementioned freelancer hiring platforms.
After supplying this additional information, the freelancer pool will be narrowed down considerably to just include those who best suit your needs.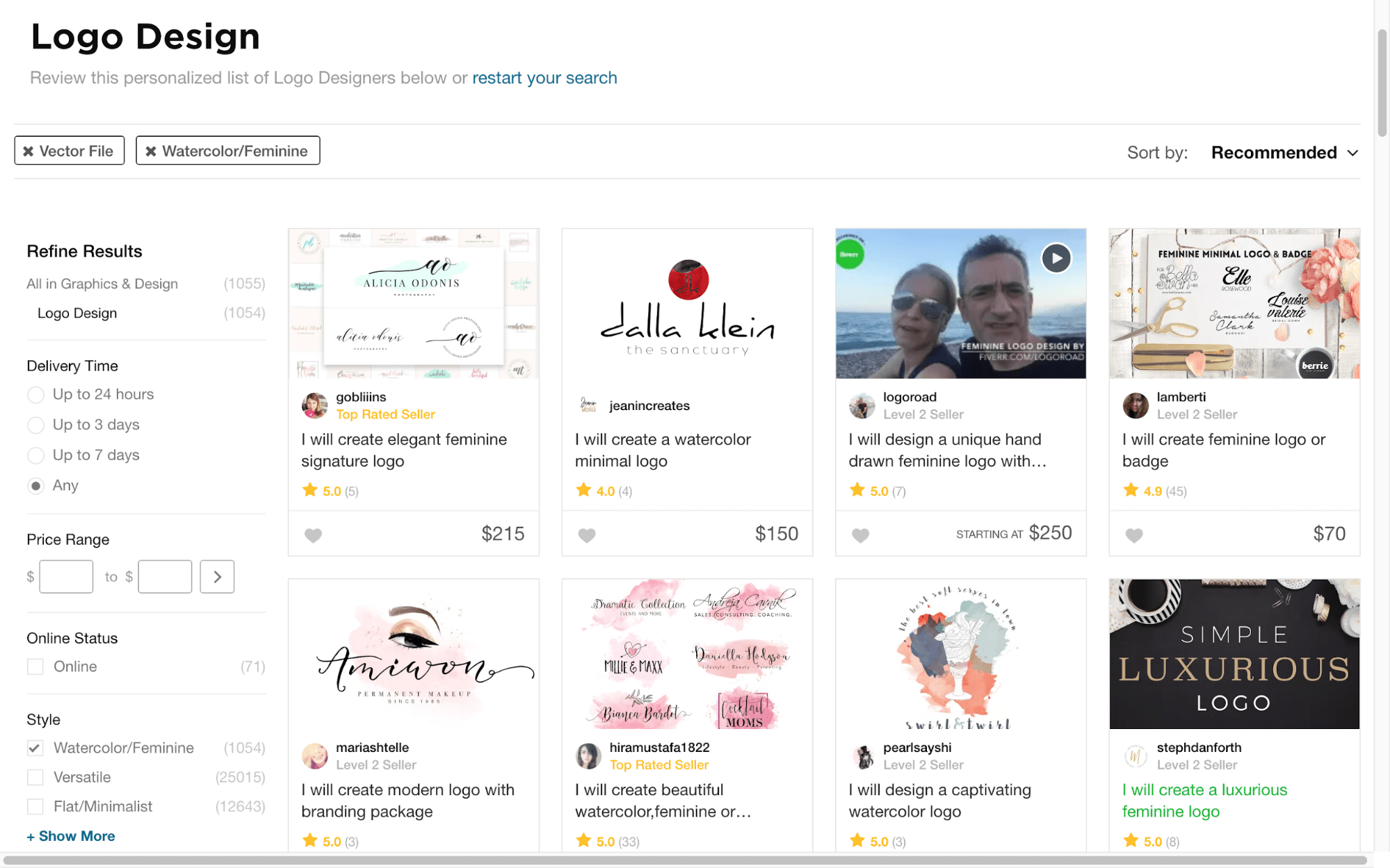 On Fiverr you have the ability to post a job request to the Fiverr community, but the primary way that you acquire talent is to contact a freelancer directly. As opposed to Freelancer.com or Upwork, freelancers create tiered offerings that buyers can browse and then purchase.
For example, a graphic designer may state that they will create a single logo for you in a couple different formats for a certain amount of money; for a higher price you might get more design options as well as business cards, etc. You are also able to contact a freelancer directly if you have specific requests, and the two of you can come to a mutual agreement on deliverables, price, and turnaround time.
Fiverr profiles are very portfolio-centric; when you click on a freelancer's profile, the real focus is on their aesthetic and body of work. For this reason, Fiverr may be a preferred platform for businesses who have a specific design direction in mind for well-defined and finite projects.
#4: Behance
Behance is a design gallery that is owned and operated by Adobe, which boasts over 12 million creative professionals. The website provides creatives the ability to showcase their work, and gives them increased exposure to those within the design community.
In order to post a job you will need to be a Creative Cloud member; there is a tiered subscription service if you are looking to post and hire talent regularly. This is obviously a big difference compared to the other freelancer platforms that have been previously discussed.
You can browse projects directly on the homepage, and click on the project to discover more about the designer and get in contact with them via messaging. Behance's layout emphasizes projects, making it easy to find a medium and design aesthetic that will suit your particular needs.
On project pages, you see the work first, not an artist's profile picture. This makes Adobe Behance a great place to find qualified, highly skilled designers. Personal project pages also highlight projects. You can browse curated galleries by medium, including graphic design, photography, illustration, interaction, motion, product design, and more.
First and foremost, Behance is a design community, populated with creative professionals. Whereas the freelancer platforms mentioned earlier can have a pretty lax definition of a "graphic designer," Behance only includes tried and true professionals. This is an option that should really only be used by companies who have a high level of experience working with designers, and have a budget that can match the level of talent.
#5: 99Designs
99Designs connects businesses with graphic designers either through contests or by browsing portfolios and reaching out to designers directly. Their online talent includes experts in over 90 different skill sets, and every designer has been vetted for experience and quality, something that many other platforms do not offer.
When searching for "graphic design," over 3,000 individual results were populated. Like Fiverr, there is a very design-specific filtering system that you can use to narrow down your search. For example: If you are looking for "logo and identity" work, are you looking for "logo design," "brand guide," "stationary," etc.? You are also able to choose from a number of industries, such as "retail" or "automotive," that you may require a designer to have experience in.
The contests on 99Designs are more focused than other sites, as they ask questions to help you pinpoint exactly what it is you're looking for. The slider system used here is very effective in helping you state your needs in an easy-to-understand way. This will effectively narrow down the number of bids you will receive, so only the most applicable candidates apply.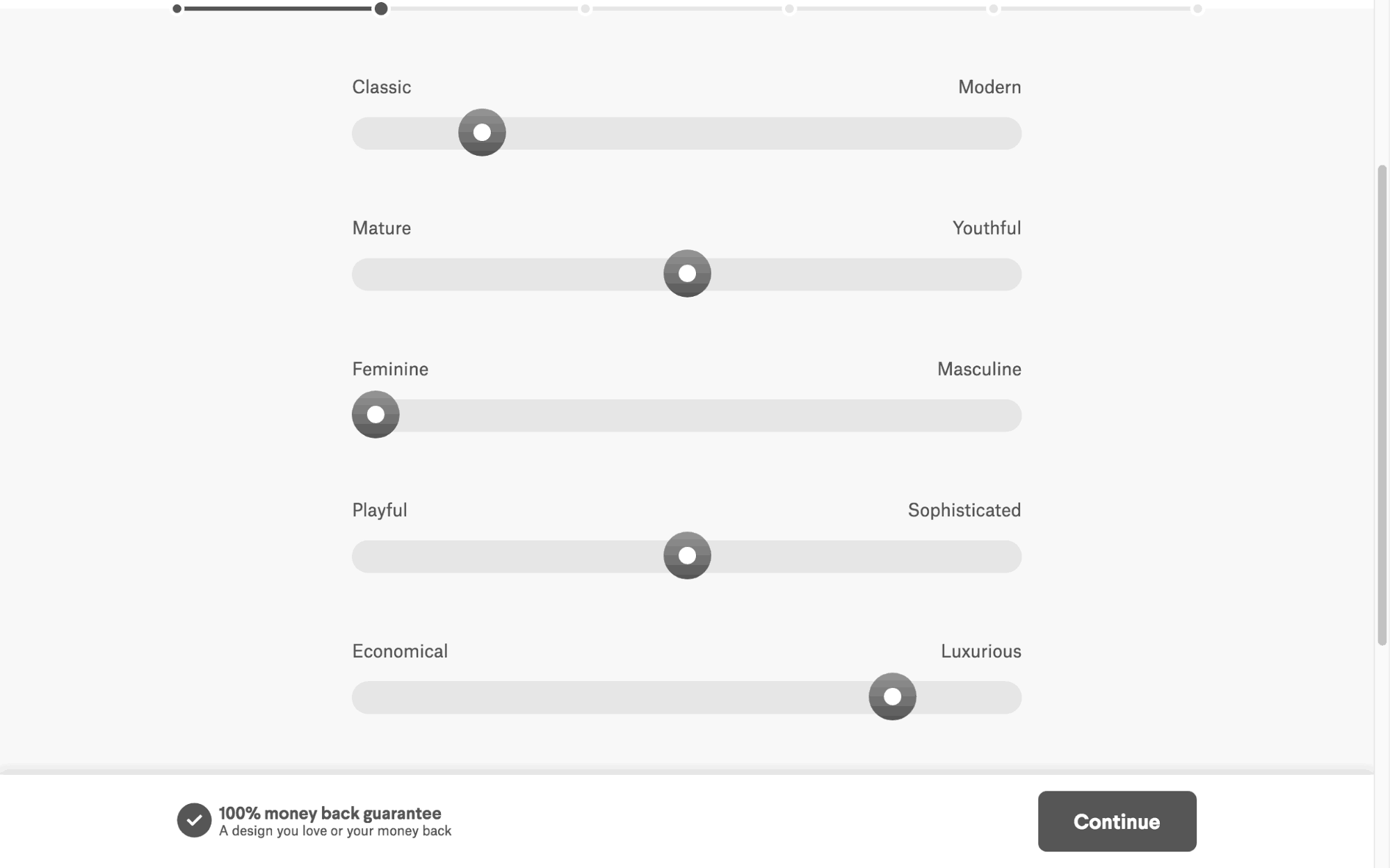 After completing the survey and deciding what package you'd like to buy, post the contest. The more money you spend, the more talented your artist pool will be.
You can also browse designer portfolios and ask individuals for a quote directly. Again, these portfolios lead with projects, but there is a second page with a bio and reviews. When reaching out to a design for a quote, you will be required to fill out a form that provides additional information on the project.
99Designs is recommended for large businesses with large budgets. These are top-of-the-line designers, and you certainly pay to have access to this pool of talent. That said, this can be a great option for companies that often have ongoing projects and are looking to develop ongoing relationships with qualified individuals.
A Graphic Designer for Your Every Need
Each of the above platforms are reliable places to find graphic designers, however, they vary quite a bit in terms of the process to search for and hire talent. Consider your long and short-term needs to determine which will be the best platform to discover the right talent for you and your business.