When you're looking to hire a freelance graphic designer, you have plenty of websites to choose from. The problem is, some of them just aren't all that good.
Some sites offer no customer support, while others don't even show examples of potential designers' past work. The wrong platform can end up being a waste of time and money.
You want to use a website with an accurate and up-to-date portfolio system. You want plenty of talent to choose from and you want to read reviews from past clients. And you don't want to pay a fortune for a simple job.
We know how important it is to find a designer that really gets you. We tested all the major freelance platforms out there to bring you this list of the very best. The perfect designer for your project is waiting for you on one of these five sites.
What We Look For in the Best Freelance Websites to Hire a Graphic Designer
In our mission to help you find the designer of your dreams, we tested all the major platforms while taking the following into consideration:
The ability to view any designer's past work: You want to know that your graphic designer's style is right for your project before you hire them.
Graphic designers that can meet any budget: Professional design doesn't have to cost a fortune. We included sites that host designers who are selling their services for as low as $2 per hour!
Freelancers that can handle any graphic design job imaginable: Among these sites you'll find graphic designers that specialize in all possible design fields.
Responsive customer service: Should something go wrong with your graphic designer, you want someone you can turn to. All the sites listed here have a customer service team available to help you resolve any disputes you may have.
Feedback from past clients: We made sure to include sites that feature some sort of feedback system so you can see what past customers thought of a designer's work.
Fiverr – The Most Budget Friendly
Over the years, Fiverr has earned its place as one of the biggest names in the world of freelancing. These days, it gets mainly positive reviews.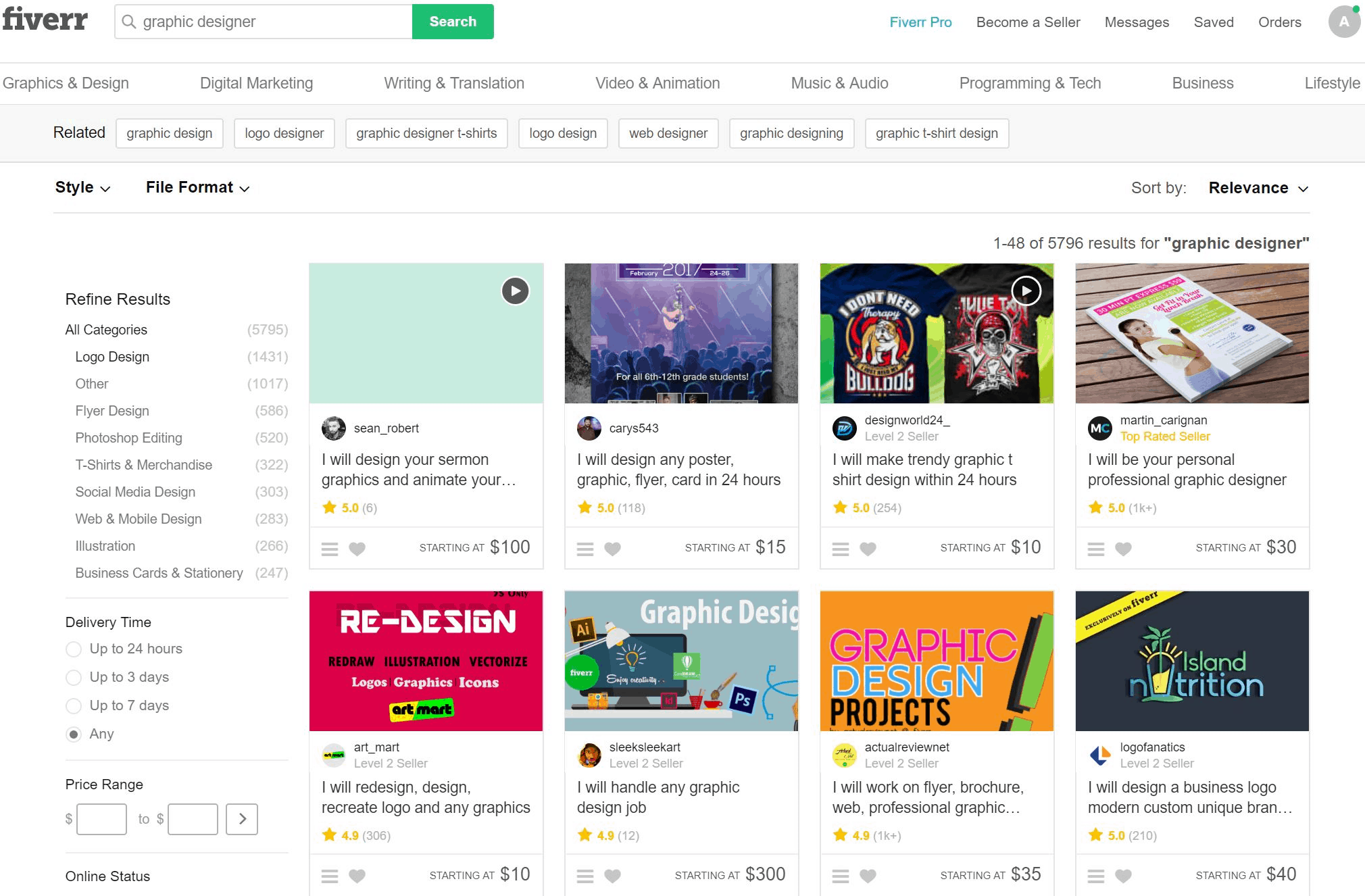 Graphic design happens to be one of the more popular services on this diverse and user-friendly platform. Designers on Fiverr offer services covering everything from business flyers to Amazon listing designs. Some can probably handle any design job you can throw at them.
Professional design doesn't have to cost a fortune. You can find freelancers to meet any budget on Fiverr, and the platform's fees shouldn't set you back more than a few bucks.
Finding the perfect designer may take some time here, but Fiverr's great filters help weed out the undesirables.
Features
No more guessing games: All freelancers on Fiverr are given a seller level. Seller levels are determined based on a number of things, including their reviews, jobs completed, income earned, and response rate. Everyone starts with a New Seller rating, and the best of the best have the Top Rated Seller badge.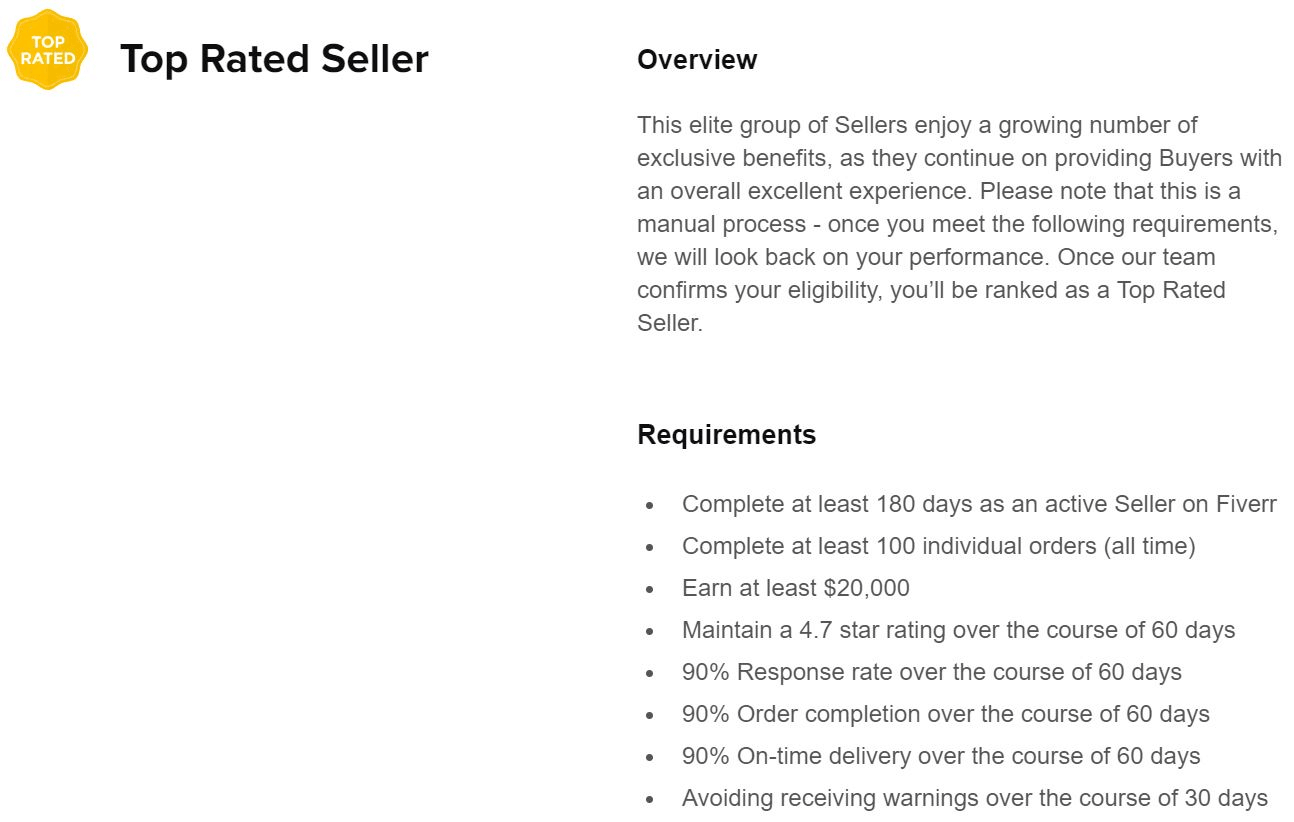 Design done quickly: If you're the type to wait until the last minute to get stuff done, then Fiverr may be perfect for you. Most graphic designers offer services that can be completed in 24 hours or less, although you may have to pay a bit more for rushed jobs.
Don't spend a fortune: Fiverr is a great choice if you're looking for a simple design job and you have a tight budget. Many design gigs start for as low as $5. (More complex projects will likely set you back a bit more.)
Save valuable time: Fiverr's time-saving search filters are awesome. You can narrow down your designers by their category of expertise, the file formats they specialize in, and even the style that they work in.
| | |
| --- | --- |
| Does it cost money to use? | There's a $2 charge on jobs costing up to $40, and a 5% charge on jobs over $40 |
| Is there a review system? | Yes |
| Can you see examples of previous work? | Yes |
| Are there user-friendly search filters? | Yes |
99designs – Graphic Designs You're Guaranteed to Love
Unlike the other websites on this list, 99designs was created solely for freelance designers to sell their skills. Just like the name suggests, 99designs hosts freelancers who can help you in over 90 different types of design, such as book covers, business cards, and websites.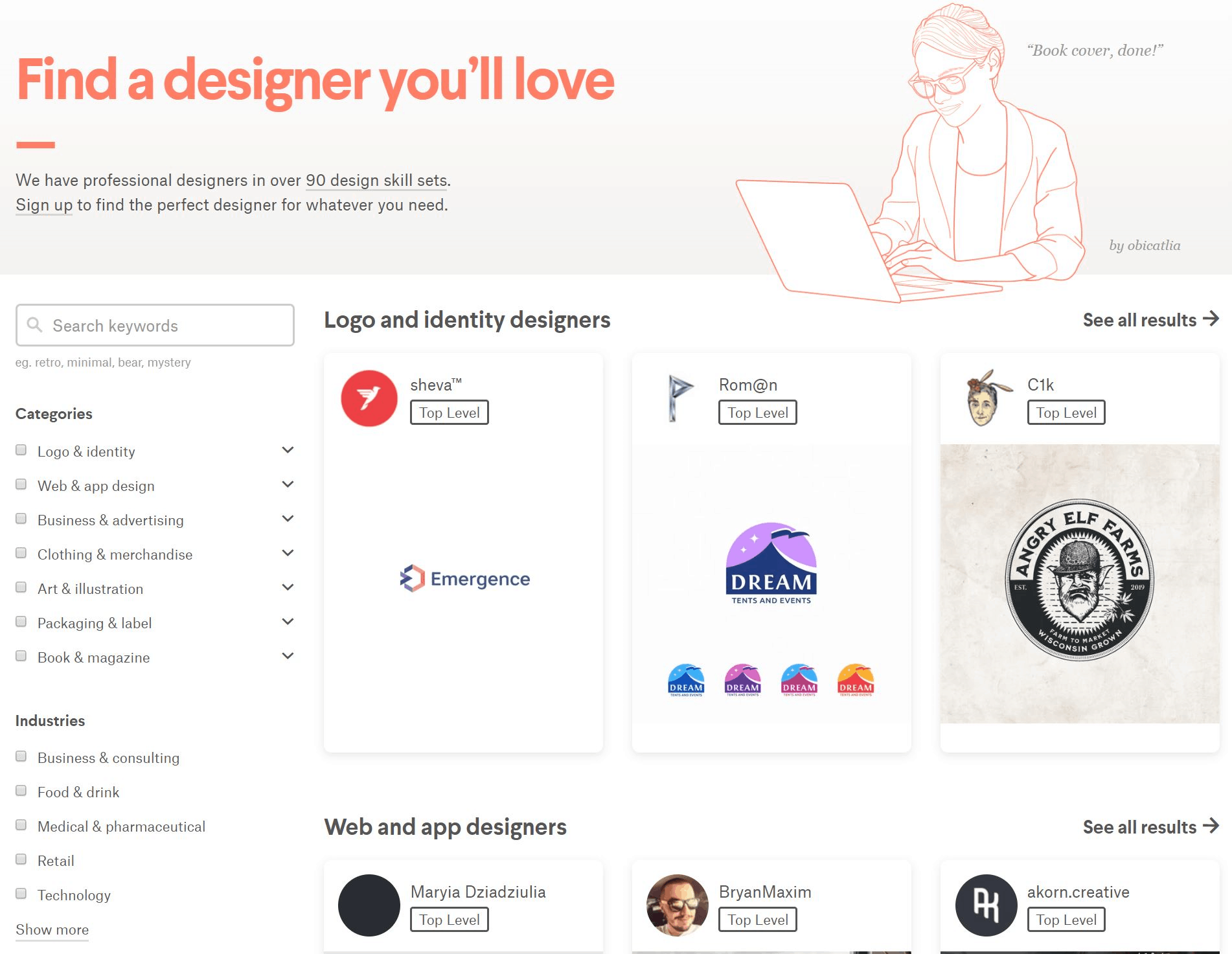 Graphic designers on 99designs may be a bit more pricey than the ones you can find on other platforms, but the work they provide is guaranteed to be top notch. This is because 99design's Designer Curation team eliminates anyone who fails to meet the platform's strict quality standards.
The platform also guarantees any work you receive, so you won't have to worry about paying a ton of money for a design you hate. It's no wonder reviewers like it.
Features
You've got options: 99designs offers you a couple of different ways to find a designer. You can look through the site's library of talent and choose a designer based upon their portfolio, seller rating, reviews, or other important factors. Alternatively, you can start a contest where freelancers will offer you different design ideas and you can choose the one you like best.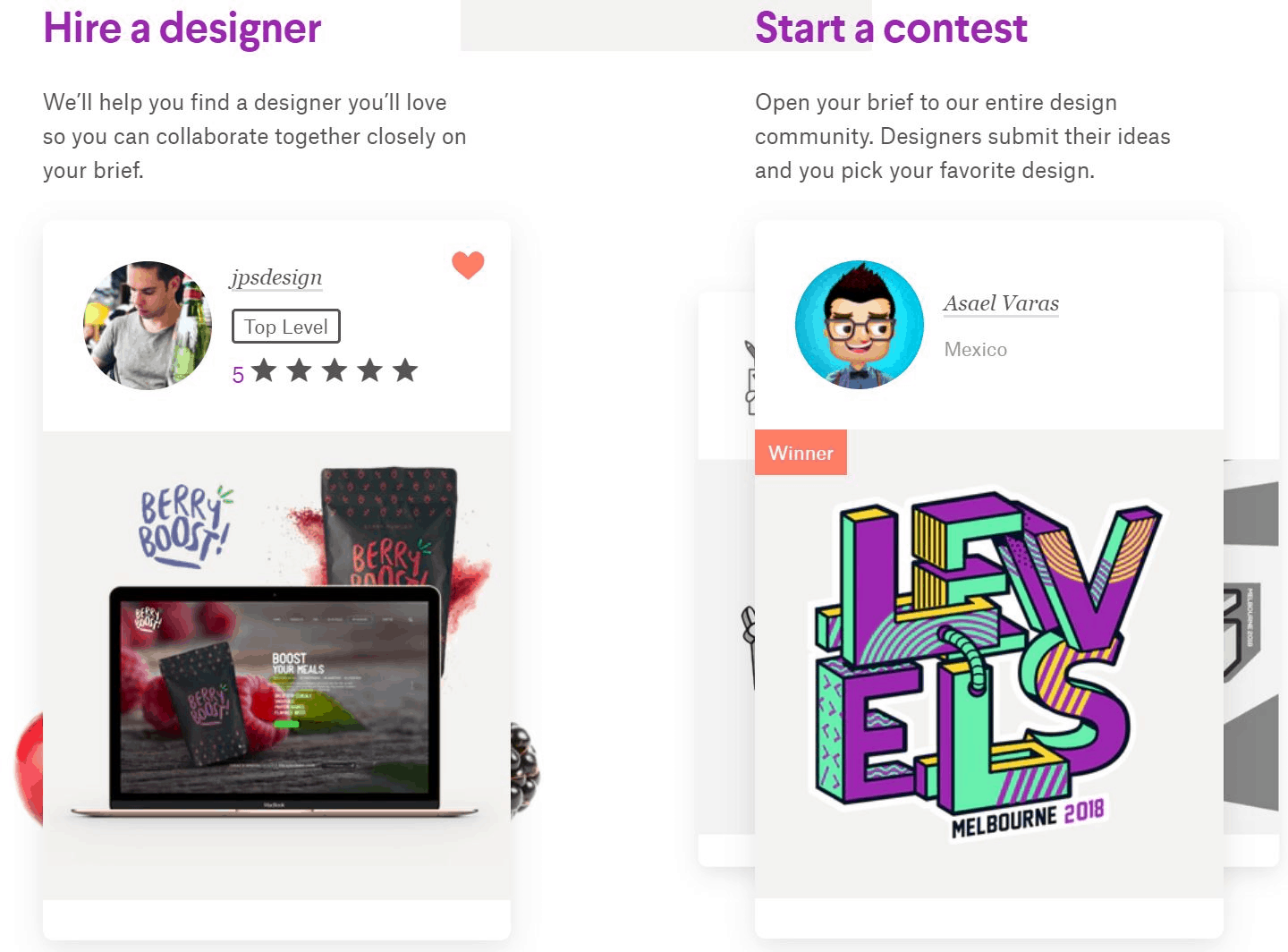 No room for the inexperienced: Only designers that meet 99design's high standards of quality are allowed to work on the platform. Designers are rated on factors like their execution of design, conceptual thought, technical skills, and client communication.
Satisfaction guaranteed: When you start a contest on 99designs, the platform guarantees you'll like the designs you receive. If you can't find the design you're looking for, 99designs will give you a full refund.
Get help with your design: The customer support team at 99designs will give you a free consultation. If you need any advice regarding your design, you can contact one of the experts for a bit of free guidance.
| | |
| --- | --- |
| Does it cost money to use? | There's a flat 5% platform fee for all work ordered |
| Is there a review system? | Yes |
| Can you see examples of previous work? | Yes |
| Are there user-friendly search filters? | Yes |
Upwork – The Largest and Most Trustworthy Freelance Platform
You've probably heard of Upwork. It's the biggest freelance website around. It hosts millions of freelancers, including nearly 200,000 graphic designers.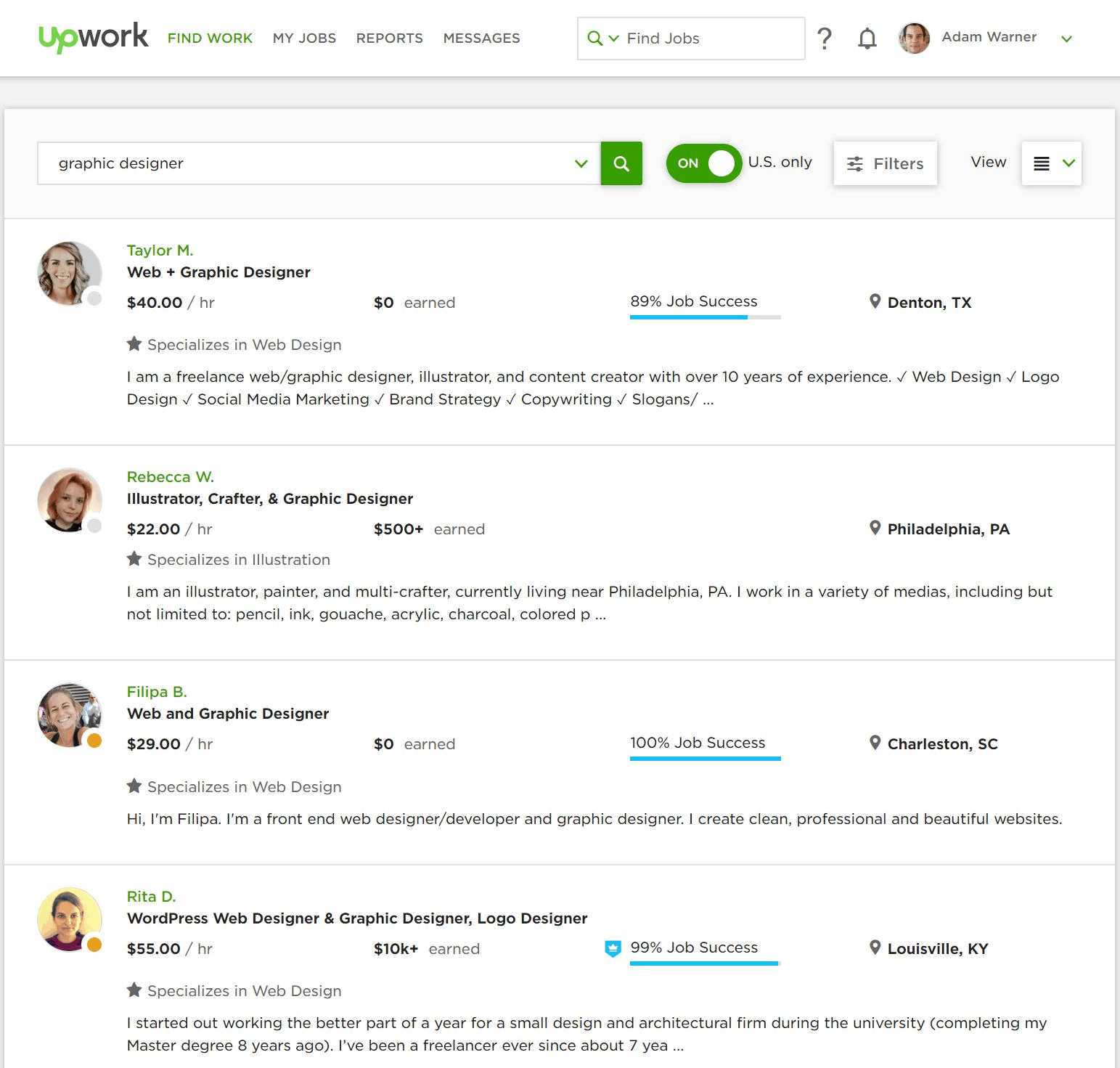 Having this much talent available at your fingertips means you're likely to find what you're looking for, but admittedly, the search can be a bit overwhelming.
Upwork gives you a couple of options for hiring a graphic designer. You can either recruit them directly, or post a job and have them come to you.
Features
Search with ease: You can eliminate freelancers that don't fit your needs with the site's fantastic search filters. You can search based on a designer's hourly rate, experience, seller level, category of expertise, and more.
Great designs without the high costs: You can find some amazing deals for graphic design work on Upwork. Some talented designers sell their services for $10 an hour or even less.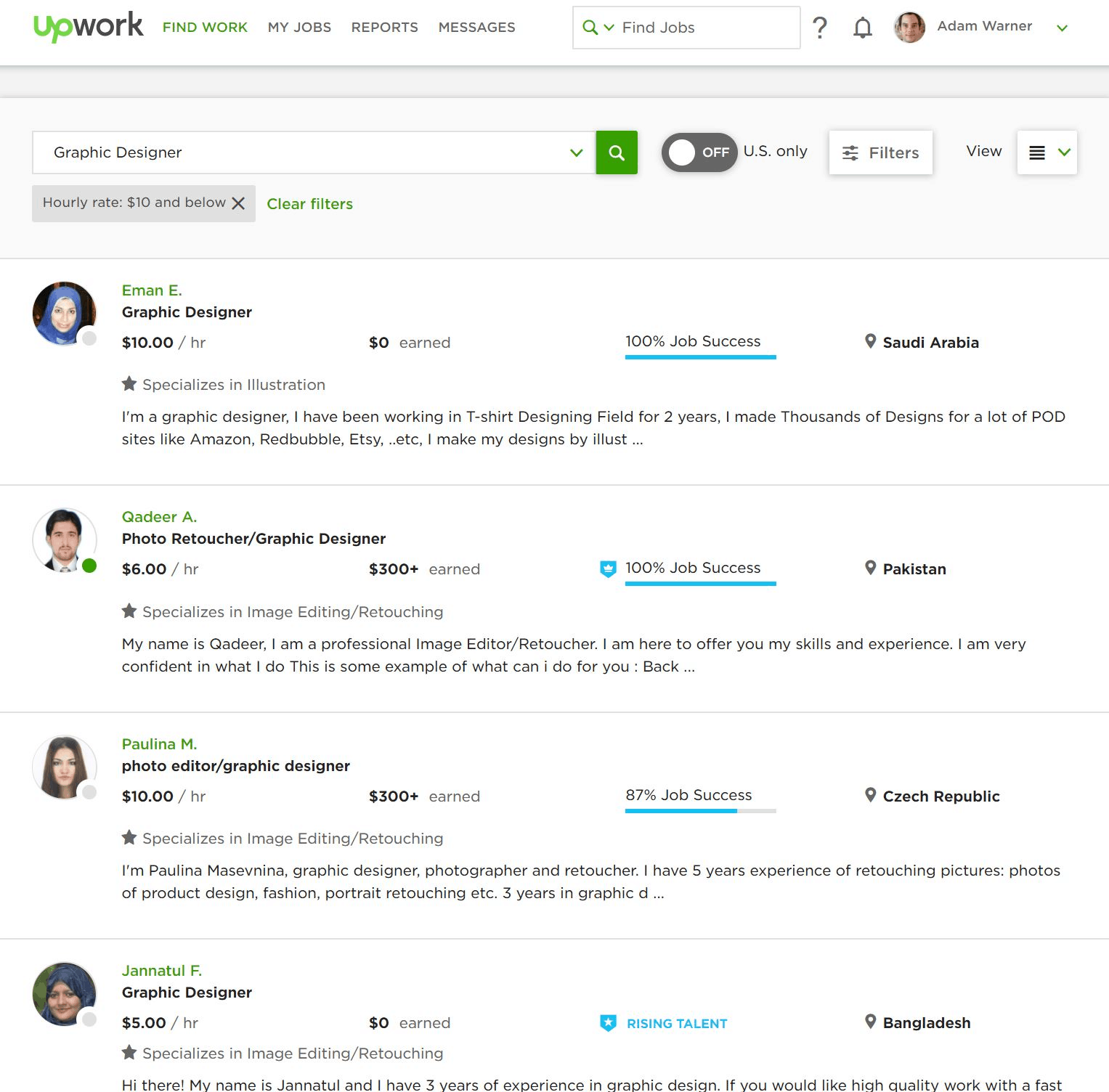 Don't be surprised: It's easy to see a graphic designer's past work before hiring. Just click their name to go to their profile and scroll down to see their portfolio.
Quickly eliminate poor performers: On top of the review system, Upwork also gives you a freelancer's Job Success Score. This is calculated using factors like the designer's feedback, repeat hire rate, and communication.
| | |
| --- | --- |
| Does it cost money to use? | 3% processing fee on payments made to freelancers |
| Is there a review system? | Yes |
| Can you see examples of previous work? | Yes |
| Are there user-friendly search filters? | Yes |
Freelancer.com – Profiles That Won't Leave You Guessing
Freelancer.com hosts workers from a variety of professional backgrounds, including more than 60,000 graphic designers.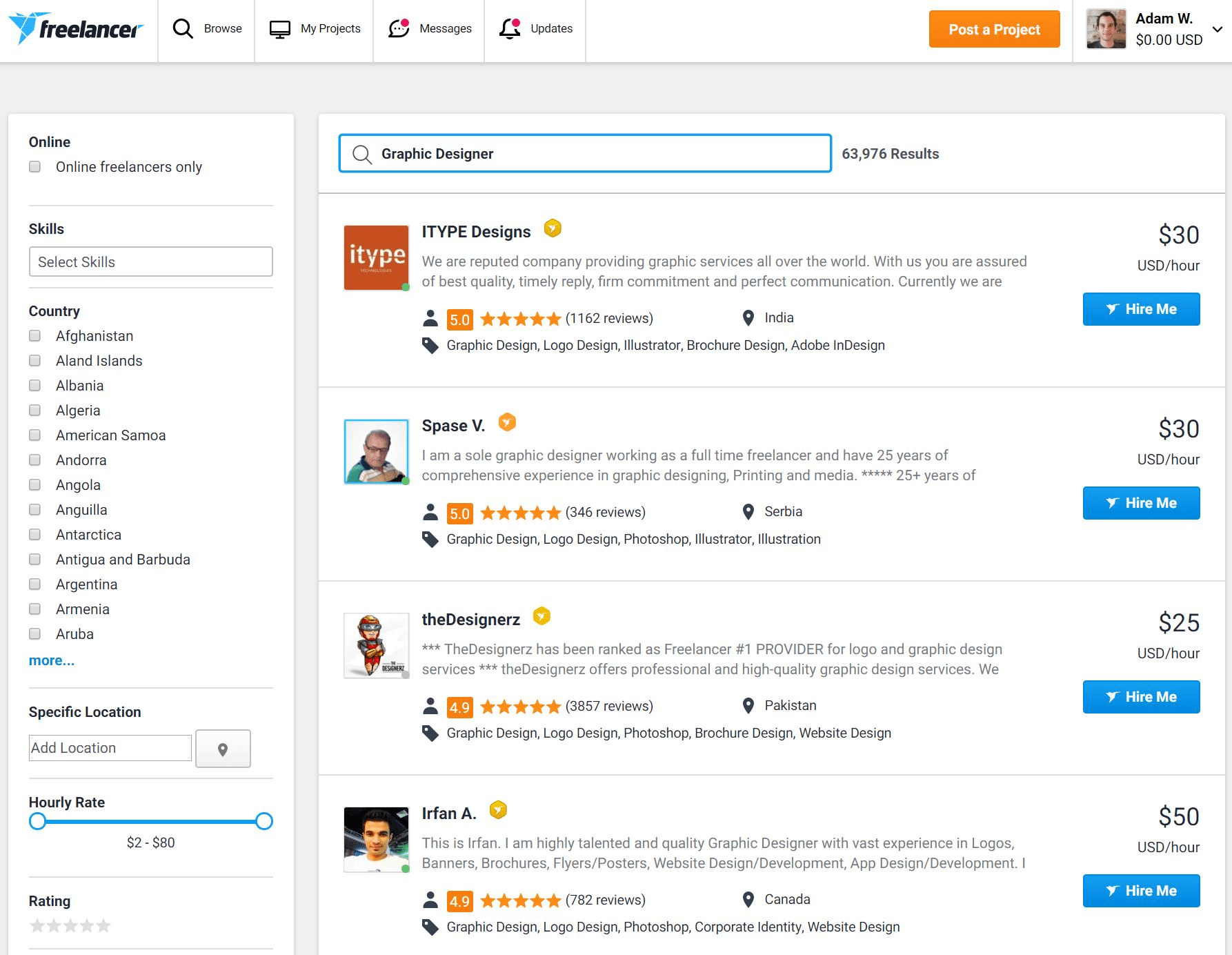 While the search filters on Freelancer.com could use some work, the website does offer plenty of reasonably priced talent if you're willing to spend the time finding them. Here, you can either hire a freelancer directly, post a job, or start a contest and have designers compete for your project.
Click here to read our in-depth review.
Features
Designers for any budget: Whether you have a huge budget and you're looking for a design superstar, or you're just scraping by and need a dirt cheap designer, Freelancer.com has you covered. You're sure to find a designer who'll match your needs.
Get to know your freelancer: Profiles on Freelancer.com are loaded with tons of useful information, including the percentage of jobs completed successfully, repeat hire rate, portfolio of past work, reviews from prior clients, certifications, top skills, and more.
Built-in exams: With Freelancer.com's certification exams, you can quickly judge whether or not a graphic designer is qualified to take on your project. You can even create projects that are only available to those who have passed certain exams.
Feel secure in your investment: Should something go wrong with your freelancer, the team at Freelancer.com offers a great dispute resolution system. This includes incredibly affordable arbitration when compared to other sites ($5 or 5% of the disputed amount, whichever is greater).
| | |
| --- | --- |
| Does it cost money to use? | 3% or $3 for fixed price projects, and 3% for hourly projects |
| Is there a review system? | Yes |
| Can you see examples of previous work? | Yes |
| Are there user-friendly search filters? | Yes |
Behance – The World's Largest Creative Network
Behance was created as a platform for graphic designers to showcase their work. Much like Instagram, you can search through image portfolios that are posted by different creatives, and follow the ones you like. You can then message the graphic designers whose work you like best.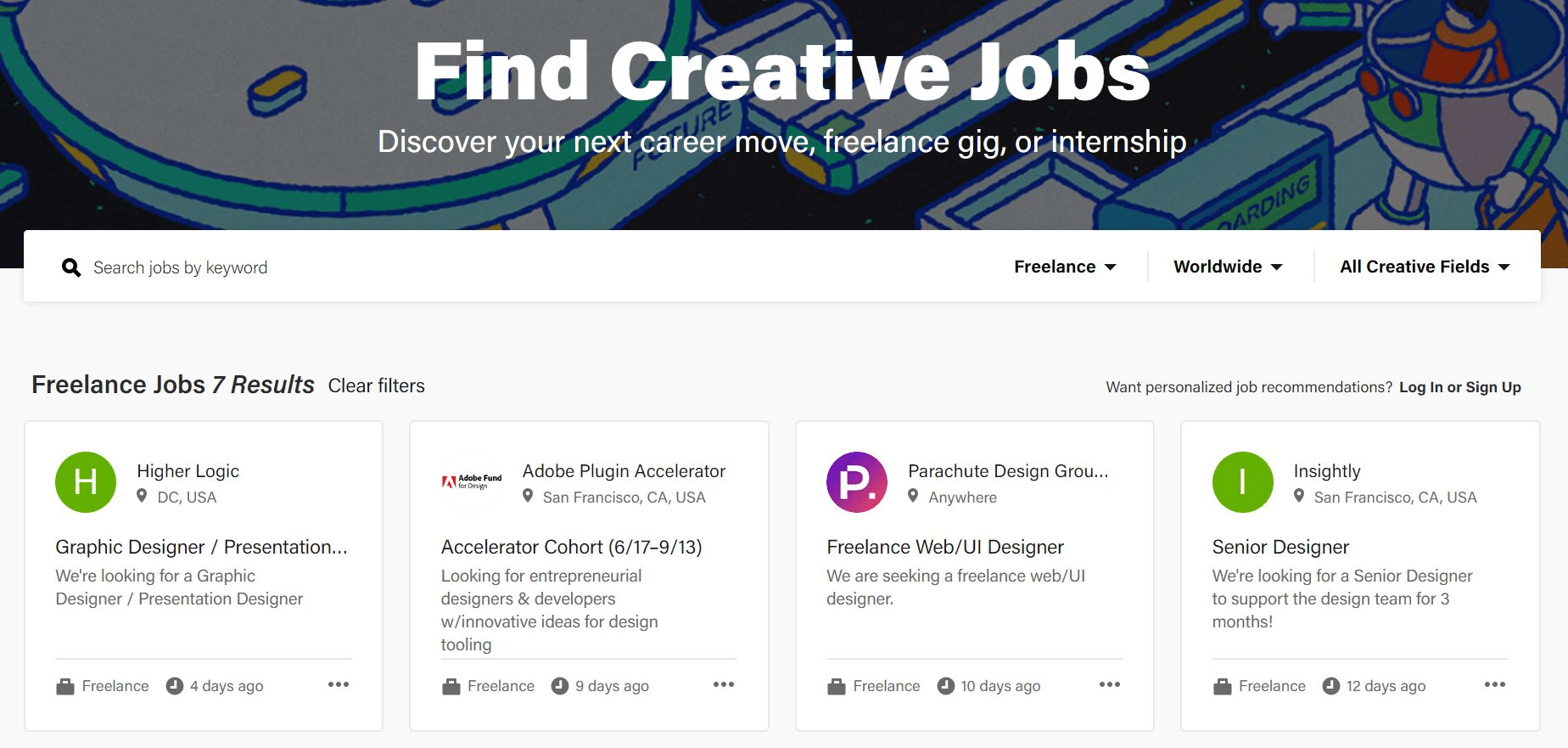 You can also post your projects directly to Behance's job board. It isn't cheap, but it will give you access to a pool of millions of talented designers.
Features
Tons of examples: Unlike the other platforms listed here, Behance's layout focuses on a graphic designer's work rather than their written profile or a review system.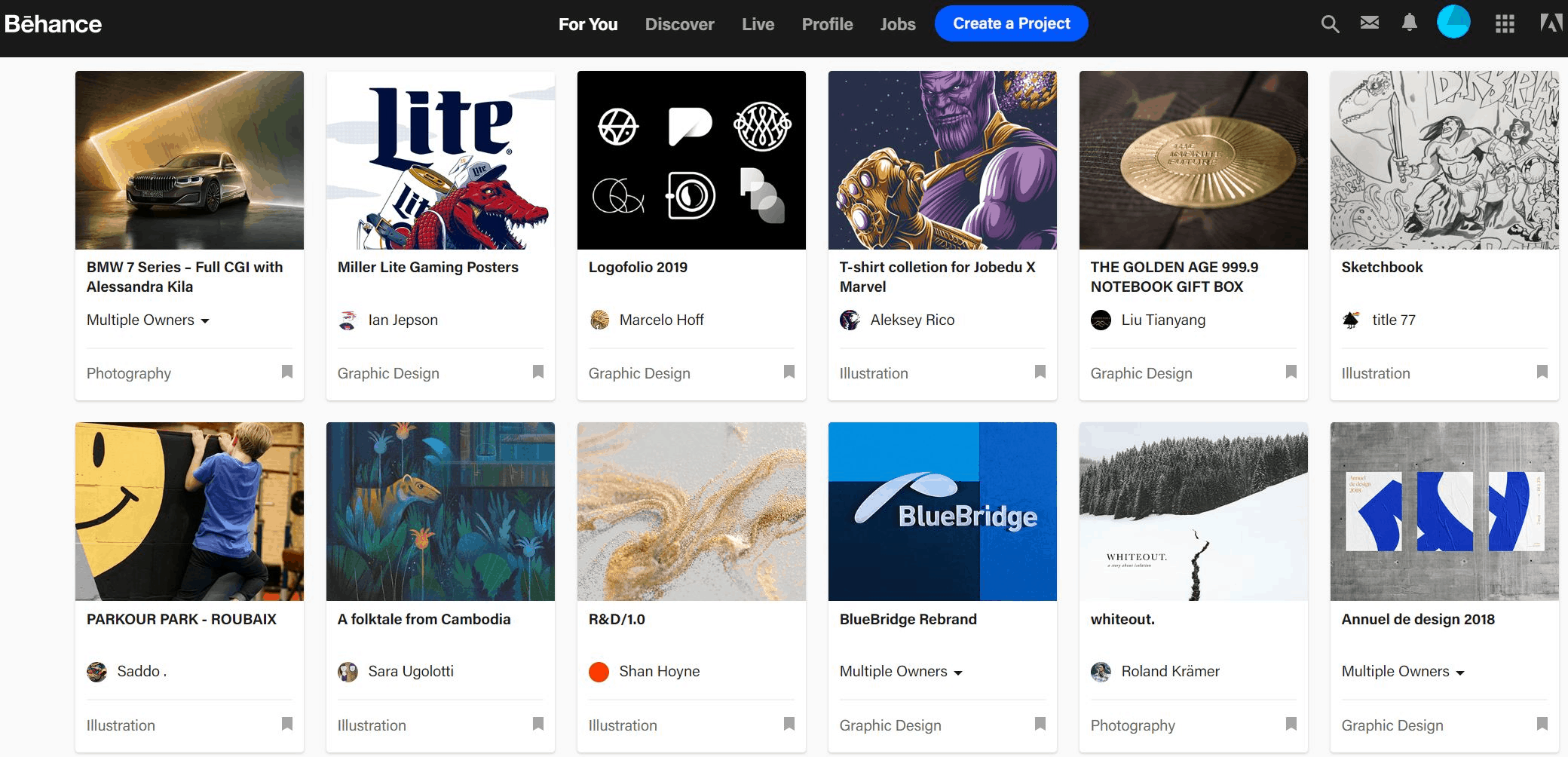 The largest creative network in the world: All projects posted on Behance's job board are visible to over 12 million talented creatives.
Have the work done for you: When you post a job, Behance will offer you custom recommendations for designers based upon the criteria of your project.
Save your favorites: If you find a designer you can't live without on Behance's job board, use the platform's 'Save as Candidate' feature so you can easily hire them for future work.
| | |
| --- | --- |
| Does it cost money to use? | $399/month for one job posting/month, and $1,499/month for unlimited job postings (Adobe Talent membership) |
| Is there a review system? | Yes |
| Can you see examples of previous work? | Yes |
| Are there user-friendly search filters? | Yes, although minimal |
Find the Designer of Your Dreams
Any of the above websites can help you find a graphic designer that can handle your job like a pro. However, depending on the scope of your project, your budget, and the skill level you require, some of these sites may be better for you than others.
For example, Fiverr has plenty of great talent that can handle nearly any job within budget, so it's an all-around good match for a variety of projects.
If you're on a very tight budget, you may want to consider looking through the designers on Freelancer.com or Upwork. While finding a match on these platforms can be time-consuming, both have a ton of qualified designers with great rates.
However, if you want a job that's done well and you're willing to pay for it, 99designs or Behance may be exactly what you're looking for.
If you're still not certain where you should go to find your dream designer, check out the following table for a bit of guidance.
| | | | |
| --- | --- | --- | --- |
| Platform | Primary Advantage | Primary Con | Who it's Ideal For |
| Fiverr | Great filters to help you find the right gig for your needs | More complicated projects will include extra charges | If you want a simple graphic design project done cheaply |
| 99designs | All designers are routinely curated to ensure a higher quality of work | Getting work done on this platform can be pricey | If you are willing to spend more to guarantee high-quality work |
| Upwork | Nearly 200,000 graphic designers available to compete for your job | Looking through all the job proposals you receive can be time-consuming | If you're looking for a great deal and you're willing to spend time going through proposals to find it |
| Freelancer.com | With graphic designers going for as little as $2/hour, this platform has some of the cheapest talent available | The filters that are available when searching for talent could use some improvement | If you're looking for a user-friendly platform with graphic designers available to meet any budget |
| Behance | The unique layout of Behance allows you to find graphic designers through examples of their work | Posting a job on Behance's job board is rather expensive, at $399/month | If you have a specific vision in mind, and want access to 12 million creatives to help make it a reality |