too often, so-called 'smart builders' can come up short
.
AI builders start by asking you about your niche, design preferences, and site goals.
Some intelligent builders even crawl the web for information about you or your business and use it to further customize your design. That may sound impressive – but does it really translate to a good template?
You may get a cookie-cutter design that doesn't capture what's unique about your brand
and won't create a great online impression. To find out if AI technology is really up to the task of website creation,
I tested prominent smart builders by having each design a website
. Then I evaluated the results and selected the six that measured up. But there was one that outshone them all.
Wix's new AI Site Generation Tool
means that all you have to do is describe your needs in a few simple prompts and
it will create a homepage, inner pages, text and images for you in minutes
– it's the easiest website builder I've ever come across.
Short on Time? These Are the Best AI Website Builders for 2023
Wix – Advanced AI builder gives you a personalized site based on your prompts, while smart marketing tools grow your business
Hostinger Website Builder – Affordable builder with AI tools that write content and optimize sites for search engines
Jimdo Dolphin – Attractive AI-made draft websites and easy-to-use marketing tools
What We Look For in the Best AI Website Builders for 2023
Your website is your calling card. That's why I focused on these features when testing intelligent web design platforms.
Personalized design. A good AI builder should design a full-featured website that says "you."
Content assistance. Smart design is about speed and convenience. A high-quality AI-built site should include suggested text or image content, or at least give you tools that will help with content creation.
Easy editing. AI should help you, not limit you. I only listed builders that still let you take matters into your own hands if you need to, and specifically tested for ease of use in the manual editing process too.
Core features. You should be able to easily add any features to your website that the AI builder left out – like contact forms, social media integration, restaurant menus, scheduling, memberships.
SEO tools. The best AI website builders have intelligent tools that analyze your site's performance, provide reports, and offer recommendations on how to improve.
Free SSL. Every builder on this list includes a free SSL certificate, so visitors won't be greeted with a "not secure" warning from their internet browser when they land on your site. This also helps your site's ranking in search results.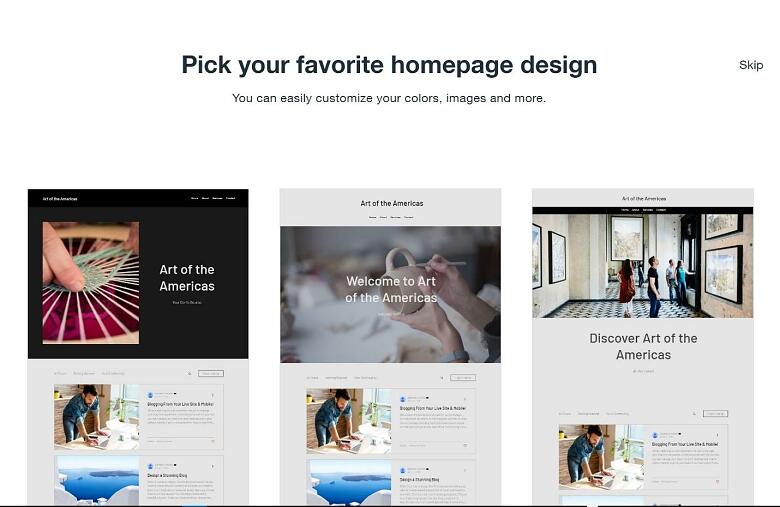 Wix offers cutting-edge design tools and a lot of flexibility, making it my top pick. Once you answer a few questions about your niche, required features, and design preferences, Wix's AI Site Generator tool will design a fully-featured website in a matter of minutes.
You can
use Wix's free plan
 to see the results for yourself. You can also use
Wix's intelligent Logo Maker to design a free logo
and, for a minimal fee, a simple branded website to match. When it's time to customize, the drag-and-drop editor makes it easy to tweak the layout, fonts, colors, and images, until things look right. And if truly necessary, you can always start over by picking from Wix's library of 800+ templates.
Wix's huge template selection is an excellent fallback
in case AI building doesn't give the results you want – which is a risk with any smart builder.
Features
Intelligent SEO Wiz. This handy tool creates a custom SEO plan, with step-by-step recommendations for improving your site's visibility in search engine rankings.
AI Business name generator. Launching a new business? Get help picking a name that captures the essence of your brand. Enter three keywords to describe your niche, product, and vibe and Wix will take it from there.
Mobile editing. You can edit your ADI site on your phone and in multiple languages, including English, Turkish, Polish, Italian, Czech, and Korean.
Title generator. Stumped on coming up with a catchy headline or blog title? Enter a couple of keywords, and Wix's AI-powered title generator will do the rest.
Read our expert Wix review for more details
.
AI-generated starter content

Yes

Intelligent marketing tools

Yes

Free plan or free trial

Yes

AI and traditional template-based design?

Yes

Least expensive plan

$

16.00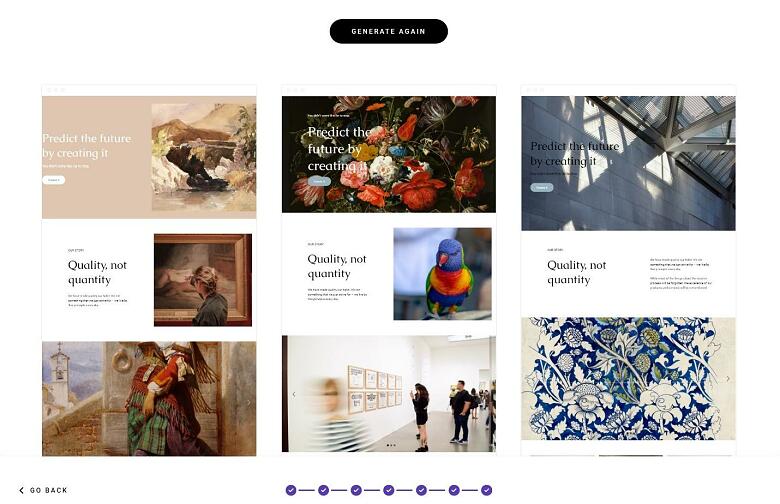 Hostinger claims its AI tools can do everything for you – so I put them to the test. After I answered a few questions, Hostinger's AI builder came up with three website layouts, which were simple, but stylish.
You can always click on the
Generate Again
button to get new options
. (I did this five times and each time the builder responded.) For any further customization, Hostinger has a user-friendly, grid-based editor. It's a bit basic, but you can still change the essential characteristics of your site. Hostinger's biggest drawback is that it lacks an app store. However, given its affordable all-in-one plan includes full access to all its AI tools and e-commerce features, Hostinger can be pretty cost-effective for small businesses. (
You can try Hostinger risk-free
thanks to its 30-day money-back guarantee.) It's especially cost-effective if you want help with site content: I found the built-in AI Writer and Blog Title Generator to be helpful.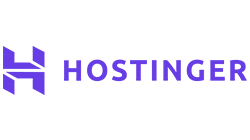 Save up to 85 % on your Hostinger Website Builder plan today!
Limited-time offer - Don't miss it!
65 users used this coupon!
Features:
Branding tools. You can launch a new business or rebrand an existing one with several of Hostinger's free AI tools. There are tools for naming your business, for developing a slogan, for generating a favicon, and more.
Smart photo editing. When you upload a photo, Hostinger automatically resizes it and adjusts the resolution, ensuring all your images are high-quality.
AI Heatmap. This tool analyzes your website and highlights where users are most likely to look and click, so you can increase conversions.
Logo maker. Hostinger's logo maker helps you design a professional logo for free. You can customize icons, colors, fonts, and more to reflect your brand.
See our in-depth Hostinger Website Builder review for more
.
AI-generated starter content
Yes
Intelligent marketing tools
Yes
Free plan or free trial

No, but there is a 30-day money-back guarantee

AI and traditional template-based design?
Yes
Least expensive plan

$

2.49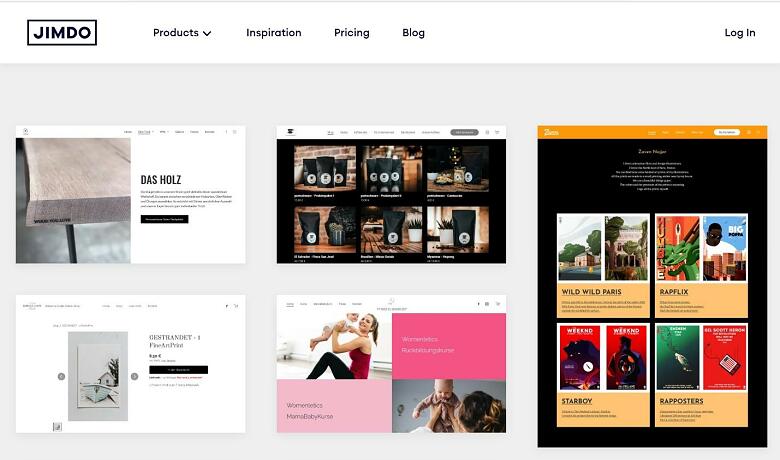 Even for an AI builder, Jimdo Dolphin automates a lot, so there's very little you need to do yourself. Like all smart builders, Jimdo Dolphin starts the design process with a questionnaire. But once your responses are in,
Jimdo Dolphin generates two draft sites, with suggested content already filled in
(like text, images, etc).
Jimdo doesn't give you a choice of layouts – the builder picks.
You'll encounter limits on customizing design elements as well. Furthermore, the free plan doesn't grant access to SEO or analytics tools. If you opt for a paid plan, you'll need to make a full-year payment upfront. However, you can get a full refund if you cancel within 14 days, or
try the free plan first
, so there's not much risk to it. And ultimately,
I was pleasantly surprised with my AI-built site.
It accurately reflected my stated website goals and was attractive and professional.
Features
Free logo builder. Select an icon, font, and colors and Jimdo will create a free professional logo design. You can download high-quality file formats to use on your business cards, letterhead, or flyers.
Smart SEO. Jimdo's smart technology takes the work out of SEO optimization, with AI-generated custom page URLs, meta tags, subpage titles, and descriptions. (This is only available for paid plans though.)
Copyright-free images. Your dashboard includes an Image Gallery with a selection of AI-recommended, professional, royalty-free photos.
Multi-language website. You can allow users to select a preferred language from a drop-down navigation menu, or you can create a homepage that allows site visitors to choose between different languages.
Get more insight from our full Jimdo review
.
AI-generated starter content

Yes

Intelligent marketing tools

Yes

Free plan or free trial

Yes

AI and traditional template-based design?

No, strictly AI

Least expensive plan

$

9.00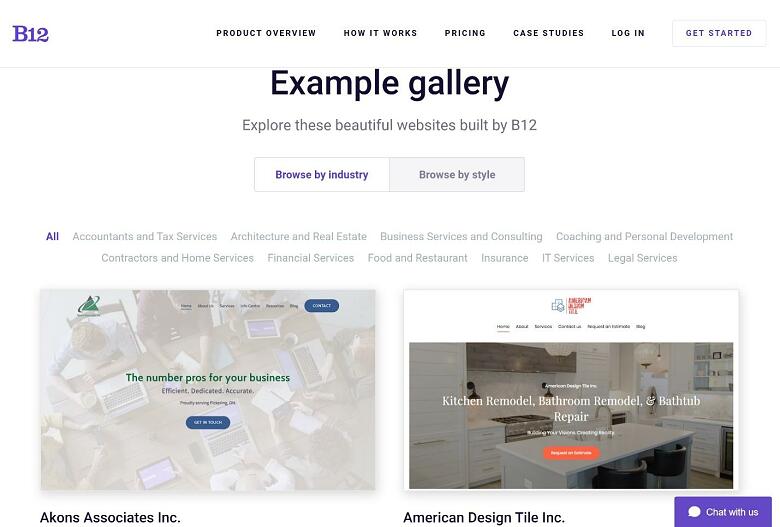 B12 isn't a traditional website builder offering the benefit of AI design or a standalone AI builder – instead,
B12 is a hybrid platform that
combines AI-powered software with expert designers
. (You can choose to just edit an AI-built template by yourself as well.) First, you'll answer questions about your business and design preferences. Then, the AI builder, Orchestra, creates a personalized draft site. Next, B12's design team will get your feedback and fine-tune the AI-made draft, making it fully responsive and SEO-optimized. You can expect your website to be ready to launch in 1-2 weeks. B12 is a bit pricey, but it's an investment:
B12's plans give good value for the money
. It's a good option if you have a large (or quickly-growing) business, but are too time-strapped to manage your site. And compared to hiring a serious web designer, B12 is actually on the more affordable side.
Pro tip:
If you need human expertise in your website design and B12 looks a bit beyond your budget, you can
hire a designer on Fiverr
. Fiverr's web designers have highly competitive rates compared to other web designers, and still perform quite well.
Features
Copy made for conversion. If you add a new section or page to your website, B12's algorithms will automatically fill it with images and text (which you can easily edit).
Email marketing. It's easy to keep in touch with your customers and connect with leads using B12's AI-generated email messages.
Analytics reports. You'll get emailed reports on performance metrics every month, so you can see how your site is performing, identify areas to improve, and update your goals.
Help with SEO. B12 submits your website and business information to up to 50 relevant directories to build high-quality links to your site and make it more visible in search results.
See our in-depth analysis of B12
.
AI-generated starter content
Yes
Intelligent marketing tools

Not with the basic plan

Free plan or free trial

30-day free trial via

money-back guarantee

AI and traditional template-based design?
No
Least expensive plan

$

24.00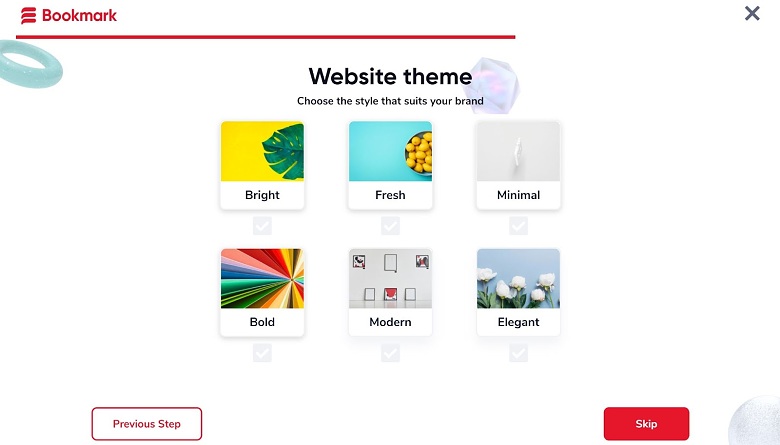 Bookmark's artificial intelligent design assistant, AiDA, automates nearly everything
. AiDA will ask you to select your niche (from over 700 options), link your social media accounts, provide your business name, and share your site style preferences. AiDA takes it from there and creates a functional, responsive website. AiDA independently determines the optimal design elements, images, and color palette for your site – while still providing me the option to choose between a light and dark layout. Additionally, AiDA incorporates text and animations, and inserts functional content blocks. If the initial design crafted by AiDA is not to your liking, you have the option to request a fresh start. You can
use Bookmark's free plan as long as you want
, but long-term you'd probably want to upgrade. The paid plans are competitively priced and have unlimited storage and built-in SEO and marketing tools.
Features
Multi-language tools. Bookmark allows you to build a website in multiple languages and automate translations for up to five languages. You can edit each one individually for better targeting and conversion. Extra charges may be required.
International sales. Bookmark makes it easy to sell globally, thanks to tools that calculate real-time shipping rates, let customers choose from 40 different payment options, and allow you to offer support in 50 languages.
Free images and videos. You can choose from hundreds of free high-quality images and videos. Add them to your site with just a click.
Website optimization. AiDA continuously monitors your website and offers bi-weekly suggestions on how to improve visitor experience and boost engagement. You can also review detailed analytics data about your website traffic in your Bookmark dashboard.
Read our expert Bookmark review to learn more
.
AI-generated starter content
Yes
Intelligent marketing tools
Yes
Free plan or free trial
Yes
AI and traditional template-based design?
No
Least expensive plan

$

11.99
Is a Smart Website Builder the Right Choice for You?
To find the best AI website builder for your project,
consider how much control you really want over your site's design
and content. Do you want the builder to just automate a few things, or do you want it to do everything for you? Also, remember that the quality of your site depends in large part on the information you provide the builder. If you want both smart tools and customization power,
Wix is best
. Wix ADI can save you a lot of time, but you can still edit your site as much as you want. Plus, Wix has hundreds of apps that can extend your site's functionality. If you're on a tight budget,
Hostinger Website Builder offers good value for money
. It has frequent discounts, plus a lot of smart business tools that make running your site much easier. Lastly, if you want to be as hands-off as possible,
Jimdo Dolphin's fully automated building
 will be a good fit for you. Here's a more detailed comparison of how the builders I've tested measure up to each other:
Free Plan
Best Feature
Best For
Starting Price
Wix

✔

Wix AI's robust custom site generation

People seeking a mix of AI-building and customization options

$

16.00

Hostinger Website Builder

✘

Smart branding assistance

Those on a budget

$

2.49

Jimdo Dolphin

✔

AI generates site content, not just site layout

People who want to be fully hands-off

$

9.00

B12

✘

Expert designers that enhance your AI-built website

Mission-critical sites that need a human touch

$

24.00

Bookmark

✔

Multi-lingual site publishing

Sites targeting a global audience

$

11.99
FAQ
What is the best AI website builder in 2023?
Wix is the best all-around AI website builder. Wix AI asks you for more design details before generating your site, which gives you a more unique design. Plus, if you want to customize things further on your own, Wix's site editor is very flexible. You can use Wix's free plan as long as you want to try things out.
Which AI builder is the most cost-effective?
It depends: the most cost-effective builder for an online store may not be the most cost-effective for a blog, for example. At the bare minimum, Wix and GoDaddy offer free plans. But if you need a professional site (with your own domain name), Hostinger's plans are very affordable.
What is the most customizable AI website builder?
Wix takes first place here again. Its drag-and-drop editor lets you freely add and rearrange countless page elements, and you can edit anything you see. However, if you still want customization options, you may need to look outside of AI-powered builders. Our list of the best website builders in 2023 has some good options.
What is the best free AI website builder?
Wix and Jimdo are the two best free AI website builders, but Wix AI produces a higher-quality custom website than Jimdo, as it gets more information from you first. Manual website edits are simpler with Jimdo, but that's about it.