If you're reading this article, chances are pretty good that you want to build an online store, and you
really
 don't want to get bogged down in technical stuff. Well, you're in luck.
Wix of drag-and-drop fame, Wix of the pretty decent free plan,
THE
 semi-old-school site builder Wix… has an e-commerce platform.
 It's simple to use, fairly flexible, and designed to give the small- to medium-sized business owner a chance in this competitive market. Frankly, it looks pretty darned impressive for something aimed mostly at beginners. As you might have guessed by the title, I'll be going into Wix's e-commerce features in some depth, to help you answer a few important questions: Is Wix really all that good for e-commerce? How does it stack up to the e-commerce features provided by other platforms? And
who would benefit the most from a Wix-based store?
I ran the store system through its paces, just so I could answer these questions for you. Let's do this.
Features
I'll be perfectly honest with you: if your plan is to build the next Amazon, Wix Stores is not the way to do it. But if you just want a simple online store, Wix has all the features you'll need. First off, you have the obvious, bare-minimum features, like the ability to add products to, and remove products from, your store. This is generally pretty simple stuff: upload pictures, add the product's name and a description, set the price, and go. You can always import product information from a .CSV file, if you already have a store that you built elsewhere.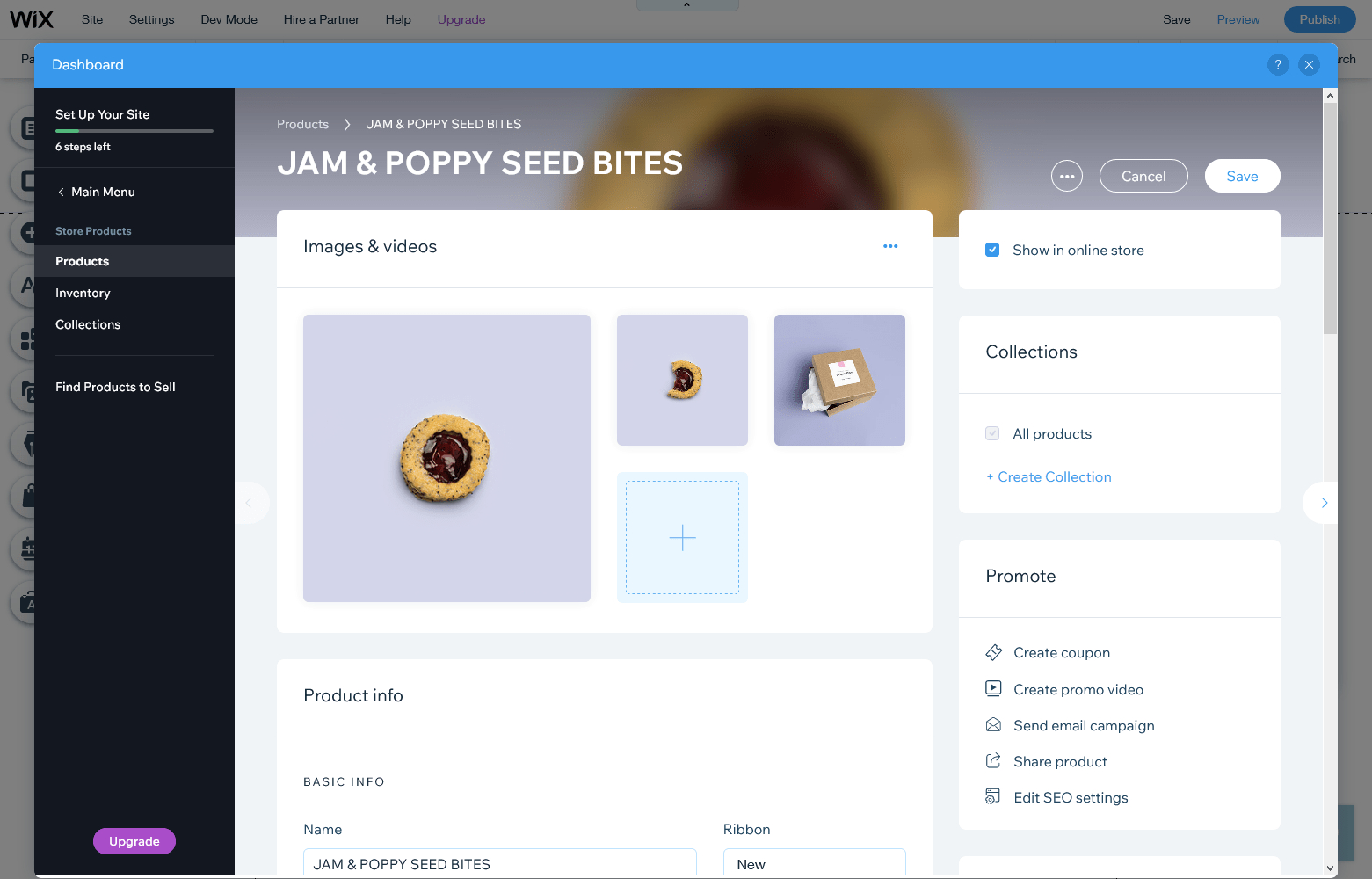 But if that's all there was to it, Wix wouldn't be a very good e-commerce builder. No,
Wix has
almost
 every e-commerce feature you can think of
, from good-looking store templates to inventory management tools, support for multilingual sites and multiple payment gateways, abandoned cart recovery, and much more. I'm not going to say it's
the
 best e-commerce platform ever, but for most people, it has more than enough options and helpful tools. You don't have to take my word for it, either. Incidentally, you can install and partially try out Wix's store functionality on any site, even on
the free plan
. You just can't actually accept payments unless you upgrade to the Business Basic plan, at least. With that in mind, let's take a closer look at the features on offer.
Templates
Wix has over 900 templates that trend toward… just about every visual style.
You might run into a couple that are a bit dated, but for the most part, they're quite appealing. And yes, you can use the Wix Store app in
all
 of them. You don't need to use one of the 100+ e-commerce-specific templates (although these do come with the Store app pre-installed). Technically, Wix Stores is an add-on you can install onto your website after the fact, unless you specifically chose an e-commerce template when you first created your site.
This means that if you built a regular non-e-commerce site and then you want to start selling on it, you can just go to the Wix app market and install the Wix Stores app.
 It doesn't take more than a couple minutes, and once it's installed, it becomes a full-fledged part of your site. It can be customized via the drag-and-drop site builder, and what you see on your screen is almost exactly what users will see on theirs. All templates are fully customizable (head over to our
expert Wix review
for more info on that) and mobile-friendly.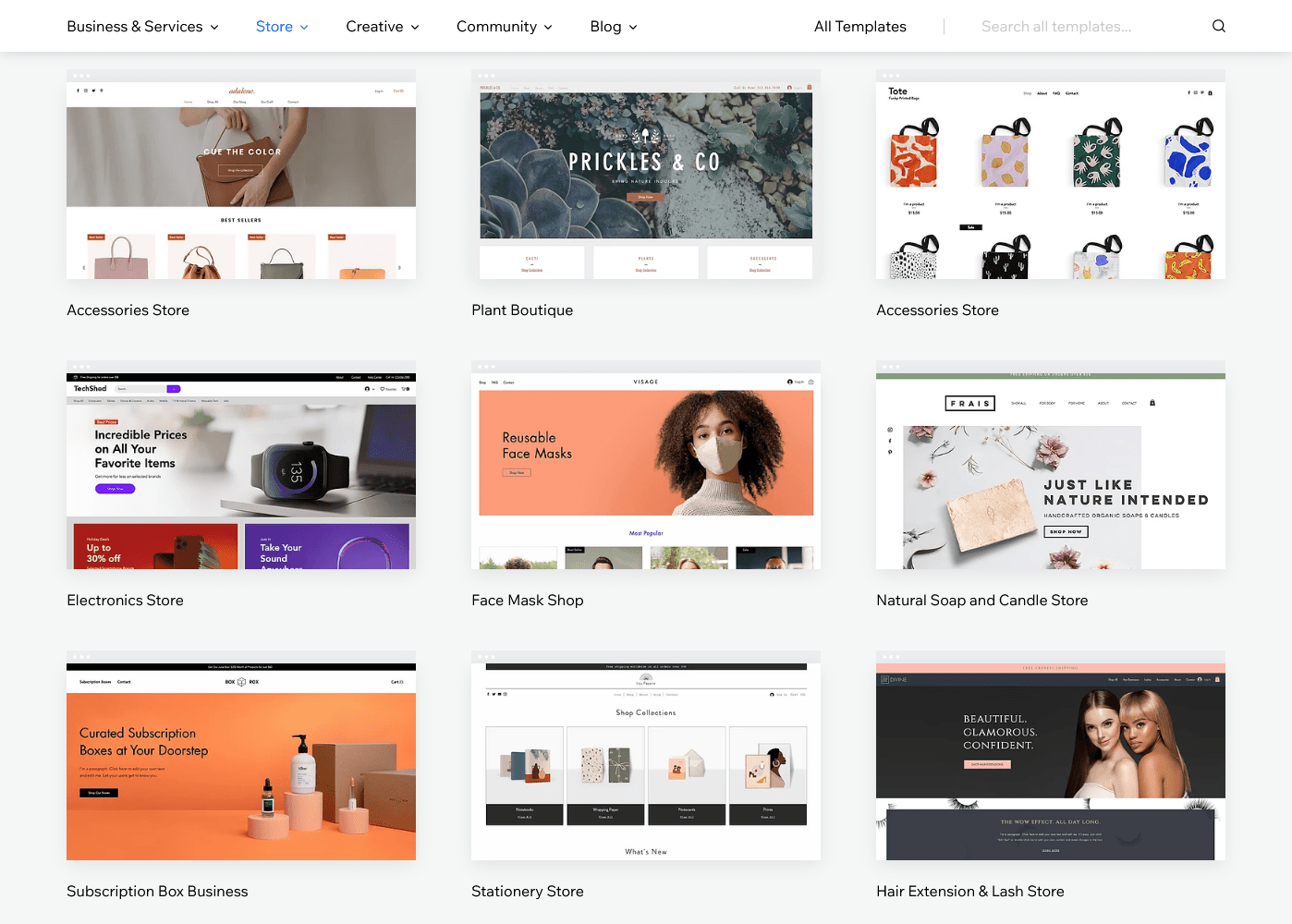 For bonus points, there's a media library of over a million stock images,
provided by Unsplash. I certainly wouldn't use them for product shots, but for the rest of your site, they can be a great resource.
E-Commerce Tools
With Wix, you can do more than manage your store: you can manage your actual inventory.
You can also upload product variants (e.g., the same ironic t-shirt, but in different presumably ironic colors). You can then choose to sell these ironic t-shirts from your Wix store alone, or you can use Wix to sell them on marketplaces like Amazon, eBay, and social media platforms like Instagram.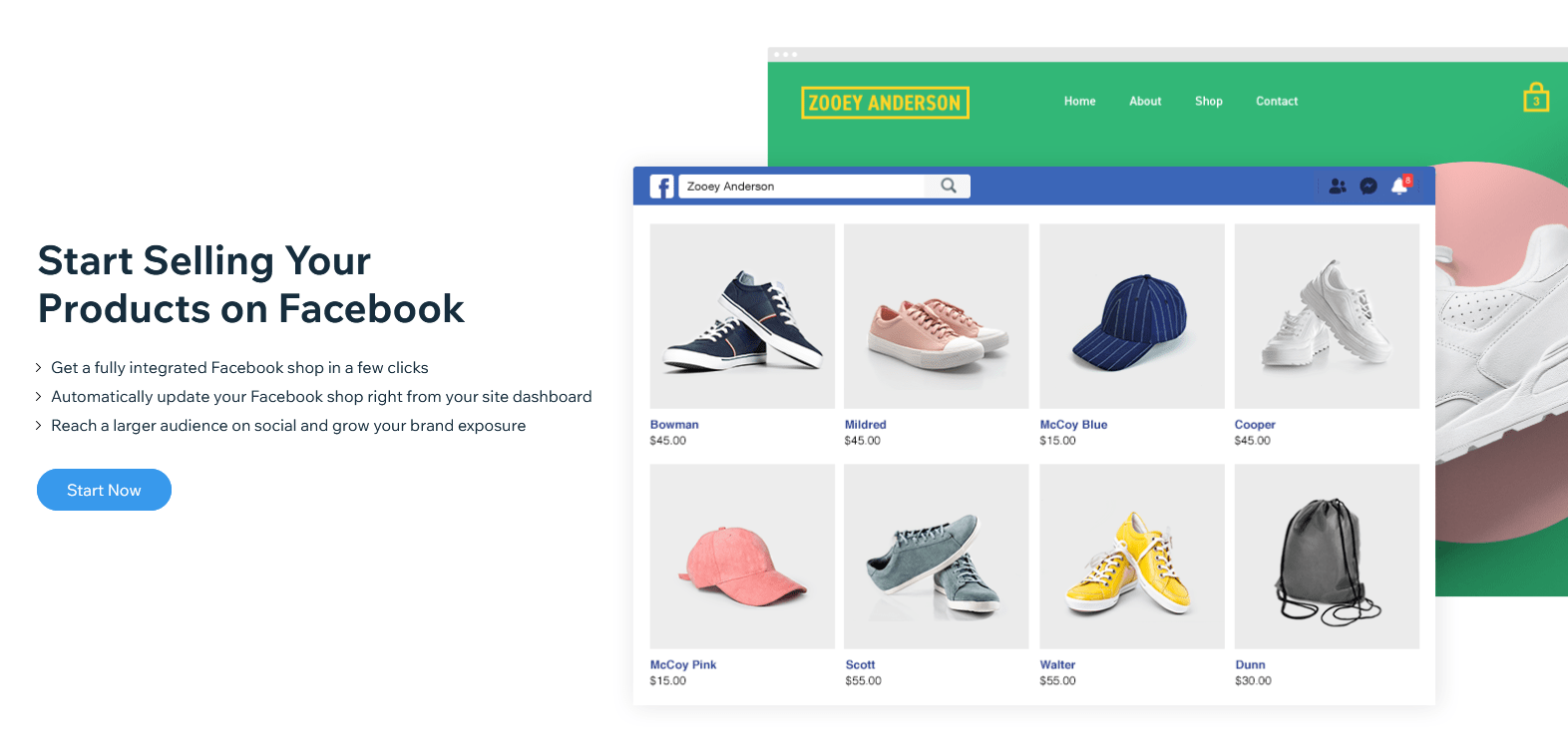 Want to sell your ironic t-shirts internationally? You can create multilingual sites and accept payments in multiple currencies. There's a built-in currency converter that lets people know exactly how much they'll spend on your products. Would you rather sell a t-shirt slogan-writing service on a monthly basis? Have I just given you the best new business idea? Either way,
you can offer services on a subscription basis with recurring payments.
It's just one click to change a one-time offer into an ongoing business model. And you can, of course, attach your own custom domain name (e.g., myironicshirts.com) by either buying a domain name from Wix or buying one elsewhere and connecting it to Wix. As for the actual sales,
you can accept payment through over 50+ payment gateways,
 such as PayPal, Stripe, and so on. You can use debit and credit cards, PayPal, and you even have "buy now, pay later" solutions such as Afterpay, Affirm, Laybuy, and more.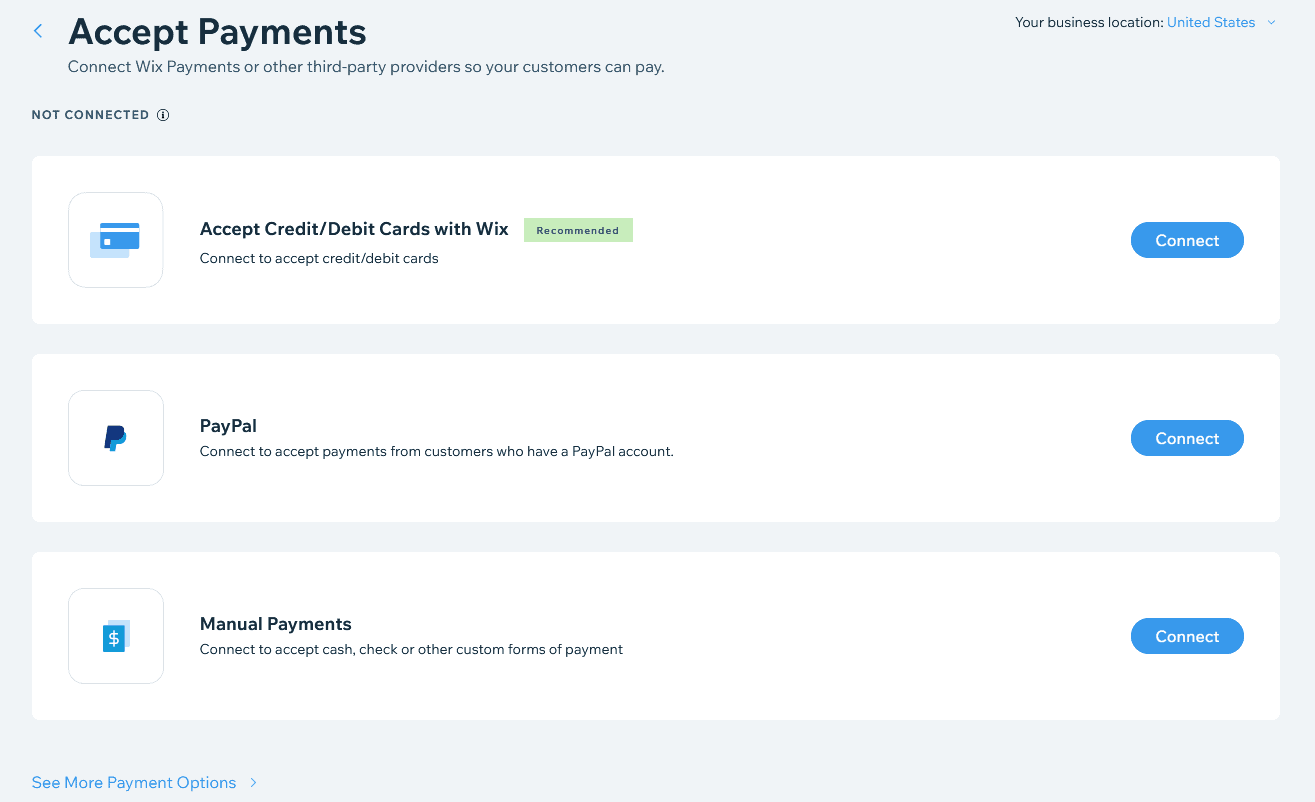 Did one of your customers ditch their cart halfway through the payment process? You can remind them of what they're missing with abandoned cart recovery emails.
You also have various delivery options, including home delivery, pickup, and curbside delivery. Plus, if you don't feel like stocking inventory yourself, you can use dropshipping to resell products for other businesses.
Next-to-last, you can use customer profiles to keep tabs on what each of your customers likes and dislikes,
 and get a decent idea of how to market more stuff to them. Just maybe don't do what Amazon does. Amazon always sends me ads for things I
just
 bought. Like,
the same model
. Don't do that. And for the programmers out there, yes. The Wix Store app has an API that you can use to manage your products and orders from your own internally developed app or interface. Wix is actually surprisingly programmer-friendly, here and there.
E-Commerce Dashboard
Of course, you need a central place to do, well, everything I just mentioned above.
 Thankfully, there's a simple dashboard that can help you get an at-a-glance overview of how your store is doing and how you can improve it.
When you first create your store, you'll see a setup guide to help you get the very basic things sorted out, such as your payment information, shipping regions, products, and so on. In my time with Wix Stores, I found the dashboard
very
 useful.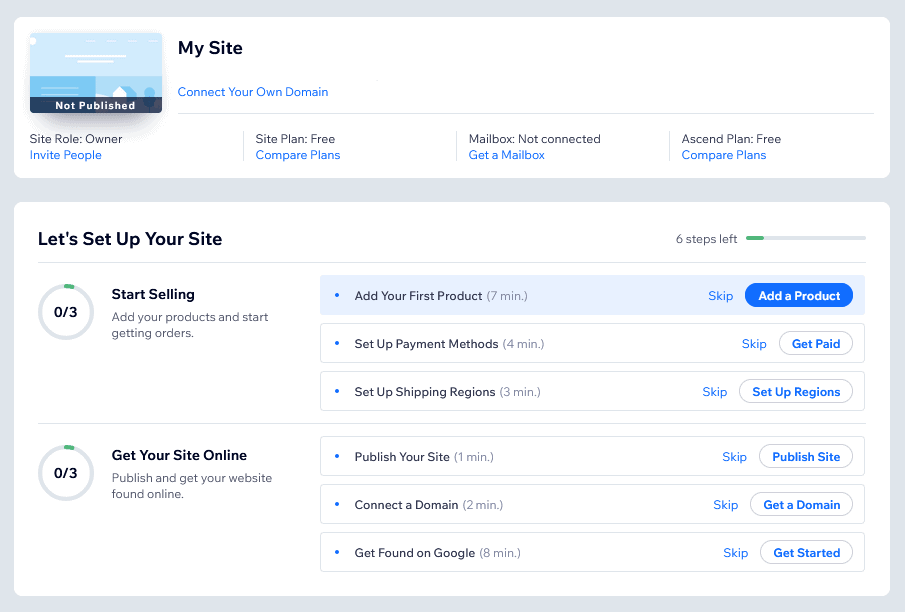 This is where you'd also keep track of your store's analytics and sales reports.
You can keep track of who's buying what, where your best customers are, which products are the most popular, and so on. Basically, if you need information to guide your store-running decisions, the dashboard is where you'll get it.
E-Commerce Apps
Is Wix alone not doing it for you?
Well, Wix has hundreds of in-house and third-party apps to expand your site's functionality.
Over 50 apps are specific to e-commerce.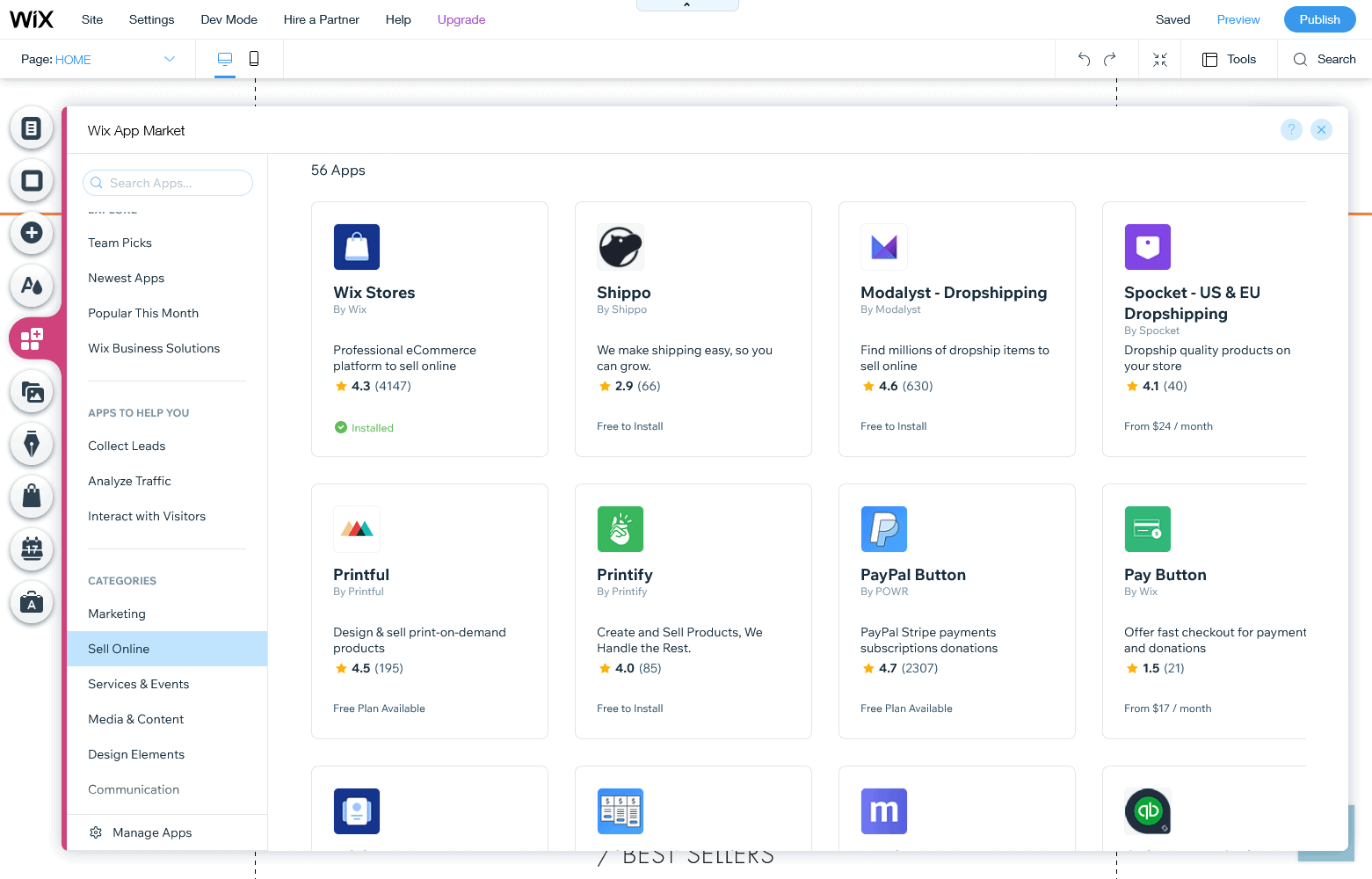 They range from apps for shipping services to PayPal and Stripe buttons, to Quickbooks integration, and there's even an app for building and selling online courses. If you want to make a Skillshare course without letting Skillshare take a cut, Wix might be the platform for you.
Built-In Business and Marketing Tools
There are
loads
 of features centered around marketing your website, generating leads, and getting more sales. For instance,
 you can easily run basic email marketing campaigns from within Wix.
You can actually send out quick email campaigns based on specific products, right from your product dashboard.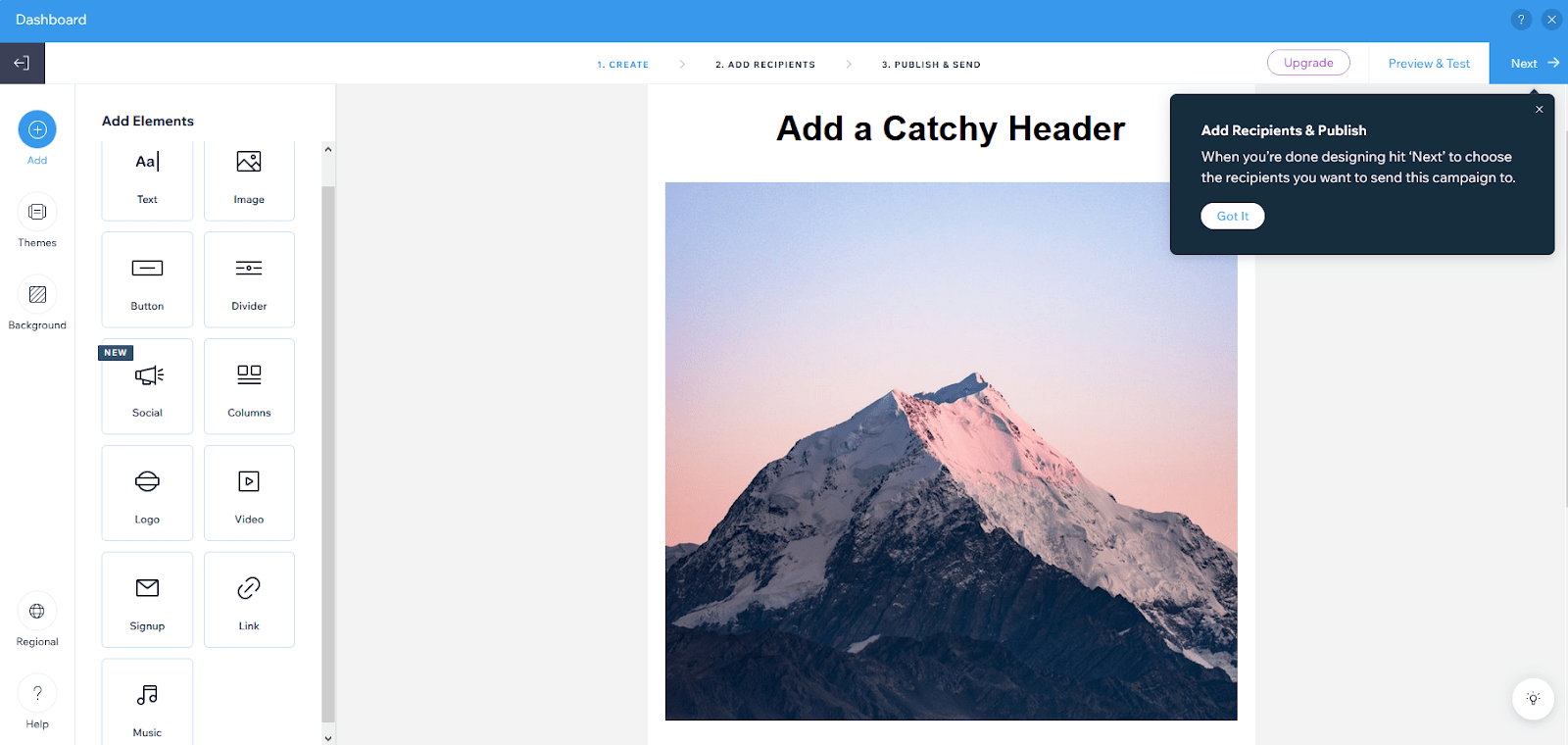 Wix also comes with a wealth of SEO tools, including
Wix SEO Wiz
, which uses machine learning to create a search engine optimization strategy for you automatically. There's even Facebook ads integration, if you want to sell via Facebook.
And there's also a tool that will create short promotional videos about your products automatically.
 It basically matches the product photos you upload with some music to make short clips. Of course, no business website would be complete without some sort of blog. Wix has a just-about-fully-featured blogging system to help you keep your visitors up to date with everything you're doing. Or just to share memes. That could work too.
Ease of Use
Wix is generally easy to use. There's a bit of a learning curve if you've never built a website before, but Wix is certainly one of the easiest ways to do it, while still giving you a
ton
 of flexibility.
It must be said that when you throw managing an actual store on top of building a site, things do get more complicated.
But even so, I'd say Wix Stores is one of the easier options for building, you know, a store. These are some of the features that'll make your life easier.
Flexible Drag-and-Drop Editor
Of course, I have to briefly mention the drag-and-drop site editor, as it does affect the way you build your online store to some degree. Simply put,
Wix has one of the most flexible site editors:
 You can drag and drop just about anything, anywhere you want on the page.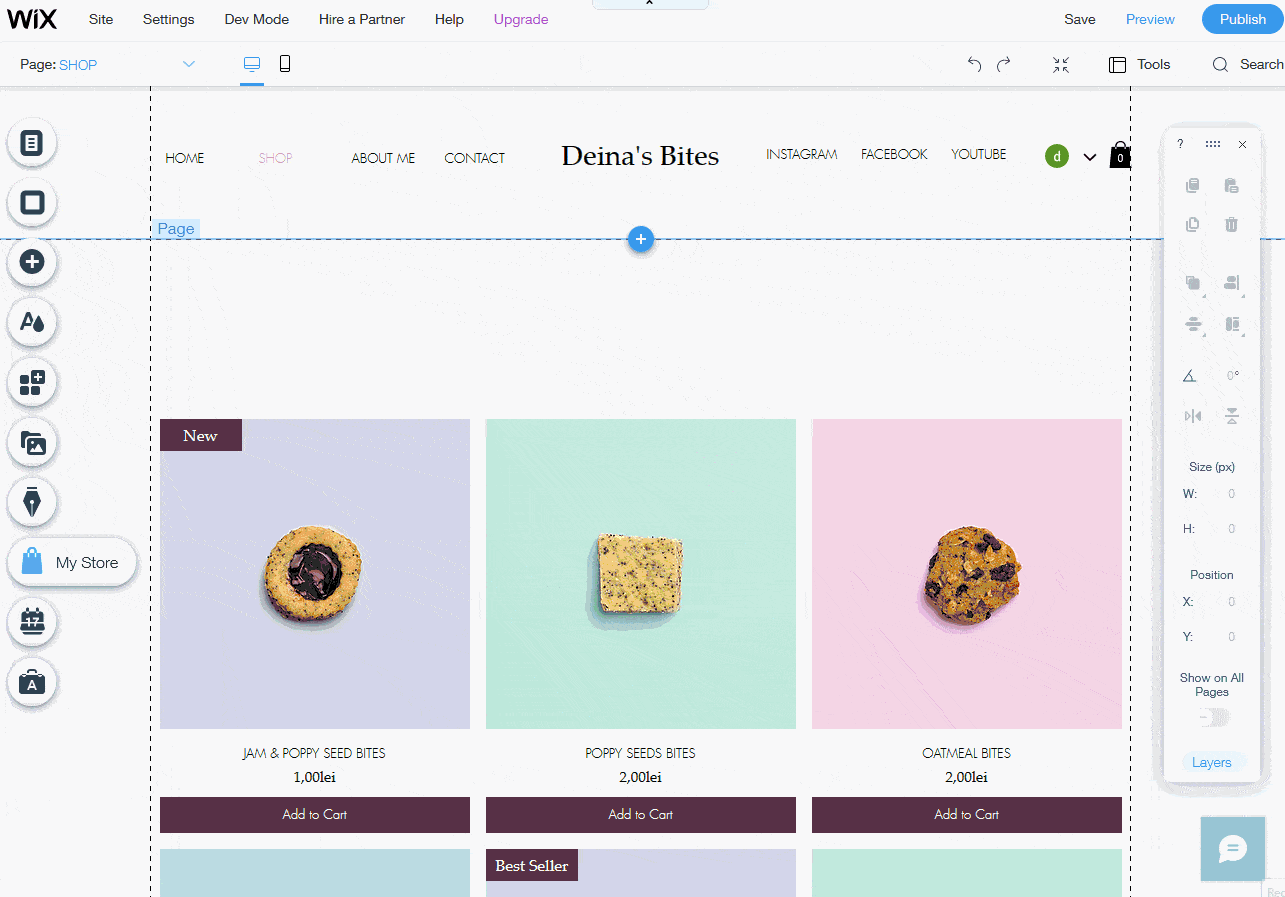 You can lay out text, images, forms, videos, and almost anything else you care to imagine onto your pages, as well as quickly change fonts and colors all over the site to further customize the template you've chosen.
Google Workspace
Simply put, your store is going to need an email address that looks something like this:
[email protected]
. While Wix doesn't offer email on its own, you can (as an additional purchase) get emails with your custom domain through Google Workspace. It all comes pre-integrated with Wix, so setting up your email with your domain is a breeze. Just a few clicks, really.
Wix ADI
Wix ADI is a tool that will literally design a website for you by asking a few questions about what you want your website to do
 and then doing the rest. Again, machine learning is involved (I hesitate to call it "AI" – it's not
that
 smart). I wouldn't recommend it if you have an established visual style you want to use, because that would require a more hands-on approach. But if you really want to get an online store set up in 5 to 30 minutes, Wix ADI can do that. Well, it can get the framework up and running, at least.
Hire an E-commerce Professional
That's right, you can hire someone directly through Wix to help you put your store together.
 I didn't personally test this feature, but if you've got more money than time to spare, you might give this a shot. It's always nice to have an expert take care of the complicated stuff for you, and it can save you much time and many headaches. You can spend that time and those headaches on selling your products instead.
Pro Tip
: Hiring a professional through Wix can be pretty costly. Before doing that, I'd
check out Fiverr
, where designers can build your custom Wix store for as little as $20.
Support
Wix's customer service is fairly good, once you manage to reach a representative. If you click on any of the "Help Center" links, they will direct you to, as expected, the Help Center. In fact, it's a comprehensive resource that can respond to most simple queries, so it's worth checking out. But to talk to a person, you'll need to do three things:
Find a help center article that doesn't tell you exactly what you need to know.
Click on the link that basically says, "No, this didn't help me."
Talk to the chat bot, tell it your problems, and when even it can't help, take the option to talk to someone.
At that point, you can opt for a callback via phone (you'll need to leave your number with the chat bot), or open an email ticket.
The phone option is 24/7 and a lot faster. Here's how it went for me.
Phone
I asked whether I could buy .store domains from Wix, as well as some other more obscure options like .monster and .link.
The callback happened in a minute or so,
and the support agent was helpful and friendly. I got my answer within minutes. Turns out the help center has a list of available domain name extensions. Any of the more obscure options have to be bought from other domain registrars.
Email Ticket
I sent in two email tickets via the chat box: First, I asked if there was any way to integrate email marketing platforms like
AWeber
or
Sendinblue
, as opposed to Mailchimp.
I got my response in about an hour, and it was polite and helpful.
 An hour isn't an amazing response time, but it's not bad for email tickets. I've had some take days.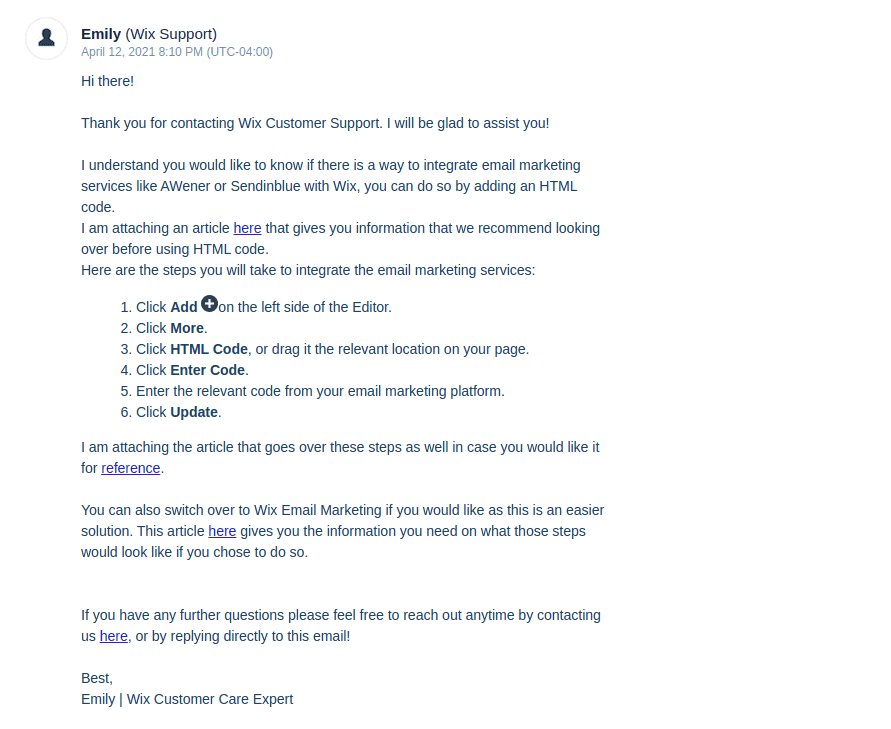 Then, I got nerdy on the support team. Specifically, I asked if every website was containerized in some way, or otherwise protected from attacks on other Wix sites (like DDoS attacks). Basically, if one site gets hacked or hit with tons of traffic, will my sites stay up? This time, it took a while longer to get a response, as I sent the ticket outside of business hours. About 8 hours later, I got this email… which didn't specifically answer my question but provided me with information I needed all the same: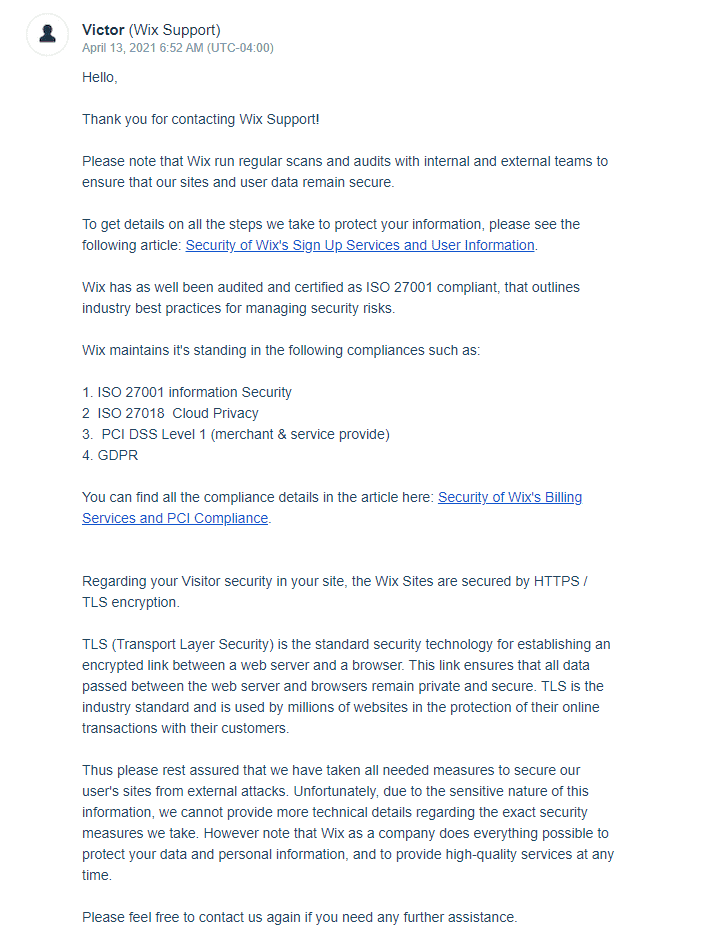 Pricing
The pricing for Wix's e-commerce plans is more than fair.
 If you make $70-$100 per month, after your other overhead costs, you're already making a profit, even on the most expensive plan. Not much of a profit, but a profit.
Wix's e-commerce pricing plans come in three flavors,
going from cheapest to most expensive: Business Basic (which starts at
$17
per month, paid annually), Business Unlimited, and Business VIP. I guess "Business Even More Unlimited" was out of the question…
All e-commerce pricing plans include:
Customer accounts on your website
A free domain for the first year
$300 ad vouchers (for Google Ads, Bing Ads, and local listings)
Unlimited products
Abandoned cart recovery emails
Selling via social media channels
Going for the Business Unlimited plan will add:
Support for selling in multiple currencies
Automated sales tax calculation (limited)
The ability to cross-sell products on marketplaces like Amazon
Advanced shipping options
The option to offer subscriptions and recurring payments
Moving up to the Business VIP plan gives you:
A loyalty program managed by Smile.io
Unlimited dropshipping by Modalyst
Customized reports and analytics
Again, these plans are plenty affordable. And if you decide Wix isn't for you in the first 14 days, you can get your money back. No questions asked.
Wix vs the Competition
How does Wix compare to other site builders that offer e-commerce options? Pretty well, actually.
Squarespace offers a more streamlined experience,
 but Wix has a lot more potential for third-party integration. Wix's wealth of apps and additional marketing features make it a slightly better contender.
Weebly is in much the same situation as Squarespace.
 Weebly's pricing is a lot lower, though, with its e-commerce platform being available on the free plan (as long as you're in the US).
Shopify is hard to compete with, as e-commerce is the only thing that Shopify does.
It'd be fair to say that Shopify outclasses Wix in this regard, but it won't help if you need both an online store
and
 a fully functional regular website. You'd need to use it with another service.
WordPress is maybe the biggest competitor in this space… once you install some plugins.
 See, the self-hosted version of WordPress (WordPress.org) doesn't have any e-commerce functionality by default. The hosted version (WordPress.com) has some options for accepting payment but is not a complete online store solution. Nevertheless, you can utilize both to accommodate the WooCommerce or Jigoshop plugins, which indeed provide comprehensive store solutions. This option offers a blend of advantages, as it enables greater design flexibility and customizable functionality, particularly for programmers.
Honorable mention goes to BigCommerce and Volusion,
as they are both excellent options. But where Wix and the other platforms mentioned here are great for anyone who wants to start a store, BigCommerce and Volusion are distinctly enterprise-level solutions.
Wix
Squarespace
Weebly
Shopify
 WooCommerce
Lowest monthly price (USD)
$17

$

23.00

$

0

$

29.00

$

25.00

E-commerce templates
100+
5+
15+
60+ (9 free)
25+ (3 free)
Unlimited products

✔

✔

✔

✔

N/A
Marketing tools

✔

✔

✔

✔

N/A
Shipping options (included or discounted)

✔

✘

✘

✔

N/A
Team accounts

✔

✔

✔

✔

✔
Bottom Line
Wix and its store app are fantastic for anyone who wants to build a simple but good-looking website and add a store. You can start out with a
free plan
 to see if you like the service and upgrade when you're ready. The e-commerce features should be plenty for any small- to medium-sized business, and even some semi-large ones. It's also good for those entrepreneurial types who just want to run a store on the side, or several different stores for different products. That said, if you want to keep shopping around, check out our list of
the top website builders in 2023
. You'll see Wix right up there with the best of them.
FAQ
How much does Wix e-commerce cost?
The Business Basic plan starts at $17 per month, billed annually. That's your cheapest option for running a store on Wix, and it'll be plenty for anyone who's just starting out in the online store business. Expanding isn't expensive, either. In fact, if everything goes well, the "more expensive" plans will seem dirt cheap by the time you're making enough money to need the advanced features. That said, you can get started for even less money. Check out our coupons page for some great deals.
Is Wix e-commerce secure?
It's as secure as any other site builder or online shop builder. And by that I mean that Wix employs all the basic security technologies that you should expect from this kind of service. Without going into all the nerdy details, no system is bulletproof, but Wix does its due diligence. You can't really ask for more these days.
What are Wix's premium e-commerce features?
Upgrading from the Business Basic plan to the more expensive options will get you some fancy stuff, such as support for selling products in multiple currencies, sales tax calculation, cross-selling your products on Amazon and other marketplaces, loyalty programs, and more. It should be noted, though, that you don't really need most of these features, at least not for a small local store. And some of them aren't necessary if you're only selling digital goods. You can quite easily get your start on the cheapest plan.
Is Wix good for e-commerce?
In short, yes. Wix provides a robust and powerful platform for selling just about anything you want. Unless e-commerce is the only business you have. But even then, Wix can keep up with the likes of Shopify in most respects. To get a full picture of how Wix compares to other builders, check out our reviews of the top site builders in 2023.