While all the builders on my list will get the job done, my personal favorite is Squarespace. It has the best-looking templates around, and all the tools you could possibly need to build your website, integrated straight into its editor (so you don't have to look for them elsewhere). You can take advantage of
Squarespace's 30% discount on annual plans
 to save on your subscription.
Many website builders are so focused on impressing business customers that they forget about the needs of personal users like you and me. I don't know about you, but I'd rather not pay a premium for a whole lot of fancy features that I'll never use.
I know from past experience that figuring out the best and most relevant option can be overwhelming. In fact, I gave up and got somebody else to design my site for me. But then I ended up with a website that didn't reflect my personality and what I'm all about. Now that I'm back to square one, I'm doing the research for my benefit – as well as yours.
Whether you're starting a fashion blog to build your following, a personal diary to share with friends, or an online resume to impress prospective employers, here's my selection of the best personal website builders around.
Short on Time? These Are the Best Personal Website Builders in October 2022
Wix – Provides a huge range of templates and the most intuitive drag-and-drop editor for beginners
Squarespace – The best option for creatives, with beautifully designed templates that display your work in its best light
SITE123 – Ideal for resume and portfolio sites, SITE123 can help you get a basic website online fast
Jump down to see other recommended website builders | Comparison table | FAQ
What I Looked For in the Best Personal Website Builders
Since this is a personal project and not a business venture, you'll probably want to keep costs down. However, you don't want to put in all that effort on your own time just to end up with a website that doesn't meet your needs. So I narrowed down the countless website builders out there by focusing on value, as well as the following features:
Attractive templates: Your personal web page represents who you are, so it needs to look good. I picked out website builders with a diverse range of template designs specifically for personal websites.
Personalization options: Templates are convenient, but the best personal websites are always highly customized. These builders allow you to customize your template's design so your identity shines through.
User-friendly interfaces: Most of us aren't coders or designers, so we need platforms that make customization easy. All five builders on this list make it simple to set up a site and make it your own.
Content features: Many personal web pages are about sharing content, so I've highlighted the builders which let you enhance your site with blogs, portfolios, and even podcasts.
Wix has a huge selection of templates for everything from resume websites and personal portfolio sites, right through to vlogs, biographies, and style blogs. From there, its intuitive drag-and-drop editor makes it easy to add your own content and move it around until you have the layout that suits you.
It's incredibly easy to add a blog to your site too. Wix guides you through each step, including search engine optimization (SEO) – which will help your blog rank higher in search engine results. You can easily post, edit, and update content as needed using the intuitive blog manager. You have full control over your online presence.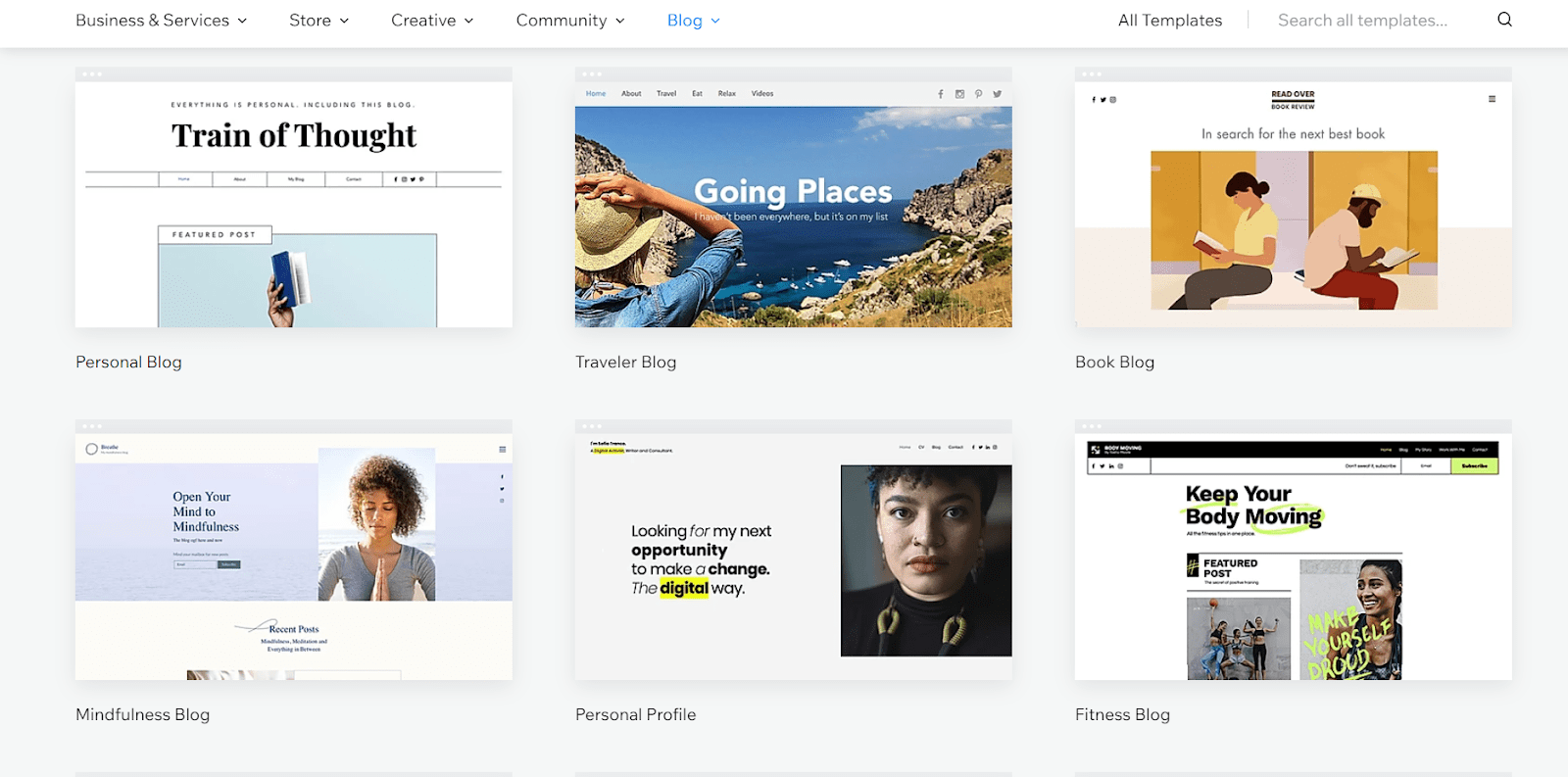 Let's take a look at some other interesting features Wix has to offer:
Podcast templates: If you want to speak your mind, Wix makes it easy to share your audio recordings and even offers advice on how to create a podcast. If you've already started one on another platform, you can integrate its RSS feed into your site so new podcasts appear automatically.
Easily upload videos: Wix also has a great video player which allows you to upload content quickly and easily. If you're using YouTube or Vimeo, you can also embed content from there so you don't have to worry about Wix's storage limits.
Wix App Market: Wix offers hundreds of free apps that can be used to add the likes of search bars, pop-up boxes, and forms to your website. With just a couple of clicks, you can enhance your personal site with a wide variety of features.
Free photos: Wix offers a range of free stock images and videos, so if you don't have your own photos, you don't need to stress about photoshoots or copyright infringement.
Wix is also affordable, with a range of pricing plans to suit everyone. In fact, if you're on a super tight budget, it's possible to build a free personal website. However, you won't be able to get a custom domain name and Wix branding will appear on your site. You can read more about Wix's limitations in our expert review.
| | |
| --- | --- |
| Free plan available? | Yes |
| Number of personal website templates | Over 100 |
| SEO tools? | Yes |
| Social media features? | Whether you need social share buttons on posts or an embedded Insta feed, Wix has tons of social media widgets to add to your site |
Squarespace's slick and professional templates are ideal for the likes of designers and photographers who need their website to look sharp. Its easy-to-use editor and customization options will allow you to take advantage of these great designs while also making them your own.
Squarespace has specific templates for everything from blogs to portfolios. The designs tend to be polished and contemporary. If that's what you're looking for, you'll have no problem building the website of your dreams.
The second you sign up, Squarespace walks you through the process of editing a template. Whether you want to add a logo, delete a page, or change a font, the instructions are accessible right there in the editor. We go into more of the user experience in our expert review.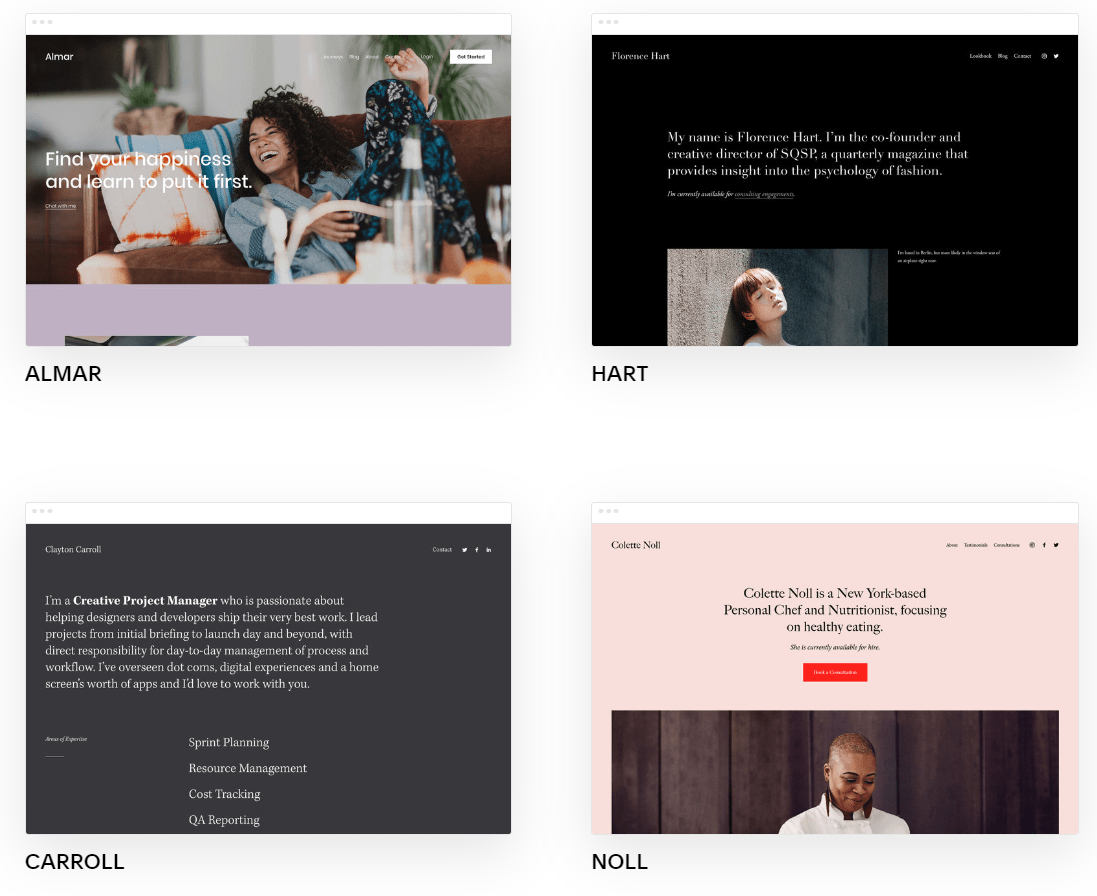 The platform doesn't offer a free option, but there is a 14-day free trial, and the personal plan costs $14.00 a month. If you have ambitious intentions for your website and want to build a large following, its personal plan will grow with you.
You'll need to upgrade if you want to enable sales on your site, but just about every other feature is available to personal users. This includes a free custom domain, SSL certification, mobile optimization, 24/7 support, and access to Squarespace extensions. This means you won't have to worry about a costly upgrade any time soon.
Unlimited bandwidth and storage: Whatever plan you choose, you'll never need to worry about uploading too much content or attracting too many visitors to your site.
Plenty of social features: All of the personal templates I browsed featured social media icons, which are great for encouraging people to connect with you. You can also automatically post newly published content to social media. You can get conversations started by allowing readers to comment on your blog posts too.
Extensions and integrations: If you ever want to expand your site's reach, Squarespace has lots of handy marketing extensions that can help.
| | |
| --- | --- |
| Free plan available? | No, but it offers a 14-day free trial |
| Number of personal website templates | Over 30 |
| SEO tools? | Yes |
| Social media features? | Yes, lots! |
SITE123 is a quick and easy option for resume sites and portfolios. If you're rushing to get a site together as part of a job application, this is a great option.
SITE123 offers a variety of blog and CV templates, but all the designs are quite similar and fairly generic. This is a bit of a bummer if you want a site that looks unique, as customization is limited as well.
Unlike Wix or Squarespace, which both feature a flexible drag-and-drop editor, SITE123 templates can't be rearranged easily. You'll have to open the layout settings separately if you want to change the page structure (but even then, your options are limited). You can also click on each title, image, or text box to change what's inside.
However, SITE123's ease of use makes up for its narrow design choice. As we discovered when reviewing SITE123, its editor is logical and clear. It's also easy to preview how your site will look on different devices.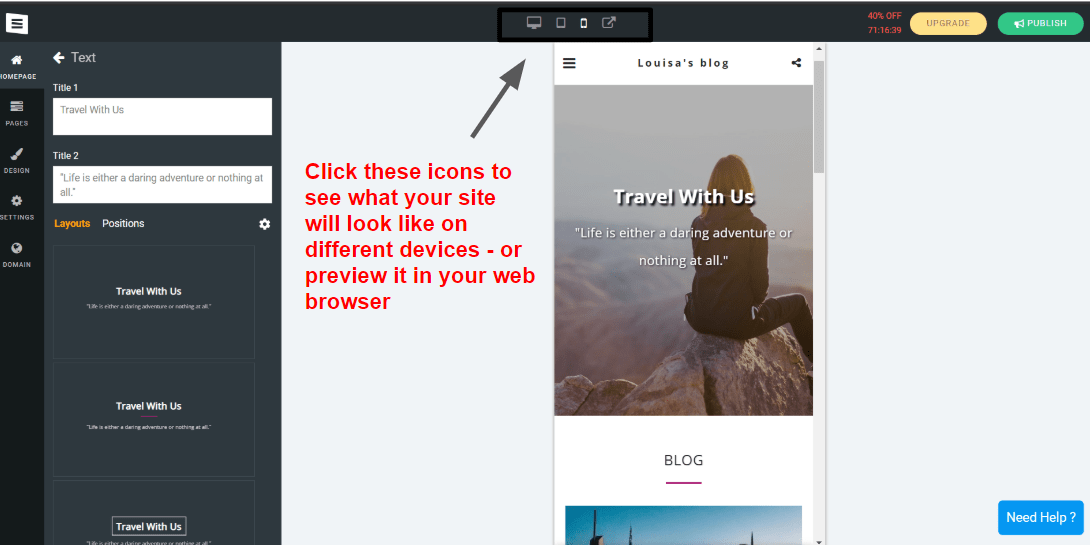 If this is your first time building a site and you find the prospect daunting, this could be the builder for you. It's all about getting online quickly and easily. Here are some of SITE123's top features:
Mobile-responsive sites: All SITE123's templates are mobile-responsive, so if you're looking for a job, you can rest assured that your resume website will always look good wherever it's viewed.
Free SEO tools: These will help you attract traffic to your website, and can help you grow a following or get discovered by a potential new employer.
App Market: SITE123 offers a variety of apps, including third-party apps which let you add everything from marketing tools to analytics. For your personal site, you might consider using apps to enhance your pages with polls or social share buttons.
Google Analytics: Find out more about your visitors by connecting your website to Google Analytics. This will show you exactly where your visitors are from, how long they stay on your site, and other useful information that will empower you to improve your site's content.
| | |
| --- | --- |
| Free plan available? | Yes |
| Number of personal website templates | At least 30 |
| SEO tools? | Yes |
| Social media features? | Yes, it offers social media integrations and buttons |
The WordPress.com editor isn't quite as easy to use as some other builders on this list. But once you get the hang of it, the customization options are endless. It offers over 250 themes and loads of built-in features. If you plan to continue developing your website in the long term, this is a smart choice.
As you'll read in our expert review, WordPress.com is first and foremost a blogging platform. That's what it was originally set up to do and this continues to be the central focus of its website themes. So if your blog is your biggest priority, WordPress.com is probably the best option for you.
I also love that you can search themes by feature, layout, style, or subject. If you have a design in mind, you'll be able to find something that won't require too much editing. Here are some other WordPress.com features that I like:
In-depth statistics: Wordpress.com offers charts, graphs and lists which highlight useful information about your visitors, including where they're coming from and what they click on. It's also got detailed instructions explaining what it all means!
Advanced design options: If you have the skills and want to take customization a step further, WordPress.com's Premium plan and up offer CSS editing and advanced design tools.
Plugins: WordPress.com offers all kinds of advanced plugins to help take your blog to the next level – just keep in mind that you can only access plugins on the Business plan or higher. To name just a few of the best, there's Yoast for SEO, WP-Rocket for speed, and Sassy Social Share for adding share buttons.
Countless resources: If you're ever stuck and can't figure out how to do something in WordPress.com, there's definitely a support article that can help you out. Perfect for beginners who don't want to compromise on customization.
Features to drive growth: WordPress.com offers subscriber-only content features and even monetization options without the need to sign up for a business plan. Great for those who could potentially turn their personal passion into a business.
WordPress.com's basic plan is free, but it's quite limited in terms of functionality. However, its personal plans come in at just a few bucks a month and include a free custom domain name for the first year. You can even connect one right in the WordPress.com interface.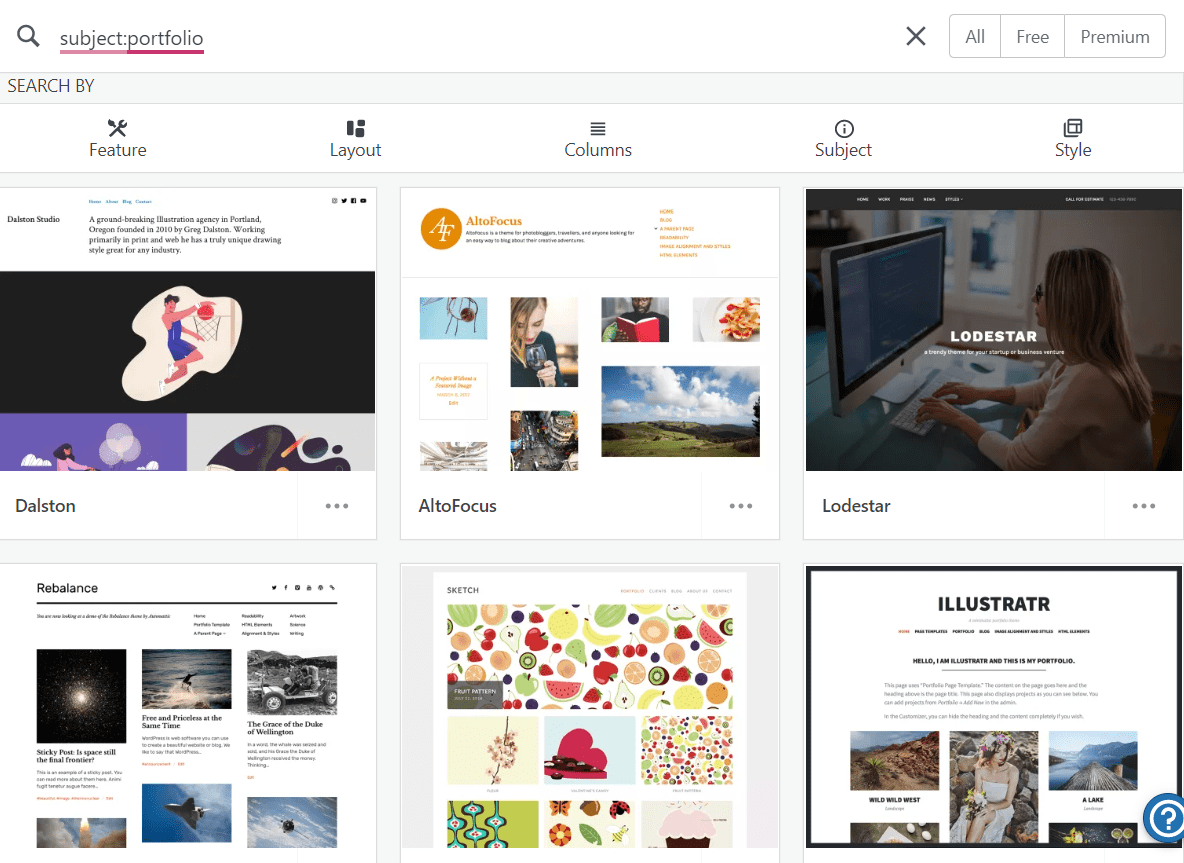 | | |
| --- | --- |
| Free plan available? | Yes |
| Number of personal website templates | None, but there's plenty of third-party themes to use |
| SEO tools? | Only with business plans |
| Social media features? | Advanced social media features come with its premium plan |
Webnode provides a simple tool for building all sorts of websites. In terms of user-friendly design and attractive templates, Webnode holds its own among the other web builders on this list.
A whole section of its templates is dedicated to personal websites – and then there's portfolio and blog templates too. As our expert reviewer found, they're all easy on the eye, as well as easy to edit. Though the site editor isn't as intuitive as other builders on this list, Webnode stands out because of its niche multilingual features.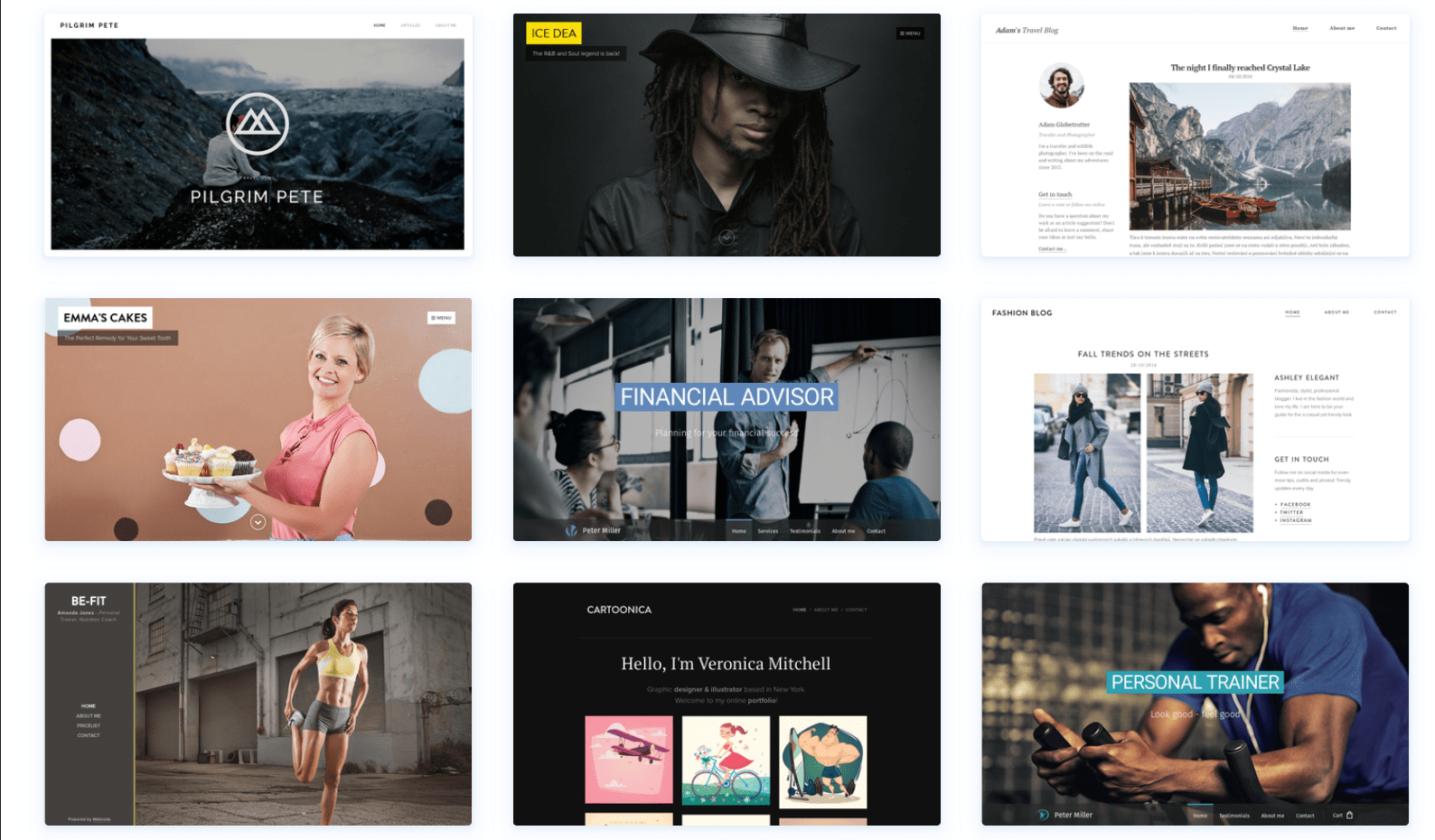 Looking at its distinguishing features, I think Webnode was built with globetrotting bloggers in mind.
Multi-language features: Webnode's Standard and Profi Premium plans allow you to add more than 20 languages to your site. Only Webnode's own template content is translated automatically, but it's a great start if you want to grow an international audience.
A mobile-friendly editor: Want to build and edit your site while on the go? Well, Webnode focused on creating an editor that is easy to use on your phone and tablet.
Multi-lingual support: Webnode also aims to offer local support. Its in-house customer service team speaks dozens of languages and user resources are translated too.
Thoughtful blog features: Webnode makes it easy to grow popular personal blog sites. Schedule your posts ahead of time and add social media plugins so your readers can share articles with just one click.
Safe browsing: All Webnode's sites come with SSL certification so you can build trust and credibility with your visitors.
Webnode offers a free plan, but you'll need to purchase a paid plan if you want to connect your own domain name. Just keep in mind that you'll have to pay for a full year upfront – there are no monthly plans.
| | |
| --- | --- |
| Free plan available? | Yes |
| Number of personal website templates | 60 |
| SEO tools? | Yes – just for the basics |
| Social media features? | Yes, add social icons and share buttons |
It All Depends on Your Personal Preferences
All the sites on this list will enable you to build an impressive personal website. But you can save time and effort by choosing the one best suited to your needs.
I recommend Wix for total beginners, as well as anybody looking to set up a personal podcast. On the other hand, if you're after a highly customizable site for your blog, WordPress.com is definitely where it's at!
If you're looking to create a simple resume website, SITE123 is ideal as you won't get bogged down in tricky design tweaks.
For ambitious bloggers, most Squarespace features are available as part of its personal plan. It's also ideal for creating a sleek and professional portfolio site.
| | | |
| --- | --- | --- |
| Website Builder | Stand-out Features | |
| Wix | Huge choice of templates and extremely user-friendly | |
| Squarespace | Will create a beautifully designed site to impress your visitors | |
| SITE123 | A quick and easy option to get a personal project online | |
| WordPress.com | Offers great value custom domains, as well as extensive customization options | |
| Webnode | A convenient option for on the go website creators and those with plans for a multilingual site | |
FAQ
How do you create a personal website?
Simply sign up to one of the above sites and a user-friendly interface will guide you through the process. You can also browse our list of the best website builders in October 2022 for more inspiration. Start by finding a template that looks great and suits your specific needs. Then you can focus on customizing it to reflect your personality. Use the editor to tweak the layout and choose your favorite fonts and colors. Then add your own text, images, and videos. Need a little more guidance? Check out our Step-by-Step Guide to Building a Website in 2022.
What should you put on a personal website?
Whether you're setting up a blog or creating a professional portfolio, your character should always shine through. Always include a biography introducing yourself. Discuss your mission and background and provide links to your social media accounts. A website builder like Squarespace makes it easy to add as many pages as you need, and it has excellent social media integrations as well.
How can you create a personal website for free?
Many website builders offer free plans for building a personal website, but my favorite is Wix, because you get access to almost all the features on the free plan. To get started, all you have to do is go to the Wix homepage and sign up. If you decide to upgrade to a paid plan, you should check out our coupons for October 2022 for the best deals.
Do you need to know code to create a personal website?
No, just head over to whichever website builder suits you best and get started with its user-friendly editor. These editors don't require any coding experience or knowledge. However, if you have coding expertise, some builders will let you access your website's HTML and CSS code. This can be a major plus with WordPress.com, if you want to customize your theme of choice.