In 2017, Wix surpassed the 100-million user mark, firmly positioning itself as one of the most popular website management platforms. With all the publicity and attention it receives, you might think that it's your best (and only) option. That's really not the case. In fact, there are many platforms out there that have something special to offer and are worth a look. Here you can find some of the best website builders that serve as good alternatives for Wix.
Why Find an Alternative to Wix?
Don't get me wrong; Wix is indeed a fantastic platform. It's relatively easy to use once you get the hang of it. Wix provides powerful features through the App Market, and it offers very reasonable prices. However, not every platform is for everyone, and in some cases you might find that another platform suits you better for the following reasons:
E-commerce. While Wix does have online store plans, it's not its strongest suit. There are other platforms that focus more on selling online and offer more advanced features, particularly when it comes to integrating with a brick-and-mortar store and shipping.
Ease of use. Wix isn't exactly hard to use, but there are some platforms that make the process of creating your website even easier. Wix can be slightly daunting in the beginning because of all the options, whereas other platforms ease you into it.
The ambitiousness of Wix means that you still sometimes encounter bugs and flaws that can become frustrating, especially for new users. One example is how certain themes can break when responding to different screen sizes. Some other platforms offer a more polished experience.
WordPress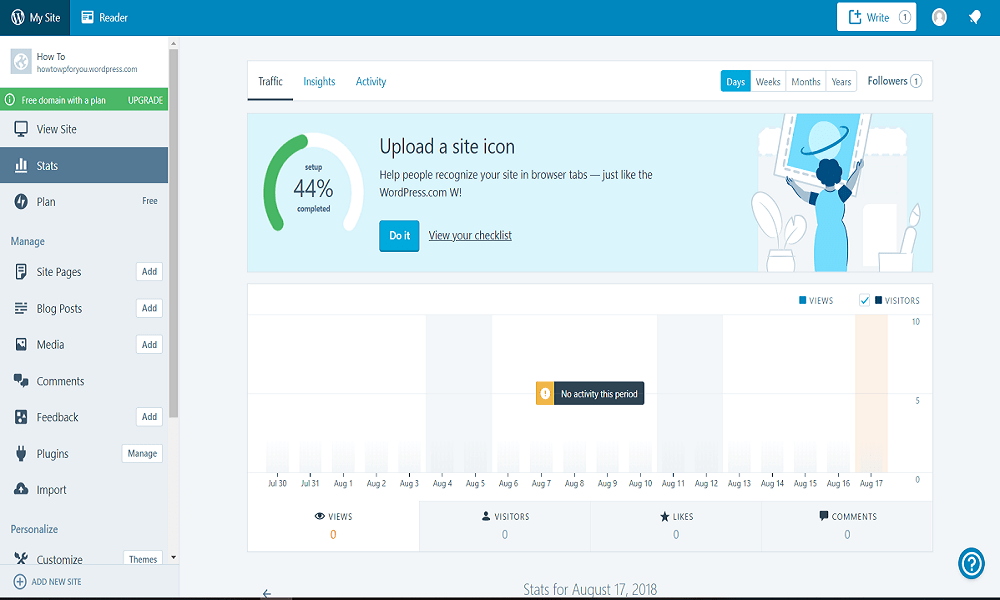 Note that for this list, I'm looking at WordPress.com as opposed to self-hosted WordPress.org as it provides a similar experience to Wix.
Wix has become pretty well known but still has to bow down to WordPress as the most popular content management system (CMS) of all time. In fact, up to 30% of websites run on WordPress, and WordPress-based websites make up almost 58% of all CMS-based websites. WordPress.com is a great option if you want to run a blog on your website.
WordPress has advantages over Wix in a number of other areas as well:
WordPress removes its branding on all of its paid plans, while Wix still brands in its "Most Basic" plan.
On all plans, WordPress offers a lot more storage space than Wix. Even a free WordPress plan provides 3 GB of storage which you get only with the Wix "Combo" plan. The top WordPress plan, "Business," also provides unlimited storage compared with 20 GB for the top Wix plan, "VIP."
Third-party Integrations. With a "Business" plan, you can start using third-party plugins and themes on your website, which isn't possible on Wix.
Squarespace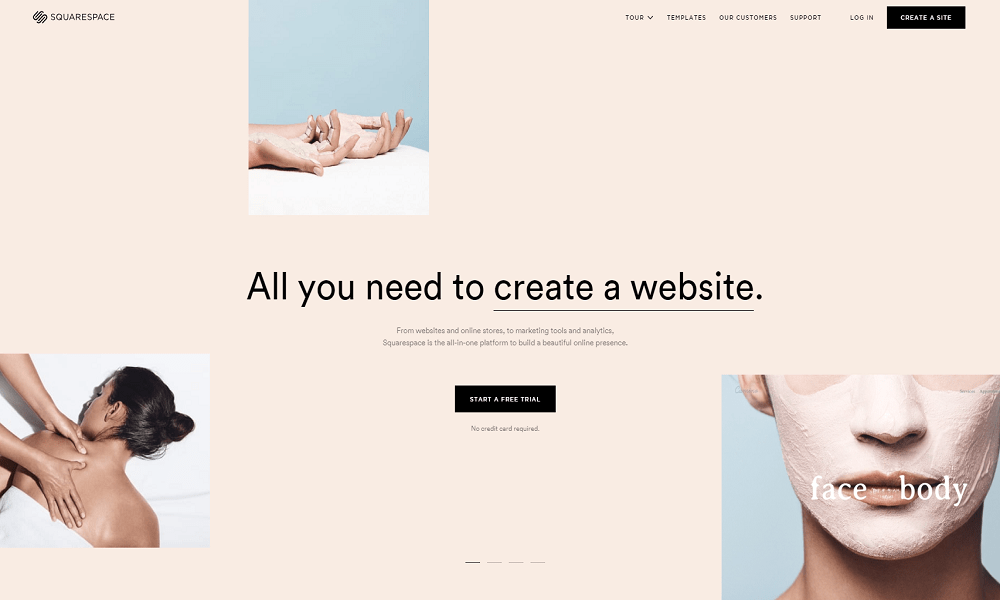 Squarespace is another one of the big names in the website-building world that need little introduction. Squarespace is best known for its powerful e-commerce features and beautiful, minimalist designs. It's most suited to those who have serious e-commerce requirements with the option to tie into a real-world store. It offers a very different experience from Wix that can easily be seen from the advantages it has over Wix:
Quality over quantity. While Wix has many more themes (450+) than Squarespace (90+), they vary wildly in quality. By contrast, all Squarespace themes feel extremely polished and professionally designed, which is what Squarespace is famous for.
E-commerce. This might seem slightly unfair since Squarespace is an e-commerce-focused platform, yet it's still a fact that it provides superior e-commerce capabilities. There are more powerful real-world store and point-of-sale integrations on Squarespace, and the process of creating a store and products is more refined.
Squarespace puts a lot of emphasis on providing premium support and offers 24/7 live chat, whereas with Wix you'll need to rely on tickets or callbacks.
Weebly
Weebly is all about making the process of building, launching, and hosting your website as accessible as possible. It has a lot of the same features as Wix too, such as apps (plugins), templates, a website builder, and e-commerce capabilities. Weebly is well-suited to just about any website, blog, or online store that don't have enterprise-level requirements.
However, there are still a few other reasons why you might opt for Weebly instead:
Ease of use. Wix is by no means hard to use, but Weebly is just so much easier. Both come with their own website-building tool, but Weebly's version requires a less steep learning curve.
Although Wix has the cheapest product, Weebly's plans offer a bit more flexibility. To help you choose the exact features you need, there are seven plans in total: three for normal websites and four for e-commerce websites.
Live chat support: Weebly offers live chat and phone support for most plans, which isn't directly available on Wix.
Volusion
You can think of Volusion as the e-commerce version of Weebly. The platform is extremely easy to use and guides you through the website-creation process. Because it focuses on e-commerce, the whole experience is geared toward quickly and easily setting up an online store.
Volusion can be a great alternative for Wix if you want any of these features:
Advanced e-commerce features. Most of the e-commerce features on Volusion can be installed on Wix using apps. However, they cost extra and require additional setup. These come pre-packaged with your Volusion website, such as checkout cart features, deals and promotions, etc.
Store setup. The Volusion platform does an excellent job of guiding you through the store-creation process step by step. This isn't for everyone but is great if you're new to this and want some guidance. With Wix, you do get some tutorials and tips but are more or less thrown right into the customization of your website.
One way Volusion aims to make its platform so easy to use is by offering great customer support that goes above and beyond to help users. This is especially true if your plan qualifies for priority support. Wix offers only a ticketing platform and support callbacks with limited scope.
Shopify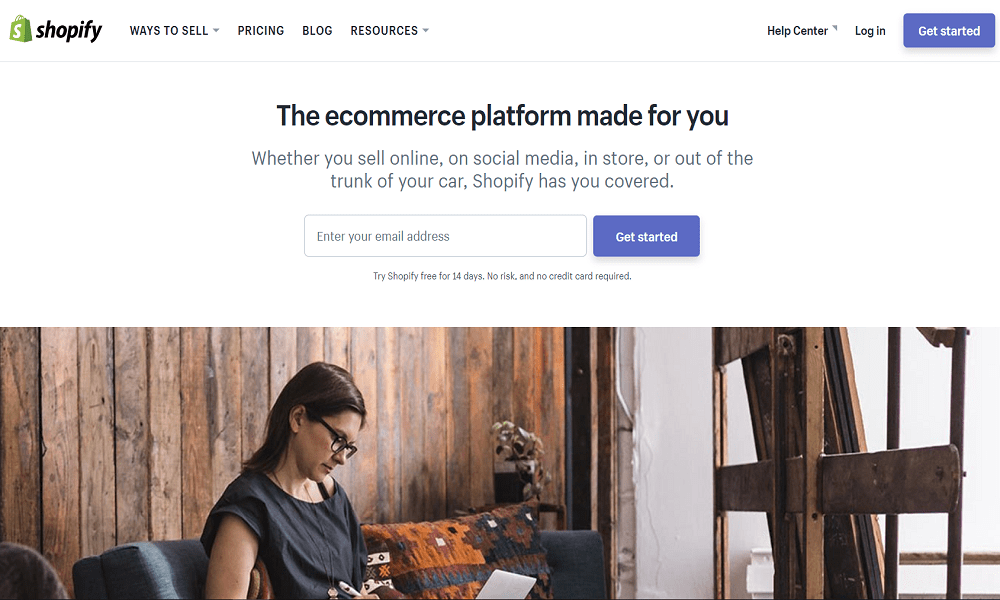 Shopify might just be the most popular e-commerce-centric website management platform, with over 1.2 million users. No matter the size of your business, you should be able to find an appropriate Shopify product. As one of the biggest platforms, Shopify's obvious advantages lie in what it can offer in terms of an online store or e-commerce experience:
Point-of-sales (POS) Retail. With every Shopify plan, you can purchase a "Retail" package that provides you with powerful tools to integrate your real-world store or POS with your online store. Wix doesn't offer anything as in-depth.
Shopify Lite. Integrate your existing store or social media sales channels with Shopify's powerful tools to manage inventory, set up shipping, etc. You need to build your full website on Wix so it doesn't really provide anything similar for e-commerce only.
Shopify Plus. This is Shopify's enterprise-level package for those who want to create an e-commerce platform for a huge business. Wix doesn't really offer anything in the same vein.
The Possibilities are Endless
As you can see, there is no shortage of great website builders. The key is to find the one that matches your needs, goals, and pocket best and go for it. Just because someone else had a good experience with Wix, Shopify, or even WordPress doesn't mean you will feel the same.
It's not possible to easily migrate your website from Wix to most other platforms. So, this is why it's even more crucial that you make sure to choose the right alternative for the right reasons, whether that's more in-depth support, extensive e-commerce features, or just a different experience.