Everyone knows Wix. Advertisements everywhere (including the SuperBowl) state that it is the top web builder available. But is it really the best website builder? Not necessarily. As one of the most popular website builders, Wix is the first choice for many people – but it's not right for everyone. And it might not be right for you.
Wix Alternatives: Our Top Picks
Why Look For an Alternative to Wix?
Mobile-responsiveness. While Wix offers a wide variety of templates, they are not fully mobile-responsive. Also, you can't switch to a new template unless you want to rebuild your website from scratch.
Flexibility. Once you've built your Wix website, there's no way to move it to another platform. You either have to stick with Wix or rebuild your website elsewhere.
E-commerce. Although Wix has some good e-commerce features, they're not going to be able to sustain a large online store.
Customer service. You've heard about (or experienced) Wix's awful customer service – such as the lack of live chat help and having to request a call-back when you phone the support line.
We've examined all the major Wix competitors to see which ones are better than Wix. Some of these alternatives are similar to Wix in many ways, but they offer more storage or a better range of built-in features.
What We Look For in the Best Wix Alternatives
While testing Wix alternatives, I focused on finding website builders that offer:
Value for money. With Wix, you have to pay extra to use some of the most important features. I looked for website builders that are more cost-effective than Wix.
Built-in features. While Wix offers apps for extended functionality, some website builders come with more built-in features. With native features, you don't have to waste time looking for apps and installing them.
Mobile-responsive templates. Having to edit a separate mobile version of your website in Wix is a pain, so I looked for platforms that give you responsive templates that will automatically look great on smartphones and tablets.
Design flexibility. Although Wix has a huge number of templates, it's let down by the fact that you can't change your template once you've selected it. I looked for platforms that make it easy for you to change your design over time.
Free plan/trial. Some of these Wix alternatives allow you to build a fully-functional website without having to pay a dime. Others offer a free trial period, so you can test them risk-free.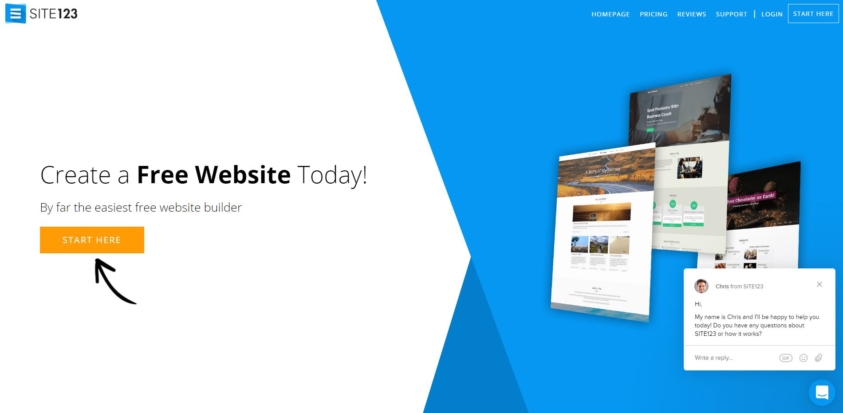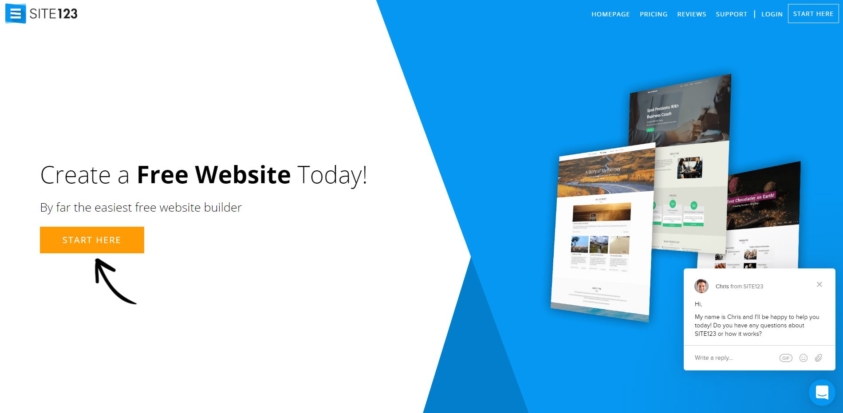 Although it's more basic-looking than the other website builders on this list, Site123's features are far from basic, and it gets excellent user reviews. You get easy tools to build your website, you can sell online, and you even have the option of creating a multilingual website.
Site123 has around 200 templates to choose from, and all of these are fully mobile-responsive – ensuring your visitors will have a good experience no matter what device they're using to view your website.
Best suited for personal or small-business sites, Site123 takes the complexity out of building your website. Its interface isn't the prettiest, but it's functional, and it's really easy to find all the tools and features you need.
Best of all, you can build a fully-functional website with the free plan.
Features
100% beginner-friendly. Site123 has created a website builder that couldn't be easier to use. If you can use word processing software, you can build a website with Site123.
Help and support. Not only does Site123 offer 24/7 live support (unlike Wix), but if you get stuck while using the editor, you can click the "Need Help?" button in the bottom right corner to instantly connect to an expert. The help and support team will walk you through setting up your website and there's always someone available to help you to solve problems quickly and easily.
Apps. Site123 offers over 75 apps to add extra features to your website. If you're on one of the paid plans, you can choose from a wide selection of free apps in the App Market. Tools such as LiveChat, Twitter Conversion Tracking, Google Webmaster Tools, and Google Analytics can be added easily.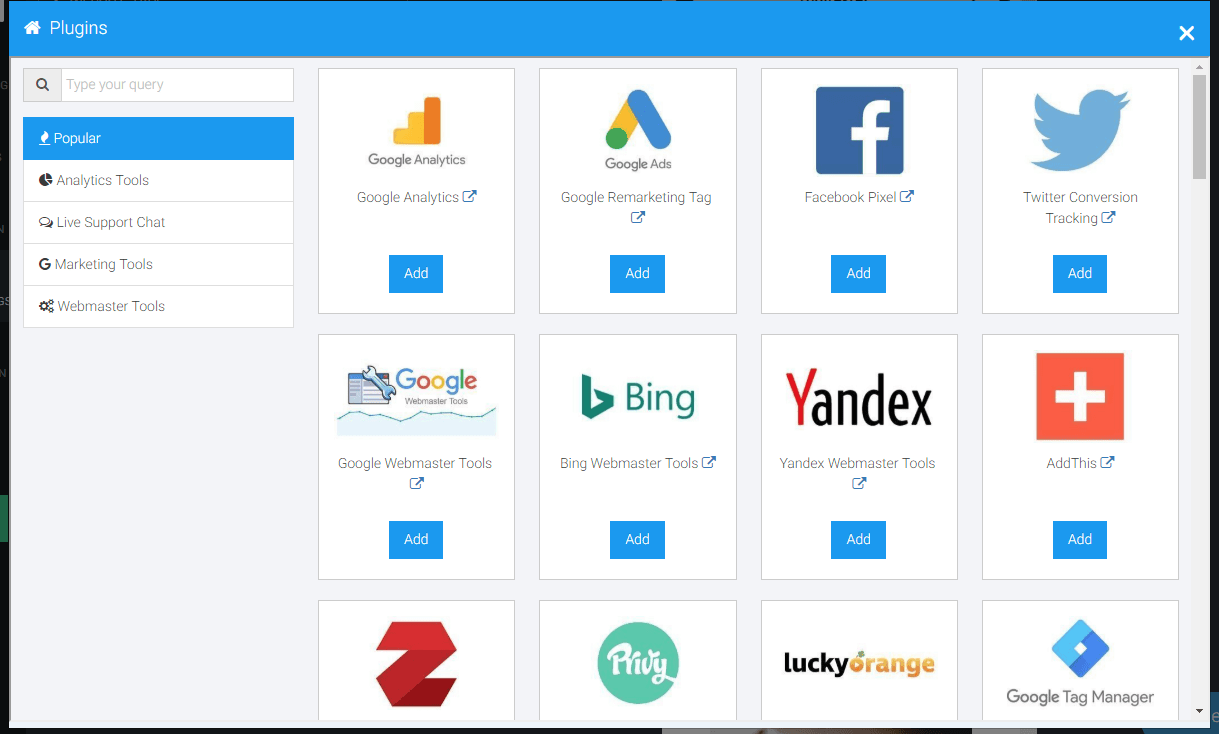 Flexible e-commerce. Don't let Site123's simplicity fool you – it has an impressive set of e-commerce features for a small online store. You can sell in over 80 different currencies, offer unlimited product variants (e.g. colors and sizes), and accept payments via PayPal, Braintree, 2Checkout, and Stripe.
| | |
| --- | --- |
| Free Plan/Trial | There's a free plan, no credit card required, but features like apps will require an upgrade |
| E-commerce Features | Yes, built-in |
| Templates | 200 free, mobile-responsive templates |
| Customer Support | 24/7 live chat support, plus in-editor support button |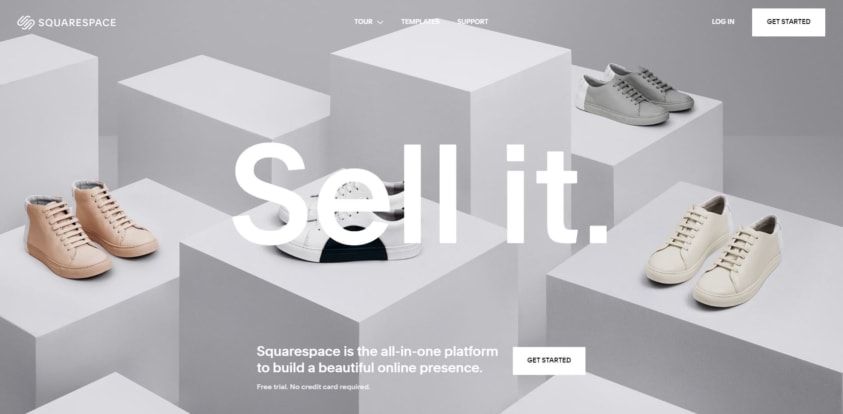 Squarespace is slowly building a solid reputation for reliability and excellent customer support, and many reviewers prefer it to Wix. Plus, if the look of your website is important to you (as it should be), then Squarespace templates are much better than Wix has to offer.
Squarespace offers 24/7 live chat support, which is a huge improvement over Wix's awful customer support options. Other areas where Squarespace outshines Wix are in storage (Squarespace offers unlimited storage on all plans) and SEO (it's easier to manage SEO in Squarespace).
Squarespace's pricing is not the cheapest. There's no free plan, but there is a 14-day free trial, and the features still make Squarespace better value overall.
Features
Security. Squarespace is one of the most secure website builders, with high levels of server-side security and built-in SSL to keep your website data secure and protected from hackers. While Wix's security isn't terrible, this is just one of the things that Squarespace does better than Wix.
Responsive Templates. Quite simply, Squarespace's templates are mesmerizing. They're all professionally designed to make your website look modern and attractive. All the templates are fully mobile-responsive, and there are over 100 to choose from. What's more, Squarespace's templates use sections, spacers, and blocks to make sure that your content looks fantastic. With Wix, you can place content wherever you like, which can lead to unfortunate layouts.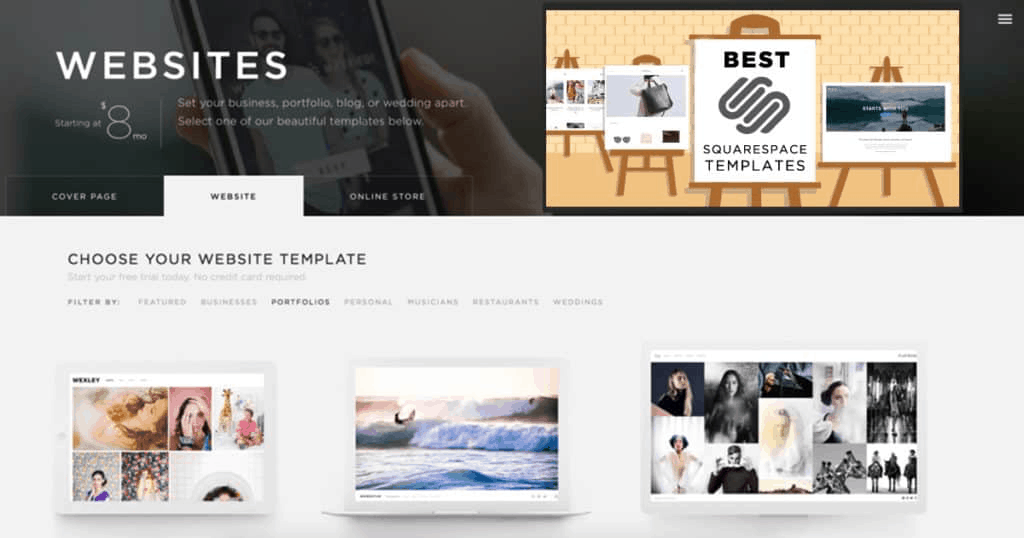 E-Commerce. Squarespace gives you tools for building a small-medium sized online store for a lower price than Shopify. Squarespace's inventory management, product display and marketing tools make managing your online store a simple process. The tools are more advanced than those offered by Wix.
Analytics tools. Understanding your website traffic – where it's coming from, how well your marketing is performing, etc. – is important for planning your marketing strategy. While Wix gives you Google Analytics integration, Squarespace has a native Analytics feature that also offers a mobile app so you can monitor your website's performance on the go.
| | |
| --- | --- |
| Free Trial/Plan | 14-day free trial, no credit card required |
| E-commerce Features | Yes, built-in |
| Templates | 100+ free templates to choose from, with dozens of premium templates available from third parties |
| Customer Support | 24/7 live chat support, with email/ticket support also available |
There are two versions of WordPress – WordPress.com and WordPress.org. I'll be focusing on WordPress.com in this article, since this hosted version of WordPress is the most similar to Wix.
WordPress.com isn't a drag-and-drop website builder like Wix, but it does offer much more flexibility and customization potential. If you're looking for a website builder that is easy to scale as your website/business grows, most reviewers agree that WordPress.com is a great choice.
There's lots you can do with WordPress.com and it's great if you want to blog on your website, since the platform is designed for blogging – unlike Wix, which offers really limited blogging features.
In 2018, WordPress launched a new version of its editor, known as Gutenberg. This has brought WordPress more on par with drag-and-drop website builders, allowing you to use content blocks to add images, widgets, videos, and much more.
There is a bit of a steeper learning curve with WordPress.com, however. It's not as beginner-friendly as some of the other drag-and-drop builders, and you'll have to get used to some WordPress-specific terminology. However, if you're trying to decide between Wix and WordPress, WordPress is still superior.
Features
Themes and customizations. WordPress.com offers a huge range of themes, most of which are mobile responsive, and you can customize them easily. It's simple to change your theme – just install and activate and your website will instantly reflect the new look. This is a big improvement on Wix's 'pick one theme and never change it' approach. On the Business plan and above, you can upload premium themes from third-party marketplaces, too.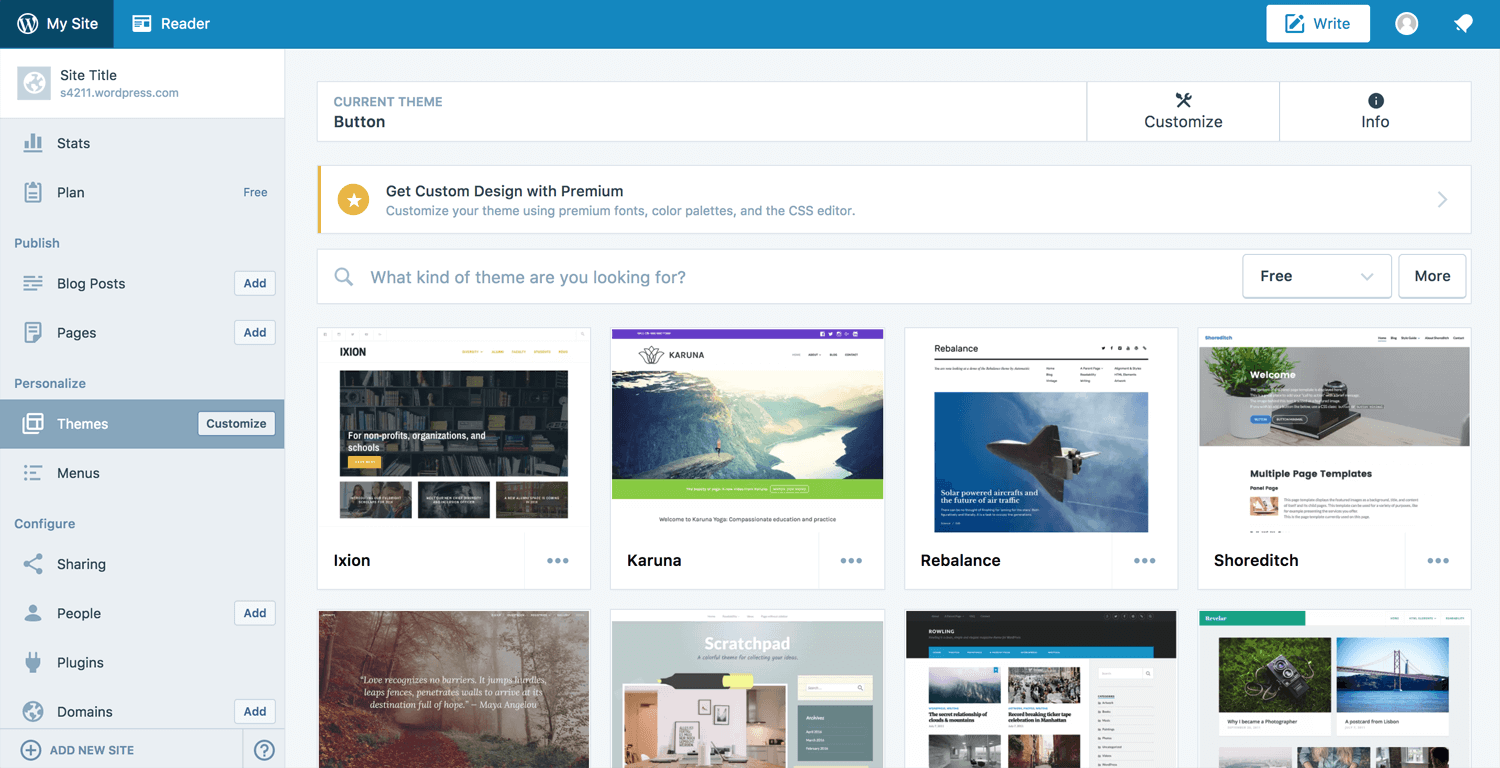 Plugins. If you upgrade to the Business plan or above, you get almost the same flexibility as WordPress.org, with the ability to add plugins to your website. Although Wix allows you to add apps, there are more free WordPress plugins than there are Wix apps. Popular (free) plugins include:

WooCommerce – for e-commerce
Yoast SEO – to help you rank better in search engines
Elementor – to edit your website from the front end and instantly see your changes)

HTML/CSS editing. The ability to edit the HTML and CSS of your website is a big bonus if you're more confident in your technical skills. HTML and CSS editing give you the ability to make many more customizations to your website's look and feel.
Storage. With WordPress.com, you get more storage than you do with Wix – even on the free plan you get 3GB of storage, compared with a measly 500MB on Wix's free plan.
Migration. You can start out with WordPress.com and decide to move to self-hosted WordPress (which can be cheaper in the long run, especially if you're wanting to install plugins). It's easy to migrate your website from WordPress.com, with built-in tools for exporting your website.
| | |
| --- | --- |
| Free Plan/Trial | Yes – there is a free plan (no credit card required), but you will need to upgrade for more features |
| E-commerce Features | Only on the Business plan and above, via a plugin such as WooCommerce |
| Themes | Thousands of free themes, with the option to upload premium themes on the Business plan and above |
| Customer Support | Live chat is available on the Personal plan and above, and email support on the Blogger plan and above |
In recent years, Weebly has been growing in popularity and getting many positive reviews. It's better than Wix in several areas, and the free plan allows you to build a fully-functional website.
For starters, Weebly is easier to use than Wix. The interface is intuitive and easy to learn – and if you run into trouble, Weebly has a reputation for providing great customer service.
With around 100 templates, Weebly's selection isn't as impressive as Wix's, but the advantage is that the templates are all mobile-responsive and you can change your template easily.
Unlike Wix, When you upgrade to a Weebly paid plan, you get unlimited storage.
Weebly does have e-commerce features which you can use to build a small online store – but watch out for additional transaction fees if you're on the Pro plan. Upgrade to one of the e-commerce plans to get rid of those.
Features
Mobile app. Once you've built your website with Weebly, you don't have to open up your computer every time you want to make changes to your website. The Weebly mobile app makes it super simple to manage your website on the go. This is particularly useful for e-commerce stores – you can even use the coupon creator to make branded coupons while you're out and about, for example.
Built-in features. With Wix you often have to add apps to get the features you need, but Weebly has a lot more features built into its editor. What's more, Weebly includes advanced marketing tools in its plans, while with Wix you have to subscribe separately to Wix Ascend to get the same kind of tools.
Membership area. If you're a business owner who uses teams for projects or a freelancer who works with clients, you'll appreciate the membership area feature in Weebly that allows you to easily create new website users and assign roles to them. This makes cooperation and collaboration much easier.
IFTTT automation options. Weebly works with the popular IFTTT (If This, Then That) automation system to make it possible to set up automatic functions – so you can set them and forget them. For example, you can set up an IFTTT automation so that whenever you post a video to YouTube, a blog post will be created (automatically) and posted to your Weebly website. You can even set up another automation to post that blog to your social media channels.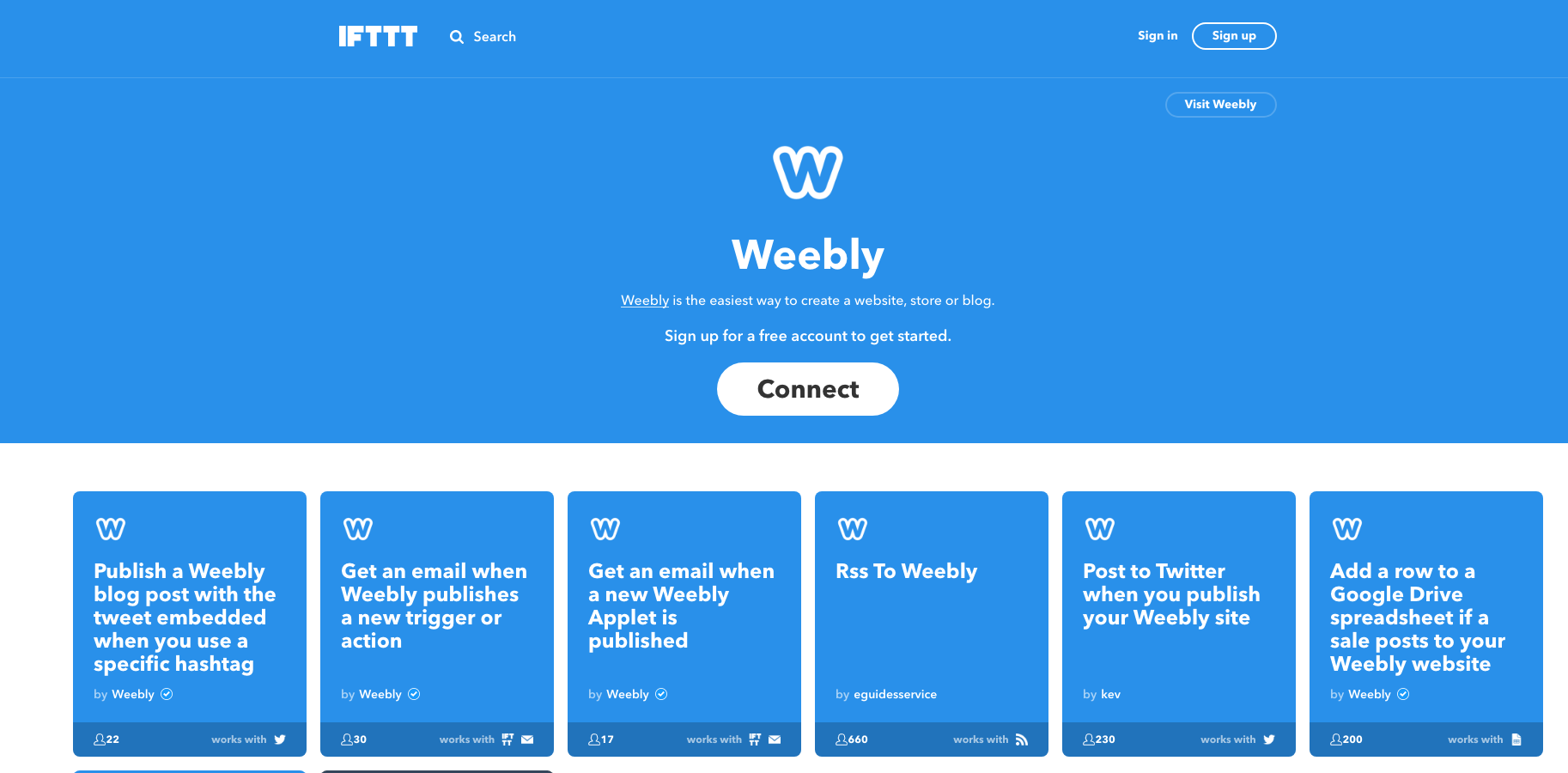 Free Trial 
Yes, no credit card required. Weebly has a free plan, for a custom domain and other features, you'll need to upgrade
E-commerce Features   
Yes, built-in
Templates
100+ free templates
Customer Support
Email and phone support is available on all plans, and live chat on the Pro plan and above. It's not 24/7 support,
however – check the schedule on the Weebly website.
More known for being a domain name registrar, GoDaddy also offers a website builder that gets very positive reviews.
GoDaddy Website Builder has a smaller range of templates available than other website builders, but all the templates are mobile-responsive, so you don't have to worry about editing a mobile version of your website separately.
GoDaddy Website Builder offers a 30-day free trial and you don't need to enter your credit card details, so it's a risk-free way of trying out the features on offer. There's a suite of marketing tools (e.g. email newsletters, pop-up subscription boxes etc.), e-commerce tools and more, in addition to the easy-to-use drag-and-drop website editor.
The feature set with GoDaddy is more limited than other website builders on this list, but it still has advantages over Wix.
Features
Artificial Intelligence (AI). If you're not confident about your web design skills, then you'll love this feature. When you sign up, you'll be asked some questions about your website – what it's for, what color scheme you like, and so on – and then GoDaddy Website Builder will automatically build your website for you. Once it's done, you can customize the layout and design, add your content, and publish your website quickly and easily.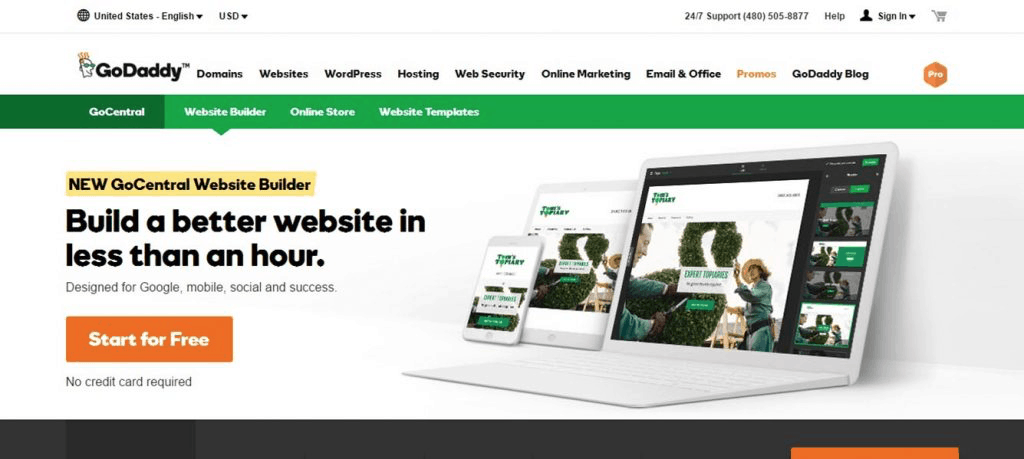 Online Appointments. GoDaddy Website Builder's built-in Online Appointments feature makes it easy to add a booking form to your website. What's more, you can send your clients text and email notifications, process payments, sync your business and website calendars, and charge cancellation fees.
Performance. GoDaddy is dedicated to ensuring that your web pages load fast. This not only gives your customers a better experience (no one wants to wait for a web page to load, whether you're on a smartphone or a laptop) but it also has a positive impact on your SEO ranking.
SEO Tracking. Not only does GoDaddy Website Builder give you the tools you need to manage your SEO, such as meta descriptions, image ALT tags, keywords, and so on, but you also have the option to track your search ranking. GoDaddy Website Builder allows you to see the impact of changes you make to your SEO strategy, and will also give you recommendations for further improvements. Wix has a similar suite of tools, but doesn't offer the same kind of SEO tracking.
| | |
| --- | --- |
| Free Trial | 30-days – no credit card required |
| E-commerce Features | Yes, built in |
| Templates | 40+ free templates |
| Customer Support | 24/7 phone support, but no live chat |
If you want to build an online store and you want access to the best tools for selling online, then Shopify is the platform for you. You can try it free for 14 days – without having to put in your credit card details, so there's no risk involved.
Shopify has an excellent reputation for customer support that's available 24/7, so you can be sure that any problems will be fixed quickly. Although not as easy to use as Wix, it's still pretty intuitive and makes selling online a more streamlined process. You can see why it gets such good reviews.
There's around 10 free templates and many more available to purchase – and all of the templates are fully mobile responsive, ensuring your store can be viewed on any device. The downside with the premium templates is that they're expensive – expect to pay around $140-180.
Compared to Wix, Shopify's higher-priced plans are considerably more expensive, but the Shopify Basic plan comes with more than enough tools for effective e-commerce. Since there are no sales caps (so your sales are unlimited), you can comfortably remain on the Shopify Basic plan – which is a similar price to Wix's Business Unlimited plan (and much cheaper than the Business VIP plan).
Shopify also offers the Shopify Lite plan that doesn't include hosting or a website builder, but allows you to integrate Shopify into an existing website, or even add a store to your Facebook page. Shopify Lite is much cheaper than Wix's e-commerce plans, too.
Features
Dedicated e-commerce platform. As a platform focused solely on e-commerce, Shopify's range of powerful e-commerce tools includes discount codes that you can limit to specific products or set a limit on the number of times a code can be used, bulk product import from a .csv file, inventory management tools and customer account management features.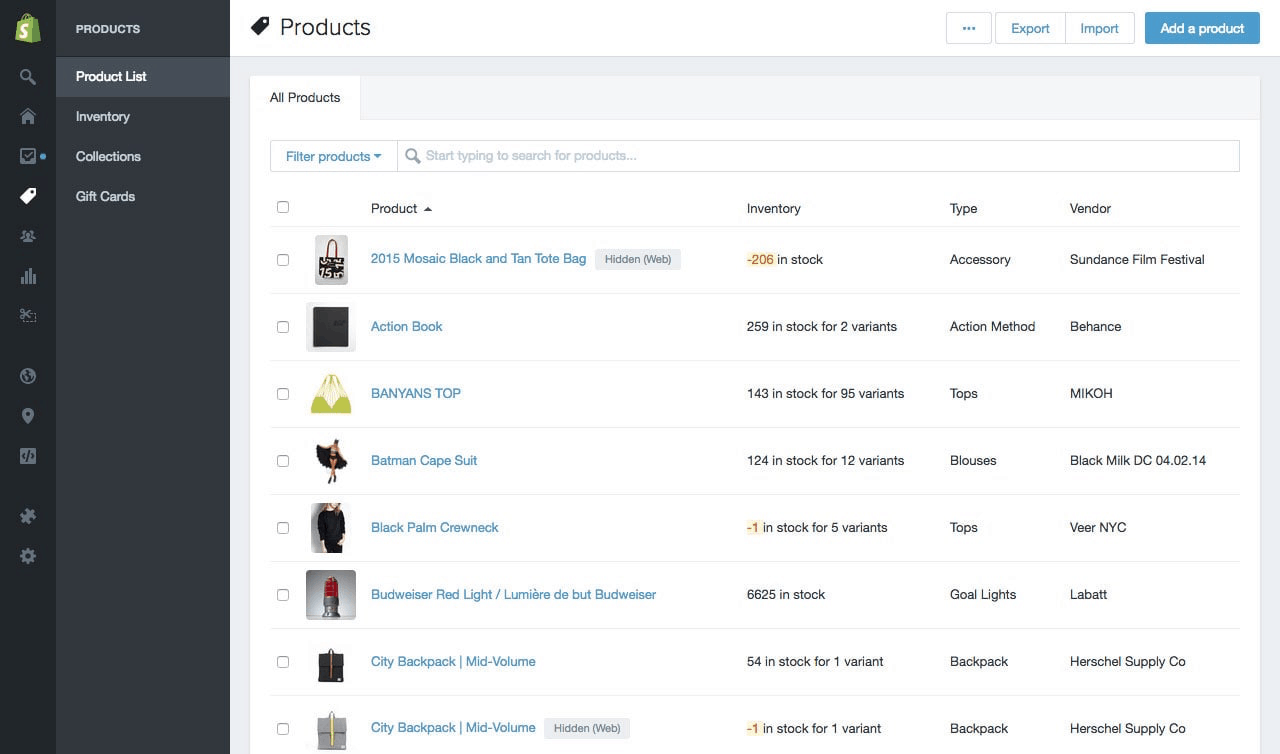 Multi-channel selling. If you want to expand the reach of your store, social media is a perfect way of doing it. With Shopify, you can do more than just share your products on your social media profiles – you can actually sell directly from Facebook and Instagram. By adding a special tag to your products on social media, customers can purchase from your store without leaving the Instagram app, for example.
Scalable website. Shopify has three different priced plans to choose from, depending on the size of your business. As your online store grows, it's easy to upgrade to the next level, making scaling your business website a really simple process, and meaning that there's no limit on how big your store can grow!
Abandoned cart recovery. Customers frequently leave items in their shopping carts when they leave your website without checking out. With Shopify's abandoned cart recovery tool, you can increase your revenue by around 25%. The tool will automatically send emails to customers who have left items in their cart, reminding them about the product(s) they left behind, and providing a handy link directly to the checkout page.
| | |
| --- | --- |
| Free Trial | Yes, 14-days, no credit card required |
| E-commerce Features | Yes, dedicated e-commerce platform |
| Templates | 10 free themes, 60+ premium themes |
| Customer Support | 24/7 expert help, via live chat, phone or email |
When Wix Isn't For You…
Some may consider Wix to be the King of all website builders, but it's clear that it's not your only option. If you want to build a website, you can choose from a variety of options depending on your budget and the purpose of your website.
If you're a complete beginner looking for the simplest way of getting your website online, Site123 is the easiest option. It's best for small personal and business websites. GoDaddy Website Builder is another easy option – with the AI (Artificial Intelligence) feature, you can sit back while your website is built for you, ready for you to edit.
If you're looking for the best way to build an online store, Shopify's extensive e-commerce features make it the best choice for you. You can build an e-commerce store with Wix, but it can't compare to Shopify's selling and marketing tools. Squarespace has some good e-commerce tools, but would really only work for a smaller online store.
If you're wanting to build a website for your business that you can scale up as your business grows, WordPress.com is a great choice. It's flexible, and on the Business plan and above you can add themes and plugins for more customization. Weebly is also a good option if you're building a website for business. It has all the features you need to build a great-looking website.
| | | | |
| --- | --- | --- | --- |
|   | Price | Standout Feature | Best For |
| Site123 | $$ | In-editor help and support | Complete beginners – personal and small-scale websites |
| Squarespace | $$ | Professionally-designed templates | Freelancers, artists and online stores |
| WordPress.com | $-$$ | Add plugins on Business plan and above | Small and medium sized businesses |
| Weebly | $-$$ | IFTTT automation | Small and medium sized businesses |
| GoDaddy Website Builder | $-$$ | AI for simple, easy website creation | Beginners – personal websites and small business websites |
| Shopify | $$$ | Abandoned cart recovery | Online stores |