While all the builders on my list will get the job done, my personal favorite is Squarespace. It has the best-looking templates around, and all the tools you could possibly need to build your website, integrated straight into its editor (so you don't have to look for them elsewhere). You can take advantage of
Squarespace's 30% discount on annual plans
 to save on your subscription.
You can build a pretty nice website on Wix's free plan, but it isn't the right choice for everyone.
What if you need more than 500MB of storage? Or you want to sell products on your site?
Maybe you're looking for something even easier to use than Wix. Yes, such a builder does exist!
Not all free Wix alternatives are worth your time, but you do have a few excellent options.
Some builders offer more storage and bandwidth than Wix, while others come with fewer branding banners. A few even give you e-commerce functionality for free!
To make your life easier, I've tested all the best Wix alternatives out there.
On this list, I've included several free options, plus a couple of cheap paid options that were too good to pass up on. I used each platform's free (or cheapest) plan to build and publish a website, and I also peeked under the hood to learn exactly what each builder will let you do without paying a cent. Which option is best for
your
needs? Let's find out.
Short on time? Here are our top picks for Wix alternatives in 2023:
SITE123 – The best free solution to get your website up and running quickly (it's even easier to use than Wix!)
Squarespace – The best-looking templates around, ideal for visual portfolios and creative businesses
Zyro – Super cheap long-term plans with AI tools that'll help you design your site and create content
What We Look For in the Best Wix Alternatives
While testing Wix alternatives, I focused on finding website builders that offer:
Value for money. With Wix, you have to pay extra to use some of the most important features. I looked for website builders that are more cost-effective than Wix.
Built-in features. While Wix offers apps for extended functionality, some website builders come with more built-in features. With native features, you don't have to waste time looking for apps and installing them.
Mobile-responsive templates. Having to edit a separate mobile version of your website is a pain, so I looked for platforms that give you responsive templates that will automatically look great on smartphones and tablets.
Design flexibility. Although Wix has a huge number of templates, it's let down by the fact that you can't change your template once you've selected it. I looked for platforms that make it easy for you to change your design over time.
Customer service. You've heard about (or experienced) Wix's awful customer service – such as the lack of live chat help and having to request a call-back when you phone the support line. I've included only website builders that offer better support.
Free plan/trial. Some of these Wix alternatives allow you to build a fully-functional website without having to pay a dime. Others offer a free trial period, so you can test them risk-free.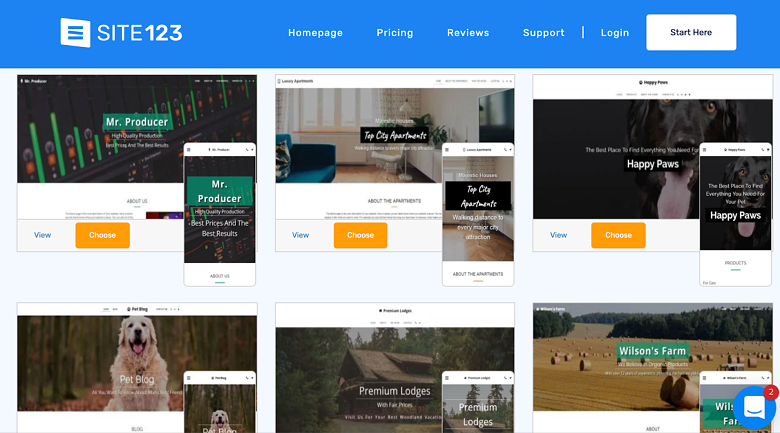 When it comes to editing your site, not many builders make it as simple as Wix. However,
I actually found SITE123 to be easier – and faster – to use. 
SITE123 has a no-frills editor that makes it almost impossible to get lost in the process of creating a website.
You customize your pages and settings by selecting from simple dropdown menus,
and each button is clearly labeled – no confusing icons, like with Wix or WordPress. The downside is that SITE123 offers less storage and bandwidth compared to Wix, so it's not ideal if you want to upload lots of images or other media files. Still,
SITE123's free plan is your best bet if you want to launch a small website as quickly as possible
, and you know you won't need a ton of resources to do it.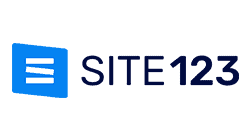 Save up to 50 % on your SITE123 plan!
Limited-time offer - Don't miss it!
76 users used this coupon!
Features
Mobile-responsive templates. There are over 180 templates across multiple categories (restaurants, community, portfolio, etc.), and they're all designed to look good on multiple devices.
Lots of page layouts. You can choose from a variety of preconfigured layouts for each section of your page, so it's easy to create a good-looking, well-aligned site. For example, there are 14 layouts for About sections, each with various text, image, and alignment options.
Excellent support. If you run into a problem, real-time support is just a second away. You can chat with a SITE123 assistant from within the editor by clicking the Need Help? button.
Speedy editor. The SITE123 editor loads very quickly, so you don't have to wait for ages whenever you want to make an adjustment to your site. I almost never saw the ominous loading icon during my tests.
Want to learn more? Head over to our full SITE123 review.
Free Templates
180+
Storage Space
250 MB
Bandwidth
250 MB
E-Commerce Features
Yes, built-in
Price of Cheapest Paid Plan

$

12.80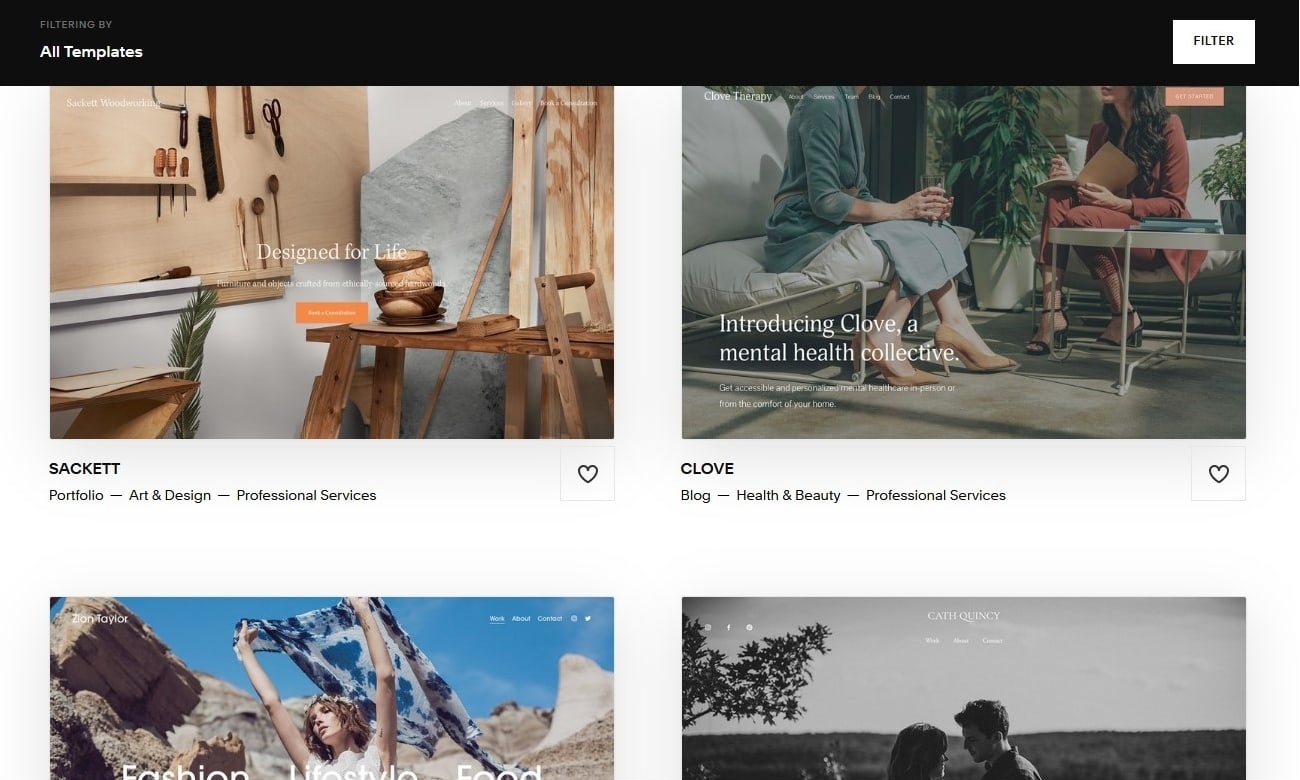 Squarespace has a solid reputation for reliability and excellent customer support, which explains why so many users prefer it to Wix. Plus, if the look of your website is important to you (as it should be), then you'll be happy to know that Squarespace has some of the most modern, good-looking templates out there.
Squarespace offers 24/7 live chat support
, which is a huge improvement over Wix's awful customer support options. Squarespace also gives you significantly more storage compared to Wix, which will definitely come in handy if you want to build an online portfolio or upload lots of media to your site. That said, Squarespace is not the cheapest builder around. There's no free plan, but
there is a 14-day free trial
, and the features included still make Squarespace better value overall.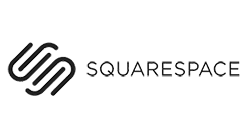 Save up to 30 % on your Squarespace plan today!
Plus get a free domain for one year!
1031 users used this coupon!
Features
Responsive Templates. Quite simply, Squarespace's 100+ templates are mesmerizing. They're professionally designed to make your website look modern and attractive, and they are all mobile-responsive. You don't get as much freedom to move page elements around as you would with Wix, but sometimes, that's a good thing.
E-Commerce. Squarespace gives you better tools to build a small-medium sized online store for a fairly low cost. These include inventory management, product display, marketing tools and more.
Analytics tools. Understanding your website traffic – where it's coming from, how well your marketing is performing, etc. – is important for planning your marketing strategy. While Wix gives you Google Analytics integration, Squarespace has a native Analytics feature that also offers a mobile app so you can monitor your website's performance on the go.
Security. Squarespace is one of the most secure website builders, with high levels of server-side security and built-in SSL to keep your website data protected from hackers. While Wix's security isn't terrible, this is just one of the things that Squarespace does better than Wix.
Want to learn more? Head over to our expert Squarespace review.
Free Templates
60+
Storage Space
Unlimited
Bandwidth
Unlimited
E-Commerce Features
Yes, built-in
Price of Cheapest Paid Plan

$

16.00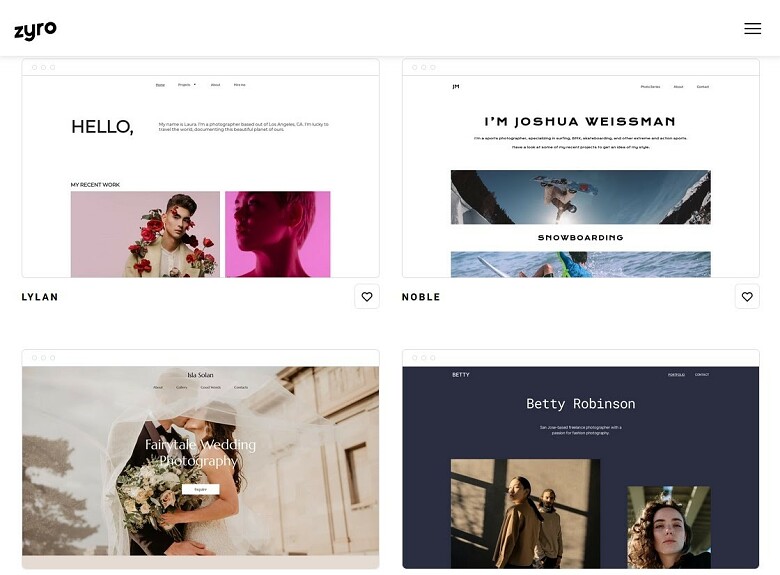 Zyro's been continuously growing and evolving, adding new features and revamping the old ones along the way. It's not free, but
it's a solid, affordable site builder that comes with unlimited resources and is super simple to use.
Even if you're a complete newbie, you'll be able to build your site quickly.
Zyro has over 100 beautiful templates
grouped into categories like portfolios, restaurants, landing pages, and e-commerce.
The designs look good, load quickly, and are mobile-responsive.
In addition,
Zyro's grid-based editor ensures your layout is well-structured
– you can drag and drop elements, and they'll snap into place on a predetermined grid. You don't have complete creative control, like with Wix, but unless you're a designer, that's probably a good thing. The grid ensures your website stays properly aligned, and there are still plenty of possibilities to create custom designs. You can add image galleries, slideshows, customize contact forms, and more.
Features:
AI tools. The AI Writer generates SEO-optimized content for your site based on the industry you choose. There are also AI business tools, including a logo maker, business name generator, and slogan generator.
Website importer. If you have an existing site, you can import all your content into Zyro.
Mobile editing. You can edit the desktop and mobile versions of your site separately.
Built-in social media and marketing. Although there isn't an app market, you get some cool built-in features like Facebook Pixel integration, Facebook Messenger integration (for free live chat), Google Analytics, Hotjar, and Google Tag Manager.
Read our expert Zyro review for more details.
Free Templates
100+
Storage Space
Unlimited
Bandwidth
Unlimited
E-Commerce Features
Yes, built-in
Price of Cheapest Paid Plan

$

2.61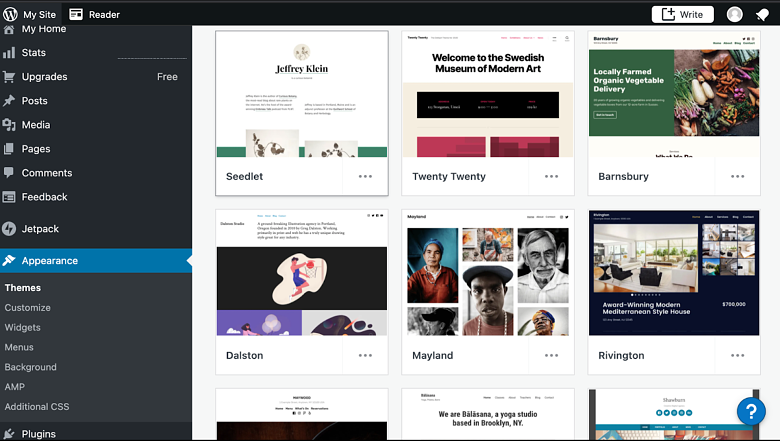 WordPress started out as a blogging CMS (content management system), and it's still one of the best and most powerful platforms in this area. And while WordPress.com doesn't have as many templates as Wix,
its free themes are very well-designed and come with lots of blog-focused features,
such as multiple post styles, native commenting, and more. WordPress isn't known for being the easiest website builder to use, but the good news is that the new Gutenberg editor is strides ahead of the old text editor.
Now you can customize the layout of each page using powerful drag-and-drop functionality – which is exactly what you'd expect from a site builder. 
The editor interface is still a bit cluttered, and there are lots of icons to get used to, but I found that features like breadcrumb navigation at the bottom of each page were super helpful. And when it comes to building a full-featured site,
few solutions can match WordPress's versatility and power.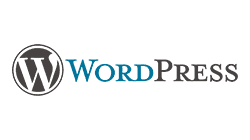 WordPress is now only $4.00 per month!
Sign up for an annual plan and enjoy the savings.
1440 users used this coupon!
Features
Wide range of content blocks. To add a new section to your page, just choose from dozens of preconfigured content blocks, from text to galleries and social media embeds.
Built-in plugins. WordPress gives your site tons of functionality right off the bat with pre-installed plugins like stats, site backups, and an importer to help you migrate any content you've created elsewhere (like on Wix!).
Documentation and help. While WordPress doesn't provide official support for free plans, the info page for each free theme includes extensive documentation and a link to a template-specific user support forum.
Storage and bandwidth. Compared to Wix's mere 500 MB, WordPress's 3 GB is very generous. There's no cap on bandwidth, either.  
See what else is included with WordPress.com in our full review.
Free Templates
110+
Storage Space
3 GB
Bandwidth
Unlimited
E-Commerce Features
Yes, built-in
Price of Cheapest Paid Plan

$

45.00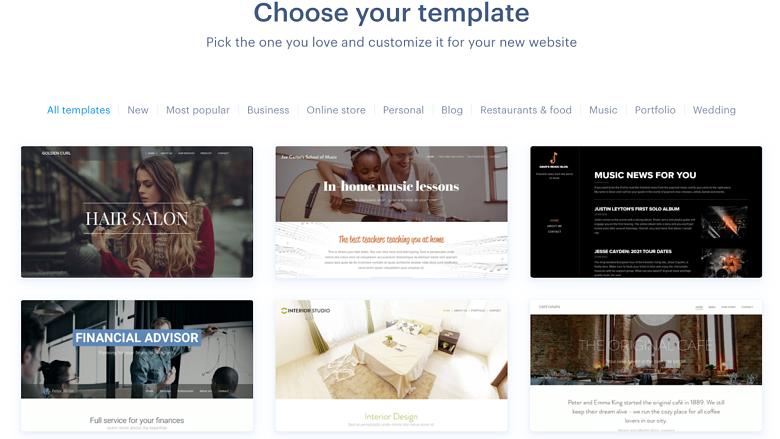 Webnode has over 100 templates across 8 categories – and if you ask me, it offers
some of the best-looking designs on this list.
The business templates are especially well-suited to their specific niches. But the truly cool thing about this platform is that its branding is way subtler than Wix's or any other builder's, for that matter. While most free plans slap floating headers or footers on your website,
Webnode's branding only appears at the very bottom of each page.
One disadvantage is that
Webnode's free plan
has the least amount of storage space on this list, at just 100 MB. In other words, it wouldn't work well for photo-heavy portfolio sites, but it can be a great choice for landing pages with just a handful of images. If you you want the freedom to upload as many photos to your site as your like,
I recommend
Squarespace, which gives you unlimited photo storage
, even on its cheapest plan. Limited storage aside, Webnode's free plan offers double the bandwidth of Wix's. So, even though you can't build a big website,
you can handle a lot more traffic and potentially get twice as many views.
Again, for a landing page, that's a pretty good deal.
Features
Helpful customer support. Webnode only offers email support during work days, but when I got in touch, I always received in-depth replies that really answered my questions.
Form builder. You can add contact and order forms to your website for free. The forms are easy to customize, and when visitors submit a form, you can either display a simple message or redirect them to another page.
WYSIWYG editor. You don't have to switch back and forth between the editor and the preview mode. Instead, you'll see the way your website will look to visitors as you're editing it.
Need more details? Check out our expert Webnode review.
Free Templates
100+
Storage Space
100 MB
Bandwidth
1 GB
E-Commerce Features
No
Price of Cheapest Paid Plan

$

3.90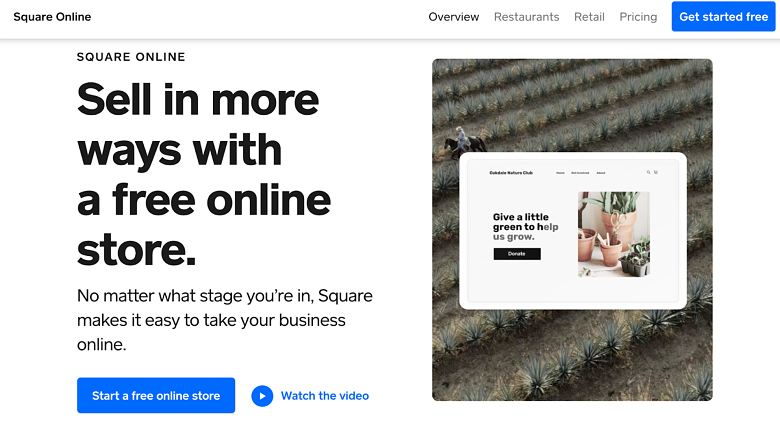 If you're looking to
get into e-commerce without paying anything upfront,
Square Online is one of the best (and only) ways to do it. Wix (and all the other options on this list) won't let you sell anything unless you upgrade to a paid plan. Square Online, however, lets you
list your products, sell them, and collect payments even on its free plan.
But there's a small catch.
Square takes a 2.9% + 30¢ fee for every transaction, which can quickly add up if you make a lot of sales.
That said, if this is your first time building an online store and you're not sure whether your product will be a hit, Square Online is a great way to get started for free. You'll only pay when you actually sell something. Unfortunately,
Square Online isn't available in every country around the world.
You have to be in the US, Canada, Japan, Australia, or the UK to open an account.
Features
Site builder wizard. Square Online has just a single template, but it's easy to customize it to suit your brand in three simple steps. You just select the features you need, add your logo, customize fonts and colors… and bam, you're online.
Square integration. If you own a brick-and-mortar business and use the Square reader to accept payments, you can sync it with Square Online to manage your inventory both online and in person.
Coupons. Square Online lets you offer incentives like discount codes. Based on your preferences, you can provide a limited number of codes and set an expiration date.
Donations. Nonprofits can use Square Online for fundraising, since you can collect donations from visitors even on the free plan.
Get all the details in our expert Square Online review.
Free Templates
1 (with multiple customization options)
Storage Space
Unlimited
Bandwidth 
Unlimited
E-Commerce Features
Yes, even on the free plan
Price of Cheapest Paid Plan

$

12.00
When Wix Isn't For You…
Some may consider Wix to be the King of all website builders, but it's clear that it's not your only option. If you want to build a website, you can choose from a variety of options depending on your budget and the purpose of your website.
If you're a complete beginner looking for the simplest way to get online, SITE123 is the easiest option
. It's best for small personal and business websites, and it has lots of apps to help you extend your site's functionality.
Zyro is another easy (and super cheap) option.
With the AI (Artificial Intelligence) feature, you can sit back while your website is built for you, ready for you to edit.
If you're looking for the best way to build a free online store, Square Online's generous free plan is a great place to start
.
Or, if you want to build a website that will scale with your business, Squarespace is an excellent choice
. It's flexible, and you get unlimited storage space and bandwidth, even on the cheapest plan.
| | | | | |
| --- | --- | --- | --- | --- |
|   | Price | Standout Feature | Best For | |
| Site123 | $$ | In-editor help and support | Complete beginners – personal and small-scale websites | |
| Squarespace | $$ | Professionally-designed templates | Freelancers, artists and online stores |   |
| Zyro | $ | Super easy to use, grid-based editor | Portfolios, small to medium business websites | |
| WordPress.com | $-$$ | Add plugins on Business plan and above | Small and medium sized businesses | |
| Webnode | $-$$ | Least intrusive branding on the free plan | Beginners – personal websites and small business websites | |
| Square Online | $$ | Collect payments even on the free plan | Online stores | |
FAQ
Which website builder is better than Wix?
Wix is one of the best website builders on the market, but that doesn't necessarily mean it's the
best for you
. Before making a decision, you should check out our list of the top website builders – as well as the most recent deals. 
In particular, WordPress.com is a great website builder
 that's better than Wix in a lot of ways.
It's not quite as beginner-friendly, but it's still possible to learn. You'll get tons more plugin options that are more powerful than the ones you'd get with Wix. Also, if you go for the Business plan, you'll be able to install third-party themes, and the options are virtually endless. You can learn more in our in-depth WordPress.com review. And, if you do decide that WordPress.com is right for you, make sure you take advantage of any current deals or coupons.
Which website builder is cheaper than Wix?
For a cheaper Wix alternative, consider going with SITE123.
This website builder comes at a much lower price tag than Wix, and is even easier to use. It's a great option for complete beginners, and you'll still be able to build an online store, install apps, and customize your site with the simple editor.
SITE123 also has a free plan you can use as well as premium paid plans. There are less paid options compared to Wix, but the plans are a lot more affordable and still come with features you'll want, like increased storage, e-commerce tools, and the ability to connect a domain. And the plans get even more affordable when you use a SITE123 coupon.
Which is better, Wix or Squarespace?
Better is subjective, and both these website builders could be great depending on what you're looking for.

Wix has more template options, but Squarespace's templates are really well-designed, and most importantly, they're mobile responsive.

Wix has more apps, but Squarespace skips the need for apps with tons of built-in features like email marketing, integrated analytics, and advanced e-commerce tools. 

Finally, Squarespace's customer support is far better than what you'll get with Wix. 

While Squarespace won most categories in our Wix vs Squarespace comparison, the answer to this question really depends on your personal needs.
Is Wix bad for SEO?
It's not bad, but it's not great. Most website building experts agree that Wix is just OK for SEO.
Wix offers a free tool called Wix SEO Wiz. With it, you'll be able to add alt-text, SEO titles, customized URLs, and generate a sitemap. 
Wix's SEO has improved over the last few years, and your website can definitely rank on search engines like Google. However, website builders like WordPress.com give you more SEO plugins and capabilities.
If you're new to SEO, Wix will be just right for you. If you're more advanced in your SEO knowledge, you'll probably find yourself outgrowing Wix SEO Wiz pretty quickly.
Is Wix really free?
Yup, it's really really free.
You can build a fully-functional website on Wix's free plan and it'll stay free forever. If you don't mind Wix ads on your website, a subdomain, and only need a small amount of storage, then Wix is ideal for you and you can stop reading here.
If you want to connect your own domain, get more than a measly 500MB of storage and bandwidth, and get rid of Wix ads, you'll need to reach for your wallet. Furthermore, if you sign up monthly, then Wix can be pretty expensive, but if you opt for a multi-year plan paid annually, then you'll save in the long run. Just make sure that you check for any Wix coupons, first.