GoDaddy was founded back in 1997 and has always been on the cutting edge of developments within the internet industry
. Since April 2005, it's been the world's largest domain registrar registered in the Internet Corporation for Assigned Names and Numbers (ICANN), and is currently the world's largest web host by market share.
In 2017, GoDaddy released a new website builder, called GoCentral, which is meant to be even easier and more streamlined than the original
. The reason for this is because, since the very beginning, GoDaddy has been committed to making it easy and fun for everyone to get involved in the ever-increasingly important online world. However, just because it's the right choice for so many, doesn't automatically make it the best choice for you.
There's Only a Limited Selection of Templates
When it comes to choosing a template as the perfect starting point for your website or blog, you might be slightly out of luck using GoDaddy's GoCentral Website Builder. In total,
it features only fifteen different templates
. The good news is that
all the templates are available for free
, and you can cycle through them and change the active template as you wish at any time. However, the bad news is that you'll be severely limited in terms of variety, both when it comes to the niches covered and the template design styles. For example, there aren't really any niche-specific or e-commerce-specific templates. The templates mostly provide variation in the website's layout and determine its style (e.g., how formal or informal, or how feminine or masculine it looks). Templates can also be customized only by changing your website's main color and its font family and font size, or by adding or removing content blocks.
There's no drag-and-drop functionality, and you'll need to rely on just adding content blocks between each other to change the layout
. That said, there's a decent number of content elements to choose from, which is better than some other simple builders like Site123 and SimpleSite.
You Can Build a Website in Minutes
GoDaddy was one of the original domain registrars that made the process of purchasing a domain easy, accessible, and user-friendly for anyone. GoDaddy continues that fine tradition when it comes to building a website using its website builder. Usually, you have to give up some control in exchange for ease of use, but GoDaddy has made sure that the swap is worth it.
Building your website is as easy as answering three or four questions and picking a template
. The website builder itself is also completely intuitive and beginner-friendly, which will make even the most inexperienced website owners feel comfortable diving in and editing their website. It's super simple to add webpages to the navigation and change the main customization settings.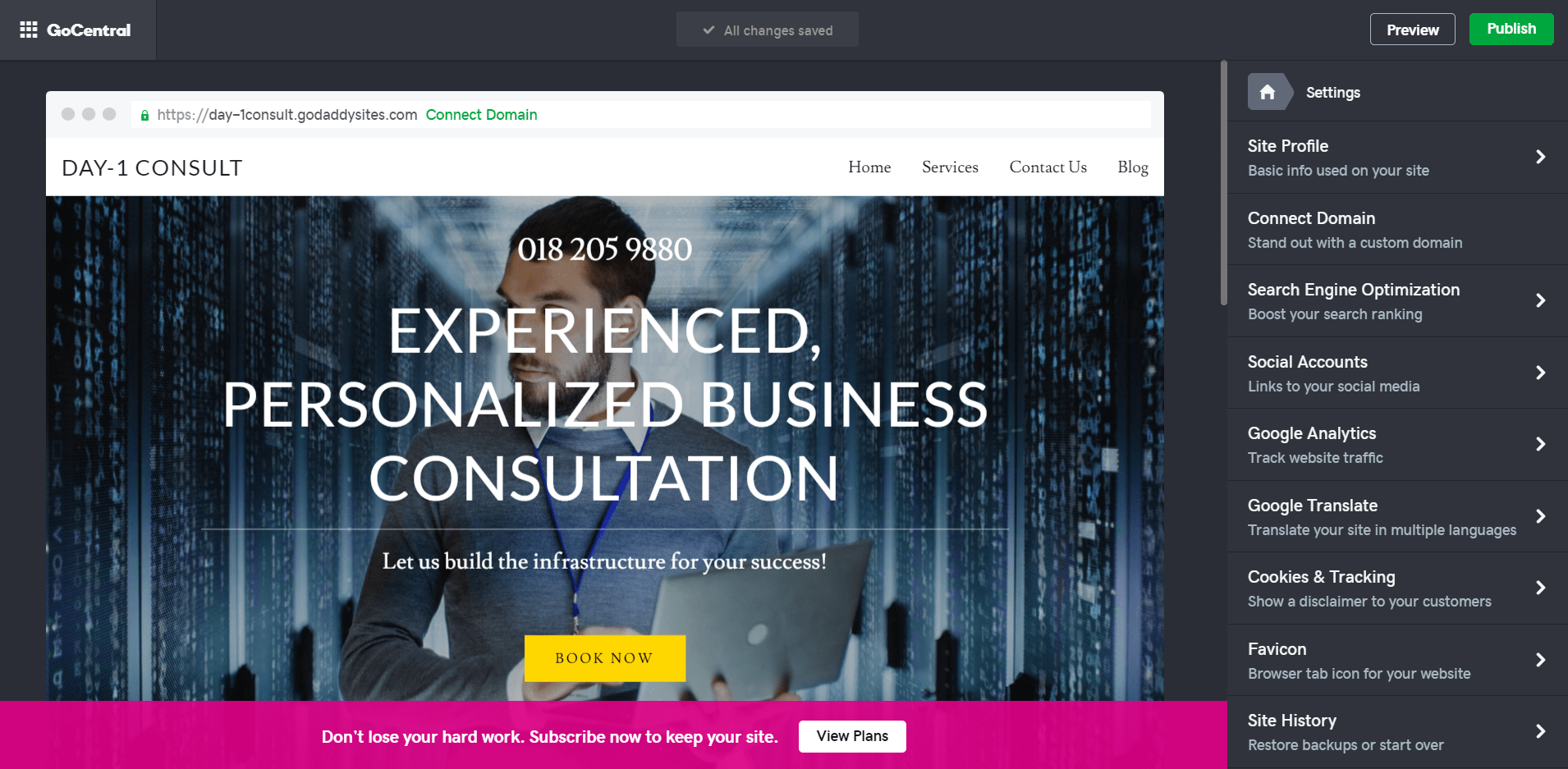 All the most important settings are also right there, and you don't need to navigate around too much between the dashboard, the builder, and other management areas for your website
. From under Site Settings in the builder, you can access everything, including your Google Analytics, Favicon, and Facebook Pixel. However, it's not presented in a way that overwhelms you, as can be the case with some other builders, like Wix.
There Is No Free Plan
GoDaddy offers a 30-day free trial to create and host a website using their GoCentral Website Builder
. That means you'll have to start paying after that in order to keep your website live and continue to customize it using the builder. This is unfortunate, as there are
plenty of other website builders
at the moment, such as Wix and Jimdo that all offer an indefinite free plan. To learn more about either platform, check out our expert
Wix review
or
Jimdo review
. Free trials provide a substantial advantage by allowing you to thoroughly explore and test almost all features of the full version (excluding paid-for upgrades). This empowers you to develop your website to nearly 100% completion, guaranteeing a smooth launch once the trial period concludes or upon your subscription decision.
You'll Be Guided Through SEO Step by Step
A very handy feature if you're new to building a website or optimizing it for search engines is how GoDaddy guides you through the most essential steps of SEO. You can go through this step-by-step process individually for each of your webpages. First, it will take you through choosing your most relevant keywords. Then, it will make sure that these keywords show up in your main webpage headings and titles, and that you've included them all throughout your webpage.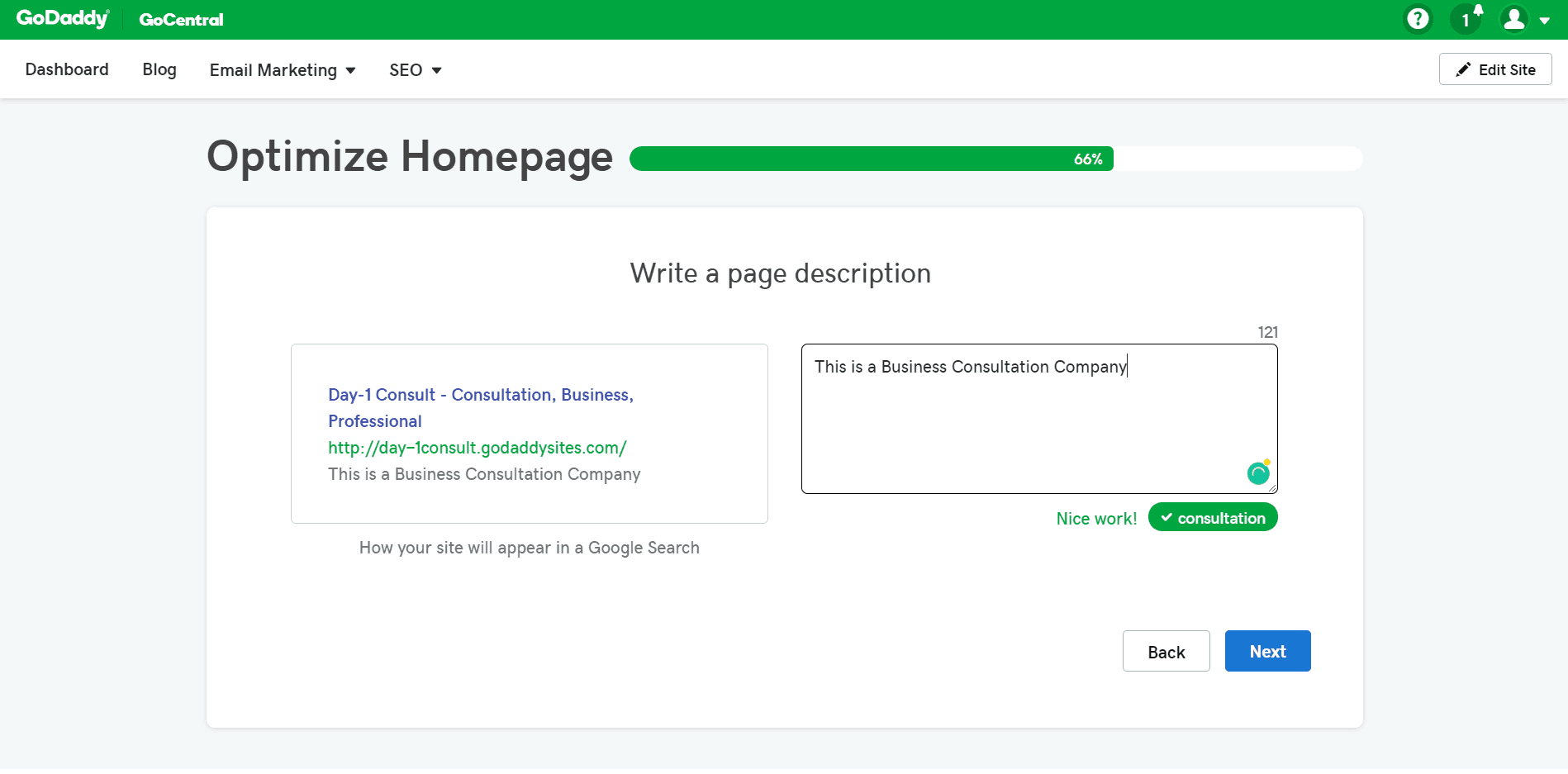 You can change your meta title and description for a webpage at any time. However, unfortunately you won't be able to customize your links.
GoDaddy also provides a number of other SEO and marketing tools, such as integrating with social media channels, setting up marketing campaigns, and generating subscribers. Once again, it's not the most cutting-edge or in-depth set of features out there, but it's
extremely useful for beginners
and covers most needs.
To Build a Real Online Store, You Need a Different Plan
This is where things get slightly complicated. GoDaddy does offer a pretty decent online store plan with great tools to set up your own e-commerce business. However, what you may not know is that to build an online store, you need to sign up for a plan that isn't included alongside the other Website Builder plans.
Unfortunately, there's only one online store plan, and it's not the cheapest out there
. However, it comes with a 30-day free trial.
The normal Website Builder plans only provide for a simple PayPal button that's suited more for accepting donations than selling products
. It's definitely
not
for a full-fledged online store. The real online store plan, however, allows you to:
create and manage up to 5,000 products
set up payments through more gateways, such as Stripe and Square
configure shipping options
create coupons and discounts
view sales statistics
set up abandoned cart recovery
Although these are basic versions of these features, they're pretty good considering the simplicity of the rest of the platform. However, if you need more advanced e-commerce functionality, you might be better off with industry leaders like
Shopify
and
BigCommerce
. You can read up about their features in our expert reviews of
Shopify here
, and
BigCommerce here
.
GoDaddy — Jack of All Trades, Master of None?
Undoubtedly, the reason that most web-host customers have decided to make GoDaddy the home for their online presence is because it's such a quick, easy, and accessible platform to do so. It
also provides the necessary tools to make it possible to run a blog or online store
as part of your website, even though it's not really at the forefront of either. You could literally have a website up and running within a matter of minutes from the moment you sign up with GoDaddy.
Your website will be mobile optimized and have a decent, if not awe-inspiring design
. These are two of your chief concerns when launching a new website. Eventually, you'll start noticing GoDaddy's limitations, such as the lack of advanced online store features. However, e-commerce functionality is still surprisingly fulfilling for new website owners. To learn more about GoDaddy, feel free to read up on our
expert review
or visit their
pricing page
.