The problem is finding the right website builder.
Many have complicated interfaces, pricey subscriptions, or don't even offer one-page templates. And if that's not enough, poor customer support can leave you feeling stranded.
If you have no coding knowledge, choosing the wrong platform can lead to unnecessary expenses and hours of wasted effort.
A misstep here isn't just about aesthetics – it's about time and money. My research showed that Wix outperforms the competition.
Wix's advantages include a great collection of one-page website templates and an intuitive interface
for tech novices. If you're eager to start, I'd recommend checking out Wix's free plan. However, if you're curious about alternatives, keep on reading. I've listed a few more top website builders that can help you craft a captivating site.
Short on Time? These Are the Best One-Page Website Builders in 2023
Wix – A versatile builder for one-page websites with free dedicated templates and features like parallax scrolling and video backgrounds.
SITE123 – Simplified design with a mobile-optimized view, complemented by 24/7 customer support.
Squarespace – Sleek one-page website templates with a focus on imagery and typography.
But What Is a One-Page Website?
A one-page website, sometimes called a landing page, is a single web page that contains all the information and content you want to share without requiring visitors to navigate to other pages. It's a straightforward way to present your details, like a digital business card or flier, making it great for individuals or small businesses wanting a simple but effective online presence.
What We Look For in the Best One-Page Website Builders
As I compiled my list of the best one-page website builders, I looked for certain things to help you have a great (and easy) time building your site.
Ease of use with a nice interface. A top one-page website builder should be user-friendly. The builders I've listed below allow you to seamlessly navigate and craft your site without unnecessary complexities.
One-page website templates and tools. I've only selected quality one-page website builders with various one-page templates and tools tailored to diverse needs.
Customization features. Your website should reflect your unique style and brand. These builders offer rich customization options, allowing you to tailor your site precisely to your vision.
Scalability. While you might start with a one-page website, you should have the option to expand as your needs grow. The website builders on my list allow you to scale up, ensuring your site can evolve alongside your ambitions.
Fast loading speeds. Speed is pivotal in retaining visitor interest. I've only chosen website builders that load quickly, minimizing the wait for visitors and improving the overall user experience. It also helps for better search engine rankings.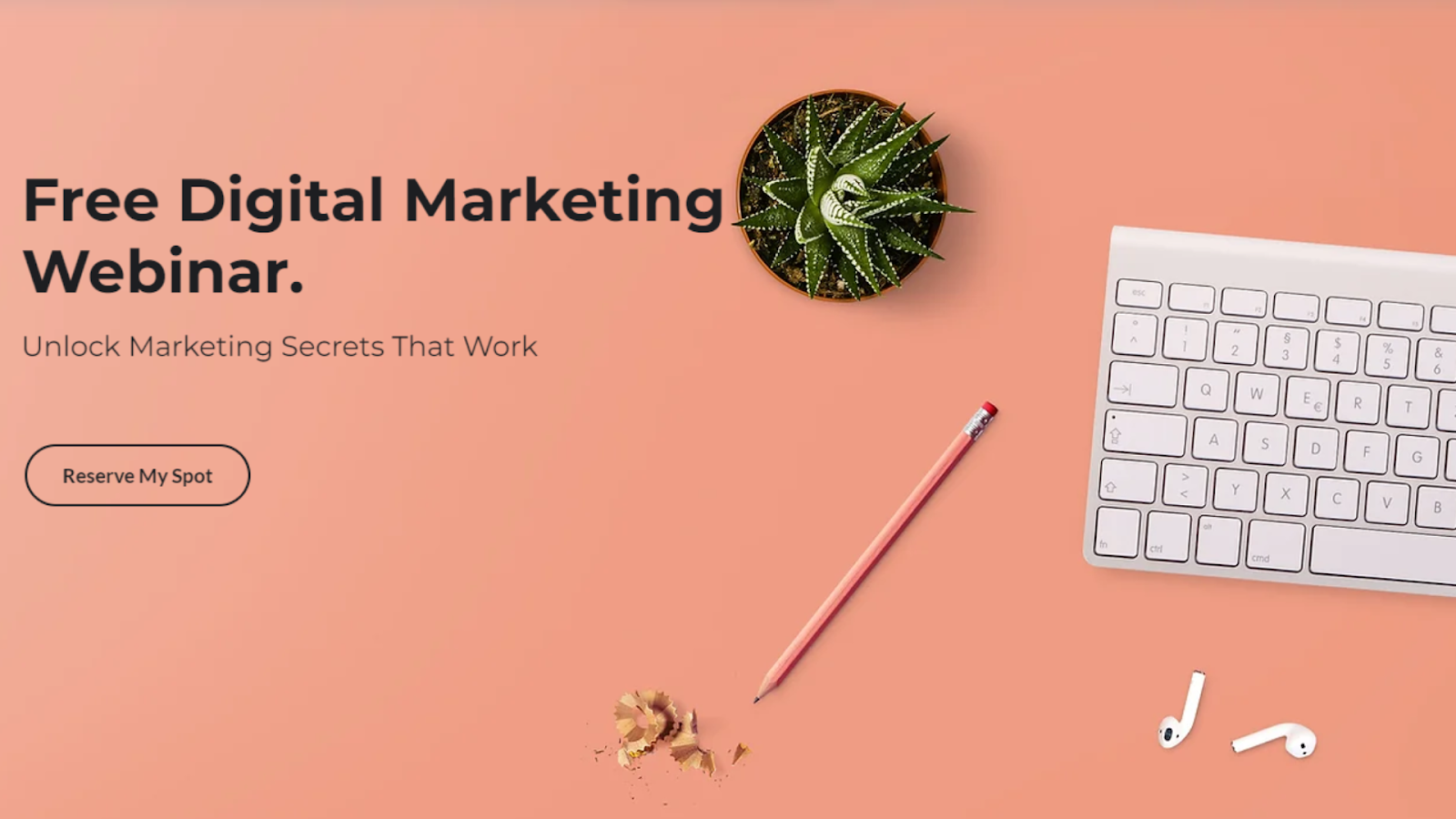 Wix stands out as the top choice for one-page website builders due to its vast array of templates and customizable features.
You can choose from over 40 templates specifically designed for one-page websites, including a special category for Coming Soon pages.
Each template offers complete customization, allowing you to drag and drop elements, import your business branding, use the built-in image editor, select from various fonts, or even add video backgrounds and hovering effects. All the Wix templates are in line with top web design standards. For one, they offer "strips" – horizontal sections for dynamic layouts. You can add and integrate various widgets easily, including maps.
I also really like the cool-looking Parallax effect that creates a sense of depth when you scroll, helping boost user engagement.
Plus, the templates leverage F or Z-shaped layouts, patterns rooted in natural eye movements, ensuring websites look good while offering a pleasant experience for the reader.
Wix is extremely user-friendly and intuitive, so it's ideal for beginners.
The onboarding process starts with Wix asking you a few questions to learn more about you and the website you want to build. There's an AI-powered editor that then offers tailored suggestions, and it can even give you ready-made content based on your answers. Then, the drag-and-drop editor makes it easy to customize your site however you want.
Features
Great free plan. I've found that you can access all templates and customization features without paying a dime. If you want to remove ads and use a custom domain, you'll need to upgrade to the

$

16.00

plan, but it's reasonably priced.
Wix App Market. The offerings here are diverse, from analytics tools and proprietary apps to integrations like Google Analytics for tracking visitor data, Mailchimp for email campaigns, and Stripe for payments. You can also benefit from free and paid extensions to get subscribers, manage bookings, build forms, add videos from YouTube or Vimeo, and more.
Secure hosting. Wix ensures that your website data is protected with advanced security measures. It employs SSL certificates, ensuring that any data exchanged between you and your site visitors is encrypted and secure.
24/7 support. In case you encounter any issues, knowing that Wix provides round-the-clock phone support in English is reassuring. Other languages, including French, German, Japanese, and Hebrew, are available during working hours. There's also multilingual chat support available if, like me, you don't like speaking on the phone.
Read our
expert Wix review
for more details.
Free plan or trial
Free plan
AI design
Yes, with Wix ADI
Number of one-page website templates
40
Starting price on the paid plan

$

16.00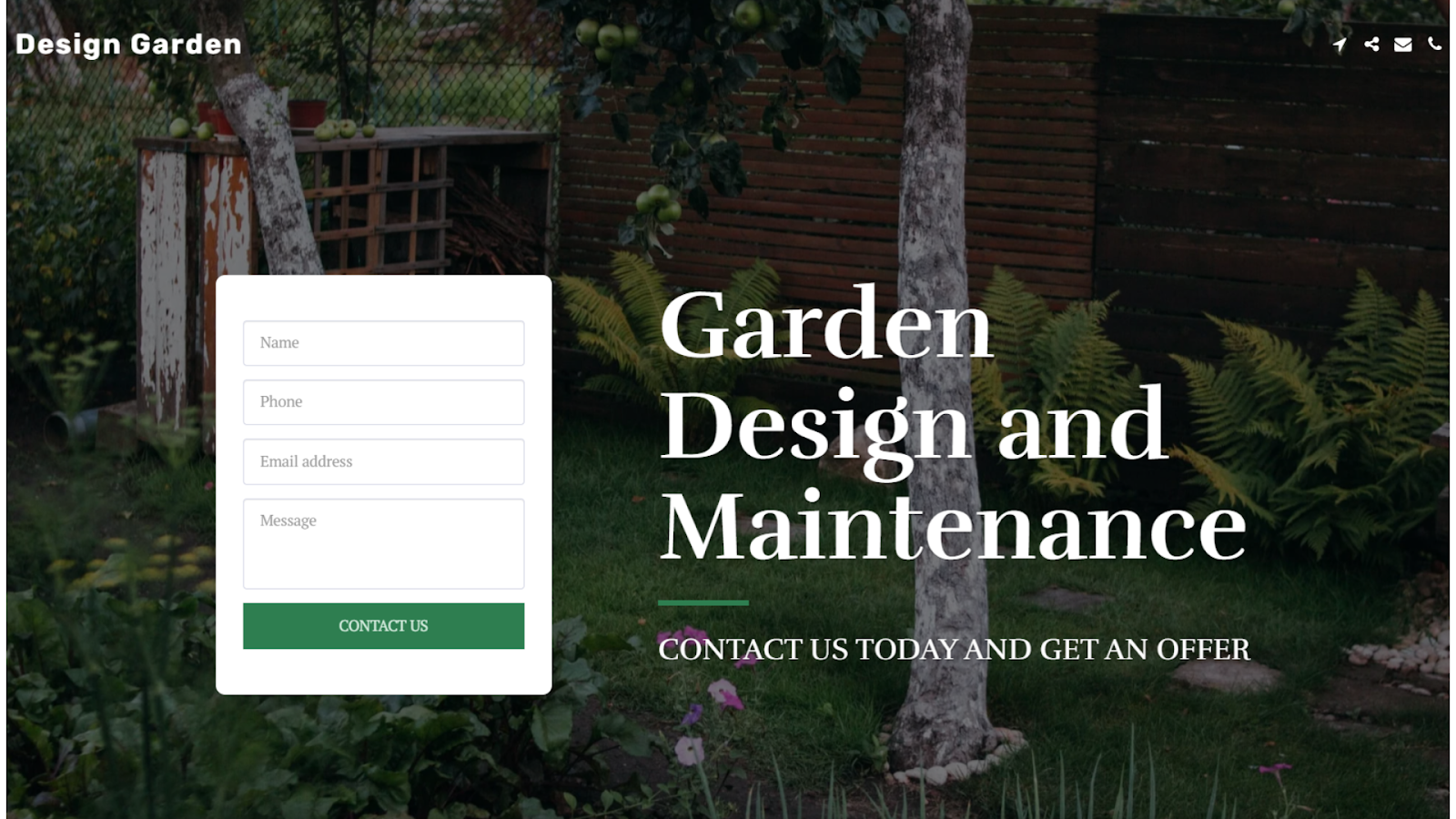 SITE123 offers a direct path to creating a one-page website quickly.
It's designed for those who want fast results. It provides 6 customizable templates for one-page websites, allowing you to have your site ready in three steps. This approach is great for establishing a web presence fast.
SITE123 is accessible to beginners.
You don't need a background in design or development to get started. Instead of the common drag-and-drop method, SITE123 offers a straightforward point-and-click interface. The simple design tools and pre-set layouts can help set up a site without much trouble, even if you're new to website creation. On its paid plan, SITE123 offers more features tailored for single-page websites. You can add forms for better user interaction and
integrate tools such as online scheduling or restaurant reservations.
These added functionalities make it a practical choice if you want to get your business a polished online presence.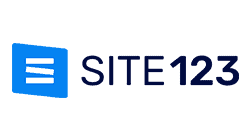 Get a FREE domain + hosting with any SITE123 annual plan!
This exclusive offer is only available for your first purchase.
31 users used this coupon!
Features
Mobile-responsive templates. I was glad to see that SITE123's templates automatically adjust to fit any device. This means your site looks great whether viewed on a smartphone, tablet, or desktop.
SEO optimization tools. SITE123 provides tools to help boost your site's visibility in search results. With these, you can potentially increase organic traffic to your site and won't need to rely as much on advertising for people to find you.
Form builder. SITE123's form builder is versatile. You can easily create contact forms, feedback surveys, or registration sign-ups to engage with your site's visitors.
Logo maker. If you need a logo, you can get one quickly with SITE123's logo maker. It allows you to design a unique and professional-looking logo for your brand without external software.
Read
my colleague's SITE123 review
for more details.
Free Plan or Trial
Free Plan
AI design
Yes
Number of One-Page Website Templates
6
Starting Price on the Paid Plan

$

12.80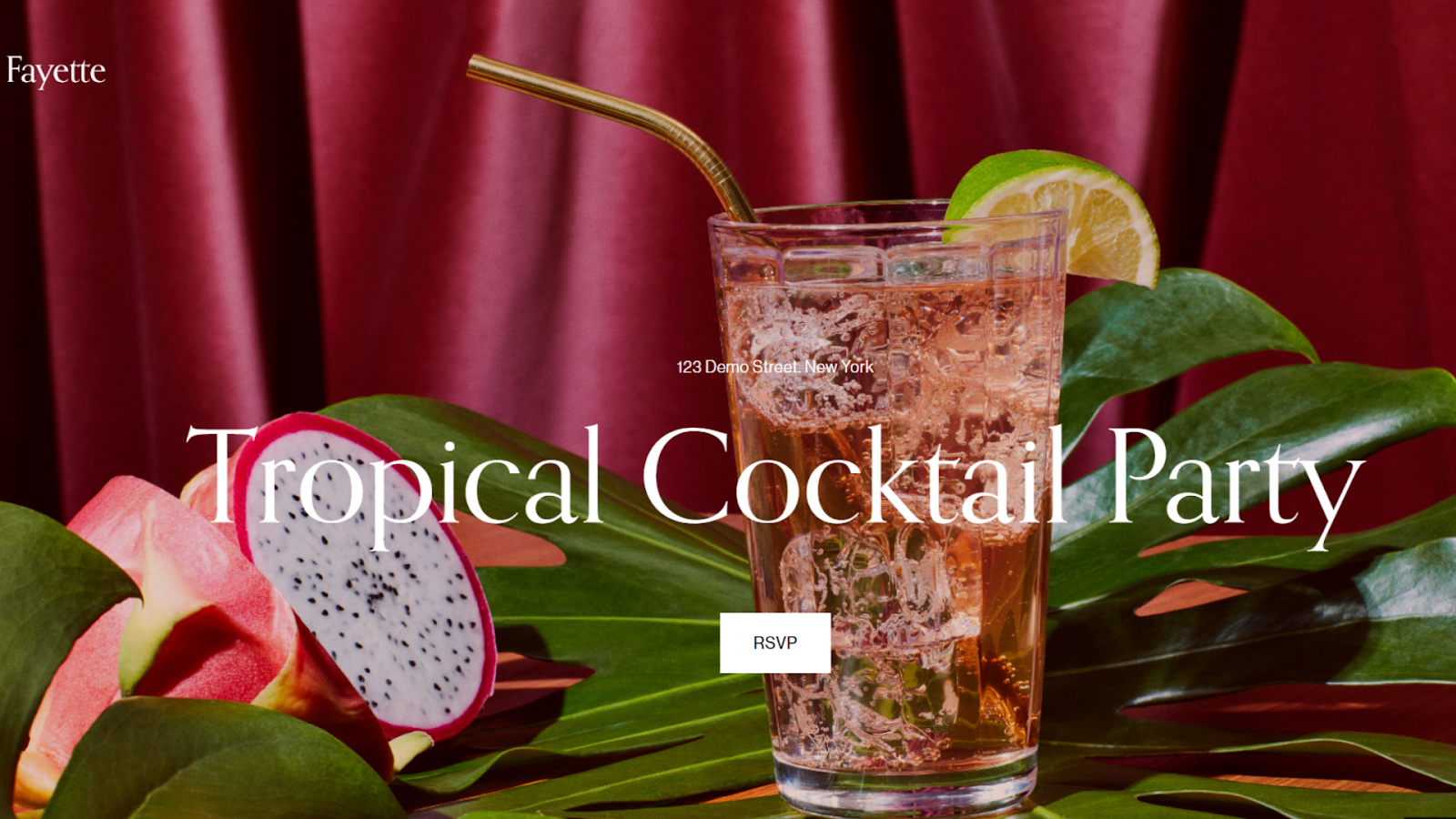 Squarespace is perfect if you prioritize style and sleek aesthetics.
It has over 25 templates for one-page websites,
all made by designers with a clean and simple look. Squarespace's trademark minimalism works perfectly for scroll-through websites such as landing pages. Squarespace lets you add many sections to your one-page site. With its built-in Acuity Scheduling Platform,
you can manage online appointments easily,
helping your business reach more people. It also has tools for membership sites and those who create online courses. You can add portfolios, share testimonials, and show off pictures in galleries, making your site tell your story better.
With Squarespace, you can integrate over 50 tools and platforms.
You can add blocks to your one-page website, including an Instagram photo gallery and an OpenTable block for restaurant booking. You can use e-commerce integrations, including Apple Pay, PayPal, and UPS, or powerful marketing tools like Google Analytics and Facebook Pixel. Beyond these integrations, you can easily insert photos, videos, links to social media, and forms to collect info. You can try all these features and more with
Squarespace's free trial
.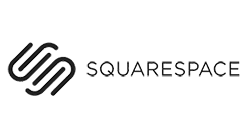 Save up to 30 % on your Squarespace plan today!
Plus get a free domain for one year!
1031 users used this coupon!
Features
Unsplash partnership. Speaking of high-quality visuals, Squarespace's collaboration with Unsplash offers instant access to a wide range of professional, royalty-free photos. It eliminates the need to scour the web or deal with licensing complexities.
Customizable templates. Squarespace's drag-and-drop builder allows for seamless content layout adjustments. Its grid system ensures a balanced design, making it vital for creating standout one-page websites without diving into code.
Inline editing. A standout feature for beginners is Squarespace's inline editing. Instead of navigating complicated dashboards or preview screens, you modify content directly on the page. You see alterations in real time, ensuring a straightforward and predictable publishing experience.
Unfold app. Squarespace offers the Unfold App, a modern storytelling tool that gives you access to various template collections and editing tools. While you're responsible for the content, Unfold provides the means to ensure it looks its best.
Read our
expert Squarespace review
for more details.
Free Plan or Trial
Free 14-Day Trial
AI design
No, but it has AI for content generation (website text editor, email campaigns, and e-commerce stores)
Number of One-Page Website Templates
26
Starting Price on the Paid Plan

$

16.00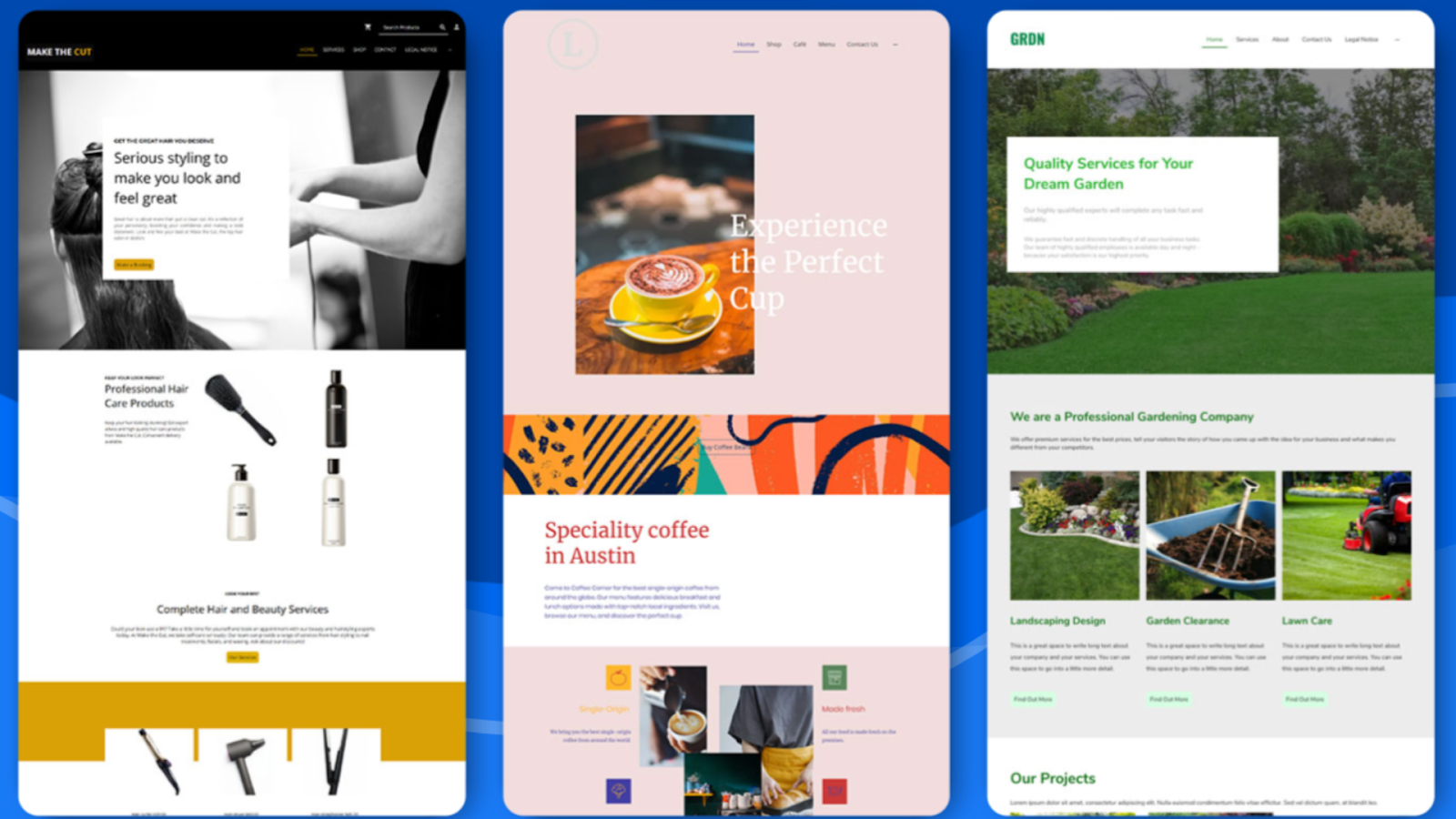 Juggling multiple providers can be overwhelming.
IONOS is ideal for newcomers
due to its integrated package of domain, hosting, and website-building services. You get everything in one, streamlining the process and often saving you money. For a one-page website, this means quicker setup times and less hassle, letting you focus on your content and design. The user-friendly interface of IONOS website builder is one of its strongest points. If you're new to website creation, you'll appreciate the simplicity of its drag-and-drop functionality.
No coding knowledge is required – you can craft a professional one-page website in just a few minutes.
However, while IONOS offers a range of templates, you might find them restrictive in terms of design flexibility.
If you have a specific design in mind, you won't have access to all the editing tools you need to make it your own. For maximum design freedom, a service like Squarespace is a better fit.
Features
Customizable widgets. With IONOS, you get a range of customizable widgets to enhance your site's functionality, like counters, newsletter signups, image galleries, or testimonials. These widgets allow you to quickly add features without complex coding.
Uptime and reliability. IONOS ensures your website stays online always. Think of it like a shop being open for business: high uptime means your "online shop" is rarely closed, so people can visit whenever they want.
Complimentary domain and email. IONOS provides a free domain for the first year with every package, guaranteeing your site a polished online address. Additionally, you get an email account that matches your domain name (e.g., [email protected]), regardless of where you bought it from.
1&1 Site Analytics. This is a tool by IONOS that allows you to monitor and understand visitor behavior on your one-page website, making it easier to make changes and get more visitors interested.
Read our
expert IONOS review
for more details.
Free Plan or Trial
No
AI design
Yes
Number of One-Page Website Templates
15+
Starting Price on the Paid Plan

$

6.00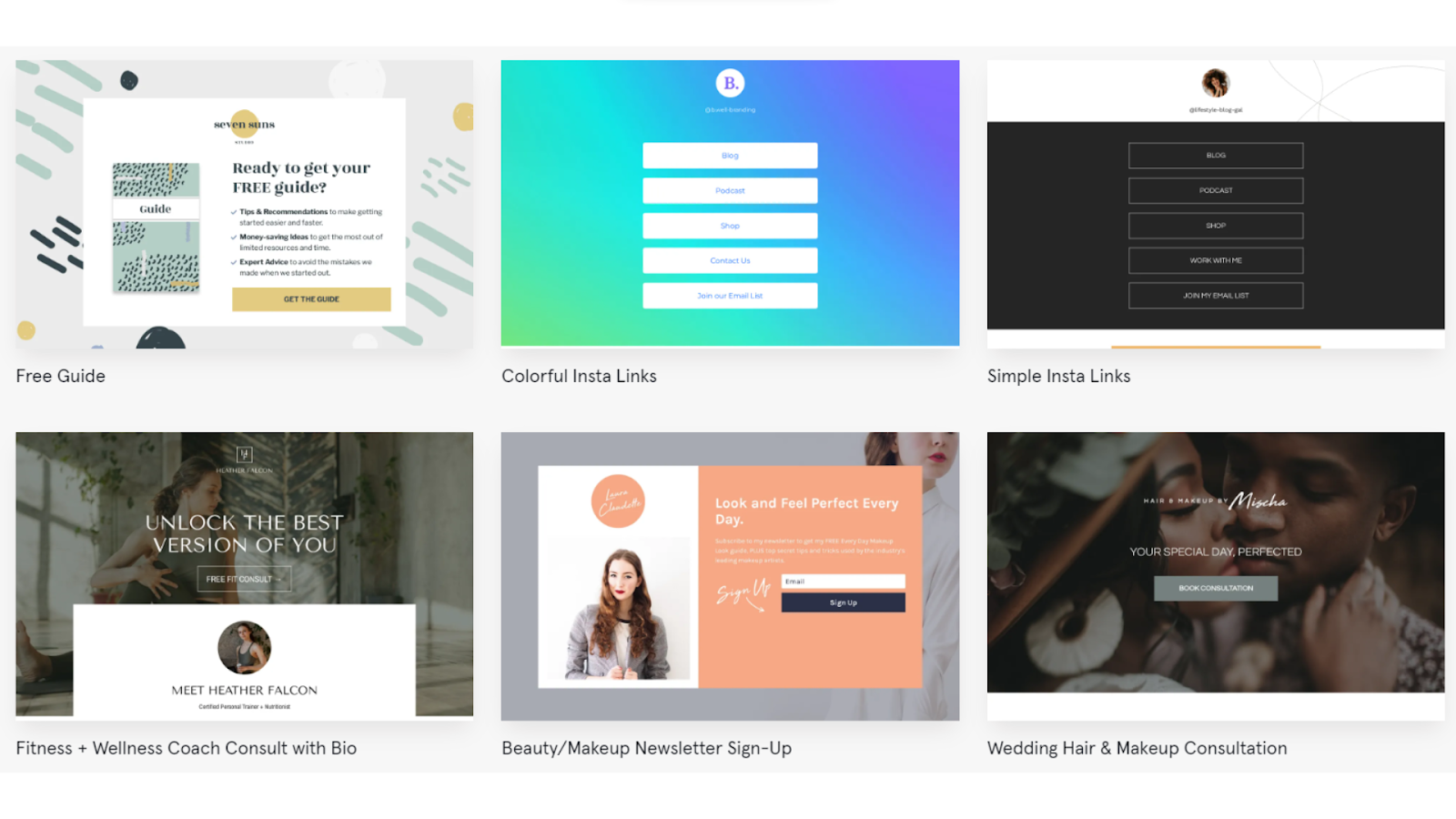 Leadpages offers a vast selection of over 200 customizable templates,
making it simpler to start your website journey. With this extensive range, you really won't need to build anything from scratch. Another notable feature of Leadpages is its Instablocks technology. This tool allows you to create, save, and reuse sections like headers and footers,
streamlining your design process and maintaining consistency across your page.
That way, visitors remain engaged as they navigate seamlessly from one section to another.
That said, Leadpages is more expensive than the competition.
While it provides many advanced features, the cost might seem steep for those on a tight budget or just seeking to create a single landing page. Wix might be a more suitable budget-friendly option, especially since it offers a feature-rich free plan – Leadpages is limited to a free trial.
Features
Advanced A/B testing. This lets you compare two versions of your one-page website to determine which layout or content resonates better with your audience.
Conversion analytics. You'll know exactly how many people are taking the desired actions on your site, helping you refine your strategy.
Thor Render Engine integration. By optimizing the underlying code and giving priority to visible content, the engine significantly speeds up webpage load times. This smooth and efficient browsing is crucial for one-page websites, where rapid loading can make or break user engagement.
Design tools and shortcuts. You have many tools to create a unique site with options like Google Fonts for style, Bigstock Image Library for visuals, Keyboard Shortcuts for efficiency, and Dynamic Custom Code Editing for personalized tweaks.
Read our
expert Leadpages review
for more details.
Free Plan or Trial
Free 14-Day Trial
AI design
No, only for text generation (including different headlines)
Number of One-Page Website Templates
240+
Starting Price on the Paid Plan

$

37.00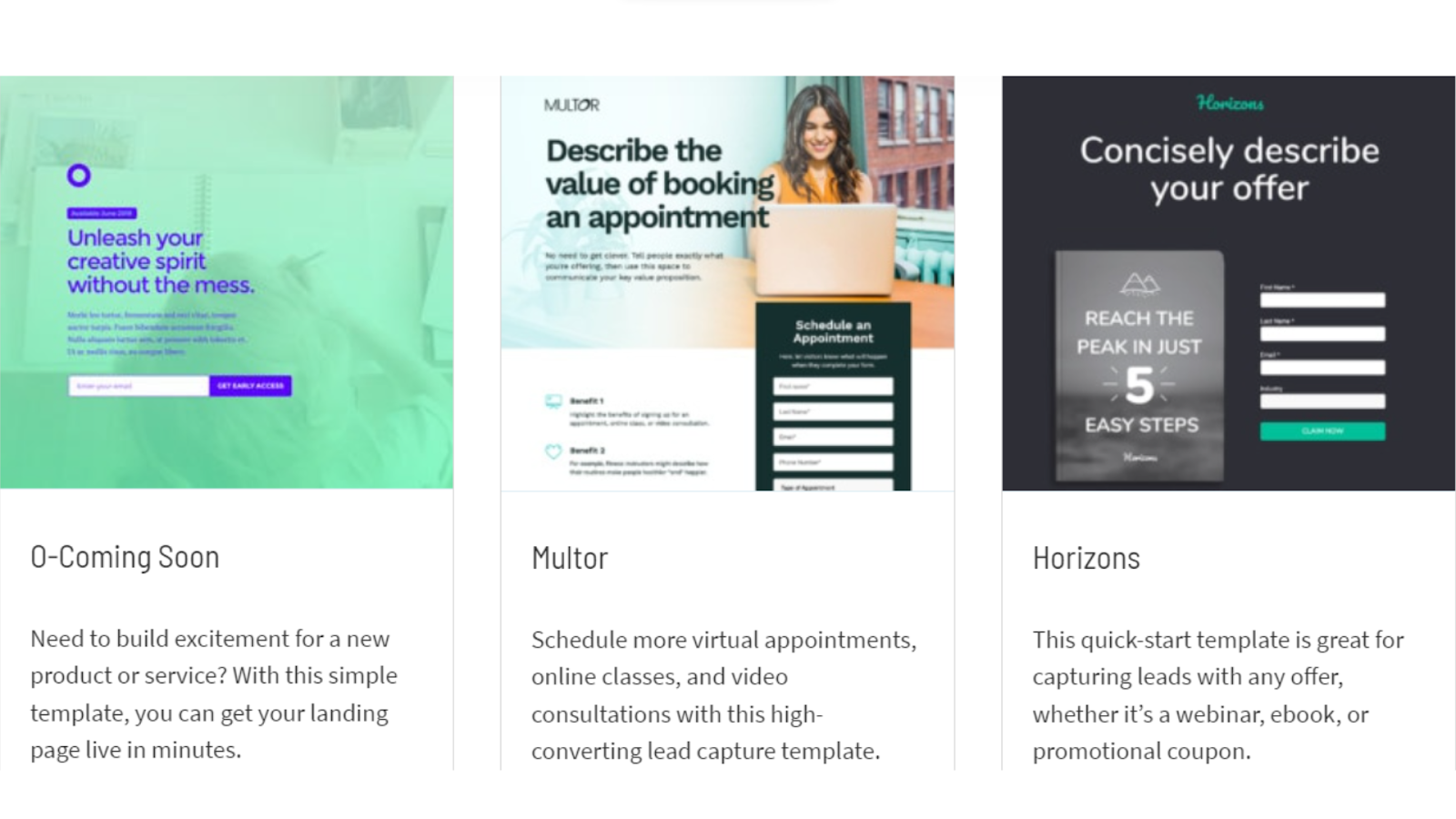 Unbounce offers both predefined templates and blank canvases, ensuring you have an ideal starting point tailored to your brand's needs.
Its drag-and-drop interface streamlines the design process,
enabling you to position elements without coding. Unbounce also prioritizes integrations, allowing you to
link your one-page website with various 3rd party platforms
like Zapier, Salesforce, or Google Analytics. Other apps such as Calendly, Stripe, or Typeform ensure a smooth data transfer process, boosting your marketing efforts and gathering contact details from people interested in what you offer. While Unbounce offers advanced features and customization options, it might not be the best fit due to its steeper learning curve and pricing.
I would suggest SITE123 for a more beginner-friendly and cost-effective solution.
Features
Dynamic text replacement. This feature allows for personalization by dynamically changing text content based on keywords visitors use to find your page. It's especially useful for tailored advertising campaigns, making your one-page website resonate more with individual visitors.
High-converting pop-ups and sticky bars. Unbounce allows you to add pop-ups and sticky bars that specific user actions can trigger. You can, for example, offer a coupon when a user hovers away or is about to exit your site.
Quick split testing. You can experiment with page elements and determine which version appeals most to your audience. You then use this info to keep content and layouts that drive the best results.
Accelerated Mobile Pages (AMP). Many visitors will view your website on a mobile device, so automatic mobile optimization is necessary. AMP ensures swift load times for mobile users, enhancing the user experience and keeping users on the page.
Read our expert
Unbounce review
for more details.
Free Plan or Trial
Free 14-Day Trial
AI design
Yes (creation and optimization)
Number of One-Page Website Templates
90+
Starting Price on the Paid Plan

$

74.00
Other Notable One-Page Website Builders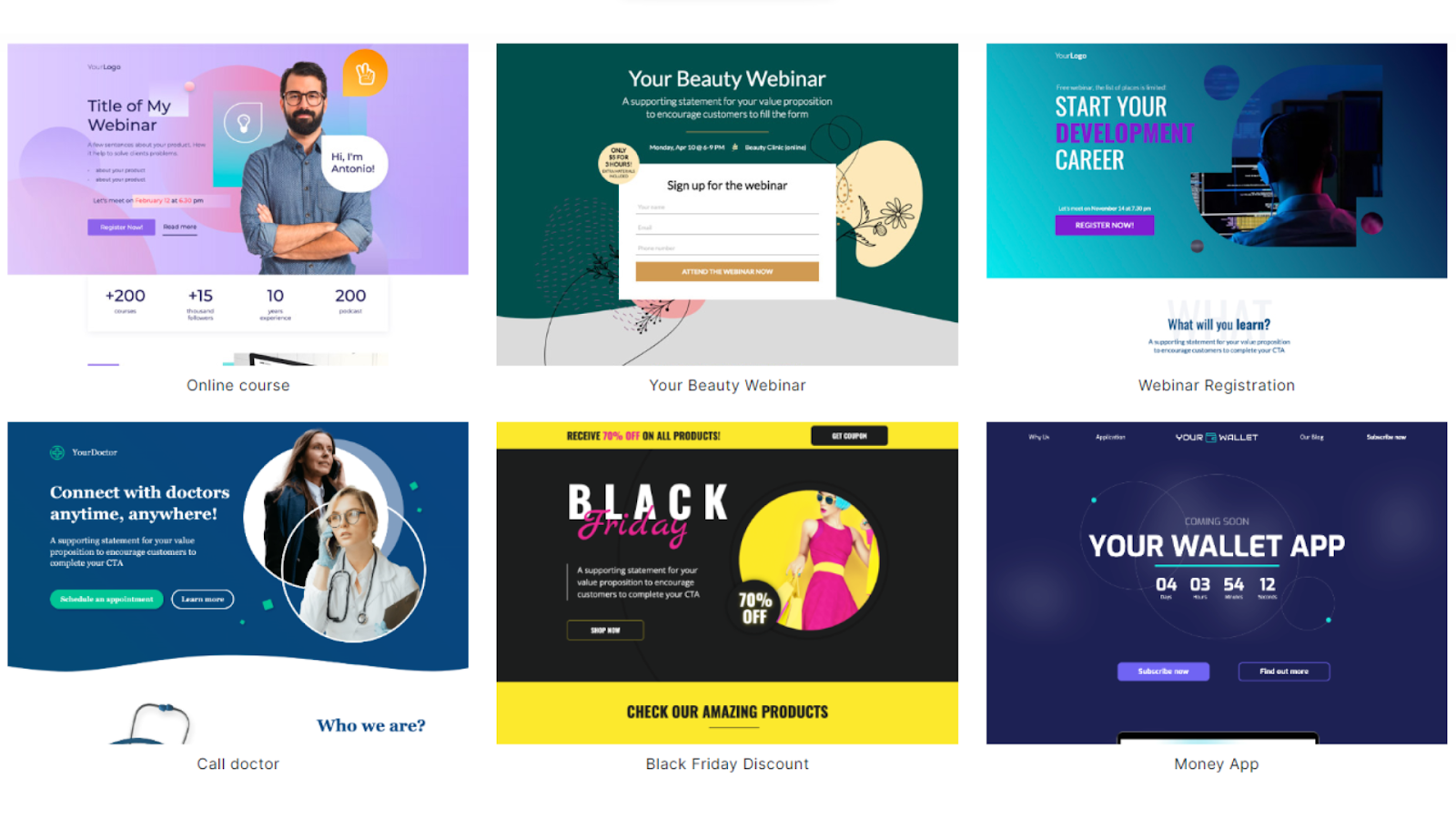 If you're in the market for a platform that lets you build unlimited one-page websites, Landingi should be on your radar. You can experiment with various designs, test different marketing campaigns, or cater to diverse audience segments without restrictions on the number of landing pages you can create. However, a notable drawback is its learning curve if you're unfamiliar with website building. Landingi's array of tools and features can be overwhelming for beginners, and its interface may not be as easy to use as some simpler platforms. Adjusting to its customization options and navigating the platform takes time and patience.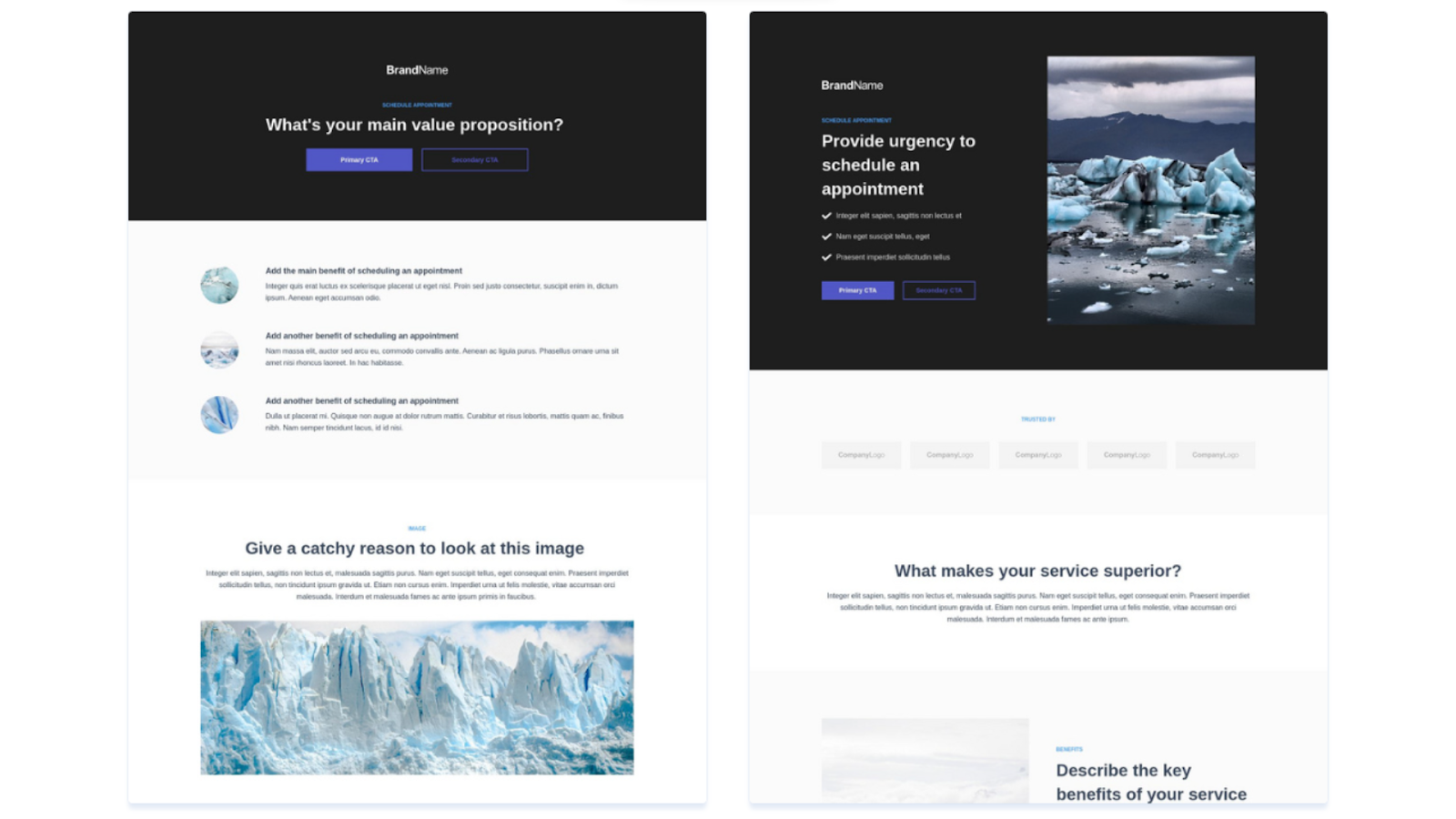 Instapage emphasizes performance, ensuring your one-page websites load quickly. This platform optimizes the backend of your pages, enhancing user engagement with fast page transitions and seamless interactions. But Instapage is often pricier than many of its counterparts. While the higher cost reflects the premium infrastructure and optimizations Instapage offers, it might not be great if you're on a budget.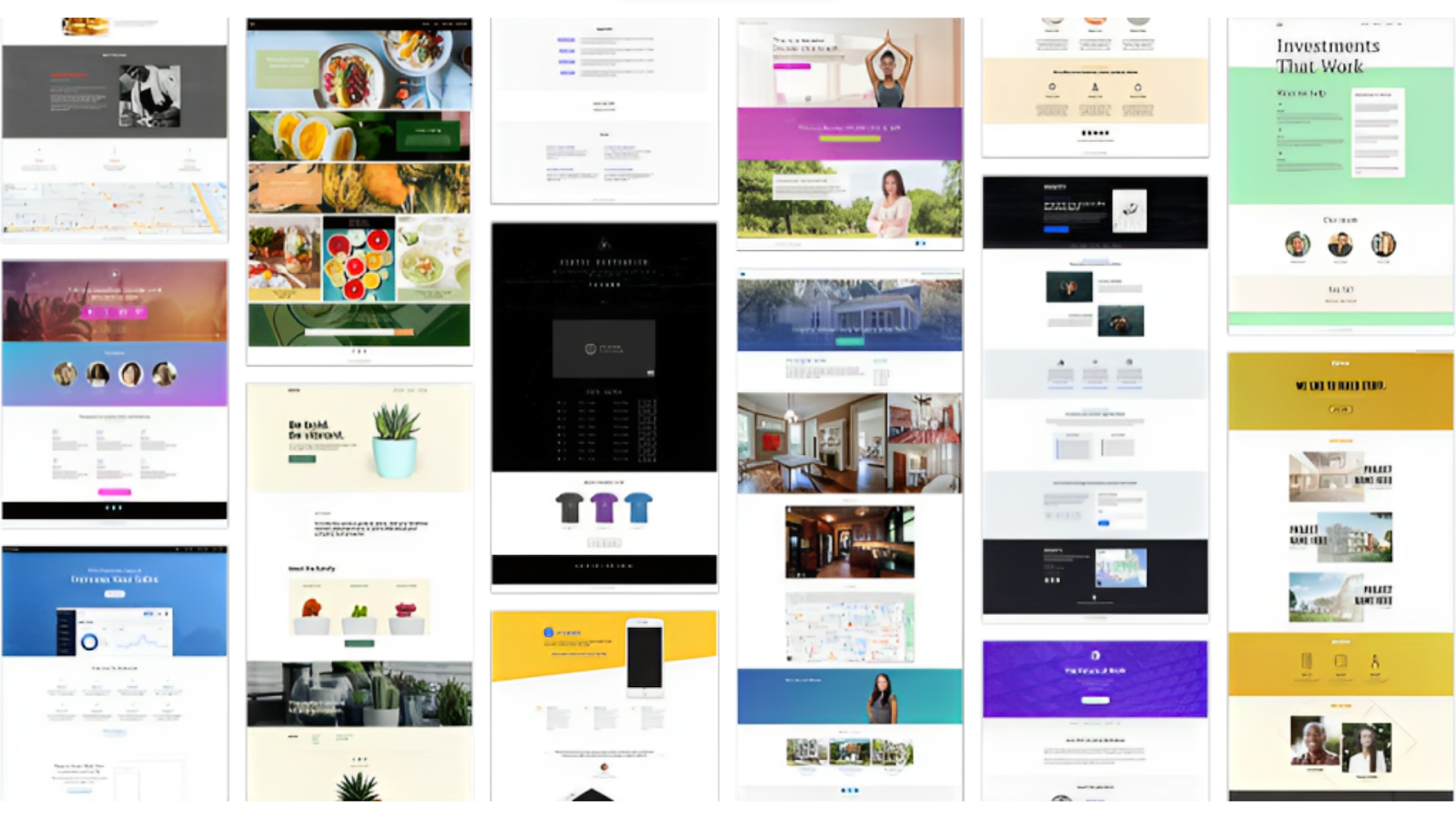 Although primarily known as an email marketing platform, ActiveCampaign also features a robust one-page builder. This dual functionality can be great if you're also looking to build an email list and keep in touch with your visitors without spending extra for a third-party email service. On the downside, its one-page features might not be as advanced or comprehensive as platforms dedicated solely to website building. You get fewer design templates, less flexibility in customization, and none of the advanced interactive features that specialized website builders offer.
I've Found the Greatest One-Page Website Builders
Most professionals and businesses need a website. However, depending on your needs, certain one-page website builders offer more than others.
If you're aiming for a diverse array of one-page templates and cool scrolling effects, I recommend Wix.
It offers the most one-page templates and stunning effects that enhance user experience. Plus, it has a drag-and-drop editor that is very easy to use.
If you're just starting out or need a quick setup, SITE123 is a solid choice.
It is designed to be user-friendly, making it exceptionally suitable for a beginner who wants a no-fuss approach. Your one-page site is going to look great on mobile, too.
If aesthetics and simplicity are your top priorities, turn to Squarespace.
It provides minimalist, visually appealing templates optimized for one-page website designs. Did I mention they're all designer-made?
For a concise comparison of these platforms, see the summary table below:
Free Plan or Trial
Best Feature
Best For
Starting Price
Wix

✔

Huge collection of free templates
Creatives & beginners

$

16.00

SITE123

✔

Websites optimized for mobile-viewing
Tech novices

$

12.80

Squarespace

✔

Award-winning minimalist free templates
Design enthusiasts

$

16.00

IONOS

✔

Easy-to-use interface & one-click integrations
People who value simplicity

$

6.00

Leadpages

✔

Conversion-optimized templates
Marketers & entrepreneurs

$

37.00

Unbounce

✔

Dynamic text replacement and A/B testing
Data-driven marketers

$

74.00
FAQ
How do I make a single page website?
Creating a single-page website is simple with platforms like Wix, SITE123, and Squarespace. These platforms offer intuitive design tools and templates specifically tailored for one-page websites, making the design process seamless. I particularly like Squarespace's minimalist templates, which are great for one-page websites.
How do I create a one-page website for free?
Wix offers a range of free templates for one-page websites, allowing you to start without any cost. Similarly, SITE123 has a free plan for crafting one-page websites, while Squarespace offers a trial period where you can design your site for free before committing to a paid plan.
Is a one-page website good for SEO?
A one-page website can be good for SEO if designed correctly, and in many cases, even better than a traditional multi-page website. Platforms like Wix have built-in SEO tools to help optimize your single page for search engines.
Is Wix a one-page website builder?
Yes, Wix is versatile and can build multi-page and one-page websites. Wix boasts a vast collection of templates specifically designed for one-page websites, making it a top choice for a streamlined web presence. Check our list of the 12 best free website builders for more alternatives.