If you're looking for an affordable email marketing service, Mailjet might seem like a smart option. After all, the platform is known for its free plan, inexpensive starting prices, and high-volume sending capacity. Sounds like a good deal, right?
But when I looked into its features, I spotted tons of limitations. Mailjet's free version has low sending limits, and the cheapest paid option has surprisingly few features. If you want to send automated emails or segment your list, for instance, you would need one of the most expensive plans. Since Mailjet's listed prices don't include VAT, you'll need to budget for that too.
As a digital agency owner, I know that building the optimal marketing stack is critical. Before investing in a platform, I need to know if it gets the job done at an affordable price. So I evaluated Mailjet pricing and tested the platform to find the best plan.
Short on time? These are Mailjet's main pricing plans in May 2021:
Free– A basic set of features including email templates, personalization and 80 integrations, with a limit of 6,000 emails per month. Read more below.
Basic – This plan removes the daily spending limit and the Mailjet logo from emails… but that's about it. Read more below.
Premium– A more advanced email marketing plan, with segmentation and automation, but it still has limitations. Read more below.
Features & Pricing Overview
Inexpensive Base-Level Pricing but Rates Increase Quickly
Mailjet has four plans: Free, Basic, Premium, and Enterprise. The Free plan is available at no cost, while the Enterprise plan has custom pricing based on how many emails you plan on sending. Basic and Premium have monthly pricing and a 10% discount if you pay annually. If you represent a nonprofit, you can save 20% on monthly pricing.
Unlike most email marketing services, Mailjet pricing is based on sends rather than contacts. That means you pay based on the number of newsletters, automations, drip campaigns, and transactional messages you send to your subscribers.
If you plan on using Mailjet's SMS marketing, note that this cost isn't included in any of the plans. Instead, you have to purchase blocks of 100 SMS messages in addition to your email marketing plan. Mailjet SMS pricing depends on your country, and costs vary widely.
With Mailjet's Free plan, you can send up to 6,000 emails per month – but only 200 emails per day. Although a 6,000-email monthly limit might not seem too bad, I can see the daily threshold becoming a problem almost immediately. Once your list reaches 200 subscribers, you'd have to settle for sending newsletters or promotions in multiple batches to not exceed the daily limit. In addition, all emails you send on this plan have the Mailjet logo, which doesn't look as professional.
The Free plan's short list of features further limits your marketing capabilities. The plan includes more than 40 nicely designed templates, a user-friendly drag-and-drop editor, email personalization options, and about 80 app integrations – all of which we tried out in our Mailjet review. But the Free plan doesn't include automations or segmentation, so you'd waste a lot of time choosing recipients and scheduling emails manually.
If you want automation and segmentation, upgrading to a paid plan is an option – but it's not necessarily a good one. Mailjet's cheapest paid plan (which I discuss below) doesn't include these features either, so you'd need to pay for at least the Premium plan.
After comparing this platform to its competitors, I'm not convinced that paying for a Mailjet plan is worth it. For example, Sendinblue's Free plan comes with advanced segmentation, automated emails, and a higher daily sending limit (300 emails). With such a full-featured free plan, you could grow your list with Sendinblue and leverage your email marketing efforts before committing to a paid service.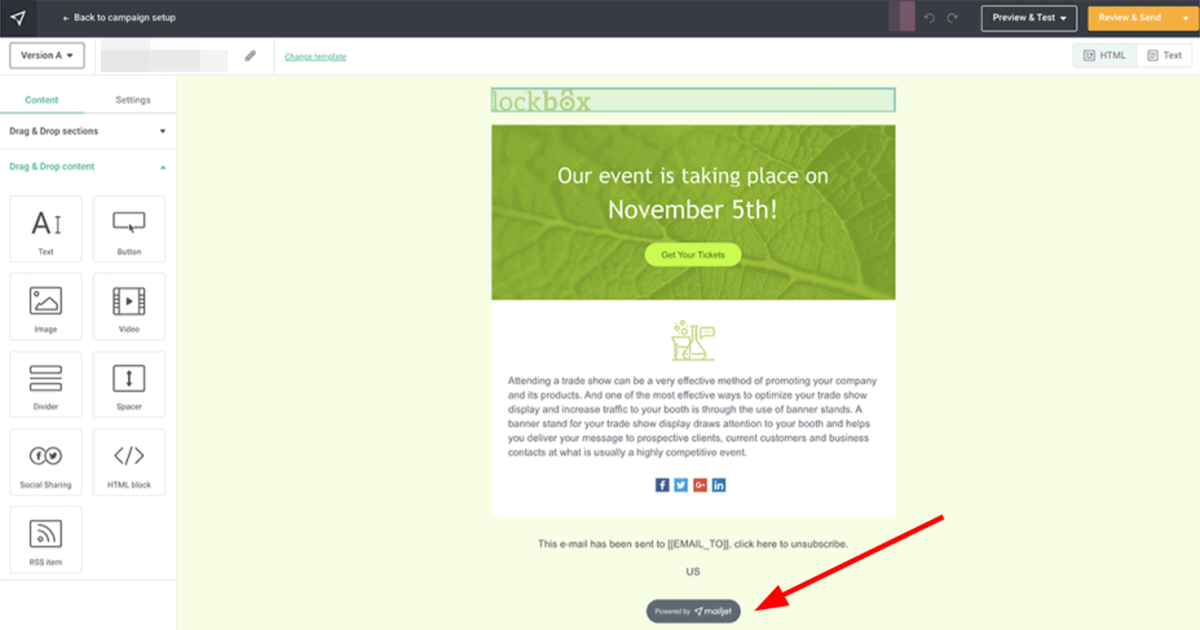 Mailjet's cheapest paid plan comes with a few perks. But in my experience, these extras aren't nearly enough to warrant the cost. The Basic plan removes the daily sending limit and the Mailjet logo, starting at $9.65 for 30,000 emails per month. This plan also includes email ticket support beyond the initial 30 days, which is when the Free plan's online support ends.
With the Basic plan, you do get a dedicated IP to improve deliverability. But this feature is only available if you pay for at least 150,000 emails per month. This will cost you though – pricing starts at $68.95 per month, which is nearly seven times the starting rate.
If you're going to send 150,000 emails each month, you'll almost certainly want automated workflows. Since automations aren't available with the Basic plan, you'd have to consider Mailjet's Premium plan instead.
Ultimately, I'd recommend skipping Mailjet's Basic plan and looking at the Premium plan no matter how many emails you plan to send. The latter includes essential features like segmentation, A/B testing, and dynamic content for a nominal price increase.
Mailjet Basic Plan Pricing
If you need to send more emails than your plan allows but you can't or don't want to upgrade, prepare for Mailjet to charge you. There's an extra charge for every 1,000 emails you send. The exact cost depends on which plan you have, but it's typically between $1 to $4.
Note that the prices you see on the website do not include VAT, so don't forget to include that in your calculations before you sign up.
| | | | |
| --- | --- | --- | --- |
| Emails | Monthly price | Monthly price if paid annually | Price per year if paid annually |
| 30,000 | $9.65 | $115.80 | $104.28 |
| 60,000 | $18.95 | $227.40 | $204.72 |
| 150,000 | $68.95 | $827.50 | $744.72 |
| 450,000 | $166.95 | $2,003.40 | $1,803.12 |
| 900,000 | $333.95 | $4,007.40 | $3,606.72 |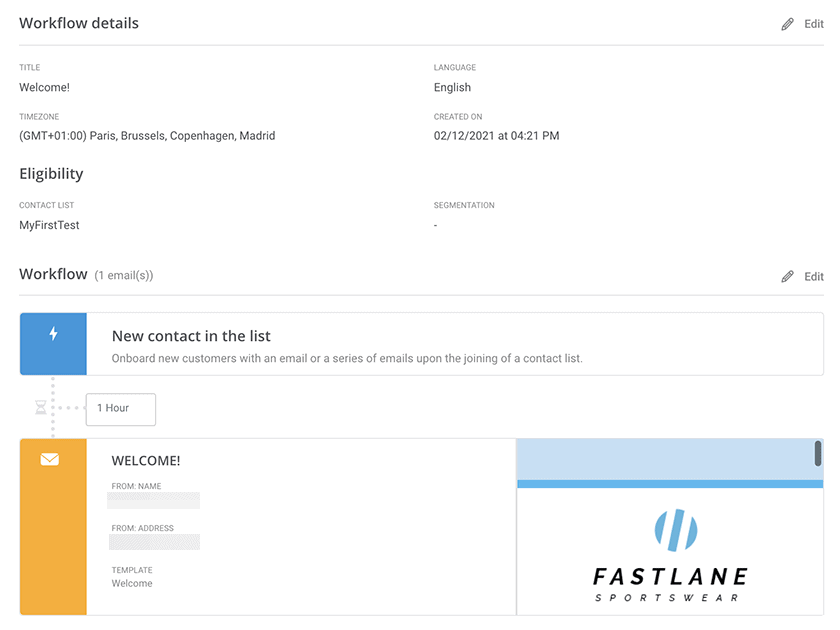 Mailjet's Premium plan has segmentation so you can send targeted messages to the right subscriber groups. It also offers A/B testing that lets you try up to 10 combinations of subject lines, sender names, and email content.
To help you save time, the Premium plan has email content blocks that you can reuse across campaigns. It also has dynamic sections that let you send different content to various segments, which would be great for making your message more relevant.
In addition, with the Premium plan, you can create automated messages to welcome new contacts, celebrate anniversaries, or target engaged subscribers. Although this feature meets basic automation needs, I found it clunky to use and was disappointed by the lack of visual workflows.
To ensure you can use each feature properly, the Premium plan comes with priority email ticket support(i.e. you receive priority over Basic and Free subscribers), as long as you pay for at least the 60,000 emails tier. However, this plan doesn't include phone or live chat support. When we tested out the support in our Mailjet review, after three days, we still hadn't received a response from our ticket request, so priority support may be necessary.
So is the Premium plan worth the investment? I'm not so sure. It allows you to send a lot of emails, but it has limited support and automation features compared to othertop email marketing services.
If automations are a major priority for your business, I'd recommend another platform instead. For instance, GetResponse's cheapest plan has dozens of automation templates and unlimited funnels to help you grow your list, sell products, or build customer loyalty. With GetResponse, you could automate your marketing tasks and integrate email with e-commerce, social media, and advertising platforms.
Mailjet Premium Plan Pricing
A reminder that these prices do not include VAT, and Mailjet charges an extra fee if you send more emails than your plan allows.
| | | | |
| --- | --- | --- | --- |
| Emails | Monthly price | Monthly price if paid annually | Price per year if paid annually |
| 30,000 | $20.95 | $251.40 | $226.32 |
| 60,000 | $41.95 | $503.40 | $453.12 |
| 150,000 | $96.95 | $1,163.40 | $1,047.12 |
| 450,000 | $229.95 | $2,759.40 | $2,483.52 |
| 900,000 | $398.95 | $4,787.40 | $4,308.72 |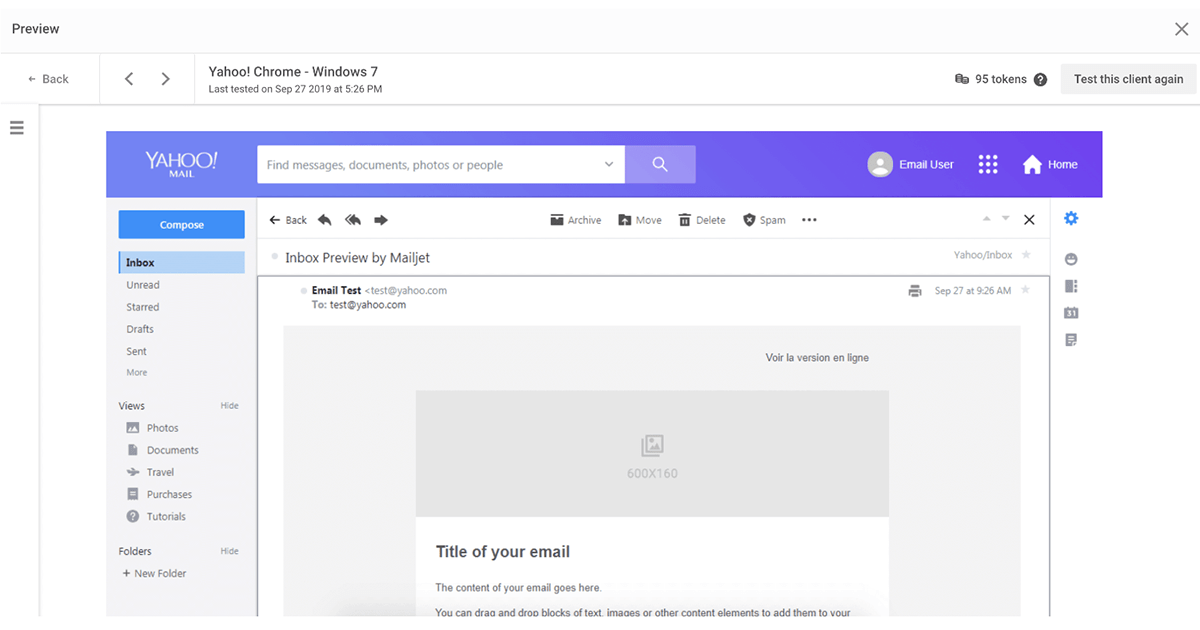 Mailjet's Enterprise plan is designed for large marketing teams and organizations that need to send over 900,000 emails per month. Mailjet doesn't publish pricing for this plan, but its advanced features suggest that it's designed for marketers with big budgets and large lists.
With the Enterprise plan, you can add unlimited users and access training sessions, which would be helpful for bigger teams. To ensure that your emails land in subscribers' inboxes, this plan comes with a dedicated technical account manager and access to deliverability experts. It also features priority support, custom onboarding and migration, and inbox previews that let you check how your emails look before sending.
Does the Enterprise plan have all the features big senders or large teams need? I'd say probably not. While it's tough to compare enterprise-level pricing, it's easy to see that Mailjet's Enterprise plan includes far fewer features than other services offer.
For instance, Benchmark's Enterprise plan lets you send unlimited emails. It also has advanced lead generation and reporting features in addition to a dedicated IP and priority support. With Benchmark, you could truly leverage the most advanced enterprise-level features.
Mailjet Pricing Comparison Table
Mailjet Cancellation & Refund Policy
Watch Out for the Restrictive Refund and Upcharge Policies
If you sign up for a Mailjet plan, you can cancel it at any time. However, the service doesn't offer refunds. That means if you purchase an annual plan and cancel it a few months in, you won't get a refund for the unused time.
When you purchase a monthly plan, you can upgrade or downgrade it at any time. However, you can only change an annual plan at the beginning of a billing period. If you're considering an annual option, think carefully since you may be locked into your plan for a while.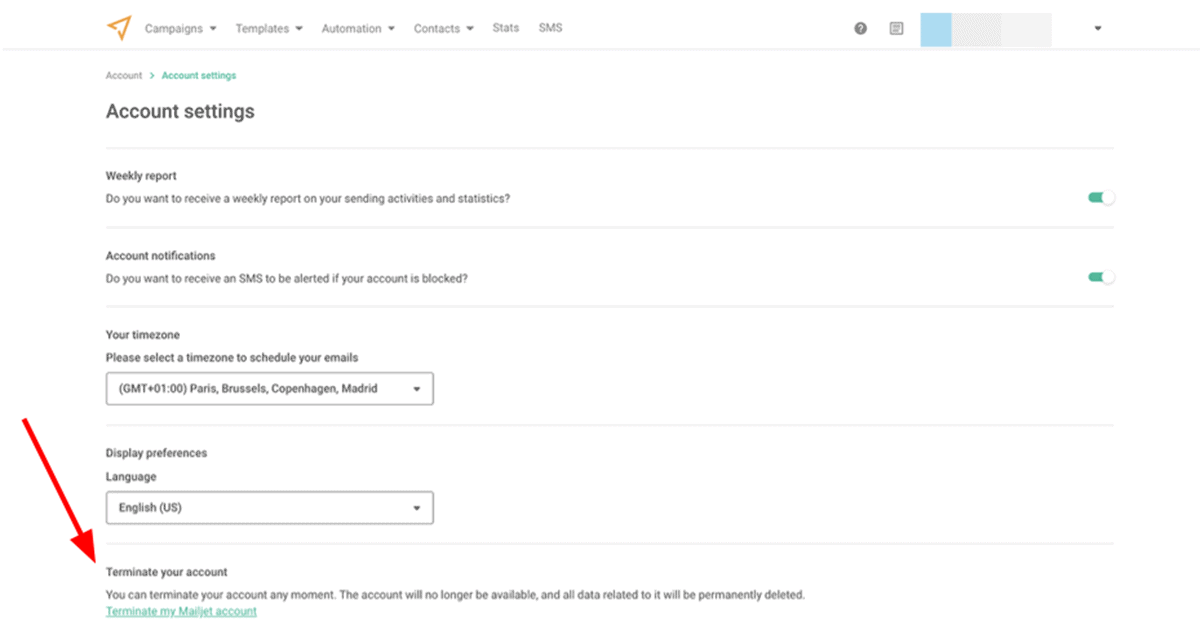 In the event that you want to cancel your Mailjet account, you can do so instantly. But be sure to export your lists and unsubscribers, because Mailjet deletes your account data and removes your access immediately.
Alternatives to Mailjet
Mailjet could be a reasonable choice if you have a limited budget or if you just need a basic email marketing platform with simple automations. However, if automations, segments, and funnels are integral to your email marketing strategy, Mailjet won't cut it. Instead, take a look at ourreviews of the best email marketing services or consider one of these top Mailjet alternatives:
Sendinblue's Free plan: If you want to start building your list at no cost, Sendinblue's Free plan is a better option. This plan includes advanced segmentation, automated email workflows, and real-time reporting. It also lets you send up to 300 emails per day, so you can do more with this plan than you could with Mailjet.
GetResponse's Plus plan: If you want to automate your marketing efforts, GetResponse's Plus plan has all the advanced tools you need, which Mailjet just can't compete with. With this plan, you can access dozens of premade automations or build your own, create sales and lead generation funnels, and even host webinars. This plan also has a sales CRM so you can close deals and maximize the platform's value.
Benchmark's Enterprise plan: If you have a big team or complex email marketing needs, Benchmark's Enterprise plan is a good choice. This plan comes with a dedicated IP, email white labeling, advanced lead generation, and over 1,500 app integrations (compared to Mailjet's 83) to streamline your marketing efforts.
Mailjet Might Seem Cheap – but Full-Featured Plans Are Pricey
Mailjet's Free plan could do the trick if you don't need segmentation or automation. If you do, the Premium plan could be a decent option, since it also has A/B testing and supports multiple users. However, if you have the budget for a higher-priced plan, Mailjet lacks the advanced features and personalized support that other services offer –especially when platforms like GetResponse and Benchmark have lead generation tools, customizable funnels, and built-in marketing integrations.
FAQ
How much does Mailjet cost?
Mailjet can be free or cost up to thousands of dollars a year. The
Free plan
is available at no cost, and the two mid-range plans have send-based pricing. The Basic plan starts at
$
9.65
per month for 30,000 sends, and the Premium plan starts at
$
20.95
per month for the same amount. You can save yourself money on both if you use one of our
Mailjet coupons
. The Enterprise plan has custom pricing, so you'd need to get a personalized quote from Mailjet.
Is Mailjet free?
Yes, if you sign up for
Mailjet's Free plan
, you can use the service at no cost. Although this plan is free forever, it lacks many essential features, such as segmentation and automations and so I'd recommend opting for
Sendinblue's Free plan
, which gives you all of the above and unlimited contacts.
How much does Mailjet SMS marketing cost?
Mailjet SMS marketing is available with any plan for an additional fee. You have to purchase groups of SMS messages – 100 at a time – and the cost varies by country.
Which is better: Mailjet or Mailchimp?
Although both platforms have similar pricing structures, Mailjet is better. Mailchimp has some of the most restrictive terms of service, and you can't use it for common purposes like affiliate marketing. Plus, if you don't want to worry about sudden or unexpected account closures, Mailjet is a safer option. If you're still undecided, you can see how they stack up in
our list of the best email marketing services
.