Mailchimp is a well-known email marketing service (EMS) with a free plan and a beginner-friendly interface, making it a popular choice with marketers. But recently Sendinblue has also grown in popularity, offering a competitive and featured-packed free plan of its own.
Both platforms are great for basic email marketing needs – but I wanted to see how they compared to each other on more advanced features.
After all, in the world of email marketing, every extra feature can mean higher click through rates.
I tested both services extensively
over a few weeks, weighing both Mailchimp's and Sendinblue's pros and cons.
The short version is that Sendinblue won out over Mailchimp with relative ease.
Want the long version? Then read on.
Features
Sendinblue Has Much More Going for It
Features are the backbone of every email marketing platform.
Both platforms pack plenty of features, but Sendinblue consistently does things just a bit better than Mailchimp.
Email Templates
Let's take a look at Sendinblue's template selection first.
Although slightly generic, these designs tick many boxes.
They're easy on the eye, responsive, and – most importantly – mobile-friendly. However, there's only around 40 designs to choose from, which in all honesty is a bit disappointing.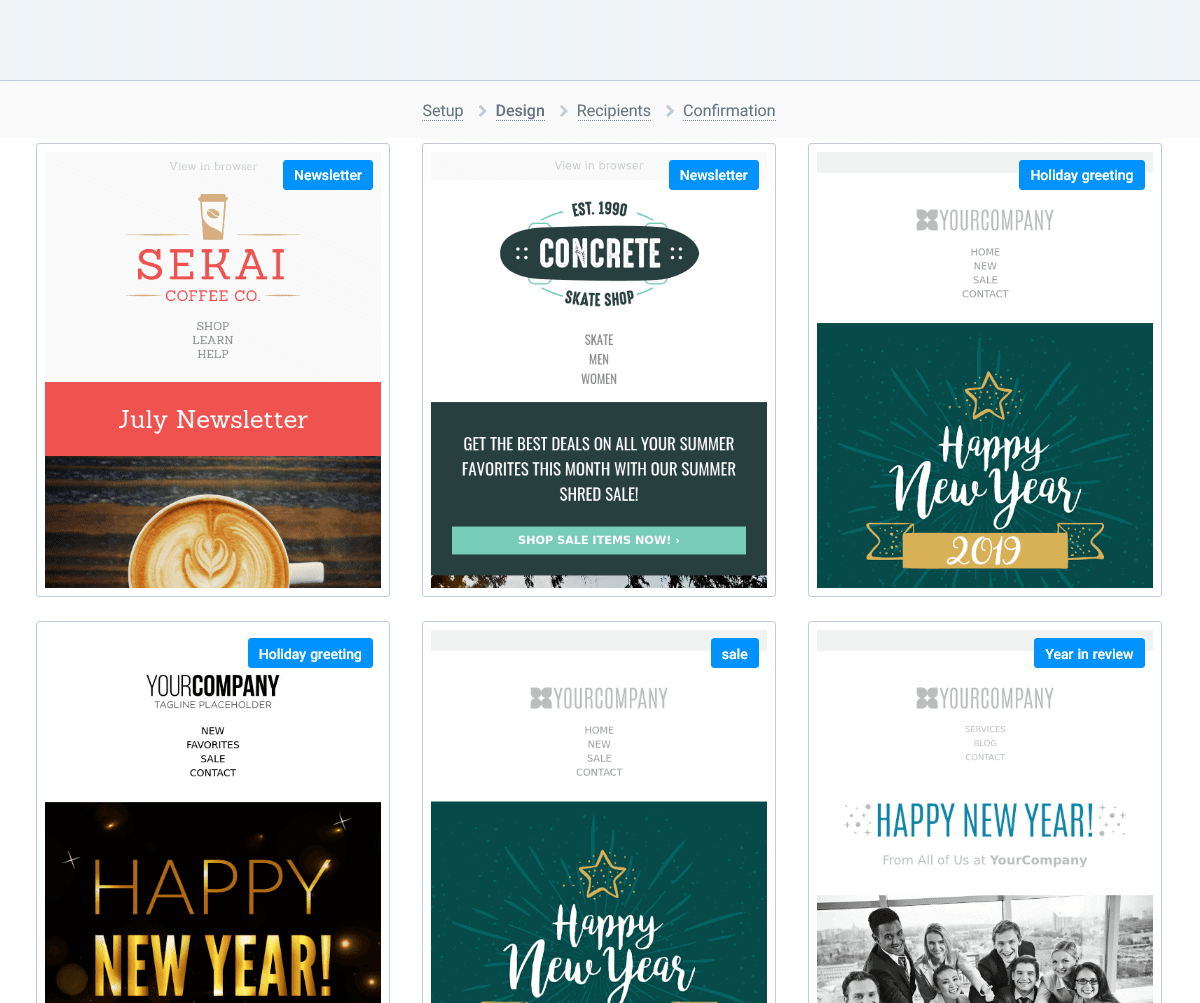 By comparison,
Mailchimp offers about 100 templates – but none of the options stood out to me.
Mailchimp has been around since the dawn of digital marketing – and boy does it show. Most designs look like they came right out of a 25-year-old floppy disk.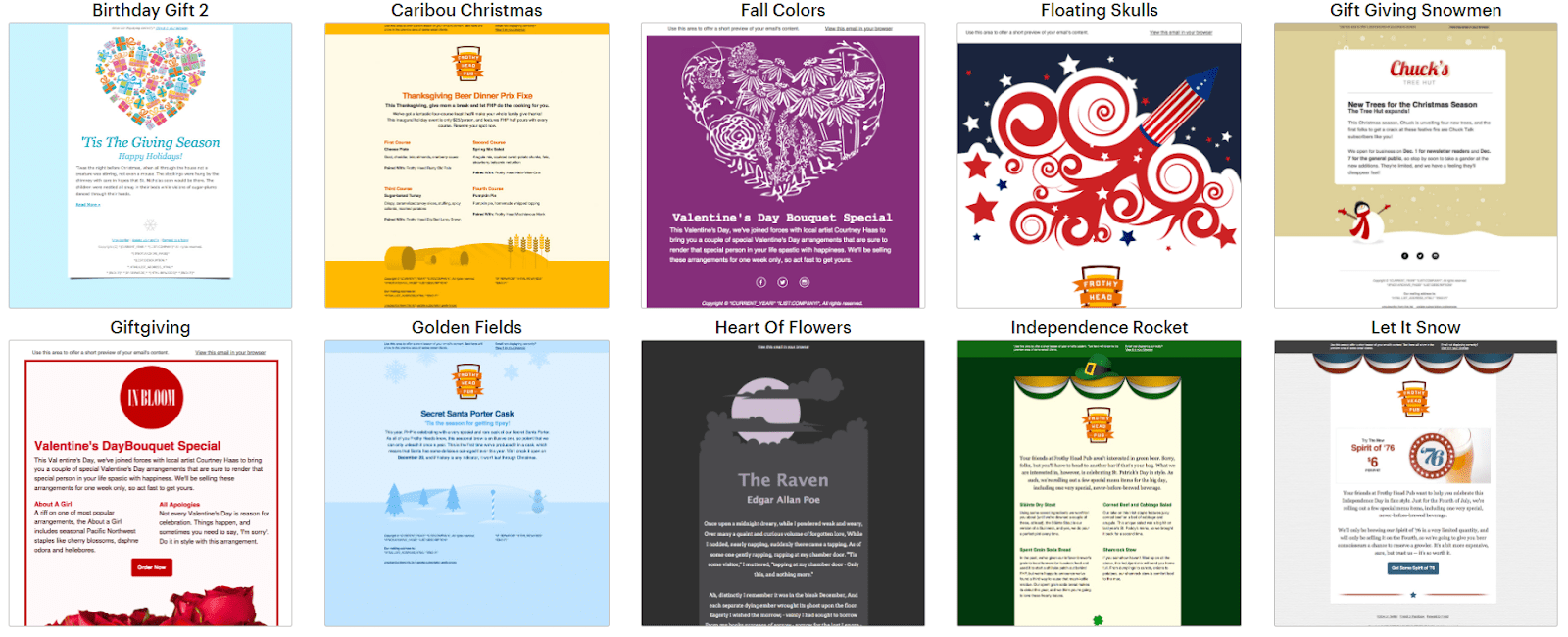 If you're looking for a platform with tons of email templates to choose from, I recommend you
check out AWeber
instead. Although AWeber is also guilty of hoarding some templates from the Britney Spears era, the selection is so big that there are still plenty of hidden gems.
Types of Emails
With Sendinblue, you have three options for building your emails
– using the drag-and-drop editor, the rich text editor, or custom code (through HTML). RSS* campaigns are available through the integrations menu.
Mailchimp has a similar set of options, including regular campaigns, plain-text messages, RSS messages, and A/B testing campaigns
(starting with the Essentials plan). Like Sendinblue, autoresponders and automated campaigns are available under a separate tab. *RSS stands for Really Simple Syndication. It's a file usually coded in XML, and it includes information about content published on your website. By integrating it into your email marketing platform, you can easily share your latest blog posts with your subscribers through email.
Integrations
Integrations can simplify and automate processes, and it usually only takes a few minutes to set them up.
Sendinblue offers about 60 native integrations, but if we count Zapier, this number grows to about 600.
Mailchimp, on the other hand, natively
integrates with 250+ apps and 1,000+ apps including Zapier integrations
. It makes sense to let Mailchimp win this round, but it's worth noting that
Mailchimp doesn't integrate with one of the most popular e-commerce platforms in the world, Shopify, while Sendinblue does
. So, be aware of that if Shopify is important to you.
Personalization
Personalization is key to making your emails more relevant to your subscribers. You can use tags and variables to address contacts by their first name, add a personal touch, and increase engagement.
Sendinblue has all the basic personalization tools you can think of, but it truly shines with conditional display tags –
we've tried it all out in our
Sendinblue review
.
Basically, you can display/hide specific parts of your content based on who's receiving your email. For example, you could only show a special offer to subscribers located in a certain area.
Mailchimp also offers basic personalization, but dynamic content is only available on the Standard plan
, which will cost you at least $14.99/month.
Native RTL Support
What if you want to write content in a language that's written from right to left, such as Hebrew or Arabic? Well, with Mailchimp, you'd be out of luck because you'd have to add raw HTML blocks with your text
– RTL languages aren't natively supported.
All of Sendinblue's email templates allow you to choose RTL as an option when creating a campaign.
If you're planning to create email content in any of these languages, Sendinblue should be the go-to choice for you.
Advanced Automation
Both Sendinblue and Mailchimp are known for their great automation tools, but
I find Sendinblue's tool easier to use, and I don't like that Mailchimp locks transactional emails behind pricey add-ons.
It's also worth mentioning that while Sendinblue allows users to create automation workflows on the free plan, Mailchimp's Customer Journey function is only available with the Essentials plan (starting at
$
20.00
/month).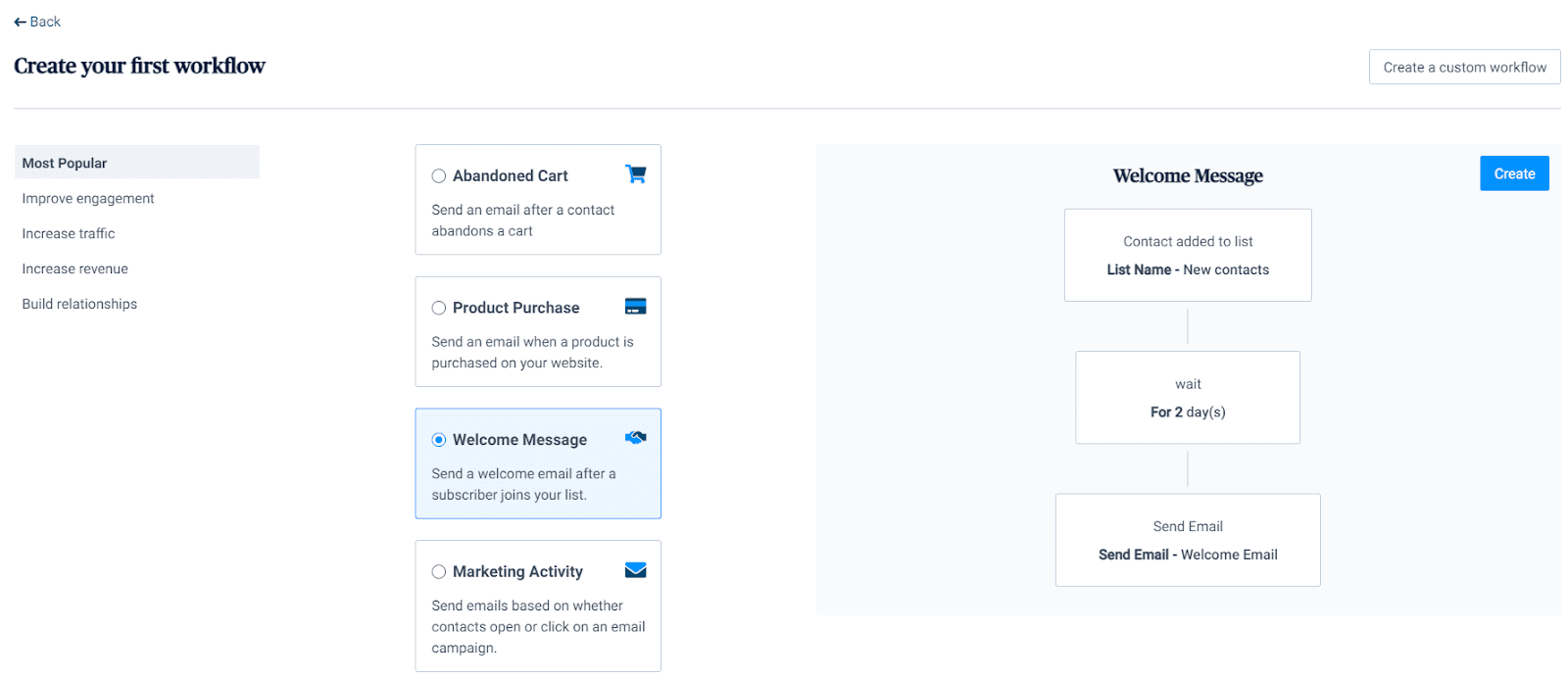 With Sendinblue, you gain access to a neat lead-scoring feature as well as a useful campaign testing tool.
You can also make use of their send time optimization feature, which analyzes previous performance and delivers your emails at the perfect time.
Landing Pages
When it comes to landing pages, Mailchimp outshines Sendinblue.
Sendinblue does offer dozens of responsive and mobile-friendly landing page templates, and its builder is clean and easy to use…but the feature is locked behind the Premium plan. Which will set you back
$
65.00
/month. Ouch. By comparison, Mailchimp allows all users to create landing pages, no matter the plan they're on – although note there are only 10 templates to choose from.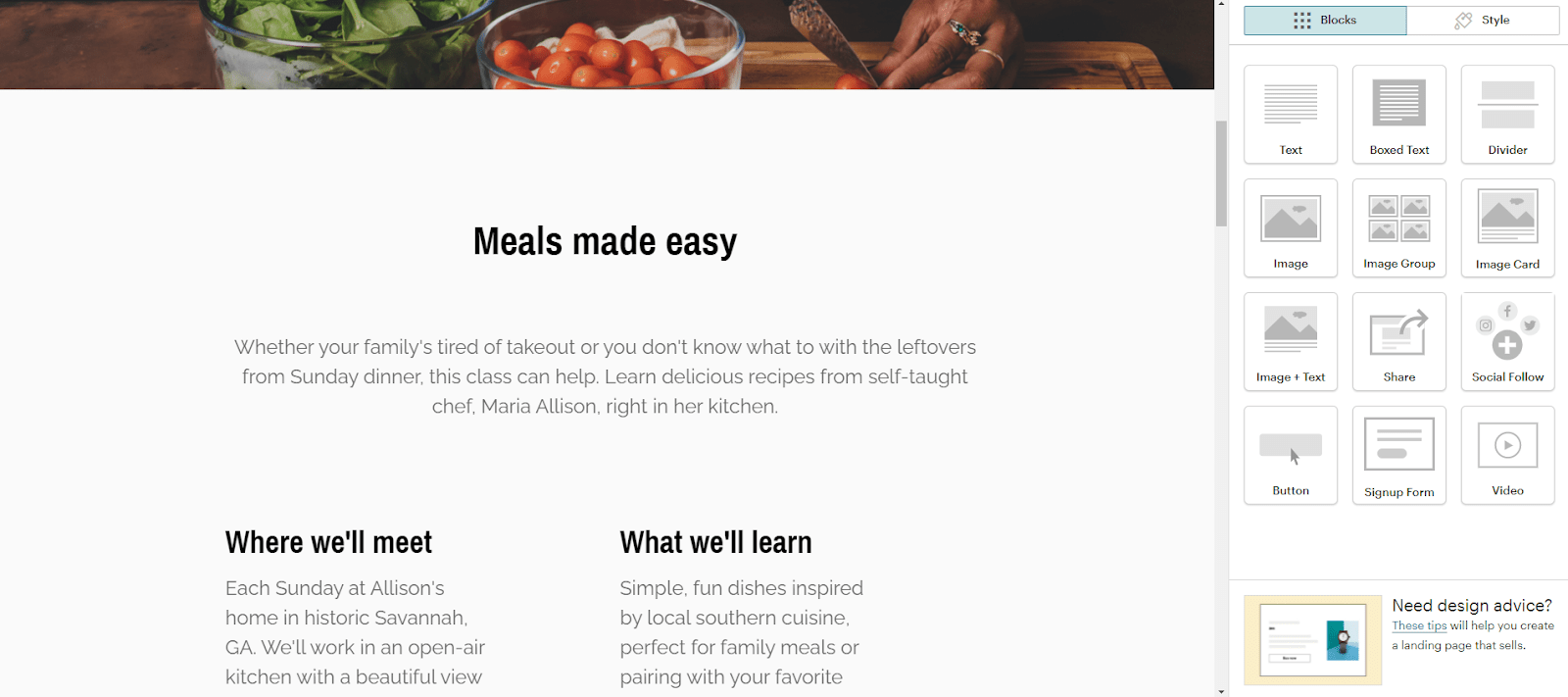 Mailchimp also offers a landing page analytics suite with detailed performance stats.
This round goes to Mailchimp, and deservedly so.
A/B Testing
A/B testing (or split testing) allows you to test elements of your email by sending different versions to users and measuring their success (open rates or click rates, for example).
You can split test emails with Mailchimp's Essentials plan, but you're limited to three variables.
The tool is also a bit confusing to use, and unhelpfully doesn't always do what you want it to do.
Sendinblue's A/B testing tool is more extensive.
You can use it to test subject lines, email content, email design, or send times.
However, you can only access it on the Premium plan,
or by purchasing an add-on on the Lite Plan.
Affiliate Marketing
Attitudes toward affiliate marketing are important when choosing an EMS.
Sendinblue and Mailchimp are both strict with their guidelines.
You can definitely include affiliate links in your emails, but you should always ensure that the services you promote are relevant to your own products or services. Play by the rules, and you should be fine.
Ease of Use
You Won't Have Trouble Navigating Either Platform
Mailchimp is an accessible, intuitive platform that's designed with ease of use in mind.
Although it doesn't pack as many features as other top competitors, its simplicity and straightforward drag-and-drop editor make it a great choice for beginners. Of course, this doesn't mean that Mailchimp gets everything right. In an attempt to simplify everything,
the Mailchimp team has grouped up features and functions that don't really belong together
(in fact, it's one of the many issues my colleague had when they put together their
Mailchimp review
). For example, I didn't expect to find landing pages, forms, and the automation tool under the "Campaigns" tab.
Sendinblue also comes with its own intuitive drag-and-drop email editor and easy-to-use interface.
Everything I wanted to create my campaign was there, and it didn't take me long to figure things out.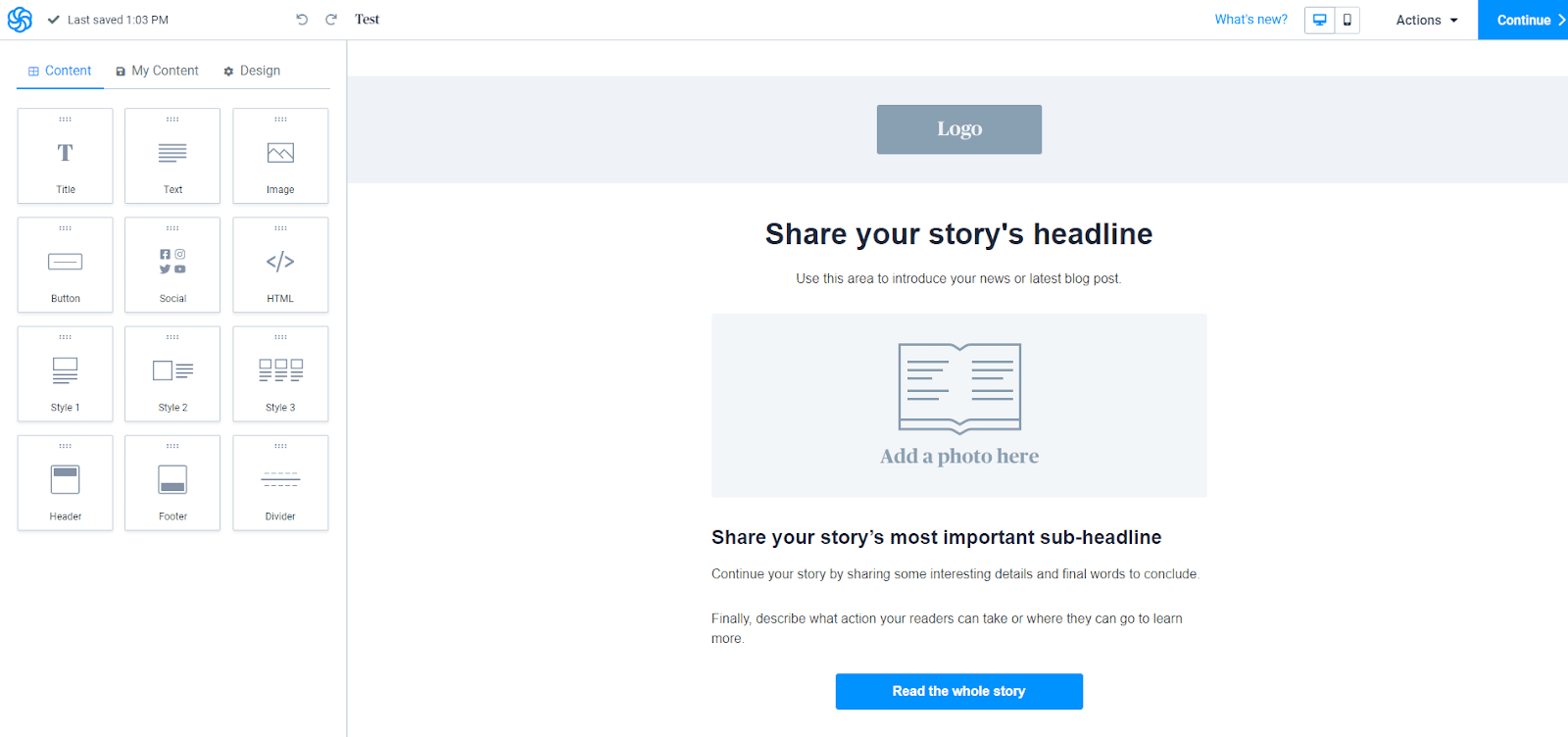 When it comes to importing contacts, Sendinblue pulls ahead.
You can easily import contacts using formats including CSV, XLS, and TXT. Mailchimp only supports CSV files, so you'll need to manually convert all other files. This can be time-consuming, especially if you run a large business and have long lists in multiple formats.
It's close, but Sendinblue has to win the round
as it comes with a slightly more functional menu interface and offers more contact importing options.
Deliverability
Deliverability Isn't Just about Numbers
If you've spent hours writing the perfect campaign and coming up with an awesome design, the least you can ask is that your content reaches your subscribers.
But even though deliverability is important, it's never just about numbers.
Imagine I told you I sent 10,000 emails using Sendinblue, and 8,600 of those emails reached my subscribers' inboxes. That's a deliverability rate of 86%, right? That
sounds
great, but what does this test really say about Sendinblue as a platform? It might just be that I've done everything right, and you're seeing a number that reflects my efforts as a marketer.
You can't use a deliverability rate to generalize and draw conclusions, because no test is replicable
. My advice to everyone concerned about deliverability is to stop relying on arbitrary numbers, and concentrate on
what you can do to boost your deliverability rate
. Having said that, there's a few things you want to look for in any email marketing service to maximize the chances of your emails reaching your subscribers' inboxes. The first thing every platform needs is DKIM authentication. You can think of DKIM as a security measure that helps email service providers (such as Gmail) confirm that the emails sent in your name really were sent by you.
As you'd expect, both Sendinblue and Mailchimp have DKIM authentication.
Setting up DKIM isn't difficult, and both platforms have articles that can guide you through the process.
Next, we need to look for strict anti-spam policies.
Because other users are sending emails through the same IP, frequent spam violations will affect the platform's reputation as a whole. That means someone else's spammy practices can affect your deliverability rates. Most platforms will run emails through checks before sending them out to subscribers, ensuring spam doesn't escape the platform. To test the effectiveness of each platform's safeguards, I uploaded unknown spam email addresses and waited to see what would happen.
Unfortunately, neither platform passed my test.
I'd hope that outbound emails were at least checked, but that's not always enough to catch spammers – I'd expect spam email addresses to be caught at the point of upload. Other services, such as
GetResponse
and
AWeber, have passed this same test with flying colors
. Finally,
by far the most reliable way to increase your deliverability rate is to send your emails using a dedicated IP. With Sendinblue, you get a free dedicated IP with the Enterprise plan
. Alternatively, you can purchase a private IP as an add-on service for $145/year. Compared to the competition, this is an excellent deal. By comparison,
Mailchimp doesn't offer dedicated IPs, even if you've purchased the pricey Premium plan and are paying hundreds of dollars every month.
Reporting and Analytics
Mailchimp Generates More Detailed Reports than Sendinblue
Statistics and reports make the email marketing world go around. If you don't have access to enough data about your campaign's performance, you can't make the best decisions. Still, many platforms fail to give marketers all the information they need to succeed.
Fortunately, both Sendinblue and Mailchimp provide users with plenty of tracking tools.
Sendinblue displays important data – such as your open rate, click rate, unsubscription rate, and bounces – at a glance
. However, if you want to access more detailed reports, you'll have to purchase the Premium plan.
Mailchimp's analytics suite isn't perfect
(for example, soft and hard bounces are grouped together),
but it does generate slightly more detailed reports than Sendinblue for a lower price.
Mailchimp can tell you everything you need to know about opens and clicks, including social and conversion data.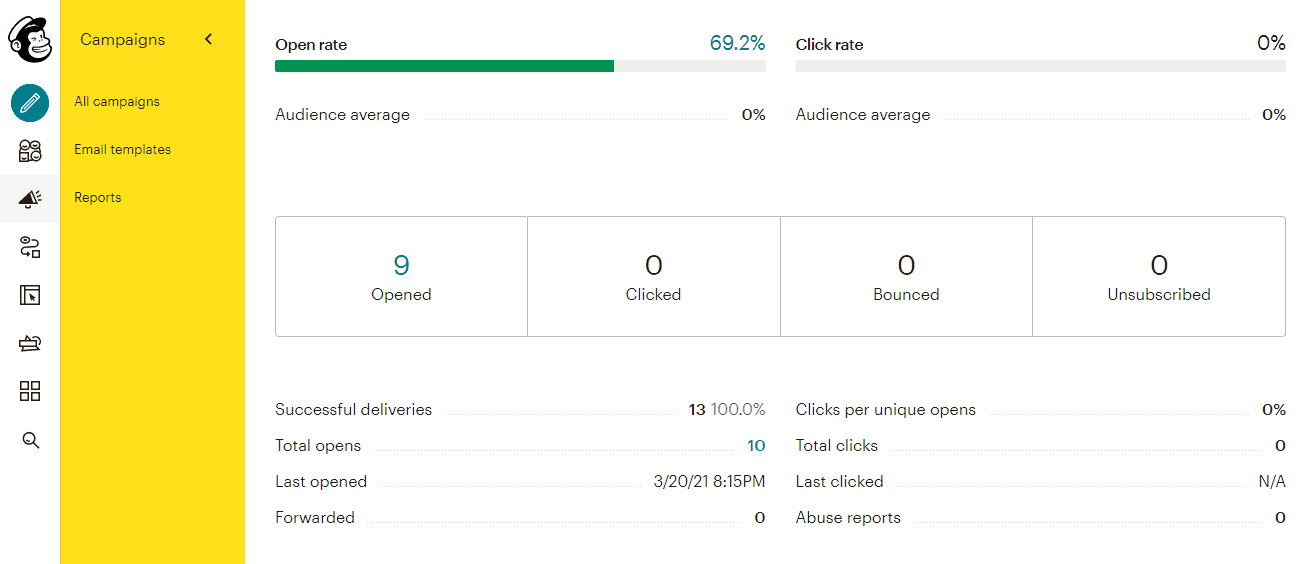 Mailchimp's Premium plan also unlocks access to comparative reporting
, a useful feature that can help you see how your campaigns are doing compared against industry standards.
Plus it's one of the few email marketing platforms that can generate detailed reports on the landing page performance.
Pricing
Their Plans Are Comparable, but Sendinblue Offers More for Less
In terms of pricing, Sendinblue outshines Mailchimp almost every step of the way.
Its Lite plan is a bit more expensive than Mailchimp's Standard plan, but when you consider Premium plans, Sendinblue blows Mailchimp out of the water.
Here's What You Get for Free
Sendinblue's free plan is one of the best free plans on the market.
You can use the platform to send up to 300 emails/day to any of your contacts. Although some features – such as A/B testing, send-time optimization, landing pages, and advanced reporting – won't be available to free users, if you're just starting out with email marketing, Sendinblue's free plan will likely meet your needs.
Mailchimp's free plan allows you to send up to 10,000 emails/month to up to 2,000 contacts.
That's pretty generous, but note that, like with Sendinblue, certain features such as email templates, automation workflows, and advanced reporting won't be available to you. On the plus side, Mailchimp does allow you to access its landing page builder (and the templates that come with it) without having to pay a dime. On that alone, it might look like Mailchimp's free plan should come out ahead. But that's before you consider Mailchimp's bizarre customer support limitation. Okay, you can't expect free users to receive the same support as paying customers, but Mailchimp has taken preferential treatment to a whole new level.
If you sign up for a free Mailchimp account, you can only email support for the first 30 days.
Yep. That's it. 30 days. If you have any questions after the first month, well, good luck – you're on your own. Sendinblue's free plan includes email support, while other top competitors, such as
AWeber, offer phone support on all their plans
.
Here's What You Get If You Pay
Unlike other top competitors, Sendinblue charges you based on emails sent, not the size of your subscribers' list.
That means that if you're signed up to send 40,000 emails, you can, if you want, choose to send only two emails to a list of 20,000 subscribers.
Sendinblue's Lite plan, which starts at

$

25.00

/month, doesn't add any core email marketing features.
It does, however, increase your monthly limit to 10,000 emails and removes daily limits. The price goes up to $39 for 20,000 emails and $54 for 40,000 emails. For an extra $12, you can gain access to A/B testing and advanced reporting features.
The Premium plan, which starts at

$

65.00

/month, throws landing pages and advanced automation features into the mix.
The price goes up to $79 for 40,000 emails and $94 for 80,000 emails.
Mailchimp, on the other hand, limits both contacts and emails sent per month.
Not only that, but its pricing system can be quite confusing as well.
The Essentials plan starts at

$

20.00

, and it allows you to send up to 5,000 emails to a maximum of 500 contacts
(fewer than the free plan?!). It unlocks email templates, A/B testing, and the Customer Journey builder, which is needed to create marketing automations. It also unlocks email support.
The Standard plan starts at $14.99, allowing you to send up to 6,000 emails to 500 contacts.
This plan unlocks behavioral targeting, dynamic content, and send time optimization.
The huge jump in price comes with Mailchimp's Premium plan, which starts at

$

0

 for 10,000 contacts.
Honestly, this is the point at which Mailchimp's pricing starts to sound ridiculous. This pricey plan includes advanced segmentation, comparative reporting, and phone support. Note that Sendinblue offers phone support with their Premium plan (priced at
$
65.00
), while
AWeber allows customers to call support even if they're on the free plan
.
With Sendinblue, you can save money by purchasing an annual plan. Mailchimp doesn't offer such an option.
Bear in mind that neither platform offers refunds, so make sure you spend plenty of time with their free plans before upgrading. Even when you do decide to upgrade, I recommend you stick to monthly payments (in the case of Sendinblue) until you're certain it's the right choice for you.
Sendinblue vs Mailchimp Pricing Table
| | | | | |
| --- | --- | --- | --- | --- |
| Plan | Sendinblue Free | Mailchimp Free | Sendinblue Lite – 10,000 emails | Mailchimp Essentials – 2,500 contacts |
| Price | Free | Free | $25/month | $30.99/month |
| Number of contacts | Unlimited | 2,000 | Unlimited | 2,500 |
| Number of emails per month | 300/day | 10,000 | 10,000 | 25,000 |
| Number of users | 1 | 1 | 1 | 3 |
| Integrations | 60+ (600+ with Zapier) | 250+ (800+ with Zapier) | 60+ (600+ with Zapier) | 250+ (800+ with Zapier) |
| Discount for annual plans | N/A | N/A | 20% ($20) | No Discount |
| Money-back guarantee | N/A | N/A | No | No |
Support
Mailchimp's Lack of Support Continues to Amaze Me
I can't stress enough how important it is to have someone help you learn the ropes when you first sign up for a new email marketing service. Knowledge bases are fine, but I feel better knowing I can chat with a human if I get stuck at any point.
You can contact Sendinblue via email by visiting their Contact page or filling out your details in a pop-up in the Help Center.
If you've purchased the Premium plan, you'll also be able to call the phone support team.
Mailchimp also has a large knowledge base supposedly filled with all the answers – which is what the system will try to redirect you back to every opportunity it gets
, even when it's clear that you really need human support. Remember, Mailchimp's representatives only answer emails for the first month if you're on the free plan. The Essentials and Standard plans include live chat, and phone support is only available with the expensive Premium plan. I contacted both support teams with the same question:
Does Sendinblue/Mailchimp support RTL languages?
Sendinblue got back to me within a few hours.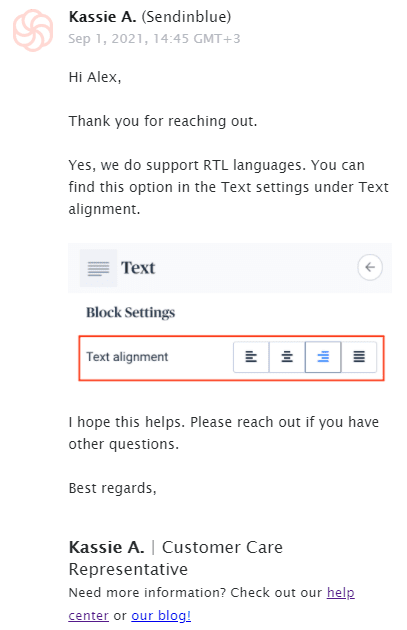 Not only did they answer my question, but they also attached a picture showing me how to enable RTL mode. I really couldn't ask for more!
Mailchimp took a full day to get back to me.
The representative blamed it on an influx of tickets, but I know Mailchimp's always slow to reply – that is, if you're lucky enough to ever hear back from them. In the past I've gotten no response at all.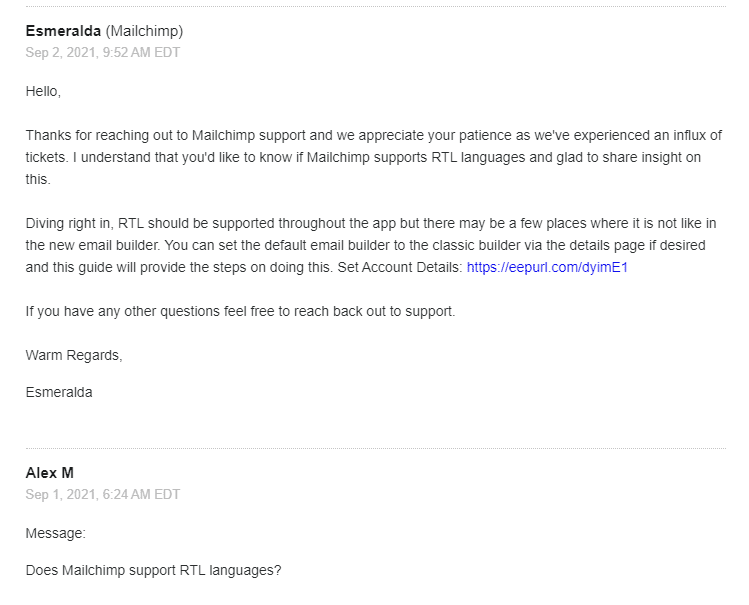 She said that RTL is supported but not in the email builder, which is where marketers spend most of their time.
Sendinblue vs Mailchimp – The Verdict
So, which one's better – Mailchimp or Sendinblue?
Mailchimp might be a popular EMS with one of the biggest marketing teams behind it, but I have to conclude that Sendinblue is the better email marketing platform.
Mailchimp provides ease of use, numerous integrations, improved report generation, and a more affordable landing page builder. However, Sendinblue outperforms Mailchimp in almost all other aspects. It excels in better personalization, enhanced deliverability, native RTL support, and advanced automation. Unlike Mailchimp, Sendinblue also offers a dedicated IP option.
Mailchimp is a bit cheaper with smaller lists, but the difference is insignificant when you consider everything Sendinblue offers.
It also seems like Mailchimp will do anything possible to avoid human interaction.
Sendinblue vs Mailchimp Comparison Table
Templates
40+
100+ but seriously outdated
Automation
Advanced options, access to automation workflows for free
Landing Page Builder
12+ template, locked behind the premium plan
10 templates + analytics, available for free
Ease of use
Great interface, easy to use, easy contact importing
Very beginner-friendly, questionable layout
Pricing
Excellent price-to-value ratio
Confusing pricing system, but slightly cheaper with small lists
FAQ
Which Is Better: Mailchimp or Sendinblue?
When comparing Sendinblue vs Mailchimp, Sendinblue comes out ahead, even though Mailchimp is the more popular platform. It's got better templates, better automation tools, advanced personalization, and much better support. Not to mention an awesome free plan.
Is Sendinblue a Good Email Marketing Service?
After weighing Sendinblue's pros and cons, it became clear it's a great email marketing service. It packs plenty of useful features (such as advanced automation, easy-to-use email editor, and great personalization), and its plans are priced very competitively. Not only that, but it currently offers one of the best free plans on the market.
What Is the Best Alternative to Mailchimp?
Mailchimp makes it into our top 10 email marketing services, but there are plenty of platforms that still outperform it. ActiveCampaign is our best all-rounder, GetResponse offers advanced automation workflows, and AWeber provides marketers with incredibly detailed reports and analytics. Head over to our list of the best email marketing services in 2023 to learn more about these and other top competitors.
How Much Does Sendinblue Cost?
You can actually use Sendinblue to send up to 300 emails a day without paying anything! The Lite plan includes a minimum of 10,000 monthly email sends and starts at

$

25.00

. The Premium plan includes a minimum of 20,000 monthly email sends and starts at

$

65.00

. You can find out more about these plans by checking our detailed Sendinblue pricing guide.