You know that email marketing is one of the most evergreen marketing strategies ever, so you want to get it right by using a tool that fits your business like a glove.
With dozens of email marketing platforms on the market, this can be a tedious search — especially when comparing two platforms like Mailchimp and Sendinblue.
Mailchimp was established way back in 2001, and Sendinblue over a decade later. You've likely heard good things about both contenders, so now you're wondering whether to go with the veteran, or the newbie.
To help you choose, we've compared Sendinblue and Mailchimp in five important categories:
Pricing
Email creation and design
List management and growth
Email marketing automation
Customer support
Let's get started.
Pricing
Mailchimp Pricing Doesn't Break the Bank, While Sendinblue Saves Money and Rewards for Growth
Good marketing software can be a big investment. That's why we're jumping into this category first, as pricing is the most interesting difference between Sendinblue and Mailchimp.
Sendinblue pricing is unique — it's based on the number of emails you send. Unlike other email marketing platforms, it claims not to "charge for growth." In other words, Sendinblue won't penalize you as your email list grows.
Sendinblue offers five subscription plans: Free, Lite, Essential, Premium, and Enterprise. The Premium plan allows you to send from 120,000 emails a month and the Enterprise plan is for those with 'more advanced needs'.
The Free plan gives you unlimited contacts, but you can send only 300 emails per day. Fortunately, you can stagger emails to your subscriber list, and Sendinblue's helpful Requeue feature allows you to easily resume your campaign when your daily quota resets.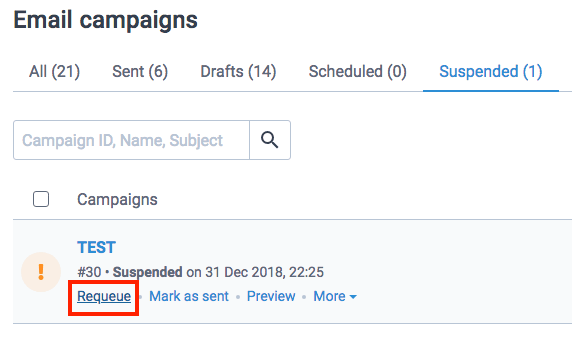 Sendinblue doesn't collect credit card information to sign up. It also doesn't require contracts, and you can change subscription plans or cancel anytime directly from your account.
Mailchimp's pricing structure is regarded as one of the most wallet-friendly on the market. Like most other email marketing platforms, it charges based on your email list size.
There are four subscription plans: Free, Essentials, Standard, and Premium. Each has a starting price (for the minimum amount of subscribers), but this increases based on how many subscribers you have. The Premium plan allows you to send at least 3 million emails a month and gives you unlimited users.
The Free plan provides limited features and allows you to send 10,000 emails per month (2,000 per day) to up to 2,000 contacts.
Sendinblue and Mailchimp offer a Pay As You Go plan — both of which provide the same features as their Essentials and Essential plans, respectively. This option allows you to purchase email credits instead of paying for a monthly subscription. One email credit equals one email "send" to one contact.
To compare, Sendinblue charges $40 for 5,000 email credits — Mailchimp charges $150 for 5,000 credits.
And the Winner Is…
Sendinblue. Although Mailchimp's starting prices are temptingly low, Sendinblue is simply more affordable for budding businesses. Its Free plan even allows you to have unlimited contacts.
Email Creation and Design
Mailchimp Creates Stunning Emails, but Sendinblue's Customizations Prevail
Building, designing, and customizing your emails can be one of the hardest parts of email marketing. Your email marketing software should ease this burden — and even do some of the work for you.
Within the Sendinblue platform, you'll find a gorgeous, intuitive email editor. You can create dynamic email content by simply dragging and dropping various design blocks, or use the rich text editor to build your own emails from scratch. Alternatively, you can upload your HTML code directly to the software.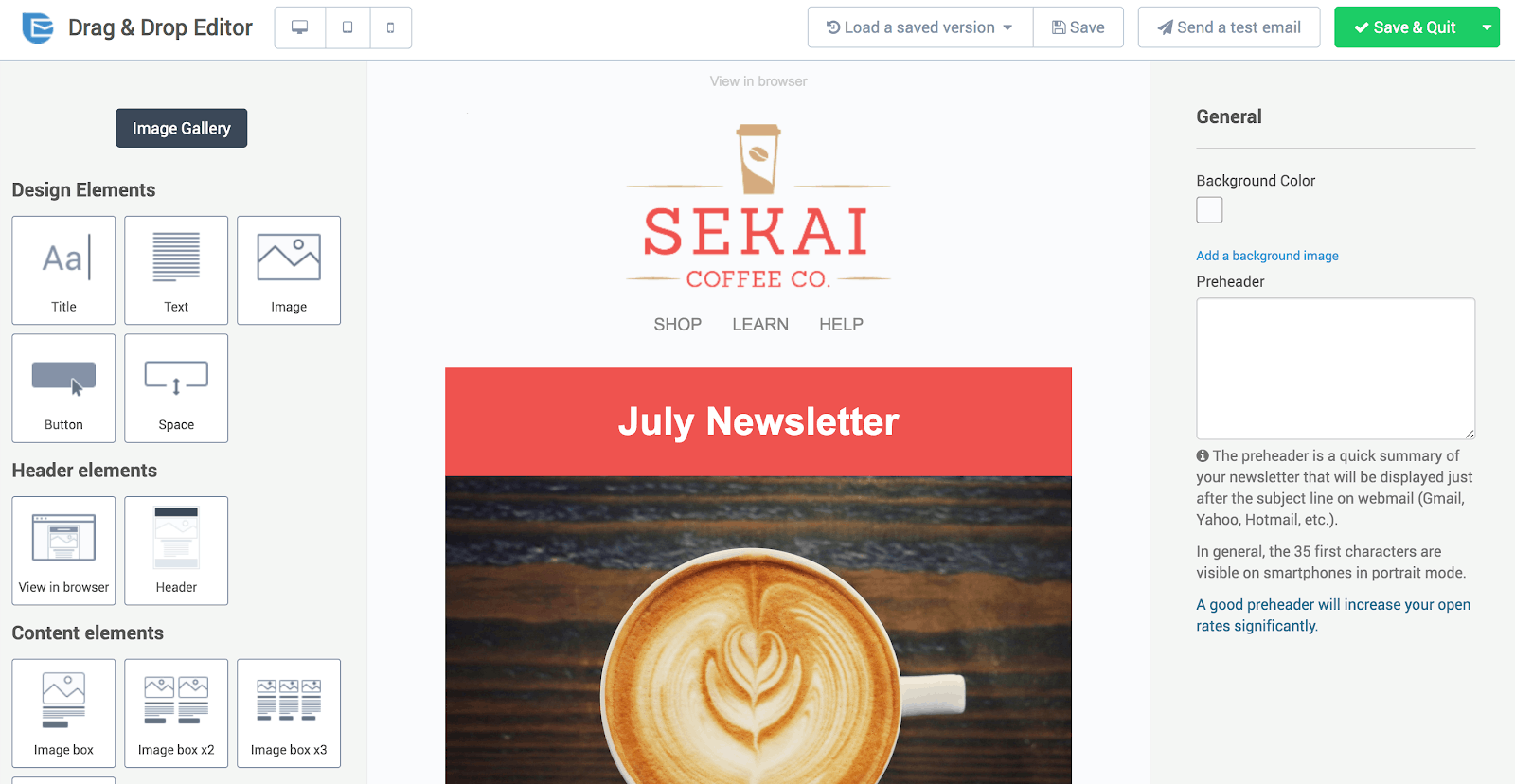 Sendinblue also offers 70+ customizable templates, organized by objective (such as holiday greetings, transactional emails, or newsletters). You can create and save your own template designs, too. And if you want to share your message with your social networks, that takes just a single click.
Finally, Sendinblue shows you how your email will appear not only on mobile phones and tablets, but also on various email applications (e.g., Gmail, Outlook). You can make sure your emails look good for every single recipient.
Mailchimp reviews say that its email creation process is one of the easiest on the market. You can pick from over 100 layouts and pre-built email templates, and then just focus on your email content. Mailchimp's templates save time, but they're not as customizable as Sendinblue's (unless you want to code your own email template, which Mailchimp can help you do).
Both platforms provide a simple drag-and-drop editor, but with Mailchimp, you're limited to the pre-designed content blocks and rudimentary design features. Sendinblue gives you more customization options within each content element, and the design options are displayed within each block.
By contrast, these options are separate in Mailchimp.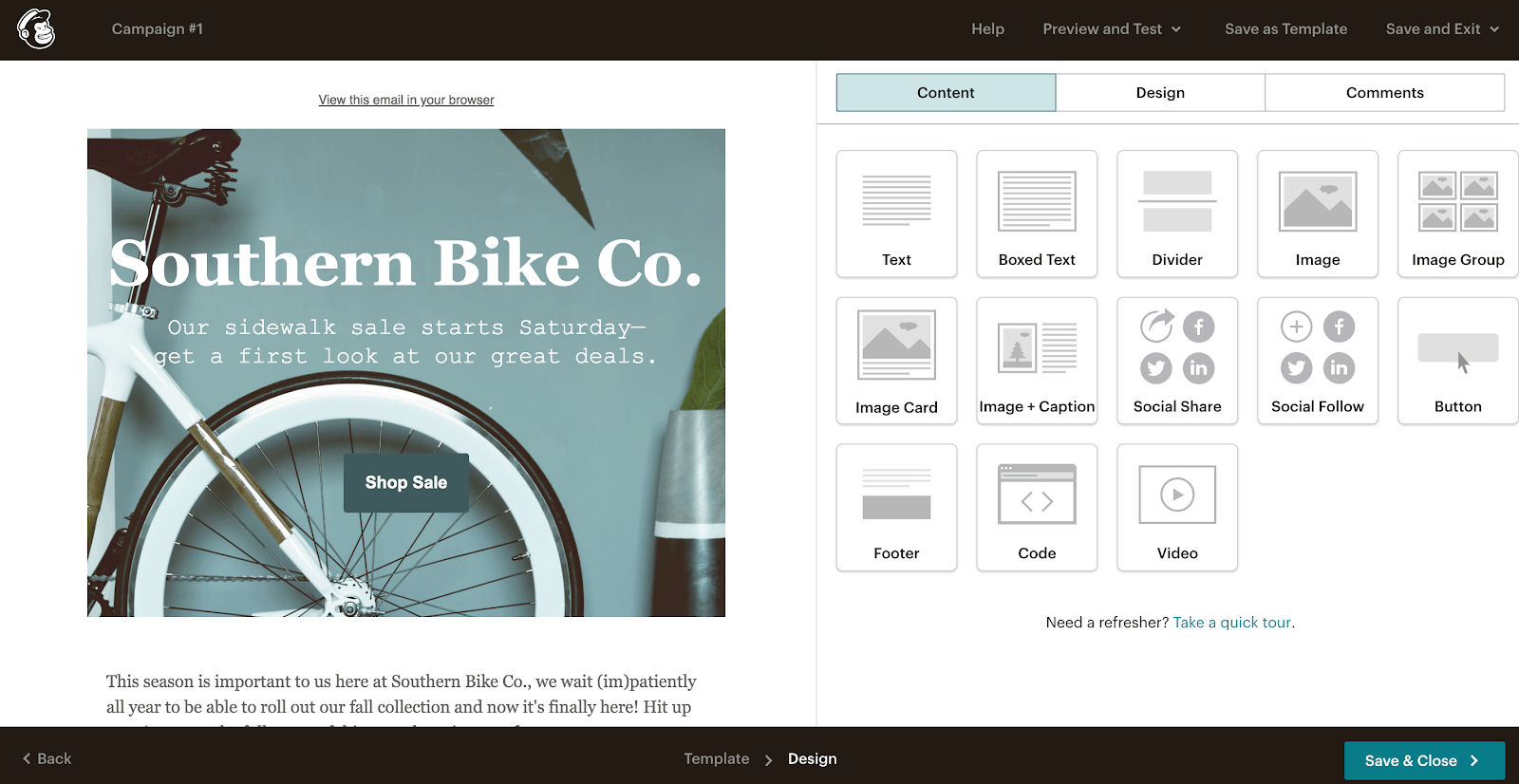 With the Free plan, you get access to Mailchimp's basic templates; with the more expensive plans, you can use all the pre-built templates and remove Mailchimp's branding from your emails.
And the Winner Is…
Sendinblue. Mailchimp almost wins with its template count and advanced features, but Sendinblue's drag-and-drop editor creates gorgeous, easy-to-customize emails you can be confident look good.
List Management and Growth
Mailchimp's CRM Supports Contact Management and Growth; Sendinblue Simply Helps You Organize
Your email list is a valuable asset, and your email marketing platform should provide ways to both manage and grow your lists.
Sendinblue's contact management features are fairly common. You can upload contacts through a CSV or TXT file, or manually add them. You can also easily segment your audience using personalized filters, or divide your audience into separate lists. There's also an option to create custom contact fields to your contact profiles, providing more ways to organize and filter your lists.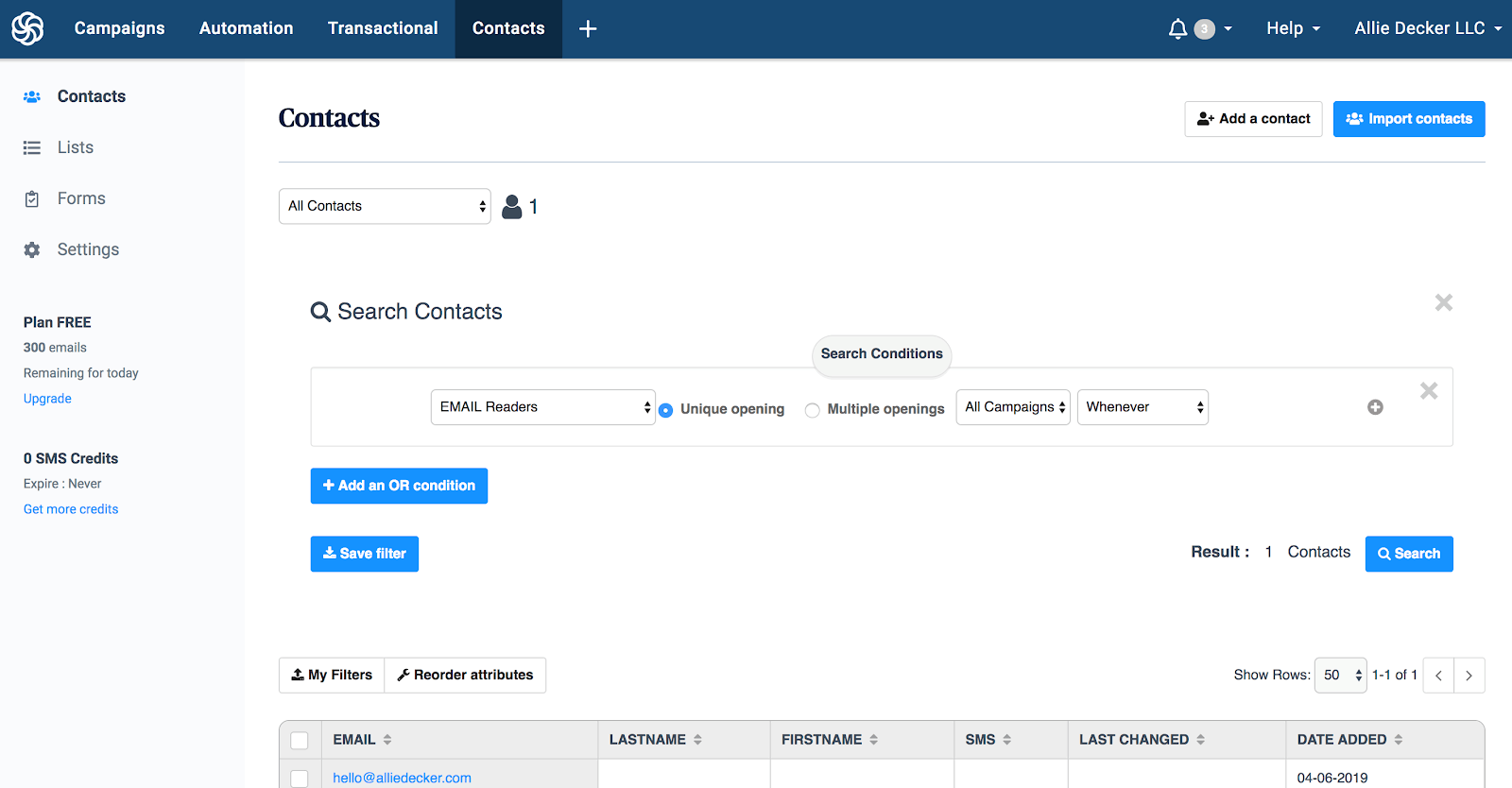 Sendinblue also makes it easy to collect new subscribers and grow your lists with custom subscription forms that easily integrate into your website.
Mailchimp's contact management looks a little different. The platform offers a CRM with contact profiles, tags, and segments, but — depending on your plan — you're limited on how many audiences you can have. (One audience equals one big list of contacts.)
| | | | | |
| --- | --- | --- | --- | --- |
| | Free | Essentials | Standard | Premium |
| Number of Audiences | 1 | 3 | 5 | Unlimited |
Instead of arranging your contacts into separate lists, you use tags and segments (which are filters that separate your contacts) to organize and target your subscribers.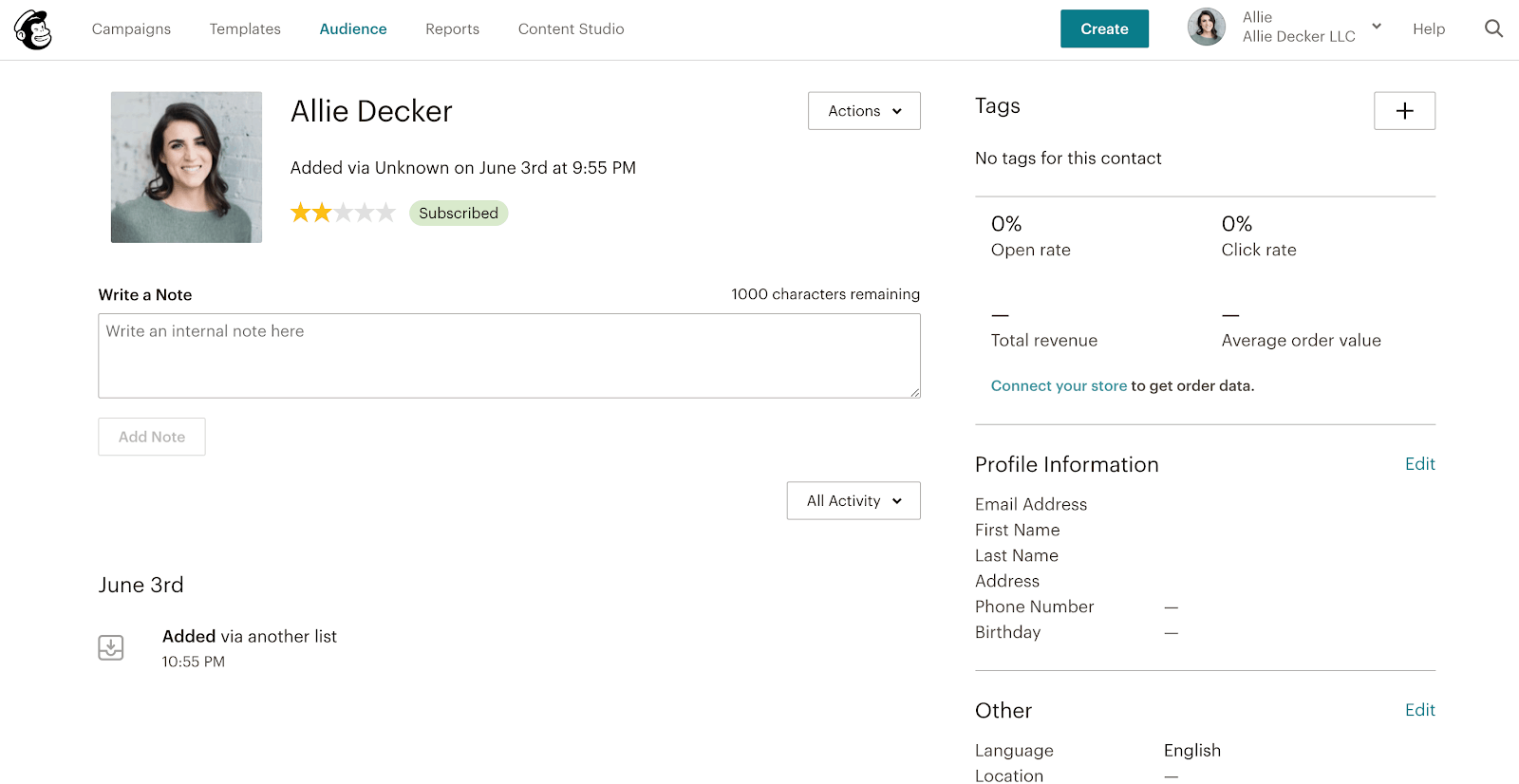 Mailchimp's Standard and Premium plans also give you access to features like Predicted Demographics, Customer Lifetime Value, Purchase Likelihood, Lookalike Audience Finder, and Address Finder. These can help you further grow and reach your contact list.
Finally, like Sendinblue, Mailchimp offers customizable subscription forms that you can embed on your site, schedule to pop up on your homepage, or share on social media — helping you pull in new subscribers from anywhere online.
And the Winner Is…
Mailchimp. Although Sendinblue offers features that help you organize and grow your (unlimited!) contact list, Mailchimp's CRM truly equips you to reach and market to your audience.
Email Marketing Automation
Mailchimp's Email Marketing Automation Features Are Easy to Use, but Sendinblue's Features Make Life Easier
It's pretty great when your email marketing software does some of that marketing for you, right? I agree.
Sendinblue offers a host of marketing automation tools: transactional emails, personalized workflows, and even SMS marketing!
Sendinblue reviews tell us that it's the leader in transactional emails (i.e., single emails sent in response to a user's action or behavior, such as sign-up confirmations, order confirmations, and purchase receipts). Sendinblue provides a gallery of email templates just for transactional messages.
Beyond notifications, Sendinblue also provides plenty of marketing automation features — even if you're on the Free plan. You get eight automation workflow templates and a visual workflow editor to see exactly where you want to create and place messages and triggers.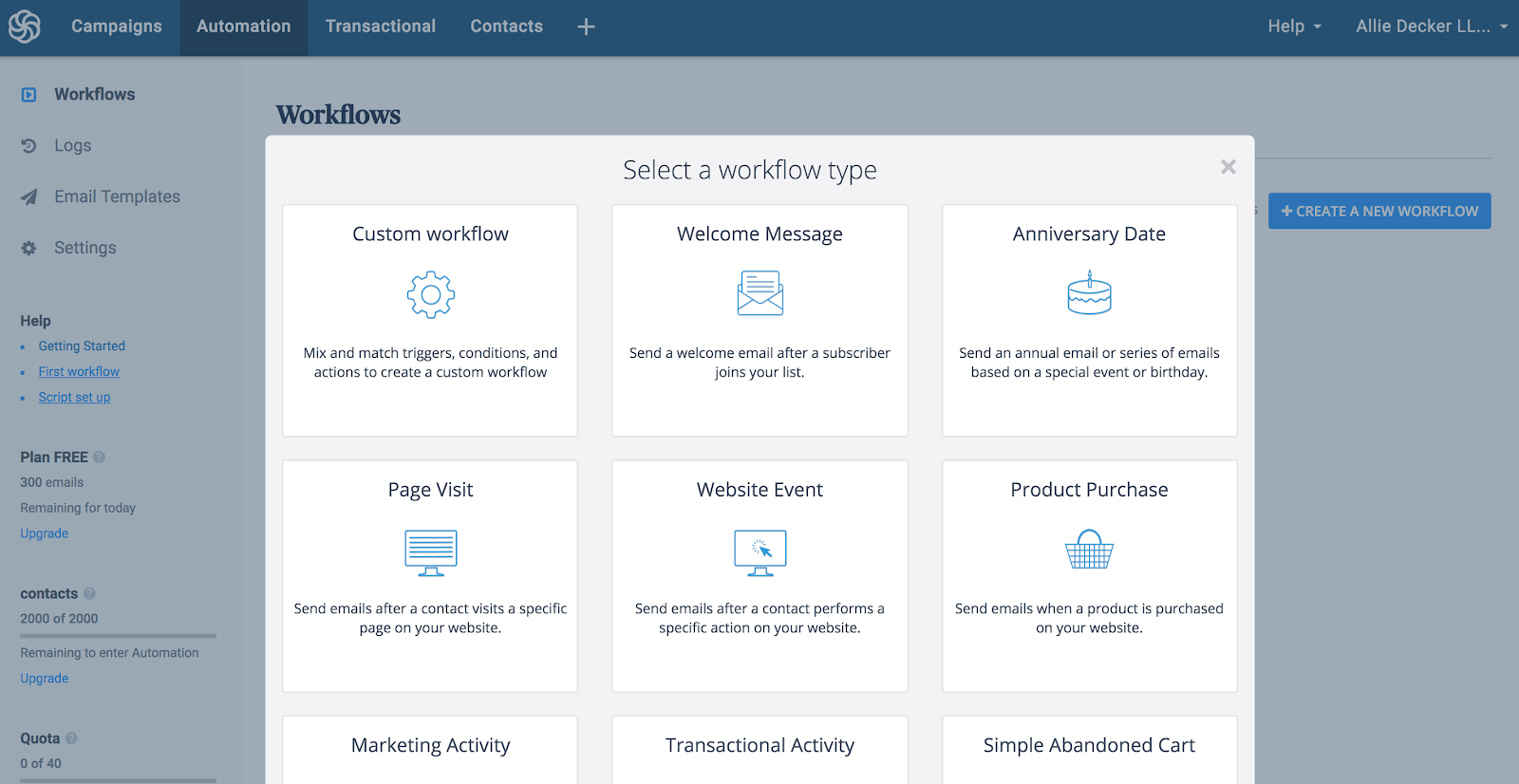 Finally, Sendinblue offers SMS marketing for both your transactional emails and automated communications, allowing you to reach your audience on multiple channels.
Mailchimp offers its own email marketing automation features, too. The platform makes it very easy to send single-step automation messages, such as welcome emails, abandoned cart emails, or birthday emails. You can also create multi-step automation messages, such as a nurture campaign or an onboarding email series.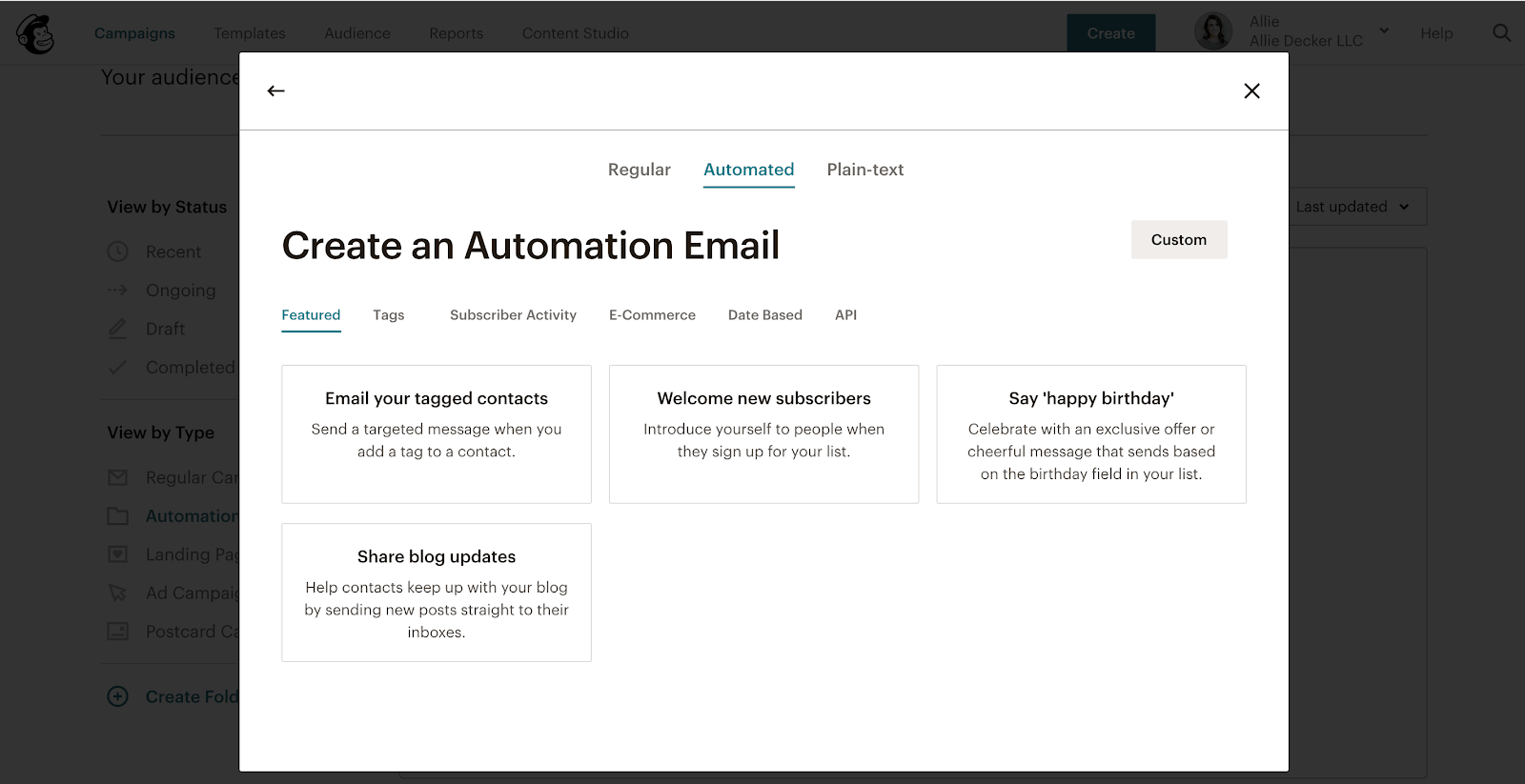 Mailchimp also provides e-commerce automation options. You can connect your website to the platform and create automated messages to send when users abandon your website or online store.
You can also send transactional emails on the platform, but you have to add (and pay for) another service called Mandrill. Unfortunately, Mailchimp doesn't offer a visual workflow, nor does it have SMS marketing.
And the Winner Is…
Sendinblue. With more automation options, Sendinblue gives you less to worry about doing manually. MailChimp's automation features are easy to use, but its features don't take you very far when it comes to connecting with your subscribers.
Customer Support
Mailchimp's Online Resources Are Valuable, but Sendinblue's Live Customer Support Wins
No matter how experienced you are in email marketing, it's always nice to know someone's got your back. How will you get help if something goes wrong?
Sendinblue offers email-based support for all its subscribers, regardless of their plan. If you're on the Free or Lite plans, you get phone and chat support for free for the first 60 days; upgrade to the Essential plan or higher, and you get unlimited phone and chat support, plus a dedicated account manager with the Enterprise plan.
Sendinblue also offers an extensive knowledge base (available in five languages) organized by feature. There's even a handy search bar if you want to quickly search by keyword.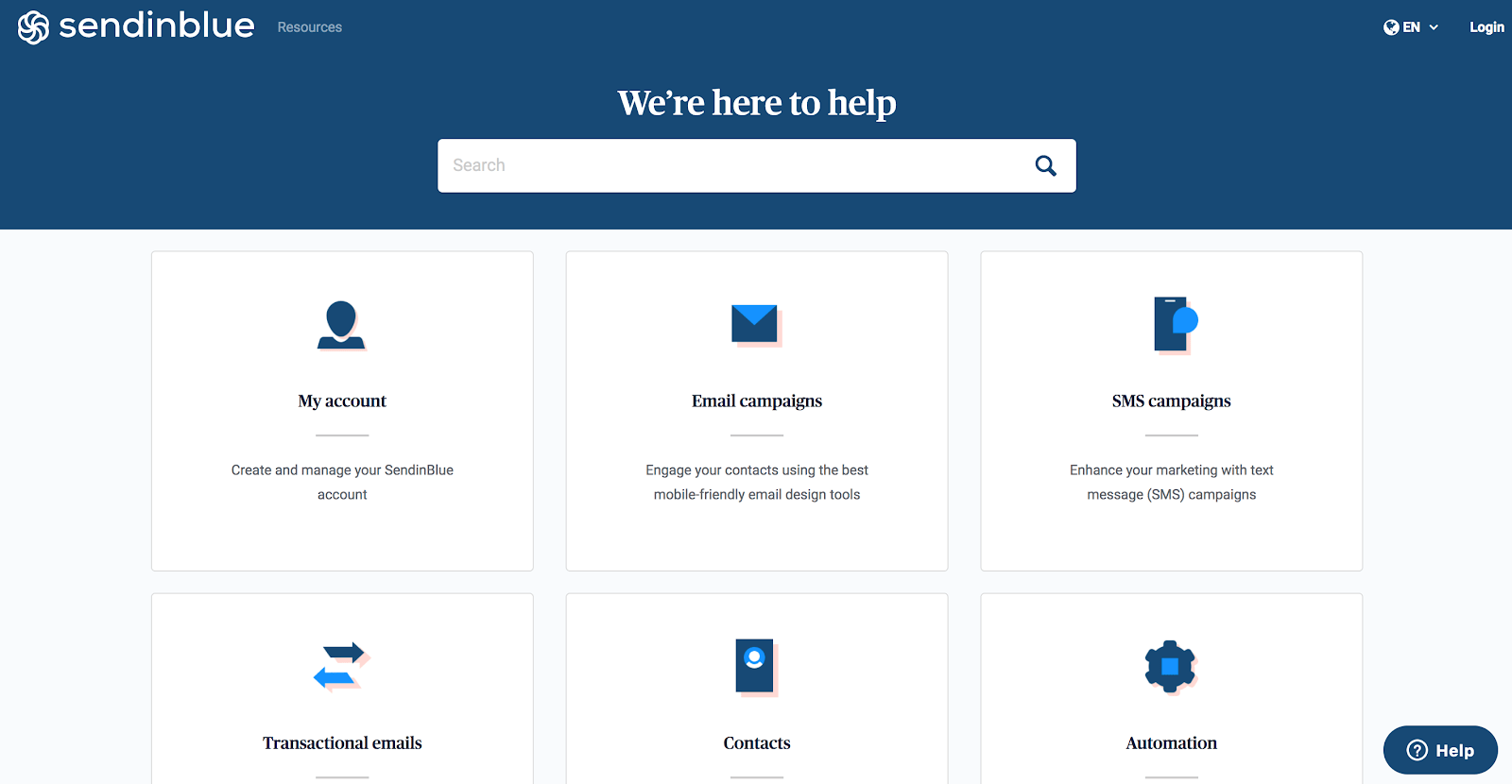 If you're on Mailchimp's Free plan, you get 30 days of email support. But to access 24/7 chat and email support, you have to upgrade to a paid plan. And if you want phone support, you must sign up for Premium, the most expensive plan.
Fortunately, Mailchimp also offers plenty of online resources, including a knowledge base, and a blog with a variety of marketing tips, guides, and tutorials. The platform also provides "Mailchimp 101," which walks you through how to make the most of the software.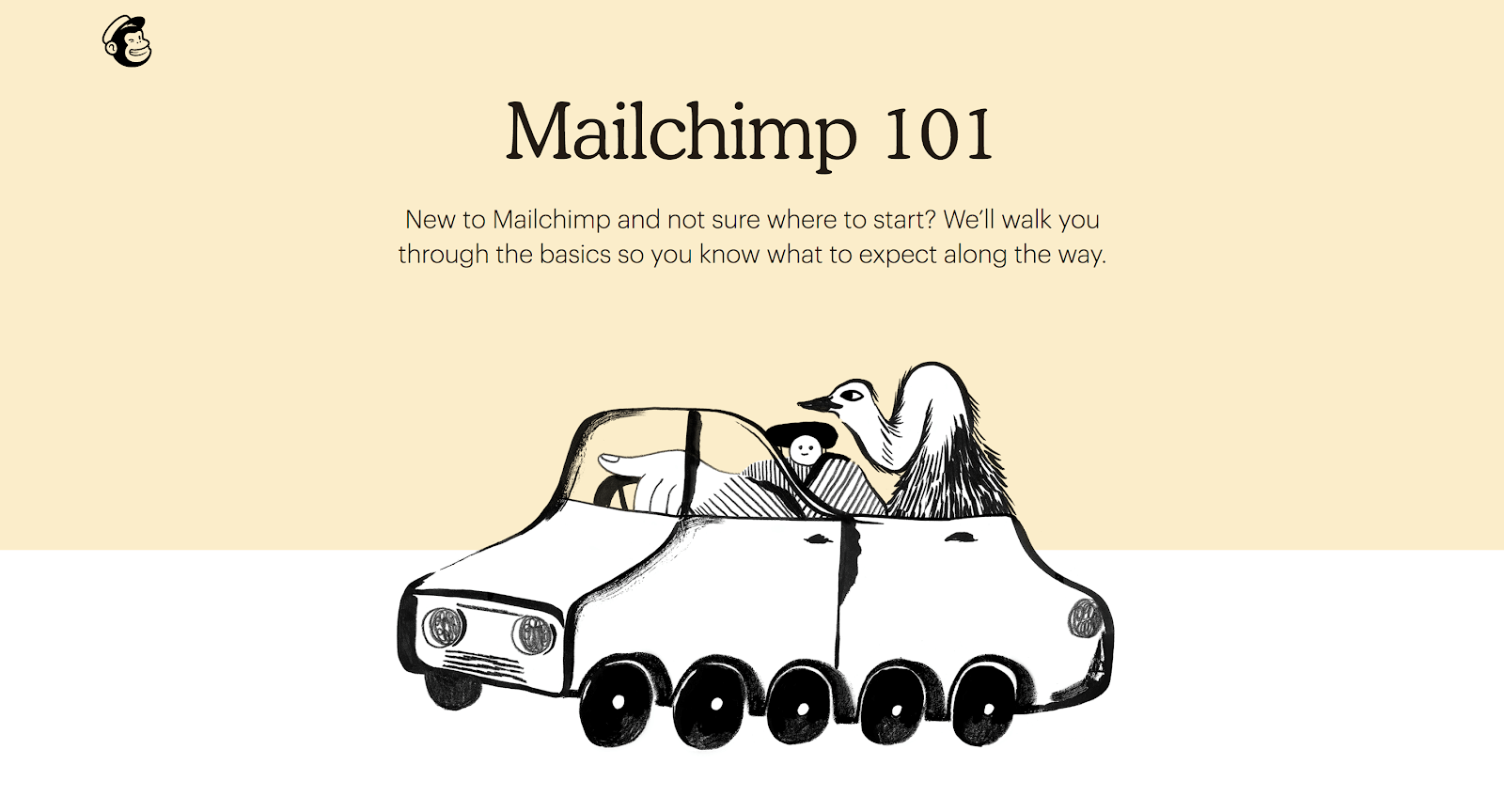 And the Winner Is…
Sendinblue. Even with Sendinblue's Free plan, you can get support over the phone and live chat. You can also enjoy email support, well, forever. Mailchimp does offer extensive resources like a blog and tutorials, but that doesn't beat working with a real, live person. Plus, Sendinblue offers its own thorough knowledge base, too.
Mailchimp vs. Sendinblue: Only One Winner
The verdict is in.
Is Sendinblue one of the leading Mailchimp competitors? Or does Mailchimp come out on top?
In my opinion, Sendinblue is the overall winner. Mailchimp did win one of the five categories in this article, but Sendinblue simply offers a better email marketing solution. Best of all, you can use it for free.
Mailchimp gives you some brilliant tools, such as its robust CRM. In fact, it has slowly become more than email marketing software — it's grown into a full marketing platform, and it also has a free plan. But if we focus solely on email marketing, it can't quite match Sendinblue.
Let's review how the two email marketing platforms compare.
Pricing
Based on how many emails you send; all plans allow for unlimited contacts
Based on list size; plans have monthly email send limits
Email marketing automation
Robust automation tools, including transactional emails, visual workflows, and SMS marketing
Basic automation features, like trigger messages and multi-step email series
Email creation and design
Smooth drag-and-drop editor, 70+ email templates, and thorough email previews
100+ email templates and easy-to-use email editor, but the design lacks customization
Customer support
At least 60 days of phone, chat, and email support for all plans, plus an extensive knowledge base
Guides and tutorials, but live support is reserved for more expensive plans
List management and growth
You can organize audiences into lists and apply filters
You can segment and tag users, and deeply analyze contact data to grow your list
If you're looking for an email marketing software that provides robust automation features, stunning email creation, and growth-friendly pricing and support, look no further than Sendinblue.