These days' mobile phones are an important part of day-to-day living; they can help with simple tasks and general management. Therefore it makes perfect sense for a website builder like Jimdo to create an app that helps its users to edit, view and manage their site whether they are on the train, in a cafe or sat in a waiting room.
Today we want to take a closer look at what Jimdo offers in their app, and why people are raving about this fairly new app that only hit the app stores towards the tail-end of 2013. Grab yourself a cup of coffee, put your phone on silent and let's take a 10 minute break…
The Jimdo Benefits
I think the biggest positive of the Jimdo app, which puts it well ahead of its competitors is a unique little feature, which I am about to tell you about.
You see, Weebly also offer their own version of an app, and for those of you who have already used the Weebly app will find it pretty restrictive on what you can achieve on it. You can edit and post new blog articles and that's about it.
Jimdo really come into their own here because you can manage and edit you entire small business website from the app. Whether you need to make a quick change, drag-and-drop in a new feature, setup a new product page, or just add an image – with Jimdo it's a piece of cake.
The app also offers some handy site stats which include how many visitors and page views your site and it's sub-sections have received – a great feature for looking deeper into site performance which then can then help build up better conversion rates and user-friendly pages.
Installing Jimdo on iOS
Whether you have an iPad or an iPhone the installation process is simple. Tne app is free of charge so can be downloaded without worrying about how much you need to pay, and it also comes in over 10 languages.
Just follow these steps:
Head over to the iTunes store on your iPad, iPhone or desktop. Here is quick link to the Jimdo app for your convenience.

If you are browsing on your computer you will need to click the view in iTunes button: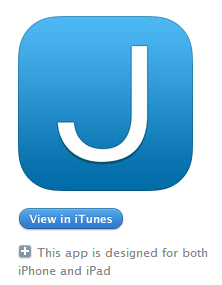 From here you can download the app, and then open it once it has finished installing.
The Jimdo Video Guide
If that's not enough to get you excited about this fully functional app then I thought I would finish by showing you the official Jimdo video, where they show you the true potential of using the iOS app.
The video is just under 3 minutes long and takes you through certain processes that can be completed by using the app – from deleting pages, to adding new pages. It's definitely worth the watch. Visit Jimdo