GetResponse comes with affordable options for all kinds of marketers. By picking the plan with the right balance of features and cost, this email marketing service can add a ton of value to your business.
And, if you take a look at our
GetResponse coupons
, you can save yourself some money too. As an email marketer and digital agency owner, I'm always on the lookout for the best value automation tools for my clients and my own business. I was eager to test GetResponse so I could see which plans offer the right mix of features for various business types and sizes – from entrepreneurs to larger businesses. Read on to see which GetResponse pricing plans are worth the investment to ensure you choose the right marketing automation tool for your business.
GetResponse Features & Pricing Overview
Great Value for Money – But Only If You Pick the Right Plan
When compared to other email marketing tools, GetResponse's pricing options seem pretty fair.
As is the case with most top competitors, such as
Sendinblue
and
AWeber
, GetResponse offers a free plan. That aside, I found that most of GetResponse's paid plans come with more advanced features. If you want to test the platform's advanced features without committing to a paid plan, you can take advantage of the
premium 30-day trial
.
 You can try any plan – aside from the enterprise option – at no cost
, and you don't even have to enter your payment details. Watch out for some restrictions, however. You can only add 1,000 contacts, landing pages support just 1,000 visits, and webinars accommodate up to 10 attendees. You can pay for a monthly GetResponse subscription, but the platform offers excellent discounts if you pay in advance for a long-term plan.
 You can save 18% by signing up for a 12-month subscription or 30% if you purchase a 24-month plan
. No matter how you opt to pay, you can choose from
four plans
 designed for growth-oriented organizations, small businesses, and marketing pros. Base-level GetResponse pricing starts with a list size of 1,000, and the cost goes up as your number of subscribers increases.
Here's where the math can get tricky: GetResponse counts every subscriber on every list.
 If you add the same contacts to multiple lists for segmentation purposes, each counts as a subscriber. Because you can also add on features for an extra fee, the costs can add up quickly. To make sure you don't overpay, it's important to understand what each plan includes.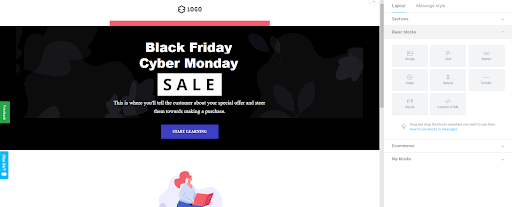 GetResponse's free plan
comes with some noticeable limitations. Still, it's a decent choice for small businesses and new marketers who're just looking for a fast and efficient way to send out emails. With the "Free-forever" plan, you'll gain access to GetResponse's 100+ templates, and you'll also be able to design beautiful newsletters with the platform's intuitive visual editor.
Although you can send an unlimited number of emails for free, you can't exceed the 500 subscriber limit.
Some other features available with the free plan include basic click tracking, Custom HTML, sign-up forms, pop-ups, one active website, and one landing page.
Many advanced features aren't available to free users.
Autoresponders, segmentation, and automation are locked behind paid plans. You can't integrate with third-party apps, and there's no A/B testing. Support is also extremely limited, and it only comes in the form of an extensive knowledge base available on the website's Help Center. If you're new to email marketing or trying to get your business online,
GetRespone's free plan isn't a terrible choice
. That said, you'll have to consider upgrading to a premium plan once your business starts growing. If you're looking for the best free deal out there,
I recommend you check out Sendinblue
. Don't forget to check out our
best free email marketing tools article
for more options.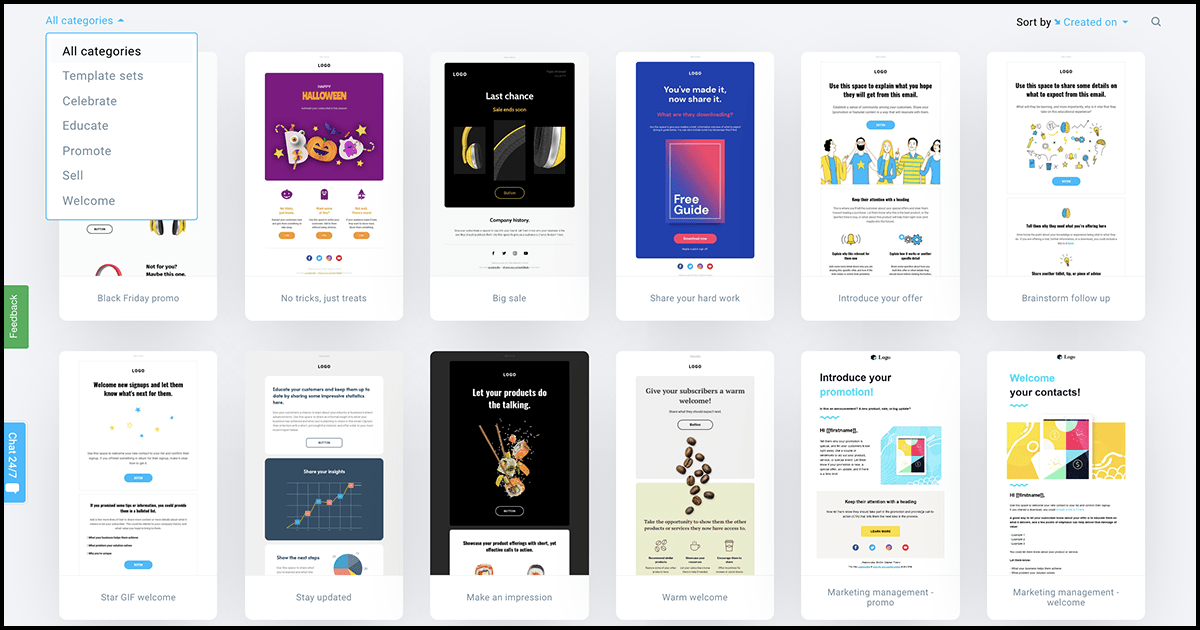 The Basic plan is a significant step-up from the free plan
. You'll find more than 100 responsive email templates and 2,000+ app integrations with Zapier, which is great for streamlining marketing tools. With the Basic plan, you can also set up a simple e-commerce store and attract new customers with Facebook Ads, as well as create unlimited landing pages for lead generation. Its advanced automations, landing pages, and e-commerce features mean the Basic plan is ideal for small businesses or entrepreneurs –
as I found when I was testing it for my in-depth GetResponse review
. Although this plan includes lead funnels designed to enhance prospecting efforts, it allows just one sales funnel and you can't access webinars.
If you need to automate your sales process or produce webinars, I'd recommend upgrading to the Plus plan.  
Basic Plan Pricing
| | | | | |
| --- | --- | --- | --- | --- |
| Contacts | Monthly price | Annual price | Price per year if paid annually (18% discount) | Price per year if paid biennially (every two years with 30% discount) |
| 1,000 | $15 | $180 | $147.60 | $126 |
| 2,500 | $25 | $300 | $246 | $210 |
| 5,000 | $45 | $540 | $442.80 | $378 |
| 10,000 | $65 | $780 | $639.60 | $546 |
| 25,000 | $145 | $1,740 | $1,426.80 | $1,218 |
| 50,000 | $250 | $3,000 | $2,460 | $2,100 |
| 100,000 | $450 | $5,400 | $4,428 | $3,780 |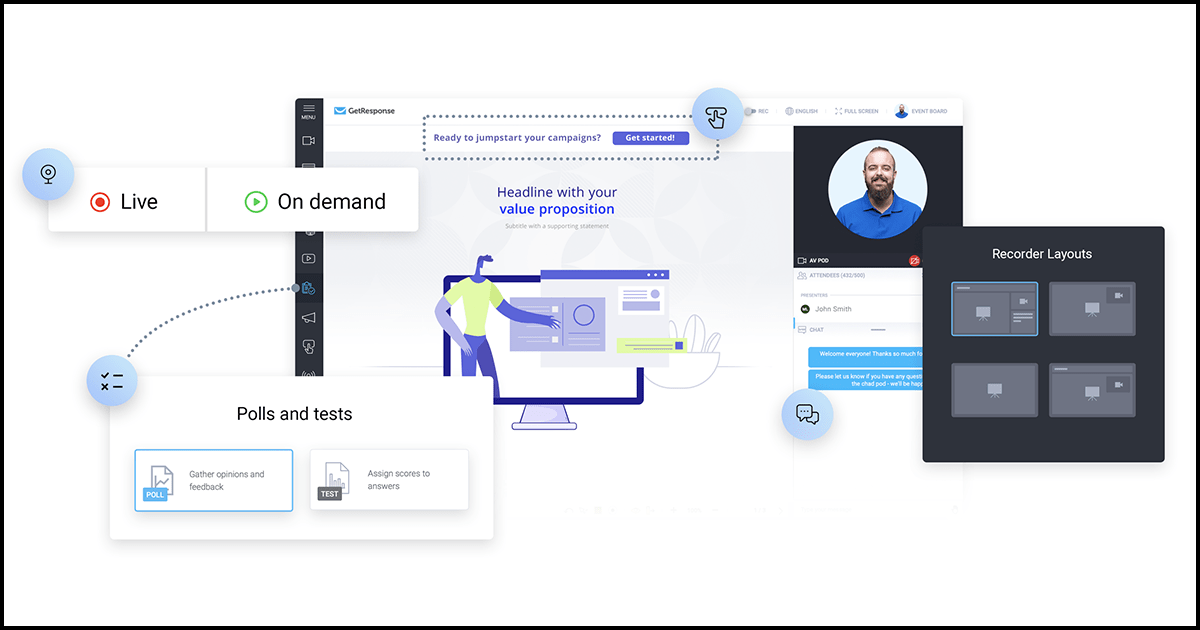 The Plus plan has all the Basic features, as well as several extras.
GetResponse webinars are included, and you can host unlimited live events with up to 100 attendees
. You can also create webinar funnels, which let you automatically follow up with attendees via email sequences or social ads. While you can't create automations from scratch on the Basic plan, the
Plus plan
 has a much more flexible automation builder. GetResponse's mid-tier plan also has sales funnels and automatically scores contacts as you engage with them.
These advanced sales features make the Plus plan the best choice for small or mid-size businesses with a strong focus on sales automation.
It does have some key limitations, though.
You can only create five sales funnels and five custom automations, and the small team size (only three users) may not be enough for bigger companies.
If you need to be able to create more automations, and you need space for more users, I'd suggest upgrading or considering another email marketing service's mid-tier plan.
ActiveCampaign's Plus plan
 allows you to have up to 25 users.
If you only need basic automation, I would consider AWeber's free plan which gives you just that, but also allows you to have unlimited users.
Plus Plan Pricing
| | | | | |
| --- | --- | --- | --- | --- |
| Contacts | Monthly price | Annual price | Price per year if paid annually (18% discount) | Price per year if paid biennially (every two years with 30% discount) |
| 1,000 | $49 | $588 | $482.16 | $411.60 |
| 2,500 | $59 | $708 | $580.56 | $495.60 |
| 5,000 | $79 | $948 | $777.36 | $663.60 |
| 10,000 | $95 | $1,140 | $934.80 | $798 |
| 25,000 | $179 | $2,148 | $1,761.36 | $1,503.60 |
| 50,000 | $299 | $3,588 | $2,942.16 | $2,511.60 |
| 100,000 | $499 | $5,988 | $4,910.16 | $4,191.60 |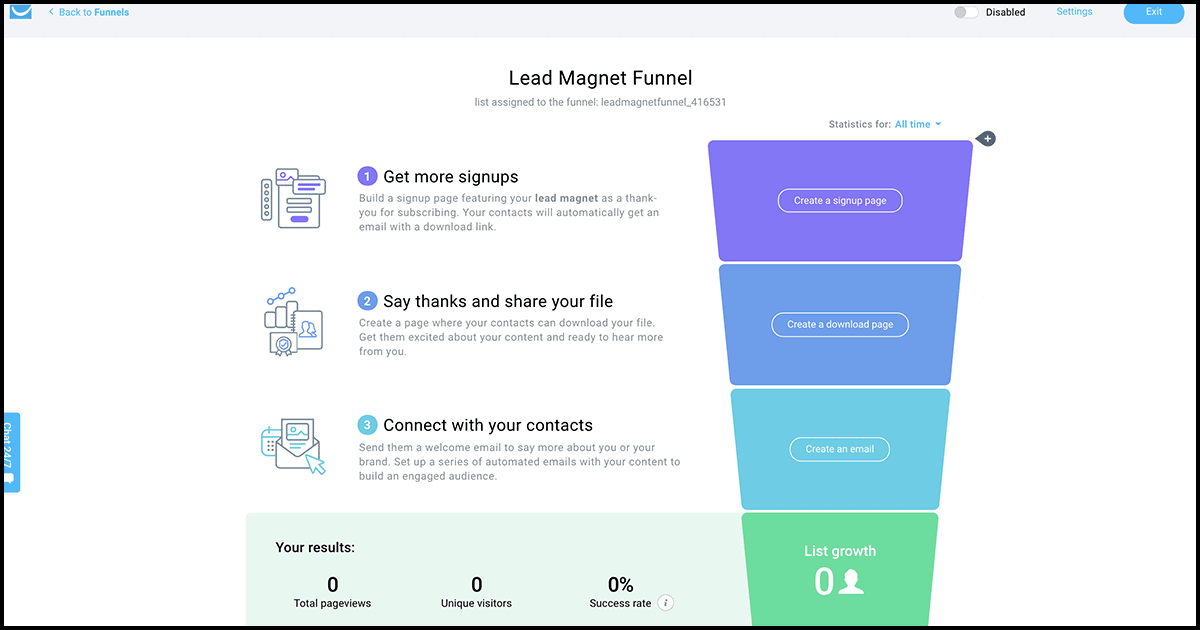 With the Professional plan, you can create unlimited lead, sales, and webinar funnels.
 Webinars are capped at 300 attendees, but you're allowed both paid webinars, which allow you to accept payment from attendees, and on-demand webinars, which allow attendees to view the webinar any time, even long after the recording. The
Professional plan
 also has an unlimited automation builder, which lets you truly customize your workflows. This plan allows up to five team members.
With its increased capacity and unlimited offerings, the Professional plan would be best for mid-size businesses with complex sales and marketing needs.
Despite its high-level features and unlimited funnels, the Professional plan might not have the personal touch that some larger businesses need.
For dedicated support or one-on-one consulting, I'd recommend checking out the Max plan instead.
Professional Plan Pricing
| | | | | |
| --- | --- | --- | --- | --- |
| Contacts | Monthly price | Annual price | Price per year if paid annually (18% discount) | Price per year if paid biennially (every two years with 30% discount) |
| 1,000 | $99 | $1,188 | $1,448.78 | $831.60 |
| 2,500 | $119 | $1,428 | $1,170.96 | $999.60 |
| 5,000 | $139 | $1,668 | $1,367.76 | $1,167.60 |
| 10,000 | $165 | $1,980 | $1,623.60 | $1,386 |
| 25,000 | $255 | $3,060 | $2,509.20 | $2,142 |
| 50,000 | $370 | $4,440 | $3,640.80 | $3,108 |
| 100,000 | $580 | $6,960 | $5,707.20 | $4,872 |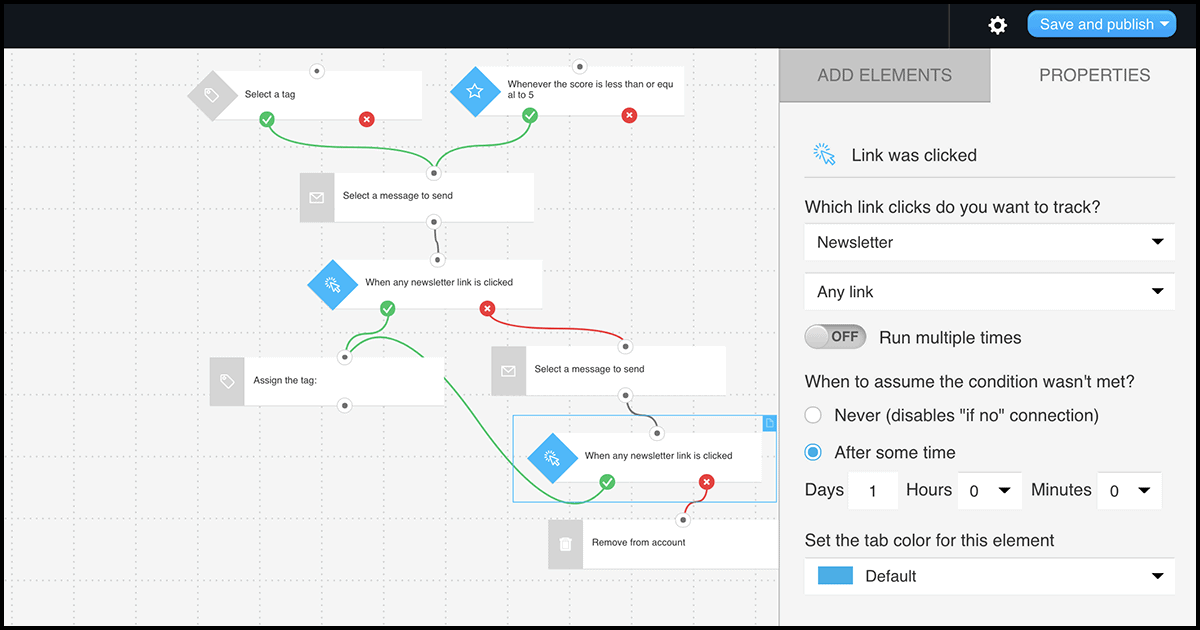 The Max plan has all the features in the Professional plan, with the addition of 500-person webinars and 10-person teams. The main difference is in its personalized services:
this plan comes with dedicated support, a dedicated IP address, and deliverability and email campaign consulting.
 After all, if you're going to invest in an enterprise-level plan, you want a tailor-made solution for your team. The Max plan would be a good option for large organizations with extensive sales and marketing needs. If your organization just needs unlimited automations and funnels though, I'd stick with the
Professional plan
 instead.
For the average small business, you won't get nearly enough value to make this plan worth your money.
Max Plan Pricing
For custom pricing, you'll need to contact GetResponse.
GetResponse Pricing Plan Comparison Table
Plan
Minimum price (1,000 contacts)
Users
Webinars
Best Features
Free

$

0

1

✘

Unlimited sends to 500 contacts
Basic

$

19.00

1

✘

Unlimited landing pages
Plus

$

59.00

3

✔

Webinars and webinar funnels
Professional
$99
5

✔

Unlimited funnels and automations
Max
Custom
10

✔

Dedicated support and consulting
GetResponse Cancellation & Refund Policy
No Refunds – but Canceling Is Easy
If you're considering signing up for an annual plan with the option to cancel later on if GetResponse doesn't work out for you, I have bad news.
GetResponse doesn't offer refunds or a money-back guarantee.
 Although you can cancel your plan at any time, you can't get your money back once you pay for the upcoming month or year. Unless you're positive you want to commit for a year or longer, I recommend signing up for a rolling monthly plan only.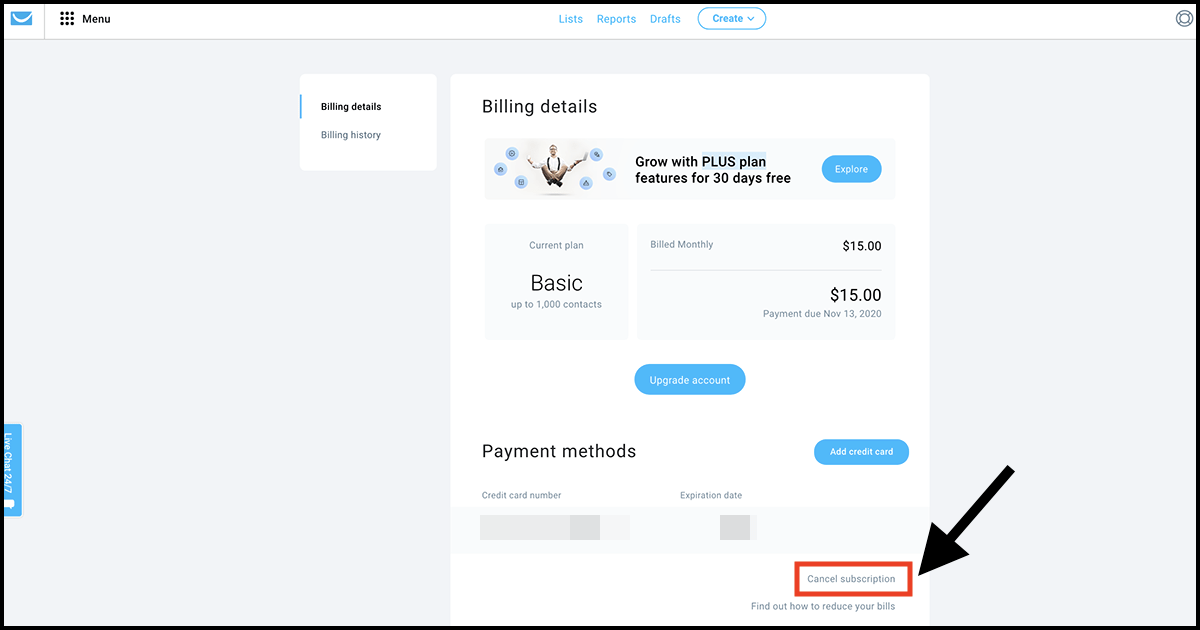 Here's the good news. Canceling my GetResponse plan was straightforward and took less than a minute. I turned down a few incentives to keep my account open, and
the site warned me that I would lose my data immediately
. After completing the cancellation process, I received a final email confirmation.
Alternatives to GetResponse
Although GetResponse offers advanced automation features and reasonable pricing, it won't meet the needs of every organization. 
For example, the free plan is fairly limited, and the analytics suite leaves a lot to be desired.
To get the marketing tools you need for the price you want, consider these alternatives:
Sendinblue's Free plan: If you want to grow your list and automate your marketing efforts for free, I recommend this plan. You get access to email and SMS marketing (you do have to purchase credits if you want to send out text messages), as well as chatbots and segmentation. It also includes unlimited contacts, a sales CRM, and automated workflows at no cost.
Benchmark's Pro Plan: If you want access to some of the most advanced marketing automation features but for a fraction of the price you'll pay with GetResponse, I recommend Benchmark's Pro plan. For 1,000 contacts, you'll only pay

$

13.00

 per month, and you'll also get premium support and advanced reporting including heatmap reports.
Constant Contact's Email Plus plan: If you want to add a wider range of marketing tools to your automation platform (and an option that's cheaper than GetResponse's Plus plan), consider Constant Contact's Email Plus plan instead. With this plan, you get email and marketing automations as well as an e-commerce platform, a website builder, and event management. You can also plan and coordinate all your channels with Constant Contact's marketing calendar.
GetResponse Delivers Tons of Value for Growth-Focused Businesses
If you're an entrepreneur or with a growth-focused organization and you need to automate your sales and marketing efforts, GetResponse would be a smart investment.
The
Professional plan
 offers nearly unlimited access to automation tools and can accommodate a reasonably sized team.
But for freelancers or small businesses that just need a good email marketing service, GetResponse could be overkill.
The webinar options, sales funnels, and e-commerce solutions might be more than what you need, in which case the service would provide limited value. If your needs are simple, I'd recommend starting out with an alternative email marketing service's free plan and scaling up when you're ready. Two of my favorites are
Sendinblue
and
AWeber
.
If your needs are simple and you don't mind the extra features, I recommend you start with the free plan and then scale up as needed. If you're on a budget and want to get more bang for your buck, you should definitely check out Sendinblue's free plan or AWeber's free plan.
FAQs
How much does GetResponse cost?
GetResponse pricing depends on the size of your list, the features you choose, and how often you pay. The free plan comes with just 500 subscribers, and many advanced features are unavailable. The Basic plan costs

$

0

per month for 1,000 subscribers, or you can reduce the cost to $12.30 per month by signing up for an annual plan. If your contact list includes 100,000 subscribers, you'll pay $580 per month for the Professional plan. If you're looking for better alternatives, I'd recommend looking at our top email marketing services. AWeber and Sendinblue both offer excellent free plans.
Is GetResponse free?
Yes, GetResponse does have a forever-free option, but it comes with significant limitations. That said, you can sign up for a 30-day premium trial to test out the paid plan of your choice (without providing payment details), or you can use one of our GetResponse coupons to save money on a paid plan.
Which is better – GetResponse or AWeber?
Whether your business needs simple email marketing or more advanced options like autoresponders, segmentation, and landing pages, GetResponse is superior to AWeber. GetResponse also has a CRM and conversion funnels to help you automate your marketing efforts. Check out our complete guide to email marketing services to make your comparison easier.
Which is better – GetResponse or MailChimp?
Some email marketers compare GetResponse vs. MailChimp, but the former is a better choice for most. With its advanced workflows, e-commerce tools, and conversion funnels, GetResponse offers more automation capabilities for growth-minded businesses.