GetResponse isn't the cheapest email marketing service (EMS) provider out there, but it's powerful and can really help you reach more customers — and make more money! Maybe you've already seen great reviews about its impressive email marketing workflow management, and its excellent webinar services.
But of course, there are other factors to consider:
Which GetResponse pricing plan truly offers the best value for your money?
Are there any hidden costs?
Is there a way to save money on your GetResponse plan?
Do other platforms offer a better deal for the features you want?
Luckily for you, we've done all the research you need. Read on to find out whether GetResponse is really worth your time and money, what you can get at each price point, and whether you should consider other EMS providers.
Can You Get GetResponse for Free?
Sorry — no, you can't. But you can try it out without paying a cent.
GetResponse offers a 30-day free trial.
While you can send quite a few emails in 30 days, that's not always enough time to get real results from A/B testing. Constant Contact (read the full review) offers a longer testing period, with a 60-day free trial (as long as you're based in the U.S.).
If you're looking for a much more budget-friendly option, you might want to consider Benchmark Email (read the full review), which offers an actual free plan.
That said, sometimes you get what you pay for, so let's look at GetResponse's pricing plans and see how they compare.
GetResponse Basic – Unlimited Sends, and Send Time Optimization
GetResponse's cheapest plan, Basic, includes unlimited email sends. You can send autoresponders and email newsletters, and create emails by importing RSS feeds. It also includes landing pages you can use with a custom domain, and you can perform split-tests for those landing pages.
You even get access to GetResponse's Perfect Timing feature, which sends your emails at the time your subscribers are most likely to open them.
This is a powerful feature, and GetResponse is the only provider that offers it in its most basic package. With Mailchimp, you'll have to upgrade to the Standard package to get send time optimization, and neither AWeber nor Constant Contact offers anything similar.
GetResponse Basic also allows you to send drip campaigns, create social ads, tag contacts, and use pop-ups.
So, is GetResponse Basic worth your time and money? If you need to optimize send times for a gazillion emails, this is a great deal. If your email marketing strategy is more modest, and you don't need the optimization, Mailchimp is a better option at the start.
GetResponse Essential – Great Solution for Webinar Marketing
This plan adds a few useful features. For example, you can use automated funnels to help you win leads and sales, and to entice people to sign up for webinars.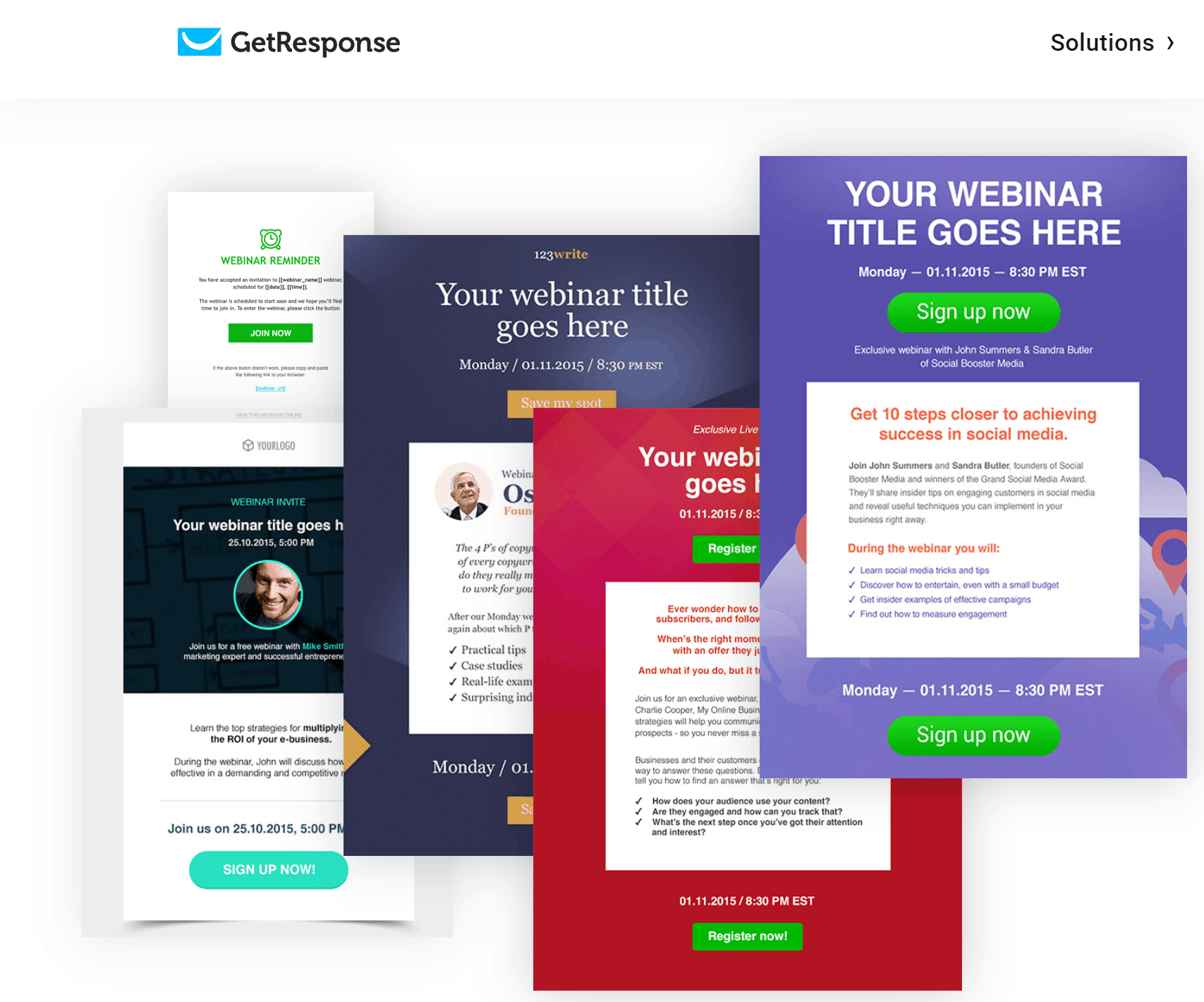 You can run unlimited live webinars via GetResponse, with three hours of recording storage. Keep in mind that although there are no limits to the number of people who can register, attendance is capped at 100.
Webinars are a great marketing tool. While AWeber offers GoToWebinar integration, GetResponse is the clear winner here because webinar marketing is built into the platform.
The Essential plan also gives you e-commerce features like custom order forms, digital product delivery, and PayPal, Etsy, and Stripe integration. It includes landing page and auto-funnel templates, and you can use a team of three to manage your email marketing.
This plan also gives you access to the GetResponse CRM for better contact management. With this feature, you can easily identify contacts at different stages (such as leads and customers) so that you can tailor your marketing accordingly.
Should you upgrade to the GetResponse Essential Plan? If webinar marketing is an essential part of your strategy, go for it.
GetResponse Professional – Excellent Workflow Customization
GetResponse's Professional plan will help your business become an email marketing powerhouse.
You get a lot of improvements to webinar functionality. For example, you can have triple the number of webinar attendees (300) and double the hours of recording storage (six).
This plan also improves workflow management by giving you custom workflows and a visual editor to create them. These are some of GetResponse's strongest features, and definitely some of the reasons why GetResponse gets such great reviews.
You can easily drag and drop condition blocks, for example, to set criteria to identify certain subscribers, and to choose what happens for those who meet that criteria.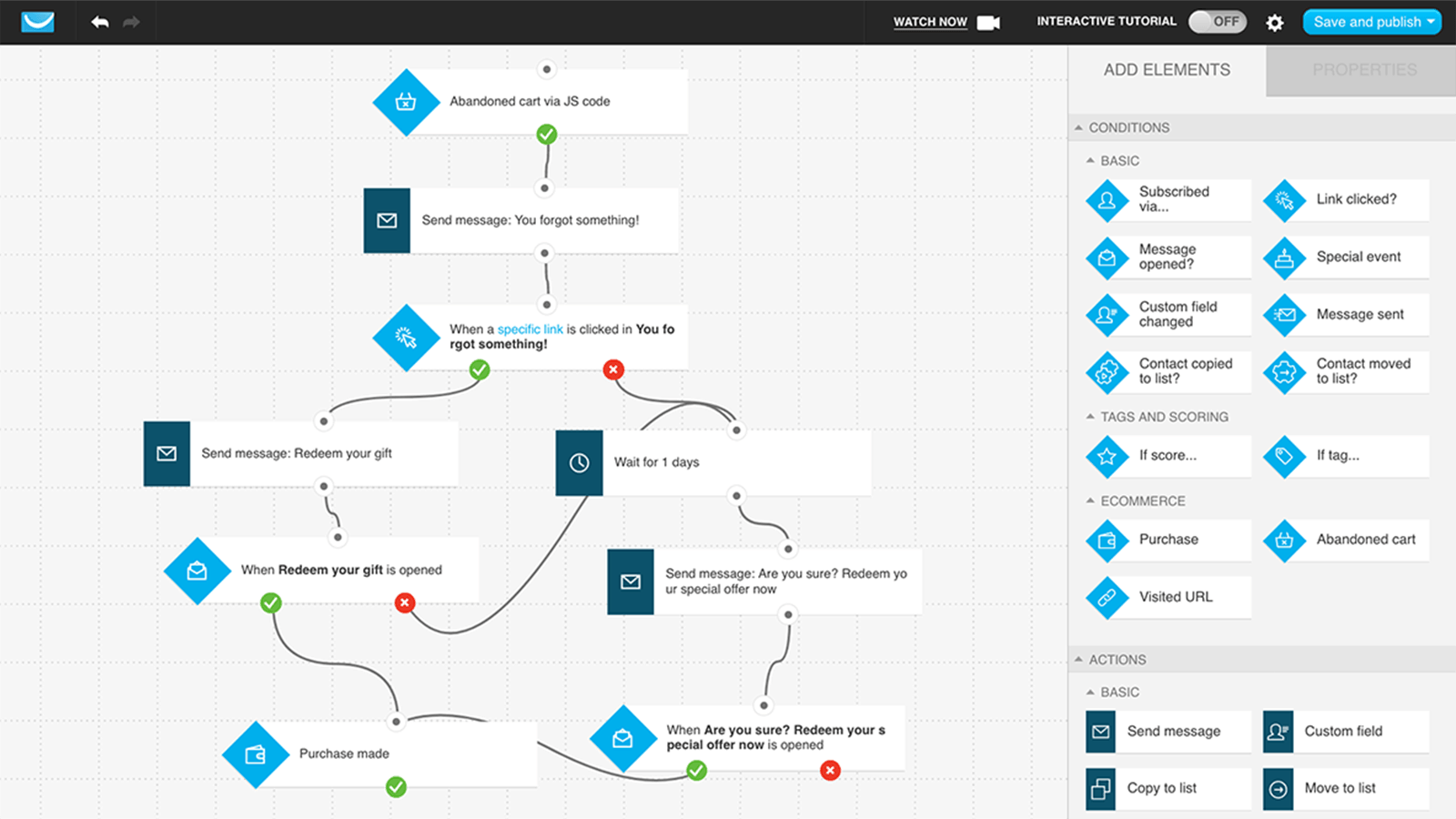 You can also segment and filter contacts via the workflow to make your marketing even more relevant.
If you need e-commerce features, you'll appreciate the option to send abandoned cart emails so that you can win back customers and improve revenue.
GetResponse Professional also includes custom DKIM, which is one of the email authentication protocols that helps your emails reach your subscribers' inboxes. This is essential, especially if you're sending a lot of emails.
So, should you upgrade to GetResponse's Professional plan? Yes, if you need those custom workflows and plan to invite more webinar attendees.
GetResponse Enterprise – Dedicated Support Tailored to You
The Enterprise plan is a good choice if you want an account manager who's dedicated to your email marketing success, and who will provide you with campaign and deliverability consultations. With this plan, you can get tailored advice on your email marketing campaigns.
You can have a dedicated IP address and infrastructure, too. This is your chance to run email marketing exactly the way you want, and the price tag reflects that.
And here are some other Enterprise plan bonuses:
You can have webinars with up to 500 participants, and store up to ten hours of recordings
You can use GetResponse with a team of up to ten people
Should you upgrade? If you're a big business and want personal attention from the GetResponse team, this plan is worth considering.
So, how do the GetResponse pricing plans compare with other leading email marketing software? Let's take a look.
Here's what other EMS providers offer:
Mailchimp has four packages, ranging from $0 to $299 a month, and increasing according to the size of your contact list. Read the full comparison for more information.
AWeber has five packages, ranging from $19 a month for 500 subscribers, to $149 a month for up to 25,000. You can also get a customized quote for bigger contact lists.
Constant Contact has just two packages, starting at $25 or $45 a month, and increasing according to the number of contacts. Want to know more? Read the full comparison here.
A lot of the pricing plans show you the cost for a small email list, but since you obviously want a large, active customer database, you need to know how the prices compare for bigger lists.
Here's a table to help you compare the monthly cost of various EMS providers for lists with 2,500 or 10,000 contacts:
| | | |
| --- | --- | --- |
| | Up to 2,500 contacts | Up to 10,000 contacts |
| GetResponse |  $25 | $165 |
| Mailchimp | $29.99 | $299 |
| AWeber | $29 | $69 |
| Constant Contact | $45 | $125 |
What Will Email Marketing REALLY Cost? – Pricing Plan Comparison
Believe it or not, it's pretty difficult to compare email services based on price alone, as all EMS providers offer different packages and price points.
Get Response pricing is transparent and straightforward — no hidden costs! It includes four packages:
Basic – $15/month
Essential – $49/month
Professional – $99/month
Enterprise – $1,199/month
Note that these are starting prices for a list of up to 1,000 contacts. If you increase the list size, the price goes up.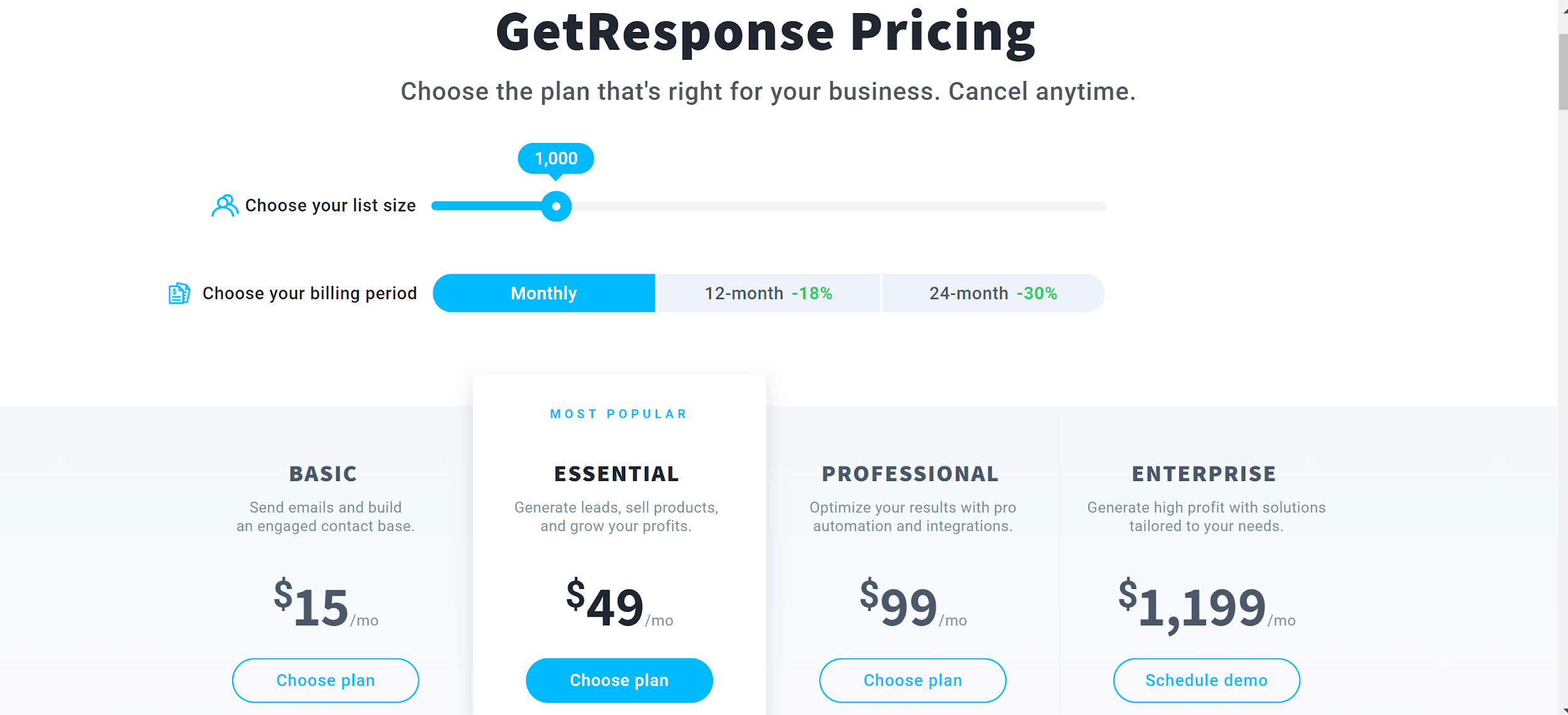 How Can You Save Money?
You can cut the monthly cost of GetResponse by 18% if you pay in advance for a year, and by 24% if you pay in advance for two years. And if you're a nonprofit, you can save 50% on any of the plans.
With Constant Contact, you get a 15% discount for advance payment, and a 30% discount for nonprofits. AWeber offers a similar advance payment discount (14.9%). Nonprofits get three months free, and then a 25% discount.
Mailchimp offers a 15% discount to nonprofits, and you can get a 10% discount for three months when you add two-factor authentication to your account.
Does GetResponse Pricing Work For You?
So, does Get Response pricing appeal to you, or are you looking for other options? Here are my recommendations:
 If you're just getting started with email marketing, then Mailchimp is a clear winner on cost. However, if you want to optimize send times, consider GetResponse Basic.
As your list gets larger, you'll likely find that AWeber is the most cost-effective option.
If you're planning to run webinars, GetResponse offers webinar integration and hosting, so it's your best choice.
And if you're running an e-commerce site, GetResponse's workflow tools and abandoned cart sequences make GetResponse Professional a good choice.
If you want to learn more about GetResponse, check out our expert review.