We put GetResponse's cancelation process to the test, and we are happy to report that it was extremely easy to follow. Here's how we managed to cancel the cheapest GetResponse plan.
GetResponse has a ton of features, but sometimes it's a bit clunky, and the number of features it includes is overkill.
I'm going to walk you through how to cancel your account, and discuss any potential consequences of that.
When you're ready to try out a different email marketing tool, I'd recommend Benchmark Email, which has a more intuitive user interface, along with some powerful email marketing automation.
But first, let's go through how to cancel your GetResponse account.
Quick Guide: Cancel GetResponse Account
If you want to cut right to the chase, here's how to cancel your account (for paid accounts only):
Log in and click Billing in the top right-hand corner of the screen.
Scroll down and click the Cancel subscription link (it's a bit hard to see).
Scroll past your account summary and click the Yes, continue with cancellation link.
Give any feedback you'd like (ten-character minimum), and click the Cancel my account button.
Pass up the discount offer and click the No thanks, please cancel my account link.
Click OK on the browser confirmation popup, and you're done!
At this point, your account will be completely deleted. You'll be logged out and no longer able to log back in.
If you had only a free trial and never upgraded, you have two options. You can just abandon the account, and of course, you'll never be charged. Or, if you want all the data in it to be deleted, you can contact support and request it.
A Detailed Walkthrough of the Cancellation Process
While it's a fairly quick process, there are a few tedious steps in the cancellation process that might be a little confusing.
I'll walk you through each step, with screenshots, so that you can follow along easily.
First, click on your account icon at the top right corner, and click the Billing option in the menu: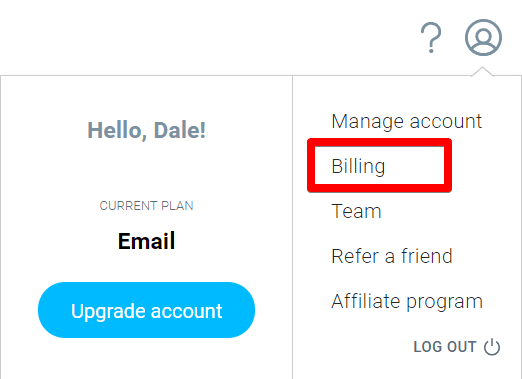 Then, scroll down to the bottom of the short billing page and click the Cancel subscription link.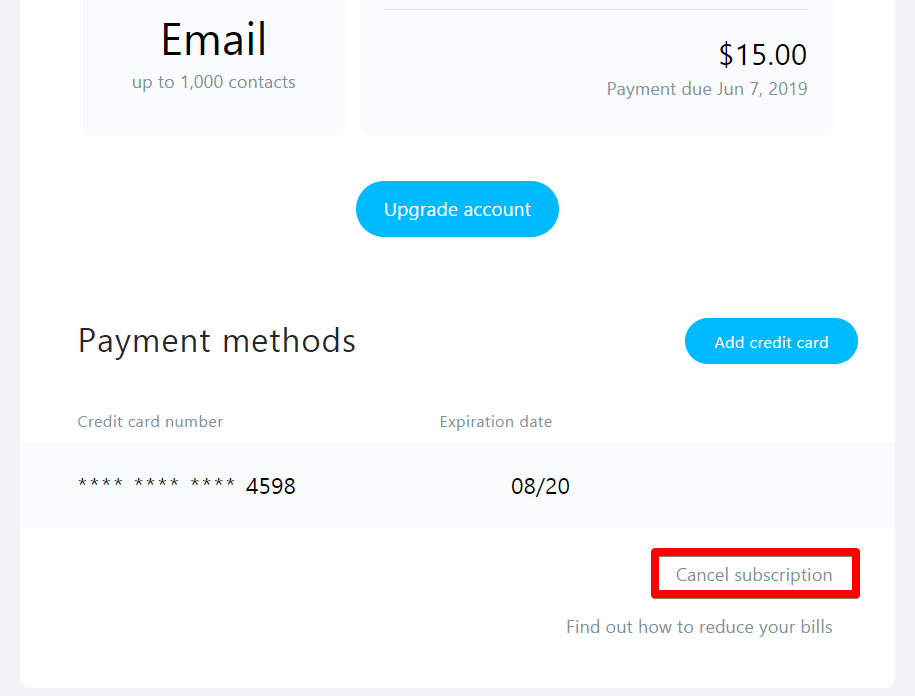 That will take you to a summary page that basically makes sure you're okay with losing any account data (emails, subscriber data, etc.).
Scroll past all of that to the bottom of the page, and click the red Yes, continue with cancellation link.

We're not done yet! You'll be taken to another page where you'll be asked to give feedback about why you're canceling your account.
You have to enter at least ten characters. If you don't want to do that, just copy and paste this: Because I want to.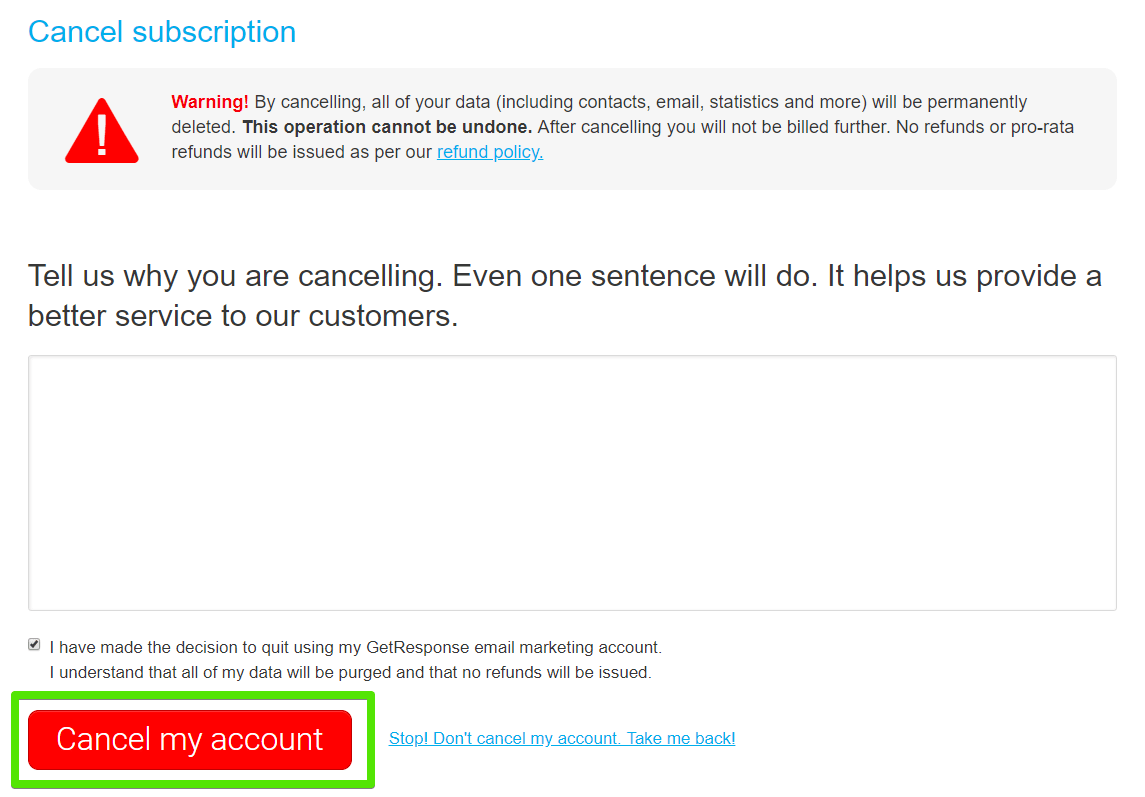 Check the confirmation box below the feedback, and click the Cancel my account button.
Then you'll be taken to yet another page, where you'll be offered a discount of some sort.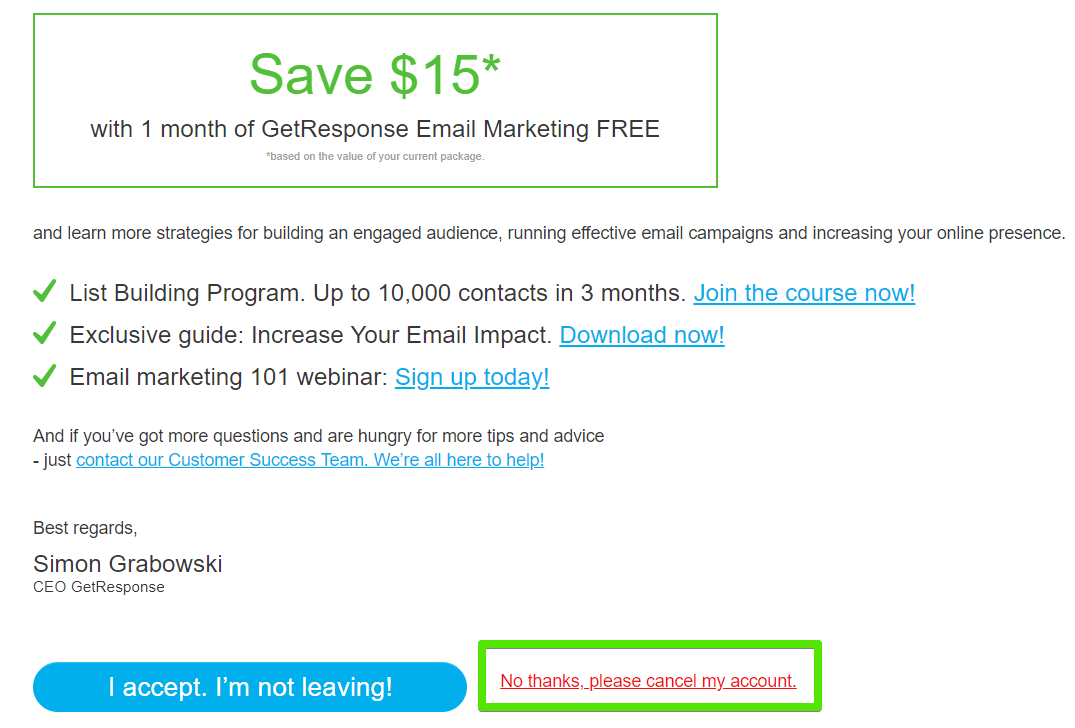 Click the small red link that says No thanks, please cancel my account. A browser confirmation box will appear. Click OK, and you're finally done.
After you do all this, your account will be completely deleted instantly. You won't be able to log in or access any data in it.
I get wanting to retain customers, but that's a pretty tedious process. You also can't export your account data, which is a feature that many other platforms offer.
Beware the No Refunds Policy
The no-credit-card free-trial is amazing.
But GetResponse figures that once you upgrade to a paid account, you should know what you're getting into. That's why there is no refunds policy.
Unfortunately, even if you paid for a year in advance and cancel part way through, you still can't get a refund.
Best GetResponse Alternatives
If you're unsure where to go after GetResponse, here are some options I'd recommend:
How Easy Is It to Cancel a GetResponse Account?
It's nice that you can cancel your account completely online without having to contact support. The entire process takes under ten minutes.
However, it's also a fairly tedious process that requires you to confirm many times that you actually want to cancel your account. There are also a few steps that might cause some confusion, especially if GetResponse is one of the first software tools you've used.