ActiveCampaign isn't cheap. But if you choose the right plan, you can level up your marketing automation efforts without overspending.
And, if you check out our
ActiveCampaign coupons
, you can save yourself some money too. As a digital agency owner, I know how important it is to maximize the value of every investment. That's why I tried out ActiveCampaign myself. I wanted to test the platform firsthand so I could recommend the right plan for my clients. Read on to find out which ActiveCampaign plans offer the best value and which ones aren't worth your money, so you can make a smart investment for your business.
ActiveCampaign Features & Pricing Overview
Great Value for Money – but Only If You Pick the Right Plan
If you're under the impression that ActiveCampaign is expensive, you're not wrong.
Compared to other marketing automation platforms like Sendinblue and GetResponse, ActiveCampaign is one of the highest-priced options available.
Yet because it has one of the most comprehensive feature lists, ActiveCampaign has more automation potential than most other email marketing services. It also offers generous discounts if you pay annually rather than monthly. Altogether, ActiveCampaign offers
four plans
, each with increasingly advanced features.
The platform might seem affordable when you're just getting started, but the price for each plan increases as your contact list grows.
It's critical to choose the plan that has only the features you need – so you don't have to pay extra for functionality you won't use. While there's no free plan, ActiveCampaign does offer a
14-day free trial
. It's not the longest out there, but I found an interesting article in the ActiveCampaign Help Center that said "if you need a little extra time, just let us know!". You don't need to enter any payment details to set up the trial, and it allows you to test the platform with up to 100 contacts and 100 email sends. Plus, the features included match those you get with the
Professional plan
, which is more than I was expecting.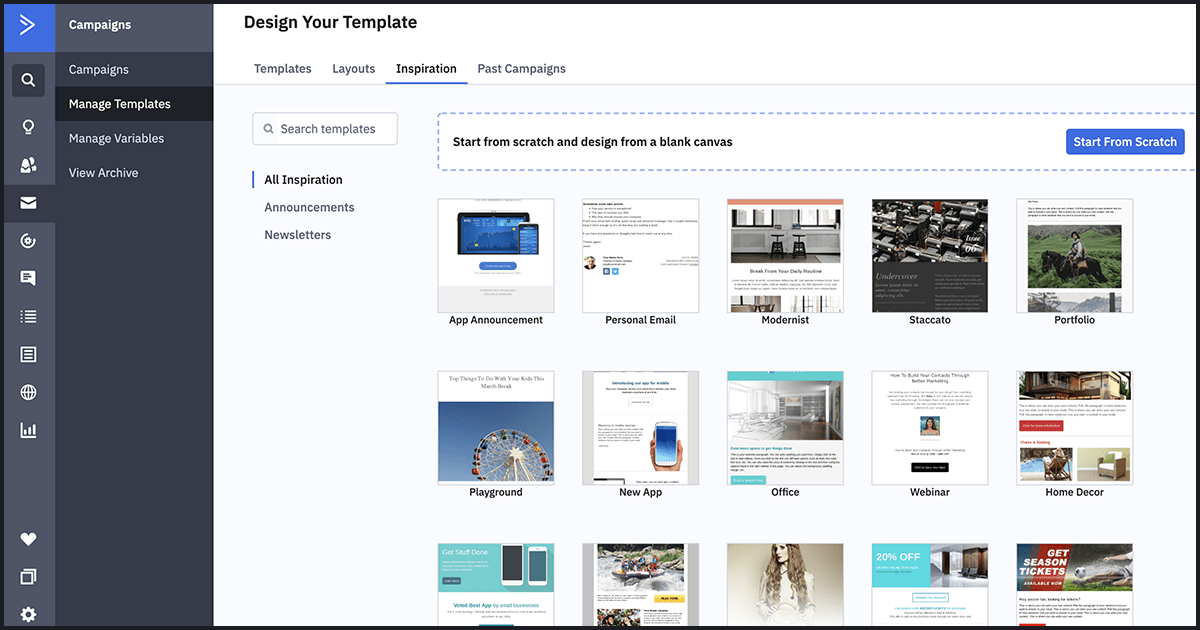 The Lite plan is ActiveCampaign's cheapest option. It includes email newsletters, about a dozen email templates, and subscription forms that would be great for growing your list.
 In addition, it features marketing automations, including 100+ premade "recipes" that can connect to your e-commerce site, social media pages, and other apps. I was also glad to see that the Lite plan gives you access to more than 300 apps.
With its basic automations, 300+ integrations, and support for up to three users, I think the Lite plan would work well for small businesses.
In fact, this is the plan I chose for my business when I was testing out ActiveCampaign –
you can see my in-depth ActiveCampaign review here
. However, this plan lacks a customer relationship management (CRM) tool and channels like SMS marketing and site messaging.
I'd recommend upgrading if you need more marketing channels – or consider a platform that offers a free plan (Sendinblue's free plan is very generous) if you just need basic email marketing and automations.
Lite Plan Pricing
| | | | |
| --- | --- | --- | --- |
| Contacts | Monthly price | Monthly price if paid annually | Price per year if paid annually |
| 500 | $15 | $9 | $108 |
| 1,000 | $29 | $25 | $300 |
| 2,500 | $55 | $45 | $540 |
| 5,000 | $99 | $79 | $948 |
| 10,000 | $155 | $125 | $1,500 |
| 25,000 | $259 | $205 | $2,460 |
| 50,000 | $345 | $275 | $3,300 |
| 75,000 | $425 | $340 | $4,080 |
| 100,000 | $505 | $405 | $4,860 |
If you have more than 100,000 contacts, you'll need to contact ActiveCampaign and request a quote.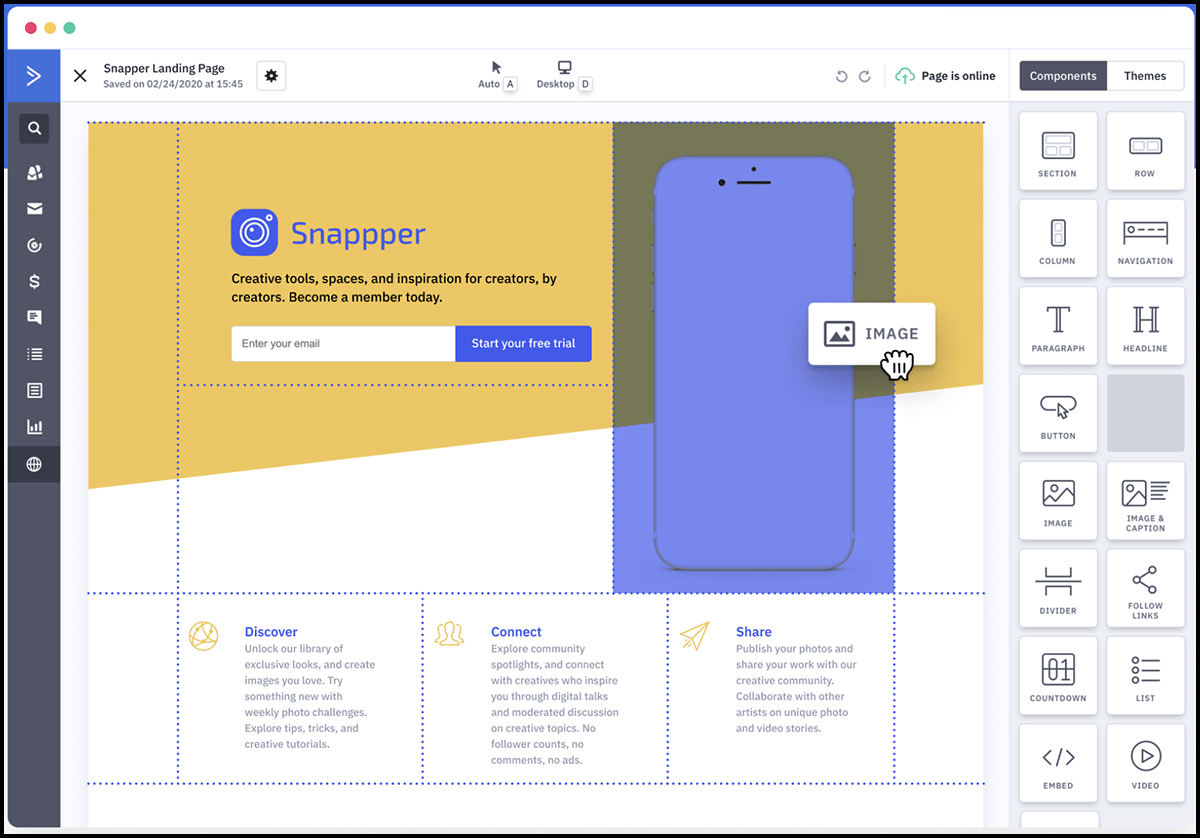 The Plus plan takes things up a notch with a CRM for tracking prospects and lead scoring that allows you to decide which subscribers to prioritize
. It also includes the option to build landing pages to enhance lead generation, and SMS marketing as well. Because marketing automations can get complicated quickly, I like how the
Plus plan
 includes an automations map to help you visualize your workflows. This map would be ideal if you have multiple workflows and more complex automation needs.
Since this plan supports up to 25 users, I think it would be a great choice for mid-size businesses.
Despite its benefits, the Plus plan is missing some more advanced features, such as machine learning technology and site messaging.
If you want to put your sales process on autopilot and potentially increase your revenue significantly, I'd recommend upgrading.
Plus Plan Pricing
| | | | |
| --- | --- | --- | --- |
| Contacts | Monthly price | Monthly price if paid annually | Price per year if paid annually |
| 500 | $70 | $49 | $588 |
| 1,000 | $70 | $49 | $588 |
| 2,500 | $125 | $99 | $1,188 |
| 5,000 | $169 | $135 | $1,620 |
| 10,000 | $249 | $199 | $2,388 |
| 25,000 | $399 | $319 | $3,828 |
If you have more than 25,000 contacts and want to sign up to the Plus plan, you'll need to contact ActiveCampaign and request a quote.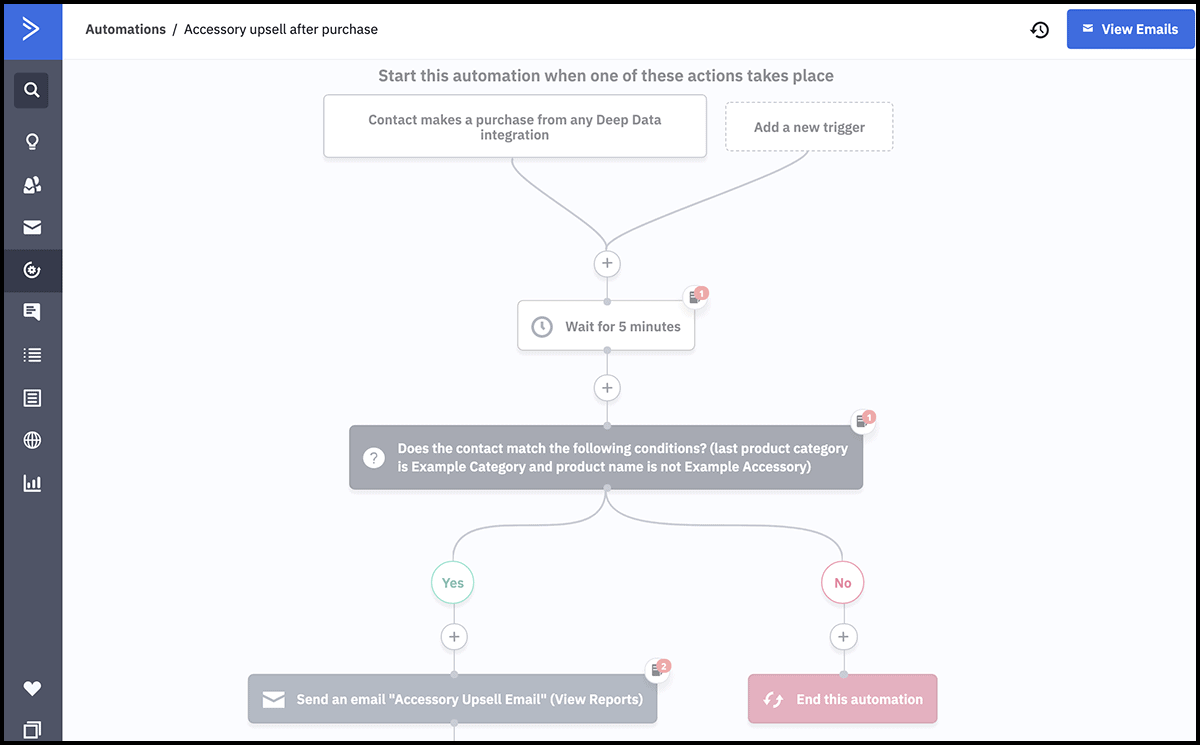 The Professional plan adds on chatbots, which are a great way to connect with your website visitors and offer them a personalized experience.
 It also uses machine learning technology to help you send the right content to leads at the ideal time. This plan's split automations and conversion attribution reports would be ideal for optimizing your marketing efforts. This plan features ActiveCampaign's most advanced technology, so I was glad to see it includes several training sessions. After all, it isn't easy to integrate new tech into your existing stack, even if you have a dedicated IT team. The automation strategy consultation will start you off on the right track, while the monthly training sessions help you master new aspects of the platform and maximize its value.
With its high-level features, one-on-one consultations, and support for up to 50 users, the Professional plan would be ideal for mid-size businesses.
But while the Professional plan has almost anything a mid-size business would need for marketing automations, it doesn't have much room for customization.
If your business needs a tailor-made solution, I'd recommend the Enterprise plan instead.
Professional Plan Pricing
| | | | |
| --- | --- | --- | --- |
| Contacts | Monthly price | Monthly price if paid annually | Price per year if paid annually |
| 500 | $159 | $129 | $1,548 |
| 1,000 | $159 | $129 | $1,548 |
| 2,500 | $159 | $129 | $1,548 |
| 5,000 | $239 | $199 | $2,388 |
| 10,000 | $349 | $279 | $3,348 |
| 25,000 | $479 | $599 | $7,188 |
If you have more than 25,000 contacts and want to sign up to the Professional plan, you'll need to contact ActiveCampaign and request a quote.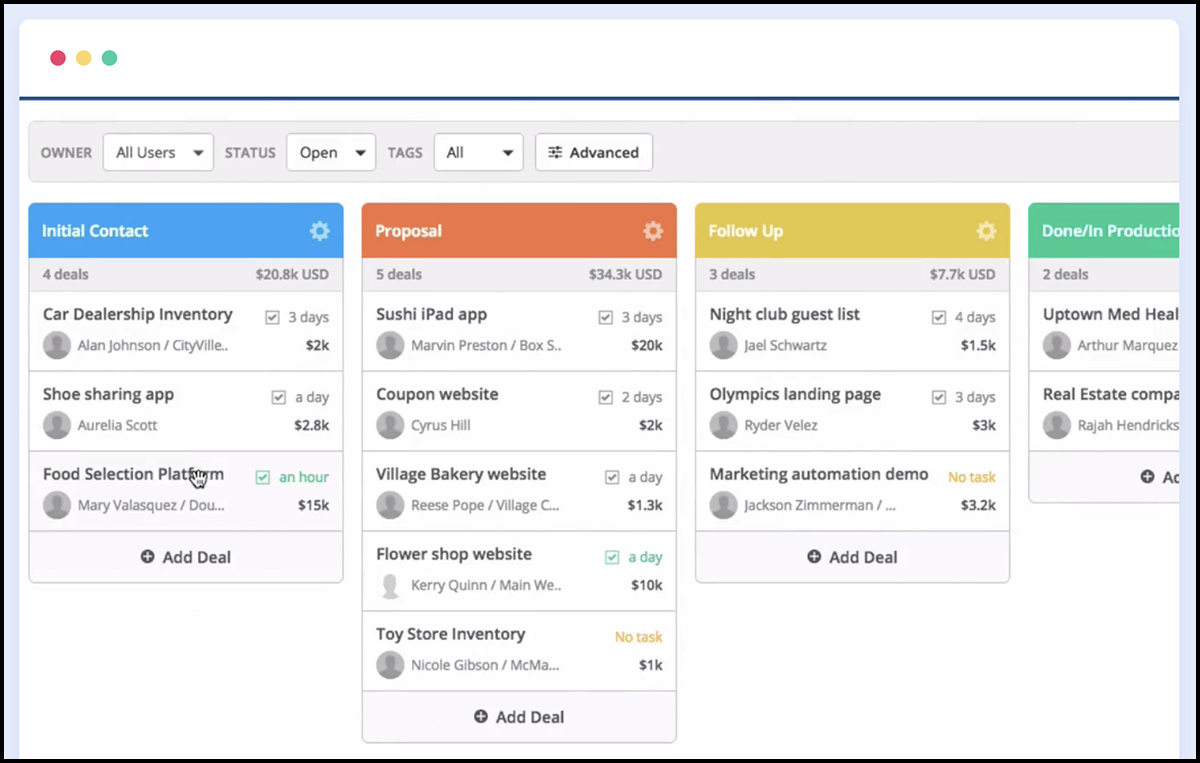 The Enterprise plan includes several personalized features, such as custom reporting and a custom domain.
 It also comes with design services and social data, which would be great for mid-size or larger businesses that want to manage more marketing tasks through ActiveCampaign. The Enterprise plan costs about twice as much as the Professional plan, but you get a dedicated account representative, phone support, and unlimited users. 
For most small or mid-size businesses, this plan would be serious overkill. However, these extra benefits would make the Enterprise plan ideal for larger companies that need an all-in-one marketing automation tool and reliable one-on-one service.
Enterprise Plan Pricing
| | | | |
| --- | --- | --- | --- |
| Contacts | Monthly price | Monthly price if paid annually | Price per year if paid annually |
| 500 | $279 | $229 | $2,748 |
| 1,000 | $279 | $229 | $2,748 |
| 2,500 | $279 | $229 | $2,748 |
| 5,000 | $449 | $359 | $4,308 |
| 10,000 | $499 | $399 | $4,788 |
This time, if you have more than 10,000 contacts and want to sign up to the Enterprise plan, you'll need to contact ActiveCampaign and request a quote.
ActiveCampaign Pricing Plan Comparison Table
Plan
Minimum Price (500 contacts)
Users
CRM
Best Feature
Lite

$

29.00

3

✘

Marketing automations
Plus

$

49.00

25

✔

Landing pages & SMS marketing
Professional

$

149.00

50

✔

Predictive sending and content
Enterprise
$279.00
Unlimited

✔

Dedicated account representative
ActiveCampaign Cancellation & Refund Policy
How Easy Is It to Cancel Your ActiveCampaign Plan?
First things first, it's important to note that
ActiveCampaign has no refund policy
. So, if you know that you won't need the service for a whole year, or you're just trying it out, I'd recommend starting out with a monthly plan instead. Don't commit to a year and risk losing money if you decide to cancel. If you do end up canceling, however, it's pretty straightforward. I did have a brief moment of panic when I couldn't figure out where to cancel my account. Yet a quick search through the ActiveCampaign FAQs pointed me in the right direction.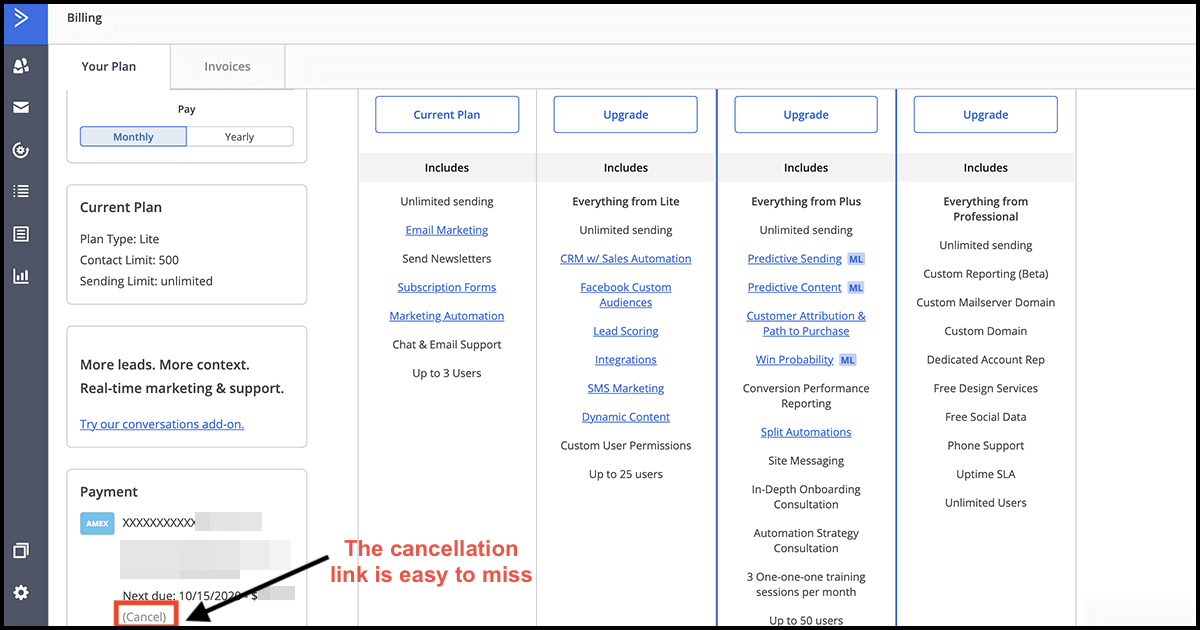 Once I located the cancellation button at the bottom of the billing page, just below my payment details, I was able to close the account quickly.
I was glad to see that I could request for ActiveCampaign to keep my account data for an entire year. This option would be helpful if I thought I might return to the service and reopen my account.
Toward the end of the process, I received confirmation that my account and data would be accessible through the end of my billing cycle. Fortunately, you only have to pay for the immediate billing period. I had opted to pay monthly, so when I canceled about halfway through the month, I wasn't responsible for additional payments.
If you had already paid for an annual plan but wanted to cancel a few months in, you wouldn't be able to recover the cost of the remaining months.
Alternatives to ActiveCampaign
Although ActiveCampaign offers numerous features and a variety of pricing options, it may not suit every business. The platform lacks a free plan and restricts automation features with the Lite plan. If you're searching for an email marketing service that aligns better with your requirements, explore the following alternatives to ActiveCampaign:
Sendinblue's Free plan: If you're just starting out and growing your list, you might not want to pay for an email marketing service just yet. In that case, consider trying out Sendinblue's free plan. It lets you send up to 300 emails a day and access SMS marketing and chatbots at no cost. I like it because it has powerful features like advanced segmentation, transactional emails, and a sales CRM for free.
GetResponse's Plus plan: If you want to get more value from your marketing automation platform, consider GetResponse's Plus plan instead. In addition to email newsletters and marketing automations, this plan has an e-commerce platform, webinars, and social ads. Its ready-made lead and sales funnels can save you time and hassle while improving the lead generation process and helping you close sales.
Constant Contact's Email Plus plan: If you want to manage your company's website and marketing efforts via the same platform, consider Constant Contact's Email Plus plan instead. This plan offers unlimited email sends, e-commerce marketing and inventory management, and pay-per-click (PPC) ads. I like that it also has an integrated website builder that supports a blog and tracks site analytics.
ActiveCampaign Is Worth the Investment for Mid-Size Companies
ActiveCampaign has a long list of built-in marketing tools and automation features – and they all come with a relatively high price tag.
If you're with a mid-size or larger company that depends on lead generation and sales automation, ActiveCampaign would be a good investment
. The Professional plan has all you need to nurture leads, drive sales, and cultivate loyal customers.
But if you're a freelancer or a small business owner, ActiveCampaign might not deliver enough value.
ActiveCampaign is expensive, and you might not need all the features. If you don't feel that ActiveCampaign is the right choice for you, it's easy to find the tools you do need with a more affordable email marketing service, such as
Sendinblue
or
GetResponse
.
FAQ
How much does ActiveCampaign cost?
ActiveCampaign's pricing depends on the plan you choose, and the cheapest plan starts at

$

29.00

 per month (before you sign up though, make sure you check our ActiveCampaign coupons). Each of the four available plans offers pricing based on the number of contacts you have, starting at 500 contacts and going up to 10,000. You'll need to reach out to ActiveCampaign for a custom price quote if you have a subscriber list with more than 100,000 contacts.
What is ActiveCampaign good for?
ActiveCampaign is more than an email marketing service, it's a complete marketing automation tool. This platform is best for mid-size businesses and larger companies that want to do email marketing, SMS marketing, website messaging, and customer relationship management. If you're not sure if ActiveCampaign would be right for you, make sure you look at our list of the best email marketing services in 2023.
Is ActiveCampaign better than MailChimp?
Reviewers often compare MailChimp to ActiveCampaign, but the latter is best for most small and mid-size businesses. ActiveCampaign's machine learning technology, automation maps, and predictive sending features make it a smart option for businesses that need powerful marketing and sales automation.