ten seconds for consumers to form an impression of your logo.
This opinion could be the deciding factor to whether or not they connect with your brand. The importance of a high-quality logo is not up for debate, but the way to achieve this goal does require some consideration.
Logo design contests offer a fresh new channel for businesses.
Instead of paying for a single designer, you employ a company to host a competition. After creating a short brief, hundreds of designers submit their ideas, and you pick the winner! You may be wondering why you'd want to overcomplicate things —
surely paying a professional designer is easier, right?
Actually, the
advantages of launching a design contest are numerous.
Benefits of Logo Design Contests
If you're just starting out, chances are your network and budget aren't that big yet. Launching a logo competition negates both of these issues.
Numerous bespoke options. Competition platforms offer over 100 entrants, all of whom have created personalized logos just for you. While design companies may provide a few initial ideas, they'll never offer this much scope.
Cost-efficient. Design contests cost much less than using a professional designer. In some cases, they're more than five times cheaper. Considering you also get more options to choose from, the savings are considerable.
Work with designers across the globe. You may not have many industry contacts yet, and connecting with this many creatives would be otherwise impossible.
Pay when you're happy. Most contests guarantee success. If you don't find a design you love, then you're eligible for a full refund. Some platforms even delay payment until you make a decision.
Alongside these benefits, logo design contests can also save you time. The process is straightforward, and often you can see results in a matter of days.
How Does It Work?
Numerous companies offer logo contests. While each plan provides varying features, they all work on the same basic process. Popular logo design contest platforms include HiretheWorld,
DesignCrowd
, and
The Logo Co
. They all involve the following steps:
1. Create a Brief
When you sign up to a website and create a contest, you'll be asked to provide a brief for your work. It should include all pertinent information, such as:
Your company name
Industry
Preferred logo style and color
Any concept you may already have
Your brand personality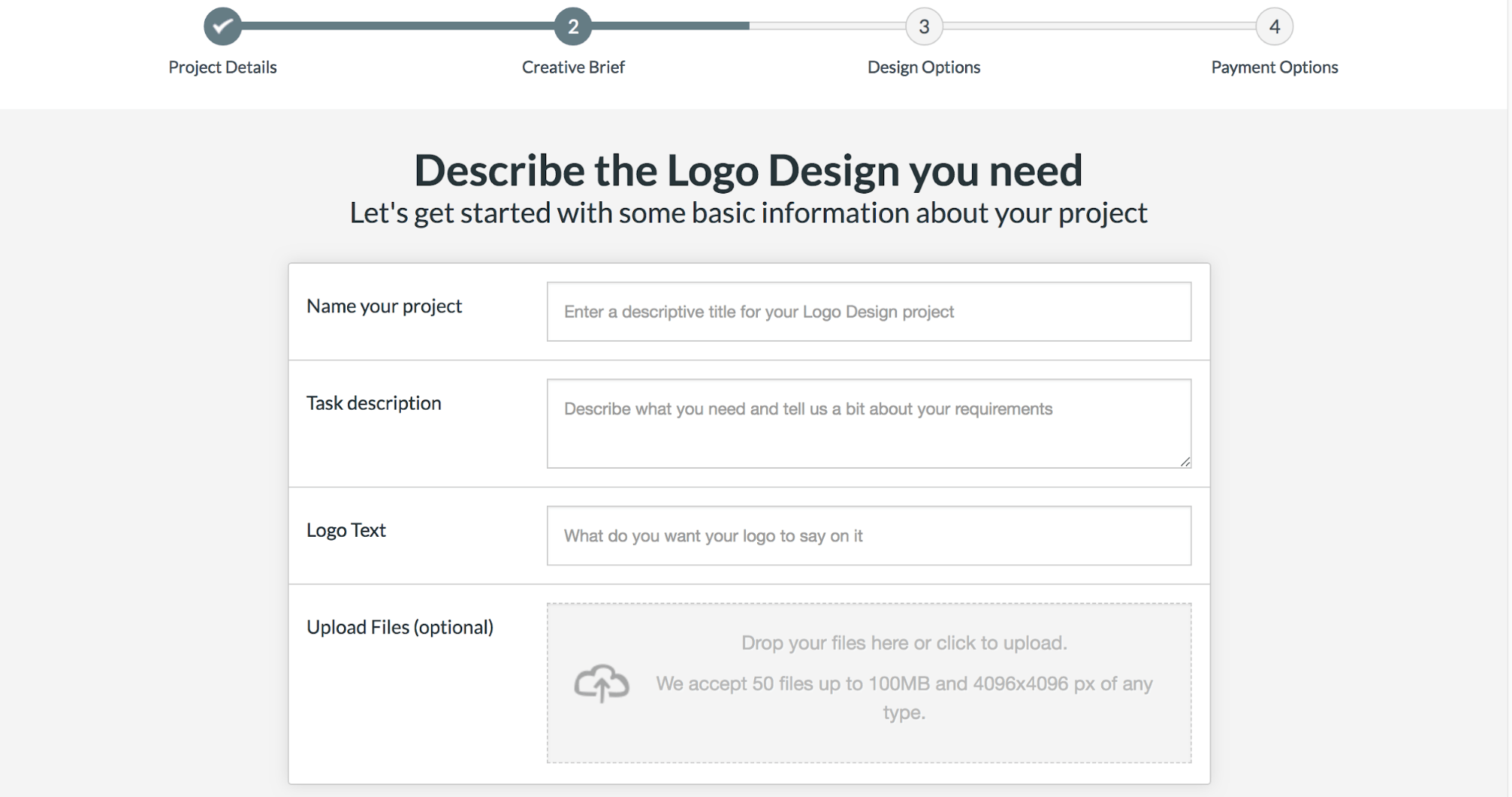 Once the competition is launched, all designers will work from this brief. The more detail you include about your vision, the better the results will be. Some platforms use sliders and web-forms to establish your preferences, and others simply provide a text box you can fill in.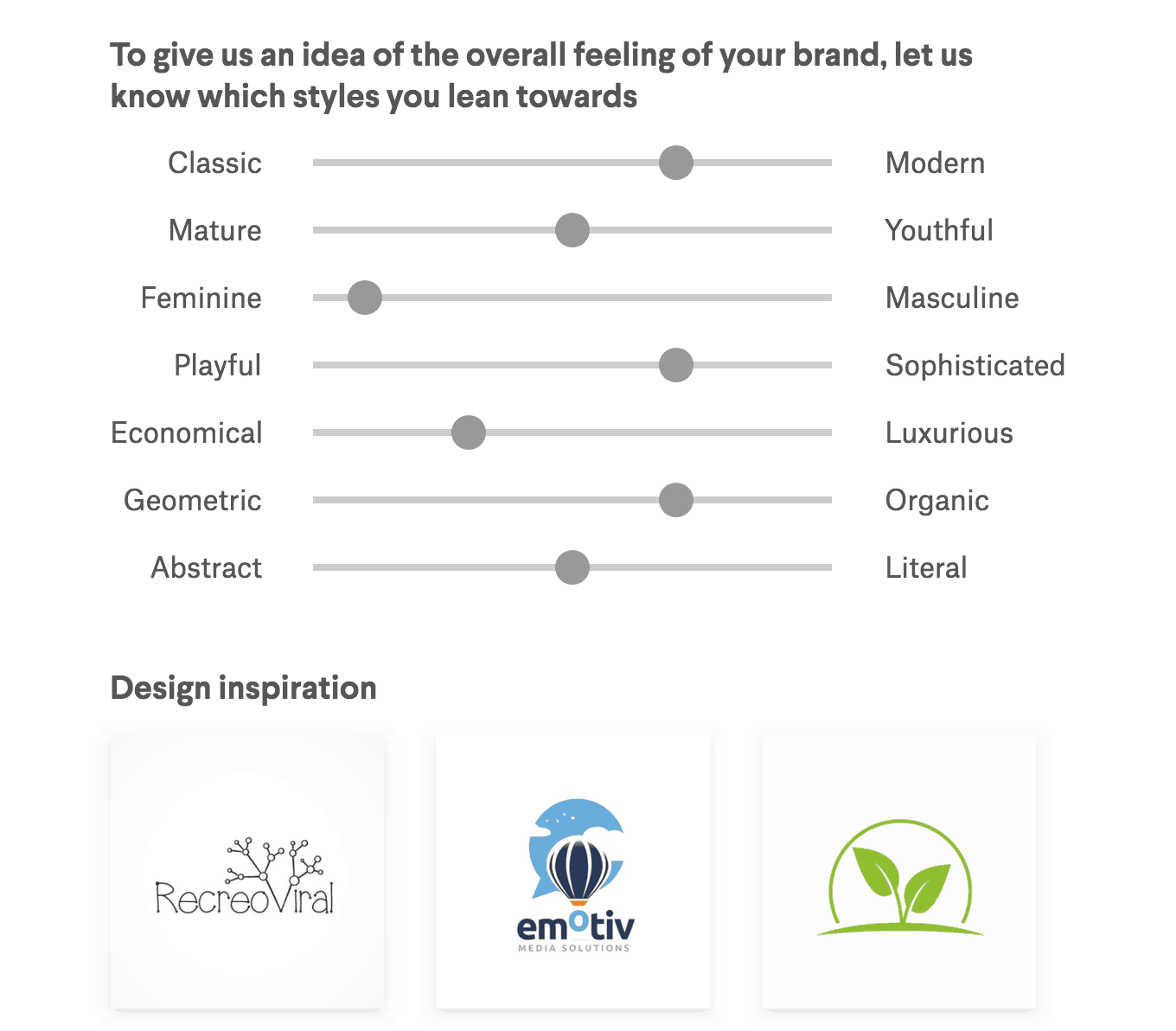 2. Receive Designs
Designers can enter immediately after the launch. Most websites promise around 100 entrants, but this figure can vary drastically. You can
opt for your contest to be blind or public;
if you chose the latter, competitors can see each other's work and will often develop their ideas according to the general standard of the competition. Don't worry if you don't see numerous designs immediately;
many designers wait until the last few days to make their entry.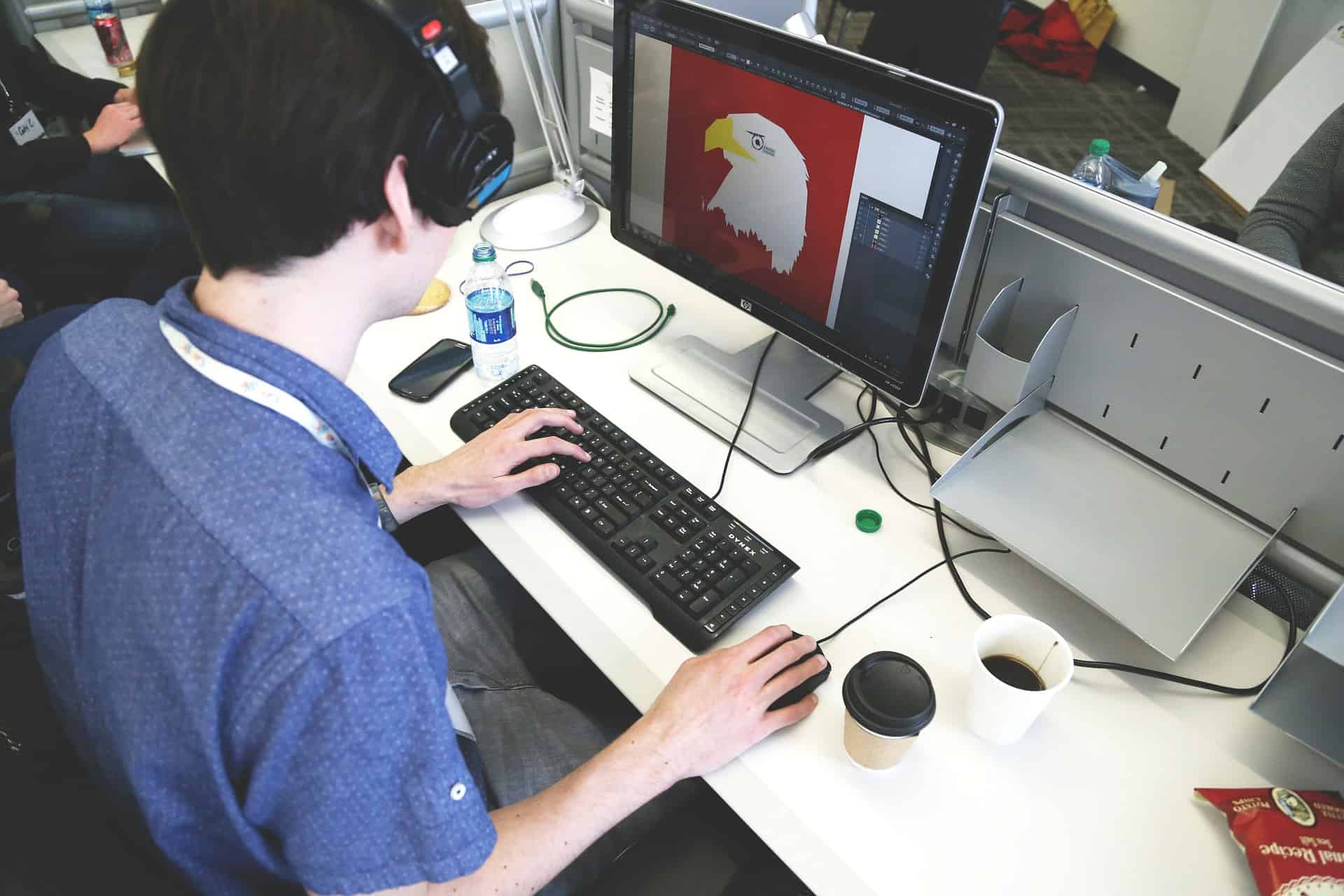 3. Choose and Edit
Finally, you opt for the design you want and work on developing it further. Depending on the platform, you either eliminate options you don't want or highlight those you like. It's possible to
give your feedback and request edits
before making your final decision. Once you're happy, simply confirm the decision and receive copies of the logo — alongside
all the rights to the design.
While these three steps are commonplace in all logo design contests, the
best logo design services
boast other features depending on which you choose to host the competition. The following are all industry leaders in crowdsourcing logos:
HiretheWorld
Created by Canadian brothers from Vancouver, HiretheWorld started as a broad outsourcing platform that subsequently focused on graphic design. They offer a
comprehensive overview of all their designers
, including personal profiles and ratings, to ensure you aren't ripped off. The service also
takes random screenshots while they're working
; not only does this guarantee they're working, but it also allows you to see the process as it develops.
DesignCrowd
DesignCrowd
 is another popular logo crowdsourcing competition. Instead of offering set price plans, it allows you to
state your own budget in the brief
, which is excellent for saving money. The platform also understands that picking a logo can be tough, so it allows you to
share designs directly with your friends and colleagues
.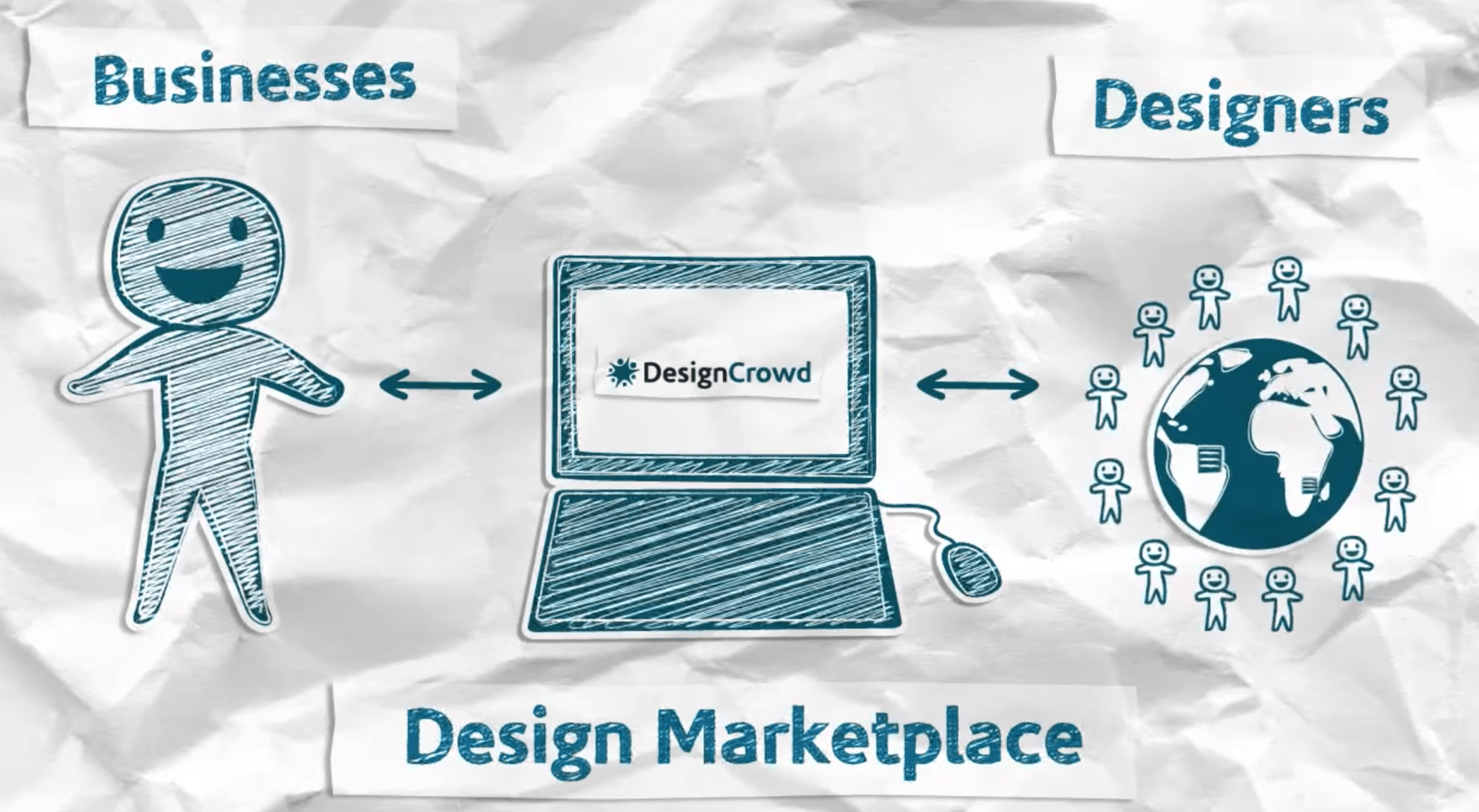 The Logo Co
The Logo Co
 offers a twist on the logo design contest concept. Instead of opening the competition up to all designers, the
platform chooses five for you to work with
specifically. The advantage of this is that you can develop a closer working relationship, although it does result in fewer design choices.
Logo Design Contest vs Professional Designer
While logo design contests provide major benefits, the
process does differ considerably from engaging with a professional design team
. While many of these differences are positive,
some drawbacks do exist
, and it's important to be aware of them.
Quantity and Efficiency
The quantity of concepts offered represents the most notable distinction. While most design houses offer up to ten initial concepts, logo competitions, on the other hand, attract more than a hundred concepts. Time frame is also a factor. Some
design contests promise a turnaround time of three-to-five days
, while professional designers may take longer to work and rework their concepts.
Possible Duplicates
A common criticism of logo contests in that many of the entries are copied from existing designs.
Critics claim that entrants will lift a design from Google
and merely change the company name. If you then opt for that logo, you're at risk of facing a copyright lawsuit.
However, the CEO of eLogoContest, George Ryan, assures that companies have contingencies in place for this situation:
"We regularly have 'designers' attempting to submit ripped-off work as their own, thanks to our vigilant community of designers these 'designers' are usually reported and banned within minutes."
Designer's Eye
The main difference between the two tactics is the amount of control you have.
With a logo design contest, it's completely up to you
to pick the best option. If you work with a professional, you'll work more collaboratively to get to a final design. If you have a clear vision for your brand, then the first option will stop outside influence from segueing from your idea. However, if your design skills could use some work,
you might want to leave the decision-making to the professionals.
Should You Try a Logo Design Content?
Numerous different logo creation methods exist, so it's easy to find an option for every business and budget. Design contests offer an
excellent amalgamation between working with a designer and using automated online platforms.
They work best for small- and medium-sized companies that are just starting up, by providing a level of quality for low costs. If you're still in the development process and want to run A/B tests on branding factors, logo design contests are also a fantastic choice. The
multitude of designs will give you a broader idea of how your company could look
, and the low price means you can develop several concepts simultaneously if you have the finances to spare. If you're a sole trader, such as a blogger, competitions give you the opportunity to up your design game. You
benefit from connecting with actual professional designers
, without the hefty price tag.
Access Countless Designs for Minimal Cost
Nailing your
branding is the first step to creating a successful business
. Seventy-seven percent of marketers believe it's vital for future expansion. If you're not a professionally trained designer, then it's almost unachievable to create a high-quality logo without spending a significant amount of money. Logo design competitions have filled a notable gap in the market. They allows businesses a vast overview of countless aesthetics, while allowing you to work quickly and efficiently over the web. In many cases, companies have
continued working with the winning designer after.
You no longer need a vast network of contacts or an impressive budget to get high-quality branding for your company.
---
Stats
: http://info.zimmercommunications.com/blog/20-stats-that-will-remind-you-of-the-importance-of-your-branding