It's a unique offer, but compared to other email marketing services, ConvertKit is pretty expensive.
 And as a blogger and freelancer, I know how much price matters. Does ConvertKit offer enough features to justify its higher prices? And is it really the go-to service for digital creatives? Read on to find out.
Short on time? These are ConvertKit's three pricing plans in 2023:
Free – Great for email marketing beginners but limits you to 1,000 subscribers. Read more below.
Creator – Includes key tools like automation and third-party integrations but lacks analytics and reporting. Read more below.
Creator Pro – Aimed at marketing professionals with advanced features like subscriber engagement scoring, but it'll cost you. Read more below.
ConvertKit Features & Pricing Overview
User-Friendly Simplicity, But At A Cost
One of the things I like about ConvertKit is that it is a no-frills email marketing service.
I've tested it out myself and rated it highly for its simplicity in my
ConvertKit review
. Rival services might try to wow you with features, but some of them end up sacrificing usability, which makes it difficult for new users to find their way around the platform. ConvertKit, however, is simple and easy to use right from the start.
But more seasoned marketers and visual creatives might find it a bit too simple.
There are three pricing tiers: Free, Creator, and Creator Pro.
The Free tier is great for those who are in the beginning stages of launching their own business.
While
other email marketing services
 often have a time limit on their free plans – if they offer one at all – trying ConvertKit is pretty much risk-free. If you decide you want to try out extra features that are included in the paid plans, such as marketing automation and advanced reporting, you can sign up for the Creator or Creator Pro tiers for 30 days and get a full refund if you decide it's not for you.
I also like how scalable ConvertKit's pricing is.
 Like most email marketing services, ConvertKit charges according to how many subscribers you have. But unlike other services, it includes 43 different price breakdowns between 1,000 and 400,000 subscribers. That means if you have between 5,000 and 8,000 subscribers, you can pay for 8,000 as opposed to 10,000, which is more cost-effective. The highly granular breakdown of pricing options is great for steadily growing your email marketing without over-stretching yourself financially. That said,
ConvertKit's Creator and Creator Pro plans are still pretty expensive, which conflicts with its goal of targeting budget-conscious bloggers and creatives.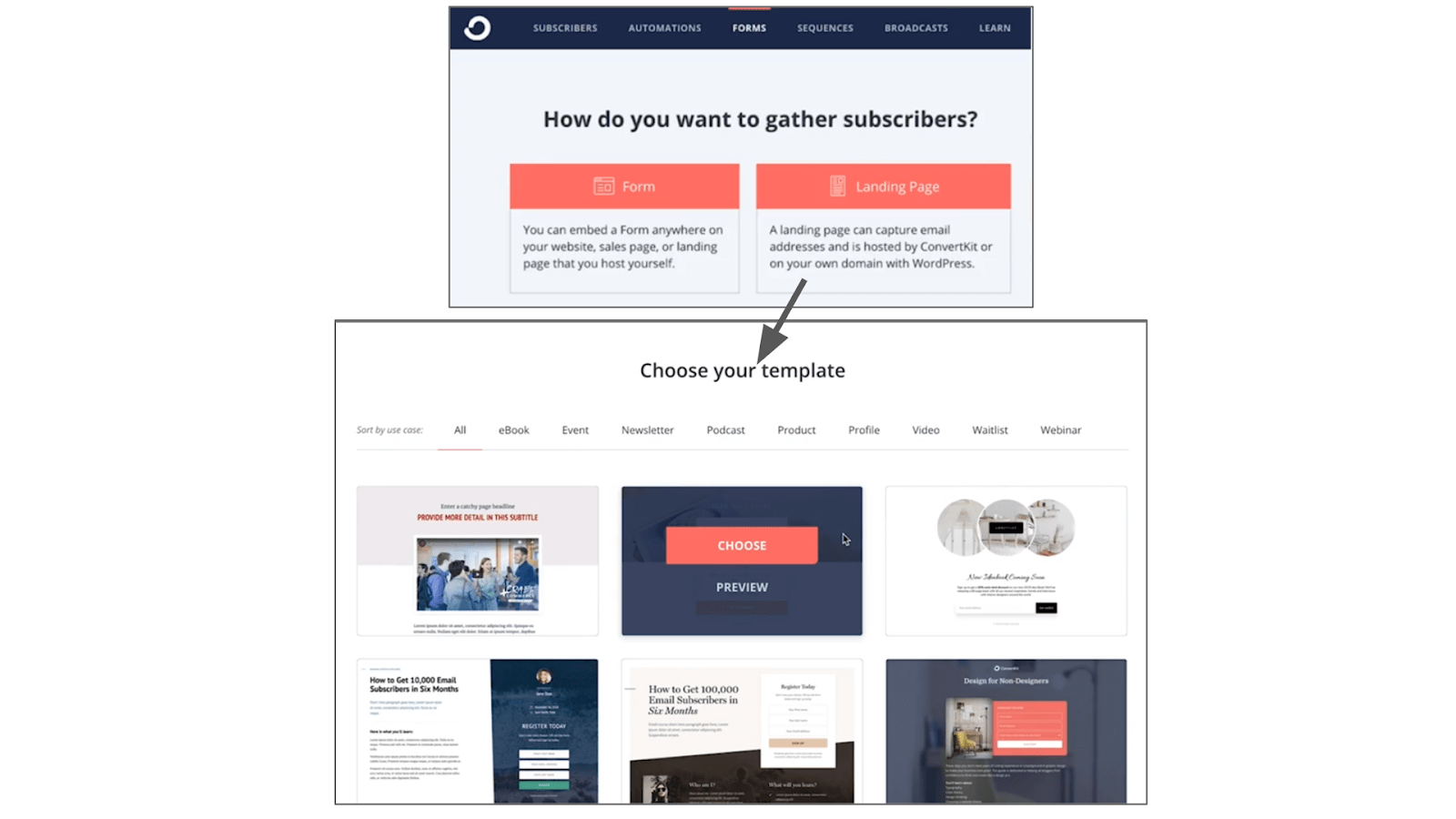 If you're just beginning to promote your blog or freelance services, then ConvertKit's Free plan is a generous and attractive option.
With this no-cost plan, you can send an unlimited number of emails and grow your contact list by building as many sign-up forms and landing pages as you want. However,
ConvertKit's Free plan is geared more towards gaining subscribers than communicating with them.
You can build as many sign-up forms, landing pages, and even social media link pages as you like, choosing from an extensive template library. But ConvertKit's options for sending emails are pretty basic. You can organize your list by tagging and segmenting contacts, and get detailed reports on new subscribers – such as which forms and pages they use to sign up.
But the Free plan doesn't include any email analytics, automation or third-party integrations.
So if you're more interested in how your campaigns are performing than how people are signing up, then you might
consider a service like Sendinblue, which offers basic email analytics even on its free plan and, unlike ConvertKit, unlimited contacts.
The Free plan's main limitation is that you get up to 1,000 subscribers. So it seems that ConvertKit's strategy is to help you grow your list as quickly as possible and then move you to one of its paid tiers. One notable part of ConvertKit's Free plan is that it supports creatives financially by providing
basic commerce tools to build sales channels for digital downloads, subscriptions, or memberships.
 ConvertKit does, however, take a commission on all payments. In terms of support, the Free plan offers basic customer service via email and its fairly active user community. No matter which plan you're on, you'll need to submit an email ticket for direct support. If you don't like the idea of waiting around for help, its paid plans allow you to "jump the queue" by offering priority ticket responses within a guaranteed time frame (as little as 15 minutes on the Creator Pro plan).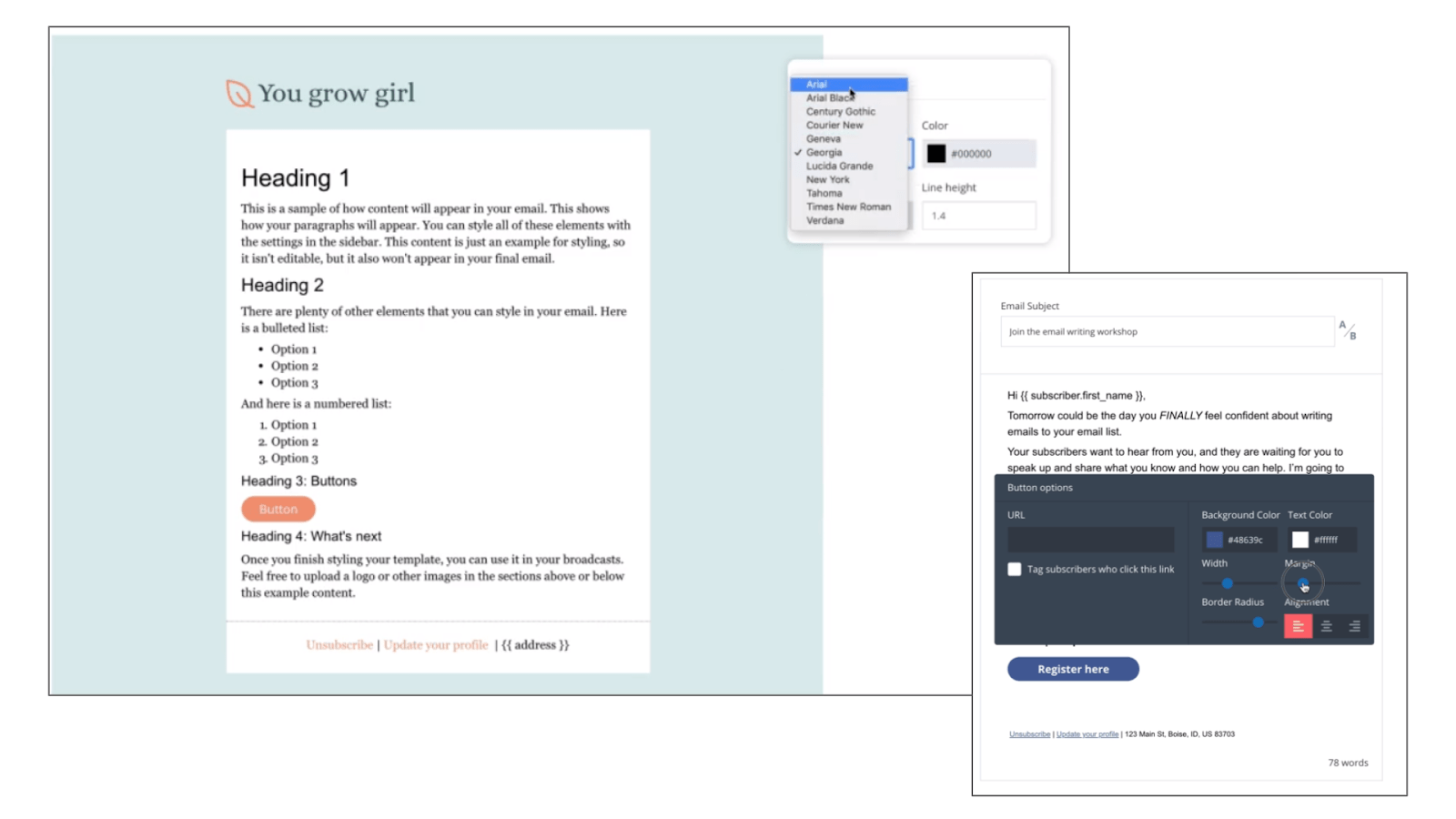 ConvertKit's Creator plan has
key tools for more experienced email marketers.
 On this plan, you can automate how and when emails are sent, choose from more than 70 third-party integrations, and even migrate contact lists and campaigns from rival services.
However, a notable absence from the available features is campaign analytics and reporting.
For me, the fact that you have to go all the way up to the highest-paid plan before you can access simple open and click rate reporting is a major pitfall of ConvertKit. Many rival services, including MailerLite, offer this on their Free plans.
MailerLite's free plan
 offers analytics and email campaign reports, as well as full access to all its features, which isn't something you see that often. Again, a big plus of ConvertKit is its simplicity. Its email editor is easy to use and comes with tons of available templates – it's one of the reasons I gave it a
4.0
out of 5 in my
ConvertKit review
.
So if you're new to email marketing and are looking for a quick, straightforward solution, ConvertKit works just fine. But if you want to send out eye-catching emails that focus on visuals like photos or graphic design, this won't be enough.
You're better off with a service that comes with a visual drag-and-drop editor, like Benchmark. As far as value goes, ConverKit's Creator plan starts at
$
29.00
 for up to 1,000 subscribers, which is
pretty expensive considering it doesn't offer the range of advanced features
that many rival services boast.
Benchmark's Pro plan
, for example, costs
$
8.00
 a month for 1,000 subscribers, and includes high-quality reporting, automation, and a lead generation tool. ConvertKit does, however, offer a discount if you pay annually – the equivalent of two months for free. One nice thing about the Creator plan is that you can grow your subscriber list up to 400,000 contacts in small increments without having to commit to a higher-tier plan, so this is a good option for new bloggers or freelancers looking for a cost-effective way to scale their business. For example, once you have 10,000 subscribers, you can extend your plan by increments of 5,000 as you grow; from 25,000 subscribers you can scale your plan each time you gain 10,000 contacts.
Creator Plan Pricing
| | | | |
| --- | --- | --- | --- |
| Email Subscribers | Monthly price | Monthly price if paid annually | Price per year if paid annually |
| 1,000 | $29 | $24 | $290 |
| 3,000 | $49 | $41 | $490 |
| 5,000 | $79 | $66 | $790 |
| 8,000 | $99 | $83 | $990 |
| 10,000 | $119 | $99 | $1,190 |
| 25,000 | $199 | $166 | $1,990 |
| 55,000 | $379 | $316 | $3,790 |
| 75,000 | $499 | $416 | $4,990 |
| 105,000 | $679 | $566 | $6,790 |
| 205,000 | $1,279 | $1,066 | $12,790 |
| 305,000 | $1,879 | $1,566 | $18,790 |
| 400,000 | $2,299 | $1,916 | $22,990 |
If you have more than 400,000 subscribers, you'll have to contact ConvertKit directly for custom pricing and to request a demo.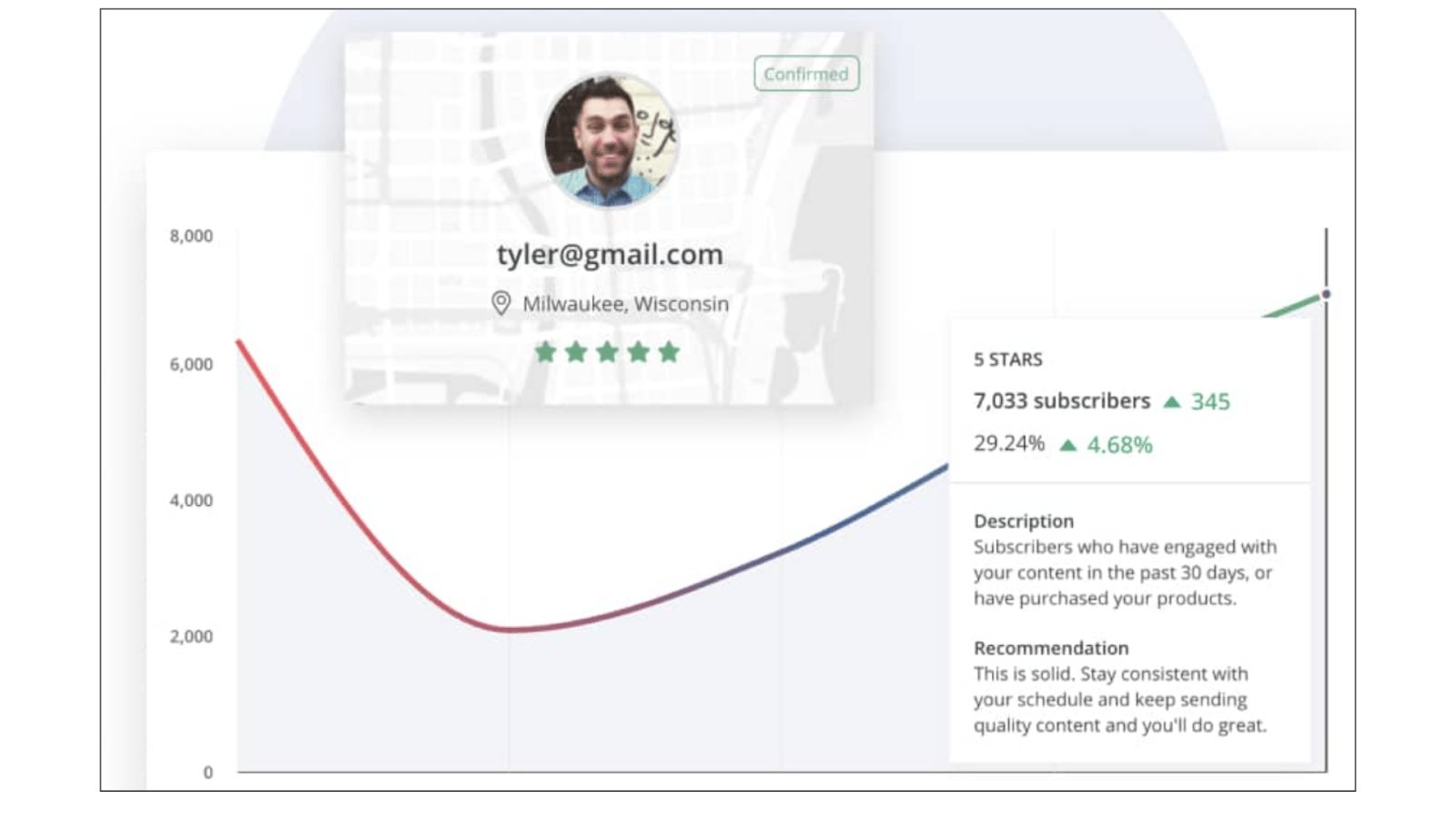 ConvertKit's most expensive tier, the Creator Pro plan is
aimed at marketing professionals looking for advanced features to complement their email promotions
. One such feature is subscriber engagement scoring, which rates all of your contacts according to who has opened and clicked through your emails within a certain timeframe, and how often. While it's nice to know which of your subscribers need extra attention, as I mentioned,
it is unusual for a service to only offer open and click rate reporting on its most expensive tier.
An interesting part of the
Creator Pro plan
 is that you get a free subscription to the Sparkloop referral tool. This helps you reward contacts who get their friends and colleagues to sign up using a dedicated link; it's a great way to grow your list outside of the usual sign-up forms and landing pages. You can also integrate with Facebook Custom Audiences, which lets you sync your ConvertKit subscriber segments with Facebook Ad campaigns. If you have a larger team, you can add an unlimited number of users on the Creator Pro plan. You can also enjoy priority email support, which means you'll get a response to an email query within 15 minutes on weekdays from 8 a.m. to 8 p.m. EST. Overall,
the Creator Pro plan is expensive considering it lacks the range and depth of features that services like Benchmark and GetResponse offer for less.
 But again, the fact that you can grow your contact list up to 400,000 on ConvertKit is something to consider, since services like GetResponse have a limit of 100,000 contacts.
Creator Pro Plan Pricing
| | | | |
| --- | --- | --- | --- |
| Email Subscribers | Monthly price | Monthly price if paid annually | Price per year if paid annually |
| 1,000 | $59 | $49 | $590 |
| 3,000 | $79 | $66 | $790 |
| 5,000 | $111 | $93 | $1,110 |
| 8,000 | $139 | $116 | $1,390 |
| 10,000 | $167 | $139 | $1,670 |
| 25,000 | $279 | $233 | $2,790 |
| 55,000 | $519 | $433 | $5,190 |
| 75,000 | $663 | $553 | $6,630 |
| 105,000 | $879 | $733 | $8,790 |
| 205,000 | $1,579 | $1,316 | $15,790 |
| 305,000 | $2,179 | $1,816 | $21,790 |
| 400,000 | $2,599 | $2,166 | $25,990 |
If you have more than 400,000 subscribers, you'll need to contact ConvertKit directly for custom pricing and to request a demo.
ConvertKit Pricing Plan Comparison Table
Plan
Minimum price for 1,000 subscribers (monthly)
Subscriber limits
Automation
Advanced reporting
Best feature
Free

$

0

1,000

✘

✘

Unlimited landing pages and sign-up forms
Creator

$

29.00

400,000

✔

✘

Scalable pricing up to 400,000 subscribers
Creator Pro

$

59.00

400,000

✔

✔

Subscriber engagement scoring
ConvertKit Cancellation and Refund Policy
Being locked into an annual plan is risky
As previously mentioned, ConvertKit offers the equivalent of two months free if you pay annually rather than monthly. This might sound like an attractive offer,
but ConvertKit's cancellation policy might make you think twice.
Whether you choose annual or monthly payments, you always pay for ConvertKit in advance. So if you decide that you don't want to continue using the service, your account will still remain active up to the end of your current payment cycle – in other words, if you cancel, you won't get your money back. If you pay monthly, that works out fine. If you cancel your account the day before your next payment is due, it will be shut down straight away. But the same policy applies to annual payments too. So if you decide six months in that ConvertKit isn't for you anymore, there isn't much you can do. Your account will remain active until the end of the 12 months without a refund.
ConvertKit only offers full refunds to new subscribers who cancel within 30 days of signing up.
 If you do that, you get all your money back regardless of whether you chose to pay monthly or annually. Basically,
if you are new to ConvertKit, I would recommend paying monthly to start out that way you're not locked in for a full year.
 That way you have time to decide if the service is really for you before switching to annual payments. Alternatively, you can start off paying annually, but be prepared to make a swift decision (within 30 days) to get a full refund. If you're on a higher tier, you can also downgrade to a lower-cost plan. ConvertKit states in its terms and conditions that it
pro-rates all downgrades from the moment the request is made
. So if you choose to drop from Creator Pro to the Creator plan, or reduce your subscriber list from 10,000 to 1,000 in the middle of your billing cycle, you will be refunded the difference on your next invoice. Unfortunately, I'm not sure this would work if you downgrade to the
Free plan
, which would constitute a full refund.
Alternatives to ConvertKit
ConvertKit's shortcomings can be summed up in two points:
it lacks the advanced features that other email marketing services offer and is relatively expensive for what you get.
If you're looking want more sophisticated email marketing tools for less or are searching for a more complete experience check out these alternatives that offer better deals than ConvertKit:
Sendinblue Free Plan: While ConvertKit's Free plan offers considerable value, Sendinblue still emerges as the superior choice. The free tier provides you with an unlimited number of contacts, but it restricts daily email sending to a maximum of 300 messages. Based on personal experience, utilizing your daily allocation judiciously proves sufficient for maintaining communication with a sizable contact list.
AWeber Pro Plan: Starting at

$

12.50

 a month for 1,000 subscribers, AWeber's Pro plan is significantly cheaper than ConvertKit's paid plans. Where ConvertKit's text editor can feel limiting, AWeber offers a clever AI-powered template designer that automatically creates branded emails from an existing website. It also has more than 850 third-party integrations for extra functionality beyond the email marketing basics.
GetResponse Plus Plan: For the more experienced digital marketer looking for the best value across various promotional activities, GetResponse is an excellent well-rounded service. Its Plus plan starts at

$

15.58

 for 1,000 contacts, which is cheaper than ConvertKit's Creator Pro plan and has significantly more features. Standouts include automation options like the ability to build lead and sales funnels so you can streamline your online marketing to achieve specific goals, as well as advanced support for social marketing and eCommerce.
ConvertKit: Good For Beginners But Not Visual Creatives
For what it offers, ConvertKit is far from the cheapest email marketing service out there. But what you do get for your money is a reliable service that will deliver.
ConvertKit boasts an excellent deliverability rate – 98% of emails get through spam filters, which converts into a 30% open rate.
 If you want to be sure that every email reaches nearly every inbox, then paying a little extra might be worth it. ConvertKit doesn't hide who its target audience is, as it openly promotes itself as a solution for creators. On the whole, I think the service fits this market.
If you are a blogger, freelancer, photographer, podcaster, etc., the Free plan is a very good way to get started with email marketing. Its focus on growing your subscriber list suits those who are more concerned with getting their name out there than with advanced marketing tools,
 while the commerce support is ideal for people looking to sell services or digital products. It's also good to know that once you start paying ConvertKit charges by the number of subscriptions you have, rather than by the number of names on your contact list, which means
you won't get charged for duplicates.
If you are a visual creative professional, you might not like ConvertKit's limited text editor and the lack of image-heavy templates.
The service does, however, claim that simpler emails perform better on deliverability and open rate. Not all email marketing services would agree. AWeber, for example, also takes great pride in high deliverability rates, while running its own email servers and having no problem with its visual templates, which you can see in our
AWeber review
.
The Creator plan is worth the money if you're looking for simplicity, reliability, and the ability to control your spending as you grow your subscriber list. 
Personally, I wouldn't recommend ConvertKit's top-tier Creator Pro plan – for that price you can find many more features with a rival service. With the previously mentioned
GetResponse Plus plan
, you pay the same amount for a powerful integrated marketing platform packed full of advanced features.
FAQ
1. How much is ConvertKit monthly?
ConvertKit's pricing depends on which plan you choose and how many subscribers you have. There is a Free tier, but if you opt for a more advanced plan, pricing starts at 1,000 subscribers – the Creator plan is

$

29.00

a month and the Creator Pro plan is

$

59.00

 a month. From there, the cost increases in increments up to 400,000 subscribers. See the tables in the article above for an in-depth breakdown of ConvertKit email pricing.
2. Is ConvertKit better than MailChimp?
Although ConvertKit isn't as popular as MailChimp, it is a better option for beginner email marketers. If your priority is growing your subscriber list, then ConvertKit can help. It has superior options for tagging and segmenting your contacts, as well as personalizing and automating your messaging within your lists. If you're not sure if either one is the right option, I'd recommend looking at our list of the best email marketing services in 2023.
3. Is there a free version of ConvertKit?
Yes. ConvertKit's Free plan lets you send an unlimited number of emails to up to 1,000 subscribers. You can also build an unlimited number of sign-up forms and landing pages, and get new subscribers analytics, but you'll need to pay for email reporting and automation tools.
4. How long is the ConvertKit free trial?
ConvertKit's Free tier is a long-term subscription plan rather than a free trial. That means you can use ConvertKit at no cost for as long as you like – but you'll need a paid plan to access certain features. If you sign up for a paid plan, ConvertKit offers a generous grace period: if you decide to cancel the service within 30 days, you'll get a full refund.