Constant Contact provides the basics you need to run email marketing campaigns, but it's missing some useful features. So, do those missing elements make it a bad option for professional email marketers? To find out,
I tested it against ActiveCampaign, a slightly more complex and extensive option.
I compared the two on features, ease of use, pricing, and more to see which came out on top. And
while Constant Contact comes with everything you need to launch a successful campaign, it can't compete against ActiveCampaign's flexible automation workflows and insightful analytics reports
. Ultimately, ActiveCampaign offers a more complete package with better features to help your marketing strategy succeed. That said, every business has different needs. I'd suggest that
ActiveCampaign is great if you're looking to grow your business, while Constant Contact is a solid choice for small businesses
managing simple campaigns.
Features
ActiveCampaign Has the Tools Constant Contact Lacks
I tested the features offered by both Constant Contact and ActiveCampaign, comparing email templates, automation, A/B testing, and more.
While Constant Contact gets a few of these features right, it's missing a fair amount compared to ActiveCampaign.
Constant Contact asks if you "want all the features with no limitations"… If you do, honestly you might be better off going with ActiveCampaign.
Templates and Email Design
When it comes to designing emails for your campaign, it's nice to have a powerful email builder and attractive templates to help you get started. You should also be able to make your emails mobile responsive, since many – if not most – of your contacts will be opening messages on their phones.
Constant Contact offers about 400 templates to choose from
, and I found most of them to be well-designed. There are templates for new products, announcements, birthday promos, events, deals and coupons, and more. I didn't feel any categories were missing from the selection.
If you don't want to use a template or can't find one that's quite right for your branding, you can also start with a blank template.
All emails you create in the editor are mobile responsive by default. Within the email builder,
you can access a library of stock images – Constant Contact is partnered with Shutterstock
so that you can use millions of royalty-free images, both free and paid for.
This certainly helps with email creation, and is a big plus for Constant Contact.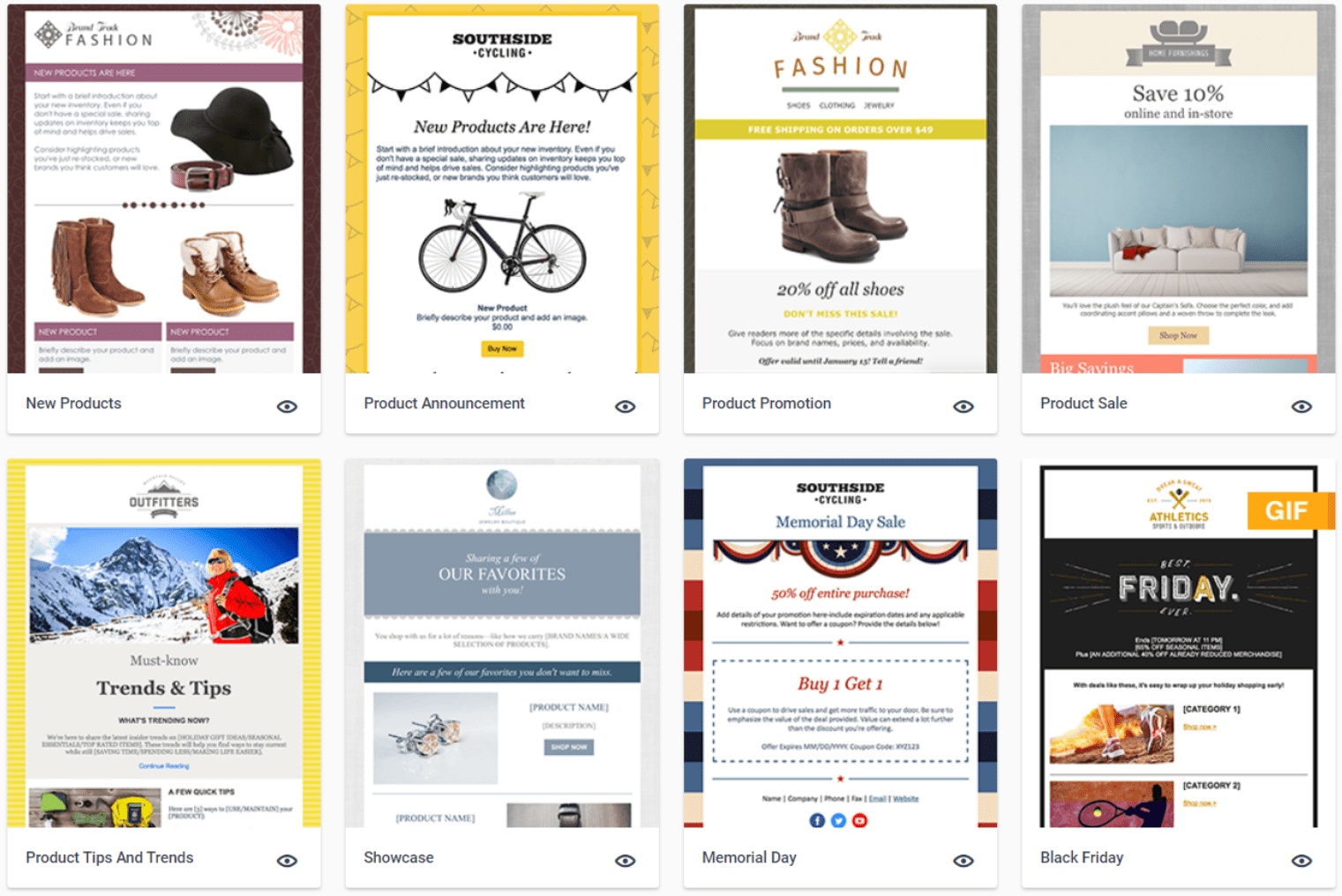 Comparatively,
ActiveCampaign offers over 250 templates
, all with sleek designs. While there are fewer templates to choose from than in Constant Contact's selection, I preferred the more modern styles.
 There are templates for products, newsletter announcements, scenic backgrounds, and more. There are also different styles available for each – you can select from themes such as "Happy," "Bold," and "Abstract." And if you don't want to use a template, you have the option to start from scratch. All emails created in ActiveCampaign's editor are mobile responsive.
Unlike Constant Contact, ActiveCampaign doesn't include a library of stock images to use for your emails, so you'll have to provide your own
. This is a bit disappointing, but not a deal breaker.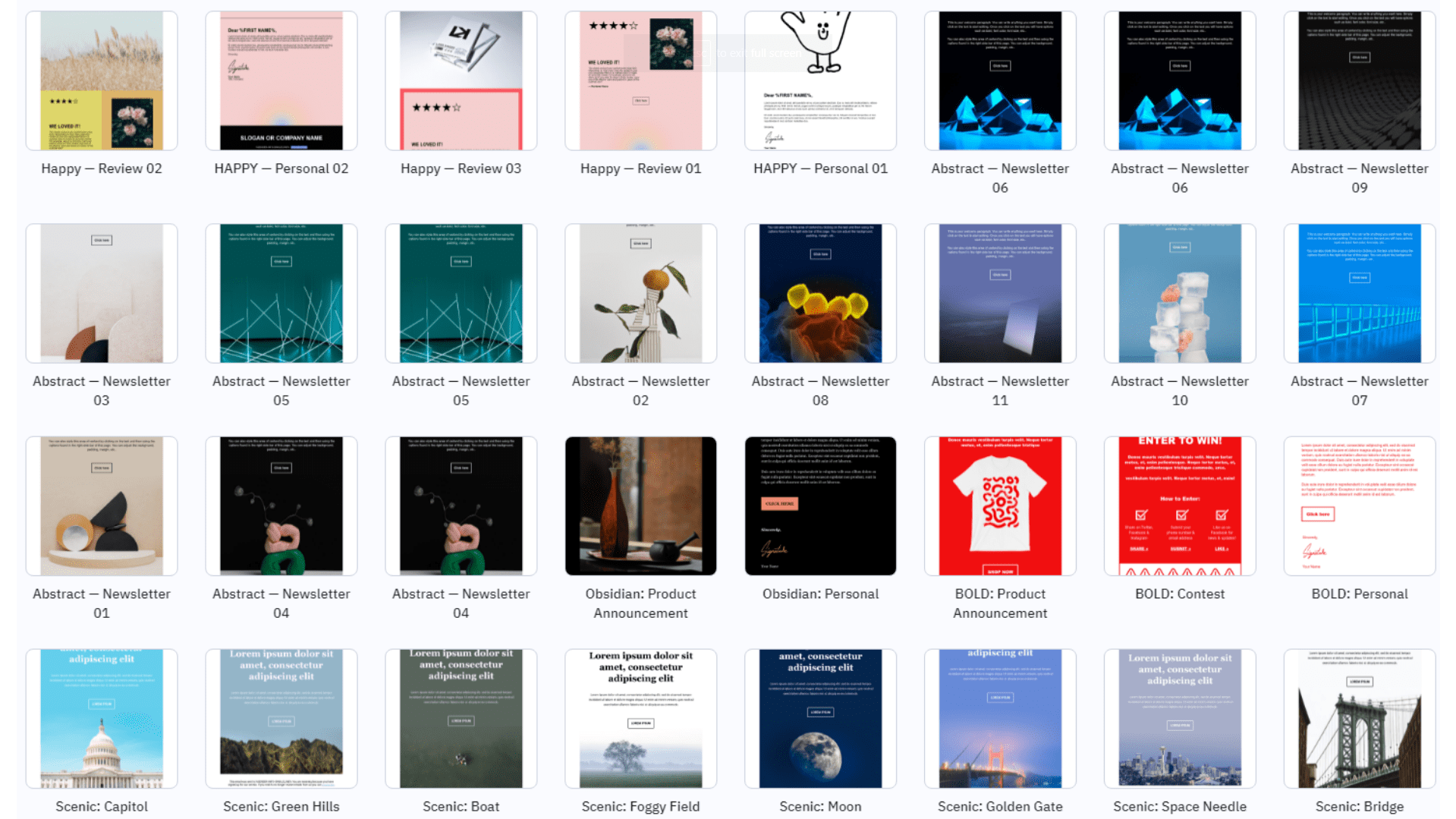 Both Constant Contact and ActiveCampaign let me build some nice-looking emails to advertise my (pretend) products to my (fake) customers.
 I appreciated Constant Contact's access to Shutterstock's vast image gallery, but ActiveCampaign's trendier template designs allow you to build more appealing emails.
Automation
Next, I tested both services on automated messages, which allow you to automatically send messages when certain triggers have been met.
 Automation is useful because it helps you ensure the right contacts are getting relevant emails at optimal times. For example, you might want to send a promotion about vases to contacts from Oregon who've recently made a home decor purchase on your site. Or send a reminder to a customer who left products in their cart without checking out. You can set up all this and more with an automation workflow. When I tested the automation workflows available with each service, I quickly found myself limited by Constant Contact.
Constant Contact does offer automation, but it feels lackluster compared to ActiveCampaign
. You only have a couple of preconfigured automations to choose from: welcome, birthday, anniversary, and a few multi-step options. Not only are these rather generic, but they don't allow you to set up cart abandonment messages, messages tied to your RSS feed, or other useful workflows.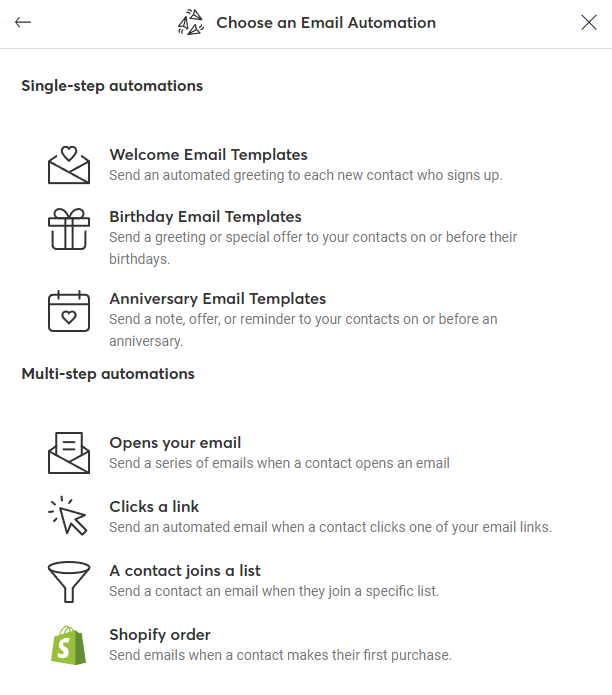 The multi-step automation triggers also felt restrictive
. All you can do is auto-send messages when an email is opened, a link is clicked, a contact joins a segmented list, or a contact places their first order via Shopify. These workflow options just don't cut it. Especially when you compare this to ActiveCampaign, which has a much more robust workflow for automated messages. For starters,
ActiveCampaign includes many more start trigger options to signal when messages are sent in your automations
. Start triggers allow you to specify exactly who should receive your messages and when. This includes when a customer makes a purchase, subscribes, opens an email, clicks a link, visits a specific URL, and more. You can even define and set your own start triggers.
I really appreciate the control this gives you over when your messages are sent
. That kind of precision increases the likelihood of success, since contacts will receive messages tailored specifically to them about subjects they may have already shown interest in.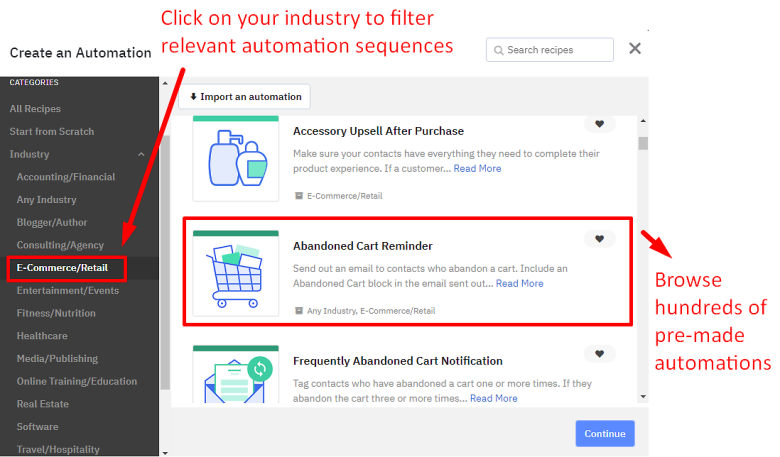 You can also group your audience into segments and send them targeted emails based on set parameters, such as gender, location, or purchase history.
Constant Contact allows you to segment your mailing list with custom tags, but lacks the synergy between segmentation and customizable automation offered by ActiveCampaign
.
Split Testing
Split testing involves testing different versions of an email campaign to see which performs best. It works by segmenting your mailing list and sending each group a different variant of the email you're testing. Seeing which versions are the most popular can help you build better email campaigns.
ActiveCampaign lets you test up to five different versions of your email at once, which is more than you'll find elsewhere
, and something we tested out in
our ActiveCampaign review
. I was able to test different subject lines, email content, overall design, and more. By comparison,
you can't set up A/B testing on Constant Contact's cheaper plans.
 Even when you upgrade to a more expensive plan, you're only able to split test subject lines.
No matter how much you invest, you'll never be able to test media, content, or design like you can with ActiveCampaign
. And if you can't test different marketing strategies and learn what's popular with different demographics, you could lose out on some great insights. Thanks to more extensive A/B testing, clever automation options, and more modern email templates, I'd say ActiveCampaign wins the features round.
Ease of Use
Building Campaigns in Constant Contact is Pleasantly Easy
When comparing how easy it is to use Constant Contact vs ActiveCampaign, I began with importing a (fake) mailing list. To my disappointment, 
ActiveCampaign only lets you import csv files.
It's not the end of the world, but
 Constant Contact supports csv, Microsoft Excel (xls and xlsx), vcf, and comma-separated text files
. Unless you happen to have your contacts saved as a csv file, importing a mailing list with Constant Contact is much less of a headache than with ActiveCampaign. Once you've uploaded your contacts and you're ready to start building campaigns, an intuitive email editor/builder is key. A streamlined process saves you time, and, as we all know, time is money.
Both ActiveCampaign and Constant Contact come with user-friendly drag-and-drop email editors
, and I was able to set up emails with little to no hassle. But which editor is easier to use? It was close, but
I found it easier to create emails in Constant Contact
. Adding and arranging blocks was a total breeze. I could drag images and content to exactly where I wanted them to be, then adjust their size, font, and color, as well as add links and images. Plus
you can add third-party integrations as drag-and-drop blocks within the editor
. Constant Contact offers some 300 integrations and lets you directly add certain apps as action blocks, meaning you can instantly add apps like Shopify, WooCommerce, RSVP forms, and more simply by dragging and dropping them in the email editor.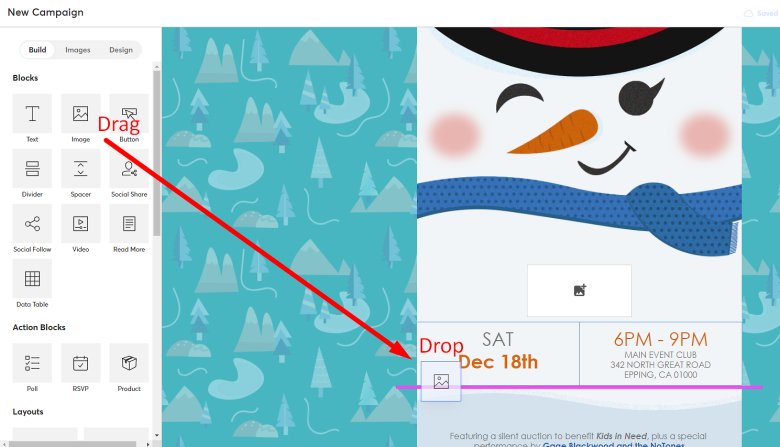 That said,
ActiveCampaign also has a user-friendly drag-and-drop editor, and I appreciated how much I was able to customize my emails.
 For example, you can adjust the padding of blocks, or insert images directly into text blocks. You can also choose from a marketplace of over 
900 highly customizable third-party apps
to up your email game. This extra level of customization meant that it took me a bit longer to learn how to use ActiveCampaign, whereas navigating Constant Contact was very straightforward. Overall, I'd say that you can do more
with ActiveCampaign's builders and workflow, but Constant Contact is easier to use.
One thing I wanted to mention was that during my Constant Contact trial, I ran into a serious issue with the site
. My account page refused to load and I couldn't access my email campaigns. Even worse, when I tried to start a new campaign or pop into the email editor, I got an error message.
Constant Contact's website broke sporadically
, which is something we discovered in our
Constant Contact review
, too – the issue would resolve itself, then return to annoy my colleague for a day or two. After a quick Google search, I found a few posts from other people also experiencing a broken site without a solution. It's not good to learn that this seems to be a common issue.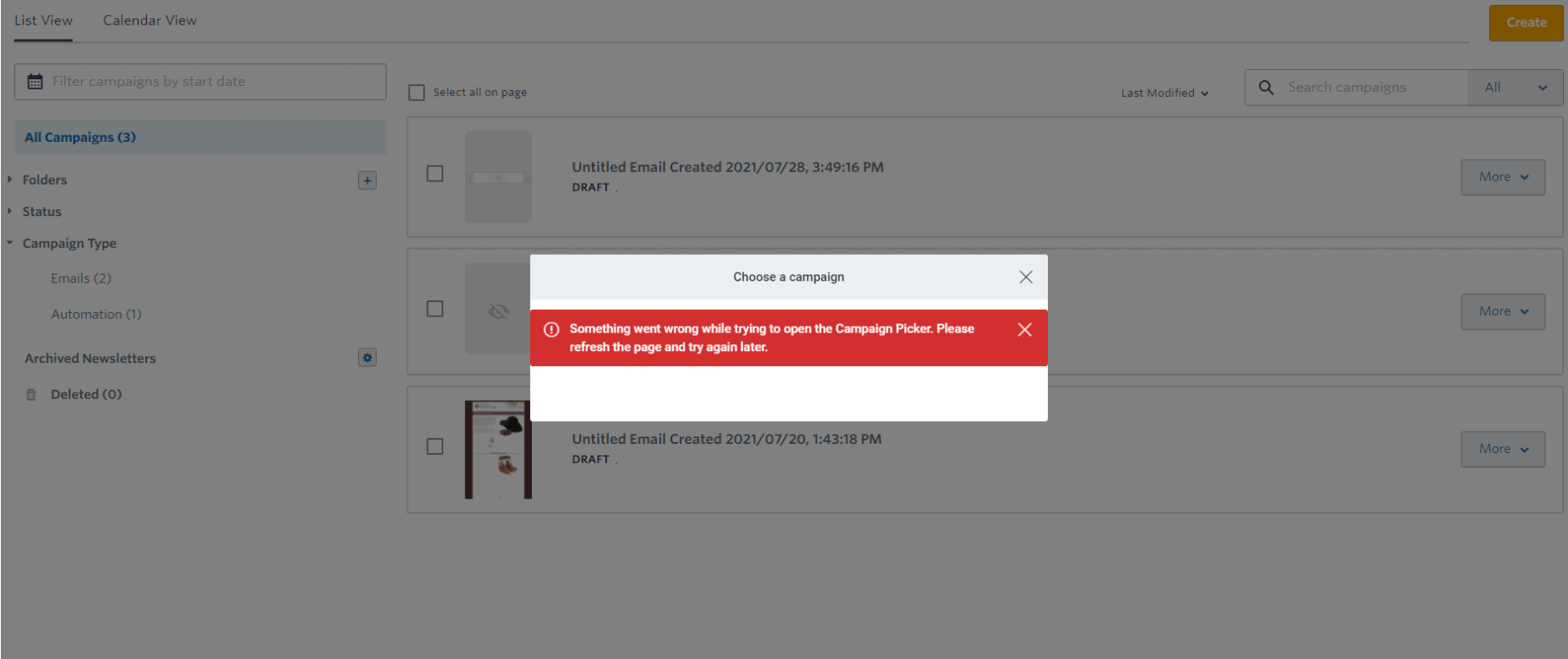 Using an unstable service is a big risk. What if the site isn't working on a day you need to make an important edit to your campaign or release a time-sensitive email, such as a new product announcement? You'd be locked out of your campaigns and out of luck! Ultimately, I have to conclude that
although Constant Contact's editor was easier to use – when it was working – ActiveCampaign is far more reliable than Constant Contact.
Deliverability
Both Are Reliable, but ActiveCampaign Goes a Step Further
If a marketing service claims a deliverability percentage, they're trying to feed you a line. It simply isn't possible to guarantee an exact number of your emails will reach your customers' inboxes. But there are steps that
you
can take to
boost your deliverability rate
. Still, while delivery rates are largely in your hands, there are a couple of things your email marketing service can do to support you. So what do ActiveCampaign and Constant Contact do to help your emails reach your contacts?
Both services use DKIM authentication to encrypt emails
, which is a reliable technique to prove your emails were really sent by you (and not spam). And, speaking of spam,
both services have a strict anti-spam policy.
This is very important, as your emails are sent out from a shared server. This means that if another email sender on that server delivers spam, the whole server can get flagged. To protect its servers and customers, a good email marketing service should have a strong stance against spam. Constant Contact follows a 1:1000 complaint-to-email ratio in its guidelines – meaning that if you send 1,000 emails and more than two of those emails are reported as spam, your account will come under review.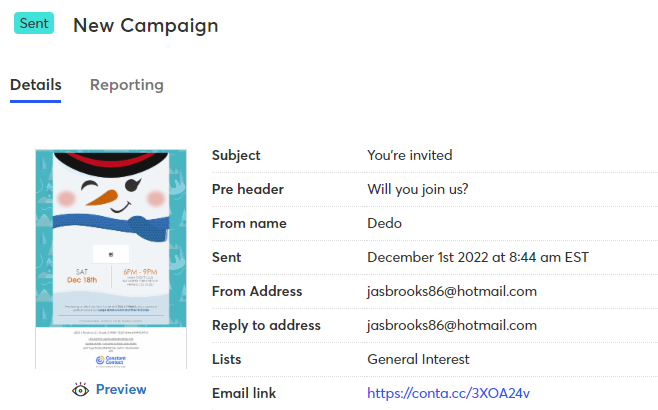 ActiveCampaign presents guidelines to follow, namely requiring consent to send messages. But it's not as strict as Constant Contact
 when it comes to reviewing accounts and responding to complaints. The bottom line is that
Constant Contact's no-nonsense policy on spam is better than ActiveCampaign's.
It helps ensure your emails won't get flagged by email providers due to spam reports against the whole server. Another area to consider is affiliate marketing.
Constant Contact doesn't allow affiliate marketing at all, while ActiveCampaign allows affiliate links with some restrictions.
For example, you're not allowed to send emails with the sole purpose of promoting another business.
Personally, I prefer ActiveCampaign's stance
. Affiliate marketing can be effective, and ActiveCampaign still imposes restrictions to reduce spam. The best way to protect and improve your deliverability rate is to send your emails from a dedicated IP address. Having your own IP address means you don't have to worry about another company's emails on a shared server getting marked as spam. You and you alone affect the IP's reputation and email deliverability.
You cannot purchase a dedicated IP address with Constant Contact, but you can with ActiveCampaign
. However, you can only do so if you have 100,000 contacts or more, meaning you'll be paying at least $405 per month with the
Lite plan
. Still, having the option is nice for people planning to grow and reach those numbers in the future. I'd say this makes ActiveCampaign the better choice for big businesses that want total responsibility for their email deliverability.
Reporting and Analytics
ActiveCampaign's Marketing Insights Beat the Competition Hands Down
Analytics are essential to understanding how your campaigns are doing and how they can be improved. If you want to improve performance, you need the numbers.
Unfortunately,
Constant Contact provides pretty limited reports
. All you can see is how many emails were opened and by how many people, plus how many links were clicked by how many people. That's it. No details, no trends.
You can't even compare your campaigns with each other to see which performed better!
Constant Contact's reports won't help you figure out what kinds of customers are responding to what kinds of campaigns. Do your accessory products do well with women in California? Which campaign was more successful with younger men – hiking gear or snowboarding equipment? There's just no way to tell.
On the other hand, ActiveCampaign's detailed reports can help you learn more about your campaign's performance.
You can see how many times an email was opened and ignored, how many times a link was clicked, how many forwards an email receives, and how many people unsubscribe.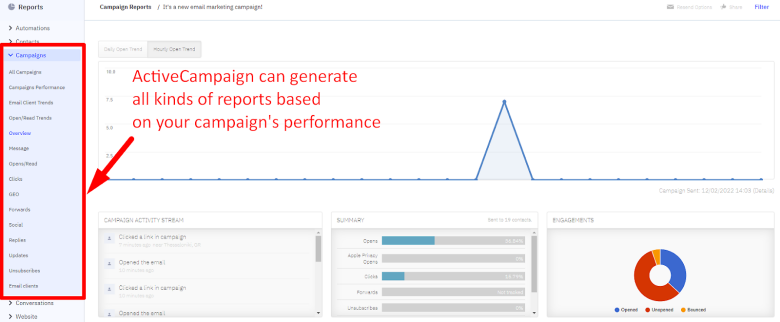 You can also segment reports by customer traits (such as a custom tag), whether a contact has opened a particular email, or where they're located. These are the kinds of insights that can help you strategize and improve your marketing approach. ActiveCampaign wins this round, hands down.
Pricing
Constant Contact is Surprisingly Expensive for Big Businesses
Neither ActiveCampaign nor Constant Contact offer a free plan.
So, if you want a free email marketing service,
I'd recommend Sendinblue's full-featured free plan
.
Constant Contact has a 30-day money-back guarantee, and it offers a 60-day free trial to US residents.
This is the longest trial period I've seen out there. So, if you live in the US, you'll get a very generous amount of time to test out the service risk-free.
ActiveCampaign only offers 14 days to try out all its features, which is pretty paltry by comparison
– in fact, it's one of the shortest trial periods around. My trial was over before I knew it, and I felt it wasn't enough time to really familiarize myself with the service.
Constant Contact's pricing is based on how many contacts you have.
For example, its cheapest paid plan, Core, starts at
$
12.00
for up to 500 contacts – but more than doubles when you hit the 501–1,000 contact category.
If you want access to email automation, you're looking at a starting price of

$

35.00

for 500 contacts on the Plus plan
.
ActiveCampaign offers four plans and, like Constant Contact, the price scales with your number of contacts
. Its cheapest plan is Lite, starting at
$
29.00
per month for up to 500 contacts, but jumps to $29 when you hit the 501–1,000 range. If you want more features, such as SMS marketing, you'll need to pay for the Plus plan, starting at
$
49.00
 for 1,000 contacts. Or, if you want split automation, the Professional plan starts at
$
149.00
 for 2,500 contacts. With Constant Contact, you get fewer features and can quickly end up overpaying if you have a big mailing list.
If you have a lot of contacts or are planning to grow your business, ActiveCampaign is the better option for the price.
That's a lot to process, so we've kindly put together a detailed breakdown of
Constant Contact's pricing plans
for you. And we've even done the same
pricing breakdown for ActiveCampaign
.
What's Included
Constant Contact's Core Plan
ActiveCampaign's Lite Plan
Email Automation
Yes (only welcome emails)
Yes
Support
ActiveCampaign Offers More Options for Tech Support
I always check for knowledge bases before doing anything else. It saves time (and future embarrassment – I don't want to make a fool of myself in front of the smart tech agents!). To my delight,
both ActiveCampaign and Constant Contact have step-by-step guides and video tutorials
 that cover how to use most features. When all else fails and you can't solve an issue with a guide, it's time to hit up the support team.
ActiveCampaign has 24/7 email support, and an agent responded to my email in 2 hours.
 It also offers live chat Monday through Thursday from 8 a.m. to 11 p.m. (CST) and Friday from 8 a.m. to 6 p.m.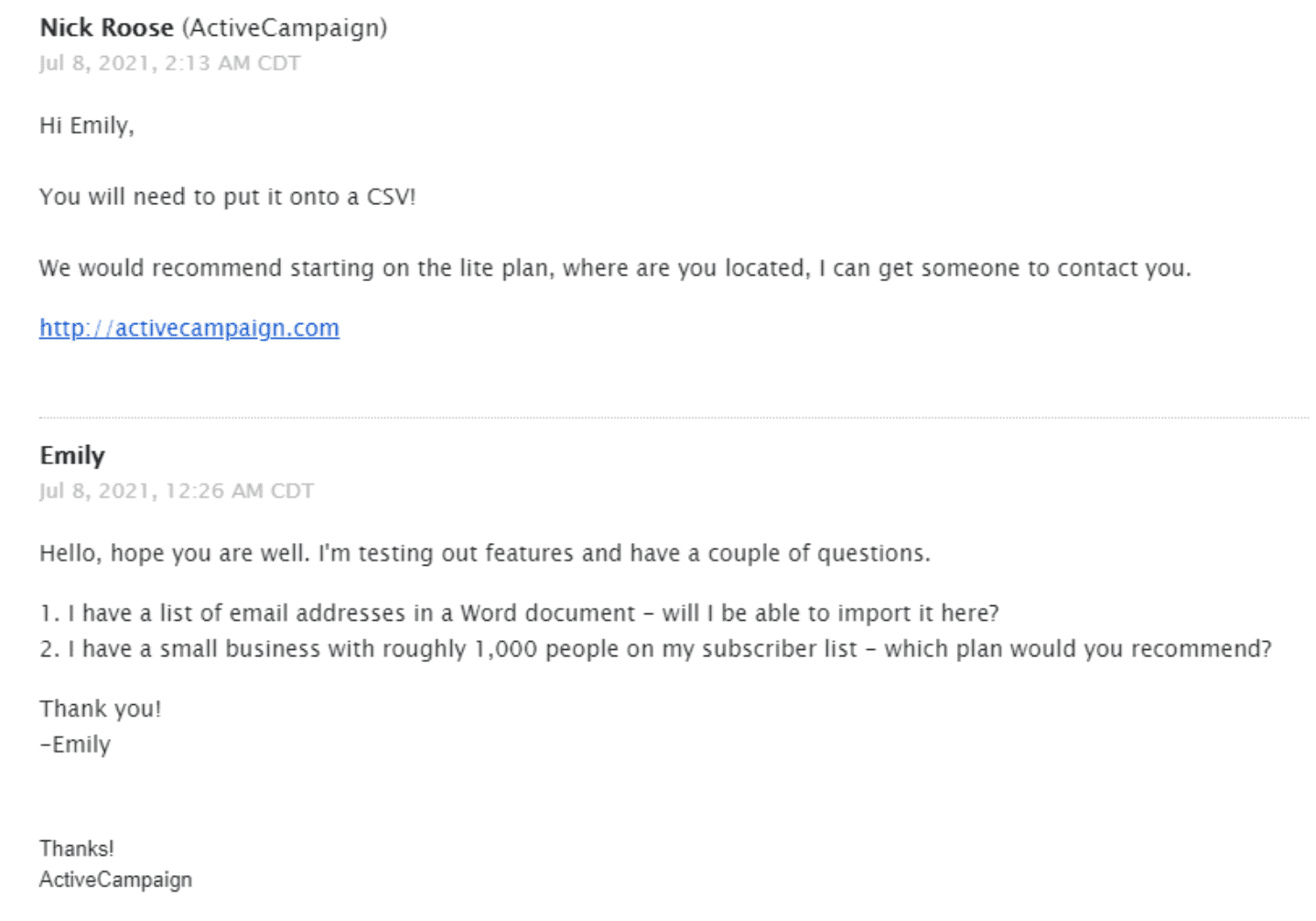 The available hours for phone support aren't clearly listed, but I had a positive experience talking to a rep who called first to check in. She answered my question about importing a contact list from a Microsoft document (in short, it couldn't be done) and helped me find an alternative solution.
Constant Contact offers live chat
 Monday through Thursday 3 a.m. to 10 p.m. and Friday 3 a.m. to 9 p.m. (ET).
But I couldn't find an email to contact, as the help center just kept taking me to different pages
. Struggling to navigate to a support ticket form or contact email was frustrating, to say the least. A marketing coach was assigned to assist me in getting set up, and they promptly contacted me via phone and email. I had the opportunity to return the call at approximately 11 a.m., and the coach readily answered to address my inquiries regarding importing a contact list. Additionally, the coach engaged in one-on-one discussion to gain insights into my (not real) business and collaboratively develop an effective marketing campaign strategy. I liked the initiative, but I would still prefer the ability to send an email if I had a question or tech problem.
ActiveCampaign's 24/7 email support makes getting help more accessible.  
The Ultimate Winner
Constant Contact gets a few things right. Since it's easy to use, it's great for beginners and small businesses who just want the basics.
You get solid features like email segmentation, reporting, and automation – but they fall short of their more robust counterparts in ActiveCampaign, especially considering you aren't saving money with Constant Contact. When I tested ActiveCampaign vs Constant Contact, I found ActiveCampaign a bit more difficult to get used to at first, but was blown away by its insightful analytics and highly customizable automation workflow. I'd highly recommend checking out
our in-depth review of ActiveCampaign
too.
ActiveCampaign is the better choice for people who want the numbers to improve their marketing strategy and the features to make it happen.
Between Constant Contact and ActiveCampaign, I have to declare ActiveCampaign the winner.
ActiveCampaign
Constant Contact
Standout Features
250+ templates, split testing, segmentation, full automation.
400+ templates, segmentation, basic automation.
Ease of Use
Knowledgebase, easy-to-use editors.
Knowledgebase, easy-to-use and beginner-friendly editors and navigation.
Email Deliverability
DKIM authentication, moderate anti-spam policy, dedicated IP address.
DKIM authentication and strong anti-spam policy.
Reporting and Analytics
Full reports on email statistics, link and site interactions, sales, and customer data.
Limited reports on email statistics with no specifics or comparisons.
Pricing
No free plan. 4 premium plans with tiered pricing.
No free plan. 2 premium plans with tiered pricing.
Support
Phone, 24/7 email, and live chat.
Phone and 24/7 live chat.
FAQs
What is the best email marketing service?
There are a lot of great email marketing services out there, and the best one for you depends on what you're looking for. For example, ActiveCampaign is the best all-around service that will deliver robust features.
Is ActiveCampaign free?
No, ActiveCampaign only offers premium plans, the cheapest being its Lite plan. However, you can test out the service risk-free with its free 14-day trial, or try the Plus plan which definitely offers the most value.
Is Constant Contact outdated?
Constant Contact is pretty good at covering the basics, but it's missing a lot of features offered by other email marketing services. The lack of split testing and limited reports and automation makes it outdated compared to its competitors, especially for the price. You can even get advanced automation and other features Constant Contact lacks with some free plans.
How much does Constant Contact cost?
Constant Contact offers two premium plans: Core and Plus. The exact price of each plan is tied to the number of contacts you have. That's the short answer. We've put together a detailed breakdown of each of Constant Contact's pricing plans for you here.