We noticed that ever since Hostinger reduced their prices, many users are closing their accounts with TMDHosting.
TMDHosting offers affordable, feature-packed plans, providing good value for your money. However, it's not the best fit for everyone. It's not the best choice for advanced users, and past customers complain about various issues. So, if you've signed up and found it's not quite right for you, this article will take you step-by-step through the process to cancel and get a refund. If you're in the market for a new budget-friendly host, check out
Hostinger
or one of our other
recommended alternatives
.
Quick Guide: How to Cancel Your Account with TMDHosting and Get a Refund
Go to your dashboard, select the service you'd like to cancel, and click the View/Edit button.
Click the Cancellation button and fill out the form. Be sure to make a note on the form, requesting a refund.
When you receive the email telling you your request is pending, you must contact support via live chat within 96 hours to confirm your request.
Then, your payment will be refunded.
My Experience Canceling My Account with TMDHosting
First, it's important to note that TMDHosting has a
60-day money-back guarantee
, which is twice as long as what most hosts offer. This means you can test the packages for a whopping two months risk-free. If you need to cancel after the money-back period, you can do so easily from the dashboard. Simply select the service you want to cancel and click on the
View/Edit
button. A new page will pop up – you'll find the
Cancellation
button at the bottom.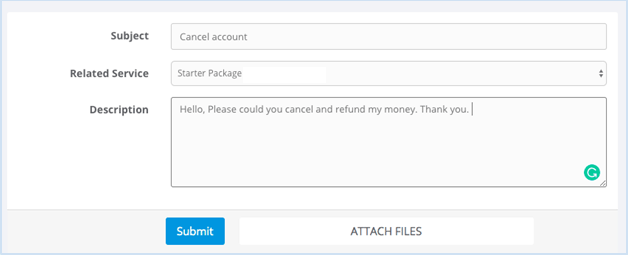 On the other hand, if you need to cancel and get a refund, the process is the same. The first step is to fill out the cancellation form via the online dashboard. Just be sure to make a note on the form that you are due to a refund as well. I submitted my support request at around 1:00 PM on a Tuesday afternoon. Shortly after, I received an email confirming my cancellation request was pending.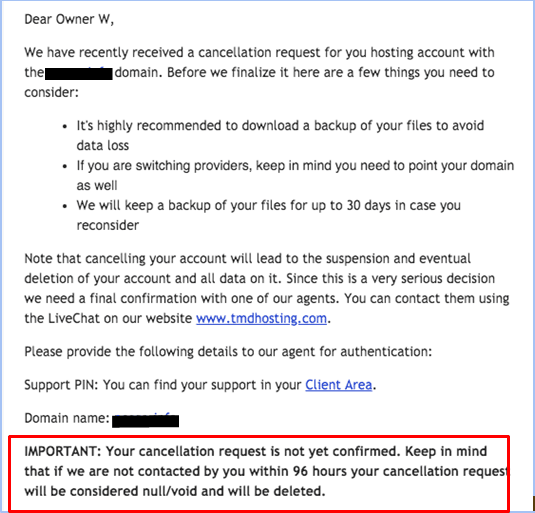 Annoyingly, despite the fact that I'd completed an online form requesting the cancellation, I still needed to contact support via live chat to approve it. Duly, I jumped on live chat and asked them to proceed with the cancellation. As per usual, the agent picked up instantly and was helpful. However, it soon became apparent that
the purpose of the conversation was to convince me to stay
. I was asked several times why I was leaving and if was I aware of TMDHosting's other plans which may be more suitable.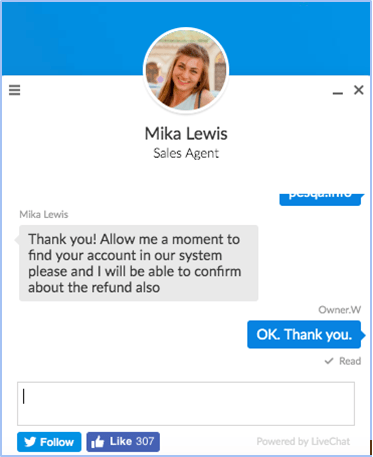 After about five minutes on live chat, my account was finally canceled. I received a confirmation email, including advice that my payment would be refunded.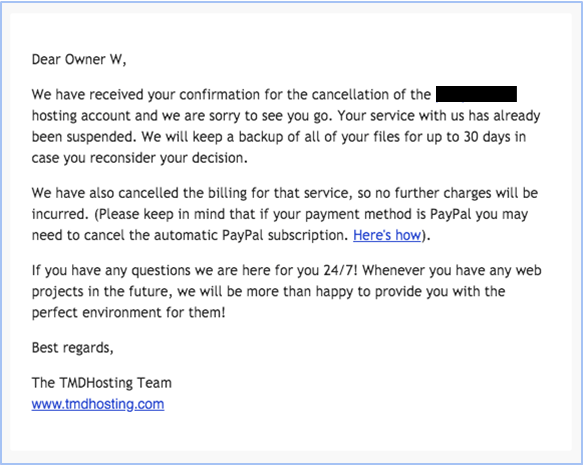 So far, so good. However, the next email let me know that my refund would be minus the setup fee. It's not a huge amount of money, but it is something to consider if you're are considering testing the services.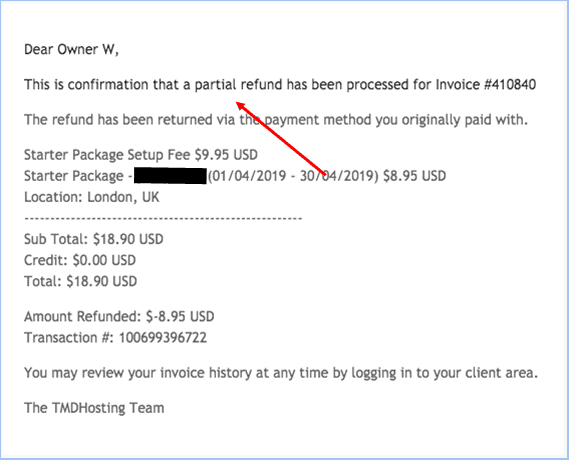 The Best TMDHosting Alternatives
If you found TMDHosting too basic and you're looking for a host that offers more advanced features, you should read about Cloudways.
If you need an advanced, scalable solution for your business, Liquid Web is an excellent option.
If you're looking for an even more budget-friendly host, be sure to check out Hostinger.
More Complex Than Signing Up
If you read my article about setting up an account with TMDHosting, you are aware of the simplicity and ease of the process. Thus, it caught me by surprise that TMDHosting introduces extra steps that you need to perform to cancel your account. I also felt let down due to the lack of a refund for the initial setup fee. Nevertheless, if you want to learn about TMDHosting's beginner-friendly features,
click here to read the full review
.