Jimdo was founded with the hope of creating a tool that makes it fun and easy for all users to build their own website, even if they have no experience or coding skills. That's always been a core part of their business, and it's still the driving factor that makes Jimdo one of the most accessible website builders for beginners. Although they still very much project a small company image, they have over 200 employees in offices in Hamburg and Tokyo, and they've helped create over 20 million websites.
However, too much of a good thing can be a disadvantage. That's why it's important that you know what the biggest pros, cons, and things to consider are when it comes to Jimdo so you can see whether it's a suitable website builder for you.
Jimdo Has A Limiting Pricing Model
In terms of the actual breadth of options and the resources you get with every pricing plan, Jimdo is a bit behind its competitors. Jimdo has only three plans: one free plan (with restrictions common to free plans), and two premium plans. By contrast, Wix has five pricing plans (plus a free plan) and WordPress.com has four (including a free plan).
It's also quite a leap from the 5 GB of storage and 10 GB of bandwidth offered with the cheaper Pro plan to the unlimited storage and bandwidth with the Business plan. For almost the same price, you get 13 GB of storage with WordPress.com. And for a bit more, you can get unlimited storage with Squarespace. Both also offer unlimited bandwidth. For half the price of Jimdo's Business plan, you already get unlimited bandwidth and 10 GB storage.
Furthermore, you unlock more powerful SEO features only with the Business plan. This almost makes it feel like there's a big gap between the Pro and Business plan that might have been suitable for a whole range of customers, possibly even including yourself. For most, it will feel like their only option is to just go with the Business plan from the start.
There's a DIY Option, But You Might Be Better Off Letting the AI Do it For You
For a while, Wix was the only platform that offered the unique feature of letting an AI create a website for you based only on machine learning and a short questionnaire. Now, Jimdo offers its own AI, called Dolphin, which is supposed to take you through the whole process in less than three minutes — which is true!
Once you're done, Dolphin will take you through another short tutorial to start tweaking the design by changing the color palette and/or fonts, or by using the drag-and-drop builder. It really is a super easy and fun process, and the results seem to be decent enough.
If you want to take a bit more of a DIY approach, you could also use the Creator tool to build out your website. You basically just have to choose what type of website you want, select your template, and then you can start customizing. There are about 40-50 templates that are all free, and although they don't have any obvious faults, you can find better templates on website builders like Weebly and Wix, whose selections are more extensive and unique.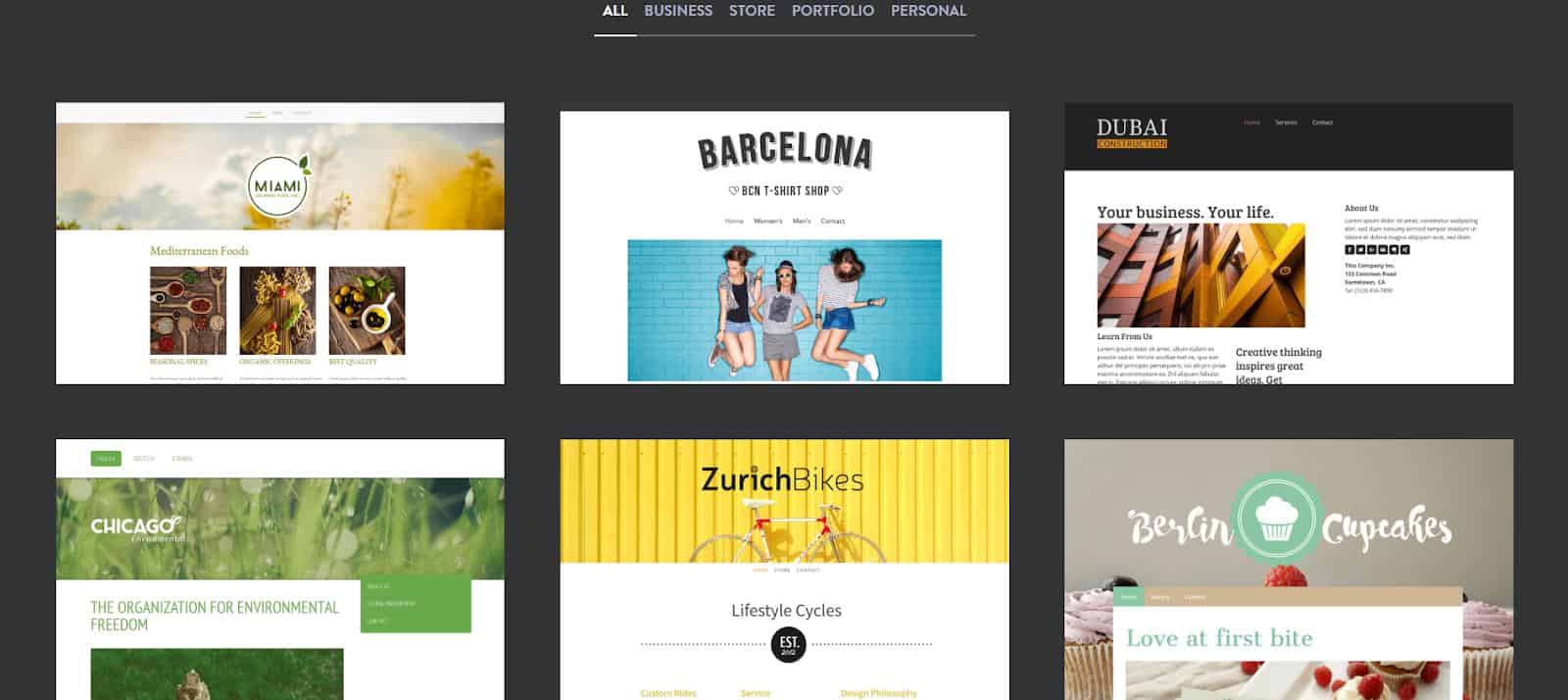 In all honesty, the Jimdo Creator isn't the best website builder out there, nor the most intuitive. Most people will prefer to use Dolphin and will get a better result with it, especially if you're a beginner. Here's our article about how Jimdo's Dolphin and Creator compare.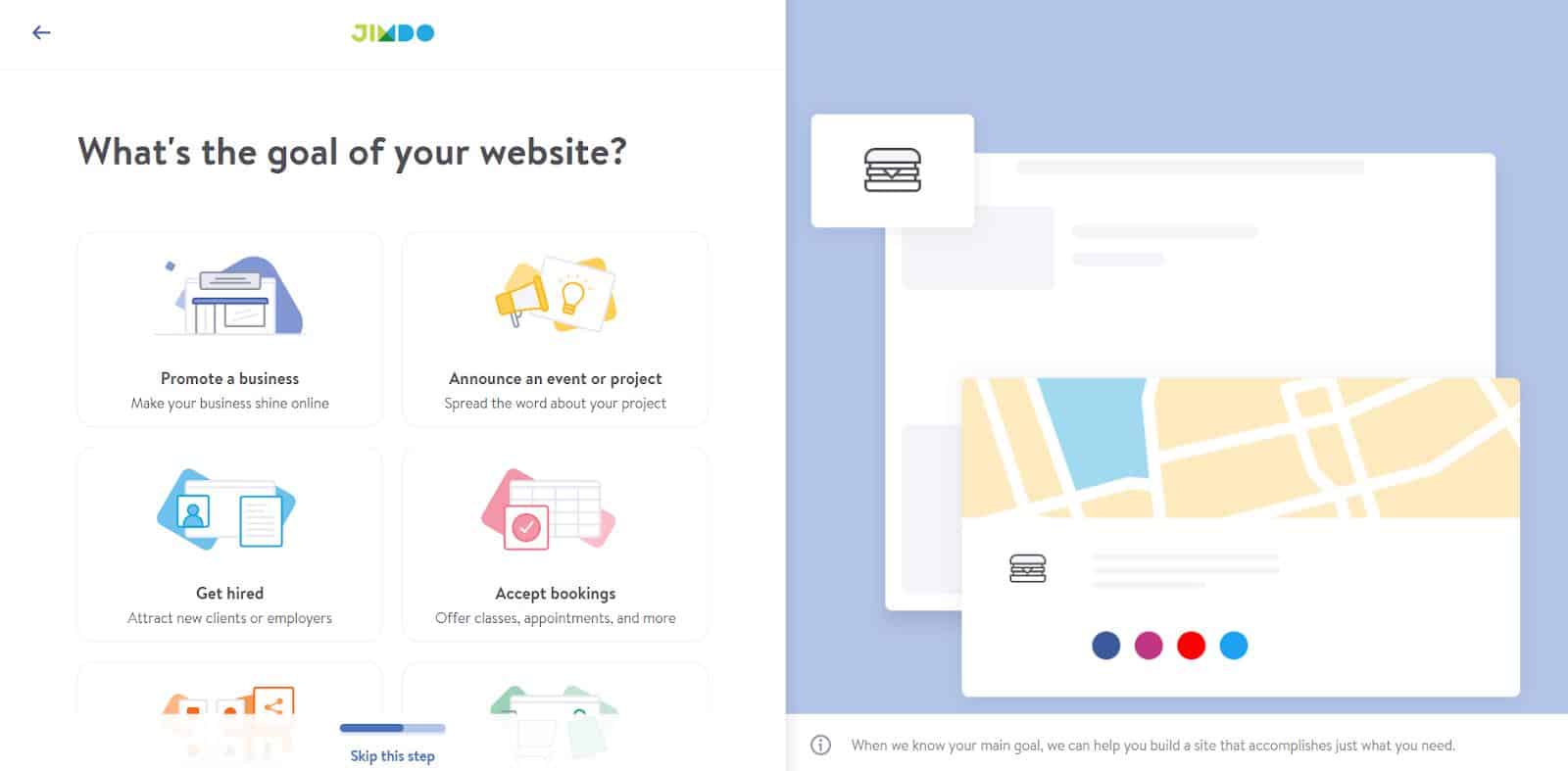 Don't Expect the Most Upscale Features, Like Advanced SEO
One area where Jimdo falls a little behind is when it comes to advanced features. Jimdo is purely aimed at making hosting a website extremely accessible to beginners. Unfortunately, that also means that they didn't do much to expand functionality in individual areas, such as their blog, store, SEO, and others.
There's also no app market on Jimdo, and there's no way to install third-party apps. The only way you'll be able to extend your website's functionality is by using custom HTML, CSS, and Javascript, as Jimdo does allow you to customize your template files and add your own.
You're also limited to the most essential blogging tools. For example, you can't create subcategories, and the editing tools for blog posts are kept to a bare minimum.
The same goes for the built-in store features. You can use only Stripe or Paypal to set up payments; you have to manually create your shipping rules (no real-time shipping calculator or integrations); and you have only basic product-listing and inventory-management tools. This is obviously nowhere near the capabilities of vendors like BigCommerce and Shopify, which integrate with third-party platforms such as ShipperHQ, Oberlo, and more.
In terms of SEO, Jimdo's features are a bit more standard, as you're capable of changing your site/page title, meta tags, and URL slugs. You get one or two handy built-in features too, such as the ability to check whether your website is on Google, and the ability to edit your sitemap.xml file. But that's about it.
That means that Jimdo does make having a store or blog on your website a cinch, and you can optimize the SEO — but only to a certain extent. Jimdo is not meant to be the best in any specific category.
You Can Create Your Website from Your Mobile Phone or Tablet
One of Jimdo's best and most unique features is the Jimdo Creator app, which allows you to build your website using the drag-and-drop builder on your phone or tablet. There's an Android and iOS version available from their respective official app stores, and it's supported by most versions of each.
While most other builders also feature apps, these apps are usually only able to help you manage posts, emails, and user accounts. The Jimdo Creator app is one of only a handful that lets you build and customize your website. I'd also argue that it's the best, with the most intuitive interface and the most control over the customization experience. Others seem to agree based on the glowing user reviews and ratings.

So, if you're often on the go or the idea of tweaking and playing with your website while sitting in public transport or waiting for an appointment seems attractive, then Jimdo is the go-to website builder.
Is Jimdo the Builder You've Been Looking For?
There's no denying the fact that building a website with Jimdo is incredibly easy and fun. However, this could soon turn into a frustration if you become too ambitious and start running into the platform's shortcomings in specific areas. To really know whether Jimdo is the right builder for you and to ensure you have a great experience using it, you should carefully manage your expectations and measure Jimdo up against them.
For example, Jimdo is a great option if you:
want to put a website together quickly and easily
want basic tools to blog and/or sell on your website
want to be able to create and manage your website from a mobile device
Jimdo is not so great if you:
want the best-in-class features in any specific category
want to extend the features and functionality of your website via apps
want a huge amount of flexibility when it comes to template design and customizability
There's also not a huge variety of pricing plans, which makes determining whether Jimdo is the platform for you even that much more important.
For more about Jimdo, check out our expert review or visit their pricing page.