If you find the right service, you can host a nonprofit website on a budget without having to compromise on quality.
However, it's not as easy as choosing the cheapest solution available. Some low-cost web hosting providers lack essential security features for accepting donations, or require a Ph.D. in computer science to just to build and run your nonprofit website. The best web hosts provide reliable performance, great service, and affordable plans. With some providers,
you can even get an exclusive discount for nonprofits
. To help you make the right choice, I've reviewed dozens of hosting providers and identified the seven best web hosts for nonprofits.
From security features to ease of use and customer support, I chose only those services that offer the most value for your money.
What We Look For in the Best Web Hosting Services for Nonprofits
To find the most reliable web hosting services for your nonprofit, I prioritized the following features:
Affordable Prices: There's no reason to settle for a mediocre hosting service. All the hosts on my list offer affordable plans that don't compromise on performance or important features.
Security: If you want visitors to make donations directly on your site, you have to ensure that sensitive information is safe from hackers.
Reliability: If potential supporters can't access your website, they could get the wrong impression of your organization. You want a service that provides a high uptime guarantee and has a proven record of upholding this promise.
Website Builder: Creating your own website is an excellent way to lower your costs. Many of the hosts on this list provide website builders that are easy to use, even if you've never built a site before.
Customer Support: Whether you need help setting up your website or have to quickly fix a performance issue, you should be able to rely on 24/7 customer support.
InterServer is my top pick because of its affordable shared hosting plan with unlimited resources. 
For US-based nonprofit organizations registered as 501C3 with the IRS, this provider's standard web hosting plan is free: all features included.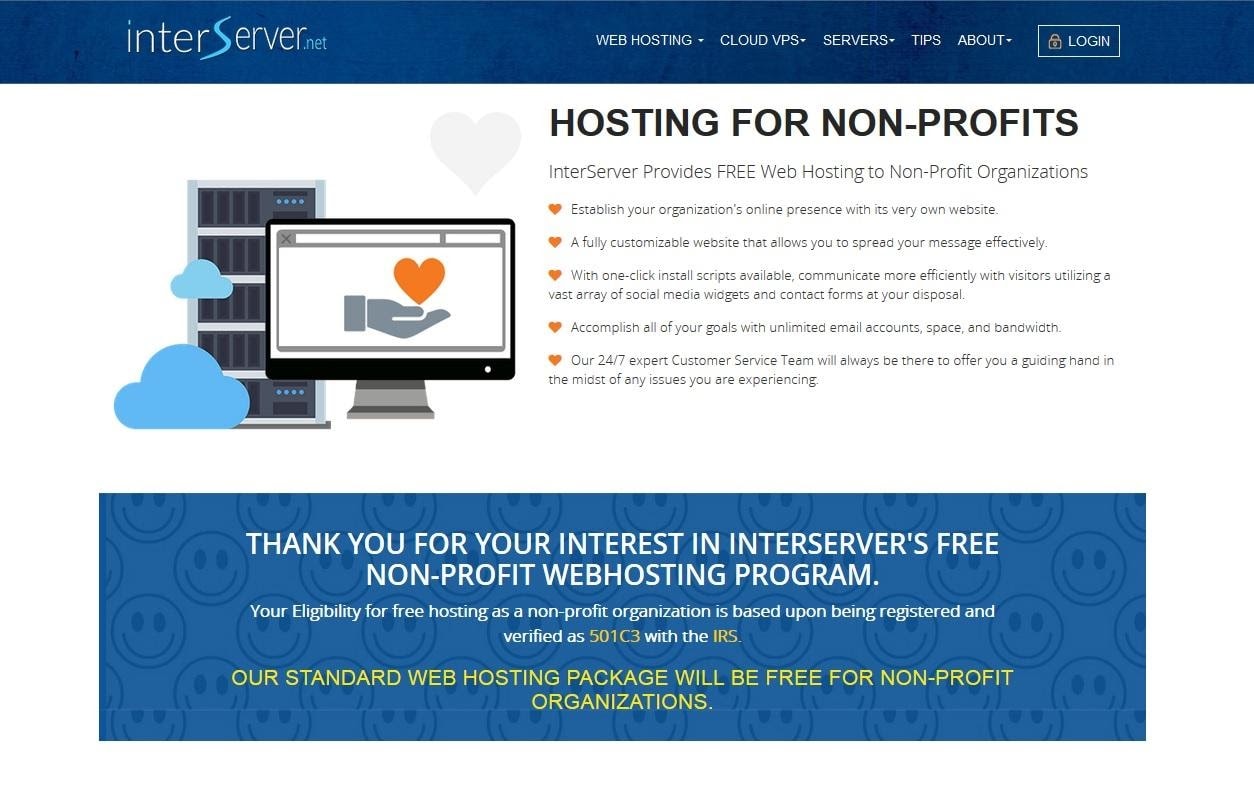 Even if your nonprofit isn't registered in the US, InterServer's standard plan is still a very cheap option compared to other services.
It also offers low-cost monthly billing, which is a great option if you don't want to pay upfront for a year or more of hosting.
The Standard plan gives you unlimited SSD storage, an unlimited number of email accounts, and a free SSL certificate.
Free website migration: If you already have a live website on another web host's servers, InterServer's support team will help you migrate your site to your new hosting plan with little to no downtime.
InterShield Security: InterServer's in-house security solution features a basic virus scanner, a machine learning firewall, and a comprehensive malware database, all designed to anticipate and block web attacks.
Free SitePad website builder: This drag-and-drop builder comes with a one-click launch option, and it's very easy to use, even if you've never built a site before.
For more information, read our full InterServer review
.
While Hostinger doesn't have a special offer for nonprofits like InterServer, its low prices still make it an ideal budget-friendly web hosting service.
Even its cheapest plan gives you access to some fantastic features, such as regular website backups and an easy-to-use website builder.
its cheapest Single shared hosting plan
. 10GB should be enough for most nonprofit websites, but if you're planning on hosting a lot of hi-res images or videos, you can upgrade to the Business plan, which will give you 30GB.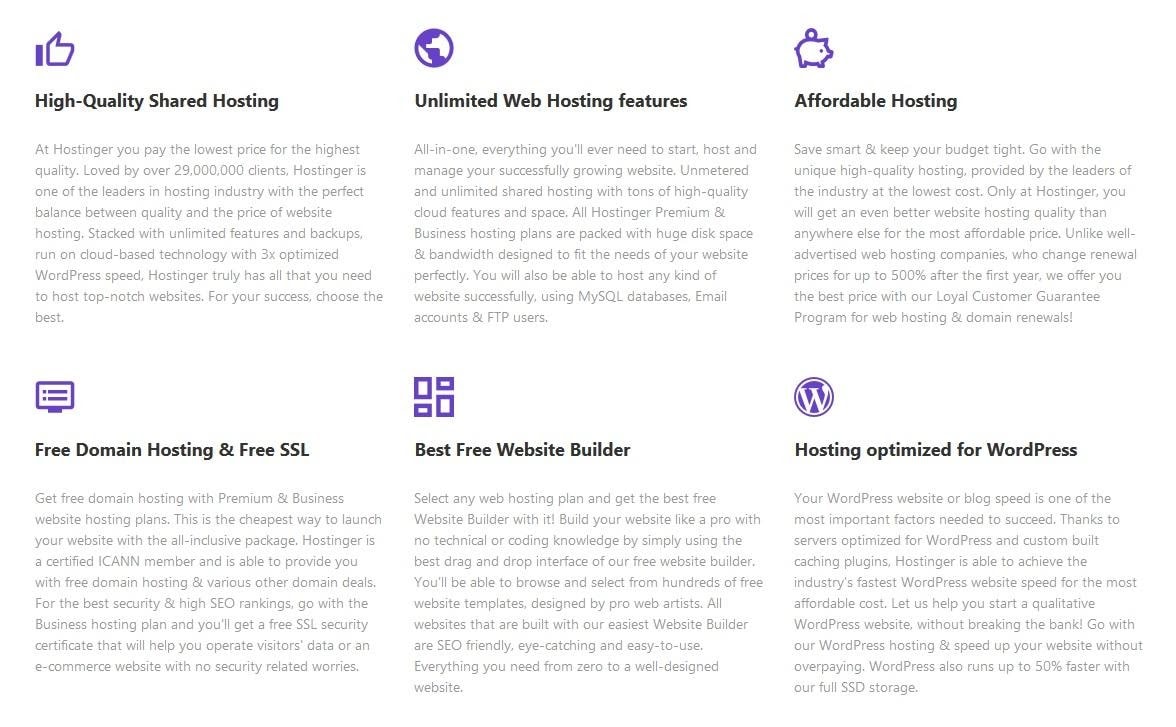 You get a free SSL certificate with the Business plan, but unfortunately, not with its Single and Premium plans. However, the certificate is a one-time purchase, that provides ongoing security for your nonprofit site without affecting your monthly costs. One catch with Hostinger is that its cheapest rates are only available on longer-term contracts. So while the flexible, one-month plans are still affordable, you'll need to commit for two years to get the best deals.
Let's take a look at some of Hostinger's most interesting features:
The proprietary hPanel: Hostinger's own version of cPanel has a simple interface that lets you manage your website easily. Find your billing information, create additional email addresses, or access live chat, all in one clear and intuitive control panel.
The Zyro website builder: Zyro, Hostinger's new website builder, is super easy to use, and it's a great way to get your new website up and running fast. Just keep in mind that its template selection is a bit limited.
24/7 live chat support: You can expect helpful answers to any web hosting issue in a matter of minutes.
Check out our Hostinger review to find out more
.
A2 Hosting offers low prices to begin with, and if you're an accredited nonprofit organization, you can get an extra discount.
You don't have to compromise on resources, either. Even its most basic plan comes with generous allocations that are more than enough to support a nonprofit website.
A2 Hosting's Startup shared hosting plan
 offers 100GB of SSD storage and an unlimited number of email accounts.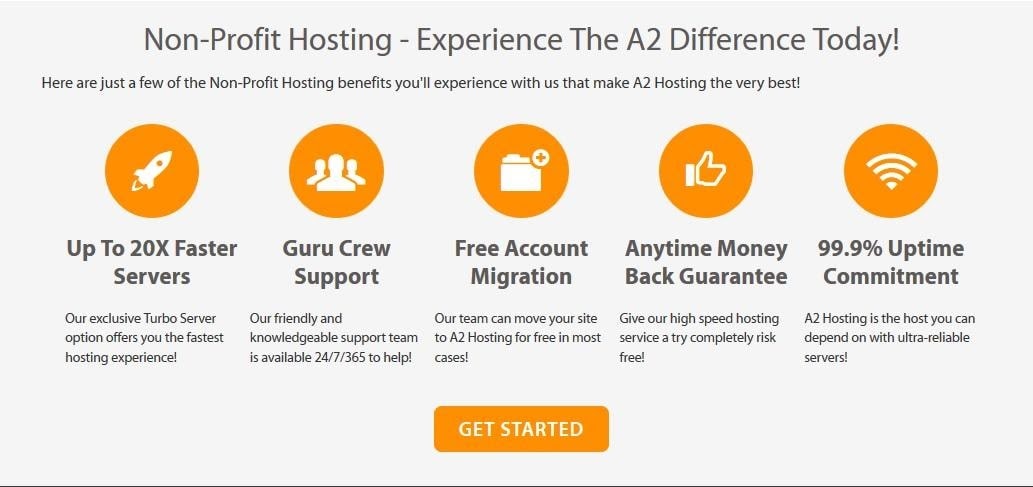 This certainly isn't a must, but if you can afford to upgrade, the Turbo plans will give you faster loading speeds and automatic backups. Either way, if you ever run into any trouble with your hosting, you can count on A2's Guru Crew for 24/7 specialized support. You can contact an agent through live chat, ticket, email, phone, or even Skype. One thing I love about A2 Hosting is its mission to be eco-friendly.
A2 Hosting works with Carbonfund.org to reduce its carbon footprint
– an initiative that may align with the values of your nonprofit.
These are some other features I like:
Anytime money-back guarantee: Most web hosts will give you 30 days to apply for a refund, but with A2 Hosting, you can do this at any point throughout the duration of your plan. You get a full refund if you apply during the first 30 days, or a prorated refund of unused service after that.
Perpetual Security: A2 Hosting's proprietary security solution includes several free tools like HackScan, which detects and blocks hacks. This way, you know your donors' information is always safe.
The A2 Website Builder: This drag-and-drop builder includes ten professional templates and can be used to design one page for free on all plans.
Want to find out more? Read our A2 Hosting expert review.
Even if you've never built a website before, HostPapa makes it easy to set up an account and get to work on your site right away. The HostPapa website builder is free with all plans (just keep in mind that on the lowest-tier plans, you get a "Starter" version that only gives you two pages).

HostPapa's basic shared hosting plan
gives you 100GB of SSD storage and 100 email accounts.This should be more than enough for most nonprofit websites.
while the basic plan seems cheap, there are a few add-ons that get automatically added to your cart,
 such as domain privacy and backups. So you need to carefully look over every item on the list at checkout.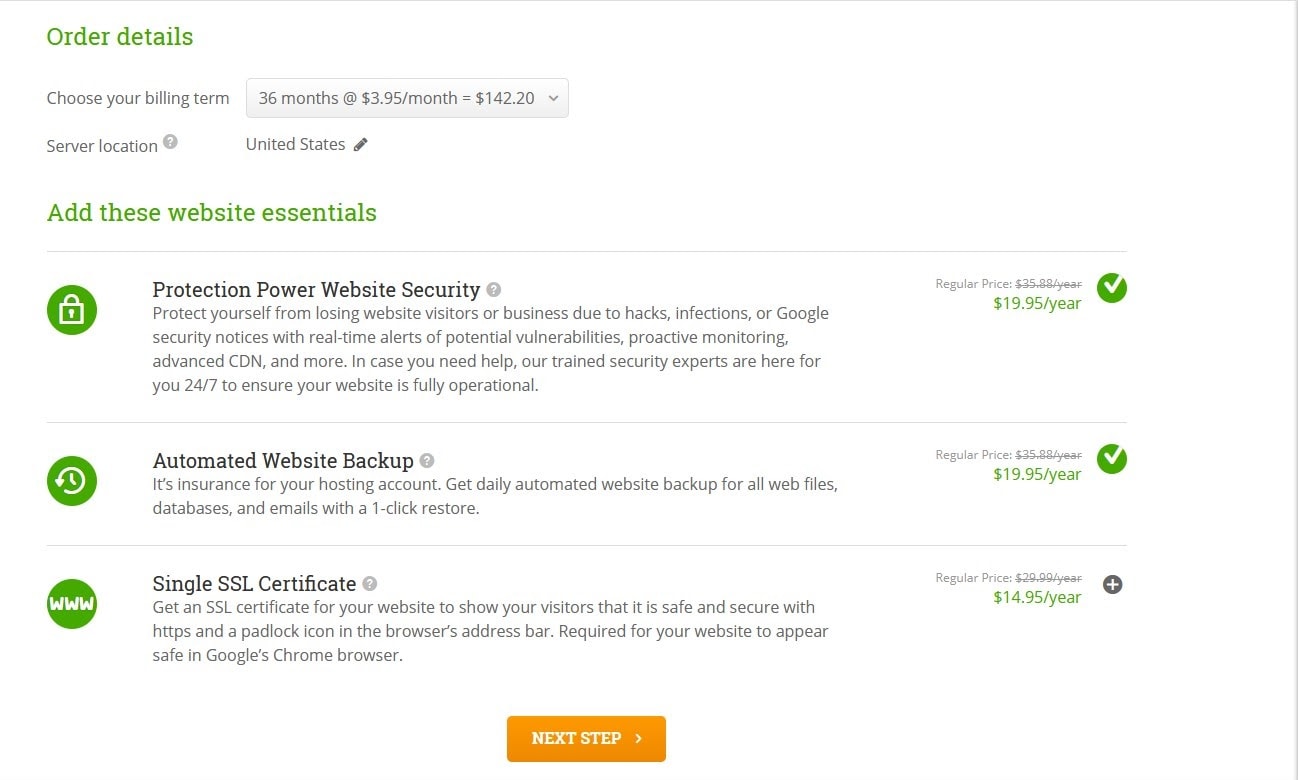 These are some of the features that make HostPapa a great choice for nonprofits:
Free one-on-one training: You have 30 minutes to sit down with a HostPapa expert and ask questions about the dashboard, website builder, security, and more.
Security features: HostPapa offers free SSL certificates, a firewall, and other security tools that keep your website safe and your donors' financial data secure.
HostPapa website builder: You can use this easy drag-and-drop builder on the hosting plans, but I'd recommend signing up for a special website builder plan
Get more details in our in-depth HostPapa review
.
One great thing about SiteGround is that it offers
managed WordPress hosting plans
 for the same price as regular shared hosting. If you're planning to build your site with WordPress, this is a great option, because SiteGround will take care of all the technical aspects of your hosting, including updates and daily backups.
You can read about our experience with the support in our in-depth SiteGround review
.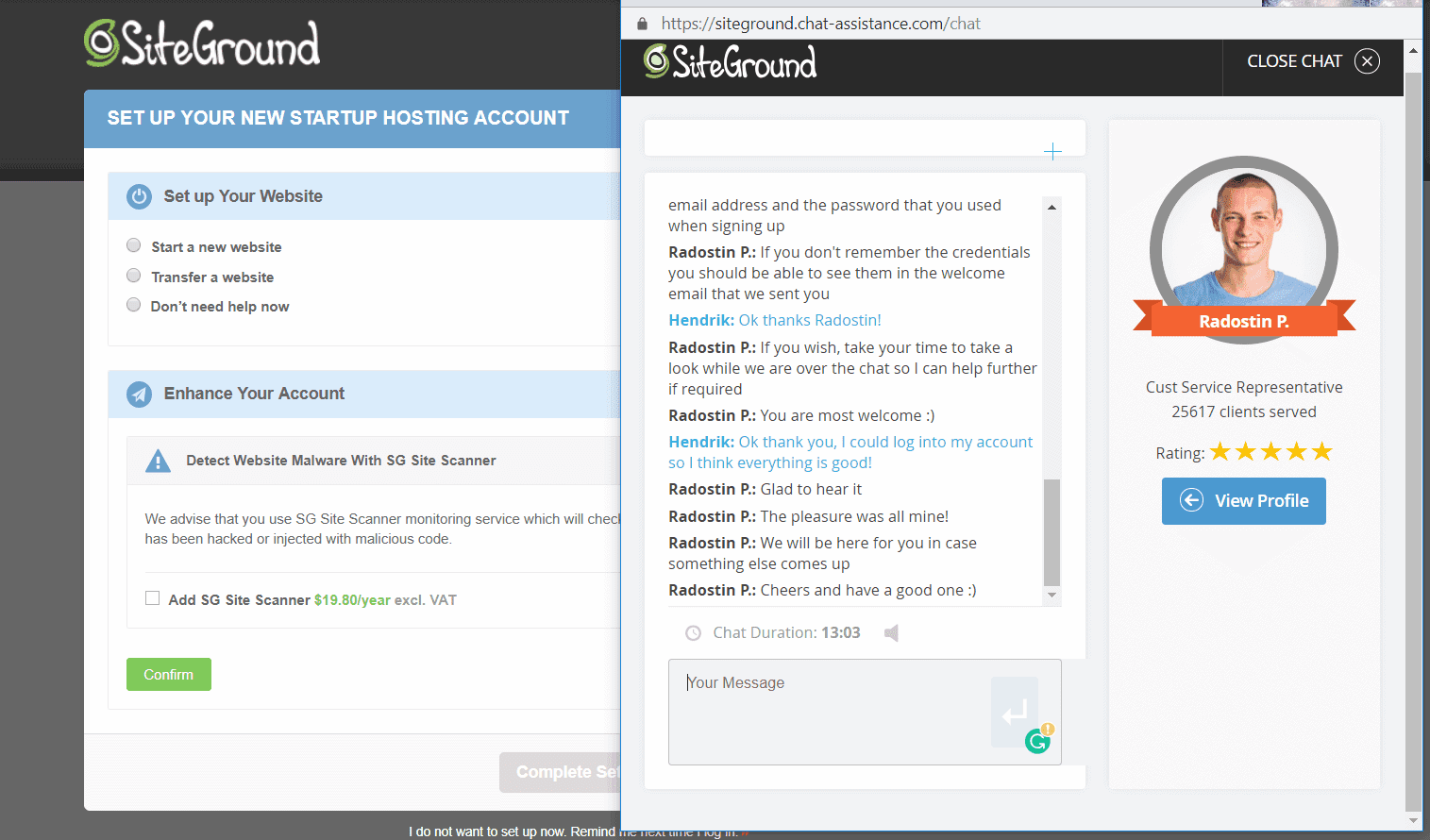 If you're tech-savvy, SiteGround has a range of developer-friendly features that will help optimize your website's performance. However,
 if you're just starting out, and would prefer a simple, plug-and-play web host, then there are more beginner-friendly options available.
Features
Free SSL certificates: SiteGround helps keep your donors' financial information safe from hackers with SSL certificates on all plans. The certificates come preinstalled, so you don't have to configure them yourself.
Easy-to-use Weebly website builder: If you prefer not to use WordPress, SiteGround also gives you access to Weebly, an easy-to-use website builder with a drag-and-drop interface.
High-performance servers: Your hosting account will be isolated from other SiteGround users hosting their sites on the same server. This means faster loading speeds and better security.
GoDaddy's basic shared hosting plans are more than suitable for a nonprofit site.
The Economy shared hosting plan
 includes 100GB of SSD storage, as well as a free domain for the first year.
GoDaddy's Website Builder plans
. This builder provides you with an easy way to get your site online fast, even if you've never built a website before. One disadvantage with GoDaddy is that
you have to double-check everything at checkout
, because a lot of add-ons will be automatically added to your account. That said, this provider does deliver a user-friendly experience. You can expect a straightforward control panel that's easy to figure out.
Here are some other features I appreciate:
Extra WordPress templates: GoDaddy includes a generous portfolio of professional WordPress templates on all plans.
Automatic daily backups: These are included in all managed WordPress plans and can be added to shared hosting packages for a small fee. You can rest assured that even if something happens and you lose your data, you'll be able to restore it with just one click.
A proprietary security solution: GoDaddy offers malware scanning and removal, as well as a firewall and protection against DDoS attacks, for an additional fee.
For a full list of features, see our expert GoDaddy review
.
Scala Hosting has three shared hosting plans with a good balance of resources and features. The plans provide almost everything you need to host your nonprofit website, including a reasonable amount of SSD storage and a powerful website builder.
Not only that, but
Scala Hosting's managed WordPress hosting plans
 actually cost the same as shared hosting, so you get even more value. Scala Hosting's technical support agents can help you quickly fix any issue with your WordPress site.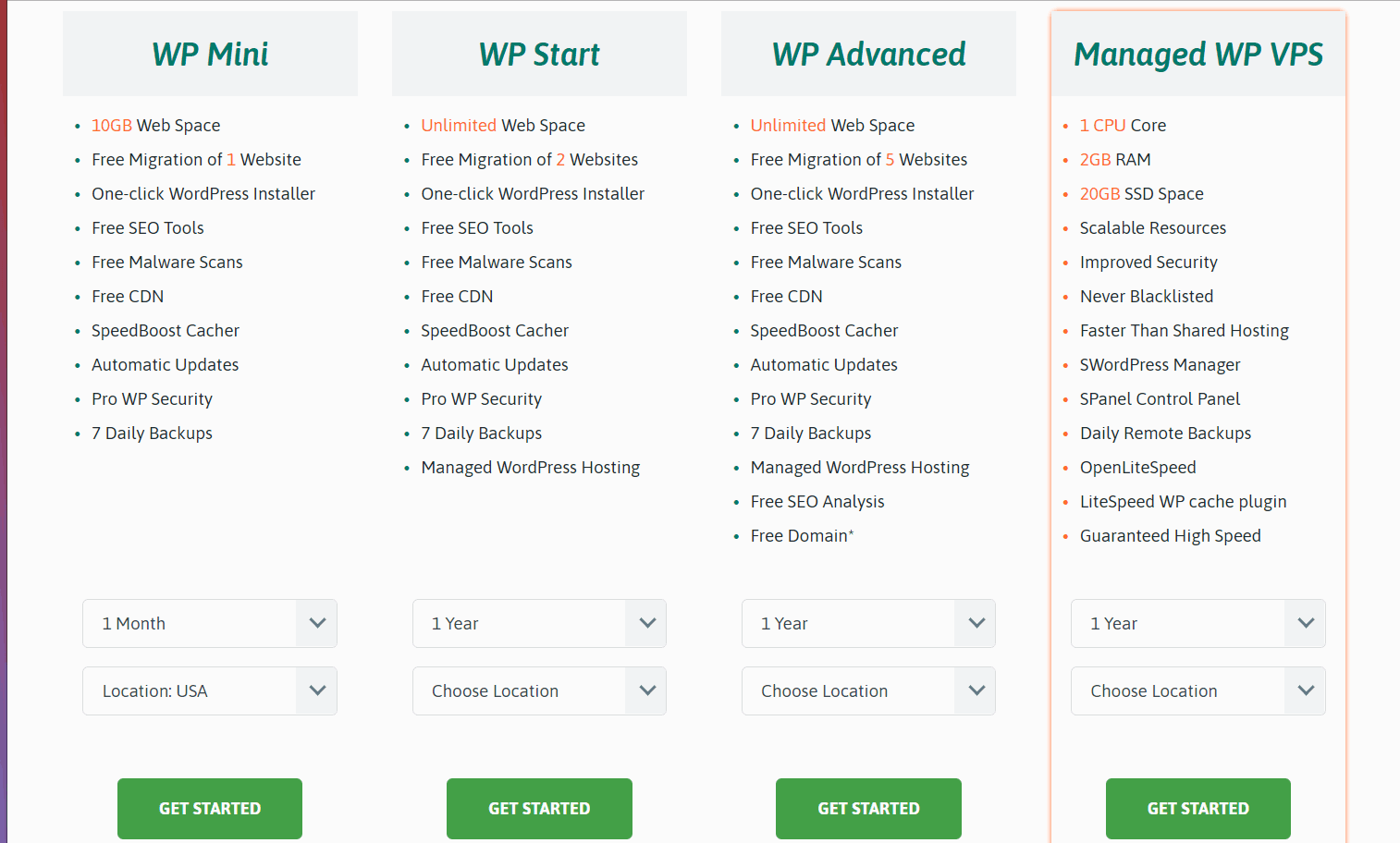 If you're building a more complex site for your nonprofit – for instance, an online shop to sell merchandise for fundraising –
Scala Hosting's VPS hosting could be an excellent solution.
 The pricing is very similar to other providers' shared hosting plans, and you get better performance and improved security. Scala Hosting's proprietary sPanel makes running your VPS account easy. Here are some other Scala Hosting features I like:
Pro Spam Protection: If you choose a VPS plan, you get improved spam protection for your email for free. This is also included in the Advanced shared hosting plan.
Free domain for the first year: You can lower your costs even further by taking advantage of Scala Hosting's free domain registration on yearly plans.
Unlimited bandwidth: You don't have a cap on bandwidth, so if you get high traffic during campaigns, you won't have to pay extra.
My colleague tested Scala Hosting for three months for his own website.
Read more about his experiences in his in-depth review
.
Which Web Host Is Best for Your Nonprofit?
Your website plays an essential role in the success and reputation of your nonprofit. While it is important to keep an eye on your budget, this doesn't mean you should settle for a mediocre web host.
If you're a US-based nonprofit organization registered with the IRS, I recommend InterServer's shared hosting plan.
It includes everything you will need to create, launch, and host your website for free.
If you're not in the US and you're on a minimal budget, Hostinger is an excellent option,
 with incredibly cheap plans that offer an impressive list of features. The table below gives you an overview of my top seven hosting services for nonprofits and their most relevant features:
FAQ
How do I create a free nonprofit website?
You can use a free website builder to create your nonprofit website from scratch. These powerful drag-and-drop tools help beginners who have little to no previous experience in web development. They include dozens of templates you can easily implement on your website.
Can I host my website for free?
Yes, you can use a free hosting service for your website. However, free hosting is often restrictive in terms of available storage space, bandwidth, performance, and security features. Paid web hosting is a much more reliable option and, although it's not free, it can be incredibly cheap. You might actually be able to get better prices than you think for quality hosting solutions. Check out our coupon page for the latest deals.
Do you need a hosting account for WordPress?
It is possible to create a free WordPress website on WordPress.com, but like all free services, this will come with some disadvantages. You won't be able to connect your own domain, and you'll have to upgrade to the Business plan to use plugins or third-party themes. To get the most out of WordPress, it's best to purchase a hosting plan and use the full version. Don't miss our list of the best hosting services right now.