Can't wait to get started? Here is the BEST free website builder for nonprofits in 2021
SITE123's free plan allows you to accept donations through your website. Not only that, but it's extremely easy to use, even if you've never built a website before! But don't take our word for it – click here to give SITE123 a try for free.
There are many free website builders out there, but many of them are too limited to use for a serious website. In today's world, a nonprofit needs a strong online presence, and you don't want to invest a lot of time in building a site that's going to make your organization look like a joke.
I spent several weeks testing all the major site builders to see which ones offer free plans that provide everything you need, from attractive website templates to donation buttons to online community features. I found the builders that don't hold back and let you build and publish a fully functional website for free.
My top choices are also the most user-friendly – if you know how to drag and drop, you can easily create a website that looks like it was designed by a professional.
Short on Time? These Are the Best Website Builders for Nonprofits:
SITE123 – A beginner-friendly builder that allows you to collect donations through your website.
Wix – A generous free plan that includes access to advanced features like newsletters, volunteer signups, and much more.
Weebly – Easy to use, with plenty of options for online fundraising.
See more free website builders | Free website builder comparison table | FAQ
What We Look For in the Best Website Builders for Nonprofits
We've examined all the major website builders, looking for the ones that:
Are free to use. We understand that as a nonprofit, you need to build your website without spending a fortune. The website builders we've showcased all offer decent free plans that will let you get a basic website online for free. They also offer useful add-ons available at relatively low prices.
Have features (either free or as add-ons) that will enable you to reach your target audience and receive donations easily. To help your nonprofit flourish online, the best website builders give you tools such as donation interfaces, mailing list options, and the ability to connect your website with your social media accounts.
Have a beginner-friendly user interface. You don't want to have to spend lots of time learning how to use a website builder. Those that have made our list are all intuitive.
Offer professional-looking templates. A well-designed and visually appealing website will boost your credibility, giving potential donors confidence in your nonprofit.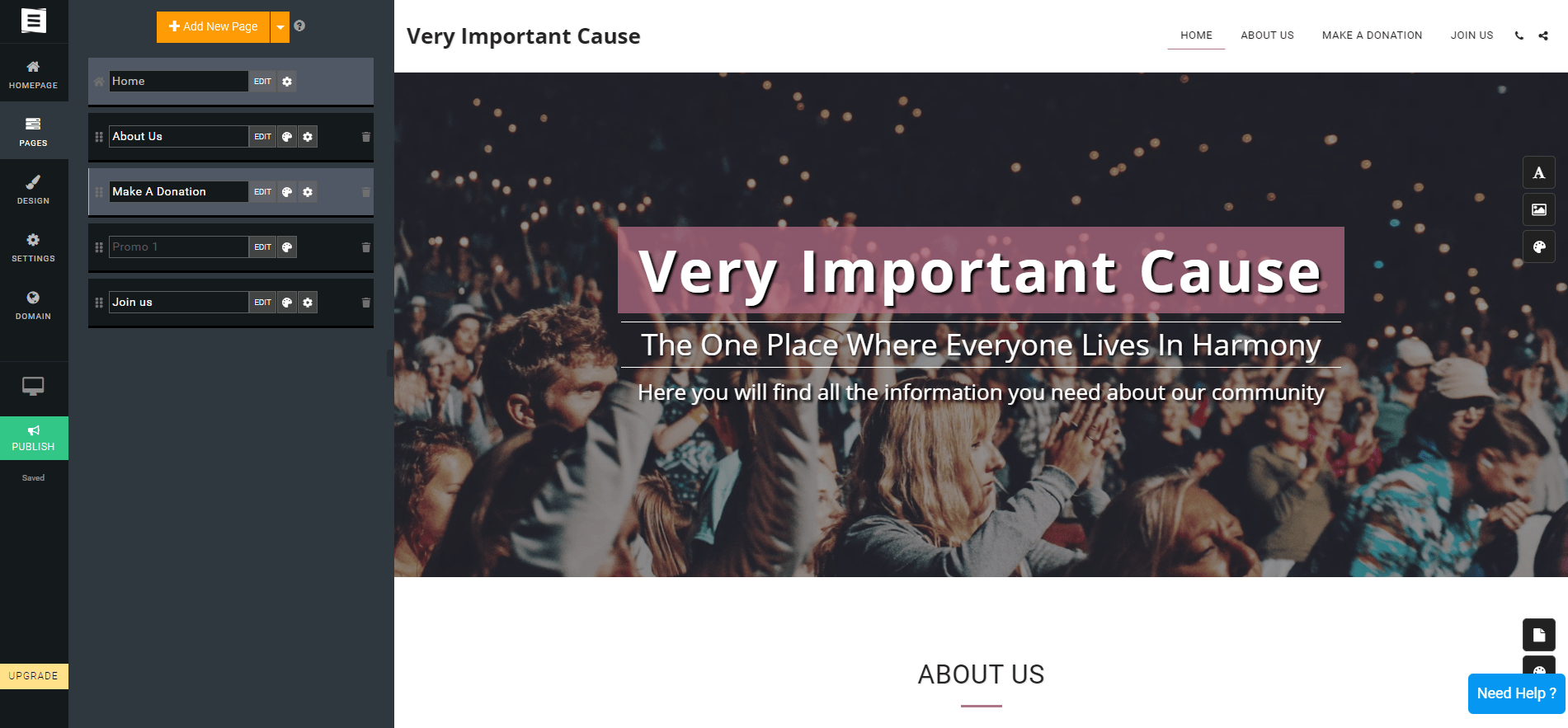 SITE123 is one of the easiest builders to use. All you have to do is choose a template from the gallery, customize it if you like, and upload your own text and images. All SITE123 templates are automatically mobile-repsonsive, which means your site will look good on any desktop or mobile device.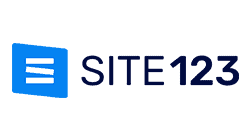 Get 44 % off your SITE123 plan today!
Save 44 % when you sign up for SITE123's annual plan
579 users used this coupon!
SITE123 offers these top features:
Intuitive webpage editor with a self-explanatory dashboard. The SITE123 editor is clean and uncluttered, showcasing the most essential content blocks for a professional-looking website.
Receive donations on the free plan. SITE123 allows you to add a CTA button to your website and receive donations via off-line channels (over the phone, in cash etc.). Other builders only offer this option on paid plans.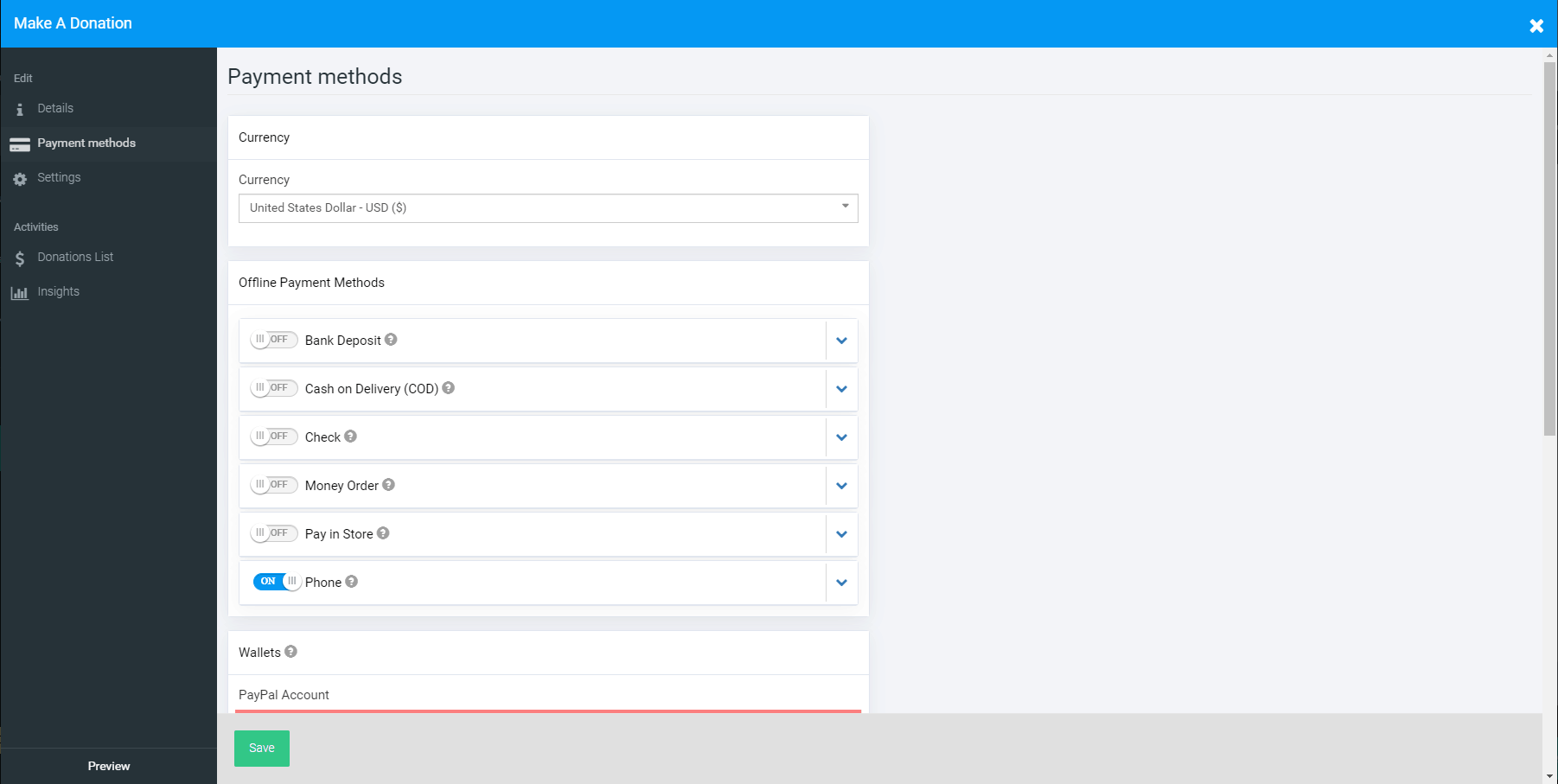 You can boost your website's functionality with add-ons, like a live-chat module that will allow you to answer questions about your cause. You also get access to a library of free images and icons to make your nonprofit website more visually appealing.
SITE123 allows you to create multiple websites on the same account, even on the free plan. so you can experiment with different styles, templates, and layouts. If your nonprofit has multiple causes, you could highlight each one with its own website.
One thing worth mentioning is that some of the features in the SITE123 website builder are more suited for personal websites, and there are not many features dedicated for nonprofits. Features such as e-commerce (if you'd like to sell products to fundraise) are very limited even on the paid plans.
| | |
| --- | --- |
| Free plan available? | Yes, though relatively limited |
| Donations on the free plan? | Yes, but only via offline payment methods |
| Dedicated templates for nonprofits? | ✘ |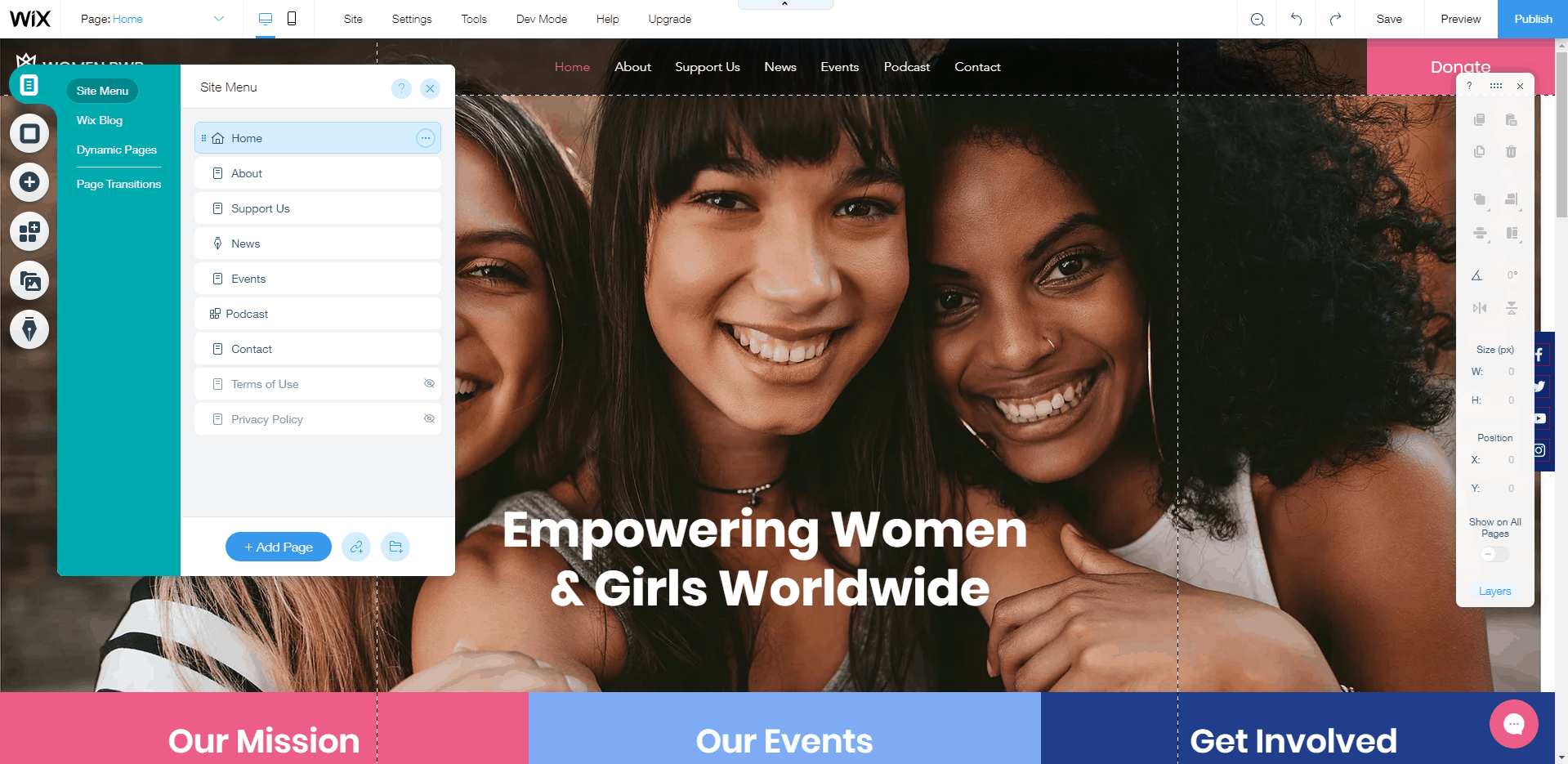 Wix has around 20 templates specifically designed for nonprofit websites, and what's great about them is that they're all fully customizable. You can use the intuitive drag-and-drop editor to change colors and fonts, add new pages, and even add free apps to your site for extra functionality. It's easy to see why Wix is a favorite among users.
Wix's key features include:
An easy drag-and-drop editor. This powerful tool makes it easy for you to add text and content to your webpages. As this is a WYSIWYG (what you see is what you get) editor, you always have a preview of how your website is going to look.
Apps particularly suited for nonprofit websites. In some templates, Wix offers drag-and-drop apps that allow volunteers to sign up, subscribe to a mailing list, and make donations directly.
Great SEO wizard. You don't need to be an expert in SEO to get your website to rank well in search engine results pages.
Mobile-friendly websites. Google prioritizes mobile-friendly websites in search engine result pages, so if your website isn't optimized for mobile devices, you're going to miss out on valuable ranking. Wix automatically provides mobile-friendly versions of your website optimized for different screen sizes (e.g., smartphones and tablets), which you can tweak further using the separate mobile view editor.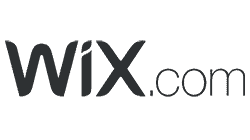 Get 33 % Off Wix's Combo Plan
Sign up for two years with Wix and get 33 % off the total cost!
3901 users used this coupon!
As mentioned above, Wix has templates that are specifically designed for nonprofits, such as the Fundraising template and the Community Action Group template. To take a peek before you sign up, just go to the Wix templates gallery, hover over the template you'd like to see, and click view.
Make sure you like the template you chose, as Wix doesn't let you switch templates once your website is published without rebuilding the entire site.
Some of the apps in the Wix app market, like the Facebook Share app and the Infuse Testimonials app, are excellent for nonprofits. Visitors can easily share your campaigns to help you raise awareness, and testimonials will boost your nonprofit's credibility.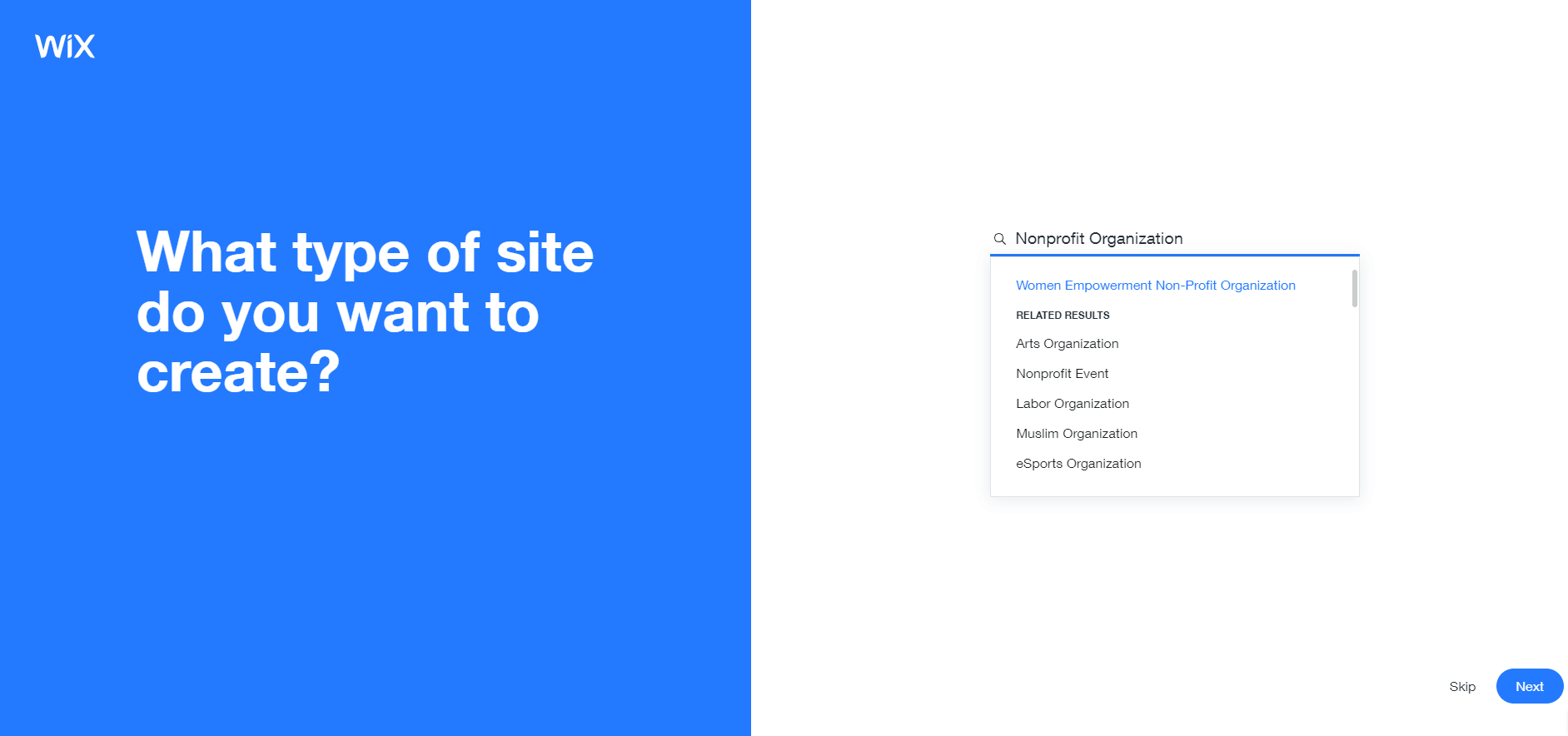 If you want to get started quickly and none of the nonprofit templates appeal to you, Wix's Artificial Design Intelligence (ADI) feature can automatically build the initial version of your website, which you can then customize however you like.
You can learn more in our full Wix ADI review.
The only major drawback is that in order to use Wix's e-commerce features and receive donations, you have to sign up for one of the paid plans. SITE123, by contrast, offers a donation option right in its free plan.
| | |
| --- | --- |
| Free plan available? | ✔ |
| Donations on the free plan? | ✘ |
| Dedicated templates for nonprofits? | 20 in the Religion & Nonprofits category |
Weebly has earned a strong reputation and positive reviews for its e-commerce features, but it has a lot to offer nonprofit websites as well.
Even with the basic free plan, you can use Weebly's user-friendly drag-and-drop interface to create and customize a professional, visually appealing website.
Weebly's key features include:
A drag-and-drop editor for easy website creation. You can effortlessly create, edit, and customize content — no knowledge of HTML or CSS required. You'll get your nonprofit noticed online with eye-catching layouts.
A Weebly store to fundraise for your nonprofit. E-commerce features aren't just for businesses. You can generate funds for your cause by creating a simple product (e.g., T-shirts) with your nonprofit branding, or give visitors the option to donate fixed sums through the store.
Lead Capture Forms. Email addresses are a valuable currency for your organization and can lead to donations, volunteers, and loyal supporters. Weebly recognizes this and provides free contact forms that you can use to collect emails and other visitor information.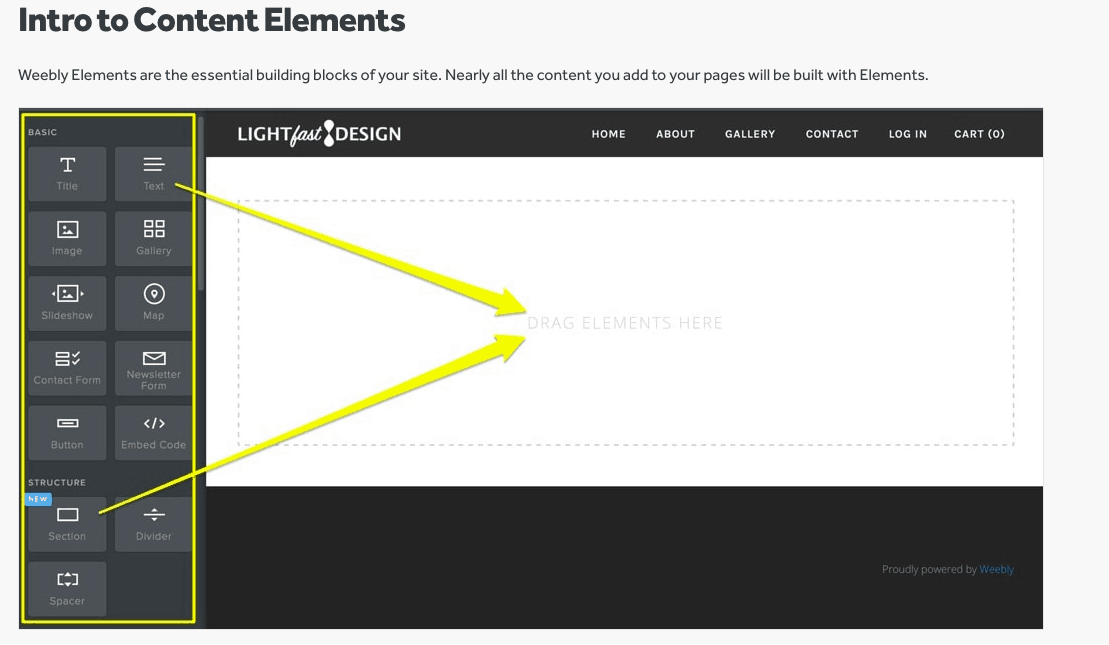 The page editor uses a '"snap-to-grid" function, ensuring a professional look for your nonprofit's website, and the "embed code" module in the page editor adds more flexibility for customization as you create your content. You can use this, for example, to display videos from YouTube and give visitors a more interactive experience.
The editor's main shortcoming is that some elements of the drag-and-drop layouts are not customizable, such as the width of columns and the design of the background. The other website builders we've showcased offer more customization options.
In order to help your site get seen by potential supporters, Weebly allows you to do all your SEO optimization directly within the page editors as you're building your website. SEO will help your nonprofit rank well in search engine results, and you can use the SEO optimization features to effectively target keywords relevant to your cause.
| | |
| --- | --- |
| Free plan available? | ✔ |
| Donations on the free plan? | Only in the US |
| Dedicated templates for nonprofits? | ✘ |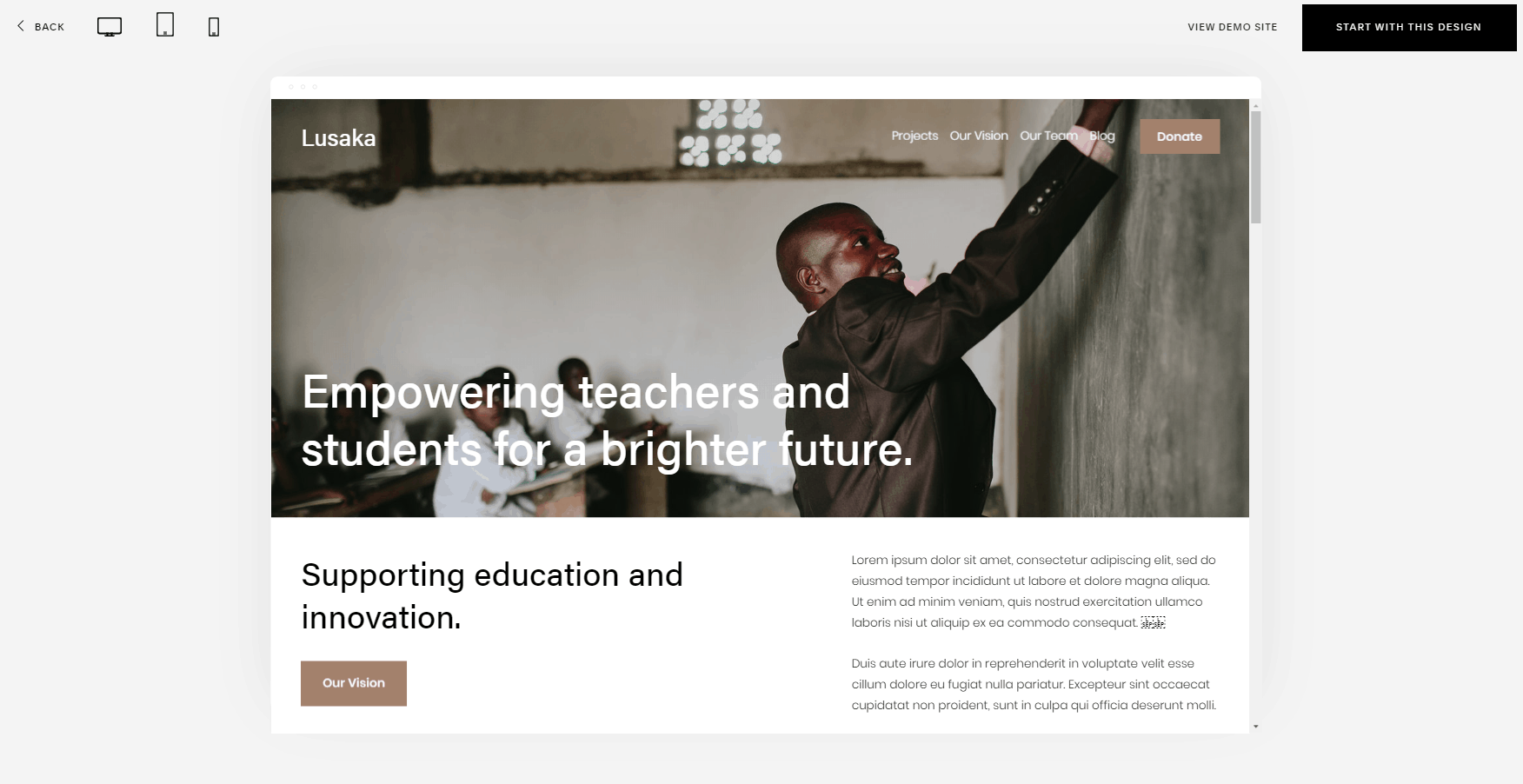 Squarespace is the only not really free nonprofit site builder on this list. Squarespace offers a 14-day trial (no credit card required), during which you can build and test out your site. Beyond that, you have to pay to publish your website and share it with your audience. But it's on this list for good reason.
Squarespace websites are known to be professional-looking, giving your nonprofit an extra layer of credibility when trying to gain the support of larger organizations.
Some of Squarespace's best features are:
Built-In Donation Button. Squarespace provides a built-in donation button module so that you don't have to integrate with or outsource a third-party tool. You can customize the button, add form fields, and add suggested amounts and tiers of donations (i.e., "Gold Level").
Intelligent Data Exporting. As you collect donor or volunteer information through contact forms, Squarespace can export this information directly to a spreadsheet or your email marketing software.
Template Switching. If you tend to change your mind, Squarespace understands. You can change your template whenever you want during the design process (or after), and your site content will seamlessly import into your new template.
24/7 Customer Support. Squarespace offers round-the-clock customer support for customers of all levels. It also provides helpful guides, forums, videos, and webinars.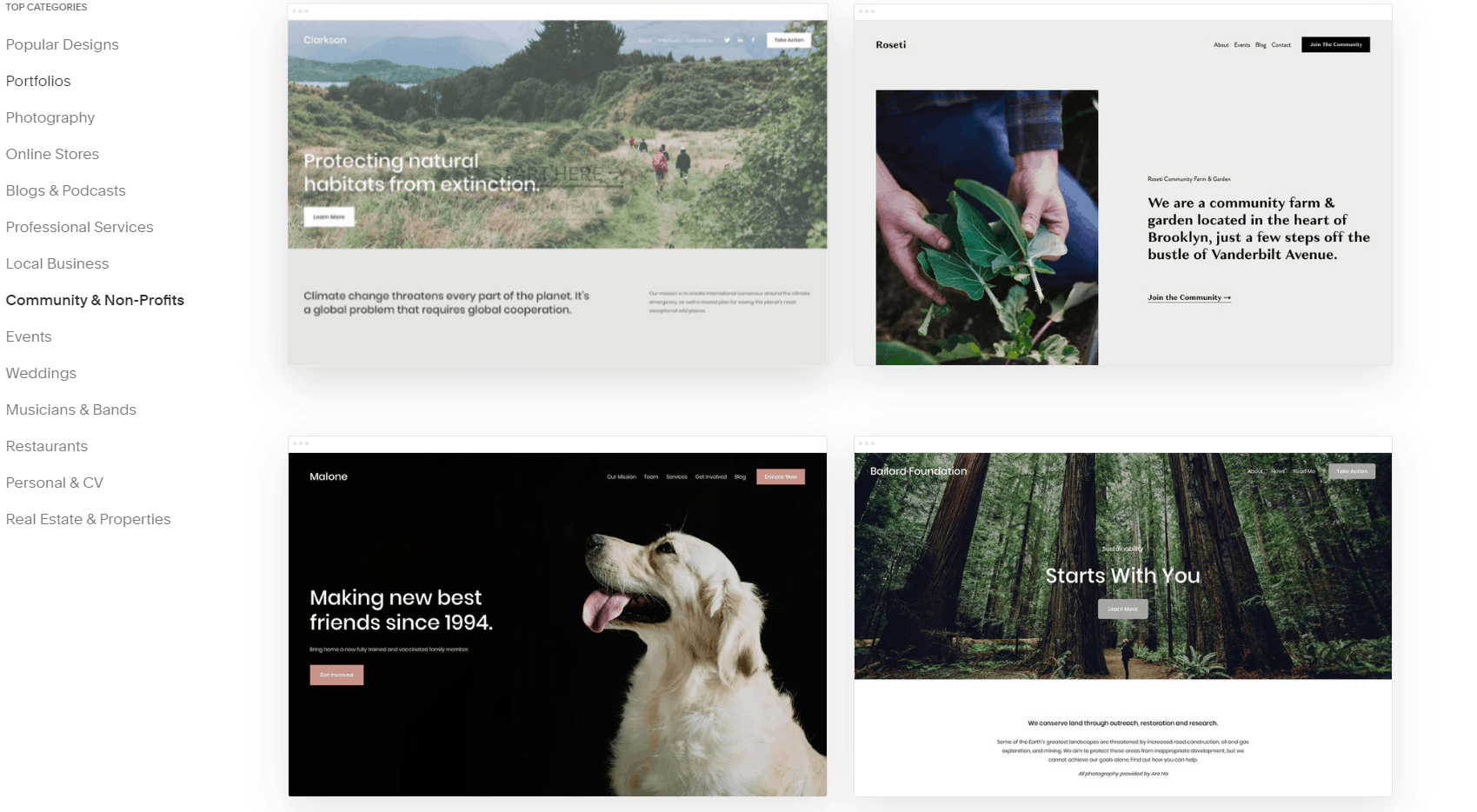 Squarespace websites are known for their stunning site aesthetics. When you build your Squarespace site, it encourages you to start with one of their 100+ award-winning templates, a few of which have been specifically designed for nonprofits and charities. You can also answer a few questions about your website and allow Squarespace to build your new site from scratch.
From there, the site builder is very intuitive. While it doesn't have drag-and-drop features like many of the others on this list, editing is still easy. You simply have to click on the components you want to edit (called "blocks"), and you can customize those elements. Squarespace also provides a helpful sitemap on the left-hand side.
Squarespace also has essential marketing functions to help you grow your nonprofit. For example, it enables you to optimize your website's SEO and add contact forms so you can expand your email list.
| | |
| --- | --- |
| Free plan available? | No, but Squarespace offers a 14-day free trial |
| Donations on the free plan? | ✘ |
| Dedicated templates for nonprofits? | 6 |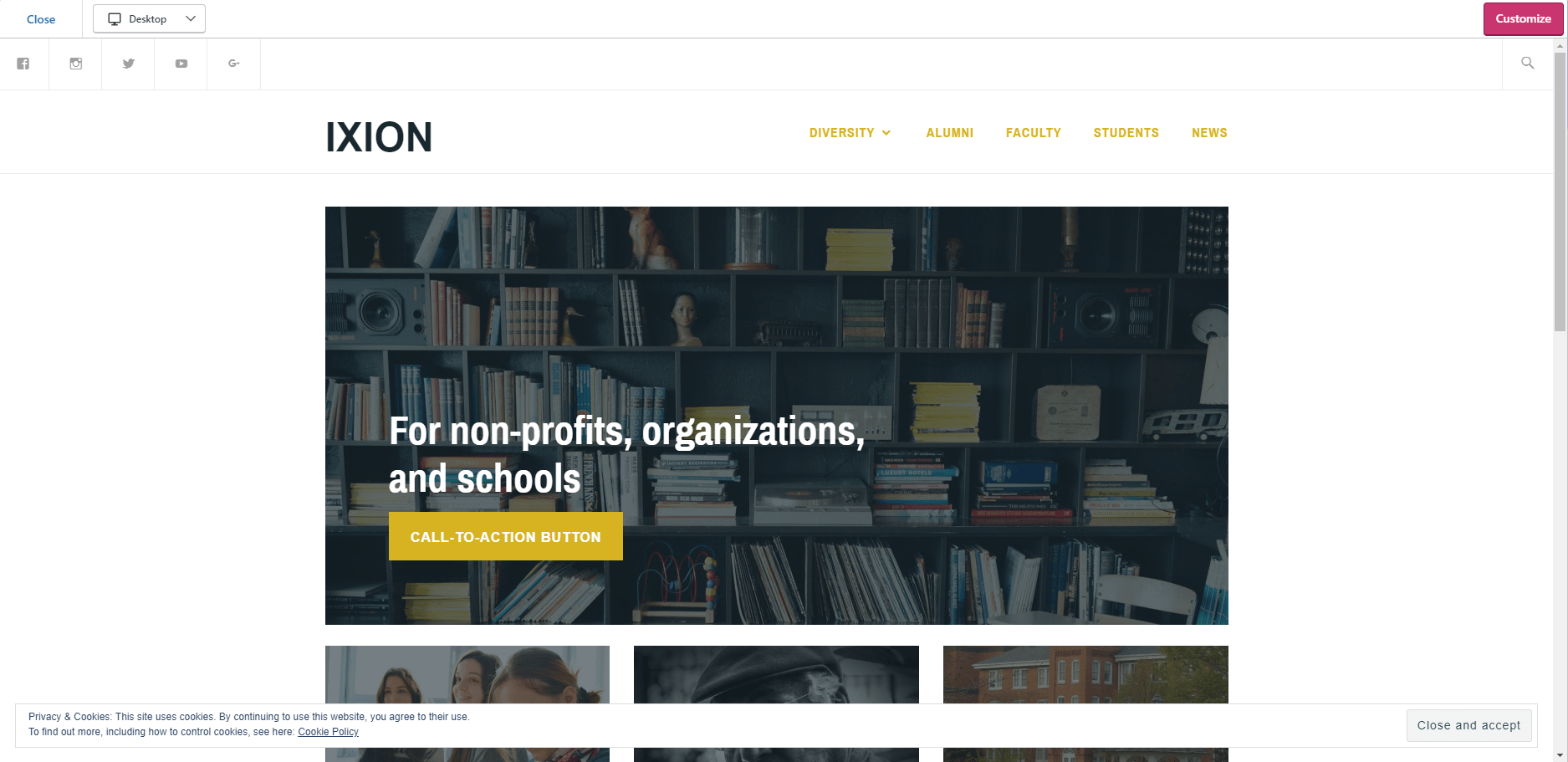 Unlike other website builders in this article, WordPress.com doesn't provide a drag-and-drop interface. However, it's still an incredibly powerful builder that's easy to set up. It also offers a nice range of themes and customization options.
WordPress' top features include:
Easy-to-use editor to build a professional-looking website. WordPress' new Gutenberg editor gives you lots of creative freedom in the design of your webpages. For example, you can change the number of columns in a row to create an attractive, easy-to-read layout. When information is displayed clearly, visitors are more likely to contribute to your cause.
Subscription and sign-up forms. You need to make it easy for your audience to subscribe to your mailing list and volunteer time and resources to your nonprofit. In WordPress, you can add and configure these plugins in just a few clicks.
WordPress.com's backend editor gives you a huge range of customization options, and the editor allows you to preview your design changes instantly. The options are far superior to the other website builders on this list, and are part of what makes WordPress so popular.
WordPress is also known for its vast plugin library that you can seamlessly install to use on your website. If you have a Kickstarter campaign for your nonprofit, you can install the Kickstarter plugin and embed the campaign directly into your webpage. Another great plugin for nonprofits is DonorBox, which lets you set up recurring or one-time donations. Beware, though, that plugins are only available if you upgrade.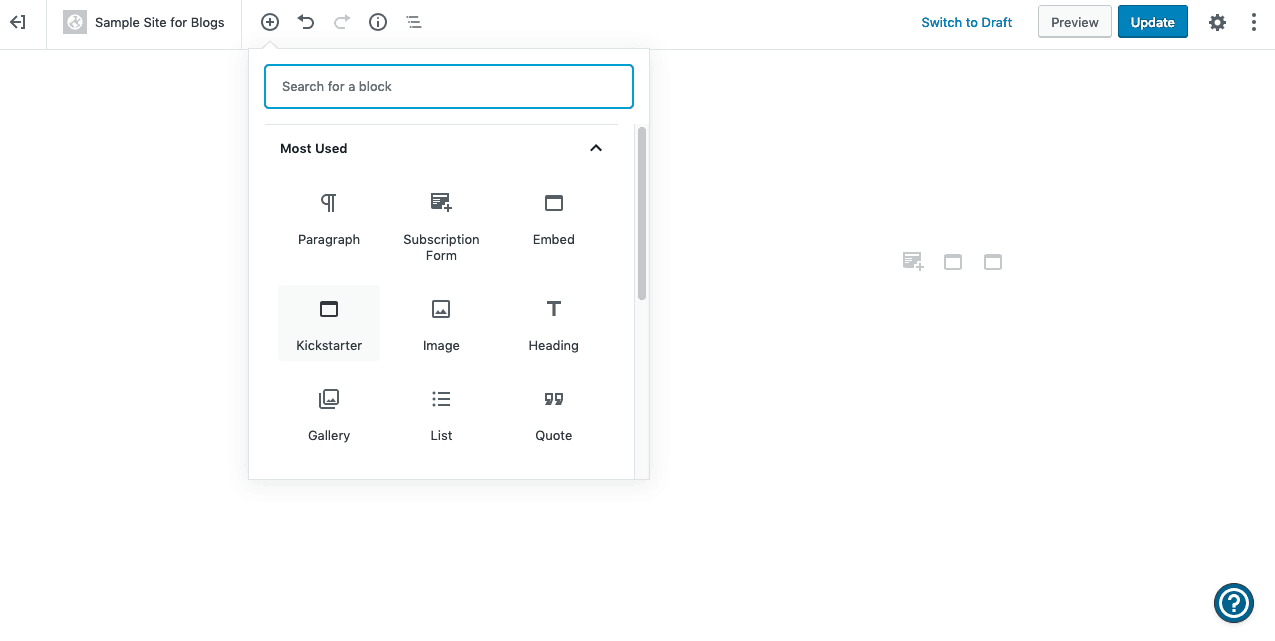 Embedding your Kickstarter campaign onto a page is easy with WordPress
Although WordPress offers great flexibility, you may find that it requires a steeper learning curve than most drag-and-drop website builders. But if you're willing to take on the challenge, you'll find out its customization options are uncomparable.
| | |
| --- | --- |
| Free plan available? | ✔ |
| Donations on the free plan? | ✘ |
| Dedicated templates for nonprofits? | 3 |
SimpleSite makes building a website fun, with a user-friendly interface that takes the stress out of designing your nonprofit's online presence. Your website can be live in five minutes, and the founder of SimpleSite says that using the platform "should feel like playing." Reviewers say it's particularly suited for complete beginners.
Because SimpleSite aims to be simple (the clue is in the name!), it doesn't offer many features. However, it's still possible to build a nonprofit website with a professional feel.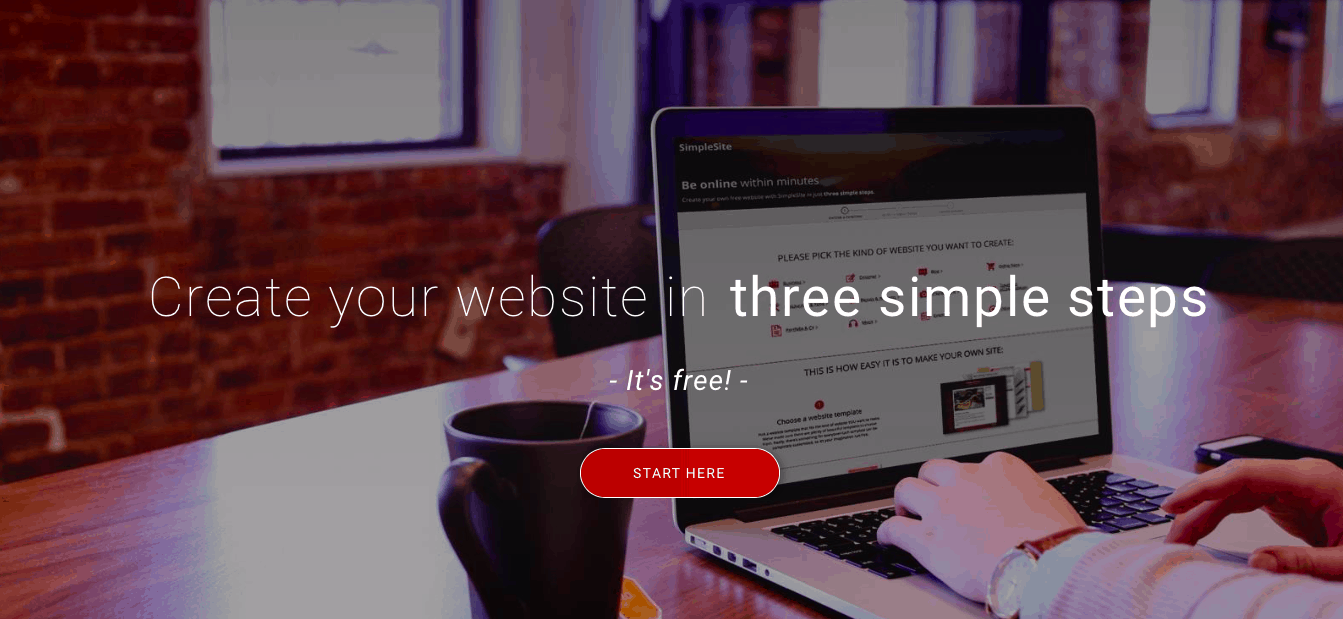 SimpleSite's key features include:
Customization options that make it a smooth process to get your website to match your branding style. Changing colors and backgrounds in SimpleSite can be done within the page editor, and you can customize elements of your webpages as you go.
Mobile responsiveness for all websites. SimpleSite's webpage builder takes care of all responsiveness issues, making your website look and function flawlessly on all devices. A mobile-responsive website will allow your visitors to make donations while they're on the go.
Built-in store on the free plan, which gives you fundraising options. With SimpleSite, you can sell up to five products in your built-in store without having to upgrade to a paid plan. This means you can fundraise with products that promote your cause.
Despite the simple interface, SimpleSite offers a range of features that can enhance the content of your nonprofit website, such as forms for volunteers to contact you and posters that can be shared on social media. You can also easily embed video content from YouTube and other platforms to drive a greater level of engagement on your website.
SimpleSite has an extensive repository of website design themes that are already fully optimized, meaning you can get your nonprofit website online quickly, without having to struggle through a lot of customizations. All of SimpleSite's themes are mobile-friendly and have well-organized layouts that will appeal to your potential donors.
SimpleSite's main drawback lies in its lack of advanced features, which may limit your creativity somewhat, and you're not able to integrate with nonprofit donation management tools such as DonorBox.
| | |
| --- | --- |
| Free plan available? | Yes, though very limited |
| Donations on the free plan? | ✔ |
| Dedicated templates for nonprofits? | ✘ |
Build Your Nonprofit Website With Ease
Website builders mean that you can express your creativity with ease and build a professional nonprofit website that offers a great experience for your audience. Ultimately, the best website builders give you everything your nonprofit needs to reach a wider audience and generate more donations.
Whether you're looking to raise awareness, recruit volunteers, or fundraise for your nonprofit, website builders make creating your online presence enjoyable and easy. Each of the website builders we've looked at have particular strengths in terms of features, depending on what you need. The table below offers a summary that will help you choose the right website builder for you.
FAQ
How do I build a nonprofit website?
Building a website for your nonprofit doesn't have to be complicated. Start by settling on one of the great website builders we recommended on this list. Once you've decided, make sure to check out our coupon page so you get the very best deal. Next, browse through the templates and pick one that's right for you. Look for a template that includes sections or elements you'll need, like a CTA or donate button, contact forms, or an integrated blog. After that, you can customize your template by adding your own text and images, integrating any new pages or add-ons you might need, and playing around with the template design until you're happy with how it looks. Hit the publish button, and you're done!What is the best free website builder?
To get the most features without dipping into your nonprofit's funds, go with Wix. You'll get access to all the whole template library, all of the apps in the App Market, and almost all the features in the easy drag-and-drop editor. You'll also get the Wix SEO Wiz so you don't have to spend extra to have your website ranked on search engines. Keep in mind though that in order to receive donations, you'll need to upgrade to a paid plan. Luckily, Wix usually has some great deals going on.Is Squarespace good for nonprofits?
Squarespace is a good option for nonprofits, although it doesn't have a free plan. Instead, there's a 14-day free trial, which you can use to test out the website builder until you're convinced it's worth the investment (or not).   Still, Squarespace has some really well-designed templates, some of which come with a donate button built-in. It also has the advantage of integrated marketing tools, like email marketing. You might have to dish out a few dollars to use Squarespace, but with its email campaign feature, at least you won't have to spend money on a third-party app to send out a newsletter. You can also save money by using a Squarespace coupon.What should a nonprofit website include?
Once you've chosen a name for your website and signed up to one of our recommended website builders, you should consider adding the following things to your site:
An "About Us" page for your nonprofit
A mission statement
Contact form and/or contact page
A form for volunteers to sign up
Donations page 
A blog for updates about campaigns or your targets
A page on how people can get involved
An events section
Overview page about the work your nonprofit has already accomplished
There are plenty more pages and elements you can add to your website, but how you build your website essentially depends on your nonprofit's specific needs.Can you collect donations for your nonprofit with a free website builder?
There are a few website builders you can use that allow donations on a free plan, namely SITE123 and SimpleSite. You can get around this limitation on other website builders by linking to an external donation page, like a PayPal request page or a GoFundMe campaign page. But, if you're going to create a website for your nonprofit, why send donors in circles to donate on external pages? Most of the website builders on this list have affordable basic plans that will allow you to accept donations by PayPal or credit card, so you might want to consider the cost-benefit of upgrading.