Trying to raise awareness of your nonprofit? Collect donations? Recruit volunteers? A well-designed, user-friendly, mobile-responsive website can do all that for you.
When you're on a tight budget, however, you can't afford to hire a web developer or pay a high premium for website hosting packages. Fortunately, there are intuitive, easy-to-use website builders you can use to launch your nonprofit website quickly, without fuss — and all for free.
There are many free website builders out there, and it can be tough to know which one is right for your nonprofit. You wouldn't want to invest a lot of time in designing and building your website only to discover you can't add a crucial feature, like a donation button or an event calendar.
It's important that you choose the website builder that gives you everything you need to make the most of your nonprofit's online presence. Fortunately, we've done the research for you and put together a list of our favorites. You can see their features at a glance and decide which one is best for your nonprofit.
The Best Website Builders for Nonprofits – Our Top Picks:
Wix – Offers you a variety of free apps perfect for nonprofits. Your visitors can subscribe to your newsletter, sign up to volunteer, and even make PayPal donations, all through your website.
WordPress.com – A powerful platform designed for scalability, allowing your site to grow with your nonprofit.
Weebly – An easy-to-use builder with powerful SEO features to drive more traffic to your site.
Site123 – Allows you to easily collect donations, even on the free plan.
SimpleSite – So easy to learn, anyone can use it to build a website with no technical knowledge or previous experience.
What We Look For in the Best Website Builders for Nonprofits
We've examined a variety of website builders, looking for the ones that:
Are free to use. We understand that as a nonprofit, you need to build your website without spending a fortune. The website builders we've showcased all offer decent free plans that will let you get a basic website online without having to pay a dime. They also offer a variety of add-ons available at relatively low prices.
Have features (either free or as add-ons) that will enable you to reach your target audience and receive donations easily. To help your nonprofit flourish online, the best website builders give you tools such as donation interfaces, mailing list options, and the ability to connect your website with your social media accounts.
Have a beginner-friendly user interface. You don't want to have to spend lots of time learning how to use a website builder. Those that have made our list are all intuitive.
Offer professional-looking templates. A well-designed and visually appealing website will boost your credibility, giving potential donors confidence in your nonprofit.
1. Wix – The Best Option for Simplicity and Customization
Building your nonprofit website should be stress-free, and Wix offers an easy-to-use drag-and-drop website builder that can get you online quickly. You can choose from a wide range of beautiful templates, and there's a variety of widgets you can easily add to your website to improve its functionality. All this makes it a favorite among reviewers.
Wix's key features include:
An easy drag-and-drop editor. This powerful tool makes it easy for you to add text and content to your webpages. As this is a WYSIWYG (what you see is what you get) editor, you always have a preview of how your website is going to look.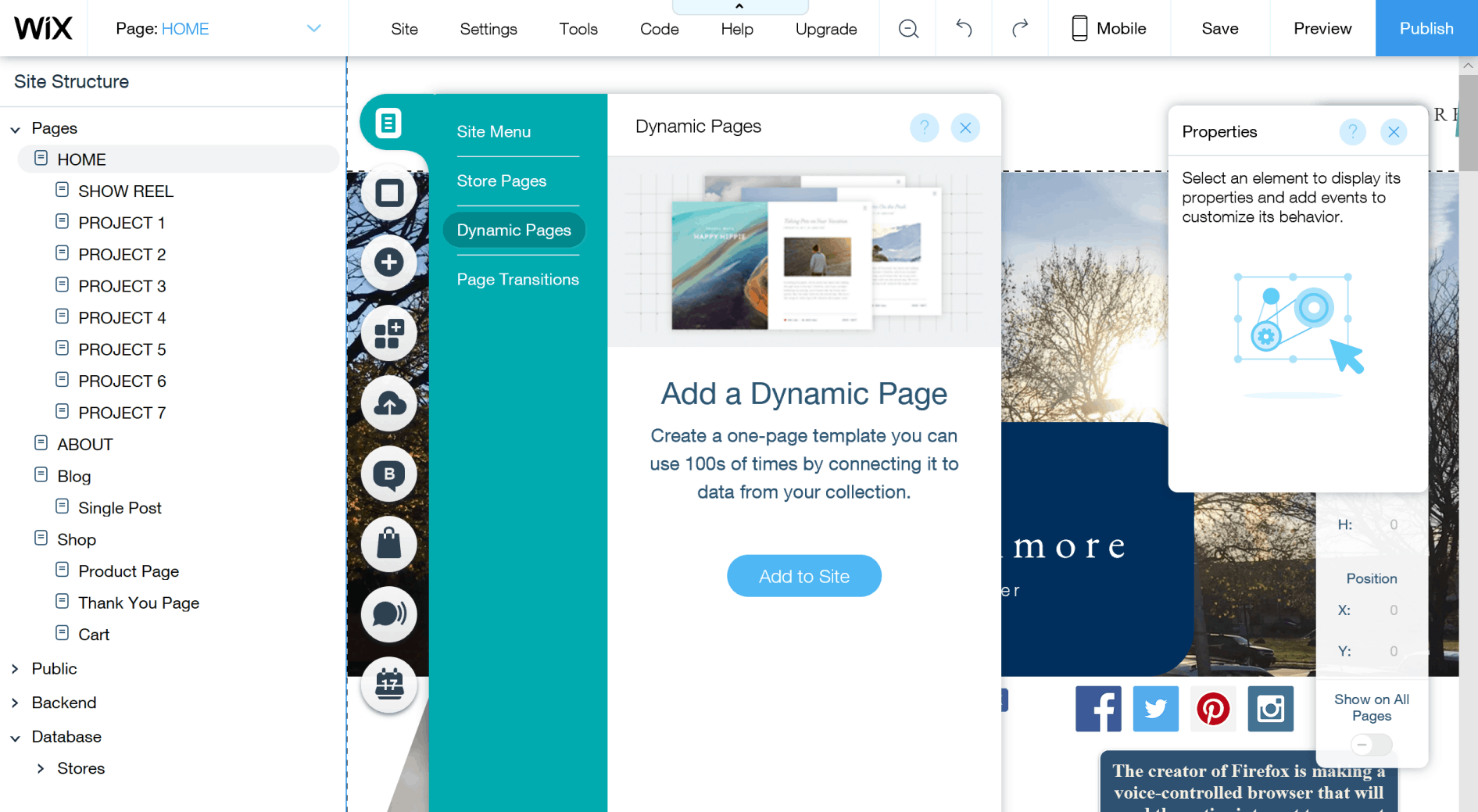 Apps particularly suited for nonprofit websites. In some templates, Wix offers drag-and-drop apps that allow volunteers to sign up, subscribe to a mailing list, and make donations directly.
Great SEO wizard. You don't need to be an expert in SEO to get your website to rank well in search engine results pages.
Mobile-friendly websites. Google prioritizes mobile-friendly websites in search engine result pages, so if your website isn't optimized for mobile devices, you're going to miss out on valuable ranking. Wix automatically provides mobile-friendly versions of your website optimized for different screen sizes (e.g., smartphones and tablets), which you can tweak further using the separate mobile view editor.
Pros
Wix has templates that are specifically designed for nonprofits, such as the Fundraising template and the Community Action Group template. To take a peek before you sign up, just go to the Wix homepage, scroll down to the very bottom, and click the Templates link. From there, select the Community & Education category from the menu.
Apps like the Facebook Share app and the Infuse Testimonials app are excellent for nonprofits. Visitors can easily share your campaigns to help you raise awareness, and testimonials will boost your nonprofit's credibility.
If you're tech-savvy and you want to move beyond the basics, you can use Wix Corvid to boost your website's functionality, use JavaScript, or build dynamic webpages. These can be great ways to easily showcase your nonprofit's projects and volunteer opportunities, and give updates to your readers.
Wix's powerful webpage editor gives you an array of advanced design options right in the interface. You can use animations, scrolling effects, and have video backgrounds. These features can make your website more appealing to your visitors and increase engagement.
If you want to get started quickly and none of the nonprofit templates appeal to you, Wix's Artificial Design Intelligence (ADI) feature can automatically build the initial version of your website, which you can then customize however you like.
Cons
To use Wix's e-commerce features and receive donations, you have to sign up for one of the paid plans. Site123, by contrast, offers a donation option right in its free plan.
If you change your mind about your website's template, you have to start from scratch and rebuild it.
The free version of Wix has Wix logo branding prominently displayed. To remove the branding, you must sign up for a paid plan.
Choose Wix If:
You want an intuitive website builder that also offers some more advanced features such as Facebook Share and Wix Corvid.
You're looking for an extended range of templates designed specifically for nonprofits. Of all the website builders on this list, Wix has the greatest variety of options.
2. WordPress.com – The Best Option for Future Growth
Unlike the other website builders in this article, WordPress.com doesn't provide a drag-and-drop interface. However, it's still an incredibly powerful builder that's easy to set up. It also offers a nice range of themes and customization options.
WordPress top features include:
Easy-to-use editor to build a professional-looking website. WordPress' new Gutenberg editor gives you lots of creative freedom in the design of your webpages. For example, you can change the number of columns in a row to create an attractive, easy-to-read layout. When information is displayed clearly, visitors are more likely to contribute to your cause.
Subscription and sign-up forms. You need to make it easy for your audience to subscribe to your mailing list and volunteer time and resources to your nonprofit. In WordPress, you can add and configure these plugins in just a few clicks.
Pros
WordPress.com's backend editor gives you a huge range of customization options, and the customizer allows you to preview your design changes instantly. The customization options are far superior to the other website builders on this list.
If you have a Kickstarter campaign for your nonprofit, you can install the Kickstarter plugin and embed the campaign directly into your webpage.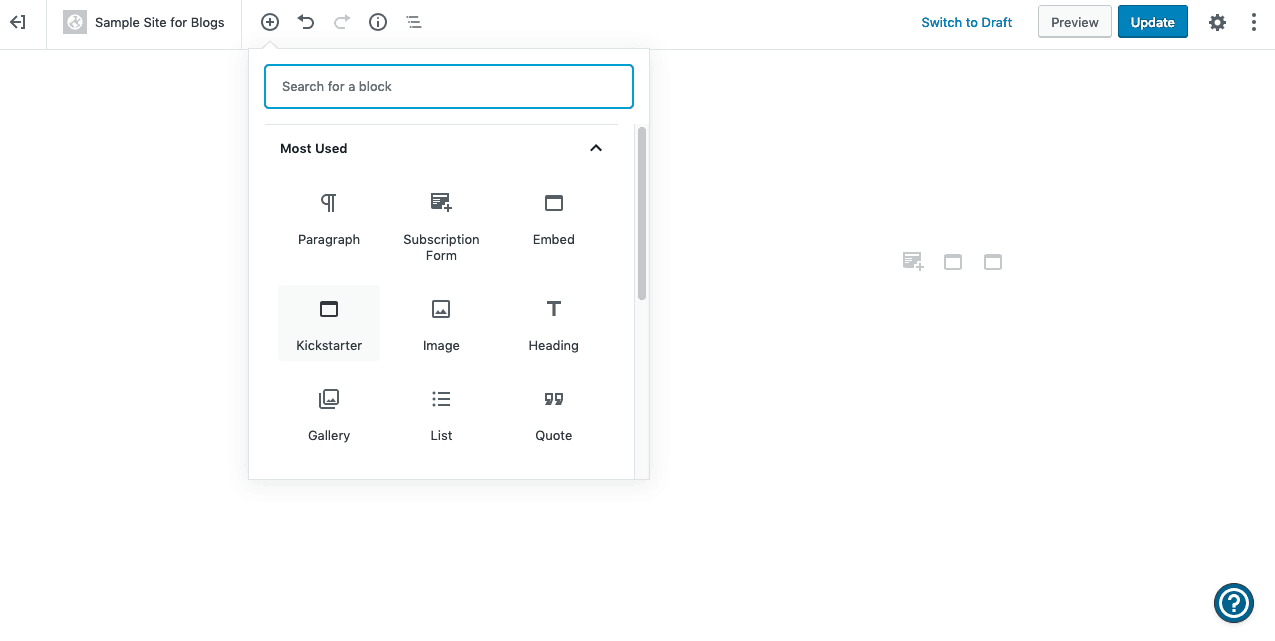 Embedding your Kickstarter campaign onto a page is easy with WordPress
With WordPress, you can access a huge range of plugins, such as DonorBox, which lets you set up recurring or one-time donations to your nonprofit.
The Ixion theme is specifically designed for nonprofits and gives you an appealing website you can add your content to easily. For example, there are shortcodes that allow you to display success stories in testimonial blocks, and add bold CTA buttons to the theme to encourage visitors to support your cause.
WordPress is designed for scalability, meaning that you can get your website online for free and then add premium features as your nonprofit grows. The premium plans will give you access to most of the features of WordPress.org without having to later migrate your website when you outgrow the restrictions of a free website builder.
Cons
Although WordPress offers great flexibility, you may find that it requires a steeper learning curve than most drag-and-drop website builders.
The free themes for nonprofits are limited compared with the other website builders on this list.
The free storage space available on WordPress.com is quite restrictive, so if you upload a lot of rich media such as videos and photos, you could find yourself running out of space quickly.
Choose WordPress.com If:
You want to be able to grow your nonprofit website in the future without having to migrate to another hosting platform.
You want a greater range of flexibility and freedom in building your webpages, and want to be able to easily embed videos and Kickstarter campaigns.
You aren't a newbie to website building, and you feel comfortable using the WordPress backend environment.
3. Weebly – The Best Option for Fundraising
Weebly has earned a strong reputation and positive reviews for its e-commerce features, but it has a lot to offer nonprofit websites as well.
Even with the basic free plan, you can use Weebly's user-friendly drag-and-drop interface to create and customize a professional, visually appealing website.
Weebly's key features include:
A drag-and-drop editor for easy website creation. You can effortlessly create, edit, and customize content — no knowledge of HTML or CSS required. You'll get your nonprofit noticed online with eye-catching layouts.
A Weebly store to fundraise for your nonprofit. E-commerce features aren't just for businesses. You can generate funds for your cause by creating a simple product (e.g., T-shirts) with your nonprofit branding, or give visitors the option to donate fixed sums through the store.
Numerous apps that can enhance your website's functionality. Weebly's website builder already features a wide variety of content elements, such as buttons and newsletter forms, but if there's something you need that isn't included, there's an extensive app store with many more options.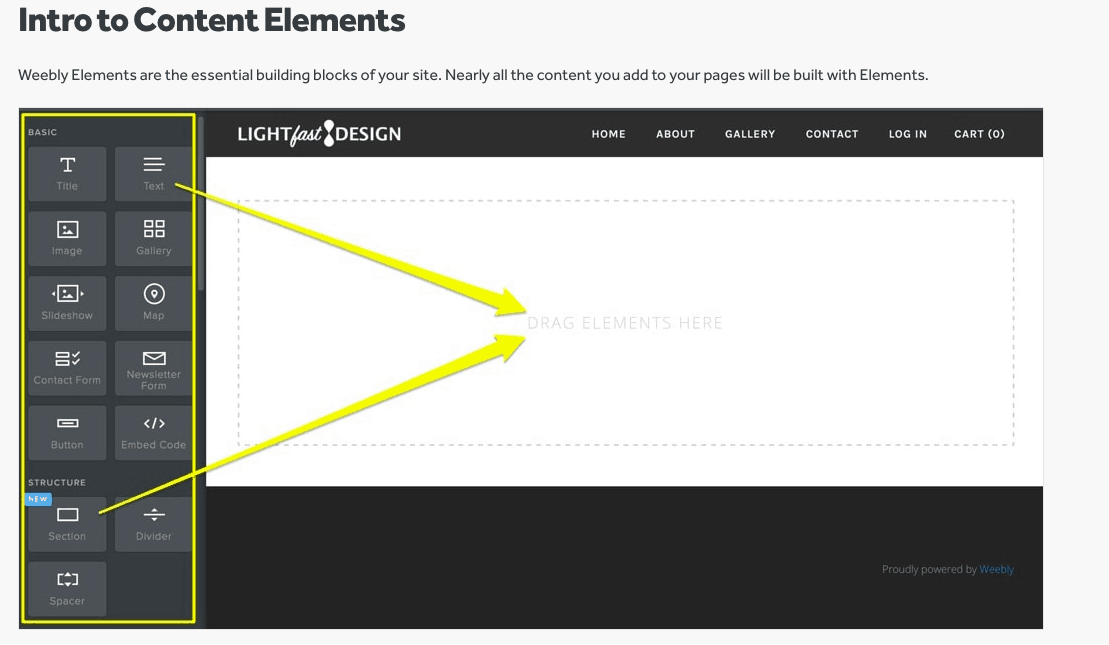 Weebly's Content Elements make building your website simple
Pros
A variety of mobile-responsive templates are available.
You can do all your SEO optimization directly within the page editors as you're building your website. SEO will help your nonprofit rank well in search engine results, and you can use the SEO optimization features to effectively target keywords relevant to your cause.
The page editor uses a '"snap-to-grid" function, ensuring a professional look for your nonprofit's website.
The "embed code" module in the page editor adds more flexibility for customization as you create your content. You can use this, for example, to display videos from YouTube and give visitors a more interactive experience.
You can create membership pages for your website and provide exclusive content to regular donors.
Cons
Some elements of the drag-and-drop layouts are not customizable, such as the width of columns and the design of the background. The other website builders we've showcased offer more customization options.
To get the most out of Weebly, you need to subscribe to the Pro plan, which is expensive compared with other website builders. The free plan gives you only 500MB of storage space, which you'll quickly use up with rich media.
You can back up your Weebly website in the form of a zip file, but the system doesn't allow you to upload and restore your website from the backup. If something goes wrong with your website, you'll have to get in touch with the support team for help.
Choose Weebly If:
Fundraising is one of the main objectives of your website.
You want to take advantage of the extensive SEO options and step-by-step guides to increase your website traffic and raise a greater level of awareness of your cause.
You'd like to be able to have a membership area for your regular donors.
4. Site123 – The Best Option for Secure and Responsive Websites
Site123 makes building your nonprofit website straightforward, with templates designed specifically for nonprofits. Every template is designed to be responsive. This not only allows visitors to browse your website easily on their mobile devices, but it also helps your SEO efforts. Click here for an in-depth review.
Site123 offers these top features:
Intuitive webpage editor with a self-explanatory dashboard. The Site123 editor is clean and uncluttered, showcasing the most essential content blocks for a professional-looking website.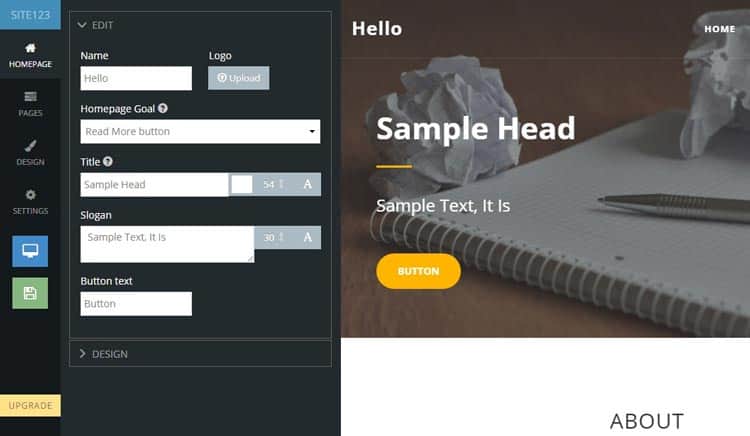 E-commerce options that allow you to receive donations. You're not restricted to a single gateway; there are options for PayPal and Stripe checkouts, as well as other less well-known payment gateways.
Pros
Site123 offers a free SSL certificate, which is great because Google prioritizes secure websites in its search engine results pages. An SSL certificate also helps visitors see your nonprofit as trustworthy and genuine.
Site123 gives you a variety of high-quality, customizable templates.
You can boost your website's functionality with add-ons, like a live-chat module that will allow you to answer questions about your cause.
Site123 allows you to create more than one website on the same account, so you can experiment with different styles, templates, and layouts. If your nonprofit has multiple causes, you could highlight each one with its own website.
You have access to a library of free images and icons to make your nonprofit website more visually appealing.
Cons
Some of the features in the Site123 website builder are more suited for personal websites, which is limiting for nonprofits. Features such as e-commerce (if you'd like to sell products to fundraise) are very limited even on the paid plans.
Once your website is live, you can't change your template without starting your website again from scratch.
Although the nonprofit-specific templates have integrated donation buttons, you have to upgrade to a paid plan to use payment gateways, and there's no support for DonorBox.
Choose Site123 If:
You want the added security of an SSL website to give your visitors confidence that their data is encrypted when they're making a donation.
You'd like to be able to experiment by creating different versions of your website and testing the results.
5. SimpleSite – The Easiest Website Builder
SimpleSite makes building a website fun, with a user-friendly interface that takes the stress out of designing your nonprofit's online presence. Your website can be live in five minutes, and the founder of SimpleSite says that using the platform "should feel like playing." Reviewers say it's particularly suited for complete beginners.
Because SimpleSite aims to be simple (the clue is in the name!), it doesn't offer many features. However, it's still possible to build a nonprofit website with a professional feel.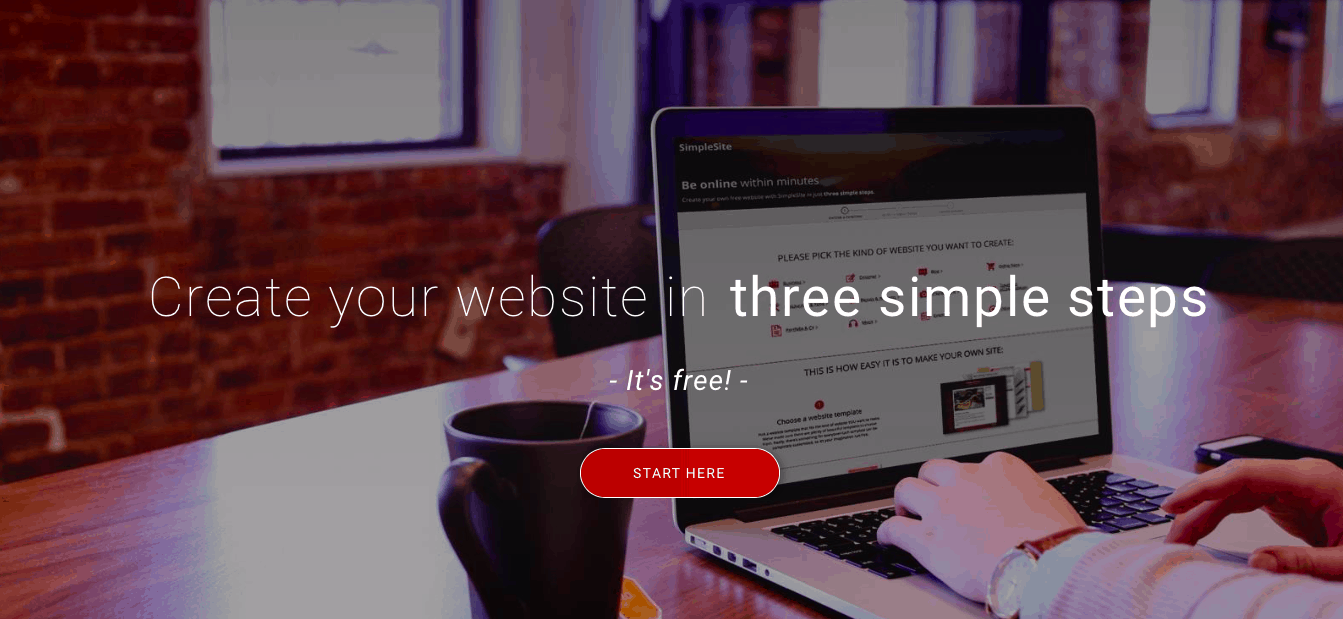 SimpleSite's key features include:
Customization options that make it a smooth process to get your website to match your branding style. Changing colors and backgrounds in SimpleSite can be done within the page editor, and you can customize elements of your webpages as you go.
Mobile responsiveness for all websites. SimpleSite's webpage builder takes care of all responsiveness issues, leaving you free to enjoy the creation process. A mobile-responsive website will allow your visitors to make donations while they're on the go.
Built-in store on the free plan, which gives you fundraising options. With SimpleSite, you can sell up to five products in your built-in store without having to upgrade to a paid plan. This means you can fundraise with products that promote your cause.
Pros
The e-commerce options in SimpleSite allow you to receive donations from your visitors without having to rely on an off-site donation option.
Despite the simple interface, there's a range of features that can enhance the content of your nonprofit website, such as forms for volunteers to contact you and posters that can be shared on social media.
You can easily embed video content from YouTube and other platforms to drive a greater level of engagement on your website.
SimpleSite has an extensive repository of website design themes that are already fully optimized, meaning you can get your nonprofit website online quickly, without having to struggle through a lot of customizations. All of SimpleSite's themes are mobile-friendly and have well-organized layouts that will appeal to your potential donors.
SimpleSite is a perfect option for those who want a completely non-technical means of creating a non-profit website.
Cons
If you have some experience in website building, you may find that SimpleSite's interface is too simple for your needs.
SimpleSite lacks the ability to add more advanced features, which may limit your creativity somewhat, and you're not able to integrate with nonprofit donation management tools such as DonorBox.
To receive donations, you need to sign up to SimpleSite's e-commerce plan, which is relatively pricey compared to other website builders.
Choose SimpleSite If:
 You're a beginner when it comes to website building and you want a user-friendly experience.
You want a basic, no-frills website-building interface that allows you to get your nonprofit website online rapidly.
Build Your Nonprofit Website With Ease
Website builders mean that you can express your creativity with ease and build a professional nonprofit website that offers a great experience for your audience. Ultimately, the best website builders give you everything your nonprofit needs to reach a wider audience and generate more donations.
Whether you're looking to raise awareness, recruit volunteers, or fundraise for your nonprofit, website builders make creating your online presence enjoyable and easy. Each of the website builders we've looked at have particular strengths in terms of features, depending on what you need. The table below offers a summary that will help you choose the right website builder for you.
| | | | |
| --- | --- | --- | --- |
|   | Best For | Standout Feature | What You Get If You Pay |
| Wix | Nonprofits looking for a website builder that offers both a simple interface and the option to add more advanced features, such as social sharing and testimonial sections | Content modules tailored specifically for nonprofit websites | A domain name, video hosting, and a form builder add-on (in the Unlimited and VIP plans) that allows you to create a variety of volunteer signup forms and much more |
| WordPress | Nonprofits looking for a free website builder that can be easily scaled to the equivalent of a self-hosted website in the future | The huge range of customization options available in the live-view customizer | A wide variety of plugins, including DonorBox for recurring donations. You also get a domain name, webspace hosting, and e-commerce options |
| Weebly | Nonprofits wanting to add a members area to the website for regular donors | The ability to add a wide range of additional features through the app store, such as Facebook live chat to interact with donors and quickly answer questions, and animated headlines to grab attention. | Premium apps, SSL security, and a range of advanced e-commerce options that allow for donations to be received via a secure, encrypted connection |
| Site123 | Nonprofits wanting to create a secure and responsive websites | The ability to create multiple websites on the same account so you can either separately highlight each of your nonprofit's individual causes, or simply try out different design options | Increased bandwidth to boost the speed of your website and allow you to receive more visitors, and the ability to integrate payment gateways to receive donations easily |
| SimpleSite | Beginners looking for a basic website builder with an uncomplicated user interface | An uncluttered, intuitive webpage builder | A domain name and unlimited storage, meaning you can add unlimited videos and other media to your website to promote your nonprofit |