Several free website builders will let you design a decent site – but the one thing none of these builders will give you is a custom domain. If you want your site to look professional (and keep in tone with your brand), you need a paid plan. As far as I'm concerned, Squarespace is my absolute favorite. It has the best-looking templates around, and even its cheapest plan includes a free custom domain plus unlimited storage.
Squarespace has a 14-day free trial
, so you can test all of its features before you buy.
While there are many good website builders out there, few of them truly meet the needs of nonprofits. A lot of builders are too expensive, too difficult to use, or simply lack features that are useful to nonprofits (like advanced contact forms or appropriate templates).
You need a website that looks good and can help spread the word about your mission, without forcing you to break the bank. In an ideal world, it would help you build a mailing list, publicize fundraising events, establish and maintain relationships with supporters, and even let you collect donations – for free.
Is that all too much to ask for?
Actually, no. I can say this confidently because I've tested all the best website builders to see how they measure up on the features that matter most to nonprofits. I found six builders that will let you build a decent website for free, no coding knowledge required.
And even if you decide to upgrade to a paid plan, these builders will cost less than you might think.
Short on Time? These are the Best Website Builders for Nonprofits in 2022:
Wix – The most generous free features for engaging supporters, like email marketing and event management.
Squarespace – The best visual templates for telling a captivating story, free for 14 days.
SITE123 – The best option to build a quick landing page for your fundraising campaign.
What We Look For in the Best Website Builders for Nonprofits
There are a bunch of website builders out there that are suitable for nonprofits, but what separates the good from the great? To assemble my list of the best, I focused on the features that are most useful to nonprofits:
Free plans: As promised, these website builders will let you make a decent website for free. I've also thrown in a couple bonus options that don't have a free plan, but could be well worth the investment, depending on your needs.
Ease of use: Saving money is almost as important as saving time. All options on this list are suitable for absolute beginners, and will let you create, update, and manage your website without requiring technical skills.
Customization features: With so many charitable causes online, your website needs to stand out to attract donations and volunteers. The builders here let you upload your logo, alter colors and fonts, and more.
Tools for accepting support: A nonprofit wouldn't get very far without supporters, whether they give donations or volunteer directly. I've only listed builders that help you collect donations and/or build a community (via event management, email marketing, members-only pages, and more).
Quick Disclaimer!
All free site builder plans are united on a couple of shortcomings: you won't be able to use a custom domain (instead, you'll use something like www.nonprofit.builder.com), and your site will display ads from your chosen builder.
If you're not happy with these limitations, you'll need to upgrade. Squarespace has one of the most affordable starting plans for dropping ads and getting a custom domain. Plus, you can use Squarespace's 14-day free trial to test all of its features before you buy.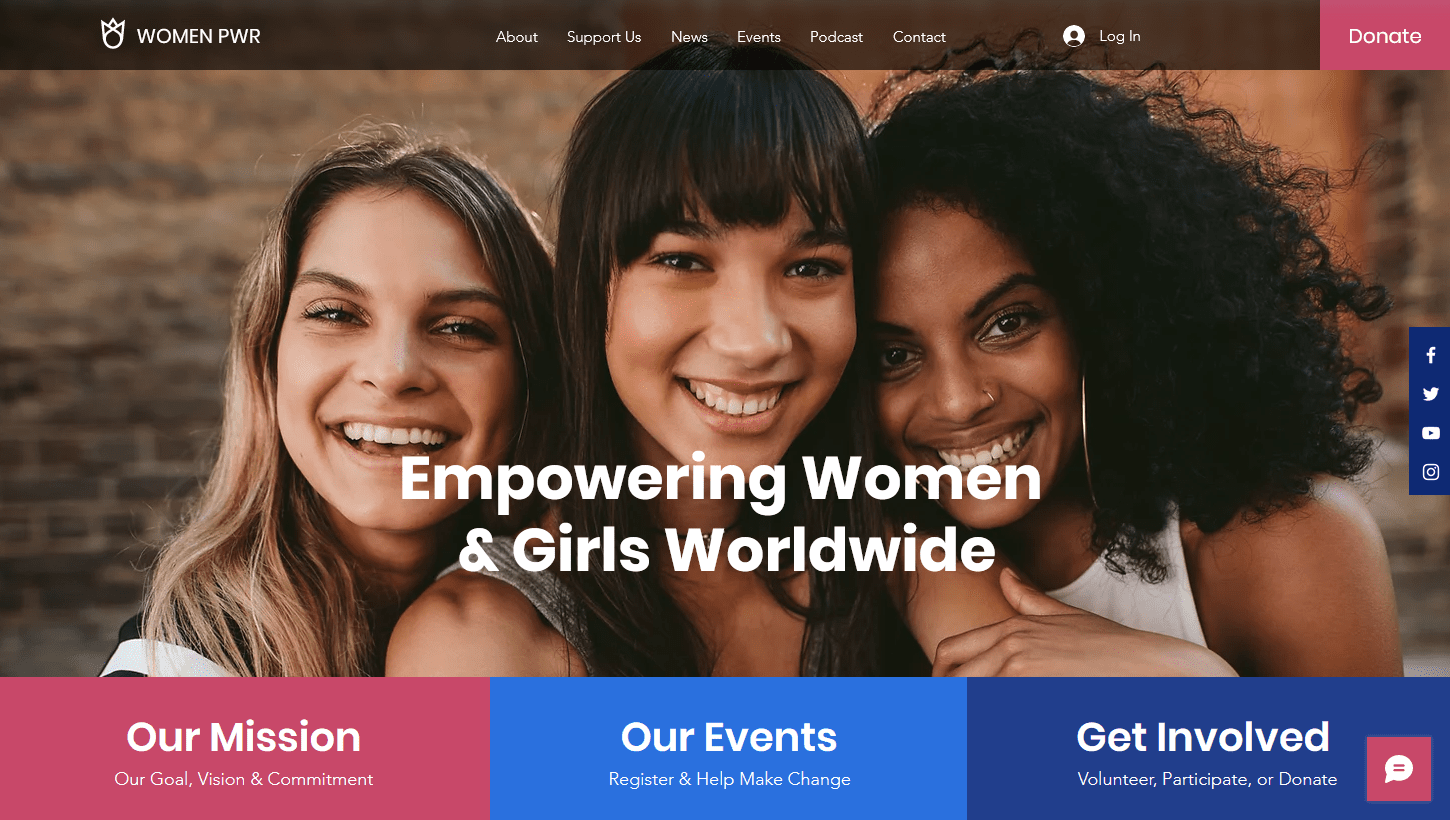 One of the best things about Wix is the templates selection: over 15 of Wix's 800+ templates are designed specifically for nonprofits – and I've got to say, they are good-looking templates. Moreover, even the free plan lets you fully customize any template using Wix's intuitive drag-and-drop editor.
On the downside, once you've selected a template and started editing it, you can't switch to a new one without losing all your work. Moreover, inexperienced users may be intimidated by Wix's extensive customization settings.
However, the set-up wizard will walk you through everything, and you won't need to change much if you use a good template anyway. Most Wix templates for nonprofits, for example, come with built-in contact forms, donate buttons, social media integrations, and more.
You can also try Wix's Artificial Design Intelligence (ADI) tool for a quick setup: you just need to answer a few questions, and it will create a slick site with relevant features.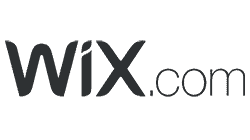 Get a FREE domain + hosting with any Wix annual plan!
This exclusive offer is only available for your first purchase.
46 users used this coupon!
Features
Email marketing: Wix's free plan lets you send up to 5,000 emails per month, perfect for keeping your supporters updated. You can send more emails by subscribing to a paid plan of Wix's suite of marketing tools, Ascend.
Wix Events app: The Events app will let you host and showcase events online, which can be great for fundraising. You'll need to upgrade to sell tickets, but the free plan is still useful for collecting RSVPs and general promotion.
App market: Of the hundreds of third-party extensions in Wix's app store, many are free. For instance, you can coordinate volunteers with the Scheduler app.
Online courses: You can use Wix Online Programs to create courses for training volunteers. Or if you're an educational nonprofit, it can host the material for your beneficiaries. You can also just add downloadable files for simpler resources.
For more details, check out our in-depth review of Wix.
| | |
| --- | --- |
| Free plan? | ✔ |
| Templates for nonprofits | ~ 15 (plus 15 for religious organizations) |
| Email marketing | ✔ |
| Accept donations | ✔ |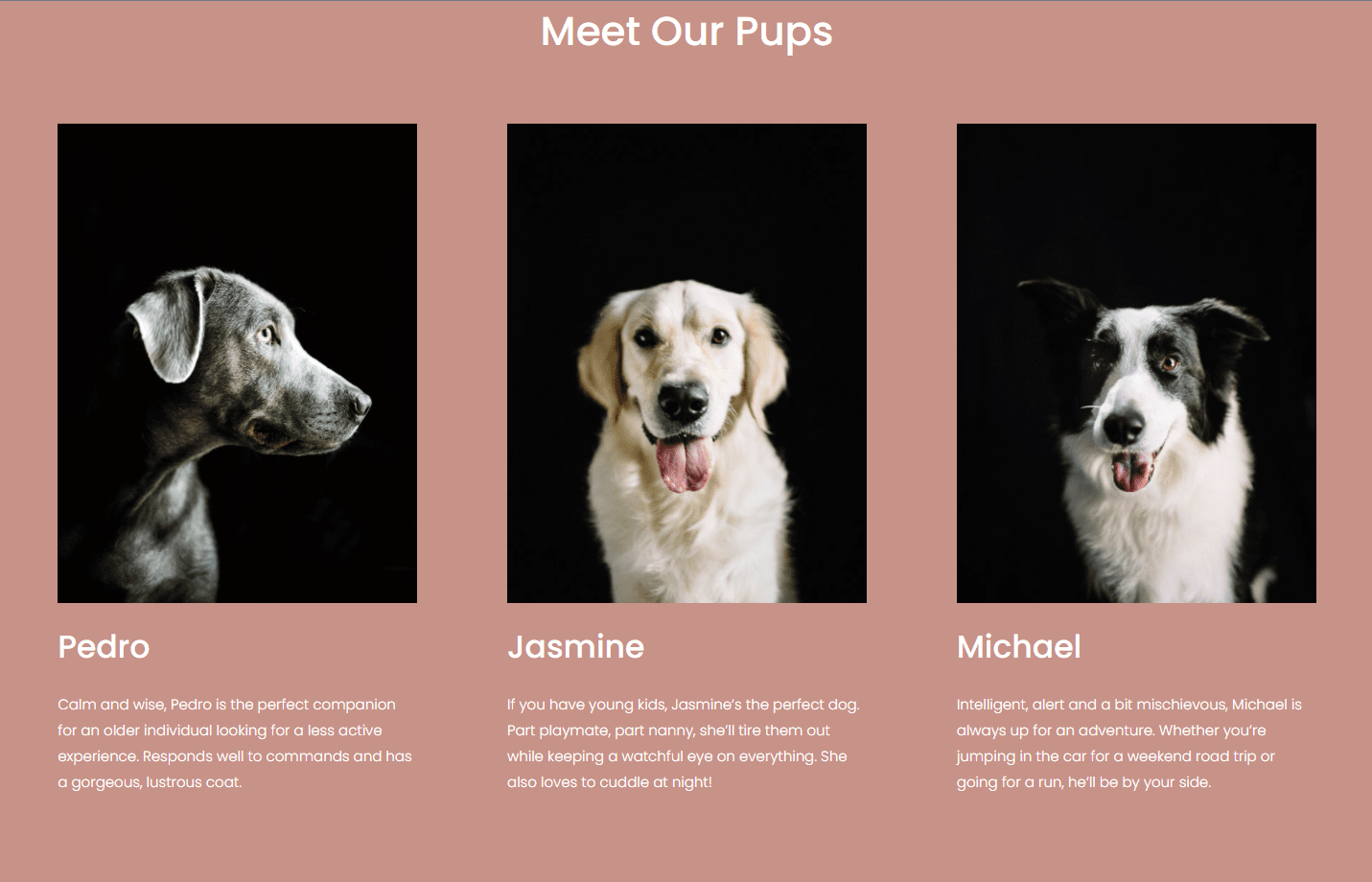 Okay, full disclosure: Squarespace doesn't offer a free plan – but I've included it on this list because I think, for many nonprofits, the features on offer are well worth the additional cost. You can use Squarespace's 14-day free trial to try the builder out without even entering your credit card details.
One of the top reasons why you might want a Squarespace website is its great selection of gorgeous, modern-looking templates. Squarespace has seven templates designed specifically for nonprofits, and they're all ultra-customizable thanks to Squarespace's drag-and-drop editor.
When it comes to features, Squarespace excels. The Business and Commerce plans let you add a customizable donation button, so visitors can contribute via PayPal, Stripe, or Apple Pay. Those plans also give you professional email addresses, which boost your credibility.
Squarespace's best features are seamlessly integrated into the editor, so you don't have to waste any time looking for them in an app market.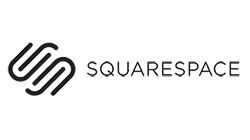 Get 25 % Off Squarespace's Personal Plan
Save 25 % when you sign up for Squarespace's annual plan
561 users used this coupon!
Features
Video Studio: Squarespace Video Studio is a beginner-friendly app that helps you quickly make good-looking videos for your organization. Video can be the most compelling way to appeal to potential donors, so this is pretty useful.
Events: You can create and promote fundraising events with events pages and calendar blocks.
Blogging tools: You can share your success stories and win more supporters by adding a blog page to any Squarespace template.
Members-only areas: By limiting certain areas of your website to registered members only, you can foster a sense of community, share resources with volunteers, or reward donors.
Learn more from our full Squarespace review.
| | |
| --- | --- |
| Free plan? | 14-day free trial |
| Templates for nonprofits | 7 |
| Email marketing | ✔ |
| Accept donations | ✔ |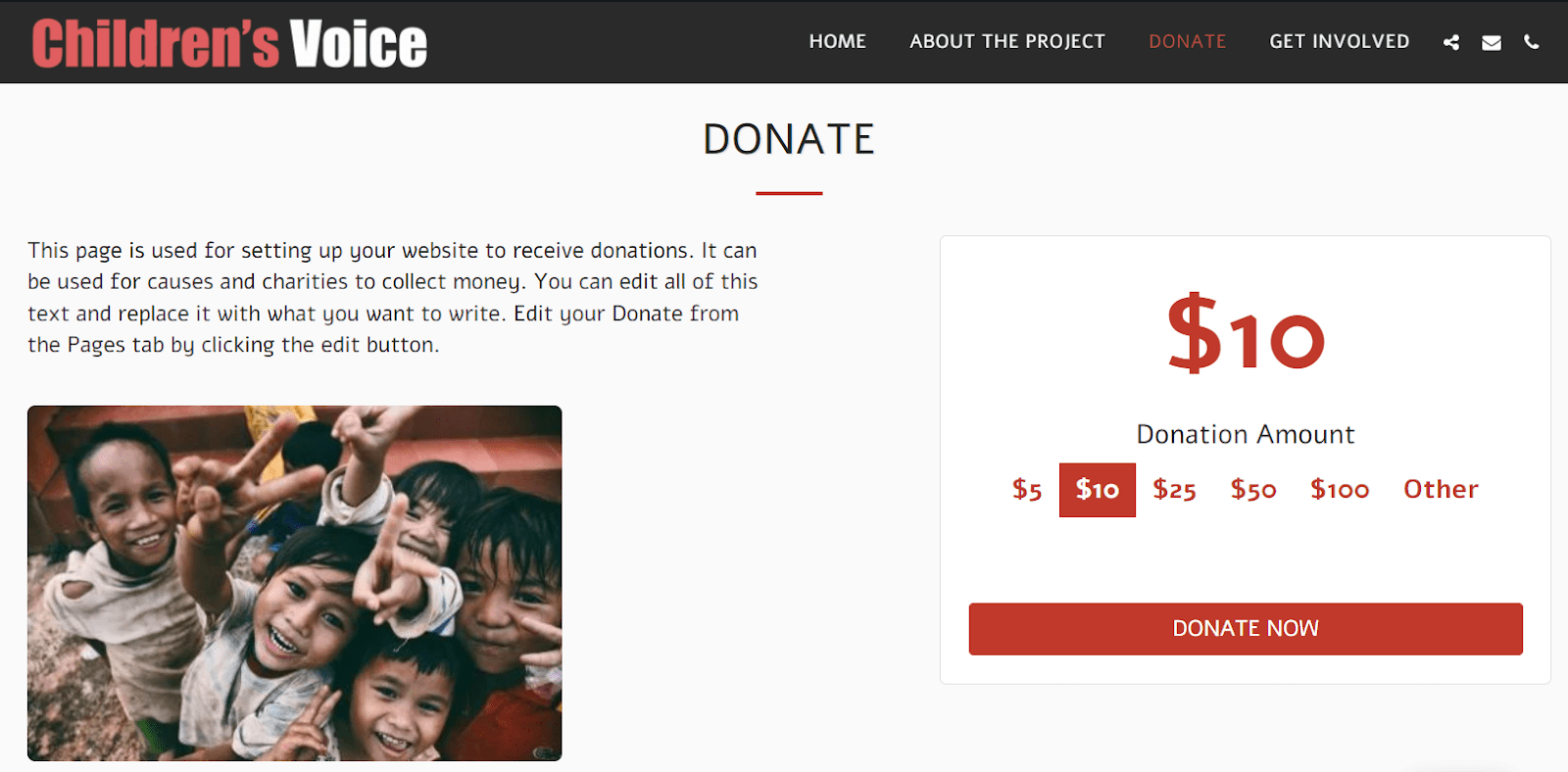 If you're a complete newbie and are looking for ease-of-use above all else, SITE123 is the most beginner-friendly builder on this list. A helpful set-up wizard shows you how everything works the first time around. You can edit any page element simply by clicking on it, or quickly change your site's color scheme or header from the "design" menu tab.
It's worth noting that SITE123 favors quick and easy building over full creative control, and so its major drawback is that you don't get as many customization options as with some other builders. On the free plan, you can only make basic edits to fonts and colors, and even on the paid plan, you'll never be able to truly alter the template you start with.
But if you want to get your site online quickly, SITE123 is perfect. SITE123's free plan has plenty of features built in, and lets you access all templates. There are 7 templates just for nonprofits, and all of them are automatically mobile-responsive, so they'll look good on any device.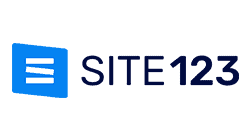 Save up to 50 % on your SITE123 plan!
Limited-time offer - Don't miss it!
76 users used this coupon!
Features
Donations: If you're on the free plan, your site can still take donations – but only via offline methods, like bank deposit, check, cash, or phone. To activate online donations, you'll need to upgrade to a paid plan.
Form builder: By integrating a form into your website, you can respond to online inquiries, collect sign-ups for events, or gather email addresses for your mailing list.
Blogging tools: Starting a blog is a great way to keep your supporters updated on your nonprofit's activities, or even spread the word about upcoming events. SITE123's free plan includes blogging functionality.
FAQ pages: You can easily add and edit pre-built FAQ pages (or page sections). This is great for showing your transparency as a nonprofit, and addressing any skepticism.
Read our expert SITE123 review for more details.
| | |
| --- | --- |
| Free plan? | ✔ |
| Templates for nonprofits | 7 |
| Email marketing | ✔ |
| Accept donations | Yes, but the free plan only allows offline payments |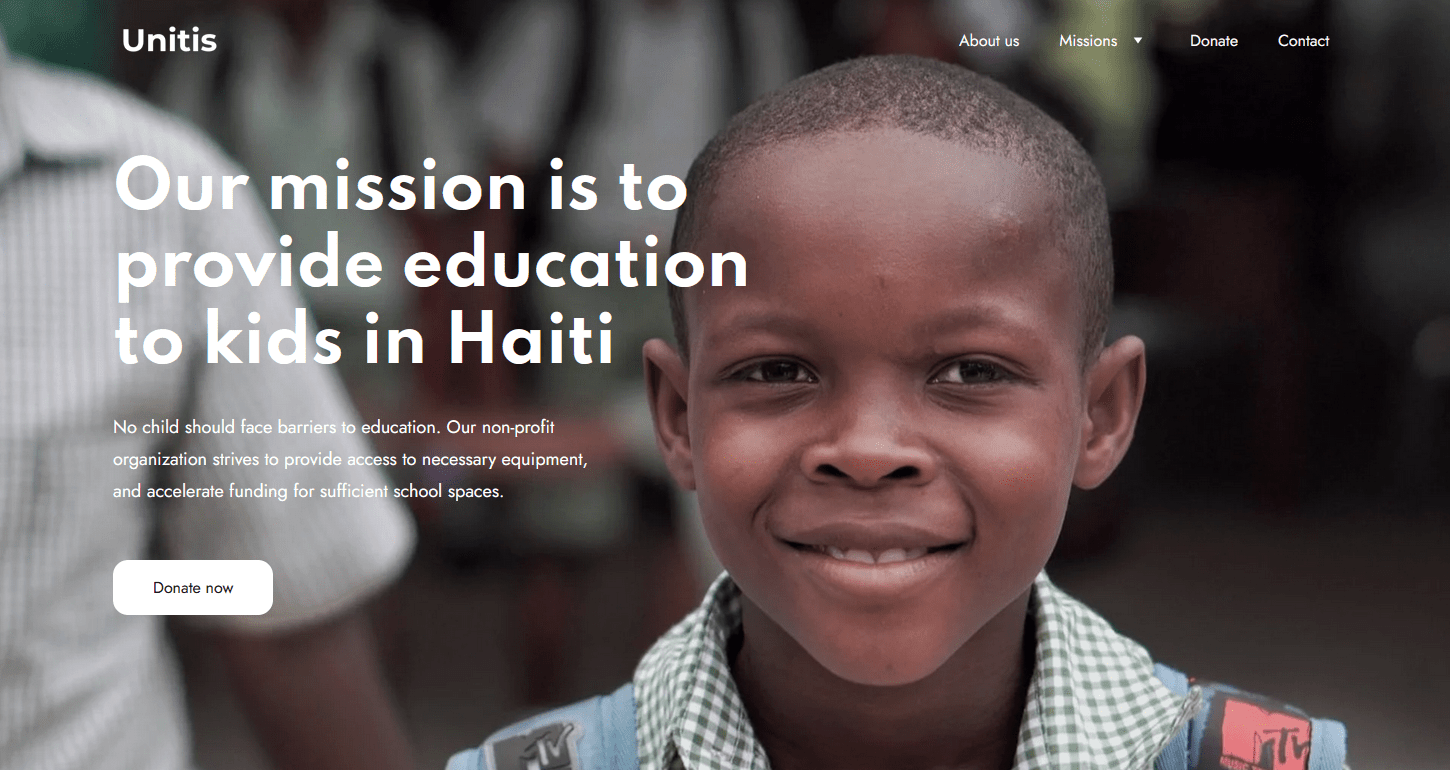 Zyro isn't free by default, but starting at just a few bucks a month, Zyro is among the most affordable site builders out there. All plans come with extra features like a custom domain, extra storage, and the ability to take donations.
Plus, Zyro recently launched its Zyro Creates Zyro initiative, which means nonprofits can build a website or store for free. You can apply by shooting them an email – and they tend to be quite trigger-happy with offering discounts to new customers.
Zyro is also one of the easiest-to-use options on this list, offering a selection of well-designed templates, and an AI generator that can help you get started. Around seven of its templates are suited to nonprofits, and they're all mobile-optimized and good-looking. There aren't many customization options, but it's enough to change the basics.
Features
AI generator: If you're having trouble getting started, Zyro's Artificial Intelligence tool can help build a basic website for you. You can also use AI to help generate a name or logo for your organization, or text for your website.
Stripe payments: Although it doesn't offer a tool specifically for donations, Zyro lets you accept Stripe payments from the Unleashed plan upwards.
E-commerce tools: Many nonprofits boost their income by selling merchandise. If that's something your organization could benefit from, Zyro's e-commerce plan is one of the cheapest out there.
Embed code: Zyro doesn't have a ton of features, but you can embed page widgets for third-party services – like donation buttons, volunteer scheduling, or even mailing list sign-ups.
Read our in-depth Zyro review for more.
| | |
| --- | --- |
| Free plan? | Only for nonprofits |
| Templates for nonprofits | 7 |
| Email marketing | ✔ |
| Accept donations | From Unleashed plan upwards |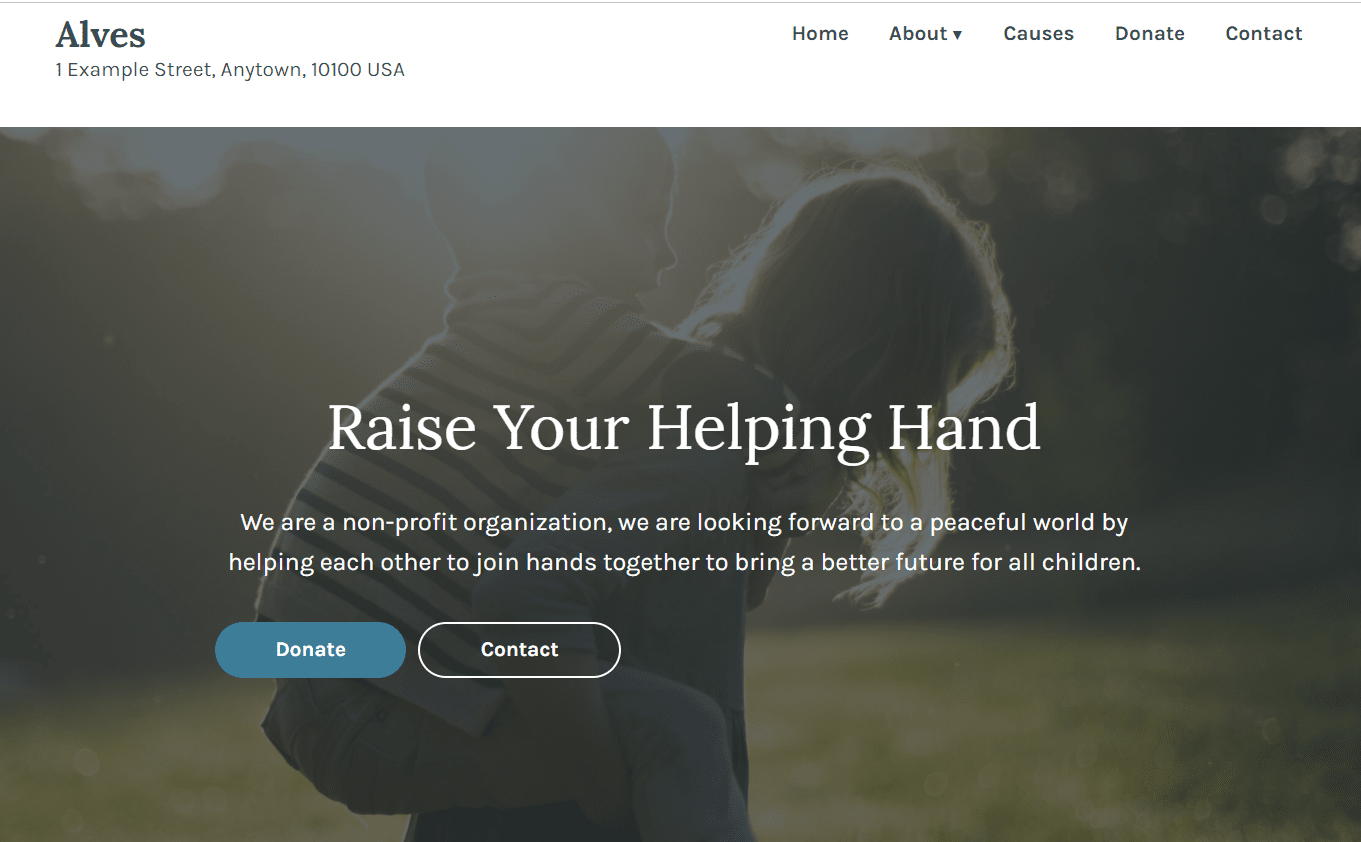 WordPress.com has a steeper learning curve than the other options on this list, but it makes up for that with a lot of power. There's no drag-and-drop interface; instead, you interact with a sidebar on the left to add page elements.
WordPress.com pages and blog posts are highly customizable, with dozens of page elements available for use – from multiple types of contact forms to special image galleries.
This means WordPress.com is great for organizations that use a lot of written content to build up support. However, free users can't change much about their overall site theme. WordPress.com offers three templates for nonprofits, but you may find WordPress.com's other blogging templates work well for your needs.
Although the free plan is powerful, WordPress.com's cheapest paid plan lets you take donations. Upgrading to a paid plan also lets you access premium themes, some of which are more customizable than the free ones.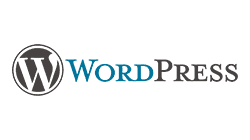 WordPress is now only $4.00 per month!
Sign up for an annual plan and enjoy the savings.
1440 users used this coupon!
Features
Embed Kickstarter campaigns: You can embed a Kickstarter campaign into any page or post – all you need is a link to the Kickstarter campaign.
Content management: You can write, organize, and schedule as many blog posts as you want. Organized posts keep your website easy to navigate for visitors, and keeping track of your unpublished drafts can help your workflow.
Sign-up forms: Get your mailing list started by collecting sign-ups directly from your website.
Timeline blocks: You can add a 'Timeline' block to any post or page, to display a series of milestones. This is good for highlighting your nonprofit's accomplishments and boosting your credibility, plus you can use it to highlight future goals.
See our full assessment of WordPress.com.
| | |
| --- | --- |
| Free plan? | ✔ |
| Templates for nonprofits | 3 |
| Email marketing | Premium plan only |
| Accept donations | Personal plan only |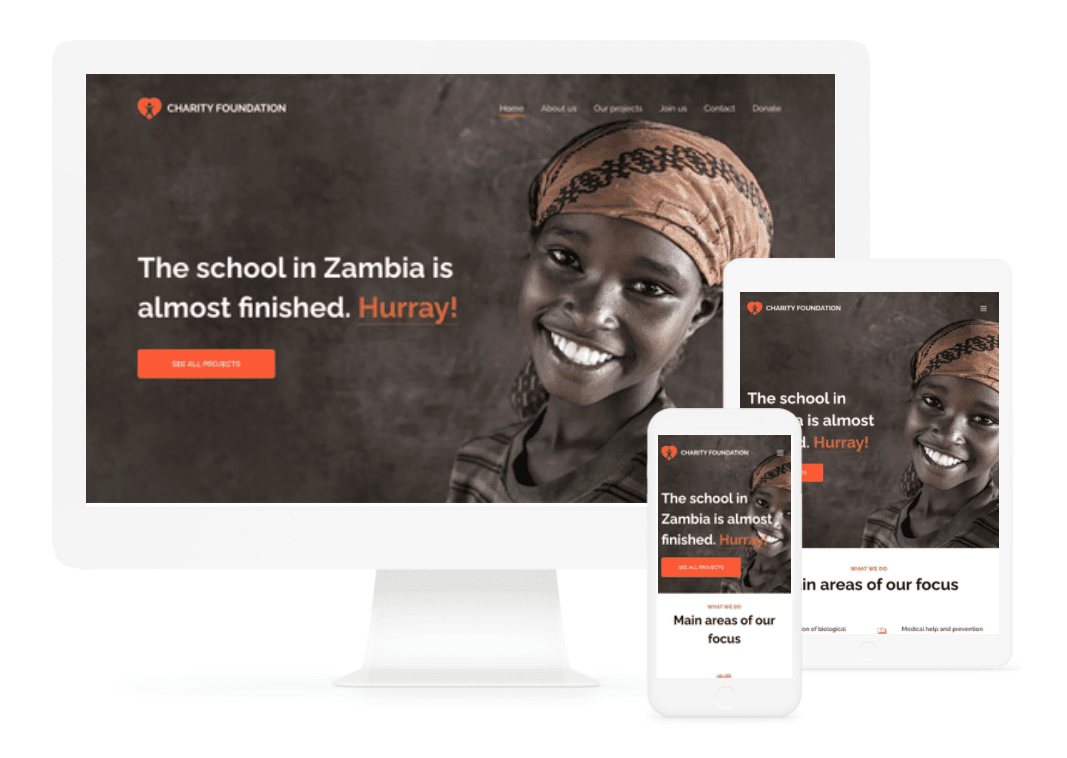 Webnode has just a couple templates for nonprofits, but they're well-built, with prominent images, CTA buttons, and ample space to describe your work. They're also mobile-optimized. If necessary, you can make any of the other templates work with a few tweaks – even the free plan gives you access to all templates.
Like Zyro and SITE123, Webnode has relatively limited customization options in terms of fonts and colors. Also, Webnode isn't the most intuitive to use. Sometimes, buttons or settings aren't where you expect to find them. It's not a deal-breaker, but it might just take some getting used to.
That said, I really like how Webnode's form builder lets you completely customize your contact forms. You can add basic form fields (like name and email address), but also more advanced options (like drop-down lists, an option for uploading files, and date pickers). This could be useful if you're recruiting volunteers or collecting RSVPs for an event.

Webnode is now only $3.50 per month!
Sign up for an annual plan and enjoy the savings.
1827 users used this coupon!
Embed third-party widgets: Webnode doesn't offer inbuilt tools for collecting donations or creating calendars, but you can embed widgets like DonorPerfect, Mobile Cause and GoFundMe – even on the free plan – by adding a shortcode.
SEO tools: Most website builders offer basic features to improve your site's presence on Google Search results, but Webnode has a few excellent options, such as the ability to optimize each individual page.
Members-only pages: If you have a premium plan, Webnode allows you to restrict access to certain pages to visitors with memberships. This can be a useful way of rewarding the highest-profile donors.
Pre-designed pages: Aside from having website templates, Webnode has templates for individual pages, which can save you a lot of time.
Get more info from our full Webnode review.
| | |
| --- | --- |
| Free plan? | ✔ |
| Templates for nonprofits | 2 |
| Email marketing | ✘ |
| Accept donations | Via 3rd-party HTML only |
These Are the Best Site Builders for Nonprofits
So there you have it: when it comes to finding a good website builder with solid features for nonprofits, there're plenty of options out there. You can accept donations, schedule events, blog about your community impact, and create email marketing campaigns – even on a free plan, as long as you can put up with a subdomain and ads.
If you do choose to upgrade, all of the website builders on this list offer good premium plans with a lot of features useful for nonprofits. My top choice for a paid plan is Squarespace, for those who want a top-notch site design with powerful features;
Or, if you're looking for something more affordable, Zyro is a great budget option, with a special initial discount for nonprofits.
If you really need a free plan, use Wix. In terms of flexibility, features, and ease of use, it simply can't be beaten.
Free Plan
Best Feature
Best For
Starting Price
Wix

✔

Generous marketing tools

Nonprofits trying to build support on a budget

$

16.00

Squarespace

14-day free trial

Striking templates and galleries

Nonprofits telling a visual story about their mission

$

14.00

SITE123

✔

Simple editor, templates

Organizations launching a landing page

$

12.80

Zyro

Free for nonprofits

Big discounts, especially for nonprofits

Nonprofits seeking a professional site within their budget

$

2.61

WordPress.com

✔

Blogging tools

Nonprofits regularly communicating with supporters

$

45.00

Webnode

✔

Custom form builder

Nonprofits that need multiple contact forms

$

3.90
FAQ
How can I create a nonprofit website for free?First, sign up with one of the builders we recommended in this article. Next, pick a template. You can usually add page elements (contact forms, for example) as needed, so choose based on design more than template features. Then customize your template, and hit 'publish'! If you're looking for more details, check out our in-depth guide to building and publishing a site in 2022.What is the best free website builder?Most website builders offer free plans. Check out our list of the best website builders for 2022 to get a flavor of what's on offer. Overall though, I recommend going with Wix, as it offers even free users access to its huge template library, App Market, and other tools like email marketing and SEO.Can I collect donations for my nonprofit with a free website builder?Most builders let you add a donation button on a free plan, but it won't process payments until you upgrade. SITE123's free plan lets you take donations – but only through offline methods (like cash or check).Is Wix good for nonprofits?Wix is a great option for nonprofits, whether you want to use its free or paid plans. Wix's drag-and-drop editor is beginner-friendly, and Wix sites are highly customizable. Free plans can use email marketing and event scheduling tools, but you'll need to upgrade to a premium Wix plan to get your own domain and remove Wix's branding.Is Squarespace free for nonprofits?Squarespace doesn't offer a free plan, but it does offer a 14-day free trial. The paid plans can quickly give you your money's worth, though. Squarespace gives you access to well-designed templates, donation buttons, marketing tools, and even members-only areas.