You don't want to invest time or money in a marketing campaign only to find out your landing page doesn't produce the results you were expecting.
For this reason, I tested all the major landing page builders on the market.
I built a real landing page with each, to check their conversion potential.
I'll tell you which builders I found to be the most efficient, and which ones you should avoid. On my list, you'll find a few builders that are typically used for full websites. This may seem surprising – but in my tests, I found them to be great for landing pages as well. One major plus is that
you can use them for free,
unlike dedicated landing page builders which usually come at a premium.
Wix, for instance, has a great free plan
which includes lots of landing page templates designed for conversion. I've included a few dedicated landing page tools as well, along with some all-in-one marketing platforms. You'll also find a few paid options, because I found some that were too good not to share. But
if you're looking for a completely free landing page builder, you've come to the right place.
What We Look For in the Best Landing Page Builders
To create this list, I focused on landing page builders with the following qualities:
Ease of Use: Building a landing page should be a relatively painless process. While some tools on this list are more intuitive than others, overall they are fairly simple.
Plenty of Customization Options: Your landing page needs to match your brand, and these builders offer lots of customization options to change fonts and colors, upload your own content and images, and much more.
Built-In Analytics: You'll want to track your data to measure success and make changes for future campaigns. These builders all have analytics tools available.
Email & Social Media Marketing Integrations: A good landing page builder makes it simple to incorporate your landing page into whatever channel(s) your campaign is active on. This could be through built-in tools or integrations with common third-party marketing tools.
Optimization for Maximum Conversion Rate: The best landing page builders offer templates or tutorials that assist in building a high-converting landing page.
Disclaimer! There's one thing that no free landing page builder is going to give you, and that's a custom domain.
You can still design a pretty effective landing page using a subdomain like my-awesome-website.website-builder-name.com, but if you want a more professional look to suit your brand, you'll have to fork out a few dollars for a paid plan.
My honest recommendation? Go with a paid builder like Squarespace.
Its cheapest plan includes all of the features I've mentioned above, plus unlimited storage and bandwidth – so you never have to worry about the number of people who land on your page.
Squarespace has a 14-day free trial
so you can take it for a spin with no risks.
Best Free Website Builders for Landing Pages
Surprised to see me suggesting website builders to create a free landing page? Allow me to convince you that these are a good option. In my research and testing for this article, I found that
website builders were far easier to use than dedicated landing page builders
, so there's less of a learning curve and you'll get your landing page live much faster. Although they're simpler, you'll still have everything you need to customize your landing page and track the success of your marketing campaign on the free plan.
Not only that, but these website builders all have free plans you can use for as long as you like, to create as many landing pages as you like.
 This isn't the case with dedicated landing page builders, which will usually limit what you can do for free. If you want more advanced, specialized landing page features and you don't mind paying a bit,
I cover my favorite options in a later section
.
You've probably heard of Wix – many businesses and individuals are using it to create their websites these days. I'm happy to report that it's a great tool for landing pages as well. It offers 30+ free
professionally designed landing page templates
, and you're likely to find one with the features and layout you need. With the intuitive drag-and-drop builder, you can easily customize the colors, fonts, layout, and just about anything else –
it's easy to get your page to look and function exactly the way you want.

There are built-in tools for both email marketing and social media, allowing you to design your emails and social posts within the Wix framework
 and then connect your relevant accounts to put them into action. You can even create social media videos to entice customers to visit your landing page using the Wix Video Maker, which offers customizable video templates.
For more information on Wix, check out our in-depth review
.
What kind of landing page builder?
Website builder
Biggest added-value of the free plan
Built-in email, social marketing tools, and analytics
When should you upgrade to a paid plan
When you need a custom domain name
Cheapest paid plan

$

16.00

per month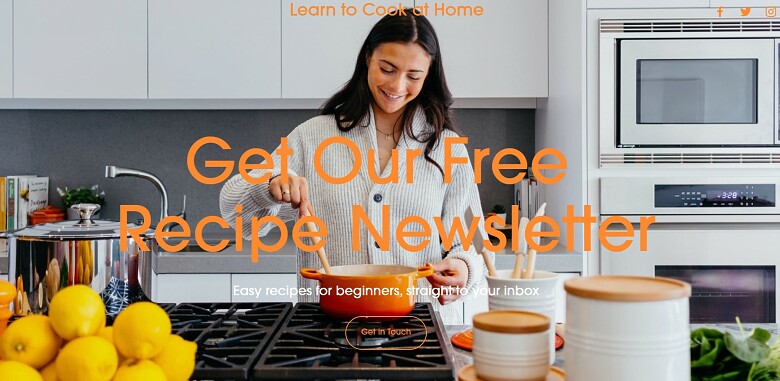 Squarespace is a general website builder that's known for its stunning designs,
and you can take advantage of those for landing pages too. It has a selection of landing page templates, which are usually called "Launch" or "Cover" pages within the tool.
It's easy to customize each page and give it a unique identity. All while maintaining a visual consistency thanks to the grid editor. The grid editor lets you add and edit new sections from a "grid," including sections for contact, newsletter sign-up, and pricing.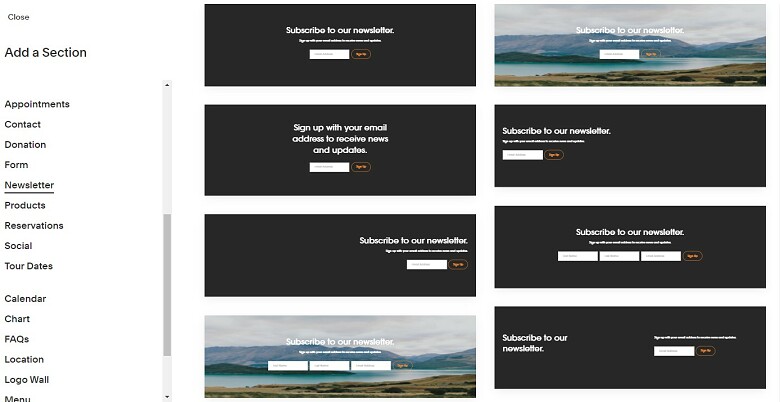 The advanced SEO features and site analytics can help you bring your site to the top of the search results
and make sure you're reaching your target audience.
Marketing is Squarespace's other strong suit.
Thanks both to the built-in tools and third-party integrations. You can easily create a newsletter, sell digital and physical products, and more. All of it is manageable from a single, centralized platform.
Squarespace does not have a free plan, but instead offers a 14-day free trial
 for you to try out these top features and more:
Integrations for MailChimp and all social media platforms

Built-in email marketing tool to send campaigns right from the site editor

Menu layouts and integrations with restaurant tools like ChowNow and OpenTable
At only

$

16.00

per month. The personal plan is one of the cheapest premium plans on this list. And it comes with everything you need to create an effective landing page. 
If you want to learn more, check out our in-depth Squarespace review.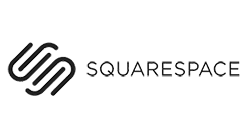 Get $65.00 Off Squarespace's Business Plan
Don't miss out on this great deal!
715 users used this coupon!
What kind of landing page builder?

Website builder

Biggest added-value of the free plan
No free plan, unlimited photo storage on cheapest plan
When should you upgrade to a paid plan

When you need to make your site public

Cheapest paid plan

$

16.00

per month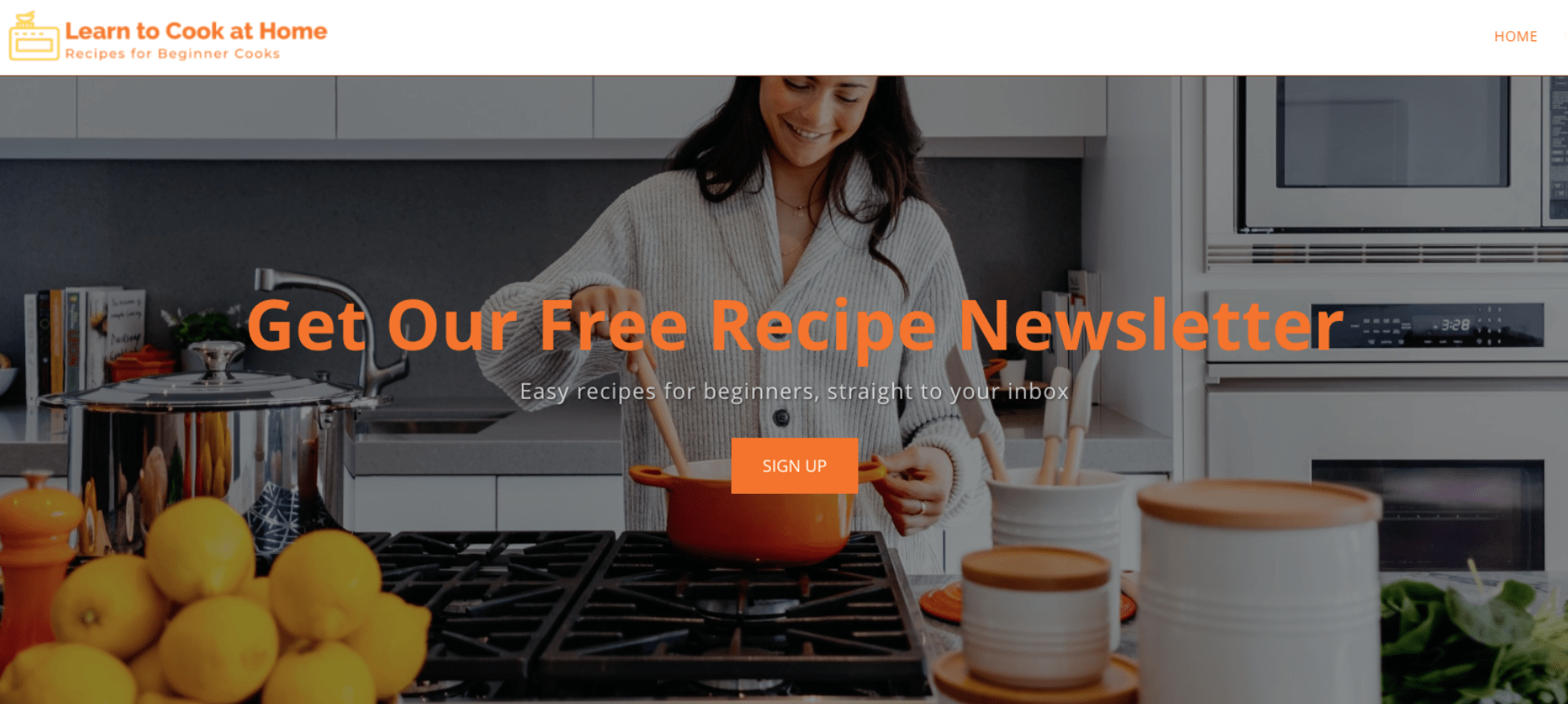 Since SITE123 specializes in single-page websites, it's a great tool to use as a landing page builder. It's easy to add jump links to different parts of the page, so your visitors don't have to scroll to see the information they're looking for.
Your page can be as long and detailed as you want, but you can also keep it simple. 
The editor itself is very simple to use.
Even if this is your first time building a landing page, you can get online in just a few minutes.
However, this simplicity does mean you don't get as many customization options as you'll find on Wix, or some of the other landing page builders on this list. That said, you can customize your colors and fonts (although the selection is a bit limited). You can also choose from pre-designed content blocks and easily add them to your page. You can also add elements like buttons and forms.
Our in-depth SITE123 review can provide more detail.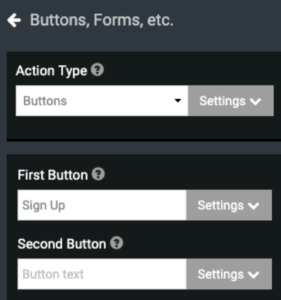 SITE123's free plan includes several contact form templates geared toward a variety of marketing goals, but you can't customize them any further (such as by adding a drop-down field). It also lacks analytics and third-party integrations for additional functionality (you need to upgrade to a paid plan to get access to the App Market), so it's best for really basic marketing campaigns. All this being said,
SITE123 is still a strong contender if you're a blogger or marketer who needs a simple, straightforward landing page builder.
What kind of landing page builder?
Website builder
Biggest added-value of the free plan
Easy-to-add jump links
When should you upgrade to a paid plan
If you need dedicated analytics or integrations
Starting price of paid plan

$

12.80

per month

Jimdo handles much of the site building for you, so it's a great option if you're a beginner or in a hurry to get online. Its site creation wizard suggests a business category and a template based on your needs. It even writes personalized sample text, depending on whether you're creating a site for an individual or a business and what your goals are. Although there are no templates specifically designed for landing pages, you can pick any of
Jimdo's 100+ templates
to get started. All designs are mobile-responsive and come in a variety of looks, from strictly minimalist to having vibrant colors and imagery. The editor itself is quite easy to use – you build a page by choosing from pre-made mini-layouts. You won't get complete creative control, but there's still plenty of things you can do to design an effective landing page, such as upload images, slideshows, and videos, add CTA buttons, contact forms, social media links, and more.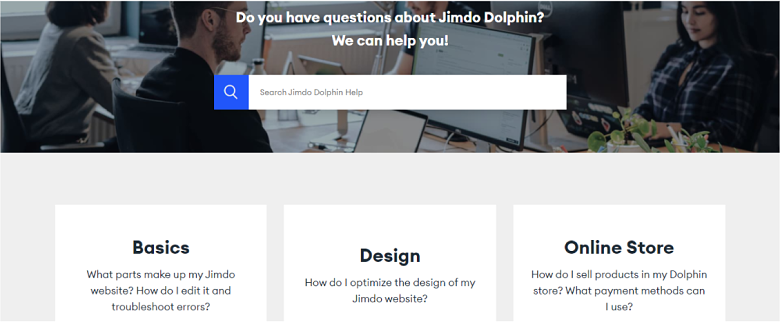 Jimdo offers a generous free plan
– you get 5 pages, 2GB of bandwidth, and 500MB of storage. You also get a mobile app and SEO features, including SEO homepage descriptions, homepage title, and Google indexing to help you get more conversions. However, you'll be stuck with Jimdo's subdomain and ads. If you want to connect a custom domain and add third-party integrations (like email marketing apps), you'll have to upgrade to one of Jimdo's paid plans. You'll also get access to more SEO and marketing tools, such as custom page URLs, Google Previews, statistics, and Business Listings, which will automatically submit your landing page to listings sites across the web.
Learn more about Jimdo in our expert review.
What kind of landing page builder?
Website builder
Biggest added-value of the free plan?
SEO tools
When should you upgrade to a paid plan
When you need a custom domain or access to third-party apps
Starting price of paid plan

$

39.00

 per month
Website Builders That Didn't Make the Cut
In my testing, I came across a few website builders that won't work well for landing pages. Some were too simple; others were too difficult to use for a quick marketing campaign. Here's what won't work to build a landing page and why:
WordPress.com: WordPress.com offers 3GB of storage on its free plan, so it could be a good choice if you want to include video content on your landing page. But it doesn't have landing page templates and it's much more difficult to use, so it didn't make it to my final list of recommendations.
SimpleSite: You can build a landing page quickly and easily on SimpleSite, but customization is so limited on the free plan that there's no guarantee you'll be able to match your branding. It's also missing integrations for social media and email marketing, so it didn't earn a place on this list.
Dedicated Landing Page Builders
You can create great landing pages with any of the free website builders outlined above,
or
 you can use a dedicated landing page builder to get additional features for your campaigns.
These builders have far more advanced features
 when it comes to analytics, conversion rate optimization, and promotional tools. Advanced features means a steeper learning curve, so it will take more time to build a landing page with one of these options, but they're pretty wonderful tools that are worth knowing about. There aren't any
fully
 free plans for these next four entries, but you can get a free trial to test them out and see if they'll meet your needs.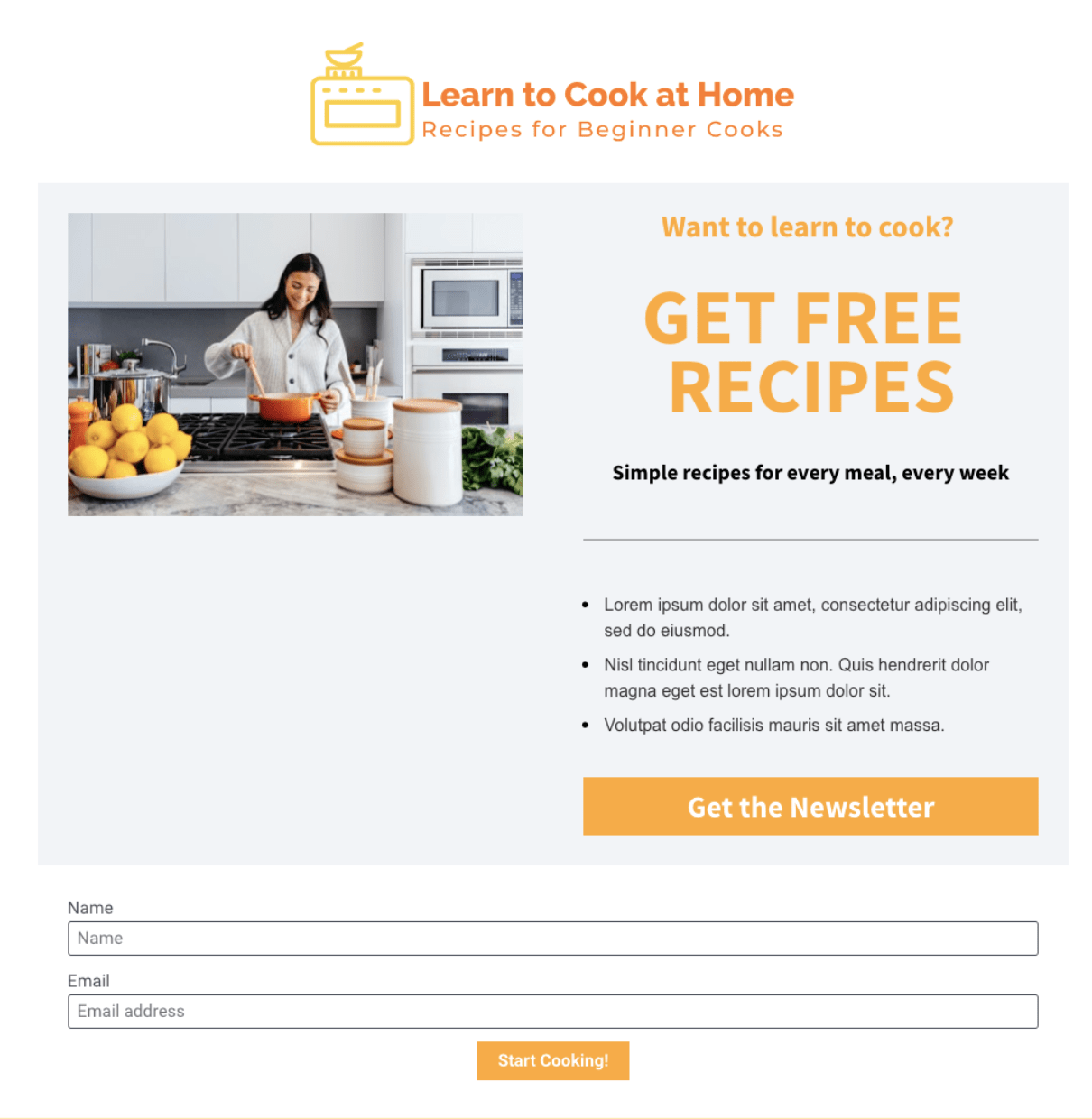 The Leadpages editor is on the simpler side,
offering options for predesigned sections that you can arrange in your preferred order and then customize a bit further
. You can also start from a conversion-rate-optimized landing page template to work even more quickly and guarantee a pleasing design.
You can read more about the user experience in our expert review
.
Like most dedicated landing page builders, Leadpages has a huge selection of integrations, ranging from analytics to email marketing to scheduling posts and campaigns. There are tons of options in every category, so you're highly likely to find what you need. Additionally, you'll get detailed analytics to track the success of your campaign and the ability to A/B split test landing page variations to ensure you're using the best possible layout and content. One other cool feature is lead magnets, where
you can attach files or links to certain landing pages so visitors who complete your form or take another action can immediately access whatever it is you're offering.
The only major drawback of Leadpages is that it was pretty slow to load at times, whether that was updating my landing page, logging in, or waiting for something to save. This didn't really inhibit progress, but was pretty annoying when compared to how quickly the previous builders on this list went.
What kind of landing page builder?
Landing Page Builder
Biggest added-value of the free plan
Lead magnets for automatic delivery of an offer
When should you upgrade to a paid plan
After 14-day free trial
Starting price of paid plan

$

37.00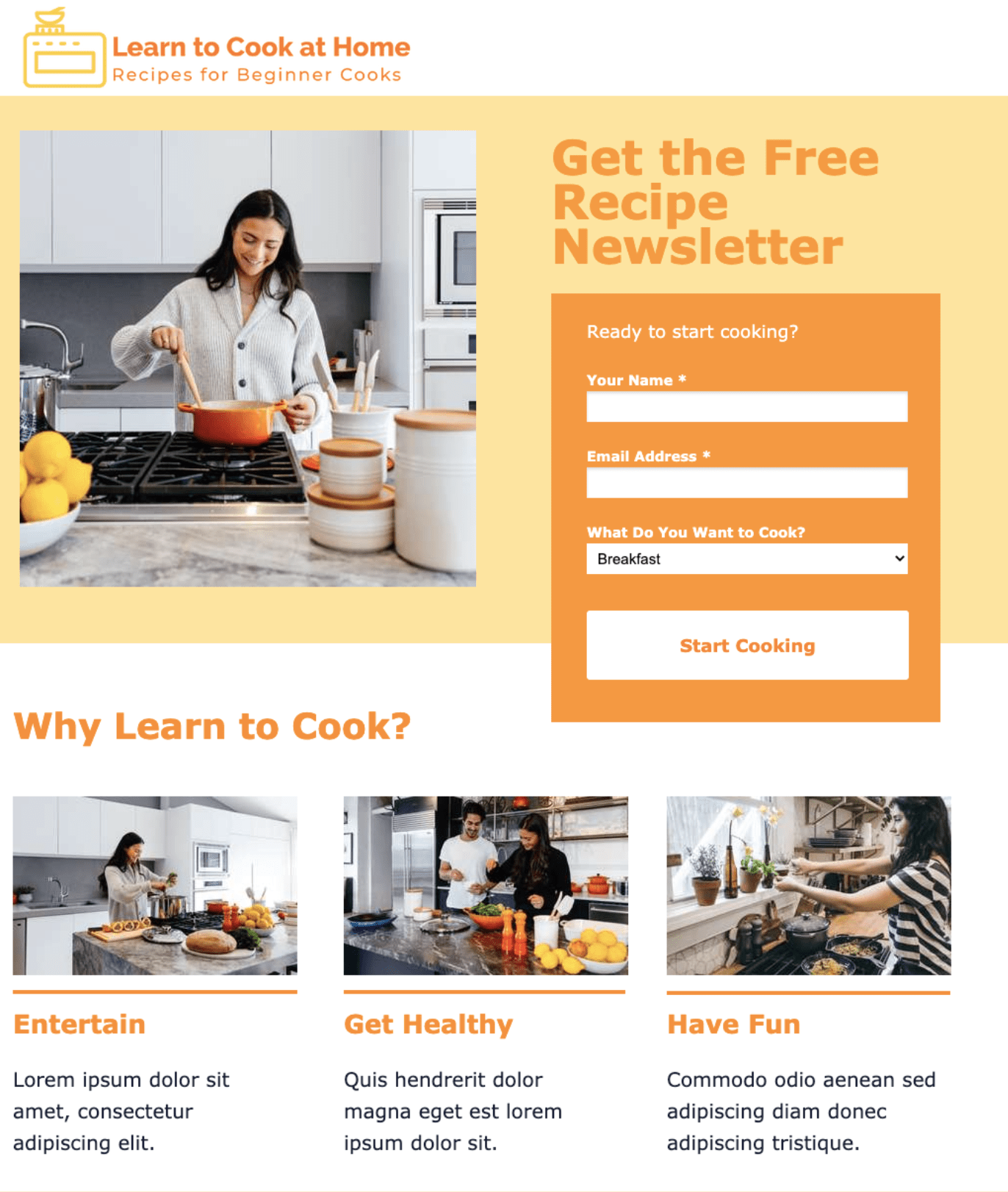 At first glance, Unbounce felt super overwhelming: there were tons of fields and options for customizing, and some of them looked pretty confusing. After a few minutes, however, I got more comfortable with the interface and realized that
it actually lends itself really well to very detailed customization.
 You'll be able to get any template to perfectly match your brand, so don't let the first impression intimidate you. Unbounce has
a ton of landing page templates
 categorized by page goal—think lead generation or e-commerce—and you can get more from
ThemeForest
 if you want even more options. You can browse and preview templates in the same window, so it's easy to compare all the different options, and the pre-filled template text is actually a series of tips on how to create a high-converting landing page. This is an incredibly useful feature if you're new to all the nuances of building landing pages.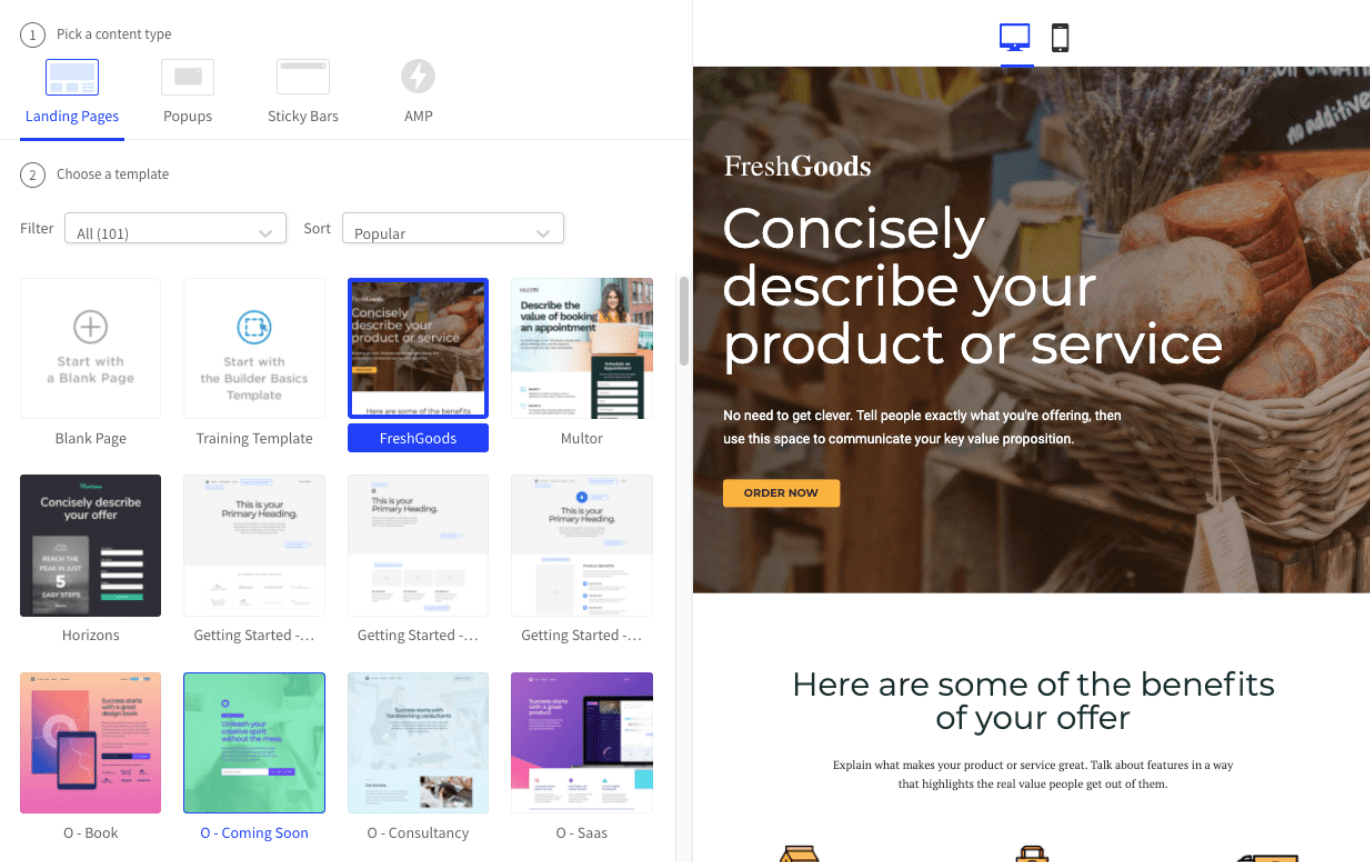 Like other landing page builders, Unbounce offers a lot of tracking and integrations for your landing pages, as well as A/B testing capabilities. There are also some cool features around personalization:
you can use dynamic text replacement to display a page that matches your visitors' exact search terms
, or use an AI-powered "smart traffic" tool to serve different variants to different visitors, based on which one will make them most likely to convert. Though Unbounce's feature-set is impressive, it comes at a hefty premium. If you have a limited budget but still want a professional-looking landing page with access to advanced analytics, marketing, and SEO tools,
Squarespace's cheapest e-commerce plan
gives you all this and more for less than a third of the cost.
All of Unbounce's features are covered in our expert review
.
What kind of landing page builder?
Landing Page Builder
Biggest added-value of the free plan
Dynamic text replacement and "smart traffic" tools
When should you upgrade to a paid plan
After 14-day free trial
Starting price of paid plan

$

74.00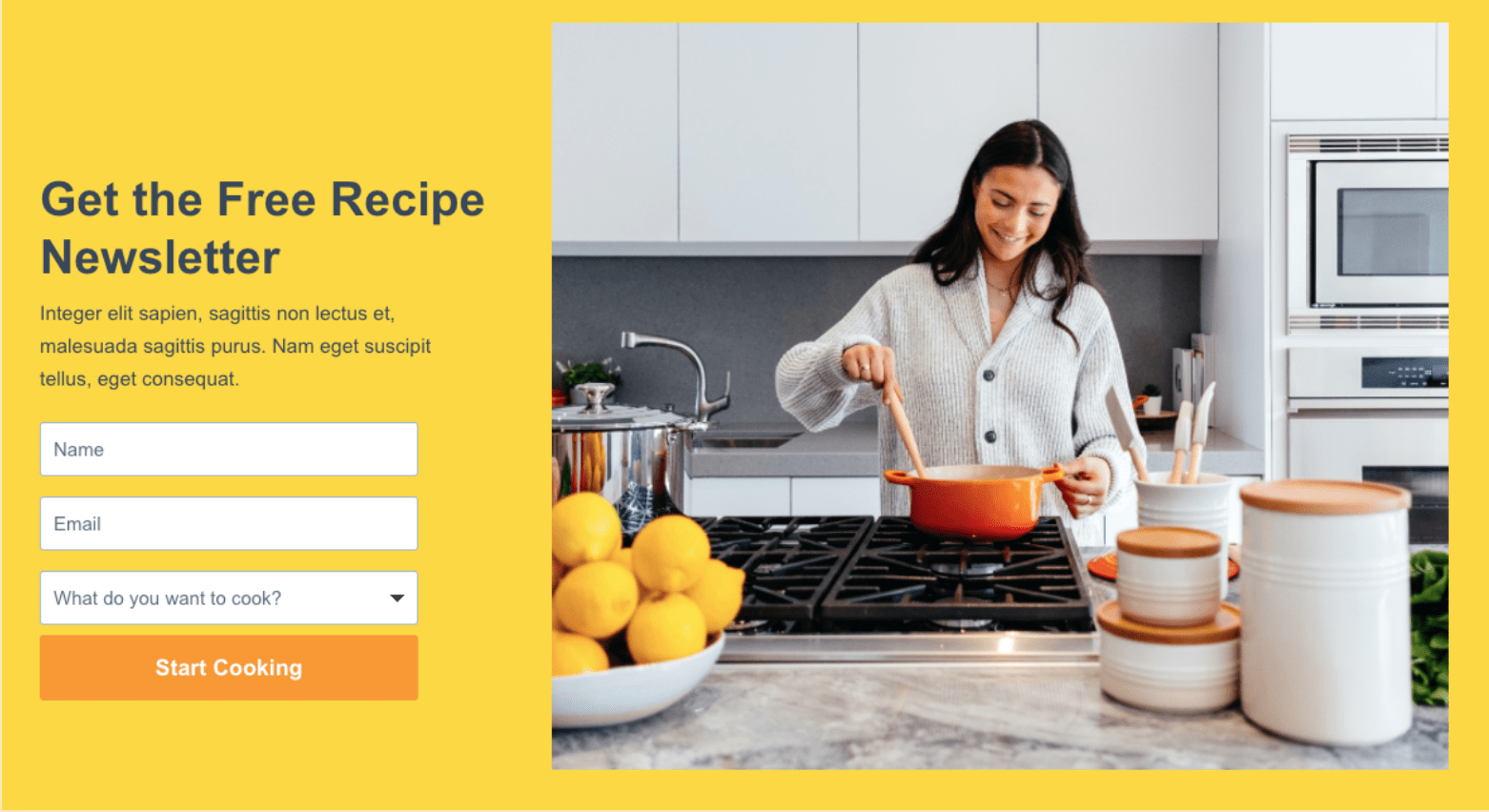 To start building your landing page on Instapage, you
choose a template from a huge list
 that's categorized by use case, such as app download or newsletter sign-up.
These templates are designed with conversion rate for that specific goal in mind
, so it's a really useful way to get the most effective landing page for your needs. From there, you can customize your template with plenty of content block template options in dozens of categories.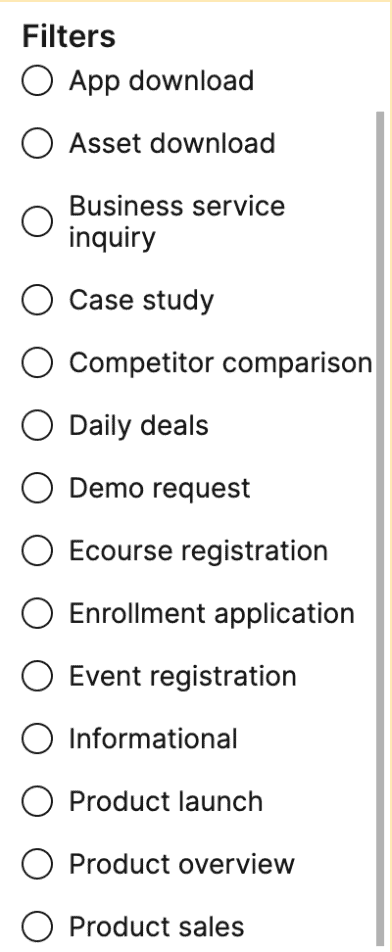 A big plus of Instapage is the streamlined publishing experience: you directly choose from four methods of publishing, rather than it defaulting to a subdomain like most landing page builders do.
You can publish directly to WordPress or Drupal, or connect a custom domain.
Other landing page builders may offer these options, but it's not nearly as easy as it is on Instapage.
Another useful feature is
the ability to add multi-step forms – visitors can add their name and email on one screen, and then be directed to additional form fields
to provide more information. This can provide a more concise landing page while still gathering necessary information for your campaign.
Read about all of Instapage's features in our expert review
. While testing this builder, I ran into an issue where Instapage cancelled my account while I was editing a landing page. I emailed customer support about it, and while they were able to reinstate the remainder of my free trial, it took four days for that to happen. The cancellation seems to be related to a one-time glitch, but it should be noted that support response time is slow.
What kind of landing page builder?
Landing Page Builder
Biggest added-value of the free plan
Multi-step forms and easy publishing to WordPress
When should you upgrade to a paid plan
After the 14-day free trial
Starting price of paid plan

$

68.00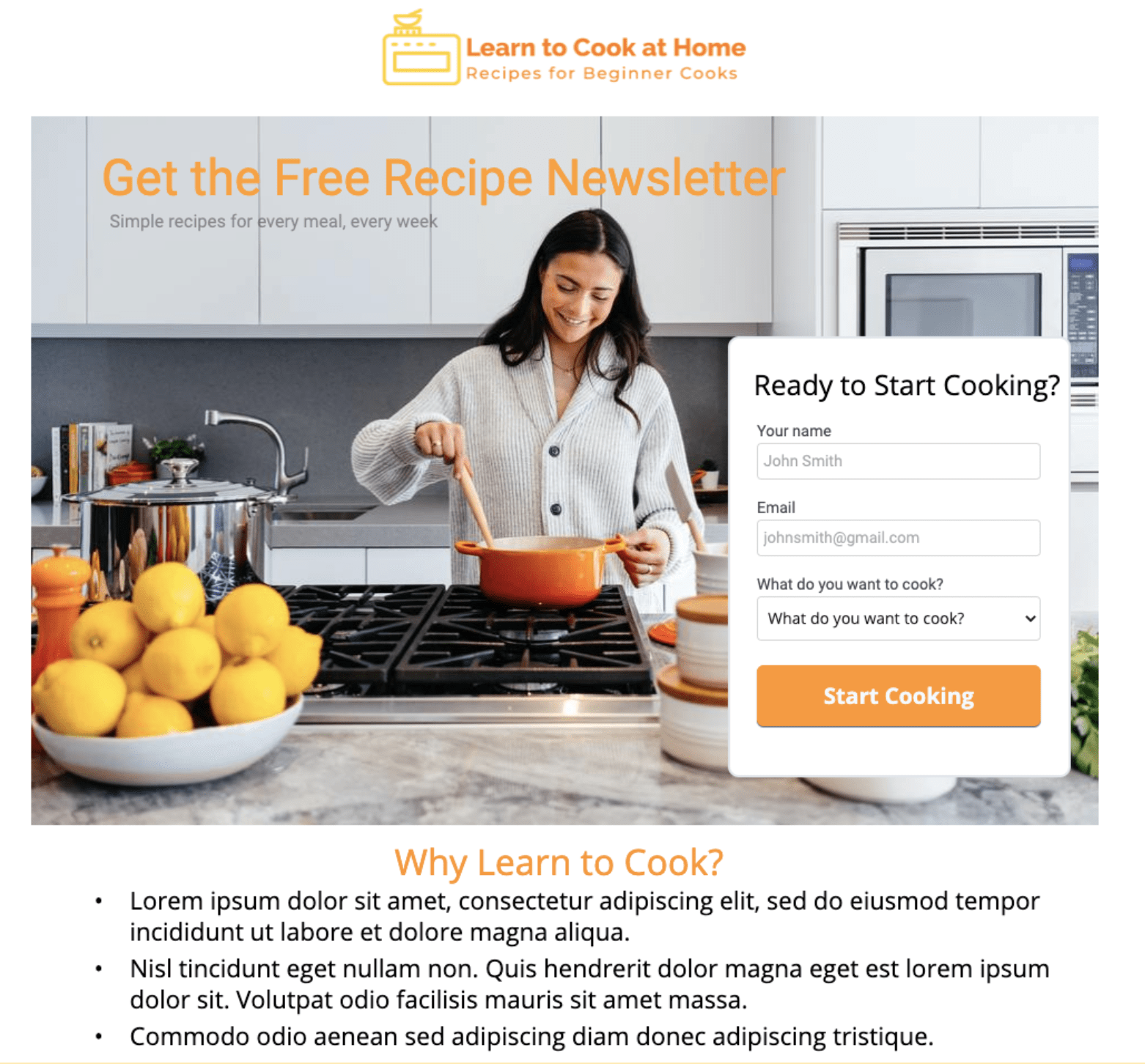 Landingi is pretty similar to the other dedicated landing page builders on this list: there's lots of customization possibilities, tons of integration options, and plenty of analytics and A/B testing capabilities. One helpful feature is that the
landing page templates
are categorized by both industry and goal, so you can quickly narrow in on exactly the layout that will yield you the most conversions. In addition to landing page templates,
Landingi also has a series of form templates that you can customize to your liking.
There's a separate tab for editing a custom thank you page after form submission – most landing page builders offer a default thank you page, but it's nice to add a bit of branding.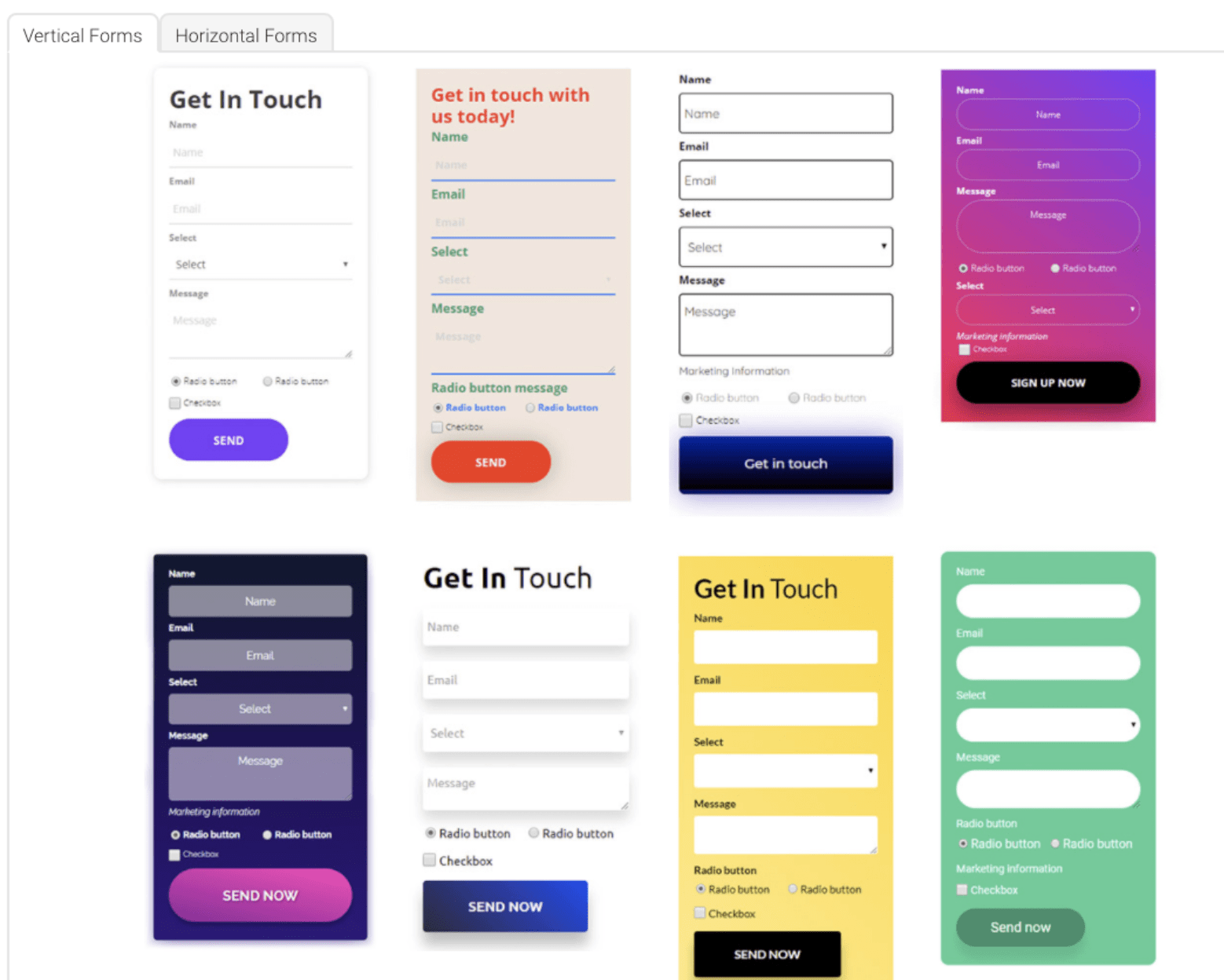 Landingi's built-in analytics are simpler, much more similar to the website builders than the dedicated landing page builders, but there are plenty of integration options to extend that capability however you need. The free plan limits you to just 200 visits on your page, so this option is best for very small campaigns.
We compare Landingi's free and paid options in our expert review
.
What kind of landing page builder?
Landing Page Builder
Biggest added-value of the free plan
Dozens of form templates
When should you upgrade to a paid plan
After free trial
Starting price of paid plan

$

29.00
Additional Landing Page Tools You Should Know About
In case you still haven't found the perfect solution for your next landing page, here are a few more platforms definitely worth checking out. These tools aren't free, but they can accomplish much more than a simple landing page, and they provide excellent value for your money.
This is a really robust marketing platform that lets you build landing pages and send them via email, SMS, or chat to your customers. Although Sendinblue has a free plan for email marketing, you only get access to the landing page builder on the paid plans. Here are some of its best features:
Landing page template library organized by the page goal
Tools for personalization, segmentation, and marketing automation
A/B testing for landing page design and layout
Like Sendinblue, GetResponse is a multi-faceted marketing platform that includes a landing page builder, which has a drag-and-drop editor and mobile-responsive themes. You can try GetResponse free for 30 days before committing to a paid plan. Here are some of the things I like about it:
Built-in image editor as well as images from Shutterstock and gifs from Giphy
Easy integrations with products and services from Etsy, BigCommerce, and more
Conversion funnel builder for a holistic marketing strategy
What's the Best Free Landing Page Builder?
In testing so many free landing page builders, I learned just how important it is to have certain features and integrations to support your marketing campaigns – for example, the ability to customize your forms is a huge benefit.
Squarespace will give you a well-designed landing page in minutes
, but it might not have as much customizability as you need.
Wix takes the lead for most features in one place
, and as a bonus, it's always one of the easiest tools to use for building web pages. For most bloggers and small businesses, it will accomplish what you need, all in one place.
If you don't want to be overwhelmed with features, but you still want an effective landing page, a simpler website builder like Jimdo
 might be a good choice.
That's not to say the less robust free landing page builders are bad: if you have an email marketing tool or something similar already established and simply need a basic landing page to plug into those tools, any builder on this list will get you what you need. For a quick look at the major features of each landing page builder, check out this comparison table:
FAQ
What is a landing page builder?
A landing page builder is a marketing tool that allows you to create web pages tied to specific marketing campaigns. They focus on maximizing conversions from the people who land on your page and typically have features for tracking campaign success. We've extensively reviewed the best – and worst – landing page builders. 
What is the best free landing page builder?
Wix is the best free landing page builder, based on my tests and research. You'll get full customization, integrations with tons of tools, and good analytics to track your campaign success. To learn more, you can read our expert Wix review.
Can you create a landing page without a website?
Yes! Many landing page tools will allow you to build standalone pages for your marketing campaigns, without the need for a full website. However, if you desire, you can typically add your landing pages to your website easily. Many of the best website builders (including a few on this list) will allow you to make a full site, or just a single landing page.
Is a landing page the same as a website?
No. A landing page is a standalone page tied to a specific marketing campaign, while websites are a network of pages and information designed to support broader business goals. Landing pages can be part of a website, and some will describe websites as simply a network of landing pages, but generally, landing pages have a more specific purpose. Email marketing is one of the most effective ways to drive traffic to your landing page and raise awareness for your campaign.
What features does any landing page need to have?
All landing pages should have the following elements:
A compelling offer to visitors
A conversion rate-optimized layout
A call-to-action
A form for visitors to submit their email or other information to access the offer
If you're new to marketing and you need some help designing your page, you can find expert landing page designers on Fiverr for as little as $5.
When should you upgrade to a paid landing page builder?
When you should upgrade will depend on what free landing page builder you choose and what features you need. Overall, you may need to upgrade to connect a custom domain name, access advanced analytics, or use some integrations with other marketing tools. When you're ready to upgrade, check out our landing page builder coupons to make sure you get the very best deal.