Ever clicked onto a landing page from a Facebook ad or email newsletter and received a redirect notice? Or has it taken what feels like a year to load? Sure, redirection happens a lot in the online world—
but it's not ideal
. Unnecessary redirects affect the time it takes for your landing page to load.
While they're happening, it can be frustrating for the visitor, who just wants to learn about what you're selling before getting on with their day
. Redirects also massively affect
your website's SEO score
. However, lucky for online businesses, there are ways that you can prevent them from occurring.
Landing Page Redirects in a Nutshell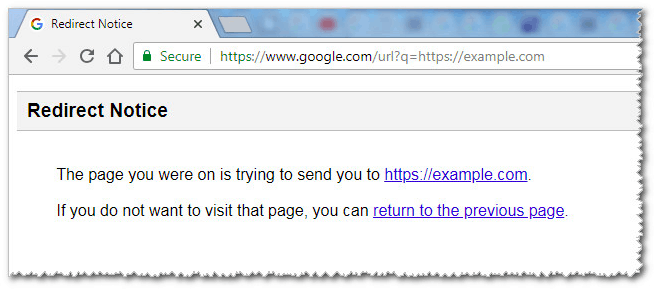 Redirection is something that happens when your visitor tries to load a webpage with a given URL but, instead, they're sent to a website that uses a different URL.
There are some instances where landing page redirection is necessary, for example:
When a location of a resource has moved
When clicks, impressions, and log referring pages need to be tracked
When misspelled/mistyped URLs need to be caught
When different parts of a website, country-code domains, protocols (e.g. HTTP to HTTPS), and security policies need to be connected
However, there are also times where landing page redirection is
anything but necessary
, and it causes disruption to the users' experience. As well as being considered a bad SEO practice,
redirects dramatically affect page load times
. They do this by triggering a further HTTP request to the server, which prolongs the performance time. By eliminating redirects on your web pages—or at least reducing the number of them—you will effectively
speed up load times
while simultaneously
reducing the load on the server
. Win-win!
How to Avoid Landing Page Redirects
There are some measures that you can easily put into place to dramatically reduce the risk of landing page redirection.
#1: Use a Responsive Layout
One of the most common causes of redirection is
when visitors are sent from a desktop website to a smaller-screen version
that has been optimized for smartphones or tablets. As mobile devices typically use slower networks, the time it takes to process the redirect may be super noticeable to these users. One way to eliminate the need for redirection is to
use a responsive layout when designing your landing pages
that can work for any device. Struggling? The
best landing page builders
can help you develop a responsive layout that can be optimized for all screen sizes and types. On Unbounce, for example, you can easily toggle between desktop and mobile view on the bottom toolbar to review the formatting. You can also utilize the "Layout Assistant" tools under "Page Properties" on the right-hand side in order to have the page elements rearranged for you.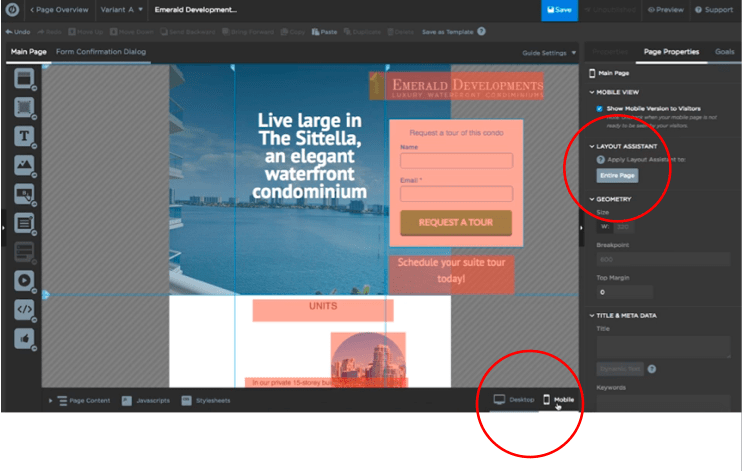 For more information on Unbounce, read our
expert review
. You can also preview the builder or start a free trial on their
website
.
#2: Hyperlink Consistently
In addition to unresponsive layouts,
if you hyperlink inconsistently across your landing pages, unwanted redirects can occur
. For instance, this can be something as simple as not using the "www" prefix for certain pages, like http://landingpage.com as opposed to http://www.landingpage.com. Either way is acceptable; however, it's generally recommended to
avoid mixing and matching the two
unless you want to lengthen the amount of time that it takes for your landing page to load. And who wants to do that? Similarly, you need to
double check your slashes
to successfully eliminate redirection. For example, http://landingpage.com/home is different in the eyes of your server than http://landingpage.com/home/. If you're using WordPress as your CMS, then you're in luck as
this platform will automatically tweak your slashes for you
in order to make them more consistent. However, if you're using any other platform, it's best to tidy up your slashes to avoid confusing the server and extending the rendering time. Read more about how you can use
URL "slugs" to optimize your website
and improve SEO performance.
#3: Don't Change Your URLs
While it might be tempting at times,
don't try and amend your existing landing page URLs
. Whether you're adapting the focus of your landing page, trying to incorporate keywords to strengthen your search engine ranking, or undergoing a total rebranding,
changing your URLs typically doesn't work out so well
. Why? Well, not only will it complicate the server but, if your URL has already been indexed by a search engine or externally linked,
it could also massively impact your SEO score
. For more info, read about
e-commerce landing page best practices
to improve both the design and functionality of your pages.
#4: Allow Access to Non-HTML Resources
One final way that you can avoid unnecessary landing page redirects is by
making sure that any non-HTML resources that you're using are accessible to the server
. When a visitor clicks on your landing page, they have to wait for it to load a variety of things in addition to the URL—
from images to videos, forms, and other types of multimedia
. These are external files that your HTML might have to download from elsewhere,
thus extending the rendering time
. Essentially, make sure that your HTML is
calling upon these external files directly
to avoid any redirects—and your user will thank you for it.
Landing Page Redirects, Be Gone
Redirection lengthens the time that it takes for your landing page to load,
which isn't ideal for the visitor
. It should only be used as a way of
catching bad or incorrect URLs
that you cannot control. To eliminate redirection as much as possible, make sure you take the time to build landing pages with
responsive layouts, matching URLs, and accessible non-HTML resources
. Also,
don't amend your URLs
, no matter how tempting that it may be—instead, just try to get them right the first time! Ultimately, landing page redirection should be kept to a minimum to optimize your page performance and create a more user-friendly experience. Because, at the end of the day,
happy visitors are more likely to convert
. It's as simple as that.
---
Sources
https ://rigor.com/blog/2016/09/how-to-avoid-landing-page-redirects
https ://gtmetrix.com/avoid-landing-page-redirects.html
http ://www.lostsaloon.com/technology/seo-how-to-avoid-landing-page-redirects-in-your-website/
Image Credits
https ://webmasters.stackexchange.com/questions/116854/what-causes-redirect-notice-in-google-search
https ://unbounce.com/