Most freelance websites are decent enough for finding online work all over the world, but a select few are much better for hiring freelancers in Australia.
And don't worry – I've got you covered. After much research and testing, I've compiled a list of the 7 best freelance websites in Australia for both in-person and remote work.
My personal favorite is Fiverr because of its massive catalog of remote services and all-inclusive price range
, but there are a lot of great sites here that might suit your needs better. Once you hire an Australian freelancer, project management tools and secure payments (in AUD) are also incredibly important.
I've only included sites that make hiring freelancers in Australia easy
, and I've provided a few suggestions on how to deal with their flaws.
Short on Time? These Are the Best Freelancer Websites in Australia in 2023
Fiverr – A global marketplace of remote freelance work with thousands of niche services and jobs.
Upwork – Great for hiring professional online and local Australian freelancers in long-term roles.
Toptal – Hire the top 3% of freelancers, rigorously vetted and approved. Best for tech professionals.
What We Look For in the Best Freelance Websites in Australia
The best freelance websites for hiring in Australia should offer worldwide networks of online workers and/or native freelancers. It should be easy for you to hire Australian writers, voiceover artists, and other pros. In short, a good site for hiring Australian freelancers will have the following features:
Secure Payments & AUD Support: It should be easy to pay and get paid in AUD, and conversion rates should be affordable. Freelance sites should also have reliable refund policies and ensure that payments are secure.

Local and Remote Jobs: If you need to hire an Australian, you should be able to do so on the website. You should also have access to remote workers from other places around the world that can cater to your needs.

Easy Hiring Process: The whole point of a freelance website is to connect you with the best freelancer quickly and painlessly. I look for advanced search filters (including by country), freelancer profile information, job posting boards, crowdsourcing, and matchmaking services.
Job Management Tools: File sharing, messaging, and collaboration between team members is essential for managing freelance projects both big and small.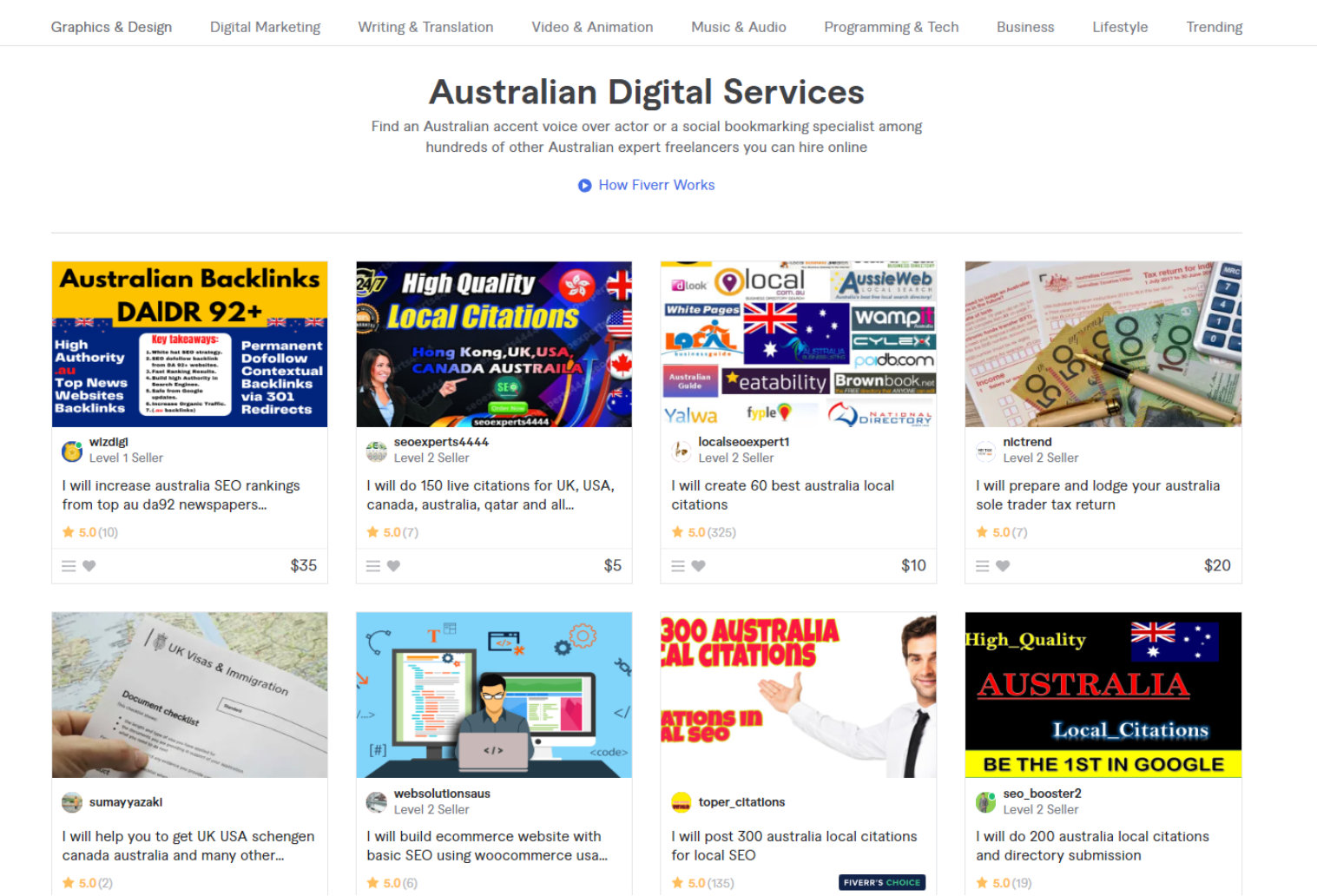 Fiverr has a massive global network of freelance services, including freelancers located in Australia. If you need jobs like voiceover with an Australian accent, it's very easy to
search for jobs in Australia on Fiverr
. You can also pay remote freelancers in AUD. Fiverr holds payments in escrow and offers full refunds if you are dissatisfied with the work you receive, so it's a pretty safe bet.
Keep in mind you do have to pay a 3% fee on Payoneer for using AUD
. Still, if money is a concern, you can always set your max budget in Fiverr's search engine and hire cheaper freelancers.
One thing I really like about Fiverr is its huge scope of services and niche jobs
. Even if you need something super specific, like online fortune readings, chances are you can find it on Fiverr.
Features
Freelancer Profiles: Screen freelancers by checking out their work portfolio, customer reviews, education, language fluency, and more in their profiles. I really like how extensive freelancer profiles are on Fiverr – it gives you more information than most other sites I've used to hire people.

Seller Rating: Freelancers on Fiverr are given a ranking based on their experience, response time, and customer satisfaction. I recommend browsing 2-star and top-rated freelancers to better guarantee high-quality work and prompt communication.

Job Subscription: If you want to hire a freelancer you like for a long-term project or repeat work, you can subscribe to their gig for 3 months or 6 months. This makes it much easier to keep in contact and make payments.

Expedited Services: Pay extra to receive your service as quickly as within 24 hours. This is great if you're in a time crunch.
Read about our experience using it in
our Fiverr review
.
Freelancer Services
Australian jobs and remote work across all categories.
Project Finding
Advanced search, seller levels, detailed profiles.
Payment & Fees
Escrow payments. Supports AUD with fees.
Starting Price
From

$

5.00

per gig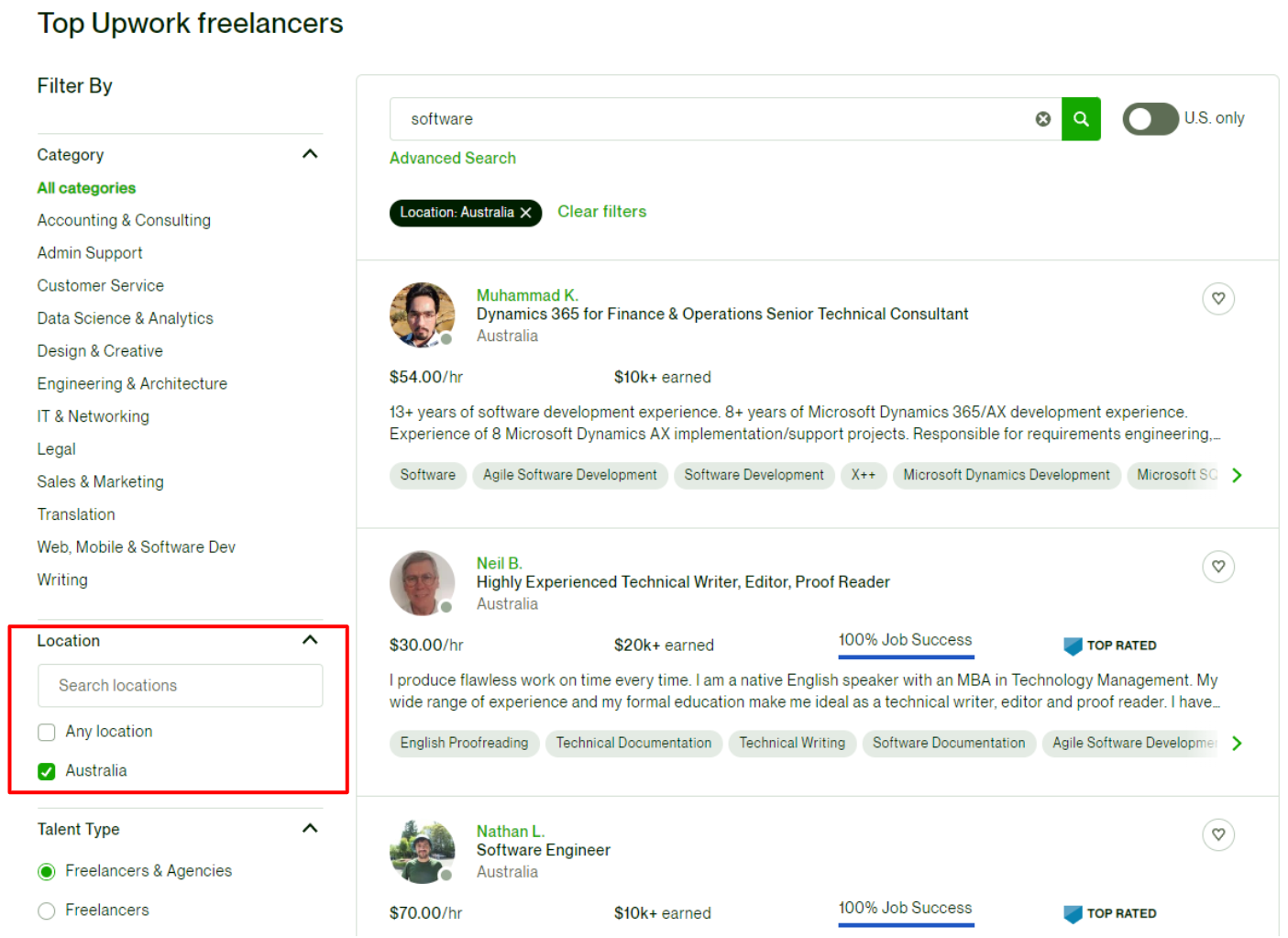 Upwork is a massive network of freelancers from all around the world, including Australia. You can
find freelancers located in Australia
through Upwork's search engine. Upwork does have more budget-friendly options for beginner freelancers, as well as the ability to post jobs and set your own rates. But
on average, the hourly rate for freelancers is higher than on sites like Fiverr. Still, you're getting above-average quality
from experienced talent for the price. Payments on Upwork are processed in USD, meaning
you'll have to pay conversion rates if you use AUD.
This coupled with buyer fees can add up fast, so be mindful of hidden costs. That said, my favorite thing about Upwork is how streamlined job management is.
Upwork offers text and video chat, file sharing, and collaboration between team members.
This makes it a great choice for big projects.
Features
Quality Control: View a freelancer's profile to see their earnings, work portfolio, and customer reviews. You can also conduct video interviews to really make sure the freelancer is a good fit for you.
Job Posting: Post a job with your project brief and requirements (such as if you want an Australian freelancer), and choose between applicants. This method allows you to set your own budget.

Project Catalog: If you don't want to pay hourly rates, browse through projects at fixed prices.

Talent Scout: Hire a talent scout on Upwork to match you with a handpicked freelancer. This is a solid option if you're nervous about quality or don't have time to search for a good hire yourself.
Check out my colleague's
Upwork review
to see what else we like about it.
| | |
| --- | --- |
| Freelancer Services | Australian freelancers and remote work across 12+ categories. |
| Project Finding | Advanced search by country, job posting |
| Payment & Fees | Escrow milestone or hourly rates, processed in USD. |
| Starting Price | Upwork's minimum contract rates are $3 per hour. |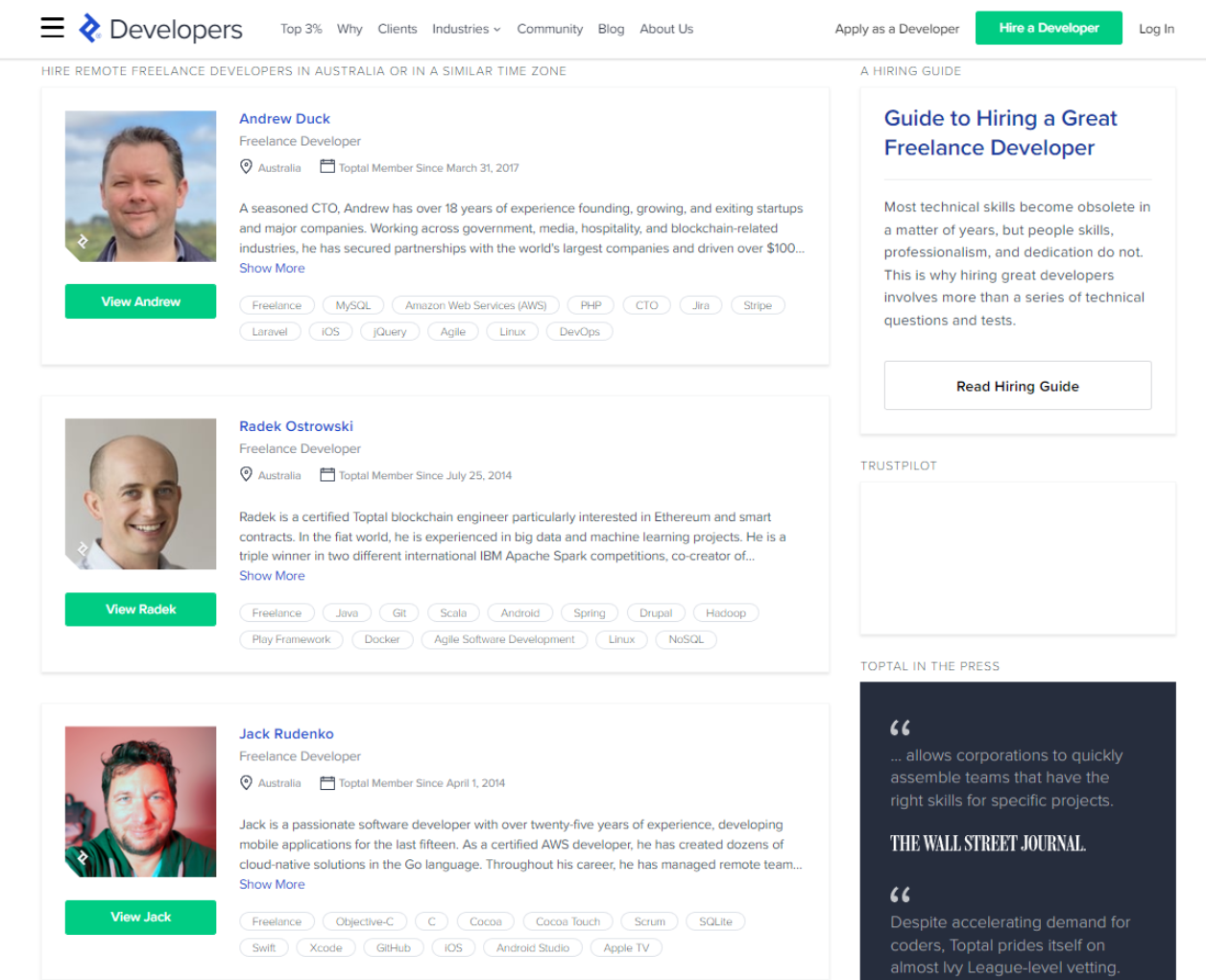 Toptal has a global network of remote workers, and you can also
search for freelancers, devs, and software developers based in Australia
. You have fewer options on Toptal than on Fiverr and Upwork – but you also have more reassurance that you'll find a high-quality hire.
Toptal removes the risk of hiring a freelancer by doing all the screening and quality control for you.
This
does
come at a steep cost – but you're definitely guaranteed professionalism. Toptal only accepts 3% of its applicants, meaning freelancers have to be really, really good to qualify. Freelancers undergo a 5-week registration process, which involves a language test, skill review, an interview, and a test project.
Even after they're accepted, freelancers must continue to prove themselves with high-quality work and customer satisfaction.
But you have to pay for Premium to get the best freelancers on Toptal, which is NOT cheap.
Features
Freelancer Matching: Talk about your project specs with Toptal staff over the phone, and they'll match you with a freelancer within two days. This personal touch is something I haven't seen before. It's lovely if your project has specific requirements – like if you want an Australian writer.

Team Management: Add team members to your project and hire multiple freelancers at once. Your team can collaborate directly on Toptal.

Two-Week Refund Policy: After hiring a freelancer, you can get a full refund within two weeks. It's not the most generous refund policy…but you also get the quality screening to minimize risk. I'd say that's enough time to make a call.

Payment Options: Pay with credit card, PayPal, ACH payments, and bank wires. International currencies are accepted.
My colleague concluded in our
Toptal review
that you do, in fact, get what you pay for with Toptal.
| | |
| --- | --- |
| Freelancer Services | A narrowed selection of top-quality Australian freelancers. |
| Project Finding | Strict screening, freelancer matching, free trial with new hires. |
| Payment & Fees | Credit card, ACH bank wire transfers, and PayPal. |
| Starting Price | Freelancer rates start from $60 per hour |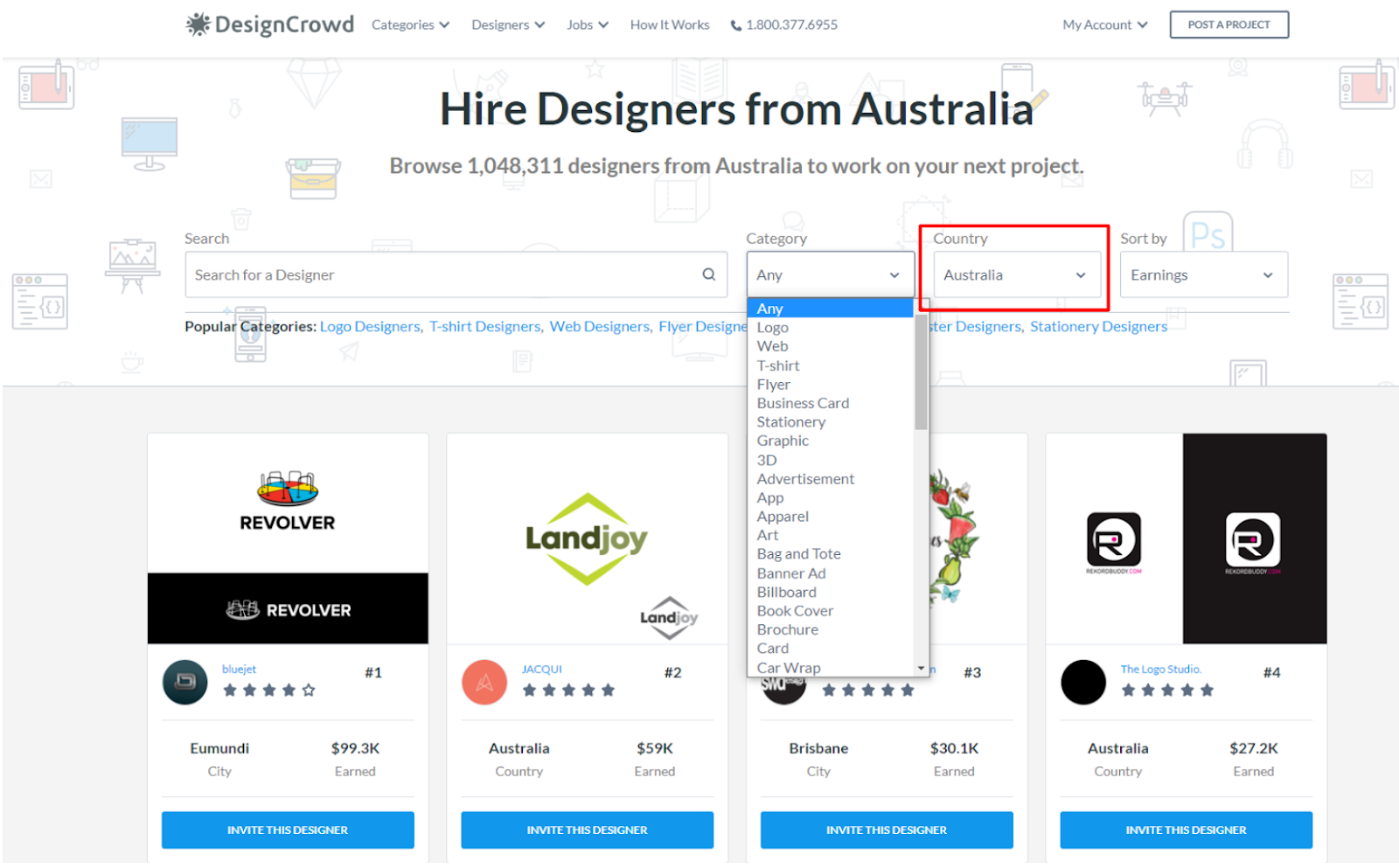 DesignCrowd is a hub for hiring designers and crowdsourcing design projects.
It offers designs across multiple categories, including branding, apparel, publications, YouTube, product labels, and more.
You can
search for designers in Australia
, or start a private crowdsourcing project and invite Australian freelancers to apply.
My favorite aspect of DesignCrowd is its crowdsourcing capabilities
. I recommend it if you want to take the hassle out of hiring and pick your favorite design from dozens of options. You do have to pay extra for the ability to invite designers to your contest and guarantee better quality, but I think it's worth the price.
Features
Large-Scale Contests: Because of DesignCrowd's large community, you'll receive dozens of design options to sift through – often as many as 100 or more.
AUD Payments: AUD is one of DesignCrowd's supported currencies. You don't have to pay extra, and buyer fees are already pretty low compared to other freelance sites.
Money-Back Guarantee: Get a full refund if you don't like any of the designs you receive. Just keep in mind you'll only be refunded if you request your money back before you approve a design.
Unlimited Revisions: Provide feedback and request revisions until you're satisfied with the final design. Note that some designs will require payment for revisions, so look out for this when hiring.
Read more about the contest process in
our DesignCrowd review
.
Freelancer Services
Design services across multiple categories.
Project Finding
Crowdsourcing, private contests with invites, search designers by country.
Payment & Fees
Credit cards, Stripe, and PayPal. AUD currency supported without extra fees.
Starting Price

$

109.00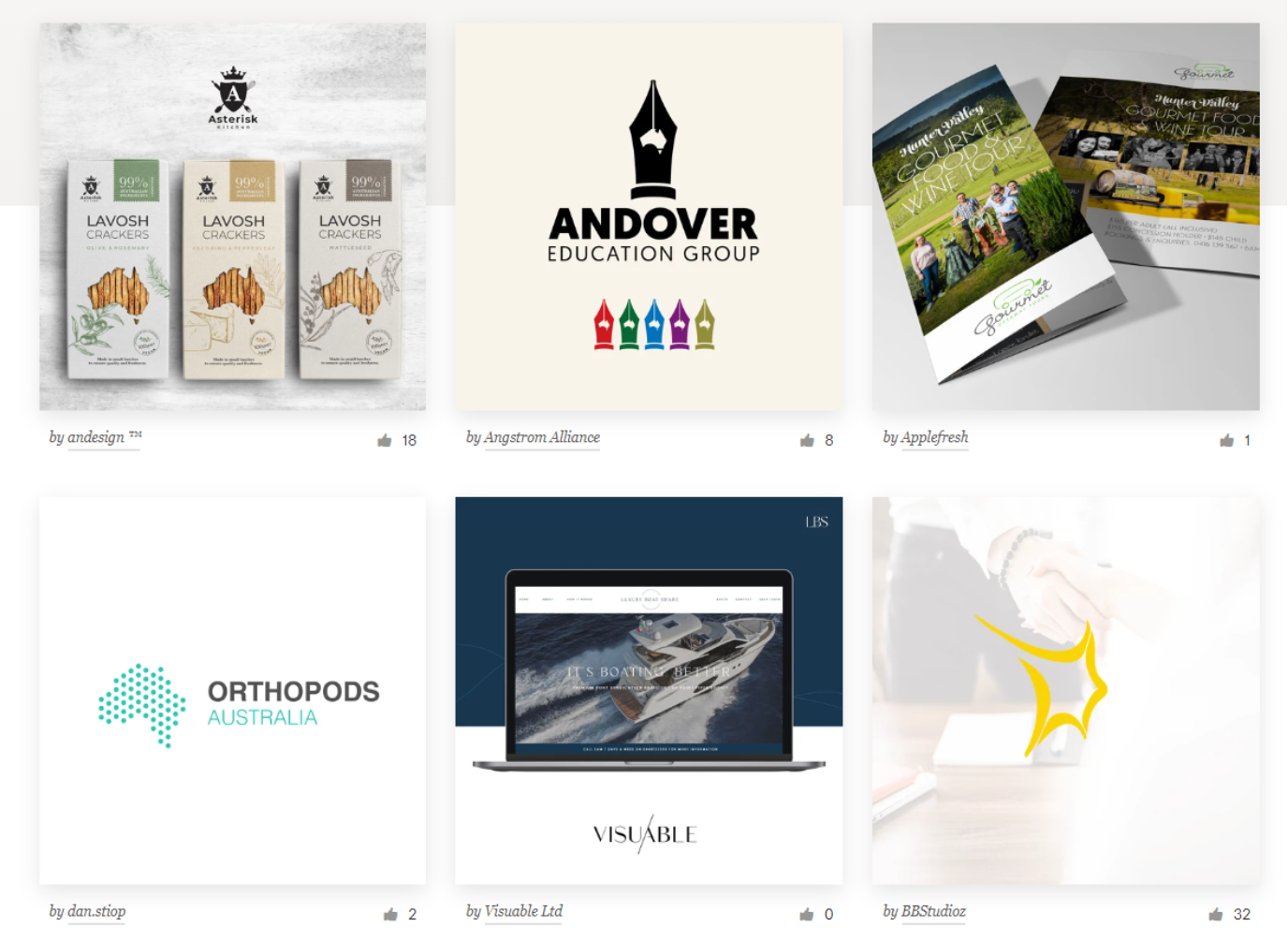 99Designs is a freelance website that focuses on graphic design only. But that isn't a bad thing – you can
find thousands of expert designers for logos, web & apps, labels, publishing, and business branding.
99Designs lets you
hire designers in Australia,
so you can find freelancers who are knowledgeable about country-specific marketing and local lingo. You can also make your contest invite-only, and select freelancers who are located in Australia. It's worth noting that 99Designs isn't cheap. You have to pay quite a bit to start a design contest or hire a freelancer. But I feel the quality is worth it if you have the budget.
Payments are secure, but 99Designs deals exclusively in USD, meaning you'll be subject to fees for converting to and from AUD.
Features
100% Refund Policy: Get a full refund if you're unhappy with the designs you receive. You have 60 days after making a payment to request a refund, which is a lot! But keep in mind you can't get a refund for guaranteed contests or after you've selected finalists for your contest.

Design Consultation: Enter a brief of the design you need and your personal info, and an advisor will reach out to help you find the right package and designer for your project. You can also specify you want to hire freelancers based in Australia.
Account Manager: Purchasing a Platinum contest package will get you an account manager, who will offer guidance, answer questions, and help designers meet your specifications. If you're willing to spend, this is a nice bonus to ensure quality control.
In-House Designers: Every freelancer on 99Designs has to apply and pass a review to be listed on the site. So you know every designer you see is qualified.
Read about how my colleague found a logo designer in
our 99Designs review
.
Freelancer Services
Designs in various categories.
Project Finding
Contests, designer profiles, designer levels, and an account manager.
Payment & Fees
Payoneer and Paypal. Conversion rate for AUD applies.
Starting Price

$

299.00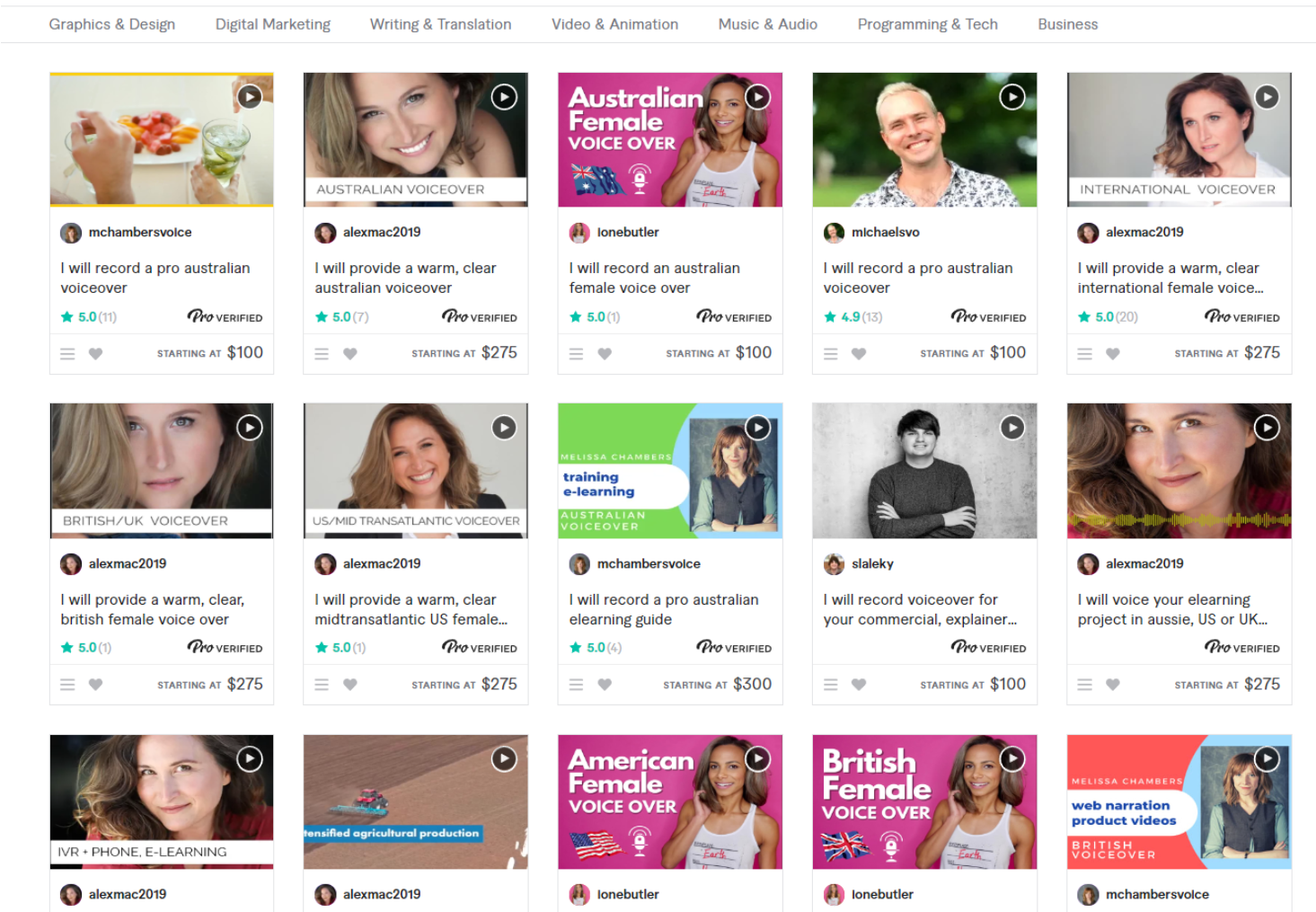 Fiverr Pro is more expensive than Fiverr, but offers a narrowed selection of top-tier freelancers who've passed a strict application process.
You get all the benefits of Fiverr (including both global and Australian freelancers) with the added bonus of professionalism and high-quality work.
Pro freelancers on Fiverr must demonstrate exceptional work experience, present their higher education qualifications, and uphold a high customer satisfaction rating to attain Pro Verification. It may cost more to
hire a Pro freelancer on Fiverr
, but you're eliminating risks and boosting your chances of getting work you actually like.
Features
Quality Assurance: Pro Verified freelancers must prove themselves with experience in the industry. You're getting people who have been carefully approved for their high-quality work.
Professional Conduct: Pro Verified freelancers need to maintain high customer ratings to keep their Pro status. You can expect Pros to be communicative and respond quickly.
Fast Turnaround: Experience begets efficiency. Pro Verified freelancers typically have faster delivery times, which can actually save you money by not having to pay for expedited services.
No Extra Fees: You don't have to pay Fiverr more to hire Pro Verified freelancers, and no membership service is required to browse Fiverr Pro.
Our Fiverr review
covers why it's so worth it to hire a Pro Verified freelancer.
| | |
| --- | --- |
| Freelancer Services | Australian jobs and remote work across all categories. |
| Project Finding | Concise list of the best freelancers on Fiverr. |
| Payment & Fees | Escrow payments. Supports AUD with fees. |
| Starting Price | Gigs start at a minimum price of $100 USD |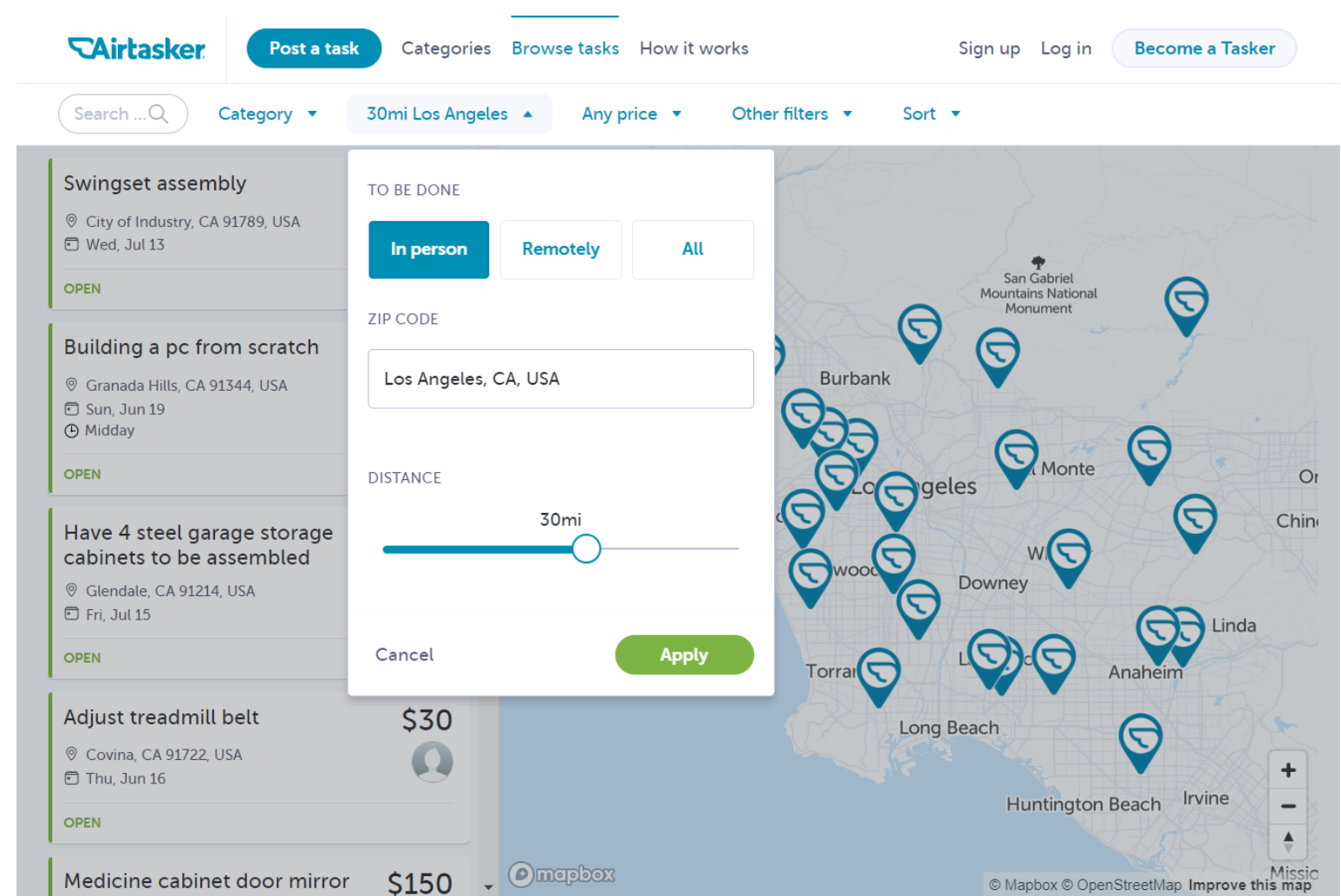 Airtasker is based in Sydney, Australia and boasts a market of roughly 2 million freelancers.
Airtasker specializes in on-site work, so it's the best option if you need someone for tasks like painting, home maintenance, gardening, and pet care.
But you can also find local and online work for marketing, business administration, design, and more.
The biggest downside is the huge fee (15-20%) Airtasker takes from the freelancer
. That's a lot! This can cause freelancers to charge more to compensate, which means
you
end up paying more. You do set your own budget for tasks, but $100 will look like $80 to freelancers. To hire a freelancer on Airtasker, you
post a task with your job specifications, budget, and location, then choose from a list of applicants.
You'll be able to see each freelancer's profile, which lists their location, client reviews and rating, skills, languages, and certifications.
Features
Task Map: Your tasks appear on a map that applicants can browse. This ensures that you can find freelancers near you and get local work if needed. Airtasker is not only available in Australia but also in the US, UK, New Zealand, Singapore, and Ireland.

Airtasker Pay: Your payments are held in escrow until you approve the final work. Since payments are processed in AUD, you don't have to worry about fees and conversion rates.
Same-Day Service: If you need service on short notice, such as pet care when you suddenly have to leave, you'll get offers immediately after posting a task. This is great for emergencies!

Category FAQs: There are a lot of categories on Airtasker, and each one lists helpful information like the average cost for the task, which skills are required (such as knowing how to use specific software), and the benefits you'll receive.

| | |
| --- | --- |
| Freelancer Services | Online and on-site work across dozens of categories. |
| Project Finding | Job posting, freelancer profiles. |
| Payment & Fees | Secure AUD payments with no conversion fees. |
| Starting Price | $2.90 booking fee per job post |
Are You Looking to Sell Your Services in Australia?
If you're in Australia and want to get into freelancing, I recommend getting started on Fiverr.
Fiverr supports services all over the world, so you can find a market for any unique skills you have.
Check out our Fiverr guide for detailed tips
on how to successfully launch your freelance career.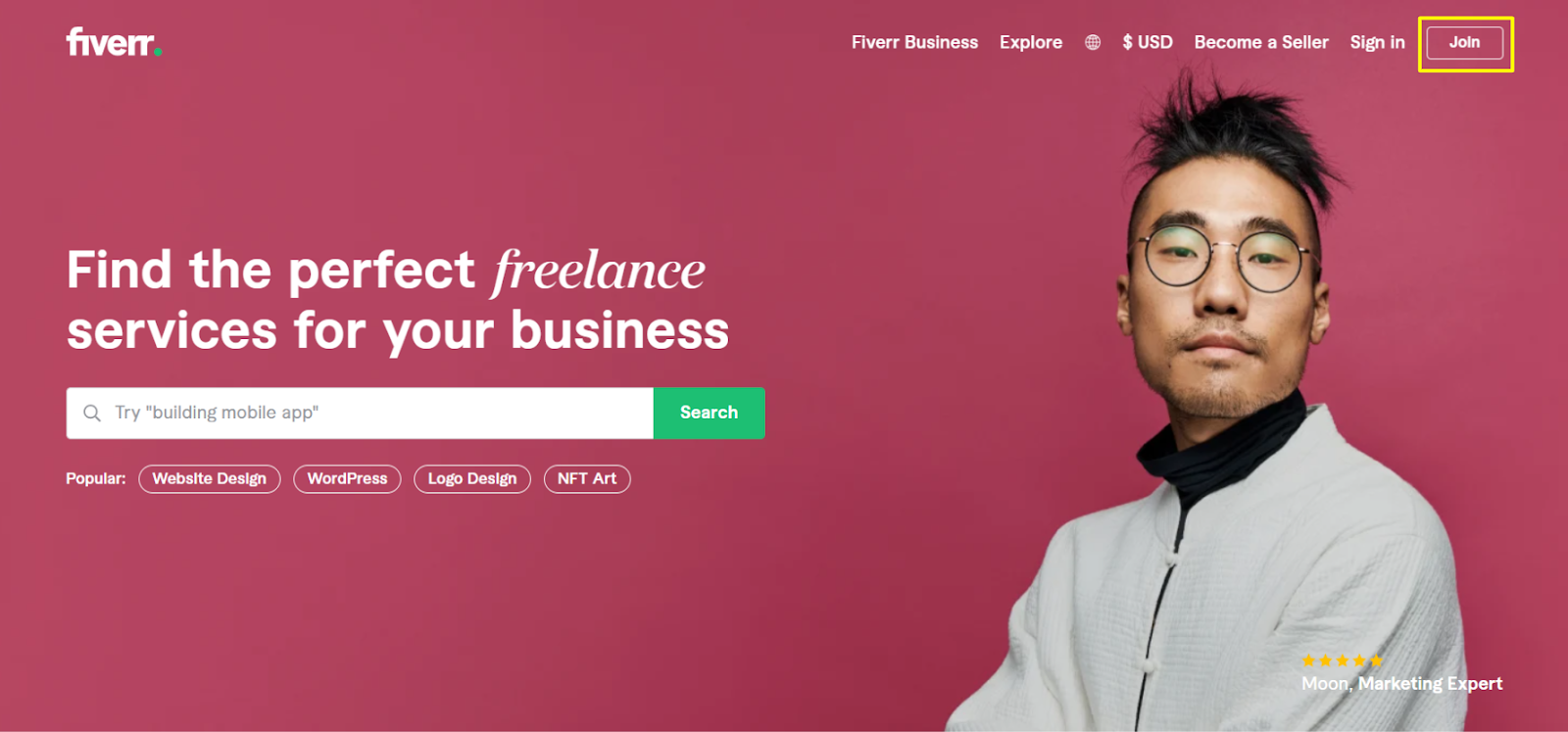 Joining Fiverr is free, and the process is fairly simple. First,
make an account
by navigating to Fiverr's homepage and selecting "Join" in the top-right corner. Remember that potential clients will see your username, so make it professional and eye-catching.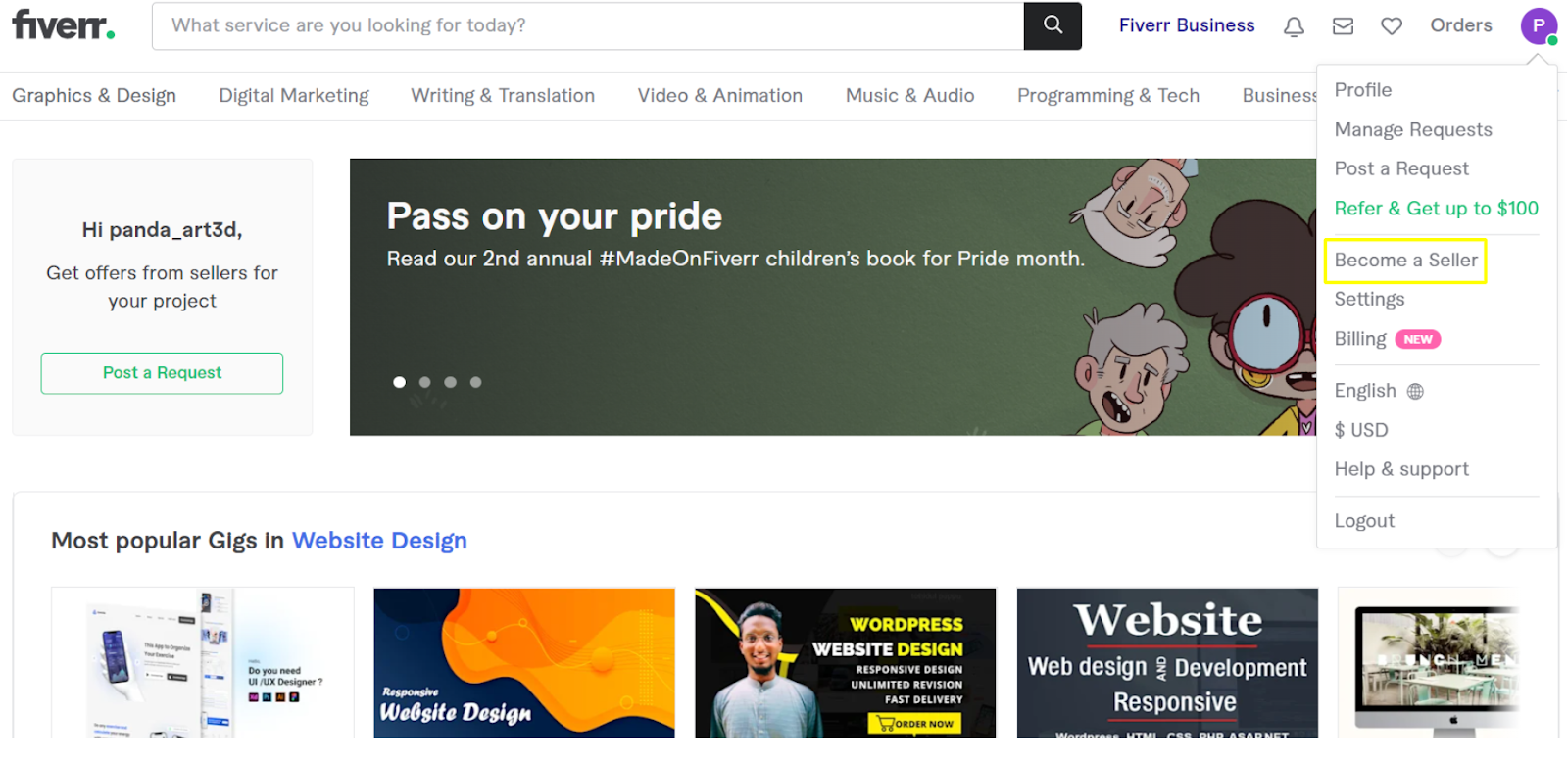 Once you're signed in, you'll be taken to Fiverr's browser. From there, click your user icon in the top right of the screen and select "Become a Seller".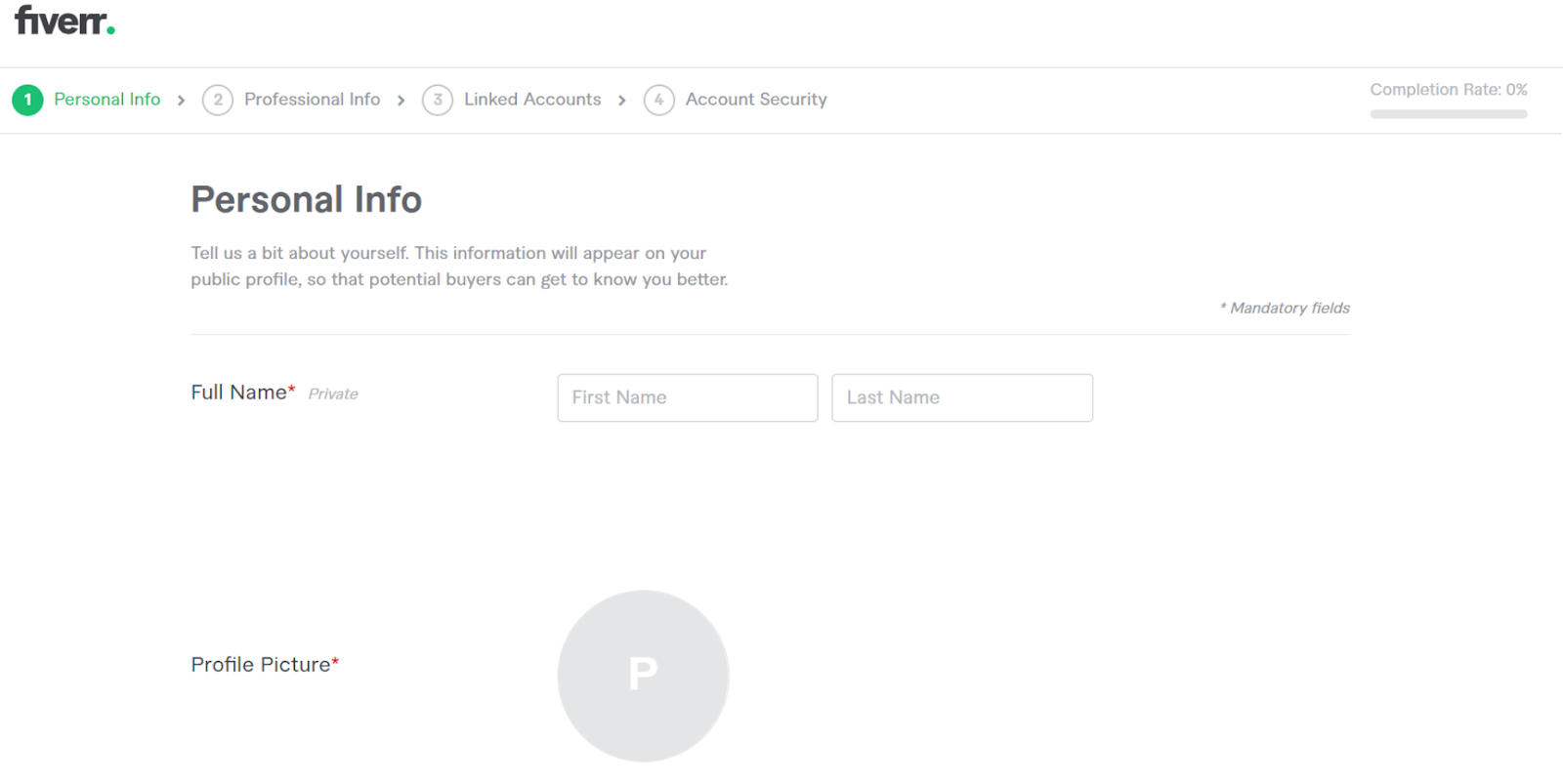 You'll have to set up your seller profile before you can start posting gigs. This is the time to be as detailed as possible in your bio.
Showcase your industry experience and skill sets, such as proficiency with software and equipment related to your service.
Once you're done, you can jump right into posting gigs. I suggest starting small and cheap to rack up good reviews. It's also worth checking out our expert
Fiverr review
to learn everything you can about the platform before you get started.
What Do I Need to Know to Freelance in Australia?
Whether you live in Australia, are immigrating, or just traveling,
you need to register an Australian Business Number (ABN) to offer freelance services in Australia
. You need an ABN for tax purposes. If you work without one, companies will legally be able to withhold payment. So don't skip out! Thankfully, getting an ABN is 100% free. Just follow these steps:
Visit the Australian Business Register website to check if you qualify for an ABN.
Gather your business structure, business activity details, and proof of identity.
Register for an ABN at the Business Registration Services website.
You'll also need documentation that allows you to work in the country. This documentation can be any of the following:
Australian or New Zealand birth certificate
Australian or New Zealand passport
Proof of permanent residence in Australia
Valid work visa (for non-citizens)
There you have it! Gather these things, and you'll be able to freelance in Australia.
Find High-Quality Freelance Work in Australia
You can discover high-quality work on any of Australia's top freelance websites, but each of them possesses its own set of strengths and weaknesses. Your optimal choice depends on your specific requirements. If you want access to a huge global market at affordable prices,
I recommend
Fiverr
as my top choice. Or,
browse Fiverr Pro for top-quality work
.
If you're looking for remote and in-person work in Australia,
Upwork hosts talented freelancers in many categories
.
Alternatively, you can cut out the hassle and risk of hiring online by narrowing your options to
Toptal's vetted and top-performing freelancers
.
To help you make a final decision, I've compared the price and features for each freelance website in this table:
| | | | | |
| --- | --- | --- | --- | --- |
| | Pricing | Best Feature | Best For | |
| Fiverr | $ | Global marketplace for remote work in every service. | People wanting to browse a wide variety of services and budgets. | |
| Upwork | $$ | Advanced job management. | People with big projects or teams. | |
| Toptal | $$$ | Top-performing freelancers who pass a rigorous application. | Employers with big budgets who want to hire the best. | |
| DesignCrowd | $$ | Crowdsourcing for design projects. | Employers looking to select a design from 12-100+ applications. | |
| 99Designs | $$$ | Easy hiring process with design contests. | People who want quick and easy designer hiring. | |
| Fiverr Pro | $$$ | Carefully vetted market of top-performing freelancers. | Buyers who want the benefits of Fiverr and quality assurance. | |
| Airtasker | $$ | On-site jobs in Australia. | People who need in-person work. | |
FAQs
What is the best freelance website in Australia?
This depends on your needs, but any of these freelance websites are great for finding work in Australia. Having access to a global network is great for getting hired online and receiving high-quality service. If you want in-person work in Australia, there are sites for that too.
Can I work as a freelancer in Australia?
Yes, you can freelance in Australia so long as you have an ABN, proof of citizenship, or a business visa that grants you permission to work. Here's what you need to know to freelance in Australia.
Do I need an ABN to work as a freelancer in Australia?
Yes. You need an ABN to invoice Australian companies (or they can legally withhold fees) and to pay taxes.
Where can I find freelance projects in Australia?
There are many great freelance websites for finding work, but I would recommend Fiverr to find work in Australia. Since it supports so many services all over the world, you can easily find a market for your niche. If you're in Australia, you'll be able to get clients who want your expertise, as well as find online work from other countries, too.