When it comes to web hosting, Australia has it pretty rough. There are dozens of outstanding international hosts with data centers in the US and the EU, but few of them have servers in the Australasian region. Aussies are mostly stuck with small local providers, and since there isn't a lot of competition, prices tend to be high while features are often scarce.
But it's not all bad. Earlier this year, Website Planet undertook possibly the largest web hosting comparison project ever done in order to test and rank dozens of Aussie hosts. Then, we matched them up against a handful of great international providers with data centers in or near Oceania to find the best hosting services for Australia.
I'm here to tell you that you do, in fact, have options. And great ones too. Some of the top hosts that made my list are super-cheap, but pack a lot of value into their plans. Others offer a premium service where everything is managed for you. But what most of them have in common is terrific performance.
Which one of these providers is best for your website? Find out below.
What We Tested in Ranking the Best Web Hosts for Australia
We signed up with dozens of hosts, both local and international, to get the full user experience. These were our priorities throughout the testing period:
Features. We wanted generous storage space and bandwidth, but we also noted essential features like SSL certificates, automatic backups, and built-in caching.
Ease of use. Web hosts should make it easy to sign up, connect a domain, install WordPress, and build a website. We went through this process with every host we tested, and we rated each provider based on our experience.
Performance. We ran three different benchmarks over several months for each host. But we didn't just test a blank website. We built a businesslike landing page to give you a more accurate picture of how your site will actually perform.
Support. We contacted support through multiple channels (where possible), and we rated our interactions based on helpfulness, waiting time, and availability.
Pricing. We looked for budget-friendly hosting, but we also included a few premium services that give you better value for money. The fewer surprise costs we found, the better we ranked the host.
This is just a short preview of what we tested in our massive web hosting comparison project. I'll get into more details later, but for now, let's have a "Captain Cook" (look) at the top web hosts for Australia.

Hostinger is proof that you don't have to spend a lot of money to get quality hosting. If you opt for one of its long-term plans, you can host a personal blog, a commercial landing page, or a small online store for a negligible fee. But I couldn't help asking: is there a catch?
Honestly, I spent months looking for one. But the platform was easy to navigate thanks to Hostinger's proprietary control panel, and all the essential features (such as an SSL certificate and automatic backups) were included for free.
I expected performance to be subpar given the super-low subscription fees, but according to GTmetrix and Sucuri Load Time Tester, my website was really fast – not just in Australia, but around the world. In fact, Hostinger delivered better loading speeds than most other hosts I tested.
Hostinger isn't a local Aussie provider, but it does have data centers in Indonesia and Singapore. Both of these locations are very close to your target audience.
Features:
Proprietary control panels. Many hosts' bespoke dashboards are either confusing or lack functionality, but that's not the case with Hostinger. All the essential options are available, and the interface is better organized and easier to navigate than cPanel.
Ready for WordPress. Hostinger uses the LiteSpeed web server, which is one of the most stable and efficient servers available for WordPress today. The provider also takes care of backend optimizations for you, so you can focus on building your website.
Built-in caching. The LiteSpeed cache plugin is easily accessible from the dashboard. Switch it on to enjoy a serious boost in performance.
Free email. You need a professional email address "@yourdomain" if you want recruiters or potential clients to take you seriously. Hostinger gives you one for free.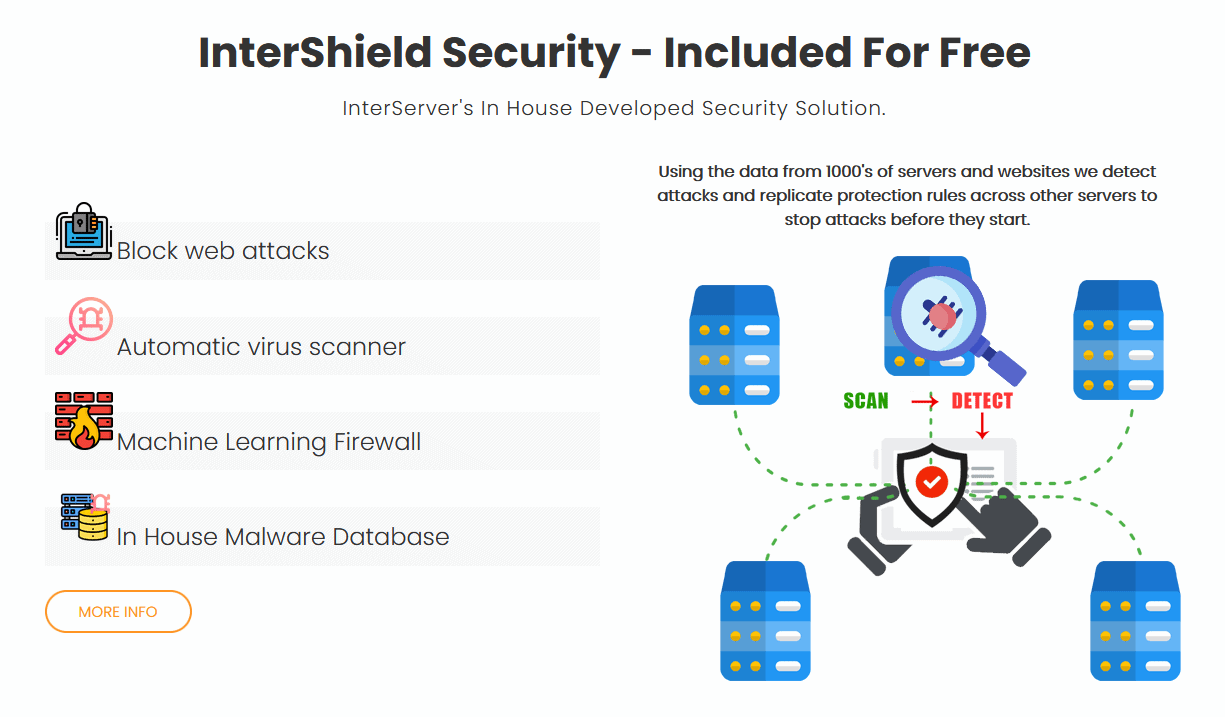 Maybe you don't like the idea of paying for several years of hosting up front. But if you want to pay on a monthly basis, most hosts will hike their prices by a lot. Not InterServer, though. Its flexible Standard shared hosting plan is affordable even on a monthly billing cycle, and it comes with unlimited websites, email accounts, storage space, and bandwidth.
It's also the only entry-level plan on this list that allows for an unlimited number of domains. So, if you have several low-traffic websites and you want to use a proper domain name (rather than a subdomain) for each, InterServer's Standard plan is perfect for you.
InterServer's data centers are both in the US, but you can use the Los Angeles-based server and turn on the integrated CDN (content delivery network) to boost your website's loading speed for your Aussie visitors. According to my tests, performance is strong around the world.
Features:
Underloaded servers. Shared hosting means that a server's resources are split between many users, which can lead to fluctuating performance. To minimize this effect, InterServer uses only 50% of the available CPU and RAM on its machines, giving your website traffic plenty of room to increase.
Premium one-click installer. Softaculous includes an automatic installer for WordPress – but that's not all. Hundreds of scripts are also available, from galleries to contact forms and other functionality you might want to add to your site.
Solid security suite. Malware scanning, a machine-learning firewall, and SSL certificates are included for free. Plus, if your website gets hacked, InterServer will restore it for you.
Price-lock guarantee. This feature is unique to InterServer. So long as you're a client, the price of the Standard shared hosting plan will stay the same, so you don't have to worry about steep renewal fees.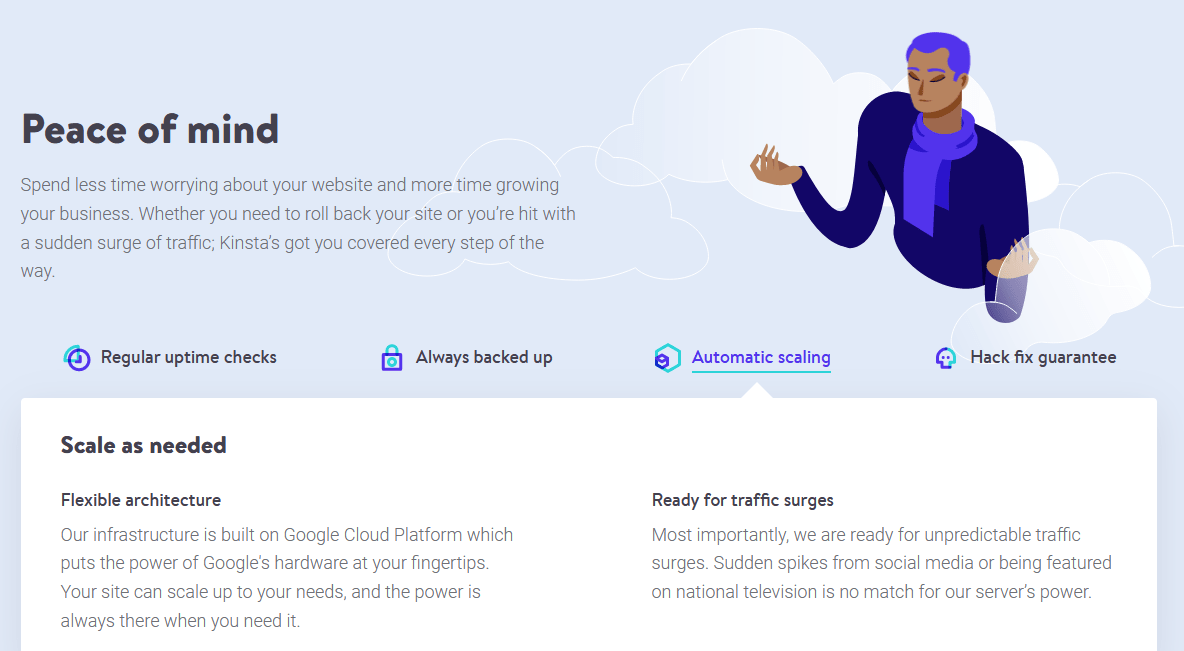 Of all the WordPress hosts we've tested (and we've tested more than a few), Kinsta has the most to offer. From premium or bulk website transfers, to security and performance optimizations, Kinsta takes care of everything for you. It also does a phenomenal job of serving sites, according to my performance tests.
Throughout our huge web hosting comparison project, we haven't been able to find a host that offers better loading speeds. Kinsta did extremely well on both GTmetrix and Sucuri Load Time Tester, so you can expect great performance in Australia as well as for visitors around the world.
The best part? Kinsta has an impressive fleet of data centers – including one location in Australia. The downside is the steep price. But if you can afford it, the service is worth every penny.
Features:
Streamlined dashboard. Kinsta's custom control panel for WordPress websites is one of the most streamlined dashboards I've ever used. With domain management, resource usage stats, site analytics, billing, and more, everything you need is integrated.
Managed caching. You don't have to install or configure any caching plugins. Kinsta automatically includes several performance boosters by default.
Managed security. Aside from free SSL certificates, you get reinforced DDoS protection, hardware firewalls, and daily automatic backups. Also, your website is covered by Kinsta's hack fix guarantee, so if it's ever compromised, the tech team will clean it up for you.
Expert WordPress support. Kinsta focuses entirely on WordPress, so it's able to offer specialized, in-depth support. In my experience, support agents were always available, polite, and helpful.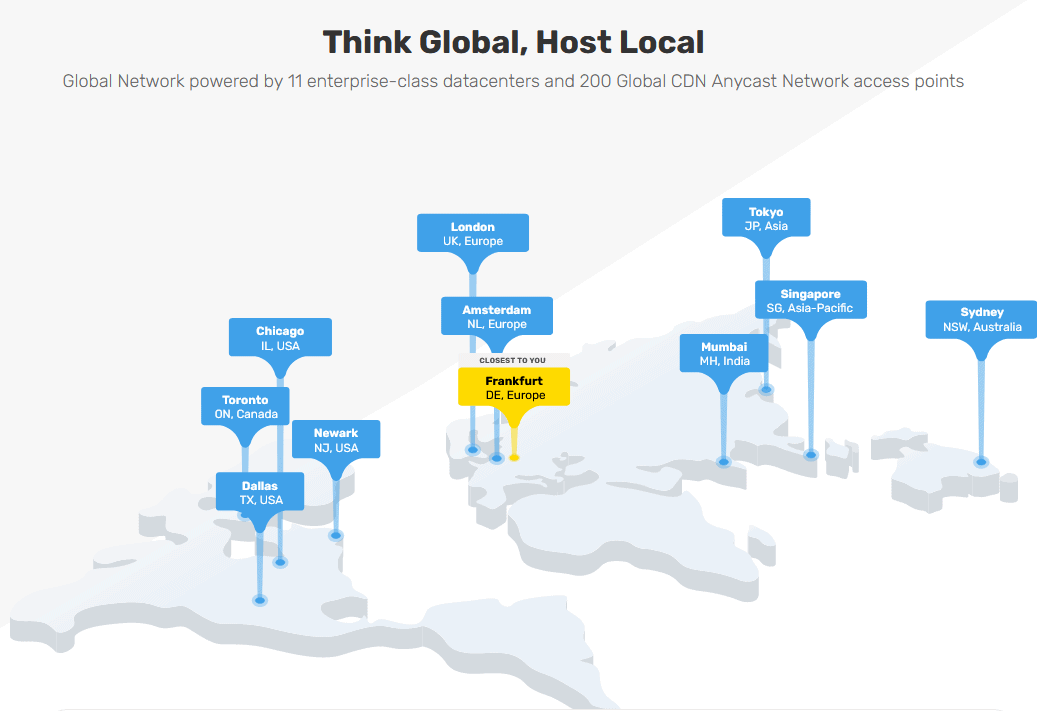 Like Kinsta, FastComet uses Linux containers to isolate your account from other users on the same server. This means that even if you opt for a cheap shared hosting plan (something you can't get with Kinsta), you'll always have access to a decent amount of CPU and RAM.
Other users can't dig into your resources, and security breaches can't spread to your account. Overall, you can expect good performance and a stable hosting environment, according to our tests. With many other hosts, you'd have to upgrade to a VPS plan to get this quality of service.
FastComet has a good selection of data center locations, including one in Australia. In fact, it's one of the few low-cost international hosts with a significant presence in this region. Loading speeds are not phenomenal, but they are respectable enough to meet Google's standards.
Features:
App auto-updates. Whether you use WordPress or another popular CMS like Drupal or Joomla, you can enable this feature to automatically update your core software as well as your plugins.
Basic website builder. If you don't want to get your hands dirty with WordPress, you can use FastComet's free drag-and-drop site builder to create a decent-looking website in minutes.
RocketBooster servers. If you opt for the FastCloud Extra plan, several layers of caching – including Varnish and Memcached – are installed and configured for you. These can drastically improve your website's performance.
24/7 customer support. Many hosts advertise 24/7 support, but few of them actually deliver. During the testing period, I bombarded FastComet with questions at every possible hour of the day. It's one of the few providers with round-the-clock live chat support, and the agents are almost always helpful.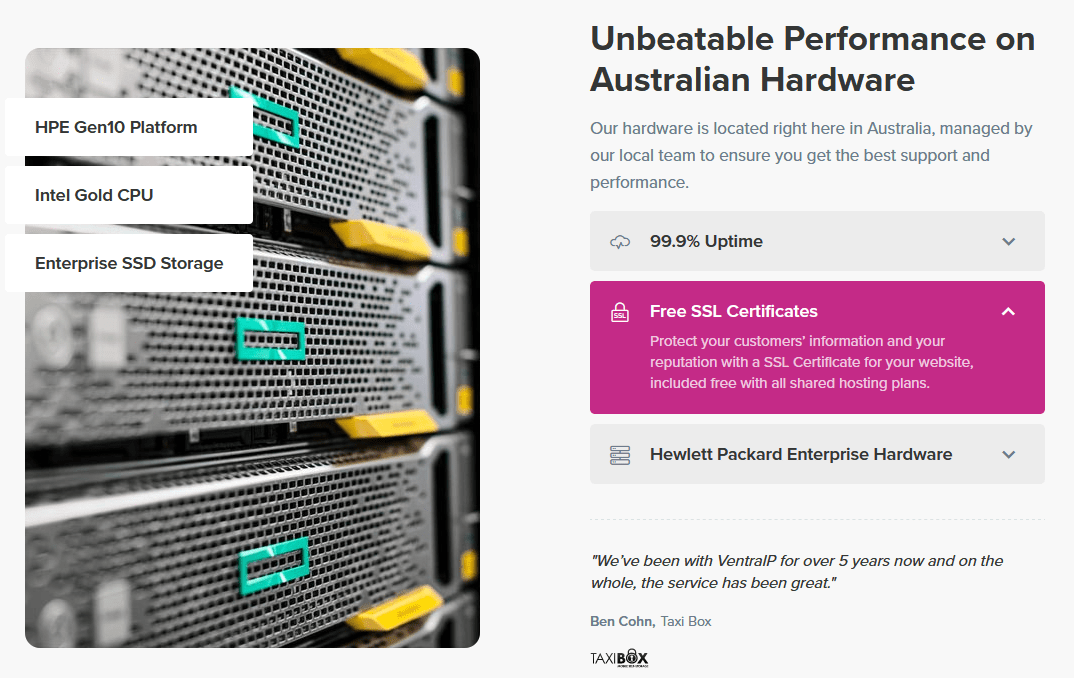 If you'd prefer a local web host, I recommend VentraIP. It's not the fastest (nor the cheapest) Australian provider, but its performance is very good in the region, and there are many things to love about its shared hosting plans.
For one, VentraIP gives you everything you need to safely host your website, even on the entry-level plan. Storage space is a bit stingy compared to most international hosts, but it's enough for a simple blog or landing page. Bandwidth is unlimited, and you get a free SSL certificate, automatic backups, and built-in WordPress optimization.
While testing VentraIP, I recorded no downtime – at all, which is darned impressive. My website wasn't as fast outside of Australia, but this is more or less irrelevant if your target audience is in the region.
Features:
LiteSpeed web server. VentraIP is all about state-of-the-art tech, and its web server software is no exception. LiteSpeed offers speed and stability, which is exactly what you want for your website.
Preinstalled SSL certificate. VentraIP doesn't just give you a free SSL certificate. The host installs and renews the certificate for you. It's ready and active as soon as you create your website.
Hourly automatic backups. No other host I've tested included this kind of service for free. With hourly backups, you never have to worry about accidentally breaking your site while you try out new layouts or plugins.
Weebly website builder. If you want to get online quickly, Weebly is a good way to go. It's not quite as versatile as Wix or Squarespace, but it's one of the best website builders, included for free.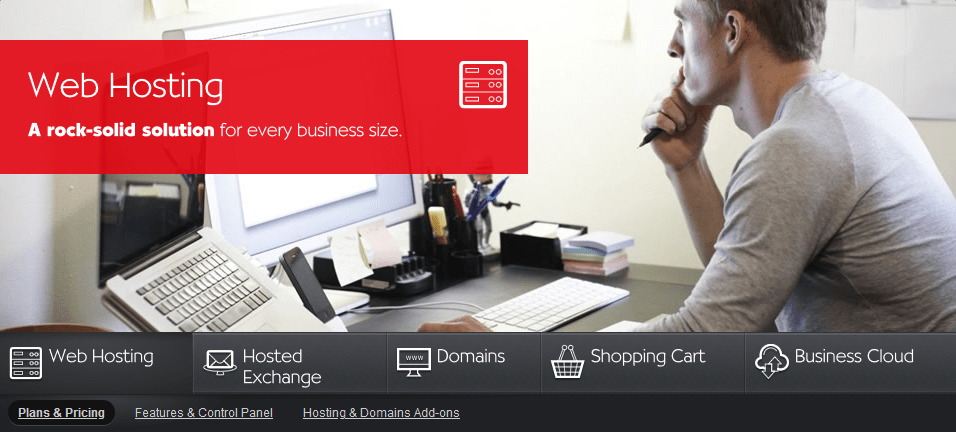 iiNet is undoubtedly one of the biggest local providers on my list, but web hosting isn't its main focus as it is primarily an internet service provider. Its shared hosting plans come with decent storage space and bandwidth, but the other features are very basic. There is no WordPress optimization, no built-in caching, and no free domain name.
More importantly, you don't get a free SSL certificate, and buying one from iiNet is going to cost you…a lot. I know what you're thinking: maybe you don't actually need SSL. But your website will be flagged "unsafe" by most browsers, and it'll rank lower in SERPs (search engine results pages) if you don't have one. Sooner or later, you'll want this feature.
According to my tests, iiNet's uptime is outstanding, but loading speeds are average in Australia, and pretty bad everywhere else in the world. Pricing is also high for what you're getting, so I only recommend iiNet if you're already a customer, and you'd find it more convenient to get your hosting from the same company you use for broadband or mobile.
Features:
The latest PHP. If you have a WordPress website, switching to the latest version of PHP will improve your site's security and performance. This is a fairly standard feature, but that's iiNet hosting for you.
Easy back-up tool. It's not an automated tool, but it's an easy way to manually back up your account and website. You can only store two such backups at a time.
Free migrations. Most hosts offer this service for cPanel websites, but iiNet will migrate your site regardless of the control panel you've used with your previous host. Site transfers can get messy, so this is a big plus.
Attentive support. In my experience, iiNet's support agents are polite and eager to help. They didn't offer any advice on optimizing my website, but they did call me to make sure I was able to navigate the hosting platform. Unfortunately, support is only available during office hours.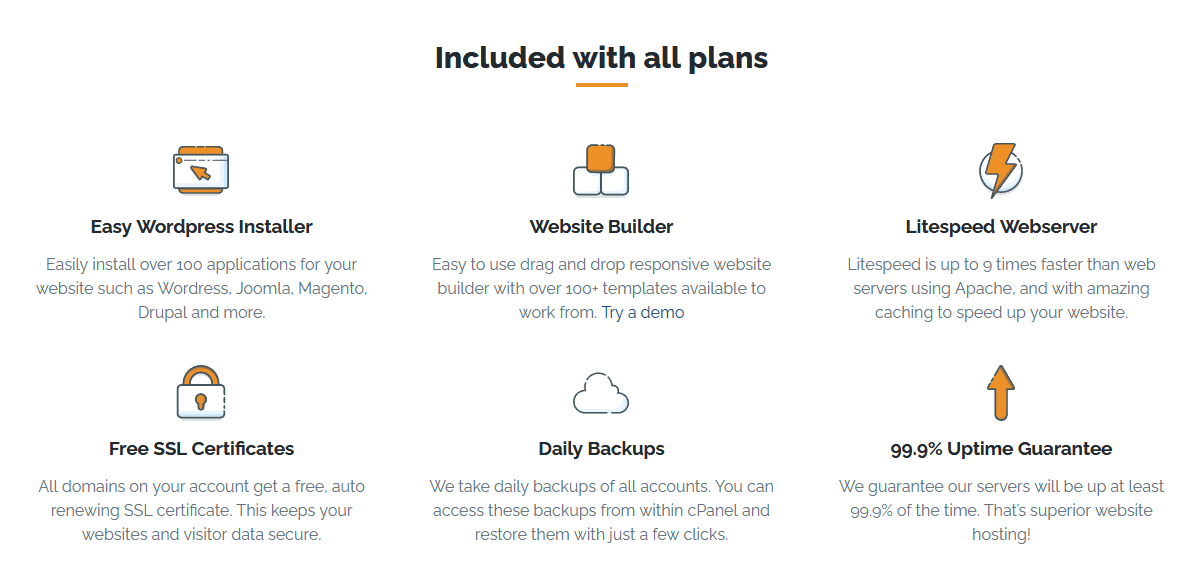 Relentless Hosting is the most affordable local host on my list, with plan prices that are almost on par with international providers like Hostinger. It's also the second fastest Aussie host according to my tests, and its uptime is great too. But there are a couple of issues.
Relentless Hosting's shared hosting plans include relatively tiny amounts of storage space and bandwidth. For example, the Tin plan has 1GB of storage and 10GB of bandwidth, which is barely enough for a landing page with a few images. The Silver and Gold plans are more generous, but they're also much more expensive.
Customer support isn't great either. Relentless Hosting advertises 24/7 support, but live chat, phone, and email are not available. You're stuck with a ticket-based system, and while agents are fairly quick to respond, I found that they weren't always helpful.
Features:
Smooth UI. Relentless Hosting uses the tried-and-tested cPanel control panel in combination with a neat, well-organized dashboard where you can manage your websites and services. It's not revolutionary, but it gets the job done.
Installatron app installer. Installatron doesn't have quite as many scripts as Softaculous, but all the popular CMSs – including WordPress, Drupal, and Joomla – are there.
Simple website builder. You can use it to get a website up and running in under an hour. Plus, there are over 200 templates to choose from.
Strong security. Aside from a free SSL certificate (awesome!), you get DDoS protection, an advanced firewall, daily automatic backups, and more. It's one of the most comprehensive security suites offered by a local Aussie host.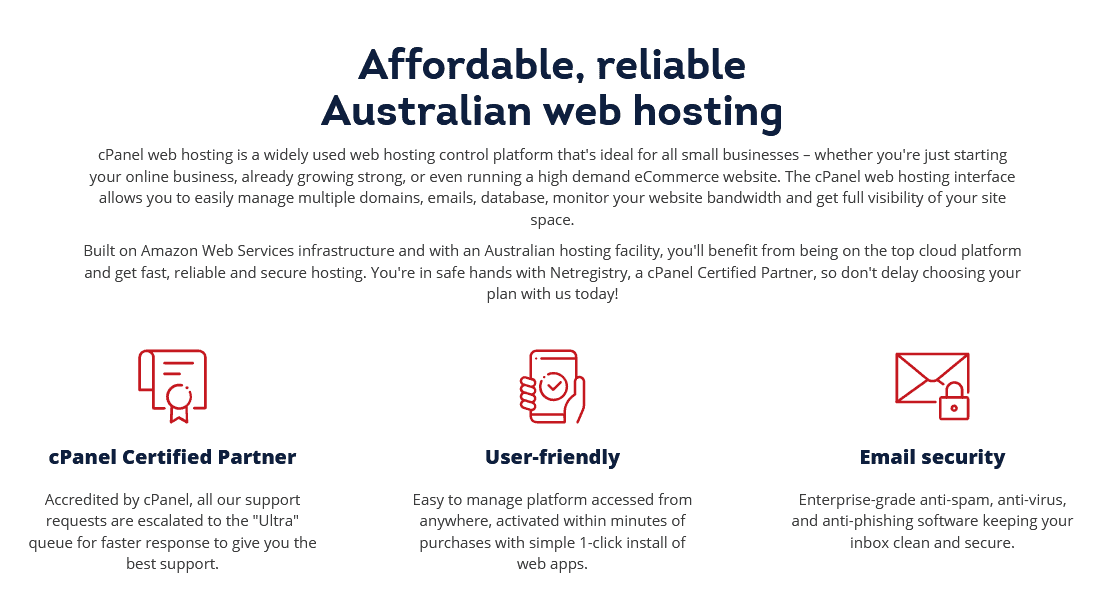 Netregistry claims to offer high-quality cloud hosting built on top of AWS, and since its servers are in Australia, you'd expect performance to be stellar in the region. However, my test website (the same site I used with all other hosts I've tried) took a very long time to load completely. In one instance, it needed 21 seconds. That's extremely slow.
If the poor performance doesn't put you off, Netregistry offers decent value for money. Uptime was very good throughout the duration of testing, and all three shared hosting plans include generous storage space and bandwidth. You can't host more than one website on the cPanel Starter plan (you only get one database), but if that's all you need, then you're set.
Unfortunately, a few essential features are missing. There's no free SSL certificate, no automatic backups, and no WordPress optimization.
Features:
Affordable web design. If you don't want to build your own website, Netregistry gives you the option to hire an in-house designer. You'll have to pay an initial setup fee, plus a monthly maintenance fee, but it'll still be cheaper than hiring an agency.
Free website health checks. This is a nice little diagnostic tool that gives you information about your website's speed, usability, and SEO. There are plenty of other free tools that do this, but still, it's a useful feature.
Enterprise-grade email security. For an extra fee, you can get spam filtering, antivirus protection, and an auto-responder for your email. Wish these were included for free, but, oh well.
Free trial. Netregistry is the only host on my list that offers a trial that is actually free. You can use it to run your own performance tests, and try out Netregistry's dashboard, although you will need a domain name to apply.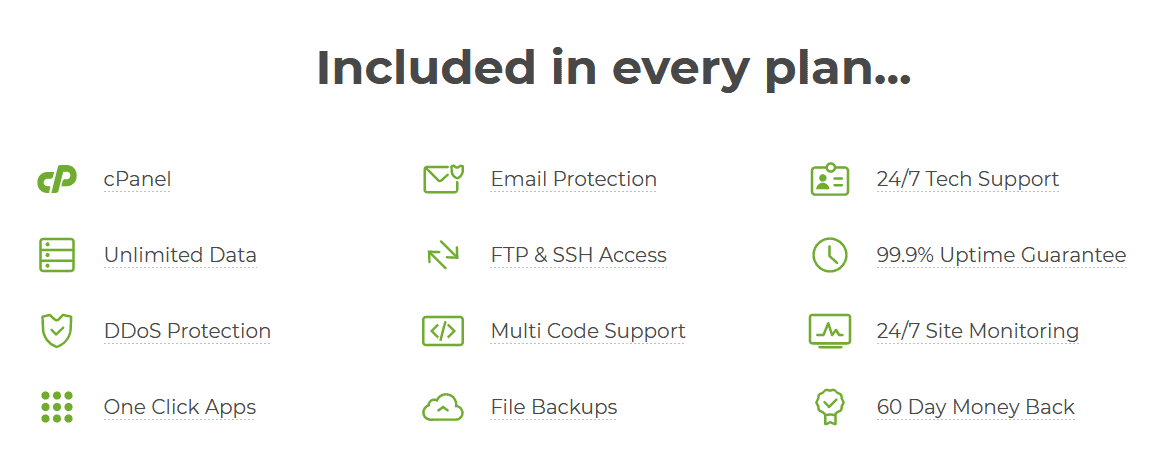 Crazy Domains is, by far, the fastest Aussie provider I've tested. Its shared hosting plans include lots of resources, plus a few excellent features like automatic backups, free email hosting, and email spam protection. But…
You don't get an SSL certificate with any of the plans, which means that you'll have to pay for one. I've said it before and I'll say it again: this isn't an optional feature. It's absolutely necessary, but Crazy Domains' SSL fees will increase your overall costs by a lot.
And speaking of costs, the other big downside with Crazy Domains is that it wants you to sign up for…hold on to your seat…no, really, you won't believe this…ten years (!) to get the best deals. Now that's crazy.
Features:
Unmetered bandwidth. This is a pretty standard feature with international providers, but not many local Australian hosts are as generous. Crazy Domains doesn't cap your bandwidth even if you opt for its cheapest plan.
Built-in caching. The Cache Blaster is Crazy Domains' proprietary caching plugin included with its WordPress plans. It's integrated into the dashboard, so it's easy to find and activate. It's also very effective at speeding up your website, according to my tests.
Compression control. Content compression is essential to boosting your site's performance. Many hosts do this by default, and Crazy Domains does too. However, it also lets you control exactly what parts of your website get optimized.
WordPress-optimized plans. Automatic WordPress updates, one-click website staging, WP-CLI, and a set of pre-screened security plugins are all included. At a decent price too.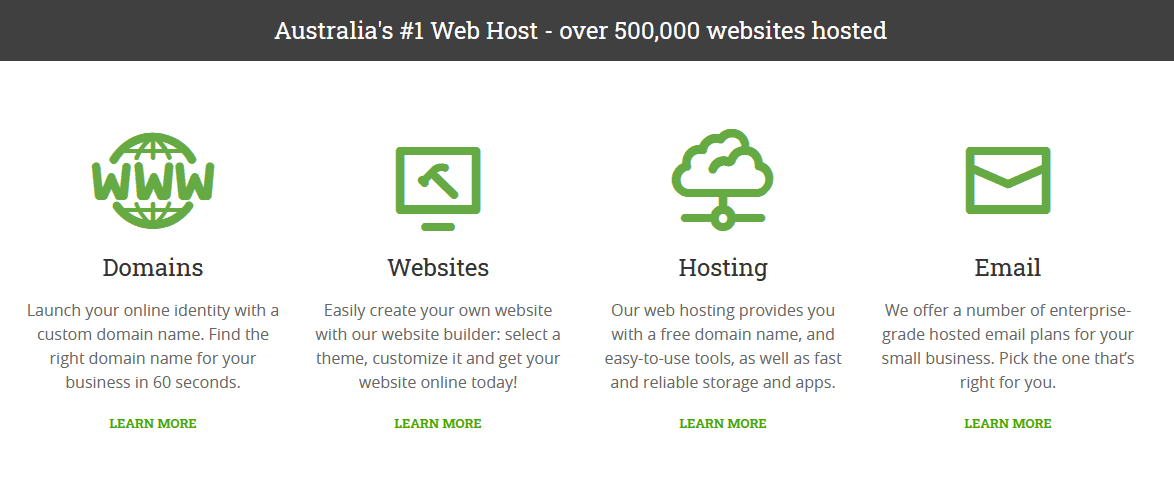 HostPapa is a Canadian provider with servers in the US, Canada, and Europe, yet it markets itself as one of Australia's top hosts. Come again? Apparently, it's well-known in the region, but I tested it alongside all the other hosts, and its performance was mediocre at best. Even compared to InterServer, which only has data centers in the US, HostPapa was twice as slow.
It's also pretty expensive for what you get. Sure, the Starter shared hosting plan includes a lot of storage space, but you'll never use a whopping 100GB of storage for only two sites. And while the WordPress hosting plans include many more features than the shared hosting plans, they cost the same as the shared equivalents.
As for HostPapa's "caring" customer support, don't expect much. The support agents are more focused on upselling than they are on providing support. There is a good knowledge base if you'd prefer a DIY solution.
Features:
One-on-one training. You get one hour with a HostPapa rep to go over things like cPanel functions, installing WordPress, securing your website, and adding a small online store.
Free SSL. All the major international hosts give you an SSL certificate, and HostPapa is no exception. It's not automatically installed, but you can ask a support agent to do it for you.
Free domain for one year. Again, this is something most big providers give you, but it's a rare feature among local Aussie hosts.
Jetpack license. HostPapa's WordPress hosting plans include Jetpack installations, but only the free version on WP Starter and WP Business. The WP Business Pro plan comes with a Premium Jetpack license, which does add some value through automatic backups, a CDN, and detailed site statistics, but even so, I feel that HostPapa charges too much for too few features.
Top Hosts for Australia – Full Comparison
In the table below, I've included the most important details for each host's entry-level plan, so you can easily compare them at a glance:
Our Testing Process in Detail
For this massive web hosting comparison project, we tested each host over a period of at least three months. If you want to learn more about how we rated these providers, keep reading. Otherwise, feel free to skip straight to my recommendations.
Features
The amount of storage space and bandwidth you get with each host isn't always a reliable measure of value. That's why we also looked for essential features like SSL certificates, automatic backups, built-in caching, and more.
For example, if you compare VentraIP with iiNet in terms of their entry-level plans, it looks as if iiNet is more generous. It gives you twice the amount of storage space, while VentraIP has just 5GB of storage. However, VentraIP offers a free SSL certificate, automatic backups, LiteSpeed caching, and a 45-day money-back guarantee. None of these are available with iiNet, making it a poorer value choice.
Plus, 5GB of storage is a comfortable amount for a regular website. Relentless Hosting is the only provider on my list offering a plan with less storage space than that. Its Tin plan allows you a mere 1GB of storage, so I would recommend it only for a simple landing page.
Ease of Use
Your web host won't design your website for you, but it should make it super–easy for you to do this yourself. I went through all the necessary steps – from signing up for a plan to connecting a domain, setting up WordPress, and installing a theme – with every single host I tested. The easier it was to do all this, the higher my rating.
Generally speaking, all the hosts on my list did well in this category. Kinsta got a particularly high score thanks to its powerful, yet easy-to-use dashboard. FastComet and VentraIP weren't far behind, even though they both use the traditional cPanel.
The only host that got a lower score was HostPapa. Its dashboard is dated, and it doesn't provide access to crucial information like nameservers or A records (to help you connect your domain name to your website).
Performance
If I had a penny for every host that promises "blazing-fast" loading speeds…. You shouldn't take marketing claims at face value, which is why I built a test website for each provider, and ran benchmarks to measure page loading speed, global performance, and uptime.
I found that most local Aussie hosts offer great speeds in the region, but their performance outside of Australia is poor. International providers like Hostinger and Kinsta are incredibly fast both in Australia and around the world, which is why you'll find them higher up on my list. As for uptime, results were excellent across the board.
There are only two hosts on my list that don't have data centers in or near Australia. There are big differences between them, though. InterServer offers outstanding value on its Standard shared hosting plan, and its speed is decent around the world. On the other hand, HostPapa is expensive and slow.
Support
With the exception of iiNet, all hosts on my list claim to offer 24/7 customer support through various channels. However, I know from experience that providers don't always stick to this promise. So, I bombarded them with questions.
"What's the difference between plan A and plan B?" "How do I install WordPress?" "Can you help me optimize my website?" That kind of thing.
Some did very well. FastComet and Kinsta, for example, were always available whenever I got in touch through live chat. The agents were polite and able to help in most instances.
But I also had some less positive experiences. I found that InterServer's live chat service is manned by unhelpful amateurs, while several other providers' support agents would rather ask for more money than offer any real assistance. I'm looking at you, HostPapa.
Pricing
Most web hosts have attractive headline prices, so don't get taken in straight away. Some hosts want you to sign up for multiple years to get the best deals. Hostinger, FastComet, and most of the local Aussie hosts on my list adhere to this practice. It's not a bad thing if you know you're going to get great service, but with providers like Netregistry or HostPapa, that's not always the case.
At least Hostinger gives you everything you need to safely host a website, even on the entry-level plan. I can't say the same thing for iiNet or Netregistry, because they'd rather persuade you to pay extra for essential features like an SSL certificate. I'm not a big fan of hidden costs or upsells, so I deducted points whenever I uncovered these sneaky tactics.
Which Host Should You Choose for Your Australian Website?
Throughout our extensive web hosting comparison project, five providers stood out from the crowd. Some of these achieved outstanding performance in Australia, while others impressed with feature-packed plans or incredibly low prices.
Now it's time to decide which of these hosts would best suit your needs. Here are my recommendations:
For a personal blog, a business landing page, or any sort of simple website, Hostinger is your best bet. Its servers are fast, it's easy to use, and it's incredibly cheap. It also gives you everything you need to host a site, so you don't have to worry about outrageously-priced SSL certificates later down the line.
Hostinger wouldn't be my first option for high-traffic websites or large online stores, but for everything else, it's a nearly perfect fit. Just be sure to choose a server in either Indonesia or Singapore to enjoy the best possible speeds in Australia.
InterServer's Standard shared hosting is the only entry-level plan on my list that lets you host an unlimited number of websites, each with its own domain. You also get unlimited storage space and bandwidth, so you won't be forced to upgrade your plan due to data volume or transfer. You can pay on a monthly basis, and there's a price-lock guarantee to protect you from steep renewal fees.
I won't sugar-coat it: Kinsta is expensive. However, it wouldn't have made my list if it didn't offer a lot of value for its asking price. It's simply the fastest managed WordPress hosting platform I've tested, while also being fairly easy to use. The best part? Kinsta takes care of all performance and security optimizations for you, so you can focus entirely on your website. Oh, and it has an Aussie data center!
Not many international hosts have a data center in the region. Kinsta is one option, but if you don't want to spend a small fortune on hosting, FastComet is the next best thing. FastComet is much more affordable, and it comes with some of the perks you'd get with Kinsta. For example, you have access to guaranteed resources even on shared hosting, and the customer support is awesome.
Most of the local hosts I've tested were either too expensive or too slow, but not VentraIP. If you want an Aussie provider for your Aussie website, I wholeheartedly recommend it. VentraIP doesn't charge extra for essential features like SSL certificates or automatic backups, and its performance is excellent in the region. What's not to love?
FAQ
Which is the best host for Australia?In my experience, there's no one provider that'll suit all needs. It depends on the type of website you want to host. If you just want a business landing page or a personal blog, I recommend Hostinger. Its long-term plans are incredibly cheap, and it has two data centers near Australia, in Singapore and in Indonesia. For a high-traffic site or a massive online store, I'd go with Kinsta. It looks expensive at first, but you're getting good value for money. Exceptional performance around the world and a fully managed hosting experience are included. Of course, these are not the only options. VentraIP and Relentless Hosting both have some minor flaws, but they are decent local Aussie hosts. You can also check out our list of the best web hosting services for more suggestions.How much should you pay for hosting in Australia?Not much. The truth is, you can host a simple website for under a dollar per month with an international provider like Hostinger. Even some local hosts, such as VentraIP or Relentless Hosting are relatively cheap. It all depends on the type of service you're looking for. If you want experts to manage your website's performance and security for you, you'll pay more. If there's room in your budget for an expensive managed hosting service like Kinsta's, this service is absolutely worth the cost. Before you make any decisions, don't forget to check out our coupons page to get the best possible deals.Does it matter where you host your website?Absolutely. The closer your server is to your target audience, the better your website will perform in that region. With a few exceptions, the Aussie hosts I tested loaded site pages more quickly in Australia than international providers without a local data center. However, local hosts are usually small companies, and they will have data centers in Australia only. If most of your visitors reside in this region, that's fine. But if you expect website visitors from around the world, my tests indicate you might be better off with an international host.How do I get a .com.au domain name in Australia?You'll need an ABN (Australian Business Number) or ACN (Australian Company Number) to register a .com.au or .net.au domain. You can apply for either an ABN or ACN by visiting the Australian Taxation Office's website. Alternatively, you can register a .org.au or .asn.au domain if you run a local non-profit organization. Or you can get a .id.au domain for personal use, but you must be an Australian resident to qualify.