can
find high-quality work on certain freelance websites. And if you know what you're doing, it doesn't have to be hard.
By following the right steps, you can avoid flaky freelancers and bad art
, while also getting a lower price than taking on an employee. So, which websites should you use to find freelance 3D artist jobs? After much trial and error, I've compiled a list of the top 8 websites to find 3D art.
My personal pick is Fiverr for its massive market of beginner to expert 3D artists, niche services, and range of budgets
. But you might have needs that are better met by a different freelance site. I've also offered some tips on the best way to hire freelance 3D artists on each of these websites. So, keep reading to find out how to hire a great 3D artist online!
Short on Time? These Are the Best Freelance Websites for 3D Artists in 2023
Fiverr – A large pool of 3D artists across a wide variety of 3D services (some offer a 24-hour turnaround)
Upwork – Extensive project management tools for big and small 3D projects, plus hire recruitment scouts.
DesignCrowd – Streamlined crowdsourcing to draw a variety of 3D artists to you.
What We Look For in the Best Freelance Websites for 3D Artists
On my hunt for the top freelance 3D artists, I thoroughly tested each site for its ease of use and the quality of the final artwork delivered. A great freelance website for 3D artist jobs should offer these features:
High-quality 3D Art: The most important thing is that you're satisfied with the final 3D artwork you receive, so a freelance site must have 3D artists who produce high-quality work.
Wide selection of 3D designers: Not only should the 3D art be good, you should also have a good choice of 3D designers. This is a must for you to find an artist who can create 3D works in the exact style you want.
Art project management tools: A great freelance website makes the process easier with file sharing, chat and/or video messaging to keep in touch with your artist, and the ability to provide feedback and request revisions.
Secure payment & refund policy: Your money should be protected by escrow payments and offer secure payment options such as wire transfers and PayPal. I also looked for a reasonable refund policy to allow you to get your money back if you dislike the final art.
Fiverr hosts thousands of 3D artists. This range means
you can get simple 3D art on a budget, or spend more for professional designs from experienced 3D artists.
I was able to find affordable, beginner 3D artists as well as higher quality work from more established artists for a little extra. I also appreciate the
niche 3D art services you can find on Fiverr
. In addition to 3D models of objects and characters, you can also get things like photorealistic 3D art and album cover renders.
You can use search filters to narrow down 3D artists to your specifications.
For example, if you want the best quality, I recommend searching for "Level Two" and "Top Rated" sellers. And if you want 3D art fast, you can search for express 24-hour delivery. Fiverr is also free to sign up for and pretty easy to use.
Features
In-depth Profiles: Before you hire a freelance 3D artist on Fiverr, you can look over their profile to see their art style and track record with previous clients. You can also look for any specific skills you want, such as Photoshop proficiency.
Seller Levels: Each 3D artist on Fiverr has a level rank based on how many jobs they've completed, their average response time, and their overall customer rating. This makes it very easy to sort 3D designers by their quality and experience (no surprise, beginner artists tend to be cheaper).
Packages and Add-ons: 3D artists on Fiverr have 3 packages you can choose from at escalating prices and services. You can stick to budget choices, or spend more for better detail, more revisions, and expedited delivery.
14-day Refunds: Once you mark a job as completed, your payment is held for 14 days before being sent to the artist. That's plenty of time to decide how happy you are with the final artwork.
Check out my colleague's in-depth review to see what else we love about Fiverr
.
3D Design Quality
Beginner, mid, and expert level designs.
3D Artist Job Finding Tools
Extensive search engine.
Payment Method
Escrow payment via credit card or PayPal.
Starting Price

$

5.00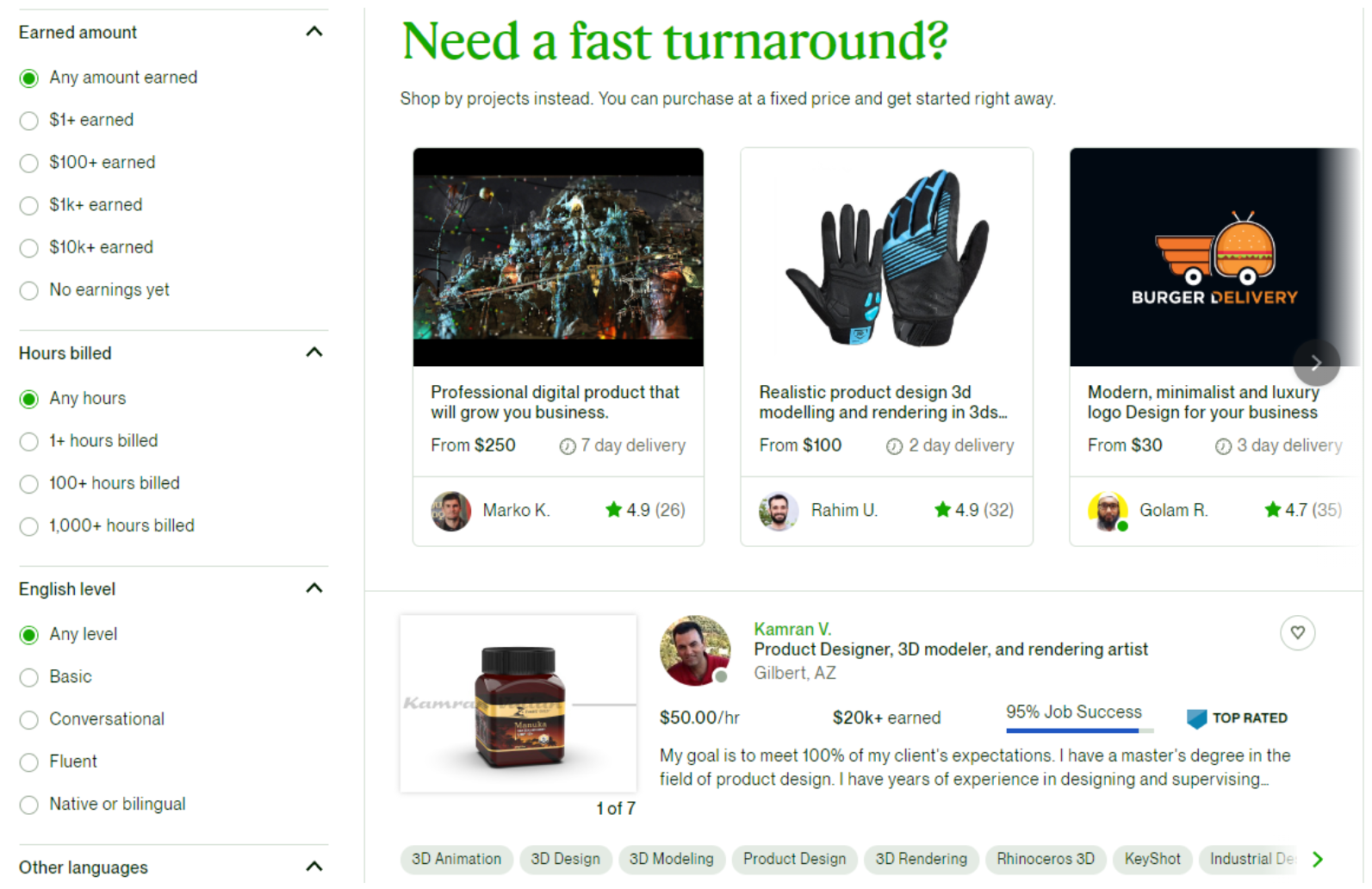 Upwork hosts thousands of freelance 3D artists, modelers, and renderers.
Freelancers on Upwork charge hourly rates, and more experienced 3D artists can cost quite a bit per hour.
But if you hire an artist with a work portfolio in the style you like and positive customer reviews, I find you get your money's worth.
Hiring a 3D artist on Upwork is pretty easy.
I like how you can filter your search by location, language fluency, and job success. I suggest searching for "90% & up" to find reliable artists. And if you want to talk to a 3D artist before hiring them, you can tick off the "offers consultations" box. Another thing I like is how you can
shop for 3D art projects on Upwork
at a fixed rate. This is a great way to find simple 3D designs for fast delivery (usually under a week). Or, if you have a bigger project or want more detailed art, I recommend you hire a "top rated" 3D artist instead.
Features
Artist Profiles: Screen potential freelance 3D artists by checking out their profile. You'll be able to see their job success rate, customer reviews, work portfolio, total amount earned on Upwork, and skills like 3D modeling, animation, and Photoshop.
Project Management Tools: Once you start working with a 3D artist on Upwork, you can chat with them via messenger, share files, track hours worked, and manage escrow payments and invoicing. It's nice to have all these features centralized in one place.
Job Posting: Post a project and draw designers to you. This is great for specific needs, such as 3D character modeling.
Talent Scout: Hire a talent scout to find qualified freelance 3D artists for you. This cuts out the work for you and improves your chances of getting a reliable artist.
We go into more depth on how everything works in
our Upwork review
.
3D Design Quality
Professional 3D designs with some beginner options.
3D Artist Job Finding Tools
Extensive profiles, job posting, talent scout, and project browsing.
Payment Method
Escrow payments by milestone or hourly rates. Credit card and PayPal.
Starting Price

$

0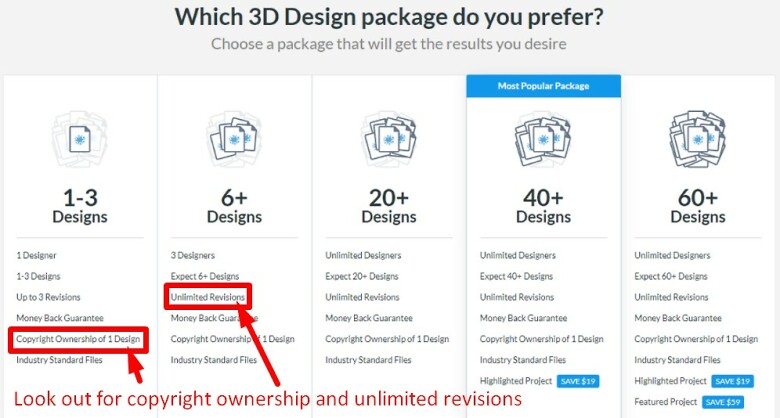 DesignCrowd has a streamlined crowdsourcing feature to help find the exact 3D design you want. While you can still browse for freelance 3D artists, I think
DesignCrowd's crowdsourcing tool is its biggest draw
. Crowdsourcing is a great way to screen applicants and pick the best 3D design out of the bunch.
It's typically less risky, though there is a chance you won't like any of the designs you get.
If this happens, I suggest hiring a 3D artist whose work is more in line with what you want (which you can do on DesignCrowd). If you're worried about the quality of the artwork,
you can pay more to get a "top designers" guarantee
. You can also request revisions to the 3D design until you're satisfied.
Features
Designer Finder: If you don't want to crowdsource, you can hire a 3D artist you like directly. You can also hire the same freelancer again if you liked their work.
Global Network of Artists: When you post your brief, 3D artists from around the world can apply. I really like this, as a bigger talent pool boosts your chances of getting a design you like.
Design Sharing: Before you select a "winner" of your crowdsourced project, you can share the 3D designs with colleagues to get a second opinion.
Project Refunds: If you're unhappy with your designs, you can get a full refund within 60 days of posting your project. Just keep in mind that once you select a contest winner, you can no longer get a refund.
See how my colleague hired an exceptional logo artist in
our DesignCrowd review
.
3D Design Quality
Overall great quality with some misses.
3D Artist Job Finding Tools
Crowdsourcing, designer finder.
Payment Method
Escrow payments are released when a winner is chosen. Credit card and PayPal.
Starting Price

$

109.00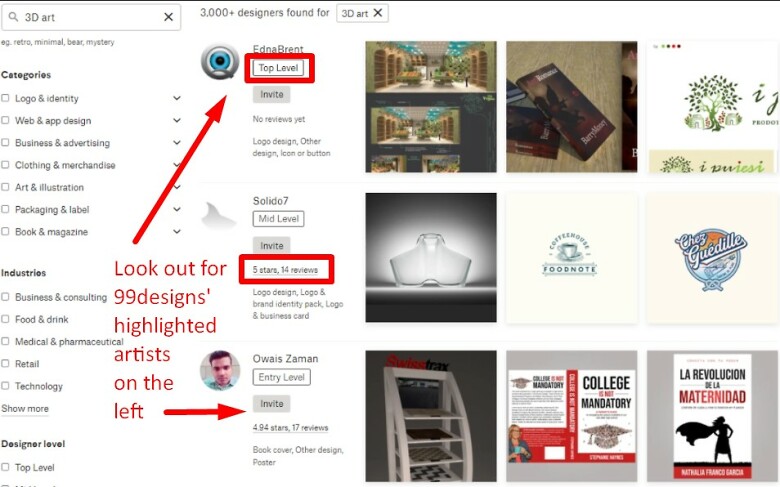 99Designs is a contest-hosting website that allows you to post a brief of your project for 3D artists to compete and submit their designs.
You can find 3D artists for models, product designs, architectural renderings, and more. 
The service isn't cheap
, and big revisions also cost more money.
But 99Designs specializes in art.
You're getting 3D artists who've invested in pricey 3D software and possess the skills required to do a good job.
You can
invite specific 3D artists on 99Designs
to participate in your contest.
You can even make your contest invite-only.
I really like this, as it allows you to test out and compare 3D artists you like, rather than sifting through random applicants. It greatly simplifies the hiring process.
Features
Designer Levels: Each 3D artist on 99Designs is assigned a designer level. "Entry level" designers have passed approval. "Mid level" designs maintain high-quality work. And "top level" designers must have five repeat clients and an average customer review score of 4.5.
Contest Packages: If you're on a budget, you can select the Bronze or Silver package when hosting a contest. If you're willing to pay more, you can get the Gold or Platinum package for access to the highest-ranking 3D artists on the site.
Language Options: You can get 3D designs and renders in English, Spanish, Portuguese, Japanese, and more.
Individual Hiring: If you don't want to hold a contest, you can also directly hire a freelance 3D artist you like.
Read our 99Designs review
to see how my colleague got a logo design for our website.
3D Design Quality
Beginner, moderate, and high-quality 3D art.
3D Artist Job Finding Tools
Contests and individual hiring.
Payment Method
Not escrow. Payoneer and PayPal.
Starting Price

$

299.00
5. CGTrader: 3D Models for Apps, Ads, and AR/VR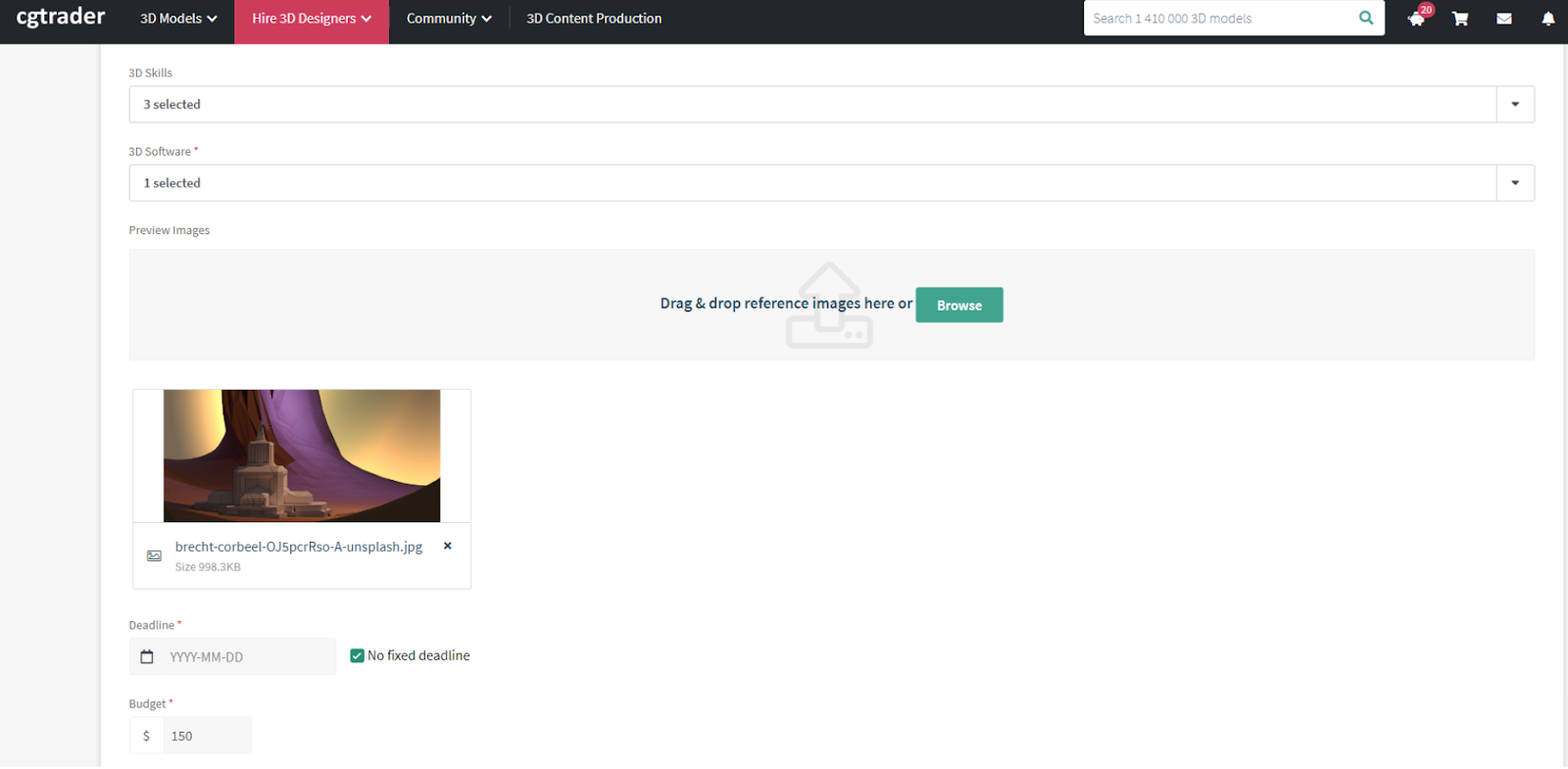 CGTrader is a marketplace for 3D model work.
You can buy 3D models, from environment pieces to characters, or post a modeling job for freelancers to apply for.
If you find a model you like, you can buy it right then, which means you may not even need to hire anyone. Just keep in mind the 3D model may not be in the right format, and other people can buy it too. It's very easy to
post a project on CGTrader
and find freelance 3D artist jobs. This is because
CGTrader is one of the biggest marketplaces for 3D art specifically
, with about 40,000 3D artists signed up.
If you want to hire the best 3D designers on the site, I suggest searching by "rank" and "rating"
. Also remember to check off "open for hire" so you know they've got capacity to take on your project.
Features
Designer Profiles: Profile stats show a freelancer's customer rating, response rate, number of views and likes on models, skill sets, and 3D software expertise.
Dedicated Workspace: CGTrader consolidates messages, invoicing, and file sharing in one place. This makes it super easy to manage your relationship with your freelance 3D artist.
3D Model Marketplace: You can browse 3D models, particle effects, and 3D printing files that have already been created.
Technical Support: CG Trader's customer support is pretty good about helping you out when a 3D model doesn't work. If your model is defective, you can get a full refund within 7 days of purchase.
| | |
| --- | --- |
| 3D Design Quality | High-quality 3D models, particle effects, and 3D printing. |
| 3D Artist Job Finding Tools | 3D model marketplace, detailed 3D artist profiles, and job posting. |
| Payment Method | Escrow payments. Payoneer, PayPal, and Webmoney. |
| Starting Price | Free to sign up. Freelancer rates vary. |
Find an Artist on CGTrader >>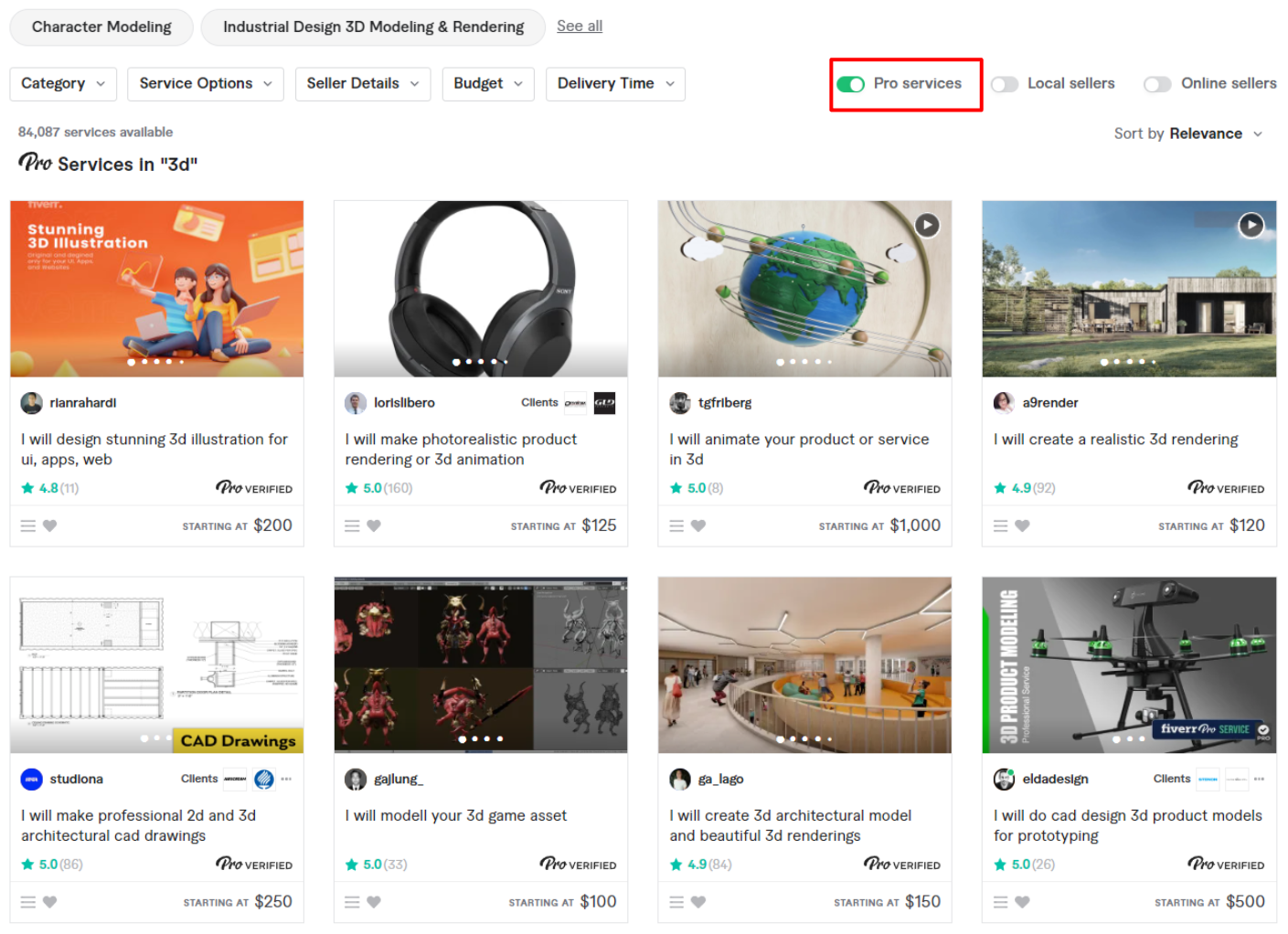 While Fiverr offers a lot of affordable freelance 3D artist jobs, Fiverr Pro can be used to hire more experienced freelancers with higher quality modeling and rendering skills.
In order for 3D artists to become Pro Verified on Fiverr, they undergo a thorough review of their education, professional background, and work portfolio.
The quality assurance is a huge relief.
Hiring 3D artists on Fiverr Pro
 costs more than going with a beginner, but I feel it's well worth the extra cost. You're guaranteed a proven 3D expert and all but eliminate the risk of poor work, bad communication, or an artist outright bailing on your project.
Features
No Membership Required: Neither you nor the 3D artist have to pay extra or subscribe to a membership to use Fiverr Pro.
HIgh-End Professionalism: Since Pro Verified 3D artists are more experienced, you can typically expect swifter responses. They know the drill, so they'll be prompt and communicative.
Faster Work: Pro Verified 3D artists often have faster delivery times and take fewer revisions to get you the design you want.
Fine-Tuned Search: Narrow your search to the best 3D artists on the site. This not only saves you time, but also makes it easier to find high-grade artwork for your project.
Learn more about the
differences between Fiverr and Fiverr Pro in our expert review
.
| | |
| --- | --- |
| 3D Design Quality | Top-quality 3D art from proven professionals. |
| 3D Artist Job Finding Tools | List of handpicked 3D artists by the Fiverr team. |
| Payment Method | Escrow payments. Credit card and PayPal. |
| Starting Price | $100 |
7. Cad Crowd: Best for CAD Projects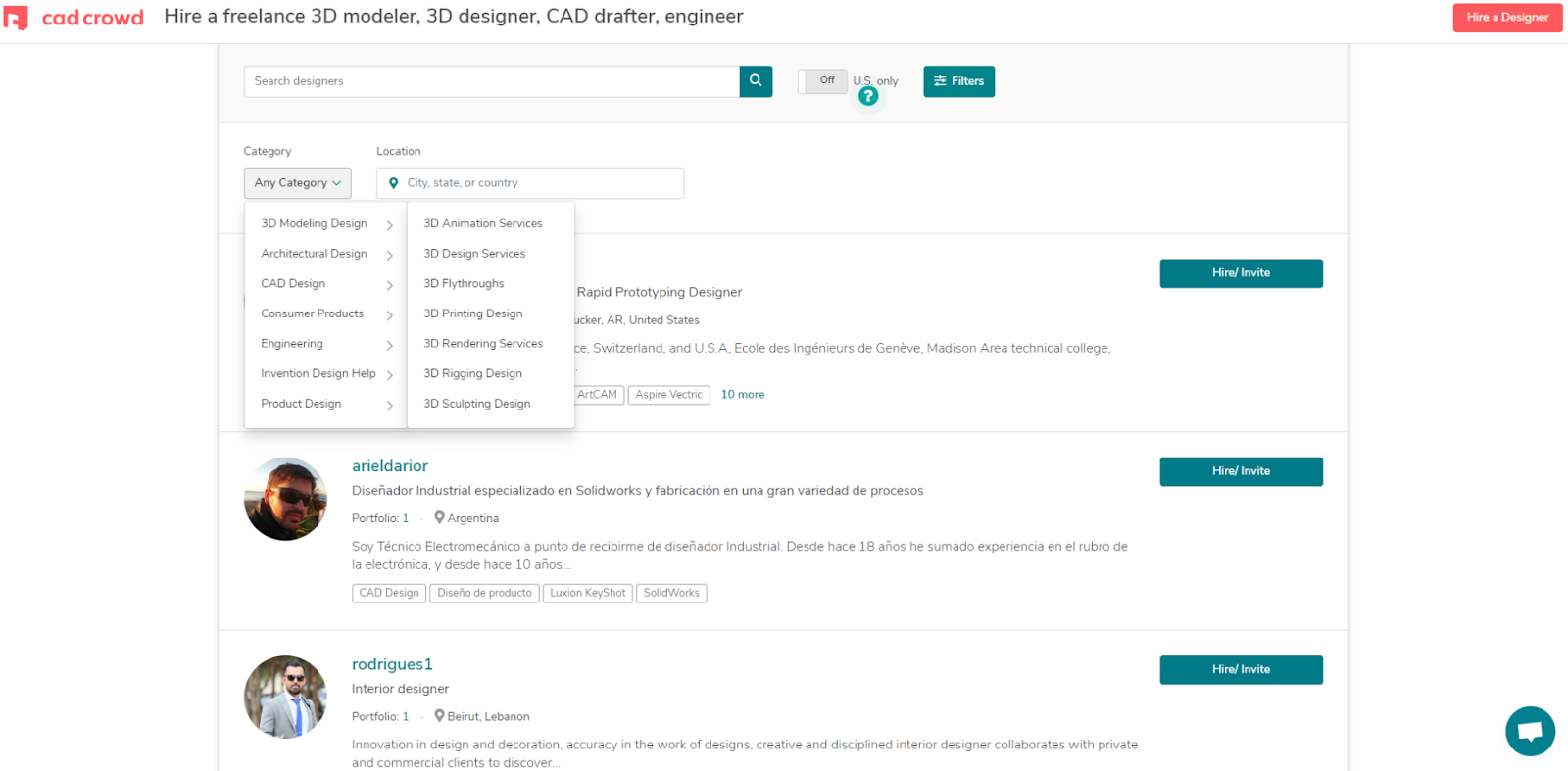 Cad Crowd is excellent for those working in CAD who need drawings, 3D models, and 2D to 3D conversions.
Cad Crowd covers services like product design, architectural rendering, NFT art, and 3D models for apps, VR, and games.
It's also an inexpensive solution if you already have files but need them converted to CAD. You can post a design project on CAD or hire a freelance 3D artist for a 1-to-1 project.
Launching a design contest is incredibly easy
– all you have to do is write your brief, pick your budget, and let the applications flow in. Then, just pick your favorite design of the bunch. One issue I had with Cad Crowd is its refund policy.
Prepaid contests must be canceled within 24 hours, and you have to pay a 20% cancellation fee.
That's not great but it does protect the freelancer from losing work so I can understand it.
Features
Leadership Ranks: A leaderboard displays "top designers" and how many participation points a 3D artist has. Designers earn participation points by winning contents and completing 1-to-1 projects.
Pre-qualified Designers: There are over 45,000 3D artists signed up on Cad Crowd – and all of them have been screened. This means you're much more likely to get high-quality designs.
Private Projects: Cad Crowd will handpick a vetted 3D artist based on your project scope, budget, and specifications. This is a neat way to get higher quality work and save time on freelancer shopping.
Free Estimate: If you're worried about budget scope, you can talk to the Cad Crowd team for a free estimate based on your project details.
| | |
| --- | --- |
| 3D Design Quality | High-quality CAD products. |
| 3D Artist Job Finding Tools | Leadership board, project posting, private projects, and free estimates. |
| Payment Method | Credit cards, PayPal, Zelle, Venmo, and Interac eTransfer. Only US and Canadian dollars are accepted. |
| Starting Price | Free to join. Freelancer rates vary, tupically between $40-85/hour. |
8. Creativepool: Great for Building Connections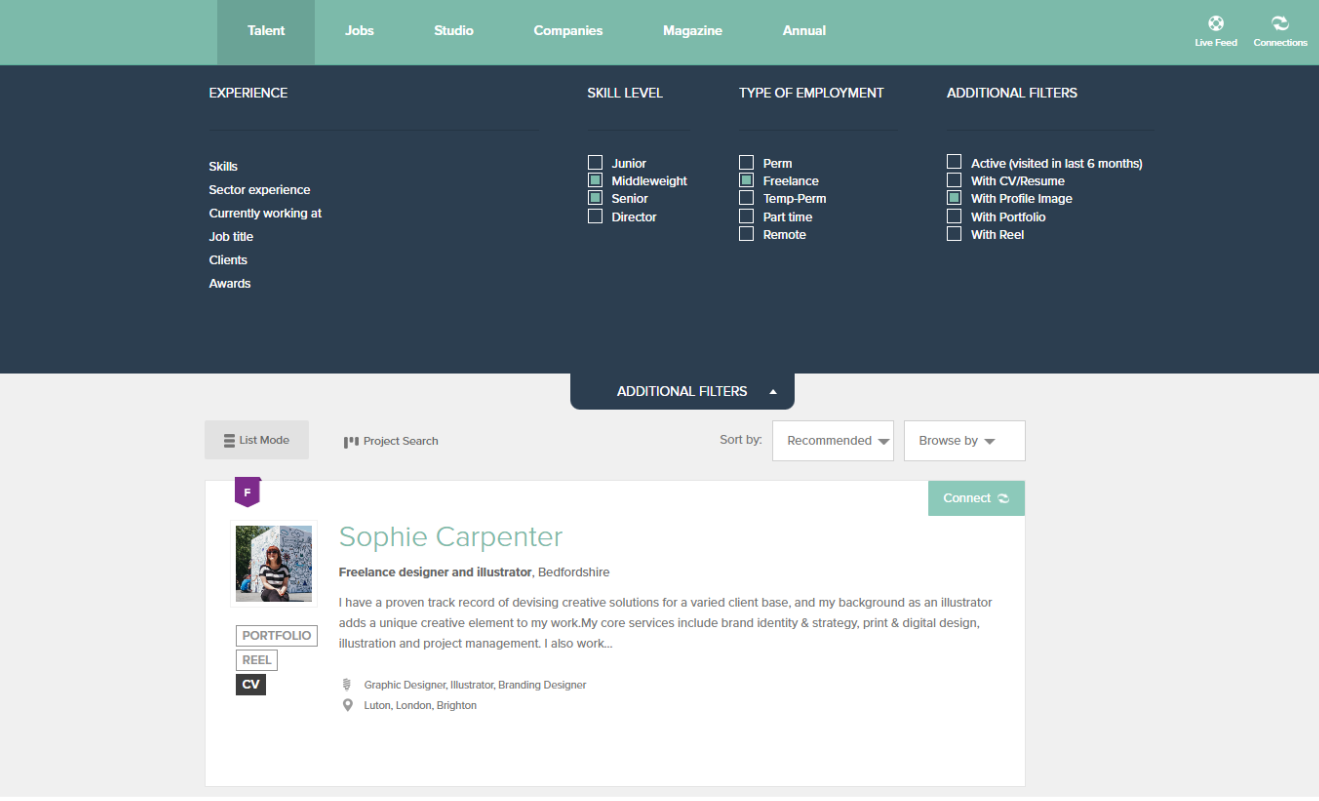 Creativepool is a community-centric marketplace of over 320,000 freelancers, including many 3D artists. One thing I really appreciate about Creativepool is that you can
hire 3D artists from all over the world
and pay in multiple currencies
.
You can opt to hire a 3D artist directly, advertise a job on the job board, or post a studiogig to choose between submitted proposals.
I like that studiogigs are free with a 0% commission fee – making Creativepool a good option if you're on a tight budget. The only issue I encountered is that
you need to pay for Pro membership to gain access to Creativepool's full network of freelancers
. This I
don't
like, as a paywall limits your options.
Features
Studiogigs: Advertise your 3D design project with your details and budget for freelance artists to apply to. I recommend making your brief as descriptive as possible.
Hiring Wizard: Input what kind of 3D artist you're looking for, and Creativepool will contact you via email with recommendations.
Social Media Integration: When you post a job on Creativepool, you can also choose to post it to your social media accounts. This means you can connect with friends and followers who also use Creativepool.
Followers & Connections: Connect with freelance 3D artists you'd like to keep in your docket for later. This is pretty cool if you want to network and develop long-term work relationships.
| | |
| --- | --- |
| 3D Design Quality | Beginner designs to big industry experience. |
| 3D Artist Job Finding Tools | Hiring helper, job board, and job posting. |
| Payment Method | Direct payment to freelancer. Subscriptions paid via credit card. |
| Starting Price | Free. Freelancer rates vary. |
Are You a 3D Artist Looking To Sell Your Services?
In my opinion, Fiverr is one of the best freelance websites for 3D artists.
If you're just starting out as a freelancer, Fiverr is a great way to get your foot in the door.
And if you're more experienced, you can work up to higher paying gigs and could qualify for a Pro Verified status. For more advice on how to succeed on Fiverr, check out our
Fiverr for Freelancers guide
– and to learn everything you can before you get started,
take a look at our in-depth Fiverr review
, too.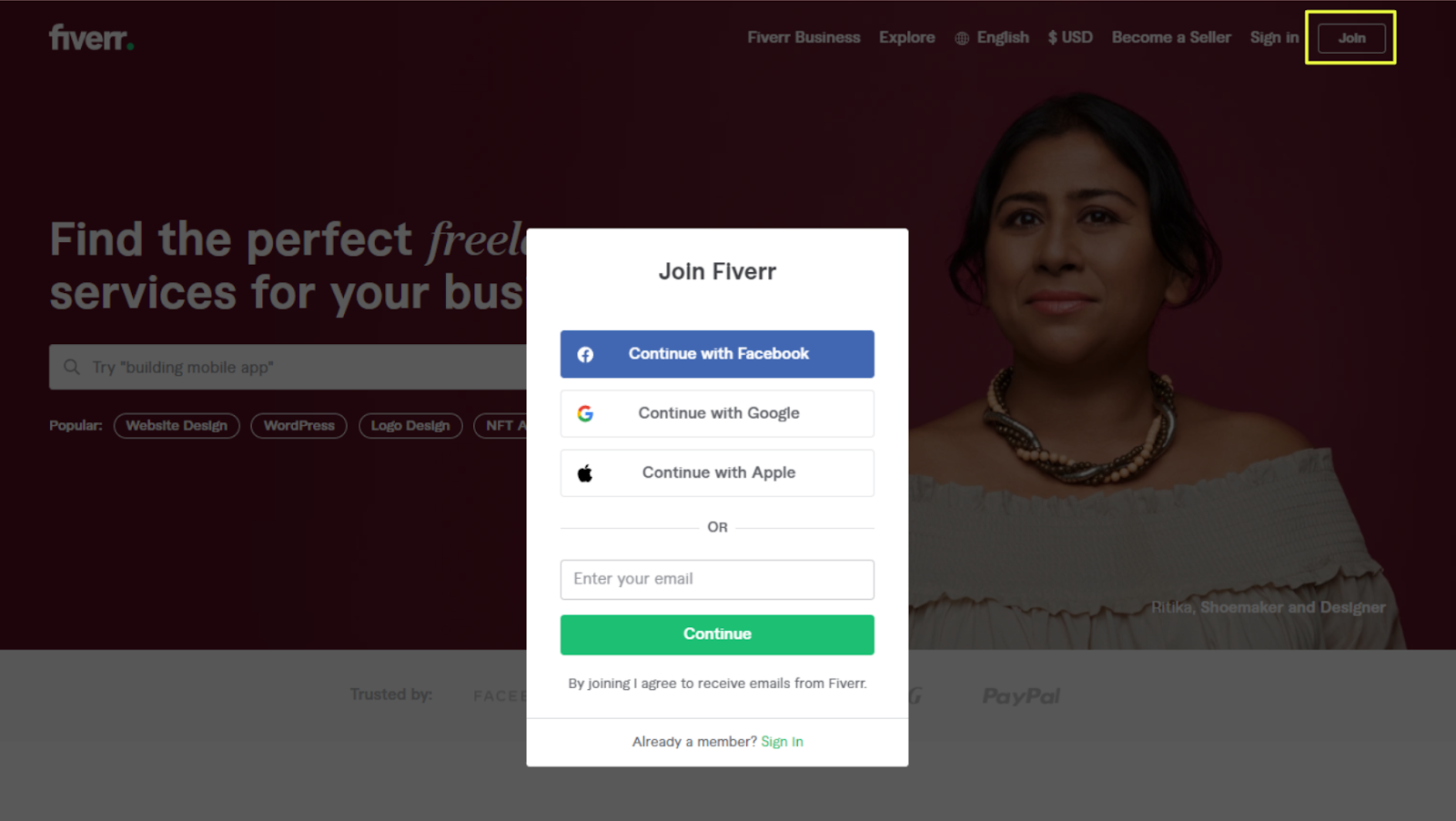 To
get started on Fiverr
, go to the home page and select "Join" in the top-right corner. Then create a free account using your email, Facebook, Google, or Apple account.
Potential clients will see your username, so I suggest making it stand out with a brand or your real name.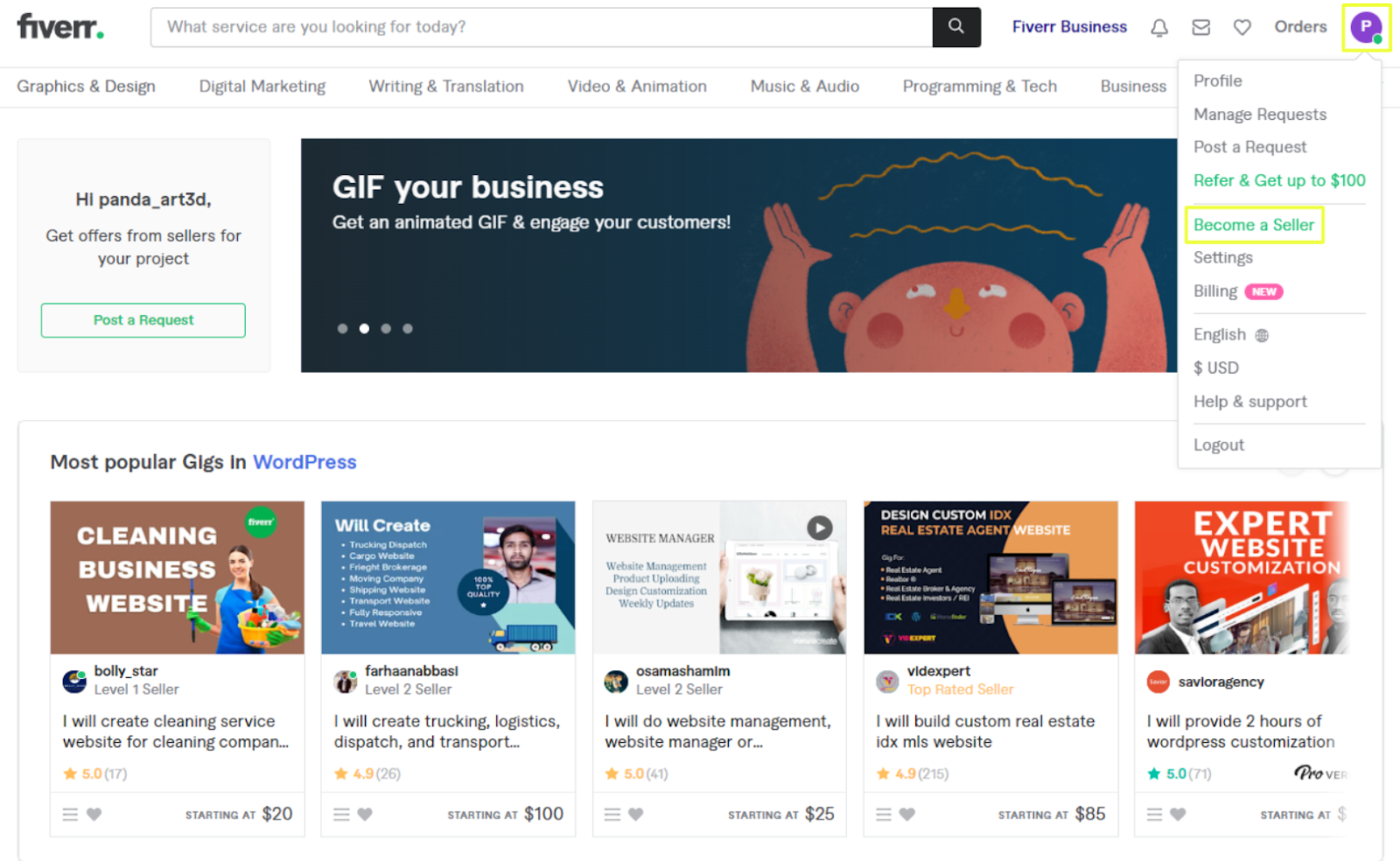 Signing in will take you to the navigation page. Click your profile icon in the top right, then select "become a seller" from the dropdown menu.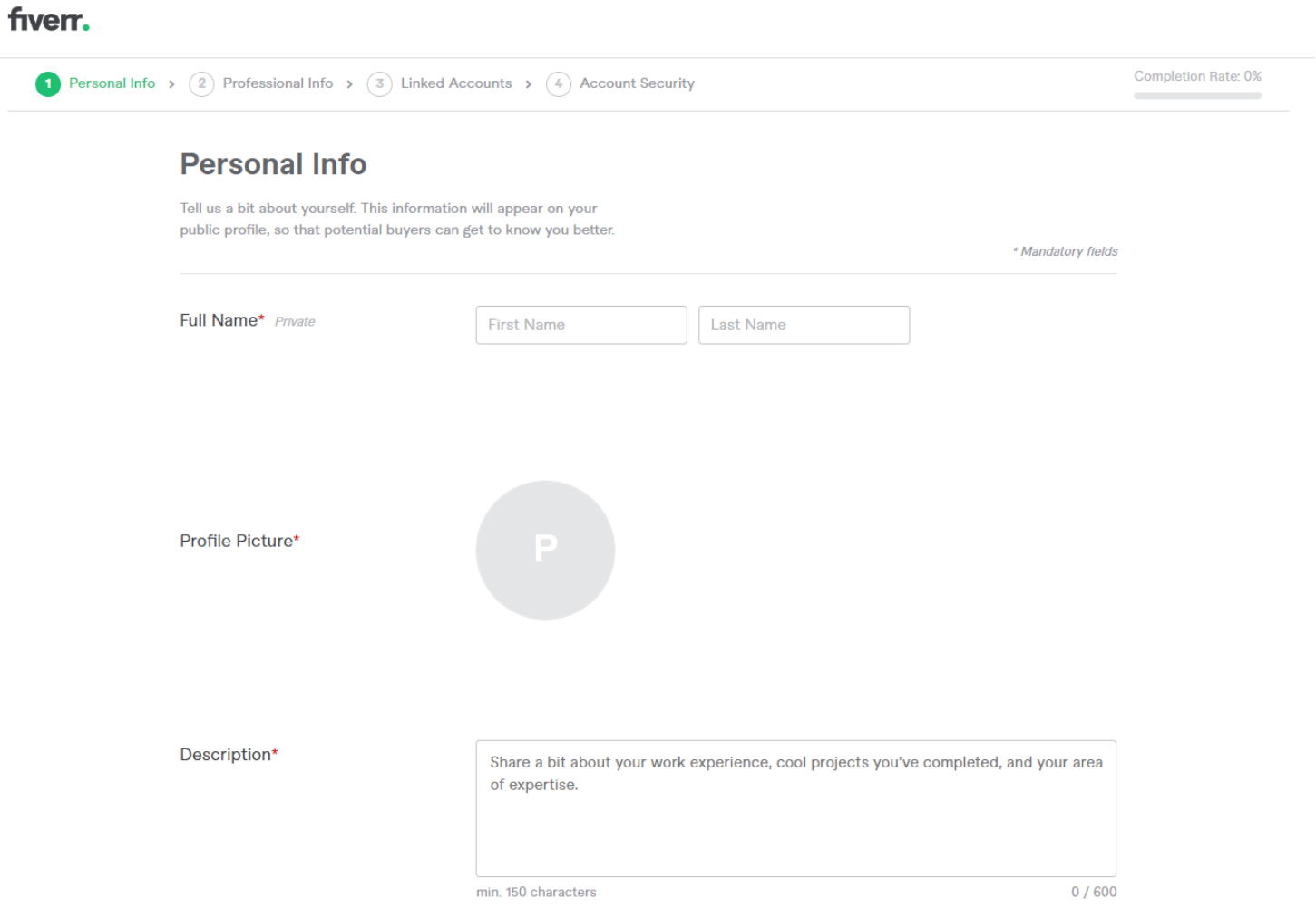 Now it's time to make your seller profile.
Use as much detail as possible to advertise yourself and your skills, such as which 3D software you excel in.
This will help you attract more clients. Once you're done filling out your profile, you can make your first gig and get freelance 3D artist jobs right away. Yeah, it really isn't a long process!
The Best Places To Find High-Quality 3D Freelance Artists
You can find amazing 3D artists on any of the freelance websites I've listed above, but some will be better suited to your project needs and budget. If you're looking for a variety of 3D designs and affordable options,
I recommend Fiverr as my top pick
. You can also
use Fiverr Pro
 to hire more experienced (albeit pricier) 3D talent. Or, if you want a wide pool of 3D artists with industry experience,
Upwork is great for finding veteran 3D experts
. If you care more about removing the hassle of hiring a good freelancer,
DesignCrowd offers the best crowdsourcing for 3D art
 on the market. If you're not quite ready to make a decision, refer to this table for a comparison:
| | | | | |
| --- | --- | --- | --- | --- |
| | Pricing | Best Feature | Best For | |
| Fiverr | $ | Large collection of 3D artists and niche 3D services. | People with specialized 3D projects. | |
| Upwork | $$ | Robust project management tools. | Employers with long-term or large projects. | |
| DesignCrowd | $$ | Crowdsourcing 3D projects. | People who want lots of 3D design options. | |
| 99Designs | $$$ | Global 3D art contests. | Users looking for an easy experience. | |
| CGTrader | $$ | Large marketplace of 3D models, renders, and 3D printing files. | People who need 3D models, animation, particle effects, and more. | Browse Artists >> |
| Fiverr Pro | $$$ | Quality-assured 3D artists. | People who want to hire the best 3D artists available. | |
| Cad Crowd | $$ | Specialization in CAD products. | People who work in CAD. | |
| Creativepool | $ | Networking capabilities. | Employers on a budget. | Browse Artists >> |
FAQs
What is 3D modeling?
3D modeling is the art of making objects for computers, such as characters, set pieces, and environments that appear in apps, videos, and games. 3D modeling can also be used to make designs for architectural renderings, product design, cover art, and 3D printing.
How do I become a freelance 3D artist?
Sign up on one of these freelance websites for 3D artists, post a job, and start networking. My advice is to set your price low in the beginning, and start raising your rates once you've got more experience and positive reviews.
How much does it cost to hire a freelance 3D artist?
That depends on the 3D artist's experience and price rate. You can hire beginner 3D designers pretty cheaply, but if you want someone more experienced, be prepared to pay more. Refer to our list of the best freelancer sites to get a better idea on pricing and how to hire for your budget.
What common mistakes are made by freelance 3D artists?
Experienced 3D artists may undercharge for their work or fail to use contracts and/or reputable freelance sites to protect themselves. Beginner 3D artists sometimes don't advertise themselves well enough or can't get gigs due to high price rates, slow response time, and lack of outreach tactics.
What should I look for in a 3D artist?
A strong work portfolio with 3D art you like and positive reviews from past clients. These two things are likely indicators that the 3D artist can deliver high-quality designs. Also follow what we look for when testing a freelance website for 3D art.