only a few can give you the tools you need to successfully manage your construction company business
. Whether you're a large general contractor or an individual subcontractor, you'll appreciate features like
custom templates and reports to stay on top of your projects
and monitor your work's progress. Real-time communication features are essential for enhancing collaboration, while
easy access to financial tools can help you streamline your processes
and save time. On top of that, you'll want software that's cost-effective and easy to use. After thoroughly testing dozens of popular options, I found six project management software that can get contractors organized while also keeping their clients happy.
With construction-specific templates and data-driven reporting, my top recommendation for complex construction projects is monday.com.
Its various project views also allow you to visualize your project's timeline and stay on track. You can try monday.com for free, or keep reading to see which other project management platforms made my list.
Short on Time? Here Are the Best Project Management Software for Construction Companies in 2023:
monday.com – Intuitive interface and a high-level overview of your projects.
ClickUp – Efficient content collaboration and real-time communication tools.
Smartsheet – Great construction project templates and a mobile app.
What We Look For in the Best Project Management Software for Construction Companies
While testing project management software for this article, I focused on the features you'll need to create and track your construction company projects successfully.
Streamlined and easy to use. Your focus and creativity should be on your clients' projects, not on figuring out how to create tasks. All the project management platforms on my list have an intuitive interface with features that are easy to find and use.
Customizable project templates. These platforms offer project templates that are easy to customize based on your specific requirements, such as fields for resource allocation or budget reporting.
Collaboration tools. Having various ways to collaborate and keep all communication in one place is essential for all construction projects. These tools offer efficient communication tools, such as chat apps and shared dashboards.
Useful built-in features. My recommendations include extra features your construction company might need, such as document storage, billing and invoicing tools, and more.
Integrations. If software lacks particular built-in features, it should provide easy access to them via third-party tools. These platforms offer numerous integrations, from scheduling to customer relationship management and expense tracking.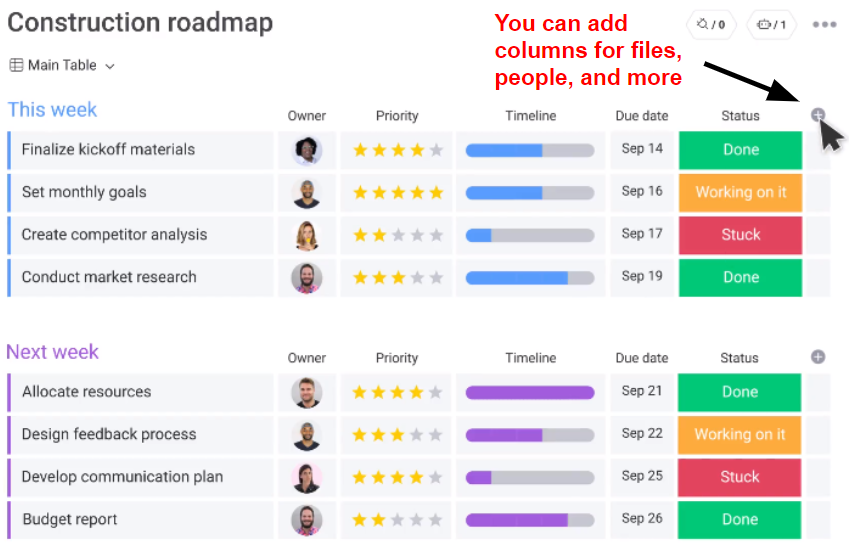 monday.com is a work management app that lets you handle simple, day-to-day tasks and more complex projects. With
monday.com's construction management template
, you can assign tasks, monitor the real-time status of ongoing construction projects, and manage your budget. Additionally, you'll have access to over 200 project templates you can customize to fit your needs.
monday.com's great organizational system allows you to be very specific about your construction projects.
Templates have customizable boards with items that show individual tasks, columns that display data, and groups that help you segment information. This makes it easy to visualize your work as a whole. monday.com's free plan is a good option for subcontractors. You can add up to two users, and you get unlimited boards and two task views. However, monday.com's best features are only available on paid plans.
The Standard plan offers the best value, especially for larger teams
. You get more task views, automations, integrations, and guest access.
Features
Nine task views. monday.com offers nine ways to see your tasks, including Kanban (displays your tasks as cards on a board), Gantt (shows your tasks on a timeline with goals), Map, File views, and more.
Advanced reporting features. monday.com's efficient reporting tools let you create dashboards that display data from multiple boards, which gives you a high-level overview of your construction projects. You can see your team's workload, track progress over time, and more.
Time-saving automations. monday.com has a rich set of automation features to help you save time on routine tasks. You can use these to create tasks, send notifications, update statuses, and more.
Time-tracking column. monday.com's time-tracking column (available on the most expensive plan) allows you to track how much time you spend on a specific task, simplifying the billing process.
Read our full monday.com review
for more details.
Free plan

✔

Collaboration tools
Discussion threads, shared dashboards
Built-in time tracking

✔

Starting price

$

8.00

ClickUp is an all-in-one platform that does many things at once. In one app, you get advanced project management tools (e.g., shared dashboards and automations) and bonus features such as time tracking and document storage.
The construction-specific templates are designed to keep you organized and help you track your budget and resources.
Thanks to
ClickUp's real-time collaboration options
, you can streamline communication between the field and office so your workflow runs smoothly. Aside from the built-in chat function, ClickUp offers a Docs app that lets your team edit content in real time and collaborate on all types of documents, from design concepts to build specifications.
Another great thing about keeping all documents in one place is that you can offer transparency to your clients.
Even on its cheaper plans, ClickUp makes most of its premium features available, offering great value at an affordable price. While the free plan is a solid option for smaller teams or individual contractors, there is a limit to how many times you can use certain features.
ClickUp's Business plan
will likely be enough for construction companies of any size
– it includes 10,000 automations per month, advanced reports, and the ability to add up to 10 guests.
Features
Customizable workspace. ClickUp allows you to personalize your workspace by adding your avatar, changing colors and layouts, and switching to dark mode (which changes your screen's background color to black). This is especially helpful if you're working overnight.
Whiteboards. ClickUp's Whiteboards function like mind maps, allowing you to collectively brainstorm and action ideas in one place, which can be very helpful during the initial stages of a construction project. You can connect project goals by drawing or inserting lines, as well as add images, sticky notes, and files for more context.
Bulk action toolbar. Thanks to this handy feature, you can edit multiple tasks, subtasks, or documents all at once. You can update statuses, adjust due dates, merge similar tasks to declutter your workspace, and more.
Critical Path & Slack Time. ClickUp's extensive reporting features include the Critical Path & Slack Time tool. It highlights which tasks must be completed on time, and which can be rescheduled without affecting longer-term deadlines.
Read our in-depth ClickUp review
for more information.
Free plan

✔

Collaboration tools
Chat app, document builder, shared dashboards, Whiteboards
Built-in time tracking

✔

Starting price

$

5.00

Of all the project management software on my list, Smartsheet has the widest selection of construction templates
. It provides specific
templates for every stage of the construction process
, from scheduling and estimating to final checks before the project wrap-up. Smartsheet even offers specific templates for residential and commercial construction projects. Although Smartsheet has a grid interface like Excel, you can avoid the mundane look of traditional spreadsheets by using its Kanban, Gantt, or Calendar views. You can add all kinds of columns, from symbols and dates to contact lists and checklists.
You can also attach important documents like contracts, permits, and regulations to individual rows within sheets
. Even though it doesn't have a free plan, Smartsheet offers an unrestricted 30-day trial. If you like it,
I recommend upgrading to the Business plan
. It offers features that most competitors only provide with their custom-priced plans, such as unlimited collaborators and unlimited automations.
Features
Built-in forms. Whether you need an employee's contact information or customer feedback, Smartsheet allows you to send out forms and collect data. Also, when you customize your forms, you can use conditional logic to get specific questions to appear based on previous answers.
Proofing. Smartsheet's Proofs feature lets you edit and approve files and add comments to specific sections, which can be useful for design concepts.
Document builder. You can use this feature to create customized documents with sheet data. All you need to do is map the fields in your sheet to a fillable PDF form or a DocuSign template when you need to collect signatures.
Fully functional mobile app. Smartsheet's mobile app has nearly every functionality of the web version. Dashboards automatically adapt to your screen size, and you can directly import data from your phone's calendar or contact list to your sheets.
Learn more in
our expert Smartsheet review
.
Free plan

✘

Collaboration tools
Comments, proofs, Slack integration
Built-in time tracking

✔

Starting price

$

7.00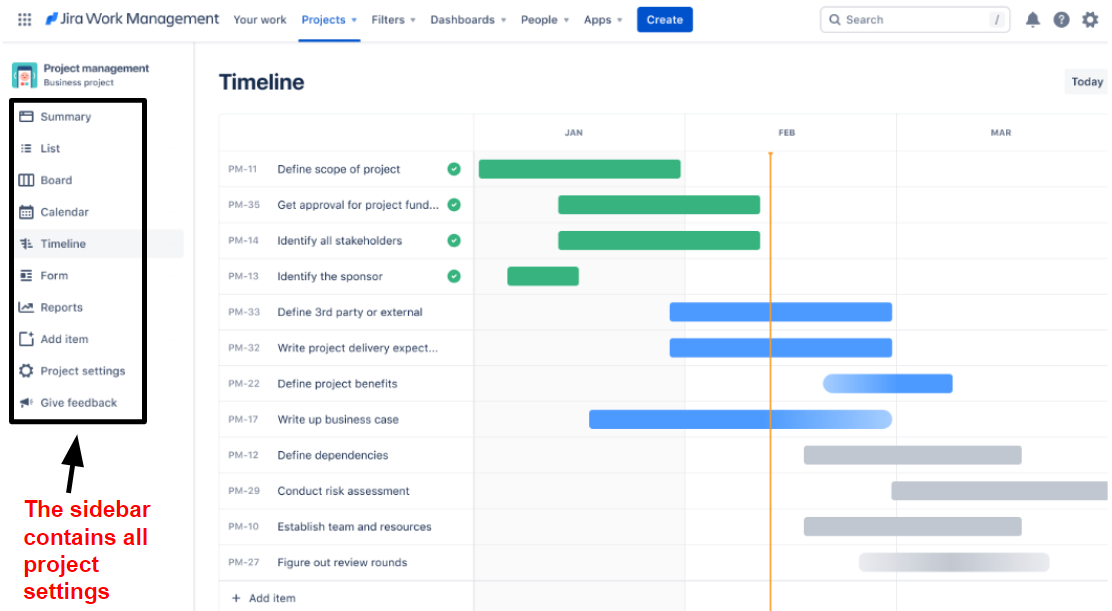 Jira Software is one of four Jira-branded products
under parent company Atlassian. This software provides core project management features, such as project and task tracking and workload management. However, when combined with Jira Confluence, you get a versatile solution with excellent collaboration tools.
By leveraging the unified power of both Jira products, you'll get access to over 100 customizable templates and multiple project views.
That includes a project summary dashboard, which allows you to see a quick overview of your project's progress, recent activity, workload, and more. Jira Software's free plan is ideal for smaller teams as it covers up to 10 users and includes all the core project management features. On the other hand, larger construction companies will benefit from Jira's Standard plan. You get more features (e.g., automation actions and audit logs)
and
if you have over 100 users, you'll receive a discounted per-user rate
. The same pricing structure applies to Jira Confluence, too – it's free for up to 10 users, and the per-user cost is discounted when you add more users. Also, you can save more money by signing up for annual plans.
Features
Robust app marketplace. Jira offers over 3,000 integrations, including popular choices like Slack for instant messaging and Clockify for time-tracking. You can filter your search based on whether you need an app for Work Management or Confluence.
Flexible user permissions. When you create a new construction project, you can set permissions for what your team members and collaborators can do within the project. Also, Confluence allows you to set individual permissions per page.
Page versioning. With Jira Confluence's Page Versioning tool, you can track any changes made to a page, compare different versions, and roll back to a previous version if needed, which is especially useful for design concepts.
Customizable reporting. Jira offers several ways to generate your project reports. You can display data daily, weekly, monthly, quarterly, or yearly. Also, you can choose whether or not to display subtasks or certain statistics, such as assignee or priority level.
See our expert Jira review
for more features.
Free plan

✔

Collaboration tools
Shared dashboards, a document builder with Jira Confluence
Built-in time tracking

✔

 (with Jira Confluence)
Starting price

$

7.75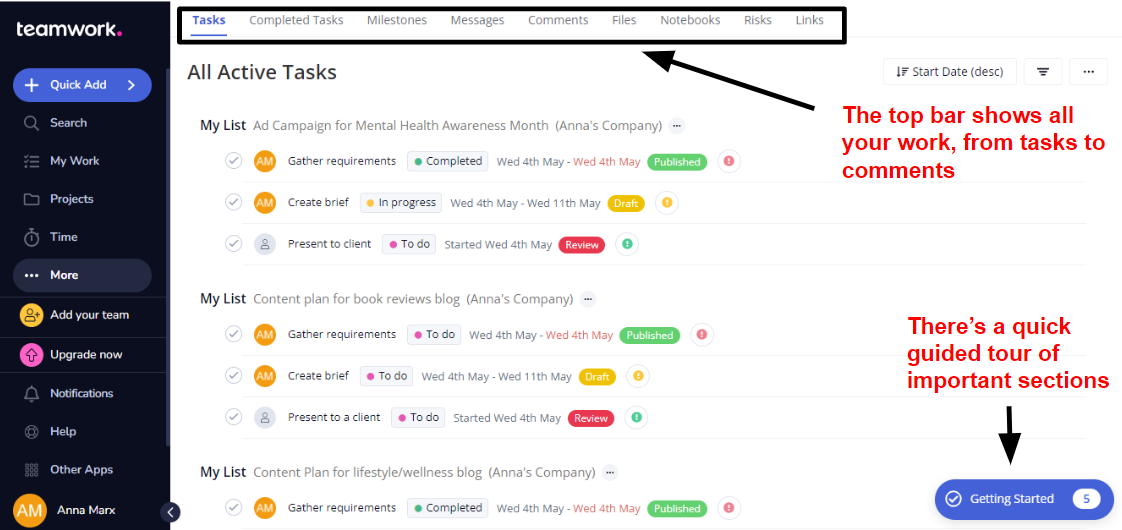 Teamwork's interface is easy to navigate, even if you're a beginner. While setting up your Teamwork account,
you'll learn how to create your first project so that you can get a feel for the platform
. Customizing Teamwork is also fun – you can personalize your dashboard by changing colors, adding your company logo, and even adding a project logo.
Teamwork is all about client work, and its features can be extremely useful for general contractors
. You get free client seats that you can assign to the subcontractors you regularly work with, so they have full access to select projects. Teamwork also offers free collaborator seats, which you can use to add contractors on a short-term basis. Teamwork has a generous free plan that allows you to add unlimited collaborators, but you can only have two active projects at a time.
Regardless of your company size, Teamwork's Deliver plan offers great value.
It allows you to create up to 300 projects, add unlimited clients, and access more features, such as workload management and invoicing.
Features
Flexible task management. Teamwork gives you full control when it comes to creating tasks. You can bulk edit tasks, assign tasks to multiple users, and save task lists as templates for future use.
Built-in time tracking and invoicing. Teamwork lets you track time for entire projects and individual tasks, mark time entries as billable, and add them to your invoices. You can also send out invoices directly from the platform or export them to QuickBooks or Xero.
Search everything. Teamwork's Everything tool shows all active and completed tasks, links, milestones, messages, comments, files, and even time logs so you can quickly find what you need.
Extensive product suite and integrations. Teamwork's suite of products includes tools like Teamwork Chat (instant messaging), Teamwork Spaces (content collaboration), and Teamwork Desk (client request management). On top of that, you can integrate Teamwork with over 50 third-party tools, such as Slack, Zapier, and HubSpot.
For a more in-depth look,
check out our updated Teamwork review
.
Free plan

✔

Collaboration tools
Chat app, comments, shared dashboards
Built-in time tracking

✔

Starting price

$

10.00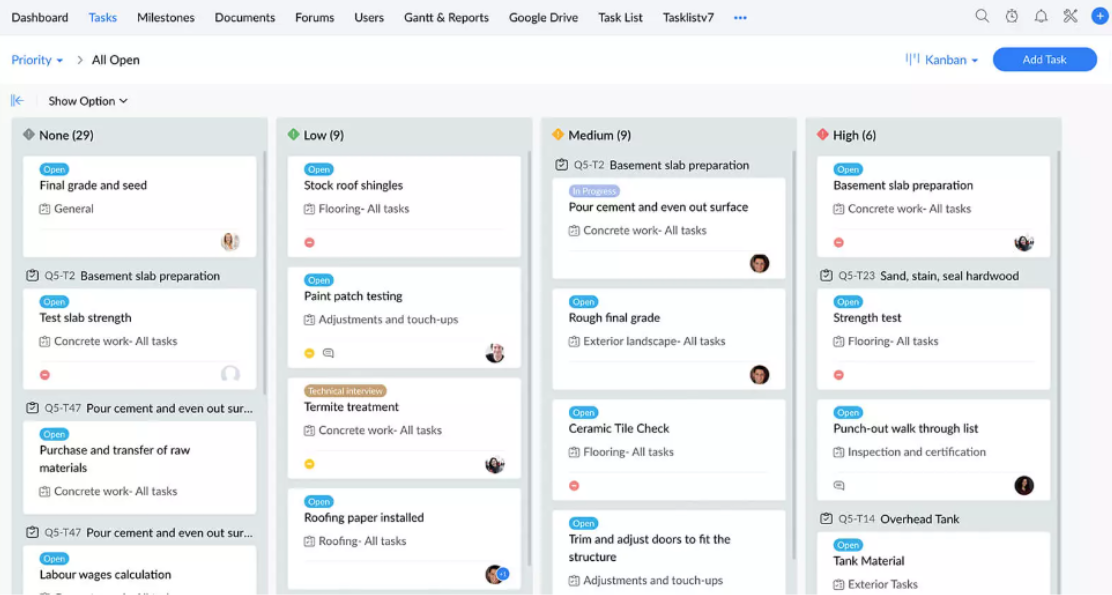 Zoho Projects' simple but efficient set of features works well for smaller teams. The software uses
a milestone system that lets you break down every project into smaller chunks – milestones, list tasks, tasks, and subtasks
. You can also create custom dashboards and add widgets such as timesheet summary and budget status to display the most important information for every project.
Zoho Projects has stellar collaboration features
to help teams coordinate and connect. There's a built-in chat function for real-time communication and a forum where you can post topics and interact via discussion threads. For video meetings, you can integrate the Zoho Meeting app, which is available in the Zoho Projects App Market. Zoho Projects has a free plan (for teams of up to 3 users) and two affordable paid plans.
Zoho's Premium plan has more than enough functionality for bigger teams
. You get unlimited projects, features like time tracking and project budget, and access to Zoho's integrations, which include Zoho Meetings, Zoho Invoices, Zoho Forms, and more.
Features
Blueprints. Zoho Projects offers the blueprint feature, which lets you define every step of a specific work process. You only need to create a blueprint once, and you can reuse it as needed.
Resource utilization. This handy feature shows the workload of each team member to help you ensure nobody is under or overworked.
Create and share content. Zoho's Documents allow you to either upload files or create them from scratch using Zoho Writer (for text docs), Zoho Sheet (for spreadsheets), or Zoho Show (for slide presentations).
Zoho Encyclopedia. Zoho Projects' Pages allows you to create your project's own version of a Wikipedia page to keep all information in one place.
Learn more about Zoho's pros and cons in our expert review.
Free plan

✔

Collaboration tools
Chat app, forums, document builder
Built-in time tracking

✔

Starting price

$

4.00
What Are the Best Construction Project Management Software?
All the project management platforms on this list allow you to stay on top of construction projects, big and small. However, the best project management software for your construction company is the one that best meets your needs. If you're managing complex construction projects,
monday.com is my top recommendation
. Its granular system makes it easy to view your workflow, and effective automation and reporting tools contribute to a smooth construction process. If your top priority is real-time collaboration,
ClickUp has everything you need to succeed
. ClickUp has a built-in chat function and document storage, allowing your team to collaborate on projects in real-time and making sure everyone is up to date on the latest project developments. Or, if you're looking to speed up the process of setting up your construction projects,
Smartsheet is worth a try
. Smartsheet offers a diverse selection of construction-specific project templates, covering all types and stages of construction projects.
Check out the comparison table below to review everything we've discussed so far:
Free Plan
Best Feature
Best For
Starting Price
monday.com

✔

Granular system for a high-level overview of your projects
Complex construction projects

$

8.00

ClickUp

✔

Real-time collaboration tools
Keeping all communication and documentation in one place

$

5.00

Smartsheet

✘

Diverse construction project templates and a fully functional mobile app
Setting up construction projects quickly and managing them on the go

$

7.00

Jira

✔

Over 3,000 integrations
Larger construction companies

$

7.75

Teamwork

✔

Beginner-friendly with built-in billing tools and free collaborator seats
Contractors with numerous collaborators who want to streamline all company processes

$

10.00

Zoho Projects

✔

Native suite of products
Smaller construction companies that need easy access to additional functionality

$

4.00
FAQ
What is the best construction project management software for small businesses?
It depends on your priorities. If you want to set up projects quickly, Smartsheet has quality construction templates to help you get started. Alternatively, if you're looking for built-in features such as time tracking and document storage at an affordable price, Zoho Projects is worth considering.
Can I use construction project management software for free?
Absolutely. Many project management platforms have great free plans that include basic and advanced features. ClickUp, for example, offers most of its features for free but limits the number of times you can use them. If you need more, ClickUp's paid plans are pretty affordable, so they are worth the upgrade.
What are some important features to look for in construction project management software?
An efficient construction PM platform should be flexible enough to handle projects of all sizes. Reporting tools are essential to monitor your work's progress, as are collaboration options to keep communication going. Built-in document storage comes in handy for design concepts and offering clients transparency. Time-tracking and invoicing tools, on the other hand, help you streamline company processes. For more solutions, check out our list of the best project management software for 2023.
Is monday.com good for a construction company?
monday.com has a construction management template to help you get started with your projects. It provides a high-level overview of your workflow and effective automation and reporting tools to help you optimize your processes and stay on top of tasks. monday.com also has an intuitive, colorful interface that's easy to navigate, so it's a good option for novice and experienced construction project managers.