How do you know if you're going to be paying for what you actually need, or overpaying for a bunch of unnecessary features?
Although more and more hosts are offering cloud hosting solutions, there doesn't seem to be a single unified model of what cloud hosting services should include. The information isn't always clear, and sometimes there isn't even a way of knowing if a cloud hosting service is managed or unmanaged. To help you make the right choice, I compared the big brands, AWS, Google Cloud, and Microsoft Azure, with hosts you may not have heard of – but just might be able to provide you with a much better cloud hosting experience.
In a Hurry? These Are Our Top Cloud Hosting Services for 2023
Liquid Web – Powerful cloud hosting with the best service guarantee around
Kamatera – Flexible and easy to configure, with up to 72 vCPU processing power
FastComet – Shared and VPS Cloud Hosting with RocketBooster for Speed
What We Look For in the Best Cloud Hosting Services
While cloud hosting plans vary significantly, there's still a set of features that the hosts on this list all provide:
Reliability and uptime – One of the most talked-about benefits of cloud hosting is its reliability, since it's not dependent on a single physical server. However, some cheap cloud hosts may still cut corners, and this can affect uptime and reliability. The best cloud hosts on this list stand out for exceptional reliability and speed.
Generous resources – If you're moving from shared hosting, you may have become used to the "unlimited" storage and bandwidth many hosts claim to offer (although there's actually no such thing as unlimited storage and bandwidth). Cloud hosting offers different levels of storage, memory, processing power, and bandwidth. All the hosts on this list have fairly generous resource provision on their base-level plans.
Multiple server locations – Although cloud hosting is built on thousands of servers working together, the cloud hosts on this list all give you some choice over the location of your servers so you can choose the ones closest to your visitors.
User-friendliness – While cloud hosting is rarely as simple to use as shared hosting (unless it's a managed service), the best cloud hosting solutions are relatively easy to learn or have really good knowledge bases or tutorials.
Easily scalable – The best cloud hosting providers make it easy to add more resources to your hosting plan as your website grows, ensuring that your visitors won't experience any disruption when you're getting more traffic.
1. Liquid Web – Powerful Cloud Hosting with the Best Service Guarantee Around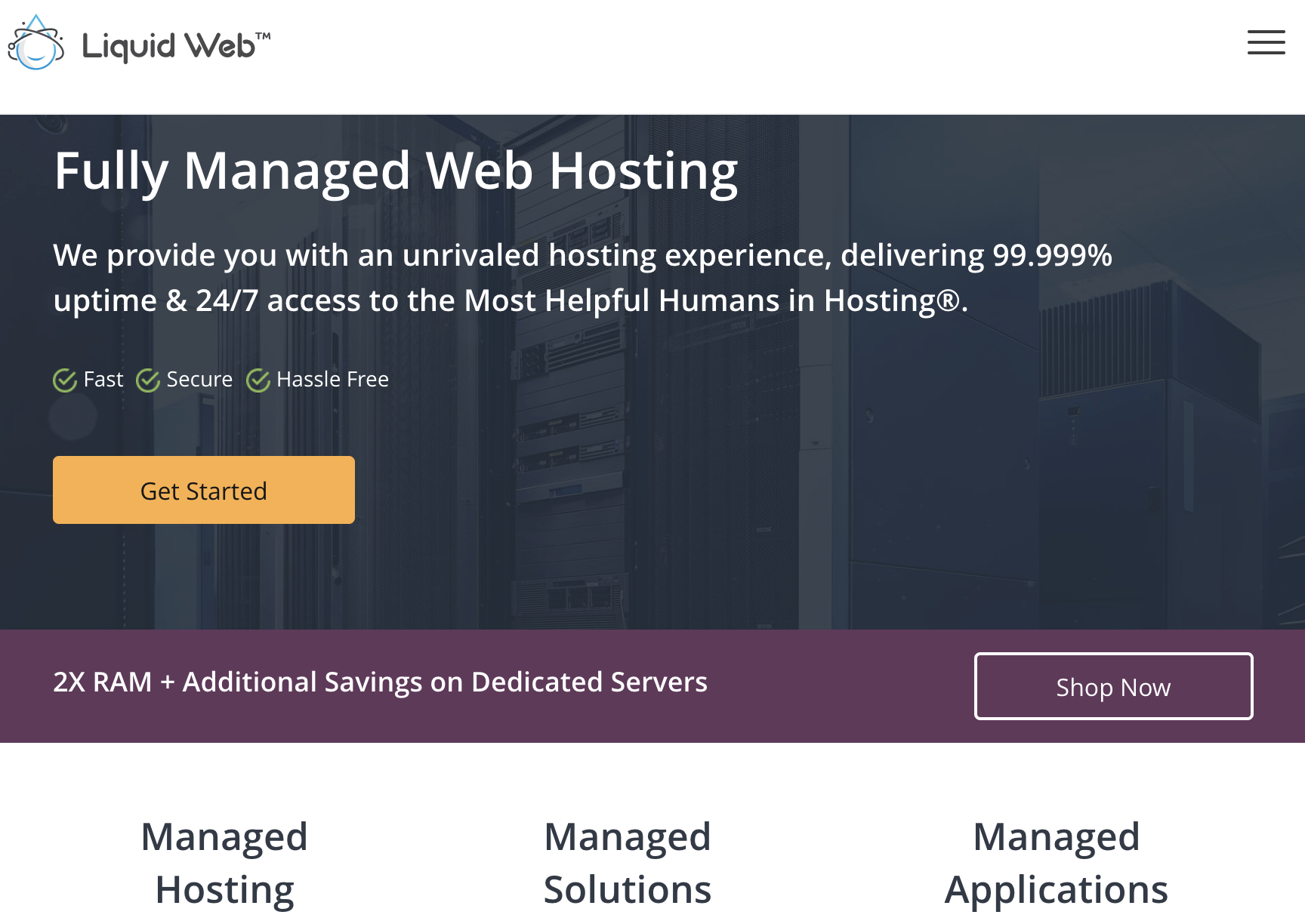 Liquid Web offers a cloud hosting solution for pretty much every kind of need. Hosting types include:
WordPress and WooCommerce cloud hosting
VPS cloud hosting
Cloud dedicated
VMware private cloud
Liquid Web's cloud hosting plans
 aren't cheap, but if you are on a budget, you could opt for a single-site managed WordPress cloud hosting plan. It doesn't tie you into long-term contracts, either (you can pay monthly for no extra cost).
What's more, unlike some hosts, Liquid Web won't charge you more or suspend your service if you exceed your monthly bandwidth allowance.
They will contact you to discuss upgrading – but you don't need to worry about your website going down in the meantime. If it's just a traffic spike, you can stay on your existing plan, too.
My biggest gripe with Liquid Web is that there's no money-back guarantee if you choose to pay upfront for one or two years.
If you're on a monthly plan, you may be able to get a refund within the first few days of signing up, but Liquid Web says that it "doesn't, as a rule, provide refunds on annual plans."
Features
The company's own data centers. Most cloud hosting providers will use other providers' servers as well as their own, but Liquid Web relies solely on its own data centers – with over 25,000 servers in the US and Europe.
Excellent SLAs. Liquid Web has possibly the best service-level agreements (SLAs) out of all the cloud hosts I've tested. SLAs usually cover uptime, but Liquid Web's includes:

59-minute help desk initial response time guarantee – If you don't get a response to your help desk request within an hour, you will be credited for 10x the amount of time over the hour.
100% uptime guarantee – If your website experiences any downtime, you'll be credited for 10x the amount of downtime.
30-minute hardware guarantee – If there's a fault with dedicated server hardware, Liquid Web promises to identify the problem within 30 minutes or (you guessed it) you'll be credited for 10x the amount of extra time.

Fully managed hosting as standard. All cloud hosting products from Liquid Web are fully managed, so you don't have to worry about keeping your server updated and secure. This also means you can have a complex server setup without having to hire a developer, and they will migrate your existing website for you. You also have the option of self-managed servers with cloud VPS plans.
100 GB of cloud backups. With Liquid Web's cloud VPS plans, you get 100 GB of daily backups to the cloud, ensuring that your data can be easily restored at any time. WordPress plans also include backups that are kept for 30 days.
To learn more, read our
full Liquid Web review
.
| | |
| --- | --- |
| Basic Plan Resources | 2 vCPU, 2 GB RAM, 40 GB SSD storage, 10 TB bandwidth (Cloud VPS) |
| Maximum CPUs and Storage | 8 vCPU and 200 GB SSD (Cloud VPS) |
| Maximum Bandwidth | 10 TB (VPS) |
| Fixed Resource Plans or Customizable? | Fixed |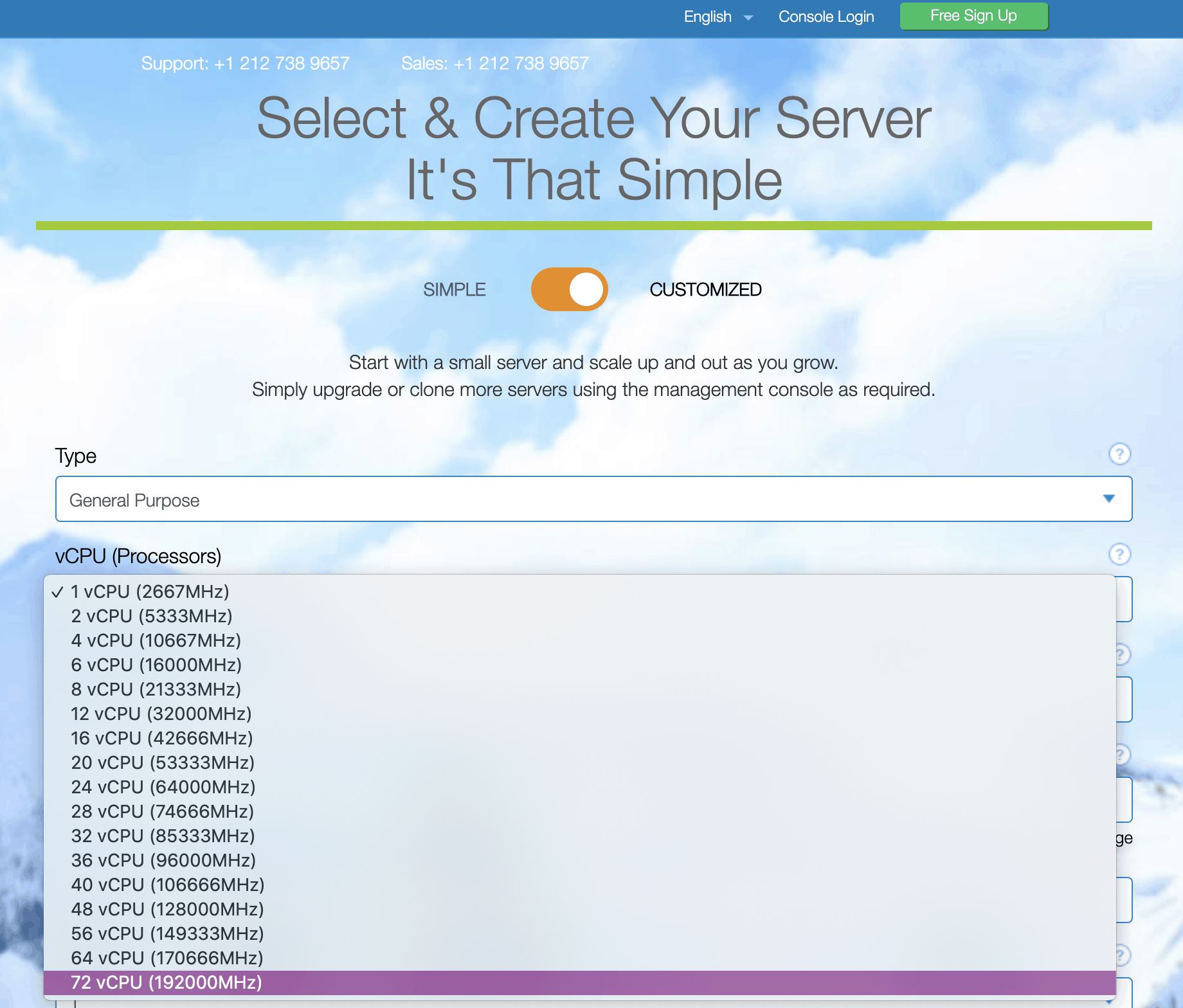 Kamatera has 13 data centers across four continents, with servers in the US, Europe, Israel, and Hong Kong.
Because it utilizes fast Intel Platinum 8270 processors, its servers are quick and powerful,
giving you the performance you need, no matter how resource-hungry your website is. While it doesn't match Liquid Web's uptime guarantee, it does have a 99.95% uptime guarantee. If you hit a problem, its technical support teams are available 24/7 –
and you can also choose to have a fully managed server (at a fixed monthly cost).
The difference between a fully managed server and a managed server with Kamatera is primarily in the level of support you get – with the fully managed option you have an on-demand expert to handle every aspect of your server, so you don't have to hire an in-house expert systems administrator. The managed server option includes monitoring and maintenance but the day-to-day systems administration is up to you.
Features
Completely customizable. Although you could opt for one of the simple, pre-configured plans, Kamatera enables you to fully customize your cloud server setup. You choose the number of processors, RAM, storage, IP addresses, the data center, the operating system, and add-ons such as cPanel or Plesk.
Operating system options. Kamatera lets you choose from various operating systems, including the latest versions. Operating systems available include:

CentOS Linux v5-8
CloudLinux v5 and v6
Debian GNU/Linux v7-10
FreeBSD v9-12
FreeNAS 11
Ubuntu Server 12.04-18.04
Windows Server 2008-2019

30-day free trial. Although you do have to enter your credit card information when you sign up, you can try out Kamatera for free for 30 days. The trial gives you access to all of the features of Kamatera's cloud management platform, one cloud server with a configuration worth up to $100, a designated account manager, 24/7 technical support, and advice on the best cloud solution for your needs after the free trial is over.
Instant scalability. If you find that you need more resources, Kamatera allows you to increase your server capacity in a matter of minutes, adding CPU, RAM, SSD, firewalls, load balancers, and more. You'll only be charged for what you use, so you're not forced to upgrade to a completely new package.
For a full list of features, read our
in-depth Kamatera review
.
| | |
| --- | --- |
| Basic Plan Resources | 1 vCPU, 1 GB RAM, 20 GB SSD storage, 5 TB bandwidth |
| Maximum CPUs and Storage | 72 vCPU, 1 TB SSD |
| Maximum Bandwidth | 10 TB |
| Fixed Resource Plans or Customizable? | Customizable |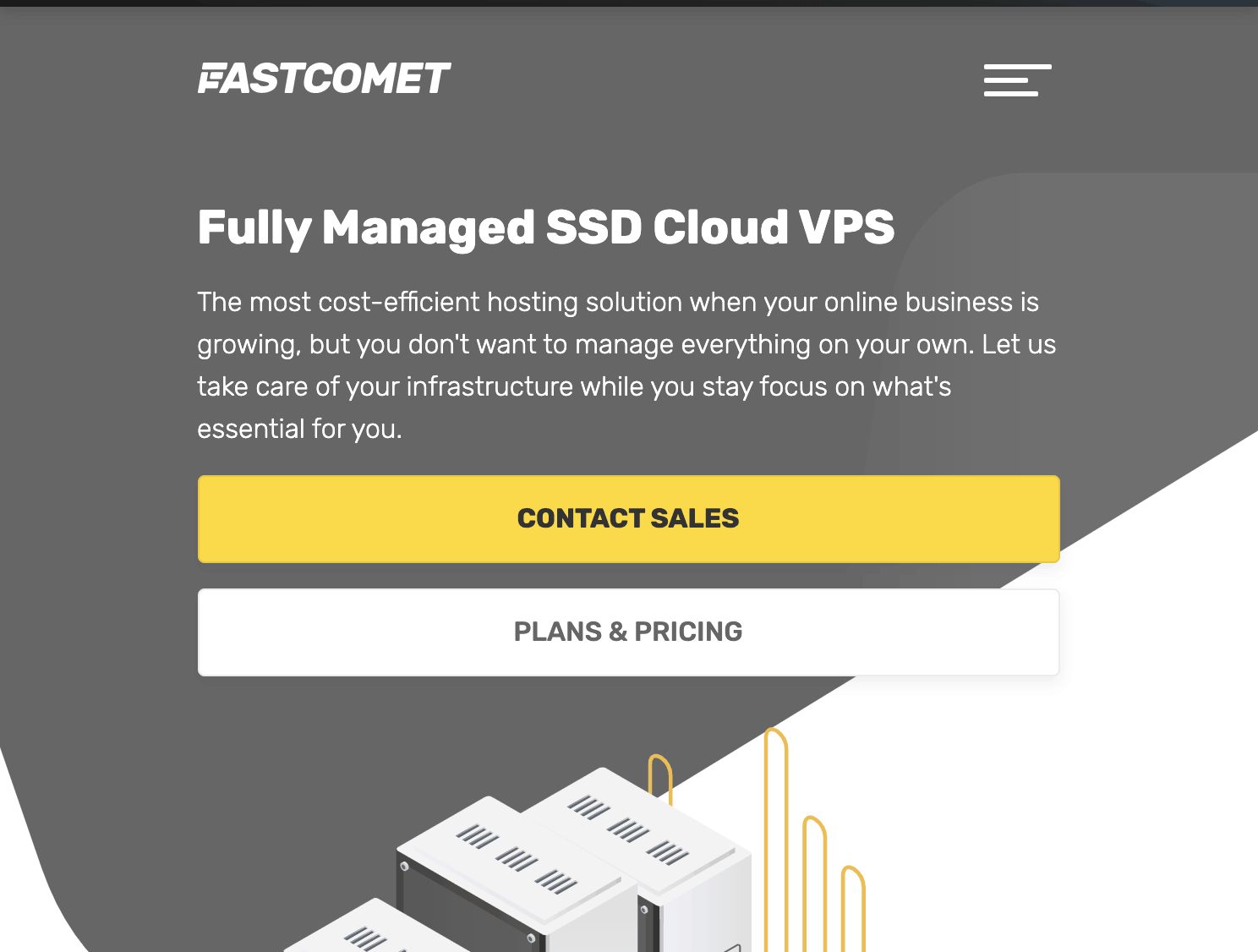 FastComet's hosting services all run on its FastCloud and come with some perks such as free backups, free domain transfer, and an express migration service.
There's a 45-day money-back guarantee with shared plans and a seven-day money-back guarantee if you opt for VPS servers.
FastComet's cloud VPS plans are fully managed, so everything from setup to updates, backups to upgrades is taken care of.
Plans come with fixed resources, but you won't face charges or service suspension if you go over your monthly bandwidth limits. You'll simply be advised to upgrade to a higher plan if you're consistently exceeding your bandwidth.
Features
Cloud shared or cloud VPS hosting. FastComet has a cloud hosting solution for everyone – so if you're more interested in budget-friendly hosting than in the benefits of VPS hosting, the shared cloud plans can be a great choice (and you can always upgrade to VPS later). There's also dedicated cloud hosting available.
RocketBooster optimization. Your cloud server will automatically be optimized for the best speeds, but FastComet also offers RocketBooster, its bespoke optimization setup that includes static and dynamic caching, LiteSpeed technology, and more. This ensures your website is fast no matter how much traffic you get.
24/7 priority support. With Cloud VPS plans, you benefit from going to the front of the queue when you need help. Response times are fast, regardless of the time of day, and you can get support via live chat, ticket, and phone. The support available includes helping to fix things if you've been hacked, third-party software help and updates, and free content and database restore from backups.
Up to six months of free hosting. If you still have some months remaining on an existing plan with another host, FastComet will give you up to six months of free hosting as compensation (shared cloud only) when you choose the express transfer option. There are some conditions with this, however. You're only eligible for six months of free hosting with three-year plans (up to three months on one- or two-year plans, and one month on monthly plans).
To see the results of our speed tests, check out our
full FastComet review
.
| | |
| --- | --- |
| Basic Plan Resources | 1 vCPU, 2 GB RAM, 50 GB SSD, 2 TB bandwidth (Cloud VPS) |
| Maximum CPUs and Storage | 6 vCPU, 320 GB SSD |
| Maximum Bandwidth | 8 TB |
| Fixed Resource Plans or Customizable? | Fixed |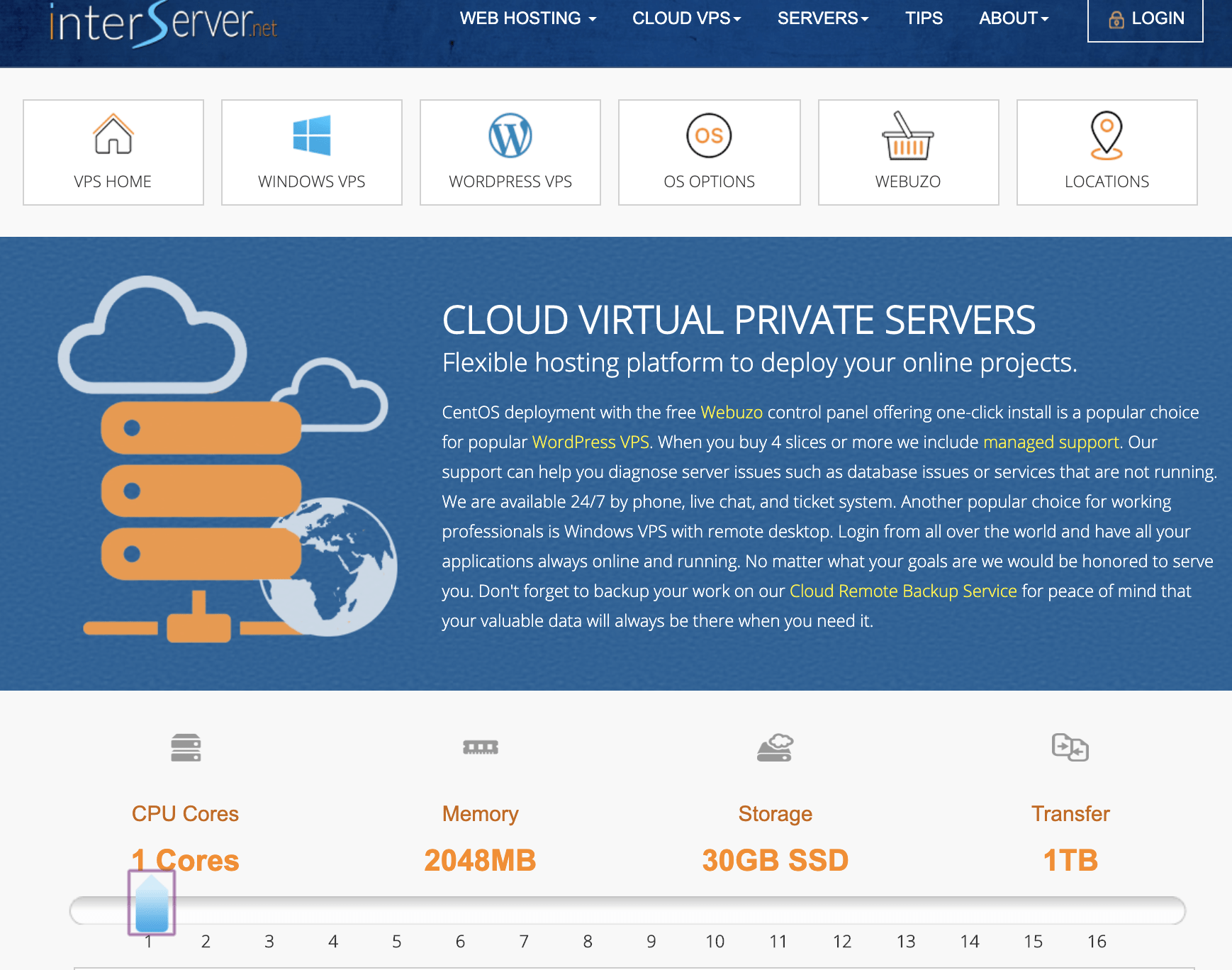 InterServer may lack the complete customization options of some of the hosts on this list, but what it lacks in flexibility, it makes up for in affordability.
It also comes with high levels of security and dedicated backup systems that include encrypted backups and simple restore tools.
InterServer's cloud hosting options include both Windows and Linux cloud VPS, as well as WordPress cloud hosting.
There's a 99.9% uptime guarantee, but the SLA doesn't specify the amount of compensation you get if you experience more downtime than that.
Features
Affordability. One of InterServer's biggest strengths is that it's budget-friendly. You can have a cloud VPS server with 2 GB RAM, 30 GB SSD, and 2 TB of data transfer for a price that's similar to shared hosting from the likes of GoDaddy or InMotion Hosting.
Free migration service. If you already have a website hosted elsewhere, InterServer will migrate the website for free to your new cloud server. Migration is available 24/7, too.
WordPress VPS optimization. WordPress is known to slow your website down in some situations, so WordPress VPS includes a preconfigured caching plugin and servers that utilize NGINX and FastCGI for blazing-fast speeds.
Webuzo. If you've never heard of Webuzo, you're not alone. Webuzo is similar to Softaculous and is a cheap and easy way of managing your cloud server and installing apps like WordPress. You don't have to factor in additional cPanel or Plesk expenses as it comes with its own easy-to-use control panel. It's the best option if you're a complete beginner.
For more information and performance test results, read our
expert InterServer review
.
| | |
| --- | --- |
| Basic Plan Resources | 1 vCPU, 2 GB RAM, 30 GB SSD, 1 TB bandwidth |
| Maximum CPUs and Storage | 16 vCPU, 480 GB SSD |
| Maximum Bandwidth | 16 TB |
| Fixed Resource Plans or Customizable? | Fixed |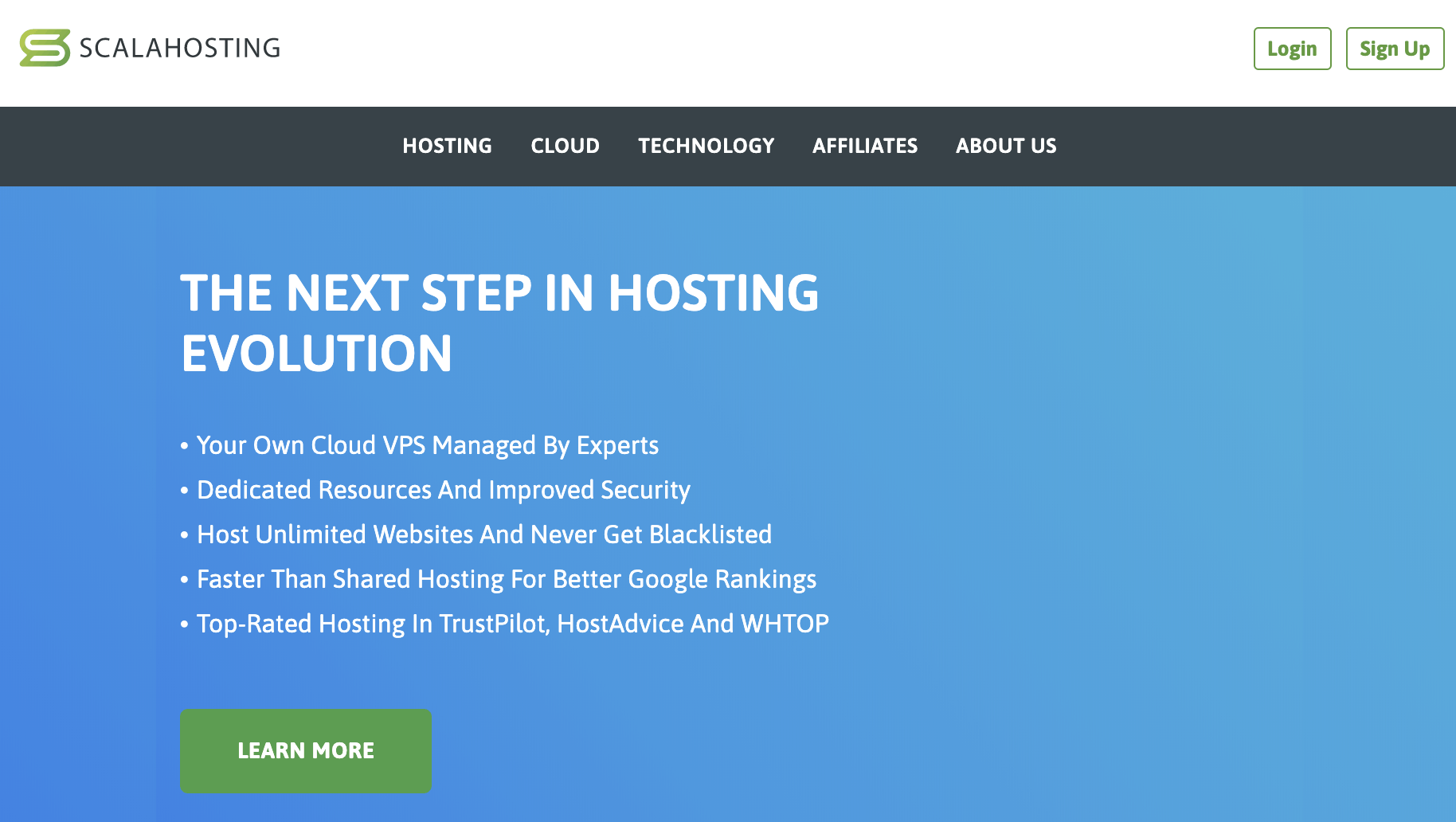 Scala Hosting is a bit of a hidden gem – you may have never heard of this hosting company that offers regular shared hosting as well as managed and self-managed cloud VPS hosting plans.
The self-managed plans are very basic and can become costly when you add on things like cPanel licenses, backups, and one-click installers such as Softaculous.
Scala Hosting's managed cloud VPS plans use SPanel (rather than cPanel), its own control panel that's specifically designed for VPS hosting
. Scala Hosting says its control panel is more secure and helps speed up your website, too. It includes a backup and restore system, free Let's Encrypt SSL, and speed optimization via NGINX and LiteSpeed.
Features
SShield Security protection. This bespoke security package, included with all Scala Hosting's managed cloud VPS plans, will block 99.998% of malicious traffic and attacks on your website. It also includes automatic notifications if a hacker targets your website. What's more, SShield Security will protect all the websites on your cloud VPS service, whether you have one or a hundred.
SWordPress Manager. For additional protection, Scala Hosting has implemented its own WordPress manager that combats the issue of questionable security with WordPress. The SWordPress Manager enables automatic updates, provides a WordPress security lock, and has cloning, staging, and backup tools included.
One-click scalability. With Scala Hosting, you can upgrade or downgrade your cloud VPS server at any time, with a single click. You can add more storage, CPU, RAM, and bandwidth as your business grows – or lower your resources if you find you're not using them.
SSD and HDD storage options. Although SSD storage is undoubtedly faster than HDD storage, HDD storage is cheaper, and Scala Hosting allows you to customize your storage allocation for the best prices. For example, you can split your storage between SSD and HDD and use SSD for the OS and databases and utilize HDD storage for files. You still get great speeds, but this setup is more efficient.
To learn more about this company, read our
full Scala Hosting review
.
| | |
| --- | --- |
| Basic Plan Resources | 1 vCPU, 2 GB RAM, 20 GB SSD, 3 TB bandwidth |
| Maximum CPUs and Storage | 24 vCPU, 500 GB SSD + up to 2 TB HDD space |
| Maximum Bandwidth | 3 TB – but your service won't be limited if you use more |
| Fixed Resource Plans or Customizable? | Fixed plans and customizable cloud solutions |
I've put Google Cloud Platform (GCP), Amazon Web Services (AWS), and Microsoft Azure together in one section because they have very similar features.
They also all have free plans that are perfect if you're not sure if cloud hosting is right for you (or if your budget is non-existent).
These three services are rather like the McDonald's of cloud computing. Everyone's heard of them, so they're fairly popular and you might be tempted to choose them just because they're so well-known. However, the quality isn't as great as more specialized cloud hosting providers, and
the service and support you get aren't ideal.
Though, if you use
Cloudways' fully-managed cloud hosting services
 with either Google or AWS, their services are significantly improved. 
Generous free trial. What stands out about Google's cloud platform is that you get $300 to spend on your cloud server during your first 12 months. Yes, you have to give your credit card details – but you won't be auto charged if you forget to cancel at the end of the 12 months (unlike most companies with subscription products).
Free forever plan. If you just want a WordPress website, for example, the free GCP tier with one F1-micro instance has enough processing power and storage for a simple website – but it's fairly limited.
Free EC2 server for 12 months. Okay, so you have a limited amount of resources to play with, but you can always scale up to a paid plan if you outgrow the free plan. There's a free forever plan, too.
99% uptime guarantee. You won't get compensation on the free plan, of course, but on other plans, you will get credits on your account if AWS can't meet 99.99% uptime.
12 months of free services. If you're a new customer, you can take advantage of a huge range of cloud computing services that are free for the first 12 months. Azure also has 25 services that will remain free forever, too. Plus, you can create Windows and Linux virtual servers on your free account.
Over 100 services. Microsoft Azure is pretty much a one-stop-shop where you can find all the cloud services you could imagine, including AI (artificial intelligence). The drawback with this: there's so much available, it can be hard to find the products you really need!
| | | | |
| --- | --- | --- | --- |
| | Google Cloud | AWS | Azure |
| Free Plan Resources | 1 vCPU, 0.6 GB RAM, 30 GB SSD, 1 GB bandwidth | 1 vCPU, 1 GB RAM, 30 GB SSD storage | 1 vCPU, 1 GB RAM, 5 GB storage, 5 GB bandwidth |
| Maximum CPUs and Storage | 96 vCPU, 1 TB SSD | 16 vCPU, 1 TB SSD | 96 vCPU, 2 TB SSD |
| Maximum Bandwidth | Works on a pay-as-you-go system | Works on a pay-as-you-go system | Works on a pay-as-you-go system |
| Fixed Resource Plans or Customizable? | Customizable | Customizable | Customizable |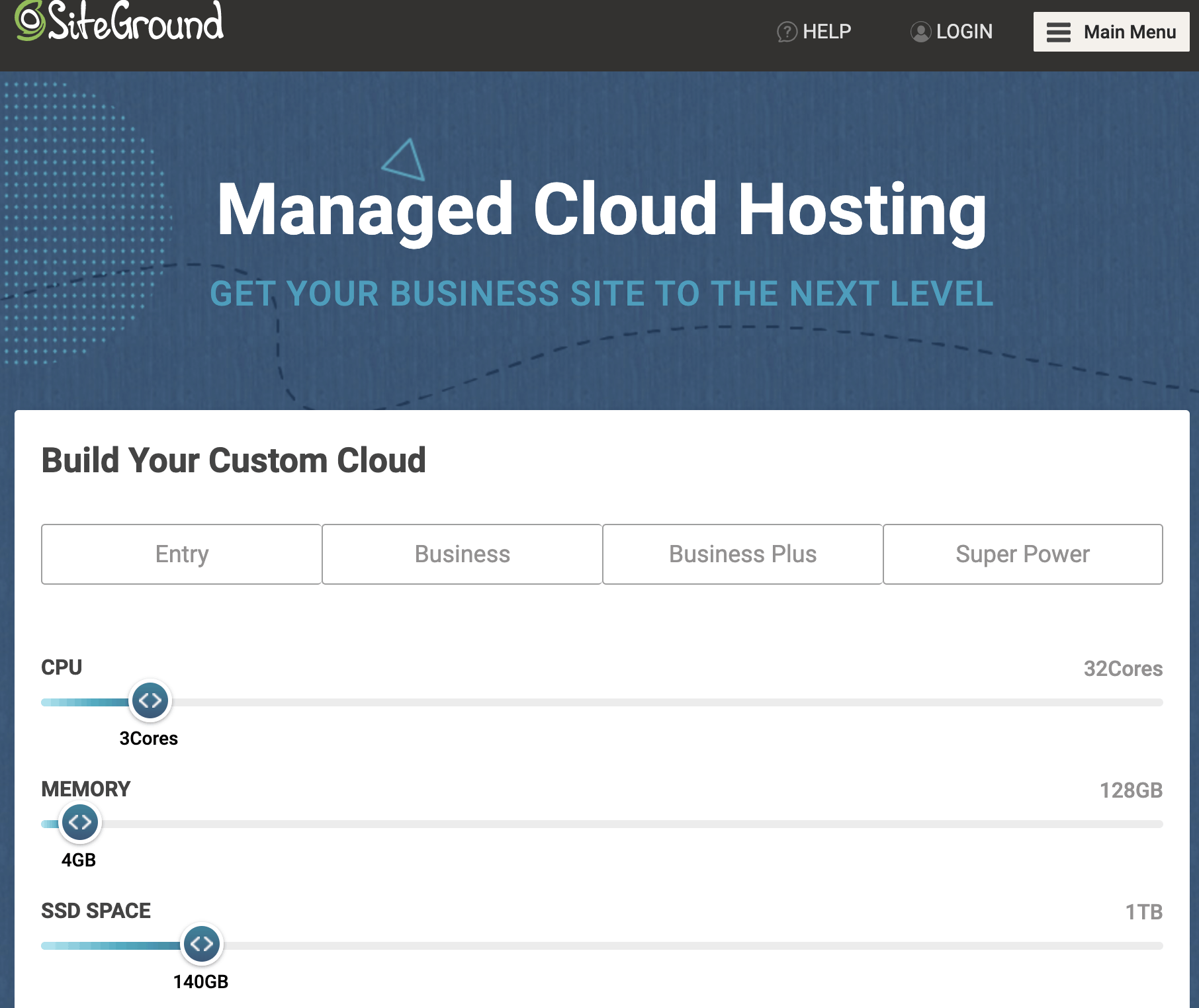 Well-known for its shared hosting packages with excellent performance, SiteGround also offers cloud hosting – and it's fully managed, too. Admittedly,
SiteGround's cloud hosting plans
 are not exactly budget-friendly, but if you want cloud hosting without having to deal with the technical aspects, then this host is a good choice. SiteGround's custom control panel, Site Tools, is the same control panel used for its shared hosting plans –
and if you already have a website, the support team can migrate it to your new cloud server in a matter of hours, for free, with zero disruption.
Daily backups are included, and free SSL certificates are automatically installed on every domain hosted on your cloud plan.
Features
Sub-accounts. If you're interested in providing websites for your clients and giving them access to their own control panels, SiteGround's cloud plans all allow you to create an unlimited number of hosting accounts via its customer area interface. You could also use this feature to create customer accounts for different aspects of your business to keep them separate.
Easy scaling. With just a couple of clicks, you can add more vCPUs, RAM, and SSD space to your account. There's also a super-useful auto-scale option that will automatically add more resources to your account if you suddenly experience traffic spikes – so you don't risk running out of resources when you need them most. And you set the limits, so you don't have to worry about excess charges.
Proactive security. SiteGround is one of the few hosts that doesn't wait for software developers to release security patches when risks are identified. It has its own team of security experts and developers who create and deploy patches as soon as security risks are recognized.
Configure your own cloud. While SiteGround does have pre-configured cloud hosting packages – Entry, Business, Business Plus, and Super Power, it also allows you to configure your own cloud package to exactly meet your needs.
To read about all the pros and cons, head over to our
in-depth SiteGround review
.
| | |
| --- | --- |
| Basic Plan Resources | 2 vCPU, 4 GB RAM, 40 GB SSD, 5 TB bandwidth |
| Maximum CPUs and Storage | 32 vCPU, 1 TB |
| Maximum Bandwidth | 5 TB |
| Fixed Resource Plans or Customizable? | Fixed plans and customizable |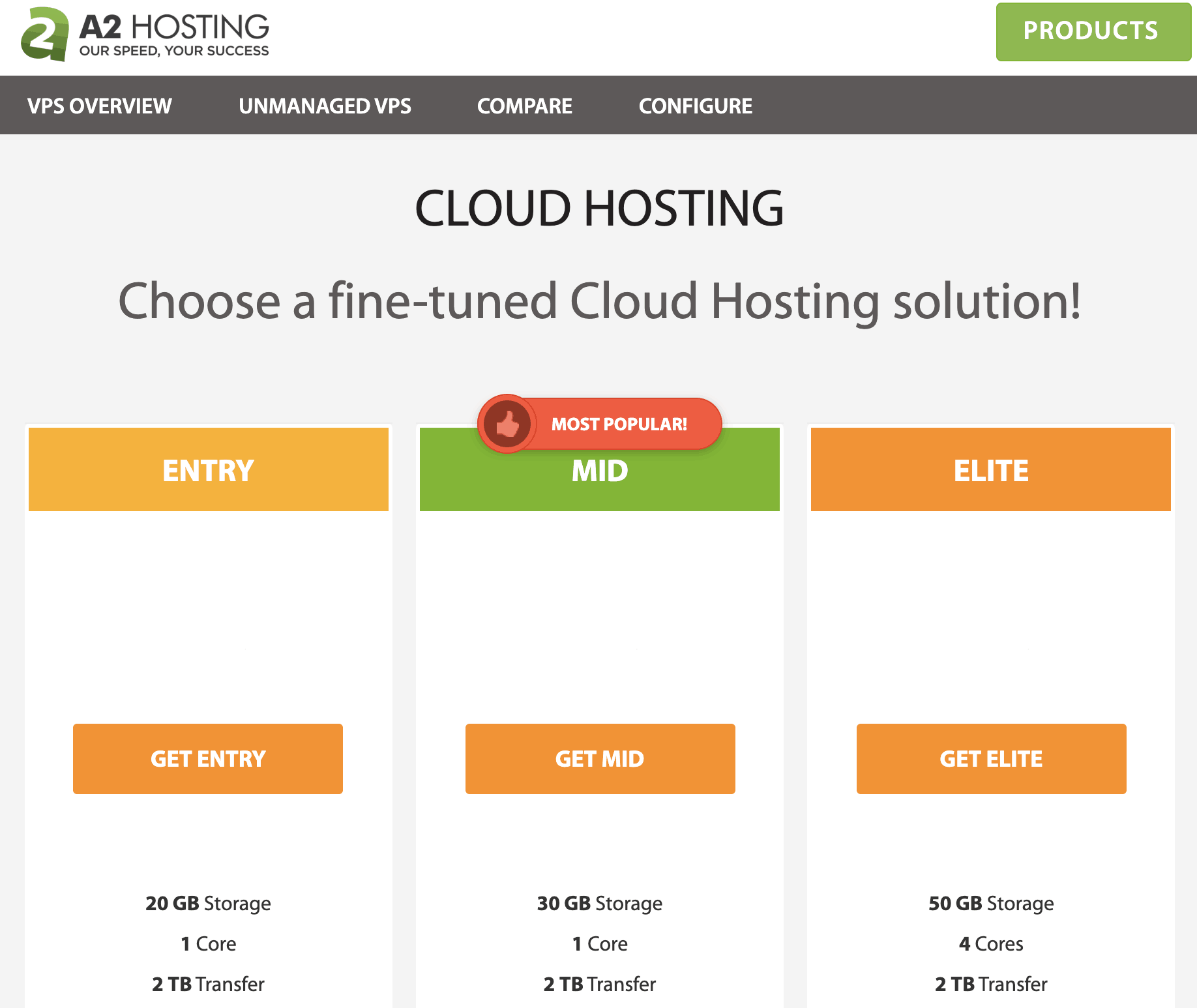 A2 Hosting's cloud VPS plans
may lack the power of some of the hosts on this list, but it's a good place to start. Its cloud hosting is unmanaged, so it's not the easiest to configure and work with (but still a better experience than the one I had with
DigitalOcean
).
You can choose from a range of Linux-based operating systems such as CentOS, Debian, Ubuntu, and Fedora.
A2 Hosting has withdrawn its Windows server options, so if you need a Windows server, then you might want to consider a host like Kamatera.
Features
Low-cost cloud VPS plans. Although A2 Hosting's entry-level cloud VPS plans won't give you a lot in the way of resources (see the table below for details), you can get started with cloud hosting at a similar price to A2's shared hosting plans.
Anytime money-back guarantee. If you're not happy with your cloud hosting from A2 Hosting, you can request a refund at any time. No limits! This kind of risk-free guarantee makes A2 Hosting ideal if you're not 100% sure whether cloud hosting is right for you.
Turbo servers. For an extra cost, you can add the benefits of A2's turbo servers to your cloud hosting plan – which results in 20x faster page loading speeds compared to other cloud hosts (according to A2 Hosting – I haven't been able to independently verify the claim).
Flexible cloud server. Although A2 Hosting advertises pre-configured plans on its sales page, when you get to checkout you have complete control over the configuration of your cloud server. You choose your SSD, vCPU, RAM, server location, operating system, and control panel license(s). You can upgrade your package at any time, too.
For a more in-depth look at this host, read our
expert A2 Hosting review
.
| | |
| --- | --- |
| Basic Plan Resources | 1 vCPU, 512 MB RAM, 20 GB SSD, 2 TB bandwidth |
| Maximum CPUs and Storage | 12 vCPU, 250 GB SSD |
| Maximum Bandwidth | 9 TB |
| Fixed Resource Plans or Customizable? | Customizable |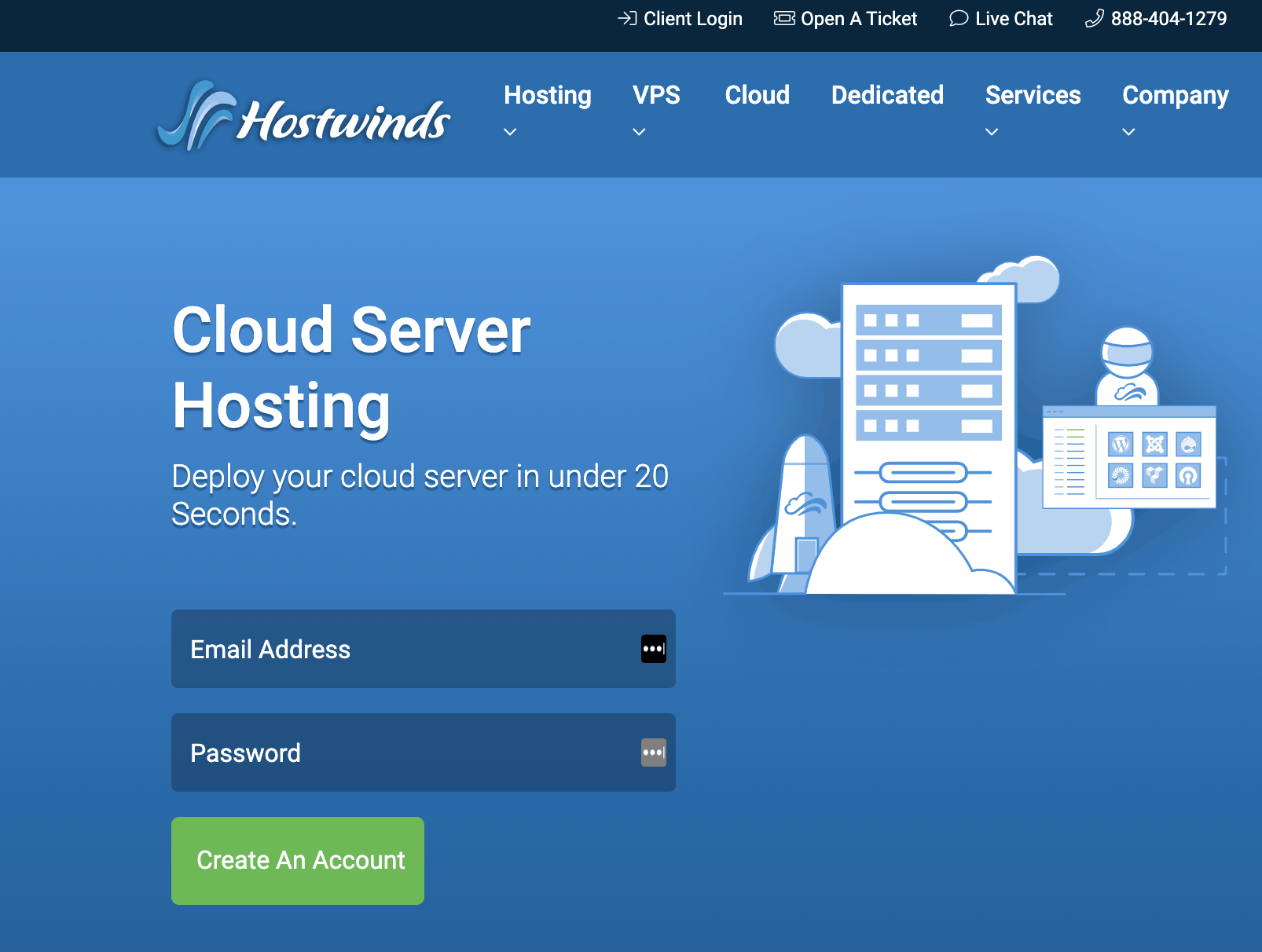 Hostwinds only offers set cloud hosting plans, so you can't fully customize your resources when you sign up – but you can always add more resources later.
It has a 99.99% uptime promise, but this is not a guarantee, as there's no specific compensation for downtime
– you have to manually request an "investigation" if you think any downtime experienced is due to Hostwinds' servers. There's a choice of operating systems for your cloud servers, including CentOS, Ubuntu, Debian, and Windows Server (although Windows Server 2019 is not available).
Hostwinds' basic cloud server plans are budget-friendly – but if you need a more powerful server type, you may find that prices escalate pretty quickly.
Features
Rapid setup and scaling. Hostwinds enables you to get your cloud server up and running quickly – and if you need to add more resources to your server, it can be done in a matter of seconds.
Free guaranteed migration. When you have an existing website to migrate to your new cloud servers, the technical support team will put together a migration plan to ensure that the migration happens smoothly and with as little disruption as possible. Every step of the migration is reviewed and quality checked, and only when you're 100% happy will the migration be complete.
Different billing options. You can pay for your cloud hosting upfront for one, two, or three years, or opt for a billing cycle that's based on your hourly usage.
Enterprise firewall. To protect your cloud server from malicious traffic and attacks, you can set up the Enterprise firewall in the control panel. You can set your own security rules so that the firewall is perfectly tailored to your needs.
Want to learn more? Read our
in-depth Hostwinds review
.
| | |
| --- | --- |
| Basic Plan Resources | 1 vCPU, 1 GB RAM, 30 GB SSD, 1 TB bandwidth |
| Maximum CPUs and Storage | 16 vCPU, 750 GB SSD |
| Maximum Bandwidth | 9 TB |
| Fixed Resource Plans or Customizable? | Fixed |
Should You Choose the Cheapest Cloud Hosting Service?
It's always tempting to just select the lowest-priced option when you're deciding on a cloud hosting service, but there are some downsides to that methodology
. Think of it this way – if you're looking for a burger, McDonald's is cheap (and popular) and you get a (relatively) tasty burger – but compared to a gourmet burger, a Big Mac is likely to be nutritionally lacking and may leave you feeling unsatisfied. The same is true for cloud hosting.
Sure, a cheap, basic cloud hosting service will get you online without hurting your budget – but compared to some of the more specialized solutions, it's bound to be lacking in some way
(and you could end up having to migrate to a better provider later anyway).
Our Recommendations
| | | | | |
| --- | --- | --- | --- | --- |
| | Cloud Hosting Types Offered | Standout Feature | Best For |   |
| Liquid Web | Managed WordPress, VPS, dedicated | 100% uptime guarantee | Businesses that need the highest levels of reliability | |
|  Kamatera | VPS | Up to 72 vCPU processing power | Tech-savvy businesses with demanding websites | |
| FastComet | Shared, WordPress, VPS, dedicated | Free months of hosting when you transfer | Small to medium businesses looking to migrate existing website | |
|  InterServer | VPS | Most affordable cloud VPS plans | Startups and small businesses just getting started | |
|  Google/AWS/Azure | VPS | Free plans | Businesses with no budget for hosting | |
|  SiteGround | VPS | Develops own security patches | Medium-size businesses with larger hosting budgets | |
|  A2 Hosting | VPS | Anytime money-back guarantee | Businesses interested in cloud hosting but not sure it's the right choice | |
|  Hostwinds | VPS | Guaranteed migrations | Businesses with smaller, less-demanding websites (less affordable for larger amounts of resources) | |
FAQ
Which is the best cloud hosting provider?
The best cloud hosting provider really depends on your needs, budget, and whether you're looking for a managed or unmanaged hosting solution. FastComet is a great managed cloud hosting provider (and it's cheaper than comparable plans from Liquid Web). If you're not sure if cloud hosting is the best hosting solution for you, Kamatera has an excellent 30-day free trial (no credit card required) and works on a pay-as-you-go basis.
Is cloud hosting better than shared hosting?
The simple answer is 'yes'. The more detailed answer is that cloud hosting has a lot of benefits compared to shared hosting, including better performance, reliability, and security, due to the way that cloud infrastructure is set up. With shared hosting, your website's speed may be affected if another website on the same physical server experiences a sudden traffic spike, but with cloud hosting, there are more servers in the cloud to cope with lots of traffic. The downside is that cloud hosting is more expensive than shared hosting. If you have a really tight budget, one alternative is to choose a shared hosting provider like FastComet that uses CloudLinux OS to simulate a cloud infrastructure and doesn't overpopulate its servers – and our tests confirm that its performance is pretty great. Find out which other hosts we recommend in our list of the best hosting providers.
What's the difference between cloud hosting and VPS?
Both cloud hosting and VPS hosting are designed to give better performance. The main difference between them is that while cloud hosting uses multiple servers in different locations, VPS hosting is built on a single physical server (so it can still fail, and there can be performance fluctuations). Our guide to cloud hosting vs. VPS hosting has all the information you need! Hosts like Liquid Web and Kamatera offer the best of both worlds with Cloud VPS hosting.
Can you get free cloud hosting without a credit card?
There are some hosts that provide free cloud hosting without you having to input a credit card, but these can be quite limited. Free cloud hosting also requires you to have more technical knowledge than, for example, a managed cloud hosting service. Services like Google Cloud, Amazon Web Services, and Microsoft Azure offer free hosting for up to 12 months, and our guide to the best free cloud hosting services in 2023 has other recommendations. You can also find some great discounts on our coupon page.