A virtual private server (VPS) can deliver more resources and better performance,
and it will usually give you more control over your server's configuration. It's also a great option for hosting online apps, content platforms, and other resource-intensive, traffic-heavy projects. That said, VPSs generally cost more, and can sometimes require more technical know-how. Even with
Scala Hosting, which offers managed VPS plans that are ideal as an upgrade
from shared hosting, you need to be sure that a VPS is the best option for you. Why and when should you upgrade to VPS hosting?
Keep reading to find out – or try out a managed VPS plan with Scala Hosting today.
Why Upgrade to VPS?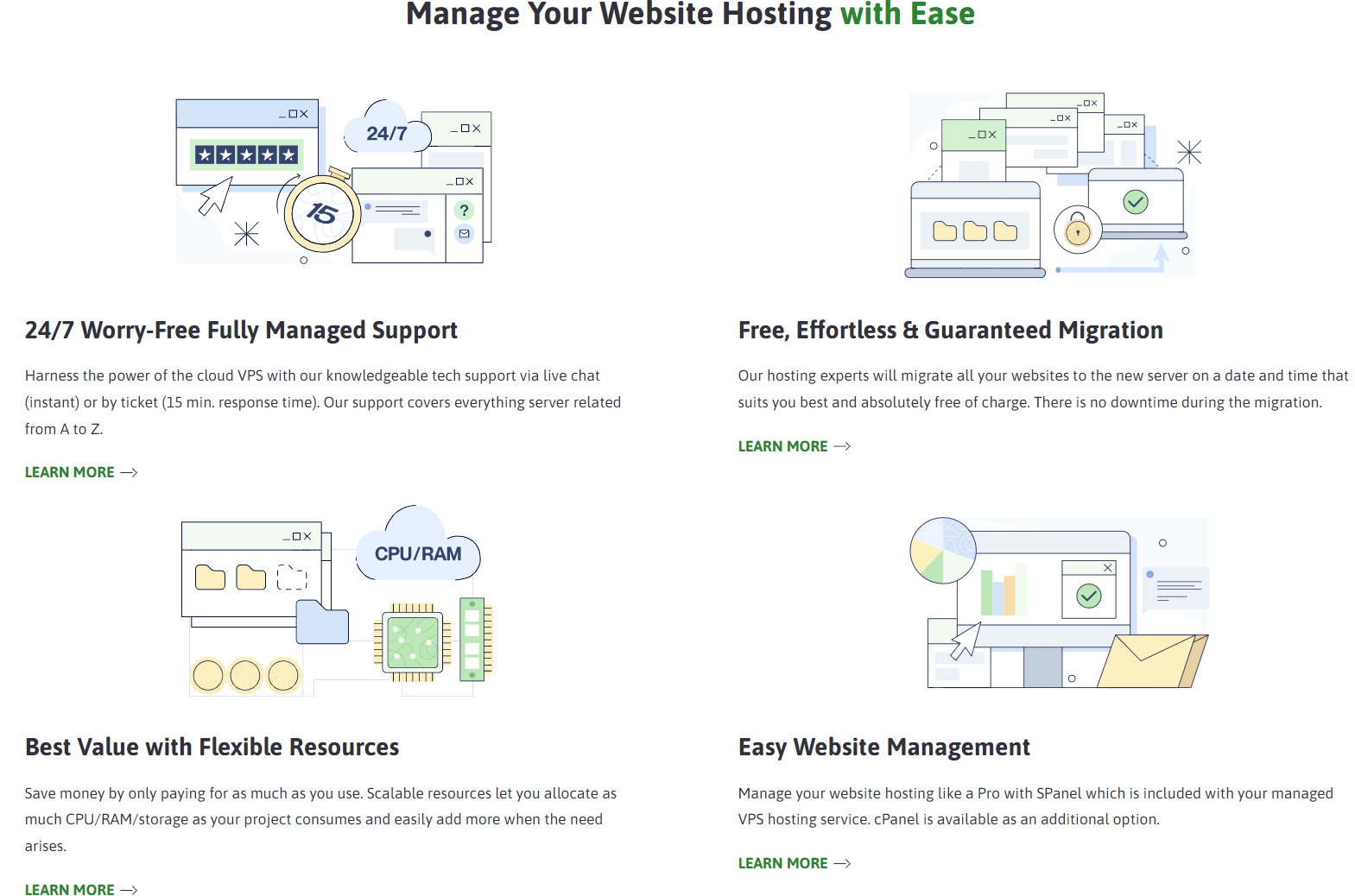 As opposed to shared hosting, in which your hosting account freely shares the computing power of a server with a number of other users,
a VPS offers a separate, guaranteed minimum amount of computing power on a shared server.
This is called
virtualization,
and it gives you better performance and more control over the configuration of your hosting space. Here are some more detailed reasons for upgrading to a VPS.
More Robust Performance
If you're trying to increase the flow of visitors to your site, maintaining page loading speed during traffic surges is crucial.
Modern visitors demand near-instantaneous content loading,
and will bounce out if your site loads too slowly. Performance is also one of the most important metrics for Google's search engine results pages (SERPs).
If your site doesn't meet a certain standard, you're likely to get lost in a sea of other options.
With the allocated resources of a VPS, you'll have a guaranteed level of performance
. Furthermore, even if other site owners with VPS instances on the same physical server are just as ambitious as you are, their traffic shouldn't affect the loading speed of your pages.
More (and More Flexible) Resources
VPS hosting providers give you more freedom to choose your ideal hardware configuration. That means
you can decide – based on your current and expected traffic levels – how much storage space, RAM, and CPU cores you want.
Since these resources are virtually allocated from a pool of hardware resources, many VPS providers let you expand them at will, sometimes independently of one another.
Reputable VPS hosting providers will ensure that they offer the latest technologies to stay competitive.
These hosts offer and advertise state-of-the-art hardware, whereas you'll almost never get any information about the type of RAM and processor model when signing up for a shared hosting plan. The option to set your resource limits and more information about the hardware on offer make VPSs a better option for very resource-intensive sites or multi-client reseller operations.
Greater Control
VPS providers will often allow you to configure your server the way you want, at least to some degree. This may include the ability to choose which operating system you want, to install specific control panels, and how you want to allocate your guaranteed resources.
Control over back-end configuration is especially convenient if you're a freelance developer or running an agency,
as it can let you run multiple hosting accounts from the same server, giving you the capacity to resell hosting to your own clients. It also means that, unlike with shared servers, you can manually optimize the server to get the best possible performance out of it.
Potentially Stronger Security
Don't get me wrong – shared hosting doesn't lack for security features. The best shared hosting providers include more than enough server-side security measures to protect their users from malware, hacking, and DDoS attacks. And
it's up to you (and your provider) to make sure that your VPS and the sites that reside upon it are secure.
However,
a VPS' isolation means that your site won't suffer the impact of an attempted DDoS or other cyberattack on another site hosted on the same server
, which can happen with shared hosting. Hackers also won't be able to access private information on your VPS through vulnerabilities in other hosting accounts.
What We Looked For in a VPS Host
Just because VPS hosting typically delivers better quality than shared hosting doesn't mean that any company offering VPSs will give you good value for money. I've hand-picked a list of VPS providers below that fulfill the following minimum criteria:
State-of-the-art technology. As previously mentioned, VPS providers usually give you the option to customize the specifications of your virtual server. The hosts we've chosen offer the best technology available, like SSD or NVMe storage, DDR4 or DDR5 RAM, and the latest Intel Xeon, Intel Xeon Gold, AMD EPYC, or AMD Ryzen processors.
Robust security. If you're going to pay a higher fee for VPS hosting, the providers below will give you advanced security options included in your plan, like backups, AI-based monitoring, and built-in protection from brute-force attacks.
Quality customer support. VPS hosting may require troubleshooting ability or other technical know-how – which makes it all the more important that you can rely on qualified support professionals to help you work through any major issues.
Managed support options. Further to the above, you may decide to pay for managed VPS plans or managed support add-ons that will give you additional help with setup, maintenance, and troubleshooting. Some of the hosts we've featured below offer managed plans at competitive rates.
Value for money. If you're going to pay a higher price for hosting, you should expect more in return. Depending on the provider, you should get bonus features, and the ability to customize your virtual instance to the maximum degree. And there should always be ample evidence of top-quality performance.
Our List of the Best VPS Hosts for 2023
We've thoroughly tested all of the most popular VPS hosting providers around the world, and we've narrowed them down to the absolute best seven options if you're planning an upgrade to VPS hosting from shared hosting. Check out our selections below.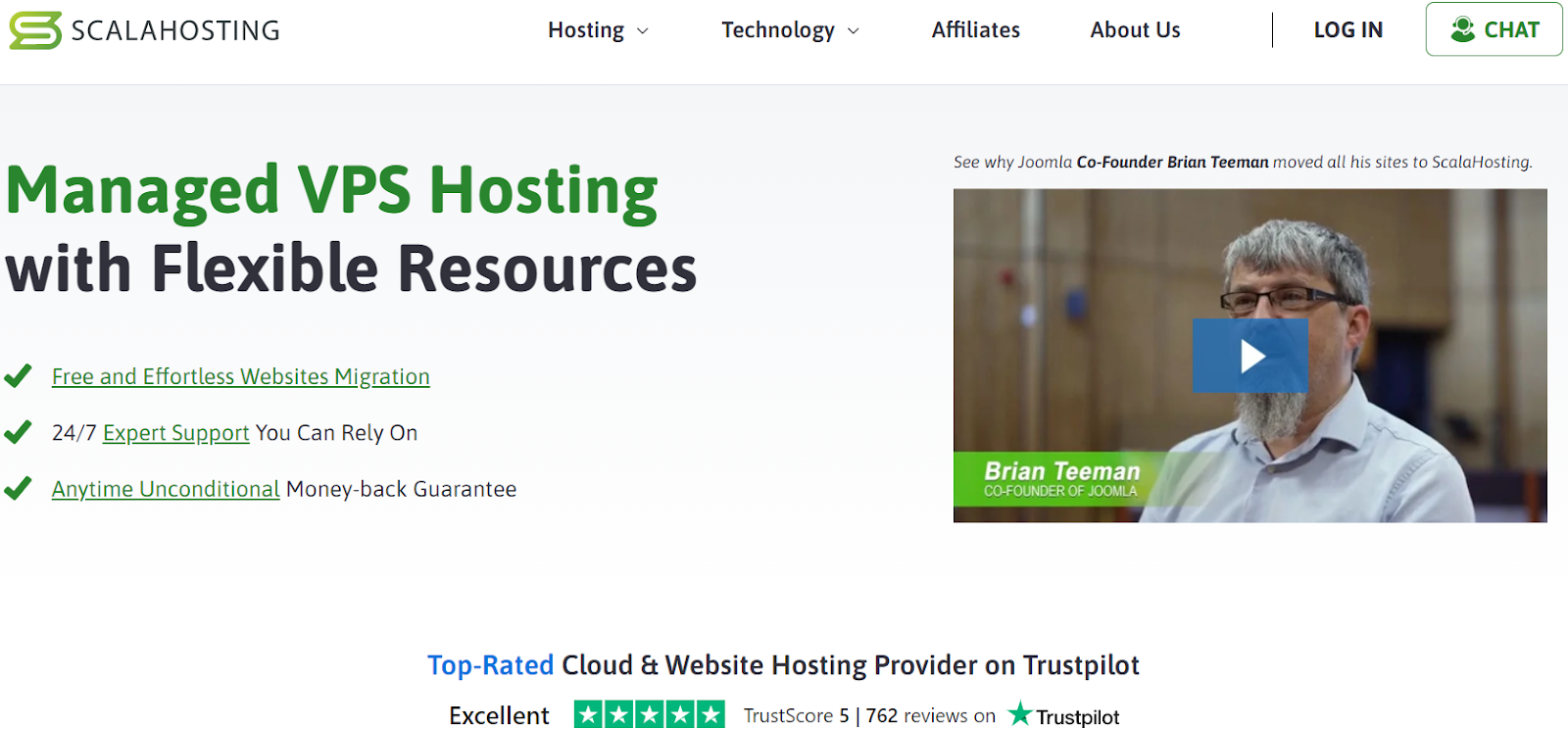 If you're planning on making the switch to VPS hosting for the first time,
you'll be hard-pressed to find a better option than Scala Hosting.
Thanks to Scala Hosting's managed VPS plans, you can get the full benefits of a VPS even if you don't know all the technical in-and-outs. Even if you do, you'll have unprecedented control over what's managed and what's not. In other words, Scala Hosting gives you exactly as much control as you want. Just because it's user-friendly, it doesn't mean it's bare-bones either. Scala Hosting offers support for 4 different types of server software (Apache, Nginx, OpenLiteSpeed, and LiteSpeed Enterprise), powerful caching features, over 400+ one-click installers, and more.
Scala Hosting is also one of the most affordable managed VPS providers on the market.
So you won't have to mortgage your home just to get a decent VPS for your website.
A free domain name is included with some hosting plans from ScalaHosting
Features
Managed options for various CMSs. Managed hosting services for various content management systems (CMSs) such as WordPress and Joomla.
Fully-customizable VPS builds. If you have a specific plan in mind, you can also get a custom-priced plan just for your build. You can customize your plan with up to 24 CPU cores, 64GB of RAM, and 200GB of SSD storage.
Proprietary control panel. The Scala Hosting control panel helps make VPS managing way easier, thanks to its user-friendly interface and management options.
Robust security tools. Scala Hosting goes above and beyond to ensure your site's safety with automated backups, brute-force protection, Mod_security protection, and more.
Find out more in our expert Scala Hosting review
.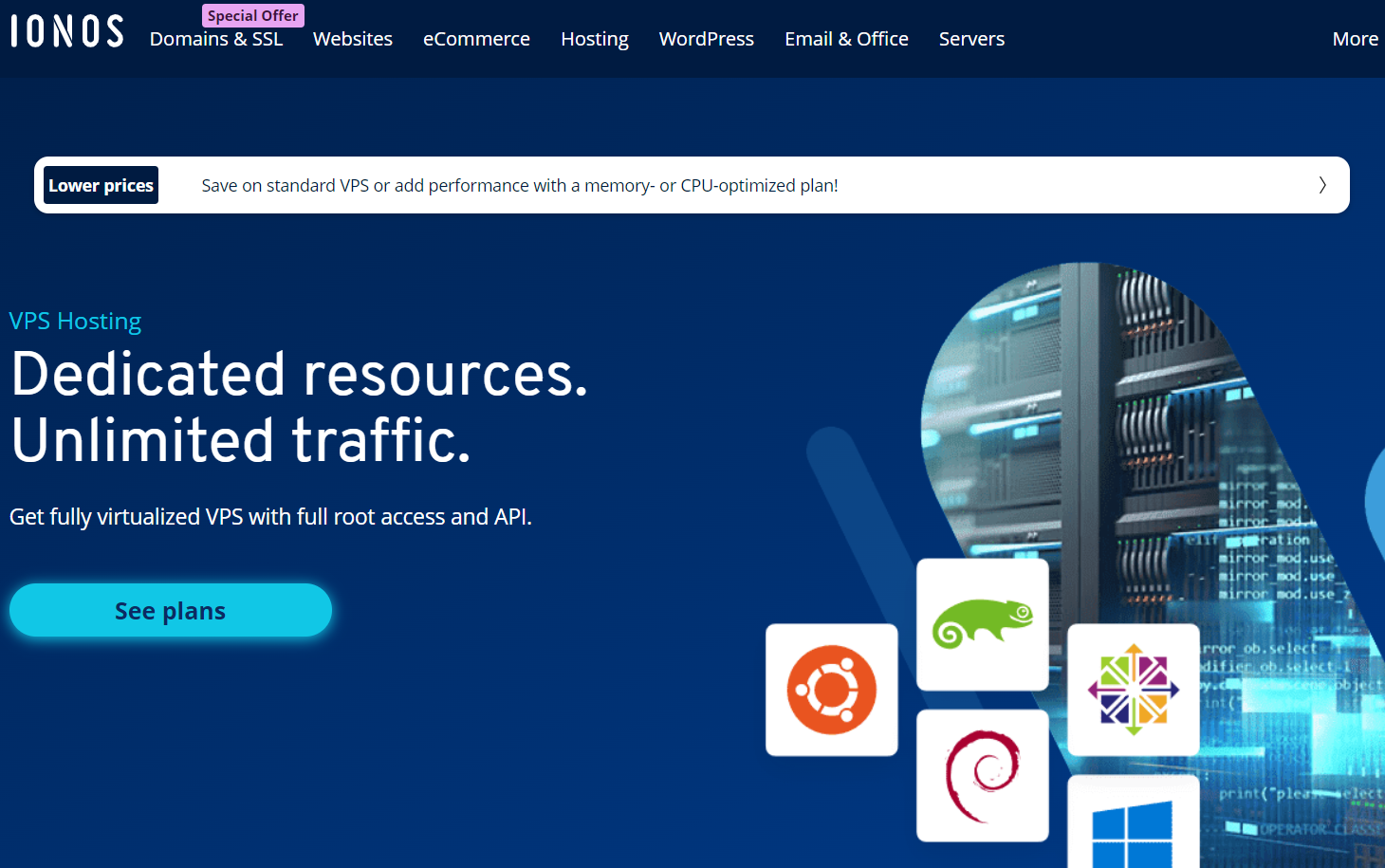 Whether it's shared or VPS hosting,
IONOS is always near to the top of our hosting lists for one simple reason: dependability.
Thanks to its 99.9% uptime guarantee, robust server infrastructure, and attentive support staff, IONOS never makes you feel like you're on your own. It might not offer as many flashy features as Scala Hosting, but it does have every single essential feature that you'd expect from a competent host. This back-to-basics approach has one huge upside:
IONOS is one of the cheapest VPS hosts out there
.
If you do find yourself clamoring for a little extra help in the form of managed features, IONOS provides a variety of extra services at a small per-item fee. It's especially good if your target audience resides in the EU, as IONOS offers an impressive set of server locations across Europe.
A free domain name is included with some hosting plans from IONOS
Features
Personal support. Once you sign up with IONOS, you'll be assigned a personal support assistant. Having a dedicated support representative ensures that you always receive the best possible treatment.
Unlimited mailboxes. With IONOS VPS, you get access to an unlimited number of email addresses.
Pre-installed SIEM. IONOS continuously monitors and registers potential treats to your site.
Plenty of pre-installed apps. Every IONOS VPS plan includes 1-click installations for apps like WordPress, Magento, and PrestaShop.
Check out our in-depth IONOS review
.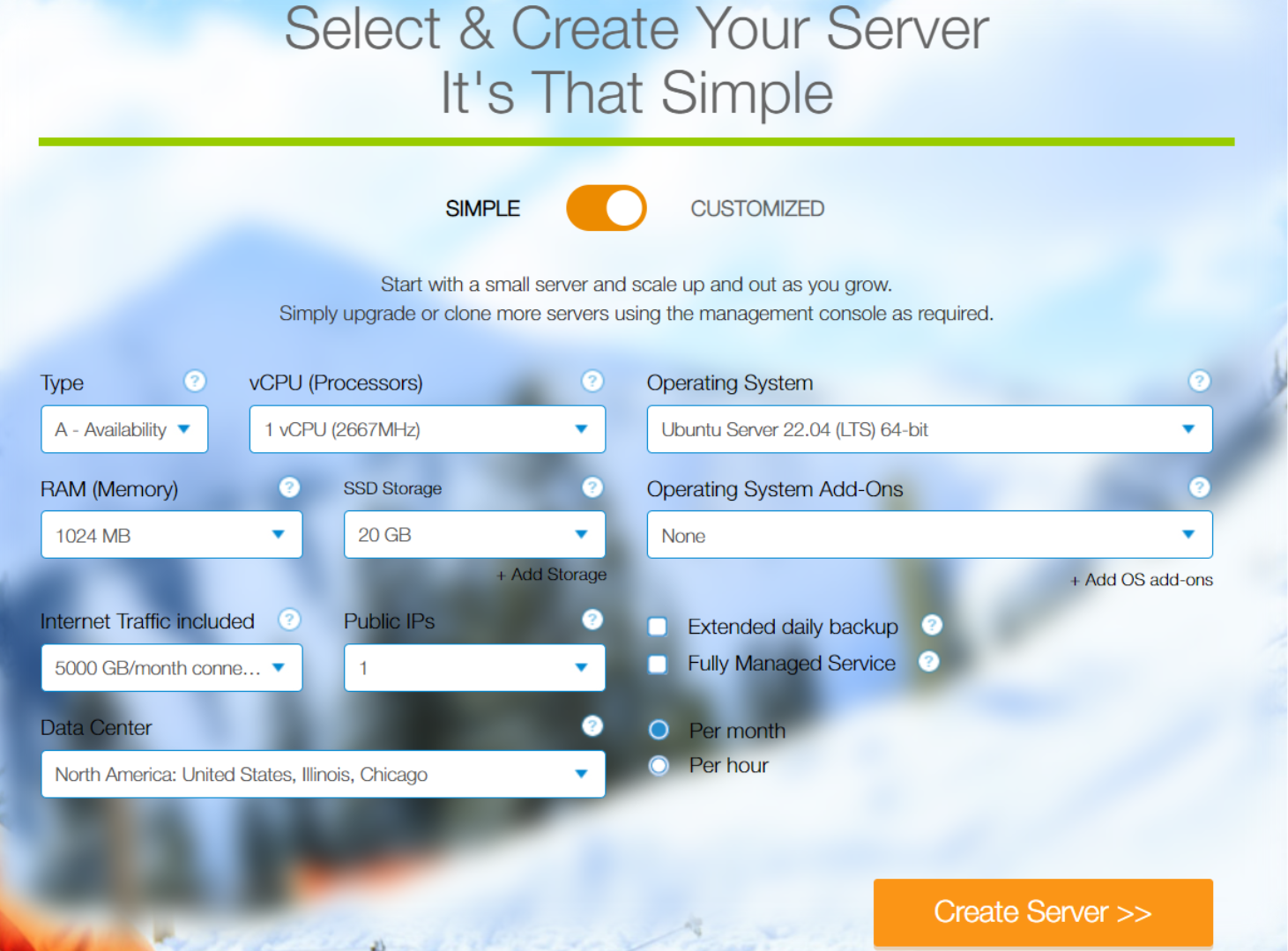 Let's address the elephant in the room first: Kamatera is far less beginner-friendly than Scala or IONOS. Unless you go for the managed option (which comes at a premium), Kamatera takes a fully hands-off approach towards server management. That means that
you're responsible for the full configuration of your server,
which also includes an incredible selection of available server images, apps, and scripts.
Kamatera also offers more resources than almost any other option on the market.
When you're configuring your server, you can choose up to 104 vCPU cores, 16,000 GB of SSD storage, and over 500 GB of RAM, which might be enough to host the actual, physical moon on a virtual server.
You also get your choice of up to 4 dedicated public IPs, and over 50 different server operating systems.
All of that might get a little overwhelming for beginners, but if you're experienced with server management, Kamatera offers an amazing playground for experimentation.
Features
30-day free trial. Kamatera is one of the few VPS hosting providers to offer a fully free trial.
Customizable dashboard. Kamatera lets you customize your hosting dashboard to your personal preferences. That way, you can always access the tools that matter to you quickly.
Personalized IP allocation. Kamatera's VPS hosting lets you choose your server's IP allocation.
Huge server image offering. Kamatera lets you choose from over 22 different server images.
Check out our in-depth Kamatera review for more
.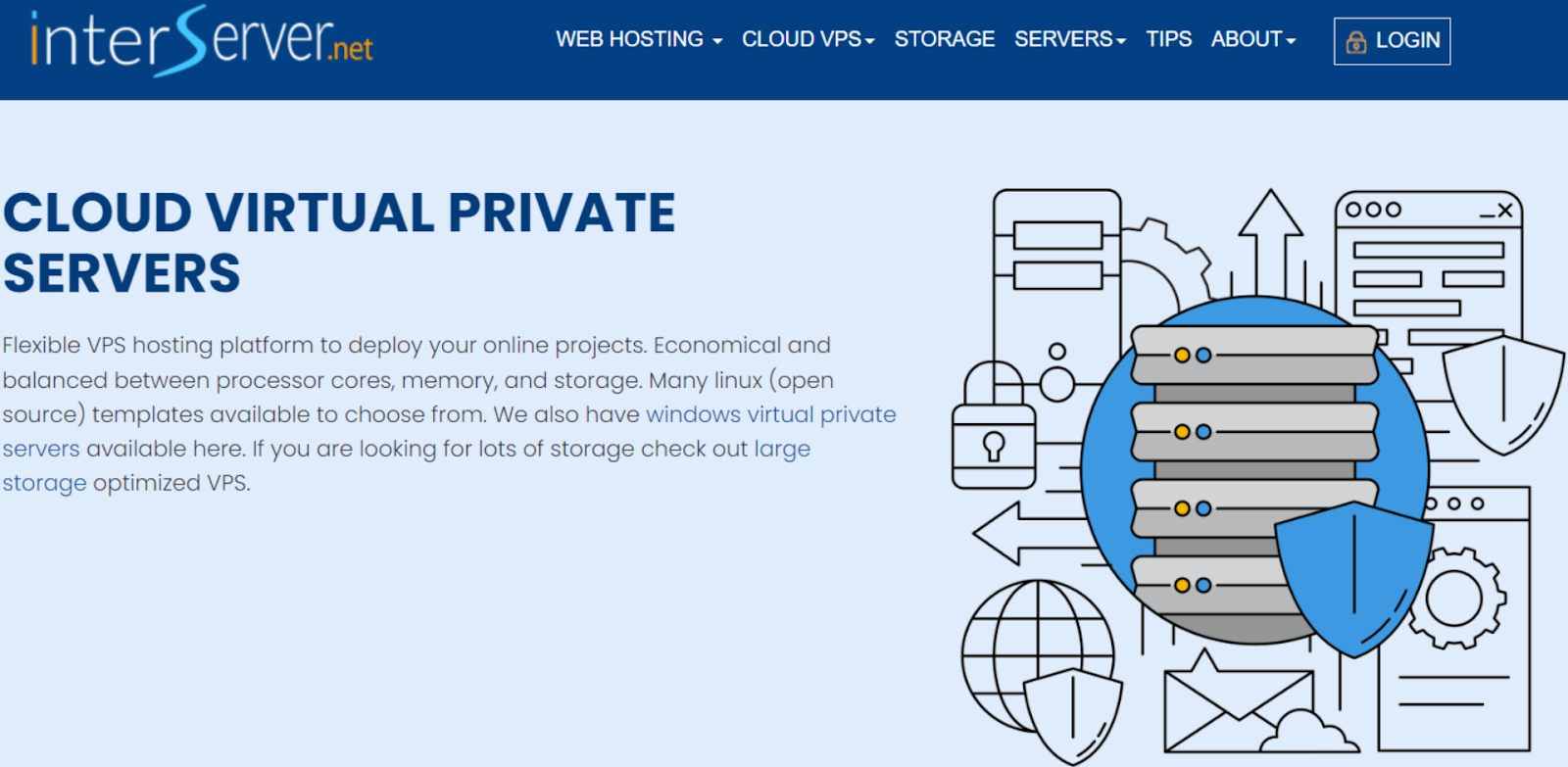 InterServer streamlines the startup process thanks to a very simple and straightforward product offering.
Everything about its clear pricing, resource bundles, and variety of control panel options make it an inviting choice for easing into VPS hosting. It also offers a very inexpensive service from the get-go, even if it's not the most expansive. InterServer bundles its resources together in "slices," which are bundled collections of vCPU cores, storage space, RAM, and transfer memory. The slice system works great if you're not sure hot to mix-and-match resources for what you need without overpaying for features you're not actually using. You can also augment your number of slices as you go; if you get four or more, InterServer will provide managed support for your VPS.
Features
"Self-healing" hardware. InterServer offers AI technology that automatically redirects your server to a different node if it detects a failure in its server hardware.
Wide selection of control panels. InterServer lets you manage your hosting with cPanel, PLESK, and DirectAdmin.
One-click install scripts. InterServer offers over 440 single-click install scripts.
Advanced security protocols. InterServer offers a wide variety of security protocols to help you keep your server safe, including AI tools to detect possible vulnerabilities.
Read our expert InterServer review for more details.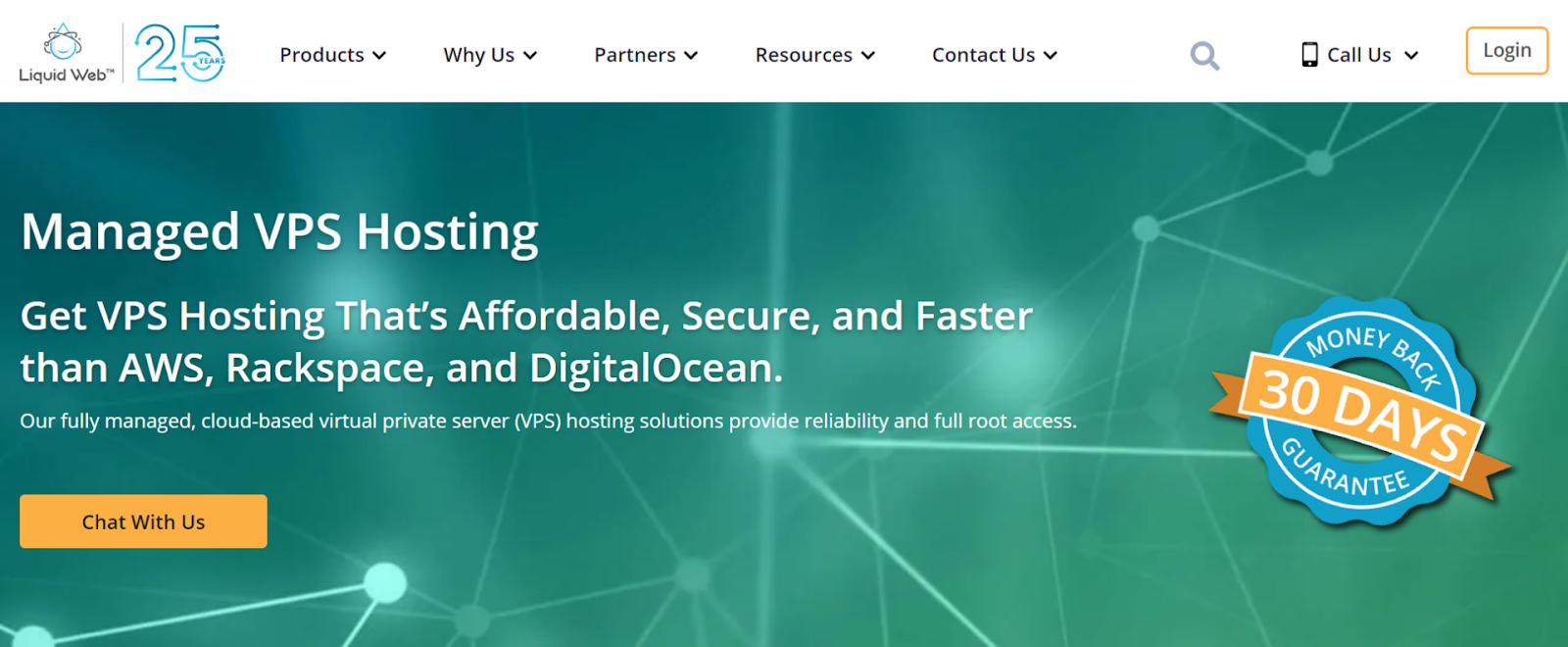 Liquid Web has an outstanding reputation when it comes to customer support. The knowledgeable and efficient support team ensures that you're always covered if you run into any problems with your server. However, this shouldn't be a common occurrence, since
Liquid Web offers high-quality fully-managed VPS hosting.
It's far from the cheapest host out there, but if you have the bucks to spare, then Liquid Web could be the best choice for a reliable provider that takes the hard work off your hands.
Features
Constantly monitored servers. LiquidWeb constantly monitors your servers and automatically acts if it detects any issues.
Free Backups. LiquidWeb gives you up to 100GB of free backups
Unlimited sites. Host as many websites as you want on your LiquidWeb VPS.
Full VPS management. For an extra fee, LiquidWeb offers full management of your VPS.
Read our expert Liquid Web review for more details
.

Verpex offers affordable, high-quality cloud hosting. Its LiteSpeed servers, unlimited bandwidth, and free daily backups are all you could ask for if you want reliable and fast hosting for cheap.
The overall value is particularly strong when you consider that every cloud hosting plan is fully-managed.
That said, you pay for what you get. Verpex is a great host, but a limited one. Even with the highest-priced plan, you only get up to 10 websites and 2GB of RAM, which is far below what you'd usually expect from VPS hosting.
Features
Free domain name. Each Verpex cloud plan offers a free domain registration or transfer.
Free website migrations. Verpex offers unlimited free migrations.
Daily backups. Verpex offers daily backups to keep your website's information secure.
Free SSL certificate. Each one of Verpex's plans includes free SSL certificates for your websites.
Head over to our expert Verpex review for more
.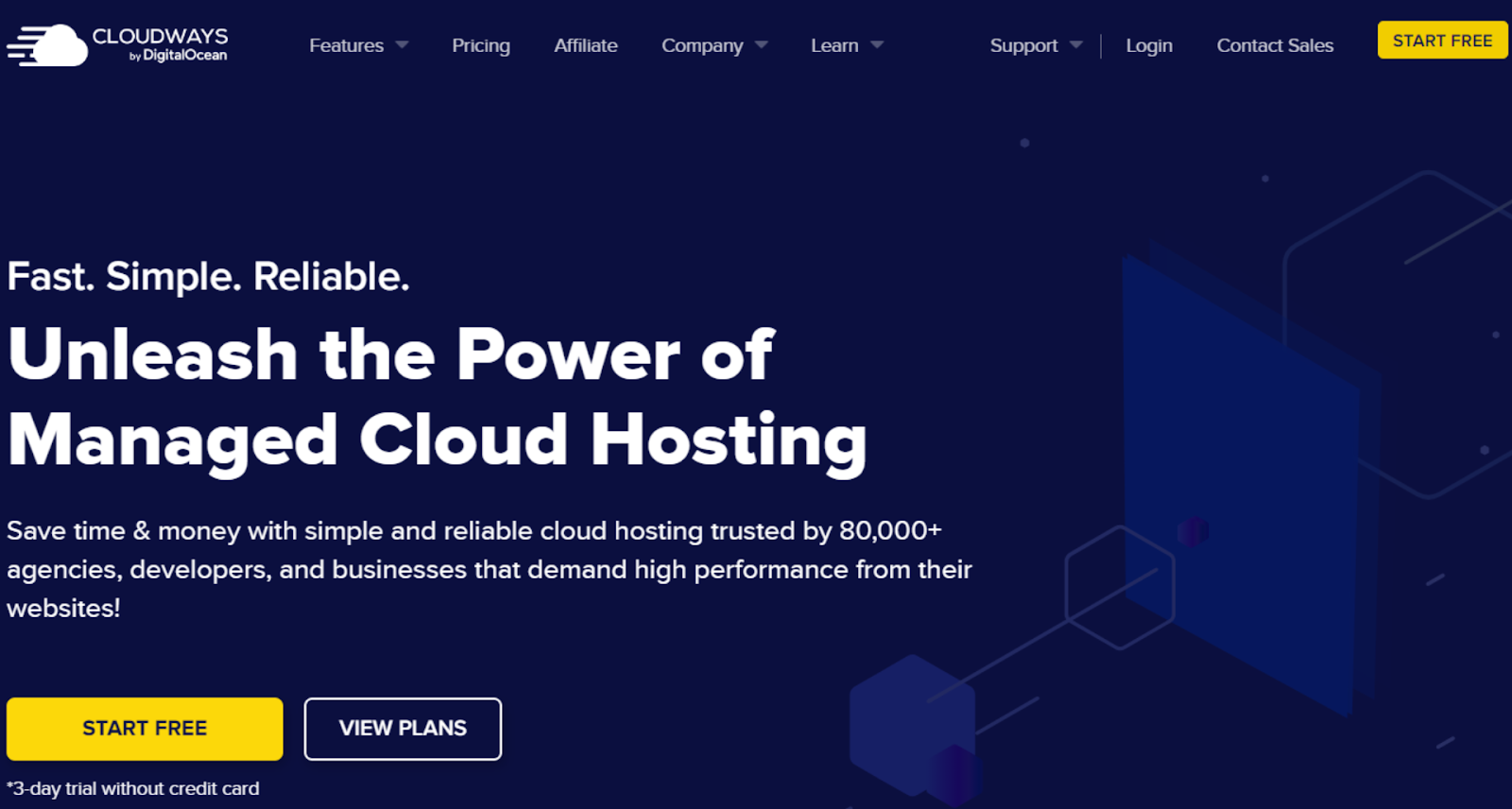 Cloudways stands out among the other entries on this list because it serves as an intermediary between you and the largest infrastructure as a service (IaaS) providers, such as Amazon Web Services and Google Cloud Platform, rather than hosting on its own servers. Cloudways offers to manage the service between you and these platforms.
That means you get managed access to some of the most powerful options in the industry.
However, it's not an inexpensive service, and you don't get some of the benefits you'd get with a traditional hosting provider, such as email and domain registration. If you're looking for raw power and someone to manage it for you, then Cloudways is your best option.
Features
60+ data centers. Cloudways offers more than 60 data server locations across the world.
Smart assistant. Cloudways AI technology constantly scans your server for optimization opportunities.
Detailed server monitoring. Access real-time information on more than 15 server metrics.
3-day free-trial. You can take Cloudways for a spin before you decide if its right for you with its fully free 3-day trial.
Read our expert Cloudways review for more details
.
VPS Hosting Opens a Sea of Possibilities
A VPS is the next logical step if you need a performance upgrade or are otherwise expanding your online operations,
whether for a single resource-intensive site or a full hosting operation for your own clients. But if you're struggling to decide which vendors to choose, here are three quick recommendations: If you're not very tech-savvy but want to make the jump to VPS hosting right away,
Scala Hosting's entry-level managed VPS hosting plan
 has an "anytime" money-back guarantee.
You can give it a spin risk-free – with help from Scala Hosting's tech team.
IONOS is a good-quality and very inexpensive no-frills option for VPS hosting,
but you'll need to know your way around a server, unless you want to spend a lot more on technical support. Finally,
if you're an experienced user looking for full control and the ultimate in cloud-based flexibility, try Kamatera's cloud VPS service
. As long as you or someone on your team can manage a virtual server instance, you'll pay only for what you need. Take a look at the comparison table below to see how our top options stacked up:
Standout feature
Available vCPU cores & SSD Storage
Managed VPS options
Starting price
Scala Hosting
Beginner-friendly proprietary SPanel
2 – 24 cores 50 – 2000 GB

✔

$

20.00

IONOS
Reliable performance at affordable prices
1 – 8 cores 10 – 240 GB

✘

$

2.00

Kamatera
Full VPS control for experts
1 – 104 cores 20 – 2000 GB

✔

$

4.00

InterServer
"Self-healing" hardware for constant functionality
1 – 16 cores 30 – 480 GB

✔

$

6.00

Liquid Web
Constant server monitoring
2 – 8 cores 40 – 200 GB

✔

$

15.00

Verpex
Headache-free managed service
1 – 6 cores 1 – 300 GB

✔

$

69.00

Cloudways
Managed access to premium hosting providers
1 – 96 cores 20 – 3840 GB

✔

$

11.00
FAQ
Should I upgrade to VPS hosting?
That depends on your needs. Shared hosting is an incredibly affordable and (often) easy-to-use option for beginners. However, if you need more control over your server's configuration, better performance, or more resources, then VPS hosting might be the way to go. If you want more info, check out our in-depth breakdown of when to upgrade to a VPS.
What do you use a VPS for?
VPSs can be used for a range of different things. Usually, you would use a VPS to host a high-traffic, resource-intensive website. However, VPSs are also good for hosting web-based apps, private servers for large companies, and more. If you are interested in getting a VPS but you don't know where to start, check out our list of the best VPS hosting services in 2023.
What are the cons of VPS hosting?
The major con of VPS hosting is usually its price. A VPS represents a significant leap in pricing from shared hosting, even if there are affordable VPS options out there. Another con is that managing a VPS often requires more technical knowledge. That said, the best VPS providers offer managed plans to help you make the leap even if you lack technical expertise.
Is VPS hosting good for e-commerce?
In short: yes. Not only can a VPS handle more resource-intensive tasks, but it's also much more secure than shared hosting. When your site is handling your and your clients' financial information, you want to be as safe as you can be.