you get when it comes to inexpensive hosting plans.
I evaluated the quality of those features.
For example, it's one thing to see "24/7 Support" promised. It's another to find yourself waiting almost an hour before your support request is answered. To that end, I chose to explore dedicated hosting providers who offered a combination of high-quality features and services for the fairest prices. After careful consideration,
I found IONOS to best meet my criteria
because it offers the best overall value while offering a very well-rounded service.
So, yes, you can get good dedicated server hosting on a budget.
Short on Time? These Are The Best Cheap Dedicated Hosting Solutions in 2023
IONOS – Top-overall, budget-friendly dedicated server hosting plans with the best quality features for the most reasonable price.
InterServer – The best fully-customizable dedicated server hosting plans on a budget.
FastComet – The most affordable managed dedicated server hosting.
What We Look For in the Best Dedicated Server Hosting Providers on a Budget
The best cheap dedicated server plans typically include these important and popular features, so it only made sense to identify the ones who offer most of them, and for the best prices:
Uptime guarantees. Your host's reliability is one of the most important things to consider with any type of hosting. Downtime costs you money, no matter how much you're saving with a budget-friendly plan. I contacted each host on this list to get current uptime guarantees for their dedicated servers.
Security. I looked first for the security features included in each plan. Then, at any available add-ons. Lastly, does the provider offer any support to help ensure that all the necessary security features are properly installed, working, and updated?
Data center locations, and CDN support. Having a choice of data center locations and the option to use a content delivery network (CDN) can ensure your site loads as quickly as possible for your local or international target audience.
Managed support options. I'm not a command line kind of girl – and I know many of you probably aren't ready to tackle all the possible complexities of managing a dedicated server, either. Having a managed support option available gives us the option to seek help with server setup, maintenance, and troubleshooting.
Root access. For those of you who want total control over your server and the ability to customize at will, root access is essential. All of the hosting providers on this list offer root access with their dedicated server plans.

I made the claim that IONOS proves you can get good AND cheap dedicated server hosting.
IONOS offers the best combination of features and resources
 at some of the lowest prices around. It's a win-win combination that puts this host at the top of my list.
The unmanaged entry-level plan offers 8GB of RAM, 240GB of SSD storage, and 8 cores of Intel Atom C2750 processing power.
You also get a free domain name, 10,000 email accounts each with 2GB of storage, and unlimited bandwidth. That's plenty of resources for a busy ecommerce site or mid-sized online business. IONOS also stands out with the personal consultant it includes in the price of your hosting service.
When you sign up for a plan, you get a dedicated support agent to assist you with any issues you might have.
It's a nice bonus you won't get from many other providers, especially since dedicated server management can be a daunting task.
A free domain name is included with some hosting plans from 1&1 IONOS
Features
Choice of HDD or SSD storage. IONOS offers a choice of HDD or SSD storage with all its dedicated hosting plans. Although SSD storage gives you a performance boost, traditional HDD storage is less expensive, and might be preferable if your project requires a lot of storage.
Intel or AMD processors. Depending on your budget and the level of computing power you're looking for, you can choose from Intel's Quad Core, Xeon, or Xeon Gold lines, or AMD's Ryzen PRO or EPYC ranges.
Mobile management app. IONOS provides you with its IONOS Mobile App, allowing access to your control panel from your smartphone or tablet, anywhere, anytime.
Per-minute billing option. For IONOS' high-end server solutions, you can choose a per-minute billing option with a maximum monthly fee.
Check out our expert review of IONOS for more details
.
Uptime guarantee
99.9%
Data centers
2 in the US and 5 in Europe
CDN
Cloudflare
Starting price

$

45.00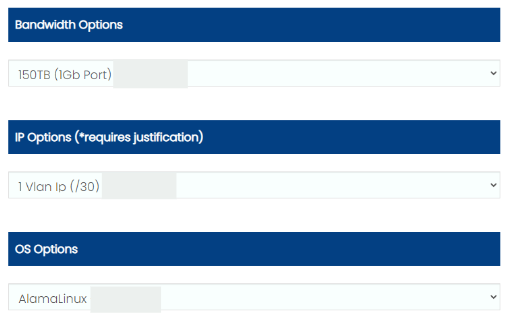 Before we begin with InterServer, I need to warn you regarding its Rapid Deploy Servers. Yes, they are cheaper than InterServer's other dedicated server plans. But no, they aren't actually dedicated servers. They are a hybrid of KVM tech and VPS. They do not offer the customization and other features you'll find in true dedicated server hosting. Now, on to the good stuff.
Every one of InterServer's dedicated plans is fully customizable
. You can configure your resource limits to suit your needs before you check out. Want 500GB of NVMe SSD instead of the standard 2TB SATA SSD storage? You got it. Prefer Ubuntu to AlmaLinux for your OS? Not a problem. Each option may increase your monthly fee, but you'll get exactly what you want. Along with all these choices, you get some standard features. Every plan includes free site migration, managed support, and DDoS protection.
InterServer's entry-level plan gives you 4 cores of an Intel Xeon CPU, 32GB RAM, 150TB bandwidth,
and the IPMI console preinstalled for remote access. The only choice you don't get is a non-US data center – InterServer's primary data centers are located in New York, with additional locations in Texas and California.
Features
Professional support, anytime. I like to try support at different times of the day, and in different ways. When you can contact a live chat agent who can provide accurate answers with a friendly manner late at night in the US, you've doing something right.
No setup fees. Some hosts charge you for deploying your server even without any customization. InterServer doesn't, which is a nice added touch and a bit more savings in your budget, too.
A choice of CPU tech. InterServer's dedicated server plans offer a range of Intel Xeon processors, from E3 to Gold, as well as AMD's Ryzen or EPYC CPUs. The base plan discussed above runs on AMD Ryzen technology.
Control panel and OS options. If you aren't an expert at command line input, you can choose from cPanel and WHM, Plesk, or DirectAdmin as your control panel on various versions of Linux. Or you can install one of several versions of Windows Server.
For further details, see InterServer's expert review
.
Uptime guarantee
99.9%
Data centers
2 in NJ, 1 in TX, and 1 in CA
CDN
Cloudflare
Starting price

$

70.00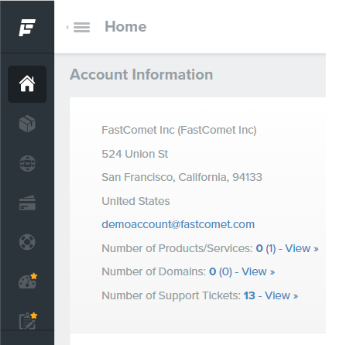 Most of the time, the more services you receive from a hosting company, the more you have to pay. That's not the case with FastComet's managed dedicated hosting.
FastComet's plans give you the convenience and support of managed hosting
 at a price comparable to that of many providers' unmanaged servers. You're thus able to focus on your project without having to worry about security or maintenance.
FastComet's pre-configured servers get you up and running in a matter of minutes,
rather than hours or days. This includes free site migration and domain transfer, meaning your existing sites won't be offline for long, if at all.
cPanel/WHM is included for free,
enabling you to create multiple independent hosting accounts if you want to offer paid hosting to your own customers. No Linux experience is required.
The basic plan includes 2 AMD EPYC cores, 4GB RAM, 80GB SSD storage, and 4TB of bandwidth.
However, this plan is not "Ecommerce Optimized," which involves FastComet's engineers optimizing your server specifically for the site(s) you want to host. This is included will all of the other dedicated hosting plans. I should also note that FastComet uses AMD EPYC CPUs on its dedicated servers, newer tech than the Intel Xeon processors many of our other budget hosts' base plans use.
Features
cPanel/WHM is in control. You don't need system admin skills to manage your server. You also get Softaculous to help you install WordPress or any of the 400+ other apps available – with the resources of a dedicated server, you can feel free to experiment with other CMSs if you wish.
Up-to-the-minute monitoring. FastComet checks every website once every 60 seconds to make sure it is up and running. All services such as mail, MySQL, and FTP are also monitored. Should an issue arise, an immediate attempt to fix it is made.
FastComet's Observer service. In addition to monitoring your website for issues, FastComet offers its Observer services, which monitor your sites' resource usage. This can help you reduce costs, optimize performance, and avoid bottlenecks and downtime.
100% public network availability guarantee. FastComet is so sure they can keep your server connected to the public network, it will credit you 10% of your monthly fee for every hour of downtime (minus maintenance), right up to 100%. The uptime guarantee for your website(s) is the industry-standard 99.9%.
See our full review of FastComet for more information
.
Uptime guarantee
99.9%
Data centers
11 in NJ, TX, CA, Canada, Japan, Singapore, India, the UK, the Netherlands, Australia, and Germany
CDN
Cloudflare
Starting price

$

107.06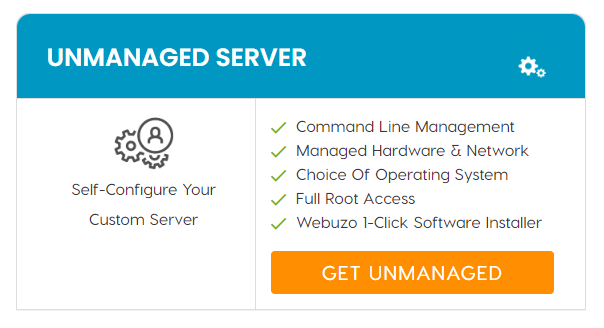 When it comes to managing your dedicated server with A2 Hosting, it's pretty much down to basics. Managed servers come with cPanel and the Imunify360 security suite, and unmanaged give you the Webuzo software installer with a choice of Ubuntu, CentOS, or Debian. That doesn't mean A2 Hosting offers poor value, however. For example, the entry level unmanaged plan,
Hyper 1, includes 4 cores of Intel Xeon CPU, 16GB RAM upgradable to 32GB, 1TB SSD storage, and 6TB of bandwidth for a reasonable price
– half off the regular rate if you sign up for two years. You also get free site migration and daily backups.
A2 Hosting's unmanaged plans lack security features, aside from DDoS protection.
Everything else is left up to you. No monitoring, no free SSL, or other security features – but to be fair, that's the usual situation with unmanaged hosting. You'll need some expertise securing a server, unless you want to pay around 50% more for the managed option. You can also pay a little extra for
A2 Hosting's "Turbo Boost" option, which includes more RAM, NVMe storage, and better performance and stability overall.
But why offer something that is less than your best for a marginal cost savings?
Features
Intel Xeon or AMD tech. Both managed and unmanaged base dedicated server plans run on Intel Xeon or Zeon Silver processors. Higher-tier plans use AMD EPYC CPUs.
Scalability options in each plan. A2 Hosting offers an extra drive slot for added performance and storage. You also have the option of a local 1 to 4TB backup drive for added peace of mind when it comes to your data's protection.
Hassle-free money-back guarantee. Most hosting providers offer some sort of money-back guarantee. A2 Hosting is a little different – you get the standard 100% refund if you cancel within 30 days, but you also get a pro-rated refund at any time after those first 30 days.
Almost instant activation. A2 Hosting's pre-configured servers are just sitting there, waiting for you to come along and spin them up. That means you could have your server up and running within a half hour.
Read our expert review of A2 Hosting for more information
.
Uptime guarantee
99.9%
Data centers
1 in MI, 1 in AZ, 1 in Amsterdam, 1 in Singapore
CDN
Not included
Starting price

$

105.99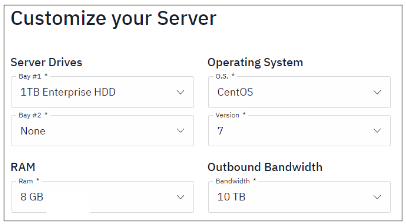 Dedicated servers at Hostwinds are all about the options, and that's where the good AND the bad comes in. The good? As with InterServer, you pick and choose just how much server you have to work with. The bad? Unlike InterServer,
Hostwinds charges you extra for some pretty standard features.
Let's look at Hostwinds' good side first.
All its dedicated hosting plans are managed for you.
That's good for the less-experienced site owner and well worth paying for.
The basic dedicated server plan includes 4 cores of an Intel Xeon E3 processor, with 8GB RAM, 1 TB HDD storage, and 10TB bandwidth.
You also get cPanel and a free SSL. And there are more goodies detailed below. Overall, not a bad package for a medium-sized business site. Now, the bad news. Hostwinds is going to charge you for those 8GB of RAM. There's also an extra monthly fee for DDoS protection and Hostwinds'
Windshield
security package.
You may end up paying more for a lower-end plan than some of the other basic plans on this list.
In some cases, like IONOS, a whole lot more. So why is It here? Because not everyone wants or needs every standard feature. Since "cheap" is a relative term, not everyone will mind paying a bit more to get exactly what they want.
A free domain name is included with some hosting plans from Hostwinds
Features
Multiple IP addresses. The basic plan option begins with eight IP addresses, as opposed to the one IP most other hosts provide. For the expanding business or reseller, this is a bonus.
Daily backups. Part of Hostwinds's managed service includes nightly server backups. This offers you some peace of mind about the safety of your site's data.
RAID configuration options. You can configure the exact RAID setup you want for your site(s), with choices ranging from RAID 0 to RAID 60.
Hands-off server monitoring. Another element of Hostwinds's managed service is its monitoring program. The Hostwinds team monitors your server 24/7, and should an issue come up, they can identify and rectify the situation without any interaction from you.
Check out our complete Hostwinds review
.
Uptime guarantee
99.9999%
Data centers
1 in WA, 1 in TX, and 1 in Amsterdam
CDN
Not included
Starting price

$

106.00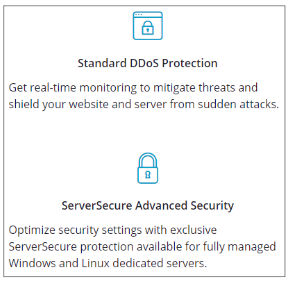 Compared to the other budget-friendly dedicated server hosts already reviewed, Liquid Web may not look quite as economical. When you look closer at what Liquid Web offers you, though, it becomes clear that
while the plans may cost you more, you get quite a lot in return.
First off, Liquid Web's standard dedicated server plans are all fully managed. (You can request a custom-built self-managed or core managed plan, if you prefer to DIY.)
The entry-level plan provides 4 cores of an Intel Xeon CPU, 16GB RAM, 1TB SSD storage, and 5TB bandwidth.
You also get access to Cloudflare's CDN, your choice of cPanel, Plesk, or Interworx for admin, and IMPI access. A Liquid Web customer review states, "You don't come here to save money, you come here to sleep well at night." That's because
Liquid Web's extensive security features allow you that good night's rest.
First, you get free DDoS protection. Then add free, auto-renewed SSL certificates, and top it off with Liquid Web's Server Secure package, complete with a firewall, and other security features. That, plus some of the other features detailed below, makes Liquid Web worth a look.
Features
Excellent support. My chat request was answered in seconds. The agent was knowledgeable, helpful, and friendly. The site's knowledge base is backed up by a content hub with learning tracks, videos, whitepapers, ebooks, and more. It's all very well-organized and informative. Liquid Web has worked hard to be known for the quality of its support, and it shows.
Standard secondary back-up drive. Every plan includes a pre-installed backup drive to store all your critical data. You also receive off-server backups.
Threat Stack IDS. Liquid Web uses the Threat Stack intrusion detection system (IDS) to monitor your server for security breaches. It's available with all dedicated server plans, and works with Linux and Windows OSs.
No setup fees. Liquid Web doesn't charge you anything to get your server up and going. Depending on your plan, you may also have the option of an upfront payment that will lower your monthly fees for the life of your server.
Check out our expert review of Liquid Web for further details
.
Uptime guarantee
100%
Data centers
1 in MI, 1 in AZ, 1 in Amsterdam
CDN
Cloudflare
Starting price

$

169.00
Cheap Dedicated Server Hosting Does Exist After All
You
really can
get dedicated server hosting that is both good AND cheap. All of these hosts offer quality features and services for fair prices, especially my top three choices. If you need an inexpensive dedicated hosting solution with a whole host of features and support, including a dedicated support consultant
and
a network of qualified professionals to choose from,
IONOS gets my top recommendation
.
Its plans offer high-quality features and its support team delivers high-quality assistance. When customization of your server is a priority, InterServer is the choice for you.
InterServer's fully-customizable plans
 mean you get exactly what you need, so you're not paying for anything you don't need. Should you prefer a managed solution,
FastComet is the host for you
. Take some of the worry, work, and headaches out of using your server by letting FastComet's team manage things for you.
The table below puts all six hosts in one place, so you can quickly and easily compare them for yourself.
Uptime guarantee
Managed server option?
CDN included?
Starting price
IONOS
99.9%

✔

✔

$

45.00

InterServer
99.9%

✘

(some free help)

✔

$

70.00

FastComet
99.9%

✔

 (managed servers only)

✔

$

107.06

A2 Hosting
99.9%

✔

✘

$

105.99

Hostwinds
99.9999%

✔

 (managed servers only)

✘

$

106.00

Liquid Web
100%

✔

 (managed servers only)

✔

$

169.00
FAQ
Why is dedicated server hosting better than VPS hosting?
With a VPS, you are sharing your server with others. When working with a dedicated server, you are the only user on the physical machine, so you don't have to worry about another customer's busy website slowing things down. Our top three dedicated server hosting providers are a good place to start shopping.
Is a dedicated server really the most secure?
Yes and no. You're the only user on the server, meaning you have complete control over it – AND its security configuration. The security features provided by your host – as well as the ones you install on your server, and on any websites hosted upon it – determine just how secure your dedicated server will be. That's why security features like the ones IONOS includes with its dedicated hosting plans are so important.
What's the difference between managed and unmanaged dedicated servers?
With managed hosting from providers like FastComet, certain maintenance and monitoring tasks are taken care of for you. When you use an unmanaged server, those tasks must be performed by you.
What's the difference between a dedicated server and a cloud server?
A dedicated server is a single physical server with all its resources allocated to you. A cloud server or instance is a virtual server which can borrow additional resources from other servers in the cloud "grid" to increase performance during a traffic surge. One other big difference is, you typically get root access with an unmanaged dedicated server, but not with a cloud instance.