Both
Nexcess and Bluehost primarily offer WordPress hosting, but aside from this, the differences between these two hosts pile up
. Nexcess is a more business-oriented solution, with impressive management features designed to save you time. Bluehost is a more budget-friendly solution that's marketed towards beginners. But which is best for you? If you ask most other reviewers, and even WordPress themselves, you'll hear Bluehost. But let's get this straight right away –
Bluehost generously gives money to those who give them a glowing review
. Here at Website Planet, we actually
test
these providers, rather than regurgitate their marketing for quick cash. So, what did we find?
We found that Nexcess is the better solution by a long shot – it offers much faster site loading speeds, comes with far stronger WordPress features, and is more fairly priced
. Bluehost's greatest quality is its marketing strategy, but as a host, it falls flat. Keep on reading for all the details.
1. Plans and Pricing
Nexcess Offers Lower Prices & More Flexible Billing
Nexcess is mostly known for its managed WordPress hosting,
but it also offers managed hosting services for WooCommerce, Magento, and Drupal. And, it offers premium cloud hosting, which can optionally come with developer-friendly content management systems like ExpressionEngine and Craft CMS set up and ready to go. Reseller hosting for agencies is also available. Aside from both managed and unmanaged WordPress hosting, Bluehost offers shared, WooCommerce, VPS, dedicated, and reseller hosting. For the fairest comparison,
we mainly compared these two hosts on their managed WordPress plans
. At first glance, Nexcess offers some undeniable advantages. First,
Nexcess offers a monthly billing cycle whereas Bluehost's packages start with a quarterly billing cycle
. Second, if you go for Nexcess's monthly billing cycle, it would cost you around half the price you'd get from committing to Bluehost's quarterly billing cycle.
Nexcess always offers two months of free hosting with annual billing, regardless of whether you are a new customer or not.
Bluehost WordPress Hosting
A free domain name is included with some hosting plans from Bluehost
That said,
Bluehost does offer unlimited resources
, including storage, websites, and bandwidth. These resources are more limited with Nexcess. If you're planning to run multiple WordPress sites, Bluehost could still be the better deal. But for most,
Nexcess' low-cost pricing and flexible monthly billing simply offers more value.
2. Features
Nexcess Offers Premium & Helpful WordPress Features – Bluehost Barely Makes an Effort
While many hosts like to advertise managed WordPress these days, the scope of management you can expect varies wildly. The difference in WordPress features between Nexcess and Bluehost is a great example of this, both of which advertise (and charge premium prices for) managed WordPress hosting. For example,
Nexcess offers AI-driven plugin management
, which automatically tests all new plugin updates for issues in a staging environment. If issues are detected, the update won't be applied to your site. The performance impact of your plugins is also monitored over time, and you are informed if any are slowing your site.
Nexcess also provides unlimited free migration services from human experts
. Regardless of the complexity of your existing WordPress site, Nexcess support will bring across all your sites by hand with minimal downtime, even fixing up any security vulnerabilities they find along the way. Meanwhile,
Bluehost's "managed" WordPress hosting boils down to
ensuring your WordPress installation and plugins are updated and that your server is maintained
. This isn't really managed hosting – automatic updates are a built-in WordPress feature, while maintaining the server is the minimum expectation for any shared hosting service. As Bluehost lacks real managed hosting features, this section was an easy win for Nexcess. Take a look at the table below for a side-by-side comparison.
| | | |
| --- | --- | --- |
| | Nexcess | Bluehost |
| Hosting types | Managed WordPress, WooCommerce, Magento, and Drupal hosting, cloud hosting, agency hosting | Shared hosting, unmanaged & managed WordPress hosting, WooCommerce hosting, reseller hosting, VPS, and dedicated servers |
| Free domain name | No | Yes |
| Free SSL | Yes | Yes |
| Number of websites | 1 – 250 sites | Unlimited |
| Storage | 15GB – 800GB SSD | Unlimited SSD |
| Bandwidth | 2TB – 10TB | Unmetered |
| Control panel | Nexcess Client Portal | cPanel |
| Free CDN | Proprietary Edge CDN | Cloudflare CDN, Jetpack Image CDN |
| Managed WordPress | AI-driven plugin management and performance monitoring, unlimited hands-on migrations of WordPress sites, daily automatic backups | Specialized Blue Sky WordPress support team in premium plans, daily automatic backups |
| Money-back guarantee | 30 days | 30 days |
3. Performance
Nexcess Keeps Up with Heavy Traffic, While Bluehost Could Leave Your Site Inaccessible
Both Nexcess and Bluehost run their websites on a shared hosting platform. However,
Nexcess incorporates some aspects of cloud technology to enhance performance.
It does this in a few ways – firstly, it uses NGINX to store copies of commonly accessed content, which can then be delivered to your visitors more rapidly. Secondly,
Nexcess offers auto-scaling of your server's resources
. This ensures your Nexcess site remains fast during periods of heavy traffic. You get 24 hours of this service completely free each month.
Bluehost does offer some basic optimization, primarily via server-level caching and the third-party Jetpack plugin that comes with all plans
. This helps to cache and compress your WordPress files efficiently for better speeds. But there is no auto-scaling – which means if you hit a traffic spike that your current plan isn't equipped for, your site will likely slow to a crawl.
In terms of infrastructure, Nexcess offers a total of 10 data centers across the US, Europe, and Australia
. Bluehost unfortunately does not disclose the number or location of its data centers, though it does seem to cover the major continents.
Nexcess offers a "100% uptime" guarantee, while Bluehost does not formally promise to deliver a minimum uptime rate.
In short, Nexcess will compensate you for downtime exceeding 15 minutes in a year, but you're unlikely to receive compensation for downtime with Bluehost. When I tested their performance, both Nexcess and Bluehost came out with somewhat similar average response times. You can take a look at our expert
Nexcess review
 and in-depth
Bluehost review
 to check out detailed performance test results.
While Nexcess' uptime guarantee isn't
truly
100%, it's far better than nothing. It's also the more flexible option, due to its free auto-scaling service. Another easy win for Nexcess!
4. Security
Nexcess Offers a Simpler and More Responsive Backup Solution
Thankfully, Nexcess and Bluehost offer the basics in terms of security, including free SSL certificates with every plan
. You'll also benefit from DDoS attack mitigation, courtesy of Nexcess' proprietary Edge CDN and Bluehost's integration with Cloudflare CDN. Both hosts also make use of third-party services to provide additional protection specific to WordPress.
Nexcess includes iThemes Security Pro, while Bluehost throws in SiteLock (only free with managed WordPress plans)
. Both of these solutions monitor and scan your files for vulnerabilities and malware, fixing whatever issues they come across. Nexcess and Bluehost also offer backup solutions.
Nexcess takes a daily automatic backup, with each backup being stored for 30 days.
You may also perform backups on demand. On the other hand, Bluehost provides Codeguard Basic with its managed WordPress plans. While this offers daily automatic backups, it doesn't allow you to take manual backups. You
can
take a manual backup through cPanel with Bluehost, but it's much slower and less straightforward than using Nexcess' one-click solution. Because of this, Nexcess just manages to beat Bluehost in this section.
5. Support
Bluehost's Support Agents Can't Even Answer Simple Queries
Both Nexcess and Bluehost offer 24/7 support through a variety of channels
. Nexcess support can be contacted through live chat, phone, tickets, and email. Bluehost offers slightly fewer options, offering support via live chat, phone, and various social media platforms. Interestingly,
Bluehost offers a specialized support team for WordPress named WP Live (also known as Blue Sky)
. This isn't included with the cheaper Build plan, but you'll get access to this team via ticket support in the Grow plan, and then live chat in the Scale plan. You can also choose to purchase any WP Live plan as an add-on, regardless of your chosen hosting plan. This team does go beyond what most basic support teams offer – helping you select a theme that meets your design and functionality needs, set up basic WordPress elements, and so on. But it certainly isn't cheap, and Nexcess advertises expert WordPress support without the added cost. Was Bluehost selling "expertise" that's available for free with Nexcess? To find out, we called Nexcess on their American phone support line. To really test their knowledge, we asked if they recommended any particular plugins for a membership-based site.
Not only was the Nexcess agent happy to help, but they helped me navigate and choose between potential plugins.
This is exactly what we'd expect from Bluehost's premium WP Live at no extra cost. The call did drop before we got our full answer, but we were impressed with the level of knowledge and support from the Nexcess agent. We then decided to test its live chat support, this time testing their knowledge on something unrelated to WordPress. To do this, we asked whether we could switch our site to another Nexcess data center.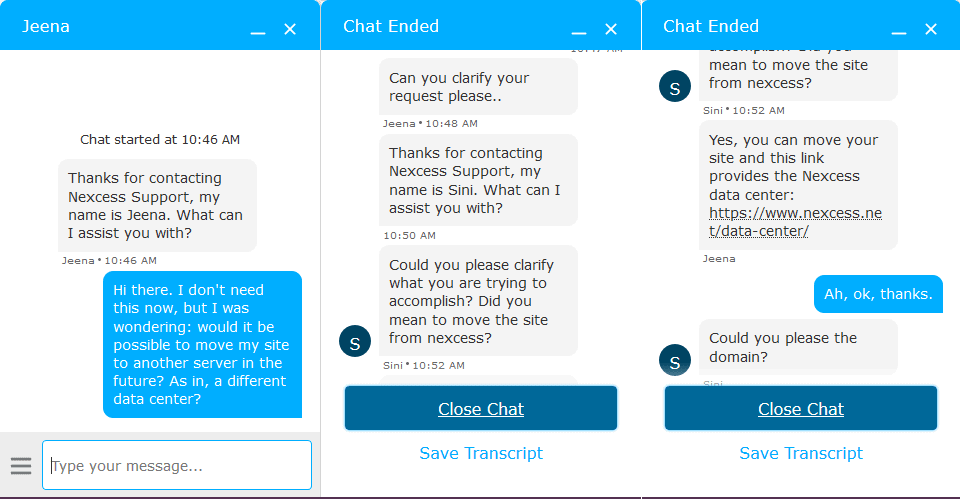 Within a few minutes, we got our response. We definitely could've worded our question better – the agent initially did not understand our request. After we elaborated, they promptly linked us to the relevant documentation on the matter.
All in all, we were again happy with the knowledge and helpfulness of the Nexcess support team
. Next up, we tested Bluehost's support. We did not have access to WP Live as we were testing the Build plan, and after seeing we could get WordPress expertise for free from Nexcess, we weren't about to pay extra for it either. We decided to ask a simple question about what we get in the WordPress plans, as opposed to the basic shared hosting plans.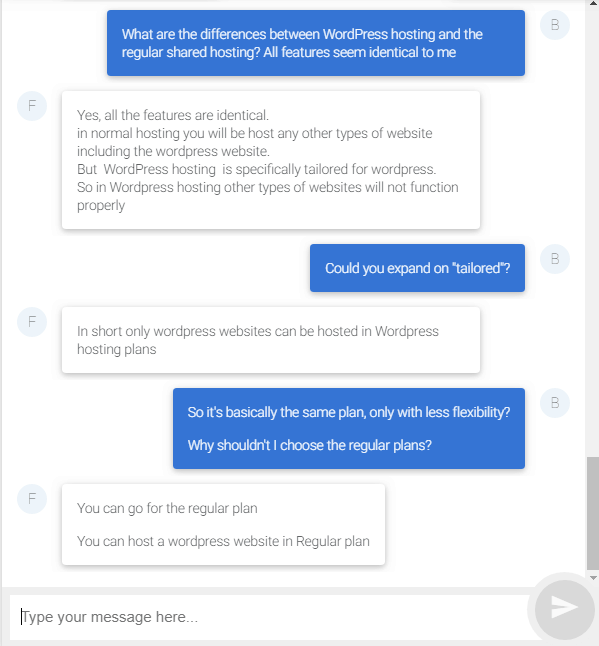 It was immediately apparent why WP Live exists –
the free support seems to lack even basic knowledge of Bluehost's own plans, never mind the ability to help with WordPress
. We couldn't get a real response on what differed between the WordPress and shared hosting plans, other than shared hosting lets you use other CMS. Not only was this unhelpful – it was slow.
We had to wait 10 minutes for the initial response from Bluehost support, and then an additional couple of minutes for every subsequent reply
. It all felt like a huge waste of time, and at the risk of sounding overly cynical, a way to push you to pay for WP Live. Bluehost maintains a comprehensive knowledge base that you can rely on. It provides user-friendly tutorials with annotated screenshots to assist you in following along. Although it is intended to offer tutorial videos, I encountered issues where the links I clicked redirected me to text-based guides. That said, Nexcess' knowledge base covers a similar number of topics and tutorials, along with much more responsive and helpful support agents. All in all, another victory for Nexcess.
Nexcess Offers Higher-Quality Hosting at More Affordable Prices
The results of our testing make it abundantly clear why Nexcess has emerged as the superior option
. The affordable and flexible pricing, the premium feature set that enhances WordPress performance, and the much more responsive and knowledgeable support team. Bluehost just can't compete. The only reason to ever choose Bluehost over Nexcess is if you
really
require unlimited websites and resources. And even in that instance, there are better options out there – browse
our list of the best web hosting services in 2023
for our recommendations.
Still unsure? Take a look at the table below for a side-by-side comparison.
Plans and Pricing
Cheaper prices, even with no-commitment monthly billing
No monthly billing available, and you must commit to a 3-year contract for similar prices to Nexcess
Key Features
15GB – 800GB disk space and  2TB – 10TB bandwidth, AI-driven plugin management, and a free hands-on site migration service
Unlimited resources, but a lack of real WordPress management or premium features
Performance
100% uptime guarantee, incorporates cloud technology to deliver advanced caching solutions and auto-scaling
No uptime guarantee or auto-scaling, basic caching and WordPress optimization provided by free Jetpack plugin
Security
Free iThemes Security Pro premium security solution, daily automatic backups, one-click manual backups available
Free SiteLock premium security solution, daily automatic backups, on-demand backups are available but are less user-friendly
Support
Knowledgeable support agents available 24/7, fast responses to any queries
Support agents lack basic knowledge and are slow to respond, useful support is relegated to a costly add-on
FAQ
Is Bluehost more expensive than Nexcess?
It depends on the hosting plan. Bluehost's basic WordPress hosting is far cheaper than Nexcess' plans, but it's rather barebones and it severely limits your resources. Bluehost's managed WordPress plans cost more than Nexcess' equivalent plans, yet still offer a disappointing set of features in comparison.
Does Nexcess offer good performance?
Yes, thanks to its integrated cloud hosting technology. This offers advanced caching that is unavailable with more traditional shared hosting solutions, like Bluehost. It also allows Nexcess to instantly scale your resources in response to traffic surges, allowing your website to comfortably serve the increase in viewership.
Why does everyone recommend Bluehost?
Bluehost pays generously to individuals and companies who leave them a positive review as part of their extensive affiliate marketing program. However, at Website Planet we believe in honest reviews. That's why we are open about Bluehost's issues, from its poor features to its lackluster support.
Is Nexcess good for small businesses?
Definitely. Nexcess primarily targets small businesses and has shaped its managed WordPress hosting around that fact. Its features are designed to save you as much time as possible, and the infrastructure is built to ensure fast loading speeds for all your visitors. Finally, Nexcess' plans are very affordable.