The benefits of email hosting go beyond just a username with @yourdomain. The best email hosts will keep your project running smoothly with plenty of storage space, great performance, and an easy-to-use system for all users. Unfortunately, that's not something that most hosts can provide. Instead, many services impose unreasonable limits or charge a hidden fee for services that should be included in the base plan (like a basic spam filter), all to make a quick buck from you. That's why I took it upon myself to test the top email hosting providers on the market. In the end, I found 7 hosts that offer the best mix of quality, affordability, and ease of use. My top recommendation across the board is InterServer, thanks to its unlimited resource plans and ease of use. However, each entry in this list offers outstanding hosting services, and are each better suited to a different set of needs. Keep reading to discover the best email host for you, or go ahead and check InterServer's latest deals right now.
Short on Time? Here Are the Best Email Hosting Services for Businesses
InterServer – The best-value email hosting provider with unlimited accounts and storage
Scala Hosting – Scalable resources and high-security on its cloud plan
IONOS – Affordable and well-rounded email hosting
What We Look For in the Best Email Hosts for Business
As I was researching the best email hosting, I looked for services that offered:
Email security. Because it often communicates critical business information, email is commonly targeted by malicious third parties. Some form of account protection from attacks, spammers, and viruses is mandatory.
Ease of use. You should be able to create and manage email addresses easily. Integrations with mobile-friendly clients is preferred, since a significant portion of correspondence is read on mobile devices.
Affordability. Just because it's a business expense doesn't mean you need to spend a fortune on it. My list only includes the best-value email hosts.
Sender reputation. It takes just one account to be flagged as malicious to blacklist all emails sent from the shared IP. I looked for hosts that maintain an acceptable sender reputation.
Number of email accounts and mailbox size. The more email aliases and storage space you get, the better. You don't want to have to pay more every time you add a new member to your team.
See our
step-by-step guide to setting up your email account
once you've decided on the right email hosting provider for you!
InterServer takes the first position on my list thanks to its unlimited resources and ease of use.
You can access your inbox from any device – desktop or mobile – as long as it has a browser and an internet connection. In addition, you can configure the email client to use your preferred mail agent – Apple Mail, Thunderbird, Outlook, Gmail, Horde, and more. This makes it easier to manage multiple accounts from one interface without having to switch accounts.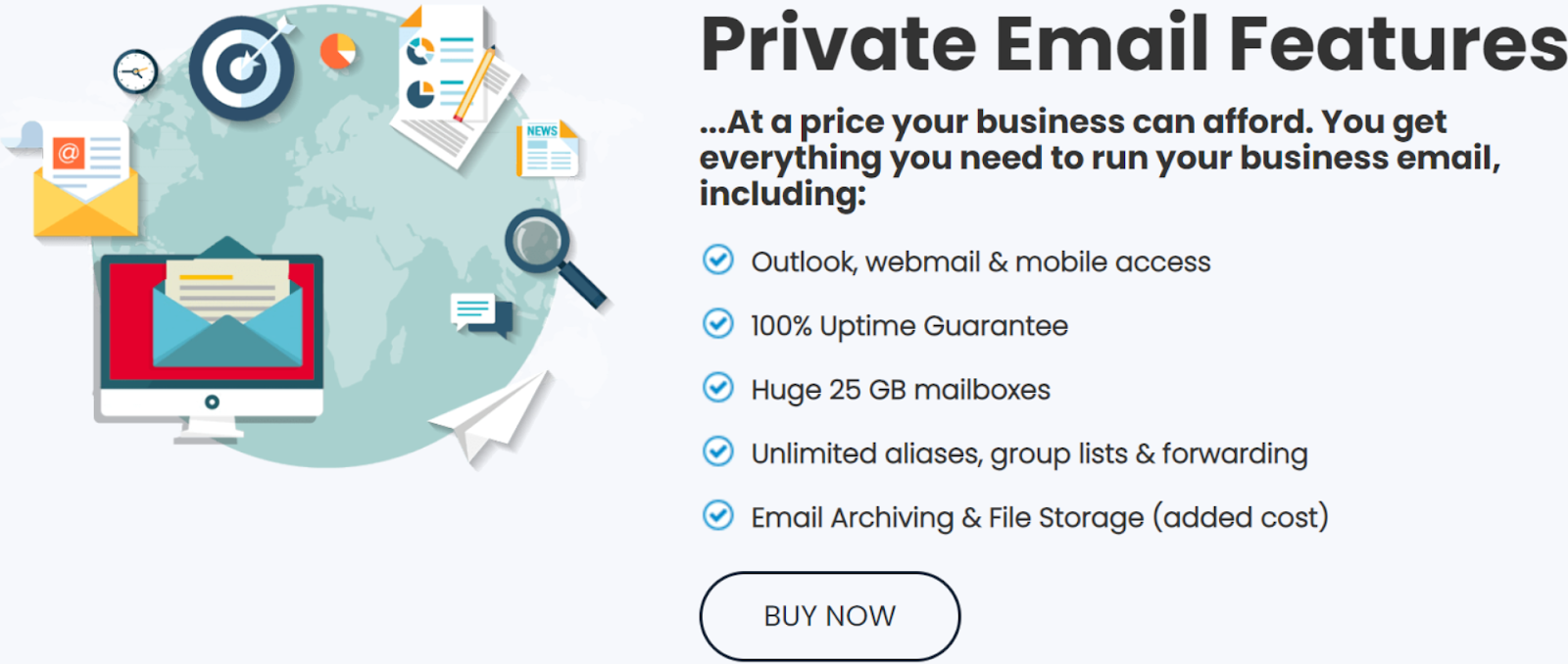 With InterServer's email hosting, your onboarding experience will be handled by the customer support team.
 This is particularly useful if you already have a domain name or if you want to switch over from another email hosting provider. Another big plus with InterServer is the full-featured shared hosting plan you get with your email hosting. With it, you can build a sleek portfolio website to serve as your business card.
The downside with InterServer is that you'll have to purchase a domain name separately, since one isn't included.
Read more about InterServer in our expert review
.
Features
Anonymous email. You don't need to provide any sensitive personal information to create a secure email account. In addition, the company does not keep IP logs that can be traced to your email.
Advanced spam filtering. InterServer's firewalls check incoming emails for suspicious content. The host's algorithms cross-check spam lists with external databases, including IP and domain reputation, before flagging an email as potential spam.
Free managed migrations. Changing email hosting providers can be daunting, but InterServer makes the process as easy as possible. The company provides managed migrations free of charge; all you need to do is tell it where your domain is currently registered.
Brute-force protection. Interserver provides advanced measures to protect your mailboxes from brute-force attacks.
Number of email aliases
Unlimited
Mailbox size
25GB
Free domain name

✘

Spam filters

✔

Starting Price

$

6.00
Scala Hosting's cloud email hosting is one of the highest-quality email hosting options out there.
You get access to unlimited accounts, unlimited domains, and 100% inbox deliverability. In other words, just about anything you could ask from an email hosting provider.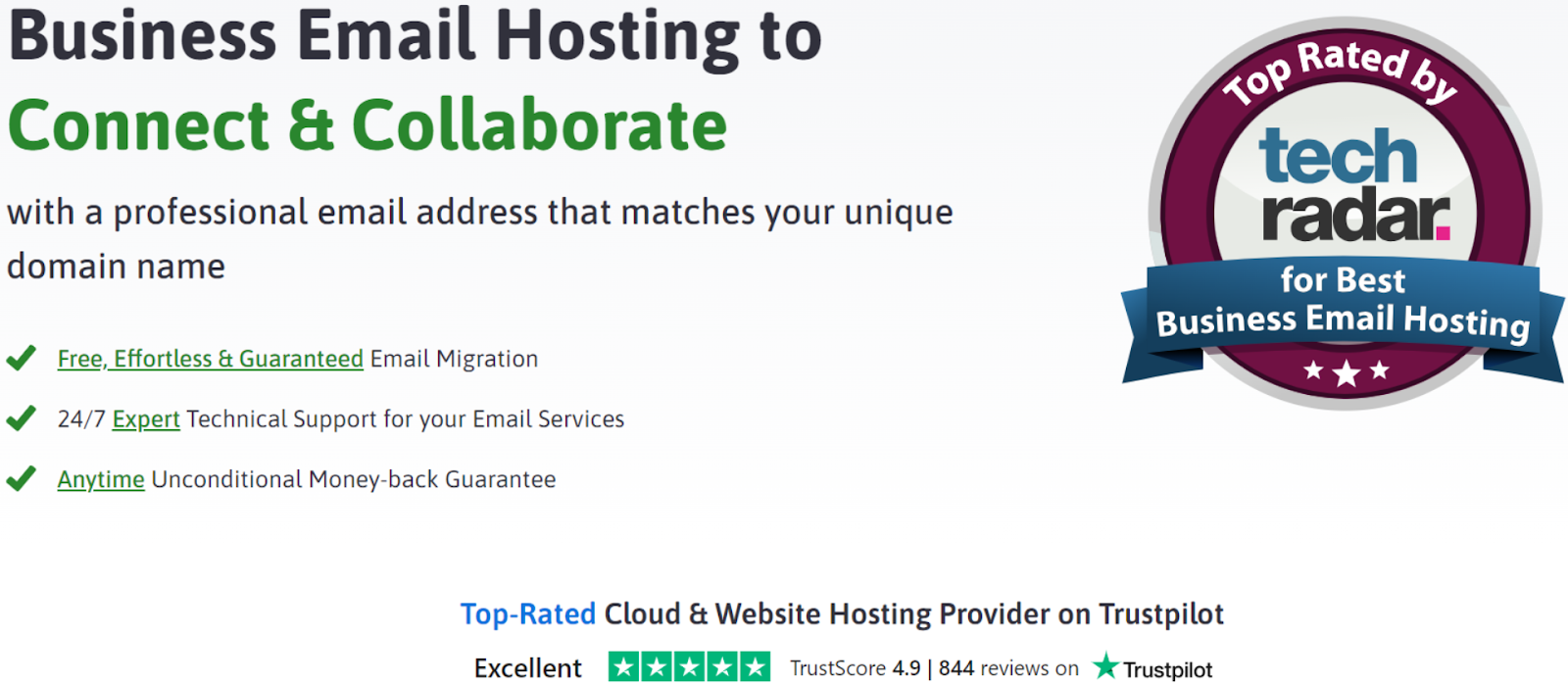 Since it specializes in cloud-based hosting, you also get the opportunity to scale your resources as much as you need. That means that if you find yourself running out of storage space, you can upgrade your storage up to 2,000 GB per user at any time. Thanks to its user-friendly dashboard,
Scala Hosting is a great choice even if you aren't an email hosting expert.
A free domain name is included with some hosting plans from ScalaHosting
Though its shared-hosting email plans are nothing out of the ordinary (and even a bit pricy compared to other hosts in this list), its cloud plan has one of the best price-to-quality ratios available. Also, since you don't have to share your server,
I think it's one of the best options for security-conscious users.
Features
SShield Security: Scala Hosting's proprietary security suite, SShield, provides real-time monitoring and protection against spam, malware, and brute-force attacks.
Dedicated IP address: With the Cloud Email Hosting plan, you'll get access to a dedicated IP address. Beyond the added security, this means that you'll never be blacklisted because someone decided to send a bunch of spam from the same address as you.
Daily Offsite Backups: Scala Hosting performs daily offsite backups of all of your email information. That way, even in the worst-case scenario, you can retrieve all of your crucial info.
Collaborator accounts: If you want to appoint someone else to manage email hosting for you, Scala Hosting's Cloud Email Hosting plan lets you create accounts with custom permissions and levels of access.
Read our expert Scala Hosting review for more details.
Number of email aliases
1 – unlimited
Mailbox size
50 – 2000 GB
Free domain name
Yes (with a 1-year commitment on the cloud plan)
Spam filter

✔

Starting price

$

2.95
Though it might not provide as many flashy, attention-grabbing features as some of its competitors, IONOS stands out as an incredibly reliable, well-rounded, and affordable hosting provider. None of its email hosting plans lack any crucial features. I've also found
its straightforward approach and affordable plans
 make it one of the best options if you don't have previous hosting experience.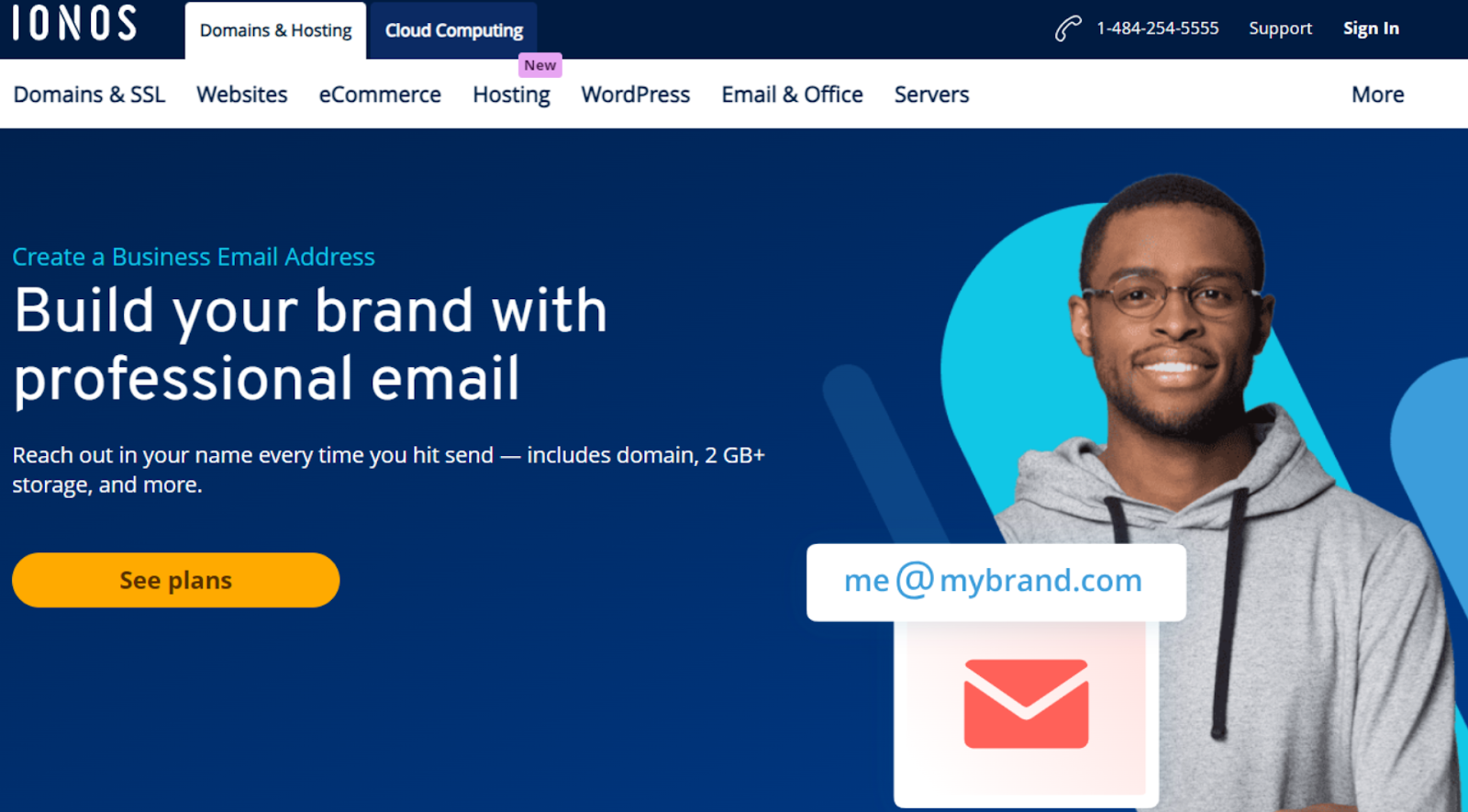 I
ONOS also provides much more than just email hosting.
It gives you access to domain name registration, website and e-commerce builders, WordPress services, and more. I found its ecosystem incredibly well coordinated, which makes it the obvious choice if you're already using (or planning to use) any other service by IONOS.
A free domain name is included with some hosting plans from IONOS
You'll be hard-pressed to find any other option as complete as IONOS for its price. But I will admit, you might have to change providers if you find yourself in need of more advanced features like greater storage space, custom email rules, or autoresponders.
Features
Customizable security: IONOS lets you create and customize your own blacklists and whitelists to ensure that your email is only accessible to those you want it to be.
Useful collaboration tools: IONOS' email hosting includes tools for calendar and contact sharing, as well as task management.
Dedicated customer support agent: When you sign up with IONOS, a single, dedicated support agent will be appointed to your account. That means that over time, you'll always have access to someone who understands your unique needs and priorities.
Managed Microsoft and Gmail business email: IONOS also gives you the option to manage custom Microsoft and Gmail business plans, which can include features like 2TB of storage per user and access to every one of Google's productivity tools.
Read our expert IONOS review for more details.
Number of email aliases
10
Mailbox size
2 – 50 GB per user
Free domain name

✔

Spam filter

✔

Starting price

$

2.00
In addition to being affordable, Hostinger's professional email includes a lot of valuable features.
 The company uses Flock's powerful email tool to deliver a lot of useful apps that complement email communication, such as calendar scheduling and video calls. There's also a search function you can use to find a particular topic or person, conversation threads, integrated video calls, read receipts, and more.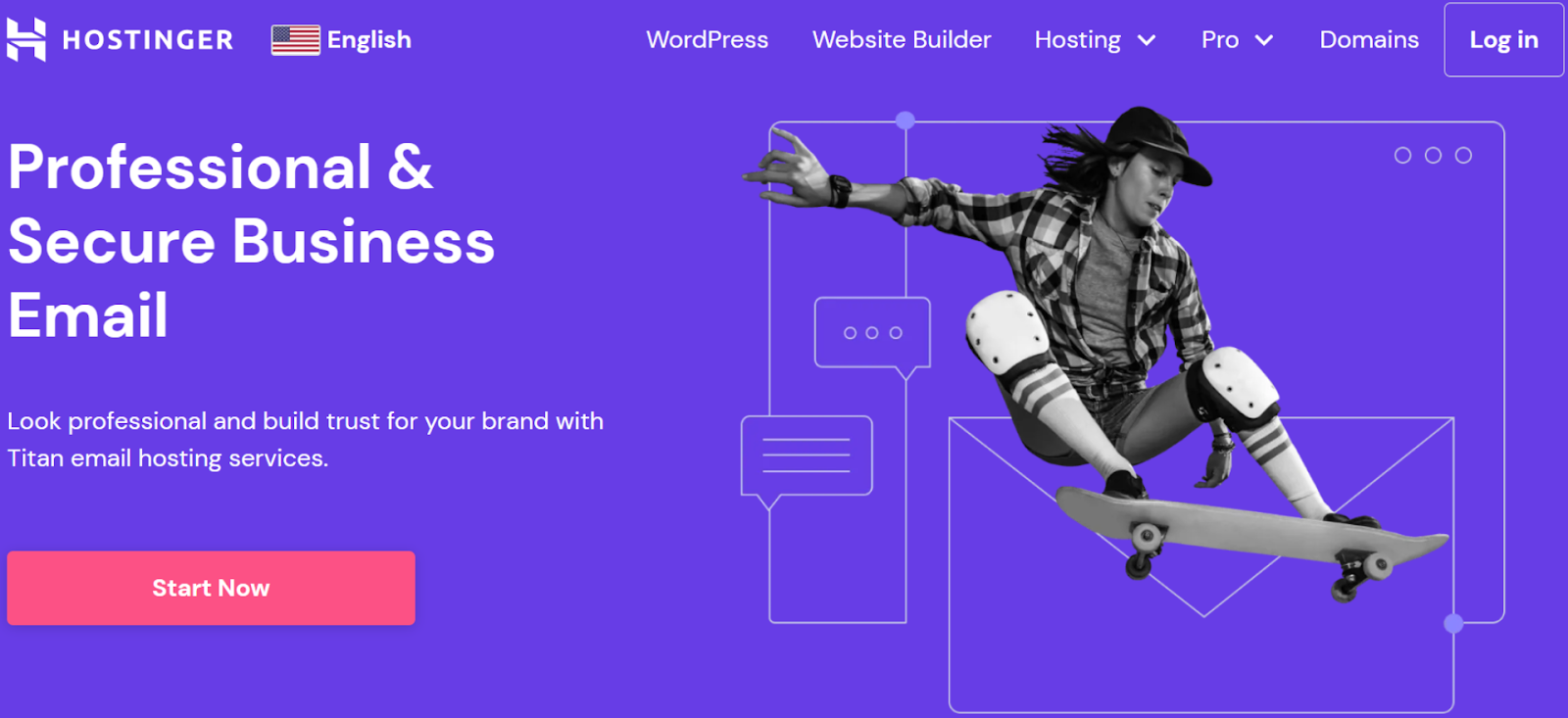 Hostinger is one of the few companies that let you purchase email hosting without also having to buy a web hosting plan.
But if you do want a web hosting plan with Hostinger, you can choose one of its cost-effective  shared plans, most of which come with unlimited email accounts.
A free domain name is included with some hosting plans from Hostinger
If you need serious storage or you work with Google Apps a lot,
 the company has a Google Mail plan that integrates Hostinger's dashboard with G Suite.
 The downside is that you're limited to Flock, Outlook, or Gmail. If you want a different webmail client, you'll have to configure it yourself.
Find out more about Hostinger in our expert review
.
Features
Advanced integrations. Hostinger's Titan email client gives you access to premium features. Start video calls with one-click meeting links or integrate your email with the most popular productivity apps, including Asana, Google Drive, and more.
Antivirus and anti-spam. Your Hostinger email accounts have spam filters and antivirus automatically activated. These will prevent emails sent from malicious sources from ever reaching your inbox.
Calendar management. With an embedded calendar function, you can keep track of your project goals and set reminders to bring back conversation threads at the optimal time.
Email templates. Hostinger gives you the possibility of creating ready-made email templates to ensure precision and efficiency when sending important emails.
Number of email aliases
50
Mailbox size
10GB to 30GB
Free domain name
Yes (with a 1-year commitment)
Spam filters

✔

Starting Price

$

1.99
A2 Hosting offers email hosting as a part of all its web hosting plans, as well as its dedicated plans for email hosting. Like InterServer, there's no free domain name, unfortunately.
If you're often away for extended periods of time, A2 Hosting's auto-responder feature is a great plus. 
With it, you can set up a customized reply to incoming emails, so people know when you'll be back or if there's another way to get in touch.

While you can configure the server to handle emails via the IMAP or POP3 protocols, it's best if you use IMAP.
With POP3, there's a good chance that your emails will be deleted from the server when you download them. In addition, POP3 doesn't support multiple simultaneous connections, which can be a problem if more than one person needs to use the email account.
Features
SpamAssassin and Barracuda spam filtering. Apache's SpamAssassin is included by default, but you can also purchase Barracuda's advanced spam filter with any of A2 Hosting's plans. This is a premium solution for protecting your business against spam, phishing, malware, and DDoS attacks.
One-click installer for email hosting software. The dashboard lets you install email clients and newsletter or mail list managers, which make your marketing campaigns easier to manage.
Whitelist filtering. With the help of BoxTrapper, you can set whitelists for your email accounts. This feature greatly reduces spam and phishing, as people who aren't on your whitelist have to complete a short verification process before their email gets to your inbox.
Advanced email tracking. With A2 hosting, you can see when your email has been read, unsent important emails if you detect a mistake, and even send reminders to follow up on important conversations.
Read more about A2 Hosting's features in our expert review
.
Number of email aliases
Unlimited
Mailbox size
100GB to unlimited
Free domain name

✘

Spam filters

✔

Starting Price

$

2.99
As is the case with most hosts on the list, SiteGround offers email solutions as part of its shared hosting plans. Although slightly more expensive than the previous companies on my list,
SiteGround's email hosting
 comes with a proprietary control panel (Site Tools), which is intuitive, modern, and easy to use.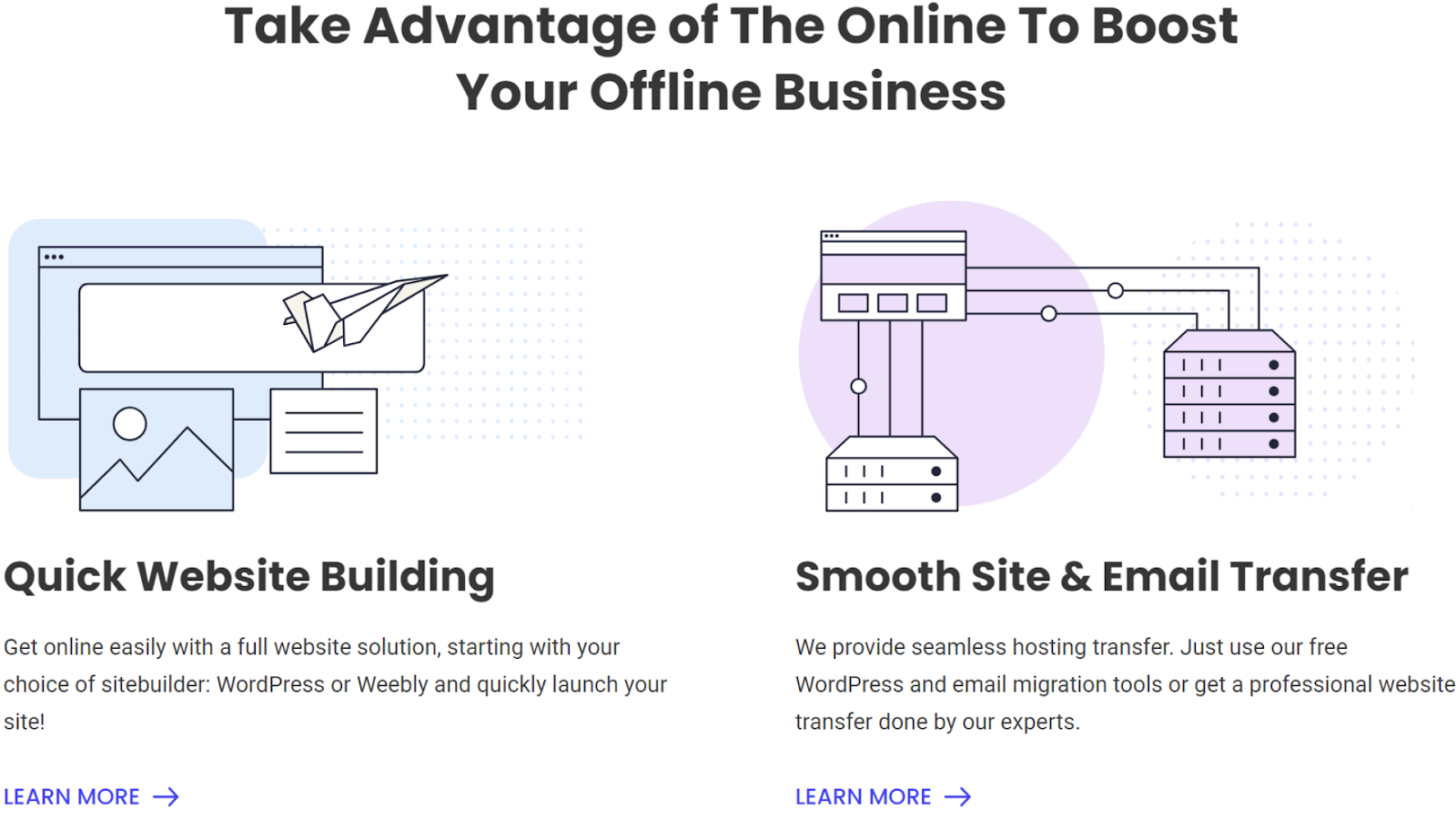 SiteGround's standard hosting plans come with
built-in spam protection, unlimited email accounts, and unmetered data transfer.
Unfortunately, total disk space and individual mailbox size are limited, with up to 10GB per account, depending on your plan.
A free domain name is included with some hosting plans from SiteGround
Higher-tier SiteGround plans include collaborator features. This lets you easily create individual accounts for your team, so they can connect to your dashboard with their own login details.
A nice advantage of Site Tools is that collaborators don't have access to your entire email communication, as they do with cPanel.
Features
Spam Experts. SolarWinds Spam Experts is a solid email security solution used by some of the biggest hosting companies. Its software processes roughly 2.5 million active domains every day, which makes its filtering system highly accurate.
In-depth email hosting tutorials. If you don't know where to start with professional email hosting, SiteGround has you covered. The knowledge base contains tutorials on everything from creating new mailboxes to setting up your business email on iPhones or Android devices.
Delivery status notifications. SiteGround lets you set up your email client to send you a notification when your recipient reads the message you've sent, like a "Seen" feature from IM, but for email.
Free email migrations. SiteGround makes it easy to transfer email accounts with its free, managed email migration tools.
Find out more about SiteGround's features in our expert review
.
Number of email aliases
Unlimited
Mailbox size
2GB to 6GB
Free domain name

✘

Spam filters

✔

Starting price

$

2.99
FastComet includes email accounts with its hosting plans – but you can't get email without the hosting.
The feature list is comparable to what you can get with SiteGround, but the mail quotas are significantly smaller – from 0.5 GB to 2GB, depending on your plan.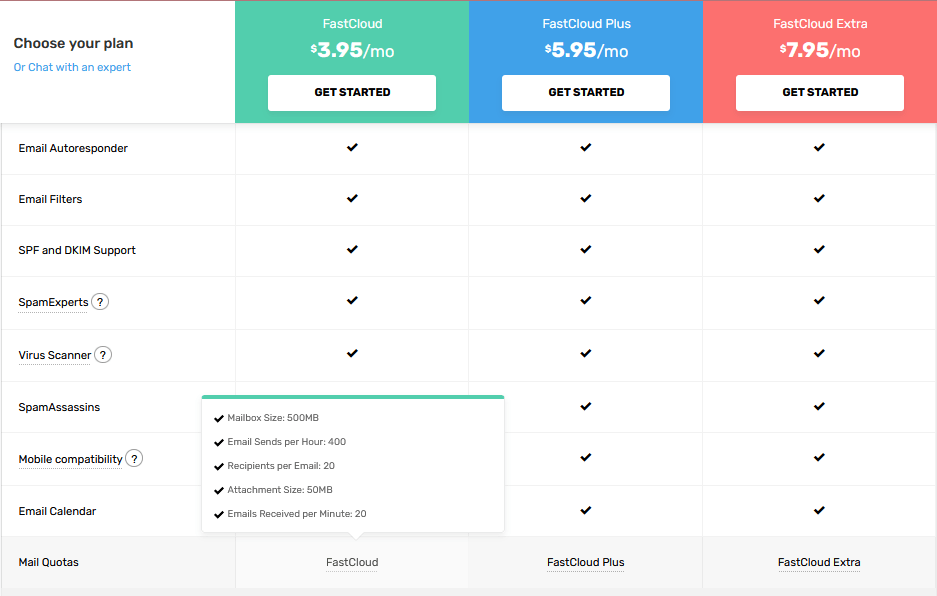 FastComet offers unlimited email accounts and a lot of email security features. 
You get SpamExperts and SpamAssassin, as well as the benefit of ClamAV's virus scanning. This open-source software is regularly updated and maintained by the tech gurus at Cisco.
Aside from being highly affordable, FastComet's mail tutorials help you gain access to your business email on any mobile device.
This is useful if you often check and respond to your emails on the go.
Features
Free virus scanner. The antivirus engine ClamAV has a decent virus database that will filter malware and known threats before they get to your inbox.
Spam security. FastComet uses Spam Experts and SpamAssassin to filter email communications to and from its servers.
Free managed migrations. If you're switching from another email host, transferring to FastComet is incredibly easy. Just ask the tech experts to move everything for you. The best part about this service is that databases and websites are included.
Free lifetime domain on select TLDs. Most web hosts typically provide a free domain only for the initial year or billing period (if they offer it at all). However, FastComet currently offers free lifetime domains with specific top-level domains (TLDs) such as .online and .store.
Read more about FastComet's features in our expert review
.
Number of email aliases
Unlimited
Mailbox size
0.5GB to 2GB
Free domain name

✔

Spam filters

✔

Starting Price

$

2.19
Which Business Email Hosting Is Right for You?
The top email provider will only be top-notch if it fits your requirements. Certain services assist you in moving your emails and databases, and most offer web hosting as part of the deal. The drawback is that email coupled with web hosting tends to be more costly.
InterServer is the overall best email hosting service on my list because of the value it packs in its email hosting plans.
The service has unlimited emails and storage, excellent security, and anonymous email. If you're looking for a more flexible option with robust security,
Scala Hosting's Cloud Hosting plans are an ideal choice at low prices.
If you'd rather go for something a little more basic, but exceedingly affordable,
IONOS might suit you better
. To get started with your new email account, you can follow our
step-by-step guide to setting up email in hPanel, cPanel, and Plesk.
I've summarized the best features of the email hosting services on my list in the table below:
Standout Feature
Number of accounts
Inbox Size
Starting Price
InterServer
Overall best email hosting, anonymous email
Unlimited
25GB

$

2.50

Scala Hosting

Flexible hosting that can adapt to your needs

1 – Unlimited
50GB to 2000GB

$

2.95

IONOS

Affordable and well-rounded hosting for beginner

10
20GB to 50GB

$

1.00

Hostinger
Advanced integrations (video calls, calendar, etc.) at affordable prices
50
10GB to 30GB

$

1.99

A2 Hosting
Auto-responders and advanced spam filtering available
Unlimited
100GB to unlimited

$

2.99

SiteGround
Easy-to-use control panel and delivery status notifications
Unlimited
Up to 10GB

$

2.99

FastComet
Mobile-friendly client
Unlimited
0.5GB to 2GB

$

2.19
FAQ
What is the best email host for businesses?
Though there are plenty of high-quality email hosting providers out there, the best email host for you will depend on your specific needs. My top recommendation is InterServer, thanks to its unlimited resources and ease of use. But I recommend that you take a look at our ranking of the best email hosting services to find the ideal one for you.
What is email hosting?
Email hosting basically means that you're paying a hosting provider to store all of your email information on one of its servers. It has the benefit of added security, customizability, and efficiency over any other run-of-the-mill email provider. If you're looking for a great email host for you, check out our list of the best email hosting providers in 2023.
What does domain mean in an email setup?
The domain is everything that comes after the @ on your email address. A custom email domain gives you the benefit of professionalism and extra security. If you want to get one, the best option will be to do so through an email hosting provider.
How do I set up a business email?
The best and easiest way is to set up a business email through an email hosting provider. Not only will a high-quality provider do most of the hard work for you, you'll also be safe knowing that your email is being looked after by professionals. If you're looking to set up a business email, but don't have a lot of experience, I recommend looking into IONOS' email hosting plans.