2,000+ Logos Created, but Are They Good?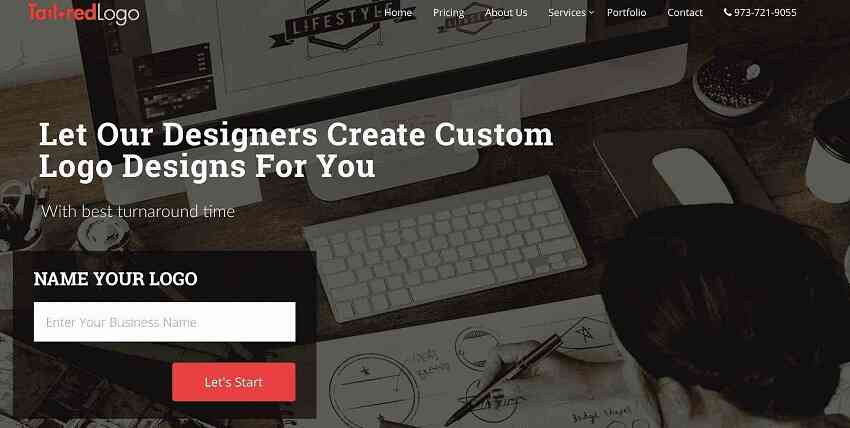 Tailored Logo brands itself as a one-stop shop for marketing and design, advertising 15+ years of experience and over 2,000 logos created. The pictures on the company website give off the vibe of a traditional (expensive) creative agency, where designers work collaboratively on your project. But that's not what you'll pay for with Tailored Logo, and definitely not what you'll get.
Instead, Tailored Logo offers a wide array of discounted design and digital marketing services, ranging all the way from logos to iOS apps. This variety of services certainly looks impressive at first glance, but it could also be a sign of a company trying to do too much. Does Tailored Logo really deliver high-quality, custom logos, fast and at a good price? Or is it stretched too thin to provide the laser-focused logo expertise you need?
Before clicking Let's Start, read this quick review. I'll show you exactly what you'll get for the price – and more importantly, what you won't.
Features
Quick Logo Design with Optional Branding Add-Ons
Tailored Logo uses a fairly straightforward process for logo design, all done online. You'll write a creative brief and then wait for the designers to share their logo concepts with you. You'll then provide feedback, get revisions, and eventually finalize your logo design.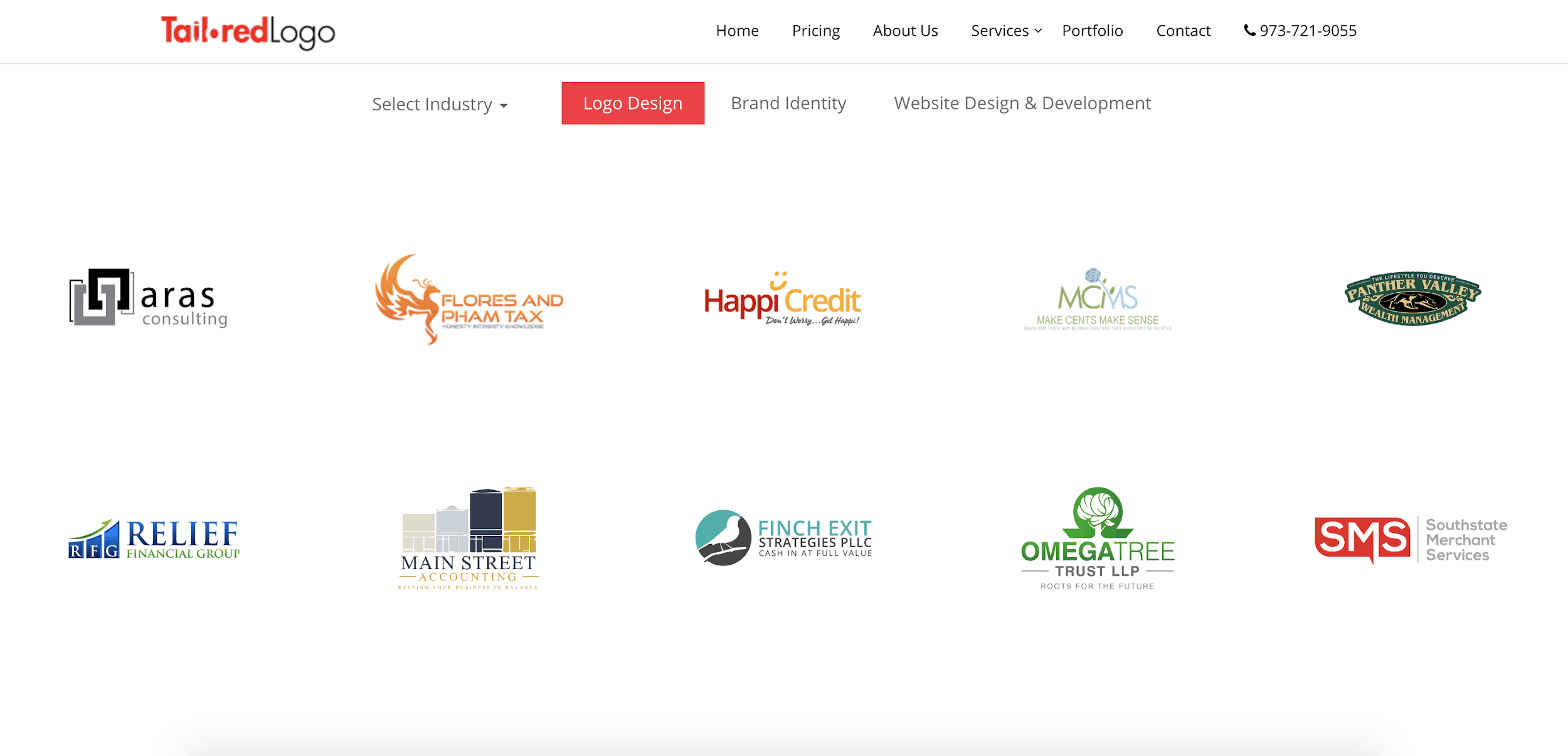 You'll Get Input from Multiple Designers
Tailored Logo offers many different logo design packages (more on that below), but each package gives you multiple logo concepts created by different designers. With the most basic package, two designers will send you one logo idea each. Great, two heads are better than one, right? Well, only if those heads work together, and they really get what you're after in a logo.
Tailored Logo's designers seemingly work alone rather than as a collaborative team, which results in a huge difference in quality across individual logo designs. I'll show you exactly what I mean at the end of this section.
The second problem is that you can't pick the Tailored Logo designers who work on your project. This luck-of-the-draw approach might work fine, or you might find yourself working with someone whose design instincts are a million miles from the look you want.
If you'd rather choose a designer yourself, try heading to Fiverr, where you can view thousands of portfolios and hire someone whose work you know you like.
My colleague has hired several designers from Fiverr, and all of the other top logo design platforms, in a quest to find the perfect new logo for Website Planet. Don't miss his comparison of the best logo design services – and find out which one is our clear winner.
You Can Bundle Other Branding Services
If you need more than just a logo, Tailored Logo offers discounts on bundled packages that include two or more of these services:
Logo design – Select how many logo concepts you want, plus the file types you need.
Branding – Get custom designs for business cards, t-shirts, and other marketing/promo items.
Website development – Choose a basic HTML site, content management system (CMS), or e-commerce shop.
If you want every last aspect of your company's digital presence to be handled by Tailored Logo (and I'm definitely not saying you should), the company also creates animations, explainer videos, and even iOS and Android apps.
You Can Get Your Logo Quickly
Tailored Logo delivers logos in as little as 48 hours. (Until recently, the advertised turnaround time was 24 hours, so there's a worrisome trend here.) Note that requesting revisions to your proposed logos will slow down the process of getting your final, downloadable files. Still, the process is pretty fast overall.
On the other hand, many designers on Fiverr also offer quick turnarounds, often for a much lower price. For that matter, you could even create your logo yourself with a tool like Tailor Brands or Wix Logo Maker (which I actually did below!). Thanks to artificial intelligence (AI), these logo makers quickly generate unique logo designs that you can customize and download in a matter of minutes.
You'll Get Unlimited Revisions… Maybe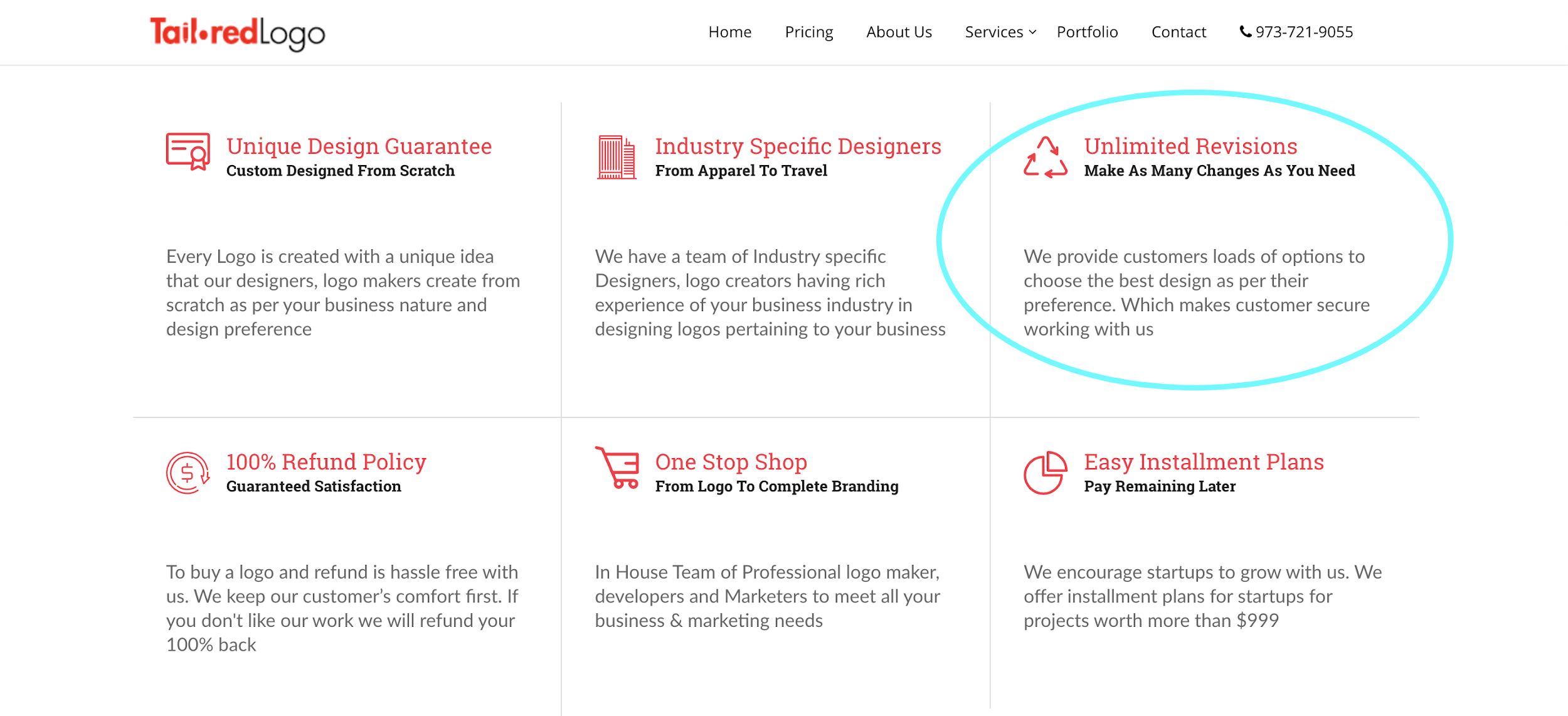 As this screenshot from the homepage shows, Tailored Logo prominently advertises an "Unlimited Revisions" policy. There is a catch, though: only the top three packages include unlimited revisions. So you'll have to spend a fair amount to unlock this feature. The lower-priced packages place limits on the number of revisions you can request. For example, the second-cheapest option, Professional, allows six revisions.
Okay, Quick Is Good… But How Do the Logos Look?
Quick turnarounds and unlimited revisions are nice selling points for Tailored Logo, but ultimately, you need to know that your logo will look professional and be worth the price you paid. After taking a thorough look at Tailored Logo's portfolio, I'd say that most of the designs look…"fine." Not really a five-star endorsement, is it?
To be fair, some of the logos are creative and well-designed, like the three examples below. I love the thoughtful use of color, imagery, and text. It also impressed me that the styles are so different from one another; with some design services, every logo looks a variation on the same idea.
Unfortunately, many other Tailored Logo designs look basic, generic, and even amateurish, like the three I've highlighted below. Really, these logos look like they were designed by a completely different company than the ones above. (Here's where the use of multiple designers working on their own, rather than a collaborative design team, gets Tailored Logo into trouble.)
A lot of designs I saw in the Tailored Logo portfolio (even the fairly good ones) had me thinking, "Wait, I could do that!" And I don't mean with professional graphics software like Adobe Illustrator, either. To see whether my hunch was right, I pulled up some of my favorite DIY logo makers and put them to the test.
Here's a comparison with Tailor Brands:
Left: From Tailored Logo's portfolio. Right: My version, created with Tailor Brands in 15 minutes. To learn more about this platform, read our in-depth Tailor Brands review.
And with Wix Logo Maker:
Left: From Tailored Logo's portfolio. Right: My version, created with Wix Logo Maker in 15 minutes. Learn more about Wix Logo Maker in our expert review.
And finally with DesignEvo:
Left: From Tailored Logo's portfolio. Right: My version, created with DesignEvo in 15 minutes. Click here to read more about DesignEvo.
The similarities between the logos in each pair are enough to make you wonder…what are you really paying Tailored Logo for? Sure, you could get something like one of the genuinely original designs in the company portfolio. But you're just as likely to get something that you could easily make yourself.
Allow me to include one last point: Assessing a logo's excellence relies on a business maintaining its usage over an extended period. I was inquisitive to determine the number of companies highlighted in the Tailored Logo portfolio that still employ those logos. Thus, I tapped into my inner investigator (fine, fine, I simply resorted to Google).
I actually couldn't find many of the companies at all, and several of the ones I did find were using different logos. Conclusion: It's hard to know whether Tailored Logo's claim of "2,000+ logos created" means real logos or samples showing fake companies, created just to pad the company portfolio.
Pricing and Support
Multiple Pricing Packages for Your Logo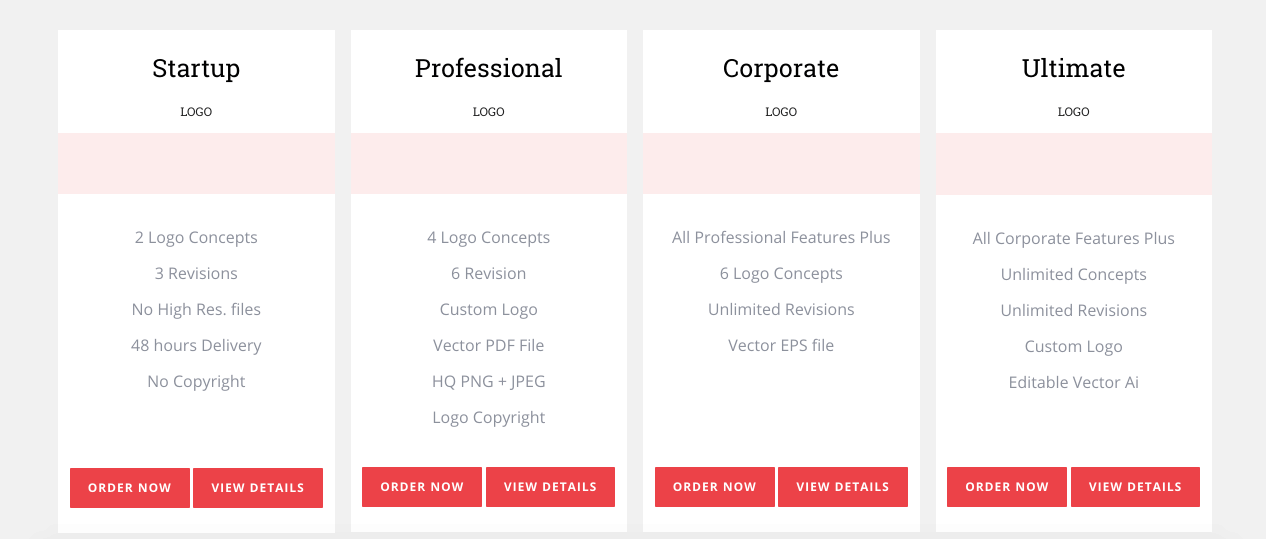 Tailored Logo offers four logo design packages, each for a one-time payment. Here are the key differences that make one package more expensive than another:
Number of logo concepts: The cheapest package offers only two logo concepts for you to review, while the most expensive plan offers unlimited concepts.
Logo revisions: As I said, you'll only get unlimited revisions with the more expensive packages. The Startup plan includes just three revisions, so there's a pretty good chance of getting stuck with a logo you don't love.
File formats: The cheapest package offers only low-resolution files for small, digital display. To get more broadly usable files (like high-res PNGs or scalable vector files for printing), you'll have to pay more.
The prices here are much lower than those of The Logo Company, another agency that gives you multiple logo concepts from different designers. Unlike with The Logo Company, though, the cheapest option at Tailored Logo isn't that useful, since you don't get any high-res or print-ready files. And The Logo Company only does logos, which gives me a little more confidence that the designers will understand what I need. To read about our experience with them, click here to read our in-depth review of The Logo Company.
Overall, for what you're getting, I would say that the prices at Tailored Logo are…reasonable. Given the lackluster portfolio, along with the limited revisions and file formats included in the basic plan, you could certainly get greater value with another logo design service like Fiverr.
There's a Money-Back Guarantee
All of Tailored Logo's services come with a 100% money-back guarantee. You can request a full refund by phone, email, or live chat, and you'll get your refund within 48 working hours.
Be careful, though: The money-back guarantee is only valid before you've approved the initial logo concepts. Once you've approved them and asked for revisions, you'll no longer be able to request a refund.