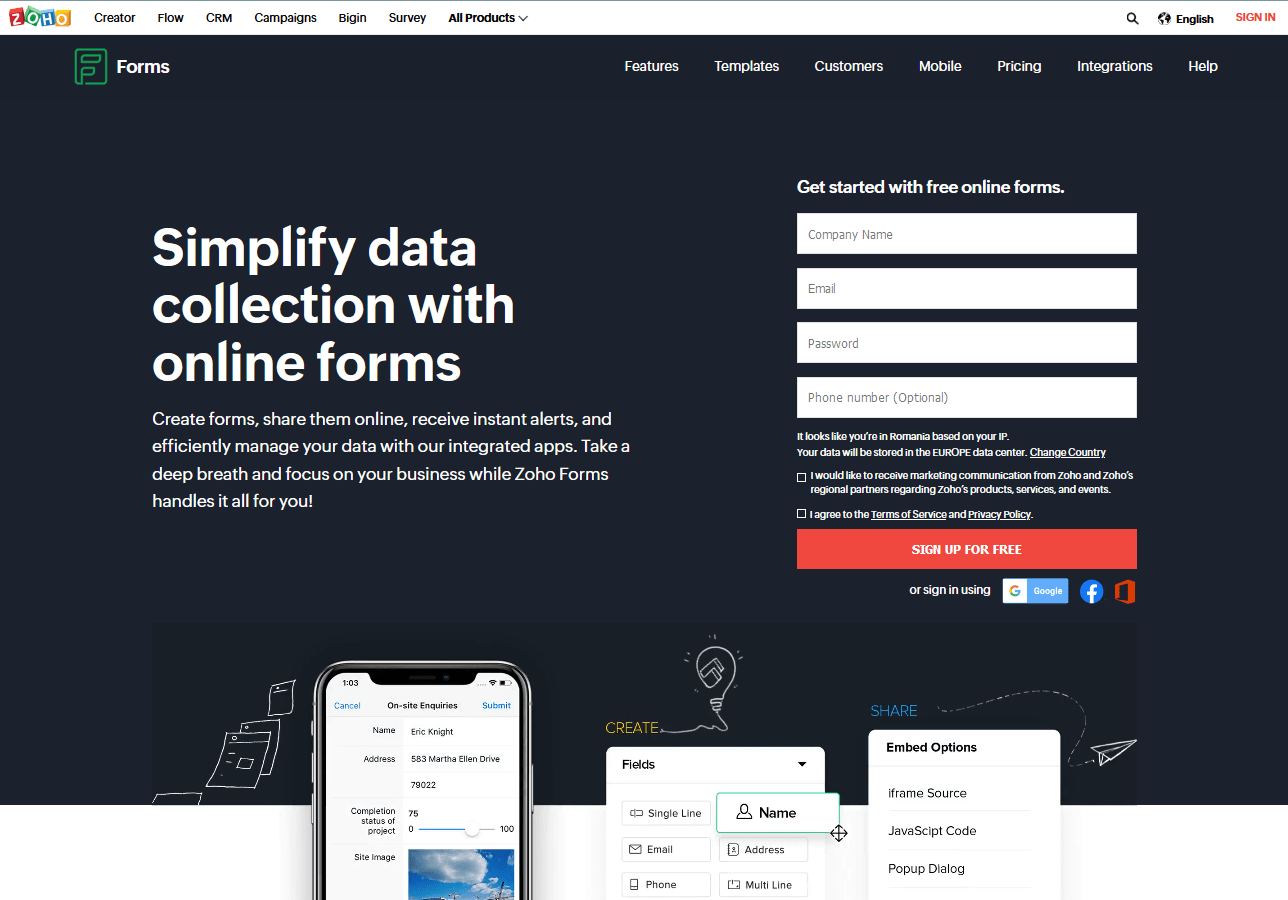 Zoho Forms is a neat form builder that packs in some great features, including electronic signatures, third-party integrations, and the ability to accept payments, all while being relatively easy to use.
It offers both free and paid plans and supports multiple languages (nine on the web version and eleven on the mobile app), including English, Chinese (simplified), Dutch, German, Spanish, French, Portuguese, and Italian. All of the paid plans give you unlimited forms and tens of thousands of submissions per month.
So far, so good, but Zoho Forms isn't without its faults. While the free plan gives you access to almost all features and allows you to receive payments, it only lets you create three forms in total. Plenty of users will find that they need to upgrade to a paid plan – at which point, things can get expensive.
So before you take the plunge, it's important to decide whether Zoho Forms is right for your specific needs. Let's take a look at the good (and the bad) about this form builder.
Features and Ease of Use
Zoho Forms packs in a lot of features – probably a lot more than the average user would even need – without sacrificing on ease of use. Some of its key features include:
40+ form fields: These range from basic personal details and multiple-choice fields to more advanced options like file uploads, electronic signatures, and subforms.
Payments: Available even on the free plan (up to 10 payments).
Multi-page forms: These let you break a longer form into multiple pages and allow respondents to save a partially completed form and finish it later.
Confirmation & notifications: You can send instant messages via email or SMS to respondents, and redirect them to different pages after they submit a form.
Zoho Forms comes with just over 45 templates that cover pretty much every need, from collecting client details to party invitations. All forms are fully mobile-responsive.
And Zoho Forms makes things super simple in terms of actually building a form. The interface is well-designed and intuitive. You simply add, remove, or rearrange form fields using the drag-and-drop editor. Editing an element is as simple as clicking it to bring up the settings sidebar and typing in your changes.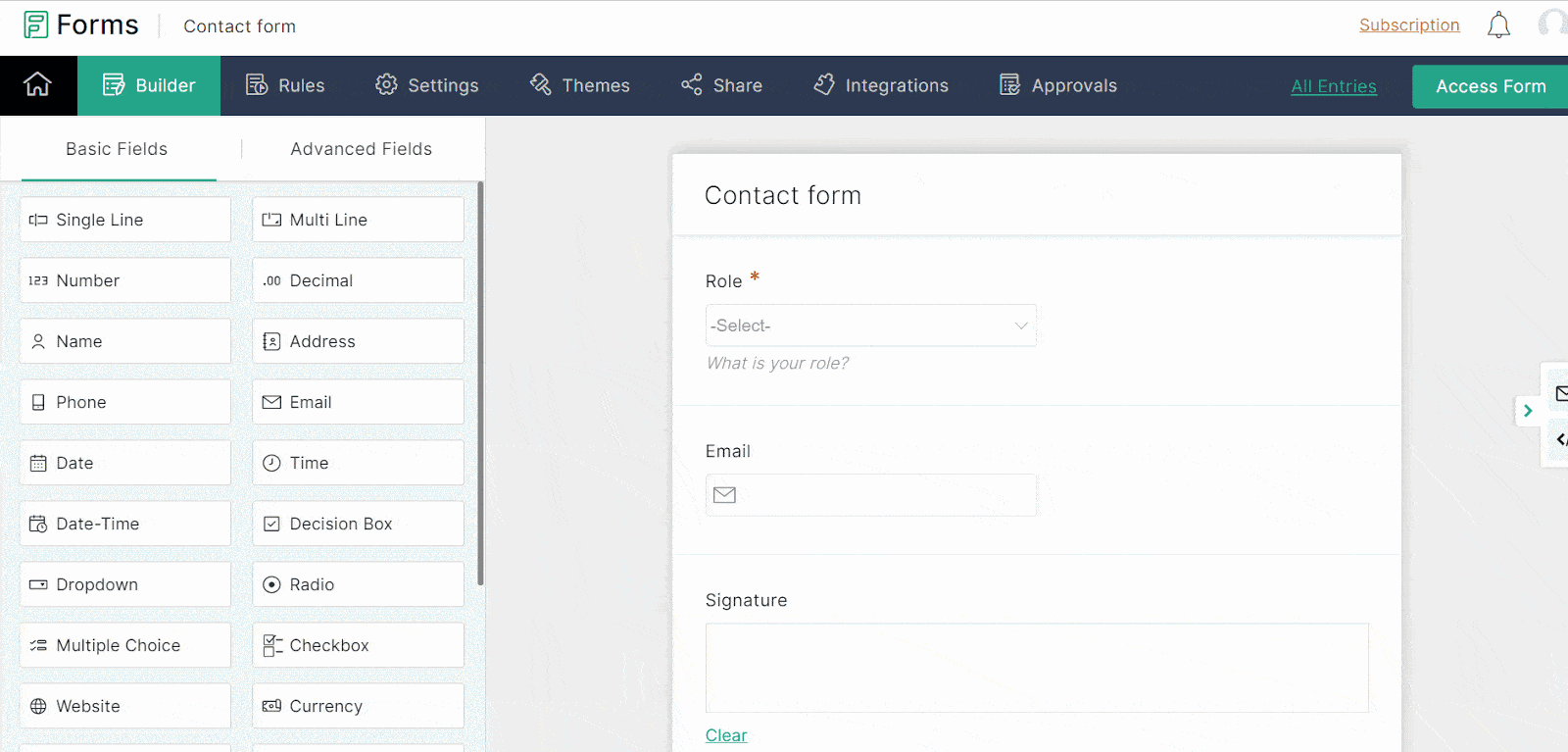 You can change the look of your form by heading to the Themes tab, where you can select a premade theme or customize your own by editing backgrounds, colors, fonts, buttons, and more. The designs aren't drop-dead gorgeous, but you can create something pretty decent and on-brand with a bit of tweaking.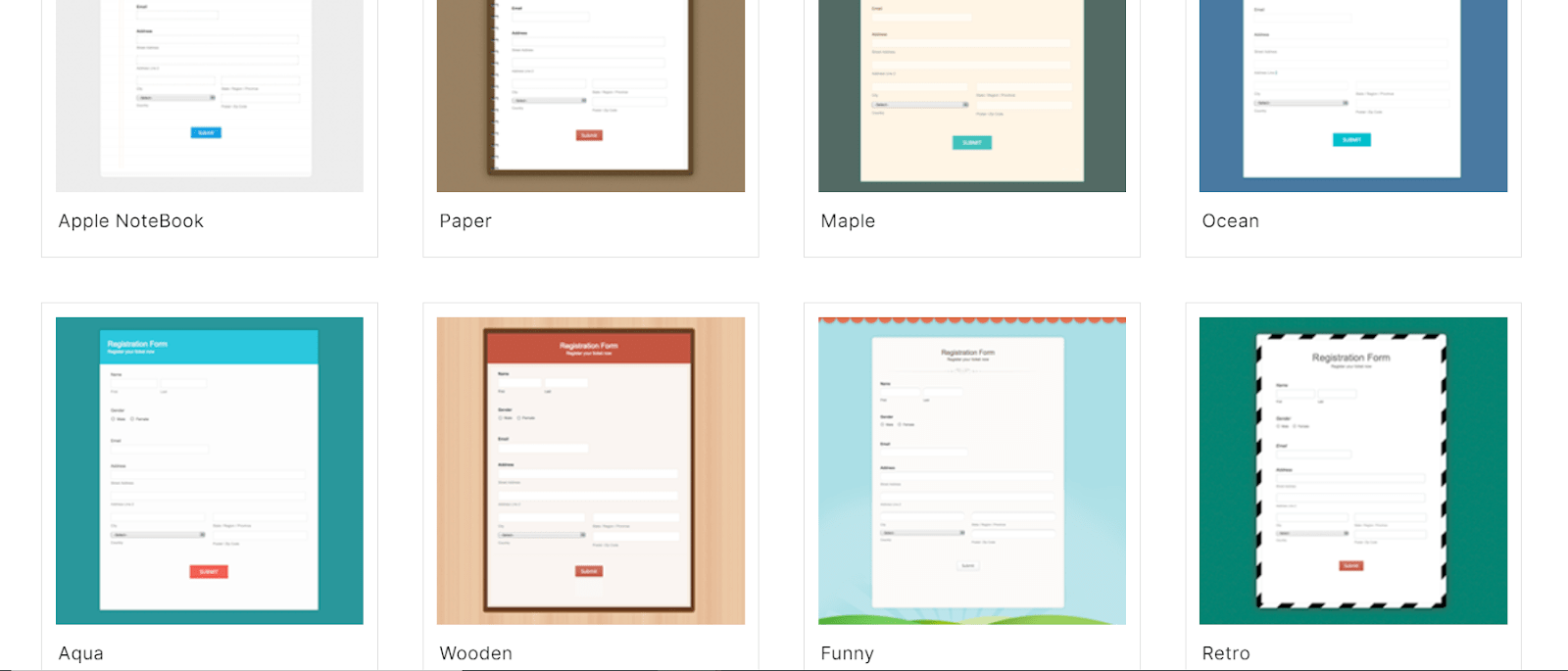 Mobile App
One thing I really like about Zoho Forms is that it comes with a mobile app for creating and editing forms on the go. This app has a bunch of neat options like scanning QR codes, capturing locations, receiving signatures, and taking photos – all from your mobile forms.
One unique feature is the app's offline forms software, which lets you collect data even when you're offline (this could be great if you needed to use your forms in areas with a patchy mobile signal). Once your internet connection returns, the forms and entries you collected will sync automatically with your account.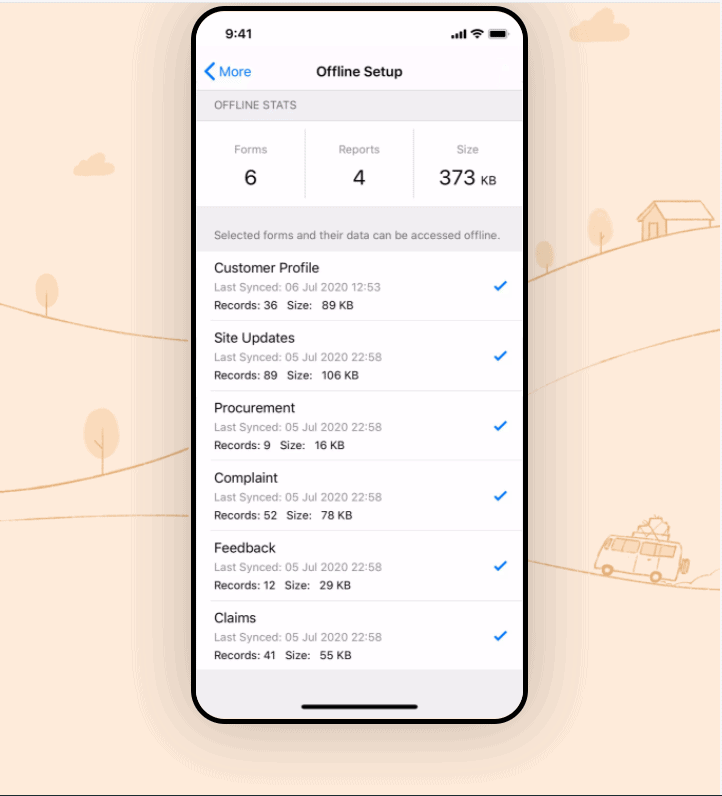 Electronic Signatures
Another time-saving feature is Zoho Sign, a way of collecting signatures electronically. You can use Zoho Sign for things like HR agreements, rental contracts, and waivers, cutting out the need for printing, signing, and scanning.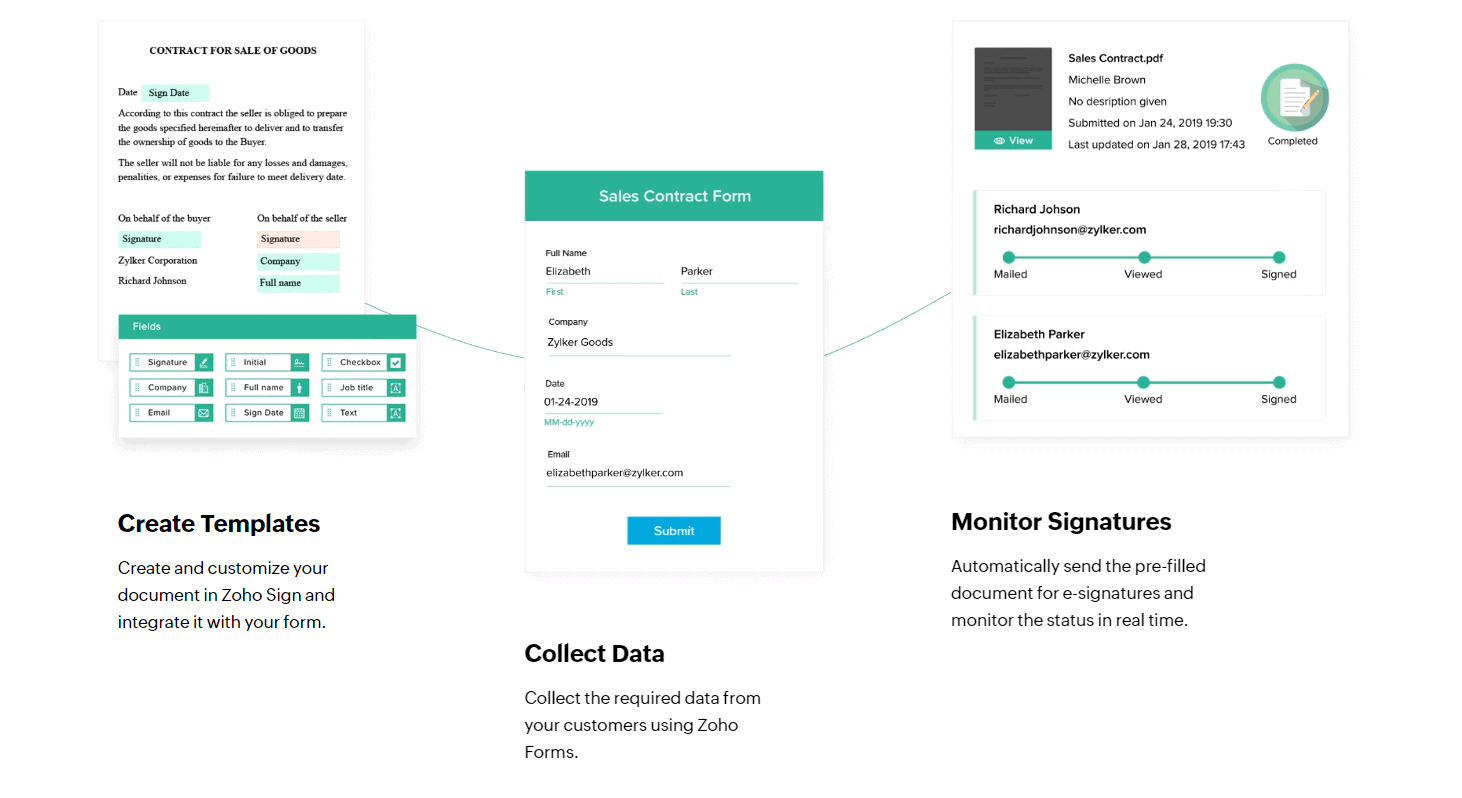 Apps & Integrations
Zoho Forms is compatible with over 550 apps, including Office 365, G Suite, Zapier, Microsoft Teams, WordPress, Salesforce, Google Sheets, WebMerge, Automate.io, and Integrately, plus all of Zoho's own apps – including two CRM (customer relationship management) tools.
The Zapier integration is particularly useful, as it enables form responses to trigger actions in more than a thousand applications.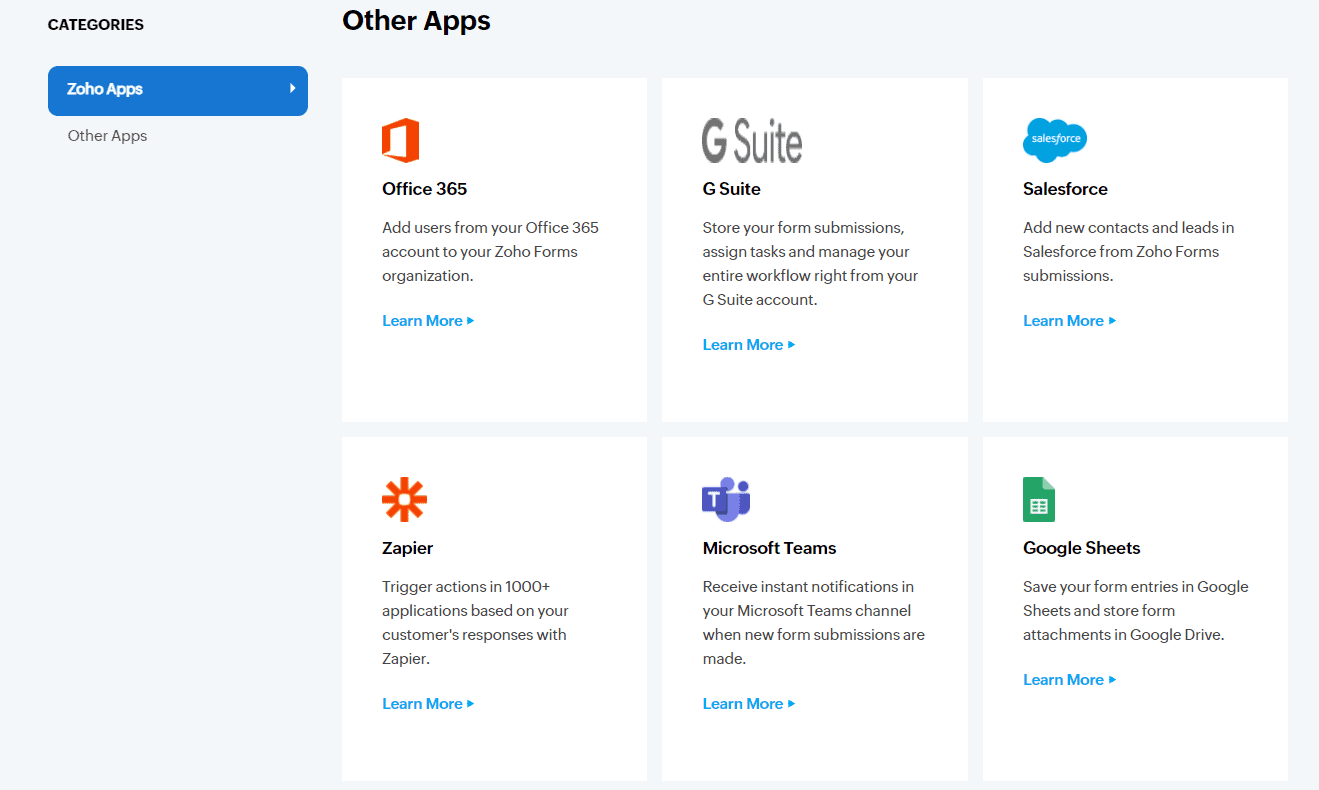 Pricing and Support
Zoho Forms offers a free plan that's pretty generous in a lot of ways – it gives you access to most features and customization options, plus the mobile app. You can accept up to 10 payments on the free plan, and unlike most of the competition, it supports a range of payment integrations, including PayPal, Stripe, and 2Checkout.
The main features reserved for the paid plans include the ability to send email notifications to form respondents, encrypt individual form fields, and have multiple users on one account. The free plan also limits you to a total of three forms, 500 submissions per month, and 500MB of storage, so if you'll need more than this, you'll have no choice but to upgrade.
The cheapest paid plan, the Basic plan, is quite a step up, offering an unlimited number of forms and 10,000 submissions per month. The next tier up, the Standard plan, lets you have multiple users.
From this point onwards, the paid plans are the same in terms of features – each one simply gives you more additional users, more submissions per month, and more storage space. The top-tier Premium plan supports 100 users, 150,000 submissions per month, and 10GB of storage.
Compared to the competition, Zoho Forms' pricing structure seems more than fair. Particularly since it offers a lot more bang for your buck in terms of the number of forms, submissions, and payment options offered on each plan.
In terms of support, Zoho Forms doesn't offer a great deal of human-to-human contact. This much is clear from its Help pages, which throw every possible option at you – user guides, how-to articles, forums, FAQs, tips and tricks, and e-books – before finally giving you a support email address.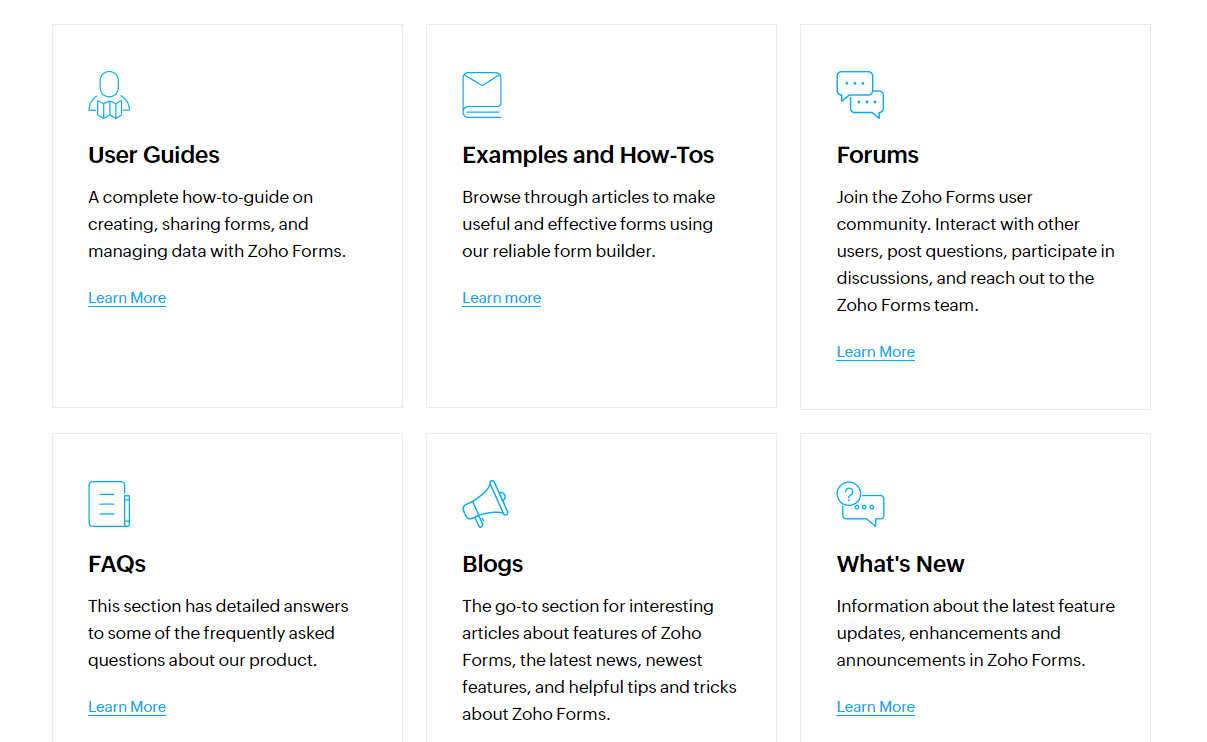 Zoho says it aims to get back to you within two hours to 24 hours, depending on how urgent your query is.
Thankfully, however, the email address really does seem to be a last-ditch option, since I was able to find the answers to all of my questions either in the comprehensive user guide or via the forum.