E-commerce has erupted in popularity because of its potential to provide entrepreneurs with the ability to work from anywhere in the world. There's a low barrier to entry and big bucks to be made! However, with that opportunity comes the super competitive and saturated playing field of running an online business.
According to research, anywhere from 30-60% of organic traffic comes directly from Google search result pages (SERPs). That means it's the tool to be used to get your store found online by as many customers as possible and the most crucial factor when it comes to beating the opposition to it. That's why you want to ensure that the platform you choose does its best to help you get found on Google. Let's look at how Shopify measures up in this regard.
Shopify and Indexing Your Website for Google Search
As you can imagine, with over 30 trillion webpages already on the internet, it would be virtually impossible for Google's search engine to instantly find every new webpage. Google will eventually find and index your website if you simply host it online; however, this can take up to six weeks. You can expedite the process by sending Google a request to index your website. You do this by generating a sitemap, which is a machine-readable model of your website that gives the search engine an idea of its content and allows it to navigate the website.
Shopify does help you out by automatically generating a sitemap of your website in the form of a sitemap.xml file. It's this file that you must submit to Google to index your website. You can view this sitemap by entering the URL for your store, plus sitemap.xml. For example:
www.myshopifystore.com/sitemap.xml
Before you can submit the sitemap, you'll also first need to verify your website with Google Search Console. This is a standard process for all websites, platforms, and owners. You'll need to log into your Google Search Console account and get a piece of code, called a meta tag, and copy and paste this into the header of your store. The steps to do this are in the Shopify help resources.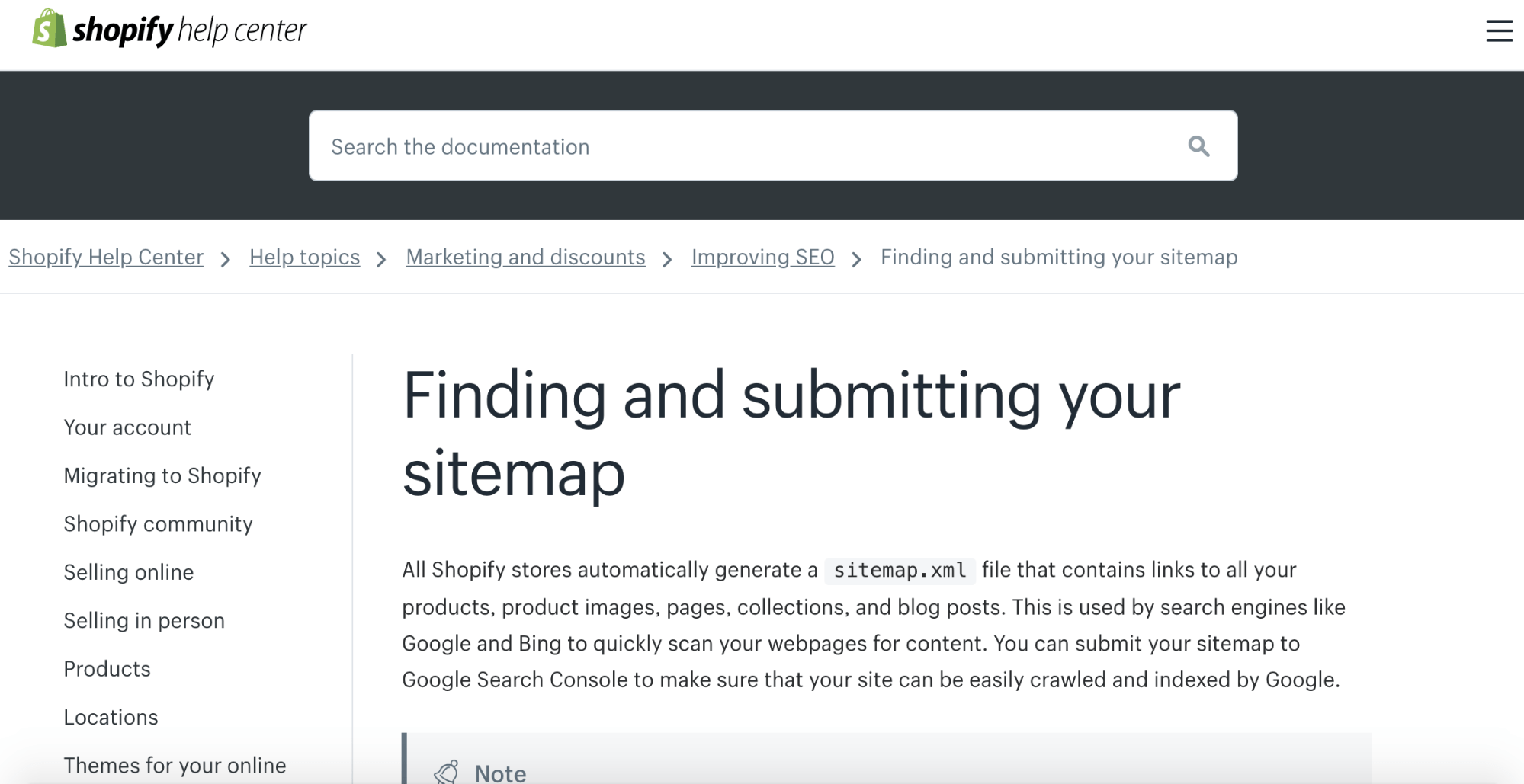 Actually submitting your sitemap is the simplest step of all, as you just need to navigate to your website in Google Search Console and type in sitemap.xml after your verified website URL. Your webpage will now be indexed by Google and shortly be available on its SERPs.
In this regard, Shopify is nothing special. Most other hosts work in the same way where you have to manually verify and submit your xml sitemap. By contrast, WordPress.com and Wix (with SEO Wiz), the few exceptions, do more of the work for you by automatically submitting your webpages.
How Does Shopify Compare in Terms of SEO?
The Bad
For now, I'll ignore off-page SEO as well as the use of keywords and SEO-friendly content, as these are the responsibility of the user and not Shopify itself. What I'll look at are the other factors that relate directly to the Shopify platform.
First, one of the top complaints you'll find online is that the robots.txt and sitemap.xml files are automatically generated and can't be edited. However, this is the case with most website-hosting platforms, as it's only very advanced users who will get any benefit out of tinkering around with these files in the first place.
Another complaint is the fact that Shopify follows certain URL-constructing practices that can't be changed. For example, product webpages will always have /products/ in the URL. These automatically generated canonical URLs do have the benefit of preventing duplicates; however, they're not the most SEO-friendly. Maybe even worse is the fact that you can't easily create subcategories for products without finding workarounds using apps that aren't really for beginners.
Last, Shopify isn't first and foremost a blogging platform, which means it's post and content-creation features aren't as comprehensive or easy to use as some other platforms, like WordPress.com.
The Good
It's not all bad news, though. They have recently taken steps to improve their SEO, as this has generally been an area where they didn't perform as well. For example, users are now able to:
Edit title tags, meta descriptions, and URLs for their webpages
Edit ALT tags for all images and customize image file names
There are also a large number of highly rated SEO apps on the Shopify app market. These range from keyword-suggestion tools, to analytics tools, to meta tag managers. You should keep in mind that you're allowed some customization over your URLs, such as the slugs, which isn't available on all platforms. The other basic SEO tools like tags and 301 redirects (to make sure your webpages are found if you migrate to Shopify or change your addresses) are also built-in features.
And finally, the Shopify platform is known for having some of the fastest loading times for website pages hosted on them, which is another important SEO ranking factor.
Is Shopify the Best Platform to Get Found on Google?
That's most of what you should know about how to get your Shopify website found on Google SERPs and whether Shopify is a good platform to do so. Just like any platform, Shopify has its own pros and cons. One thing that clearly holds it back somewhat is that Shopify wants to provide features that make it an attractive and easy platform for beginners to use.
Things like automatically generated sitemap.xml and robotx.txt files as well as canonical URL structures are great for beginners who don't know much about coding or SEO. However, they also hold back the freedom of advanced users who want to implement their own search engine optimization from a very low level. To be fair, most other hosts have the same restrictions, but there are exceptions, such as BigCommerce's fully-customizable URLs.
To learn more about BigCommerce's features, check out our expert review .
Shopify is therefore not the best nor the worst platform for SEO. However, SEO is not quite on the same level as Shopify's other best-in-class e-commerce and hosting features.
As with most good things in life (and Shopify is a fantastic e-commerce platform), you'll need to pick your pros and cons carefully. While Shopify will help you and provide you with the tools to cover 80% of your SEO needs, it might later stop you from covering those last few percentage points.
If you want to learn more about Shopify, check out our expert review ​​ or visit their ​​pricing page.​​
---
Image
https ://www.flickr.com/photos/[email protected]/27940989741