If you've looked into email marketing at all, chances are you've been bombarded by services claiming to be the best all-in-one platform out there.
Mailchimp and VerticalResponse both often get touted as top performers. But they can't
both
be the best – so which is better?
To find out, I spent a few weeks thoroughly testing each service in order to compare them on features, pricing, analytics, and support. And
it's safe to say that one or the other, or both, were lacking in every single area
, and I don't think you should have to compromise on anything. VerticalResponse's deliverability is pretty shocking, you'll have to pay a premium to get decent reporting with Mailchimp, and don't even get me started on the pricing.
TLDR: If you really have to choose one of Mailchimp vs VerticalResponse, Mailchimp just about wins the battle. But honestly, after testing, I think there are far better email marketing services (EMS) to choose from.
I'd personally recommend ActiveCampaign
– it's an all-around great service with a ton more built-in features, solid automation tools, genuinely helpful support, and advanced analytics
, and therefore offers better value for money, all of which these two services are lacking.
Plus, it offers a 14-day free trial so you can try it risk-free.
Keep reading to find out how Mailchimp and VerticalResponse compare – as well as which alternative email marketing services do better than both.
Features
Both VerticalResponse and Mailchimp Are Missing Key Features
Mailchimp and VerticalResponse both allow you to build emails and landing pages from scratch, but the easiest and fastest way to create a new campaign is to use a template.
Mailchimp offers 100+ while VerticalResponse only provides 8 – but I wasn't inspired by
any
of Mailchimp's outdated designs.
VerticalResponse also goes one step further, with builders for surveys, pop-up ads, and forms.
Mailchimp's form builders are simpler, although that might be preferable if you want to make something quickly.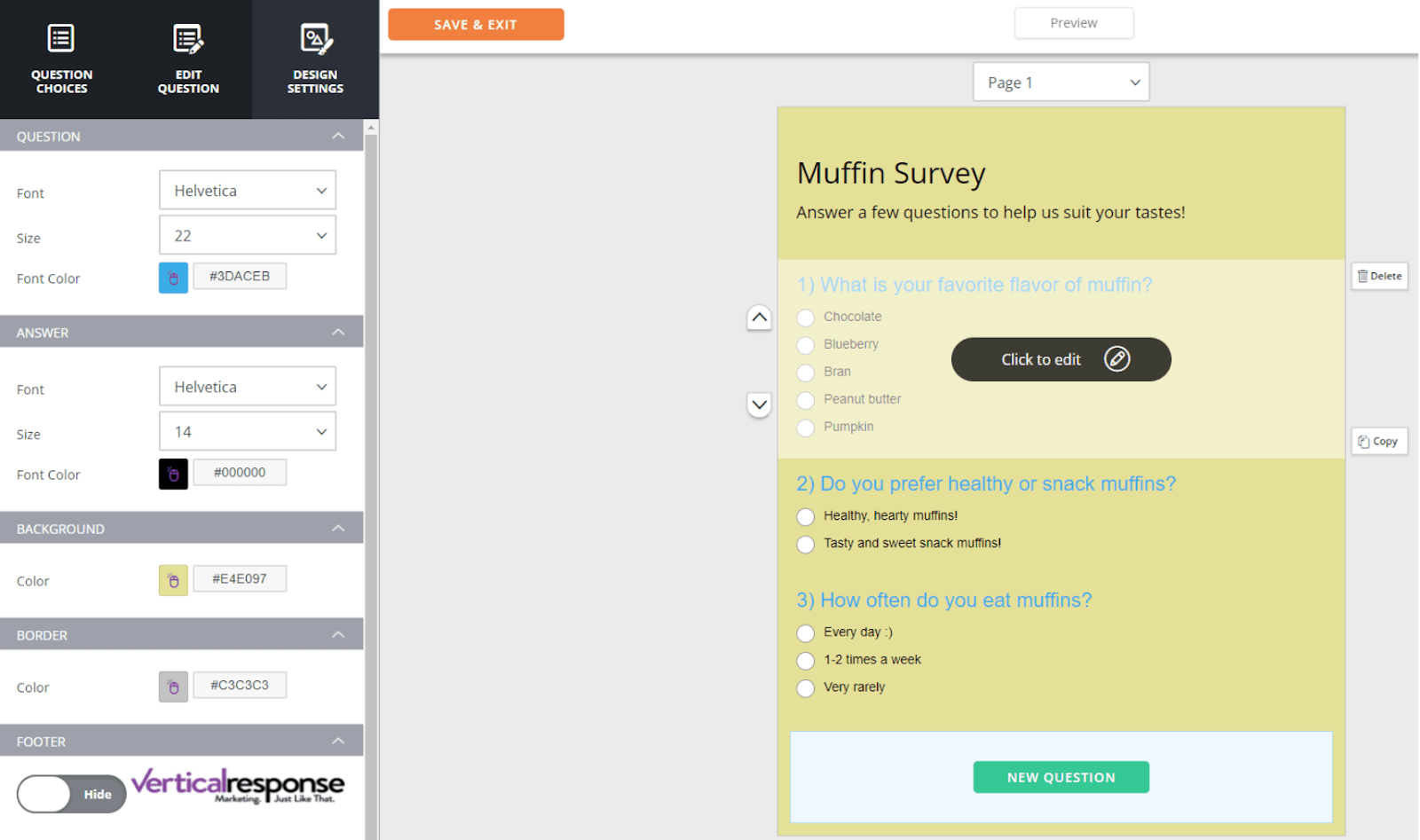 So, what about automation?
VerticalResponse offers basic autoresponders
that trigger when a contact joins a list, is sent a message, opens a specific email, or clicks a link. It's…okay, I guess. I'd like to see more triggers and better workflows, but it works if you just need the bare minimum.
Mailchimp handles automation far better than VerticalResponse.
You create automations using the Customer Journeys feature, and the workflow gives you a lot of customization options. You can set up birthday emails, abandoned cart messages, coupons when someone makes a purchase, and more.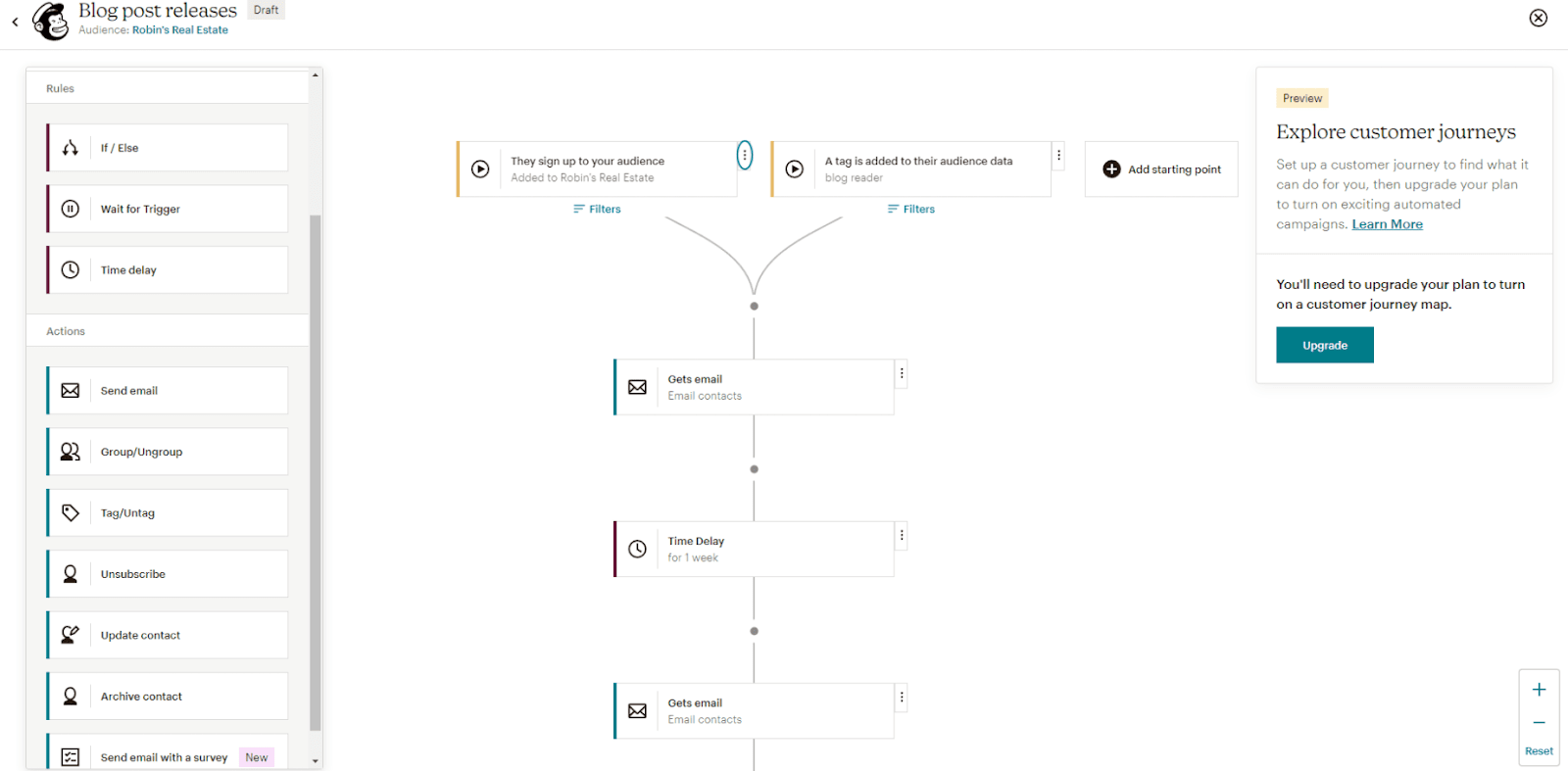 When it comes to organizing your contacts, VerticalResponse offers pretty basic segmentation, although it's probably good enough for smaller businesses.
Mailchimp lets you segment lists with custom tags and traits, but lacks behavioral tags
, such as when a specific email is opened or a web page is visited.
So, Mailchimp offers stronger email automation
while VerticalResponse has better segmentation.
Personally, I don't think you should have to sacrifice either feature –
especially when
competitors like ActiveCampaign offer email automation
and
segmentation.
And it's not just a basic offering either,
ActiveCampaign offers more than 200 automation templates
 which, I'll be honest, is unbeatable in the email marketing arena.
Ease of Use
Mailchimp Is More User-Friendly than VerticalResponse
I had a hard time navigating VerticalResponse
(and so did my colleague in their
VerticalResponse review
).
I was bogged down by the awkward settings and confusing layout in the email and landing page creator
, I couldn't get images and text to work together, and one landing page template had a background image I couldn't delete without nixing the entire layout.
Mailchimp is much easier to learn.
Just click the Create icon in the sidebar and email, A/B testing, landing pages, surveys, and forms are all there in one place.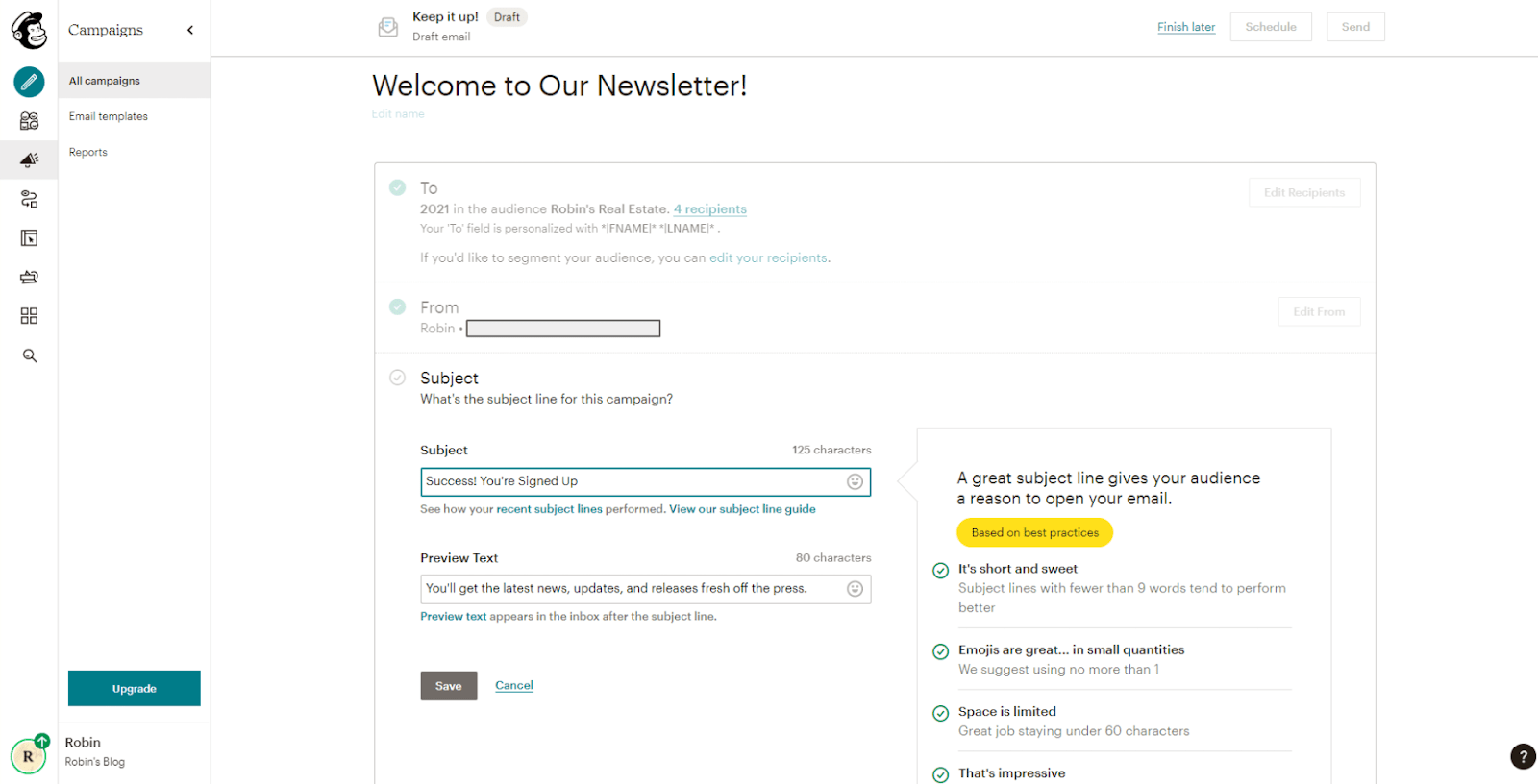 Setting up A/B tests in Mailchimp is also pretty easy –
select an A/B test under Create and then just follow the steps. You can add up to three different tests for the subject line, from name, content, and send time – but note you have to pay for the Essentials plan to access this, which starts at
$
20.00
per month. VerticalResponse only lets you split test subject lines (and you can't even access this until you purchase the Pro plan, starting at
$
16.00
per month), but I'll admit it's easy enough to set up. VerticalResponse is just a bit too awkward for my liking.
I found Mailchimp way easier to use, and it's definitely the better choice for beginners. That said, there are so many better alternatives to Mailchimp that are great for beginners.
Deliverability
VerticalResponse's Own Emails Went to Spam
When it comes to deliverability, the best piece of advice I can give you is to IGNORE any reviewers guaranteeing a "97% delivery rate!" or any kind of percentage claim. We've put together a
detailed guide to help you learn how to boost your email deliverability
. What you
do
want to look for is an email marketing service's domain authentication methods, anti-spam policy, and private IP options.
Mailchimp and VerticalResponse both use DKIM authentication
, which proves to email clients that your email is really coming from you, not from a spam bot or suspicious domain. The best way of ensuring your email doesn't go to spam is by purchasing a dedicated IP – although you should probably only do this if you have a very large mailing list, as it can get pricey! Unfortunately,
neither Mailchimp nor VerticalResponse offer a dedicated IP
. If this is a deal-breaker, and it really might be when you start growing your audience,
I'd recommend Sendinblue
. Best of all,
Sendinblue has a generous free plan
, so you can get to grips with all the features if and when you decide to scale up. Mailchimp has a thorough anti-spam policy and doesn't allow affiliate marketing of any kind.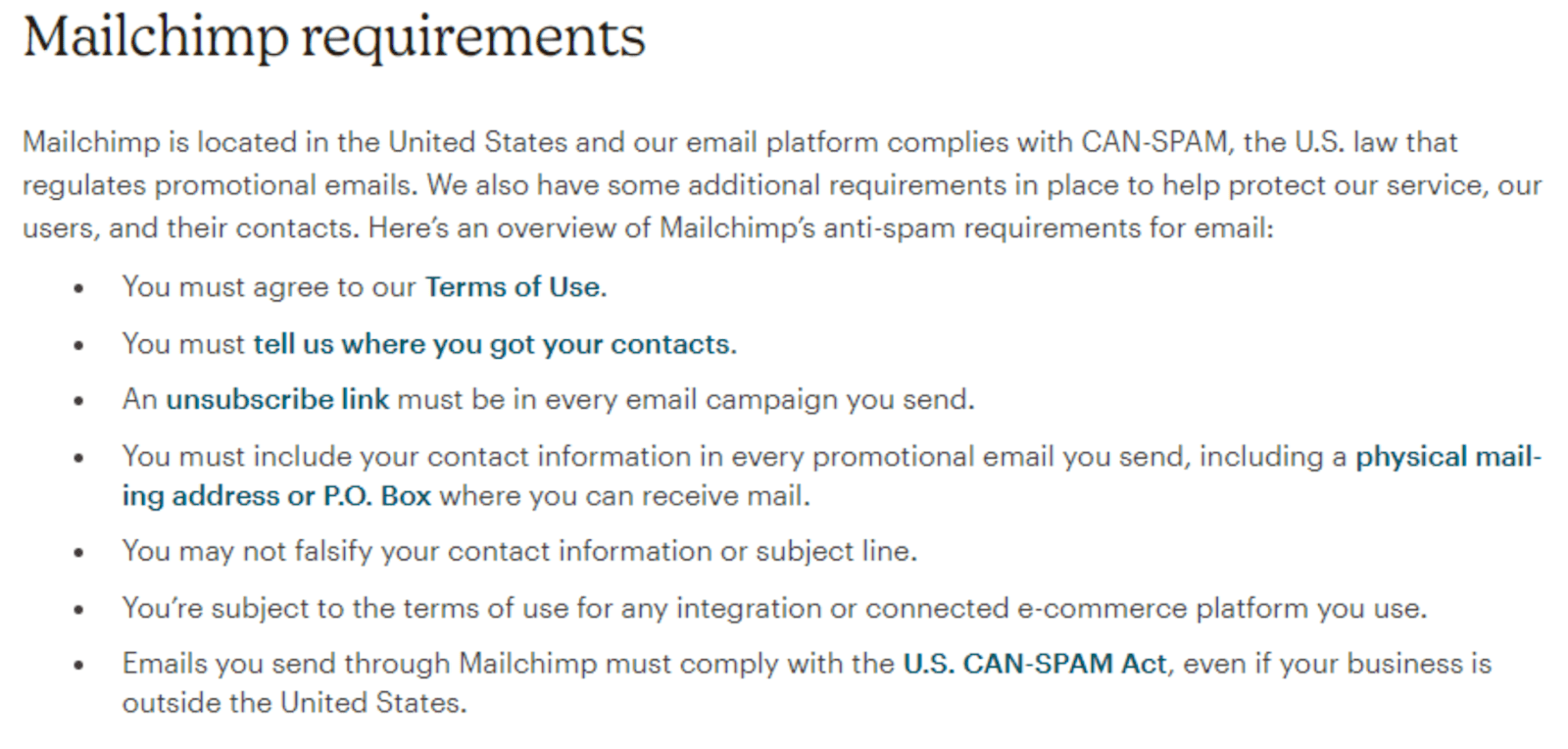 VerticalResponse won't let you send a single email until you inform them exactly how you got your contacts.
It also states in its anti-spam policy that it checks email lists for suspicious third-party emails and reads all emails before they go out the door. This all looks great on paper.
But in practice? I encountered a pretty worrying issue.
I had my first doubt about VerticalResponse's deliverability when I couldn't find the registration email for setting up my account in Outlook. I found the email nestled in my junk folder (whoops?), and it didn't stop there.
Every email from VerticalResponse ended up in my junk folder
. If even the official company emails are getting flagged as spam by a major email client, that's not a good sign! Based on the results of my own inbox,
Mailchimp will give you better deliverability than VerticalResponse
. But you can get better elsewhere, especially if you
try out Sendinblue
, especially if you want a dedicated IP.
Reporting and Analytics
VerticalResponse: Advanced Reports at a Cost
Mailchimp and VerticalResponse both offer basic reporting, including stats for opens, links clicked, and subscriptions, as well as age and gender demographics. But
in both cases, if you want advanced insights to help improve your marketing strategy, you have to pay more
. In terms of advanced reporting, on VerticalResponse's Pro plan you'll get heat maps to see which links were clicked the most, geographic data, devices used, and trends by email client. You can also compare campaign data to study which layouts and written content is most successful.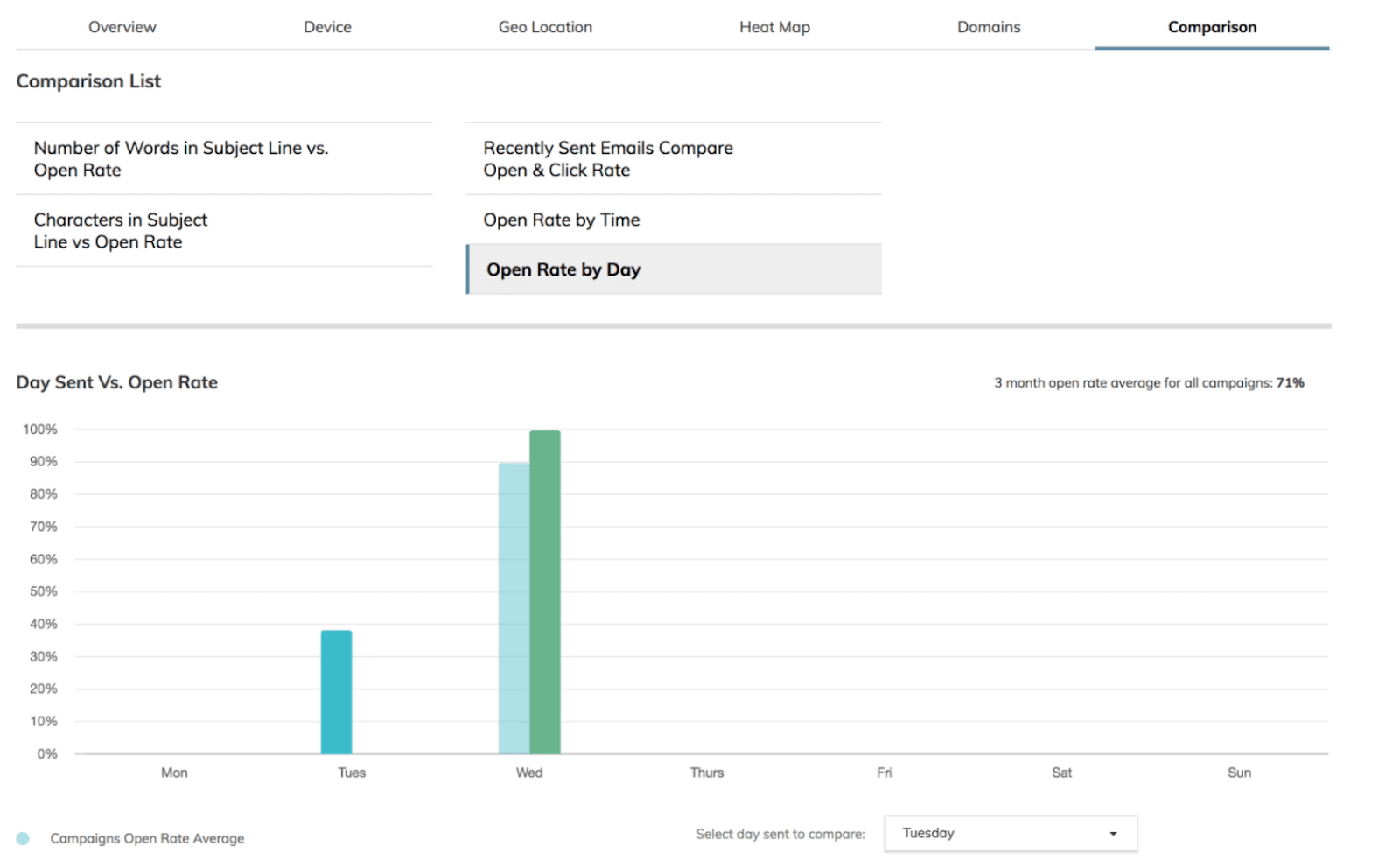 Upgrading to Mailchimp's paid plans also gets you more detailed reports. However, be aware that
comparative reports of your campaigns are locked behind the Premium plan, which starts at

$

0

 per month (ouch).
You'll have to
pay a lot for advanced reporting with either provider which I don't appreciate, but VerticalResponse offers more useful data than Mailchimp
.
If top-rate analytics and reporting are on your priority list, and honestly, I think they should be, I'd recommend looking at AWeber first
. You'll get reports baked on your email opens, link clicks and subscriber location as well as trend reports for subscriber growth and more, and that's just on the
AWeber free plan
. Upgrade and you get even more. It's a no-brainer to me.
Pricing
Both VerticalResponse and Mailchimp Quickly Become Expensive
Mailchimp offers a free plan plus 3 tiers of paid plans. By comparison, VerticalResponse doesn't offer a free plan of any kind and offers 2 paid plans. With either provider, the more contacts you have, the higher these prices go – and it goes up pretty quick! But
considering
the price for VerticalResponse increases at a much faster rate, you'll get a better value per number of contacts with Mailchimp.
Here's What You Get for Free
Since
VerticalResponse doesn't offer a free plan, only a 30-day trial,
you don't get anything once your free month runs out. So, if you want a free plan, you already have your answer for which service is best for you!
Mailchimp's free plan provides basic email marketing features, and it remains free for up to 2,000 contacts
. That's pretty generous for a free plan. There are just two issues with the free plan. First, you miss out on a lot of features that could be key to your strategy, such as automation and A/B testing. Second,
you only get support for the first 30 days
. Yep, you heard that right – any issues after that, and you're on your own.
Here's What You Get If You Pay
Paying for
Mailchimp's Essentials plan starts at

$

20.00

 per month
and unlocks email templates (which aren't the best), automation, Customer Journeys, split testing, and 24/7 email support.
The Standard plan starts at $11 per month
and gives you branching options for Customer Journeys (so more robust automation), custom templates, and scheduling emails for different time zones. The biggest gain here in the improved automation – otherwise, I don't see a huge reason to make the leap. Lastly,
Mailchimp's Premium plan starts at

$

0

 per month
and gives you phone support, comparative reporting, and advanced segmentation.
VerticalResponse's Basic plan starts at
$

11.00

 per month
and gives you access to basic email marketing features plus customer support, unlimited emails, autoresponders, and builders for landing pages, forms, surveys, and ads.
This sounds pretty good…but the price gets out of hand if your contact list grows.
VerticalResponse's Pro plan starts at
$

16.00

 per month
, which unlocks advanced reporting (such as heat maps) and A/B subject line testing. Again, though,
the rate at which the price goes up per number of contacts is just ridiculous
. Past a certain point, VerticalResponse's prices just aren't worth it.
Mailchimp and VerticalResponse both boast fairly affordable starting prices, but the cost of their plans quickly hikes up the more contacts you have.
If you have a big business or are planning to grow, you can definitely get more for your money elsewhere. Check out this side-by-side comparison of what you get with VerticalResponse's Pro plan and Mailchimp's Standard plan:
VerticalResponse Pro
Mailchimp Standard
Starting Price

$

16.00

$17
Automation

Basic

Advanced

Segmentation

Basic

Basic

A/B Testing
Yes
Yes
Reporting

Advanced

Basic

Landing Page Builder
Yes
Yes
Support

Email

Email, live chat, and helpbot
Support
Limited Support Options Hamper VerticalResponse
Is it just me, or does disaster always strike at the least opportune moment? Whether you're a seasoned pro or new to email marketing, fast and reliable customer support is essential to any email marketing service.
I had a hard time even finding VerticalResponse's support options
. I was led to documentation and guides before finding a way to submit an email request for support. And that was the only way to contact customer service –
VerticalResponse only offers email support, no live chat or phone.
I submitted my questions late at night for CST, so I didn't expect an immediate response.
A support agent got back to me the next morning, about 10 hours after I contacted them
. The agent's response was helpful and to the point, even though they weren't delivering the best news about uploading contacts via a Word document…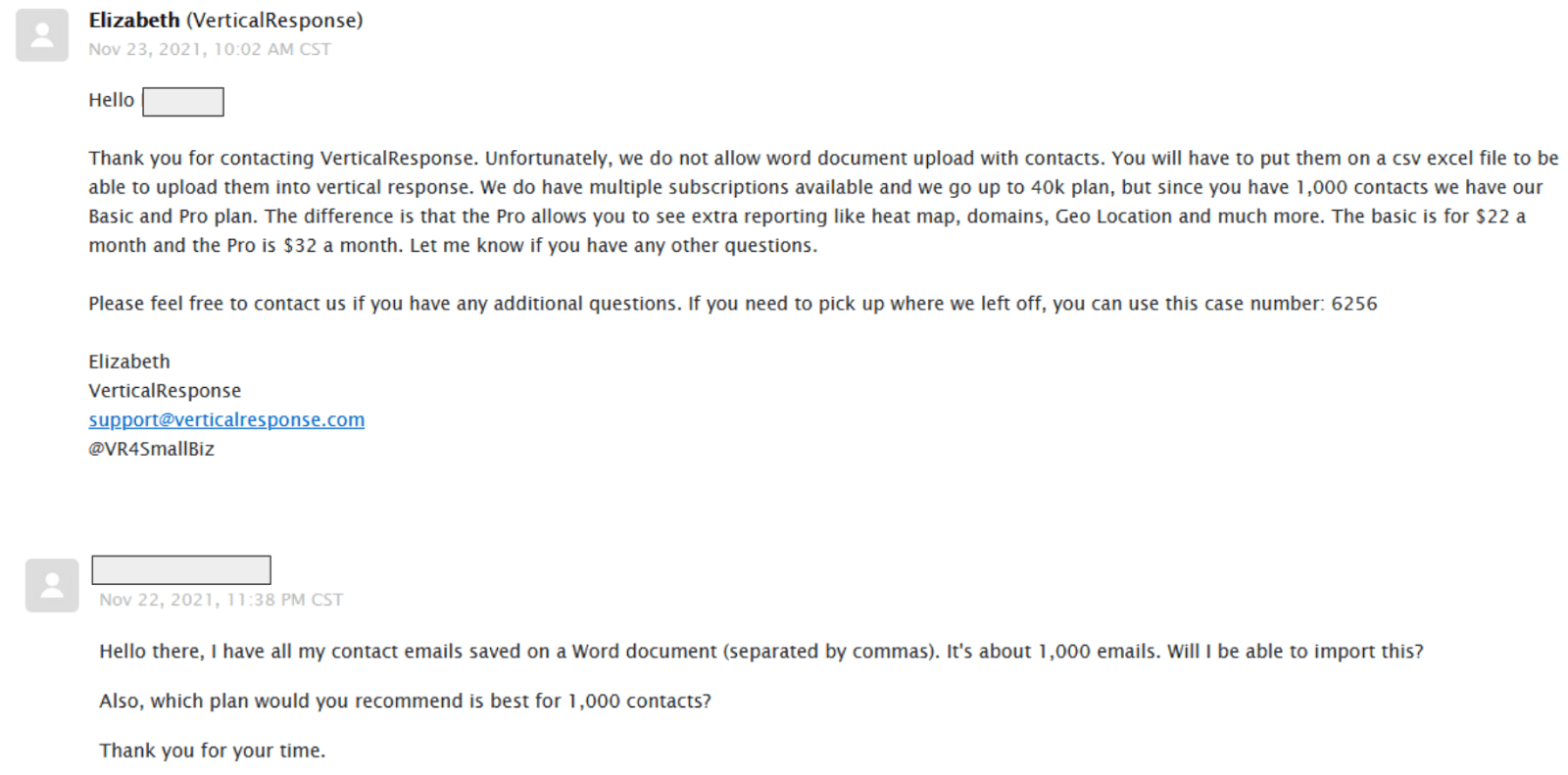 Next, I sent Mailchimp customer support the same questions about importing contacts.
Mailchimp offers email and live chat support, but live chat wasn't working for me
. I can't exactly praise Mailchimp for having more support options when one of them doesn't work… Besides, this isn't the first time we've had this issue. The same thing happened to my colleague in their
Mailchimp review
.
The agent responded to my late-night query within 7 hours and gave me a very thorough response
with a bunch of pointers to get me started. I definitely felt this agent was more attentive than with VerticalResponse. I also wanted to check out Mailchimp's helpbot. As a general rule, I have zero faith in bot support.
So imagine my surprise when the helpbot actually answered my questions coherently!
The helpbot isn't capable of solving complicated or unique problems, but it can handle basic queries while you're waiting on an agent to get back to you. Just remember that
you won't get access to any support after the first 30 days if you're on the free plan.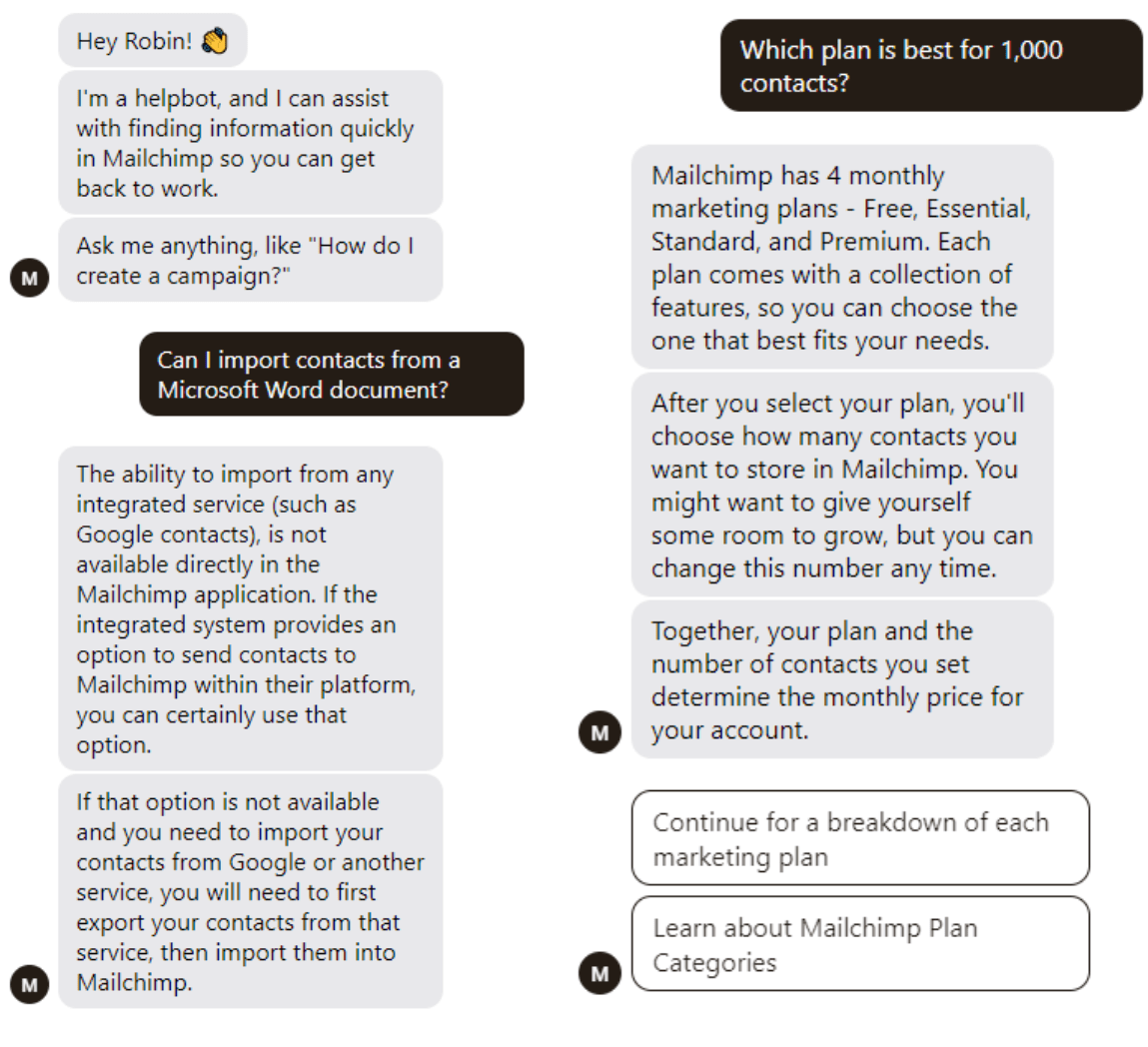 Both Mailchimp and VerticalResponse answered my questions in a timely manner, but each system has glaring flaws.
Between Mailchimp's broken live chat and VerticalResponse's lack of support options, I had a hard time choosing which is best.
Ultimately, I was happier with Mailchimp's helpful email and surprisingly resourceful helpot.
The best customer support myself and my colleagues have come across in our email marketing adventures is GetResponse
. You'll get 24/7 live chat and email support, available in eight different languages, as well as a super-detailed knowledge base. If you're new to email marketing and this is a deal-breaker for you, I'd recommend signing up to
GetResponse's Basic plan
to reap the benefits.
Mailchimp Is Better than VerticalResponse, but It's Definitely Not the Best
All in all, Mailchimp gets my pick over VerticalResponse – though that doesn't mean it's without flaws. I just can't recommend Mailchimp as the best choice for you out of all the options out there. Honestly,
neither Mailchimp nor VerticalResponse is a good choice for big businesses
or those looking to grow their contact list
. If you're looking to grow your business, or already have too many contacts for Mailchimp and VerticalResponse's steep price hikes,
I recommend ActiveCampaign
 instead.
ActiveCampaign has more powerful features, such as advanced automation and insightful analytics, and can support growth at a more reasonable rate. If you're still undecided, take a look at this comparison table of Mailchimp vs VerticalResponse to figure out which EMS is better for you:
VerticalResponse
Mailchimp
ActiveCampaign
Templates
8 basic templates that are easy to adjust for your needs.
100+ templates – but with outdated designs.
125+ templates or import or create custom HTML templates.
Automation
Advanced trigger options and Customer Journey workflows.
Over 200 automation templates.
Native SMS Automation
No
No
Yes
Apps and Integrations
Apps available with a Zapier account.
Editors and Creators
Email and landing page builder. Extensive builders for sign-up forms, pop-up ads, surveys, and social media posts.
Email and landing page builder. Simple creators for signup forms, surveys, social media posts, postcards, and Facebook, Instagram, and Google ads.
Email and landing page builders. Extensive builder for sign-up forms, chatbots, social media posts
A/B Testing
Yes, but only subject line variants.
Yes, with up to 3 variations of subject line, from name, content, and send time.
Yes, but only subject line variants.
Native RTL Language Support
Yes.
Yes.
Yes.
Ease of Use
Clunky email and landing page builders.
Beginner-friendly dashboard and easy-to-learn email builders.
Beginner friendly and easy to use with an intuitive interface.
Deliverability
DKIM authentication, anti-spam policy, requirement guidelines, but emails often go straight to spam.
DKIM authentication, anti-spam policy, and no affiliate marketing allowed.
DKIM authentication, anti-spam policy, and affiliate marketing allowed with restrictions.
Reporting and Analytics
Advanced reporting includes email stats, campaign comparisons, geographic data, and heat maps.
Campaign reports on email stats, links clicked, purchases, demographics, and heat maps.
Advanced reporting includes daily and hourly engagement trends.
Pricing
No free plan. Basic plan starting at
$
11.00
 per month for 500 contacts, Pro plan starting at
$
16.00
 per month with 500 contacts
Free plan. Essentials plan starting at
$
20.00
 per month for 500 contacts, Standard plan starting at $11 per month for 500 contacts, and Premium plan starting at
$
0
 per month for 10,000 contacts.
Support
24/7 email support, helpbot, and live chat.
–
FAQ
What are the differences between VerticalResponse and Mailchimp?
VerticalResponse and Mailchimp offer a similar number of features, but there are quite a few key differences. For one, Mailchimp offers a free plan while VerticalResponse does not. For another, Mailchimp uses a different automation workflow called Customer Journeys, which has more trigger and conditional options than VerticalResponse's autoresponders.
What is the best alternative to Mailchimp?
In my opinion, there are lots of great email marketing services better than Mailchimp, any of which may suit your needs. But the best one for you will depend on what you're looking for as an email marketer.
Which is better: VerticalResponse vs Mailchimp?
Mailchimp is better than VerticalResponse. It offers a free plan, and you get way more for how much you spend for its premium plans. However, as you'll see above, I wouldn't recommend either. You'll get far better value for money, stronger and more reliable automation features, helpful support and good analytics from a service like ActiveCampaign.
What is the best email marketing service?
Neither VerticalResponse nor Mailchimp is the best email marketing service out there. The best option for you depends on your needs. If you want a solid free plan, I recommend AWeber. And if you want advanced features and something more geared towards growth, I suggest ActiveCampaign.