Shopify has been the leading e-commerce hosting platform for some time now. With over 1,000,000 active users and powering 500,000+ businesses, Shopify seems to be used by just about everyone. 
But before you join the crowd of Shopify enthusiasts or decide to go with a cheaper option, there are some important things you should know about the platform. These considerations will determine whether Shopify is the only website builder that can cater to your needs, or whether you can settle for something else.
Beauty Comes at a Cost
No one can deny that Shopify has some of the best ready-to-go e-commerce themes on the market. Some people, particularly drop-shippers and the like, base their decision to use Shopify almost purely on the fact that after picking a Shopify template and creating their products, they already have a complete e-commerce website — very little tweaking needed!
However, for the best themes, you'll need to make sure they're within your budget. In total, there are 67 templates in the Shopify template store, and ten of those are free. That's not too bad. However, considering that most other competitors such as Wix and Squarespace provide all their themes for free and provide cheaper plans, Shopify's offerings may not seem too impressive. Its premium templates are also quite expensive, with most ranging from $150 to $200.
If you can't afford a premium template just yet, it's not the end of the road. Shopify's free templates are all still amazing in terms of quality, completeness, customizability, and functionality. The only things that are lacking are more niche-specific options, as well as more inspired and unique designs. In short, you don't have to use a premium template, but it will definitely help you stand out with a much more beautiful store.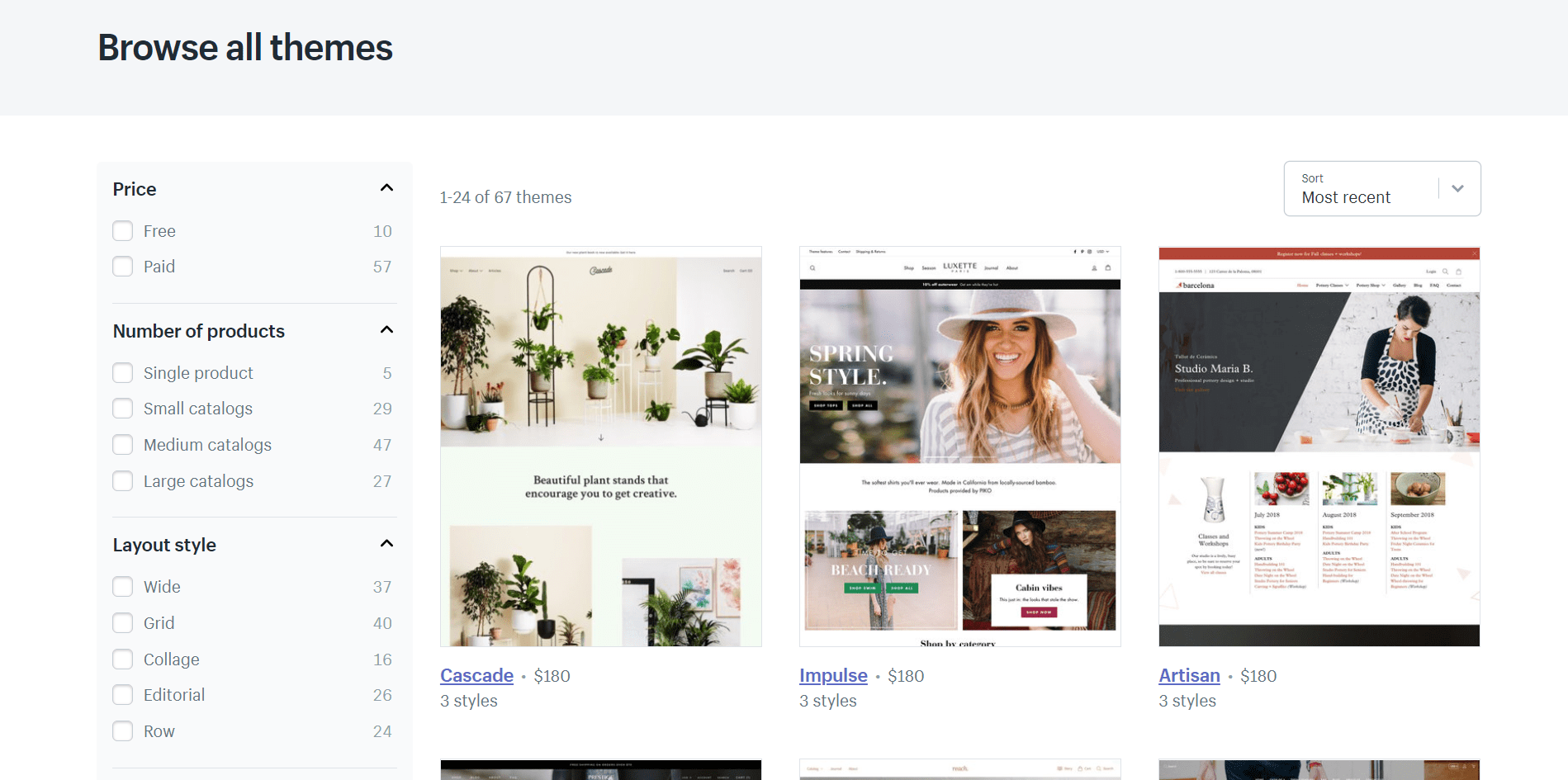 For the Best Customization of Your Store, You Must Code
One area where Shopify really stands out from similar website-hosting services is just how much control it provides those with coding abilities to customize their website. In fact, in Shopify you can basically build a website from scratch, using code, one line at a time. Furthermore, you can completely revamp any of Shopify's templates using the same methods.
And Shopify doesn't provide just a single way to do this. You can build a template or the front end of your website using the familiar codes like HTML, CSS, and Javascript (because you'll have full access to the webpage files). Or, you can use Liquid, Shopify's own template language. Liquid is a complete programming language with similarities to scripting languages, such as PHP. However, it has enough differences and unique features that skills aren't necessarily 100% transferable.
If you're serious about using Liquid, you'll need to invest a considerable amount of time learning the language. The time it will take you to become adept at using it will depend heavily on your current skill as a website developer.
The extensiveness with which you can customize a Shopify website has led to a huge industry of third-party Shopify designers/developers, whom Shopify calls "Experts." If you want a completely custom solution and don't mind paying for it, there are freelancers or agencies that provide these services on freelancing platforms or on Shopify itself.
You Can Integrate With Some of the Most Powerful E-commerce Platforms
One of Shopify's chief selling points is its integration with third-party applications and platforms. In fact, its app store is probably rivaled only by that of BigCommerce, and none of the other web hosts come close in terms of e-commerce extensions.
A good example to illustrate what I mean is Oberlo, one of the most popular platforms to use in conjunction with Shopify. Drop-shippers and other individual sellers on Shopify often use Oberlo to directly source products from other stores and automatically create the listings for those products in their Shopify store. Using the Oberlo app, sellers can then automate the entire shipping process from the originator to their store, and then to the customer.
This is an extremely powerful tool that shows what the possibilities are when it comes to Shopify. As it's the most popular e-commerce solution right now, there are more third parties developing platforms to work with Shopify than there are for any other platform. Others tools Shopify can integrate with include MailChimp for email campaigns, Facebook Store for Facebook sales, and "Plug In SEO" for SEO.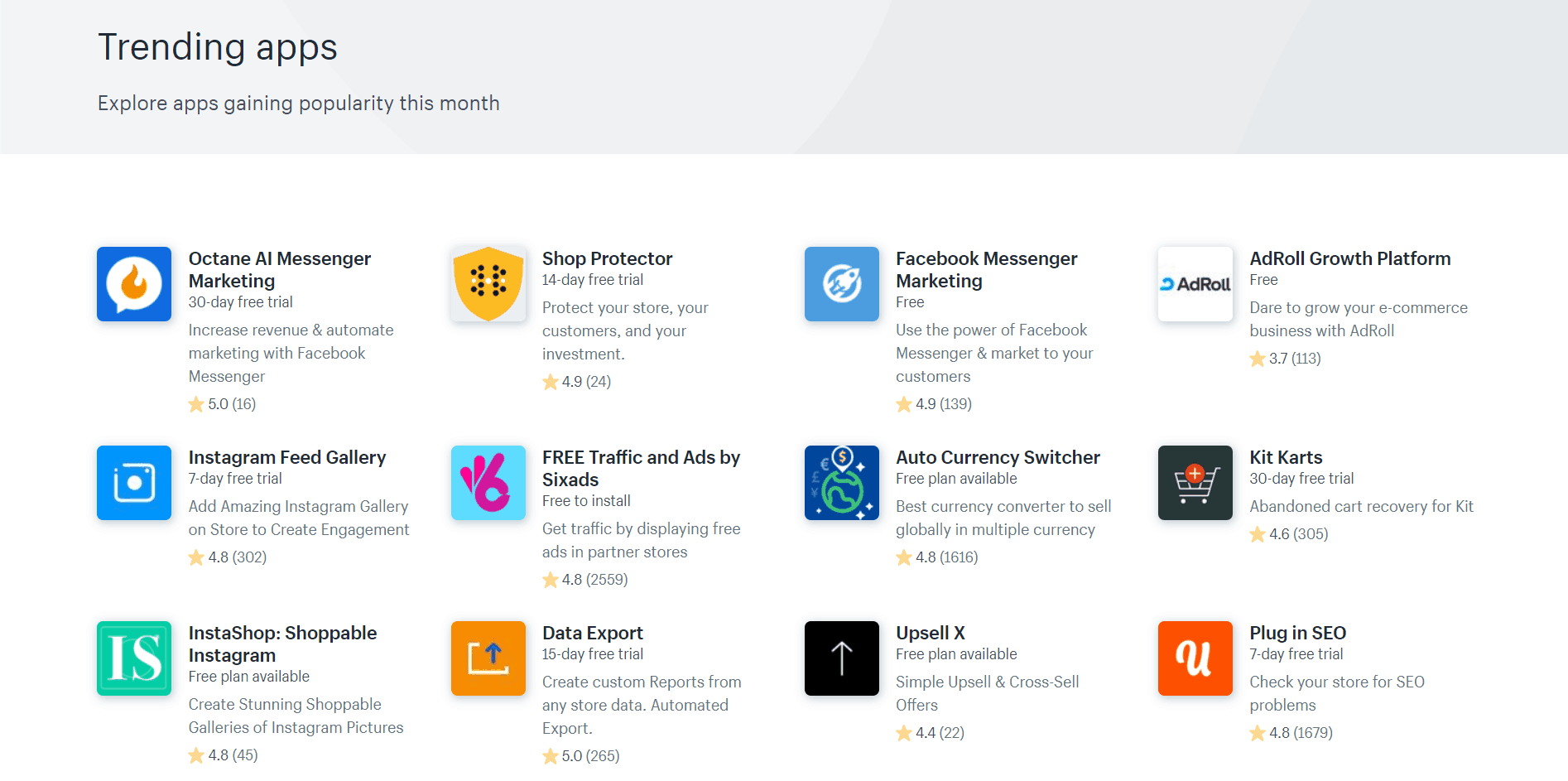 Shopify Empowers You With Native Point-of-Sales
When comparing most of Shopify's features with those of its competitors, you probably wonder what really justifies the higher cost. In fact, some other platforms might look equal or even seem more attractive when it comes to purely e-commerce features. However, what really sets Shopify apart from other options is its extensive Point-of-Sales (POS) features.
Using Shopify, you can integrate your physical store or sales almost entirely with your online store. It even provides software and hardware that will enable you and your employees to manage your physical store or point-of-sale. These tools allow you to create employee accounts; sell through terminals; manage your orders, sales, and inventory from a central platform; and do all of this using a variety of mobile devices. Your analytics and reporting tools will also collate data from your physical and online sales.
While POS features aren't totally unique, Shopify is the only one that offers them natively in such a comprehensive way. Other platforms, like BigCommerce, rely more on third-party integrations. Which approach suits you largely comes down to personal taste. Shopify will provide you with a simplified and consistent solution while third-party apps will offer more variety.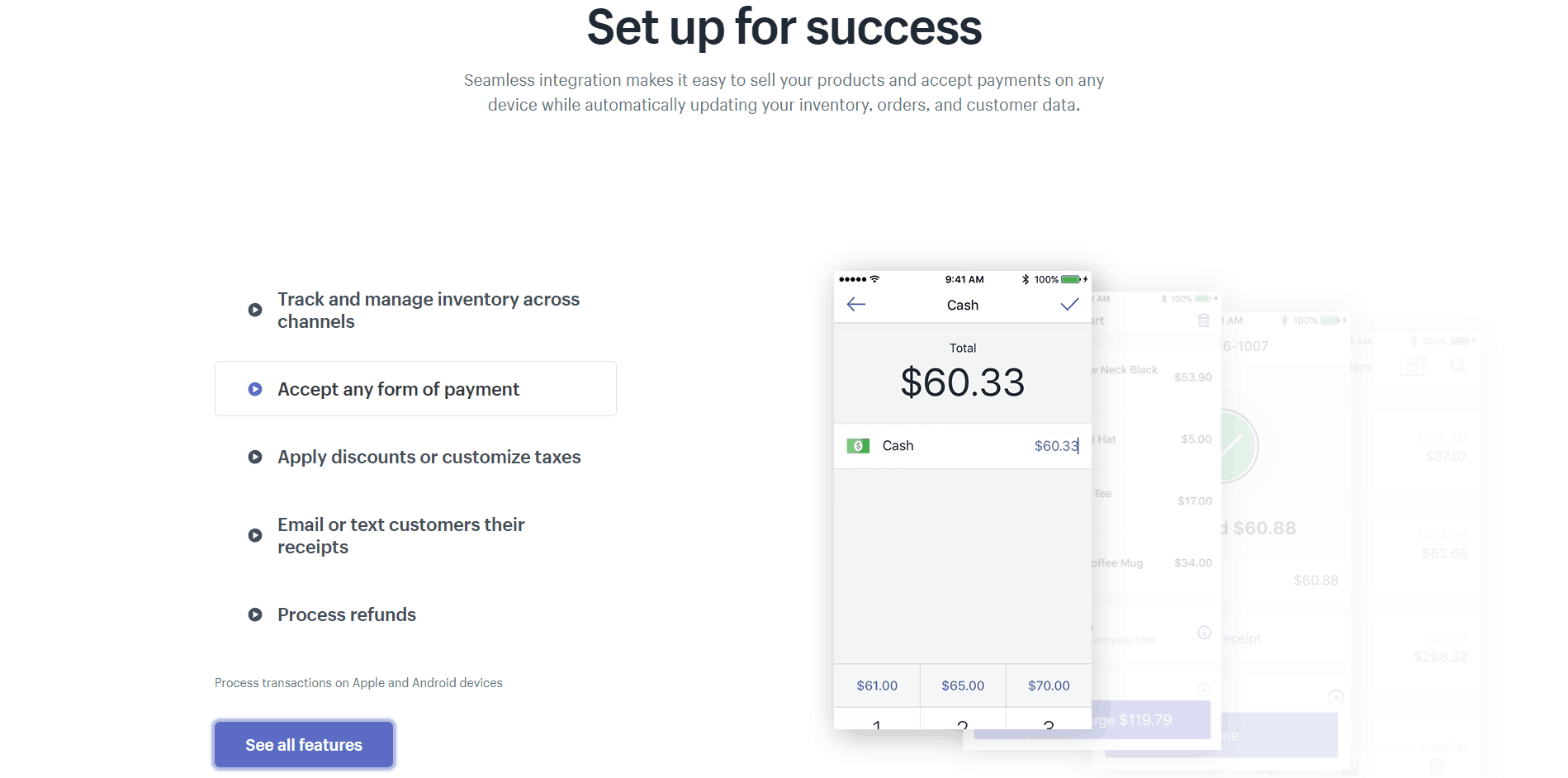 You Don't Necessarily Need a Shopify Online Store to Sell
The last thing you need to know about Shopify is that it provides a way to sell online without actually having to create a complete online-store website. An increasingly popular method for online e-commerce business is to target customers directly via social media platforms. At the moment, Facebook is the platform of choice.
Shopify Lite lets you target potential customers and sell to them through Facebook without them having to go to an online store first. Customers can buy products directly from your Facebook webpages, or you can even use Facebook Messenger as a channel to instantly and directly chat with customers.
Facebook is just the main platform they target. In actuality, you can place Shopify "buy" buttons on almost any other website builders' webpages, like Squarespace or WordPress. This means that you can use another platform you prefer to build your actual website but take advantage of Shopify's powerful e-commerce tools to sell, manage inventory, view reports and statistics, integrate with POS, and more.
A Powerful E-commerce Solution Awaits — If You Can Afford It
If it seems like the considerations above are overwhelmingly positive, that's because they are. Shopify is the most popular online e-commerce platform — with good reason.
It's hard to find any limitations or downright cons when it comes to the platform. The most compelling obstacle you should be aware of when considering Shopify is that its cost might soon become exorbitantly high if you're not a big business. But Shopify's expensive plans, premium templates, and premium apps also make for a great money-making potential.
Shopify seems to be a perfect example of getting what you pay for. Few other platforms can challenge it in terms of pure e-commerce features, such as third-party shipping, POS integrations, third-party platforms, scalability, and reporting tools. And when it comes to POS, Shopify is basically in a league of its own.