which of these logo makers is right for you
? Below, you'll find
an in-depth comparison of Tailor Brands and Wix Logo Maker
. It's divided into seven sections: While I focused on Tailor Brands and Wix Logo Maker for this comparison, my colleague performed a comprehensive comparison of all the major logo design services in attempt to find the best new logo for Website Planet. You don't want to miss his
in-depth report
! In the meantime, let's get started with our comparison.
Round #1: Startup Wizard
Tailor Brands' Startup Wizard Brings Results – Wix Logo Maker Is Hit-or-Miss
Because Tailor Brands and Wix Logo Maker are both powered by AI (artificial intelligence),
they each begin with a brief startup wizard
. This tool helps the AI learn from your preferences, thus generating more personalized logo concepts. Both startup wizards consist of five quick screens, but their focus is a bit different.
Tailor Brands' Startup Wizard
In Tailor Brands' start-up wizard, I like that you can enter text to describe your business. This not only gives you a chance to clarify your own thoughts; it also provides keywords for the AI to analyze.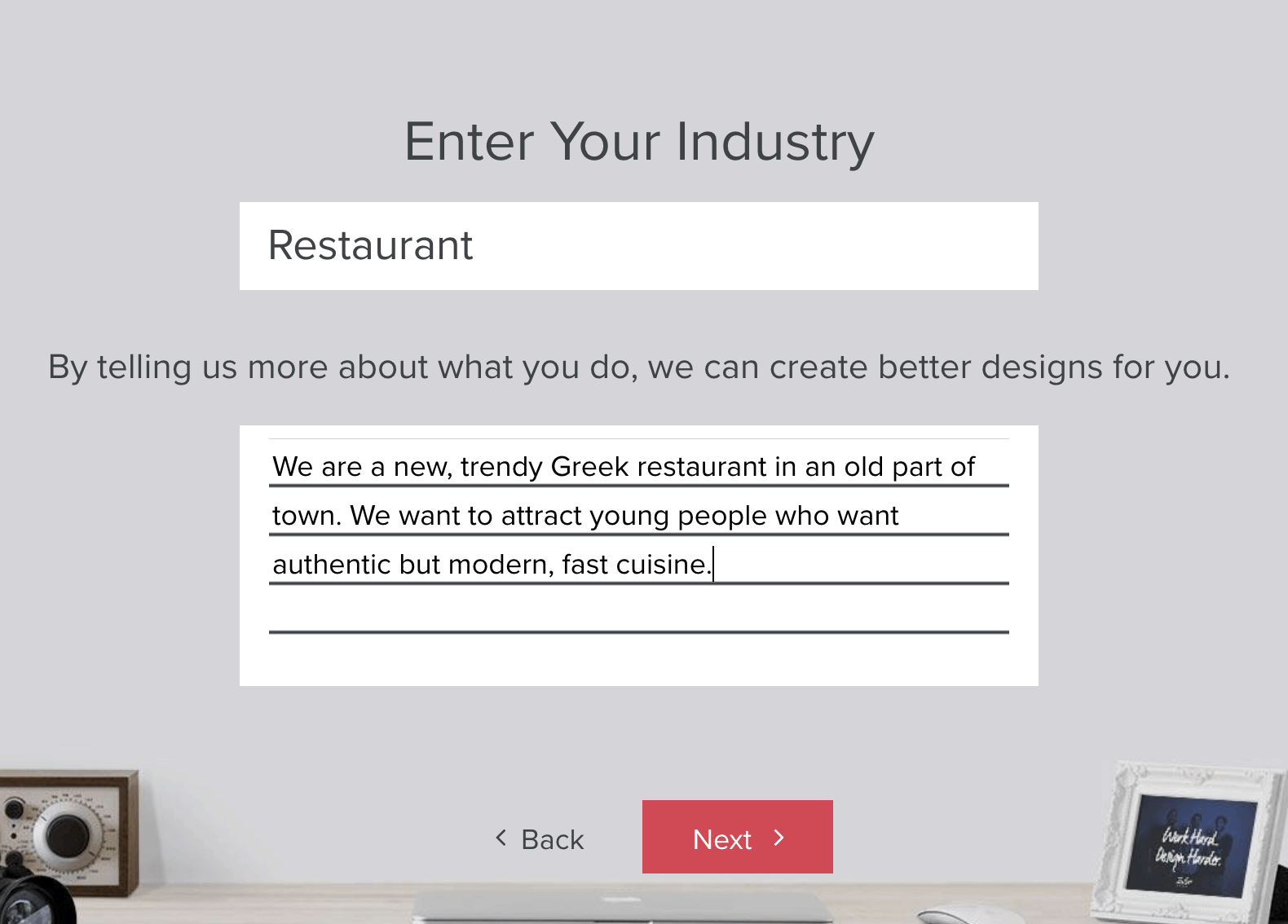 I also like that
Tailor Brands gives you the opportunity to choose your logo type
, with helpful examples of the three available options (shown below).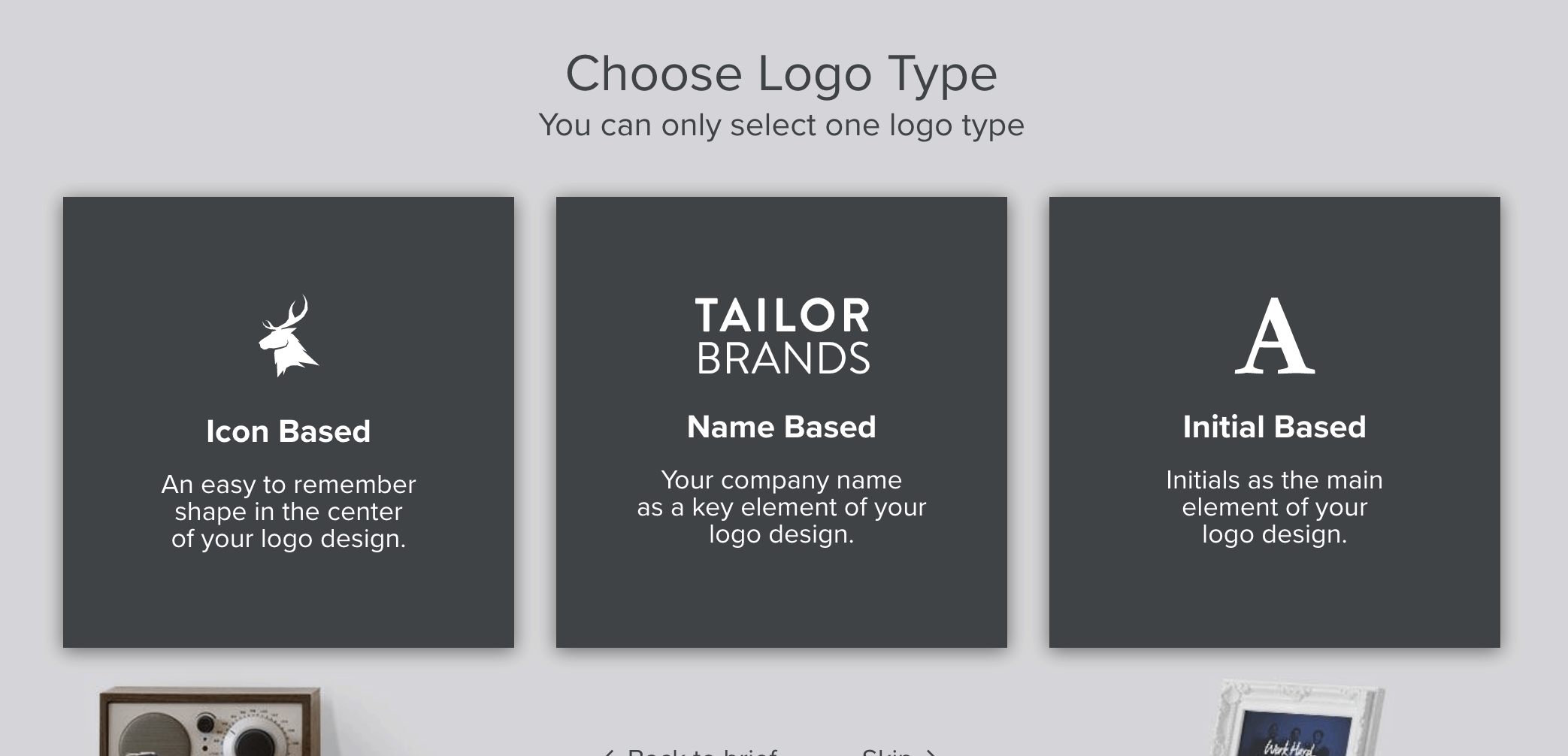 If you choose "icon based,"
you can even select your own icon from an image library
. This library is quite diverse and includes helpful search filters.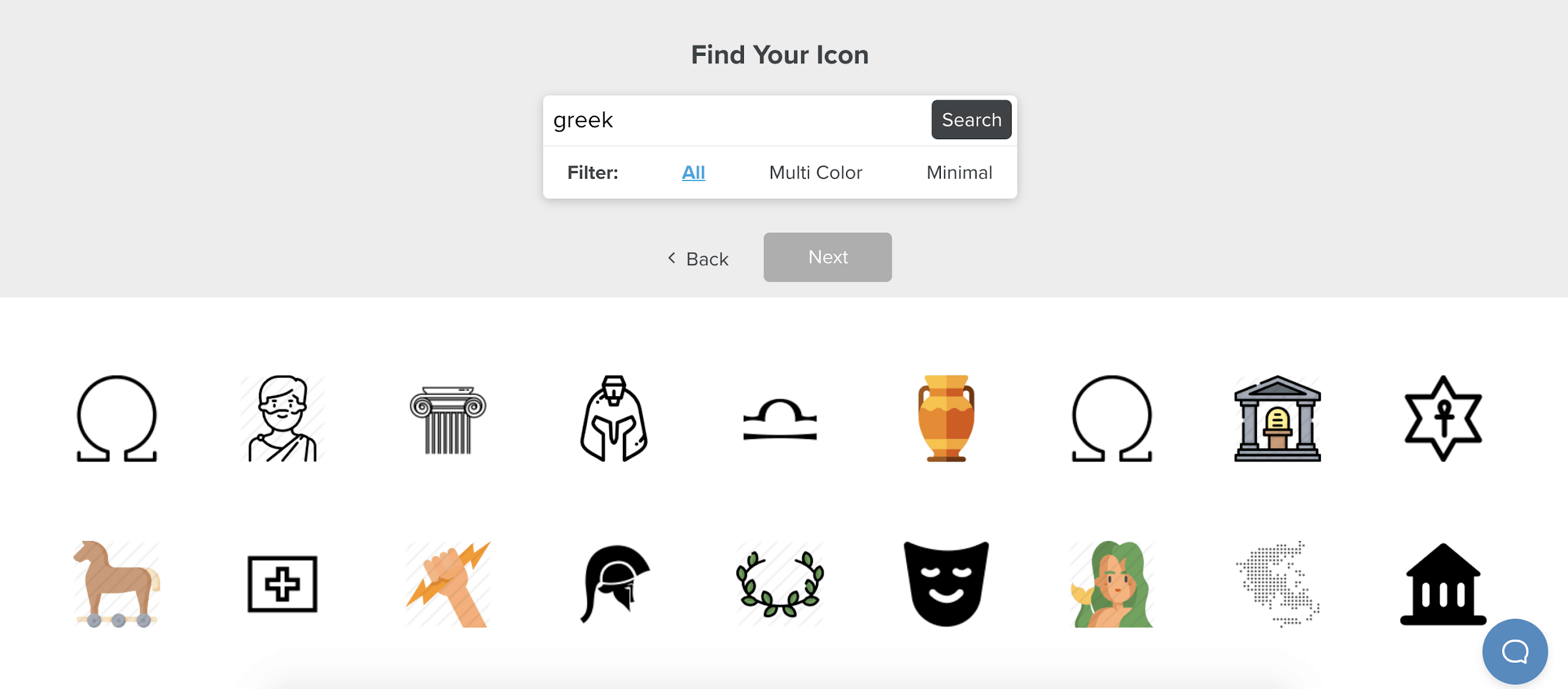 Once you've selected your icon,
Tailor Brands allows you to choose your favorite fonts
. Based on your selections, the AI will build unique logos for you to choose from and then customize.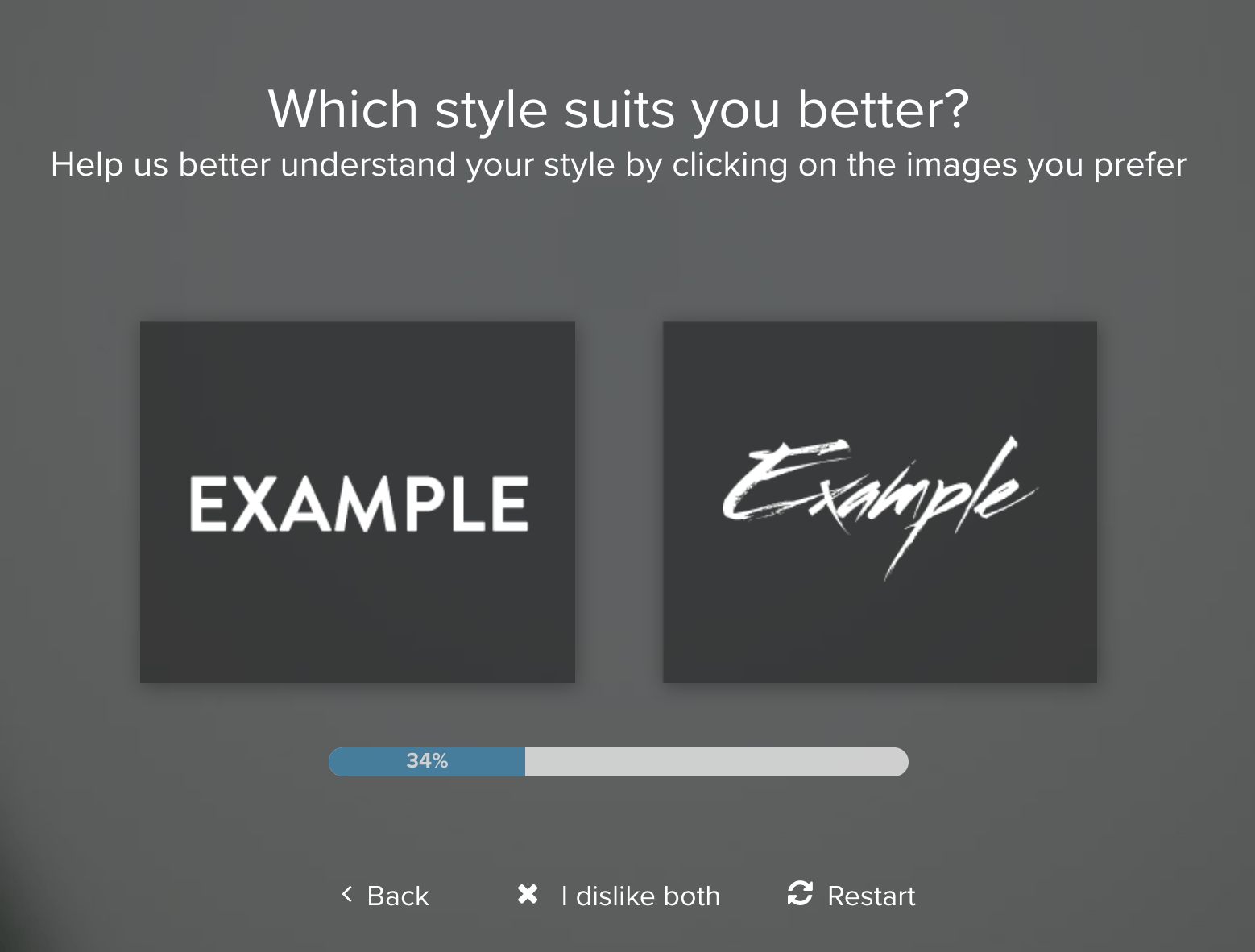 After this screen, you'll see your AI-generated logos. Then you can pick one and start customizing it.
Wix Logo Maker's Startup Wizard
Unlike Tailor Brands, the Wix Logo Maker startup process does not include a textbox. Instead, it has
a brand identity word cloud
. By selecting the words that best describe your company, you'll train the AI to pull from specific design elements and color schemes.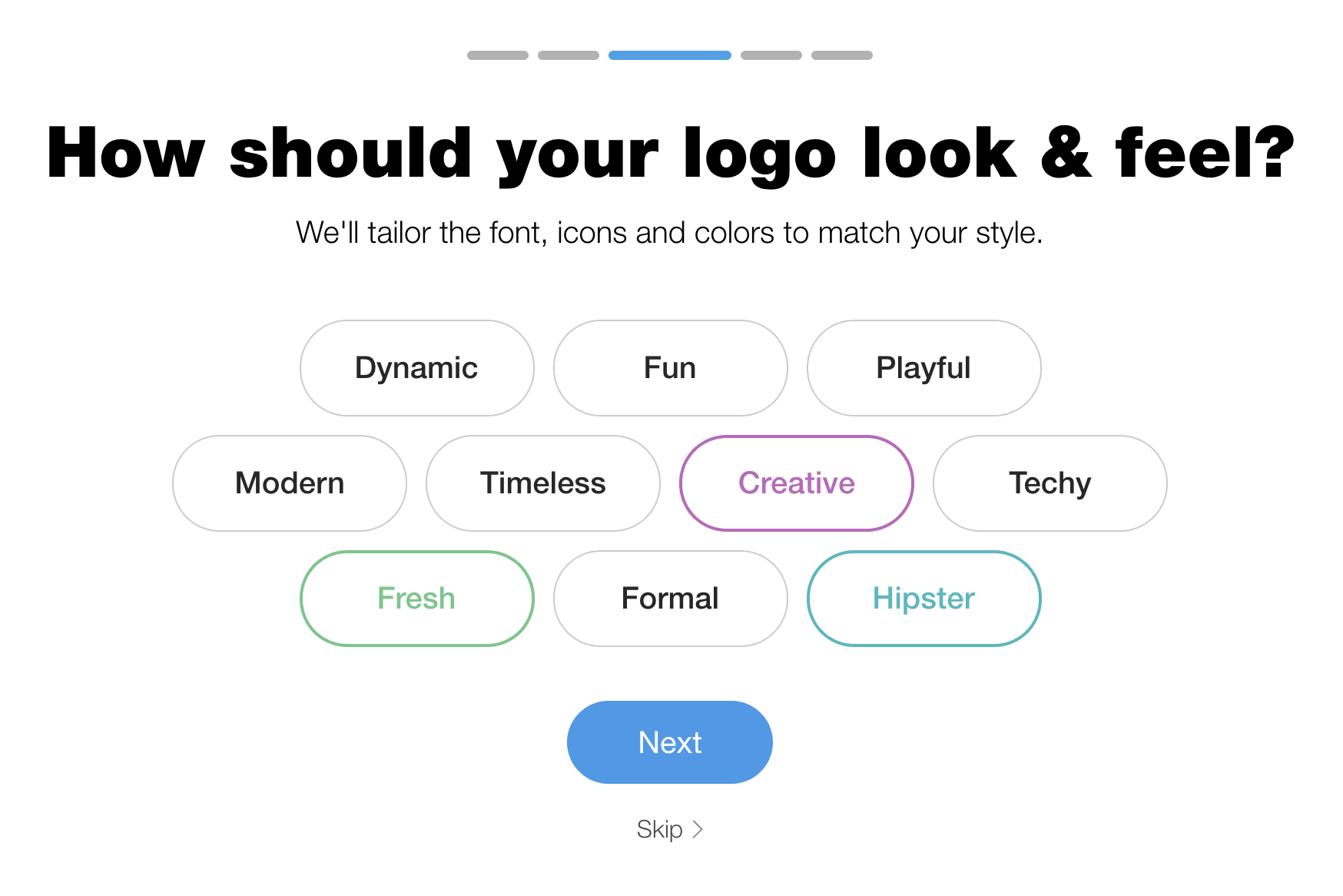 With Tailor Brands, you select your favorite fonts. Here, you select your favorite logo out of two proposed designs. Again,
the AI will use your selections to generate unique logos for you to choose from
.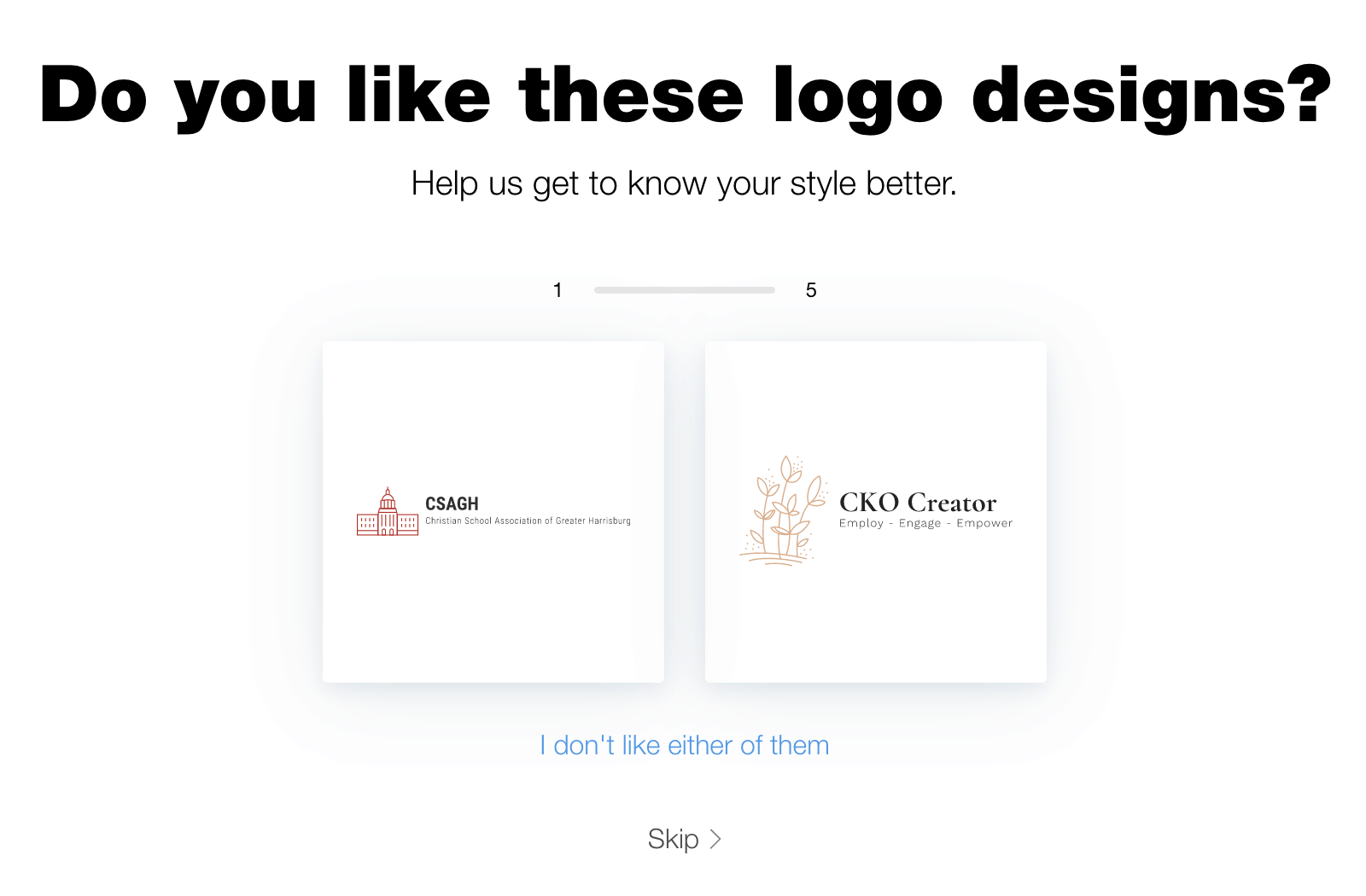 The next page will display your AI-generated logo results. Then you can choose one and begin editing.
And the Winner Is…Tailor Brands
Overall, Tailor Brands and Wix Logo Maker have very similar startup wizards. They each have the same number of screens, are equally beginner-friendly, and take about the same amount of time. Also, neither platform uses stock logo templates, which means a more personalized design. So, both startup wizards have their good points. In the end, though,
Tailor Brands gives you more accurate results based on the information you provide
. Let's compare my two results for the same fake company, Gyros to Go, to see what I mean. Here's what I got in Tailor Brands: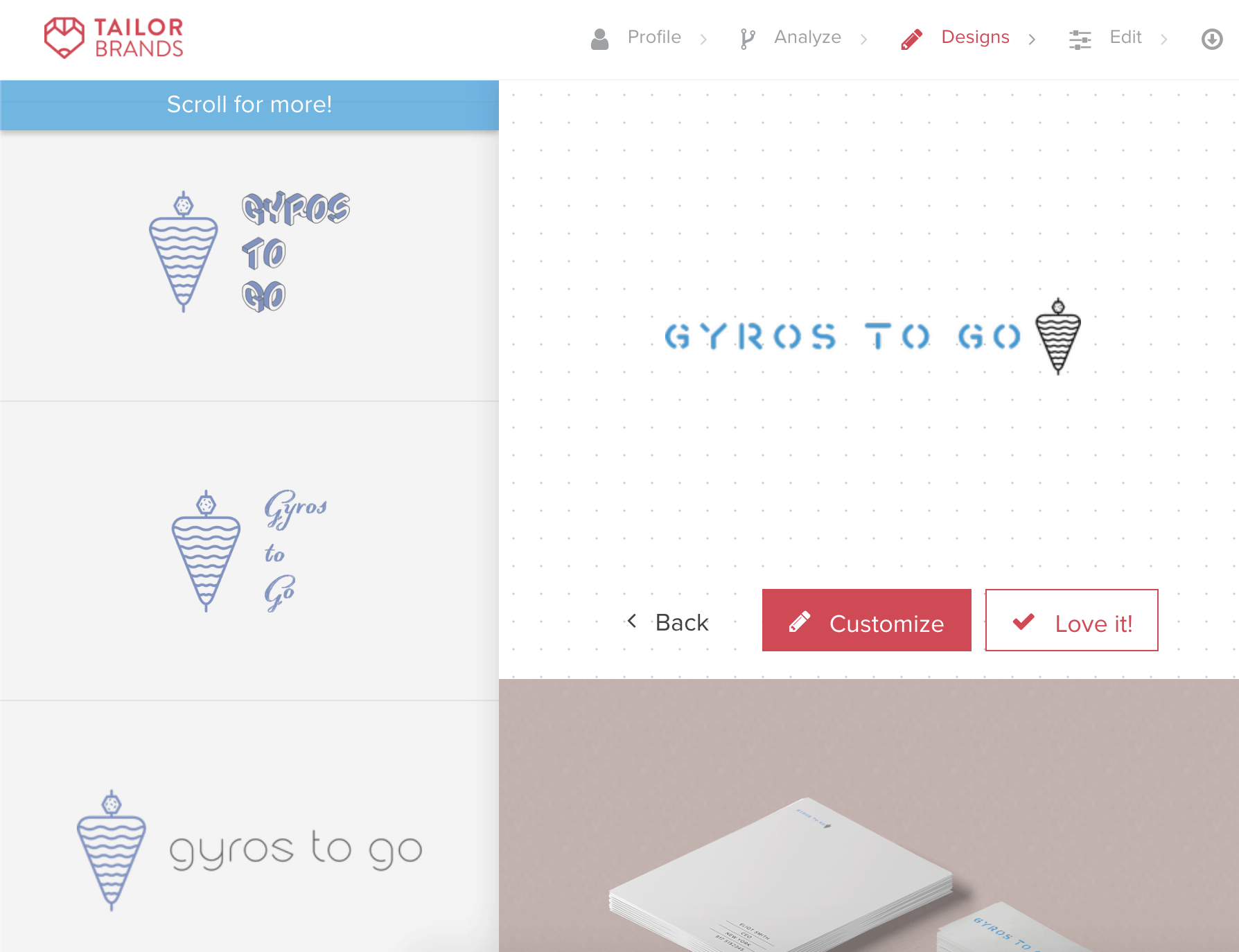 Since I've already selected my icon, I can focus on choosing from a variety of fonts and layouts.
The results feel cohesive and polished
, and I can see that they were created based on the choices I made during startup. There is one small trick here, however. If you
don't
choose your own icon during startup, you'll have to let the AI choose an "abstract icon" for you. That'll give you some kind of geometric polygon or abstract line drawing – definitely not a gyro! On the other hand, here are my results in Wix Logo Maker: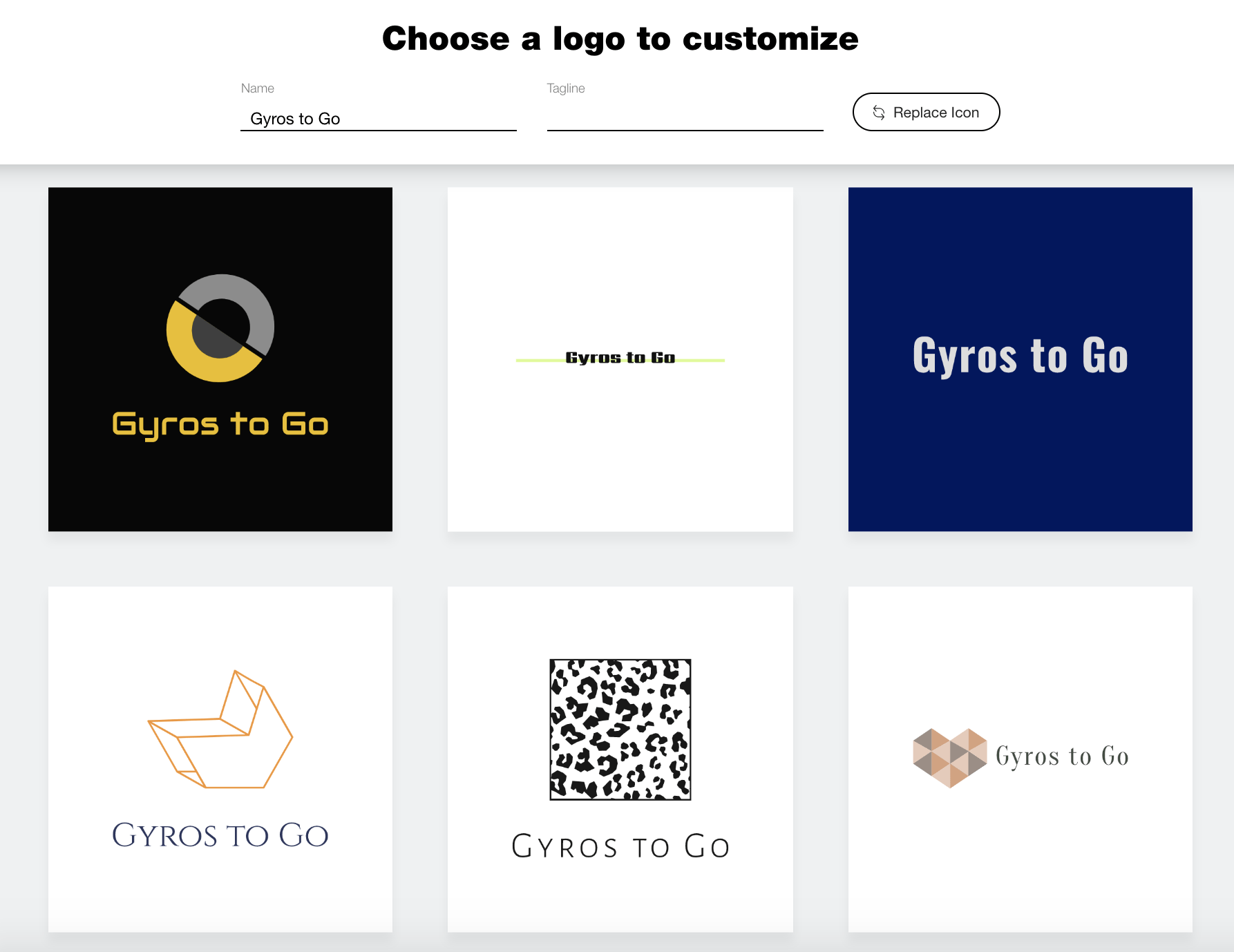 These designs look a little more thrown together, right? The variety is interesting, but they don't relate to the information I entered. For instance,
none of the AI-generated icons have anything to do with my industry choice ("Restaurant") or the name of my business
. In the end, both tools are intuitive and quick, but
Tailor Brands' startup wizard generates more accurate results
without any extra work from me.
Round #2: Customization Options
Tailor Brands Makes Customization Simple – Wix Makes It Precise
Once you've chosen an AI-generated design, it's time to perform all the little tweaks that will make your logo
yours
.
So how do Tailor Brands and Wix Logo Maker stack up in terms of customizing?
Before diving into the differences between the logo editors, here's what both tools offer:
Attractive preset options for colors, fonts, and layouts
An easy way to choose a new icon from the library
Cohesive color palettes to try
An Undo button to reverse edits easily
Mock-ups that display your logo on various screens and merchandise
Where they differ is in
how much you can customize
. To compare the two, I've broken down their editing capabilities into four rough categories: preset layouts, text editing, colors, and backgrounds.
Customizing Your Logo with Tailor Brands
After you select a logo concept, the Tailor Brands editor appears, with customization options on the left.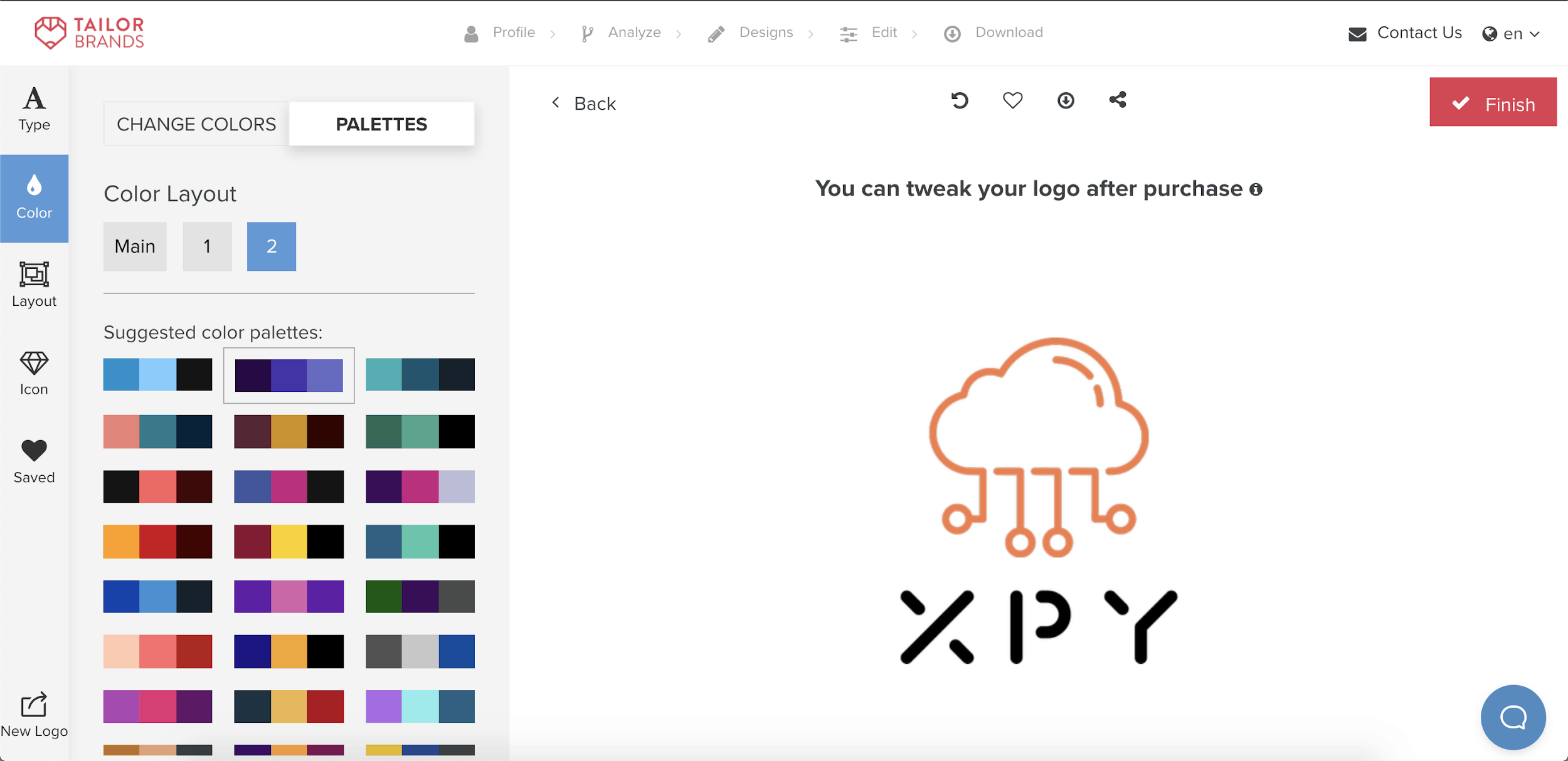 Text Editing
One great feature of Tailor Brands is that
you can easily find new fonts, as they're categorized into 15 font styles
under the
Type
tab. Descriptive categories like
Bolder, Smoother, Handwritten
, and
Classy
make it easy to find the perfect vibe. If you have a company name
and
a slogan, you'll be able to change their fonts independently.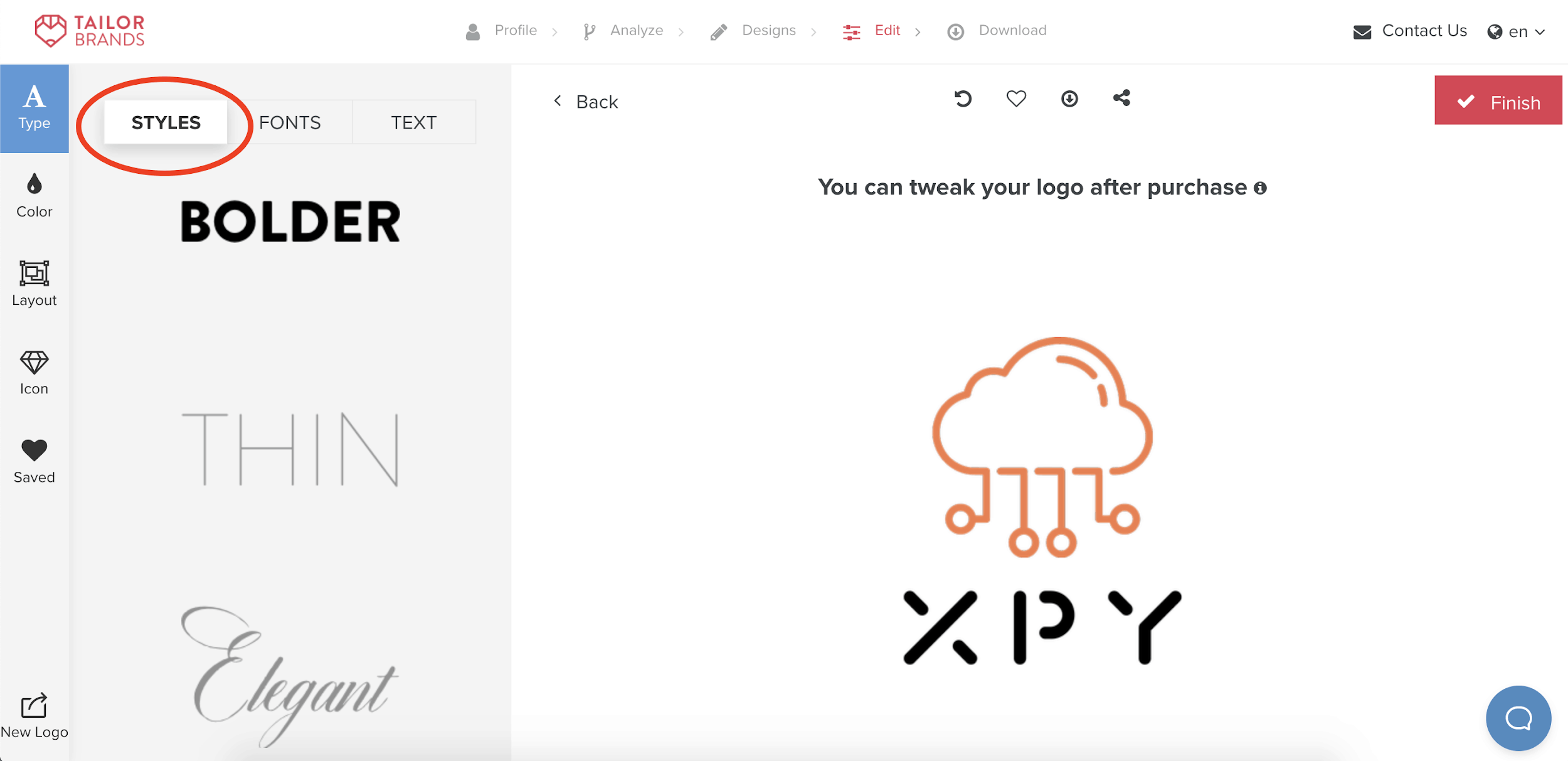 Colors
Tailor Brands provides
several ways to change colors
, too. You can try new color schemes in just one click, or you can edit colors individually by:
Clicking a new color from the suggested palettes
Using the manual color selector
Typing a specific color hex code*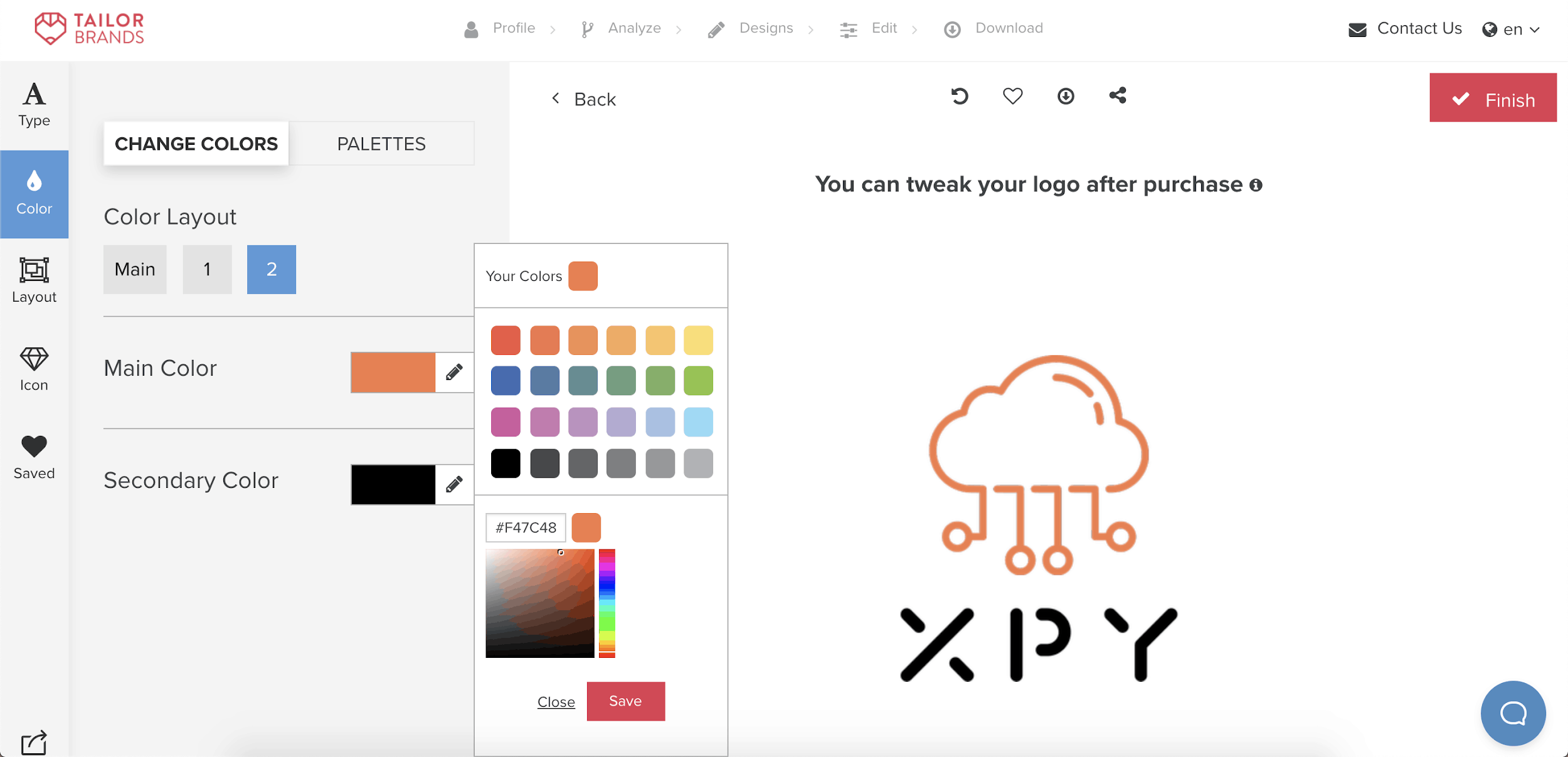 *Color hex codes are unique combinations of letters and numbers that identify specific colors. (In the screenshot above, for instance, the hex code for the shade of orange is #F47C48.) 
Backgrounds
Unfortunately,
Tailor Brands does not allow you to add a new background to your logo
. You can only use backgrounds if your original logo design includes a shape or color. If it doesn't, you just won't have one. For example, using the
Shapes
tab, I was able to make changes to the logo shown below. That's because the rectangle background was already part of its design.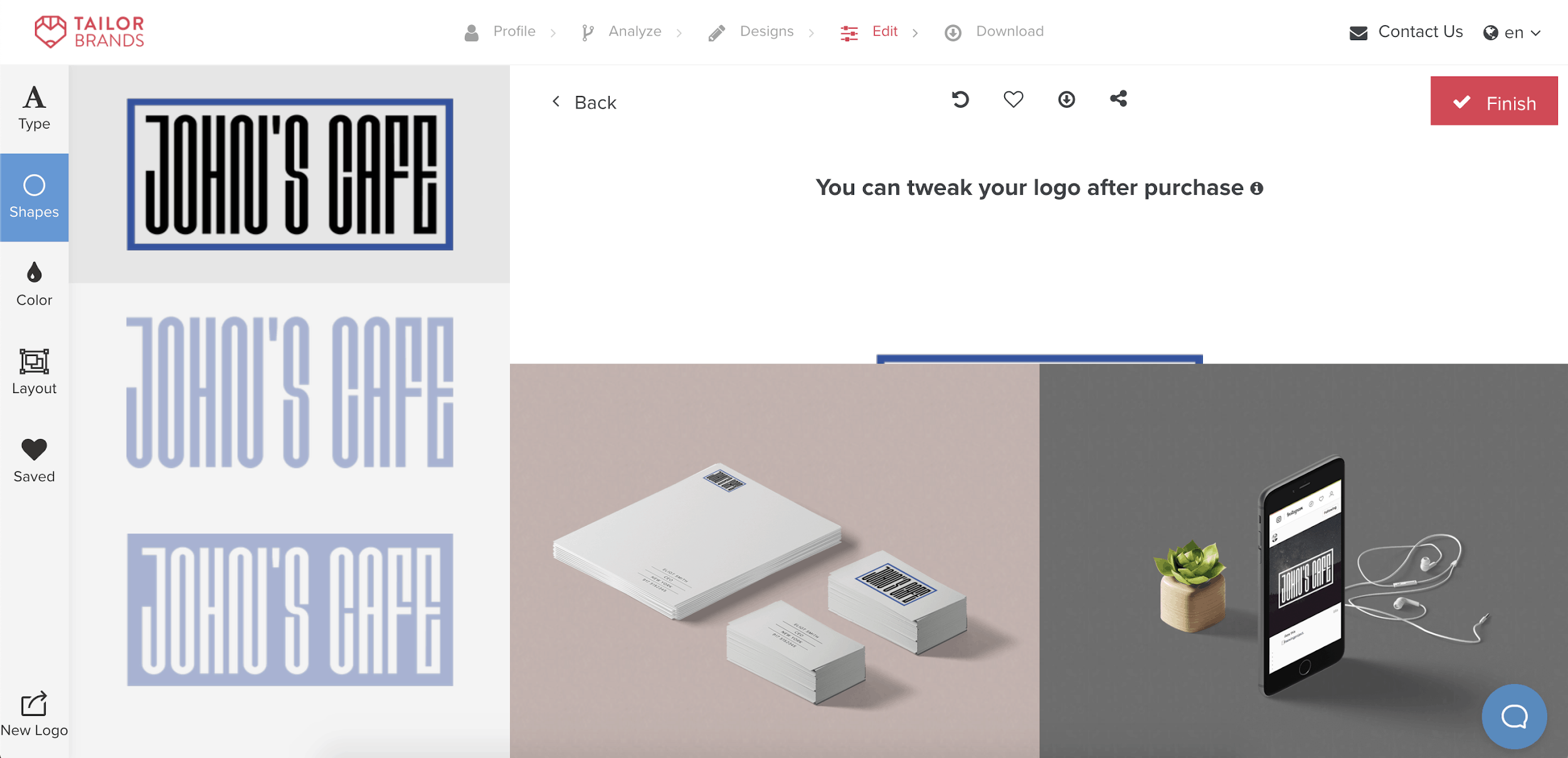 Icons
Tailor Brands has a well-stocked icon library. It even includes
abstract icons
of interesting geometric shapes.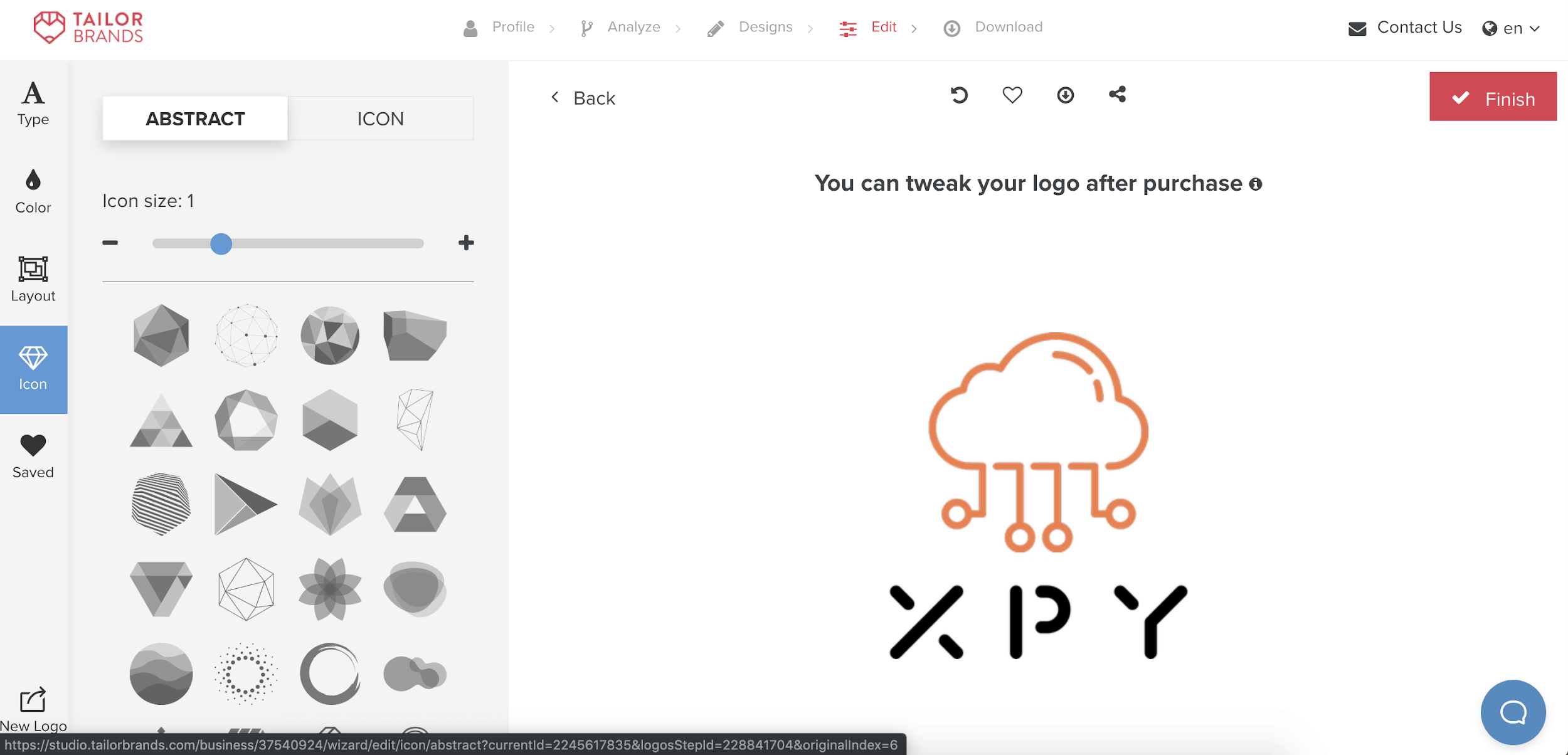 Here's one downside:
if you did not choose the "icon based" logo style during startup, you cannot add an icon
. You'll instead have to start over, making the design process more time-consuming.
Preset Options
By "preset options," I mean new designs that you can try in one click. That way, you can skip making individual edits to text, color, and background as described above. As shown below,
Tailor Brands lets you change the way your logo is positioned.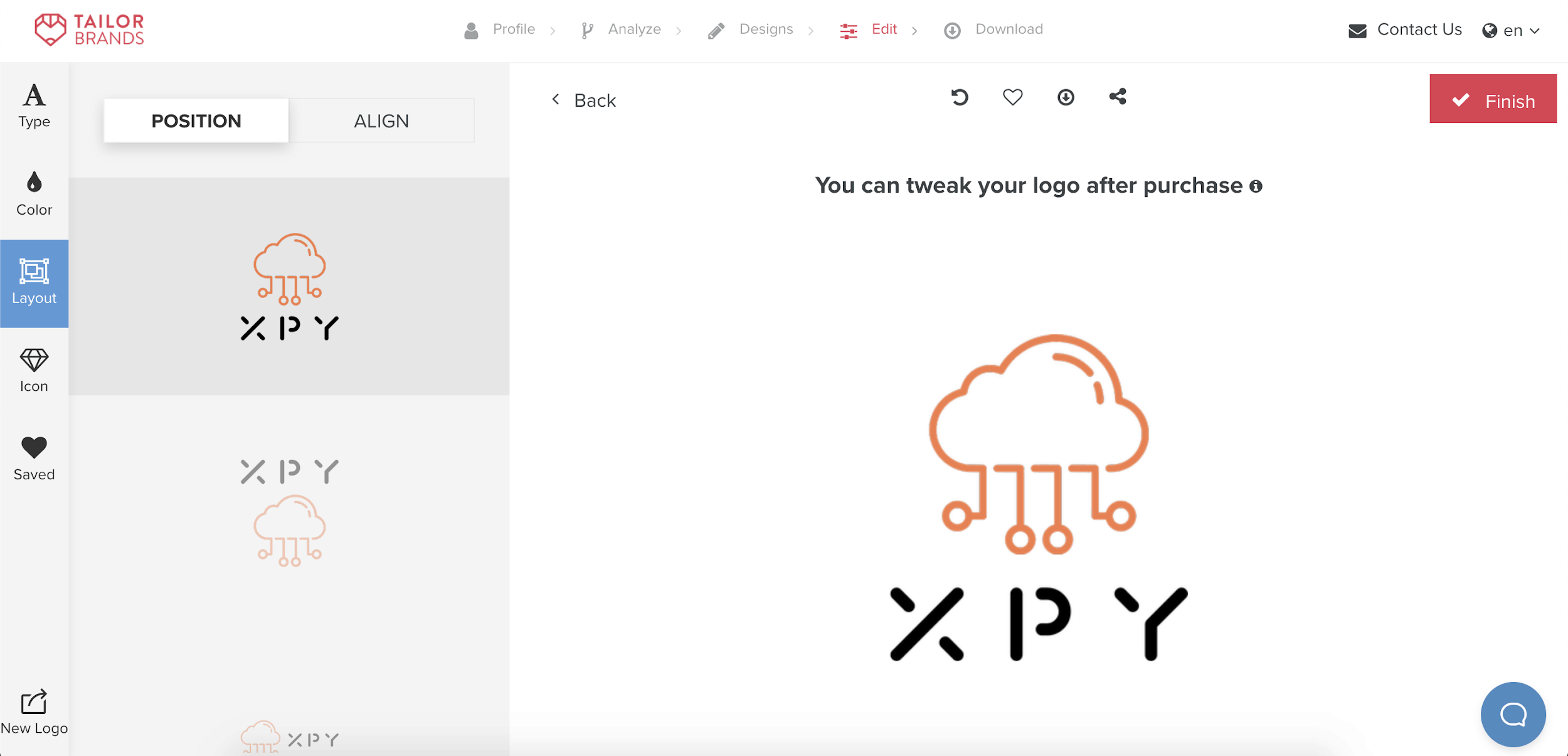 Customizing in Wix Logo Maker
Overall, Wix Logo Maker's editor looks similar to the one in Tailor Brands. They both have customization options on the left side of their editing screens. The biggest difference is that
Wix has drag-and-drop functionality
– an intuitive way to move and place the elements of your logo.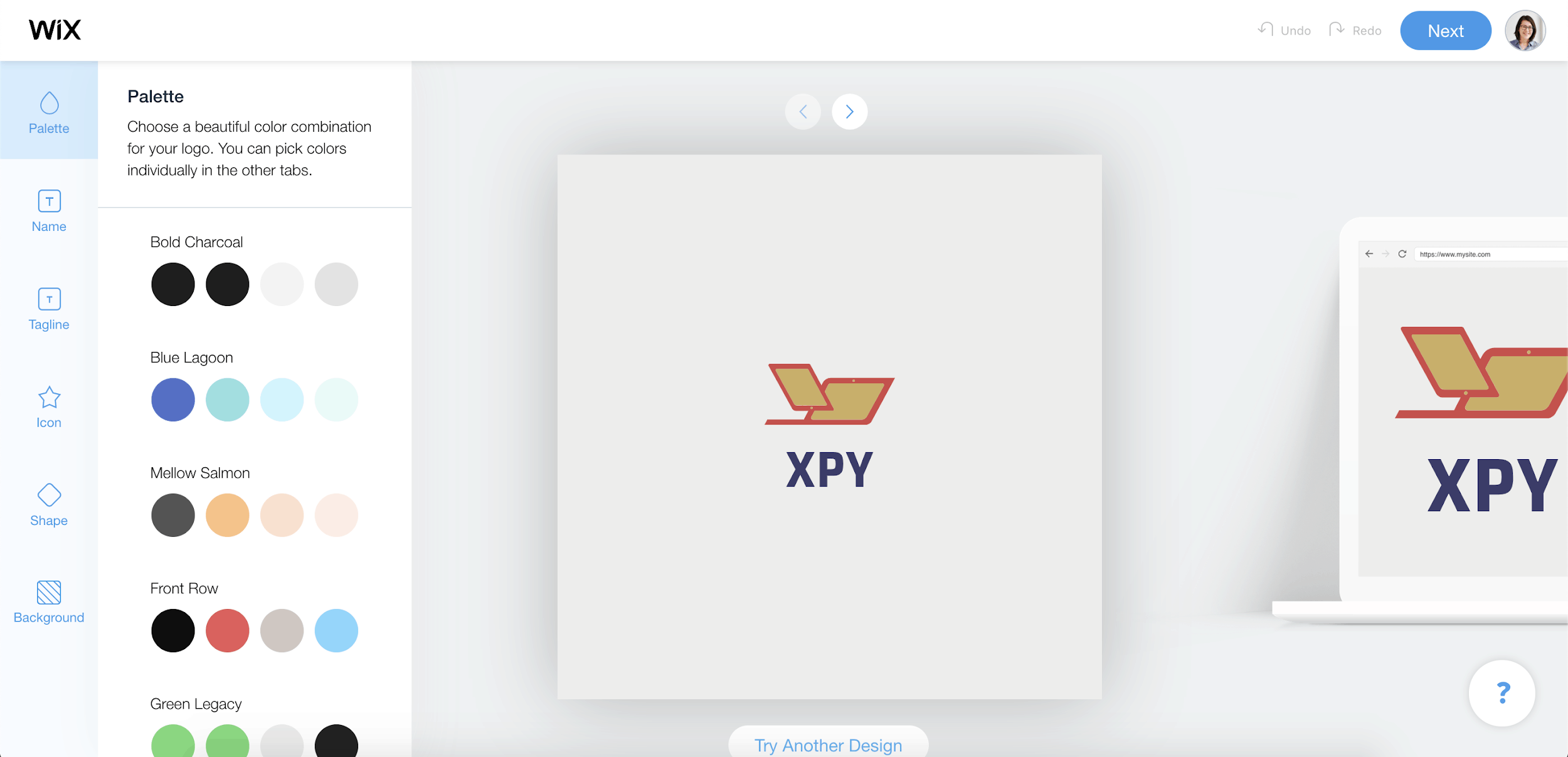 Text Editing
Compared to Tailor Brands,
Wix Logo Maker offers many more options for customizing text
. There are far more fonts available (numbering in the hundreds!), but while Tailor Brands sorts them by category, Wix does it alphabetically. This system makes it harder to find and remember the fonts you like.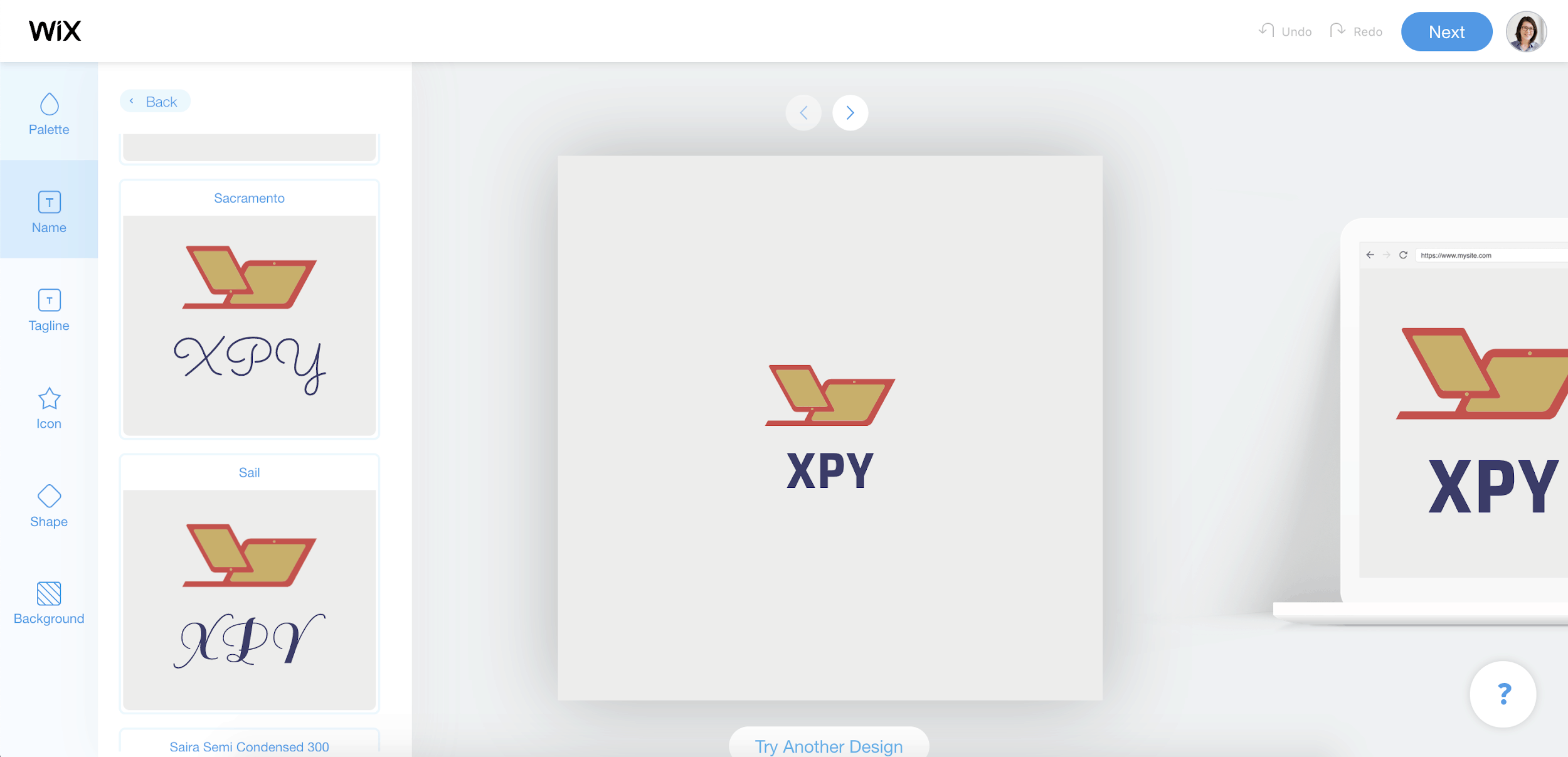 In addition to new fonts, Wix Logo Maker lets you adjust your text in ways that Tailor Brands does not. For instance,
you can rotate and curve text
.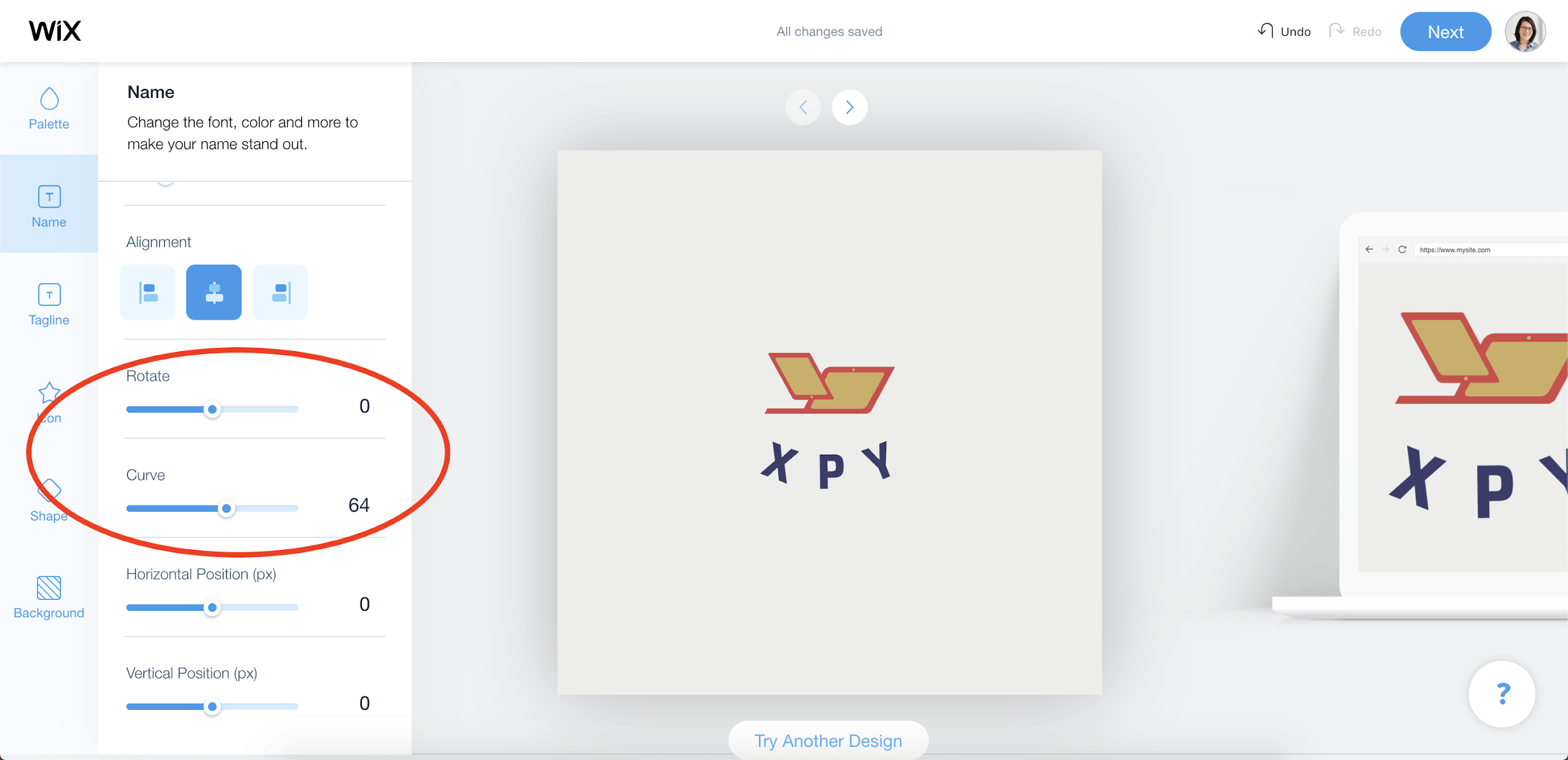 Colors
Wix Logo Maker's color options are very similar to what Tailor Brands offers
. You can choose from attractive preset palettes, use the color selection tool, or enter a hex code.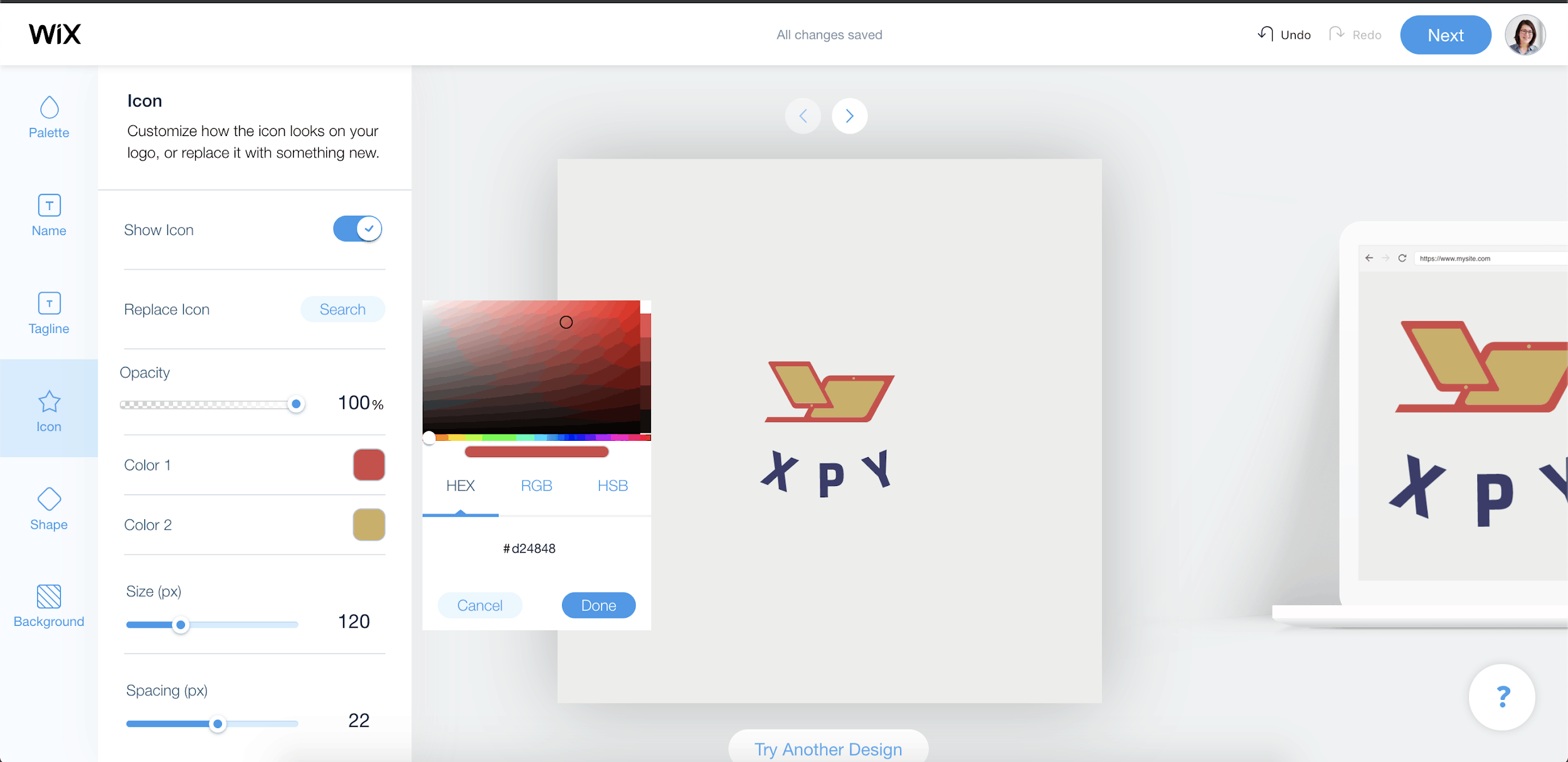 Here's a cool tweak: you can adjust the transparency of objects in Wix Logo Maker using the Opacity slider shown in the screenshot above. This feature, not available in Tailor Brands, gives you a creative way to play around with similar shades and overlapping colors.
Backgrounds
Compared to Tailor Brands,
Wix also stands out for its creative backgrounds
. No matter which logo concept you originally choose, you can always add or change a background from the
Shape
or
Background
tab.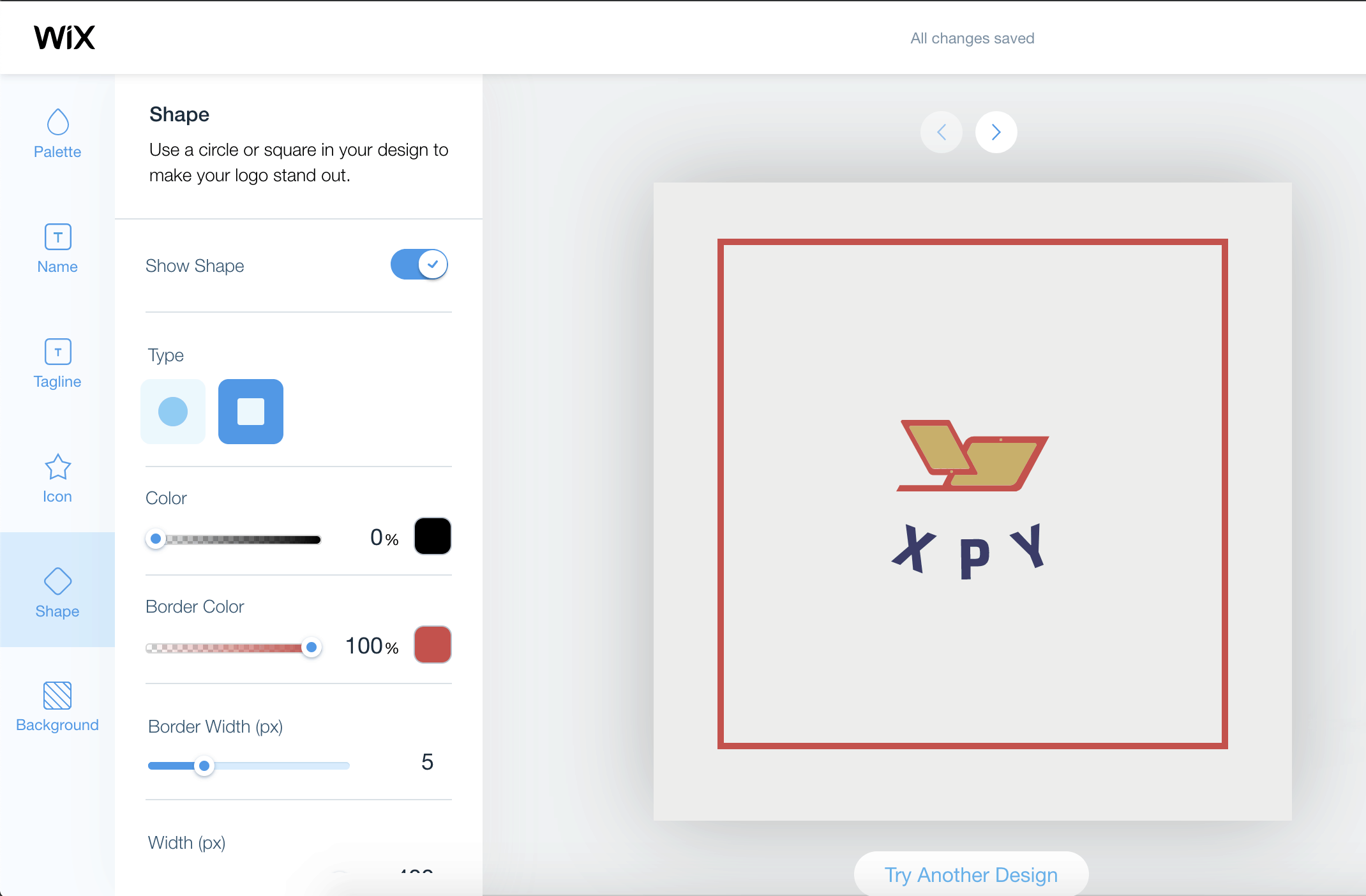 Preset Layouts
The last thing I appreciate about Wix Logo Maker is its variety of built-in options for preset layouts. Whereas Tailor Brands let you change only the basic alignment of your logo,
Wix Logo Maker gives you 24 unique layout options
, incorporating different combinations of text and icon. Some examples are shown in the screenshot below.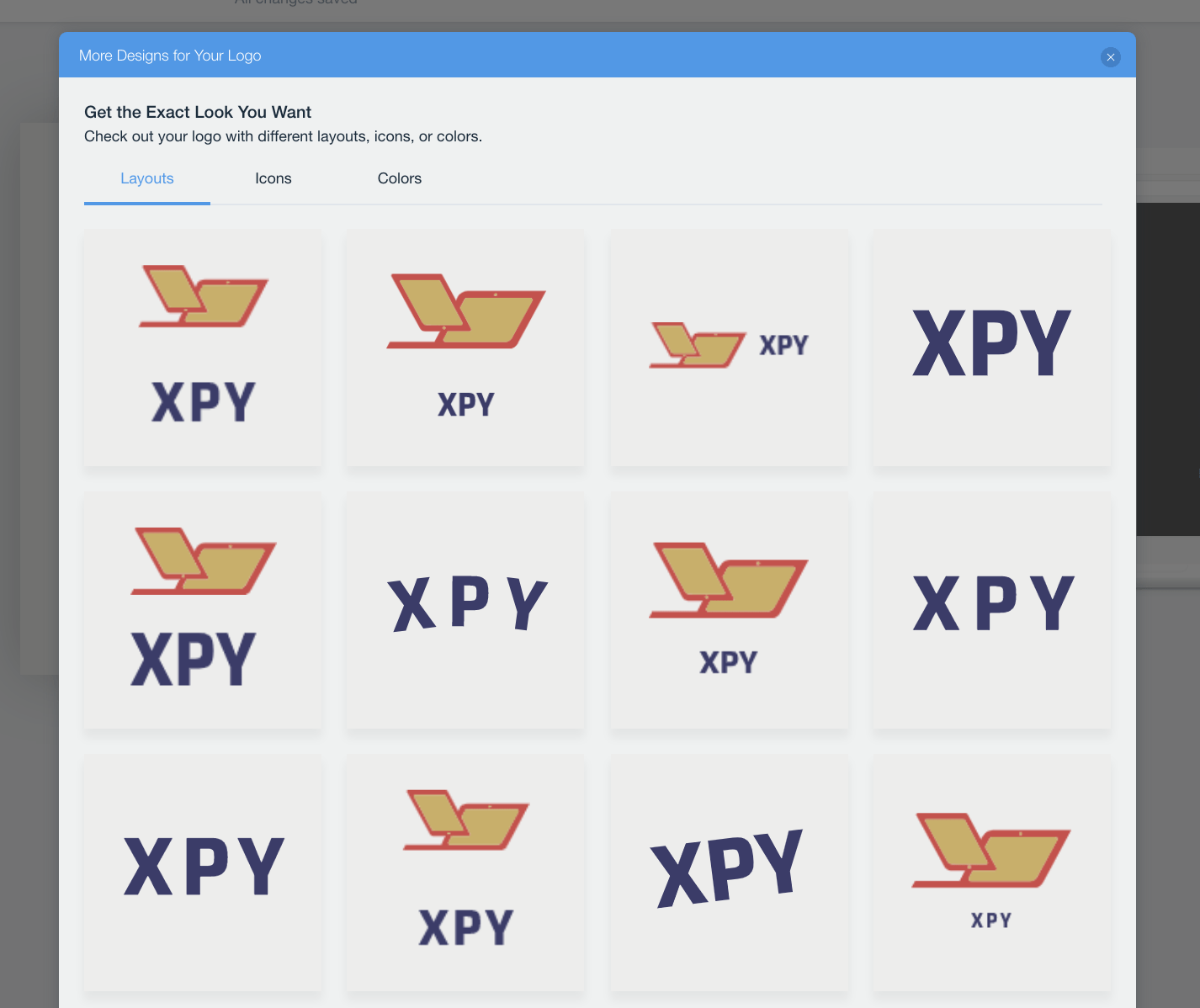 And the Winner Is…Wix Logo Maker
Both platforms offer a wide range of customizations that are easy enough for beginners to use. In addition to its user-friendly interface, though,
Wix Logo Maker offers many more choices for text, opacity, and background
– which helps you create a truly unique logo. Of course, this verdict depends on how many customizations you want to make. If you're picky like me, then you'll enjoy the fine editing capabilities of Wix Logo Maker. If you want something fast and easy and you don't mind having fewer editing options, Tailor Brands would definitely work for you.
Round #3: Language Support
Tailor Brands Only Uses the Latin Alphabet – Wix Logo Maker Supports Multiple Languages
Ultimately, all the logo customizations in the world are pointless if you can't render your company name properly! And unfortunately for our global readers (or any brand that uses non-Latin characters), that isn't as easy as you'd hope.
Tailor Brands' Language Options
Heads-up:
Tailor Brands does not support any "special characters."
When I tried to enter a Japanese-language name for a noodle shop, I received this error message: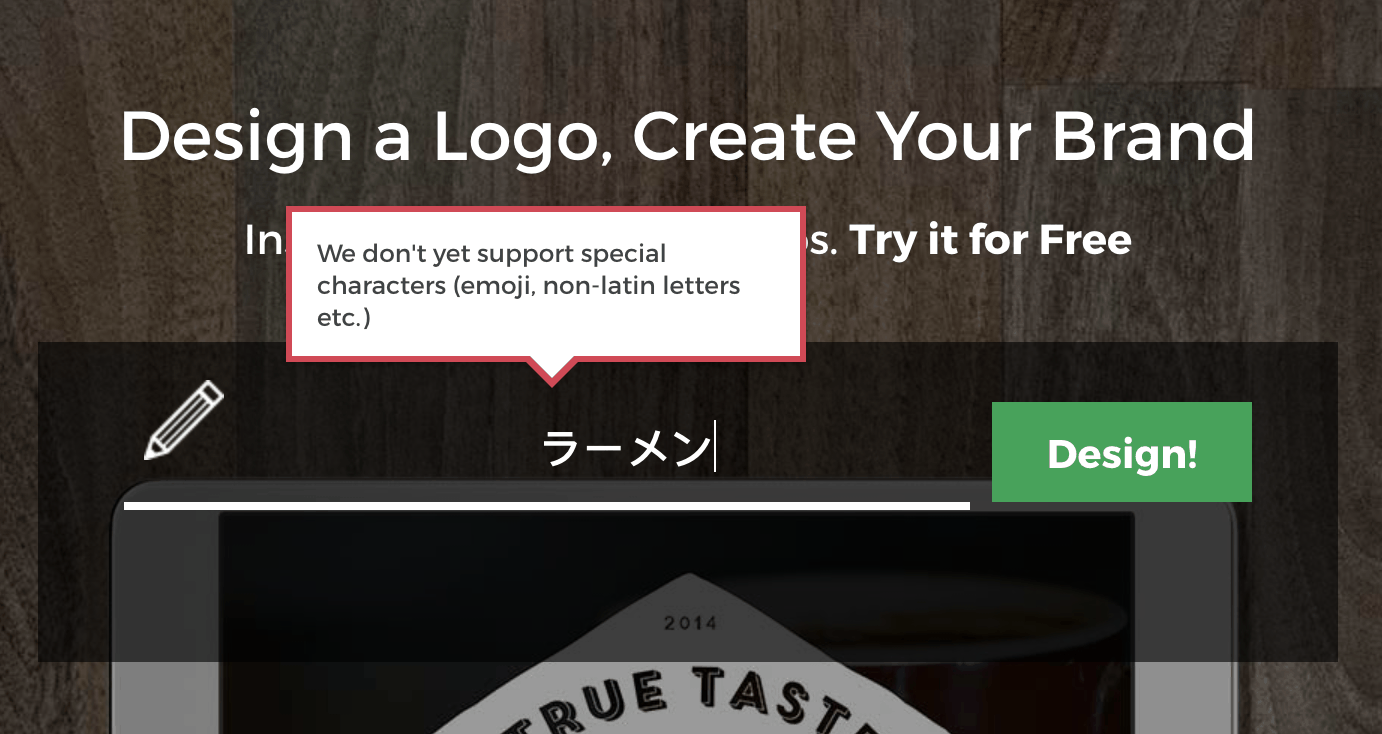 I did appreciate this upfront error message so I didn't have to waste time testing whether non-Latin fonts would work. But it's still disappointing to be so limited. (One piece of good news, though, is that Tailor Brands does support characters with accent/diacritical marks, such as
á
,
ç
, and
ñ
.)
Wix Logo Maker's Language Options
When I tested out the same Japanese-language characters,
Wix offered me 17 different fonts
.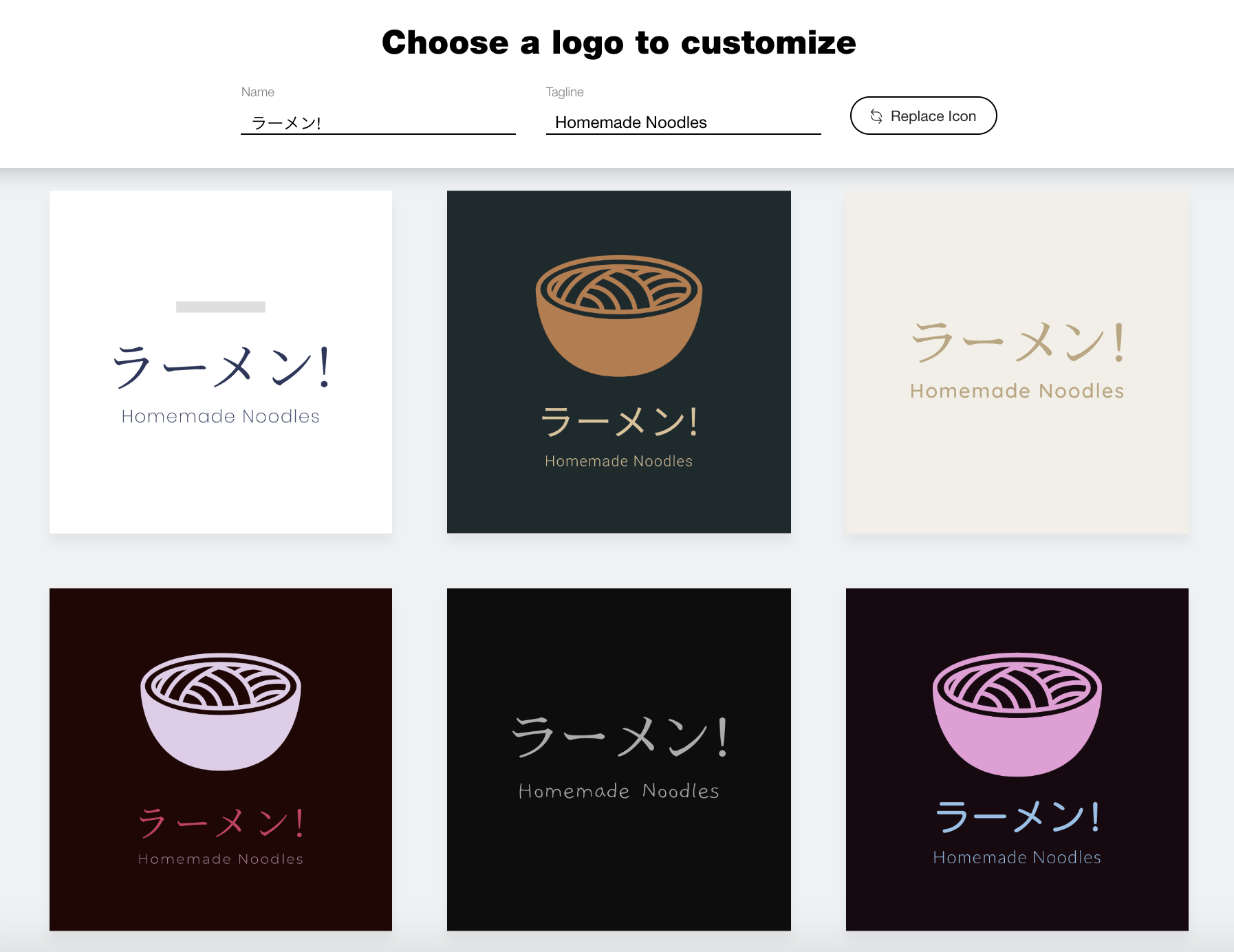 The number of fonts available for each non-Latin alphabet varies. For instance, I tried a few different languages at random and got these figures:
85 fonts in Russian
18 fonts in Hebrew
19 fonts in Greek
And the Winner Is…Wix Logo Maker
For this round,
Wix Logo Maker is definitely the better option
. While its Latin-alphabet font selection is more varied and creative, this tool offers a nice variety for other languages, too. That's impressive compared to Tailor Brands – which has no options for special characters at all! Want to know more about Wix Logo Maker?
Don't miss our in-depth review
.
Round #4: Pricing
With a Subscription, Tailor Brands Gives More – Wix Offers Less for a One-Time Fee
Good news:
both tools let you create your logo for free
. You can use all their features, including the AI-generated startup wizards and rich editing tools, without paying anything. There's also
no obligation to purchase
the logo you create. If you like your logo and would like to use it for your business, each tool will give you different payment options.
Tailor Brands Pricing
Tailor Brands offers several tiers of pricing depending on the logo files and additional services you want (I'll explain more about those in
section #7
).
All plans are subscription-only
, with significant discounts if you pay annually or biannually rather than monthly.
The most basic plan includes:
JPEG and PNG logo files in full color, black, and white
Transparent logo files*
Full commercial rights
Logo resizing tool (to create images for social media, etc.)
Logo watermark tool (to use your logo on documents)
Seasonal logo generator (to create holiday-themed versions of your logo)
Brand book
*Transparent logo files have no background, allowing you to use them anywhere without worrying about clashing colors or weird backgrounds. Read more about the benefits of transparent logo files here.
What about free, you ask? You can always download a free logo sample for non-commercial use by clicking the small button shown below.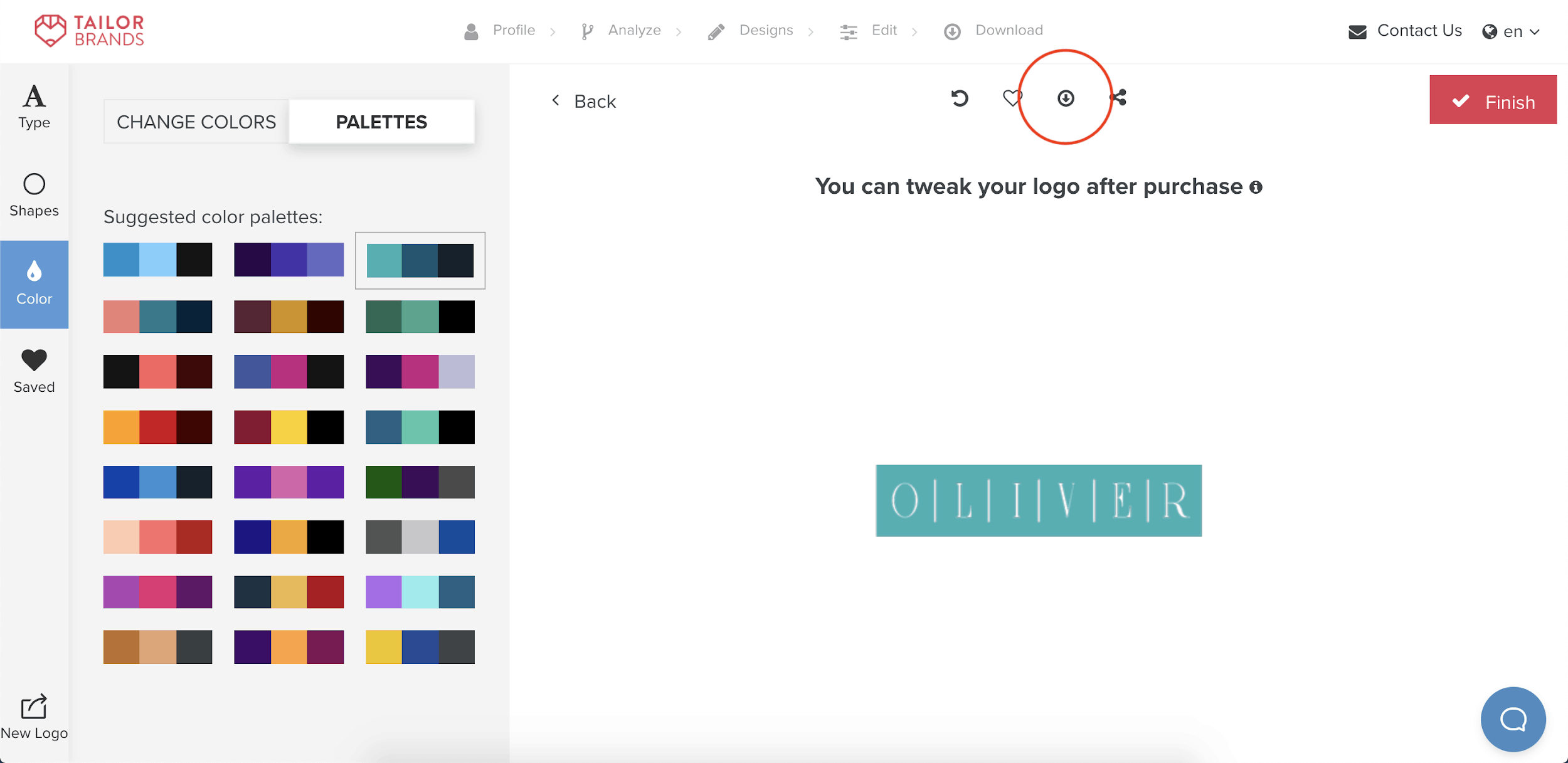 Once you sign up for a subscription, you can download your logo files immediately (or any time during your valid subscription period).
Even if you cancel your subscription, you'll still retain commercial rights to your logo
. You just won't be able to download it again without a valid subscription.
Wix Logo Maker Pricing
Unlike Tailor Brands,
Wix offers both pay-per-product and subscription-based options
. If you just want your logo files, you can choose the pay-per-product model for a reasonable price. For additional services (
more info below
), you'll need a subscription. As with Tailor Brands, you'll get full commercial rights to your logo and
you can download a free sample for non-commercial use
. (That link is at the bottom of the check-out page.)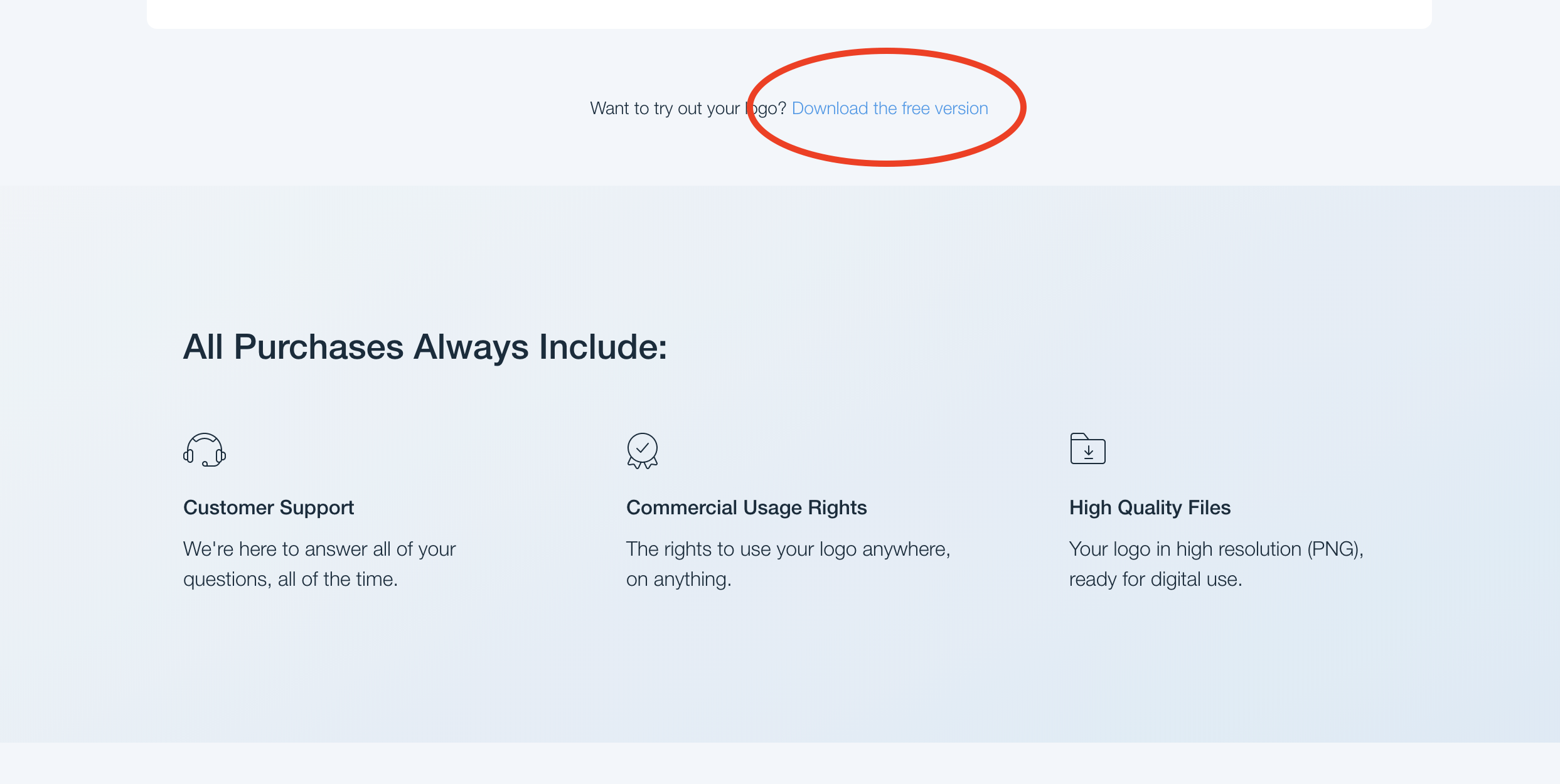 The most basic plan includes:
8 PNGs in full color, black, and white
Transparent logo files
Full commercial rights
And the Winner Is…Wix Logo Maker
I'm signed up for enough subscriptions to last a lifetime, so I personally have to vote for Wix. With a pay-per-product model,
I don't have to keep track of paying for or canceling another subscription
. However, Tailor Brands' subscriptions are quite affordable, and the basic plan offers a few more goodies and add-on tools than Wix Logo Maker. Both options are reasonably priced.
Round #5: Additional Revisions
Tailor Brands Offers Free Edits – Wix Makes You Pay
How many times have you typed an email, then realized something wasn't quite right? Well, it's easy to do the same with your logo – but these mistakes can be much more difficult to reverse! The right logo maker can make it easier. Here's how these two compare in terms of
post-purchase editing capabilities
.
Editing with Tailor Brands
Right from its pre-purchase editing screen, Tailor Brands assures you, "You can tweak your logo after purchase." After a little digging, I learned that these tweaks include
unlimited changes to the color, layout, and tagline of your logo
. (Keep in mind that you must have a valid subscription to make these free edits.) For instance, I could make a free change
like this
(switching the color):

But
not like this
(selecting an entirely new logo style):

It's important to be sure which logo you want before purchasing it on Tailor Brands. Then, if you want to make minor changes, you can.
Editing with Wix Logo Maker
Unlike Tailor Brands,
Wix Logo Maker offers NO free edits after you purchase
. Since your logo will be saved to your personal library, technically you can make changes at any time. However, to re-download your edited design, you're required to purchase it again. That means that even a small mistake will cost you big.
And the Winner Is…Tailor Brands
While neither tool lets you completely change your logo after purchasing it, Tailor brands is the knock-out winner in this round. It gives you plenty of
free options for tweaking your logo design
, while Wix gives you none. Since neither platform offers any refunds for your logo, Tailor Brands' post-purchase editing can be a life-saver. Curious to know more about Tailor Brands?
Click here to read our expert review
.
Round #6: Social Sharing
Tailor Brands Makes Sharing Easy – Wix Makes It Old-Fashioned
What's one of the best ways to avoid needing post-purchase edits? Showing your logo design to colleagues or friends
before
you buy it. Here's what these tools offer for social sharing.
Tailor Brands' Sharing Options
From within Tailor Brands, you can share your logo design via email, Facebook, and Twitter. You simply click the icon circled below, then click once more to send, post, or tweet. And that's it!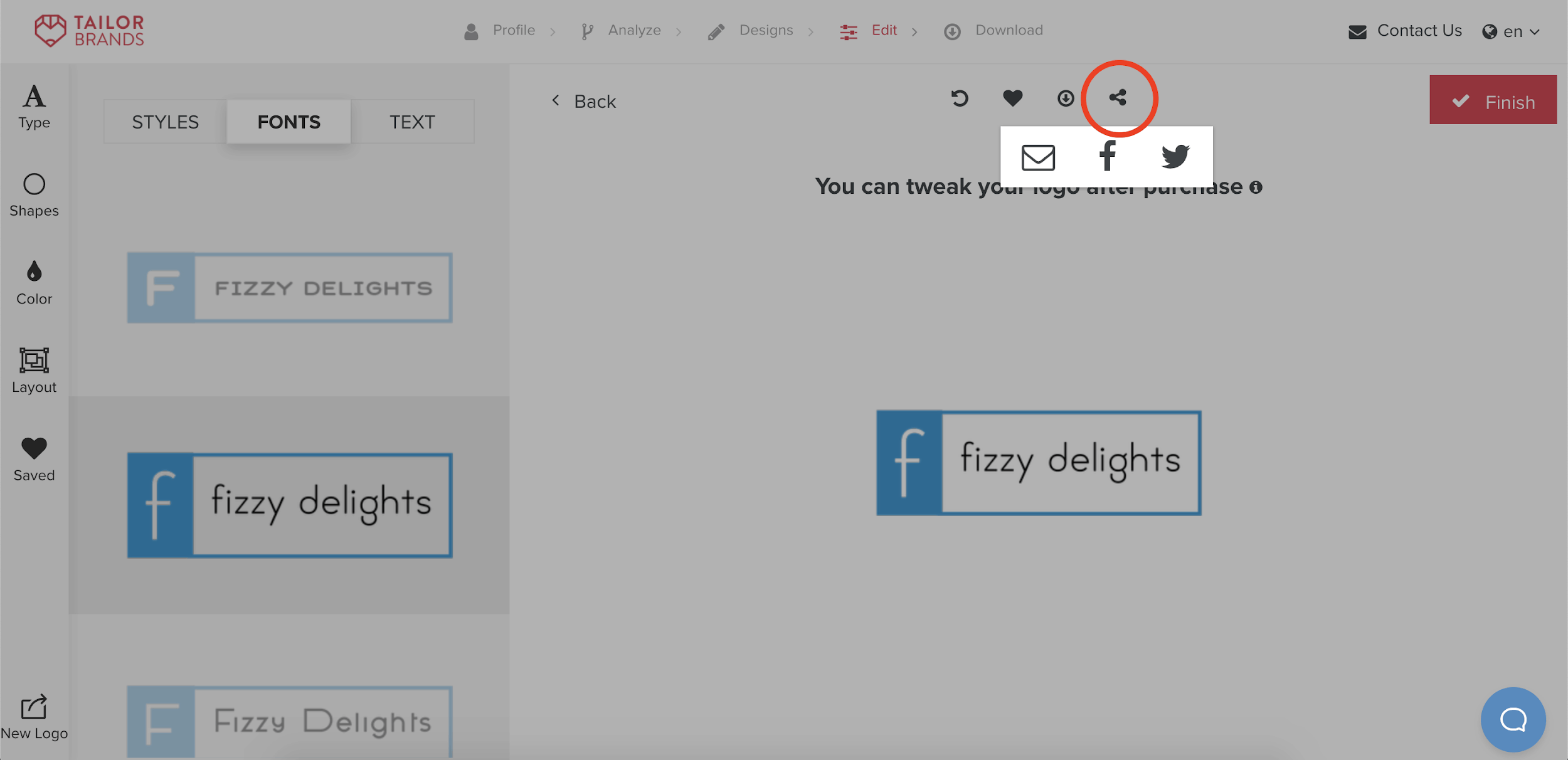 Wix Logo Maker's Sharing Options
Unfortunately,
Wix has no built-in sharing options
. If you want to send your logo to colleagues, you have to start by downloading the free sample. Then you can share that file on your platform of choice. Since even pro designers need second opinions on their work, it's surprising that Wix Logo Maker doesn't make collaboration convenient.
And the Winner Is…Tailor Brands
While both tools offer free logo samples,
Tailor Brands' built-in options simplify the sharing process
. Whether you prefer to share on social media or by email, you can do it quickly in Tailor Brands. Which brings me to our final category…
Round #7: Additional Tools and Services
Tailor Brands Excels at Social Media – Wix Logo Maker Shines on the Web
More than just standard logo makers,
both of these tools strive to provide complete branding solutions
. For an additional fee, both platforms offer:
Vector files (these are infinitely scalable, editable in software like Adobe Illustrator, and perfect for printing your logo at any size)
Business card templates and printing
Beyond these similar add-ons, however, the focus of the platforms is very different.
Add-Ons in Tailor Brands
In both of its premium subscriptions, Tailor Brands offers a number of additional tools and services. To me, the most outstanding features are these:
Master Design Tool
This tool includes pre-made templates, as well as a blank canvas to use for creating graphics. These can be used for social media posts and advertisements. The best part? You can
upload your own images
, which you cannot do in Wix Logo Maker.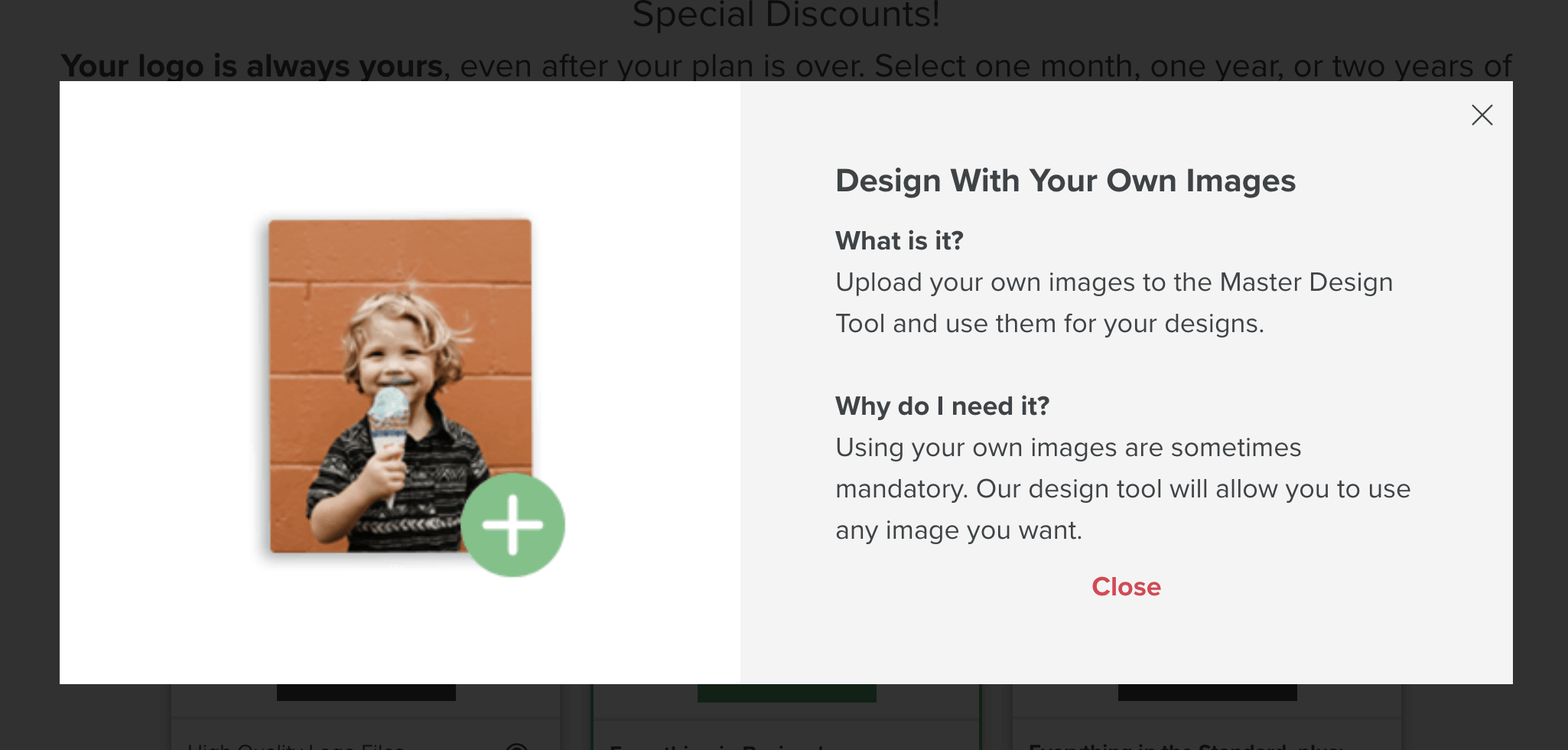 Social Media Tools
Tailor Brands' heavy focus on social media
is great for companies that are trying to reach customers organically. These add-on tools include:
1,000+ pre-made social media templates
Ability to create posts in advance, scheduling them to be posted at a future date
Social media analytics tool to track engagement and growth
Add-Ons in Wix Logo Maker
If you want to purchase
only
logo files, then
Wix Logo Maker offers one social media add-on:
40+ versions of your logo, presized for various social media platforms. You'll get ready-made logo files for Twitter, Facebook, YouTube, LinkedIn, and more.
Wix Logo Maker's most robust add-ons are in website integration
, not social sharing. When you choose a Logo + Website plan, you can select one of Wix's premium website subscriptions, which includes branding to match your new logo and a free custom domain for one year. Not sure if you'd really benefit from a subscription-based website plan? Choose wisely by first reading our
expert review of the Wix website builder platform
.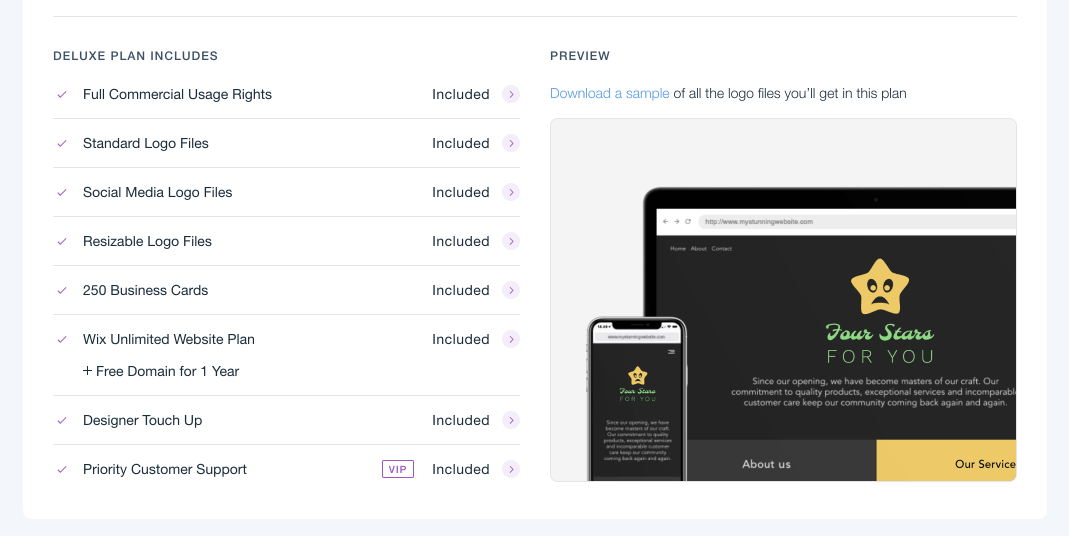 Two other notable add-ons:
Logo touch-up service from a professional designer
Priority customer support for faster response
And the Winner Is…Up to You!
To me, the winner of this round is almost impossible to name.
Both tools provide great functionality in different areas:
If you already have a website and want to focus more on social media, Tailor Brands is the better choice.
If you need a brand-new website to match your new logo, Wix Logo Maker is the better choice.
The Final Winner Is…
So, which logo maker is the best? Which one will help you make your own high-quality logo – one that doesn't
look
homemade? If you want a truly one-of-a-kind logo (and don't mind spending the time to customize it),
Wix Logo Maker is the all-around winner.
Our
expert review
goes in depth on points that weren't covered here, but let's recap what we learned from this side-by-side comparison.
Wix Logo Maker
 offers far more options for customizing font, color, and text. That ensures that your final logo design is non-generic, unique to you, and
trendy in all the right ways
. The one-time payment option is also more attractive to many users. However, that's not to say that
Tailor Brands
 isn't a terrific option! If you're leaning in that direction, our
detailed review
can help you decide. As we've discussed, Tailor Brands offers a faster creative process with a little less design freedom – plus some extra built-in options for graphics and social media outreach. Now that you know your options, you can pick a logo maker and start working on your own eye-catching logo! If you're looking for more ideas, don't miss our list of
the best logo design services
.
| | |
| --- | --- |
| Feature | Conclusion |
| AI startup wizard | Tailor Brands provides more curated results; Wix Logo Maker's designs are hit-or-miss. |
| Customization options | Both tools are easy to use, but Tailor Brands has fewer editing options than Wix Logo Maker. |
| Supported languages | Tailor Brands does not accommodate non-Latin characters; Wix Logo Maker does. |
| Pricing and deliverables | Tailor Brands' subscription-only model has more robust add-ons; Wix Logo Maker offers more convenient one-time payment options. |
| Sharing options | Tailor Brands lets you share directly from the editor; Wix Logo Maker does not. |
| Add-on services | Tailor Brands excels in social media; Wix Logo Maker is a winner for its website builder integration. |