If you've been in the email marketing game a while, you'll be used to every Email Marketing Service (EMS) claiming to offer all the features you could ever need. Mailchimp claims you can "do it all" with its platform, while Mailjet calls itself an all-in-one platform that's "Europe's leading email solution."
But this isn't helpful if you're trying to figure out which EMS is best for you – especially when no one provider can offer everything. I thoroughly tested Mailchimp vs Mailjet, and found they share three main selling points: ease of use, an all-in-one service, and a free plan.
TL;DR: Neither Mailjet nor Mailchimp outshines the other. Between them, they're missing decent automation tools and advanced analytics that actually provide decent, useful insights. In fact, I found the overall performance of both pretty lacking, especially compared to what's on offer from other EMS these days.
Read on to find out whether Mailjet or Mailchimp is right for you – and if not, which EMS will best meet your business needs.
Features
Shallow Functions Limit Mailchimp and Mailjet
Both Mailchimp and Mailjet leave a lot to be desired. Mailchimp comes with over 100 free templates…but none of them are worth using. They're so dated, I'd honestly be afraid of getting laughed at for sending them out.
On the other hand, Mailjet only gives you about 45 templates. They look nicer than Mailchimp's, but that's not exactly setting the bar high. If you want sleeker, more modern designs, I recommend Sendinblue's free plan.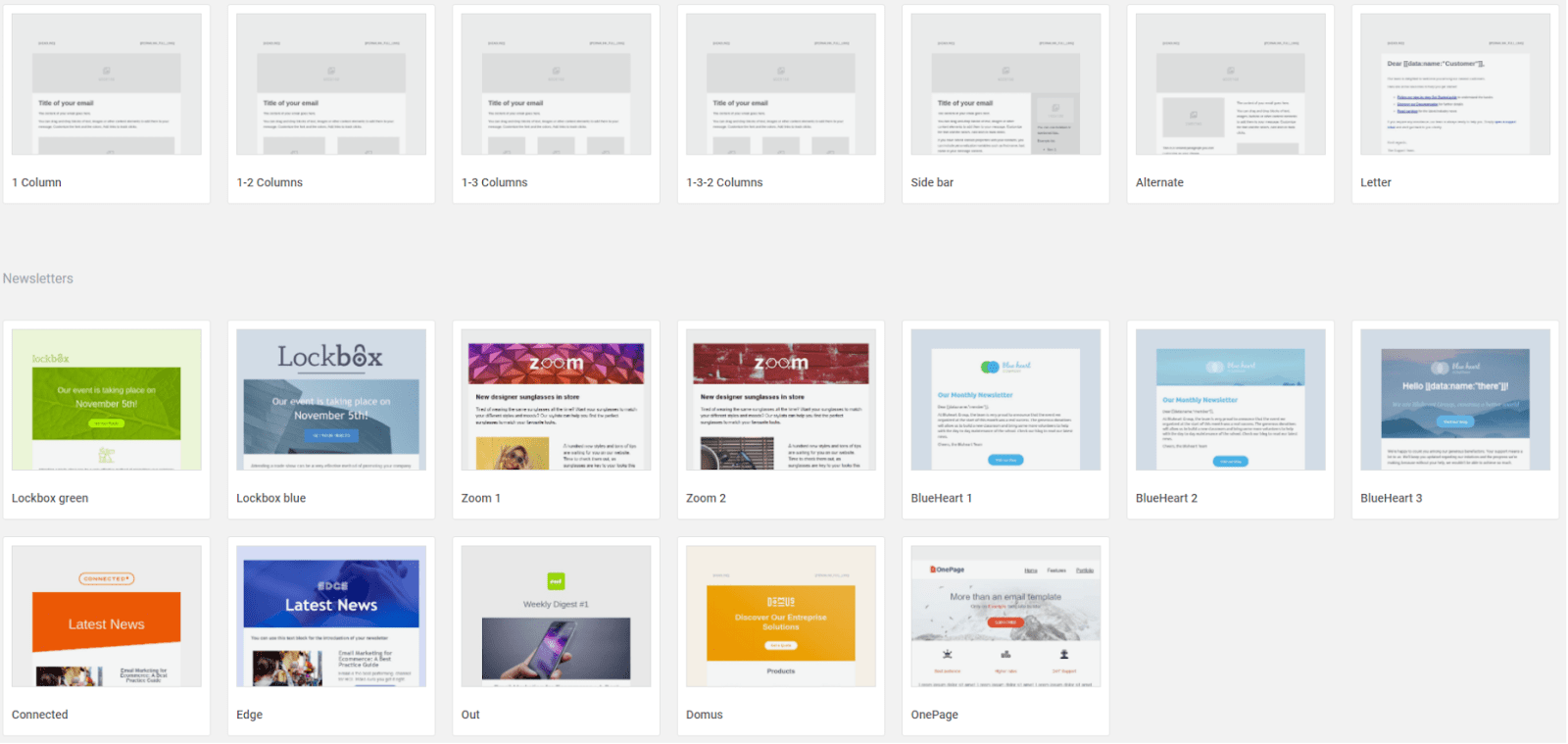 Automation is another essential feature for getting your emails launched quickly. But when I compared Mailjet vs Mailchimp, I was sorely disappointed by the automated workflows. With Mailjet, automation isn't included unless you subscribe to the Premium plan, starting at $25.00 per month. Even then, what you get isn't great – especially since you can get basic automation with both Sendinblue and AWeber's free plans.
Mailchimp offers automated workflows on its Essentials plan, starting at $11.00 per month. It gets some basics right – there are enough triggers to set up abandoned cart messages, for instance – but you can't automate segments. Other services offer this feature and much more. ActiveCampaign offers more than 200 automation templates as standard and I haven't seen any other service that can compete with that.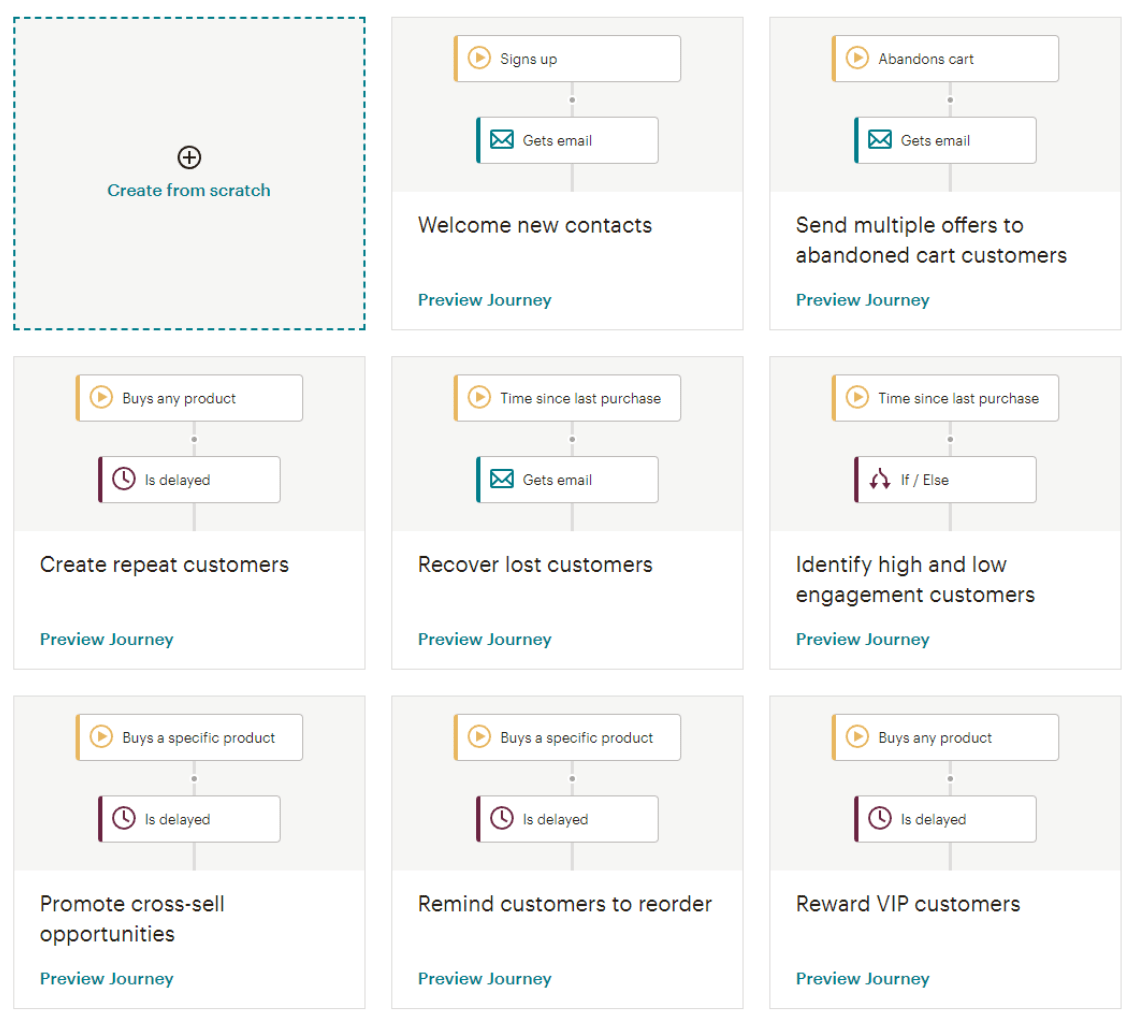 So, what about importing contacts? To my disappointment, you can only import CSV files to Mailchimp. Mailjet lets you import contacts from CSV, TXT, and RTF formats.
Finally, let's talk about segmentation. Mailchimp allows you to create segments and add tags to contacts, but you can't organize your contacts by behavior, such as when subscribers click specific links or visit a page on your website. You also can't make more than one list, which made organizing even my small list of contacts feel awkward and clunky.
With Mailjet, you can segment your mailing list by things like geographic location, language, and behavior.
Mailchimp has better automation, but Mailjet offers nicer template designs and improved segmentation, so it just barely wins. But they're both missing advanced features you can get from other services. Like I said above, if you want more powerful features, I recommend looking into ActiveCampaign instead. 
Ease of Use
Both Are Easy to Use, but Mailjet Ekes Out a Win
I've seen Mailchimp recommended for its ease of use more times than I can count. And, for all its flaws, I can't deny Mailchimp is easy to learn. I was able to send out test campaigns within an hour, and it was simple to navigate the dashboard. But to my surprise, I had an even smoother time with Mailjet.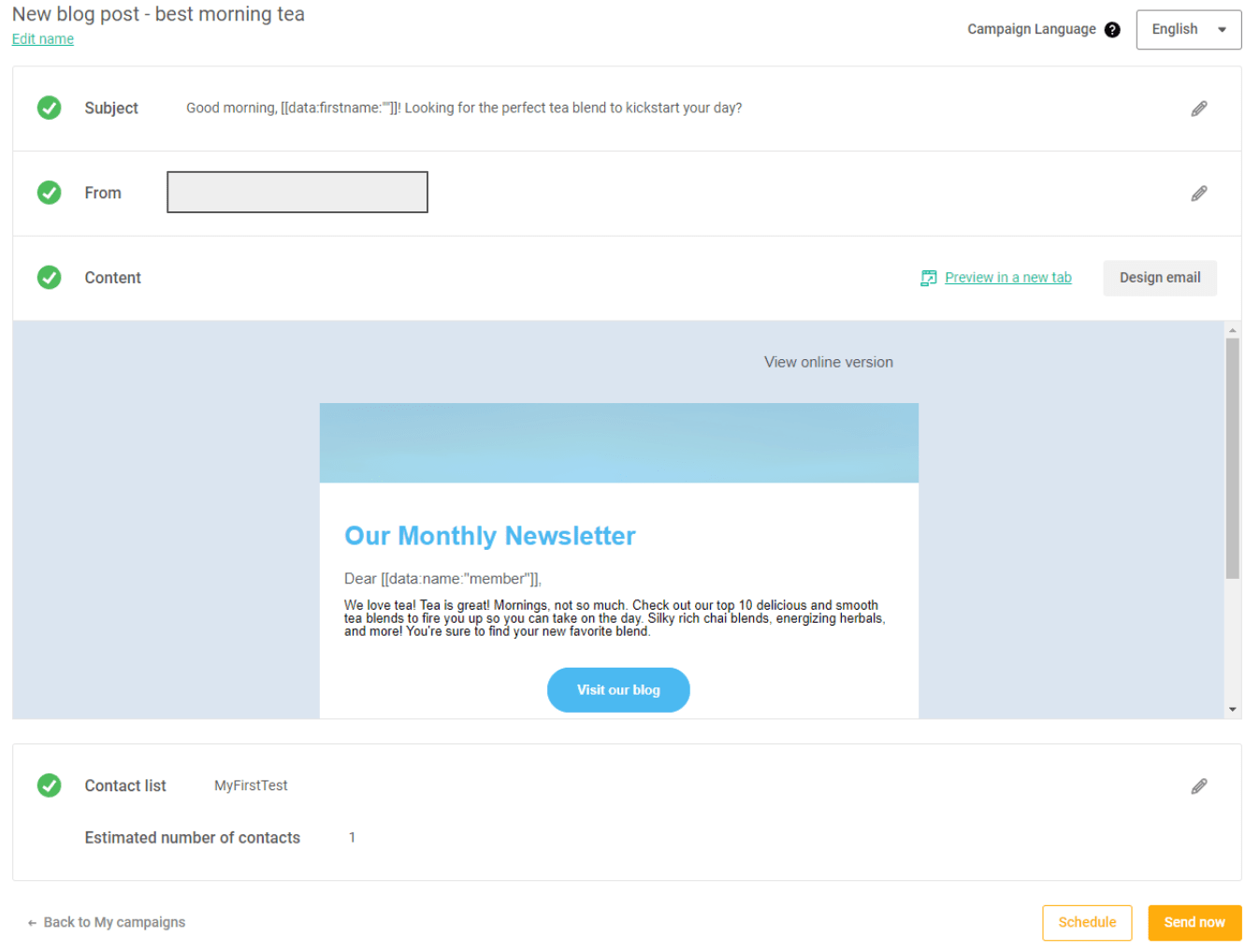 Both services also make A/B testing easy. Mailchimp lets you test up to 3 variations of an email's subject line, sender name, content, and send time. Meanwhile, Mailjet allows you to test up to 10 variations – but you can only test variations of the subject, sender name, and buttons. Of these two options, I prefer Mailchimp.
Deliverability
Neither Option Is the Best for Delivering Emails
First off, you can ignore all the salesy claims other reviewers make about providing "98% delivery rates!" Those kinds of guarantees just aren't possible. Here at Website Planet, we use a much more reliable way to judge email deliverability.
To determine whether Mailchimp vs Mailjet has better features for deliverability, I first compared them on domain authentication. Mailjet offers DKIM and SPF domain authentication, while Mailchimp offers DKIM authentication. DKIM authentication is what you should look for – so both services do well here. Just remember to authenticate your domain!
When you send emails with an email marketing service, you're sharing its server with other users. That means that if someone else using the service sends spam, the whole server will get flagged – including your emails.
A private IP is the only way to avoid this risk. You'll need a big budget to afford it – but it's always good to know you've got the option. If you're on Mailjet's Premium plan, you can purchase a private IP, but Mailchimp doesn't offer private IPs at all.
Lastly, I looked at how both services treat spam and affiliate marketing. Mailjet completely lacks any sort of anti-spam policy. I was also able to send out a test email riddled with spammy links, and I didn't receive any kind of warning or block.
Mailchimp requires you to follow its anti-spam guidelines and outright bans affiliate marketing. But I decided to put this to the test by sending a gibberish spam email through Mailchimp – and Mailchimp let me.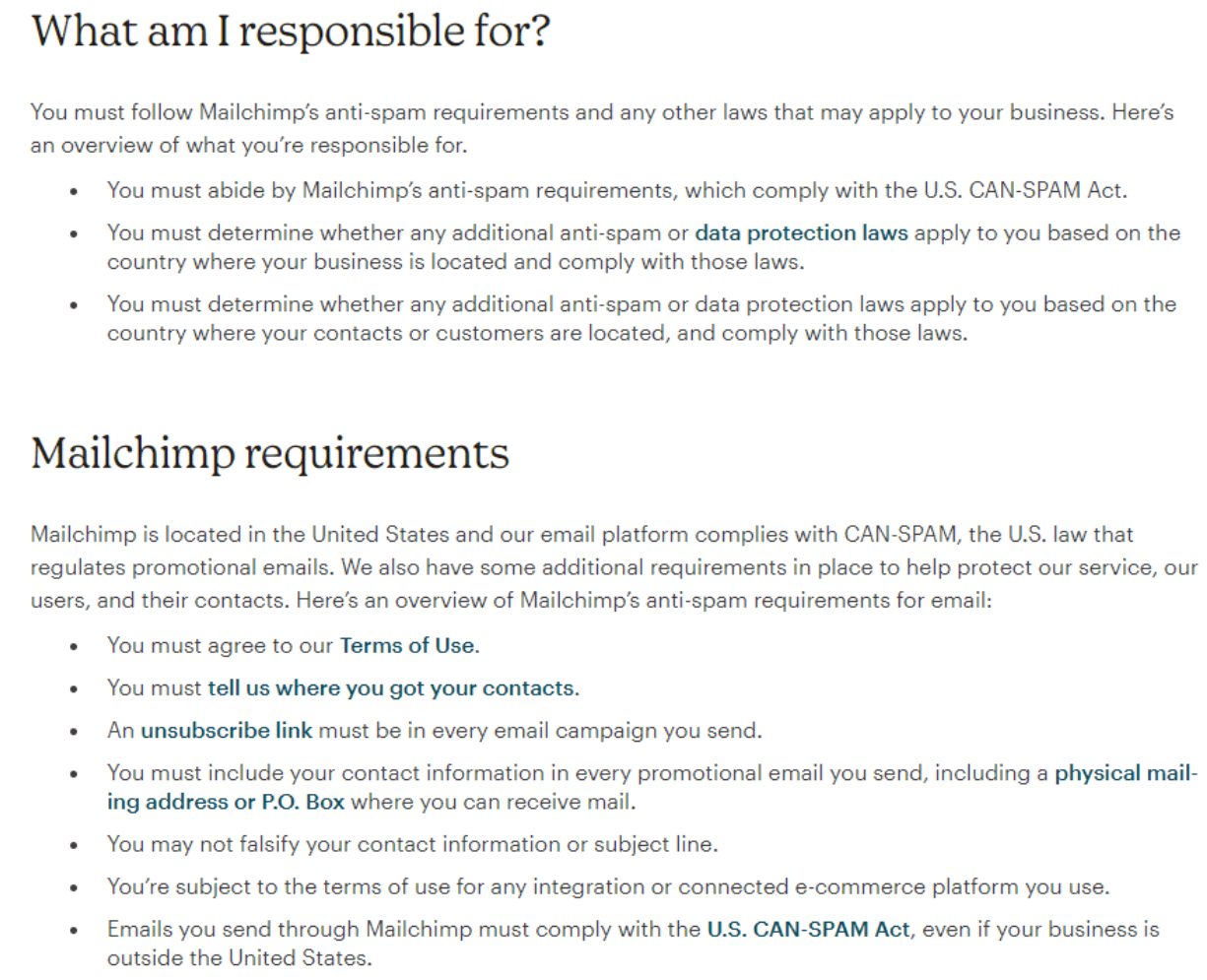 This is pretty poor when you compare this to a service like GetResponse, which will detect spam before you can even send it. So, either you sacrifice a private IP with Mailchimp, or anti-spam and affiliate marketing policies with Mailjet. Not really a win either way…
Reporting and Analytics
Not Enough Data for the Price
Often you don't get reports until you're on a paid plan, so I was pleased to discover Mailchimp offers basic reports even on its Free plan. You can see data on open rates, forwards, clicks, and social media performance. If you upgrade to the Premium plan, you'll also get heatmaps – but that's extremely pricey for that level of analytics. Comparatively, ActiveCampaign's analytics include heat maps and automation reports without the hundred dollar price tag.
Mailjet's free plan does include simple reports, which cover email open rates, clicks, and non-delivery rates – but this information is superficial at best. You'll have to upgrade to the Premium plan to access click maps, ISP statistics, and campaign comparisons, which let you compare up to 10 of your campaigns at once.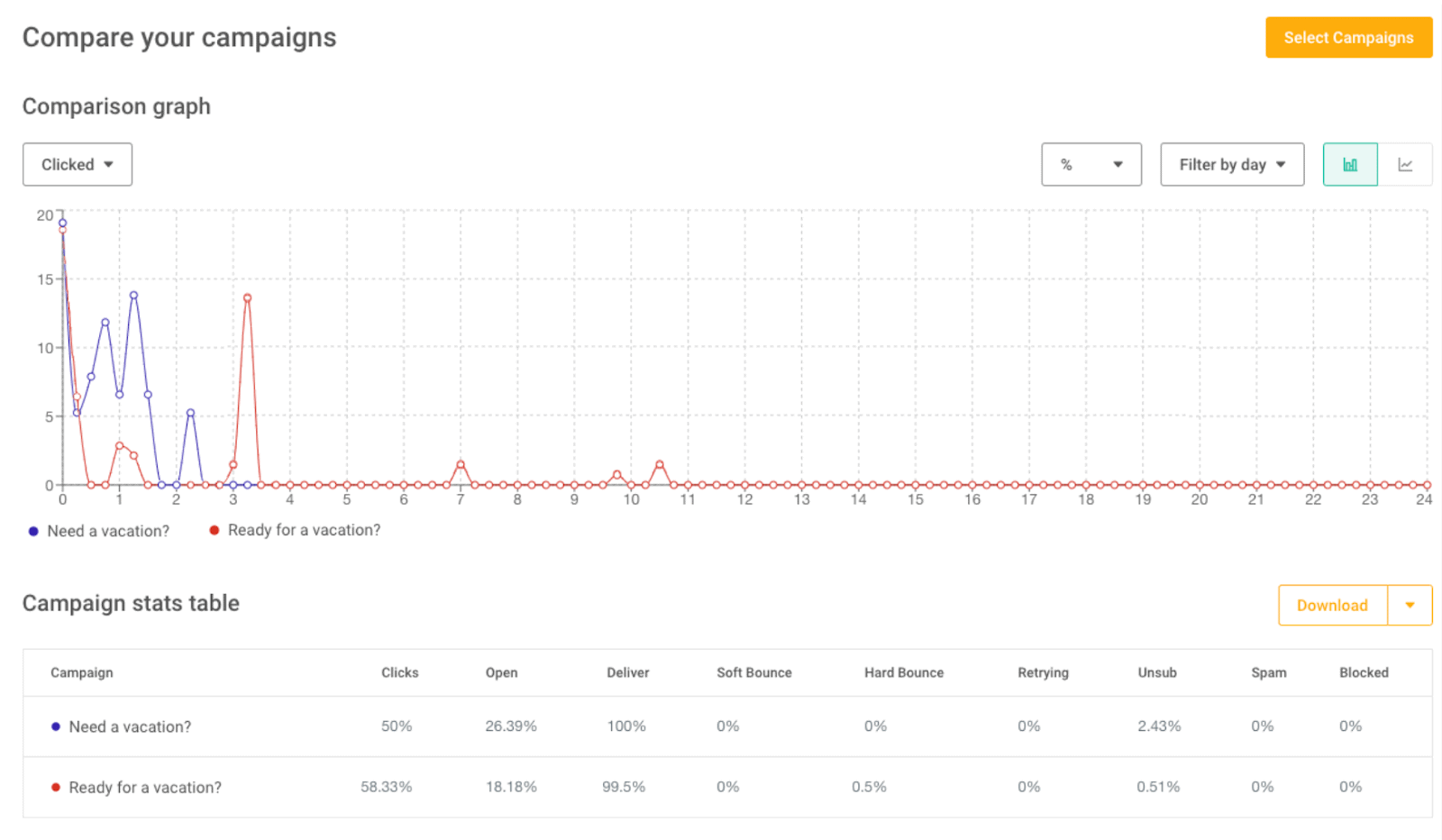 If you go with a free or cheaper plan, Mailchimp's reports will be much more useful to you than Mailjet's. If you have a mid-level budget and don't want to pay hundreds of dollars for Mailchimp's most expensive plan, you'll get more with Mailjet's click maps and campaign comparisons. But honestly, neither offers the best analytics out there.
Pricing
Should You Pay For Mailchimp or Mailjet?
Both Mailjet and Mailchimp offer free plans, which is a great way to familiarize yourself with a service before deciding to go premium. But Mailjet and Mailchimp both have a few key things missing from their free versions.
When it comes to paid plans, Mailchimp has a cheaper starting price than Mailjet – and offers more features. Mailchimp's Essentials plan starts at $11.00 per month, while Mailjet's Essential plan starts at $15.00 per month. But Mailchimp starts getting real pricey the more contacts you have. So if you have a big mailing list or plans to grow, Mailjet's plans will probably suit you better.
Here's What You Get for Free
Mailchimp's free plan includes basic automation to get you started. And I mean basic – all you can send are autoresponders for new subscribers, abandoned cart reminders, and happy birthday emails. Still, since many services require you to pay for automation, but in my opinion you get what you pay for. ActiveCampaign's cheapest plan starts at $9.00 but gives you more than 200 automation templates. Mailchimp's free plan limits you to 2,000 contacts, so eventually, you'll have to upgrade.
Mailjet's free plan doesn't have any contact limit, so you'll be able to get by with a bigger mailing list. You're limited to sending 6,000 emails per month or 200 per day, however. And you don't get automation or segmentation, which are pretty important features for managing a large mailing list.
Here's What You Get If You Pay
Mailjet offers two paid plans: Essential and Premium. You can also set up a custom plan to scale to your needs. Mailjet's Essential plan starts at $15.00 per month, and its Premium plan starts at $25.00. There's no contact limit, but you can only send 15,000 emails per month. Increasing your monthly email limit makes your subscription cost go up.
To be honest, what you get with the Essential plan doesn't justify the cost. For example, you don't get automation or A/B testing until you sign up for Mailjet's Premium plan, which costs $25.00 or more.
You get more with Mailchimp's free and lower-priced plans, but the cost scales dramatically with the number of contacts you have. For 500 contacts, Mailchimp's Essentials plan starts at $11.00, its Standard plan at $17, and its Premium plan at $299.00. Mailchimp's Essentials plan offers limited automation, but you won't get behavioral targeting until you unlock "Customer Journeys" on the Standard plan.
If you're running a small business, you'll get more value from Mailchimp's plans. But once you have a lot of contacts, the prices quickly hike up. A large mailing list will work better with Mailjet – but even then you're getting less features. If you want powerful features for a more reasonable price, I recommend ActiveCampaign's Lite Plan that includes email automation.
Here's a comparison of what you get with Mailchimp's Essentials plan and Mailjet's Essential plan:
Mailjet Essential
Mailchimp Essentials
Starting Price

$

15.00

$

11.00

Automation

No

Yes
Segmentation
Yes

No

A/B Testing

No

Yes
Native Marketing CRM

No

Yes
Landing Page Builder

No

Yes
Support

Ticket support only

Email and live chat
Support
Mailjet's Broken Customer Support Can't Compete
I tested Mailjet vs Mailchimp at the same time to see which had the faster, more helpful response – and was disappointed by both. Still, while Mailchimp has some issues, Mailjet support is a total joke – chat and phone are consistently offline. My only option was to open a support ticket.
I messaged Mailjet support about whether or not I could import my contacts from a Word document, and to my surprise I got a response in exactly 10 minutes. At first I was wowed – that's about the fastest response I've ever gotten! But my awe quickly faded to suspicion as I noticed the ticket was closed and the Mailjet support agent ignored everything I asked. Unfortunately, my colleague had the same issue – just read their Mailjet review to see why they were disappointed.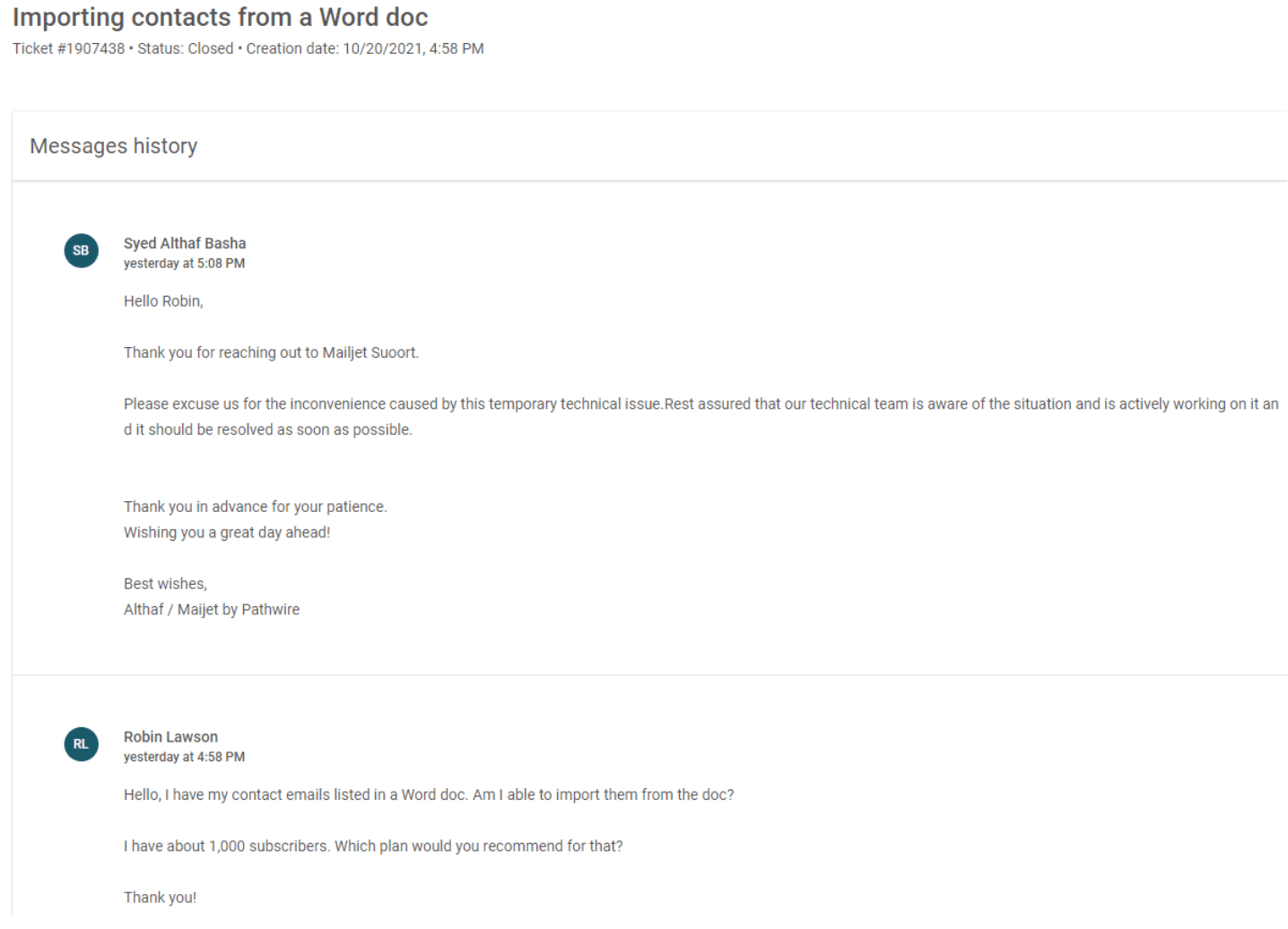 Mailchimp also had issues with its live chat being offline (exactly the same issue we had in our Mailchimp review), giving me a 404 error when I tried to open it. I was once again forced to turn to email, as I couldn't find a phone number, and the Helpbot is useless compared to an actual human.
Mailchimp responded to my email in roughly 7 hours. The message came in the middle of the night, so its claims of 24/7 support seem to be correct (at least with email). I asked the same question about importing my contacts from a Word doc, and the Mailchimp agent gave me a very thorough response.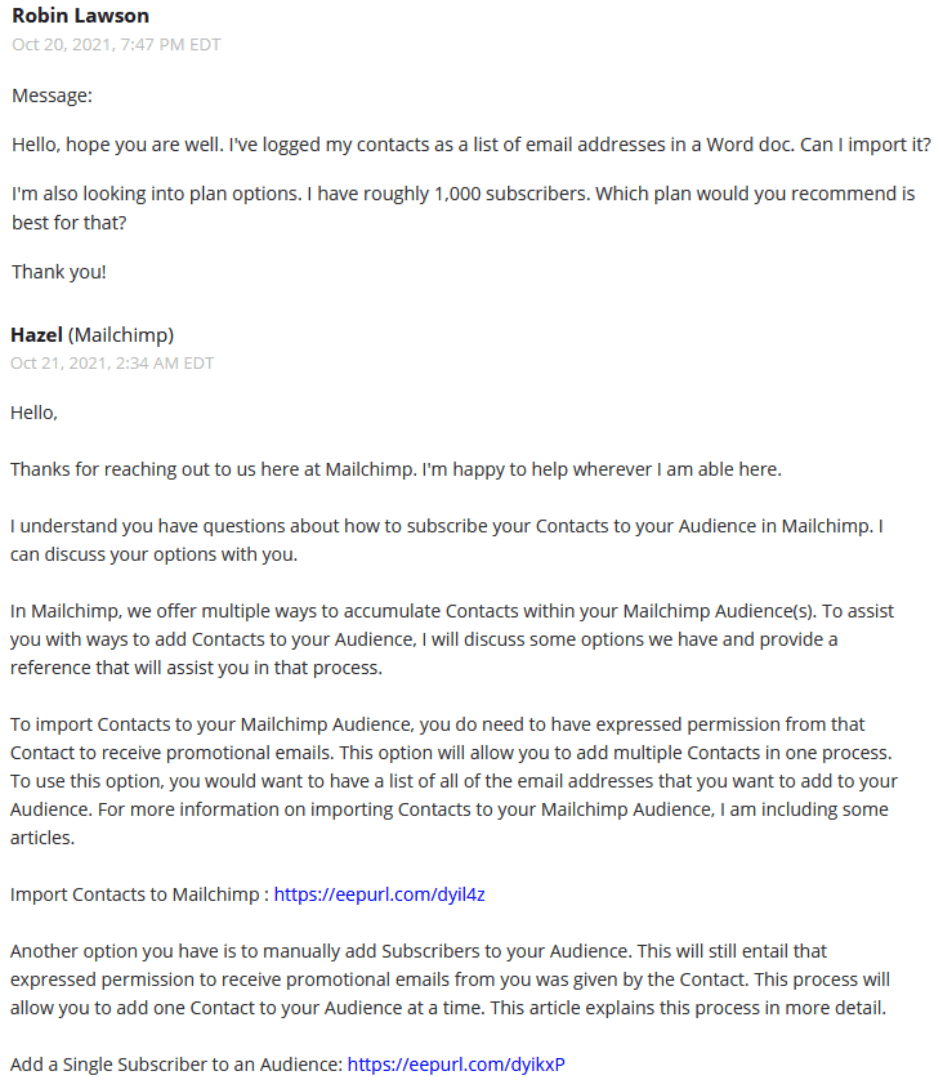 Mailchimp definitely surpasses the disastrously low bar set by Mailjet. But can you really call that a win?
Is There a Better Option than Mailchimp or Mailjet?
There are pros and cons to each service, but overall, Mailchimp and Mailjet are similarly underwhelming. There are so many better services out there, I can't really recommend either of them.
You can get a better free plan with AWeber. A service like ActiveCampaign has superior features and covers what Mailchimp and Mailjet are each missing, respectively insightful analytics and comprehensive automation triggers.
Unless there's something specific about Mailchimp or Mailjet you really love, I suggest looking elsewhere for your email marketing needs.
Here's a final comparison of Mailjet and Mailchimp's features:
Mailjet
Mailchimp
ActiveCampaign
Templates
40+ customizable templates
100+ templates with outdated designs
125+ customizable templates
Automation
Limited automation included with Premium plan
Basic automation and Customer Journeys workflows
Advanced automation with 200+ pre-built templates and workflows
Native SMS Automation
Available as a paid add-on
No
–
Apps and Integrations
300+ (850+ including third-party add-ons)
Landing Page Builder
No
Yes
Yes
A/B Testing
Yes, with up to 10 variations
Yes, with up to 3 variations
Yes
Ease of Use
Quick and easy campaign setup
Simple, easy to navigate dashboard
Intuitive interface and very easy to navigate
Deliverability
DKIM authentication, private IP available with Premium, but no anti-spam policy
DKIM authentication, no private IP options, anti-spam policy, and no affiliate marketing allowed
Easy to follow DKIM authentication guide and strong anti-spam policy 
Reporting and Analytics
Basic email statistics, open rates, unsubs etc
Campaign reports on email stats, links clicked, purchases etc
Advanced reporting and helpful analytics
Pricing
Free plan available. Essential plan starting at

$

15.00
 per month with a 15,000 monthly email limit
Free plan available. Essentials plan starting at

$

11.00

 per month for 500 contacts
14 day free trial of all features. Lite plan starts at

$

9.00

per month for 500 contacts.
Support
Phone and live chat always offline. Low-quality service with support tickets.
Quality 24/7 email support, but live chat is often broken.
Quality 24/7 email support, live chat and phone support during working hours.
FAQ
Is Mailjet any good?Mailjet is decent enough, but it doesn't compare to other email marketing services out there. If it were cheaper or had a more extensive free plan, it might make up for its missing features. But, honestly, any of the other services we cover in our email marketing guide will get you more robust automation, A/B testing, and reports.How much does Mailjet cost?Mailjet offers a free plan that's limited to sending 6,000 emails per month and 200 per day. If you want less limitations and more features, it also has an Essential plan, starting at $15.00 per month, and a Premium plan, starting at $25.00 per month. Which is better: Constant Contact or Mailchimp?Constant Contact is better than Mailchimp. With Constant Contact, you get more in-depth contact management, stronger automations, and more insightful reports with comparative pricing. Plus, if you're in the US, Constant Contact offers a 60-day free trial (30 days if you're elsewhere).Is Mailchimp free?Mailchimp offers a free version with some basic features, capped at 2,000 contacts. However, the free plan is pretty limited. If you're looking for a free option with more powerful email marketing tools, I suggest checking out Sendinblue instead.