Mailchimp is one of the most popular email marketing platforms around. ActiveCampaign isn't as well-known, and it doesn't come with a free plan – but
when I tested both, I was surprised by which one came out on top.
Both ActiveCampaign and Mailchimp are great options for basic email marketing features. But for those who are looking to make the most of their email campaigns, every additional feature can make a huge difference. To make choosing between ActiveCampaign vs Mailchimp easier for you, I tested both platforms over the course of a few weeks.
For smaller lists, Mailchimp offers a lot, but overall, ActiveCampaign packs more features.
It also offers better automation and a more advanced analytics suite. And while ActiveCampaign doesn't offer a free plan, there is a
14-day trial
 you can take advantage of to test most of the platform's features before committing.
Features
There's No Question – ActiveCampaign Does More than Mailchimp
While both platforms offer a lot to users, ActiveCampaign packs more features.
Email Templates and Fonts
Let's start by taking a brief look at each platform's email templates.
ActiveCampaign offers 125+ templates
 with plenty of modern, minimalistic designs.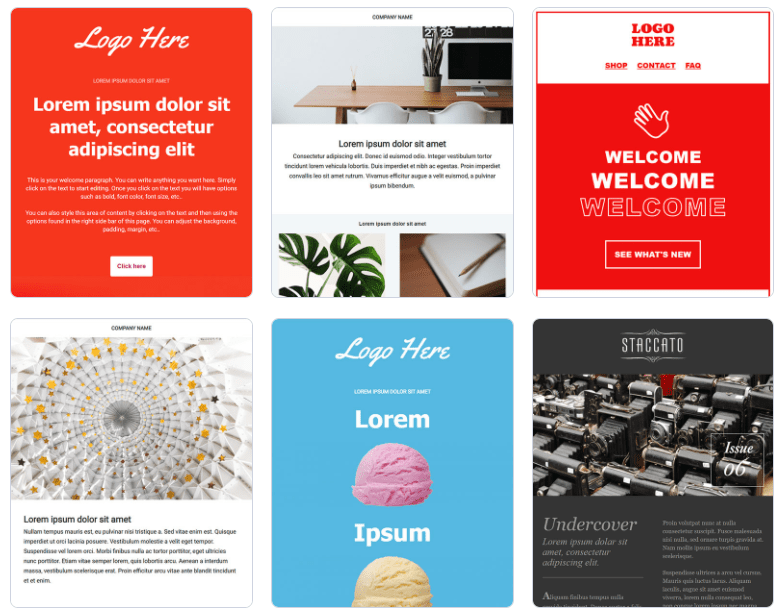 Mailchimp also offers about 100 templates – but almost all of them could use an update
.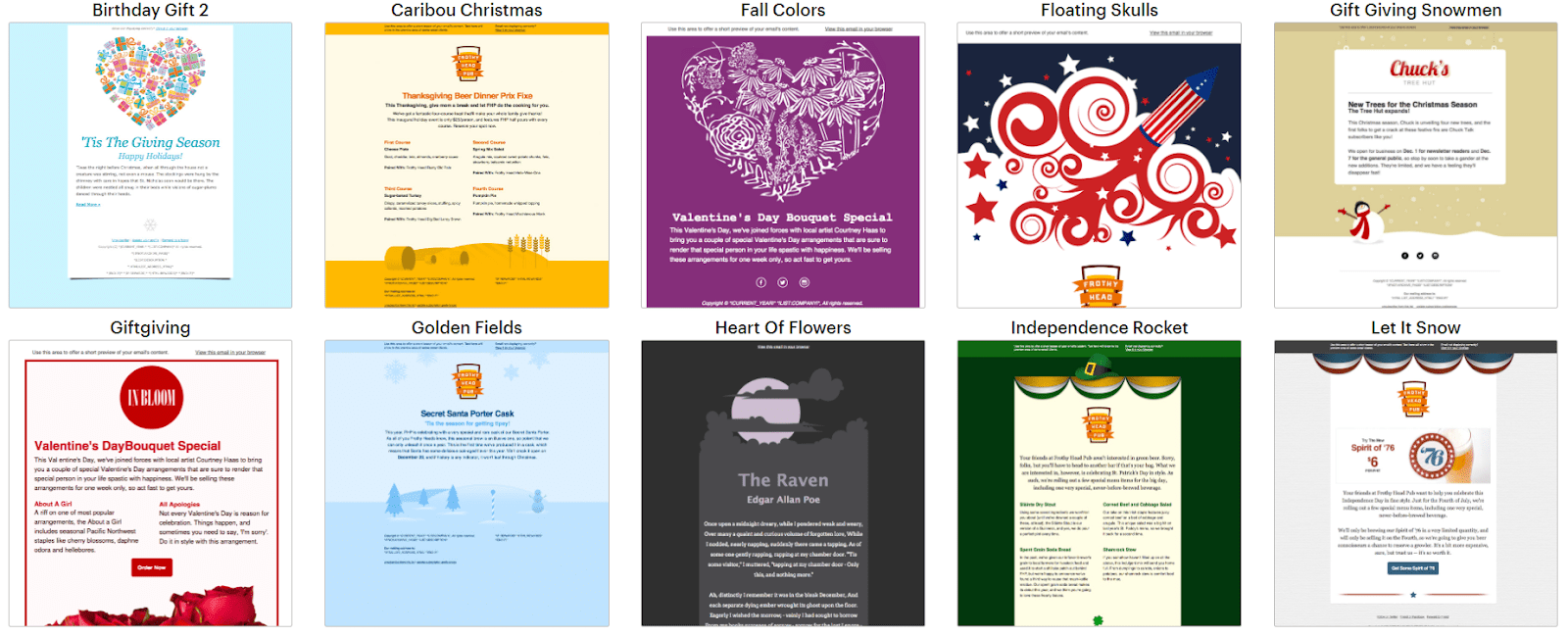 Customizing colors is easy with ActiveCampaign, but
fonts are usually restricted based on the template you've chosen.
You can easily add elements with the click of a button and even insert whole blocks of HTML code. Mailchimp offers similar functionality but only supports about 20 fonts.
Types of Emails
With ActiveCampaign, you can easily choose your email type from the main menu.
There are standard campaigns, campaigns based on automated processes, autoresponders, A/B testing, RSS-triggered* campaigns, and data-based campaigns.
Mailchimp's email options include regular campaigns, plain-text messages (no formatting), RSS messages, and A/B testing campaigns.
Autoresponders and automated campaigns are available through a separate window. *RSS stands for Really Simple Syndication. Usually coded in XML, it's a file that includes information about content published on your website. You can use RSS to easily incorporate blog posts into your emails.
Integrations
ActiveCampaign and Mailchimp both offer hundreds of integrations
. They also both connect to Zapier, opening up even more integration possibilities. I should mention that, as one of the biggest email platforms out there,
Mailchimp integrates seamlessly with most apps, including common social media platforms.
ActiveCampaign does the same job, but it might take you a few more steps to get there.
Personalization
ActiveCampaign and Mailchimp offer similar personalization options.
You can easily personalize your subject lines and content using merge tags. If you want to access dynamic/conditional content, you'll have to opt for
Mailchimp's Standard plan
or
ActiveCampaign's Plus plan
 respectively.
Native Right-to-Left (RTL) support
Neither platform natively supports RTL languages,
which means that if you're creating emails in Hebrew or Arabic, you'll have to insert your own HTML templates or know how to add raw HTML blocks. If you want to use a platform that fully supports RTL languages, you might want to
check out GetResponse
.
Advanced Automation
Both Mailchimp and ActiveCampaign offer robust automation tools with simple visual workflows and branching pathways. That said,
with more than 200+ automation templates and a beautiful interface, ActiveCampaign is more flexible and easier to use than Mailchimp.
Note that
while it might seem like Mailchimp is a cent cheaper, certain features (such as transactional emails) are locked behind pricey add-ons.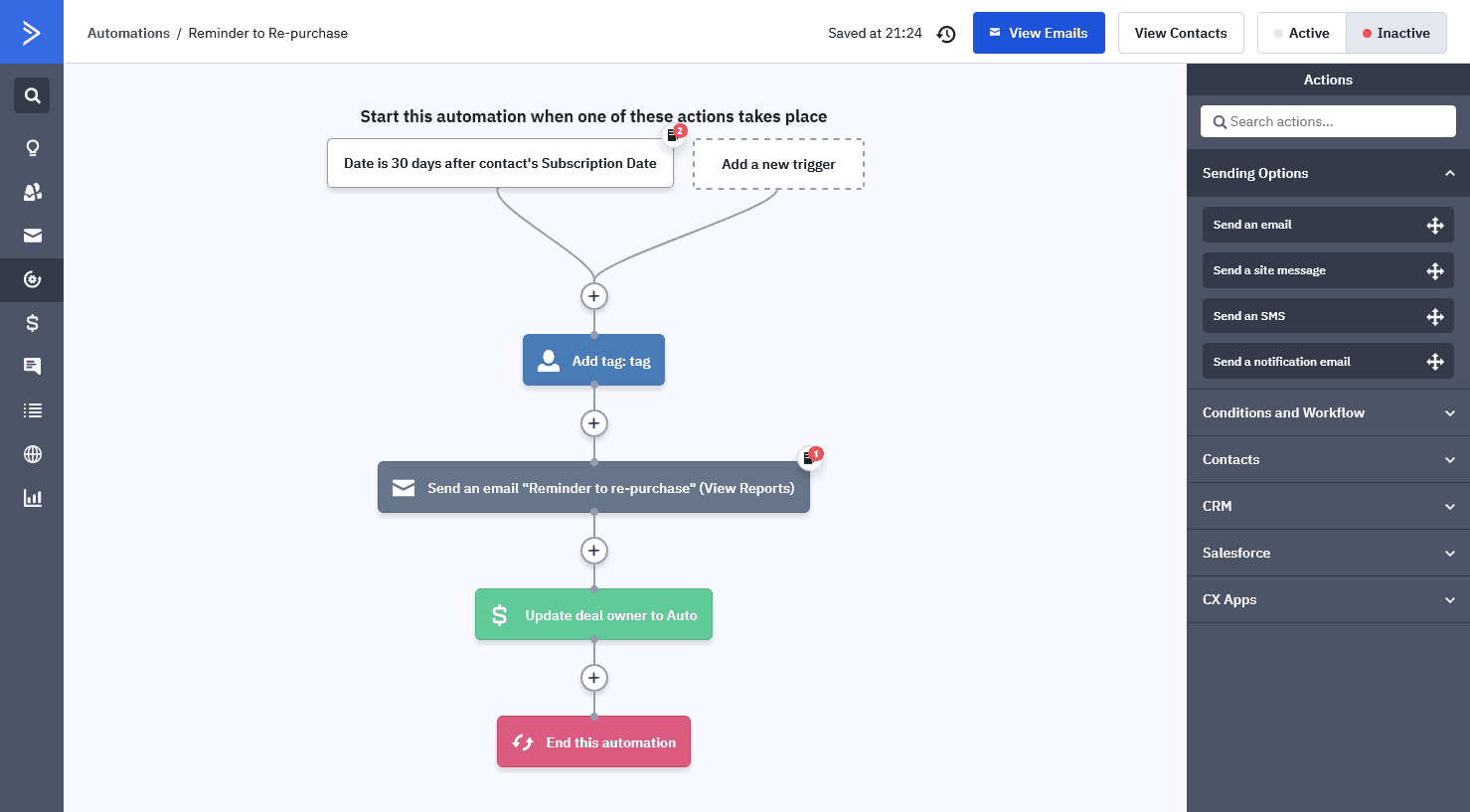 If you're looking for the best behavioral automation tool, you need to check out GetResponse
, which has one of the most sophisticated automation systems on the market.
Landing Pages
When it comes to landing pages, Mailchimp jumps ahead.
It might not offer as many templates (10 vs ActiveCampaign's 40), but all of its landing page features are available for free.
Mailchimp is also one of the few email marketing platforms to provide you with landing page analytics and performance stats.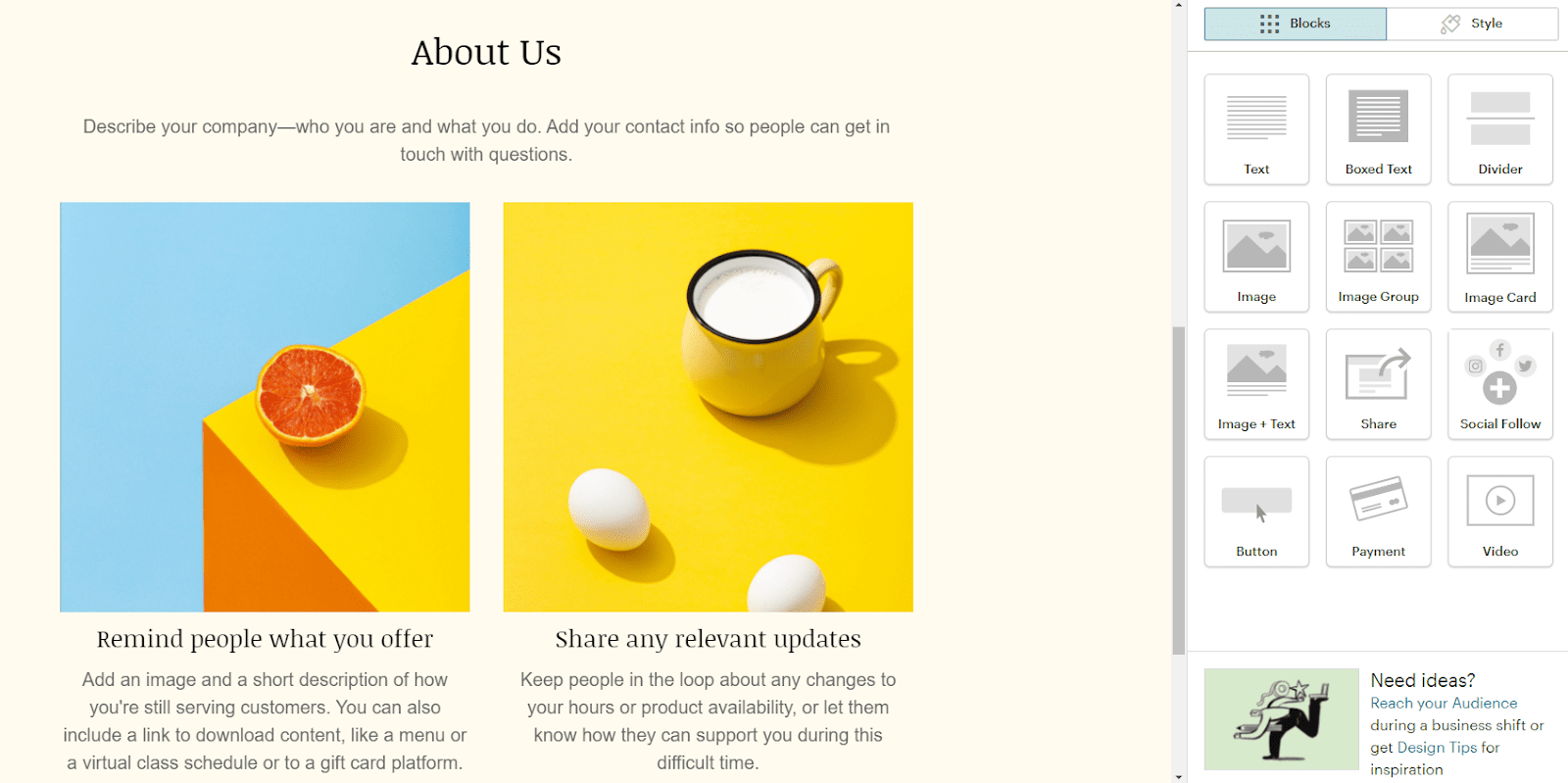 To unlock the landing page builder and templates on ActiveCampaign, you have to purchase the Plus plan, starting at
$
49.00
/month.
A/B Testing
Unfortunately, neither platform performs exceptionally here. Mailchimp offers A/B testing with the Essentials plan (
$
17.00
/month), but it only lets you test up to three variables. The tool is a bit confusing to use, and it also glitches quite often. ActiveCampaign does have A/B testing, but it's extremely limited – it's restricted to the subject lines and preview text of your emails. However,
you can split test entire automated workflows with the Professional and Enterprise plans,
which puts ActiveCampaign slightly ahead of Mailchimp. If you're looking to take split testing to the next level,
I recommend giving AWeber a try instead
.
Affiliate Marketing
If you're big on affiliate marketing, you need to know that both ActiveCampaign and Mailchimp are quite strict with their guidelines.
While you can technically include third-party links in your emails, you should always make sure that those links add value and are relevant to your service. If this is important to the emails you need to send, we've tested both services out thoroughly when it comes to this matter in our
ActiveCampaign review
and our
Mailchimp review
.
Ease of Use
Both Services Were Created with Ease of Use in Mind
Mailchimp's popularity is partly because it's seen as an easy alternative to complicated email marketing software.
And it does offer an easy-to-navigate interface and an easy-to-use drag-and-drop email editor.
However, some of Mailchimp's features aren't always where you'd expect them to be. For example, automations, landing pages, and forms are all found under the "Campaigns" tab, which doesn't really make sense.
Importing contacts is a bit of an issue on both platforms.
Because they only support CSV files, you'll have to manually convert your XLS or TXT files before you can import your contacts. Top competitors, such as AWeber, simplify the process by supporting several file formats (including XLS, TSV, CSV, and TXT).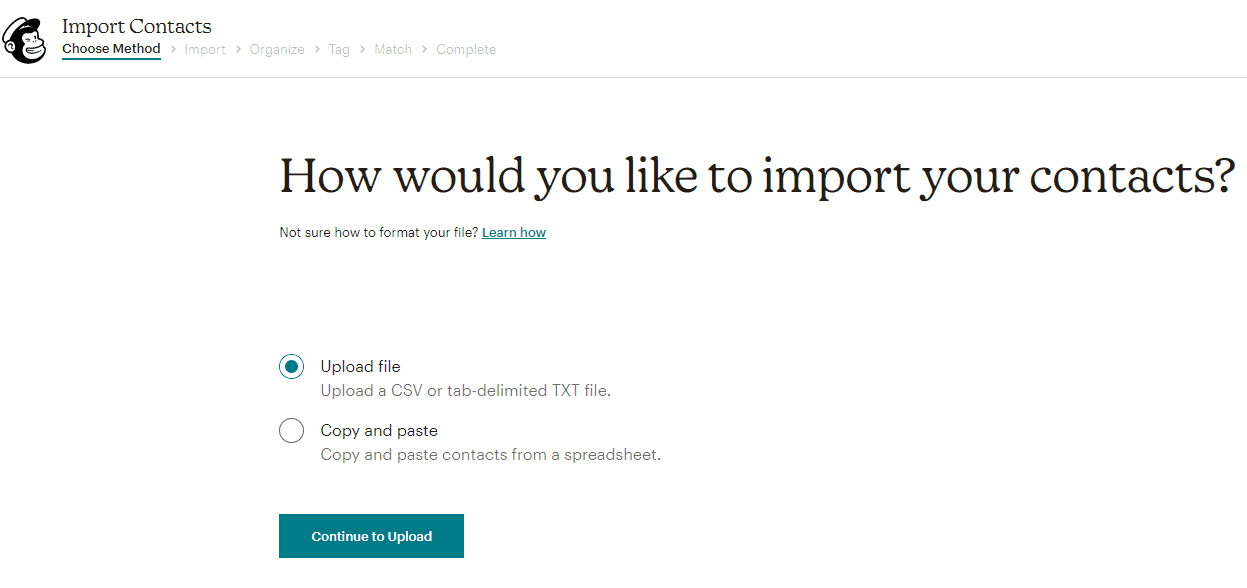 ActiveCampaign packs more features than Mailchimp, so it does take a bit more time and practice to figure out how everything works.
The platform's interface and drag-and-drop editor are well designed, but if you're new to email marketing, you might find the whole experience a bit overwhelming. Don't let that put you off though, there's a reason it's on our list of the
best email marketing services in 2023
and my colleague raved about it in their
ActiveCampaign review
.
Deliverability
Deliverability Rates Can Be Misleading
Once your carefully crafted email campaigns are ready, you also need to make sure they reach your subscribers' inboxes.
Deliverability is important, but running tests and coming up with percentages isn't all that useful.
Let's say I test Mailchimp by sending 5,000 emails, and 4,400 of those emails reach my subscribers' inboxes – a deliverability rate of 88%. That sounds great. But does it say anything about Mailchimp? Not really – there are just too many variables to consider. At the end of the day, your work as a marketer affects deliverability more than an EMS. Instead of relying on arbitrary numbers, concentrate on
what you can do to boost your deliverability rate
. That said, there are some features to look out for that can improve your chances of your emails reaching your subscribers. The first thing we need to check for is DKIM authentication. DKIM basically tells email service providers (such as Gmail) that the emails sent in your name were really sent by you.
No problems here, as both platforms do have DKIM authentication.
It's nothing too technical, and both offer guides to help you set it up. Next, we need to take a closer look at each service's anti-spam policy. Some platforms run emails through checks to help prevent spam.
I tried uploading known spam email addresses on both ActiveCampaign and Mailchimp, but unfortunately, neither passed the test.
I'm sure both perform checks on all outbound emails, but that's not always enough. Other top competitors, such as
GetResponse
and
AWeber
, have passed similar tests.
By far the best way to ensure high deliverability rates is to send your emails using a dedicated IP. This is where ActiveCampaign wins the prize
. Yes, you need to have at least 100,000 subscribers, which means you're already spending hundreds of dollars, but the option's there.
Mailchimp, on the other hand, doesn't offer a dedicated IP with any of its plans
. There are, of course, much cheaper alternatives.
Sendinblue, for example, offers a dedicated IP for a flat fee of $145/month
, and you don't need to have a specific number of subscribers to access the feature.
Reporting and Analytics
ActiveCampaign Narrowly Wins the Analytics Battle
Let's start with ActiveCampaign.
You can easily generate reports on email campaigns, automation workflows, and contacts.
These reports will tell you everything you need to know about open rates, click rates, and so on. If you've collected the relevant data, you'll also find out more about your subscribers' activity – who opened your emails, where from, what time of day, who bounced, who clicked.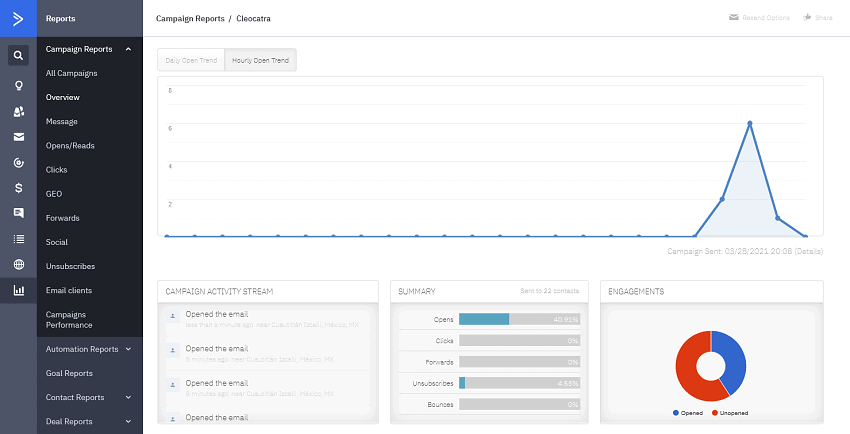 Just like ActiveCampaign, Mailchimp gives you all the information you need,
such as opens, clicks, and bounces
. Soft and hard bounces are grouped together, which isn't ideal, but on the plus side, you can easily view engagement rates for each contact on your list. There's also a tool you can use to compare your campaign's performance against industry standards. And, as we've already discussed,
Mailchimp generates reports on landing pages.
Although Mailchimp offers a bit more in the way of e-commerce reports, I found ActiveCampaign's reporting tool easier to use. Plus while Mailchimp provides users with plenty of useful insights, it doesn't really tell you what to
do
with that data.
ActiveCampaign's analytics suite makes it easier to take action based on the data you've collected.
Pricing
Mailchimp Is Cheaper, but Things Even Out as Your Subscriber Count Increases
Mailchimp doesn't pack as many features as ActiveCampaign, so it makes sense that its plans would be a bit cheaper. But
the difference in price becomes less apparent as you add more contacts to your lists
– to the point where ActiveCampaign might actually cost you less.
Here's What You Get for Free
ActiveCampaign doesn't come with a free plan. You can test most of its premium features with the 14-day trial
 (and you won't be asked to sign up with a credit card), but keep in mind that you can only send 100 emails to 100 contacts. Personally I think that's pretty restrictive for a free trial – and two weeks is also quite a short testing period, especially compared to similar offers by other email marketing platforms. For example,
GetResponse offers an unrestricted 30-day trial
and
Constant Contact allows a 60-day trial for users in the US
.
Mailchimp has a free plan that allows you to send 10,000 emails/month to up to 2,000 contacts.
That's pretty generous. But note that many features – like email templates, automation workflows, and advanced reporting – won't be available on the free plan.
The most outrageous limitation on the free plan is Mailchimp's 30-day limit on email support.
Yeah, you read that right. Mailchimp isn't known for its impeccable support, but now it seems they're even too busy to answer their customers' emails.
Here's What You Get If You Pay
ActiveCampaign's Lite plan starts at

$

9.00

/month and provides 500 contacts
, unlimited email sends, and all of ActiveCampaign's email templates and marketing automation.
The Plus plan starts at

$

49.00

/month for 1,000 contacts,
and it unlocks the landing page builder and templates, the automations map, SMS marketing, conditional content, advanced performance reporting, and more.
The Professional plan starts at

$

149.00

/month and 2,500 contacts,
and provides website personalization, predictive sending, split automations, and more. The Enterprise plan starts at $279/month, and custom pricing is available for large lists that exceed 25,000 contacts.
Mailchimp's pricing system doesn't make quite as much sense. The Essentials plan starts at

$

17.00

/month and caps at 500 contacts – that's 1,500 fewer than the free plan!
Then again, the Essentials plan does unlock email templates, automation, A/B testing, and email support (!), all of which are kind of necessary…
For the same number of contacts, the Standard plan will set you back $14.99/month,
unlocking access to behavioral targeting, dynamic content, and send time optimization.
Then there's a huge jump in price – and I mean huge – to

$

0

/month for the Premium plan
with a minimum of 10,000 contacts. Mailchimp's most expensive plan includes advanced segmentation, comparative reporting, and…phone support! At last! Finally, ActiveCampaign offers generous discounts to users who sign up for annual plans, while Mailchimp doesn't. Neither platform offers refunds.
ActiveCampaign vs Mailchimp Pricing Table
| | | | | |
| --- | --- | --- | --- | --- |
| Plan | ActiveCampaign Trial | Mailchimp Free | ActiveCampaign Lite – 2,500 contacts | Mailchimp Essentials – 2,500 contacts |
| Price | Free | Free | $55/month | $30.99/month |
| Number of contacts | 100 | 2,000 | 2,500 | 2,500 |
| Number of emails per month | 100 | 10,000 | Unlimited | 25,000 |
| Number of users | 1 | 1 | 3 | 3 |
| Integrations | 850+ | 1,000+ | 850+ | 1,000+ |
| Discount for annual plans | N/A | N/A | 18.2% ($45) | No Discount |
| Money-back guarantee | N/A | N/A | No | No |
Support
No Matter What You Do, Don't Bother the Chimp
When learning how to use a new email marketing platform, a great support team can make all the difference.
You can contact ActiveCampaign through chat, email, and phone on any of their plans.
Unfortunately, I can't say the same about Mailchimp.
Mailchimp will do everything in its power to redirect you back to its knowledge base, even when it's clear that you need the help of a human representative.
And if you opt for Mailchimp's free plan, you better have all your questions answered within 30 days. After the first month, you'll no longer have access to email support. Mailchimp's Essentials and Standard plans throw live chat support into the mix, but if you want to reach their support team by phone, you'll need to purchase the pricey Premium plan (which starts at
$
0
/month). To test things out, I emailed both ActiveCampaign and Mailchimp asking the same question:
What's ActiveCampaign's/Mailchimp's affiliate marketing policy?
ActiveCampaign got back to me about three hours later.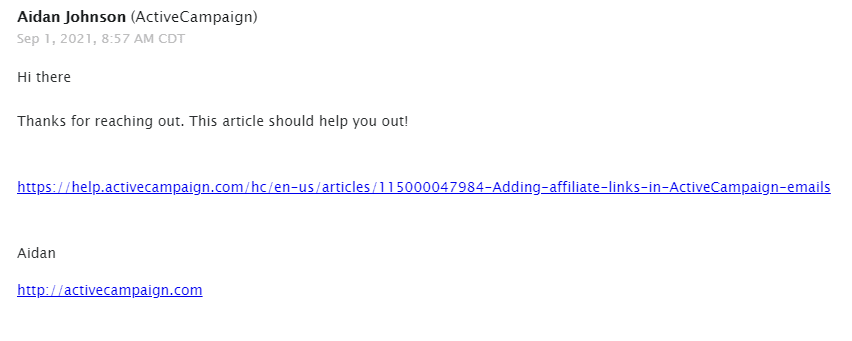 While I don't mind the link – it does answer my question, after all – I would've preferred them to summarize the article's most important points. Just a sentence or two would have been enough.
Mailchimp replied to my query 22 hours after I sent my email, but
to be honest I was pleasantly surprised by that – the last time I tried to contact them, they ghosted me
, and I never heard back from them.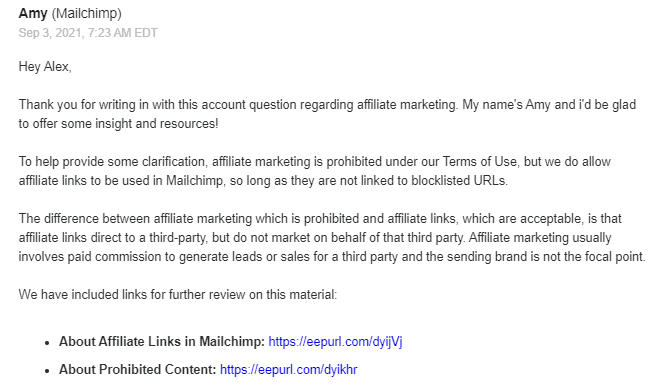 Amy's answer was helpful, complete with relevant links to help me find out more about Mailchimp's affiliate marketing policy. Still,
I wouldn't be thrilled if I was experiencing a serious issue and had to wait almost 24 hours to get help
.
Mailchimp vs ActiveCampaign – The Verdict
Mailchimp may be a huge name, but it just can't compete with everything ActiveCampaign offers.
Navigating Mailchimp is a breeze, and its landing page builder is awesome – but ActiveCampaign easily wins almost every other comparison.
While Mailchimp is a bit cheaper, ActiveCampaign has more templates, more integrations, and better customer support.
ActiveCampaign also offers a dedicated IP, and pulls ahead with a slightly better analytics suite and more personalization options. Mailchimp's attitude toward customer support is a serious issue, and I'll keep bringing it up until it's finally addressed.
ActiveCampaign vs Mailchimp Comparison Table
ActiveCampaign
Mailchimp
Winner
Automation
Advanced options and hundreds of automation templates
A/B testing
Yes + automation split testing
Ease of use
Very beginner-friendly, questionable layout
Draw
Reporting and analytics
Excellent analytics suite
Pricing
Pricey, but prices go down as you add more subscribers
Confusing pricing system but considerably cheaper if you're just starting out
Total rounds won
7
3
WINNER – ActiveCampaign
FAQ
Is ActiveCampaign Better Than Mailchimp?
The Mailchimp vs ActiveCampaign battle has a clear winner. Mailchimp is a very well-known email marketing platform, but ActiveCampaign packs many more features. With ActiveCampaign, you're getting better marketing automation, a better analytics suite, and an unlimited number of emails to send every month.
What Is Better Than ActiveCampaign?
ActiveCampaign is the best all-rounder available right now. If you're looking for the best automation tool on the market, you should definitely check out GetResponse. Or Benchmark is a great choice if you're just getting started with email marketing. Learn more about the best email marketing platforms by visiting our updated top 10 email marketing platforms page.
Does ActiveCampaign integrate with Mailchimp?
No, ActiveCampaign and Mailchimp don't natively integrate with each other. You can, however, use third-party apps (such as Skyvia, Leadsbridge, and PieSync) to transfer important data between the two platforms.
Is there a free version of ActiveCampaign?
ActiveCampaign doesn't offer a free plan, but you can benefit from its risk-free 14-day trial. Alternatively, you can give AWeber or Benchmark a try as they both offer users plenty of features with their free plans. For a complete list of free email marketing options, make sure to check out our updated guide here.