Both Mailchimp and Squarespace Email Campaigns are designed to handle all your marketing needs. And for many marketing teams, using an all-in-one platform can be incredibly appealing.
Yet, as a digital agency owner, I've found that relying on one tool can be either unnecessarily expensive or short on features.
I wanted to compare Squarespace Email Campaigns vs. Mailchimp to see which offers a better all-in-one email marketing tool. Since Mailchimp offers audience segmentation, better automations, and more integrations, I'd say that
Mailchimp wins over Squarespace Email Campaigns
.
Squarespace might be cheaper if you pay (so
might
work out if you're on a budget and want more than just the basics), but you get much more with Mailchimp overall. Try Mailchimp's free plan now
or read on to learn more about the benefits each service brings to the table.
Features
Squarespace Email Campaigns Is Simplistic; Mailchimp Offers More Features
Because they're complete marketing platforms, Mailchimp and Squarespace both have a long list of built-in features. As well as sending email campaigns, you can also build a website or create social media content. When comparing Mailchimp vs. Squarespace Email Campaigns,
I found Mailchimp offered more features overall – but you have to pay a higher price than Squarespace to get them.
Email Templates
First off, I have to note Mailchimp's weird pricing around email templates. It only offers 6 pre-built templates, with 5 more available for free in its template marketplace. Want any more choice? You'll have to pay (around $7-15) for one of the other 40-odd templates on its marketplace.
By comparison, Squarespace Email Campaigns has about 70 templates, most of which look pretty sharp. But
a word of warning to newer email marketers: Squarespace's sleek designs and user interface (UI) might draw you in, but they aren't always as effective as they seem. 
This becomes apparent when you get to designing your first email. With Squarespace, you can't drag and drop elements like product listings and social media links into your email. It might not offer as many templates, but
you can easily add social media posts, product listings, and coupons in Mailchimp's email editor
. 
On the plus side, finding the right Squarespace template for your email campaign is easy, as the platform splits designs into helpful categories.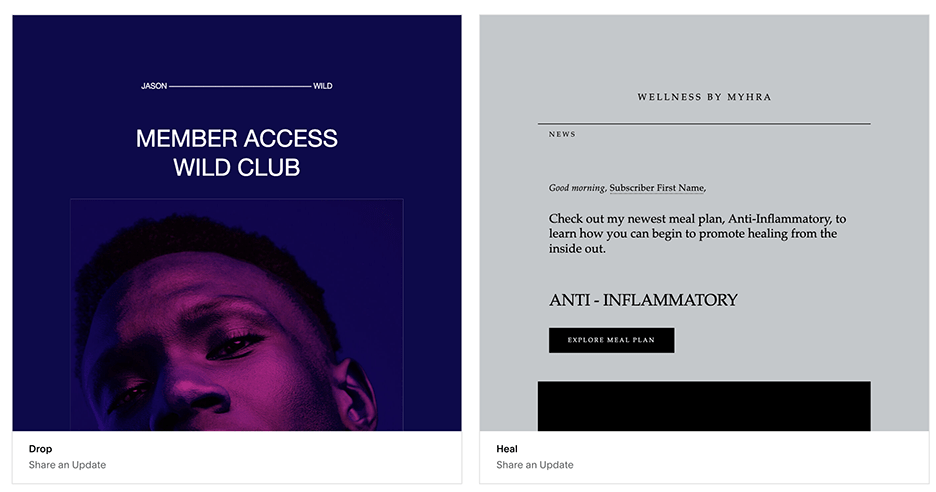 For example, you can promote a product, share your content, and much more. And because the layouts all fit that slick, glossy, Squarespace aesthetic, it was easy to choose one that matched my website.
I was also glad to see I could start from scratch and make my own template – there's plenty of scope for customization.
Marketing Automations
Squarespace Email Campaigns offers automations on the Core plan and above, but workflows can only include a single step. By contrast, Mailchimp offers multi-step workflows and drip campaigns.
However, you need one of Mailchimp's higher-tiered plans to create complex automations, which costs from

$

20.00

per month for a list of just 500 subscribers.
It's also worth noting that with Squarespace you can only choose from 3 workflow triggers. You can automatically send coupons, check in on subscribers, and send emails to new subscribers or customers who just made a purchase, but I'd find this feature much more useful if I could set up workflows based on subscriber activities.

Mailchimp lets you choose from about 45 automation triggers, including subscriber behaviors. Although all paid plans include access to the visual customer journey builder,
 you have to pay more for advanced automation features (to see what else the paid plans get you, look at our Mailchimp pricing breakdown)
. While it would be helpful to create workflows with branches or multiple starting points, I wouldn't want to pay the much higher rates that Mailchimp charges for these plans.
The price might be too much if you're on a budget, but if you're willing to pay for it, it's helpful to create workflows in Mailchimp
 with branches or multiple starting points. More automation options gives you more opportunities to engage your audience with autoresponders, for things like cart abandonment reminders, behavior-based advertisement, and coupon rewards for purchases.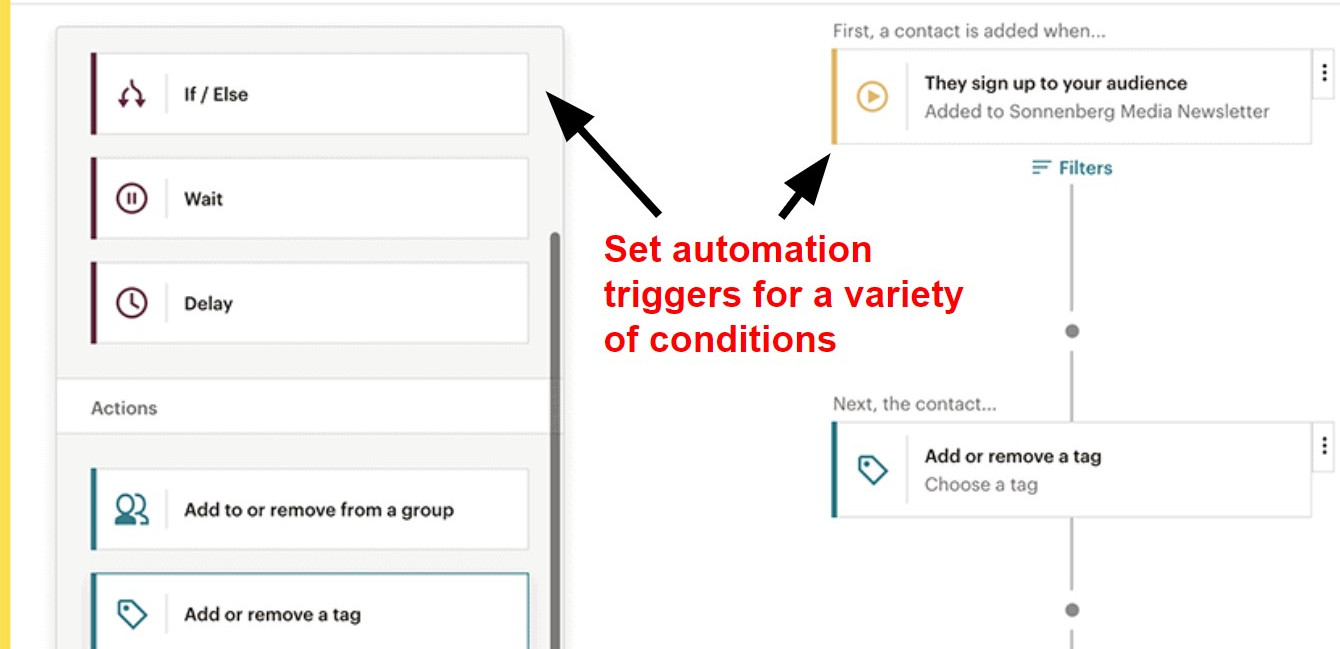 App Integrations
While Email Campaigns integrates nicely with your Squarespace website, there are only a few dozen app integrations available, which don't add much functionality to your emails. Compare that to Mailchimp, which has about 250 app integrations to enhance your email marketing. Although Squarespace and Mailchimp both work with Zapier, which allows you to connect around 2,000 additional apps to your marketing platform,
Mailchimp is the clear winner here.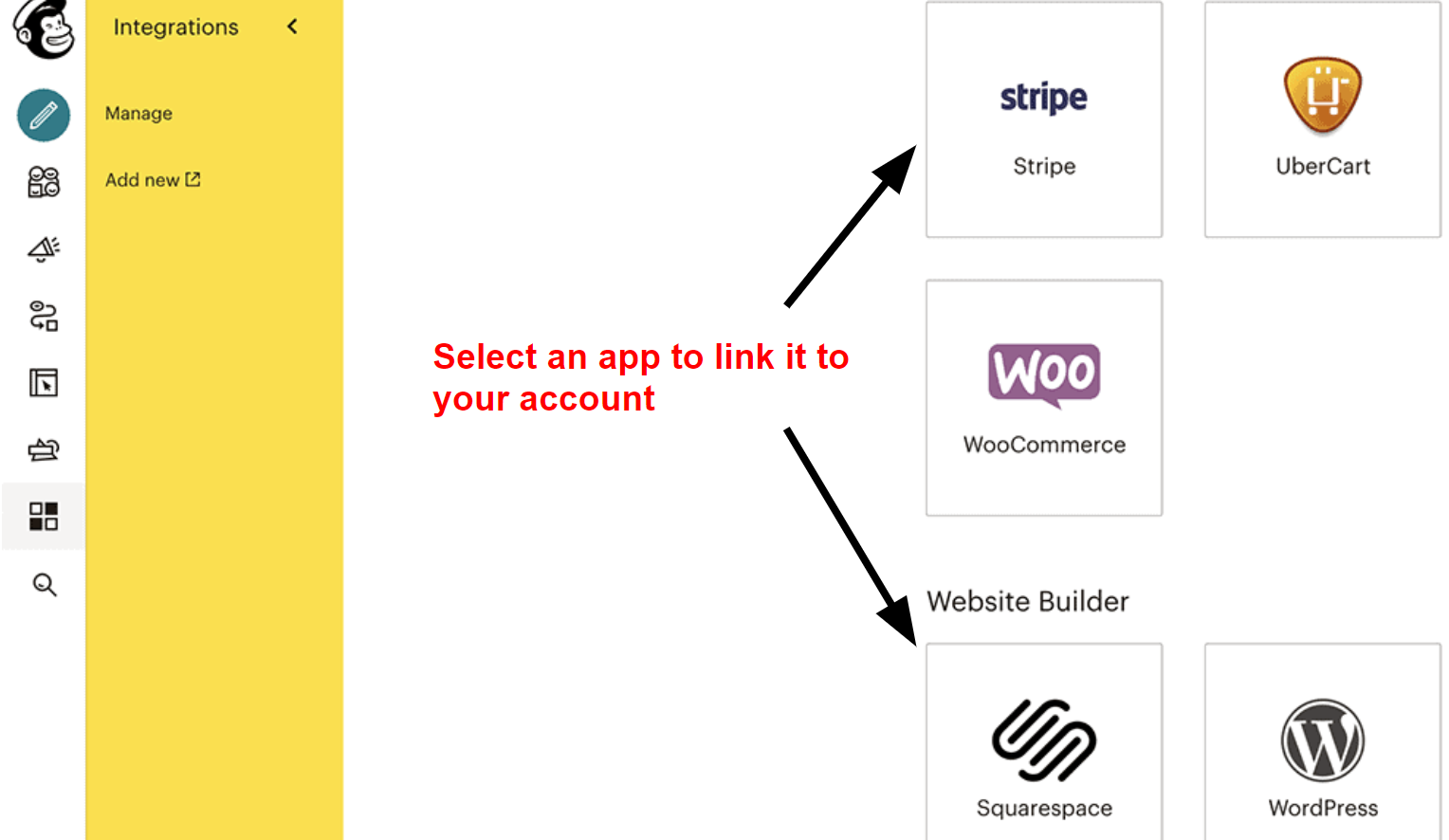 Put plainly,
you get better features with Mailchimp than with Squarespace Email Campaigns
, but you should be aware that you have to pay a whole lot more to do so. If you're willing to spend extra to get better automation, segmentation, and split testing, then I recommend Mailchimp's advanced features
 over Squarespace.
Ease of Use
Mailchimp Is User Friendly; Squarespace Lacks Functionality
Both Mailchimp and Squarespace Email Campaigns take a little getting used to, but I found Mailchimp much more intuitive. Squarespace hides a lot of functionality – and some usability features are missing altogether.
First, the positives. Because there are so few options to choose from, the Squarespace Email Campaigns interface is pretty easy to navigate. From the dashboard, you can use the left-hand menu to select email campaigns, automations, and lists.
Squarespace is primarily a website builder, and part of the appeal of Email Campaigns is that you can easily integrate your site right into your email marketing. If you want to include a blog post or an e-commerce product in your email, all you have to do is click the '+' anywhere on your layout and select "blog" or "product". Squarespace imports all the details, including images and titles.
However,
you can only link blog posts and product listings from your Squarespace site. And using the editor is sometimes easier said than done
. The editing functions aren't visible unless you magically click in the right place, so it's tough to understand what to do and how to customize your email templates.
As I explained in my
Squarespace Email Campaigns review
, it's also missing a lot of other functionality. For example,
there's no option for some critical email marketing tasks, like creating audience segments or setting up A/B testing
– something email marketing services like AWeber offer with even their cheapest paid plans. Like Squarespace,
Mailchimp has an easy-to-use interface
. Everything you need is in the left-hand menu, and the platform constantly prompts you to try out related features to help you get more out of the service – a particularly helpful feature if you're new to email marketing.

Compared to Squarespace, Mailchimp's drag-and-drop editor is a breeze to use
. I found it easy to incorporate products from my e-commerce site or to use the style panel to fine-tune my layout. 
That said, because I found most of Mailchimp's premade email templates a little dated, an intuitive drag-and-drop editor is critical
. If you want an email template you don't have to edit and tweak to look good, you might like Squarespace more for designing email campaigns.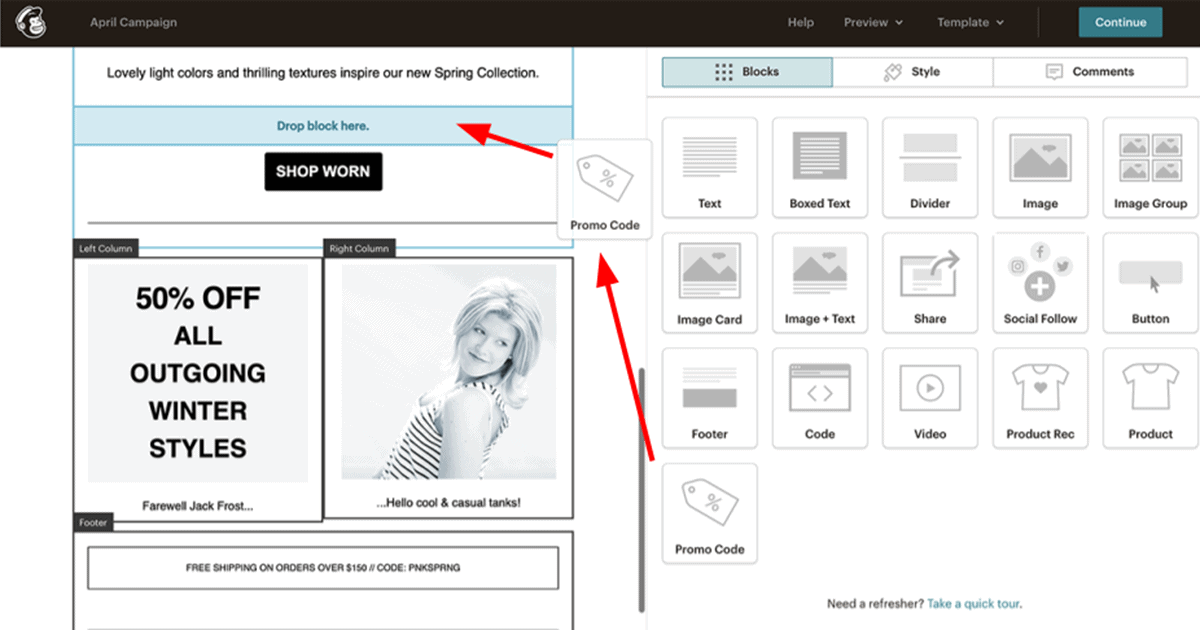 Unlike Squarespace,
Mailchimp does offer audience segmentation.
You can choose from about a dozen conditions, such as campaign activity, automation activity, or signup source. I was able to set up a new segment in just a few clicks, allowing me to send targeted emails to select subscribers. That's pretty important if you want to send personalized emails, and I'd be disappointed with any service that didn't offer it.
Deliverability
You'll Have an Easier Time Boosting Email Deliverability with Mailchimp
Before I compare which service is better for email deliverability, I want to stress that there's only so much an email marketing service can promise.
Any claims of "97% deliverability guaranteed!" are utter baloney
. Actual email deliverability largely depends on YOU, and you can
read all about how to increase email deliverability rate in our handy guide
.
However, there are a few important things an email marketing service
can
do to increase the chance of your emails making it to your subscriber's inbox. 
Preventing and eliminating spam accounts is the first defense an EMS has when protecting its reputation. If an email marketer has a lot of spam accounts and keeps getting flagged by email clients like Google and Yahoo, that's
bad
for anyone else using the platform (even honestly!).
Mailchimp has a strict anti-spam policy
that requires your emails to comply with the U.S. CAN-SPAM Act. Mailchimp also requires you to show your contact information and supply readers with an unsubscribe link in every email.
Failing to meet Mailchimp's anti-spam policy or getting your emails reported for spam will result in a swift ban
. This is great news for you and helps protect your email performance.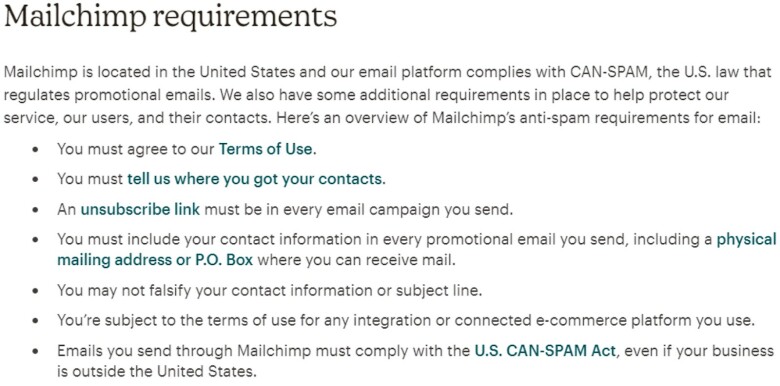 Looking through Squarespace's Acceptable Use Policy,
I only found a short snippet on anti-spam rules
. It mainly states you must comply with the U.S. CAN-SPAM Act, but Squarespace doesn't seem to take many steps to screen accounts and contact lists like Mailchimp does.
Squarespace will ban spammers, but doesn't do much to prevent them.
Mailchimp and Squarespace allow you to add affiliate marketing links to your emails, but
Mailchimp goes a step further by prohibiting affiliate marketing and suspending email campaigns with links to blocked addresses and URLs
. This restricts email campaigns that focus entirely on generating leads for a third-party business, which can easily annoy subscribers and get flagged as spam. 
DKIM authentication is absolutely essential if you want your emails to reliably land in subscribers' inboxes. But what is DKIM authentication, and why is it so important? A DKIM signature tells email clients receiving your email that the email is truly coming from you – in other words, that it's totally valid and not spam. 
Mailchimp not only has DKIM authentication, it also has an easy-to-follow guide
for setting it up (which you should absolutely do). There's even a video offering more information on DKIM and how to activate it. 
Squarespace Email Campaigns also has DKIM authentication, but there are a few more steps you have to take to set it up
. I feel it would be easier for people familiar with back-end work and coding, but this isn't so great for beginners or if you're just looking for something simple.  
Finally,
Squarespace doesn't offer dedicated IPs for email marketing
. This is pretty disappointing – especially if you have a big contact list. I was pleased to see Mailchimp does offer a private IP – and for just $29.95/month, which is amazing value compared to other EMS (most of which charge hundreds of dollars for this feature).
Due to Mailchimp's more proactive stance against spam accounts, chances are
you'll get higher deliverability rates with Mailchimp
than Squarespace Email Campaigns. 
Reporting and Analytics
Mailchimp's Analytics Beat Squarespace by a Mile, but Is It Enough?
Advanced analytics can be hugely helpful for marketers, as they can help you identify what's working and where to invest more resources.
Mailchimp wins this round hands down.
The reports you get with Squarespace Email Campaigns are so simple they tell you next to nothing.
You can't see which links people clicked, and you certainly can't compare campaign results. All you can see are basic stats such as how many people received, opened, or clicked a link in your emails. Automation reports are pretty similar. You can view basic stats and check trends over time, but that's it.
There are no more advanced reports on Squarespace's more expensive plans
. So when you find you need more in-depth reporting, prepare to be disappointed – it's never going to happen. It might seem like a minor point now, but it would stop me from signing up for Squarespace Email Campaigns.
Mailchimp offers more detailed reports, even on its lower-tier plans.
In addition to open and click-through rates (CTRs), you can see which subscribers clicked and which links they visited most often.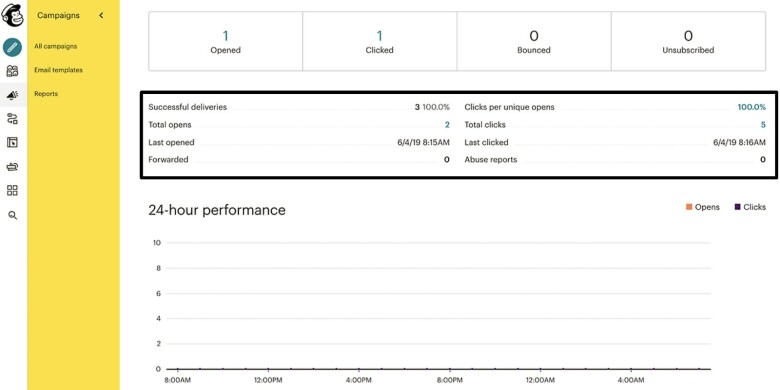 You can also benchmark your campaigns against your industry and your own average results.
 If you upgrade to the Standard or Plus plans, you'll open up access to comparative reports. 
Pricing
Mailchimp Is More Expensive – But Squarespace Offers So Little for the Price
At first glance, pricing for Squarespace Email Campaigns seems more affordable, while Mailchimp looks astronomically expensive by comparison.
When you dig into the details, however, you can see that Squarespace is cheap for a reason – its features and sending capacity are super limited.
Here's What You Get For Free
Every Squarespace customer can
try out Email Campaigns for free
. But the trial ends once you've sent three campaigns, at which point you have to pay to continue using the platform.
Mailchimp has a free plan
that you can use indefinitely. However, although this includes a decent range of features like basic segmentation, an automation builder, and A/B testing, it has limitations that would be a dealbreaker for most email marketers. The Free plan restricts both your contact list and the number of emails you can send, so you're bound to hit one of the two limits sooner rather than later.
In my opinion,
Mailchimp's Free plan is ideal for bloggers and startups
, but established
entrepreneurs
and growing businesses will benefit from paying for a plan
.
Here's What You Get If You Pay
The biggest benefit of purchasing a Squarespace email plan is that all three options have fixed monthly costs and allow unlimited contacts.
 That means you won't have to worry about the price increasing every time you gain new subscribers.
Yet the biggest drawback of these paid plans is that most have pretty hard limits on the number of emails you can send – not to mention their short list of features.
Starter: Send up to three campaigns totaling up to 500 emails each month, but with no automation, and Squarespace branding in your footer. Price:

$

7.00

per month.
Core: Send up to five campaigns totaling up to 5,000 emails each month, including automations. Price:

$

14.00

per month.
Pro: Send up to 20 campaigns totaling up to 50,000 emails each month, including automations. Price:

$

34.00

per month.
Max: Send unlimited campaigns totaling up to 250,000 emails each month, including automations. Price: $68.00 per month.
Mailchimp has a completely different pricing structure, and if you want more detail,
I've put together a full Mailchimp pricing breakdown
. Now for the short answer: the two lowest-tier plans cost just a little more than their Squarespace counterparts, but
Mailchimp's highest-tier plan costs about 10 times more than Squarespace.
And those are just the starting prices, as Mailchimp has subscriber-based pricing.
 Every time you reach a new threshold, you'll have to pay more, even if you don't upgrade to a higher-tier plan.
Essentials: Send up to 500,000 emails to as many as 50,000 subscribers each month (10x the maximum contact count for your plan). You can also build automations and add up to three team members. Prices start at

$

20.00

per month.
Standard: Send up to 1.2 million emails to as many as 100,000 subscribers each month (12x the maximum contact count for your plan). You can also create automations with multiple starting points and work with up to five team members. Prices start at $14.99 per month.
Premium: Send up to 3 million emails to as many as 200,000 subscribers each month (15x the maximum contact count for your plan). You also get access to comparative reporting and multivariate testing. Prices start at

$

0

per month.
The chart below makes it easy to do a side-by-side comparison of Squarespace Email Campaigns vs. Mailchimp, looking at their lowest-tier paid plans.
Even though Squarespace is cheaper, it's pretty clear Mailchimp offers more features for what you pay for
.
Plan
# Subscribers
# Email Sends
Automations
Support
Monthly Price
Squarespace Email Campaigns: Starter
Unlimited
500 emails per month
No automations
Limited live chat hours, 24/7 email ticket support, & Twitter DMs

$

7.00

Mailchimp: Essentials
500
5,000 emails per month
Multi-step automations
24/7 email & live chat support

$

13.00
Support
Mailchimp Support Is Slow to Respond; Squarespace Is Even Slower
If you need help with your email marketing, both Mailchimp and Squarespace are likely to leave you feeling frustrated.
 In this Mailchimp vs Squarespace battle, both took more than a day to respond to my support request. Squarespace Email Campaigns offers 24/7 email ticket support as well as Twitter DMs and live chat during business hours. Live chat is open only between 4 a.m. and 8 p.m. ET on Monday through Friday, however, so you can't get live chat assistance on weekends or overnight. Mailchimp offers 24/7 email ticket and live chat support on all its paid plans. Additionally, by opting for the highest-tier plan, you gain access to phone support as well. Since 24/7 email support is the only option that Mailchimp and Squarespace Email Campaigns have in common, I was curious to see how the two services would compare.
I sent Mailchimp support a question asking how to import contacts from a Word document. I eventually received a helpful response, but I had to wait almost 36 hours for it.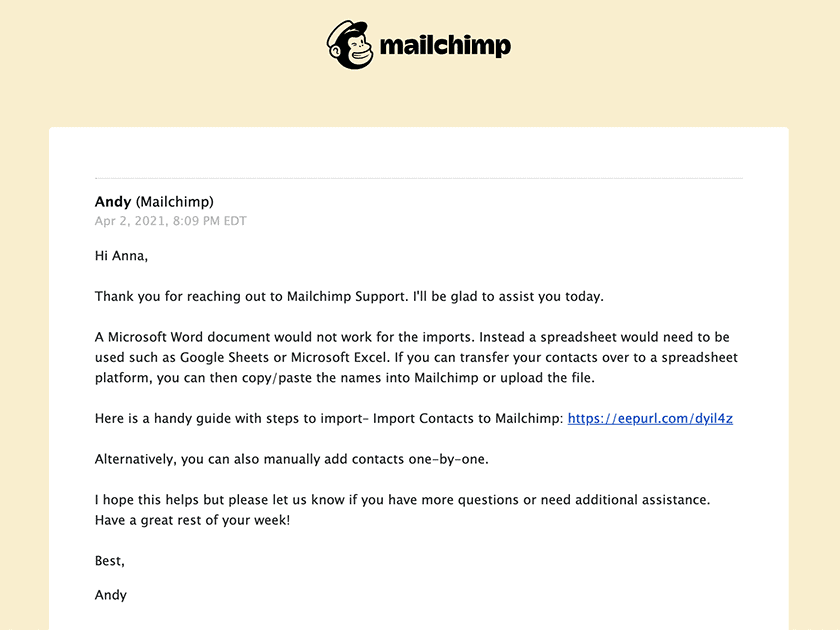 To see how Squarespace email support would hold up against Mailchimp's slow response, I submitted a ticket to ask for help with personalizing my email campaigns.
Five days later, I received an email from the Squarespace team that didn't even answer my question
. Talk about disappointing!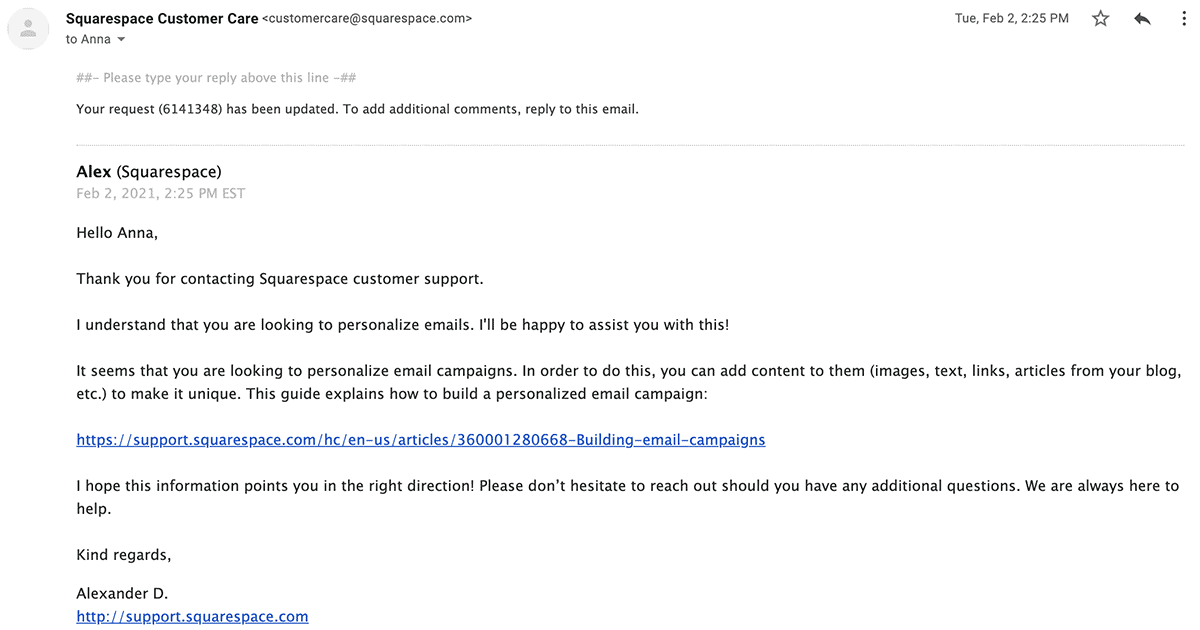 Mailchimp Has a Strong Edge Over Squarespace
When comparing Squarespace Email Campaigns vs Mailchimp, overall I'd say that Mailchimp offers slightly more features
for what you pay for (which could be $0).
If you're a satisfied Squarespace customer and you want to do all your marketing with one platform, Squarespace Email Campaigns might be the easier option, but it's not the best – especially if you're expecting advanced tools.
If you want the best email marketing features, you can do a lot more with Mailchimp than you can with Squarespace.
You get enough basics to handle most email marketing needs, advanced automation if you're willing to pay extra, and Mailchimp offers a free plan
 for those who need a simple email marketing tool or want to try it out first. Based on what you can do with each EMS, Mailchimp is the obvious victor. 
Still can't decide between Squarespace vs Mailchimp? Check out this comparison table for a final breakdown of the differences:
Mailchimp
Squarespace Email Campaigns
Templates
40+ customizable designs (but only 5 free)
70+ stylish designs, but more difficult to customize
Automation
Flexible workflows with multiple options, like new subscribers, cart abandonment, and coupons
Limited to 3 very simple workflows
Native SMS Automation
No
No
Landing Page Builder
Yes
Yes
Native RTL Language Support
No
No
Ease of Use
User and beginner-friendly dashboard and email editor
Limited customization and editing options in email editor
Deliverability
Strong anti-spam policy, contact screening, and easy DKIM setup, private IP for a very reasonable price
Simple anti-spam policy, DKIM with more complicated setup
Reporting and Analytics
Basic reports and analytics
Pricing
Free version, mid to high-cost plans
No free version, low-cost plans
Support
24/7 email and live chat on paid plans
24/7 email ticket support, live chat during business hours, and Twitter DMs
FAQ
Is it worth paying for Mailchimp?
If your contact list or your marketing needs outgrow Mailchimp's Free plan, you might consider upgrading to a paid plan. Paying for Mailchimp

 gets you a number of essential features, such as advanced automation and workflow options, split testing, and segmentation. If you run a business, your marketing strategy could really benefit from these premium tools
What is the best alternative to Mailchimp?
If you want to try a free plan, Sendinblue's Free plan is the best alternative. It has a similar sending capacity, but its segmentation, automations, and transactional emails are much more advanced than Mailchimp's. For a paid plan, consider ActiveCampaign's Plus plan, which has a wider range of features like advanced automation, CRM tools, and in-depth performance reports.
Does Squarespace do email marketing?
If you have a Squarespace site you can access Email Campaigns, the platform's email marketing service. With Squarespace Email Campaigns, you can keep in touch with your audience by sending newsletters and creating basic automations. However, Email Campaigns is one of the most basic email marketing platforms out there, and most marketers would be better off with one of the top dedicated email marketing services.
What is the best email marketing service?
To identify the best email marketing services, it's important to know your needs. If you want to get started with a powerful free plan that lets you leverage advanced automations and segmentation, Sendinblue is your best bet. If you want all the advanced features and the most in-depth analytics I've ever seen, ActiveCampaign is a smart choice

.