Both Mailchimp and Squarespace Email Campaigns are designed to handle all your marketing needs. And for many marketing teams, using an all-in-one platform can be incredibly appealing. Yet, as a digital agency owner, I've found that relying on one tool can be either unnecessarily expensive or short on features.
I wanted to compare Squarespace Email Campaigns vs. Mailchimp to see which offers a better all-in-one email marketing tool. Since Mailchimp offers audience segmentation, better automations, and more integrations, I'd say that Mailchimp narrowly wins over Squarespace Email Campaigns.
However, while both services provide a wide range of built-in marketing tools, neither has the advanced email workflow, segmentation or reporting features essential for growing businesses. Instead, I'd recommend trying out a service like AWeber, which covers all areas even on its free plan.
Features
Squarespace Email Campaigns Is Simplistic; Mailchimp Offers More Features
Because they're complete marketing platforms, Mailchimp and Squarespace both have a long list of built-in features. As well as sending email campaigns, you can also build a website or create social media content. When comparing Mailchimp vs. Squarespace Email Campaigns, I found Mailchimp offered more features overall – but both lacked more advanced email marketing features.
Email Templates
Mailchimp and Squarespace are pretty equal in terms of how many email templates they provide. Mailchimp has around 100 designs, while Squarespace Email Campaigns has about 70, which is nothing considering that AWeber has 700+ templates. Added to that, many of Mailchimp's templates are so outdated they're unusable.
By comparison, most of Squarespace's templates look pretty sharp. But a word of warning to newer email marketers: Squarespace's sleek designs and user interface (UI) might draw you in, but they aren't always as effective as they seem.
Finding the right Squarespace template for your email campaign is easy, as the platform splits designs into helpful categories. For example, you can promote a product, share your content, and much more. And because the layouts all fit that slick, glossy, Squarespace aesthetic, it was easy to choose one that matched my website.
I was also glad to see I could start from scratch and make my own template – there's plenty of scope for customization.
While Mailchimp has a slightly larger library of templates, they aren't as neatly organized or as nicely designed – it's quality over quantity. Always. If you don't find a template that works for your brand, which wouldn't be a surprise, you can build one from scratch or import one from another service, giving you options that are pretty similar to Squarespace.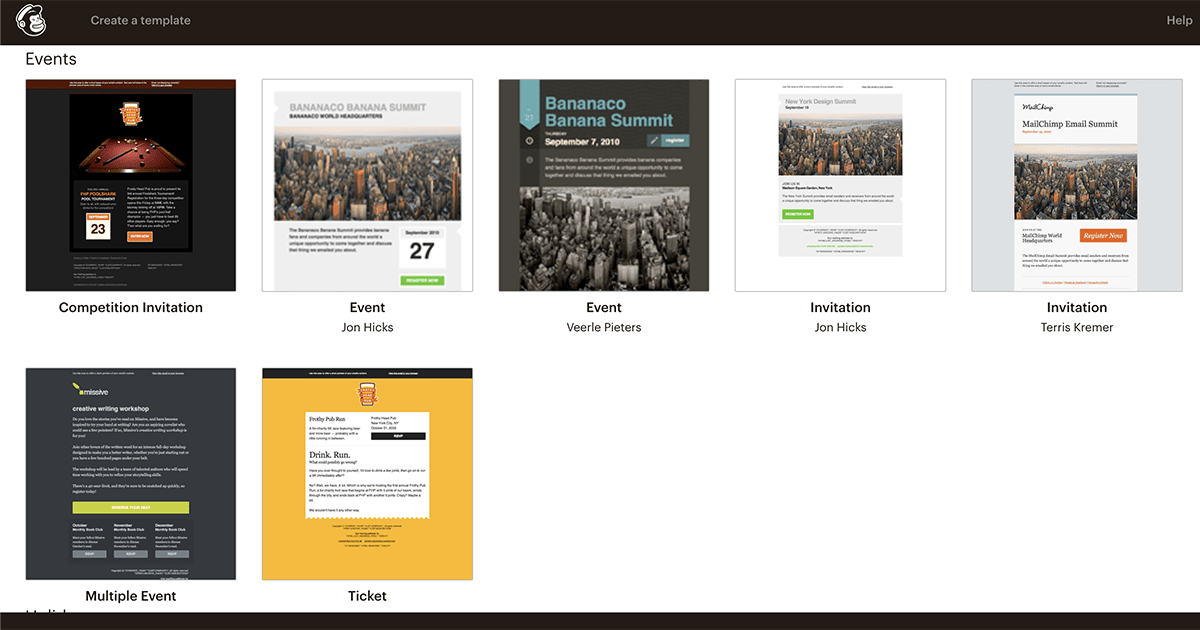 Marketing Automations
Squarespace Email Campaigns offers automations on the Core plan and above, but workflows can only include a single step. By contrast, Mailchimp offers multi-step workflows and drip campaigns. However, you'd need one of Mailchimp's higher-tiered plans to create complex automations, which costs from $14.99 per month for a list of just 500 subscribers.
It's also worth noting that with Squarespace you can only choose from a handful of workflow triggers. You can automatically send emails to new subscribers or customers who just made a purchase, but I'd find this feature much more useful if I could set up workflows based on subscriber activities.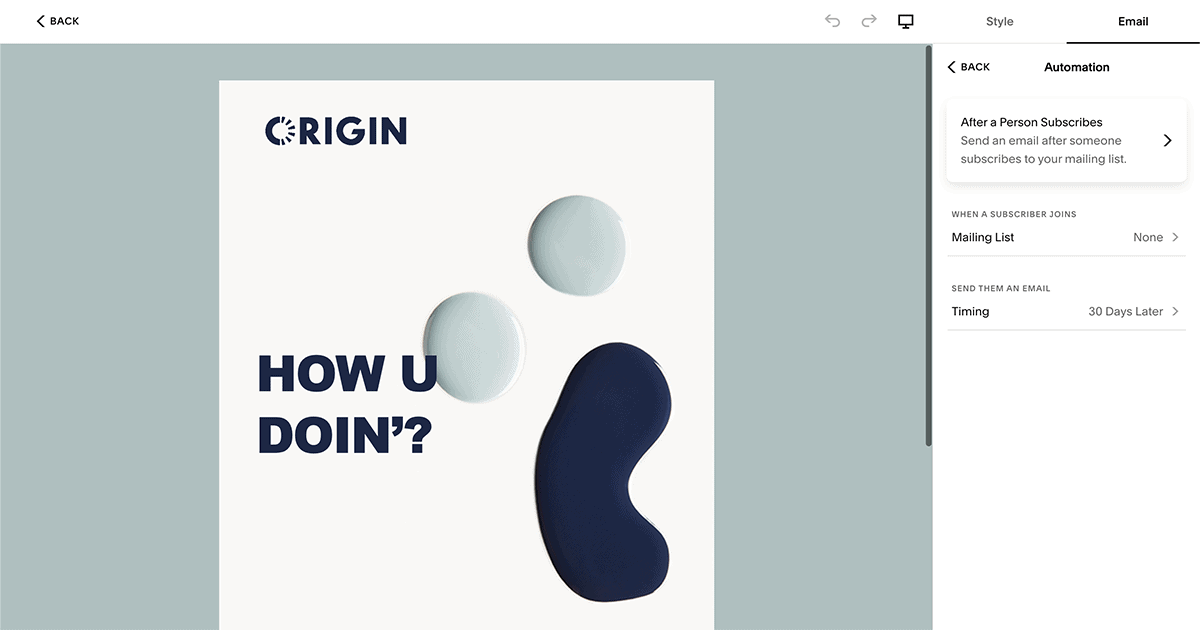 Mailchimp lets you choose from about 30 automation triggers, including subscriber behaviors. Although all paid plans include access to the visual customer journey builder, you have to pay more for advanced automation features (and that's not the only extra you have to pay for, just look at our Mailchimp pricing breakdown). While it would be helpful to create workflows with branches or multiple starting points, I wouldn't want to pay the much higher rates that Mailchimp charges for these plans.
This is one reason why you might want to look to a dedicated email service provider instead. Sendinblue, for example, includes advanced automations in its Free plan, so you can create your own custom workflows at no cost.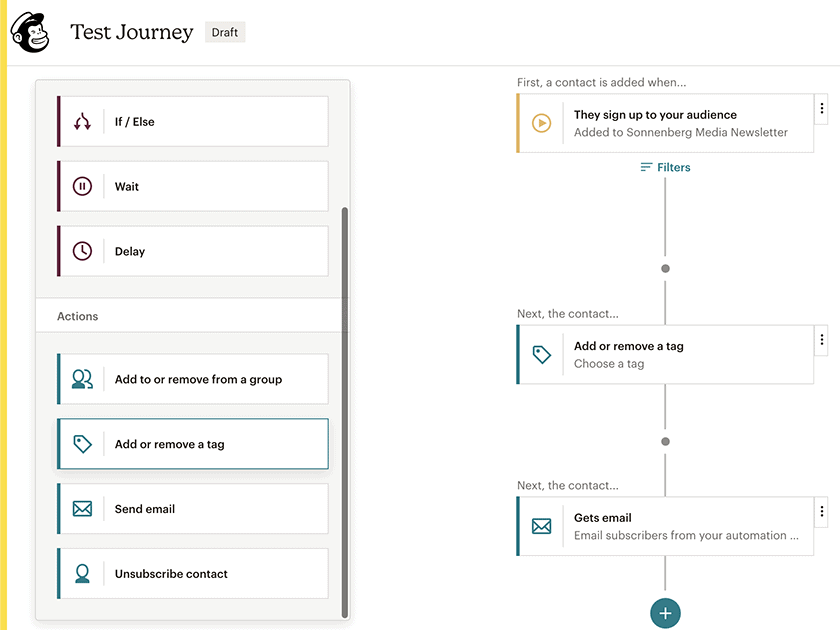 App Integrations
While Email Campaigns integrates nicely with your Squarespace website, there are only a few dozen app integrations available, which don't add much functionality to your emails. Compare that to Mailchimp, which has about 250 app integrations to enhance your email marketing.
Although Squarespace and Mailchimp both work with Zapier, which allows you to connect around 2,000 additional apps to your marketing platform, Mailchimp is the clear winner here.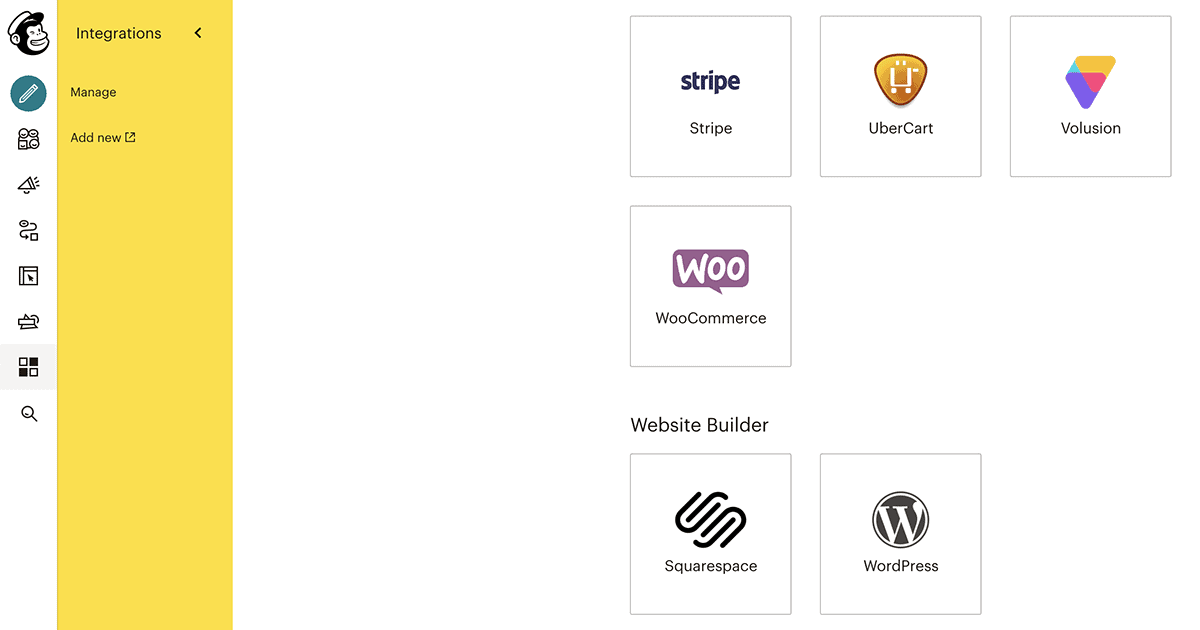 So, do you really need more email marketing features, or do these platforms do enough? In my experience, more advanced features offer more value and improve efficiency.
To compare Mailchimp and Squarespace to a dedicated email provider, GetResponse provides sales and conversion funnels, dozens of workflow templates, and automated contact scoring. I wouldn't recommend Mailchimp's less advanced versions of these features, and Squarespace doesn't offer them at all. In addition, GetResponse's pricing is lower than Mailchimp's.
Ease of Use
Mailchimp Is User Friendly; Squarespace Lacks Functionality
Both Mailchimp and Squarespace Email Campaigns take a little getting used to, but I found Mailchimp much more intuitive. By contrast, Squarespace hides a lot of functionality – and some usability features are missing altogether.
First, the positives. Because there are so few options to choose from, the Squarespace Email Campaigns interface is pretty easy to navigate. From the dashboard, you can use the left-hand menu to select email campaigns, automations, and lists.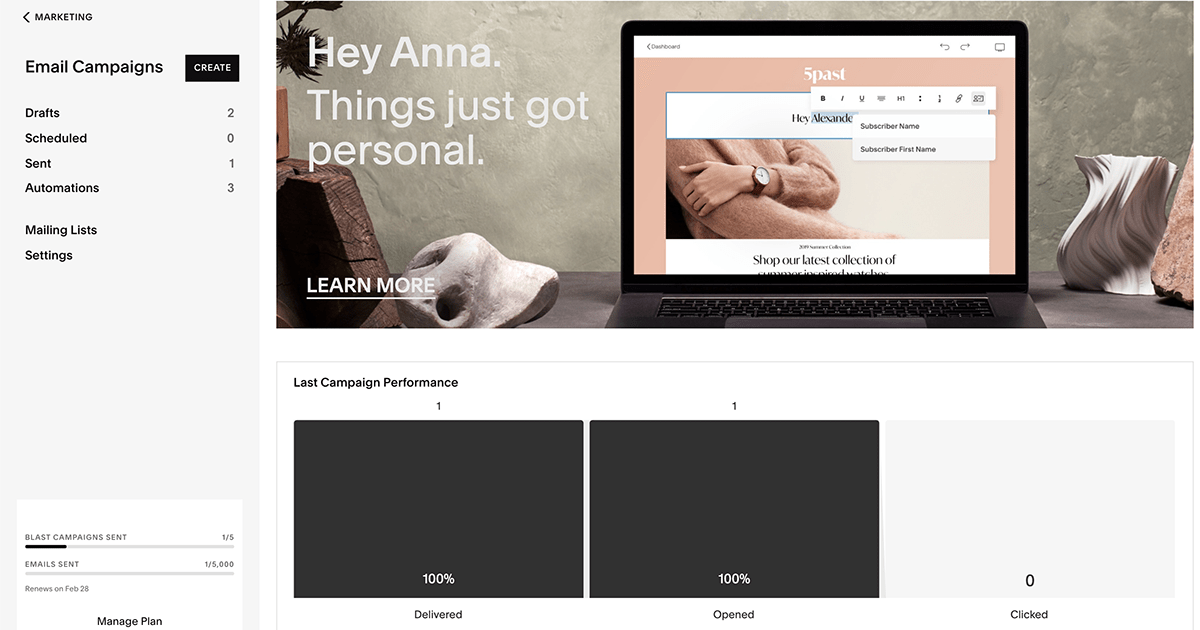 Squarespace is primarily a website builder, and part of the appeal of Email Campaigns is that you can easily integrate your site right into your email marketing. If you want to include a blog post or an e-commerce product in your email, all you have to do is click the drag-and-drop editor and find the item. Squarespace imports all the details, including images and titles.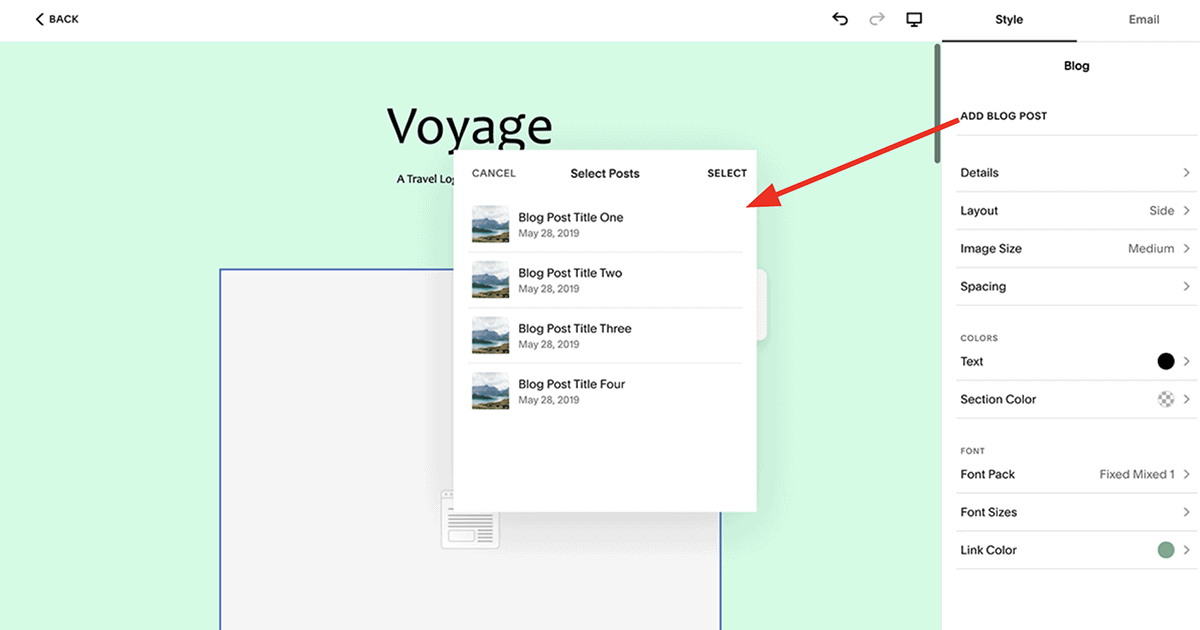 However, using the drag-and-drop editor is sometimes easier said than done, since the editor is difficult to use. The editing functions aren't visible unless you magically click in the right place, so it's tough to understand what to do and how to customize your email templates.
As I explained in my Squarespace Email Campaigns review, it's also missing a lot of other functionality. For example, there's no option for some critical email marketing tasks, like creating audience segments or setting up A/B testing – something email marketing services like AWeber offer with even their cheapest paid plans.
Like Squarespace, Mailchimp has an easy-to-use interface. Everything you need is in the left-hand menu, and the platform constantly prompts you to try out related features to help you get more out of the service – a particularly helpful feature if you're new to email marketing. However, as my colleague found out in his Mailchimp review, the system is littered with bugs and glitches that ruin the user experience.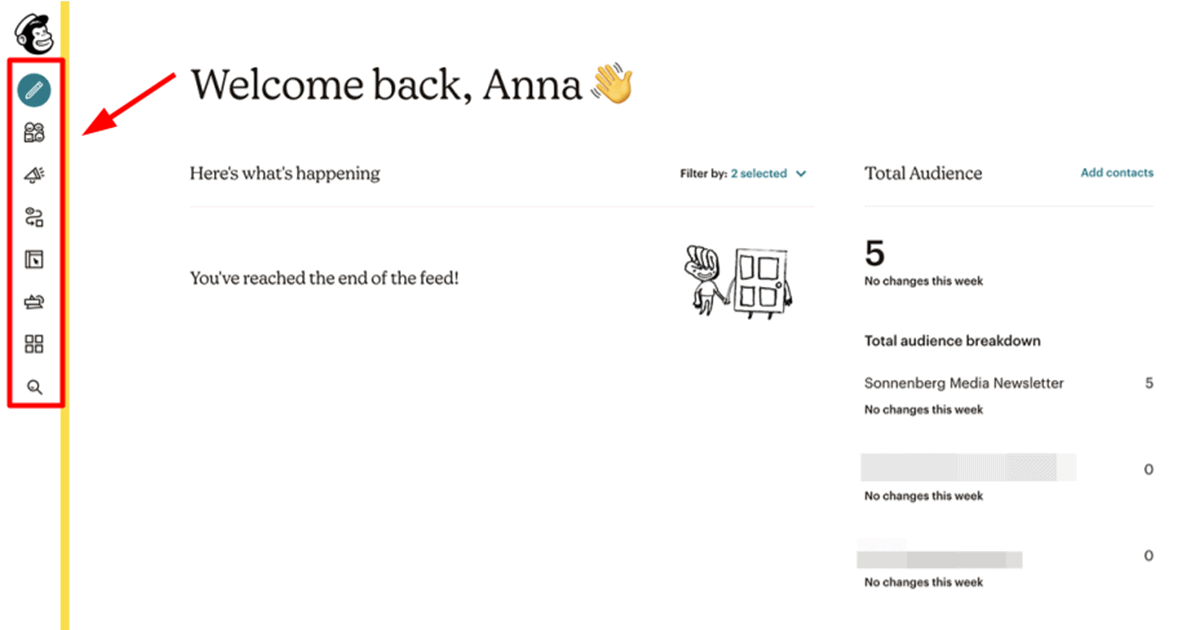 Compared to Squarespace, Mailchimp's drag-and-drop editor is a breeze to use, if you can get navigate your way through the glitches, that is. I found it easy to incorporate products from my e-commerce site or to use the style panel to fine-tune my layout. That said, because most of Mailchimp's premade email templates are so outdated, an intuitive drag-and-drop editor is critical. And, if I had a choice, I'd prefer nicely designed and up-to-date templates.
Out of all the email marketing services I've tested, I'd say that AWeber offers the best variety of quality templates. For a start, there are over 700, so you're bound to find a style that suits your brand. While some are admittedly outdated, AWeber is always adding new designs. Better yet, they're all available on the AWeber Free plan – which also includes automations, in case you were wondering, which neither Mailchimp nor Squarespace offer for free.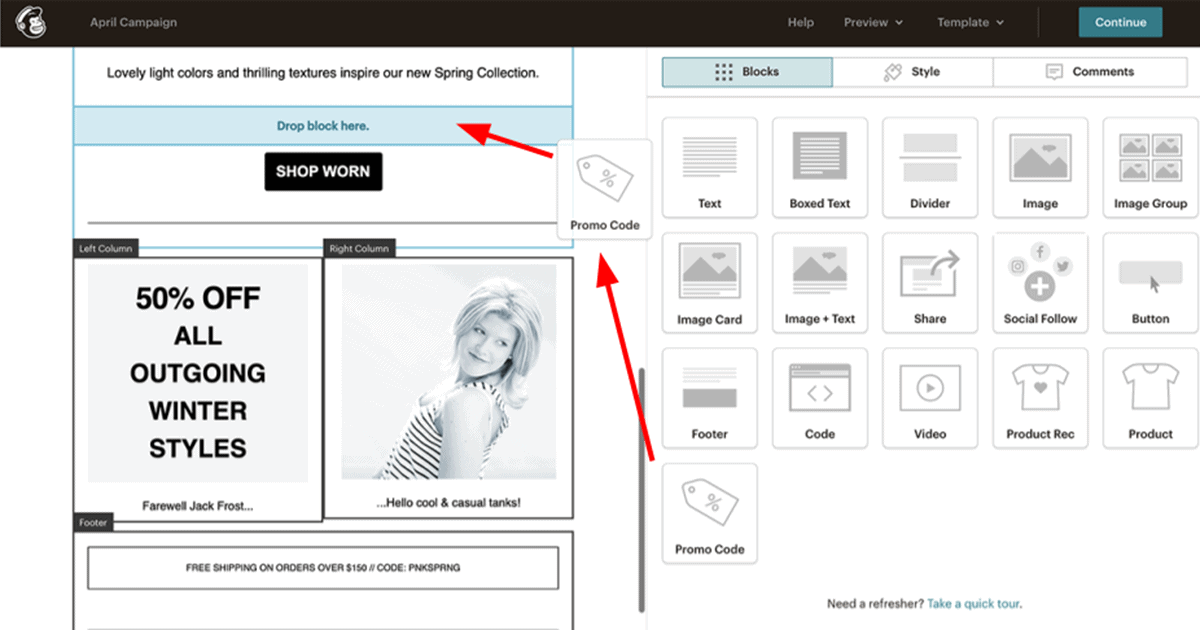 Unlike Squarespace, Mailchimp does offer audience segmentation. You can choose from about a dozen conditions, such as campaign activity, automation activity, or signup source. I was able to set up a new segment in just a few clicks, allowing me to send targeted emails to select subscribers. That's pretty important if you want to send personalized emails, and I'd be disappointed with any service that didn't offer it.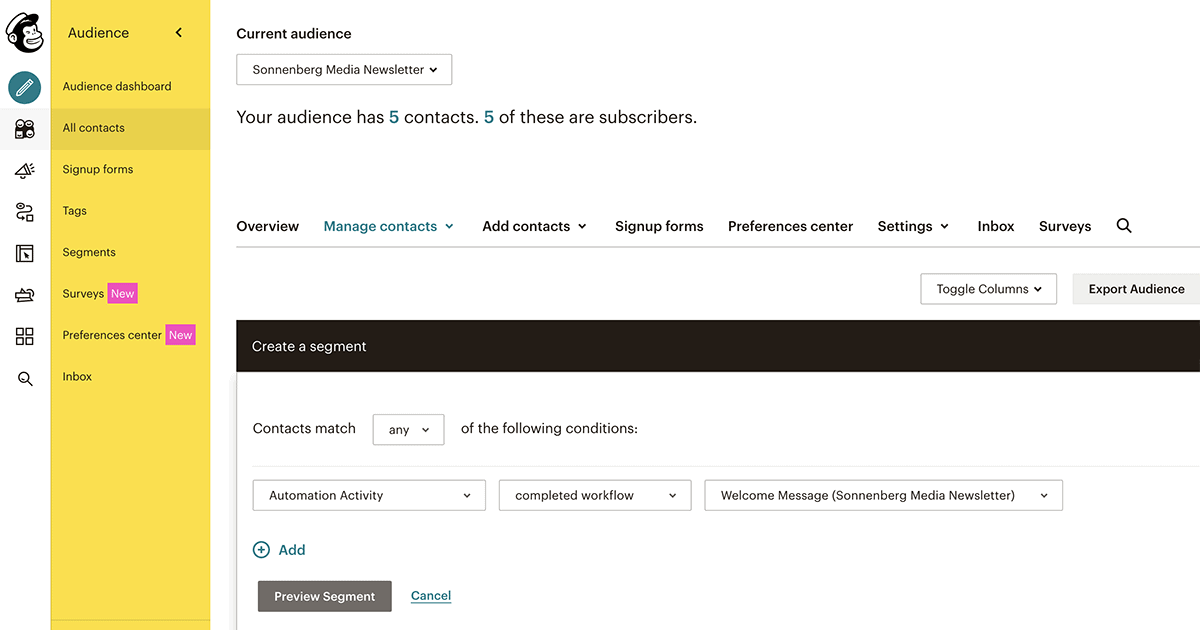 Reporting and Analytics
Don't Expect Advanced Analytics From Either Mailchimp or Squarespace
Advanced analytics can be hugely helpful for marketers, as they can help you identify what's working and where to invest more resources. Unfortunately, Squarespace email marketing vs Mailchimp analytics isn't much of a competition, as neither provides very advanced reports for most plans.
Mailchimp does offer comparative reports, but only with its highest-tier plan. And if you ask me, the high price rules this out for most marketers – and comprehensive reporting and analytics shouldn't be reserved for big business.
The reports you get with Squarespace Email Campaigns are so simple they tell you next to nothing. You can't see which links people clicked, and you certainly can't compare campaign results. All you can see are basic stats such as how many people received, opened, or clicked a link in your emails.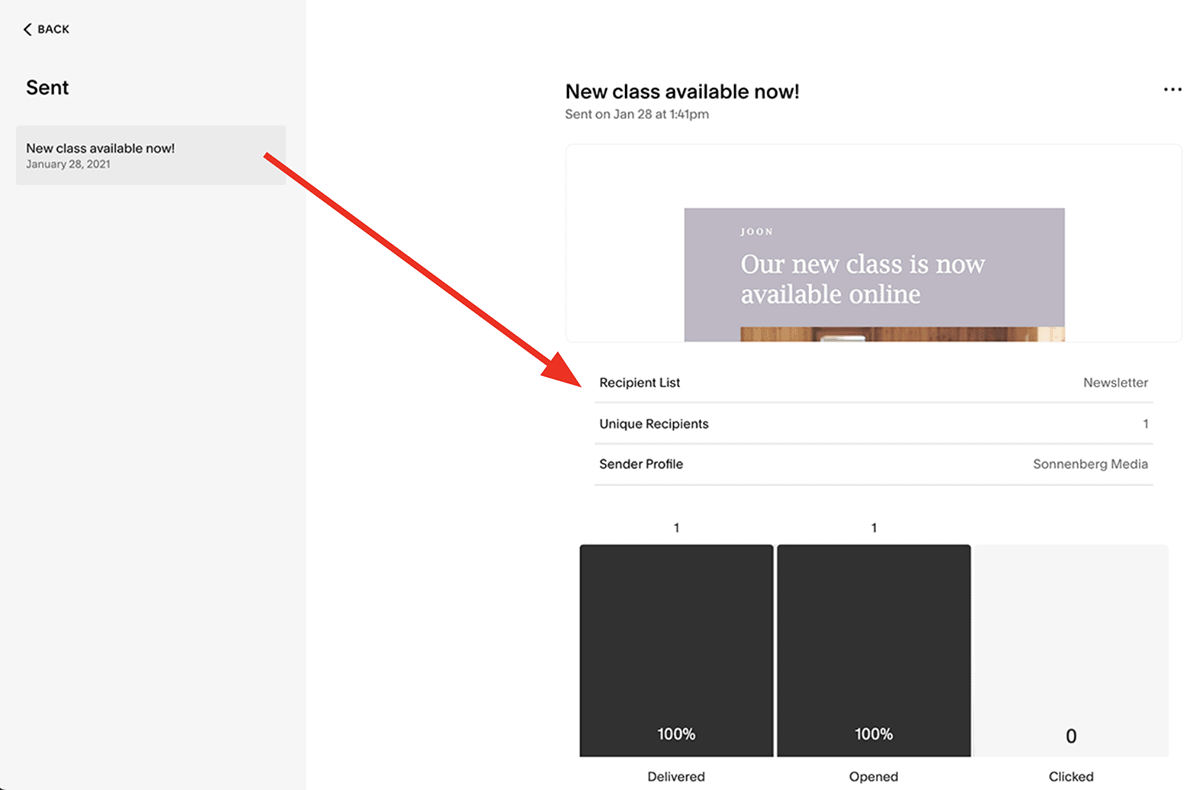 Automation reports are pretty similar. You can view basic stats and check trends over time, but that's it. There are no more advanced reports on Squarespace's more expensive plans. So when you find you need more in-depth reporting, prepare to be disappointed – it's never going to happen. It might seem like a minor point now, but it would stop me from signing up for Squarespace Email Campaigns.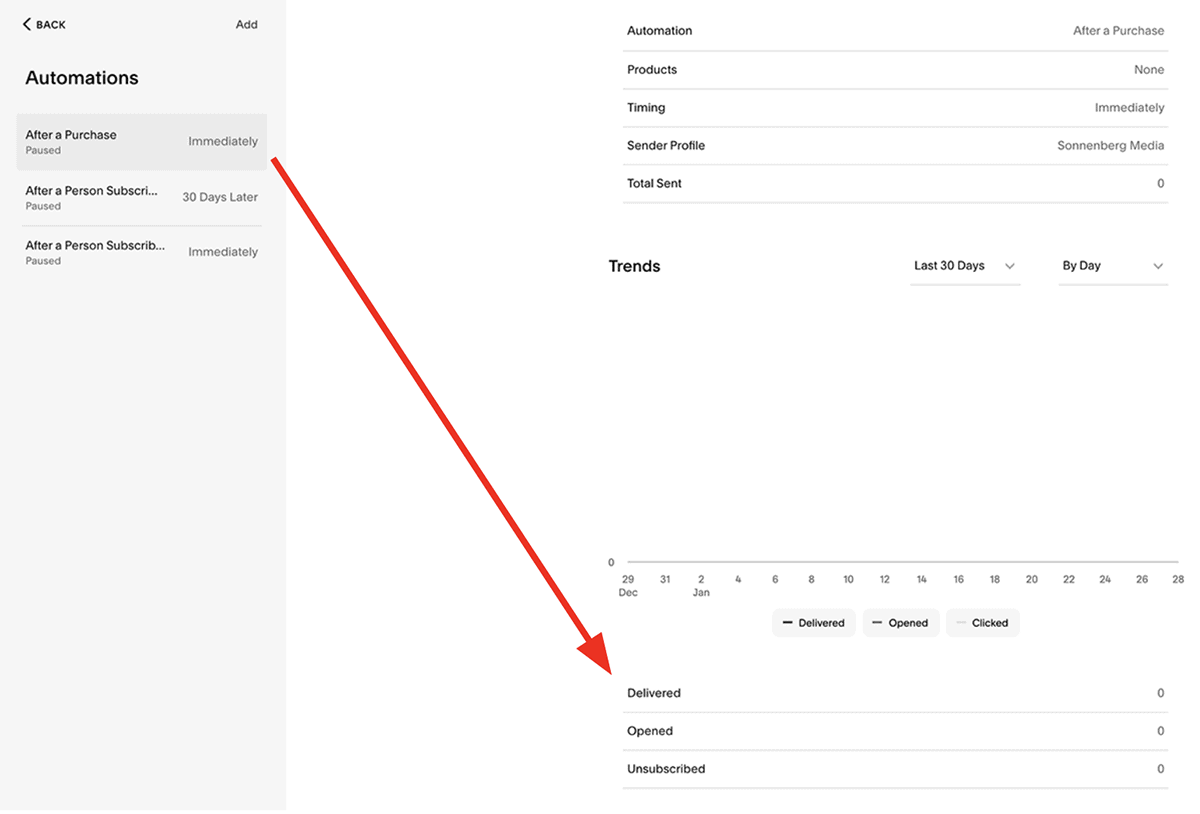 Mailchimp offers slightly more detailed reports for its lower-tier plans. In addition to open and click-through rates (CTRs), you can see which subscribers clicked and which links they visited most often.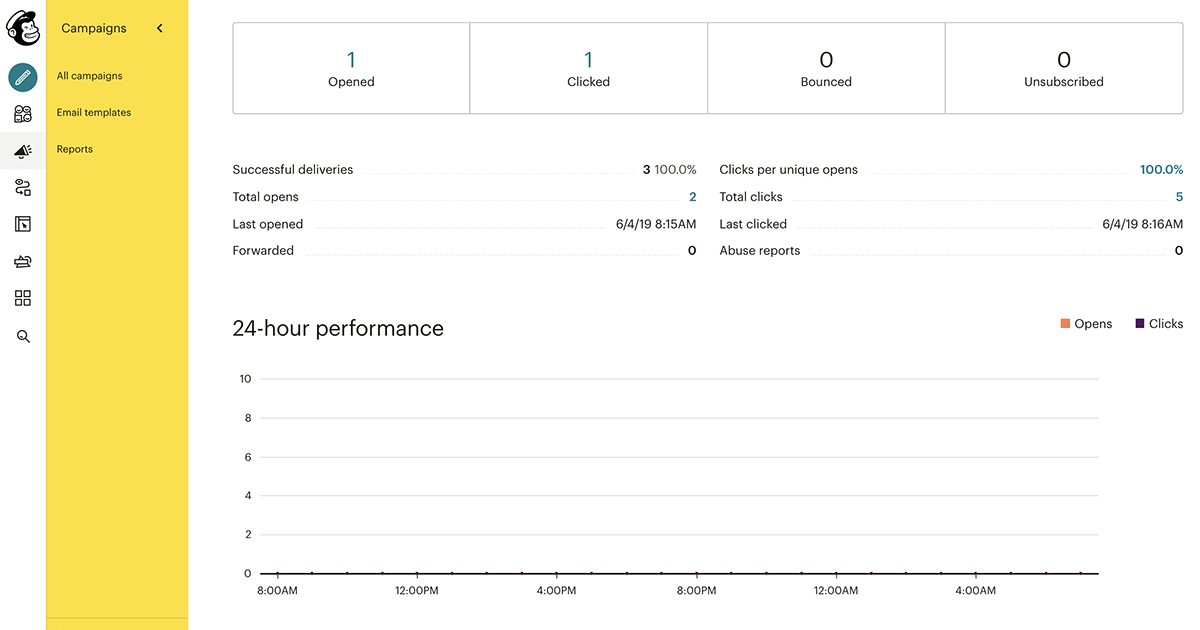 You can also benchmark your campaigns against your industry and your own average results. However, you'd have to upgrade to the highest-tier plan to access Mailchimp's comparative reports.
Are you seeing a pattern here? If you want anything more advanced, you'll need the highest-tier plan with Mailchimp. And in case you've forgotten what that'll set you back, it starts at a cool $299.00 per month. I'll give you a minute to clean up the coffee you've just spat out.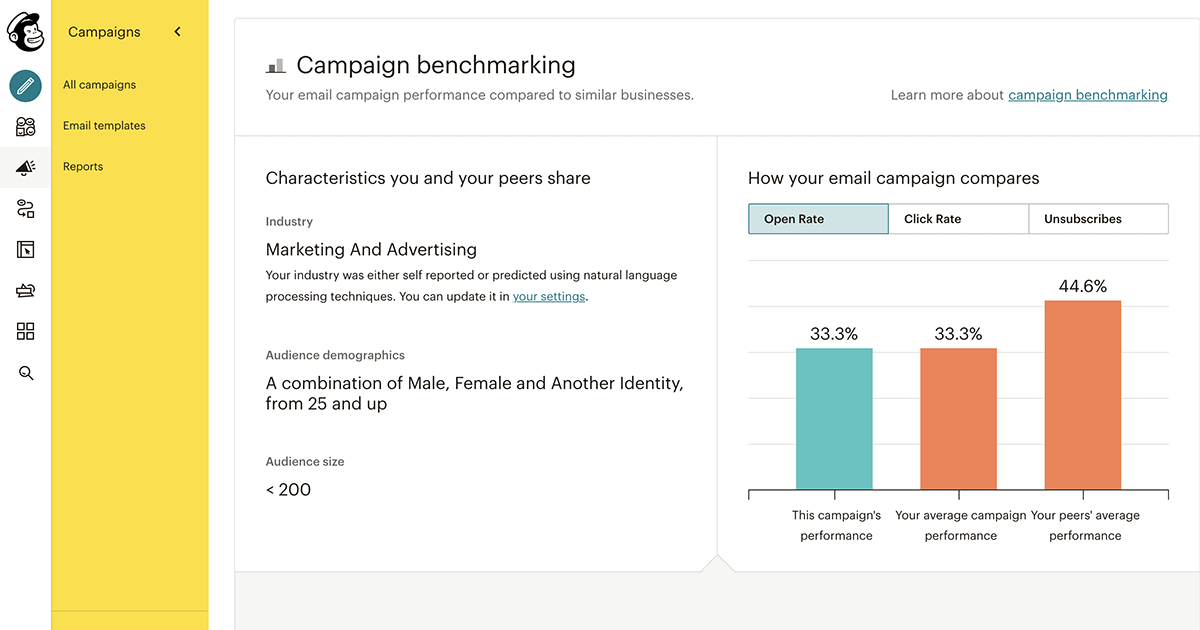 Do you really need more advanced analytics? If you depend on email to market your business, I'd say yes. To consider an alternative provider, GetResponse offers comparative reports with all plans, so you can identify – and replicate – your top-performing campaigns. You can also set goals and track progress, allowing you to really zero in on the metrics that matter.
Pricing
Mailchimp Is Significantly More Expensive – but Squarespace Offers so Little for the Price
At first glance, pricing for Squarespace Email Campaigns seems more affordable, while Mailchimp looks astronomically expensive. When you dig into the details, however, you can see that Squarespace is cheap for a reason – its features and sending capacity are super limited.
Here's What You Get For Free
Every Squarespace customer can try out Email Campaigns for free. But the trial ends once you've sent three campaigns, at which point you have to pay to continue using the platform.
Mailchimp has a free plan that you can use indefinitely. However, although this includes a decent range of features like basic segmentation, an automation builder, and A/B testing, it has limitations that would be a dealbreaker for most email marketers. The Free plan restricts both your contact list and the number of emails you can send, so you're bound to hit one of the two limits sooner rather than later.
By contrast, I've found Sendinblue's Free plan has everything you need to get started with email marketing. You can use advanced segmentation, create custom automations, and access real-time reporting without paying anything. If and when you upgrade to one of Sendinblue's paid plans, you'll find them much more affordable than Mailchimp's.
Here's What You Get If You Pay
The biggest benefit of purchasing a Squarespace email plan is that all three options have fixed monthly costs and allow unlimited contacts. That means you won't have to worry about the price increasing every time you gain new subscribers.
Yet the biggest drawback of these paid plans is that most have pretty hard limits on the number of emails you can send – not to mention their shortlist of features.
Mailchimp has a completely different pricing structure, and if you want more detail, I've put together a full Mailchimp pricing breakdown. Now for the short answer: the two lowest-tier plans cost just a little more than their Squarespace counterparts, but Mailchimp's highest-tier plan costs about 10 times more than Squarespace. And those are just the starting prices, as Mailchimp has subscriber-based pricing. Every time you reach a new threshold, you'll have to pay more, even if you don't upgrade to a higher-tier plan.
Essentials: Send up to 500,000 emails to as many as 50,000 subscribers each month (10x the maximum contact count for your plan). You can also build automations and add up to three team members. Prices start at

$

11.00

per month.
Standard: Send up to 1.2 million emails to as many as 100,000 subscribers each month (12x the maximum contact count for your plan). You can also create automations with multiple starting points and work with up to five team members. Prices start at $14.99 per month.
Premium: Send up to 3 million emails to as many as 200,000 subscribers each month (15x the maximum contact count for your plan). You also get access to comparative reporting and multivariate testing. Prices start at

$

299.00

per month.
The chart below makes it easy to do a side-by-side comparison of Squarespace Email Campaigns vs. Mailchimp, looking at their lowest-tier paid plans. When you compare both of these paid options with the Free plan from Sendinblue, it's pretty clear that if you choose the right dedicated email marketing service, you can get more than either Mailchimp or Squarespace offer for free.
Plan
# Subscribers
# Email Sends
Automations
Support
Monthly Price
Squarespace Email Campaigns: Starter
Unlimited
500 emails per month
No automations
Limited live chat hours, 24/7 email ticket support, & Twitter DMs

$

7.00

Mailchimp: Essentials
500
5,000 emails per month
Multi-step automations
24/7 email & live chat support

$

11.00

Sendinblue: Free
Unlimited
300 emails per day (approx. 9,000 emails per month)
Customizable multi-step workflows
24/7 email support

$

0
Support
Mailchimp Support Is Slow to Respond; Squarespace Is Even Slower
If you need help with your email marketing, both Mailchimp and Squarespace are likely to leave you feeling frustrated. In this Mailchimp vs Squarespace battle, both took more than a day to respond to my support request.
Squarespace Email Campaigns offers 24/7 email ticket support as well as Twitter DMs and live chat during business hours. Live chat is open only between 4 a.m. and 8 p.m. ET on Monday through Friday, however, so you can't get live chat assistance on weekends or overnight.
On any of Mailchimp's paid plans, you can access 24/7 email ticket and live chat support. If you invest in the highest-tier plan, you can also access phone support.
Since 24/7 email support is the only option that Mailchimp and Squarespace Email Campaigns have in common, I was curious to see how the two services would compare.
I sent Mailchimp support a question asking how to import contacts from a Word document. I eventually received a helpful response, but I had to wait almost 36 hours for it.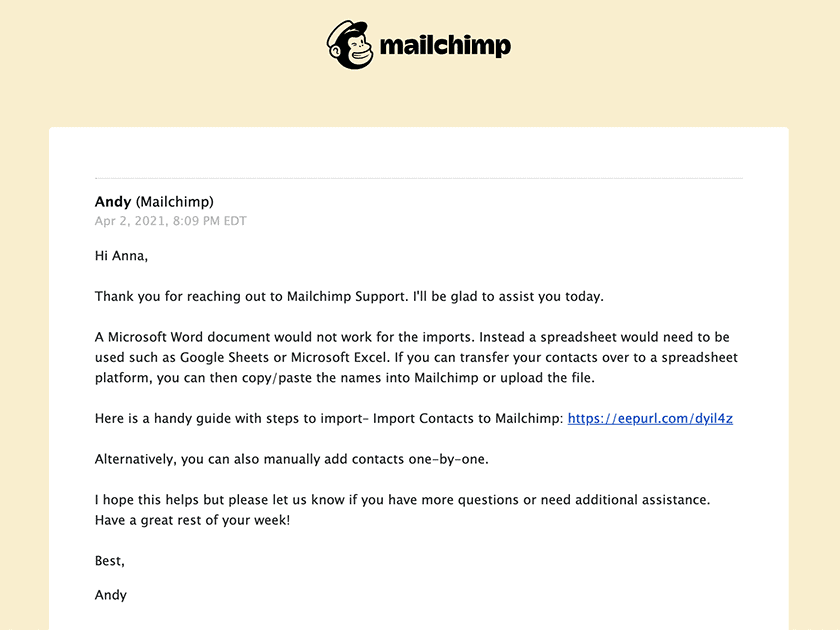 To see how Squarespace email support would hold up against Mailchimp's slow response, I submitted a ticket to ask for help with personalizing my email campaigns. Five days later, I received an email from the Squarespace team that didn't even answer my question. Talk about disappointing!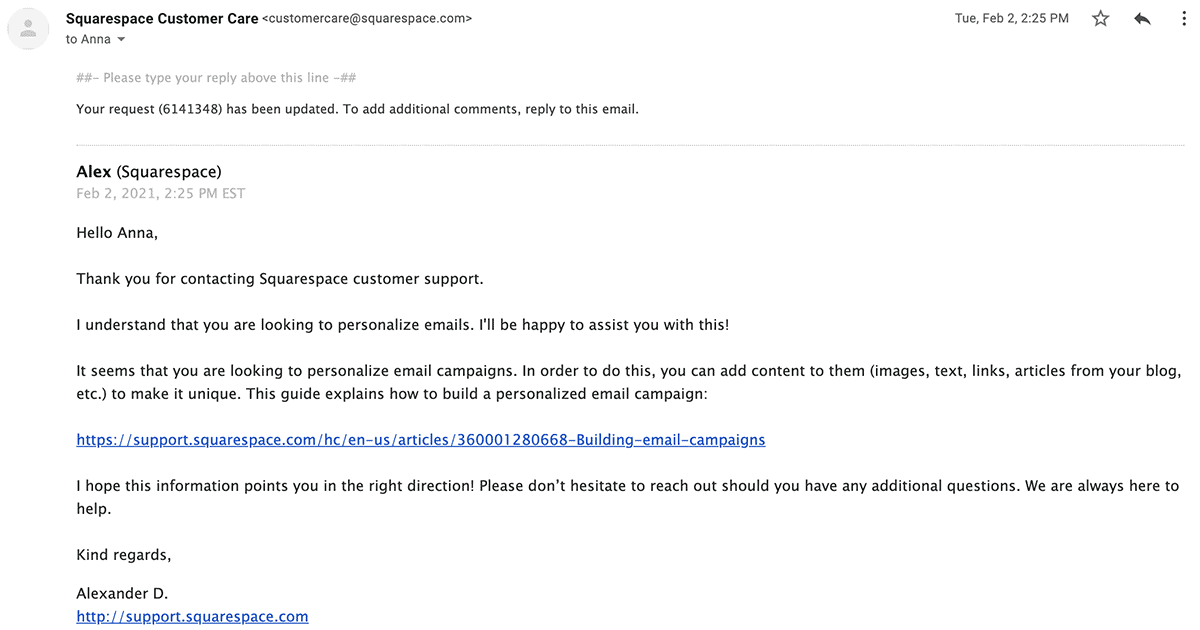 Mailchimp Has a Slight Edge – but There Are Far Better Options
When comparing Squarespace Email Campaigns vs Mailchimp, overall I'd say that Mailchimp offers slightly more features. If you're a satisfied Squarespace customer and you want to do all your marketing with one platform, Squarespace Email Campaigns might be the easier option, but it's not the best – especially if you're expecting advanced tools. But if you want more complex visual marketing workflows and subscriber segmentation, Mailchimp is a better bet.
Are there better options? Definitely. When you use a dedicated email marketing service like Sendinblue, you can create advanced workflows and audience segments even with a free plan. If you want to build automated sales and marketing funnels, GetResponse offers much better value.
Platform
Squarespace Email Campaigns
Mailchimp
Sendinblue
Features
Approx. 70 email templates, premade automations, approx. 50 app integrations
100+ email templates, premade & custom automations, 250+ app integrations
140+ email templates, 100+ app integrations, premade automations
Ease of Use
Deceptively simple design that isn't very easy to use
Intuitive platform with user-friendly interface
User-friendly design suitable for beginners
Reporting
Very simplistic reports that tell you almost nothing
Basic reports with advanced options for highest-tier plan
Basic reports, advanced options on the Lite plan
Support
Live chat during business hours; 24/7 email ticket support and Twitter DMs
24/7 email & chat support for all paid plans and phone support for highest-tier plan
Email and phone support only
Pricing
No free plan, price based on email sends, all with unlimited subscribers
Free plan available; paid plan pricing increases based number of contacts
Free plan, paid plan pricing increases based on email sends rather than contacts
FAQ
Is it worth paying for Mailchimp?If your contact list or your marketing needs outgrow Mailchimp's Free plan, you might consider upgrading to a paid plan. But these plans get expensive quickly, as the price increases with your list size. Instead, consider a service like GetResponse, which offers more advanced features for a lower price – especially if you take advantage of our email marketing coupons.What is the best alternative to Mailchimp?If you want to try a free plan, Sendinblue's Free plan is the best alternative. It has a similar sending capacity, but its segmentation, automations, and transactional emails are much more advanced than Mailchimp's. For a paid plan, consider GetResponse's Plus plan, which has a wider range of features like conversion funnels, webinars, and an automation builder.Does Squarespace do email marketing?If you have a Squarespace site you can access Email Campaigns, the platform's email marketing service. With Squarespace Email Campaigns, you can keep in touch with your audience by sending newsletters and creating basic automations. However, Email Campaigns is one of the most basic email marketing platforms out there, and most marketers would be better off with one of the top dedicated email marketing services.What is the best email marketing service?To identify the best email marketing services, it's important to know your needs. If you want to get started with a powerful free plan that lets you leverage advanced automations and segmentation, Sendinblue is your best bet. If you want to collaborate with your sales team and develop streamlined conversion funnels, GetResponse is a smart choice.