Fiverr boasts affordable freelance rates, while Guru claims to have the best freelance experts in the world. But which one can give you quality freelance work without breaking your budget? Spoiler alert: It's Fiverr.
Not only is Fiverr the more affordable option, but its sellers offer professional-level services that are easier to browse and assess to find the best match for you.
 Guru certainly has expert freelancers available, but it's harder to find that perfect fit – and you'll end up paying a lot more than necessary for that expertise. However, if you have a specific type of work to be done (for example, programming or development) or have a larger budget, Guru might be a good choice for you. To help you make the right decision, we've compared Fiverr and Guru on key criteria for finding, hiring, and managing freelancers. A quick note – to make it a fair comparison, we're only looking at the categories these two platforms share. Fiverr has so many categories,
including some unusual ones that I never knew existed
!
1. Platform Structure & Workflow
Browse Gigs on Fiverr or Request Quotes on Guru
As a buyer on Fiverr, you'll
search through "gigs"
, or service packages that promise a specific deliverable. You might find gigs for writing a 1,000-word article, composing an advertising jingle, or designing cover art for your latest podcast…or about a million other things. (This is only a slight exaggeration.)
This set-up helps you find a freelancer who specializes in exactly what you need.
You won't have to ask a bunch of graphic designers if they have experience creating the style of logo you want, because you can seek out someone offering that exact style. If you can't find what you're looking for, you can post a request for your specific needs and let sellers provide a quote, or you can reach out to a seller you like and ask if they're open to a custom order. (Most sellers are.)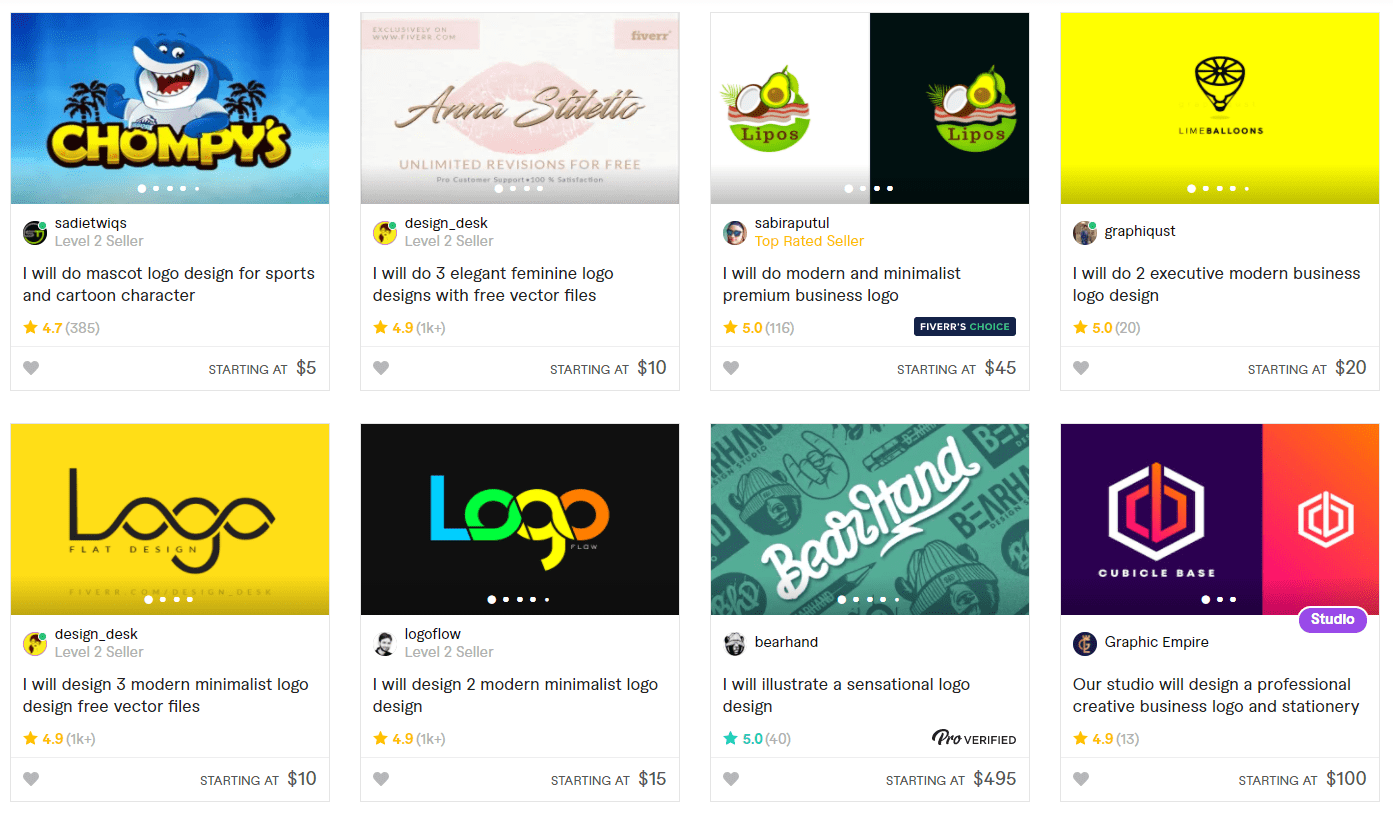 Guru is the opposite: instead of browsing through dozens of freelancers,
you'll post a job and let the freelancers come to you by bidding on your project
. They'll submit quotes, and you'll review them to find the best match – we tried out the system in
our Guru review
. You do also have the option to browse freelancer profiles and invite them to provide a quote for consideration, but the profiles are hard to browse. You can't filter profiles by specific services or rates that fall within your budget, but you can filter them to find a freelancer who has made more than $50K from a single employer if for some reason that's useful to you. (It was absolutely not useful to me.) On the other hand,
browsing Fiverr is a dream
. Not only is it a more appealing layout – a Pinterest feed comes to mind – but the search filters let you really narrow down your choices.
With Fiverr, you can filter by location, language, and other expected criteria, but also by budget, delivery time, and specific project elements, like design style or file type.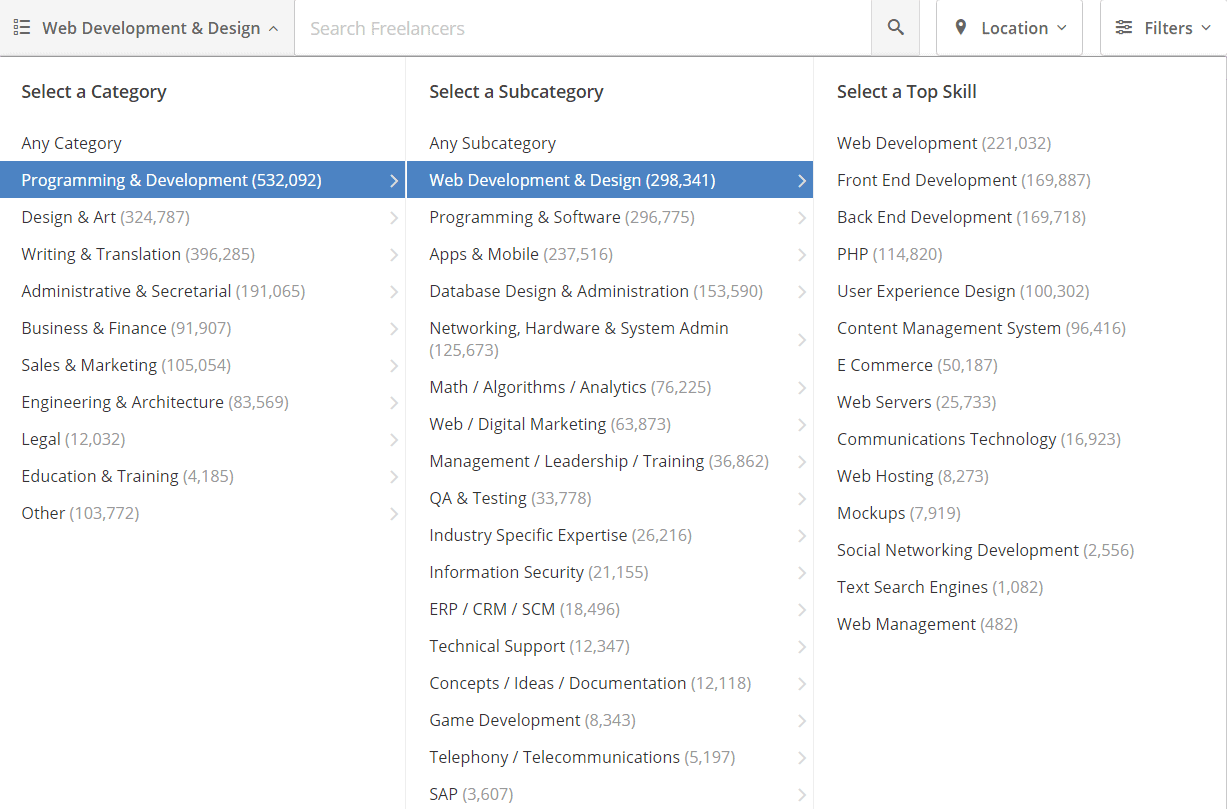 With both platforms, you can contact sellers directly and
most communication takes place within direct messages on the website
 – no trying to remember whether you used your work or personal email to first talk to your freelancer.
Guru also has a Job Q&A feature where freelancers can ask public questions about your job posting, helping them gather more information to customize a quote for you. Both Fiverr and Guru have a dedicated workspace where you can track and manage your orders.
This is where you can ask for updates, put funds in escrow, and approve milestones or entire projects to release funds.
On Guru, the order tracking area is known as a WorkRoom, and it lets you add multiple freelancers for one project when you have more complex needs. Guru's WorkRooms are also where you and the freelancer will set up a work agreement that defines the scope of work, payment terms, and any tools or processes to be used.
Fiverr doesn't have a detailed agreement process, because sellers define these terms in their gig listings ahead of time.
 Why spend time crafting this whole agreement when the seller can have that all worked out for you already? You can put that spare time to good use repainting your bedroom or feeding that sourdough starter you've been neglecting. Despite some similarities in workflow, I much prefer Fiverr to Guru. I like being able to search by project, rather than assessing quotes then taking a chance on whether the freelancer can deliver.
Fiverr helps you find what you need more quickly
, and because sellers define their prices and turnaround times up front, you won't have to spend as much time negotiating and finalizing terms.
2. Freelancer Verification Standards
Both Platforms Verify Identity, While Only Fiverr Verifies Skills
Whenever I try out a new freelancer site, I'm amazed at the different ways the platforms attempt to verify that their sellers are real people who have the skills they claim. It seems like there should be a common, simple method for verification, but each platform has a slightly different way of vetting freelancers, and some of them just aren't that useful. Both Fiverr and Guru have a required identity verification process, which helps protect you from spam by ensuring everyone on the platform is who they say they are. That's the end of Guru's standardized processes – from here, you'll have to manually vet freelancers based on the strength of their profile, transaction stats, and previous employer feedback. Fiverr also relies on these criteria, but it has a few standards in place that make it so much easier to determine which freelancer is the best fit for you. First,
there's the Fiverr Pro verification, where professional freelancers can submit information about their work history and skills
 to earn the Pro designation on their profile.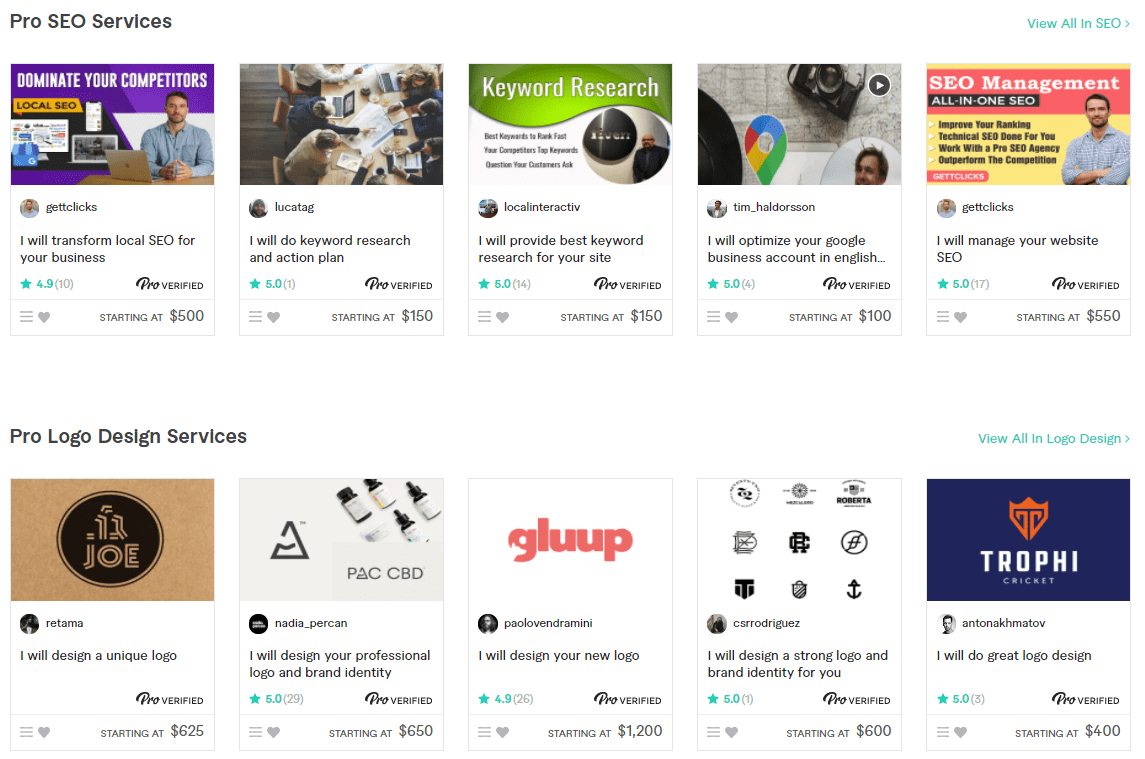 A Pro-verified freelancer has had their professional background and work samples personally vetted by a member of the Fiverr team
. It's almost like a job application, complete with a video entry serving like an interview. Only 1% of Pro applicants earn the actual designation, though, so while a Pro-verified seller will be one of the best freelancers you can hire, you'll notice there aren't a ton available. This is where Fiverr's rating levels come in. Levels are awarded automatically when a seller has met certain thresholds for being active on the platform and completing orders with a high rate of satisfaction, as well as a few other criteria. These levels – which are categorized as Level 1, Level 2, and Top-Rated – are assessed on a rolling basis, so
it's pretty much a guarantee that a seller can deliver what they're offering when you view their Fiverr profile
. You won't have to guess if a seller's high rating is based on work they did three days or three years ago. You can see the whole process, and exactly what a seller can deliver in
our in-depth Fiverr review
.

The Pro designation and rating level aren't mutually exclusive – a seller can apply for Pro at any time (even before they've sold a gig) and they'll still be automatically granted their level rating as they earn it. This sounds like a lot of different designations when it's all written out, but in practice, it's a smooth and intuitive experience that gives you all the insight you need.
Guru also gives you stats on a seller's activity, earnings, and rate of job satisfaction, but lacks any sort of level or rating system to help you interpret that information. The platform also equates high earnings with quality work. While there's probably a pretty strong correlation between the two,
it's also a mindset that might lead you to believe you have to pay a lot of money to get professional freelance services online – something Fiverr proves is definitely not true,
making them the clear winner. (More on that in
the pricing section
.)
3. Freelancer Profiles
Fiverr Shows You Gigs, Guru Shows You Skills
There's not a lot of variation in what freelancers need to convey to get hired, so you'll see a lot of the same things on both Fiverr and Guru profiles: statistics, ratings, services offered, and so on.
Fiverr showcases gigs where Guru showcases more general services,
which are still essentially showing you the work a freelancer can do for you. Most of what makes Fiverr easier to use than Guru is how this information is presented. First, the ratings.
Fiverr buyers rate sellers on a five-star scale for things like communication and if the service was delivered as described.
These ratings are averaged so you can see an individual buyer's rating for that seller, the seller's rating for each criterion, and the seller's overall rating.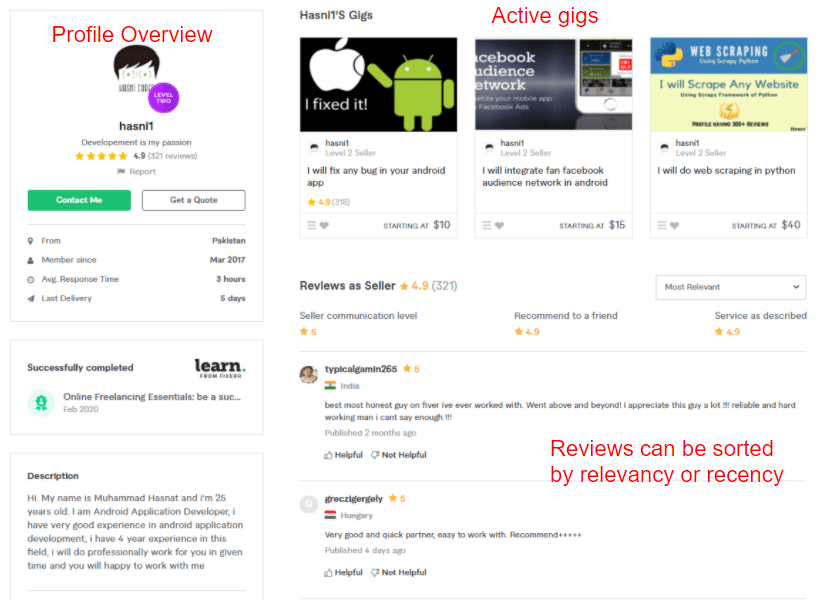 Fiverr's approach is more useful than Guru's system, in which a buyer only has to say whether they're satisfied or unsatisfied with the work. This "Feedback Score" is displayed on a freelancer's profile as a percentage, with pricier jobs given more weight. In other words, the more expensive a job is, the more a rating will impact their overall score.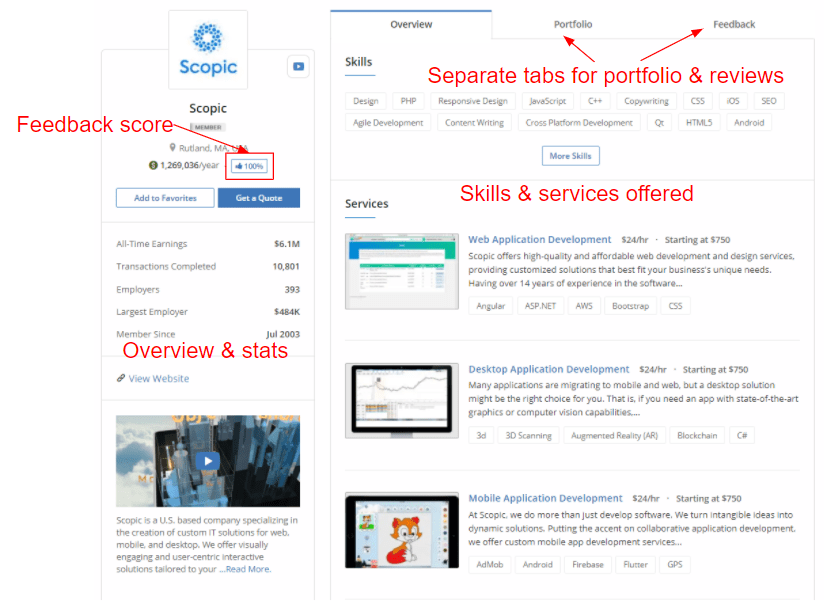 I'm not a fan of Guru's approach to ratings. First, it's not that helpful, as nearly every freelancer on Guru has a 100% rating. (I looked at a LOT of profiles to find something lower, and found a handful of 97% ratings and one lone 75%.) So
the Guru score might save you from hiring someone incompetent, but it's not going to help you decide between two seemingly equal freelancers.
I also take issue with giving more weight to more expensive projects. While I sort of see the reasoning behind it, I don't like the implication that a higher price point means the work is more important or better quality. The qualitative reviews on Guru have a similar "meh" feeling to them. For some reason,
 Guru employers tend to write vague, unhelpful reviews like, "This was great work."
 Those kinds of reviews can certainly be found on Fiverr, but thanks to the questions about how a seller did on a range of criteria, most reviews get a little more detailed. It also helps that Fiverr defaults to showing you the most relevant reviews, rather than the most recent, making it the winner of this category. (You can also sort by most recent and filter to only positive or only negative reviews, all options that cannot be found on Guru).
4. Pricing
Both Offer Expert Services, But Only Guru Charges Expert Prices
By now you might think Fiverr sounds like a pretty sweet option, but you're still raising your eyebrows when it comes to prices. Can you really get professional freelance services for just $5? Good news: You really can!
There are plenty of Fiverr gigs that cost just $5
, and the reviews show these sellers deliver what they promise.
 Not every gig on Fiverr is $5, but the vast majority will cost you $50 or less. (A big exception is Fiverr Pro – with these freelancers, you'll get into spending hundreds of dollars pretty quickly.) Fiverr gigs often list a basic, standard, and premium package, with premium packages typically including extras like more revisions or additional file types. What I like about this setup is that it avoids hidden fees or sticky situations like paying a freelancer by the hour, and then them taking twice as long as you were expecting.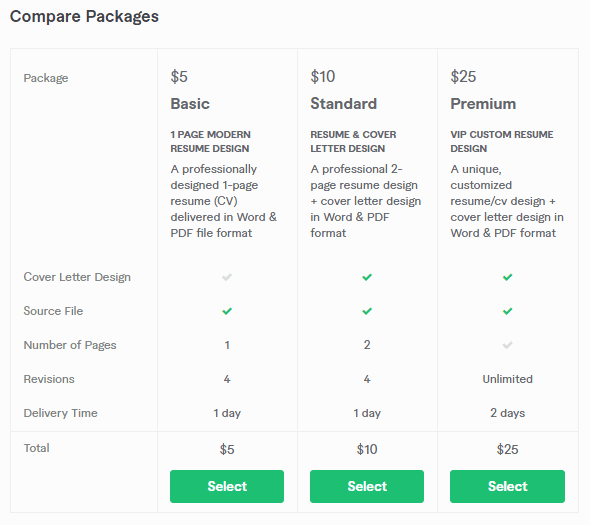 Guru is a completely different story. You'll be able to create a custom agreement between you and your freelancer, and there are multiple ways to set up payment terms, so there's a lot of flexibility. But that flexibility is going to cost you:
there's literally no way to get any work done for as low as $5 on Guru.
Freelancers on Guru list their prices as a per-hour rate and a minimum job cost, so while there is the rare seller whose hourly rate is $5, their minimum cost is usually $25 or $50. (And again, these cheaper rates are almost nonexistent.) I think the best indicator that Guru is not an affordable freelancer platform is the budget level options when you post a job: the lowest tier is for jobs under $250, and they quickly climb into the thousands. So, it's no surprise that the pricing let Guru down in
our in-depth review
.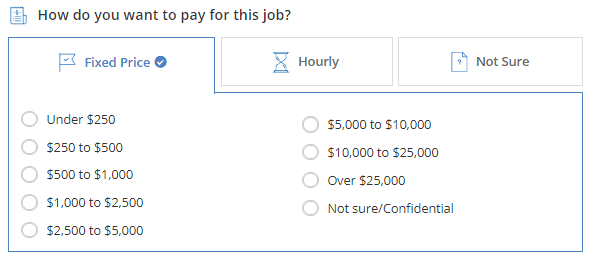 Another thing you need to keep in mind on Guru is the transaction fee. You'll pay 2.9% of every invoice as a handling fee. Guru claims this is the lowest transaction fee in the industry, but Fiverr charges the listed price and that's it, there's no service fee! Guru also offers cashback for the transaction fee if you pay by eCheck or wire transfer. A few other details on payments:
both Fiverr and Guru have options to hold funds in escrow as the freelancer works on your order
 and it's strongly encouraged that you do so. It's also recommended that you conduct all communication within the platform as a measure of security.
Both platforms accept credit and debit cards and PayPal.
 If you're using the Fiverr app, you can pay with ApplePay or Google Pay, and Guru also offers eCheck (U.S. only) and wire transfer payment options.
5. Dispute Resolution
Both Platforms Empower You to Prevent & Resolve Issues Early
No matter if you're a buyer or a seller, no one wants to end up in an awkward dispute about payment or work quality on a freelance platform. Both Fiverr and Guru recognize this and set up their workflows to minimize the chance of that happening. Guru takes a more proactive approach. Upon hiring a freelancer, you're required to set up a work agreement outlining the payment terms, scope of work, and any other necessary details. It's also where you'll access SafePay, Guru's version of placing funds in escrow.
Work agreements on Guru are binding, so if a dispute arises, the arbitrator will use the agreement as the baseline for a ruling.
Either party can request arbitration on Guru, but only if you're using SafePay. This is partially because you'll be charged $25 or 5% of the SafePay balance, whichever is higher, as an arbitration fee. After you request arbitration, you can submit additional evidence to be considered alongside the work agreement. The arbitration team's ruling is final with no appeals.
Fiverr gig packages
 essentially function like Guru's work agreements, with clearly defined work criteria and payment terms.
Should a dispute arise, Fiverr's dispute resolution center gives you several options to help solve the issue on your own.
 You can request updates on your order status, ask to extend the delivery time frame, or recommend canceling the order altogether. As a buyer, you have a slight advantage in using one of these options. You get a longer window to respond to any disputes opened by the seller, and if the seller doesn't respond to one of your requests, the order will be canceled automatically after a waiting period, ensuring you don't pay for work you don't receive or aren't happy with. So, it's a tie in this case!
Find Quality, Affordable Freelancers on Fiverr
Almost any way you look at it,
Fiverr is the way to go for quality freelance work that doesn't blow your budget.
 It's easy to find a gig offering exactly what you need, without having to negotiate prices or create a custom agreement. You can
get quality work for as little as $5
, and if you have a bigger budget or more complex needs, the Pro services can take you to the next level. Although Guru offers a pool of expert freelancers, discovering the optimal choice for your requirements becomes more challenging. You will invest additional time in organizing quotes and incurring significantly elevated rates. The sole justification for utilizing Guru would be in cases where you possess an exceedingly extensive and intricate project necessitating the involvement of multiple freelancers. Alternatively, it could be suitable if you are seeking to engage a company for prolonged engagements instead of an individual. At the end of the day, Fiverr is the all-around better option. You can find excellent freelancers for the best rates you'll find anywhere, for almost any kind of work you can imagine.
Gigs/Pre-defined scopes of work
Easy to browse freelancer profiles
Freelancer verification processes
Buyer securities like escrow
Built-in dispute resolution
FAQ
Is Fiverr any good?
Fiverr is an excellent choice if you need to find affordable and high-quality freelancers. There are dozens of categories and subcategories, and most gigs will cost you $50 or less in total. It's easy to browse, easy to contact sellers, and overall the best choice for finding freelancers. We covered all these features and more in our in-depth Fiverr review.
Is Fiverr good for beginners?
Fiverr is a great place to start if you've never hired a freelancer before. You can sort and filter gigs by many different criteria and the interface is visual and easy to understand. The process of ordering a gig and working with a freelancer is straightforward, so you don't have to worry about complicated agreements or high commission fees. Just find a freelancer, place your order, and get quality work done quickly.
Which platform is easier to use?
Overall, Fiverr is much easier to use than Guru. It gives you lots of information on potential freelancers but, unlike Guru, it helps you understand that information and makes it useful to you. If you're looking for the easiest freelance website to use, check out our list of the best freelance websites in 2020 to find the one that will work best for your needs.
Fiverr vs Guru – which is better for freelancers?
Fiverr is generally the better option for most freelance sellers. It has a simpler setup that allows you to take on unlimited orders, and there aren't any membership fees or complicated processes. Guru only allows you to bid on 10 jobs a month on the free plan, so getting sufficient work might cost you. One pro of Guru is that they only charge a 9% service fee for each invoice, while Fiverr's cut is 20%. Check our guide on Fiverr success for freelancers to see if it's the right fit for you.