When I set out to research PeoplePerHour for this comparison, I was prepared for another lackluster platform that didn't have much to recommend itself. Instead, I found a strong contender that gives Fiverr a run for its money. PeoplePerHour is a solid platform with some unique and useful features, particularly if you're looking for local freelancers or have a hard time figuring out fair freelancer rates. As you'll see, I have a lot of good to say about it. But while PeoplePerHour surprised me, it wasn't quite impressive enough:
Fiverr is still my top choice for hiring freelancers.
 It just can't be beaten for the simplicity of the workflow, the variety of freelance services, and the low cost for high-quality work.
To make sure it's a fair comparison, I'll only look at the categories of freelancer services that Fiverr and PeoplePerHour share. Fiverr has some wacky categories (
including some I'd never even heard of
) so I'm sticking to the more common ones.
1. Ease of Use & Workflow
Workflows Are Similar, But Fiverr Is More Streamlined
So you're ready to hire a freelancer for a specific project. Let's say you need someone to redesign the homepage for your coffee shop website.
On Fiverr, the process could not be simpler.
You'll navigate to the web design category (or use the site's search bar) and you'll
find hundreds of "gigs"
 offering specific web design packages.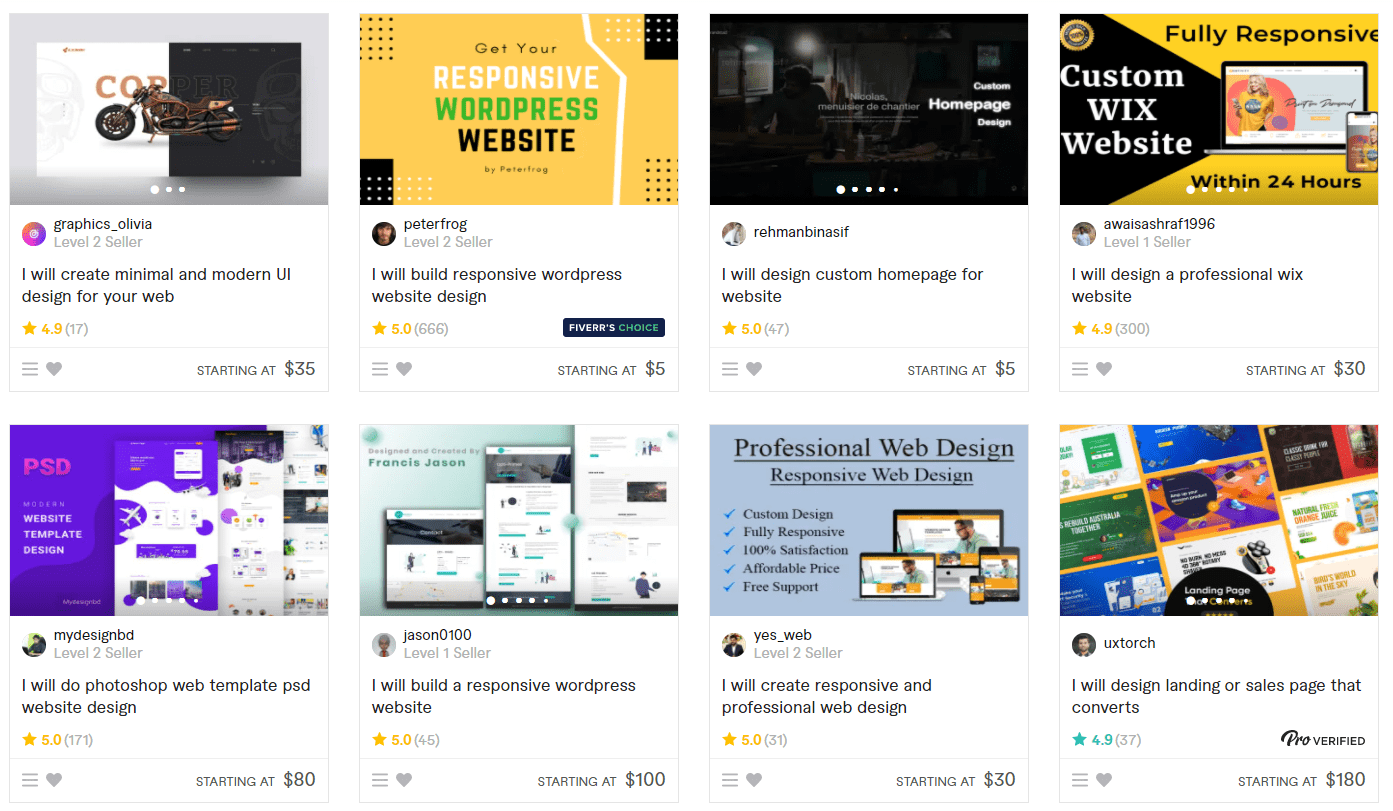 You can narrow down your options with filters for the type of design, budget, location, and a few other things. Some filters change depending on the category you're searching in – for instance, in design categories you'll typically see options for types of source file, while marketing categories let you filter by industry expertise and specific marketing strategies. This is incredibly useful in finding exactly what you need quickly.
 Fiverr doesn't make you mess around asking for quotes or interviewing freelancers
(something I personally shudder at the thought of) to find if they have the exact skills you need. Instead, sellers tell you upfront what they can offer – you just have to pick the right one. You'll be able to search the same way on PeoplePerHour, although with fewer categories and filter options. One filter PeoplePerHour has that Fiverr lacks is the option to look for freelancers who can work with you on-site instead of remotely. Simply enter your country in the Location filter, then check "On-site".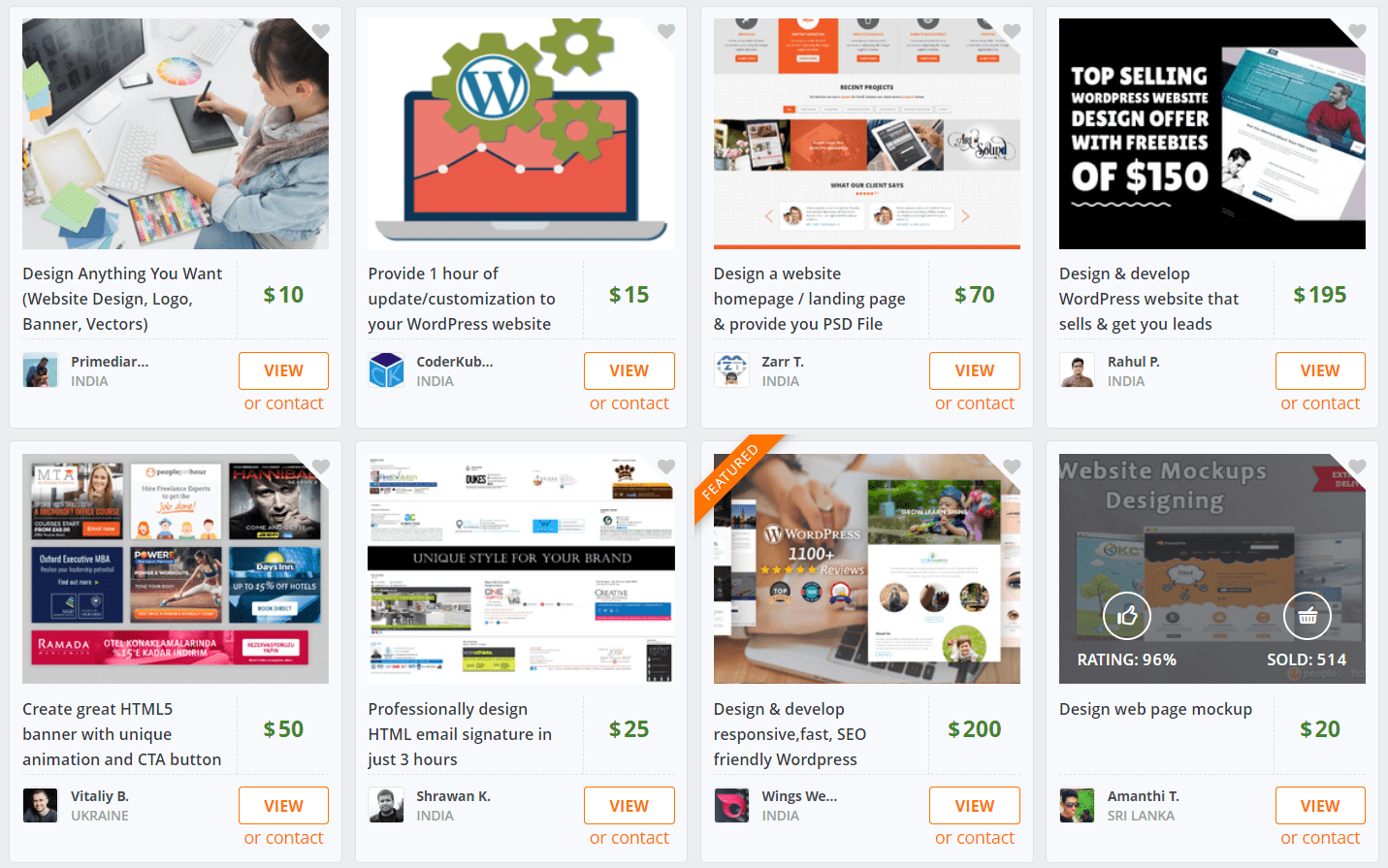 In what I assume is an attempt to give you as many options as possible,
 PeoplePerHour makes you choose whether you want to browse offers
 (the equivalent to Fiverr's gigs), post a project to get quotes, or just look for a good freelancer and chat with them about the best option. I get the thinking behind this: more options often means more happy customers. But when I ran into the screen below after signing up, I felt overwhelmed by the choice. How likely am I to find an offer that's exactly what I need? It's probably safer to post a project so the offers are customized. But what if the best freelancer for the job doesn't see my posting? (This now concludes my internal monologue.) As you can tell, and as our
PeoplePerHour review
can confirm, it's not the most up-to-date and easy-to-use system out there.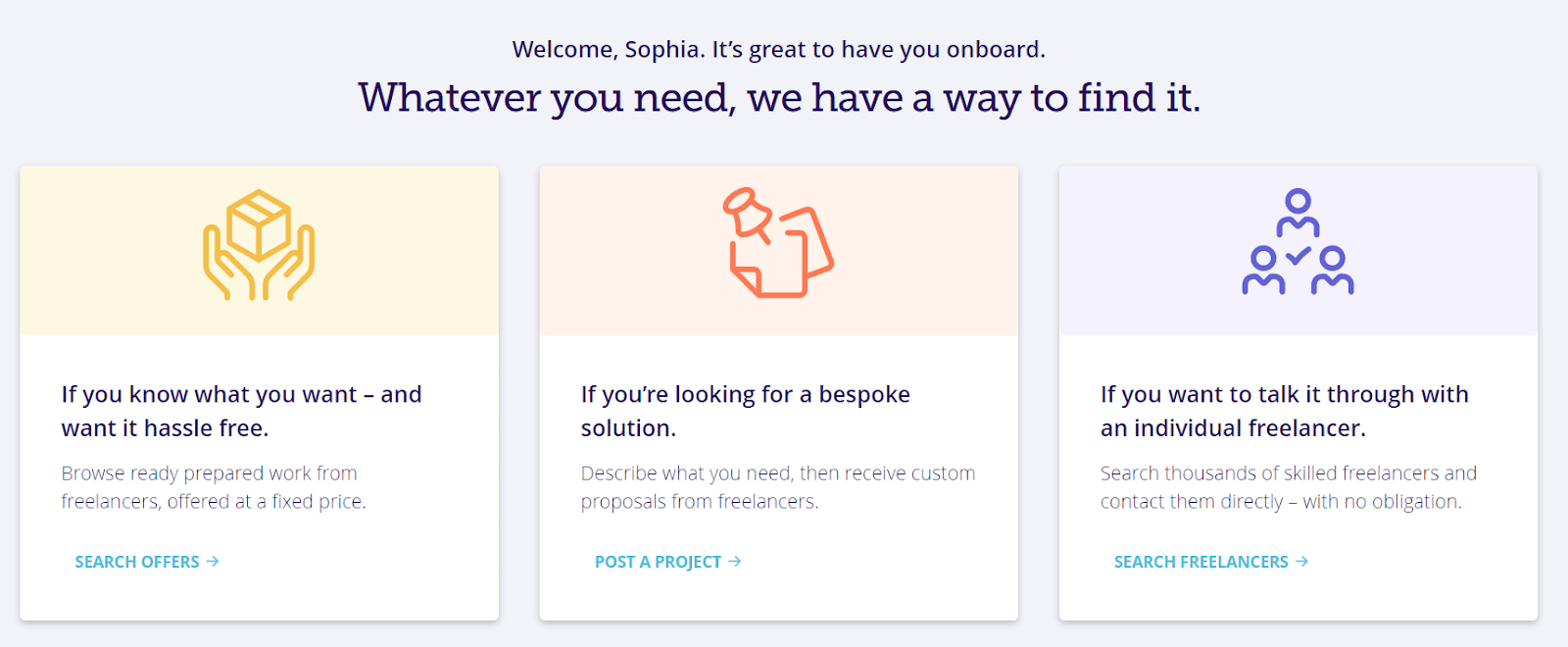 For what it's worth,
PeoplePerHour does guide you toward searching offers over the other options.
 The homepage search bar will take you to browsing offers, and it's listed first anywhere there's a choice to make. But you already have plenty of choices to make in hiring a freelancer, and
how
 to search for the best one feels annoying and unnecessary. The other thing that's important to note here is that
 you can also talk directly to freelancers or post a custom job on Fiverr
– which we tested out in our
expert Fiverr review
. You
can
do those things before browsing gigs, but Fiverr is set up for you to browse gigs first, and fall back on the other options later if you can't find exactly what you need. It's one of those subtle differences that makes a huge impact on user experience. While we're on the subject of posting custom project requests, I need to give PeoplePerHour a shout-out for a feature I really like: a recommended budget tool. After choosing your project category, budget type, and currency,
PeoplePerHour shows you a handy little graphic of what your budget should be to attract a top-level freelancer.

Deciding on an appropriate budget has always been one of the most frustrating parts of hiring freelancers for me, so this tool truly saves a lot of time and headaches. It also gives you a clear picture of the quality of freelancer you'll get for your given budget. Fiverr doesn't have an equivalent to this tool, but it doesn't need one: since you can filter the available gigs specifically to what you need, you'll be able to see top-rated freelancers within your budget with just a couple of clicks, instead of having to jump through all the hoops of posting a project. Once you've found your freelance web designer (or writer, or marketer, or whatever),
the workflows on Fiverr and PeoplePerHour are pretty similar.
 You'll contact freelancers directly through the platform, and receive the final product there as well. Three cheers for fewer email threads cluttering up your inbox!
PeoplePerHour's work management interface is called WorkStream, and it enables you to manage teams of freelancers for a single project.
 Say you needed more than just a homepage redesign, but new homepage copy as well, you could hire and manage two freelancers in the WorkStream for that project. You can manage teams on Fiverr too, but you have to be a Fiverr Business member. Fiverr doesn't have a fancy name for where you manage your orders, but you get a dedicated workspace for each order you place. That's where you'll get updates from your freelancer, receive the final product, and release payment when you're satisfied. If you want to hire and manage your freelancers while commuting or waiting for your takeout order at the local Thai restaurant, you're in luck:
Fiverr and PeoplePerHour both have good mobile apps for managing work.
Fiverr's app is essentially the desktop site turned app – you can do all the same things on any device, with similar ease. PeoplePerHour's app has all the major functions, but it's still being updated regularly to give you a better experience, so it's not quite a finished product yet.
2. Freelancer Verification Standards
Fiverr Is Open to All, But PeoplePerHour Sellers Must Apply
Unlike most major players in the freelance platform game,
PeoplePerHour requires every freelancer to apply and be approved before they can sell their services.
 Freelancers have to provide information on their identity, background, skills, and even provide references to get listed on the platform. This all sounds great – someone else is essentially doing half the hiring for you – but there's no indication, even from the freelancer side, of what would cause an application to be rejected. This makes me skeptical the verification process does anything other than confirm identity, and
the process could deter some good freelancers from joining PeoplePerHour.
Fiverr requires identity verification, but that's it. Anyone can create a gig and start selling right away.
There's a detailed application process for Fiverr sellers to get a Pro verification
, which is useful for buyers if you really need to guarantee professional experience for a critical project. Only 1% of Pro applicants get verified, so it's a much better metric for confirming experience than PeoplePerHour's standard process. Of course, you still need some way of knowing which freelancer is better than another. Separately from the Pro verification,
Fiverr relies on automatically calculated levels determined by a few factors,
such as gigs completed, money earned, and ratings achieved
over a rolling period (sellers must meet the criteria over a longer time to reach a higher level).

The three levels are simply noted as Level One, Level Two, and Top Rated. There's also a "Fiverr's Choice" sticker that can be awarded to any account that's doing well, regardless of level. PeoplePerHour's rating system feels like they took Fiverr's idea and made it more complicated. It's called CERT and consists of five levels based on an underexplained algorithm. They don't tell you exactly how this is calculated, just that it's based on a bunch of factors like skillset, jobs completed, reliability, and more.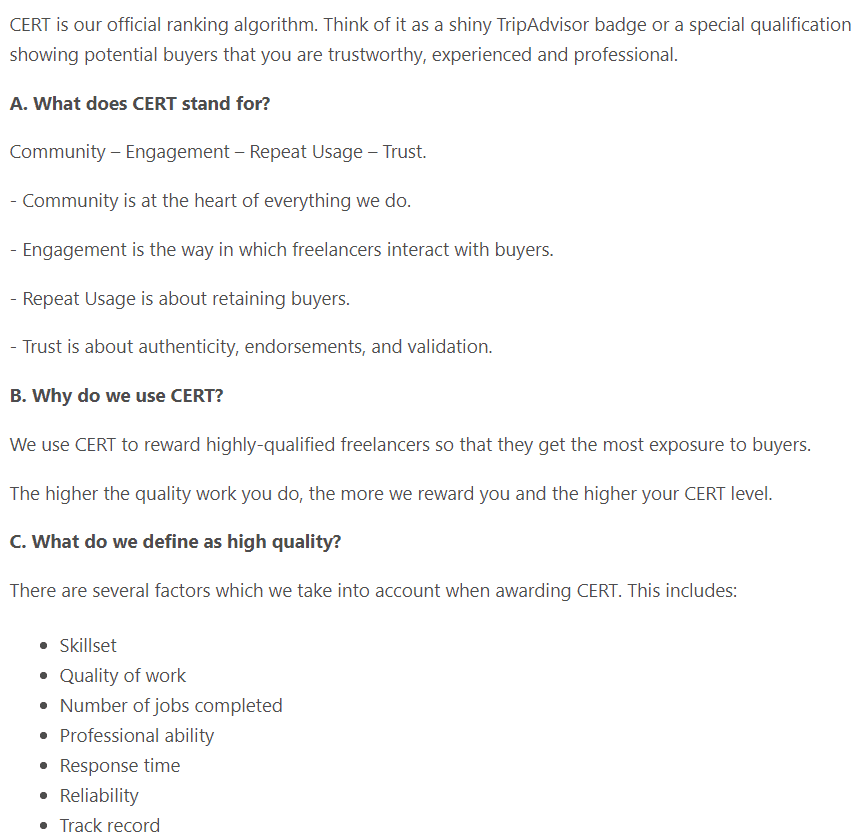 I want to like this setup more than I do. I like a lot of levels and factors going into the calculation, but I don't like that
PeoplePerHour doesn't offer a clear explanation of what a freelancer has accomplished to achieve their CERT level.
 If I wanted to ponder mysterious algorithms, I'd go back to working at an SEO agency and spend my days deciphering Google's rankings. This is especially true for the "Top CERT" badge, which is given to the top 0.5% of freelancers over the past 30 days. Sounds great, but if all of the freelancers are bad to mediocre, the Top CERT isn't really telling you that a freelancer is good, just that they're not as bad as everyone else. Personally, I prefer more concrete data for things like this – data like Fiverr offers.
3. Freelancer Profiles
Both Platforms Show You the Information You Really Need
Hello, and welcome to another section where I tell you how Fiverr and PeoplePerHour are a lot alike, but Fiverr is still a better experience for you. For real though, the freelancer profiles you'll see as you browse are really similar – more similar on these two platforms than any other comparison I've done so far. You'll see a little introduction, the seller's gigs (or offers, if you're on PeoplePerHour), and reviews from past buyers. They're even laid out pretty much identically, as you'll see in the screenshots below.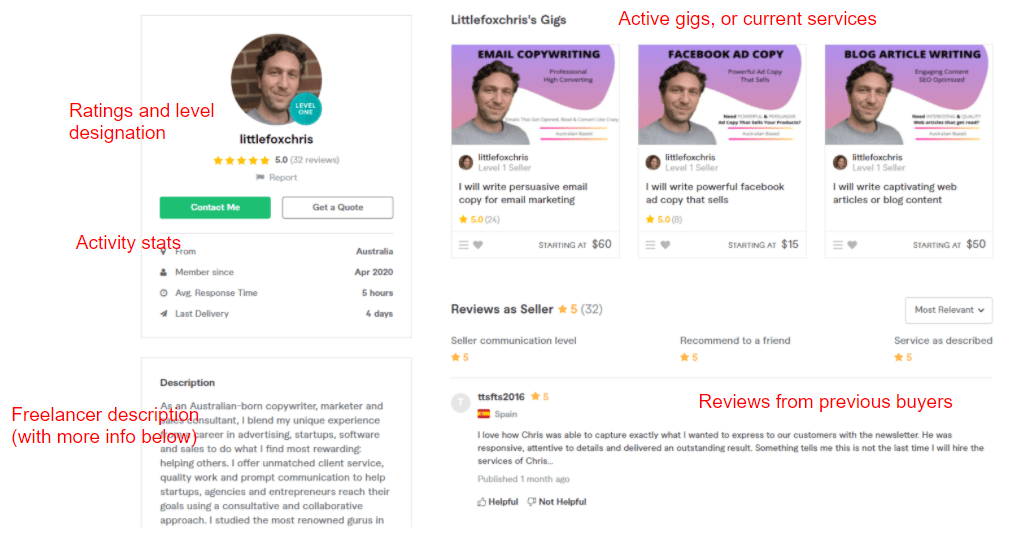 Now for the differences:
PeoplePerHour has some unique and interesting features on their profiles that are pretty useful.
 The first one is a portfolio, where freelancers can display samples of their work for buyers to look at before hiring. I'm kind of surprised Fiverr doesn't have a general portfolio feature like this, instead, you'll have to look through the images attached to each service in the Gigs section.
Fiverr also has skills tests sellers can take to prove their prowess
 in different languages and about 15 specific skills, covering things like Photoshop, social media management, and HTML. Taking a skills test isn't the same as seeing an in-depth portfolio of someone's work, but it does provide a standard from which all freelancers can be measured. The Fiverr skills tests leave no room for wondering if the freelancer actually completed the work they claim to or when that work was done. It's just hard data, vetted and backed by Fiverr, which you may have noticed is one of my favorite things.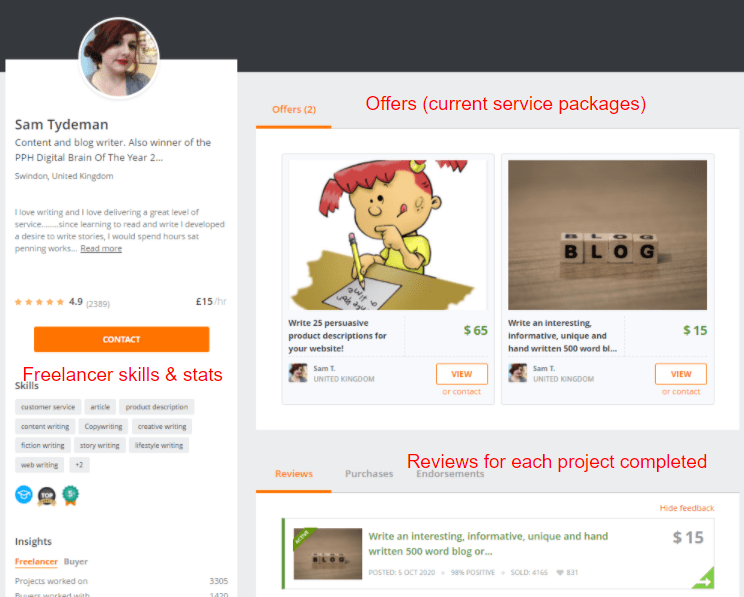 The other major difference is how reviews are organized. PeoplePerHour ties reviews to specific gigs or projects freelancers worked on, which gives you great insight into whether they're good at all kinds of writing (or coding, or web design) or if they shine in a particular area. It allows for a bit more nuance to the reviews you read. Fiverr essentially does this too, because reviews are left for each gig, rather than the seller overall.
 Ratings for each gig are aggregated into a seller's overall rating, so you get multiple views of how good the seller is at their listed skills.
 But when you're looking at a seller profile, the reviews aren't labeled by gig, so you have to work a little harder to get that same nuance. That's a minor inconvenience I will easily forgive thanks to Fiverr's way of organizing reviews.
Fiverr lets you sort reviews by most relevant, most recent, and even positive and negative sentiments.
 I love this feature – it's so simple and helpful. There's one last thing to mention about how PeoplePerHour uses freelancer profiles. It claims to use an artificial intelligence (AI) system to get your custom project proposal in front of the freelancers who are the best match, based on their profile information. I bring this up because it sounds like a fancy, unique service, and I don't want you to get lured in by something that just isn't that impressive. I'm sure there's AI involved somewhere, but since there's zero explanation of how their matching system works, I wouldn't bet on it to find freelancers for you. You'll have to do the legwork yourself, too.
4. Pricing
The Price Ranges Are Similar, But Fiverr Is Still the Cheaper Option
It really is true that
you can get freelance work done for just $5 on Fiverr
, and that work will be of good quality.
The lowest price you can pay on PeoplePerHour is $10
, so in a simple comparison, Fiverr is certainly cheaper. But, like love and taxes, it's more complicated than that. Depending on which service you're after, you might not find there are many $5 gigs or $10 offers regardless of platform – you're more likely to find options in the $20 – $50 range. This is still very affordable! Of course, more complex projects or higher-rated freelancers will cost more, and you'll see prices stretching into the hundreds of dollars at times. From a pure price standpoint, Fiverr and PeoplePerHour are on pretty equal footing. But Fiverr's pricing structure ends there: you pay the listed price, and that's it. 
On PeoplePerHour, you're going to pay a 10% service fee on every transaction
, and you can pay even more for extras like signing NDAs, featuring your job proposal, or using a talent scout to find the best freelancer.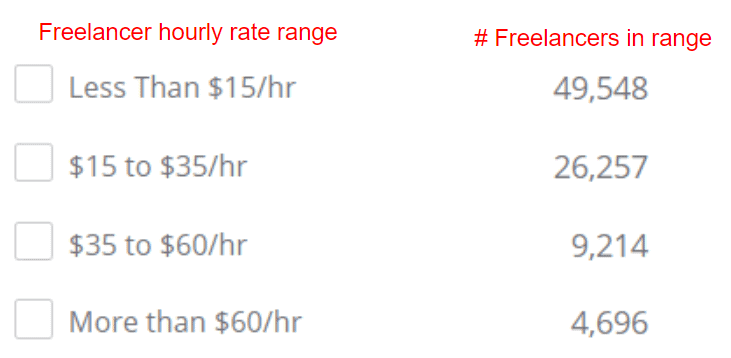 I totally understand the business model behind PeoplePerHour (and other platforms like Freelancer.com and Guru).
But as a buyer, it just doesn't get simpler than Fiverr.
 You don't pay a service fee, and there aren't any add-ons. If you need it, there's the Fiverr Business program, where you can get personalized assistance in finding freelancers and share access to freelancer projects with your colleagues for an (affordable) annual fee – and even there, you can get the first year for free. PeoplePerHour does offer reduced service fees if you're a loyal customer (and you join its Premium Programme)…but you have to spend $20K through the platform before you see a lower service fee, and even then you'll only get the lower rate when you pay by bank transfer. It's possible to pay a 0% service, but only after you've already spent $100K. By contrast, you'll pay a 0% service fee spending just $5 on Fiverr.
Both Fiverr and PeoplePerHour have escrow systems for funding your project and releasing payments to the freelancer
 once you're satisfied with your work, so you have some security around your money. There are also safeguards for a lack of response from your freelancer and other disputes – more on those in the next section.
5. Dispute Resolution
Fiverr Empowers You to Solve Disputes, PeoplePerHour Decides for You
Both Fiverr and PeoplePerHour have (thankfully) straightforward dispute resolution processes, although the processes themselves are very different. Fiverr is more like a DIY approach but in an empowering way, not an intimidating one.
 If you have a dispute on Fiverr, you can request an update, extend the delivery window, or move to cancel the request, all from your orders page
. There are then defined time-frames in which the seller must respond before your request takes effect or the order is canceled. I like Fiverr's resolution center, although that might just be because I'm conflict-avoidant and/or like solving problems on my own. But seriously, I think
Fiverr is great at giving you multiple options to resolve issues without going through a whole arbitration process
 that takes a lot of time and energy.

PeoplePerHour is the complete opposite: you go directly to an arbitration process of sorts, and the ruling is final.
 Unlike some other freelance platforms, there aren't any steps before this, and you won't have the chance to provide any additional evidence or justification. The arbitration team simply looks at everything in your WorkStream for that project and makes a decision. While PeoplePerHour's approach is simple, it has its drawbacks – namely that, as a buyer, you can't bring in the dispute team. Disputes are raised by freelancers when they feel their invoice should be approved, but you feel the work isn't up to your standards. So theoretically, you explain the work issues to your freelancer and give them a chance to resolve it, they fix the deliverable, and the problem is solved. I'm skeptical it plays out this smoothly in practice, but there is some peace of mind: you can get a refund if the seller is unresponsive or doesn't complete the work, without having to go through an arbitration process.
Despite Similarities, Fiverr Is the Clear Winner
I find it rather astonishing that despite the numerous similarities, Fiverr remains a superior choice to PeoplePerHour for top-notch freelancers seeking cost-effective solutions. While these platforms seemingly provide identical offerings and share similar layouts, a closer examination reveals that Fiverr offers a more seamless and budget-friendly experience.
Every Fiverr process, from browsing gigs to paying freelancers to settling disputes, is simpler than PeoplePerHour.
There aren't confusing extras or hidden costs to deal with later. And Fiverr gives you objective data about each seller to help you make decisions, not murky algorithms that aren't as helpful as they seem. I still like
PeoplePerHour
more than other freelance platforms I've tested, and I'd recommend it if you need a local, on-site freelancer – that's probably its one unique claim-to-fame. But for everything else,
Fiverr is the way to go
.
Criteria
Fiverr
PeoplePerHour
Gigs/Pre-defined scopes of work
Easy-to-browse freelancer profiles
Freelancer verification processes
Buyer securities like escrow
Built-in dispute resolution
FAQ
What is better, Fiverr or Upwork?
Fiverr is a simpler and more affordable platform than Upwork, with no service fees and gigs that cost as little as $5. It's straightforward to find a gig that meets your needs and place an order. Upwork is more complicated – you have to post a project, review freelancer proposals, and create and manage milestones and other pieces. Our comparison of Fiverr vs Upwork goes a bit deeper into why Fiverr is the better choice.
What is better than Fiverr?
Fiverr is the best option for getting affordable and high-quality freelance work. In our opinion, there really isn't anything better! But don't take our word for it – check out our list of the top freelance websites for 2023 to see exactly why we think Fiverr is #1.
Is PeoplePerHour worth using?
PeoplePerHour is a solid freelancer platform with affordable prices and lots of options, but it's not the best freelancing platform out there. It has some unique features, but Fiverr has simpler processes and is ultimately a better option. There are a few reasons PeoplePerHour might be the best choice for you though, so read our in-depth PeoplePerHour review to find out why.
Why is Fiverr so cheap?
Fiverr services are sold by the project, so costs can stay low since you're paying for set work, not by the hour. The platform also has a huge base of freelancers from all over the world, including some from countries where $5 is worth a little more. Lastly, Fiverr doesn't charge a membership or service fee. You'll only pay for your services.