You don't want to invest a lot of time and money only to find yourself stuck with a long-term plan for a builder that can't meet your needs.
In this expert head-to-head, I've tested and compared Duda and WordPress.com in five key areas: Read on to find out which website builder is right for you.
Round 1: Duda vs. WordPress.com: Very Different Editors
I've got to admit, the first time I used Duda's website editor I was hooked. It combines the easy drag-and-drop style of website builders like
Wix
and
Weebly
 with a ton of more advanced tools. This might be the perfect balance between ease of use and functionality. When you click on the 'new section' button in Duda, you can choose from a large range of pre-built sections, including testimonials, FAQs, contact us, pricing plans, about us, text blocks, tabs, footers, and teams.
This makes building your pages quick and easy — while allowing you to customize the content of the section blocks
. You can also build your own sections to use on other pages.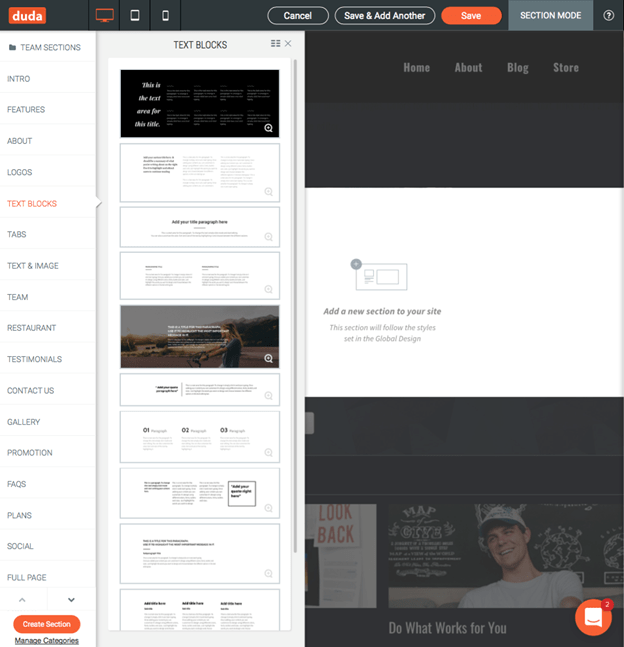 There's a large number of widgets you can add to your pages with a couple of clicks, including basic elements like text, icons, rows, titles, and buttons, as well as more advanced features like click-to-call buttons, maps, photo galleries, and more.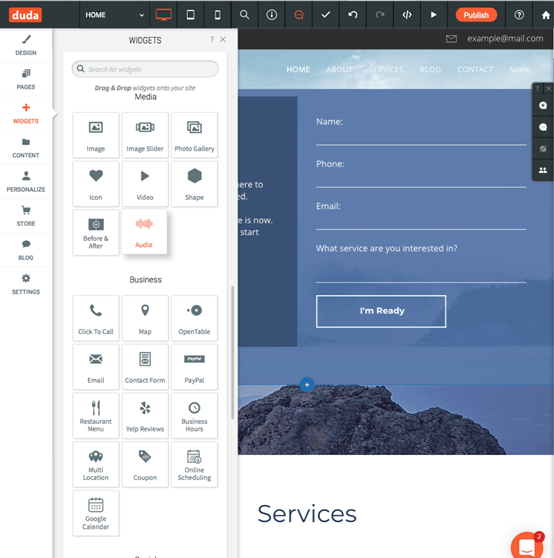 Compared to Duda, WordPress.com is a bit limited.
It doesn't have a built-in drag-and-drop editor, and you have to preview your pages in a separate tab. You can use a visual editor with WordPress.com, but you need a plugin like
Elementor
to do so (and you can only install plugins on the Business plan and above).
That being said, WordPress's editor is better than it used to be.
In 2018, the Gutenberg editor was launched, replacing the old text-based editor and adding content blocks. The content blocks are similar to what Duda calls "widgets," but more basic in nature.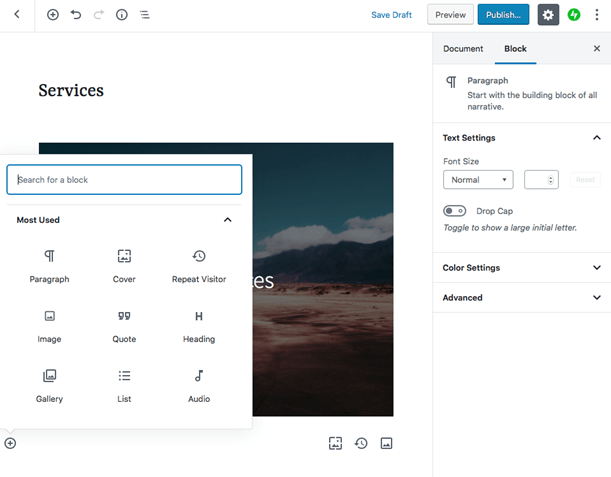 And the Winner Is…
Duda.
The drag-and-drop editor is easier to use, and you can see how your website will look on different devices, too. The range of widgets and sections available makes adding content to your website a quick and easy process, while giving you complete control over the styling of the content. With WordPress content blocks, you can create a decent-looking website, but the lack of an instant preview can be annoying. WordPress does offer some other cool features, though, so it is definitely worth considering.
Round 2: WordPress Has More Templates, but Does That Make It Better?
With Duda, you have instant access to
over 90 mobile-responsive templates,
designed to look great on any device. The templates are organized in categories according to industry.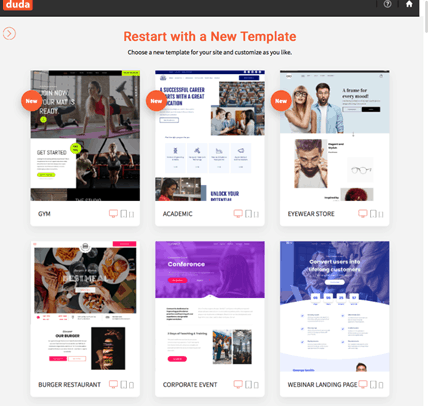 If premade templates aren't your thing,
Duda also offers blank templates
that you can design however you like.
On WordPress, templates are called themes, and there are considerably more of them available. On
WordPress.com's free plan
, you get instant access to over 130 free themes, with over 180 premium themes available to purchase. Upgrade to the Premium plan and above, and you can install premium themes for free. On the Business plan, you also have the option to install third-party themes from vendors like
ThemeForest
and
TemplateMonster
.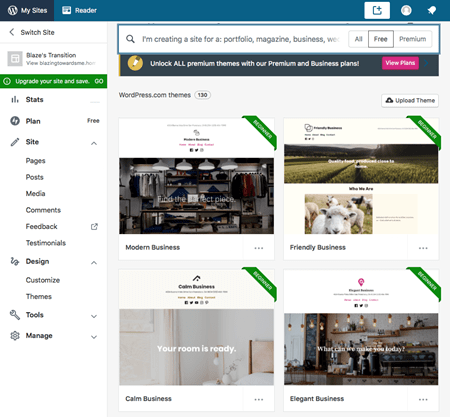 WordPress themes vary in their quality and style,
but there is a very comprehensive theme customizer that allows you to personalize your theme. On the Premium plan and above, you can also customize CSS.
And the Winner Is…
WordPress.
WordPress has a far larger amount of templates to choose from compared to Duda, and the customizer is incredibly easy to use, allowing you to make your theme match your branding in everything from colors to fonts. That being said, Duda does give you some really spectacular-looking templates and allows you design freedom with its range of blank templates, so it could still be a good choice for you.
Round 3: Which Builder Is Best for Blogging?
No matter what type of website you're running, a blog can be hugely beneficial. It's a great way to add new content to your site regularly and boost your search engine ranking. As WordPress was designed as a blogging platform, it naturally has a focus on blogging tools. It makes effective use of categories and tags, and you can easily add blog categories to your navigation menu. Also, it's easy to restore a previous version of a post if you make edits and then change your mind. You can also schedule posts for a future date, too.
Duda's blogging tools are not as extensive, but they're still impressive. Well, theoretically.
Duda separates the structure of your blog section from the post content, so you have a universal layout for all blog posts on your website. However, when I tried to add a blog post to my Duda website, I encountered a problem: I could set the post title and image, but when I wanted to write my post, I couldn't. There was no way to add text blocks, and the tooltip on the page told me to 'click anywhere to edit the post' — but when I clicked, I was just taken to the edit layout page. After several frustrating attempts, I tried to contact the support team. Unfortunately, as it was a Sunday, the chatbot said 'back tomorrow'. I gave up.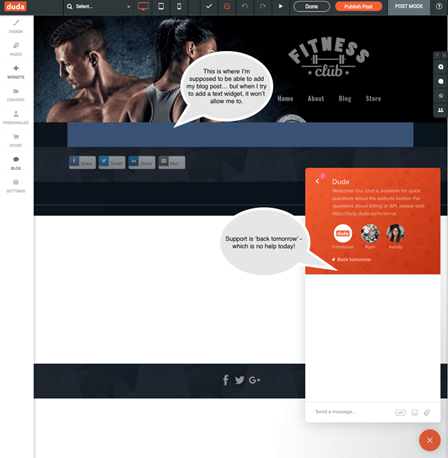 And the Winner Is…
WordPress.com
. I had high hopes for Duda, but the reality of using the blogging tools was a frustrating experience, unfortunately. By contrast, WordPress.com makes blogging an intuitive and easy process, with all the tools you need in one place, the ability to set categories, and being able to schedule posts in advance.
Round 4: Duda Gives You More Value-Added Features
Value for money is an often-overlooked factor when choosing a website builder.
Cheaper prices don't always give you the best value. 
For example, while Duda's basic plan is more expensive than WordPress.com's three lowest-tier plans, those WordPress plans are more limited in terms of features. Let's take a look at other examples of how Duda and WordPress compare on value-added-features.
| | | |
| --- | --- | --- |
| Feature | Duda | WordPress |
| 'Rules' for targeting specific customers | You can build your own or select from a range of pre-defined rules such as popups for newsletter signups, special promotions for specific customers, and content targeted at different visitor types. | The only 'rules' option in WordPress is the 'repeat visitor' block which will show a specific message to a visitor when they have returned to your website. |
| E-commerce | Selling up to 10 products is free, but if you want to sell more, you have to pay an additional fee on top of your monthly subscription. The maximum number of products is capped at 2,500 (for an additional $20 per month) You can only add product variations on the 2,500 product plan You can sell on Facebook and Instagram on the 100 product plan and above Free integration with Google Shopping Simple setup process | E-commerce features are only available on the Business plan and above — but you can install the WooCommerce plugin for free on this plan and sell unlimited products at no extra monthly cost. Adding product variants is free and unlimited If you know how to code, you can add a PayPal button to your pages on all plans You can add a PayPal button to your pages with a widget on the Premium plan and above You have access to a huge range of e-commerce (and other types of) plugins when you're on the Business plan, which means you can take advantage of marketing tools. |
| Trial period | You can sign up for a 30-day free trial without entering your credit card details and access all Duda features. | WordPress.com has a completely free plan — with no time limit — but you can't try out premium features on this plan. |
| Multilingual Websites | Support for over 55 languages | Support for over 70 languages |
| Plugins | There's no way to add extra features to Duda. | If you're on the Business plan or above, you can easily add extra features to your website by using free and premium plugins. There are over 55,000 free plugins available. |
| Customer Support | Phone/email/chat support — but only available Monday-Friday 12 am – 6pm PST | Phone/email/chat support — available 24/7 |
| Other Features | Site export Geo-targeting support for URLs Add tooltips to your images Edit your website with the Duda mobile app Import content from an existing website or Facebook page Image management tools Free image library Automatic backups Built on Amazon Web Services for rapid page loading and secure reliability | Site export Custom URL format Password protection for pages and posts Easy comment management Access free images via Pexels Automatic backups and easy restore Edit your website with the WordPress app |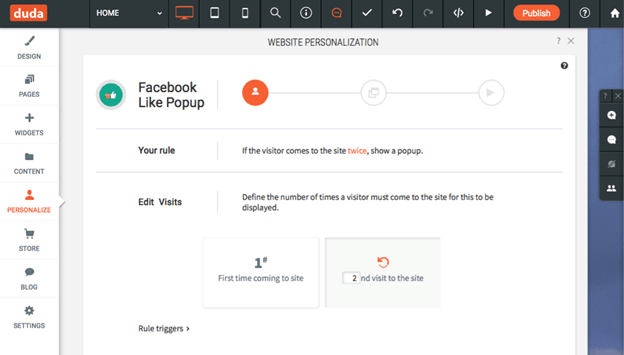 And the Winner Is…
It's a tie.
There are more value-added-features available on Duda's basic plan than there are on WordPress's cheaper plans. However, if it's e-commerce features that you're interested in, then WordPress's Business plan combined with the free
WooCommerce
plugin does offer better value than Duda's e-commerce product add-on.
Round 5: Duda and WordPress Both Give You Room to Grow
Being able to scale your website as your business grows is important.
Both Duda and WordPress make it possible for you to expand your website without limits, but there are a few points worth mentioning.
Duda gives you unlimited resources. On the Duda Basic plan, which gives you a single website, there are no limits on your storage and bandwidth. This means you won't have to upgrade to a higher priced plan just because your website is growing.
Duda's e-commerce is limited. To sell more than 10 products with Duda, you have to purchase an e-commerce product add-on. For 100 products, this is still cheaper than WordPress' Business plan, but if you want to sell more than 100 products, then the 2,500 product add-on adds a hefty monthly fee to your plan.
On WordPress.com, resources are limited. The lower-tier plans are designed for small websites, so your storage is limited. To access unlimited storage, you have to upgrade to the Business plan and above.
WordPress.com is better for e-commerce stores. Upgrade to the Business plan and you can sell unlimited products and add thousands of plugins, including marketing and sales management tools, for no additional cost.
And the Winner Is…
It's a tie.
The winner in the scalability category depends on what you are using your website for. For anything other than e-commerce, then Duda is cheaper and easier to scale. It costs more to scale your WordPress.com website, but WordPress is better if you want to sell more than 100 products.
WordPress Is Better for Blogging and E-Commerce
In this battle, it's obvious that the clear winner for you is the one that really meets your needs. 
WordPress leaves Duda trailing far behind when it comes to blogging and e-commerce features, and also gives you a larger number of templates to choose from. However,
Duda is great if you want the ease of a drag-and-drop builder combined with pre-designed sections
that enable you to build your website quickly. Duda is also better if you're wanting to use your website to target different types of visitors with different types of content — which is great for marketing purposes.
Our Recommendations
If you want to build a website for your business and your focus isn't on e-commerce or blogging, Duda gives you more advanced tools and unlimited storage space.
If you want to add e-commerce tools to your website, WordPress.com is an excellent choice.
If you want to start a blog and grow an online following, then again, WordPress.com has all the tools you need for success.
Website Editor
Easier to use, with a drag-and-drop editor and lots of pre-built elements
WordPress.com has improved its editor, but the tools are more basic
Templates
Duda has 90+ fully mobile-responsive templates
The number of WordPress themes available to you depends on the plan you're on
Blogging Tools
Create your blog posts in the same way as you build pages — but layout and content are kept separate
As a platform built for blogging, WordPress has a comprehensive set of blogging tools
Value-Added Features
Duda's set of personalization tools are an excellent way of using popups to target specific visitors
WordPress.com's value-added features really only start once you're on the Business plan, when you can add thousands of plugins to your website
Pricing & Scalability
Duda doesn't put any restrictions on storage space or bandwidth. The e-commerce tools, however, are limited and cost you more.
Although the lower-priced plans on WordPress.com limit you in terms of storage, the Business plan and above gives you unlimited space and access to unlimited e-commerce tools via plugins
FAQ
Is Duda easier to use than WordPress?
Duda has a drag-and-drop editor that lets you choose from a range of prebuilt but customizable sections, so that you can build your site quickly and easily. WordPress doesn't have a built-in drag-and-drop editor, which can be challenging, especially if you're a beginner. Luckily, you can get a visual editor by installing a plugin like Elementor
.  
Which is better for blogging, Duda or WordPress?
Duda has a solid set of blogging features, but the actual process of creating blog posts isn't streamlined and can be frustrating. On the other hand, WordPress has an extensive set of blogging tools that are super easy to use. Learn more about the platform's features in our expert WordPress review
. 
Is Duda cheaper than WordPress?
Duda's basic plan is more expensive than WordPress.com's lowest-tier plans, but it gives you more value-added features. WordPress provides you with an extensive selection of plugins, but to use them, you'll need to subscribe to the Business plan or higher. Whichever website builder you choose, be sure to use our
coupons
to cut down on the overall cost. 
Is WordPress better for online stores?
Duda lets you sell up to 10 products for free – for anything more, you have to pay an additional fee on top of your monthly subscription. With WordPress, you can install a plugin like WooCommerce for free
 (with the Business plan subscription or higher) and sell unlimited products, plus get access to better e-commerce features. 
If neither Duda nor WordPress meet your specific needs and you want to review more options, check out our list of the
best website builders for 2023
.