99designs and DesignCrowd may look essentially the same – but trust me, they're not.
You have to spend time with each one to see the true differences, and in this case, "spending time" means spending money. How else could you know which service is really better? Well, guess what? I spent the money so you don't have to.
As part of my quest to find
the best new logo for Website Planet
, I signed up for both sites and had logos made, to see where I would get the most professional results (and let me tell you, I have high standards). What's really interesting is that
one of these two sites won the race, and the logo I had made is currently being used as the official Website Planet logo.
To find out which site it was, keep on reading.
They Both Performed Well, Actually
Both 99designs and DesignCrowd allow you to run logo design contests, but
with DesignCrowd, I didn't run a full contest.
Its cheapest plans will have the DesignCrowd team hook you up with one designer, and you then work with that designer to get your logo done quickly.
I paid extra for access to one of their top designers, and I'd honestly say that was worth the extra money.
The designer we worked with was professional, easy to work with, and communicative. The whole process only took a few days, and I personally was quite satisfied with the result. After a couple of rounds of revisions, this is what I got: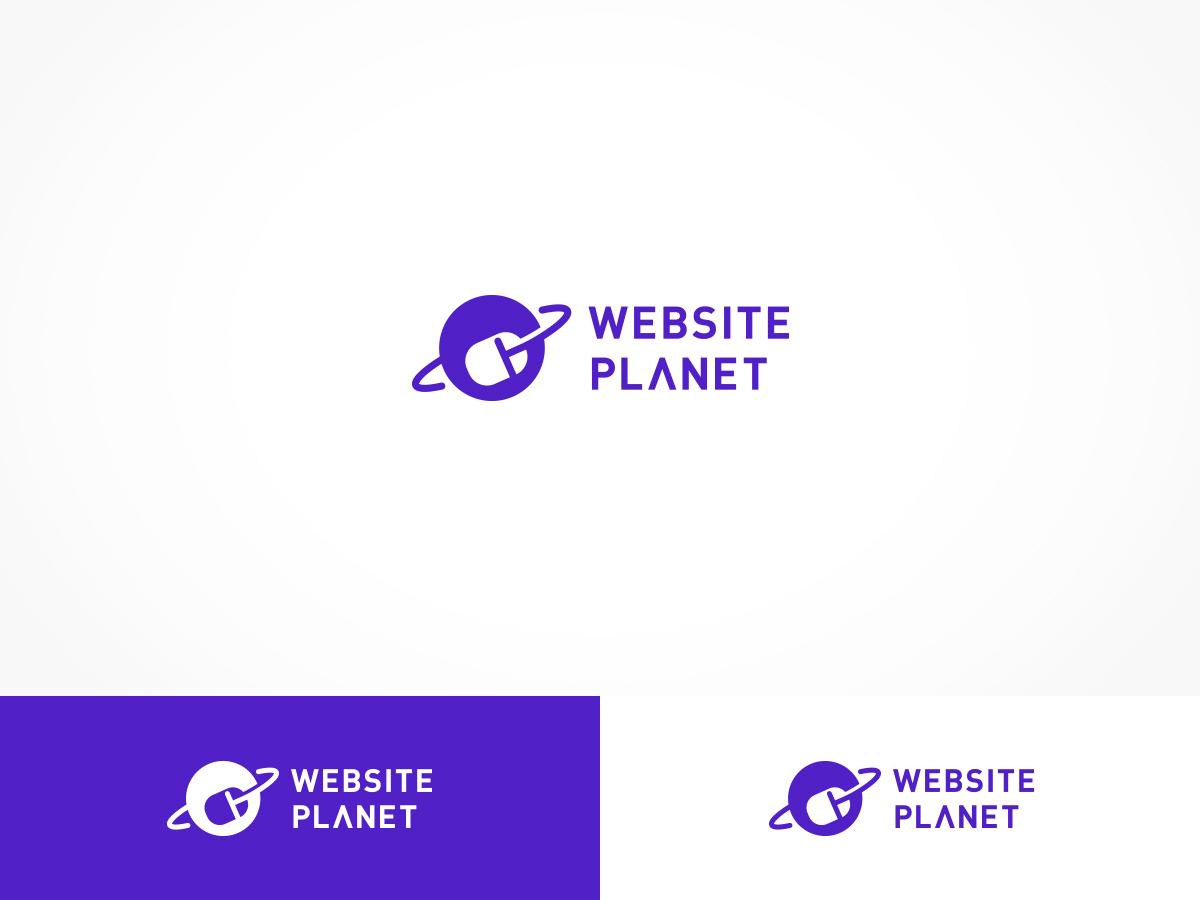 It's minimalistic, but clever. It's an old concept, given a new twist. Plus, it takes the name of our site, and gives it a bit of an old-school sci-fi vibe with the typography. The moment I saw it, I knew this was the final version.
On 99designs, I did run a full contest.
This process took a while longer, because, well… it was a contest. You have to wait for people to submit their designs. All in all, the process took about a week, and it was one of the smoothest, easiest experiences I've had in our whole logo design experiment. There will be more on that later. Now, the one downside to contests is that you have to spend some time sorting the merely mediocre (and sometimes outright bad) designs from the truly good ones. In this case, though, I did find a few good designs; I picked my favorites, sent a poll around the office to get votes on them (you can do that directly through the 99designs site), and we settled on our favorite:

Modern, classy, and colorful. This was my personal favorite out of all the logos we had made. And the winner is… DesignCrowd!
No, literally, the logo made for us on DesignCrowd became our new logo, if you'll just look at the top of this page.
99designs Is Easy to Use, DesignCrowd Is a Little Trickier
This is a strictly personal observation, but
I found 99designs to be a heck of a lot easier to use overall.
Both services have a nice, streamlined process for starting up a contest, but after that, DesignCrowd gets a bit more complicated. On some DesignCrowd pages and screens, there are just too many calls to action and too many buttons. As you can see in the screenshot, it can be hard to know where to go next: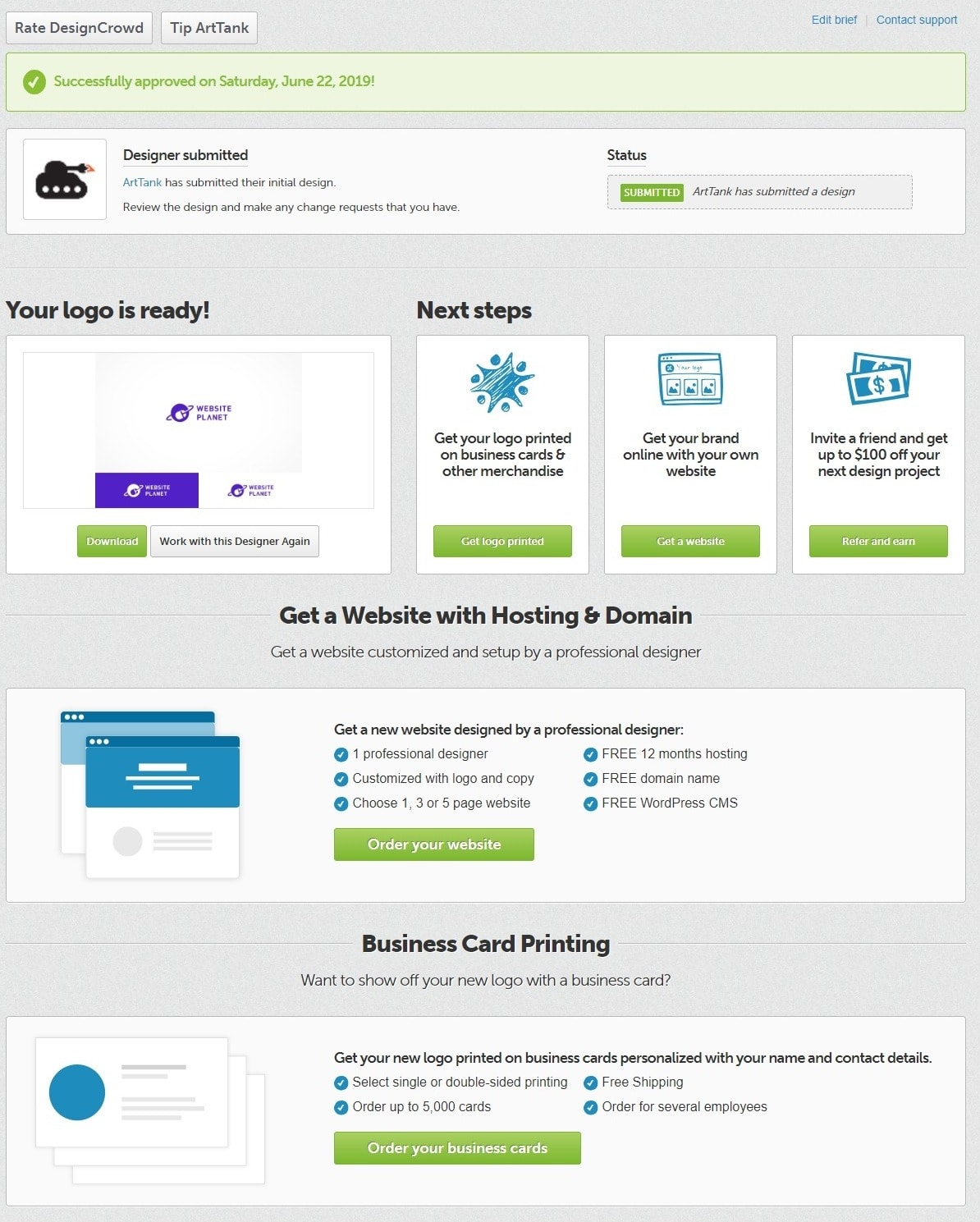 One download button. Half a dozen other calls to action – and there are even more of them further down the page.
Worse, as I mentioned in my review of DesignCrowd, the DesignCrowd website advertises services that aren't even offered anymore. So that's a problem.
The 99designs user interface (UI) is, by comparison, almost minimalist. The company's focus on doing one thing really well pays off here.
With 99designs, I never felt lost while using the service.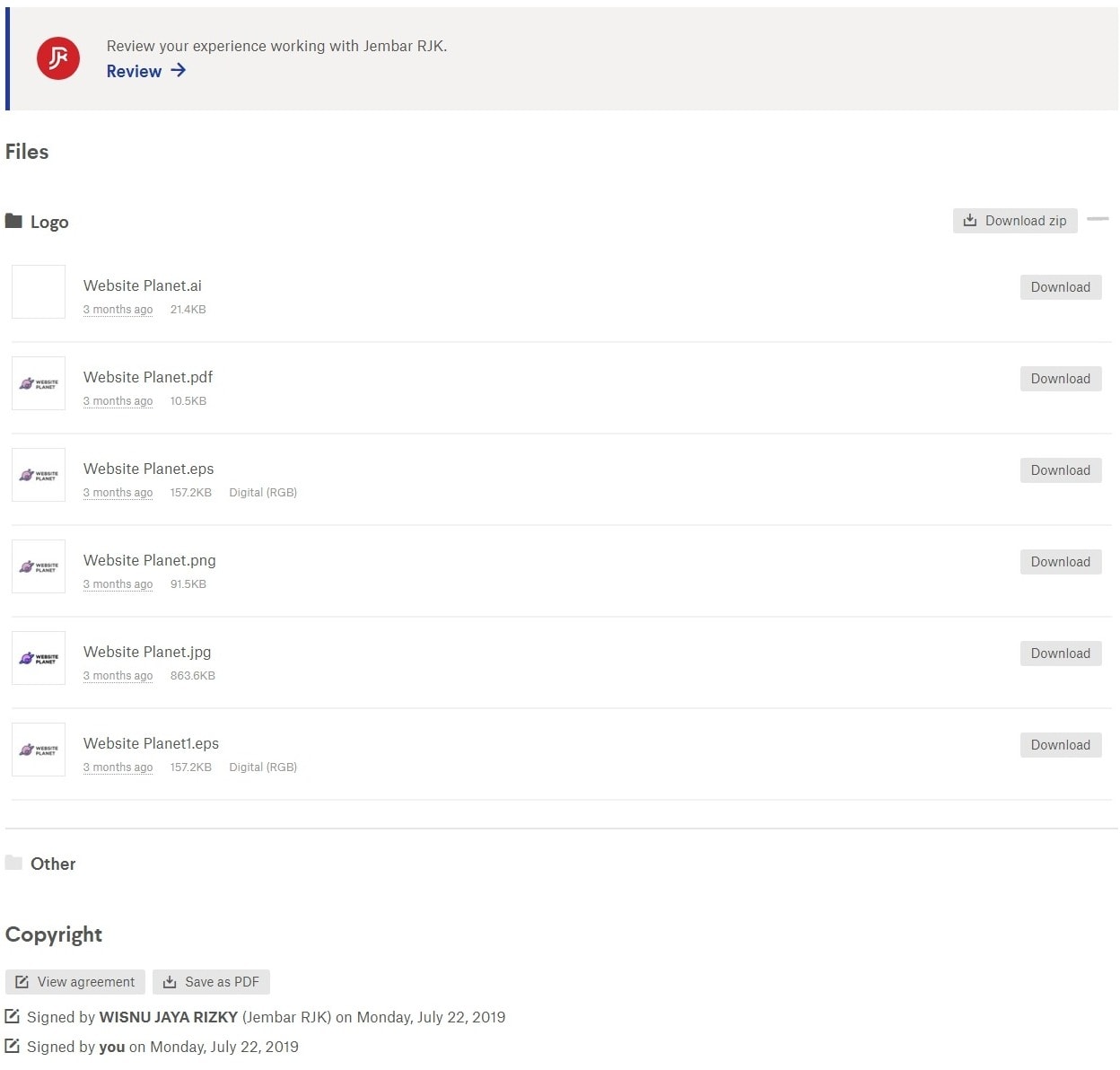 Notice how it's all about downloading the files, with few distractions.
And the winner is… 99designs. The clean interface will save you a lot of time and frustration.
DesignCrowd Is Generally Cheaper Than 99designs
DesignCrowd's cheapest plans cost about half of what 99designs charges for the same end results.
Keep in mind, though, that DesignCrowd's cheapest plans do not allow you to run a full contest. You just get help finding a designer for your project. It's great, but what I don't like is that you need to pay extra to access DesignCrowd's top designers. So, if you find yourself in need of add-on services like top designer access, the cheapest plans may end up costing much more than you expect. Meanwhile, 99designs starts out more expensive, and the cost just keeps going up. The cheapest plans for logos, for example, are currently almost triple the price of DesignCrowd's cheapest options.
The upside with 99designs is that even the cheapest plans are full contests, so you get a lot more logo concepts to choose from.
And the winner is…
Fiverr!
(Just kidding, even though I'm actually kind of not.) Between these two options, it's DesignCrowd. If you need a way to get a fairly good design for cheap, DesignCrowd has a lower financial barrier to entry. But seriously, if you have a limited budget and you want to have a custom logo designed just for you, you should check out Fiverr.
You can find professional designers there for as little as $5,
and I was actually impressed with the quality you can get. Check out my
full Fiverr review
 to read all about my experiences with the site.
Both 99designs and DesignCrowd Find a Designer for You, but DesignCrowd Does It for Less
Like I mentioned, all of DesignCrowd's plans include some form of this service. You have to pay more for guaranteed access to top talent, but you don't have to hunt down a designer yourself.
This is a really nice option if you don't have the time to review hundreds of portfolios, or are new to hiring designers and don't know where to start.
The DesignCrowd website describes the option to access top designers as an "outsourcing service," but it's actually just one of the more expensive contest packages. See what I mean about the site being confusing?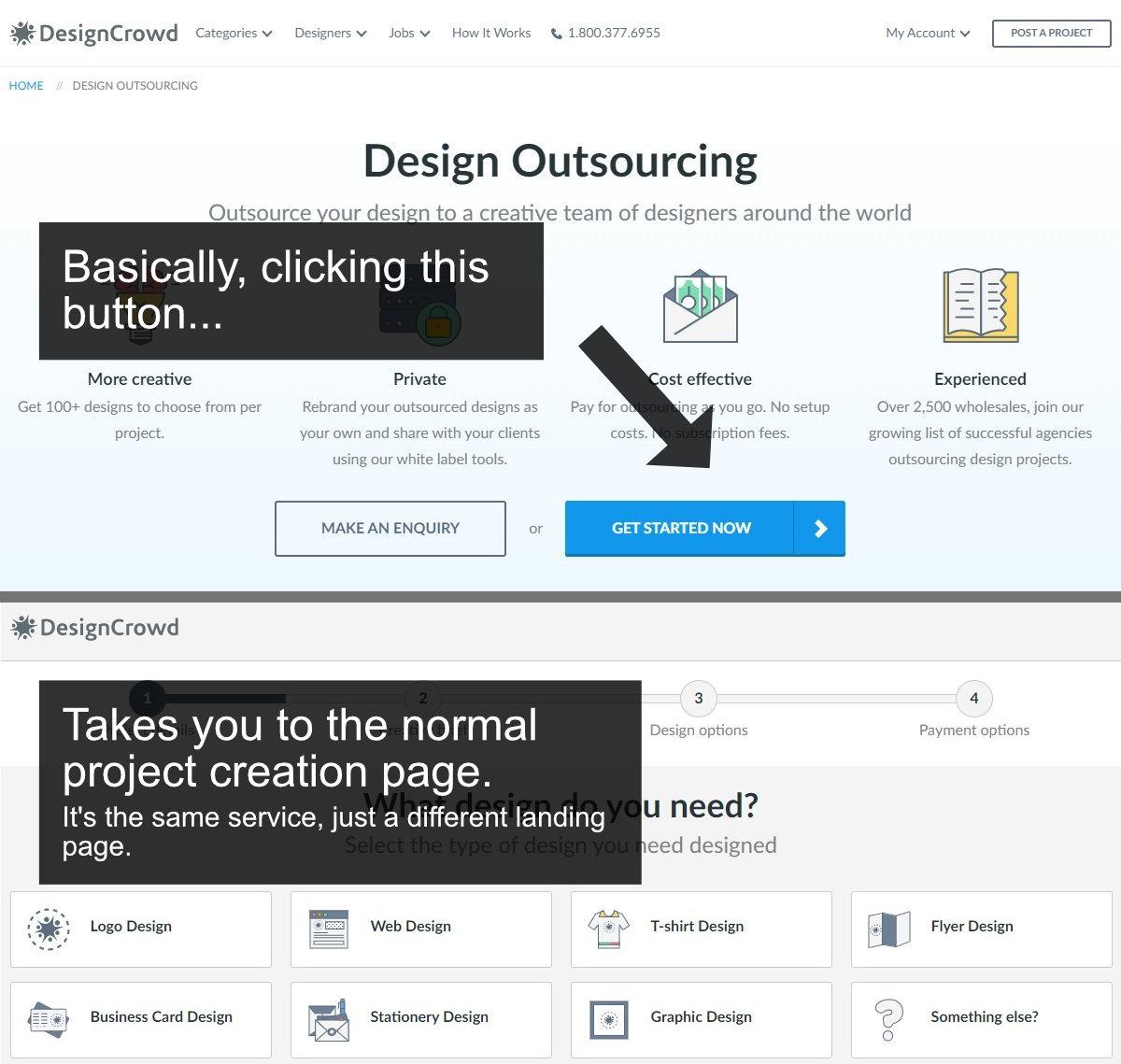 99designs offers a Pro service, a full design outsourcing service created for agencies and companies
that want a solution for all of their design needs. Individuals are welcome to purchase this service as well, but it's a little pricey. With Pro service, you get premium support in the form of a 99designs employee working with you to choose designers. You also get the option of starting up multiple contests at no extra charge, along with free access to add-on services like making your contests private. And the winner is… DesignCrowd.
If you're a small business owner, DesignCrowd's find-a-designer service is a lot easier to access.
A fancy Pro service like the one 99designs offers won't help you if you can't afford it.
You Can Get Almost Anything Designed on Both Sites
When I reviewed
99designs
 and
DesignCrowd
, I focused their logo design services. However,
both services offer pretty much every kind of design:
T-shirts, websites, app design,
sick paintings of dragons on the side of your van – anything. You name a graphics project, and there's probably someone on each of these sites who can do it. DesignCrowd has over 60 design categories to choose from: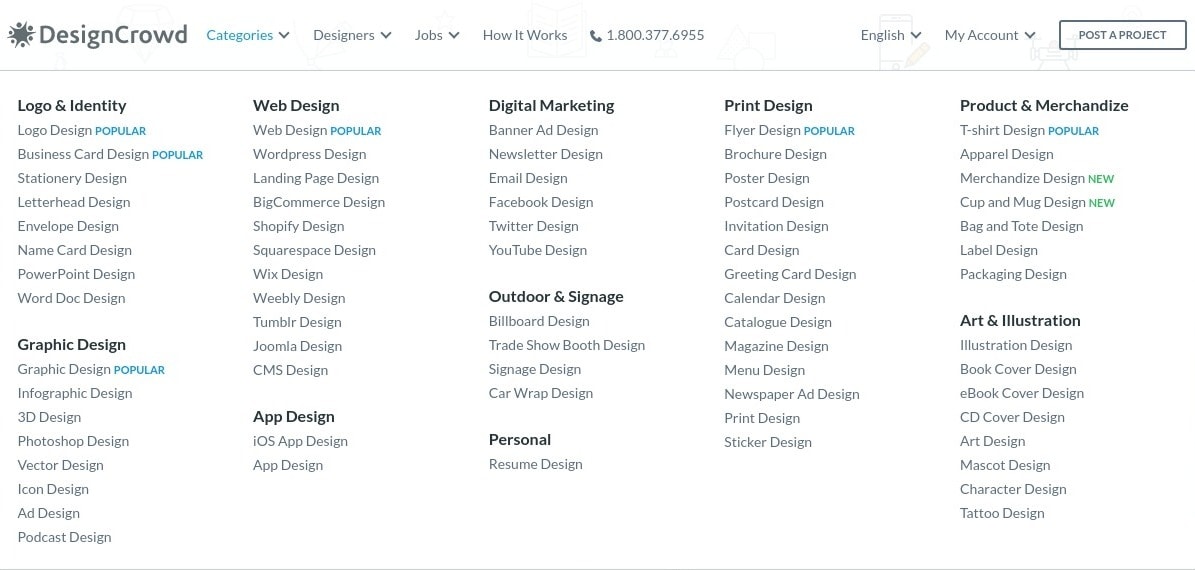 In the meantime, 99designs presents more than 80 design categories. Unfortunately, I am unable to display them all in one screenshot due to their arrangement on the website, which looks like this: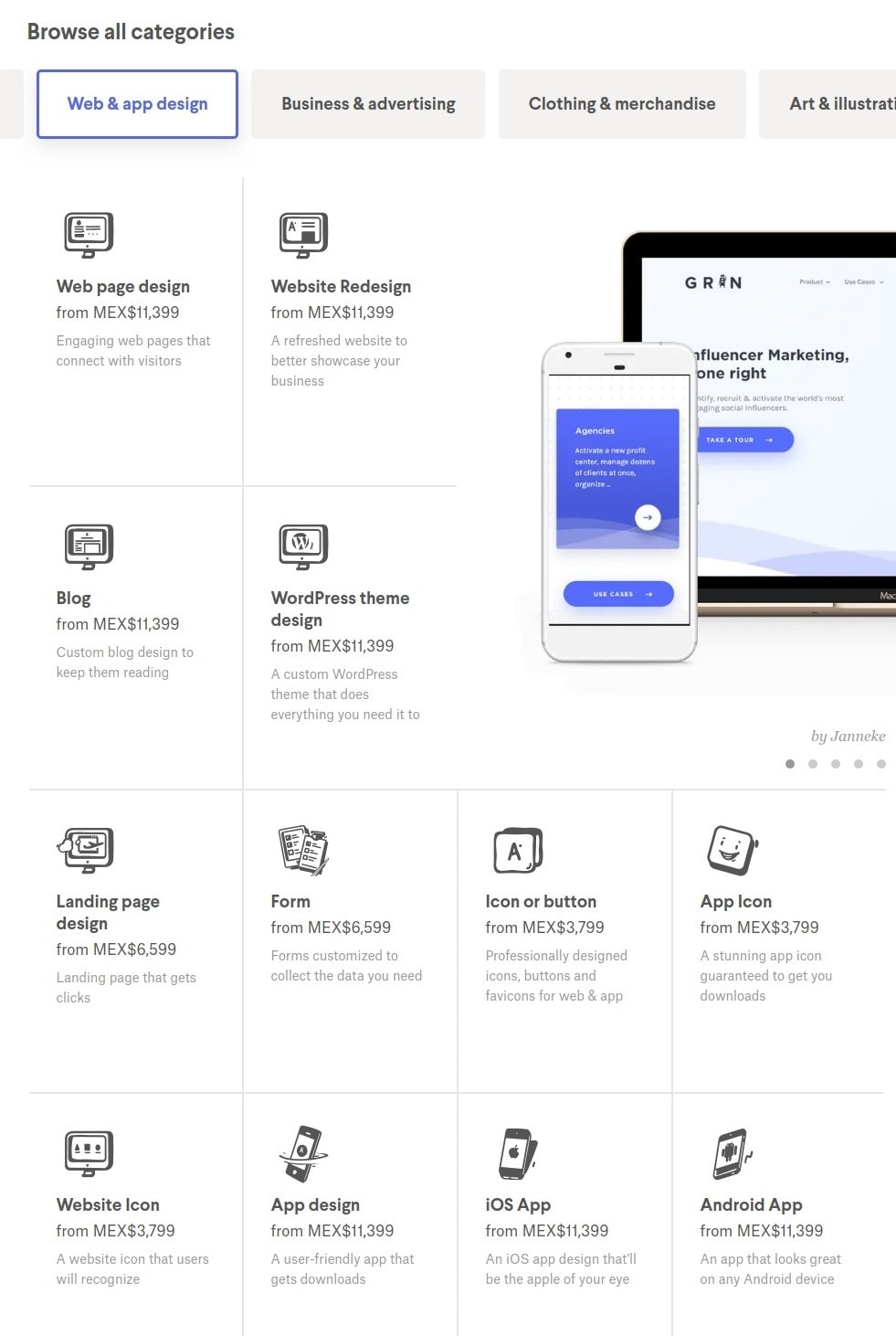 DesignCrowd has some specific categories like "Shopify theme" that 99designs doesn't have, but you definitely can get a theme for
Shopify
 made on 99designs. You'll just need to be specific in your project brief, and hunt for a designer who has experience creating storefront themes. In the end, the number of categories that design services offer is partly just a question of how they sort and name their concepts.
So the winner is… 99designs. Or DesignCrowd.
I'll call it a draw. Neither service limits the types of designs you can get. However, you might find the design categories easier to search on DesignCrowd's website, since you can see them all at once.
DesignCrowd Offers Printing Services, 99designs Does Not
Some crowdsourced design sites try to be all things to all people, offering printing, SEO, marketing, basic web hosting, and light emotional therapy via phone support (just kidding).
DesignCrowd keeps it simple, offering only (as far as I can tell) printing services,
and there's no hard sell. The printing services aren't even advertised to you until you finish your design project. You can then get your design printed on T-shirts, mugs, business cards, and more: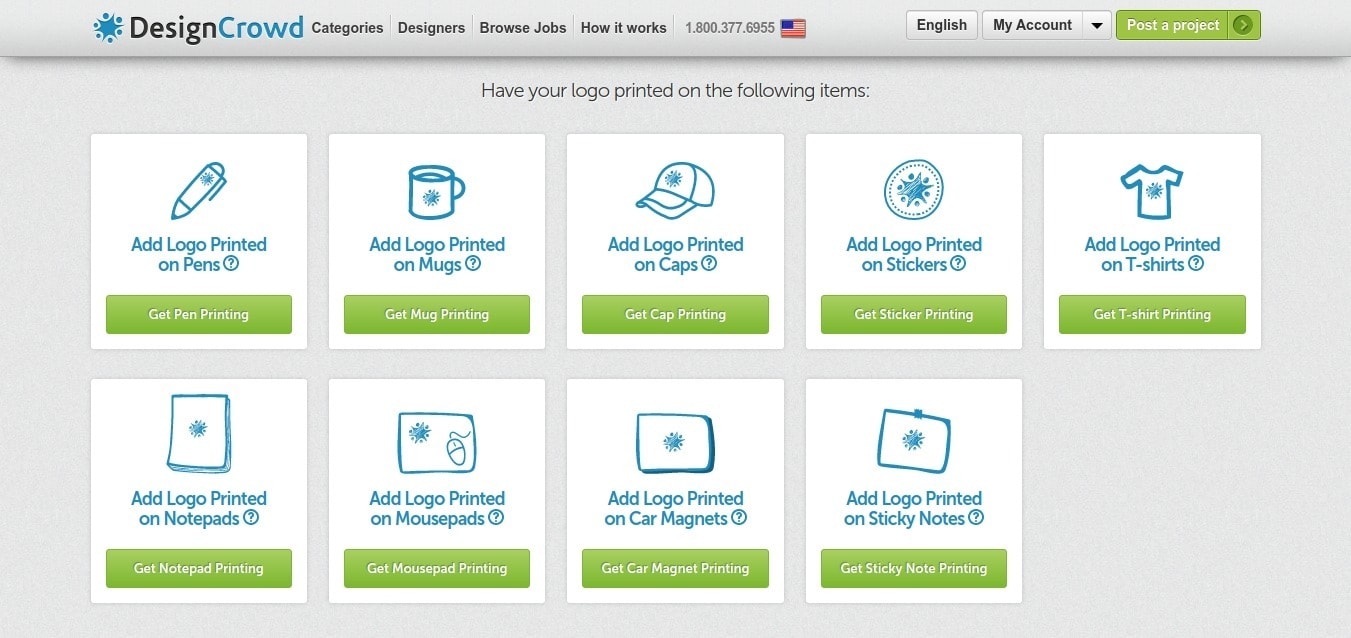 Keeping things even simpler, 99designs focuses on design, and design alone. So if you want printing, you'll have to get it done elsewhere. This isn't necessarily a bad thing; doing one thing very well is a viable business strategy.
But if you want the convenience of one-stop shopping to get a design created and also printed, 99designs is not for you.
And the winner is… DesignCrowd.
So, Who Wins This Contest?
I have thoroughly examined both services, and it's challenging to determine a distinct victor… Thus, let's award everyone a participation trophy! Both DesignCrowd and 99designs have made their presence felt, making them joint winners… Oh, dear, I can't even complete that sentence. The pain is quite intense. The most unfortunate aspect of receiving a participation trophy during childhood was the constant awareness of its lack of value. Here are my recommendations, depending on your circumstances:
Go with DesignCrowd if…
You're just getting started with your business and need both design and printing services
Budget is your primary concern
Go with 99designs if…
Your business is at least somewhat established, so you're willing to pay a little more
You want access to more designs and designers, via a website that's easier to understand and navigate
That said, if I'm forced to pick a winner (and I am),
I have to say that DesignCrowd wins.
This isn't just because DesignCrowd won the competition we ran amongst all the top logo design services; like I said, I preferred the one from 99designs. It's because, overall,
DesignCrowd gives you more service for less money.
You'll just have to deal with the occasional headache brought on by the website's less-than-great user experience. Here's a convenient table that quickly sums up my experiences with both services:
Designers
1,000,000+
700,000+
Design Categories
80+
60+
Ease of Use
Smooth user experience
Confusing user experience
Pricing
Expensive
Pretty cheap
Finds a Designer for You
Yes
Yes
Need more logo design ideas? Don't miss our list of the
top logo design services
.