A professional logo doesn't have to cost you your weight in gold.
What if I told you your new dental logo could cost you less than your morning cup of coffee?
Jump down to find out how you can hire a designer for as little as $5
, or read on to learn how to create your own logo.
9 Best Dental Logos
When my colleague set out to find the best new logo for Website Planet and told me he'd be testing different logo design services, I was less than optimistic. I thought for sure that he'd set himself up for disappointment but, ultimately, his experiment left us both pleasantly surprised. The quality of the work delivered by the Fiverr logo designers was quite impressive, even at the low rate of $5.
Make sure you check out his full logo design services comparison.
The Key to Hiring a Designer without Breaking the Bank
One of the most efficient, cost-effective ways to hire a logo designer is through the Fiverr freelancing platform. Unlike other logo design websites, Fiverr lets you connect with experienced, talented graphic designers for as little as $5 per design. To learn more about the platform and see some logo samples, don't miss our
full Fiverr review
. On Fiverr, the perfect logo designer is easy to find. Just
go to the Fiverr homepage
 and search for "dental logo". Explore the search pages as is or use the 'logo options' section to pinpoint your desired style, from minimalist to hand-drawn or even watercolor.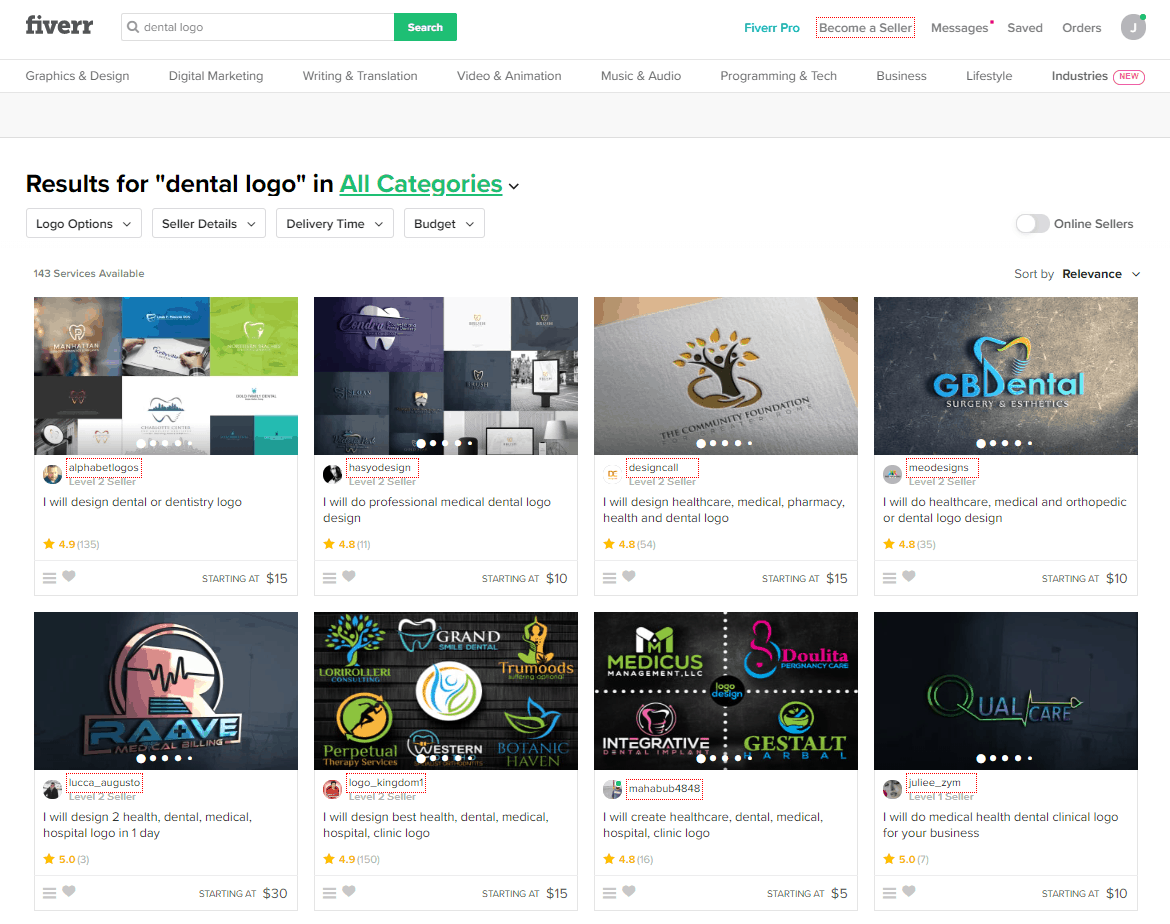 Fiverr offers a fantastic feature that enables you to engage in communication with your designer both before and during the design process. You can simply send a message to your designer, providing them with a logo description and any reference photos that might assist them in their guidance.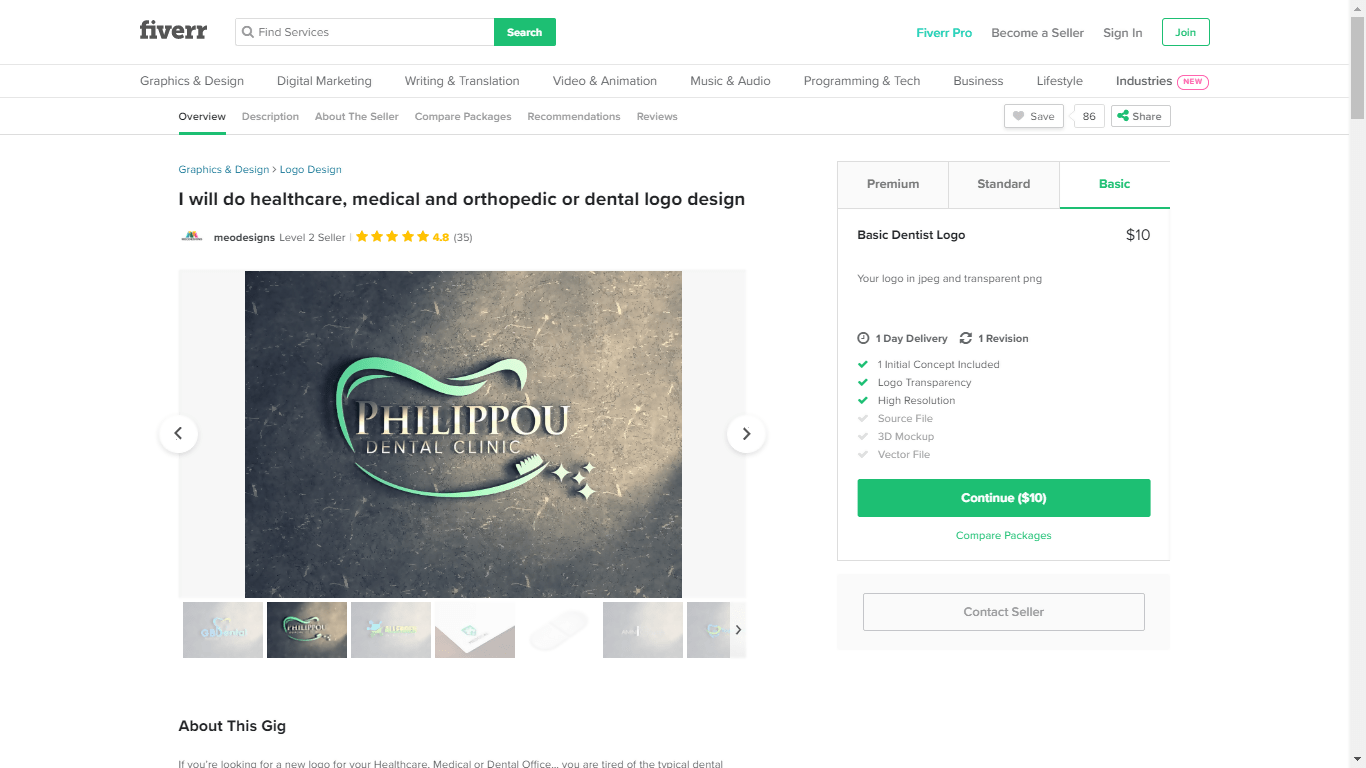 If you're not fully satisfied with your logo, you can request revisions (often built into your package) or reject it and contact customer support. Here are a few other Fiverr perks:
No hidden fees – You pay for your design package before the designer begins their work. The benefit? You'll never be hit with additional fees or charges after the design is completed.
Thousands of designers to choose from – Fiverr's database of artists is thousands of designers strong. It's easy to find an artist that fits your style AND your budget.
Quick turnaround time – The Fiverr platform was designed to be both easy and fast. Most logos can be delivered in under three days and express delivery is often available for a small additional fee.
High-quality logos – With Fiverr you don't have to give up quality to stay within your budget. The right logo designer can make your $5 logo look like it cost you much more!
How to Make Your Own Dental Logo
An online logo maker allows you more creative control, but
it can eat up a lot of your time while not necessarily costing less.
If you're committed to creating your own logo, there are many platforms to choose from, but Wix Logo Maker is my favorite by far. Want to know more about it? Read our
in-depth Wix Logo Maker review
.
Creating Your Own Dental Logo with Wix Logo Maker
On Wix Logo Maker, the design process begins with a few quick questions about your logo: your company name, industry type, descriptive words, etc.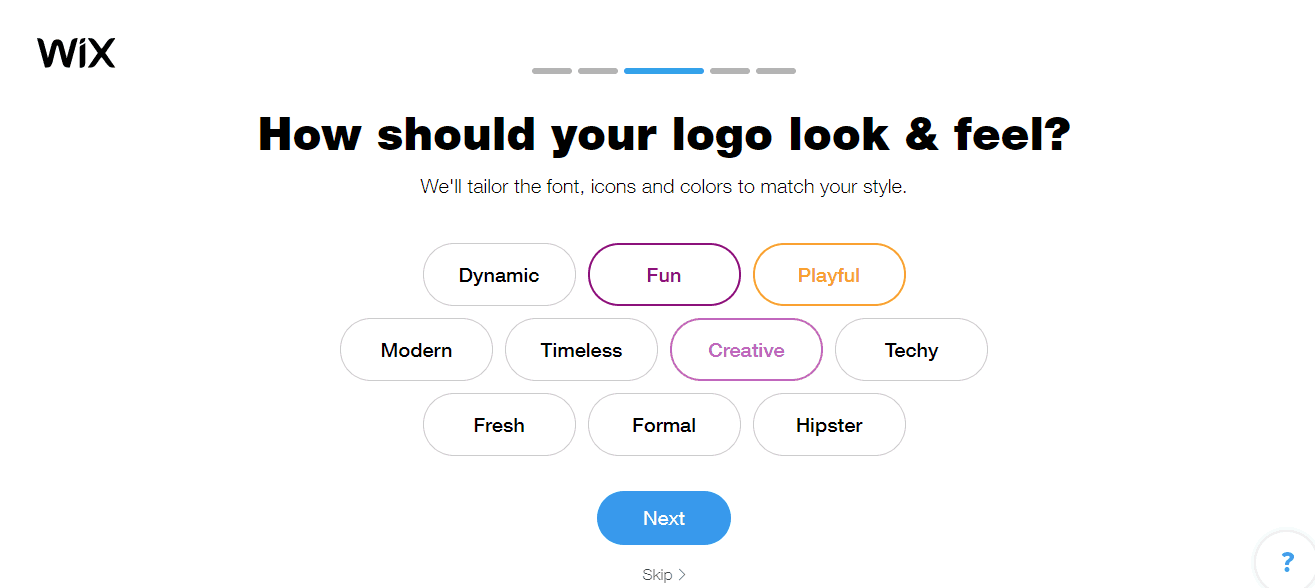 You're given sample logos to choose from and then, before you know it,
Wix Logo Maker will have generated a selection of logo designs based on your preferences.
This process was so straightforward, I was suspicious there would be a catch. Thankfully, there is no 'gotcha' at the end – it's really just that easy.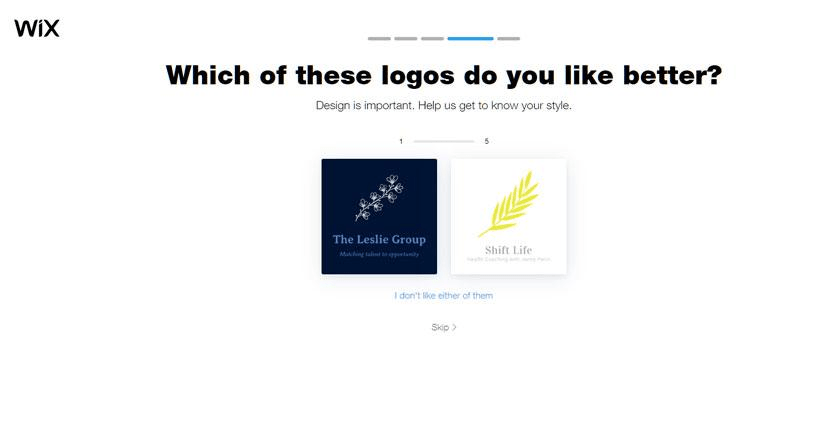 My favorite part of Wix Logo Maker is its icon library – there is a wide range of dental icons to choose from and the design possibilities are endless.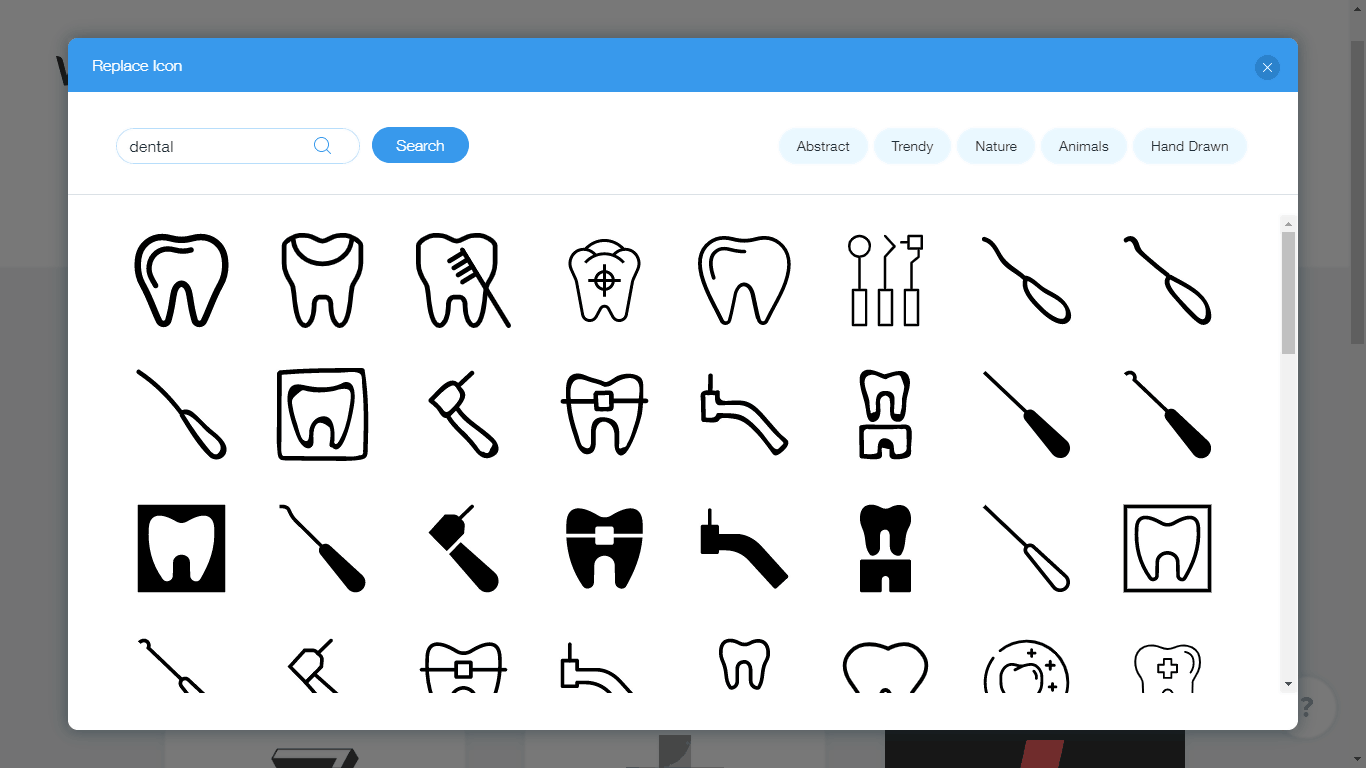 I was able to answer every question, scroll through the suggested designs, edit the logo I chose, and make it to the payment page in under ten minutes.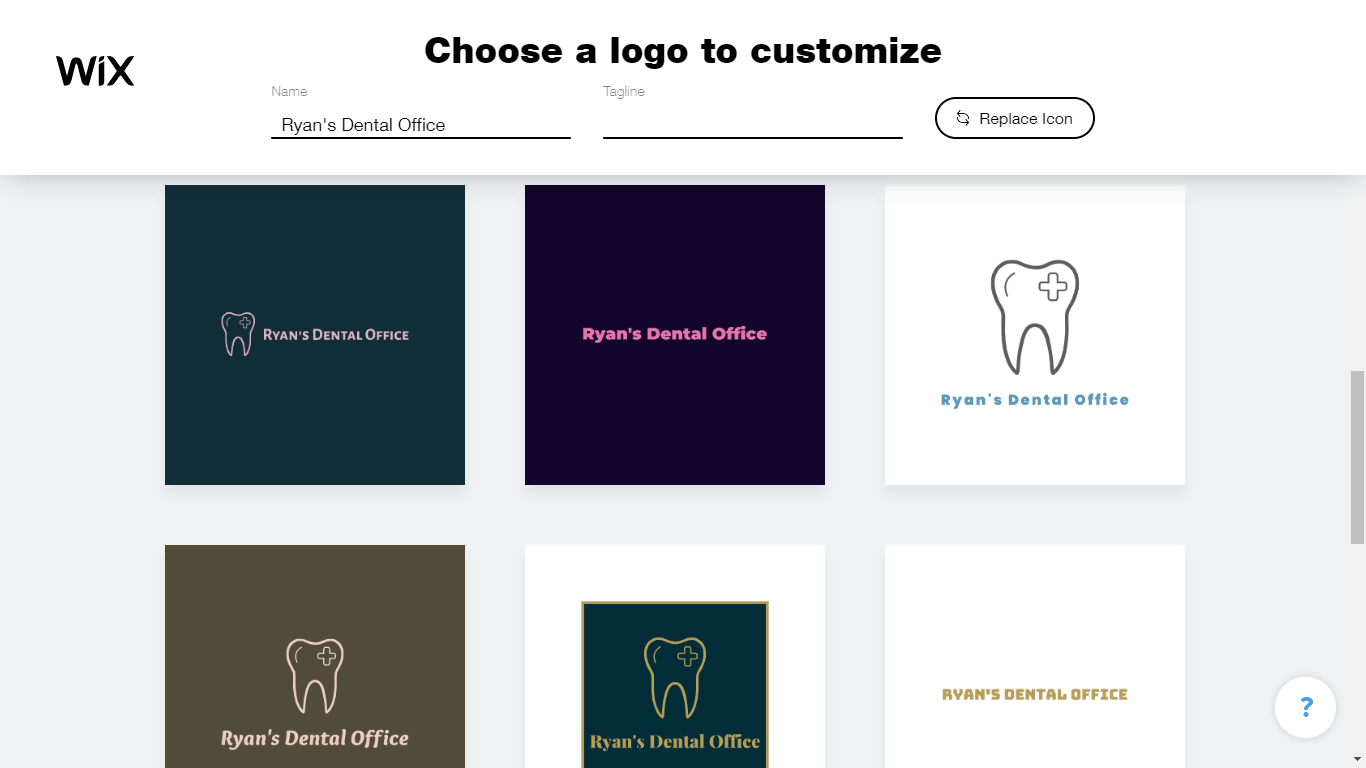 If none of the generated logos speak to you, don't panic – you can customize everything about your logo in the editor, including the fonts, the icon, and the color scheme. Wix Logo Maker Alternatives
LogoMaker – This quick and efficient online tool gives you a huge selection of logo templates to choose from. Using the logo editor to customize your design is super simple and easy. To find out if this is the right tool for you, read our full LogoMaker review.
DesignEvo – With this logo maker, you can choose to design a logo from scratch or pick a template to customize. The logo editor is very flexible, and I loved the 'fancy' text art styles to choose from. Check out our expert DesignEvo review for more information.
So, How Do You Get the Perfect Dental Logo?
My suggestion?
Find a professional on Fiverr
 to handle your design work and save yourself the hassle. The logo maker options were fun, but they were more expensive than the rates you can get on Fiverr. The good thing about
Wix Logo Maker
 is that you can play around with it for free – you pay only if you decide to use the logo you've created. Looking for more logo design ideas? Don't miss our list of the
top logo design services
.