Research by the Direct Marketing Association shows that the ROI of every $1 spent on email marketing is over $40
. But unfortunately, many SMBs undertake email marketing without a strong understanding of the best practices that allow ROI to be so high. Trial and error will increase a brand's knowledge of what tactics are effective, but there's no reason to waste the time and effort it takes to do so. The tactics behind successful email marketing campaigns are well documented. For example, there are numerous strategies to improve email marketing open rates.
Instead of learning the hard way through trial and error, SMBs should take advantage of other brands' experiences to maximize their use of emails right from the start
.
Money Dashboard Increases Clicks 228% By Testing Instead of Blindly Following Generic "Best Practices"
Money Dashboard is an online financial tool that launched an email drip campaign in an attempt to re-engage with inactive subscribers.
To optimize the email subject lines, the company did an A/B test to see which of two proposed subject lines would do a better job of increasing click rates
. The two proposed subject lines were:
A. What's your opinion here, [first name]?
B. Please put us out of our misery
On the one hand, Iteration A incorporates a number of accepted theoretical best practices. It's personalized with the lead's first name; it asks the lead for his or her opinion; and it piques curiosity by asking an open-ended question. On the other hand, Iteration B incorporates almost none of them. It places the focus on the company; it has no clear call to action; and it's emotional instead of value-oriented.
In theory, there's little doubt that Iteration A should perform much better
.
That's why the results are so shocking. Iteration B increased the open rate by 104.5% over Iteration A, and increased clicks by 228%.
What's the takeaway here? Every industry, company, customer base, and subscriber list is different. So, while you should use best practices as a guide — you should also test them.
There's no substitute for testing your email marketing tactics on your own audience
. Knowing that these were inactive subscribers, Money Dashboard decided to try something different from best practices and use provocative language to evoke emotion. The gamble paid off. If you need help, check out some of the
best email marketing services for A/B testing
.
Eharmony Achieves 100% Email Placement on Gmail by Systematically Tackling Deliverability
Eharmony is an online dating website that wanted to increase the deliverability rate of its emails. Instead of continuing to send emails without a clear strategy, it contracted with an outside vendor to develop a new plan that would get them into users' inboxes.
The company implemented two major changes
. First, it created a methodology to segment its audience better, leading to increased engagement. Second, it implemented a policy of systematic, bi-weekly review of internet service provider (ISP) performance and IP engagement to check for any issues that might need to addressed. With these strategies in the lead,
eharmony achieved 100% email placement in Gmail
. There are two major takeaways here. First, develop a method for segmenting your audience. Higher open rates for your emails signal email service providers like Gmail that your users want to receive them, which in turn increases the likelihood that they'll be delivered. In other words, the more relevant messaging you deliver to subscribers' inboxes, the higher your deliverability rate will be.
Your customers are not a monolith; find the distinctions between them that matter, and develop email content that's relevant to each nuance
. Second, it's a mistake for SMBs to pay zero attention to email deliverability. Although technical in nature, it's not impossible to make an impact.
Make it a priority to review deliverability rates and take note of the effect of different segmentation strategies
. Feel free to review our
tips for how to avoid the dreaded spam filter
. Iteration and analysis are just as important to this aspect of your email strategy as the content itself is.
Sumo Increases Open Rates 53% By Adding a Sense of Urgency to its Subject-Line CTAs
Sumo is an e-commerce automation tool that wanted to increase the amount of subscribers opening its emails. To achieve that, it decided to reevaluate the type of language and messaging it used in its subject lines.
Instead of focusing solely on communicating value, Sumo decided to also communicate a sense of scarcity to the value
. Following the change, its subject lines used a [time left] formula template:
[Time Left]: [What's on offer] for [Discount]
This let recipients know that the value contained inside the email would be available only for a limited amount of time. Using this strategy for its discount offers increased open rates 53% over other types of communications.
The takeaway here is that people have a strong response to a fear of missing out on something
. Use language like the following:
limited time offer
before it's too late
don't miss out
Creating a sense that value must be captured now before it's too late will spur more subscribers to action.
Drip Campaigns Are 80% More Effective at Re-activating Subscribers than a Single Email
Inactive subscribers to your list are not harmless. Your open rate directly impacts deliverability, and removing addresses that give you hard bounces are just the low-hanging fruit to increasing it. Emails delivered to valid inboxes only to be ignored are just as big a problem. But
you don't have to remove inactive subscribers; you can work to re-engage with them and re-convert them to active users instead
. Accomplishing that requires sending them sustained communications over a longer time period.
Internal data published by Email Monks shows that drip campaigns designed to reactivate inactive subscribers are 80% more effective than single emails
.
Entice inactive subscribers with value
One drip campaign tactic is to focus campaigns on
giving inactive subscribers something of value if they choose to re-engage with your brand
. Examples are one-off product giveaways, coupons offering deep discounts, or extremely high-quality content. Have the first email in the drip offer a X% discount; if there's no engagement, send a weekly email for three weeks, progressively adding a 5% discount. If there's still no engagement, remove the email from your list with a clear conscience.
Take the conversation away from email
A second drip campaign tactic is to
move the conversation away from email by linking to social media profiles
. Use the emails in your drip to draw attention to community buzz surrounding your best-performing posts. Inactive leads who see the excitement surrounding your brand can realize what they're missing and choose to re-engage. If after a few attempts subscribers haven't had their fear of missing out compel them to interact, it's safe to say they just aren't interested and can be removed. For example, part of a drip campaign launched by interior design company Habitat to reactivate subscribers didn't do anything other than provide a clear link to its Facebook page: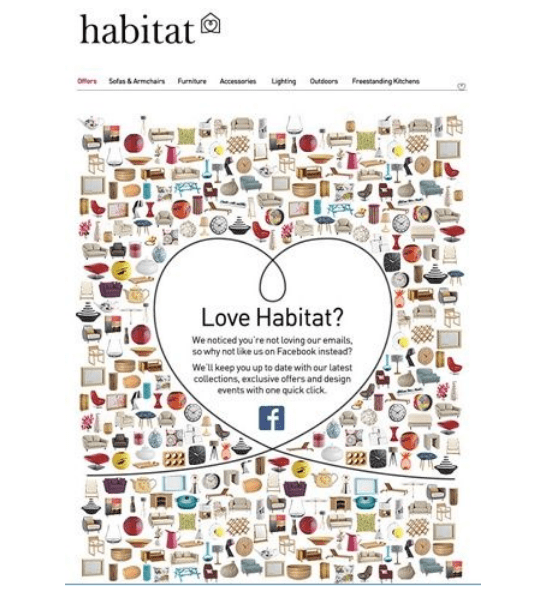 65% of Businesses Value Receiving Research and Reports Over Any Other Kind of Content
Subscribers stop interacting with your emails when they don't see any value in doing so.
Offering content that provides more value than what you usually produce, in exchange for an inactive subscriber reengaging, is one of the best ways to reactivate users
. As discussed above, product discounts generally work best in the B2C space. In the B2B space, free trials and discounts are less helpful because subscriptions are the norm. What kind of content do businesses value most?
Research by the CMO Council and NetLine asking this question showed that 65% of respondents valued content that reports and analyzes new data
. Emails offering access to this kind of content can be very effective.
To start, create an email summarizing the study
. Use bullet points of no more than a sentence to lay out the subject of the data and present the questions answered by the analysis. Don't write long paragraphs, and don't recreate the entire study. The idea is to make it clear what problems the actionable items in the report either explain or solve — not provide the value upfront.
Next, add a call to action (CTA) and set it up to immediately send the study when clicked
. Use copy that makes it clear the user will be receiving the content. Here are some examples:
Download the guide
Get the white paper
Check out the report
Here's an example from Klientboost and Bouncex of how to use a single sentence to state the contents of a value report, with a clear CTA that lets the user know what will happen when he or she clicks it: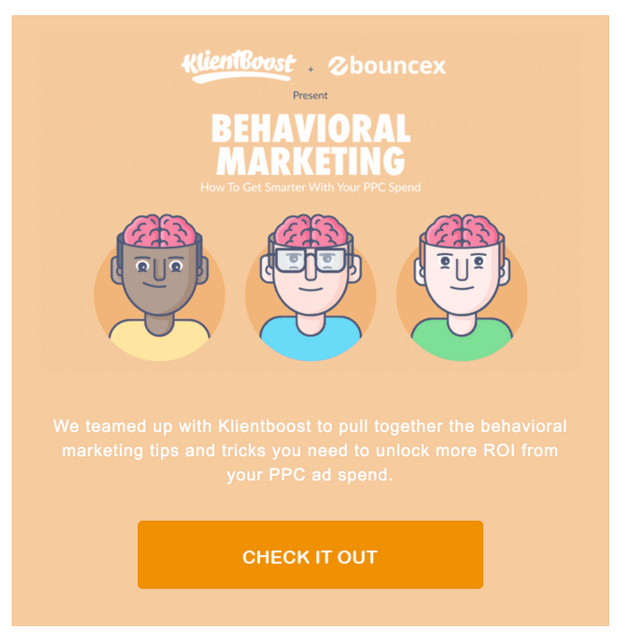 Final Thoughts: Use the Data, But Don't Be Afraid to Be Emotive
Data informs good email marketing.
Certain tactics are known to perform better; iterating and testing finds the most ROI for your business. But that doesn't mean data is the only thing that matters
. Ninety-two percent of customers want marketing to tell them a story. When it comes to messaging and copy, don't be afraid to combine empirically verified tactics with emotion. Brooks Sports provides an example of this. They leveraged their sponsorship of Desiree Linden, the winner of the 2018 Boston Marathon and the first American to achieve this victory in over 30 years. In a heartfelt approach, the company conducted a comprehensive email campaign dedicated solely to showcasing her remarkable accomplishment. All the empirical elements of good email marketing can be in an emotional ad.
The copy should be short and direct, and the CTA at the bottom should follow best practices by using clear language to express what the user gets for clicking
. But by incorporating data-proven tactics that make sense into the telling of an emotional story, Brooks is able to follow best practices while still creating an effective ad that resonates with customers.
---
Sources
: https ://dma.org.uk/press-release/emails-roi-increases-despite-concerns-about-testing-and-gdpr
https ://www.smartinsights.com/email-marketing/email-creative-and-copywriting/email-marketing_subjectlinetesting/
https ://inboxpros.com/case-studies/
https ://sumo.com/stories/best-email-subject-lines
https ://emailmonks.com/drip-email-marketing/infographic.html
https ://contentmarketinginstitute.com/2015/01/5-pillars-successful-content-marketing/
https ://instapage.com/blog/emotional-marketing