A/B testing is a powerful email marketing campaign tool, but how do you optimize it?
There are a lot of email marketing services available. To make the right choice for you and your business, you must match up the functionality you need with that being offered by the available platforms. You know your customers best. But no matter how much you plan an email campaign, you cannot know how they will respond to it. A campaign's effectiveness can only be measured — and compared with other iterations — via its performance data. This is why A/B testing is so important.
If you choose the best program to meet your specific data and comparison needs, you can consistently test different versions of your email campaigns properly.
This is the only way to know which version drives the most conversions. Below is an in-depth look at the A/B-testing capabilities of five of the most popular email marketing services, so you can
decide which one is most likely to drive conversions for you
.
Start By Thinking About What Email Marketing A/B Tests You Want To Run
Before you begin comparing A/B-testing functionalities, you must first
know which tests you intend to run
. Here are some common email marketing A/B tests used to inform decisions about how to increase conversions:
Test different segments of your customer list
This shows you where to focus limited resources to get the best return. Although the cost of sending more emails is minimal, bringing more qualified leads into the pipeline decreases total conversion costs. For example, you could make an "A" list of previous customers, and compare with to a "B" list of leads that have yet to convert. If you find that the average cost to get the "A" list to reconvert is less than the cost to get the "B" list to convert, you can direct future campaigns toward the "A" list first, and move on to the "B" list only if you have the resources to handle the increased lead volume.
Experiment with time of delivery
It's well known that
when and how often a campaign email arrives in someone's inbox impacts how they interact with it
. There are many stock theories about what's optimal, but the truth is it's very industry- and company-specific, and you'll need to do your own extensive testing. One example is to think about what the optimal frequency to send emails is to drive conversions. Have an "A" list that you send the normal amount of time, and a "B" list that you send "too frequently." This will let you see whether the increased communication volume causes more conversions, or just causes people to unsubscribe.
Analyze what happens when you communicate in different tones of voice
Delivering the same message in different ways has an effect on conversions, and it's worthwhile to
test different tones within the "Sender's Name," "Subject Line," and "Preview Text" of your email
. One test idea is to make an A/B test that compares the impact of addressing the recipient in informal vs formal language. Another is to see whether an "A" version that uses declaratory statements in the subject line ("This product will save you five hours"), or a "B" version that uses cliffhanger language ("You'll never believe how much time this product will save you…") converts better. Keep in mind that to isolate your variables, you can change only one field at a time when testing.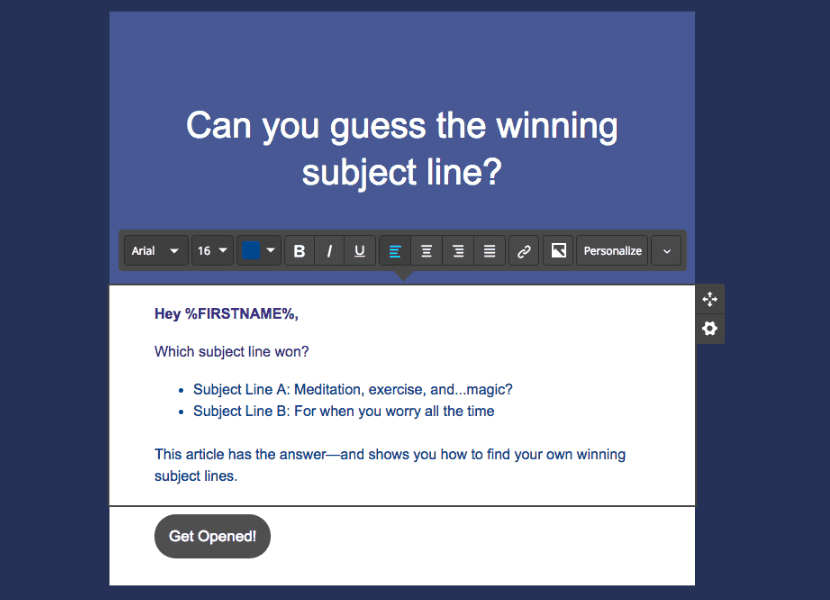 Try out different looks and feels for the individual emails in your campaign
People see your email before they read it, and the impression they get also affects conversions.
Measure the impact of your email's visual content, including images and fonts.
One common test is to have an "A" version that incorporates an image, and a "B" version that does not. You can also A/B-test different images, the location of the image within the text, and different sizings of the same image. Another common test is to have an "A" version that uses a "standard" font, and a "B" version that does not — something that's particularly useful when done in tandem with a company's rebranding effort.
Trial different calls to action (CTAs)
The language and visual design of the button you use to ask leads to take action has a big impact on conversions.
You want to provide clear direction that guides readers to click the CTA button and then convert.
Good CTA A/B tests focus on distilling directions down to simple, active language that still retains its informational value. For example, you can make A/B tests for different verbs such as "act," "see," "test," "demo," or "try" in order to see which one has the highest click-through rate. Another common test is to make an "A" version using one button color, and a "B" version using another; this process can also be done for the button's size, shape, and location. If you want to learn more A/B tests that will increase your click-through rate (CTR) and your overall ROI,
read up on four strong options
.
The Best Email Marketing services for A/B Testing
Email marketing services all offer A/B testing. However, they don't all offer the same A/B-testing features. The best choices will let you undertake the A/B tests mentioned above, and also add to them with extra features. Here are some of the
best email marketing services
available:
#1. MailChimp
Used and trusted by millions to handle their email campaigns,
MailChimp
is one of the most well-known email marketing services in the world. It has tons of A/B-testing features to optimize your campaigns for maximum conversions.
Subject Line. Finding the right message to get recipients to open your email is the critical first step toward conversions, so getting it right is extremely important. MailChimp makes the subject line fully customizable, so you can try different verb choices, value propositions, and tones of voice.
From Name. The way your name is populated gives an air of professionalism, and also helps your message avoid the spam folder. MailChimp lets you replace your email address with an actual name.
Subscriber List Segmentation. Different customer profiles respond differently to messages. MailChimp gives you the ability to isolate and target certain members of your email list based on factors such as age or purchase history. You can then run A/B tests within those communities.
Send Time. MailChimp lets you schedule the same email at different times of day.
Trial different messages and layouts within the body of your emails. MailChimp lets you change any element of your content. You can A/B-test text, images, or CTAs.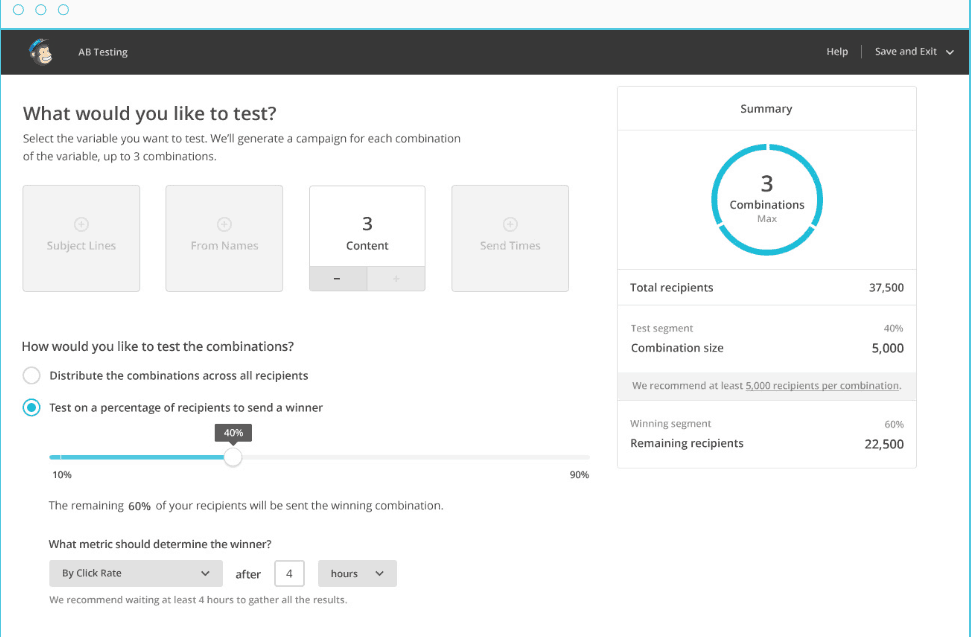 MailChimp also offers other benefits.
The winner of the A/B test will automatically continue, cancelling the less effective variant.
You can also create a unique reply-to address that will automatically remove "out of office" replies and move conversations into the subscriber's profile. The main problem with MailChimp is that
you can test only three combinations for each variable
. Overall, its robust functionality makes
MailChimp best suited to large organizations, small businesses, and entrepreneurs
.
#2. Constant Contact
Constant Contact
claims to "make powerful email marketing easy." That may be true for some features, but
the A/B testing leaves a lot to be desired
. It's a very stripped-down version of the functionality you can find elsewhere.
Subject Line. Capturing a subscribers attention inside their crowded inbox is difficult. Constant Contact lets you select two variants of a subject line.
List Test Size. Constant Contact lets you choose the size of your "A" and "B" lists. It recommends placing at least 1,000 subscribers on each list to get an accurate result.
Constant Contact offers a lot of features. A drag-and-drop builder, robust analytics, and live training are available. Unfortunately, the
A/B-testing functionality is limited to the email subject line
. Constant Contact is
best suited for individuals or small businesses without the resources or need to do complex A/B testing
.
#3. Get Response
Get Response
is a growing platform of 350,000 users, and its suite of A/B-testing tools reflects its ambition. Their A/B-test feature list is fairly comprehensive, and in some cases larger than that offered by other services with a bigger user base.
Create variants that reflect a different style or message for your visual or text content.
Subject Line. Make a first impression that stands out. The Subject Line field lets you see which message resonates best.
From Field. Give your emails a personal touch. Try variants of your name that are either informal or formal. This functionality is also useful for staying out of the spam folder.
Time of Day. Be at the top of the inbox when people start their day. Or, schedule around an important event.
List Segmentation. Separate contacts with similar attributes into individual groups. This is very useful for retailers looking to target a slice of their overall audience with a specific product or promotion.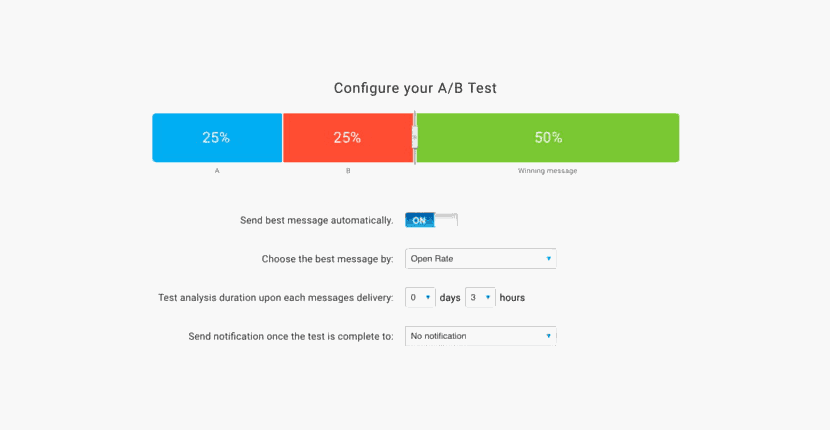 Get Response lets you test up to five variants of a message. It also offers dedicated account managers, marketing automation, and campaign consulting. However,
there are no free pricing options available.
This platform is
ideal for medium- and large-sized businesses
that want robust A/B-testing capabilities and are willing to pay for them.
#4. ActiveCampaign
ActiveCampaign
has been featured by Forbes and Inc. The A/B-testing feature list is large, but does have a few missing pieces.
Sender Information. Find the most effective way to present yourself to subscribers. Customize the sender name and email address.
Subject Line. Test the messaging that gets subscribers to open your email.
Content. Test out different ways of presenting your content and see which one resonates the most.
ActiveCampaign can test up to five versions of a variable. However, it
lacks the ability to A/B-test based on time or audience segmentation
. The platform also offers intuitive automation, business integrations, and marketing automation.
It's lack of time and segmentation options
makes it best suited to organizations that provide products and services to a specific type of customer.
#5. Benchmark
Benchmark
is "designed with the small business owner in mind." It's A/B-testing features are
more than enough for small- and medium-sized businesses
, and also pack enough punch for larger organizations as well.
From Name/Subject Line Test. See the effect of different subject lines on your conversion rate.
Campaign vs Campaign Test. Compare the results of two entirely different versions of your email.
Multiple Variable Test. Measure the effect of multiple variable changes across two variants.
Delivery Time Test. Determine the best time of day to get your message out.
Benchmark's multiple-variable test is unique to its platform.
However, you must purchase a monthly subscription to get access to any of its A/B-testing features.
You can also use it with Google Analytics, create sign-up forms, and create RSS email campaigns.
Reports of deliverability issues are also concerning.
Learn What Converts Your Leads With Email Marketing Services' A/B Testing
A/B testing might appear complex, but modern email marketing services have simplified it significantly. In order to optimize conversions, understanding what is effective becomes crucial. Employing a platform enables you to experiment with various content and distribution strategies, helping you identify the most successful approaches.
I recommend MailChimp, because it has so many features and is a trusted brand
. That said, all the options here will give you insights you can use to increase conversions